Updated: August 14th, 2021 by Travel the Greek Way
In this post, we explore the most important Athens Jewish Monuments, how to get to the Athens Jewish Monuments, the sights near by and useful information on accommodation in Athens.
Greece is a profoundly religious country with Greek Orthodox religion representing the overwhelming majority of the country's population. At the same time, a small number of Greeks are of Jewish heritage and religion.
Today, the Athens Jewish population in Athens is only a handful of around 2.500 people forming the largest Jewish community in Greece.
Before the war, the Thessaloniki Jewish population was counting 55,000 people. The Thessaloniki Jewish represented the largest Jewish community in Greece and one of the most important in Europe due to its share in the city population.
In a 1951 census, there were listed 1950 Thessaloniki Jewish survivors from the German extermination camps (source: https://www.yadvashem.org/education/educational-materials/learning-environment/salonika.html). The population today is reduced by 50%.
Smaller groups are scattered around a handful of other Greek cities. In total, but almost 85% of Greek Jewish, around 65,000 men, women, and children were dispatched to their deaths in Auschwitz between 1943 and 1944.
*Some of the links below are affiliate links. That means I may make a commission if you click and buy. The commission comes at no additional cost to you. Please see my full disclosure policy for more information*
Synagogues in Athens Greece
Two of the most important Athens Jewish Monuments, the Athens Synagogues, can be found in Thisio area. Both are operating synagogues, located across from each other in Melidoni st. and only 10 minutes far from Ancient Agora.
The older Synagogue in Athens, Etz Hayyim (Tree of Life) is a Romaniote one and was built in 1904. However, it only works during the great holidays.
In 1935, Beth Shalom Synagogue in Athens was built and it is a Sephardic Synagogue.
Jewish Community of Athens (JCA)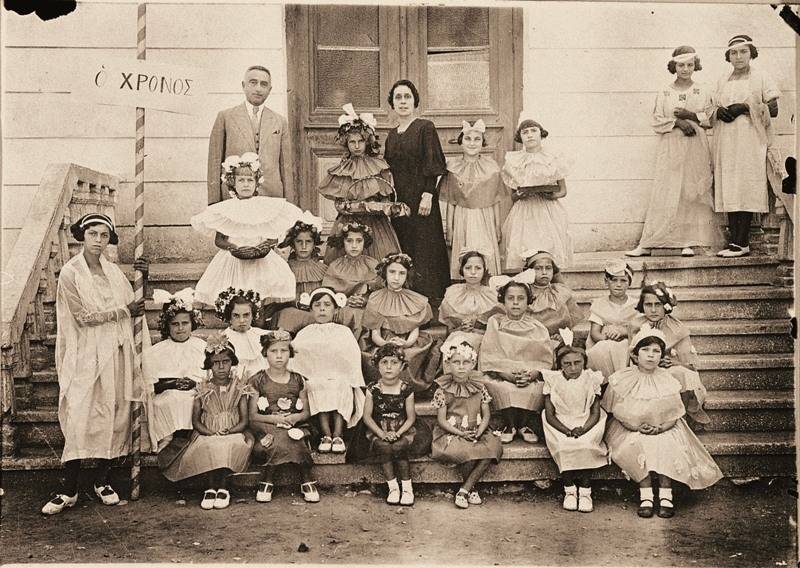 Τaly Mair, director of the Jewish Community of Athens (JCA), in an interview, said:
"After the Second World War, the Athenian Jewish population was mixed. We had Romaniotes, Sephardim, and a few Ashkenazim.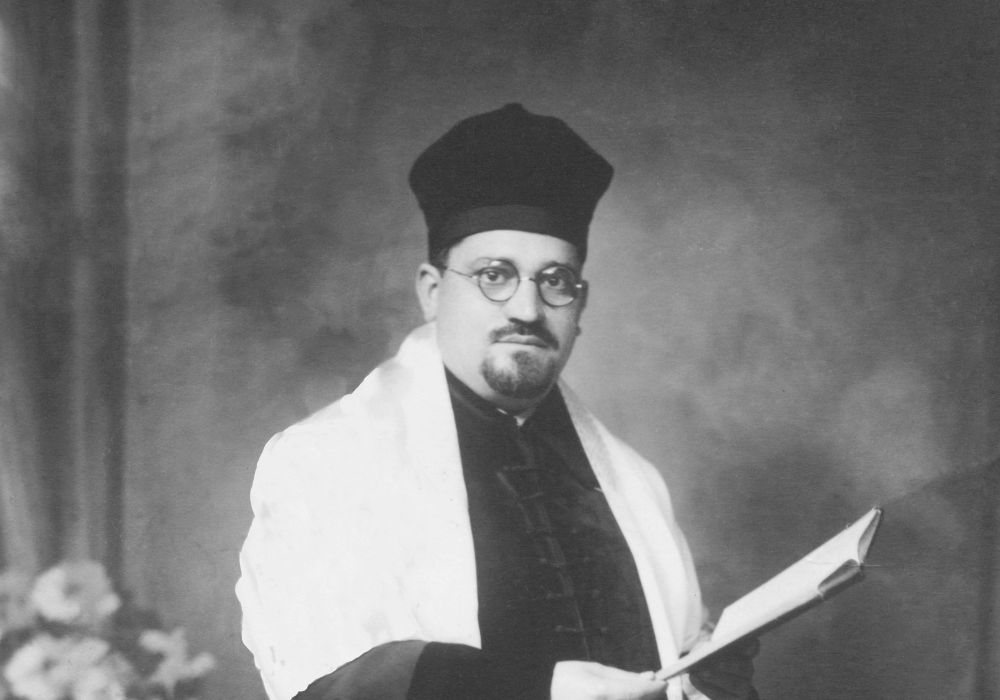 We operate on all religious holidays. The Community and the Synagogue have maintained their consistency and have vigorously avoided any schism.
The Synagogue is open to all Jews of any community or perception. We all pray together in the same unique Synagogue of Athens. We also welcome non-Jews and present to them a religion that is close to Christianity, but sometimes unknown to them. We are a Greek community".
The Synagogues are built in a small street where Kerameikos archaeological site ends, a few minutes walk from Thission and Ancient Agora peripheral fence. A truly amazing place with other Athens Jewish Monuments.
Synagogue in the Ancient Agora of Athens
Ancient Agora of Athens is a must-visit as it is one of the most important ancient sites in Greece.
Apostle Paul (or Paul of Tarsus) preached in important landmarks all over Greece including synagogues. There is strong evidence that there was a synagogue inside the Ancient Agora of Athens and Apostle Paul had, by all means, visited it for his preaching.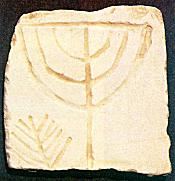 The foundations of this ancient synagogue, near the statue of Hadrian at the Old Bouleyterion and Metroon ruins in Ancient Agora have been excavated. The excavations revealed a marble surface on which a menorah and a palm branch are engraved, dated around the 3rd century CE.
Related Post: The Complete List of Athens Best Monuments and Landmarks
The Athens Holocaust Memorial-Monument
At the end of the pedestrian crossing, at the point where Melidoni str. meets Ermou str., the Athens Jewish Community donated the Holocaust Monument to Athens Municipality in 2010. The specific spot was chosen because, under a ruse of food hand-outs, the Jews of Athens were trapped and captured by the Germans in their adjacent temple in April 1944.
The terror for the Jewish people of Athens started when the Germans took control of Athens in September 1943. There was active resistance by the Greek local authorities and in particular, by the Orthodox archbishop Monsignor Damaskinos of Athens who was openly advocating in favor of Jews, and the chief of police at the time Angelos Evert who delivered thousands of forged identity cards for Athenian Jews showing them as Christian Orthodox and saving that way many lives.
In addition,
In addition, the resistance fighters saved many Jews who fled to the mountains where guerrilla groups were based.
A memorial is held every 27th of January to honor the memory of the Greek Jewish that died during the Nazism occupation.
The Memorial is a broken star of David, with each of the broken pieces representing the lost Greek Jewish communities. It is the work of Greek – American Dianna Magkania.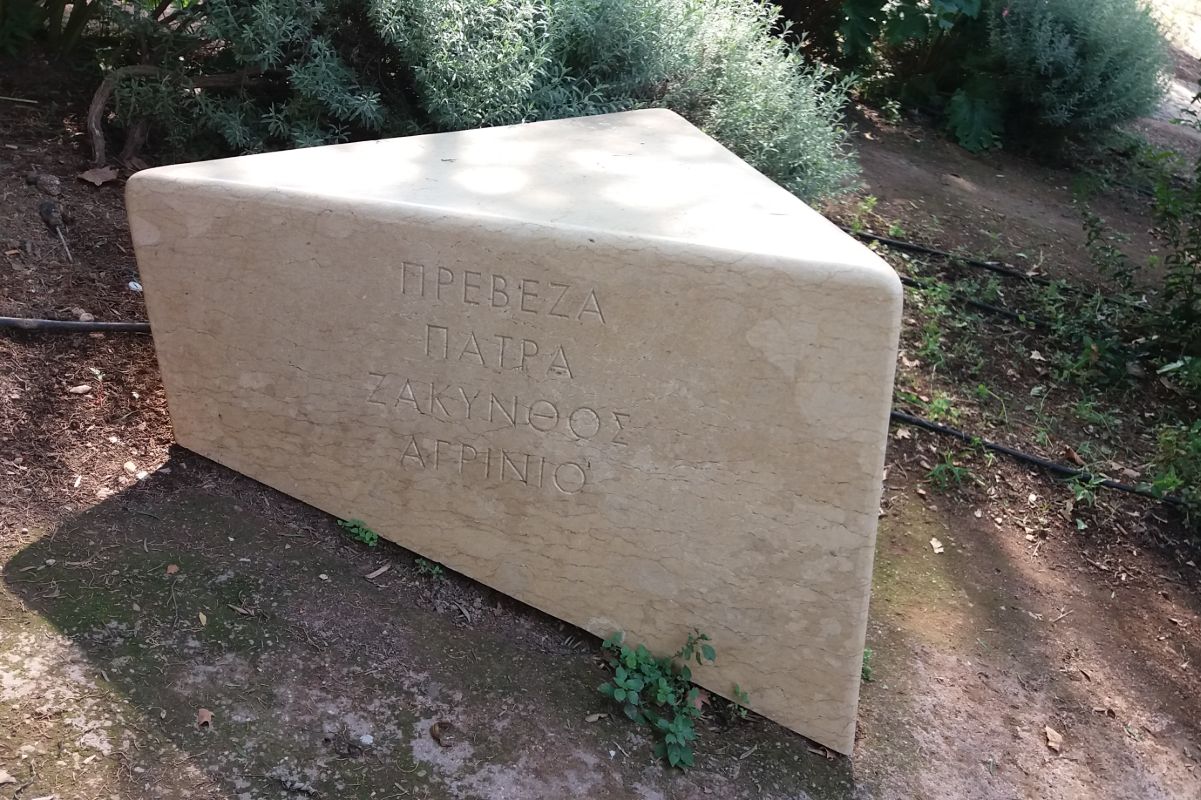 The names of the communities-cities are engraved in the marble piece pointing in the direction where they once existed.
The Athens Jewish Museum
The Jewish Museum in Athens, Nikis 39 st. is another very important Greek Jewish Monument.
It was built in 1977 to collect, preserve, research and exhibit material remnants of 2,300 years of Jewish life in Greece. Its collection, which is constantly enriched, consists of tens of thousands of original objects, photographs, documents and archives, and includes a variety of interesting material from the daily and religious life and historical course of Greek Jewish Monuments.
(the photo of the Shabbat candles links to Amazon.com)
Giousouroum Flea Market in Monastiraki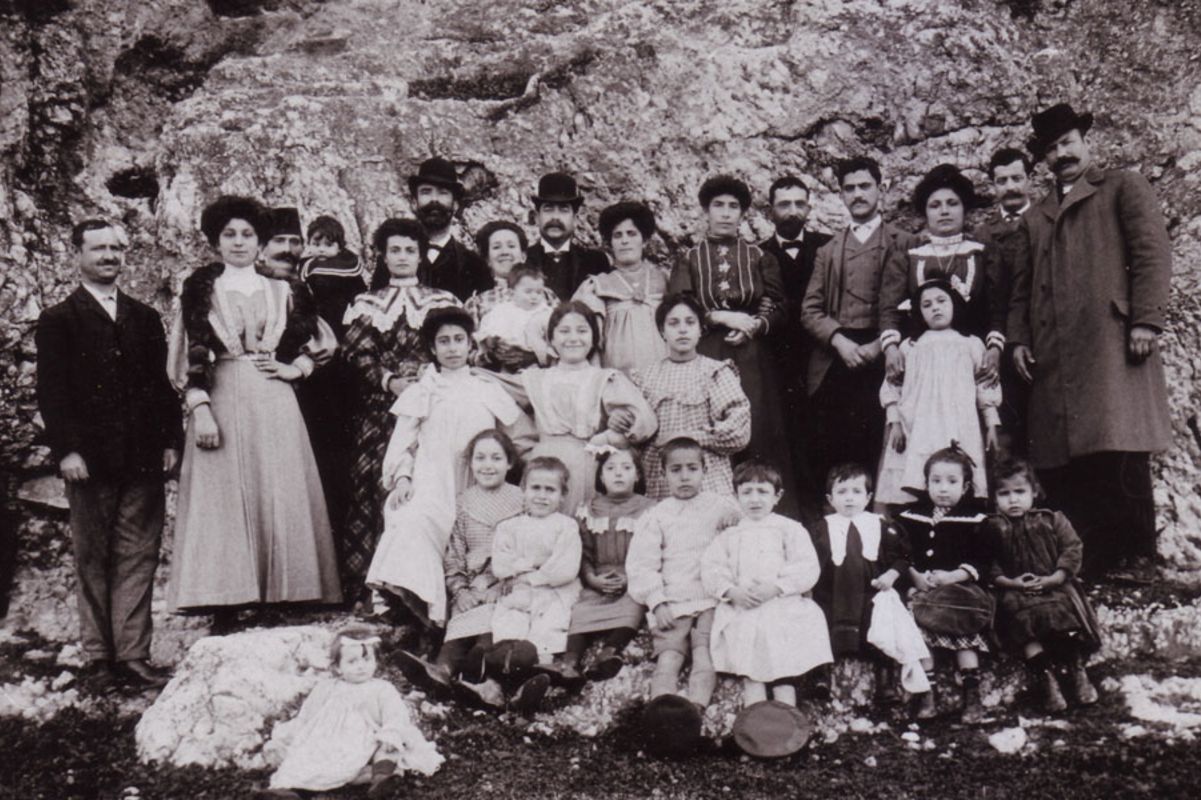 Bohor Giousouroum, a tailor in trade, moved with his family from Kyhtnos island to Athens in 1863. Soon after, he opened an attire shop in Ermou and Karaiskaki street. He would remake used clothes or antiques and sell them at Avissinias Square (Monastiraki Flea Market) and that way he made himself famous in the specific trade.
As a result, the whole area was named after him, a name that still exists even today. A walk around the Giousouroum market is much worth it as all kinds of antiques and second-hand items (some in total disrepair) are sold together.
The vibrant market attracts all kinds of different people, of diverse religious symbols and temples. Most importantly, you can find small traditional taverns where mostly Greeks go.

Tip2: Pay extra attention to your belongings
Jewish Cemetery in Athens
The oldest Jewish cemetery of the Athens Jewish Community occupies a total area of 2,500 sq.m. within the First Cemetery of Athens.
The graves date back to the early 20th century; after World War II, the cemetery reached full capacity. It is enclosed by a wall and is protected by security personnel. It offers limited interest to a visitor interested exclusively in Jewish graves.
However, the First Cemetery of Athens is the most prestigious cemetery in Greece where all the famous Greeks have been buried. It is a very large park – cemetery, housing some very impressive pieces of art like the "Sleeping Maiden" of Giannoulis Halepas. Many graves-tombs replicate famous ancient Athenian monuments or motifs.
It is located within walking distance from the backside of the Temple of Zeus. I would recommend you walk through Mets to get to the cemetery, you will love the beautiful stroll in this old Athens area. The entrance is free.
Jewish Cemetery in Nikaia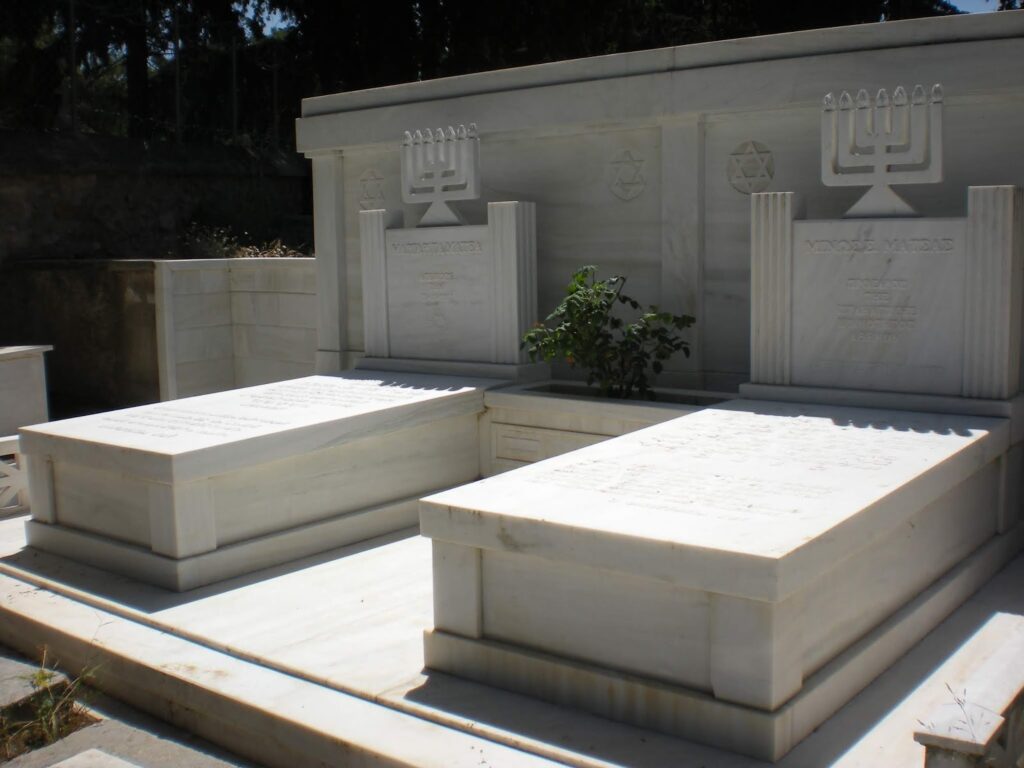 The second cemetery and much more interesting for the Jewish Community of Athens occupies 20,000 sq.m. within the Third Cemetery of Athens at 7 Pireos St. in Nikaia (a western suburb of Athens).
It became active after World War II and is still in use today, although the remaining space is very limited. It is enclosed by a wall and is protected by security personnel like most Greek Jewish Monuments.
Kosher Restaurant in Athens
There aren't many Jewish food places in Athens but Gostijo "is the one and only Kosher restaurant in Athens, offering a journey through the Mediterranean flavors of the Sefardi Jews", according to his Facebook page quotes.
Check their website: https://gostijo.gr/
Life Will Smile Documentary
Life Will Smile is a compelling 40-minute documentary that tells the story of the complete survival of Europe's only Jewish community during the Holocaust on the Greek island of Zakynthos. Narrated by Greek-Jewish survivor Haim Konstantini.
Where to stay in Athens
For the Best and affordable accommodation in Athens, you can check Booking.com. Below you can find a selection of the hotels in the area of Acropolis and Thisio:
You may also find interesting my full guide on Athens Plaka accommodation
Solo Female Traveller to Greece
Women who travel alone are perfectly safe in Greece, in big cities, or any of the islands. Traveling around the country is quite easy as Greek people are very friendly and eager to help and reply to any questions from visitors.
Having said that, common sense should always be exercised. There are few sketchy places in Athens – Omonoia square and surrounding areas – that its dark areas should be avoided.
Other than that, traveling Solo to Greece will be great fun, you are going to have the time of your life in Greece.
Did I forget to mention a Jewish landmark in Athens? Please leave a comment and I will add it. Thanks!
Travel Resources
More Inspiring Readings on Athens
Did you find my post on Greece useful? Feel free to buy me a coffee and support my blog!
Not Sure where to Go to Mainland Greece?
Grab below your free 5-Day classic itinerary in mainland Greece. It includes sites, relative informative posts, and hotel recommendations!