If you have been wondering where exactly are the Mamma Mia Greece Locations, this post will offer all the relevant information!
Mamma Mia is a popular and successful movie, filmed in 2008 in three spectacular Greek locations: Skopelos and Skiathos Islands in the Sporades island group and Damouchari, a tiny village in eastern Pelion Mt right across from the Sporades.
The Mamma Mia Greece Locations as they are presented in the film is a masterpiece of crafty film editing. The producers and director have combined those three locations and mixed them up adding props that were adapted to the settings at Pinewood Studios.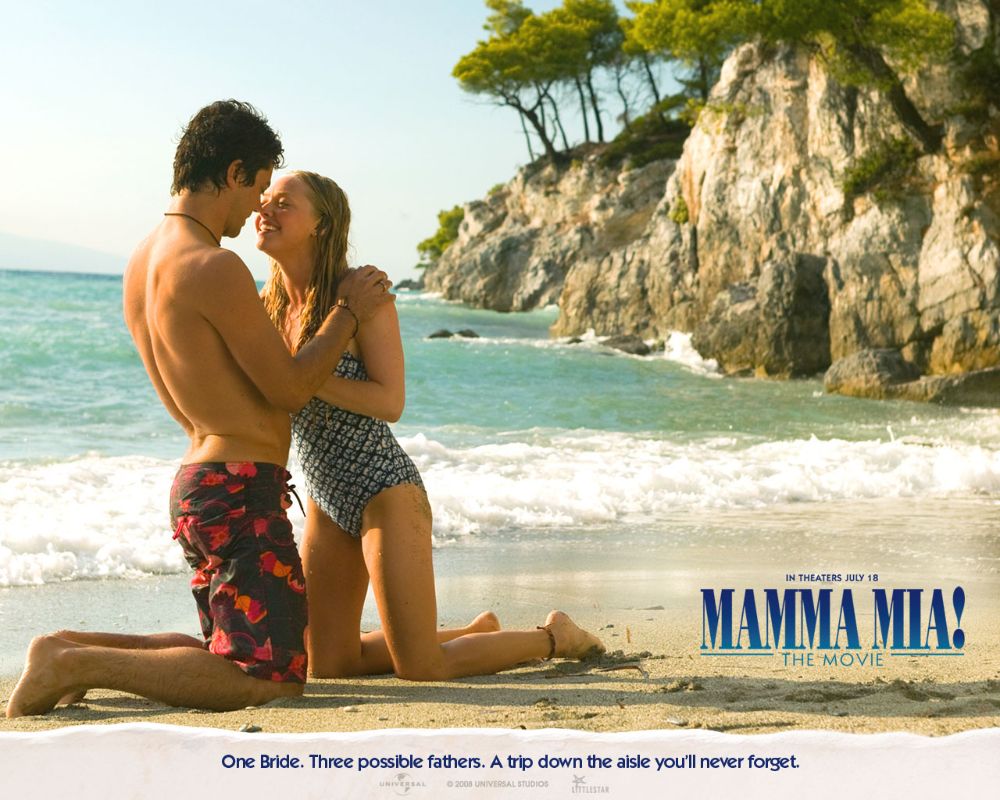 Mamma Mia is a romantic musical, based on the songs of the 1970s and early 80s Swedish pop group ABBA. Although, ABBA or musicals, in general, is not everybody's cup of tea, however, it did boost Skopelos Greece tourism tremendously.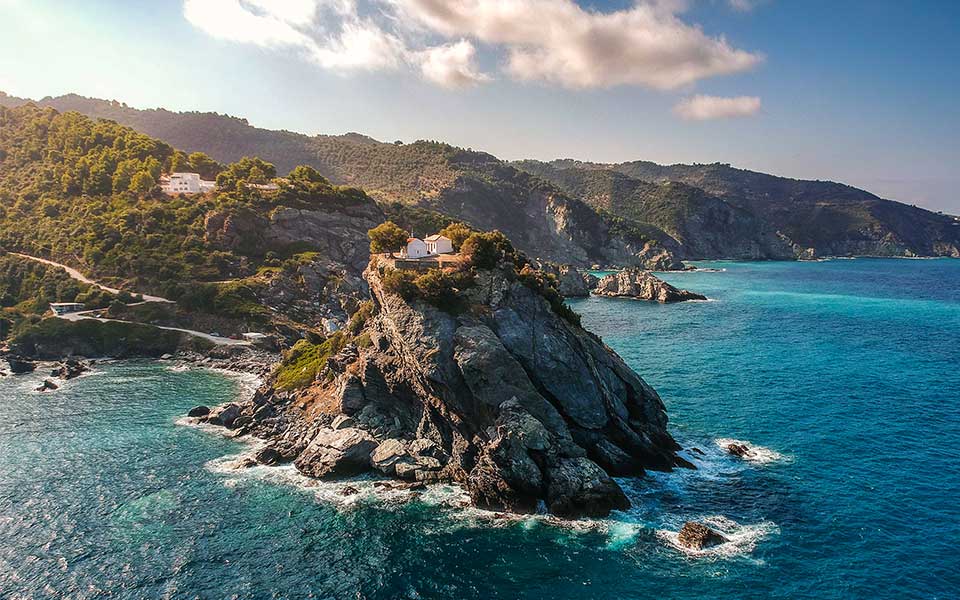 For the first time, the spectacular landscape of Agios Ioannis Kastri and remote sandy beaches such as Kastani with emerald waters made Skopelos widely known.
Up next I am going to tell you about the Mamma Mia Greece Locations!
*Some of the links below are affiliate links. That means I may make a commission if you click and buy. The commission comes at no additional cost to you.
Mamma Mia Greece Locations Google Map
Get your Google interactive map with all the Mamma Mia locations in Greece.
Mamma Mia Greece Locations
Skopelos or Kalokairi Island
Skopelos Greece or else Kalokairi (summer) as it was called in the movie, is the main Mamma Mia Greece Locations. Specifically:
the wedding scene chapel is at the St. Ioannis beach
the main beach of the movie is in Kastani
the view from the house can be found on Glysteri beach
scenes were filmed in Amarandos Cove, Milia Beach and
Skopelos Chora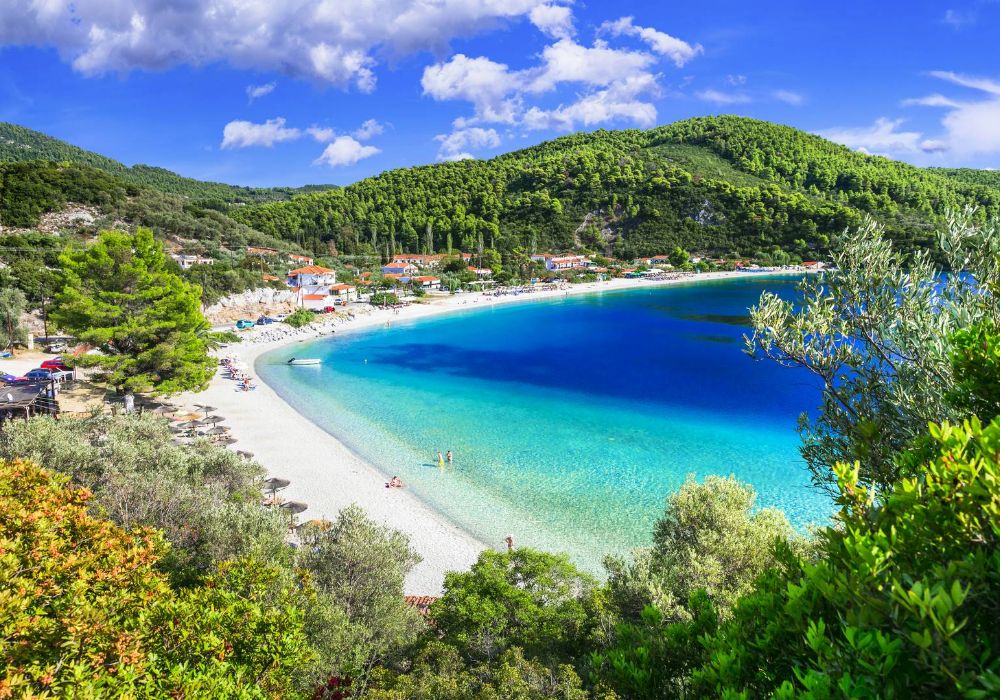 Mamma Mia island Skopelos is the greenest island in the Aegean Sea and the second largest island in the Sporades group. 67% of its surface is covered in pine forests creating a magical place that looks like a paradise.
Sporades group is located north of Evia island and east of Pelion Mt. The group includes Skopelos, Skyros, Alonissos, Skiathos, and Peristera islands (the ones with residents) and many other smaller islands with no residents at all.
Agios Ioannis in Kastri: The Wedding Scene
The magical wedding scenes were filmed at the astonishing church of Agios Ioannis in Kastri in northern Skopelos, about an hour from Skopelos town. Right across from the rock where the chapel stands on its top, Donna sings 'The winner takes it all' to Sam.
The beautiful church has over 100 very steep steps carved into the rock, but with handrails to hang on to. It is a hardship but you will be compensated for the spectacular view when you get to the top of Skopelos and nearby Alonissos.
You can spend time on Agios Ioannis Beach with a coffee shop that also rents sunbeds and umbrellas.
Kastani Beach
Kastani is one of the most beautiful beaches in Skopelos with turquoise waters and no wonder why it was chosen for Mamma Mia Greece locations.
This is the beach where Tania sings 'Does Your Mother Know?', where Sophie and Skye sing 'Lay All Your Love on Me', and where Donna and the dads say goodbye to Sophie and Skye and sing 'I Have a dream'.
At Kastani Beach you will find a busy beach cafe, sunbeds as well as a water-sports rental, with a party atmosphere on summer evenings. And if they play Abba songs, you can feel you are part of the film as well!
Glysteri Beach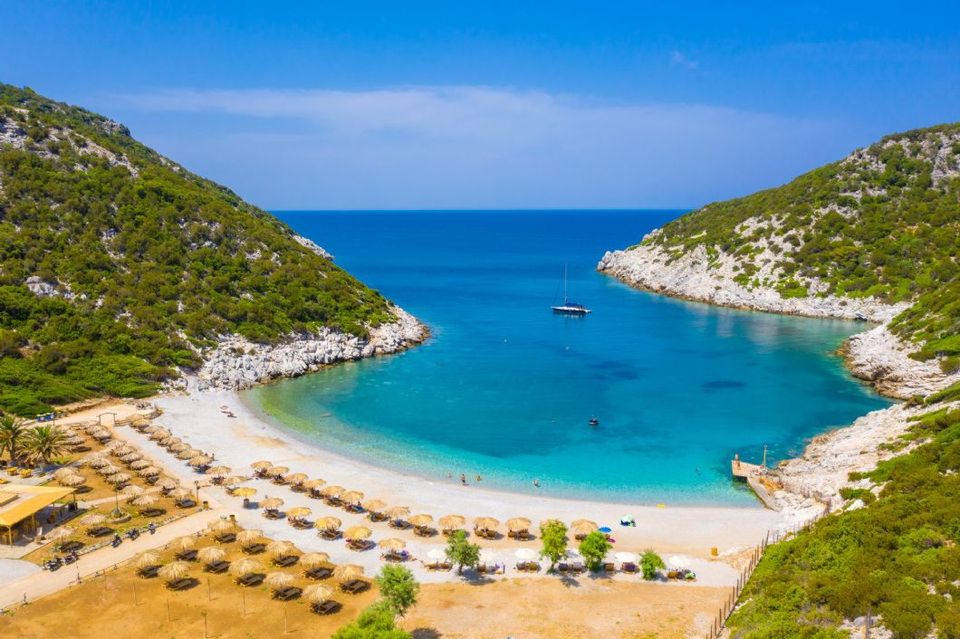 In Glysteri Beach, which is close to Skopelos Chora, is the supposed arched stone entrance to the Villa Donna (which doesn't really exist in Skopelos). The mountainous peninsula near Glysteri Beach was the departure point for Sophie's wedding.
Glysteri is an organized beach, popular and busy with loud music and a party ambiance.
If you are a fan of the film, you can take a guided Mamma Mia tour Skopelos to spend a day visiting the Mamma Mia film locations by coach, with time for swimming and a nice lunch by the sea.
Amarandos Cove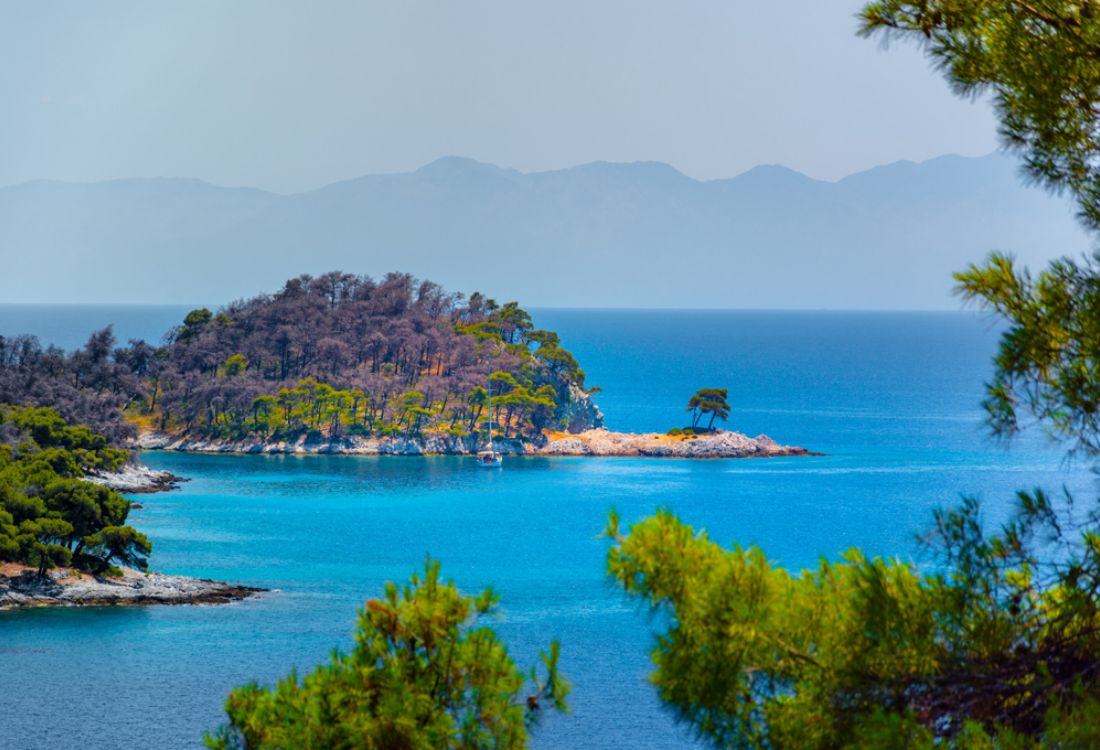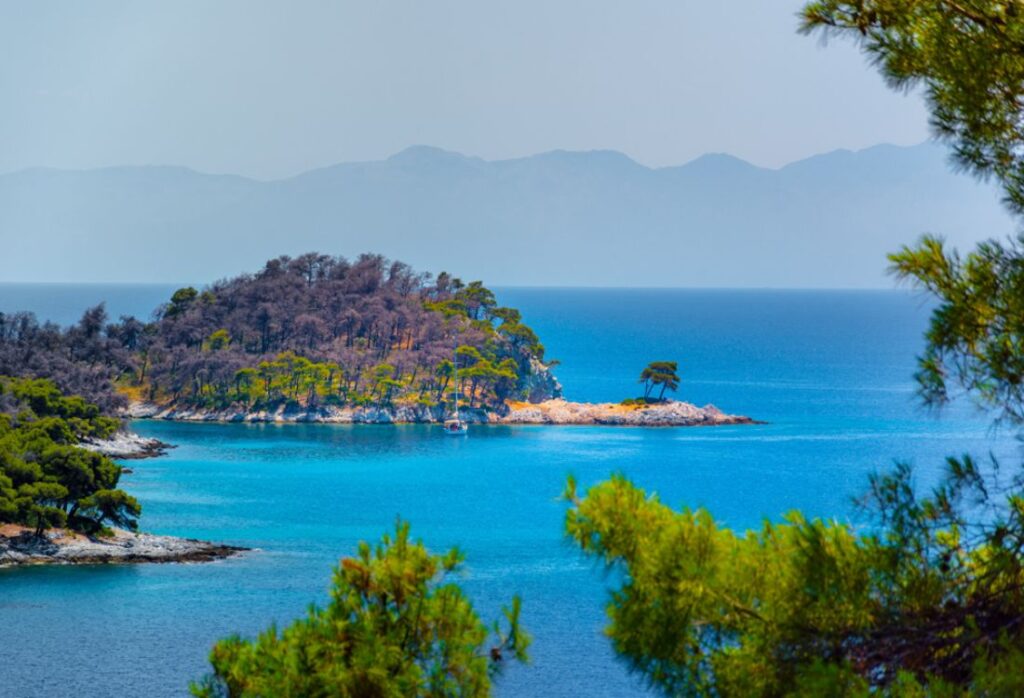 The idyllic sailing scene where Sophie and her 3 dads sing 'Our Last Summer' was shot at Cape Amarandos in Skopelos. The stunning cape has lots of hidden coves and rocky swimming places. You can hike there but it is quite challenging so the easiest way to approach this area is by boat.
Where to stay in Skopelos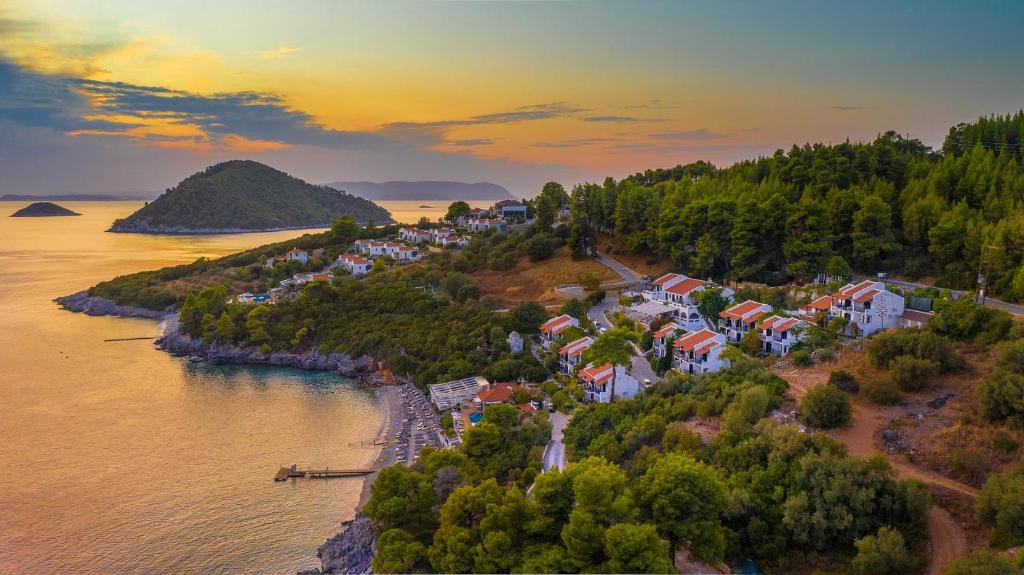 Adrina Beach Hotel is in a stunning location on Adrina Bay with a fabulous pool and a beachside restaurant overlooking the turquoise water beach while the cozy rooms of Eleni Studios Neo Klima Skopelos with a beautiful garden, magnificent sea views over the Eleos Beach and competitive comfort and facilities.
Where to eat
For fine Mediterranean cuisine, go to Zoupas restaurant in Chora. The Agnanti restaurant in Glossa is famous for its good Greek cuisine, but also for its incomparable view. On the beach of Panormos, you will find the tavern of Giannis with many local Skopelos recipes. Mouria is a nice fish tavern on the beach of Agnontas.
How to get there
Skopelos is reached by ferry from Volos, Kymi, and Mantoudi ports on Evia island and Agios Konstantinos port in Fthiotida. Evia Island is linked by a bridge to the mainland and is two hours drive from Athens.
Alternatively, you can fly to Skiathos and take the ferry to Skopelos. Check FerryScanner to get the best prices in the market with no hidden fees.
Skiathos Island – Mamma Mia Greece Locations 2
Skiathos is the most touristic area of Sporades, with over 60 magnificent sandy beaches, all surrounded by fragrant pine forests.
The locations where the filming took place in Skiathos are in the old port next to the picturesque and pine-covered peninsula of Bourtzi. From Skiathos is the scene where Pierce Brosnan and Colin Firth, run to catch the boat that will take them to Skopelos.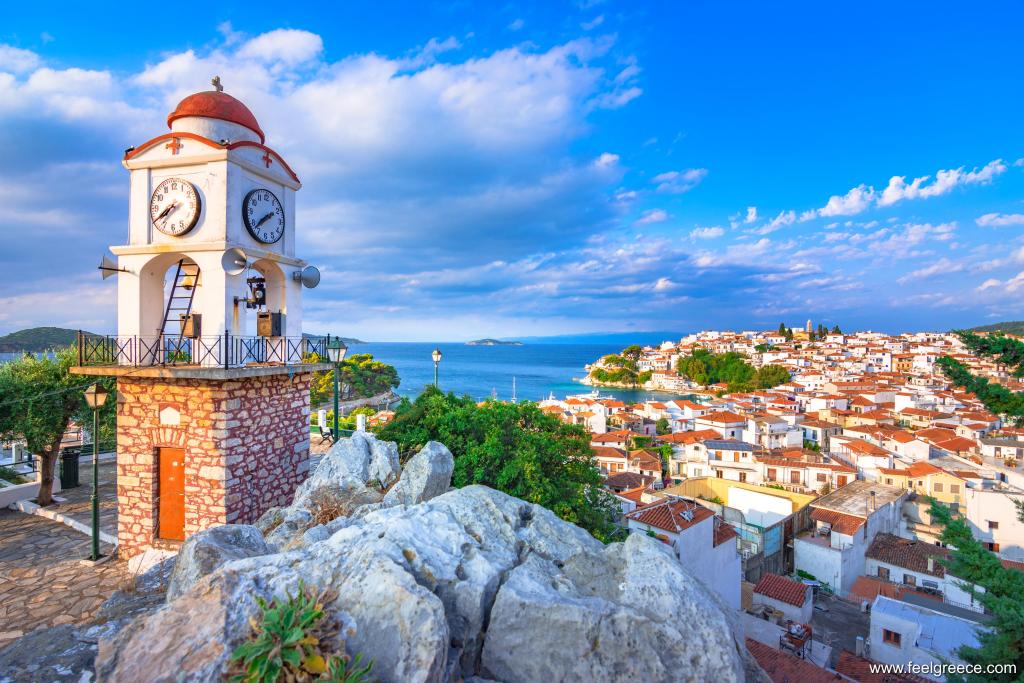 All the seaside shops in Skiathos had to adjust their facades and table seatings to look as if they belonged to an older era. Filming also takes place in Agios Nikolaos where Sophie sends the letter to invite the 3 prospective fathers to her wedding.
Where to stay in Skiathos
The La Piscine Art Hotel, Philian Hotels and Resorts is set in a peaceful area, just a 5-minute walk to the center of Skiathos. The stylish hotel is adults-only and offers an Olympic-sized swimming pool and a friendly atmosphere.
The Polykratis Rooms is a very convenient cozy property, ideal for families, just a 4-minute walk from the beach and 500 meters from Skiathos Town.
Where to eat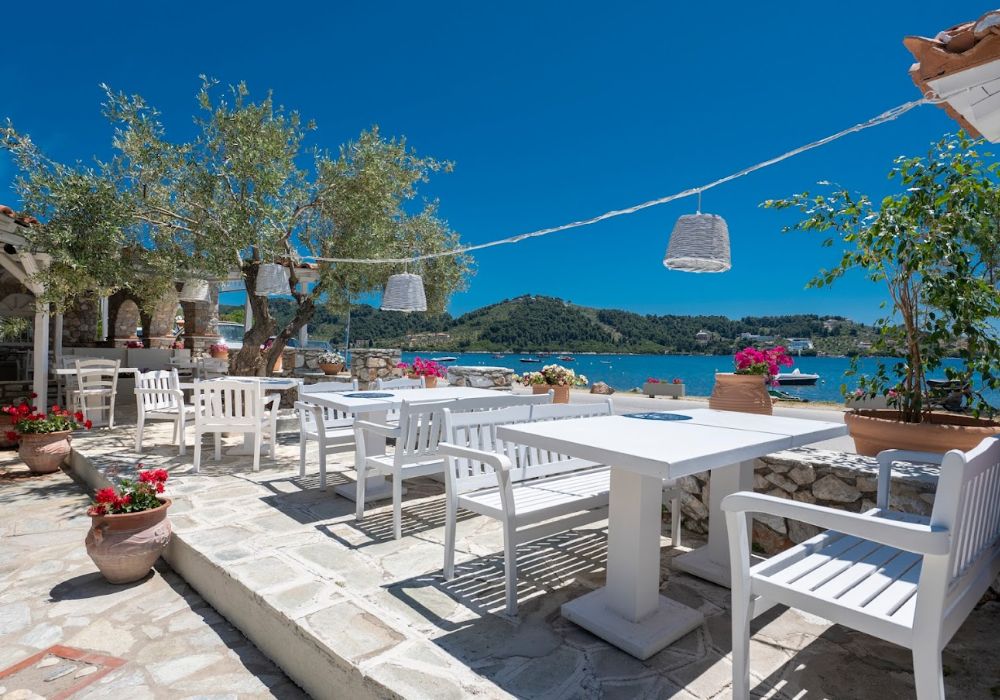 One of the best restaurants in Skiathos is Carnayo in the new port with Mediterranean cuisine using organic vegetables. For fresh fish go to Scuna and for traditional and fresh local flavors stop by Artesanal.
A modern Greek cuisine restaurant that is also worth trying is the award-winning Elia's Restaurant inside Mandraki Village Hotel.
How to get there
You can fly to Skiathos, or take the ferry from Agios Konstantinos, Mantoudi, or Volos ports.
Damouchari in Pelion Mt – Mamma Mia Greece Locations 3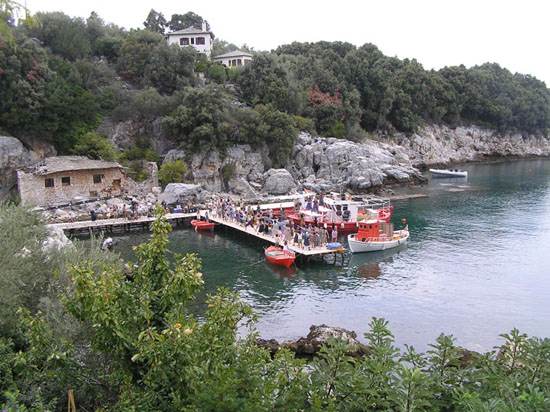 The 'Dancing Queen' dance starts in Villa Donna and continues to the courtyard (both scenes were shot in Pinewood Studio). It then extends to the area outside Villa Donna (the arch in Glysteri Beach, Skopelos). The route ends at the port of Damouchari in the Mouresi area along the coast of eastern Pelion in mainland Greece.
The jetty you see in the film was built especially for this scene. It was dismantled to retain the peaceful and traditional scenery of Damouchari.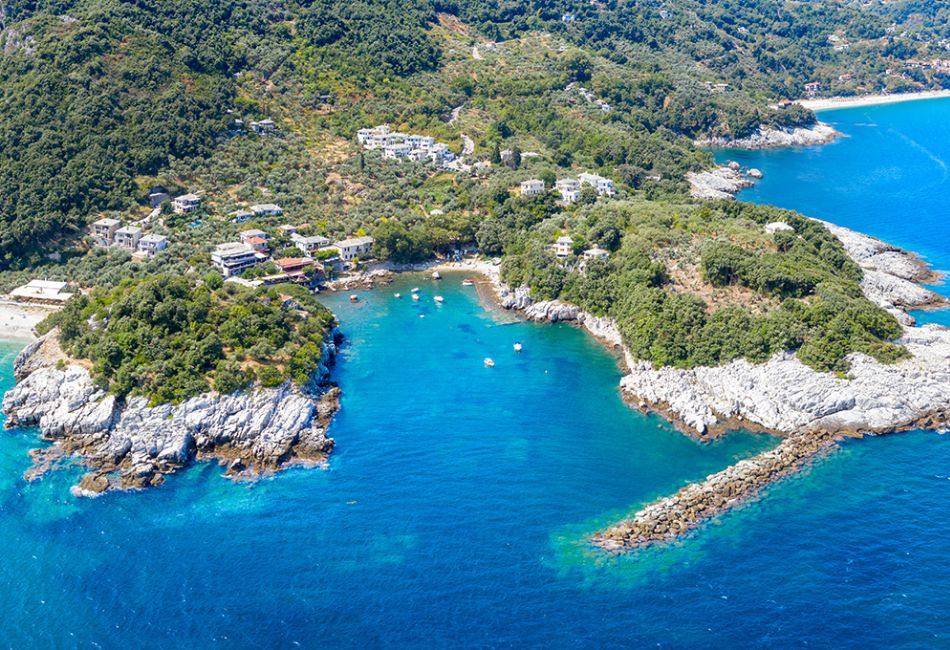 Damouchari's tiny port is perfect for a meal with fresh fish, a dive to the 50 meters far beautiful beach, a stroll under the olive trees, or a hike to Tsagkarada, 8 km from Damouchari.
You may also enjoy: 30 Best Places to Visit in Greece
Where to Stay in Damouchari
Victoria's Guesthouse is ideally set in front of Damouchari port, with a lovely terrace and brightly decorated rooms.
Related Posts on Pelion
Another beautiful thing is that more and more people from Greece and all over the world are deciding to get married or renew their vows of love at the Mamma Mia Greece locations!
Plan My Trip to Greece
Do you need a custom travel itinerary for Greece? Are you traveling solo, with your family or your friends and you need a tailor-made multi-day tour or a transfer within Greece?
If yes, please visit my dedicated Plan My Trip Page for a free itinerary!
Where is your dream summer destination?
I'd love to hear about where you're spending your exciting travel plans! There are so many things to do on the Mamma Mia destinations in Greece. I hope that you get the chance to visit as many as possible. Till next time, Evgenia❤️
Mamma Mia Greece Locations
St. Ioannis beach
Kastani Beach
Glysteri beach
Amarandos cove and Milia beach
Skopelos Chora
Skiathos Island
Damouchari port
How to get to Athens Port (Piraeus) from Athens Airport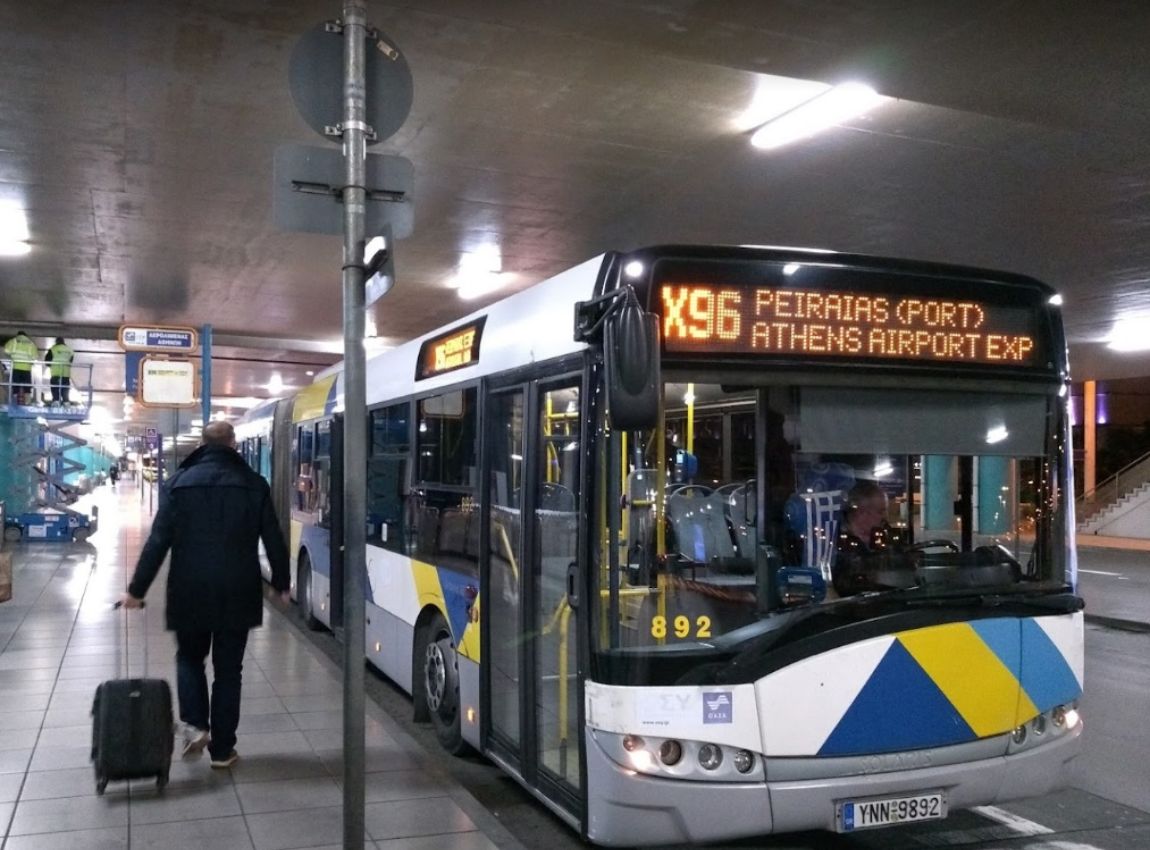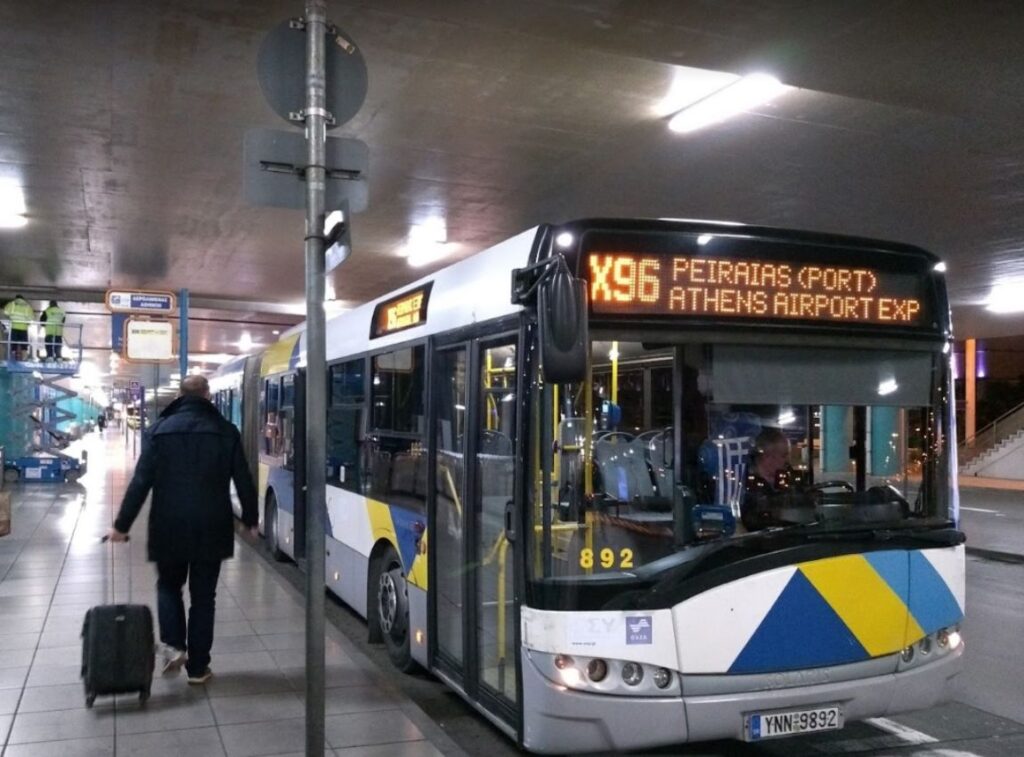 Bus: If you are arriving at Athens International Airport you can travel straight to the port by taking the X96 express bus (€5.5, children <6 yo, free entrance), which departs every 40 minutes and the average trip lasts 1 hour – runs 24/7.
Metro: (€9) is easily found across airport arrivals (blue line – M3) going directly to Piraeus port. The average trip to Piraeus lasts 1 hour.
Taxis are available in front of the airport (around €40 to Athens, €55-60 to Piraeus (depending on the traffic in Kifisos), and take up to 3 or 4 people with small luggage)
Rent a car with Discover Cars to rent reliable new cars at affordable prices
You don't like driving but love hassle-free solutions? Book a Private transfer with an English-speaking driver from Athens International Airport to Piraeus Ferries, or anywhere else in Greece
Check out an entire post on Lavrio Port in Athens
Some of my Favorite Travel Resources for Greece
'Hello' and 'Thank You' in Greek: "Ya sou" and "Efharisto"
Booking.com: I use Booking.com because I can get the best deals on both hotels and apartments, free cancellations, and great prices!
Find Long-Term Rentals in Greece: You will find the best prices in Flatio
FerryScanner to book ferries to the Greek Islands
Athens Metro Website (timetables and ticket info)
Get Your Guide: For all your day or multi-day tours and city guide needs, I use Get Your Guide
Emergency Numbers Anywhere in Greece: AMBULANCE 166 – FIRE 199 – POLICE 100– EMERGENCY NUMBER 112
All rights reserved © Travel the Greek Way. Republishing this article and/or any of its contents (photographs, text, links) is strictly prohibited.
Please follow and like us: