Athens Riviera covers the gorgeous Athens coastline from Piraeus (where the main Athens port is) all the way to Cape Sounion (where the Temple of Poseidon stands), a total of 62.5 km.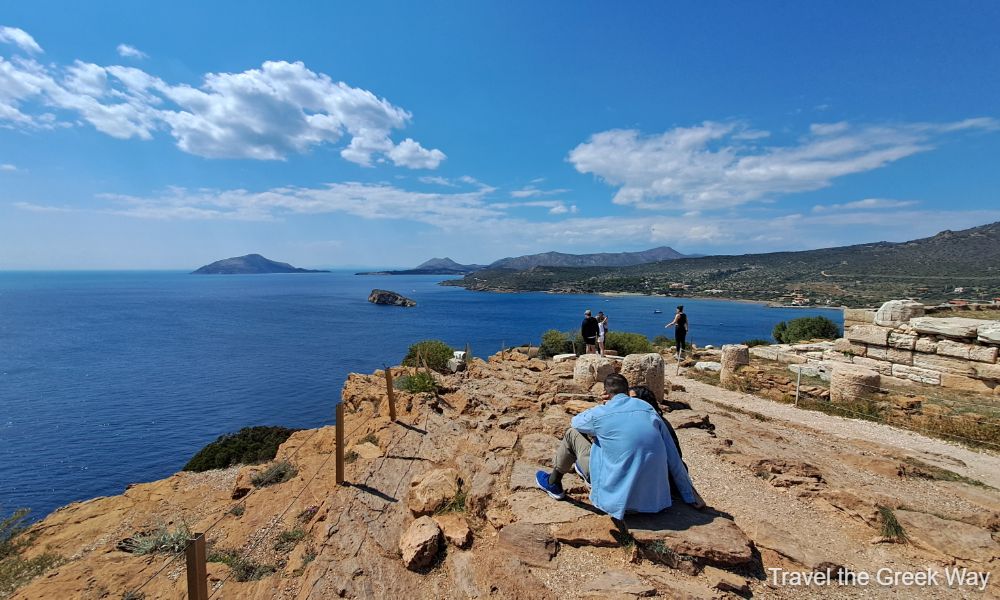 The Athens Riviera crosses many of Athens' southern suburbs and seaside resorts, all with inviting sandy or rocky beaches, and offers a stunning drive with endless Aegean sea views.
If you are planning a romantic Athenian Riviera vacation, or you are a family with children of any age, there are plenty of beautiful places to stay in Athens Riviera and feel like you are on a Greek island.
Top stops in Athens Riviera:
Paleo Faliro
Flisvos Park and Marina Falirou
Alimos Marina
Greek Night Clubs
Hellinikon
Agios Kosmas Marina
Glyfada
Voula
Vouliagmeni
Vouliagmeni Lake
Limanakia beach
Varkiza, Lagonissi, Saronida, Anavyssos
Kape Beach
Cape Sounion and the Temple of Poseidon
*Some of the links below are affiliate links. That means I may make a commission if you click and buy. The commission comes at no additional cost to you.
Up next I am going to tell you about 17 of the best stops on the Athens Riviera!
Athens Riviera Map
Get your Interactive Athens Riviera Map here to drive to any of the places listed on the best stops on the Athens Riviera.
1. Paleo Faliro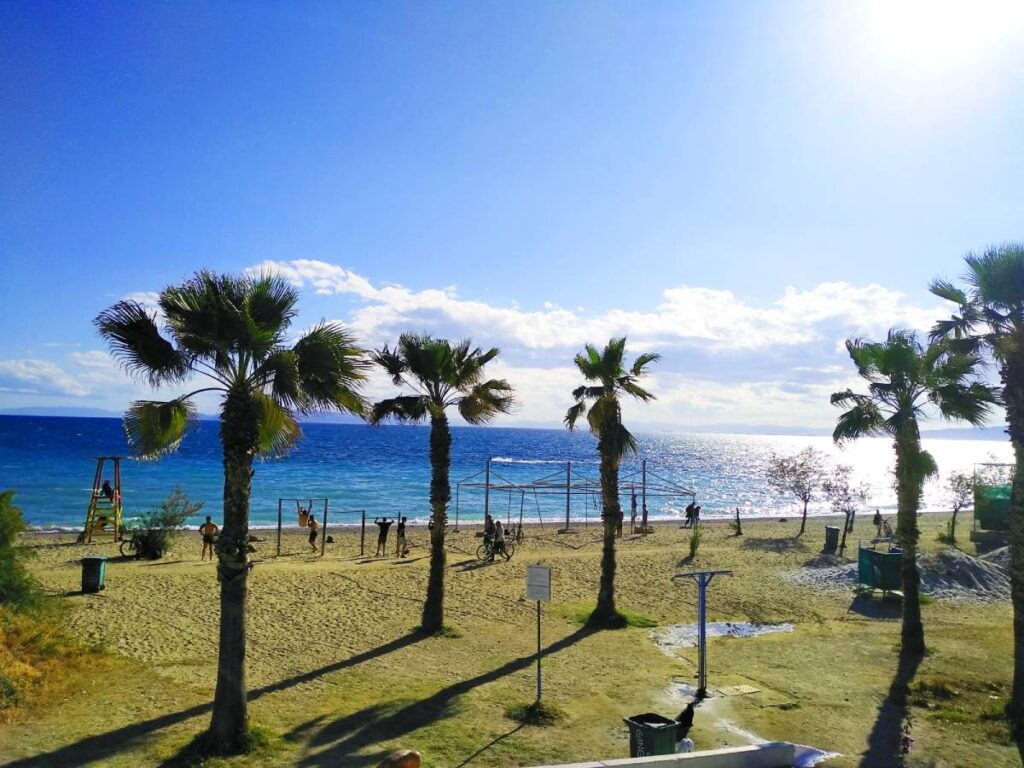 Paleo Faliro is the first stop on the Athens Riviera coastline and is only 15 minutes away from Acropolis Hill. Paleo Faliro has modern apartment buildings and shops and is a well-looked-after area by the local authorities.
History Tip: In Faliro used to be the main ancient port of Athens. During the Persian wars around 493 BC Themistocles, the leader of Athens, started constructing the Piraeus port. Apostle Paul during his second missionary trip, arrived in Faliro in 50 AD and not in Piraeus.
2. Flisvos Park and Marina Falirou
Flisvos in P. Faliro is a very popular place, especially in the summer.
The whole area of Flisvos Marina is a great commercial complex that offers diverse dining (there is a great Italian restaurant), shopping, and recreational opportunities – all within a natural environment overlooking the blue Saronic Gulf.
Paleo Faliro Beach attracts quite a few swimmers, especially the permanent residents of the area. One of the best things to do in Faliro is to walk the beautiful Flisvos pedestrian area towards Alimos Marina, which is located less than 1 km further down the shore.
This wide idyllic palm pedestrian is a very popular spot where people from all over Athens come to bike, walk, run, play beach volleyball, party, or swim.
I often visit the area myself and buy some baked corn and chestnuts from street fooders and munch them while gazing at the sea.
Athens Riviera Hotels in Paleo Faliro
Paleo Faliro is conveniently located quite close to Athens center and right across the lovely blue sea, so it is a great idea to stay there for a night or more.
One of the best places to stay is the Unique Flat with Sea View at Edem Beach (from €120). Beautiful sea views from the balcony, stylish rooms with classical decoration, and can host up to 5 people.
You are reading about 17 incredible stops on Athens Riviera.
3. Alimos Marina
Alimos is right next to Paleo Faliro, another fantastic place for walking by the sea and admiring the luxurious yachts at its Marina. There is always a lot of sailing commotion around, especially in the summer with yachts sailing to the Greek islands.
Bolivar Beach Bar in Alimos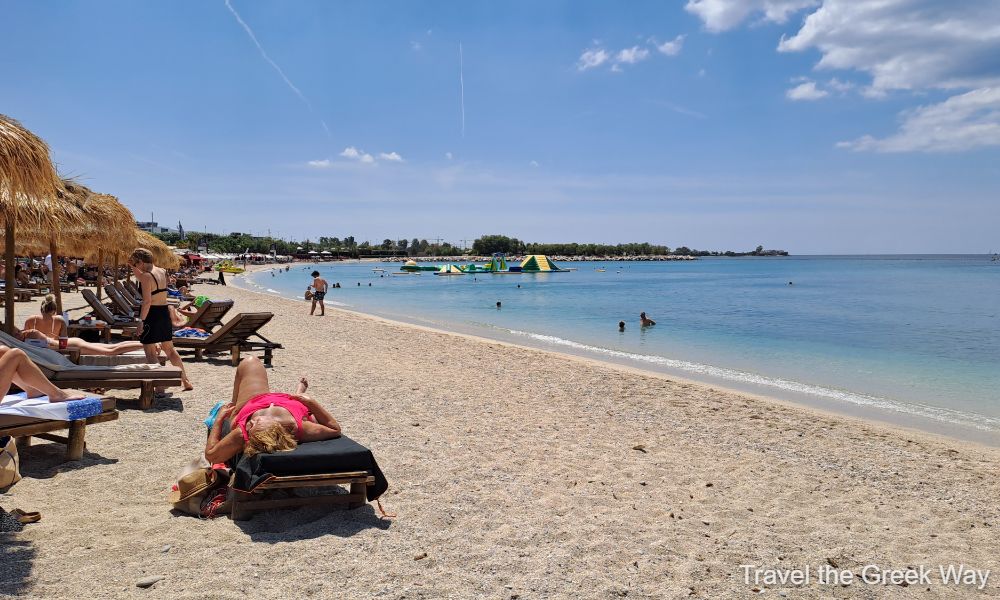 If you love organized beaches with beat music on a sandy beach half an hour far from Athens center you should go to Bolivar.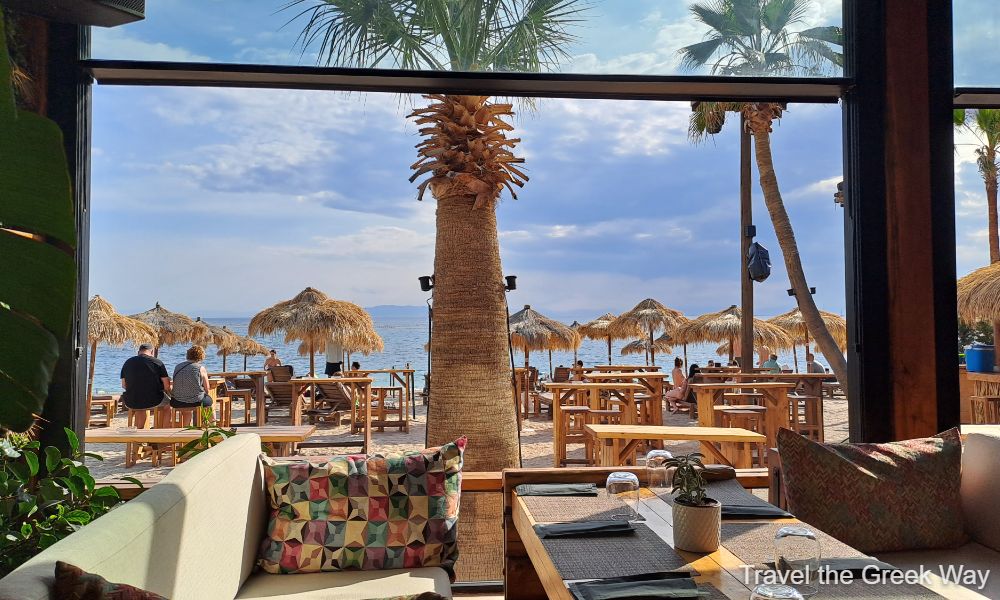 You can get snacks and drinks right on your umbrella, there is a bar and a very nice restaurant as well. There is an entrance fee and you also pay for the umbrellas and bed. More about Bolivar here.
4. Greek Night Clubs in Athens Riviera – Bouzoukia Athens
If you are looking for some fancy Greek nightlife, then you should go to Bouzoukia Athens. Bouzoukia is a totally Greek experience, with Greek pop music which at times sounds like Middle Eastern music, light shows, airborne carnations, young beautiful singers, cigarette smoke and booze, and Greeks of all ages partying till dawn!
Posidonio Music Hall (in the Elliniko area) & Frangelico (Alimos) are two very good examples of those clubs.
Bouzoukia Tip: Until the '70s in Bouzoukia we used to break plates. For the last decades, it has been flowers and mainly carnations.
5. Hellinikon or Elliniko
Elliniko used to house the old International Athens Airport up until 2001 when the place was abandoned as the new Airport in Spata started operating.
Elliniko is now undergoing gigantic changes as there is a great project going on with the aim to turn the area into a recreational park with a five-star hotel and a casino. Quite an ambitious plan!
6. Agios Kosmas Marina
Agios Kosmas Marina is about 2.7 km from Alimos Marina, has 337 birthing places in total, and welcomes yachts of sizes from 15m to 80m. There is a large Sports center in Agios Kosmas with tracks for running.
I have witnessed some very beautiful sunsets in Agios Kosmas, as this is a more quiet area and ideal for peaceful walking by the sea.
7. Glyfada in Athens Riviera
Glyfada, 5.5 km from Agios Kosmas Marina, is one of the most elegant and posh districts of Athens Riviera, mostly preferred by Greek pop stars and affluent foreigners as a residence.
Glyfada stands out for its cosmopolitan clubs, fine hotels, its sizeable shopping and boutiques, and high-end seafood restaurants.
A must-see and the best shopping area in Glyfada is Kiprou Street with Greek and International designer boutiques. The place not to miss is Glyfada Asteras Beach with its country club charm, an ideal setting for sundowners on the waterfront terrace.
Glyfada Golf tip: If you are a golf enthusiast you will be thrilled with the Glyfada Golf Club, a modern 18-hole course!
Athens Riviera Hotels in Glyfada
If you want to stay in Glyfada, in a modern, spacious apartment, with an amazing terrace and views then your should book at the Glyfada South42 (from €113). It has apartments that can host both couples and families and it is very close to all the shopping and restaurants of Glyfada.
8. Voula
Voula is just two miles south of Glyfada towards Sounion. It has two European blue flag beaches, organized and sandy with beautiful clear waters. The area is dominated by the century-old Asklipiou Hospital while all the action is centered around Voula's main Vasileos Pavlou avenue.
Thanks to the special infrastructure that has been installed on the Voula beach, disabled people can also enjoy a swim.
You are reading about the 17 best stops on the Athens Riviera.
Athens Riviera Hotels in Voula Athens
Boutique Hotel in Voula: Blazer Suites Hotel is within meters of the beautiful sandy Voula beach. The rooms are spacious and light-colored, there is a large swimming pool in the garden and the breakfast is to die for. A lot of honeymooners spend at least 2 nights here!
9. Vouliagmeni
Vouliagmeni Bay, a pine-clad peninsula, is another gorgeous must-visit place in Athens Riviera. It is one of Attica's most luxurious and popular beaches, offering stunning views of the distant Saronic Gulf islands.
The most famous beach is Astir Beach with shallow turquoise water, smooth sand, blue flag certification for cleanliness, and excellent facilities. Near the beach lie the ruins of the Ancient Temple of Apollo Zoster, built during the 6th century BC.
Another beautiful beach in Vouliagmeni, surrounded by a small pine forest is Kavouri, a secluded cove, with the ambiance of a Cycladic island beach.
Where to Eat in Vouliagmeni
I highly recommend Four Season's tavern, its tables are just inches from the water, with real traditional unpretentious Greek food
Bluefish: A quality restaurant specializing in fresh fish, served right by the sea
Ithaki Restaurant: A legendary restaurant with many guests from the international Jet-set
Athens Riviera Hotels in Vouliagmeni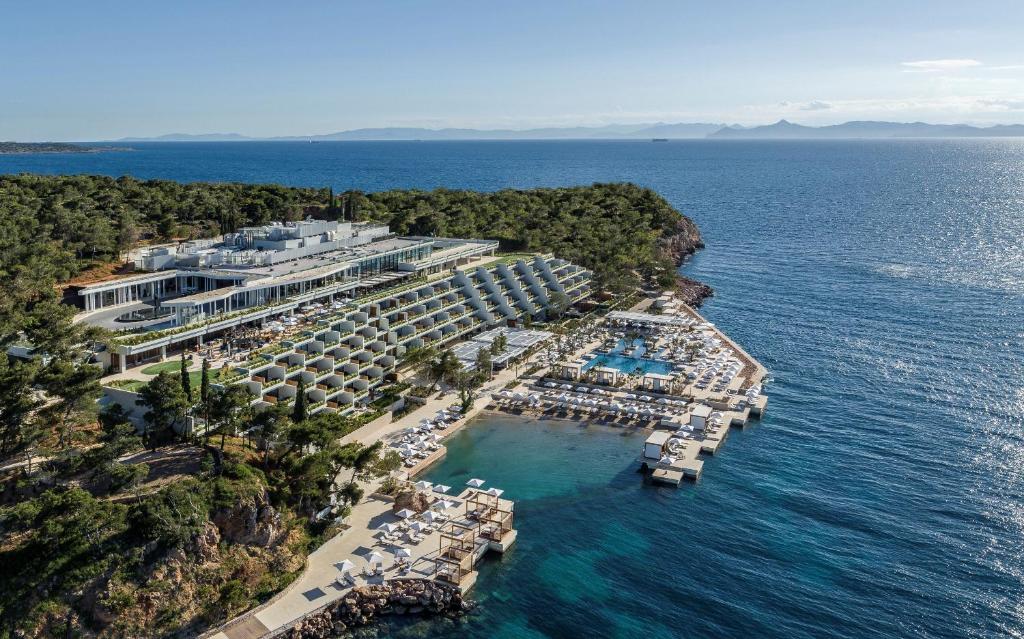 Best Luxury Hotel in Vouliagmeni: Four Seasons Astir Palace Hotel Athens – most famous guests include Jacqueline Kennedy Onassis, Charlton Heston, Frank Sinatra, and Joan Collins. It is perched on a peninsula directly on the Aegean Sea, equipped for snorkeling, windsurfing, and jet skis. A stunning place to fully enjoy the Athens Riviera.
The Margi boutique hotel features an exotic, almost mystical atmosphere around its swimming pool. It also offers outstanding seafood at reasonable prices. Check out availability and prices on Booking.com.
10. Vouliagmeni Lake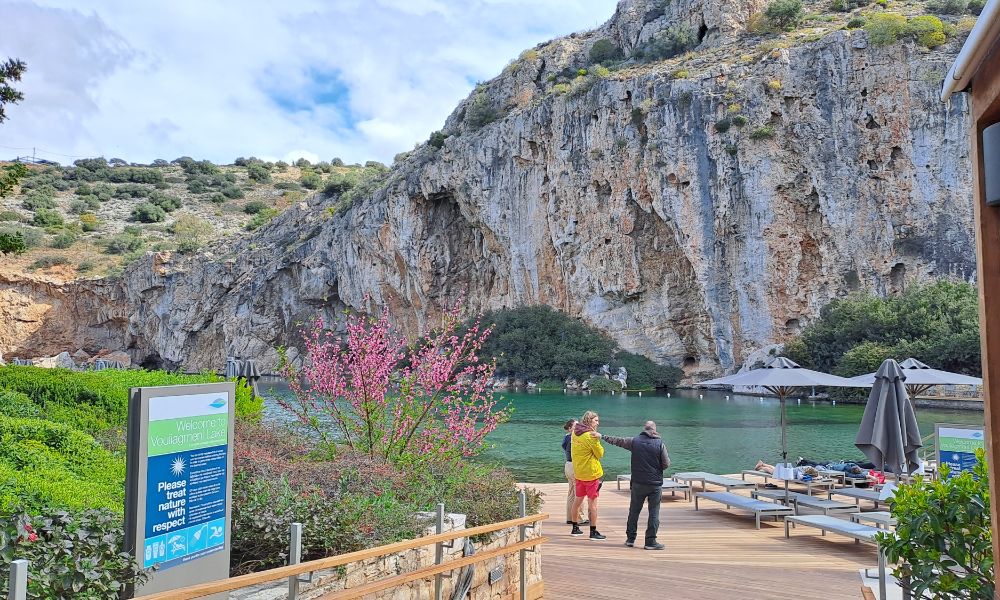 At the end of the Vouliagmeni area, right across the sea lies the stunning lake Vouliagmeni, the remains of a huge limestone cave fed by lukewarm springs welling from underground.
You can swim in the Vouliagmeni Lake's silky waters while getting a therapeutic spa for rheumatism and arthritis or have a coffee at the restaurant.
11. Limanakia Beach Athens
As soon as you leave the Vouliagmeni Lake towards Sounion, right on Athens coastline, there is an area called Limanakia, a series of small coves with deep blue water.
Liminakia Beach Bar is a secret place frequented mostly by Athenians and those who have stayed long enough in Athens to find out about its small secret places.
The simple wooden deck bar, perched on a rock face, and a meter away from pristine waters gets busy in the evenings with people eager to admire the beautiful sunset, have a drink, and enjoy a moonlit swim.
You are reading about 17 fun stops on the Athens Riviera.
12-15. Varkiza, Lagonissi, Saronida, Anavyssos
Continuing at the Athens Riviera coastline, you find one amazing summer resort after the other:
Varkiza beach is the first place you find after the Limanakia and it is a quiet resort mostly preferred by Greeks with affordable seaside dining options. Many beach parties are organized at the Varkiza Beach Resort where the post-sunset scene takes off.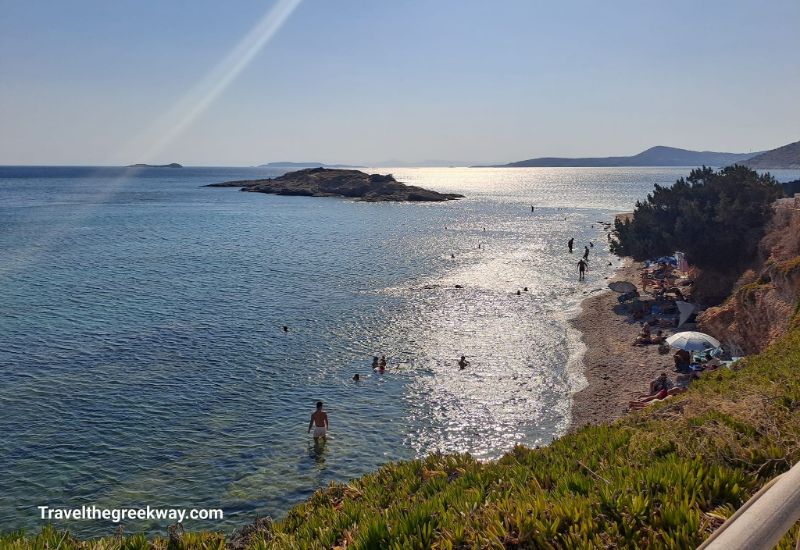 Driving from Varkiza towards Sounio you will find dozens of pretty beaches and coves with clear waters where you have a nice dive.
Saronida is 5 km from Lagonisi and it is another popular sea resort of Attica, with its fine slopes of surrounding hills. You can see villas and holiday resorts all around the area.
The next stop in the Athens Riviera is the beach town of Anavyssos. Anavyssos, only 7.5 km from Saronida is popular for its windsurfing facilities and great seafood at its fish taverns.
16. Legrena KAPE Beach in Athens Riviera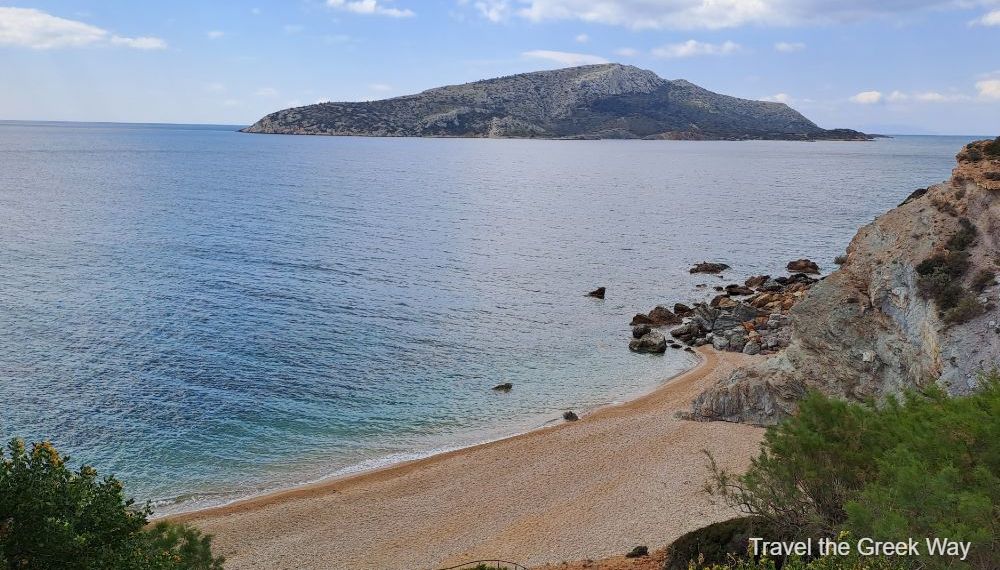 12 km from Anavyssos and 7 km before the Archaeological Site of Sounion, is located the beautiful Legrena KAPE Beach. It can be tricky to find as you need to turn right at a certain point where a small sign is. KAPE is an isolated small pebble beach, with crystal clear turquoise waters.
In July and August, weekends can get very crowded so I try to visit during the week, whenever this is possible. There is a canteen at the top of the cliffs for some simple refreshments.
17. Cape Sounion and the Temple of Poseidon
From Legrena Beach the coastal road continues to Cape Sounio, driving by the rugged terrain of this southern region of Athens.
Sounion Cape was ancient Athens' strategic point, controlling the sea passage to the Aegean Sea and Piraeus, as well as the Lavrion peninsula. In Sounion stands the imposing Temple of Poseidon, a stunning sight from the 5th century BC.
Besides the Temple of Poseidon, there are other important ruins all around that you should visit: The fortress, the sanctuaries, and a settlement as well as a cemetery.
Across the Temple, you can find one of the most gorgeous beaches in Greece, Sounion Bay, lined with fresh fish taverns and exquisite hotels.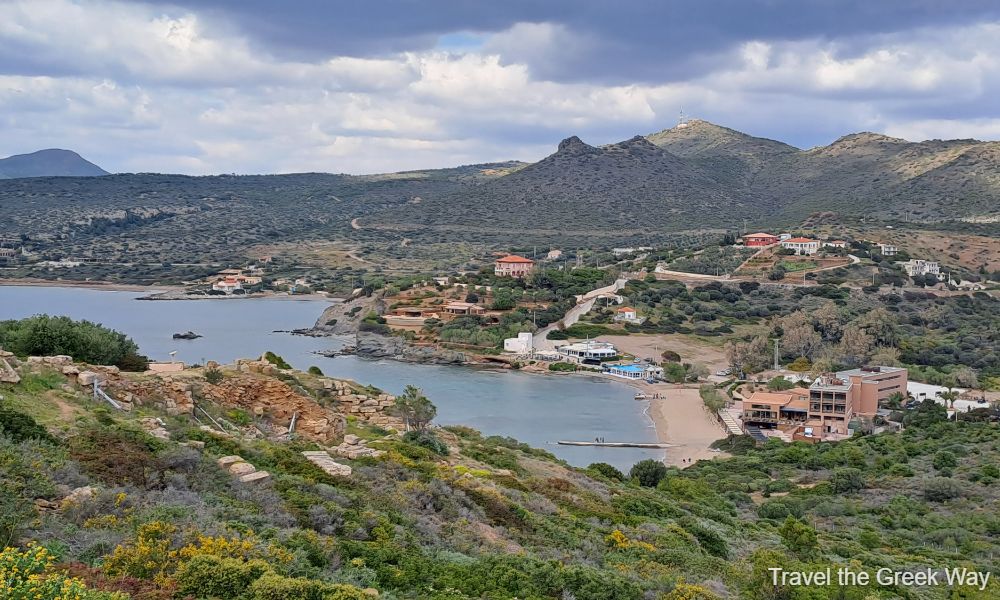 Athens Riviera Hotel in Sounion Cape
The Best Hotel to stay in Sounion Athens Riviera is the Cape Sounio, Grecotel Exclusive Resort, a stunning hotel right across from the Temple of Poseidon with top-notch cuisine and service.
What to Wear in Athens Riviera
This, apparently, depends on the season you are visiting but anytime between May and October, essential things to have in Greece are:
How to get to Athens Riviera from Athens Center
You can take the tram from Syntagma Square to Voula (so slow you can take a thousand photos easily). The coastline from Voula to Sounio is best explored by rental car. You will definitely want to stop many times to look at the sea view, take a photo, and walk by the sea.
You can also take the public bus from Pedion Areos in Athens center to Sounion (choose the Athens Riviera route). It will take you about 2 hours to reach Sounion from Athens.
Private Transfer to your Hotel
Book a private transfer with an English-speaking driver from Athens International Airport or Piraeus Ferries to any hotel in Athens. You avoid the hassle of public transport and minimize the risk of having your luggage lost or stolen. Check this professional and reliable private transfer in a Luxury Mercedes Van here.
Best stops in Athens Riviera
Paleo Faliro
Flisvos Park and Marina Falirou
Alimos Marina and Bolivar Beach Bar
Greek Night Clubs
Hellinikon
Agios Kosmas Marina
Glyfada
Voula
Vouliagmeni
Vouliagmeni Lake
Limanakia beach
Varkiza, Lagonissi, Saronida, Anavyssos
Kape Beach
Cape Sounion and the Temple of Poseidon
Plan Your Next Trip to Greece With These Guides
More Reading on Greece
Visiting Greece in October
Christmas in Athens
Athens Ottoman Monuments
Some of my Favorite Travel Resources for Greece
'Hello' and 'Thank You' in Greek: "Ya sou" and "Efharisto"
Booking.com: I use Booking.com because I can get the best deals on both hotels and apartments, free cancellations, and great prices!
Find Long-Term Rentals in Greece: You will find the best prices in Flatio
FerryScanner to book ferries to the Greek Islands
Athens Metro Website (timetables and ticket info)
Get Your Guide: For all your day or multi-day tours and city guide needs, I use Get Your Guide
Emergency Numbers Anywhere in Greece: AMBULANCE 166 – FIRE 199 – POLICE 100– EMERGENCY NUMBER 112