Updated September 13th, 2021 by TraveltheGreekWay
Salamina Greece or Salamis island is the largest island in the Argo Saronic Gulf, about 2 km off the coast from Piraeus and the closest one to Athens.
It is one of the less known Greek islands probably due to its close proximity to Pireaus port but I will try my best to entice you to a day trip when you are next to Athens!
Other islands that belong to the Argo Saronic group are Aegina, Hydra, Spetses, Poros, Dokos, and Agistri
In this post, I will show you all the best things to do on Salamina Island!
On Salamina's northern part is the vast Salamis Navy Base and headquarters for the Hellenic Navy. Still, Salamina island has many beautiful areas to visit, clear beaches to swim in, a large forest to hike, fresh fish to taste, and lovely sites to explore.
If you are also a history buff, then you have to visit Salamina Greece as it has played a very important role in shaping Greece's (and Europe's in extent) ancient history:
Historic Naval Battle of Salamis: In the Salamina island gulf back on September 22nd in 480 BC, one of the most important ancient naval battles in human history happened there. The Greeks, under the command of brilliant Themistocles, fought the invading Persians and defeated a Persian fleet four times larger while the Persian King Xerxes was watching in dismay from Egaleo MT in Pireaus.
There are monuments of this dramatic battle that we will visit in this post.
*Some of the links below are affiliate links. That means I may make a commission if you click and buy. The commission comes at no additional cost to you. Please see my full disclosure policy for more information*
So what are the best things to do in Salamina Greece?
Explore Salamina Town
When you reach Salamina Port, Paloukia, you will not exactly be thrilled by its looks. Don't let it affect you because it is definitely not characterizing the whole island. As soon as you get off the Salamina ferry go towards the left side of the port and you will soon arrive at Salamina's main town.
Salamina Island town is very popular for a day visit from Athens mainland; The town is built around the seaside, and it resembles a lot the Pireaus suburbs.
The Salamina town has also its own charms: a large number of old churches can be found scattered all around the town some with frescoes from the 18th century. There are also very interesting yet small museums that you can visit in Salamina town:
The Archaeological Museum of Salamis, a rather small place with few exhibits. The most important Salamina Greece findings can be seen in Athens National Archaeological Museum. Open daily 8.30 am – 3.30 pm except Tuesdays. Ticket at 3 euro
The Maritime Museum, with displays of maps and navigational instruments and a replica of an ancient Greek ship
A very interesting Folklore and Popular Art Museum with traditional wedding gowns and Salamina dresses
A walk around the old and mostly abandoned neoclassic houses of Salamina island is worthwhile as you get an idea of how the town was 100 years ago or more.
Pay Tribute to Salamis Ancient Battle Monuments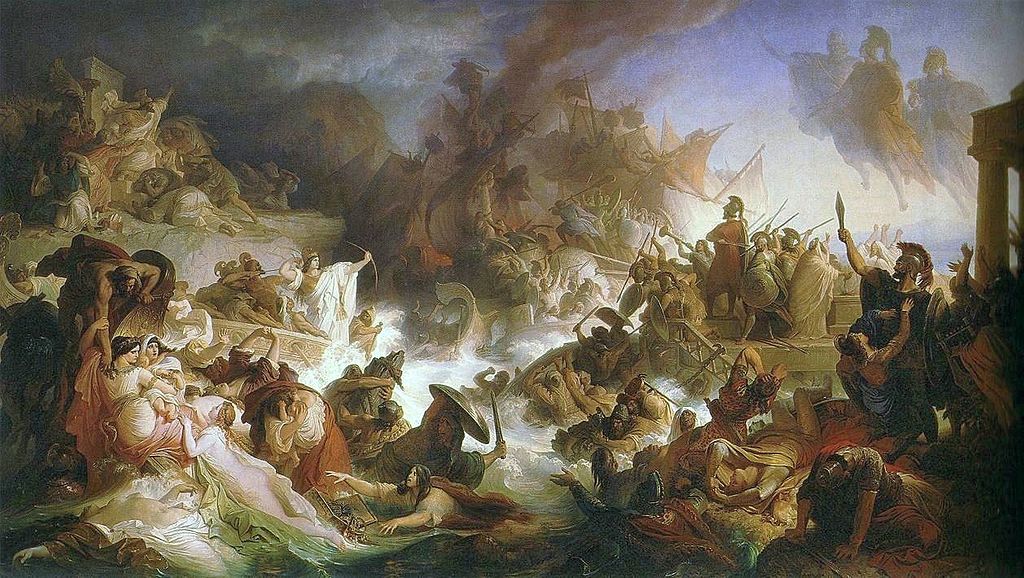 Traveling towards the south, some 10-minute drive from the port, in Akti Themistokleous, you will find the Ancient Salamis Port from which only a few rocks remain today.
In the same place, you will also see the Ancient Battle Monument. In the background, of this touching monument, there are numerous ships being repaired in the nearby shipyards.
The ancient naval battle in Kynosoura cape of Salamina Greece, according to historians, was of tremendous importance to the development of Greece and in extension to Europe as we know it today.
This significant triumph secured Athenian naval power in the Aegean and established democracies across Greece – instead of the Persian totalitarian political system if the Persians had won. Democracy led to the Golden era of Athens, with masterpieces such as the Parthenon in Acropolis which started getting built only 30 years after the battle.
This perspective is based on the theory that most of modern Western culture, such as philosophy, science, individual liberty, and democracy, has its roots in the ancient Greek world. If the Persians had won perhaps today the western civilization was totally different.
5-minutes drive further down the road at Kynosoura cape, you reach the Tomb of Salamina Fighters.
The Tomb faces the part of the sea where the ancient battle took place in 480 BC. The monument is an art creation of the Greek sculptor Achilleas Vasilleiou, using limestone and gravel, and is highlighted with a bronze statue to honor all those Greeks that fell during their duty to protect Greece from the Persians.
It is a great spot to watch the sunset in Salamina Greece and try to imagine what it was like for ancient men to fight in the sea all those years ago.
Walk around Selinia Traditional Salamina Village
Selinia is a small town, a 15-minute drive from Salamina port and southeast of Salamina town. It is one of the few areas in Salamina that has retained a lot of its old glamour with its seaside dotted by nice-looking mansions and houses.
I do like the white and blue large church of Saint Nikolaos in the center of Selinia which is visible from far away.
In the entrance, there is a small amphitheatrical construction made of stones with mosaic patterns and designs and three arches in the front with a view to the open sea. It is a nice spot to watch the ferries going back and forth.
One of my favorite things to do in Salamina Selinia is going for an ouzeri meal – small dishes like tapas accompanied with ouzo, the best alcoholic drink for seafood!. Selinia is known for the grilled octopus, which is made here in a unique way.
At the tavern, do ask them to bring you platetsi – bread with olive oil and cheese. Yummy!
Would you like to taste affordable Quality Greek Food in the area you live?
Check out my Small In-house Quality Shop with deals from the Amazon Store. Click on the photo to get to the shop!
Have an Ice Cream at "Cyclades"
On the seaside of Selinia Salamina Greece, you will find a pretty little shop called 'We Go Ice Cream' that looks like a Cycladic house. It serves all kinds of Greek pastries and especially ice cream.
You can have a nice stop there for a coffee or to try loukoumades (dough with honey) while enjoying the sea views.
Swim in Eas Club Beach
Traveling around Salamina you will find many beaches that you can explore. Eas Club beach is organized with sunbeds and umbrellas but you can find a lot of free space if you wish to find a quiet spot.
There are trees around it so you can seek shelter under and there is a nice promenade with fishing ships docked at the end of the beach.
Gorgeous swimsuits by Rebecca Virtue!
Feminine and flirty
Sporty and modern
Flattering to every curve
Perfect fit for all body types
Crafted from exclusive luxurious stretch fabrics
Be Amazed by the Euripides' Cave
Euripides cave can be found on the southernmost part of Salamina, between Peristeria and Kolones areas.
Euripides, an ancient Greek playwright, born on Salamina, whose plays are still performed widely all over Greece and the world, was using it as a retreat. Artists do need their isolation to perform best and Euripides was no exception!
To get to the cave you need to hike for about 20 minutes from the sea (easy level). On top of the cave, you'll be rewarded with the same lovely sea views that once upon a time Euripides was also admiring.
Better avoid going deep inside the cave as there might be safety issues. Instead, you can have a look from the outside using a good, very bright, and light flashlight like the Energizer LED Tactical Flashlight. The link leads to Amazon.com.
Swim in Saterli or Kochi or Faros beautiful Beaches
Nearby the Euripides cave there are some nice beaches with clear waters that you can swim in, Saterli, Kochi, and Faros beaches with a stone lighthouse from 1901 that you can hike to.
My favorite one is Faros beach with the great rocky view on one side and the lighthouse view on the other side.
Check out the Strange Circular Funerary Monument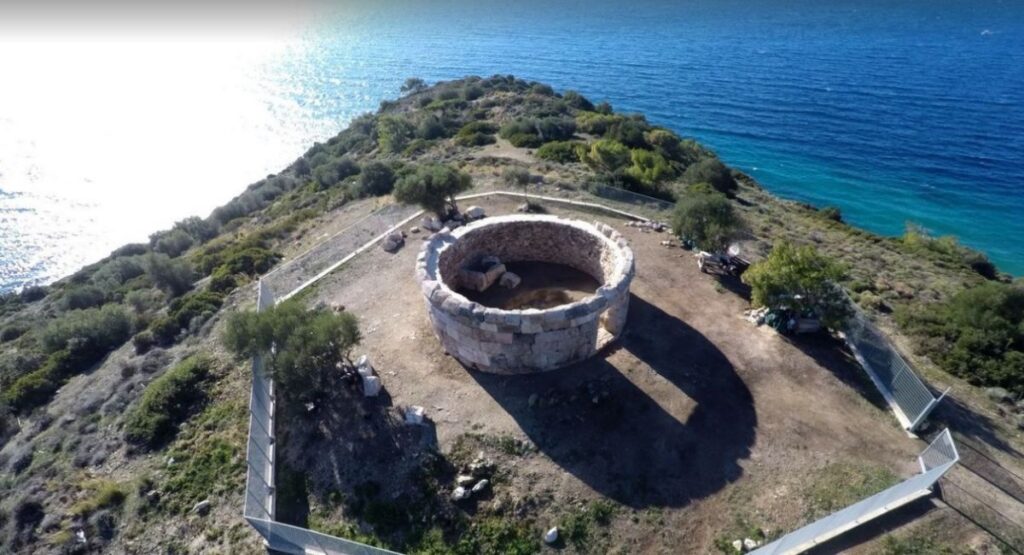 Very close to Faros Beach and at Kolones area you can visit the 4th-century AD funerary monument with four graves belonging to members of a wealthy family.
Have a Greek Coffee at the Agios Nikolaos of Lemons Monastery
On the west side of mount Stavros, you can visit the beautiful Monastery Agios Nikolaos Lemonion, built in 1741. The Monastery is built in such a lovely spot that people organize there their weddings or their children's Christenings.
The kind nuns are always there to assist and offer a cuppa of Greek Coffee. You can also support the Monastery by buying something small from their tiny in-house shop.
Hike to Mycenaean Acropolis at Kanakia
Traveling to the southwest of Salamina Greece and with some hiking involved you can reach the Mycenean ruins of around 13th c BC. in Kanakia.
The remnants of the Aiantas (Ajax) kingdom, were found only in 1999 when archaeologist Yiannis Lolos was hiking Kanakia. According to the archaeologist, this was the central town of the Aiantas kingdom in Mycenean times. In the photo, the ruins can be seen on the top right side.
Kanakia is probably the best area of Salamina, covered in trees and as the area is not developed at all, you can swim in crystal clear waters and experience some of the beautiful Salamina nature.
Make a Dive into Clear Kanakia Beach
Kanakia Beach in south Salamina is for me the best beach in Salamina. You can end up thereafter you have hiked the archaeological site of Salamina, choose a tree and swim in the very clear waters of Kanakia.
Afterward, you can grab a beer or a Greek salad from the seaside tavern found at the end of the Kanakia beach.
Visit the Windmills on the Hill
Only 2 out of 10 in total old windmills still stand on the low hill of Agios Nikolaos overlooking the Salamina Bay on the west side of the island. Built in the 18th century, they were widely used to mill and provide food for the islanders. It's a pretty place between pine trees with sea views of the Saronic waters.
The only sad thing is that the windmills are left to fall in complete disrepair.
Meet Orsa, the 2.500-years-old Olive Tree
The Olive Tree of Orsa is located in the area of Aiantio, on western Salamina Greece, more precisely on Kakivigla Avenue.
It is a complex of trunks whose circumference exceeds 6 meters. But its most amazing thing is that scientists from Klorane Institute have come to the conclusion that the olive tree is older than 2500 years old.
The Olive Tree of Orsa is the only creature that is still alive from the time of the Salamis Naval Battle. Amazing, isn't it?
Walk around the House of the Poet Sikelianos
On the northwest of Salamina stands a beautiful house that belonged to a famous Greek lyric poet and playwright Angelos Sikelianos (1884-1951). It overlooks the sea, and it has Cycladic lines that look a bit like a Mykonos or a Santorini house. Its white color makes a lovely contrast with the blue of the sea and the sky.
Sikelianos wrote many exceptional poems and I thought you would like a very small sample of one of his:
THE HORSES OF ACHILLES
O Field of Asphodel, two horses
Whinnied and raced along your edge,
Their backs were shining like a wave
As they came surging out of the tide
And tore across the empty sand….
Visit impressive Panagia Faneromeni Monastery
Since you are visiting the Sikelianos House, very close lies the beautiful and impressive Holy Monastery of Panagia (Holy Mother), the most important monastery in Salamina Greece. The idea of its construction first came in 1642 when Lampros Kanellos saw a dream of Holy Mother asking for a church dedicated to her which he built.
During the Greek Revolutionary War (1821) against the Ottomans, the Monastery monks used its rooms as a hospital and sanctuary for the Greek fighters. Today there are 19 nuns living there, taking care of the monastery.
Have mouth-watering Ouzo and Seafood at Kakias Tavern
Kakias Tavern is one of the best seaside places to enjoy fresh seafood, great risotto, and grilled octopus, squid, and fried zucchini, some of its many delicious choices. Accompany them with many glasses of chilled ouzo or Greek beer Mythos!
You can very easily find it on the other side of Salamina port towards the west side of the island, just a few minutes drive. If you ask for Kakias tavern everyone will know to show you the direction.
And this is something I really love about Greeks, how helpful they are.

Where Else to Eat in Salamina Greece?
Salamina, like all the Greek islands, is famous for its fresh fish and a wide selection of seafood. All the taverns and restaurants have always a good selection of Greek traditional dishes, like gemista or the famous Greek salad.
I tend to choose remote taverns for my meals, in small villages or at remote places where you usually find the most authentic atmosphere and food in a place. Not always – but most of the time.
Island Hopping from Salamina?
Unfortunately, there is no direct connection between Salamina and the other islands. You will have to go back to Pireaus port and take a ferry to get to any of the islands of your interest.
If you have made up your mind about which other islands you would like to visit, book your seat in advance at Ferryhopper for the best deals!
Solo Female Traveller to Greece
Women who travel alone are perfectly safe in Greece, in big cities, or any of the islands. Traveling around the country is quite easy as Greek people are very friendly and eager to help and reply to any questions from visitors.
Having said that, common sense and gut feeling should always be trusted. If something feels wrong, then it probably is!
Casual women's clothes for a summer vacation in Greece.
Perfect for any outdoor activities or camping.
How to Get to Salamina from Athens
From Pireaus you have to get to Perama, which is half an hour bus drive away. The Salamina ferry ride from Perama to Paloukia port takes just 15 minutes.
Boats leave every 15-20 minutes during the day but are less frequent at night. Tickets cost €4.75 per car, €0.55 for the driver, and €1 per passenger.

How to get around to Salamina Greece?
A car or a scooter is the best way to explore the island. There are a couple of rentals on the Salamina port. I haven't used any of them as I usually go to Salamina in my car but they should be fine.
These are some of my Favorite Travel Resources for Greece
All the archaeological sites in Greece can be found on the official Greek Ministry's website here. If you are an EU member, you might be eligible in reduced or free entrance.
Map of Athens Metro here
Booking.com: I use Booking.com because I can get the best deals, have info on hotels and Airbnb's alike, with breakfast or not, free cancellations, and great prices!
Ferries: Book your ferry transfer with FerryHopper, and get the best price in the market with no hidden fees
World Nomads Insurance: I feel insecure traveling to another country without having even the most basic of insurances. Insurance will protect you against illness, injury, theft and cancellations
Best car rental prices – Guaranteed. RentalCars.com
iVisa: For any questions, you may have about your documents, passport if you need a visa, a new photo, or any visa-related matter, iVisa is your man (or woman!)
Get Your Guide: For all your day or multi-day tours and city guide needs, I use Get Your Guide
Emergency Numbers Anywhere in Greece: AMBULANCE 166 – FIRE 199 – POLICE 100
More Inspiring Readings on Greek Islands
Did you find my post on Greece useful? Feel free to buy me a coffee and support my blog!
Not Sure where to Go to Mainland Greece?
Grab below your free 5-Day classic itinerary in mainland Greece. It includes sites, relative informative posts, and hotel recommendations!