Andros island is the second-largest island of the Cyclades, just 2 hours away from Athens' smaller port of Rafina.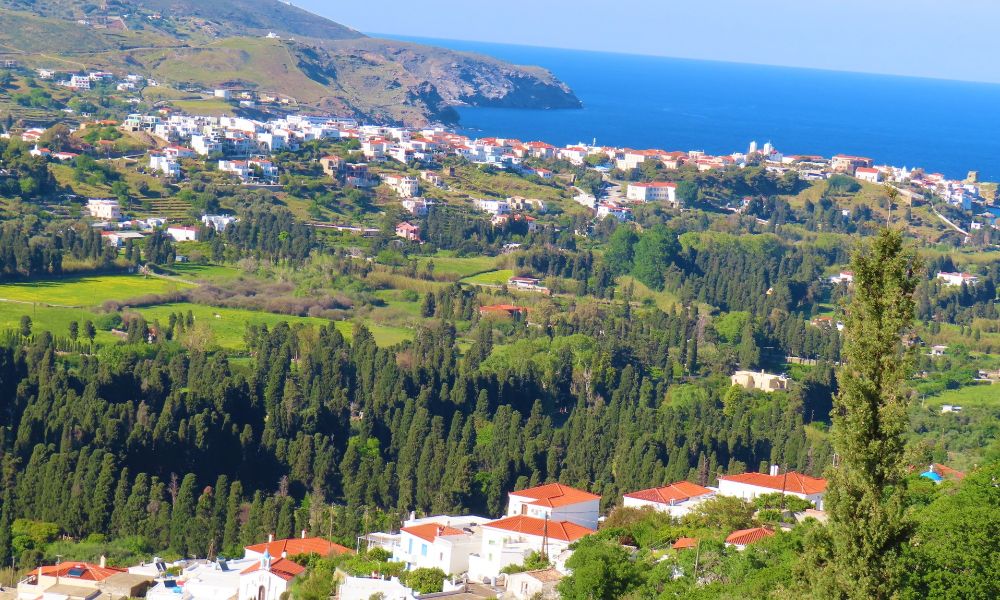 Andros Island is a real hidden gem, popular to Greeks and other Europeans but not so widely known to the rest of the world. That means that even in the peak season (July and August) the island never gets packed with tourists.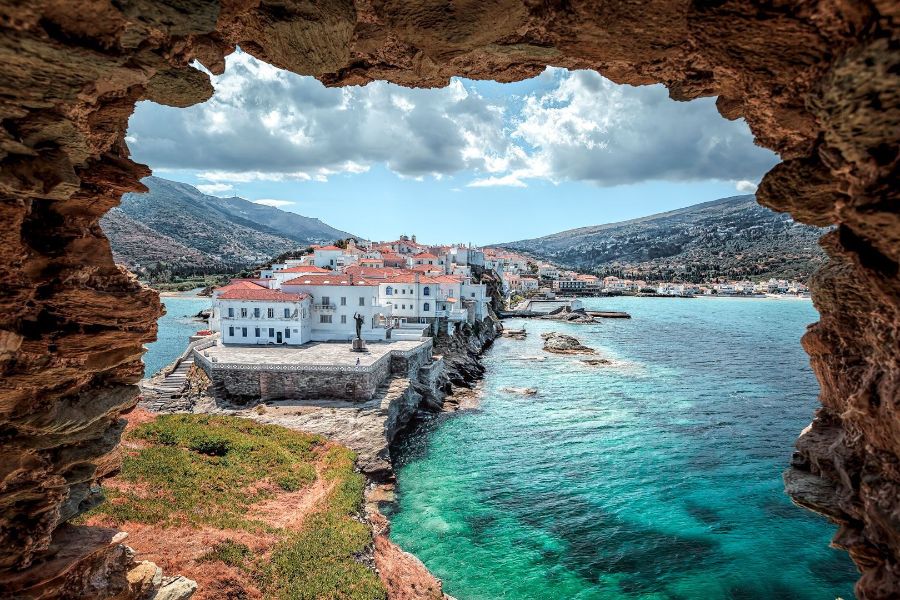 Andros, unlike the other Cycladic islands, has more neoclassic buildings with tiled roofs than the usual whitewashed cubic houses.
Another distinctive characteristic of Andros island is that a large part of it is quite green, with fertile valleys, olive groves, 10 flowing rivers all year long, and even waterfalls!
Andros also, just like the other Cyclades, has rugged barren slopes, impressive vistas, caves, and rocky peaks.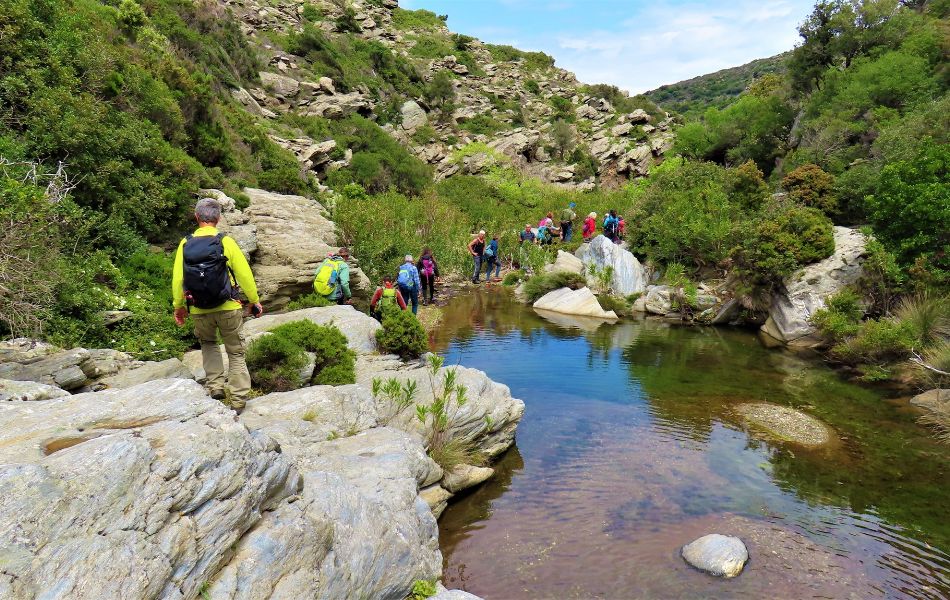 As you can imagine, one of the best things to do on Andros island is hike its beautifully diverse scenery and nature. Besides hiking, Andros is in general an outdoors paradise and you can enjoy: via Ferrata, river trekking, snorkeling, and rock climbing.
Finally, Andros has stunning beaches and picturesque villages to explore. But let's get specific though, What are the best things to do on Andros Island?
*Some of the links in this post are affiliate links. That means I may make a commission if you click and buy. The commission comes at no additional cost to you.
Best Things To Do on Andros Island, Greece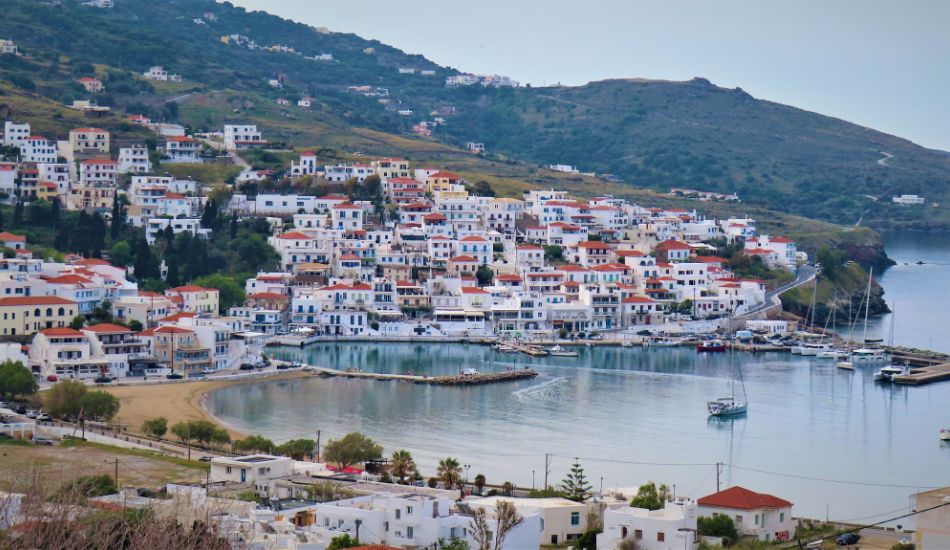 These top 14 things to do on Andros Island will keep you busy and inspire you for a spectacular trip. If you are visiting from Athens, you can have a fun day in Andros but I would suggest you stay at least overnight. It is such a beautiful island and needs much more than a day trip to enjoy it.
1. Elegant Chora Andros Island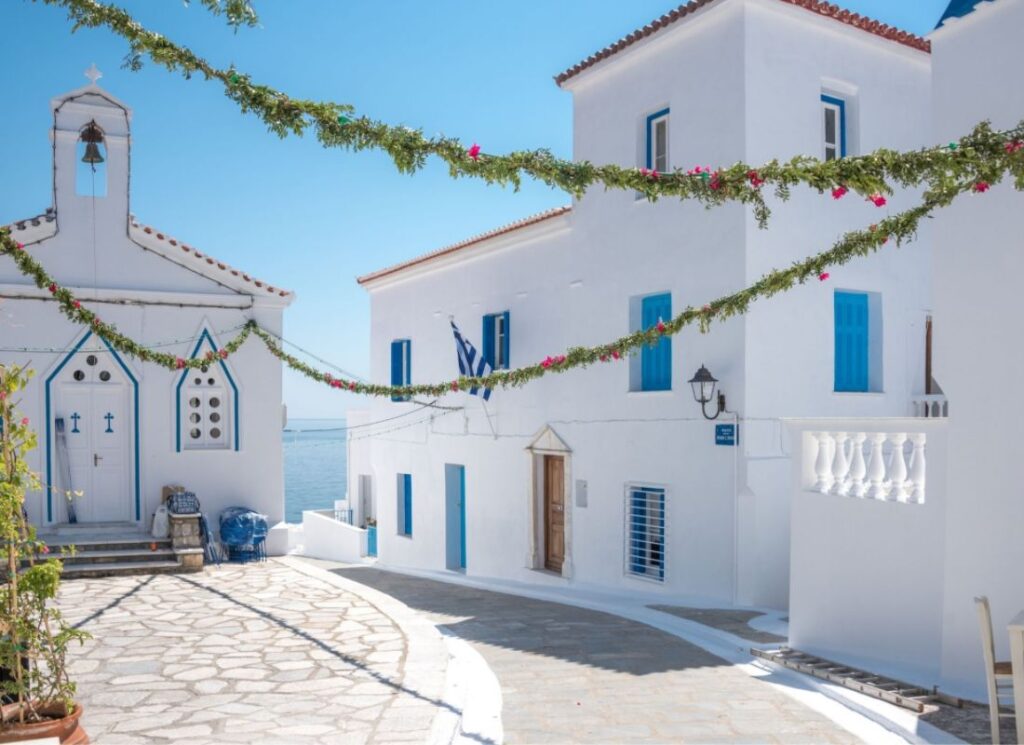 Andros island's capital town Chora is full of neoclassical-looking buildings many of which are owned by rich Greek shipowners. Andros Island is mostly known by Greeks under the name 'The Captain's Island' because of the many shipowners that come from Andros.
Don't miss visiting Kairi Square, a lovely, popular square with a large marble fountain from the Ottoman period. This is a nice place to chill out or have a cup of Greek coffee.
Heading down, towards the sea, you will find the Nautical Museum on the square of the Unknown Sailor. This is a very popular spot for photos and for panoramic views of the sea around Chora.
If you continue walking towards the end of the Chora peninsula, you will get to the Andros Castle connected by an arched bridge.
The castle, built in 1207, used to be the residence of the Venetian ruler Marino Dandolo when he conquered the island. Even though not much of it is left today, it is one of the best things to see on the island of Andros.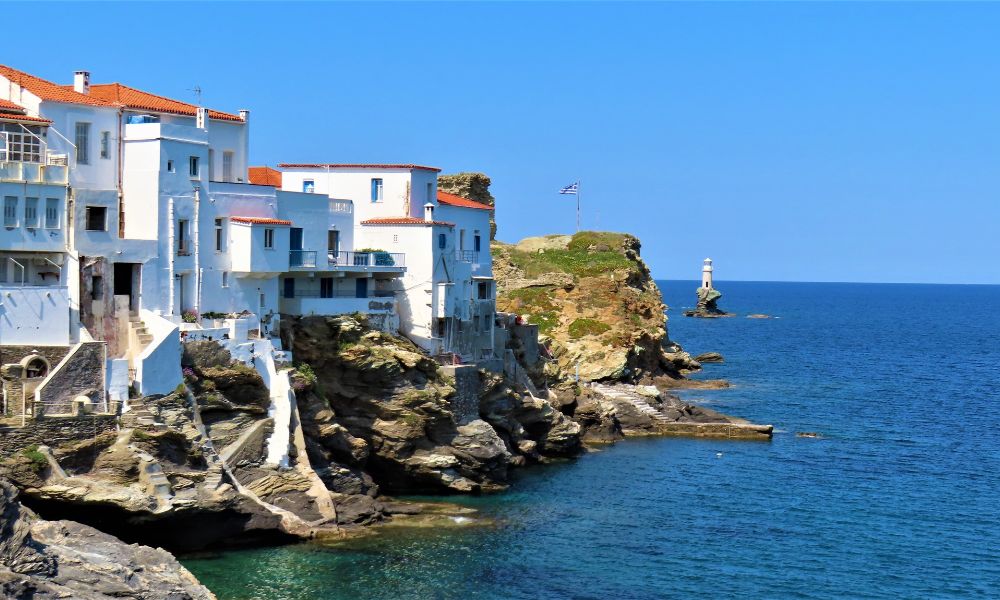 If you love art, Andros Chora is full of museums and galleries to visit:
Goulandris Museum of Contemporary Art
The Archaeological Museum of Andros
Kydonieos Foundation
Kairios Library
Folklore and Christian Art Museum
You are not sure if you can find them all by yourself and you prefer a guided small group tour of Andros Chora? Then, you can get more information at Half-Day Small-Group Tour of Andros
2. Tourlitis Lighthouse
The impressive 36-meter Tourlitis lighthouse in Chora, opposite the Venetian Castle, opened for the first time on January 1, 1897.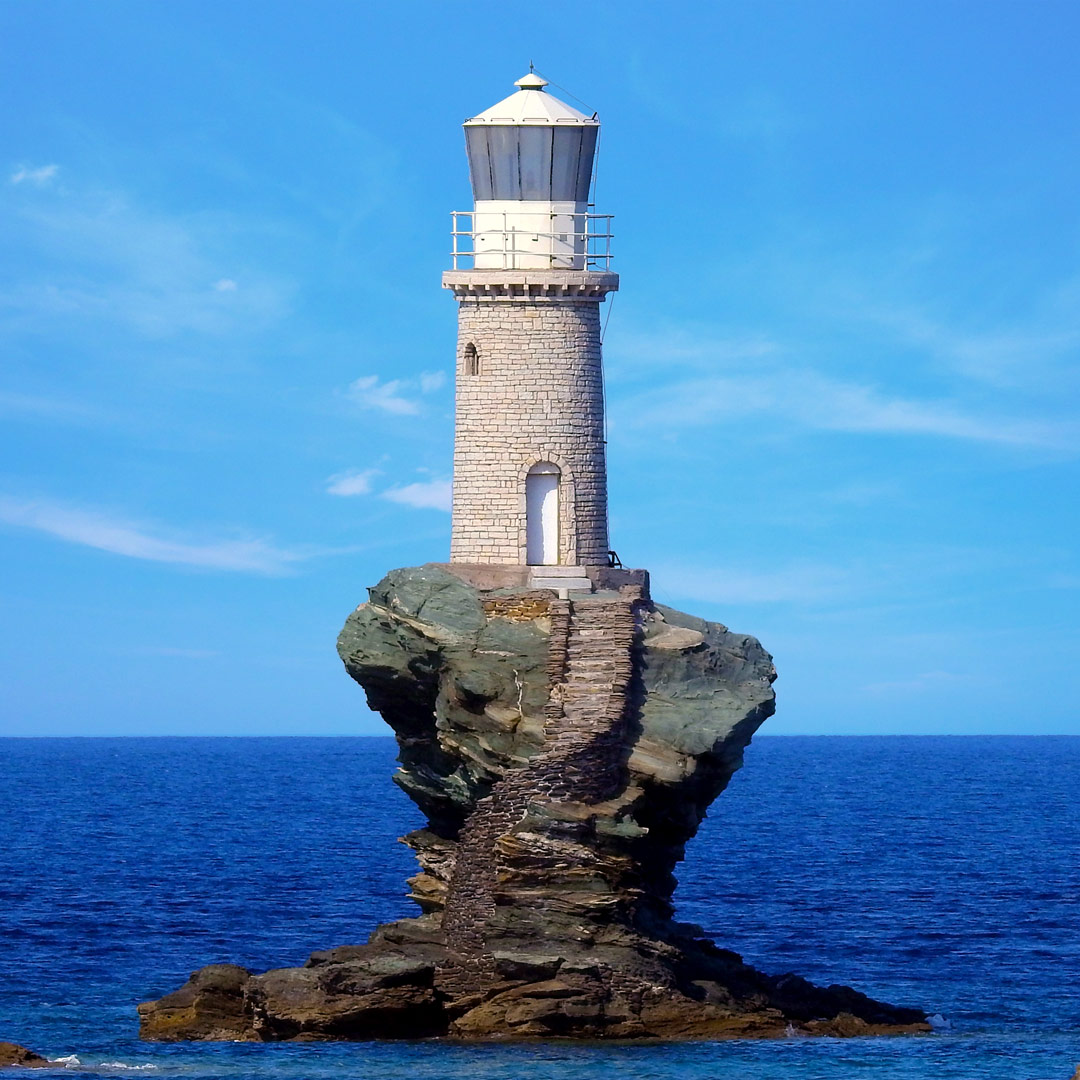 It is the only lighthouse in the world built on a rock in the middle of the sea and its function is fully automatic. The lighthouse is a symbol of the maritime tradition and history of Andros. The Greek Ministry of Culture has started the procedures for the inclusion of the lighthouse "Tourlitis" in the UNESCO List of Monuments.
The lighthouse is accessible by renting a boat from Chora.
3. Andros Island Beautiful Beaches
Andros has more than 80 beaches, some organized with sunbeds and umbrellas, sandy, small pebbled or rocky, close to villages or remote.
If you are spending many days in Andros, a rental car is a total must if you wish to visit as many beaches as possible.
Spectacular Tis Grias to Pidima Beach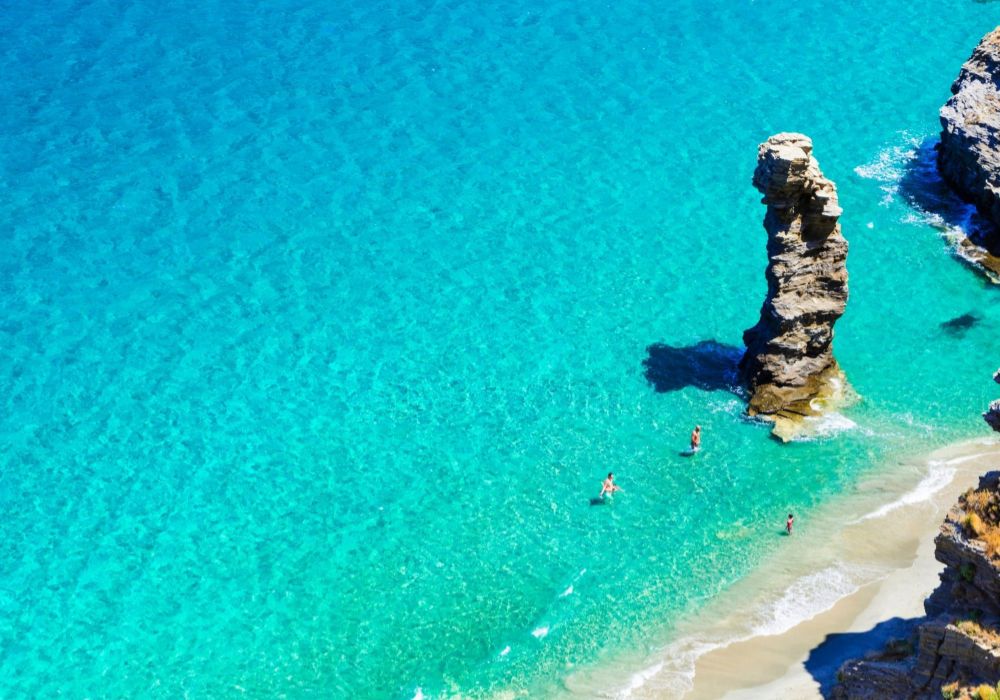 Tis Grias to Pidima (Meaning: old lady's jump) beach is the most popular with the impressive rock formation beach of Andros and is located right next to Korthi village.
Vitali Beach
Vitali Beach's waters are warm, and crystal clear, with impressive rock formations where you can find shelter from the sun during the summer. The beach has small, round pebbles and is preferred by many, especially during the windy days – gusts make sand painful on the skin.
There is a beach bar, sunbeds, and umbrellas you can rent, a small chapel, and If you love jumping off from rocks, this is one of the best Andros beaches to jump!
The only negative to getting to Vitali is that you will have to drive 35 km from Chora and the last part is on a dirt road, so be patient, the beach is lovely and worth some difficulty!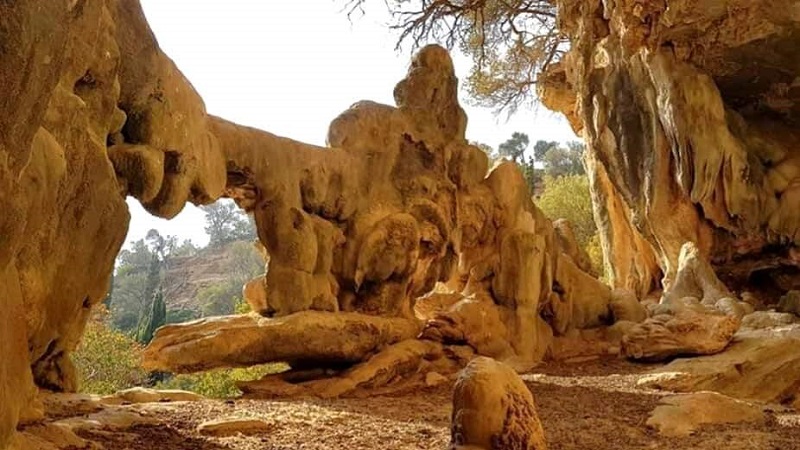 Near Vitali beach, there is an unknown to many, unexplored large cave surrounded by very impressive rock formations.
Achla Beach
Achla beach is located northeast of Andros, near the village of Vourkoti and this is where the Achla River flows into the sea. This is one of my favorite beaches but with relatively difficult access, the last part to reach the beach is a dirt road.
Other Popular Beaches in Andros
4. Via Ferrata at Paleopolis Waterfalls
Paleopolis Waterfalls are the biggest waterfalls in the whole of the Cyclades. If you love rock climbing, even if you are just a beginner, this is a very exciting rock climbing experience that you shouldn't miss!
For something unique to do in Andros, find more information at the Via Ferrata Andros Tours
5. Paleopolis Archaeological Site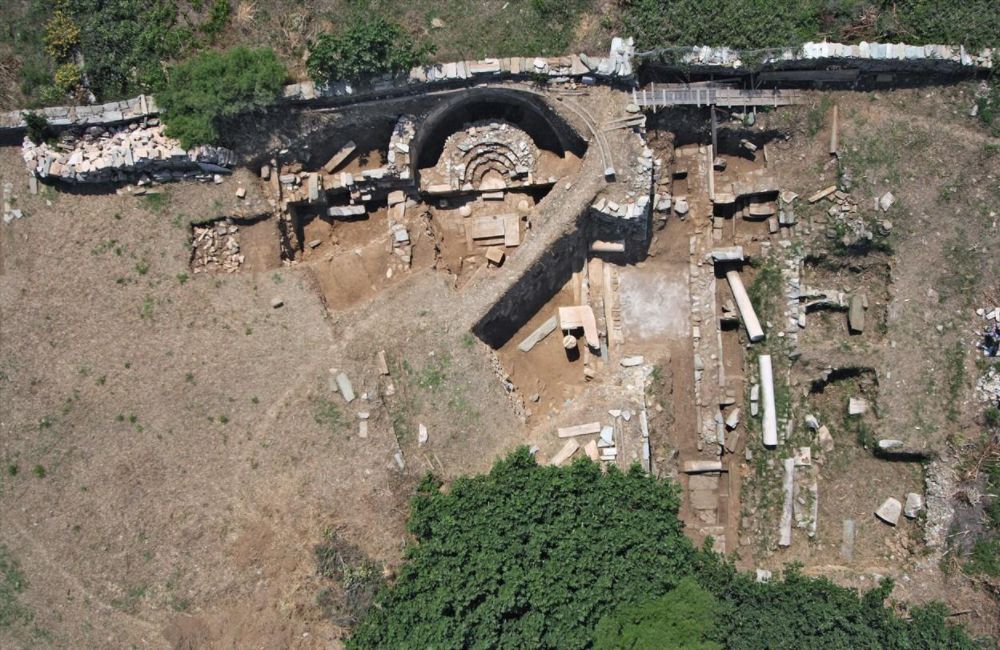 After your exciting rock climbing, you may want to have a cultural break and visit the nearby Paleopolis, Andros' ancient capital between the 6th century BC and 6th century AD.
You can visit the remains of the city at its archaeological site and the nearby museum. Open every day except Tuesdays from 8.30-15.00.
6. Hiking Andros Ancient Trails
Even if you are not a hiker, Andros is an ideal island to start hiking! There is a fantastic walking culture on Andros island and this is reflected in the 180 km of well-signposted ancient paths on the island.
Andros has 4 main mountains, offering magnificent sea views and some challenging uphills, with Kouvaras being the highest with its peak at 1000 m.
Best Andros Island Hiking Trails
Menites Village and Springs
Menites Village Circular Route – 3 km – easy – explore the wonderful village of Menites with the many springs. There are cafes and taverns here if you want to hang out in this village.
From Frousei to Gavrio – 12,6 km/4.5 hrs walking – moderate – cross ravines, chapels, bridges, watermills
Ormos Korthiou to Upper Castle and Dippotama – 6,6 km/2,5-3 hrs walking – easy to moderate- ravines, bridges, abandoned castles, villages
Apokia through Kouvaras and a wooded valley, villages, and springs to the archaeological site of Paleopolis – 15 km/5-6 hrs walking – moderate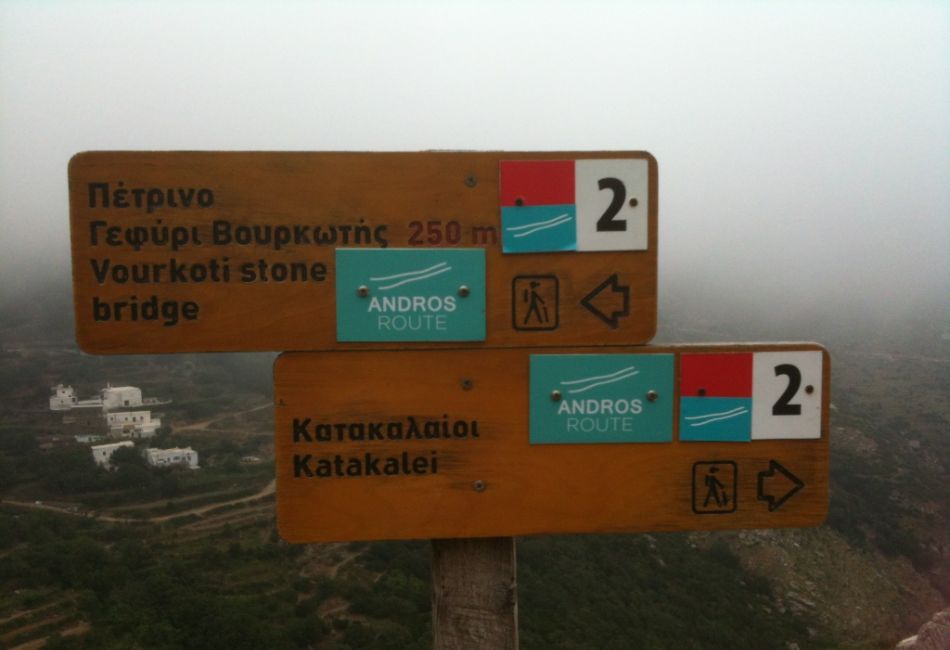 Would you rather have a tour guide while hiking in Andros? Check out the tours below provided by locals in Andros:
7. Ancient Agios Petros Tower
The Tower of Agios Petros, located near Gavrio port, was built during the Hellenistic period (4th-3rd century BC).
Inside the tower, there was a spiral staircase leading to at least five floors. The tower is built in a very privileged high position, offering amazing sea views. Around the Agios Petros Tower, there used to be mines of copper.
The tower is not maintained by the Greek authorities so the entrance is closed for security reasons. It also involves some hiking to get there.
8. Ravine of Pythara in Apikia Andros
You will be thrilled by this fantastic place, like a fairy tale habitat, with crystal clear waterfalls and ponds. The rich habitat is home to rare species of plants and birds, wildflowers, and several amphibians. You can get there following the trail starting from Apikia village west of Chora, a very easy hike suitable for everyone.
In Apikia village, you will also find the spring of mineral water "Sariza", famous for its curative properties (especially for kidney issues).
9. Olive Oil Museum

The Museum is housed in an old authentic olive mill and the tour will help you get to understand how the olive oil was used in Andros' life every day and the traditions of the local life. To have a tour you can contact them at diatomi@diatomi.gr or call them at +30 6932731776.
10. Cave of Foros in Alladino Village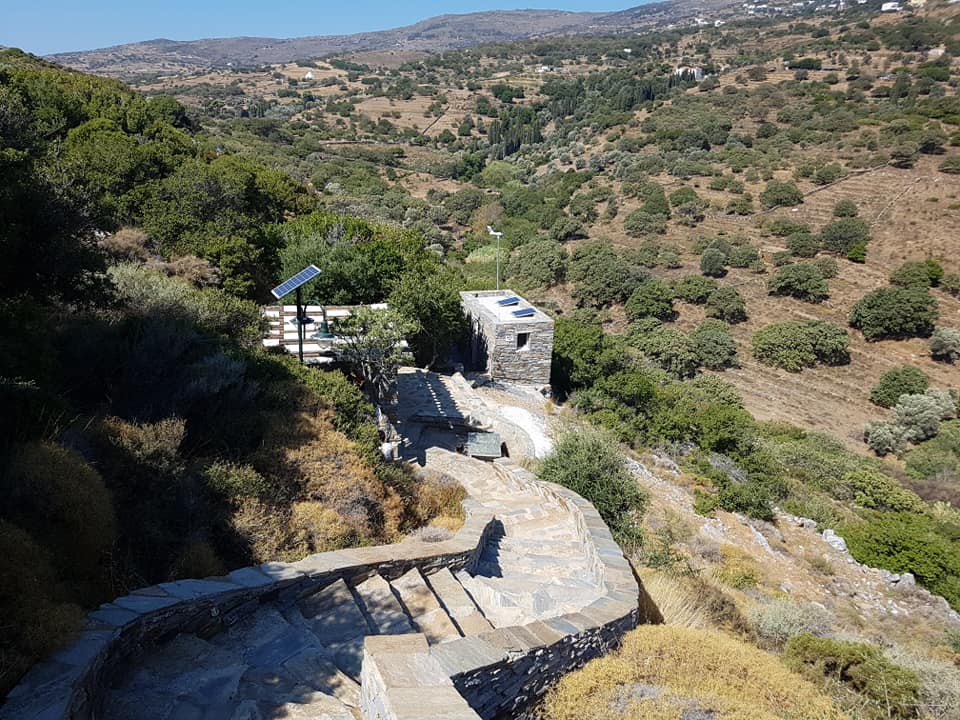 You will find the Cave of Foros only 4 km from Andros' Chora. The 4-5 million old cave of Foros is very impressive with stalactites, and stalagmites, 300 meters long with a paved pathway. At the entrance, you will get protective gear, like a hard hat and a flashlight.
To visit it you will need to make an appointment with the guide to show you around at +30 693 969 6835. The tour lasts around 20 to 30 minutes.
11. Messaria, the Medieval village of Andros Island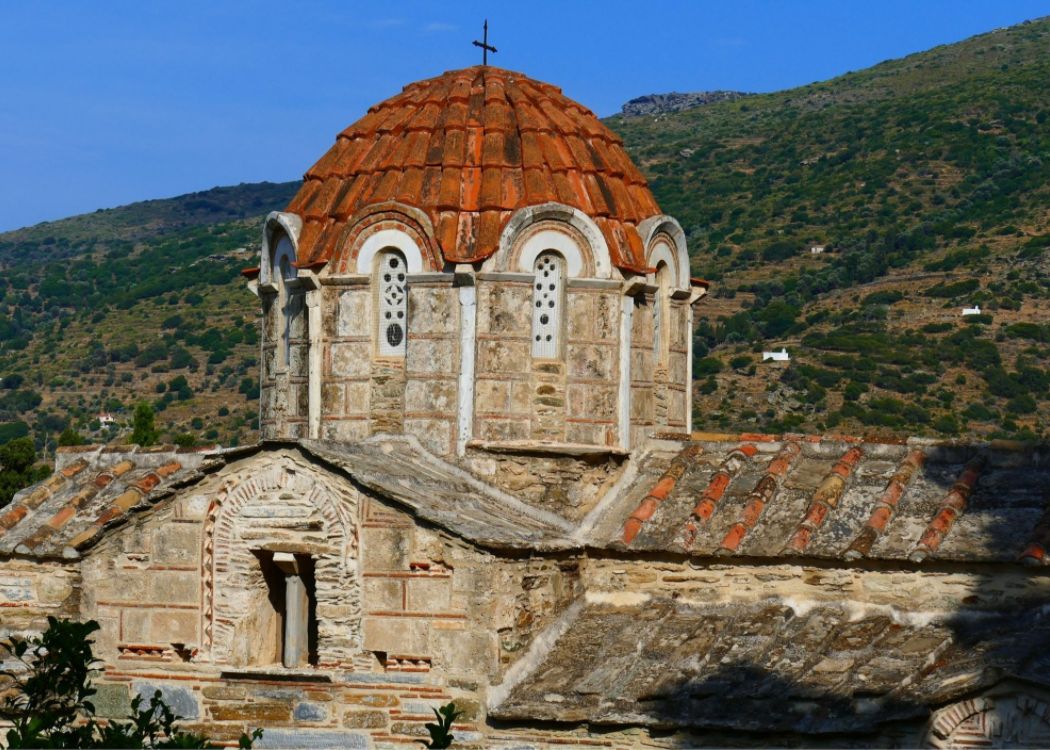 Apart from Chora and Batsi towns in Andros, there are several small villages that are definitely worth a stop and one of them is Messaria.
You can find picturesque and historic Messaria 4 km to the northwest of Chora, and pay a visit to the Byzantine Church of Taxiarchis from 1158 AD.
12. Korthi Upper Castle or Faneromenis Castle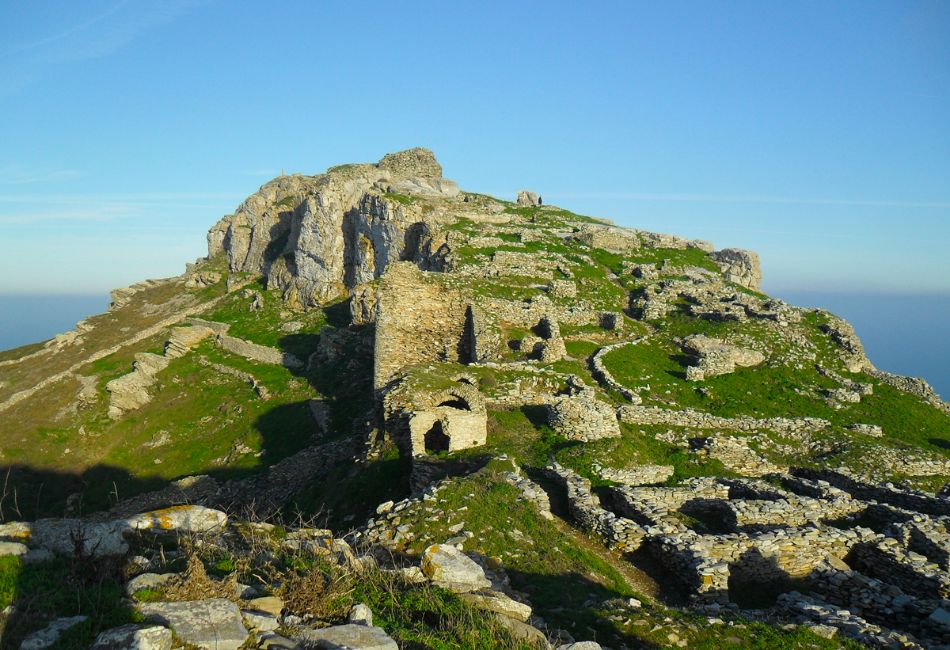 Faneromenis Upper Castle was built from 1207 until 1233, by the Venetian ruler Marino Dandolo, and is located at 585 meters of beautiful Korthio Mt.
There is not much left to see from the Castle but the sea vistas are simply stunning! You can get to Faneromenis Upper Castle from Kochylos village but be prepared to climb 143 stairs to its entrance!
13. Monasteries on Andros Island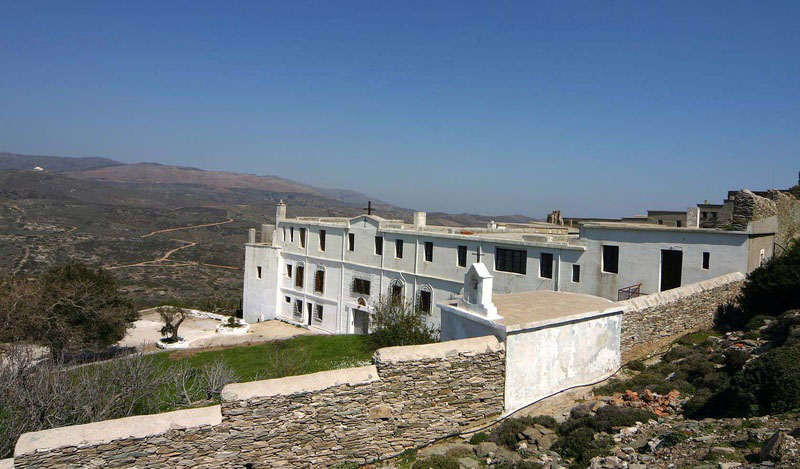 Andros Island, like any other area in Greece, has many monasteries, churches, and chapels. If you love visiting religious places in Greece, two of the biggest monasteries on Andros island are:
The Byzantine Zoodohos Pigi Monastery and adjacent Museum – with ecclesiastical items and prehistoric tools. It is 7 km away from either Batsi or Gavrio. Call them at +30 22820 72459 to see when you can visit.
The Monastery of Panachrantou is the most beautiful Byzantine monastery of Andros.
It was built by Emperor Nikiforos Fokas in 969 AD and can be found 4 km from Chora, near the village Falika. Call them at +30 22820 51090 if you would like to visit.
A very beautiful Monastery is also the Agia Marina Monastery in Apikia village.
14. Taste the local Delicacies of Andros Island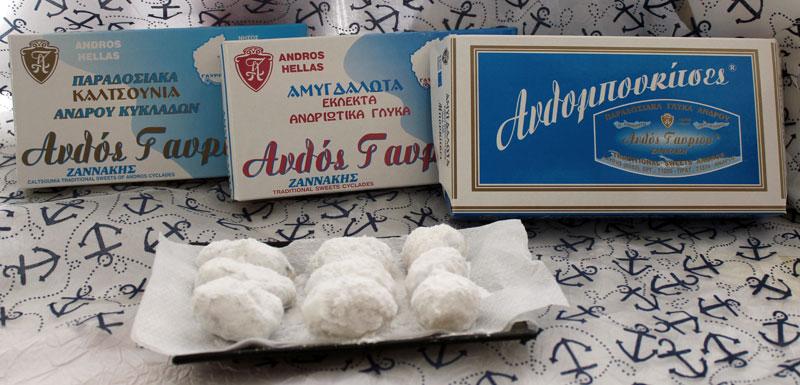 Try the strong taste of local ouzo and tsipouro
Taste the local "Potzi" alcoholic drink from berry raki and honey (yum!)
Get the strong taste of the semi-hard cow cheese of Petroti or Analati straight or with thyme and honey!
If you have a sweet tooth, any of Andros' almond sweets will blow your mind!
You can purchase the products in any local shop around the island.
Where Best to Stay on Andros Island
When planning a trip to Andros, if your focus is to be close to the beach (and nightlife) then Batsi Village is the best option. It is by the sea, has many hotels and tavern options and it is quite lively.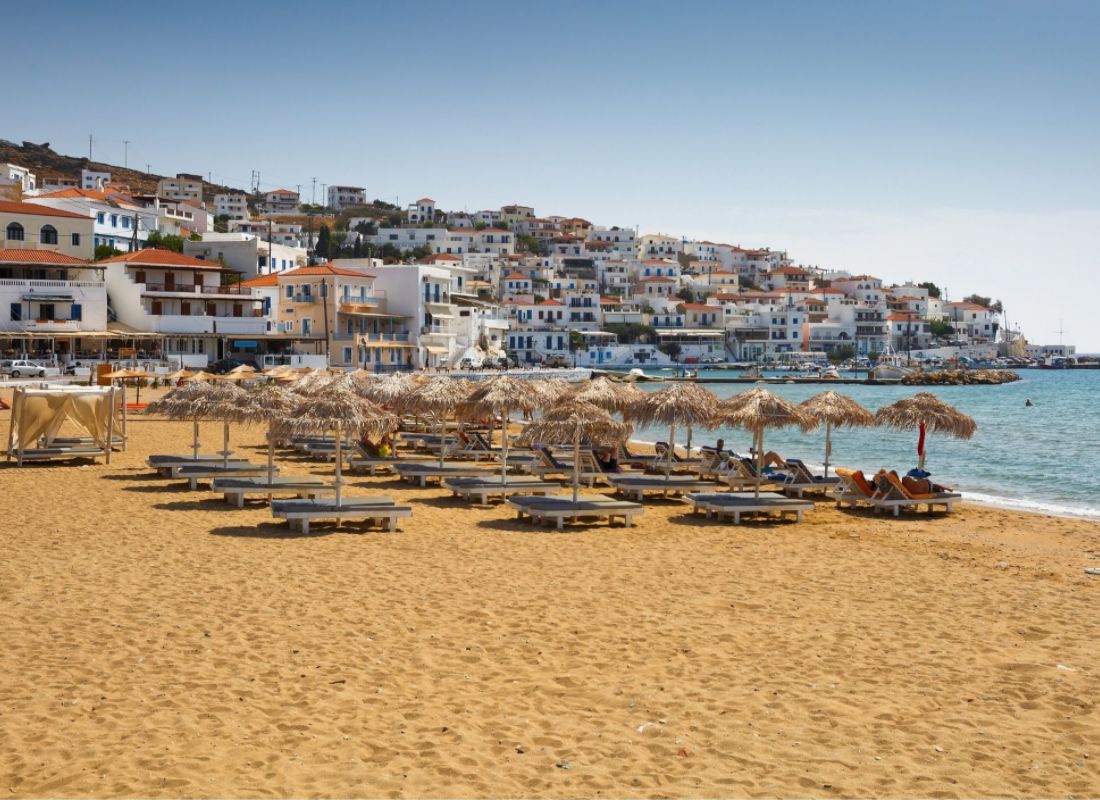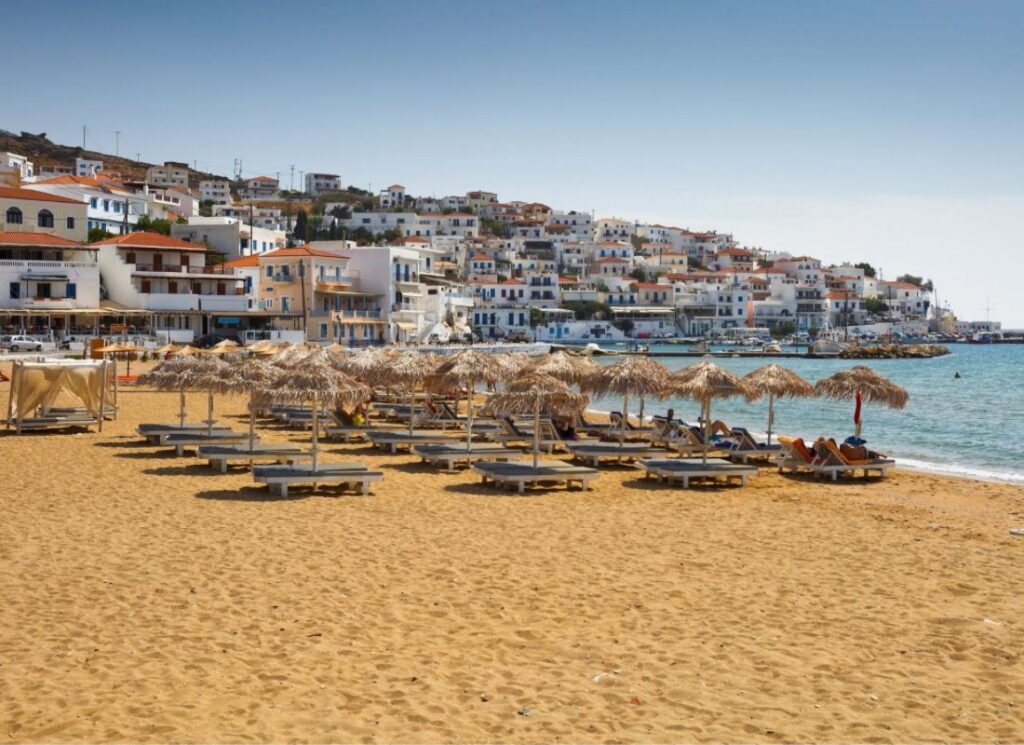 The Bella Vista (self-catering) is a fantastic hotel on the seaside of Batsi within walking distance of taverns and shops in Batsi.
If you would like to experience an authentic Greek island town and visit its many museums then I suggest staying in Andros Chora.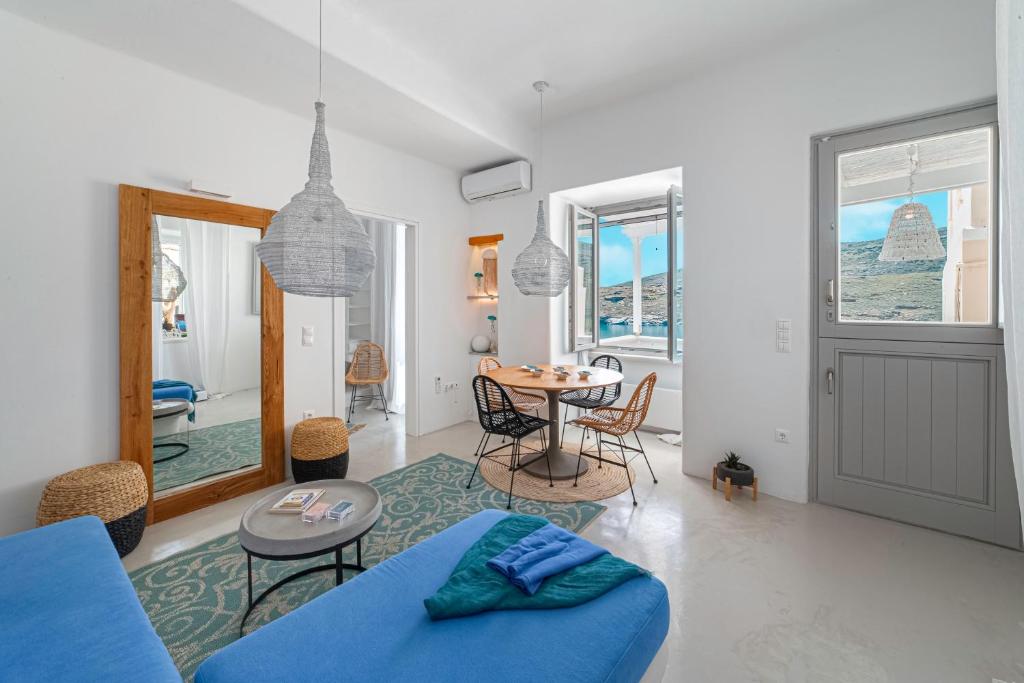 The Lasia Boutique Apartment (for up to 4 guests, self-catering), centrally located in Andros Chora, is a very beautiful and elegant apartment, with traditional details all around its premises.
Do you prefer to be in a much quieter place, having the sea at literally your feet all day and enjoying refined and minimal luxury?
The Votsalo Sea Side (for up to 4 guests, self-catering) is a quiet, beautiful property with direct access to the beach, just 3,5 km from Chora Andros.
How to Get to Andros from Athens
The only way to get to Andros island is from Rafina port in Athens. You can take the bus from Athens Center or a taxi or book a Private Luxury Transfer from Athens Airport to Rafina Port.
The ferry transfer to Andros is about 2 hours. You can book your ferry transfer with FerryScanner or FerryHopper, and get the best prices in the market with no hidden fees.
How to Get Around Andros
Andros is a large island, nearly 40 km (25 mi) long, and its greatest breadth is 16 km (10 mi). Getting around Andros is best if you rent a car so that you can be independent and with no stress about bus timetables.
If you don't like driving you can always use the local KTEL buses that you can pick up at the port of Andros, Gavrio. Finally, there is a taxi service in Batsi that you can use, +30 22820 41081, should you need one.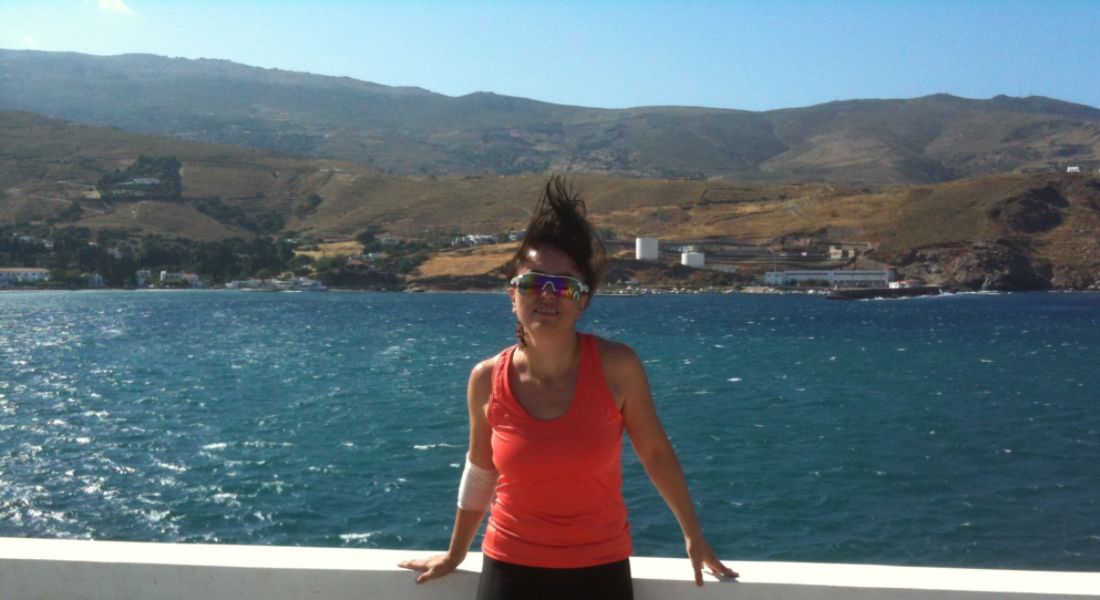 Weather Tip: If you are visiting Andros (or any of the other Cycladic islands) in August, then you must be prepared for a lot of wind (meltemia) that at times is like strong gusts of wind. I would avoid renting a scooter unless you are super experienced with windy Greek island weather and roads.
Andros Island Map
Get your Andros Map here to drive to the places mentioned in this post.
Plan My Trip to Greece
Do you need a custom travel itinerary for Greece? Are you traveling solo, with your family or your friends and you need a tailor-made multi-day tour or a transfer within Greece?
If yes, please visit my dedicated Plan My Trip Page for a free itinerary!
How to Get to Pireaus Port from Athens Airport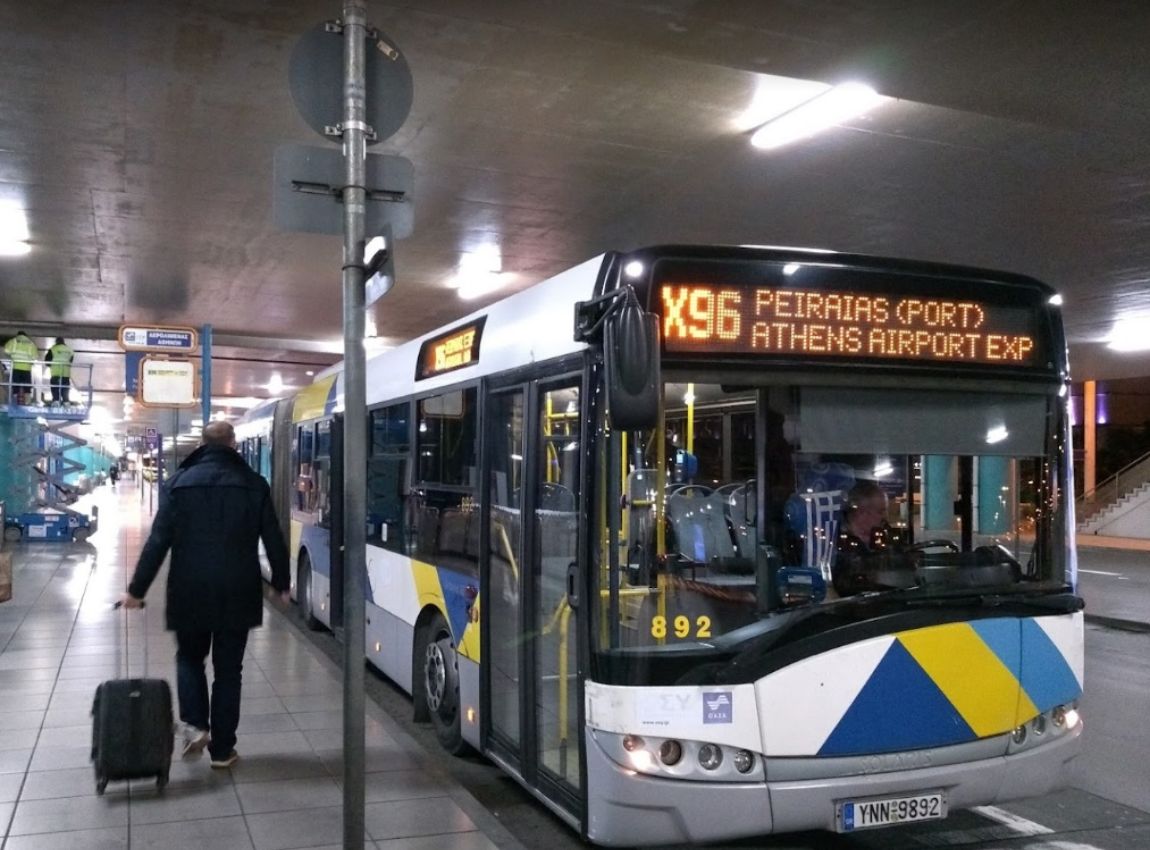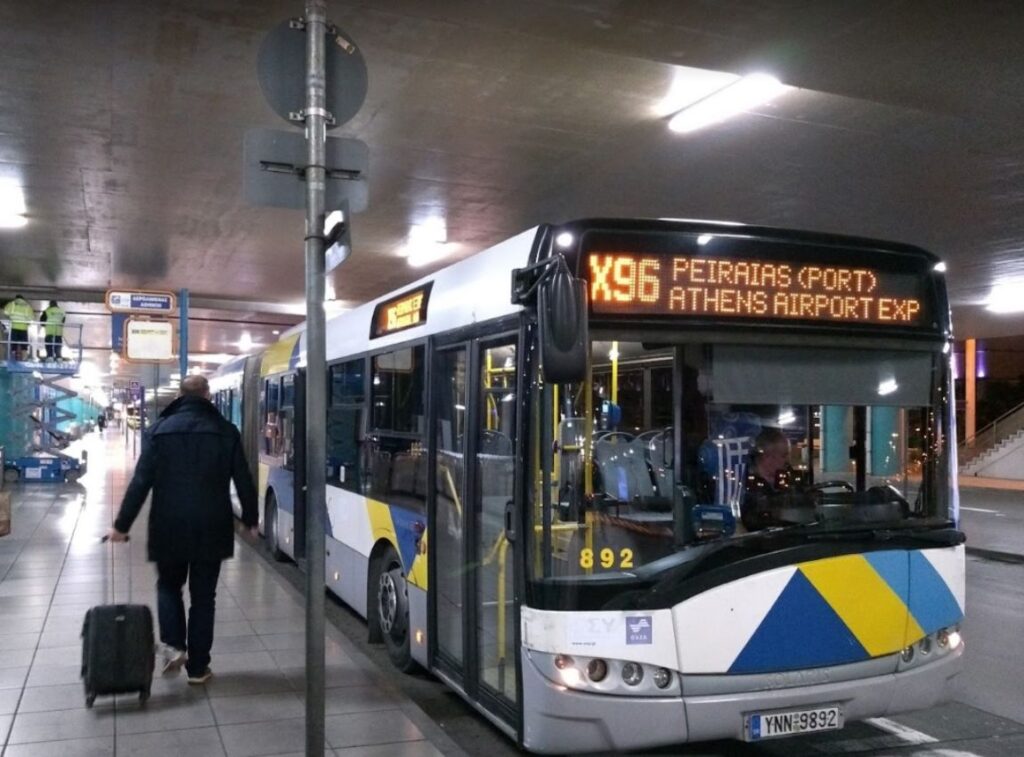 Bus: If you are arriving at Athens International Airport you can travel straight to the port by taking the X96 express bus (€5.5, children <6 yo, free entrance), which departs every 40 minutes and the average trip lasts 1 hour – runs 24/7.
Metro: (€9 ) is easily found across airport arrivals (blue line – M3) going directly to Piraeus port. The average trip to Piraeus lasts 1 hour.
Taxis are available in front of the airport (around €40 to Athens, €55-60 to Piraeus (depending on the traffic in Kifisos), and take up to 3 or 4 people with small luggage)
Rent a car with Discover Cars to rent reliable new cars at affordable prices
You don't like driving but love hassle-free solutions? Book a Private transfer with an English-speaking driver from Athens International Airport to Piraeus Ferries, or anywhere else in Greece
Check out a full post on Lavrio Port in Athens
Popular Posts
All rights reserved © Travel the Greek Way. Republishing this article and/or any of its contents (photographs, text, links) is strictly prohibited.
Some of my Favorite Travel Resources for Greece
'Hello' and 'Thank You' in Greek: "Ya sou" and "Efharisto"
Booking.com: I use Booking.com because I can get the best deals on both hotels and apartments, free cancellations, and great prices!
Find Long-Term Rentals in Greece: You will find the best prices in Flatio
FerryScanner to book ferries to the Greek Islands
Athens Metro Website (timetables and ticket info)
Get Your Guide: For all your day or multi-day tours and city guide needs, I use Get Your Guide
Emergency Numbers Anywhere in Greece: AMBULANCE 166 – FIRE 199 – POLICE 100– EMERGENCY NUMBER 112