Updated June 24th, 2022 by Travel the Greek Way
Are you spending Christmas in Athens and you are wondering what is there to do during your visit? This guide will get you into the holiday spirit in Athens, Greece, and offer valuable ideas on how best to spend your Christmas time in Athens.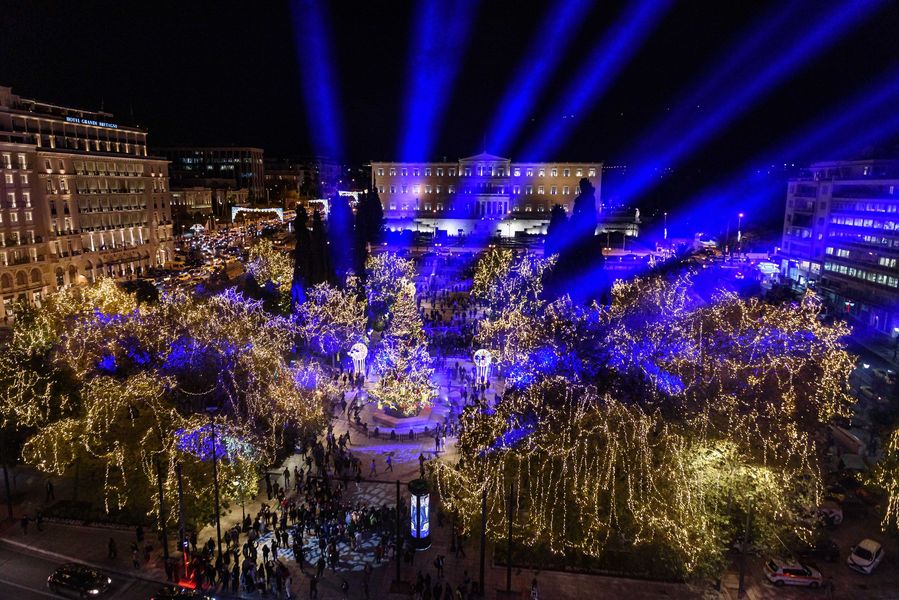 Christmas in Athens is a wonderful time to be with the fantastic Christmas decorations, the merry-to-go mood, the Greek Christmas cakes, the happy songs, and the sweet smell of the amazing festive days to come!
During Christmas in Athens, the whole center is decorated and lit with colorful lights, making you happy and excited to be in Athens, Greece.
Furthermore, Christmas in Athens is a different experience than the one you are probably used to, it has unique characteristics with its Greek local customs varieties.
*Some of the links below are affiliate links. click and buy. The commission comes at no additional cost to you. If you purchase something, thanks! Please see my full disclosure policy for more information*
COVID INFO FOR GREECE: Ministry of Tourism Official Website
Where to Stay for Christmas in Athens
Ideally, you should stay somewhere centrally so that you can enjoy the beautiful Christmas in Athens atmosphere, such as the Grande Bretagne Hotel in Syntagma Sq.
Grande Bretagne is the most luxurious hotel in Greece and creates the most magical and impressive Christmas meals for its guests.
If you prefer to spend your Christmas in Athens near old Athens Plaka and Acropolis Hill, my list of hotels below will definitely help you find what you are looking for:
Plaka Athens Taverns in Christmas
What are the Best Things to Do at Christmas in Athens
Syntagma Square Festivities
One of the best things to do in Athens at Christmas is to stroll the generously decorated Syntagma square.
The main attraction is a fir tree, 19 meters high, and is decorated with some 5 kilometers of lights comprising 60,000 bulbs!
My favorite decoration is a giant illuminated teddy bear close to the Christmas tree while all around the twinkling lights and the music and cheer transform the square into a magical fairyland.
Little Kook and Psyrri
The Little Cook Cafe is in the area across Monastiraki, called Psirri, a 3-minute walk from Monastiraki Metro station. The Cafe is a fun-filled place, with a heavily decorated and Instagram-like Christmas atmosphere that is worth a visit.
It is usually, very packed and busy but if you are lucky to find a seat, you can try its desserts and hot chocolate. It is at Karaiskaki 17 st., Psyrri.
Christmas Factory in Technopolis
The Christmas Factory in Technopolis (an old gas factory that has been turned into an events center) in Gazi, is one of the most festive places to be in the center of Athens, especially for children. Santa will be there and his toy factory, candies, songs, deserts, Christmas carols, and a happy atmosphere.
You can go very easily there by using the Metro and get off at Kerameikos station, one station far from Monastiraki.
Stavros Niarchos Foundation Cultural Center
Stavros Niarchos Foundation is one of the world's leading private, international philanthropic organizations, making grants to nonprofit organizations in the areas of arts and culture, education, health and sports, and social welfare.
Every Christmas season, Stavros Niarchos Cultural Center hosts a series of Christmas-themed events for all ages, ice skating lake, ballet shows, classical performances, and most notably a Christmas-themed opera performed by the National Opera.
Greek Night Club or Bouzoukia
Greek Night Clubs or Bouzoukia, with live music, is one of the Greekest things you can do during Christmas. No plate smashing anymore – not since the 70's – but dancing on the table or the stage and throwing flowers at the singer is a must!
Usually, the atmosphere is like that: a large impressive venue, packed with people ready to party all night, smoking and booze everywhere, and music that sounds a lot like it comes from the Middle East.
It is an unforgettable experience and there are dozens of nightclubs available for Christmas. Ideally, go with a Greek group of friends who know the bits and pieces of booking.
Visit the Athens Archaeological Sites and Museums
Acropolis Hill and Acropolis Museum, Ancient Agora, Temple of Zeus, and Kerameikos, are just a few of Athens' Archaeological Sites.
Read a detailed post on Athens Best Monuments and Landmarks with info on opening and closing times:
Enjoy a Greek Traditional Christmas Meal with a View
Find below a shortlist of some iconic and impressive restaurants in Athens where you can enjoy a Greek traditional Christmas Meal with a superb view.
Generally speaking, you have to book your table wherever you go during Christmas days, especially on Christmas Eve.
Dionysos Zonar's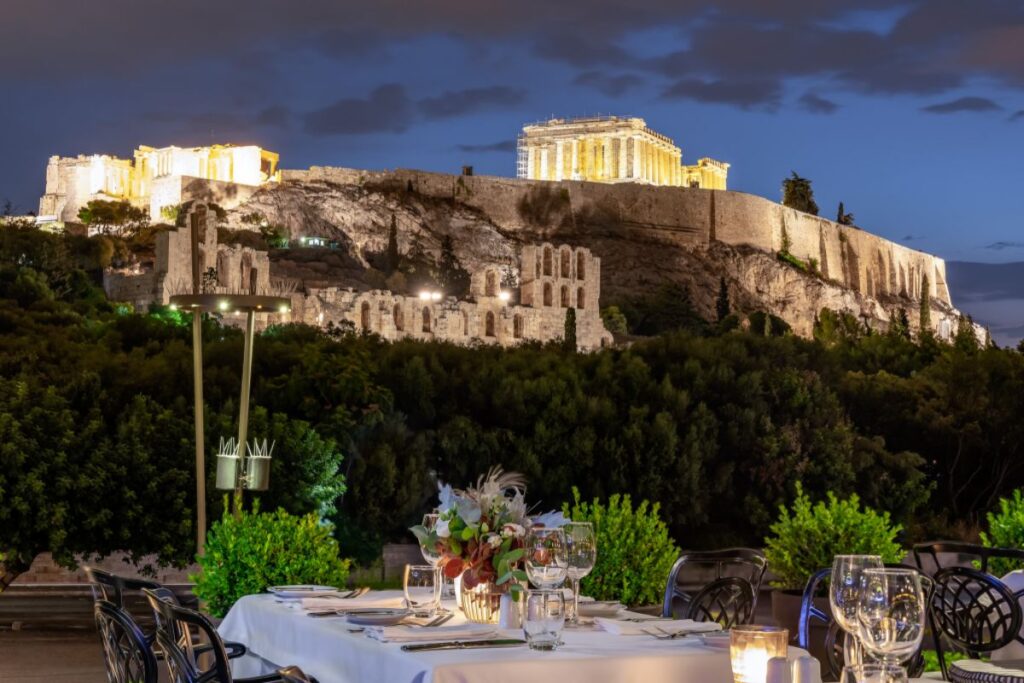 Dionysos Zonar's is a historical restaurant, located right across Acropolis Hill.
Famous for its top quality, service, and dishes, with a view that will not let you concentrate on your meal.
For more info visit their website: dionysoszonars.gr
Orizontes Lycabettus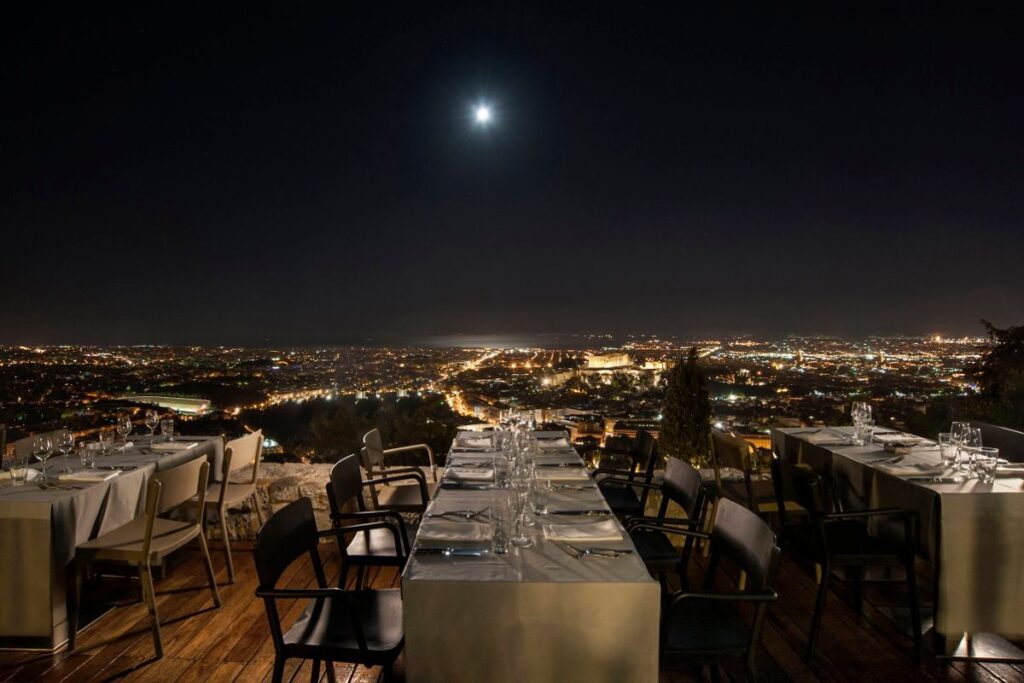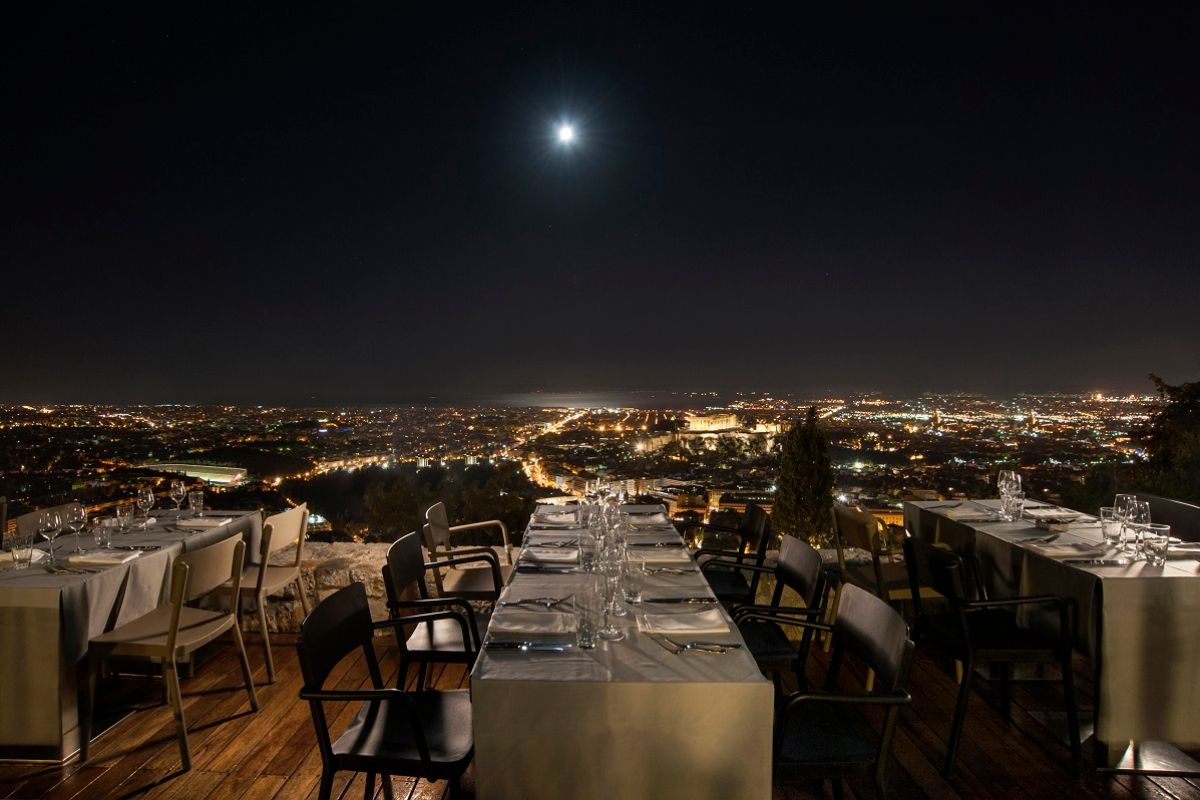 Orizontes Lycabettus restaurant is situated on the hill of Lycabettus, the highest hill of Athens, which overlooks the capital from 277 meters and is one of the most romantic places in Athens.
Check out its delicious Christmas menu and book your table on their website: orizonteslycabettus.gr
Varoulko
Varoulko is another top-notch multiple-awarded restaurant by the seaside of Mikrolimano in Piraeus.
If you wish to eat fresh Greek fish for Christmas in one of the best restaurants in Greece then you should make your reservations here https://varoulko.gr/
Taste Greek Traditional Christmas Sweets and Food
Treating yourself with delicious Greek Christmas pastries is one of the best things you can enjoy at Christmas in Athens.
The good thing is – bad for the diet but good for the spirit – that are available at any bakery or supermarket throughout Greece!
Ideally, you should find and taste original handmade but still, most bakeries do a good job with their sweets.
Read below a short introduction to some of the most popular Greek Christmas desserts:
Melomakarona and Kourabiedes
The royalty of Greek Christmas sweets! We buy them for our houses, we take them as a Christmas gift for any house visit, and we offer them with any coffee or tea you will have around Athens. They are literally everywhere during Christmas in Athens, in every house and shop.
Melomakarona are soft, honey-syrupy cookies, clove-scented, and covered with chopped walnuts (I can eat kilos of them).
Kourabiedes, are vanilla almonds cookies covered in powdered sugar – perfect for dipping them into tea or coffee, yum.
Diples and Tsourekia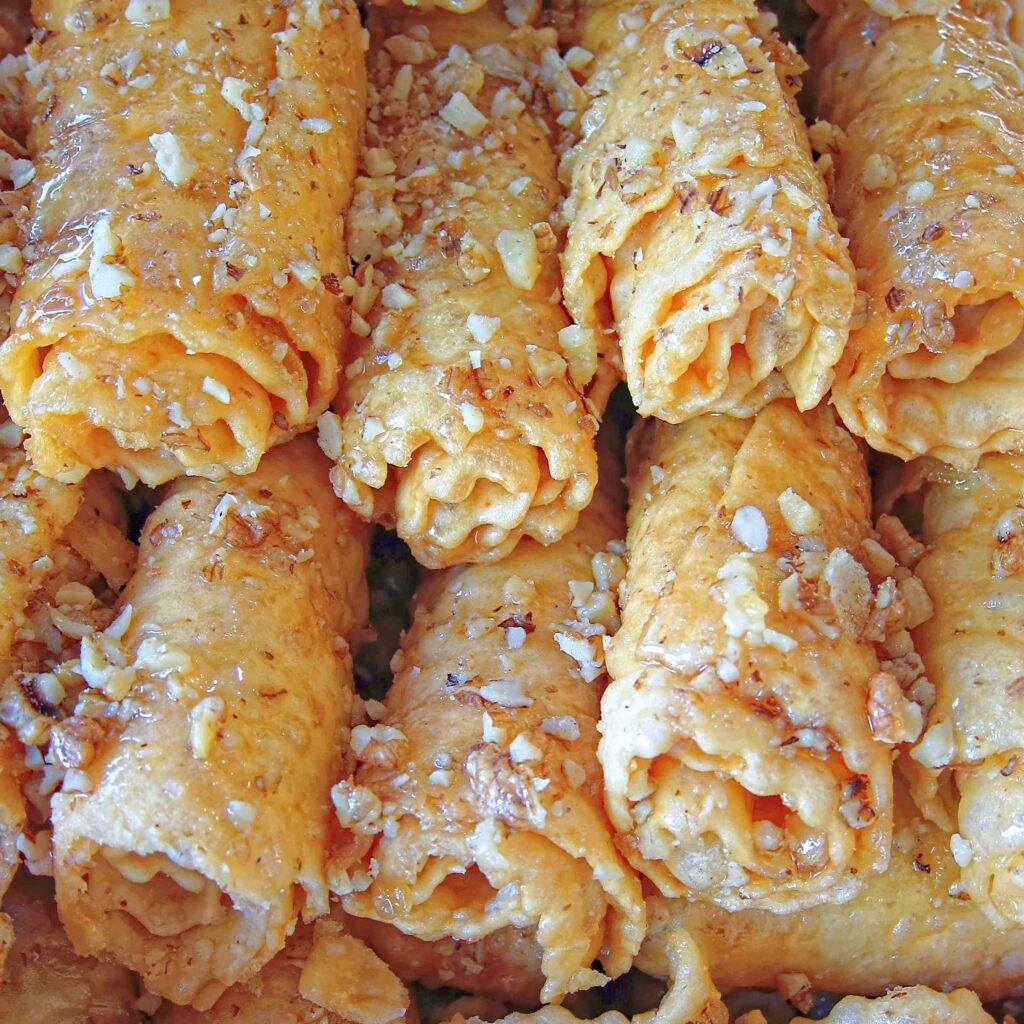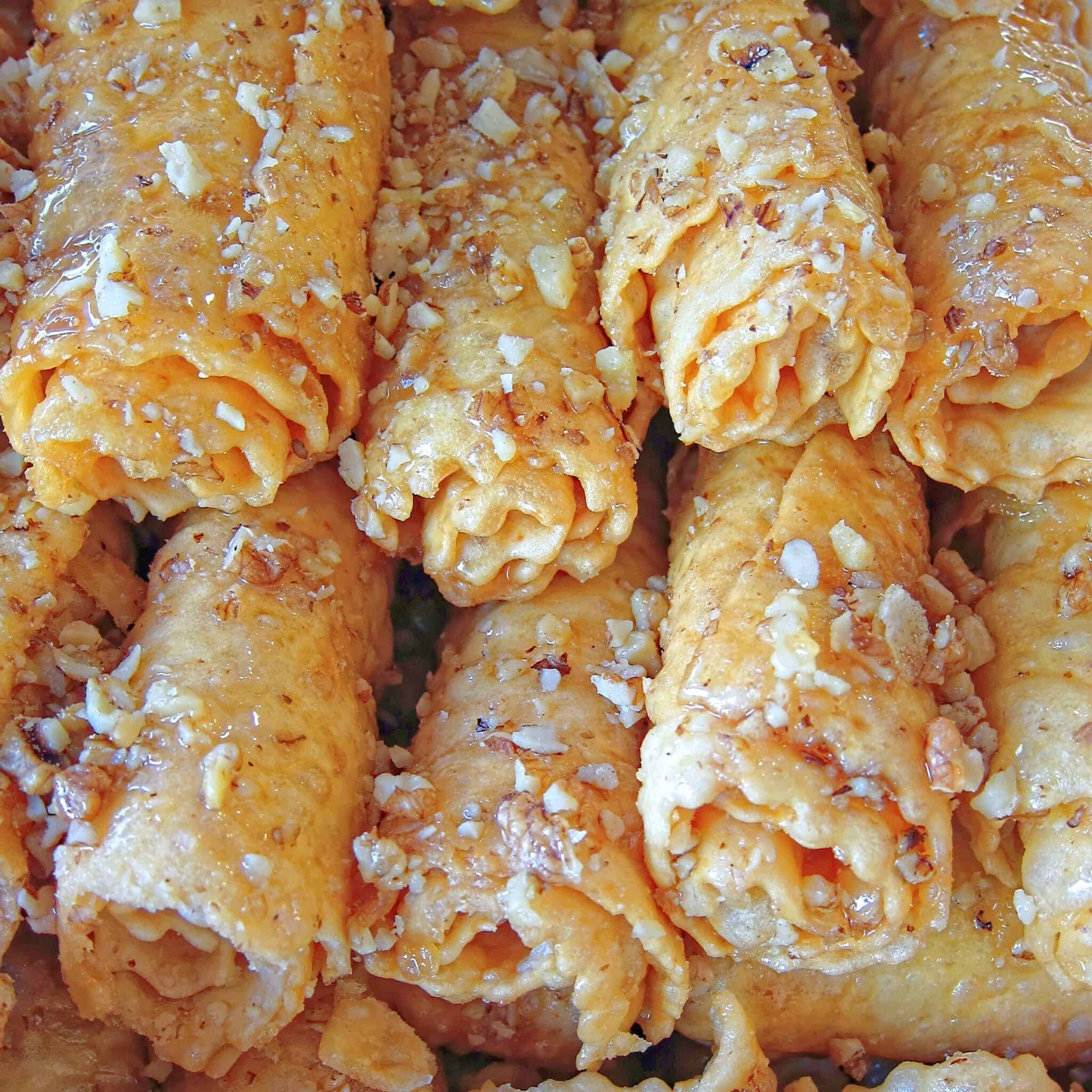 Diples are fried folded dough treats drizzled with honey syrup, cinnamon, and chopped nuts.
Tsoureki is a sweet bread with mahlab and comes in many forms. It can have mastiha, or be filled with chocolate or chestnuts.
Christopsomo and Vasilopita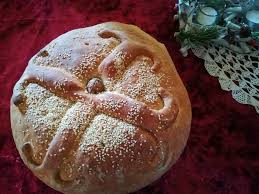 Christopsomo means the 'Bread of the Christ' and it is specially made for the Christmas day meal. It is always decorated with a cross and it is usually fluffy, with a beautiful crust and unique flavor.
Vasilopita is usually a cake that contains a hidden coin or a trinket. It is a very ceremonial tradition with the head of the family cutting the Vasilopita into small pieces. The first pieces go to Christ, to the house (for good luck), and for the rest of the family. Whoever finds the coin in his or her piece, they are supposed to have good luck for the whole year.
So if you participate in any Vasilopita cut, look out for your lucky coin!
Get Greek Handmade Traditional Gifts for your Family
Diplous Pelekis or Double Axe started its journey to selling beautiful art pieces and gifts in 1925, retaining its uniqueness, quality, and finesse all those years.
In particular, the Christmas traditional Greek gifts are simply amazing, some only found in this shop. You can find this beautiful shop, 5-minutes far from Grande Bretagne Hotel, at Voulis 7 street, in the Bolani arcade.
Katerina, the owner, will help you choose the best gift for you!
Ski Resorts in Greece
Greece is a very mountainous country and in December some ski resorts have already good enough snow to ski.
If you love skiing or the great outdoors then check this post on the organized Ski Resorts in Greece, rent a car, and drive to your next adventure in Greece.
If this is your first time in Greece, perhaps the Parnassos Ski resort is ideal as you can visit the Delphi Archaeological Site as well.
You don't want to drive? Book a Private tour!
How to Get to Greece
Unless you come from any of the nearby Balkan countries, you probably need to fly to Athens or Thessaloniki International Airports to get to Greece.
I highly recommend you check out the Skyscanner search engine site for the Cheapest, Fastest, Best Worldwide Flights!
A Message from Evgenia
Some of my Favorite Travel Resources for Greece
Ferries to the Greek Islands: Book your ferry transfer with FerryScanner or FerryHopper, and get the best prices in the market with no hidden fees
Air flights: Cheap/Fast/Best Worldwide Flights from KAYAK or SkyScanner search engine sit
Booking.com: I use Booking.com because I can get the best deals on both hotels and apartments, free cancellations, and great prices!
Best car rental prices – Guaranteed. RentalCars.com
Get Your Guide: For all your day or multi-day tours and city guide needs, I use Get Your Guide
Emergency Numbers Anywhere in Greece: AMBULANCE 166 – FIRE 199 – POLICE 100– EMERGENCY NUMBER 112
Read about the Beautiful Greek Islands