Are you spending Christmas in Athens in 2023 and you are wondering what is there to do during your visit? This travel guide will get you into the holiday spirit in Athens, and offer 14 ideas on how best to spend your Christmas in Athens.
I love Christmas in Athens. The city gets so beautifully decorated, there is a throbbing merry-to-go mood, Greek Christmas cakes are available everywhere, and happy songs playing in every shop – "Last Christmas I gave you my heart…" 😀 -, and the crispy cold weather makes me feel like a child again.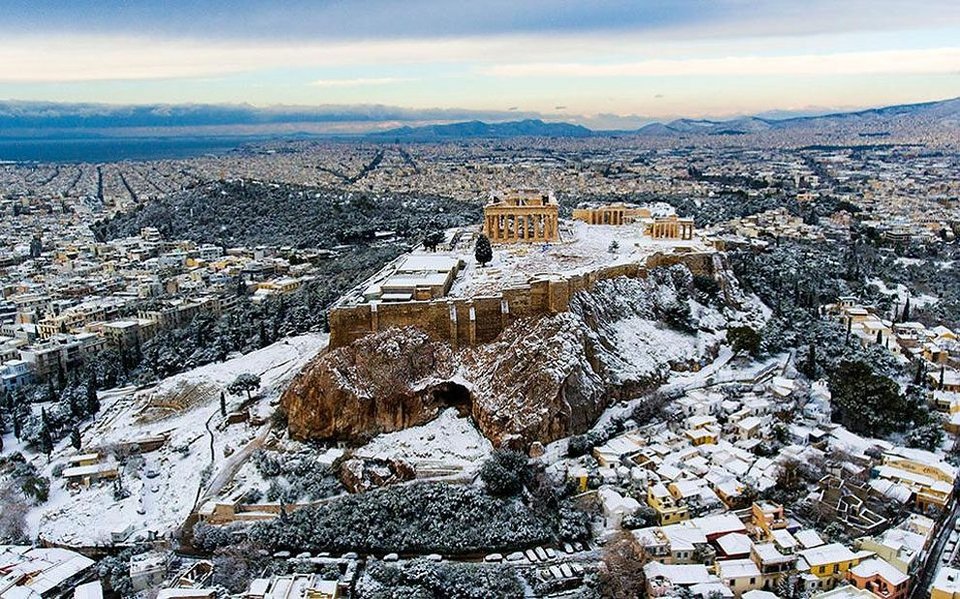 The weather in Athens in December can be in the spectrum of pretty cold (around 5C) and overcast/rainy to pleasantly warm (15C) and sunny. Athens rarely has a white Christmas as it snows -if it does- in January or February.
Regardless of the weather, Athens' center is transformed into a magical place lit with colorful lights, making you happy and excited to be in the city. Besides the festive atmosphere, spending Christmas and New Year's Eve in Greece you will have the chance to experience the local Greek Christmas customs.
Some of them are the traditional sweets, the Greek carols, and the wishes in the Greek language (more of that at the end of the post!)
Some of the best things to do during Christmas in Athens are:
Join the Christmas festivities in Syntagma Square – Athens' main square
Get to Know the Greek Version of Christmas Tree: a Karavaki
Be Amazed at the Athenian Cafés
Go to Christmas Factory in Technopolis – Great for families
Attend S.Niarchos Foundation Cultural Center Events
Have Fun at the Ice-Skating Rings
Enjoy Nightlife like a Local, go to Bouzoukia
Indulge in Athens' Best Bars
Explore the Numerous Archaeological Sites in Athens
Book a Christmas Meal with a Spectacular View
Indulge in Greek Christmas Sweets Tasting
Shop Till You Drop!
Learn Christmas Greetings in Greek
Travel to organized ski resorts in Greece!
*Some of the links below are affiliate links. That means that if you click and buy I may get a commission. The commission comes at no additional cost to you.
Top Things to Do in Athens at Christmas
Where to Stay for Christmas in Athens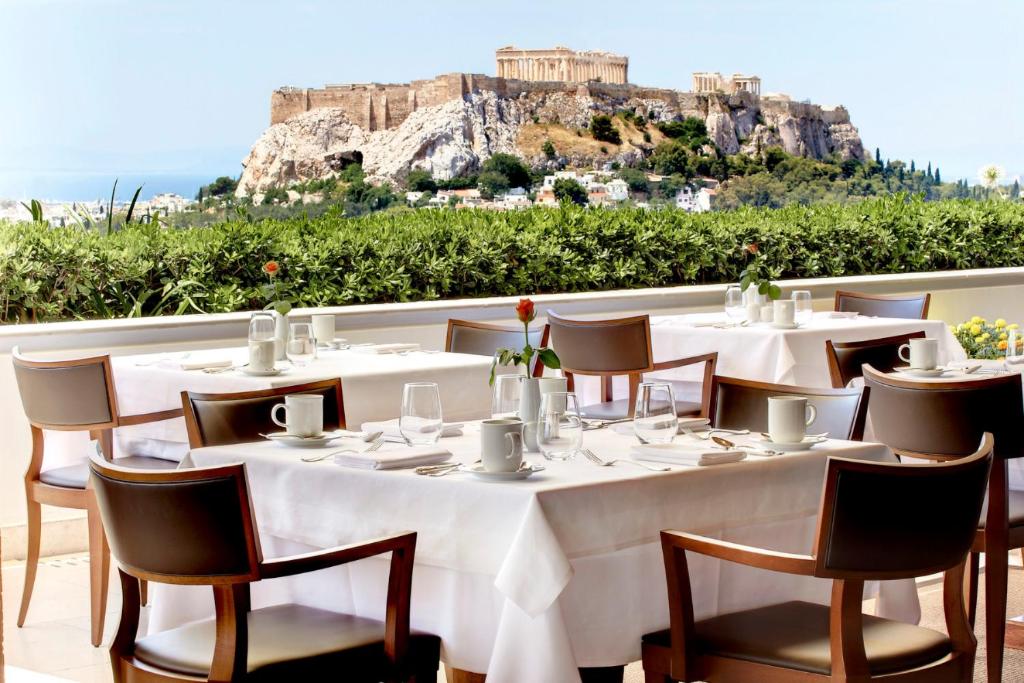 Ideally, you should stay somewhere centrally so that you can enjoy the beautiful Christmas in Athens atmosphere. If you love luxury and class, then Grande Bretagne located right across from the Hellenic Parliament is your best choice. It has an impressive roof bar with stunning views of the Acropolis.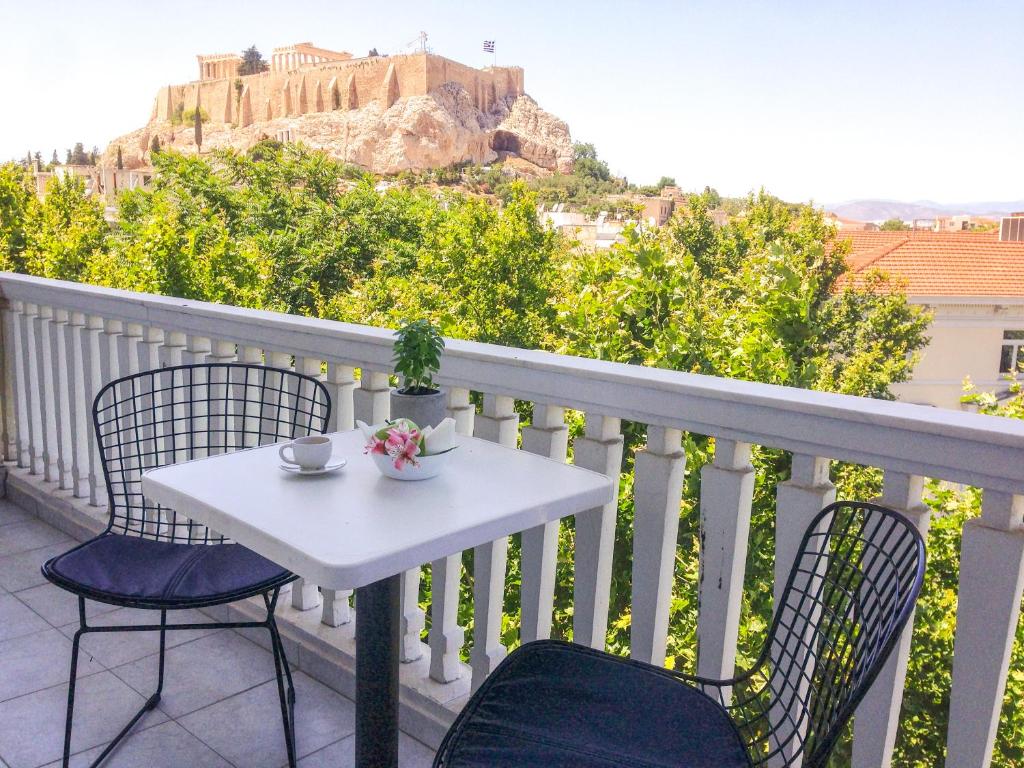 Alternatively, the Athens Grand Suite with views of the Acropolis Hill, the Temple of the Olympian Zeus, the National Gardens, and the Lycabettus Hill, is a fantastic choice! The apartment is perfect for a group of up to 8 people as it has 2 large double bedrooms, a bedroom with 2 single beds, and 2 sofa beds in the living room.
For Acropolis View Hotels in Athens check out this dedicated post!
Christmas in Athens, Plaka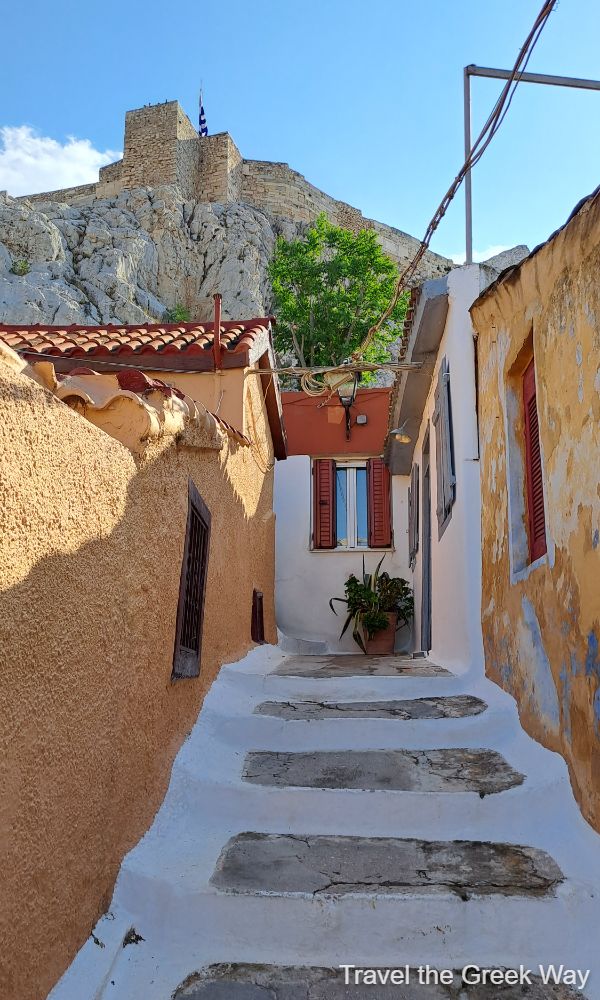 The Christmas season in Athens kicks off on December 6 for the feast day of St. Nicholas and continues until Epiphany on January 6. Athens during Christmas is amazing to explore on foot, especially the old part of the city, Plaka. Here you come across all kinds of picturesque alleys, traditional taverns, and charming hotels and it is the area built at the feet of Acropolis Hill.
Up next I am going to tell you about the best things to do at Christmas in Athens!
Top Things to Do at Christmas in Athens
1. Join the Syntagma Square Festivities
One of the best things to do in Athens at Christmas is to stroll the generously decorated Syntagma Square. The main attraction is usually a huge fir tree, 19 meters high, decorated with some 5 km of lights comprised of 60,000 bulbs!
My favorite decoration is a giant illuminated teddy bear close to the Christmas tree while all around the twinkling lights and the music and cheer transform the square into a magical fairyland.
2. Discover the Greek Version of Christmas Tree: a Karavaki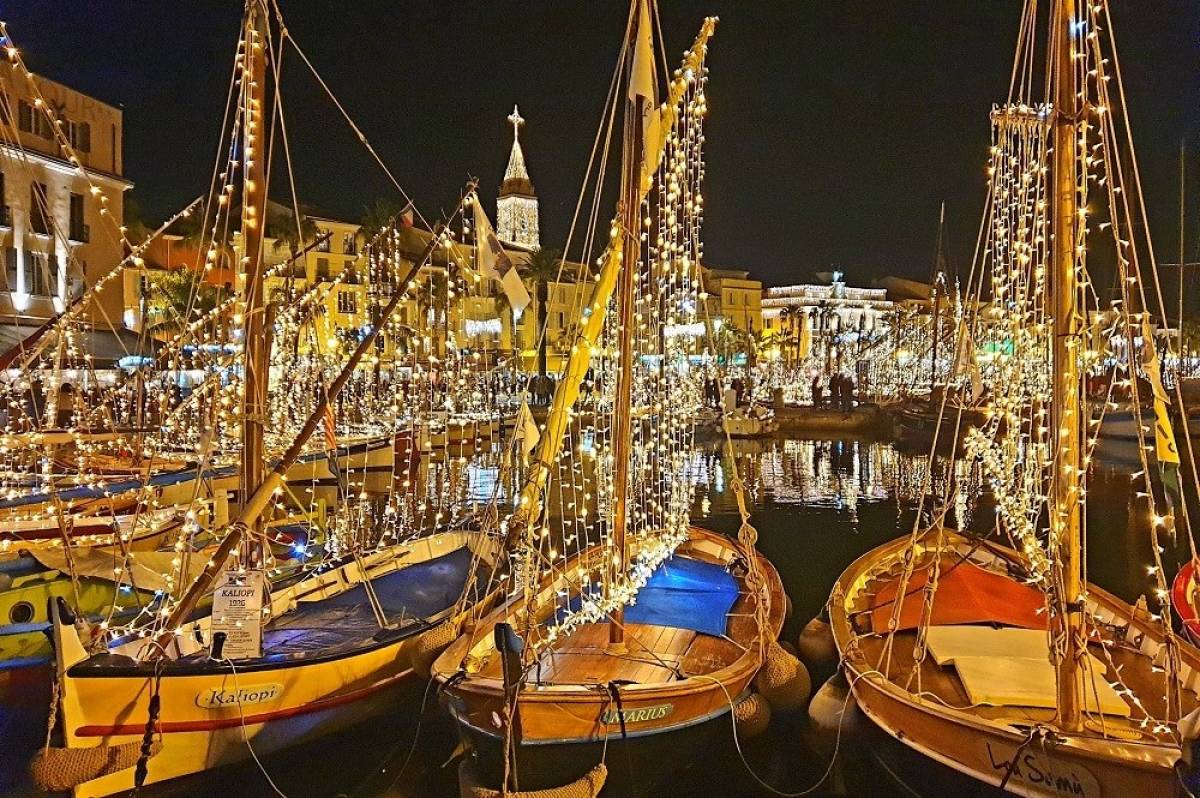 Adorning a Karavaki (a small boat in Greek) for Christmas goes back to the times when sailors from the Greek islands had to stay away from their homes for a long time. When they returned as a celebration they would add lights and decorate small boats (Karavaki) and put them next to the firing place.
A lot of towns and villages in Greece prefer to decorate their main square with the Greek Karavaki rather than a Christmas tree. I support the idea and think it is important to keep the local traditions alive.
3. Be Amazed at the Athenian Cafés
Little Kook Café is the most iconic cafe in Athens. The Café is a fun-filled place, with a heavily decorated and Instagram-like Christmas atmosphere that is worth a visit. However, it can get very busy but if you are lucky to find a seat, you can try its desserts and hot chocolate. It is at Karaiskaki 17 st. in the Psirri area, a 3-minute walk from Monastiraki Metro station
Another favorite café, near Acropolis, is the Little Tree Books & Coffee which combines flavored cocoa or coffee, cakes, and pies with books. If you have Greek friends or family to shop for, you might even find some presents on the shelves. As it is very close to the Acropolis Museum, you can go there instead of the tourist-packed places in front of the Museum.
4. Go with your Kids to Christmas Factory in Technopolis
The Christmas Factory in Technopolis in Gazi, is one of the most festive places to be in Athens at Christmas, especially for children. Santa will be there and his toy factory, candies, songs, deserts, Christmas carols, and a happy atmosphere.
You can go very easily there by using the Metro and get off at Kerameikos station, one station far from Monastiraki.
5. Attend S.Niarchos Foundation Cultural Center Events
Stavros Niarchos Foundation is one of the world's leading private, international philanthropic organizations, making grants to nonprofit organizations in the areas of arts and culture, education, health and sports, and social welfare.
Every Christmas season, Stavros Niarchos Cultural Center hosts a series of Christmas-themed events for all ages such as ballet shows, classical performances, and most notably a Christmas-themed opera performed by the National Opera.
The center is located near the Faliro Gulf, on the Athens Riviera, and is one of the most beautiful buildings in Athens. You can visit the Center all your round and you can find out more on their website here.
6. Have Fun at the Ice-Skating Rings
One of the most Christmas-like things to do is ice skating, a perfect entertainment for the young in heart! Besides Stavros Niarchos frozen lake which is one of the best in Athens during Christmas, other popular places to go ice-skating are:
Village Shopping & More, in the Renti area (towards Piraeus)
Megaron Music Hall in Central Athens
Athens Heart (Mall)
7. Enjoy like a Greek: Go to a Greek Night Club or Bouzoukia
Greek Night Clubs or Bouzoukia, with live music, is one of the Greekest things you can do during Christmas. No plate smashing anymore – not since the 70s – but dancing on the table or the stage and throwing flowers at the singer is a must!
Usually, the atmosphere is like that: a large impressive venue, packed with people ready to party all night, smoking and booze everywhere, and music that sounds a lot like it comes from the Middle East.
It is an unforgettable experience and there are dozens of nightclubs in Athens during Christmas. Ideally, go with a Greek group of friends who know the bits and pieces of booking.
8. Indulge in Athens' Best Bars
Athens has some of the finest decorated bars in the country offering selected cellars of spirits or wines. A few of my favorites are:
Barreldier, with exciting recipes just for Christmas, CV Distiller whose whiskey selection will astonish you, and Noel-the Holiday Bar, a popular bar, tastefully decorated. They are all very centrally located, within walking distance from Syntagma sq.
9. Visit the Athens Archaeological Sites and Museums
Athens is an ancient city with a spectacular history and impressive monuments on every corner. Acropolis Hill is the most famous UNESCO monument of Greece, located in the heart of Athens, the old part, of Plaka.
Visiting the Athens sites at Christmas means fewer crowds and half-price entrance tickets. All archaeological sites in Greece have a half-price ticket from November 1 to March 31.
If you are visiting Athens for the first time, then you should buy the 'package' ticket that gives you access to 7 major sites for the current price of €30 which is valid for 5 days. The sites that you can visit are:
Free Entrance: From November to March, admission is totally free in Greek archaeological sites on the first Sunday of the month and on the dates March 6th, April 18th, May 18th, the last weekend of September, and October 28th.
The sites are closed on the 25th-26th of December and the 1st of January.
10. Book a Christmas Meal with a View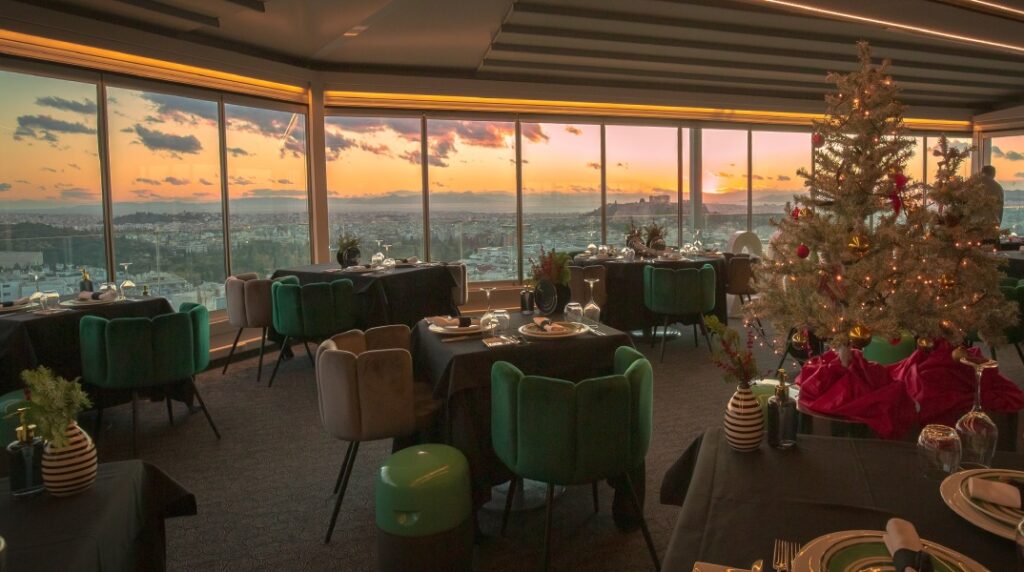 Find below a shortlist of some iconic and impressive restaurants in Athens where you can enjoy a Greek traditional Christmas Meal with a superb view.
Generally speaking, you have to book your table wherever you go during Christmas days, especially on Christmas Eve.
Dionysos Zonar's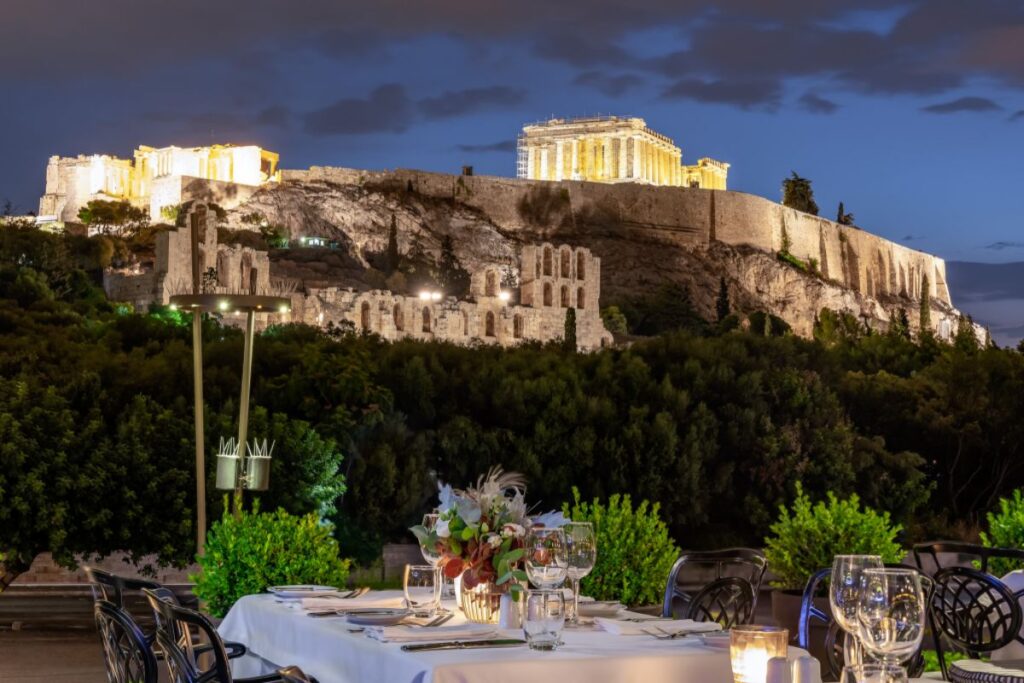 Dionysos Zonar's is a historical restaurant, located right across Acropolis Hill. Famous for its top quality, service, and dishes, with a view that will not let you concentrate on your meal.
For more info and to book your table, visit their website here.
Orizontes Lycabettus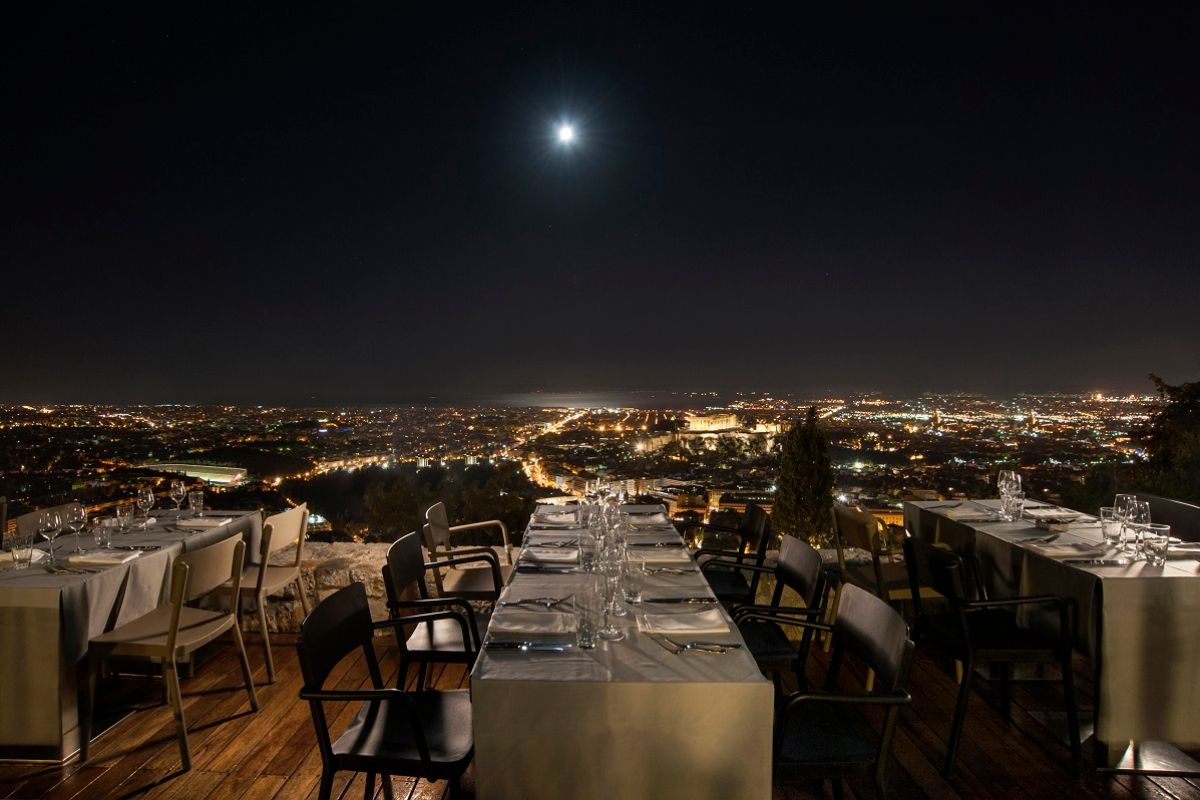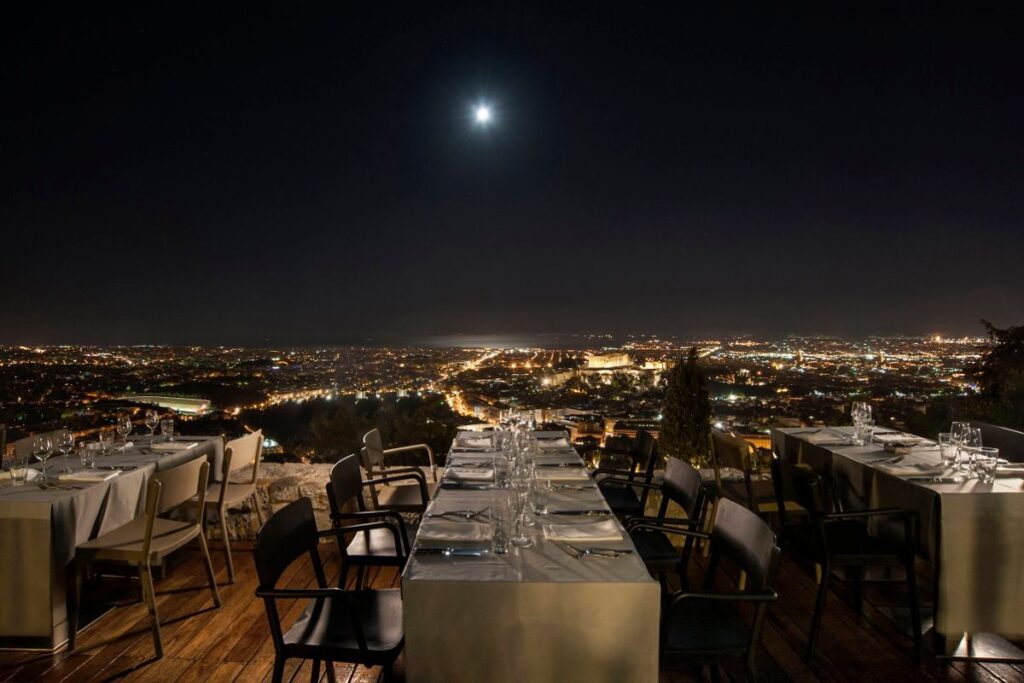 Orizontes Lycabettus restaurant is situated on the hill of Lycabettus, the highest hill of Athens, which overlooks the capital from 277 meters and is one of the most romantic places in Athens.
Check out its delicious Christmas menu and book your table on its website here.
Varoulko
Varoulko is another top-notch multiple-awarded restaurant by the seaside of Mikrolimano in Piraeus. If you wish to eat fresh Greek fish for Christmas then you can choose Varoulko or one of the best seafront restaurants in Athens.
11. Taste Greek Traditional Christmas Sweets
Treating yourself to delicious Greek Christmas pastries is one of the best things you can enjoy at Christmas in Athens. The good thing is – bad for the diet but good for the spirit – that are available at any bakery or supermarket throughout Greece! Read below a short introduction to some of the most popular Greek Christmas desserts:
Melomakarona and Kourabiedes
The royalty of Greek Christmas sweets! We buy them for our houses, we take them as a Christmas gift for any house visit, and we offer them with any coffee or tea you will have around Athens. They are literally everywhere during Christmas in Athens, in every house and shop.
Melomakarona are soft, honey-syrupy cookies, clove-scented, and covered with chopped walnuts (I can eat kilos of them).
Kourabiedes, are vanilla almond cookies covered in powdered sugar – perfect for dipping them into tea or coffee, yum.
Diples and Tsourekia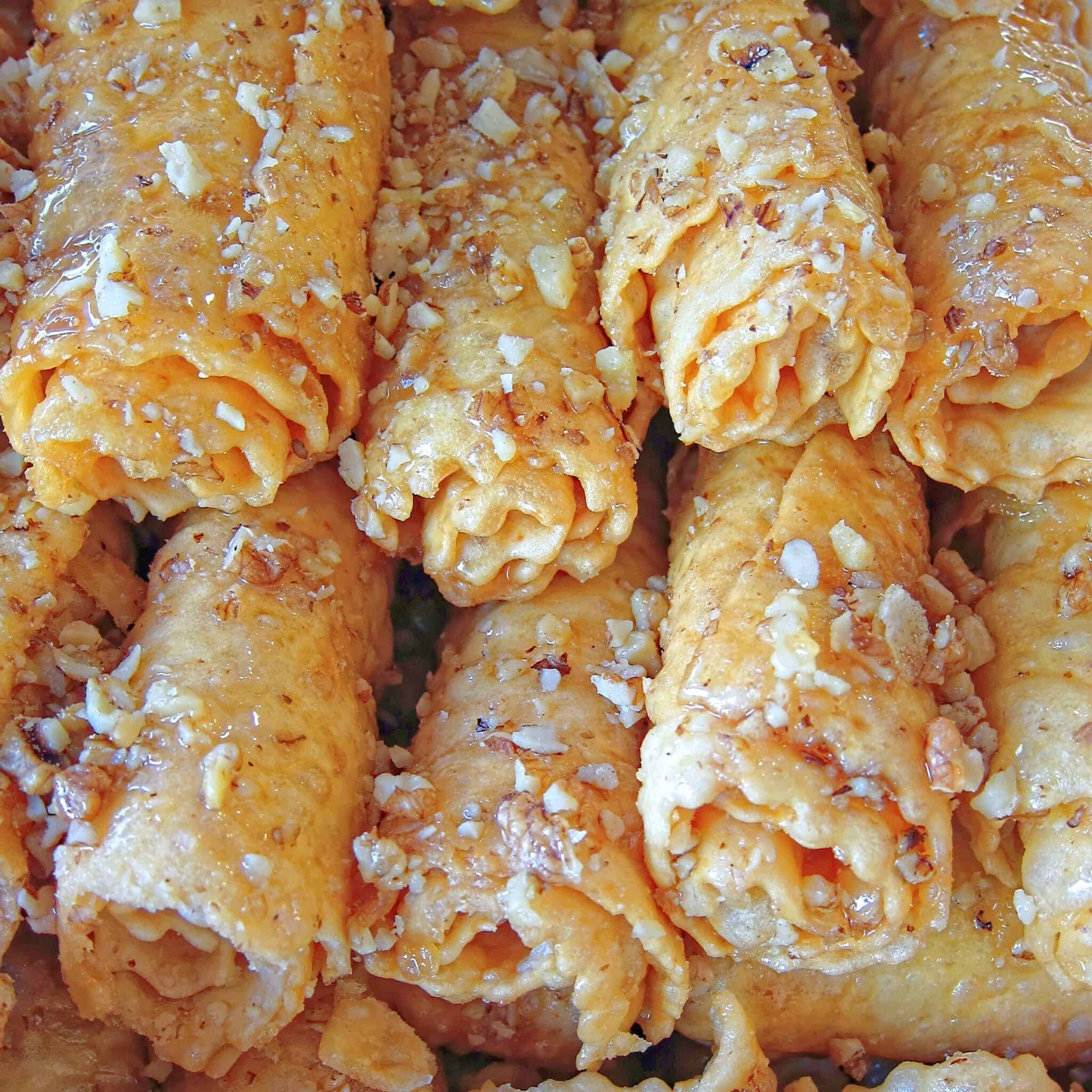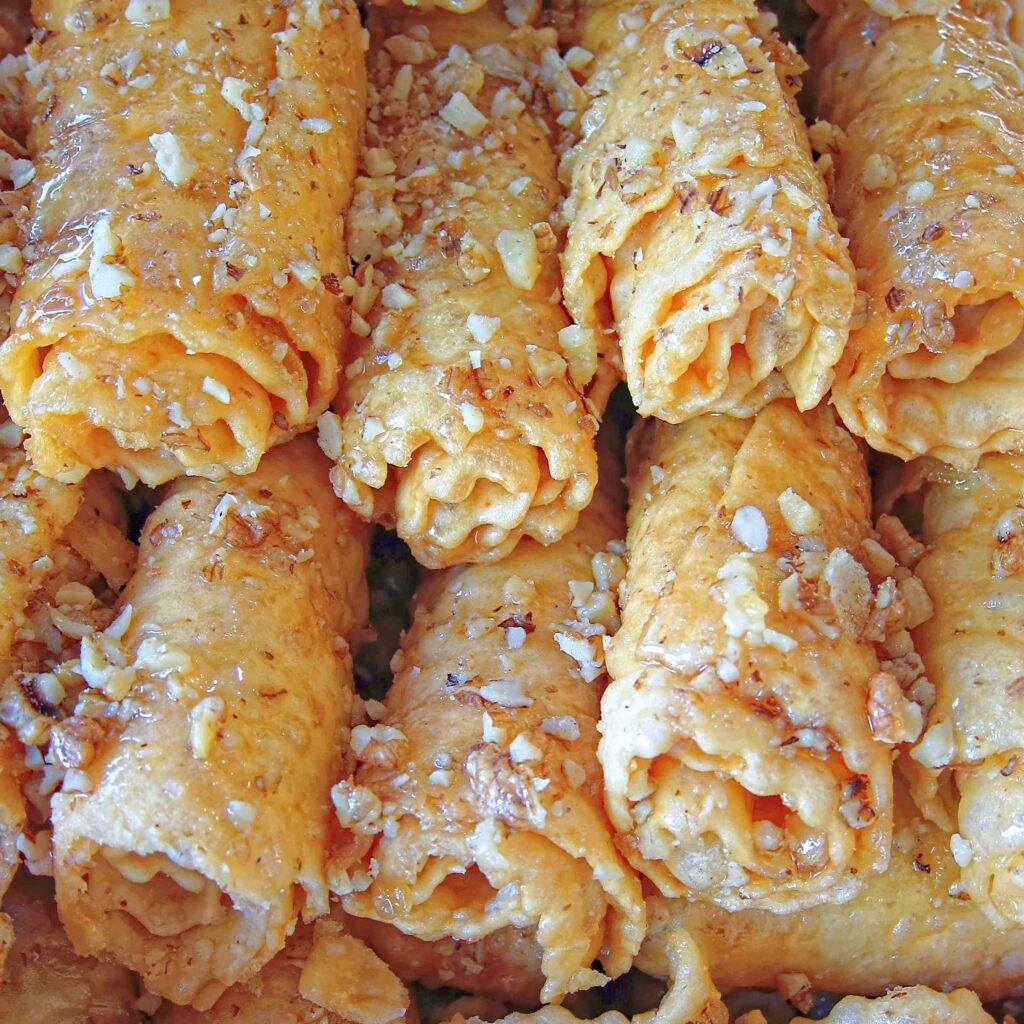 Diples are fried folded dough treats drizzled with honey syrup, cinnamon, and chopped nuts. Tsoureki is a sweet bread with mahlab and comes in many forms. It can have mastiha, or be filled with chocolate or chestnuts.
Christopsomo and Vasilopita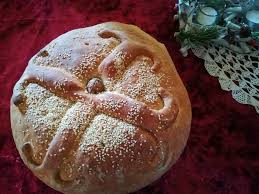 Christopsomo means the 'Bread of the Christ' and it is specially made for the Christmas day meal. It is always decorated with a cross and it is usually fluffy, with a beautiful crust and unique flavor.
Vasilopita is usually a cake that contains a hidden coin or a trinket. It is a very ceremonial tradition with the head of the family cutting the Vasilopita into small pieces. The first pieces go to Christ, to the house (for good luck), and to the rest of the family. Whoever finds the coin in his or her piece, they are supposed to have good luck for the whole year.
So if you participate in any Vasilopita cut, look out for your lucky coin!
12. Shop till you Drop!
The great thing about Athens shopping is that you can find anything you want within walking distance. If you are during Christmas in Athens, and you stay for January as well, then you shouldn't miss the January Sales with prices that would make it worth a trip every year.
A top-rated department store is Attika Department Store, one block away from Syntagma Sq. Alternatively go to Ermou, the main pedestrian shopping street of Athens, which has a wide variety of shopping and is always full of musicians, clowns, mimes, jugglers, and all kinds of entertainment. For posh shopping go to the Kolonaki area or to any of the larger Malls located outside of Athens' center, such as the Golden Hall and The Mall Athens.
And when you get tired of shopping stop at any of the many outdoor cafes with overhead heaters on and order a strong cup of coffee or a delicious hot chocolate.
13. Learn Greek Christmas Greetings
There is no better way to make a Greek person happy than to wish him/her Merry Christmas in the Greek language! The most common list of wishes and greetings that you can use while visiting Greece at Christmas are:
Chronia Polla! – Wishing someone to have many years of life, suitable for Christmas, New Year's Eve, and Easter!
Kala Christougenna! – Merry Christmas!
Kali Chronia! – Happy New Year!
Eftychismenos o Kenourgios Chronos! – Happy New Year!
14. Travel to the Ski Resorts in Greece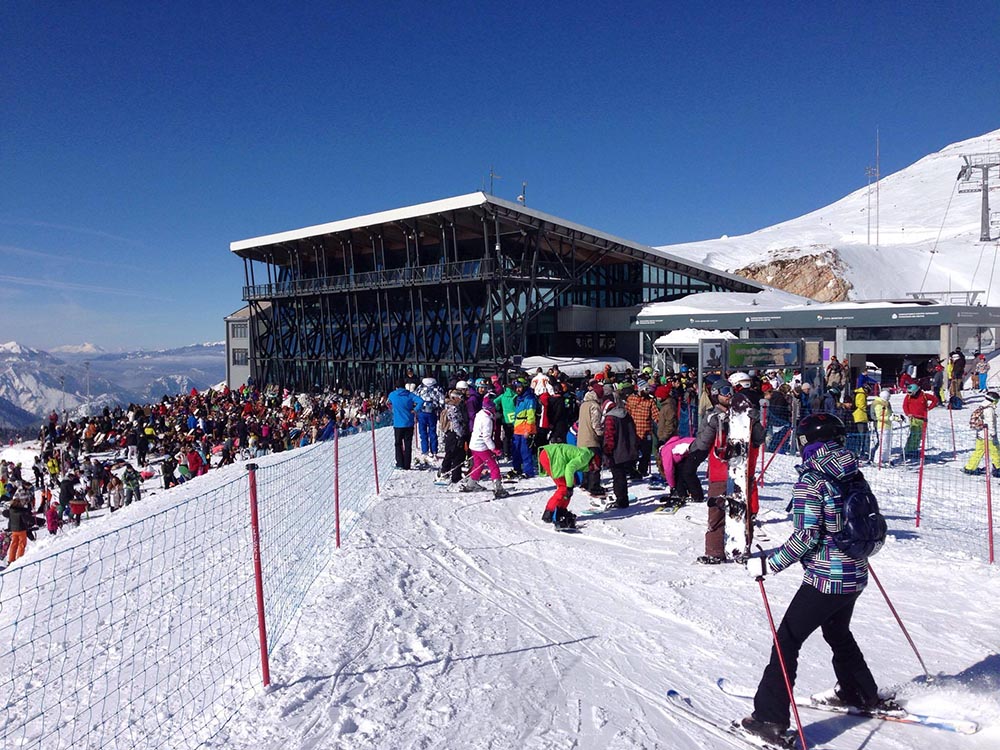 Greece is a very mountainous country and in December some ski resorts have already good enough snow to ski.
If you love skiing or the great outdoors then check this post on the organized Ski Resorts in Greece, rent a car, and drive to your next adventure in Greece.
If this is your first time in Greece, perhaps the Parnassos Ski resort is ideal as you can visit the Delphi Archaeological Site as well.
You don't want to drive in Greece in winter? Book a 4-day Argolis, Ancient Olympia, Delphi, and Meteora private tour from Athens
What to Wear in Athens in December
The better way to get dressed in Greece is by wearing many layers that you can remove if it gets too warm. Some basic clothes that you should bring with you for Christmas in Athens are:
A Cole Haan Women's Slick Wool Wrap Coat
A Long Sleeve Night Out Party Dress
Greece in Winter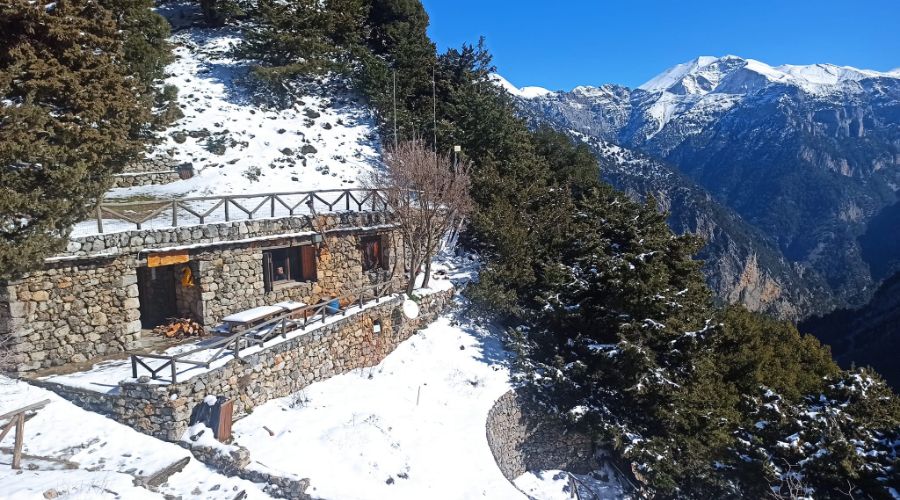 If you would like to escape from the colder weather of your country and celebrate Christmas, enjoy hiking, and visit archaeological sites at half price with no crowds then I suggest you visit Greece between December, January, and February. Check out here what to do in the warmest place to be in Greece, Crete Island in winter.
Tips for First-Time Visitors to Athens
Try the koulouri, a small round piece of bread usually with sesame and a Greek coffee and you become instantly a Greek local!
If you are staying for more than a day in Athens buy the 30 euro combination ticket, valid for all the archaeological sites for 5 days
If you are not squeamish about blood or fish smell visit the famous Varvakios Market, on Athinas Street, a 10-minute walk from Monastiraki Square an indoor and outdoor food market. The vendors sell fresh meat, fish, fruit, spices, and products from around the country
If you have the time, besides the stunning Acropolis Museum, I highly recommend the National Archaeological Museum, the biggest Museum in Greece with ancient artifacts from all over the country
Other significant Museums are the National Museum of Contemporary Art Athens (1 metro station far from Acropolis, at Fix Station) and Goulandris Museum, 5 minutes away from Panathenaic Stadium 
Across from the northern Acropolis exit, stands the Areopagus or Mars Hill where Apostle Paul preached
Google Map of Athens
Get your interactive map of Athens here, to walk/drive to any of the places listed on Christmas in Athens.
How to Get to Athens Port (Piraeus) from Athens Airport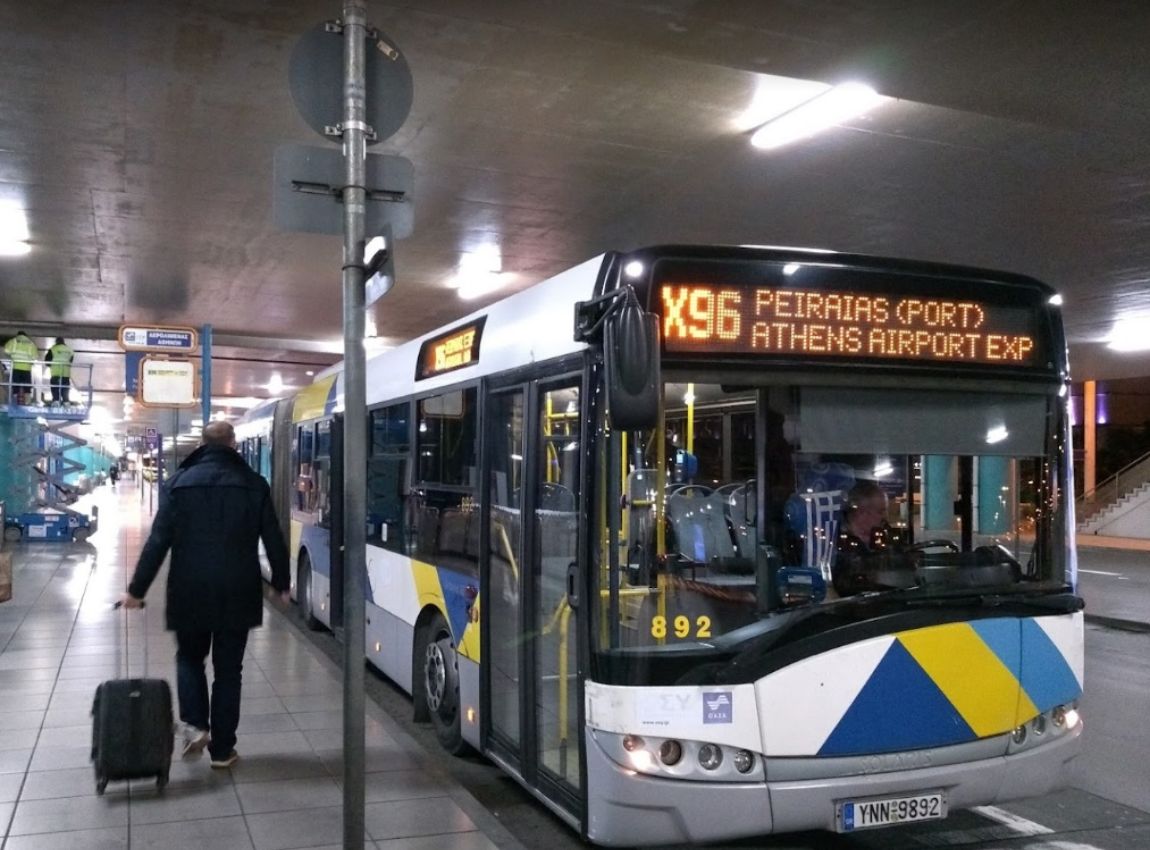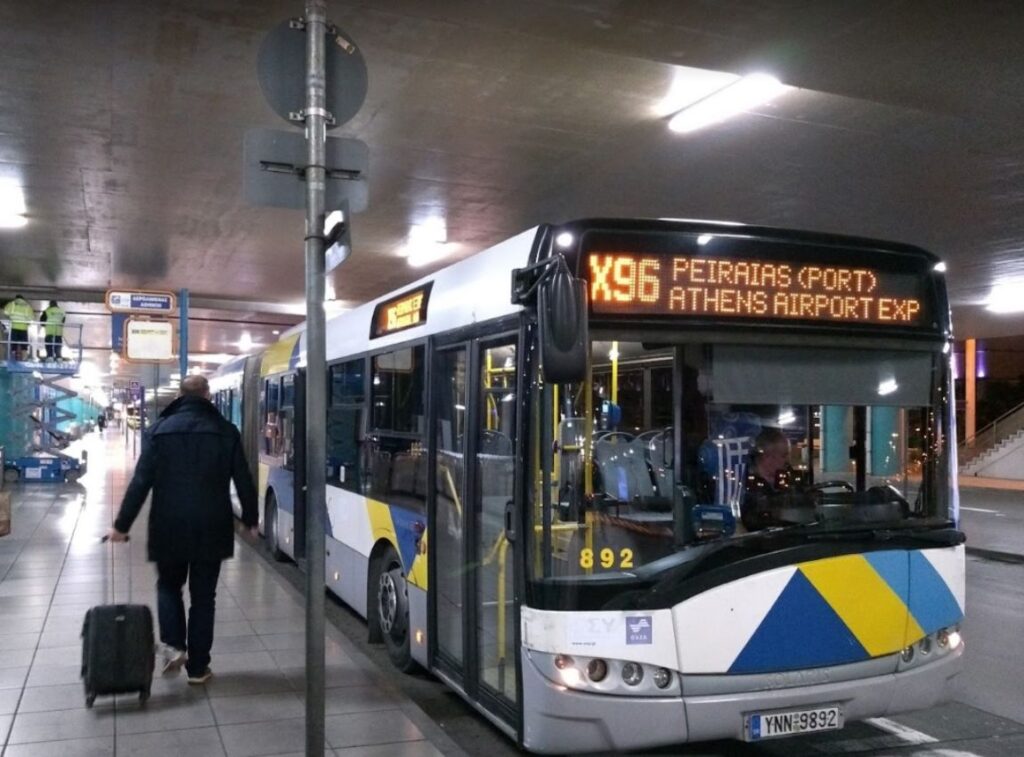 Bus: If you are arriving at Athens International Airport you can travel straight to the port by taking the X96 express bus (€5.5, children <6 yo, free entrance), which departs every 40 minutes and the average trip lasts 1 hour – runs 24/7.
Metro: (€9) is easily found across airport arrivals (blue line – M3) going directly to Piraeus port. The average trip to Piraeus lasts 1 hour.
Taxis are available in front of the airport (around €40 to Athens, €55-60 to Piraeus (depending on the traffic in Kifisos), and take up to 3 or 4 people with small luggage)
Rent a car with Discover Cars to rent reliable new cars at affordable prices
You don't like driving but love hassle-free solutions? Book a Private transfer with an English-speaking driver from Athens International Airport to Piraeus Ferries, or anywhere else in Greece
Check out an entire post on Lavrio Port in Athens
Did you visit Athens during Christmas? Let me know what you think about spending Christmas in Athens in the comments, I'd love to hear whether I managed to get it onto your bucket list! Till next time, Evgenia❤️
Plan Your Next Trip to Greece With These Resources
Essential Greek Travel Information
'Hello' and 'Thank You' in Greek: "Ya sou" and "Efharisto"
Booking.com: I use Booking.com because I can get the best deals on both hotels and apartments, free cancellations, and great prices!
Find Long-Term Rentals in Greece: You will find the best prices in Flatio
FerryScanner to book ferries to the Greek Islands
Athens Metro Website (timetables and ticket info)
Get Your Guide: For all your day or multi-day tours and city guide needs, I use Get Your Guide
Emergency Numbers Anywhere in Greece: AMBULANCE 166 – FIRE 199 – POLICE 100– EMERGENCY NUMBER 112
All rights reserved © Travel the Greek Way. Republishing this article and/or any of its contents (photographs, text, links) is strictly prohibited.
Please follow and like us: