Updated May 15th, 2021 by Travel the Greek Way
You are first time travelling to Greece, you have started planning your trip, and all the preparations can be both very exciting and overwhelming!
I know the feeling so well myself. Even going away for a weekend anywhere in Greece, can make me a bit nervous. I always stress out that I will forget important objects or not make the right preparations, or ask the appropriate questions. Let alone going on a trip abroad or overseas!
So to make your visit to Greece, as carefree and easy-going as possible, I have compiled useful tips and travel suggestions, especially for the first time travelling to Greece and as only a local can offer.
First Time Travelling to Greece
---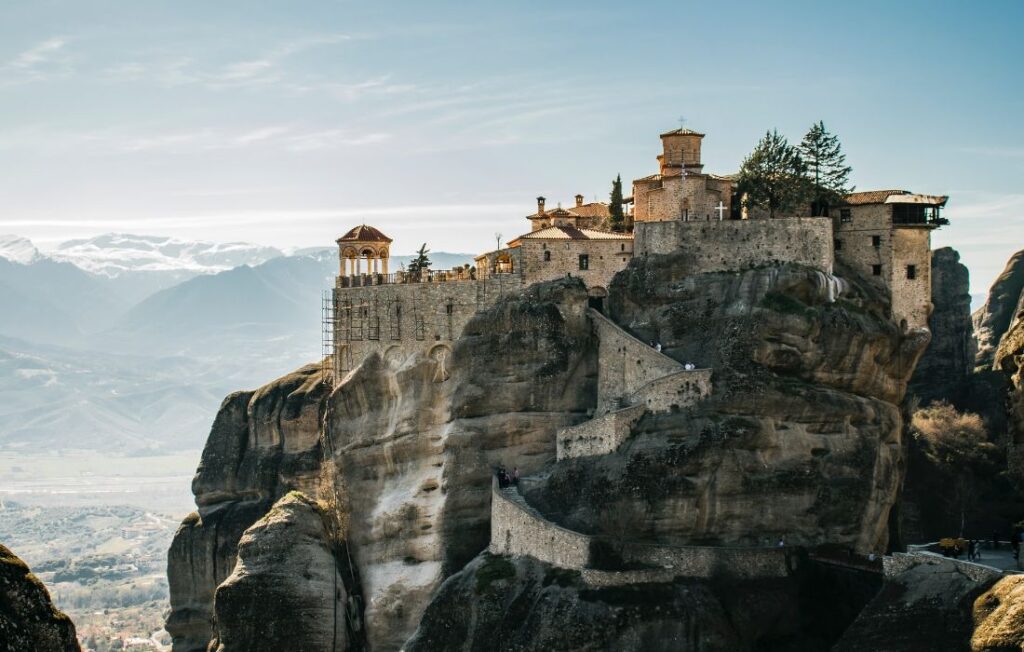 As a first time travelling to Greece, you will find in this post handy information on Greece itself, the culture, about the needed budget and even if you need any vaccines.
Furthermore, how to travel in Greece, safety advice about pickpocketing in Greece, the best places a first-time traveller must-see in Greece, island-hopping, where to stay, and examples of a Greece trip itinerary. I have even collected a few not-to-do's while travelling in Greece.
I have tried to keep the answers succinct and crisp but if you need an extra explanation on a specific subject, please leave a comment at the end, or send me an email and I will reply as soon as I get your message.
So, let's get started about visiting Greece for the first time:
Fast Facts about Greece
---
European Country, member of EU since 1981. Coin: Euro
Population: 10.724.599 million (2019)
Language: Greek (but everyone in tourism speaks English)
Religion: Eastern Orthodox Church
Geography: 80% of the land is covered by mountains
The plugs in Greece are Type C and F. The standard voltage is 230 V, and the frequency is 50Hz. It would be good to purchase a universal adapter.
Known for being the Cradle of the Western Civilisation
---
Is Greece/Athens safe to travel?
Yes, in general. No, when it comes to pickpocketing and petty theft especially in Athens
During the day, be extra careful of pickpocketing especially in Athens train/metro. They usually strike when you have just gotten off the airport, you have all your belongings with you, you are a bit dazed from the trip and unsure of your bearings. It is important to remember that you need to be very careful while going to Athens by metro or try to gather all together if you are a group. They usually bump into you and take your wallet off or your backpack at such moments.
Some tips that you may find helpful:
Avoid putting your wallet in your back pocket, or leave your backpack on your feet and start looking at your mobile or around, they may snatch your possessions.
Keep your bags close to you at all times, don't let anyone "help" you with your things
Wear your backpack in the front part of your body, so that you have control of your bag at all times while walking in Athens or in the metro
Leave your valuables to your hotel and walk around with minimum money, or a card with a small amount available and a copy of your passport to minimise any probable loss.
Consider purchasing a World Nomad Insurance to protect yourself and your family while travelling:

---
Do I need a visa?
Perhaps you do! Greece has signed the Schengen Agreement. So everyone travelling for up to 90 days from the EU, the US, Canada, and Australia, does not need a visa. Keep in mind that your passport should have at least six months of remaining validity.
---
What is the best time to go to Greece?
All year round is fantastic in Greece!
There are great ski resorts, photographic villages and striking sights to visit or hike in winter, autumn or spring.
If you are a first time visitor to Greece you would probably choose warm weather, that is between May and October. If you can't stand high temperatures (32 C – 45 C) July and August should be avoided. August is by far the most difficult month to visit Greece, as it is incredibly busy and overcrowded (and too hot!).
---
Top Must-See Sights all over Greece
Out of the top of my head a list of the best Greek sights:
Delphi, Hosios Loukas Monastery
Meteora, Pelion, Plastira Lake
Zagorochoria, Ioannina, Papigo
The Peloponnese: Ancient Corinth, Mycenae, Epidaurus, Nafplion, Monemvasia, Mystras, Messini, Pylos, Methoni, Epicurios Apollo, Lake Kaiafa, Ancient Olympia, Kalavryta, Dimitsana, Cave of Lakes
Olympus Mt, Litochoro, Chalkidiki, Dion, Vergina, Philippi
Islands: Syros, Milos, Patmos, Corfu, Samos, Sifnos, Rhodes, Sikinos, Santorini, Mykonos, Delos, Amorgos, Folegandros, Koufonisia, Antiparos, Andros, Kea, Karpathos, Symi, Kastellorizo, Thasos, Skopelos……..
*Some of the links below are affiliate links. That means I may make a commission if you click and buy. The commission comes at no additional cost to you. Please see my full disclosure policy for more information*
---
Top Sights in Athens. What Should I see in Athens?
Acropolis Hill (Parthenon, Erechtheion, Athina Nike, Propylea)
Ancient Agora, Plaka, Temple of Zeus, Kallimarmaro, Parliament and change of guards, Athens Trilogy.
Museums: New Acropolis, National Archaeological, Benaki, Byzantine, Modern Art.
Lycabettus Hill, Kolonaki area (for posh shopping)
Athens Riviera, Sounion and the Temple of Poseidon
Check out this full private and site comprehensive 4-hour Athens & Acropolis Highlights tour with pick-up and return transfer.
---
How long do I need in Greece?
The more the merrier!
However, a length between 7 to 14 days should suffice, especially if you are visiting Greece for the first time. This length will give you enough time to both rest and do some serious sightseeing.
---
Do I need a car in Athens?
If you stay in the centre of Athens, no, you don't. All the important sights are reachable either by metro or on foot.
In case you need to rent a car, better get an International Driving Permit. Greeks drive the right-hand side of a street.
---
Can I drink the tap water?
Yes, you can and this is what I always drink as I am an Athens resident.
For out of Athens destinations, you better ask the locals if the water is drinkable. If you are uncertain, buy bottled water. It is in ample supply everywhere and it is quite cheap. 500 ml cost 0.50 cents (this is by law a fixed price that 500 ml can be sold) in kiosks and next to nothing in supermarkets (0.22-0.30 cents).
**In our battle against plastic, I always recommend you purchase a reusable water bottle.
---
Is there a dress code in Greece? Can I wear shorts?
Yes, you can wear shorts everywhere, no matter what gender you are and nobody will bat an eye if you are "lightly" dressed.
However, in churches and monasteries that is not an accepted attire, so better try a longer pair of trousers or a skirt if you are visiting a religious place. Also, please do remove your hat/cap inside a church.
---
Mykonos or Santorini? Or both?
If you have the time, why not both? They are very beautiful Greek islands, with white Cycladic houses and Greek ambience. Both on the overdeveloped side of tourism though.
Santorini's beaches are the volcanic type of beaches, dark coloured with imposing cliffs behind you, some love it some find it intimidating. Mykonos, on the other hand, has amazing, sandy long beaches.
Santorini has the famous stunning sunset, the rugged cliffs, and the volcano views which are quite unique. Mykonos has also a very romantic sunset in Little Venice, it's great for nightlife and you can have a couple of amazing days on it.
In a nutshell, if you have the time, visit them both as there is frequent ferry connection. If this is your first time in Greece and you have to choose one, go to Santorini. Just avoid going in August, if this is possible for you. If you want to see another volcanic island which is super quiet, you can go to Nisyros.
You may find interesting a detailed reading on a 3-day Itinerary in Santorini and best things to do in Santorini
---
Which behaviour is not taken well in Greece
Being rude or disrespectful
Expecting everything to be exactly like it is in your country
Eat or drink in the Athens metro
Touch artefacts in museums and at archaeological sights
Take photos of military installations
Throw paper in the toilet
Not wearing your anti-Covid mask!
---
Can you offer a sample itinerary?
Yes, I will offer 2, one Athens – island combo, an 8-day tour and one focused on mainland Greece, a 9-day tour:
Athens and Island Combo – great for a first time visitor in Greece
Athens 1 full day, overnight.
Ferry/Flight to Santorini, overnight
Santorini, overnight
Ferry to Mykonos, overnight
Mykonos overnight
Return to Athens, afternoon trip to Sounion
Delphi – Meteora overnight
Meteora, Thermopylae, Athens overnight
Have a look at this very exciting and private 4-day tour of Delphi, Thermopylae, Ancient Olympia, Mycenae, Nafplio, Epidaurus & Biblical Ancient Corinth
---
Sample itinerary 2
Focus on the mainland, stunning classical sights. Great to know real Greece and off-the-beaten-path places (9-day tour).
Athens full day, overnight.
Peloponnese: Corinth Canal, Ancient Corinth, Acrocorinth, Mycenea, Epidaurus, Nafplion overnight
Sparta, Mystras, Monemvasia overnight
Ancient Messene, Gialova, Voidokoilia, Pylos, Methoni, Ancient Olympia overnight
Ancient Olympia, Galaxidi, Delphi, Hosios Loukas Monastery, Delphi overnight
Meteora, Lake Plastira, Trikala, Pelion overnight
Pelion villages, Agios Ioannis overnight
Pelion villages return to Athens overnight
What shoes shall I wear?
I love those Indosole Travel slip-on Pantai Shoes:
Perfect for travel, leisure, walking around. You can find the shoes on the USoutdoors website here.
---
Travel Resources
All the archaeological sites in Greece that have entrance fees can be found on the official Greek Ministry's website here. Before you purchase your tickets, especially if you are an EU citizen, check if you have free or reduced entrance. You should also check to see if you happen to visit on one of the free entrance dates. If you are going to Acropolis during the peak season (May-September) prepurchase your tickets as the queues are insane. Finally, from November to March entrance fees to all Archaeological Sites are 50% off everywhere in Greece for everyone.
Booking.com: I use Booking.com because I can get the best deals, has info on hotels and Airbnb's alike, with breakfast or not, free cancellations, and great prices!
Hiking Maps. You can purchase paper maps of Anavasi or Terrain from their sites which have much cheaper prices than Amazon. Alternatively, you can always buy a paper map on the island, when you get there.
Purchase the great hiking book Eastern & Northern Cyclades by Dieter Graf. You might be able to find it on a larger island but this is not always for sure.
Ferries: Book your ferry transfer with FerryHopper, and get the best price in the market with no hidden fees
World Nomads Insurance: I feel insecure traveling to another country without having even the most basic of insurances. Insurance will protect you against illness, injury, theft, and cancellations
iVisa: For any questions, you may have about your documents, passport if you need a visa, a new photo, or any visa-related matter, iVisa is your man (or woman!)
Get Your Guide: For all your day or multi-day tours and city guide needs, I use Get Your Guide
Emergency Numbers Anywhere in Greece: AMBULANCE 166 – FIRE 199 – POLICE 100
---
For excellent accommodation and best deals around Acropolis of Athens I always trust Booking.com:
Did you enjoy the post? Please share it on social media for other people to read about Greece!
More Inspiring Readings on Athens Sites