Updated June 21st, 2022 by TraveltheGreekWay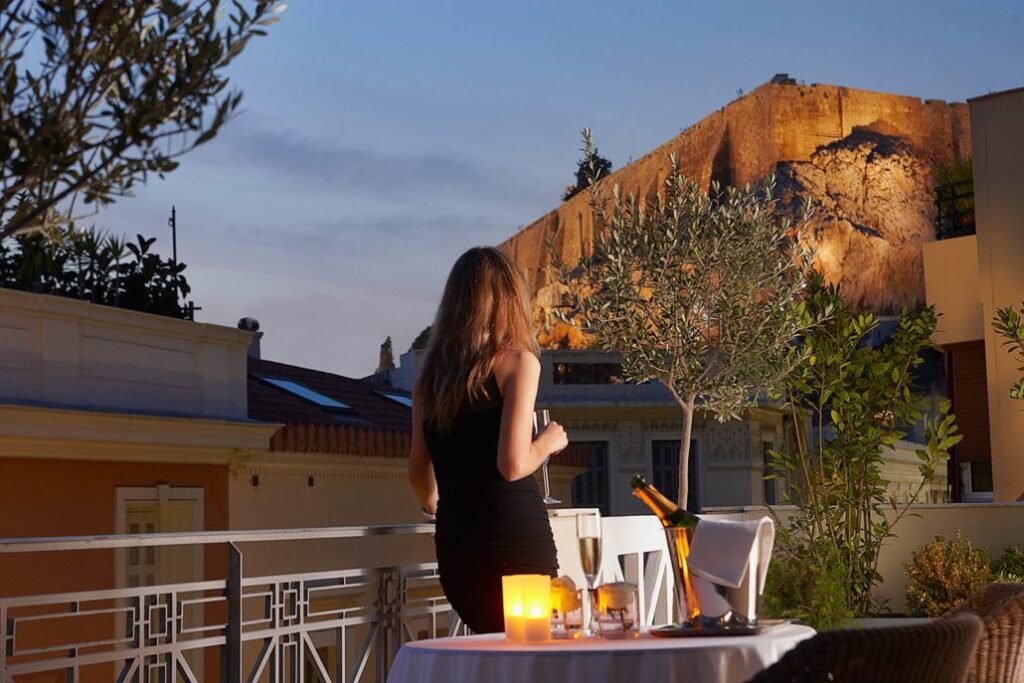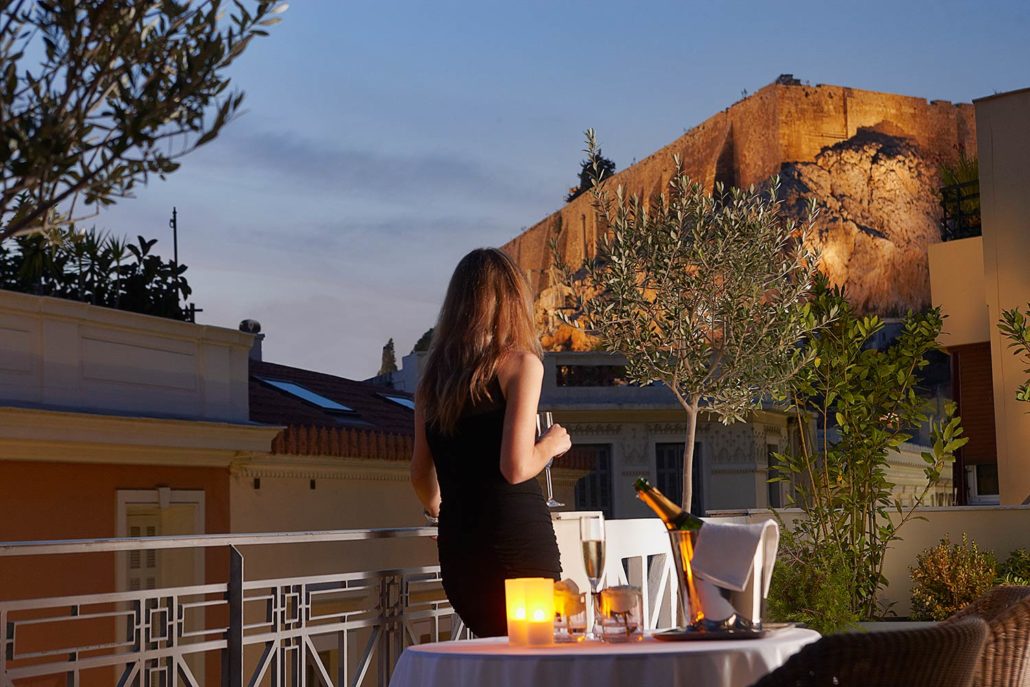 If you are looking where to stay in Plaka Athens this post will help you find the best luxury and boutique Plaka Athens Hotels. I have also discovered two outstanding apartments in Plaka Athens with stunning views of the Acropolis, and the city. Both apartments are ideal if you are a small group of travelers (6-8 people).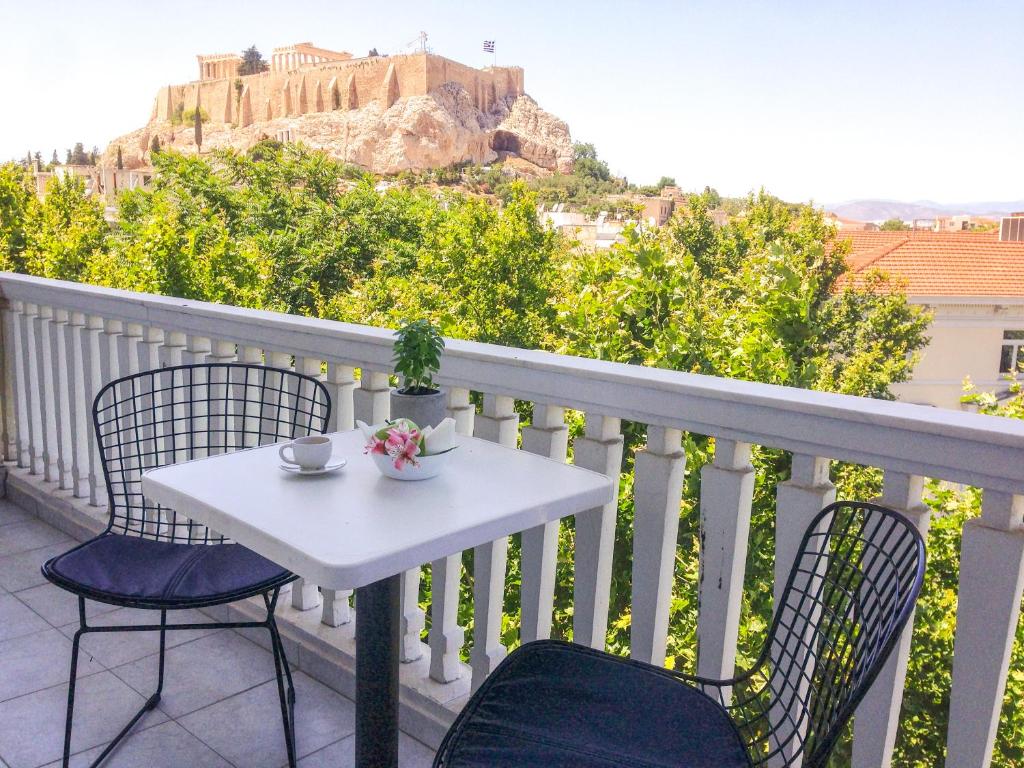 Plaka is a great place to stay especially if this is your first time in Athens as most of the best sites in Athens are in the same area.
Most of the Plaka Athens hotels have classical Greek neoclassic architecture, featuring roof terraces with stunning Acropolis views while dining or enjoying a glass of wine or a coffee.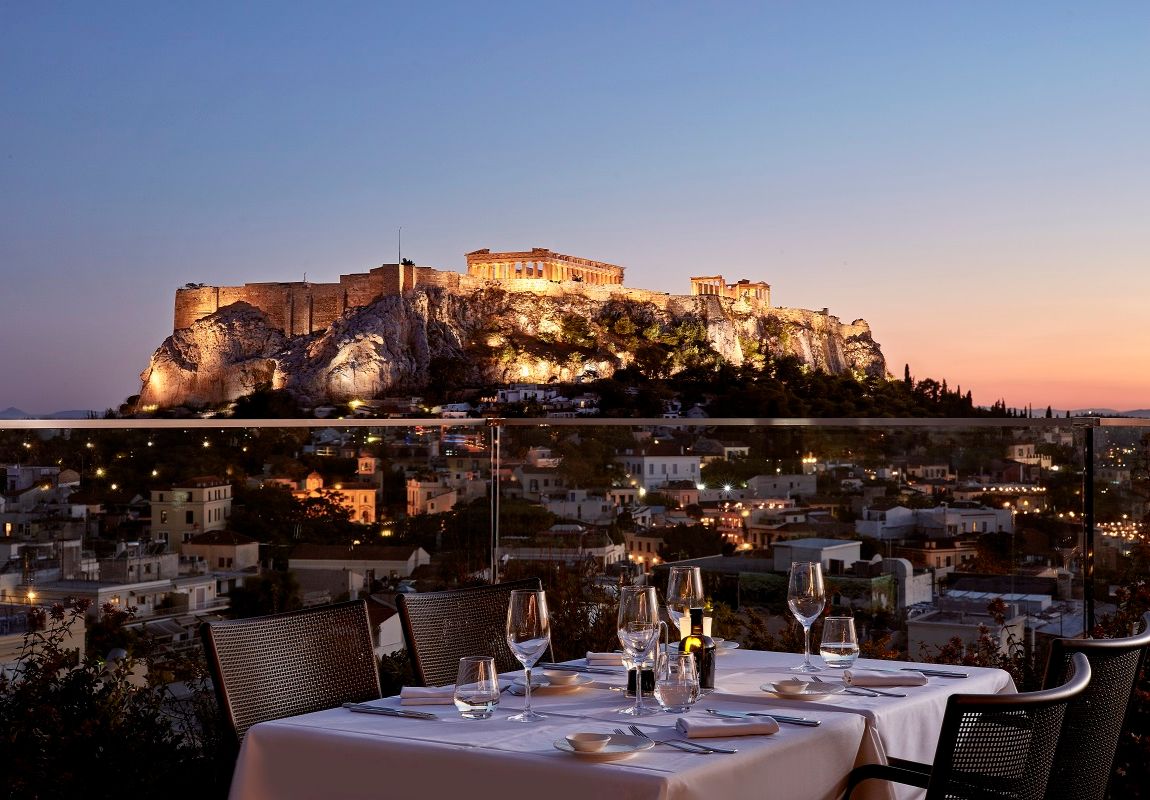 If you are wondering what are the best hotels in Plaka Athens within walking distance or 1 metro station far from the Parthenon and the Acropolis Museum, you will find in this post a comprehensive list of luxury and boutique hotels.
Are you looking for Athens Budget Hotels or Apartments? Check out the best budget hotels in central Athens and 7 of the Best Plaka Budget Apartments.
*Some of the links below are affiliate links. That means I may make a commission if you click and buy. The commission comes at no additional cost to you. If you buy something, thank you! Please see my full disclosure policy for more information*
Athens Quick Reference
Where Best to Stay in Plaka Athens
Grande Bretagne Hotel (Doubles from €321 Β&Β)
Best Luxury Hotel in Athens: Grande Bretagne
Grande Bretagne Hotel is a category of its own! It is the best luxury hotel in Athens center, on Syntagma Square, and the most luxurious hotel in Greece.
Grande Bretagne Hotel is a purely aristocratic and classy hotel, one of its kind in Greece built in 1842.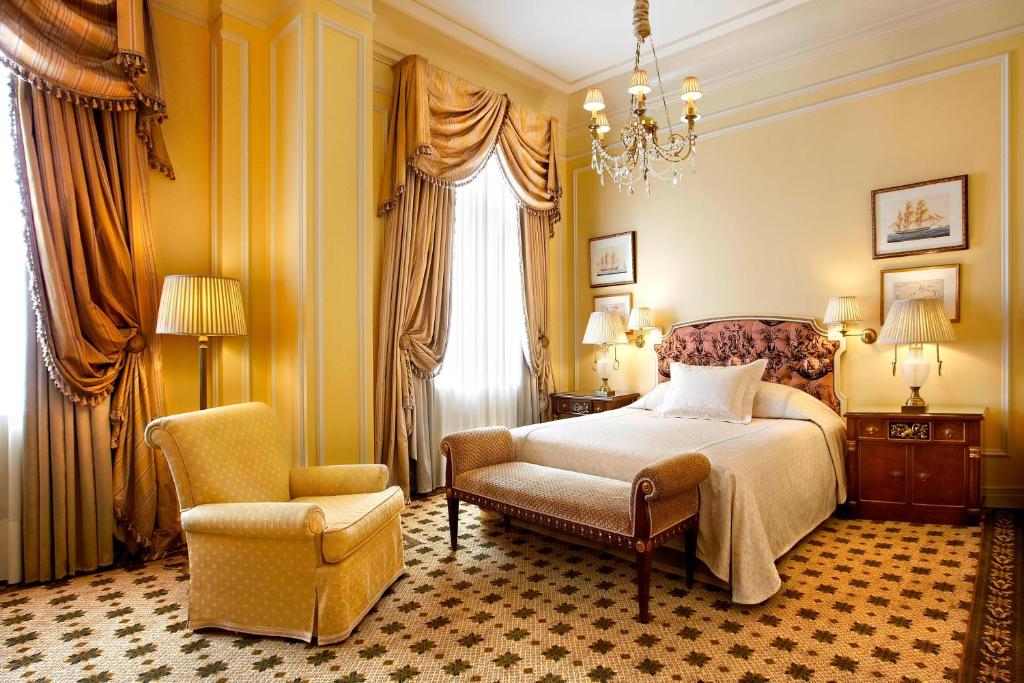 It has 320 rooms and suites, including a 400 square meter suite on the fifth floor, all the facilities you can think of, service and cuisine of first-class, and a fantastic terrace overlooking Acropolis. Check out Availability & Prices for Grande Bretagne Hotel at Booking.
Nearby sites to Grande Bretagne Hotel are:
Syntagma Square, a historical spot and the beating heart of Athens
the Greek Parliament and the Tomb of the Unknown Soldier where the famous Change of the Guards occurs
Kolonaki posh area for expensive fashion shopping, galleries, and fine cuisine
Cycladic, Byzantine, Numismatic, and National Gallery Museums
Check out Availability & Prices for Grande Bretagne Hotel at Booking
Best Hotels in Plaka Athens
Plaka Athens is a mixture of neoclassic buildings, souvenir and art shopping, small cafes, and Greek traditional taverns, usually found under vines and trees and a maze of narrow, mainly car-free streets.
Find below the best Plaka Athens Hotels:
A77 Suites By Andronis (Doubles from €238 Β&Β)
A77 Suites by Andronis: The Suites are set in the quiet part of Plaka, in a gorgeous 19th-century neo-classical building.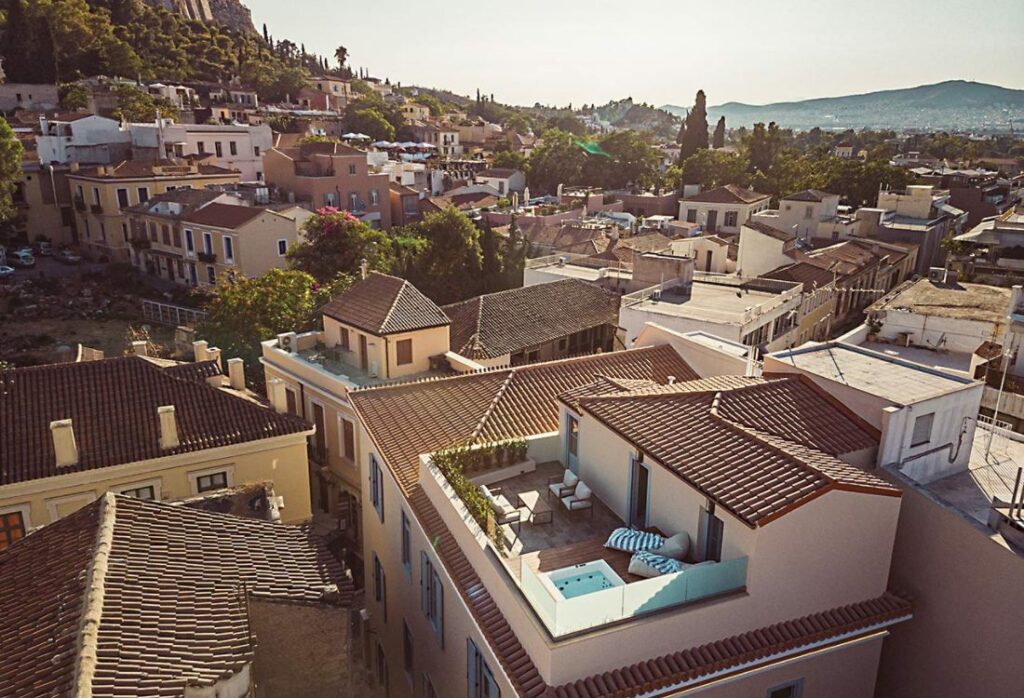 The hotel has 12 sound-proofed stylish decorated suites and an open terrace with inspiring views, a truly fantastic place to stay. Check out availability and prices for A77 Suites by Andronis on Booking.
Nearby sites:
Monastiraki Square is always filled with all kinds of people, souvlaki and gyros taverns on one side, the flea market on the other side, the Adrianou street overlooking the Ancient Agora, Adrian's Library, and Tzisdarakis Mosque
The impressive Athens Metropolitan Cathedral of the Annunciation built in 1842
Electra Metropolis Hotel (Doubles from €230 Β&Β)
Electra Metropolis Hotel: This is one of the best hotels in Plaka Athens. A high-quality 5-star hotel, located very close to Syntagma Square. It features 216 luxurious and fully equipped suites and rooms with marvelous views of the Acropolis and the old neighborhood of Plaka.
Do visit his roof garden on the 10th floor for a meal or a drink with a stunning 360° panoramic view of Athens and beyond. The hotel boasts also 2 pools, a superb Aegeo Spa, and a gym.
Check out availability and prices for Electra Metropolis Hotel on Booking
What else is around Electra Metropolis Hotel?
Right across the hotel, on the side road (5 Pentelis st) you can find the best souvlaki in Athens at Kostas. On the parallel street, Apollonos, you can find some of the best Japanese and Mexican food in Athens.
Electra Palace Athens Hotel (Doubles from €216 Β&Β)
Electra Palace Athens Hotel: Electra Palace is part of a well-established Greek chain of Hotels, just like Electra Metropolis Hotel. It is housed in a beautiful neoclassic building set on a quiet, upmarket- atmosphere street in Plaka.
Its terrace offers stunning Acropolis views and with facilities like marble bathrooms, Jacuzzi bathtubs, dark wooden floors and furnishings, luxuriant and elaborate Persian rugs, and soft bed linen you will have a superb hospitality experience. Do visit the indoor spa, pool, and sauna, that offers top-notch massage and beauty therapies.
The hotel is located within easy walking distance of everything central in Athens.
Check out availability and prices for Electra Palace Hotel on Booking
What else is around Electra Palace Hotel?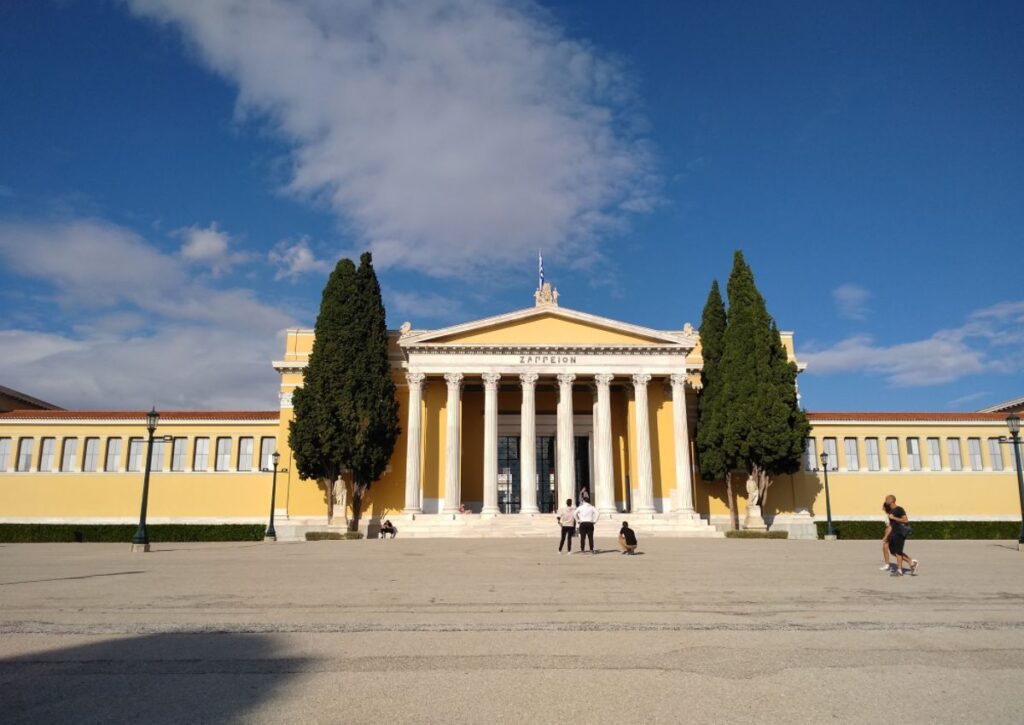 5 minutes walk from Syntagma Sq are the two adjacent Athens Parks: National and Zappeion. The Museum of Greek Children's Art and The Jewish Museum present the history of Greek Jewish.
Kyria Boutique House (Doubles from €148 Β&Β)
Kyria Boutique House: An 1863-Athenian historical building situated a few meters far from Acropolis Eastern Entrance and Dionysiou Areopagitou pedestrian.
With a roof garden facing the Acropolis, classic and elegant rooms that hint at its past with many small vintage details, and only 1 minute far from the Acropolis Metro, this is an ideal hotel to stay in.
Check out prices and availability for Kyria Boutique Hotels on Booking
AthensWas Design Hotel (Doubles from €203 Β&Β)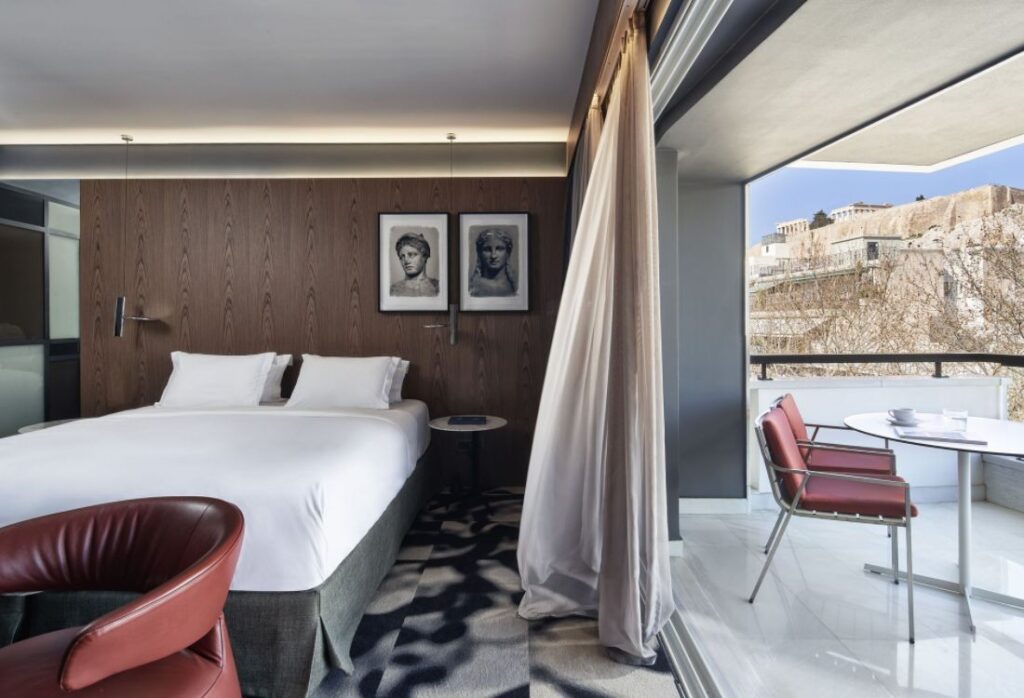 AthensWas Design Hotel: Boasting an incredible location, the Athenswas Design is a great combination of a classic and modern luxury hotel. The hotel features leather armchairs, minimalist divans, sculptural chairs, a glass-fronted lobby, geometric black, and white marble floors, and electric blue sofas.
The facilities are minimal: a tiny fitness corner and a couple of computers for guests in the basement. However, the rooftop restaurant offers a fine Mediterranean cuisine option with spectacular Acropolis views.
Check out prices and availability for AthensWas Design Hotel on Booking
What else is around the AthensWas?
2 minutes' walk far is Acropolis Eastern Entrance & Acropolis Museum on Dionysiou Areopagitou pedestrian
Temple of Olympian Zeus and Adrian Arch
Zappeion Park and Panathenaic Stadium
5-minute walk to the Lysicrates Monument & Diogeni Cafe
Cave of Acropolis tavern right under the Acropolis fortification
Ava Hotel & Suites (Doubles from €200 Β&Β)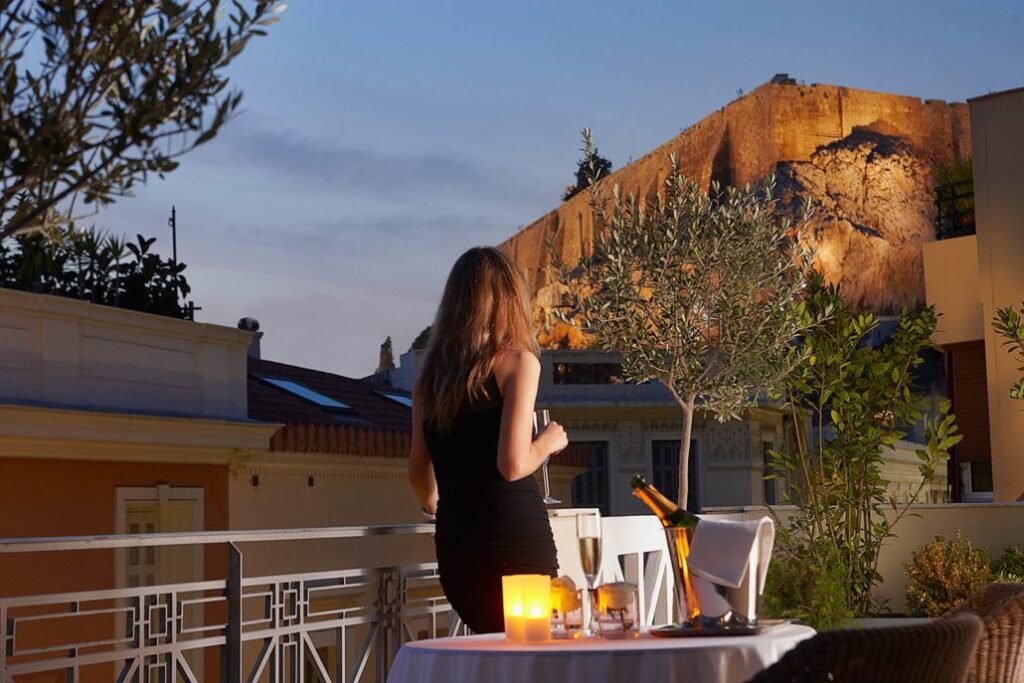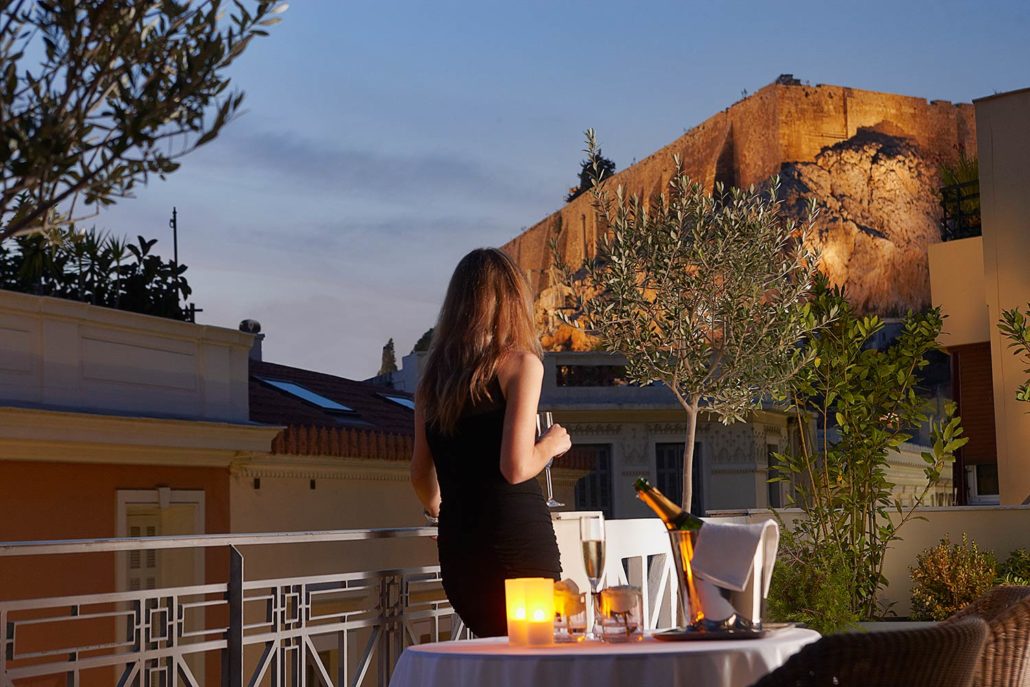 Ava Hotel and Suites: It is a small luxury hotel, in a tiny Plaka street with its balconies overlooking Adrian's Arch and its terrace to the Acropolis. The Ava Hotel is sophisticated, with an emphasis on classy detail, and with king-size beds, you will have a memorable stay.
It is located in the very heart of Plaka, very close to almost everything:
Acropolis, Lysicrates monument, National and Zappeion Park, Temple of Olympian Zeus, Panathenaic Stadium, Evangelical Church, Saint Catherine old church, Museum of Modern Greek Culture, and Anafiotika area
Check out prices and availability for Ava Hotel and Suites on Booking
Best Apartments in Athens
Athens Grand Suite (From €225)
Athens Grand Suite is one of the very few accommodations in Athens with such a unique location: Having breakfast on your balcony means that you are sipping your coffee looking at the Acropolis of Athens, the Temple of the Olympian Zeus, the National Gardens, and the Lycabettus Hill at the same time!
The apartment is perfect for a group of up to 8 people as it has 2 large double bedrooms, a bedroom with 2 single beds, and 2 sofa beds in the living room.
It is set on the beginning of Dionysiou Areopagitou pedestrian, the road that leads to the east entrance to the Acropolis and Acropolis Museum. Plaka is just a minute away. Check availability and prices on Booking.
Canis Major Suites Acropolis View (From €221)
Canis Major Suites Acropolis View, is located very centrally to Athens, close to Syntagma Sq, the shops, and the Acropolis. It has a maximum capacity of 6 persons, with 2 bedrooms and one large double sofa in the living room.
It has a modern design, brand new furniture, a fully equipped kitchen, and magnificent views of Athens and the Acropolis. The Metro is a 2-minute walk far and Acropolis is a 15-minute walk far. Check availability and prices on Booking.
The Best Things to Visit in Anafiotika Plaka Athens
Anafiotika is a tiny settlement within Plaka with small white houses and colorful minuscule gardens that look more like a small Aegean island than Athens.
Anafiotika took its name from the Anafi island builders who came to Athens in the 19th-century to work on the reconstruction of the city of Athens. They were given the choice to build their own home in Plaka and they did so, building a small Anafi island in the heart of Plaka.
Anafiotika at times looks like a labyrinth, some spots may be covered in graffiti, but generally speaking, is a stunningly beautiful and unique place to visit.
Find below a list of the most popular and significant landmarks in Plaka that you may want to visit:
Athens University Museum: The collection includes the first Greek academic editions of books for Law, Medicine, and other sciences, manuscripts, antique scientific instruments, documents, portraits, and a large and rare photographic collection.
Church of Agios Nicholas Ragavas: Built in the 11th century, this lovely church was part of the palace of the Ragavas family, who counted among them Michael I, emperor of Byzantium.
The oldest Athenian House, Benizelos Mansion: The house works as a museum and it was built most likely in the first half of the 18th century, is the last surviving konaki in Athens.
Museum of Greek Folk Musical Instruments: The museum aims to collect, conserve and exhibit folk musical instruments
Frissiras Museum, includes more than 3 .000 paintings, drawings, sculptures, and engravings of European artists
Center for Asia Minor Studies: The Center has gathered a unique historic archive of 150.000 manuscript pages, documents, as well as a rich and rare photographic record of Greek coming from Asia Minor.
The Paul and Alexandra Canellopoulos Museum: A 7.000 pieces art collection donated to the Greek state by the Canellopoulos family. Its main goal is to prove the continuity of Greek art through the eons, but also to claim the return of priceless stolen Greek artifacts
Athens Archaeological Sites
Some of the most important monuments in Athens are:
Acropolis Hill, with Parthenon, Propylea, Athena Nike, and Erechteion Temples
Roman Agora includes: The Tower of the Winds and the Gate of Athens built in the 2nd c BC, The Fethiye Mosque, a 17th-century construction today operating as a Museum
Temple of Zeus and Adrian's Arch
Towards Monastiraki Square, you will find Adrian's Library
Towards Thissio is the very important site of Ancient Agora
FAQ for first-time visitors to Athens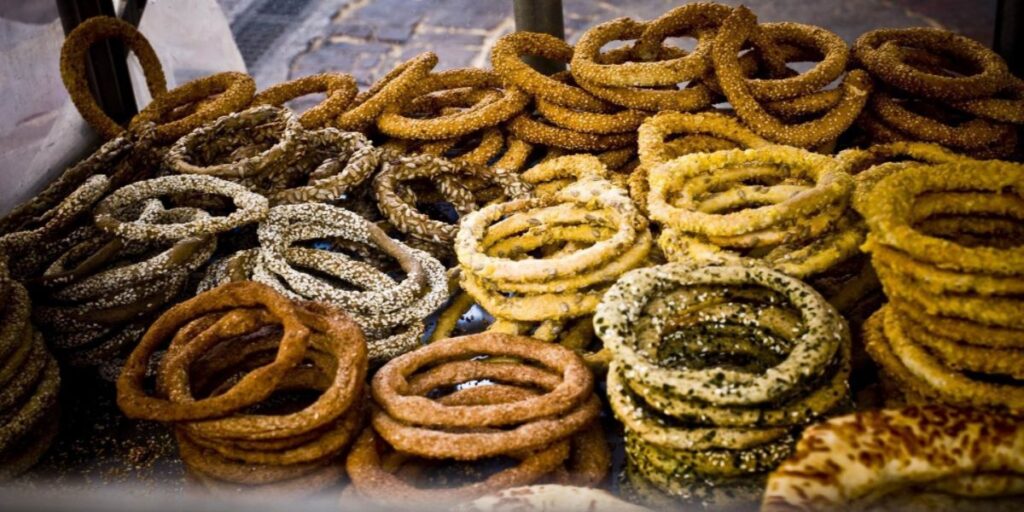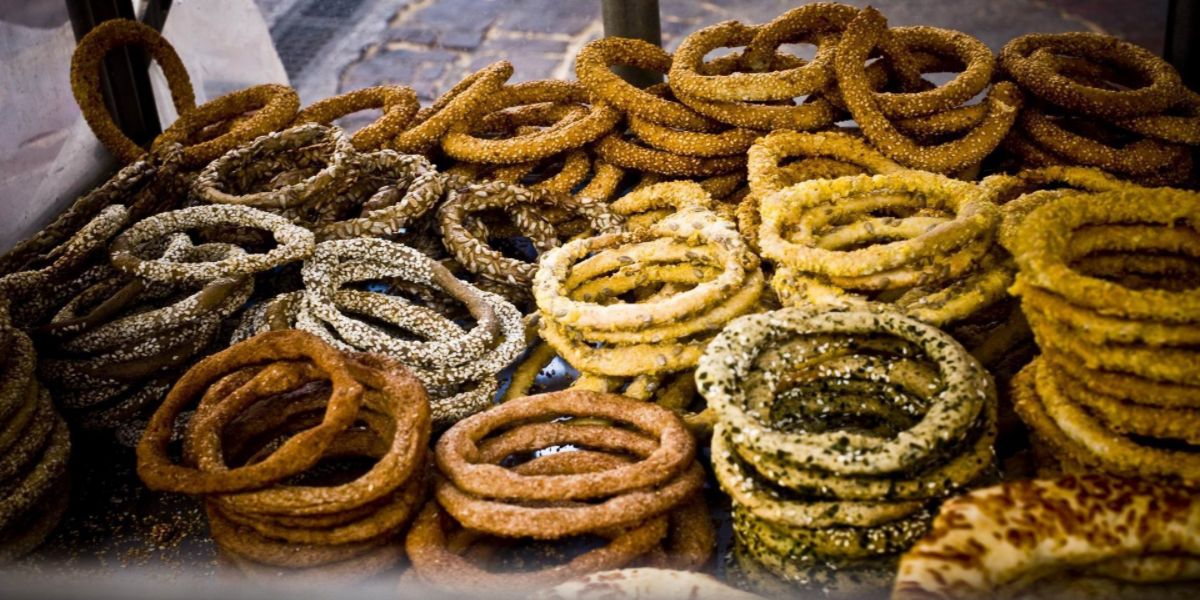 Try the koulouri, a small round piece of bread usually with sesame and a Greek coffee and you become instantly a Greek local!
If you are staying for more than a day in Athens buy the 30 euro combination ticket, valid for all the archaeological sites for 5 days
If you are not squeamish about blood or fish smell visit the famous Varvakios Market, on Athinas Street, a 10-minute walk from Monastiraki Square an indoor and outdoor food market. The vendors sell fresh meat, fish, fruit, spices, and products from around the country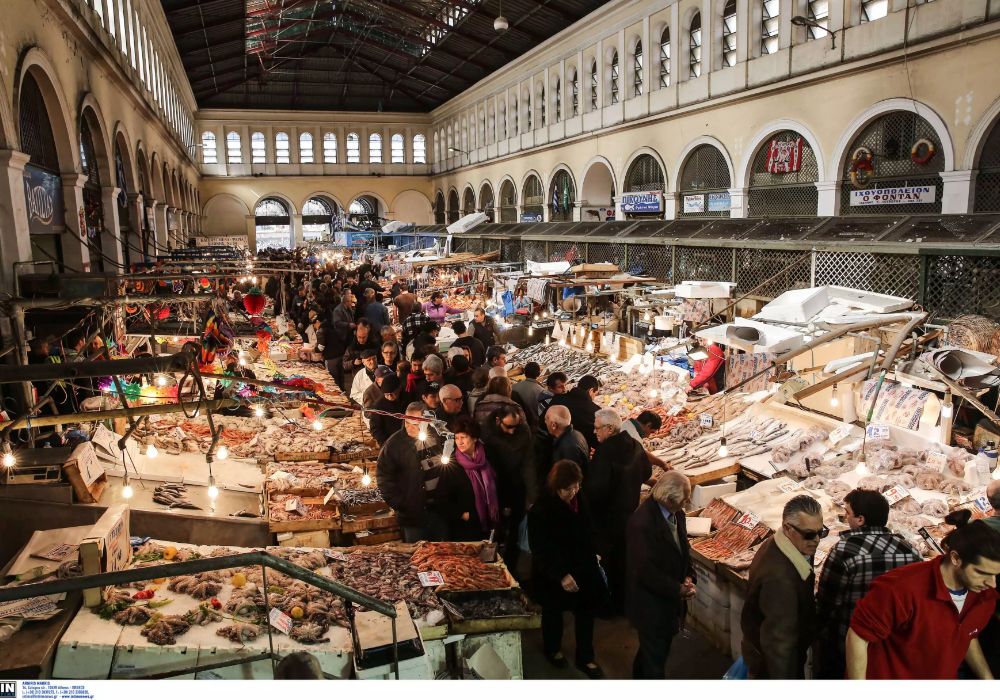 If you have the time, besides the stunning Acropolis Museum, I highly recommend the National Archaeological Museum, the biggest Museum in Greece with ancient artifacts from all over the country
Other significant Museums are the National Museum of Contemporary Art Athens (1 metro station far from Acropolis, at Fix Station) and Goulandris Museum, 5 minutes far from Panathenaic Stadium
Across from the northern Acropolis exit, stands the Areopagus or Mars Hill where Apostle Paul preached
From your hotel in Plaka, everything is within walking distance. Alternatively, use the Metro to go around. Be careful in the metro for pickpocketing!
Best Beach or Budget Hotels in Athens
Private Transfer to your Hotel
Book a private transfer with an English-speaking driver from Athens International Airport or Piraeus Ferries. You avoid the hassle of public transport and minimize the risk of having your luggage lost or stolen. Check this professional and reliable private transfer in a Luxury Mercedes Van here
How to Get to Greece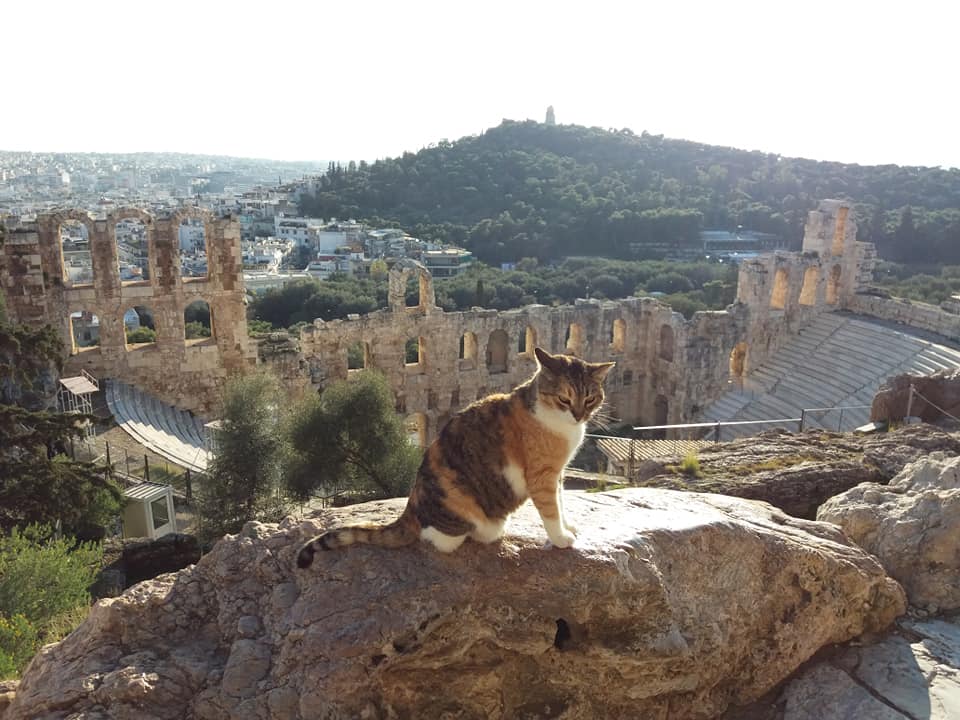 Like most visitors to Greece, you will probably have to fly to Athens or Thessaloniki International Airports to get to your final destinations.
For the Cheapest, Fastest, Best Worldwide Flights, I highly recommend the Skyscanner search engine site.
Support Evgenia's Blog
Do you enjoy using my travel blog? Have you found it entertaining as well as useful? If you are appreciative of all the free information you get on my website you can send me a donation through Paypal. Thank you!
My Favorite Travel Resources for Greece
Ferries to the Greek Islands: Book your ferry transfer with FerryScanner or FerryHopper, and get the best prices in the market with no hidden fees
Air flights: Cheap/Fast/Best Worldwide Flights from KAYAK or SkyScanner search engine sit
Booking.com: I use Booking.com because I can get the best deals on both hotels and apartments, free cancellations, and great prices!
Best car rental prices – Guaranteed. RentalCars.com
Get Your Guide: For all your day or multi-day tours and city guide needs, I use Get Your Guide
Emergency Numbers Anywhere in Greece: AMBULANCE 166 – FIRE 199 – POLICE 100– EMERGENCY NUMBER 112
More Reading on Greece