Updated January 13th, 2022 by Travel the Greek Way
Best Santorini Budget Hotels for 2022
This post is focused on the best Santorini budget hotels with introductions of the Santorini villages and the caldera views.
Santorini Island suffered a tremendous volcanic eruption about 3600 years ago, at the peak of the Minoan civilization, one of Greece's oldest civilizations. As a result, most of its western part sank into the sea, probably causing a gigantic tsunami.
Santorini has still an active volcano but only in the form of thermal waters in the caldera, a popular swimming spot.
Santorini is located southeast of Athens and belongs to the Cyclades group of islands. Santorini is in the top-five most-popular Cycladic islands along with Mykonos, Paros, Naxos, and Milos and one of the most stunningly beautiful Greek islands.
The Santorini views, the Caldera sunsets, the ambiance of the magical whitewashed Cycladic Island architecture, the bougainvillea, and the imposing white Greek orthodox Churches with the blue domes, make Santorini an irresistible island.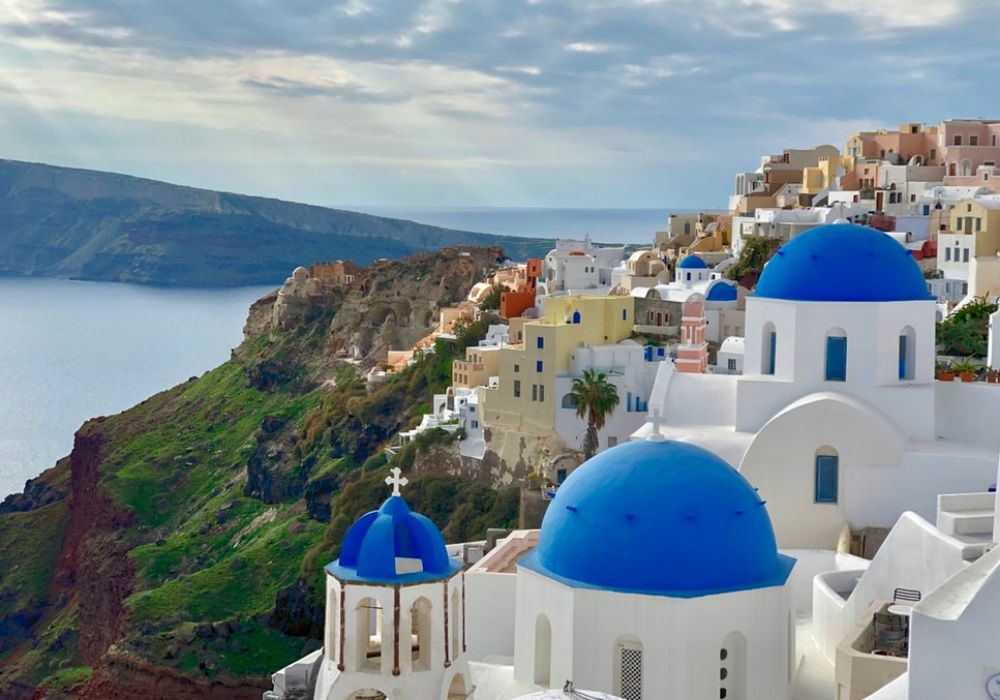 *Some of the links below are affiliate links. That means I may make a commission if you click and buy. The commission comes at no additional cost to you. If you buy something, thank you! Please see my full disclosure policy for more information*
These are my choices for the best Santorini budget hotels:
Best Santorini Budget Hotels
Santorini Caldera Budget Hotels Quick Reference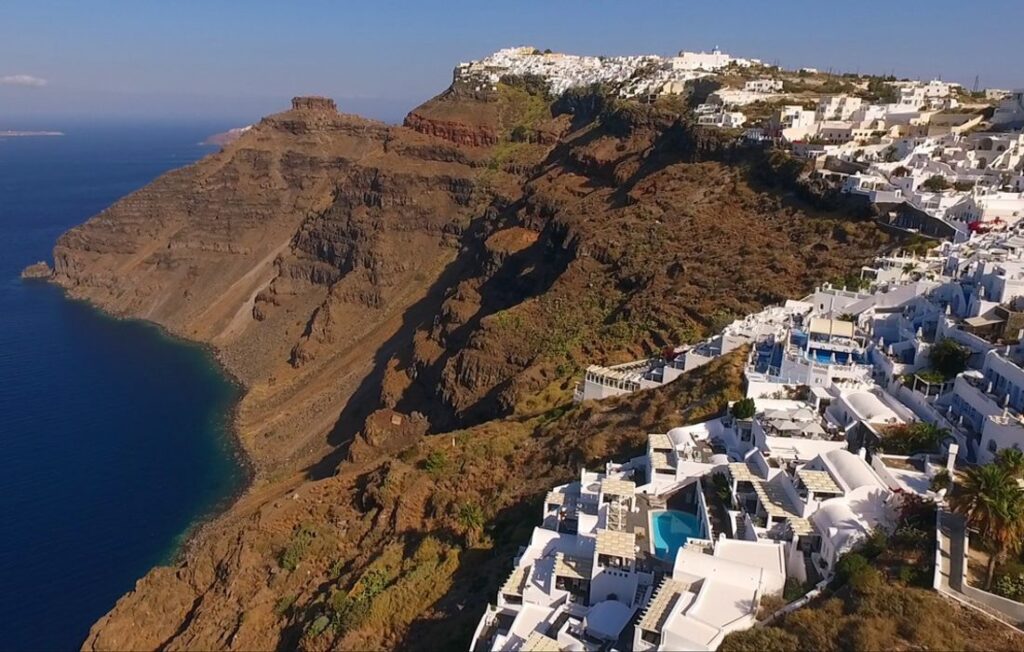 Are you in a hurry to pick up the best Budget Hotel in Santorini? See the quick list below of budget hotels at the caldera side of Santorini:
Best Budget Hotels in Fira
Fira, Santorini's main town is built high on 400m (1312 ft) caldera on the western part of Santorini. From Fira, you can admire a panoramic view of the 18 kilometers (11 miles) long caldera plus the volcanic island Nea Kameni located right across from Fira.
Fira being centrally located, and with the public transport easy to reach, it is a fantastic place to stay. It is full of caldera views, blue-domed Greek churches, restaurants, taverns, and bars, shops of any kind.
However, it is also one of the busiest places in Santorini as everyone wants to be part of the packed solid shopping area and gets "lost" in the maze of winding backstreets.
In Fira, the Archaeological Museum of Thera is located, open daily between 8:30-15:00. Mondays closed. Fira is a fantastic place to admire the Santorini notorious sunset.
See below the best budget hotels in Fira:
Alizea Villas & Suites
Alizea Villas & Suites is both a cozy and very stylish hotel with a fantastic swimming pool, pristinely clean, and very friendly staff. The hotel is a few minutes far from the center of Fira. Check availability and prices on Booking.com
Danae Villa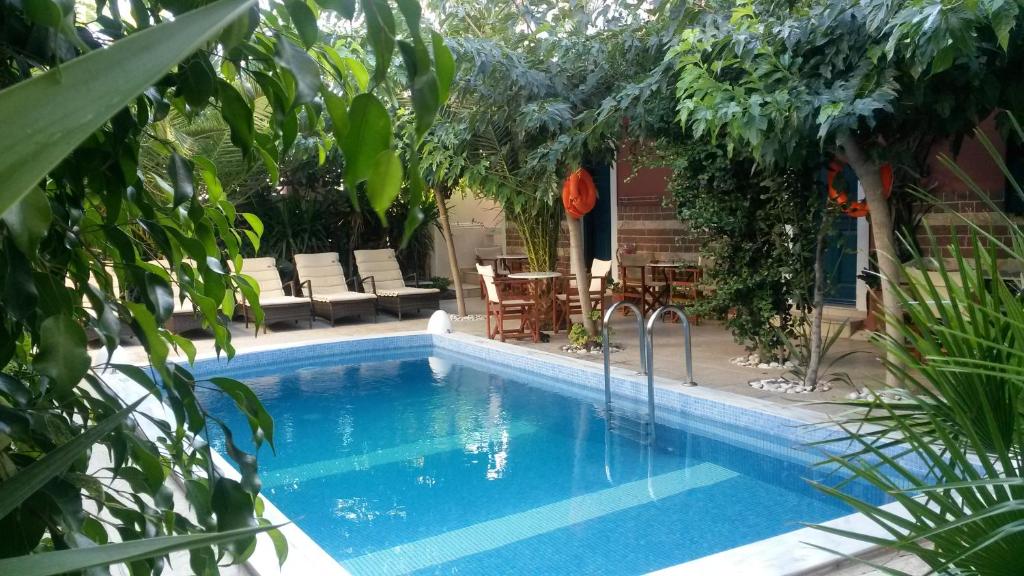 Danae Villa, is a small, quiet, and family-run hotel very close to the center of Fira. Check availability and prices on Booking.
Best Budget Hotels in Oia
Oia is another world-famous Santorini village.
The white-washed houses, covered in purple and pink bougainvilleas crisscrossed by tiny paved roads leading to the sea, create a magical canvas that will definitely make you fall in love with Oia.
Oia is also located on Santorini's caldera and it is one of the best places to stay in Santorini. See below fantastic Budget Hotels in Oia Santorini:
Muses Cycladic Suites
Muses Cycladic Suites is conveniently located outside the fuss of Oia, making it a brilliant and quiet accommodation option. It features lovely Cycladic architecture with curves, a white-washed building with marvelous sights. Check availability and prices on Booking.com
Laokasti Villas
Laokasti Villas in Oia have spacious rooms, a lovely garden with a large swimming pool, in a quiet spot of Oia but very close to restaurants and bars for your nights out. Check availability and prices on Booking.com
Best Budget Hotel in Imerovigli
Imerovigli is another breathtaking and unspoiled Santorini village located between Fira and Oia. Imerovigli is famous for its caldera sunsets and its many lovely white churches.
Imerovigli is a much quieter place to stay and enjoy breathtaking caldera views as everybody goes to Oia and Fira.
One of the best things to do from Imerovigli is to climb the impressive Skaros Rock!
Agave Santorini Design Boutique Hotel
The Agave Santorini Design Hotel in Imerovigli is a Cycladic-looking boutique hotel, spotlessly clean with stunning Caldera views and a great breakfast. You will find the island's lively capital, Fira within a 3-minute drive or a 15-minute walk.
Check availability and prices in Booking.com
Best Budget Hotel in Firostefani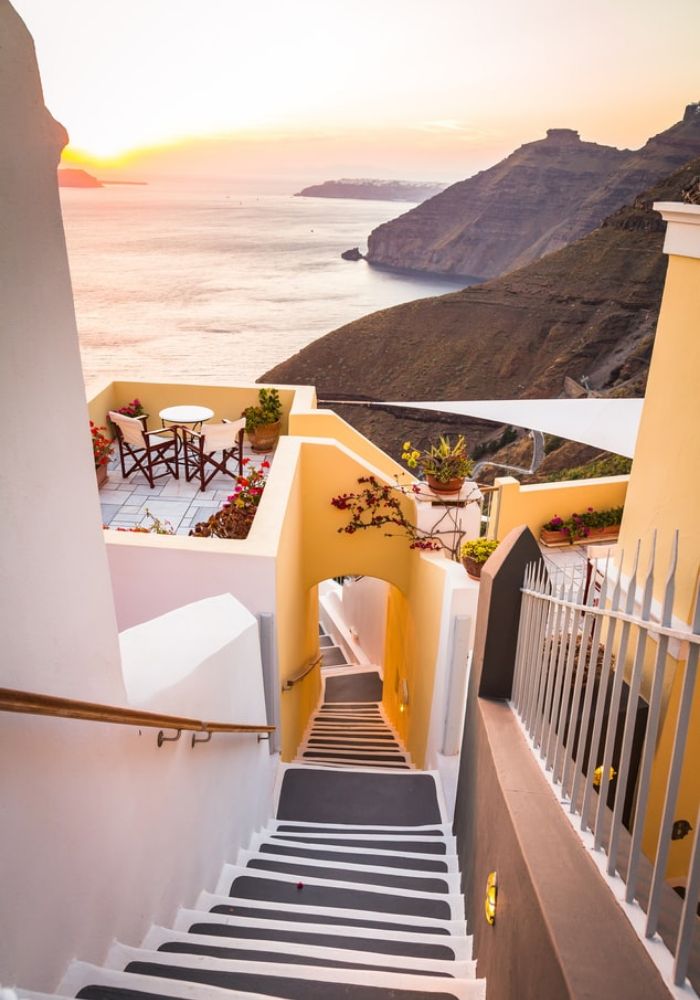 Firostefani is the extension of Fira, very close nowadays to each other – due to building every single free space between them – so that it is very hard to find their borders.
Some of the best caldera-view restaurants and hotels are in Firostefani which is considered one of the most expensive areas to stay in Santorini.
Check below a fantastic budget Firostefani Hotel:
Damigos Caldera World
I have included Damigos Caldera World as a budget hotel because of its stunning views of the caldera and its very reasonable prices. The rooms are stylish, beautifully furnished, and spacious and they bring your breakfast in your room to savor in the caldera view. Check availability and prices on Booking.com
Best Budget Hotel in Akrotiri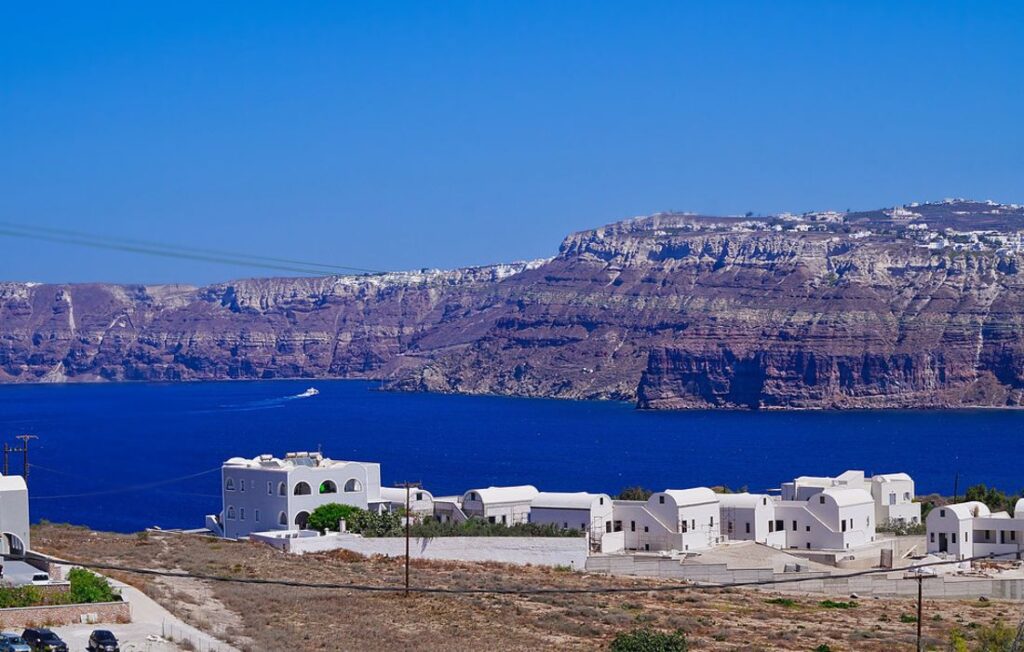 Akrotiri is an extraordinary place on the south of Santorini as it hosts the archaeological site associated with the Minoan civilization, the renowned red beach, and the Akrotiri impressive Lighthouse.
Akrotiri is a 25-minute drive from Fira, making it a much quieter and much cheaper place to stay in Santorini without losing any bit of the stunning caldera views. Check below the best budget hotel in Akrotiri Santorini:
Kalimera Hotel
Kalimera Hotel in Akrotiri Santorini is simply lovely! An impressive round pool, very traditional furniture and architecture, within walking distance from Caldera beach, a small beach with a great view of the caldera. Check for prices and availability on Booking.com
Best Budget Hotel in Kamari Beach
Kamari Beach is one of the most cosmopolitan and beautiful black sand and pebble beaches of east Santorini. It is a great place to stay here as it has all facilities you may need in the area.
Santa Elena Hotel
Santa Elena Hotel in Kamari Santorini will surprise you in the nicest way as everything is simply perfect. From the ultra-friendly and obliging owner Sophia to the very large swimming pool, the sunlit rooms, and the rich breakfast, this is a fantastic option for a budget hotel in Santorini. Check for prices and availability on Booking.com
Kamari Beach with SeaTrac For the Mobility Impaired
There are over 130 beaches in Greece that have installed the Seatrac system so that people with mobility issues can have independent access to the sea. In Santorini, there are 2 beaches that you can choose from, Kamari and Perissa.
I couldn't find a budget hotel in Kamari with facilities for the mobility challenged. I highly recommend Costa Grand Resort & Spa, although it is not a budget hotel. It is a fantastic 5-star hotel, reasonably priced, located right in front of the beach and a few minutes far from the SeaTrak Mechanism.
Check availability and prices in Booking.com HERE
Best Budget Hotel in Perissa Beach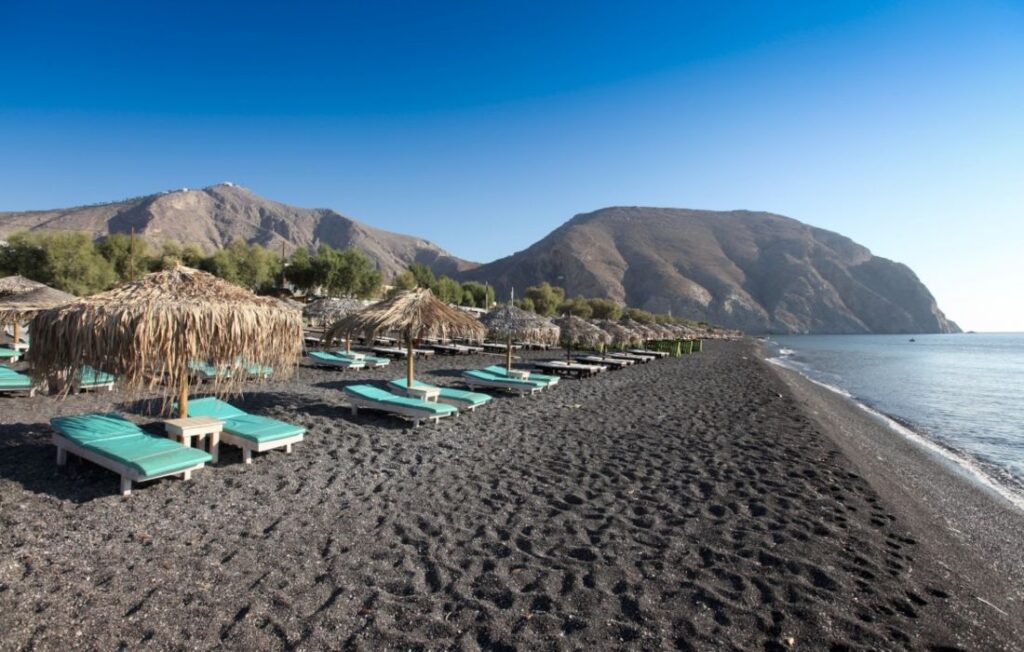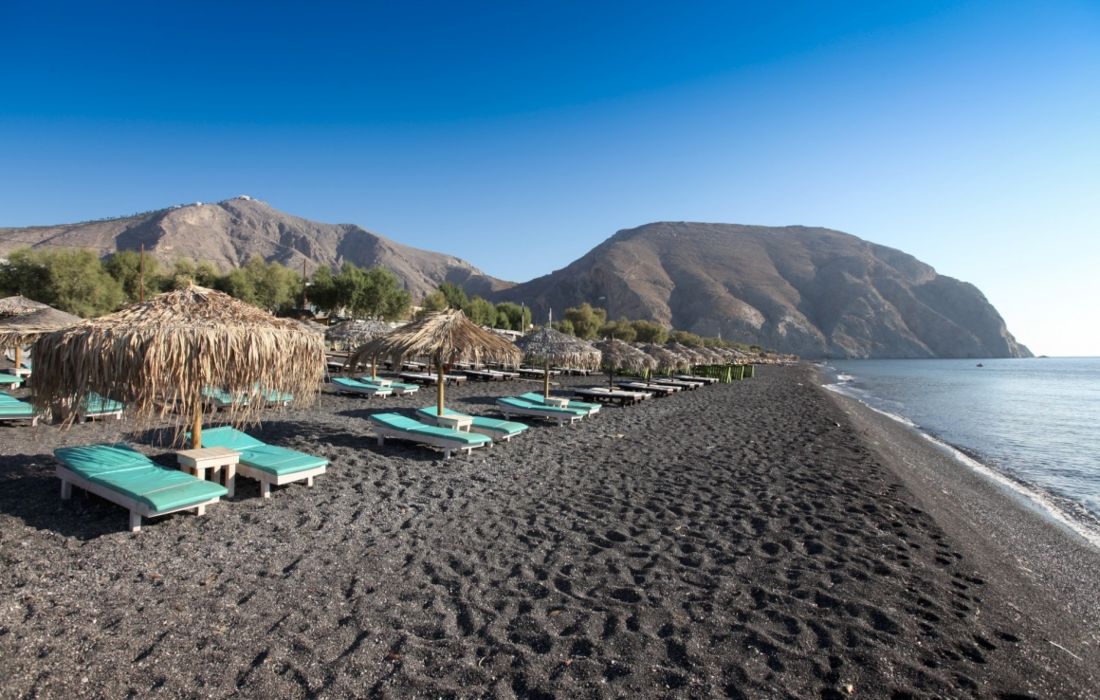 Perissa sandy beach is the famous black beach of Santorini, awarded with a Blue Flag. It is about 13 kilometers (8 mi) away from Fira, on the southeast coast of Santorini, and is easily accessible by car or bus.
The Perissa beach is very popular because of the black lava sand, crystal clear waters, and the imposing mountain on the back. It is a fully organized beach with sunbeds, umbrellas, plenty of seaside cafes, bars, traditional taverns and restaurants, all kinds of water sports, and a nice diving area.
Studio Paul's in Perissa
Studio Paul's is one of the best low-price hotels in Santorini, with a lovely garden, clean nice rooms, helpful owners, minutes away from Perissa beach. Check availability and prices on Booking.com
Complete Santorini Travel Guide
Read here a related post on what best to see and do in the amazing Santorini Island:
How to Get to Santorini from Athens
FERRIES: The most usual way is to take the ferry from Athens port, Piraeus. Book your ferry transfer with FerryScanner or FerryHopper, and get the best prices in the market with no hidden fees. If you travel in the summer you better book your seats in advance.
AIRPORT: There are some international flights going straight to certain islands, like Santorini or Crete, you better check Skyscanner, for charters or direct flights from your own country.
PRIVATE TRANSFER TO THE PORT: Book a private transfer with English speaking chauffeur from Athens International Airport to Piraeus Ferries. You avoid the hassle of public transport and minimize the risk of having your luggage lost or stolen. Check this private transfer in Mercedes Van here.
How to Get around Santorini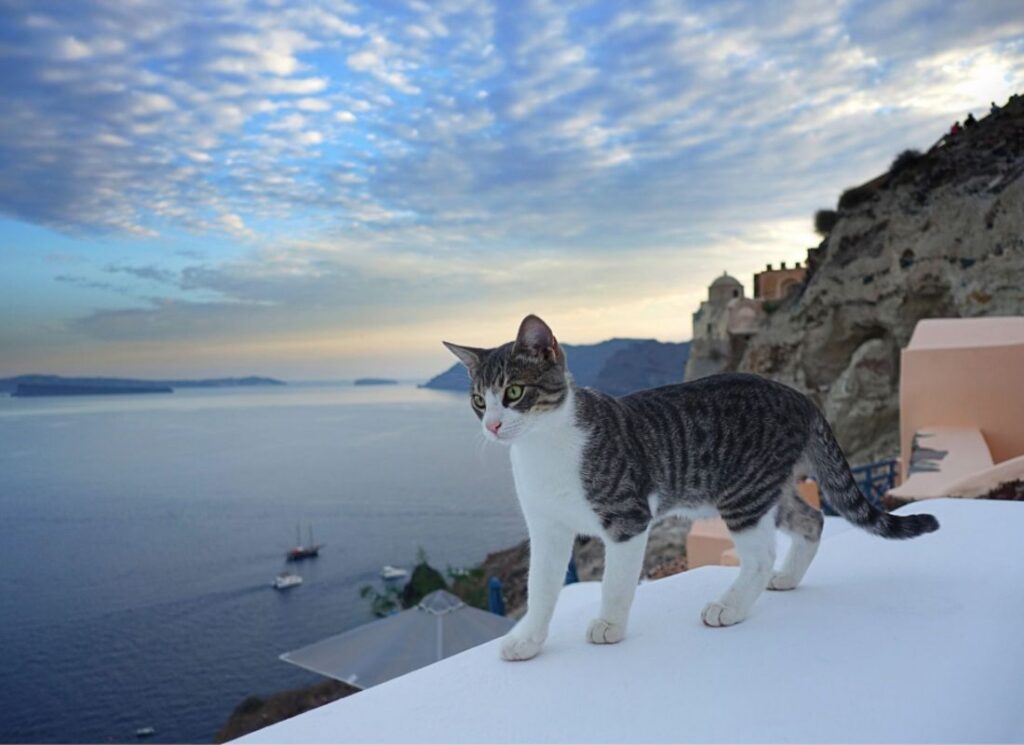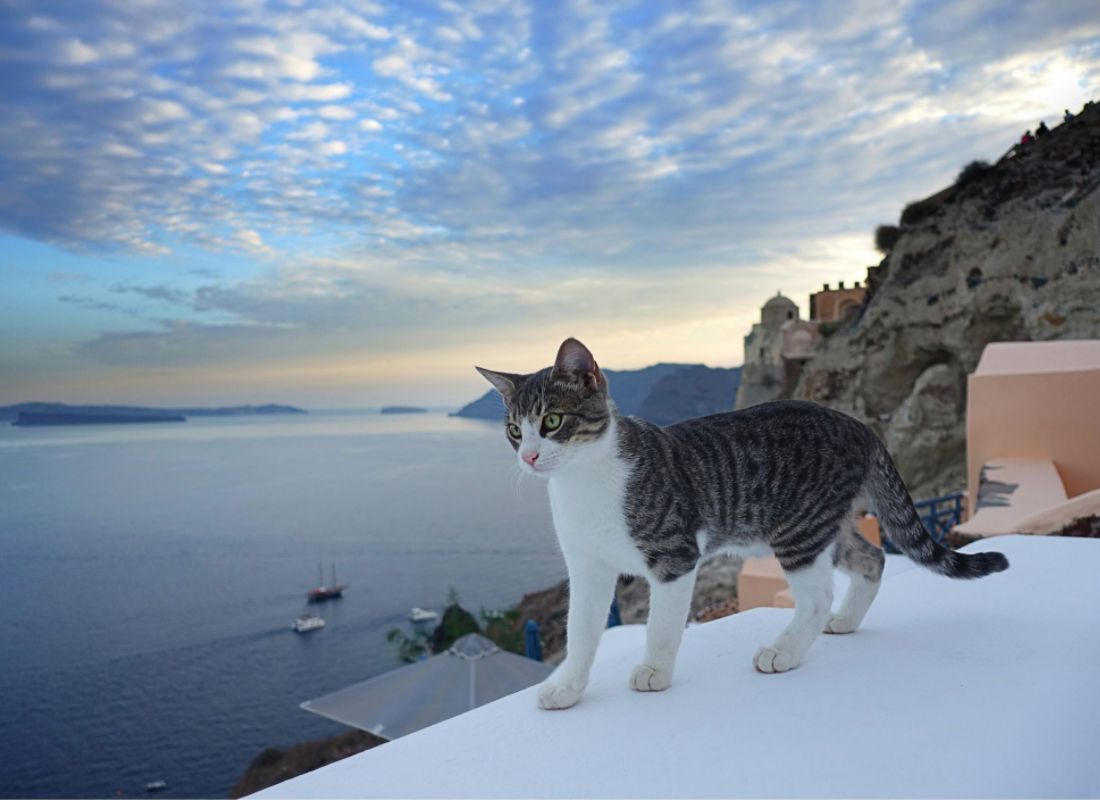 If you are interested in fully exploring Santorini, and going to remote areas and central villages, then you will need your own car. I always use Rentalcars.com in my travels around Greece, as they have the best deals with the most reliable reps in Greece.
Message from Evgenia
Some of my Favorite Travel Resources for Greece
Airflights: Cheap/Fast/Best Worldwide Flights from KAYAK or SkyScanner search engine site
Booking.com: I use Booking.com because I can get the best deals, have info on hotels and Airbnb's alike, with breakfast or not, free cancellations, and great prices!
Ferries to the Greek Islands: Book your ferry transfer with FerryScanner or FerryHopper, and get the best prices in the market with no hidden fees
World Nomads Insurance: I feel insecure traveling to another country without having even the most basic of insurances. Insurance will protect you against illness, injury, theft and cancellations
Best car rental prices – Guaranteed. RentalCars.com
Get Your Guide: For all your day or multi-day tours and city guide needs, I use Get Your Guide
iVisa: For any questions, you may have about your documents, passport if you need a visa, a new photo, or any visa-related matter, iVisa is your man (or woman!)
Emergency Numbers Anywhere in Greece: AMBULANCE 166 – FIRE 199 – POLICE 100– EMERGENCY NUMBER 112
More Inspiring Reading on Greek Islands