This post is focused on the best budget Santorini hotels with short introductions of the villages they are located and the best attributes of the hotels.
Santorini Island is one of those magical places on earth that you must visit at least once in your lifetime!
The Santorini views, the Caldera sunsets, the ambiance of a magical Cycladic Island, the bougainvilleas, the imposing white Greek orthodox Churches, make the island a fairy tale place.
And how best can you enjoy your stay in Santorini? By staying at fantastic budget Santorini hotels at the best possible reasonable prices – because you have to know this in advance: Santorini is not a cheap island to visit.
Note for Mobility Impaired People and Visiting Santorini:
I recently found out about Seatrac in Greece from a friend of mine who is in a wheelchair. On the website I discovered that there are 2 beaches in Santorini with this amazing system, in Perissa and Kamari. I couldn't find a budget hotel offering suitable rooms but I did find 2 excellent 5-star hotels that I highly recommend. See the hotels and about Seatrac in the Kamari and Perissa sections below.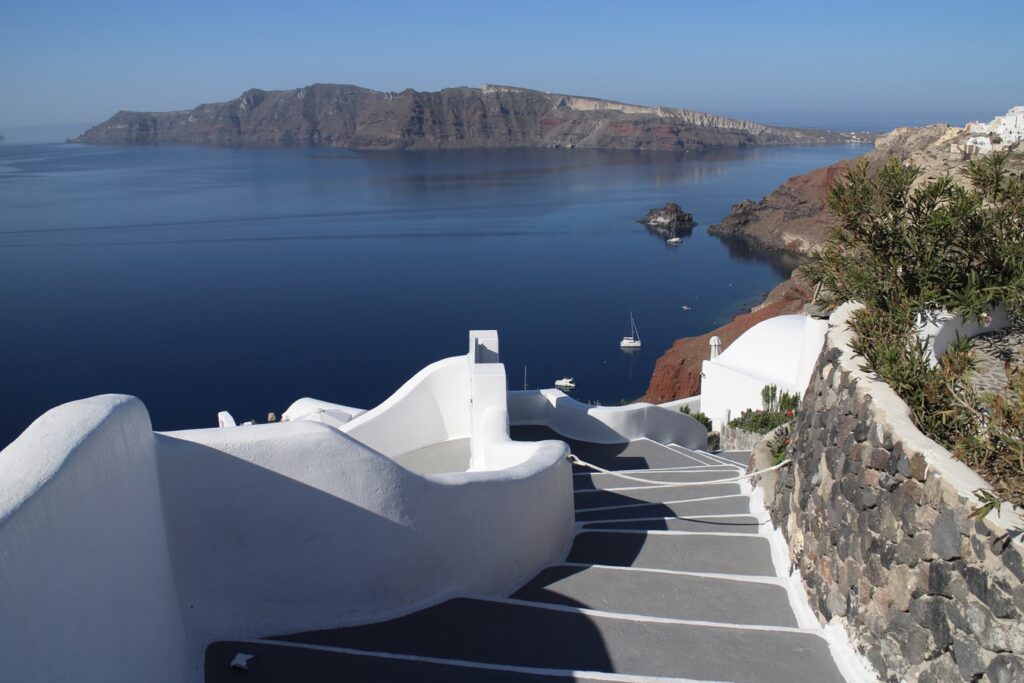 *Some of the links below are affiliate links. That means I may make a commission if you click and buy. The commission comes at no additional cost to you. Please see my full disclosure policy for more information*
Best Budget Hotels in Santorini
Santorini's Capital: Fira
Fira is the capital of Santorini, built high on 400m (1312 ft) caldera on the western part of the island (the sank part). From Fira, you can admire a panoramic view of the 18 kilometers (11 miles) long caldera plus the volcanic island Nea Kameni.
See below a few budget hotels in the area:
Golden Star Hotel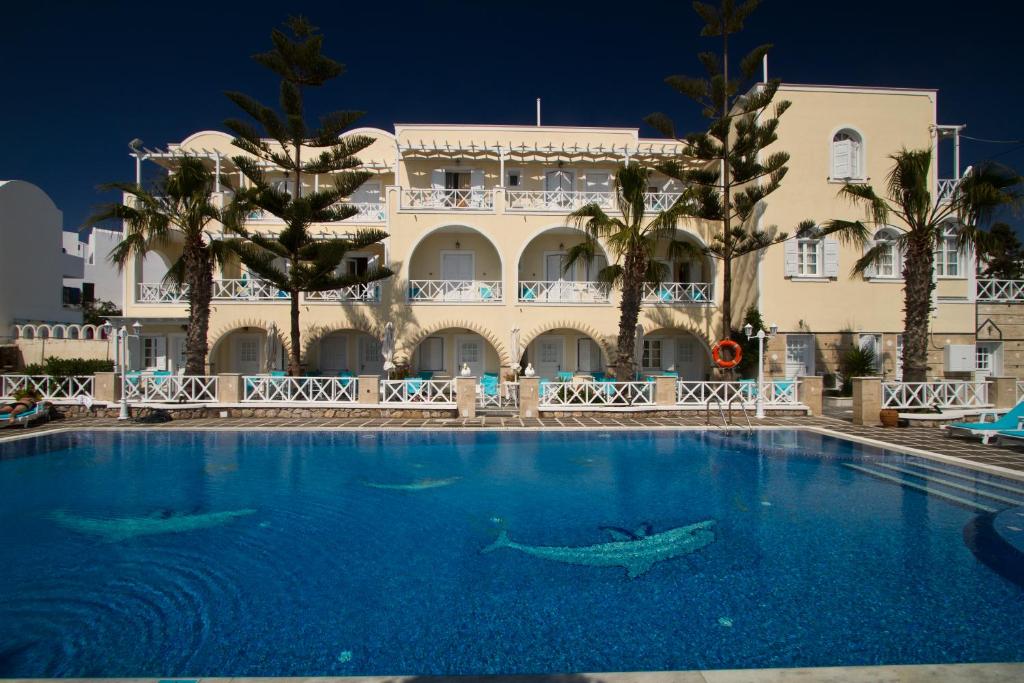 Golden Star Hotel in Fira, is featuring a lovely swimming pool, spotlessly clean, well-furnished rooms and the caldera sunsets are only 15-minutes far from the hotel.
Check for prices and availability on Booking.com here
Sweet Pop Hotel
Sweet Pop Hotel is a very stylish, cubic, modern and colorful hotel in Fira with the most friendly and obliging staff.
Check availability and prices on Booking.com
Alizea Villas & Suites
Alizea Villas & Suites is both a cozy and very stylish hotel with a fantastic swimming pool, pristinely clean and very friendly staff. The hotel is a few minutes far from the center of Fira.
Check availability and prices on Booking.com
Oia
Oia is another world-famous Santorini village. Its architecture, with its white-washed houses, covered in purple and pink bougainvilleas crossed by tiny paved roads leading to the sea are as stunning as they look in the photos.
Muses Cycladic Suites
Muses Cycladic Suites is conveniently located outside the fuss of Oia, making it a brilliant and quiet accommodation option. It features lovely Cycladic architecture with curves, a white-washed building with marvelous sights.
Check availability and prices on Booking.com
Laokasti Villas
Laokasti Villas in Oia have large rooms, a lovely garden with a large swimming pool, in a quiet spot of Oia but very close to restaurants and bars for your nights out.
Check availability and prices on Booking.com
Nostalgia Traditional Cave House
Nostalgia Traditional Cave House in Finikia Oia, is an extraordinary hotel in the sense of the unique cave rooms, intense colors with a very hospitable and attentive staff.
Check prices and availability on Booking.com.
Imerovigli
Imerovigli is another breathtaking Santorini village, 3 km north of Fira. Imerovigli is famous for its caldera sunsets and its many lovely white churches.
Merovigla Studios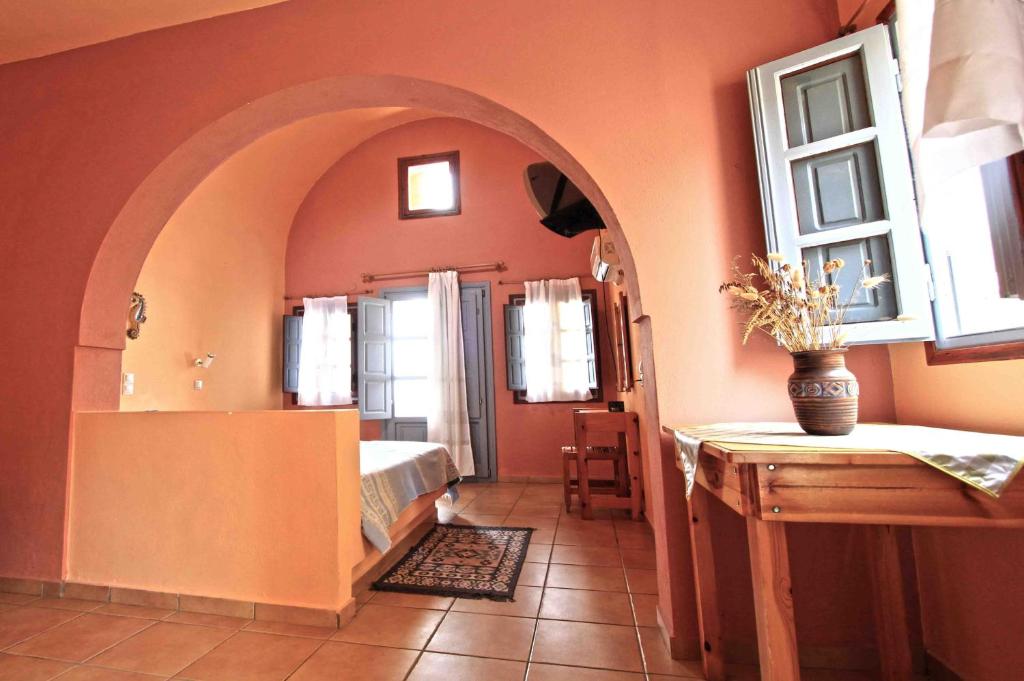 Merovigla Studios are located in a fantastic spot, with a view of the caldera and of Imerovigli village. Offering also a pretty swimming pool and close to a small market, this is an ideal – best cost for value Santorini hotel.
Check for prices and availability on Booking.com
Akrotiri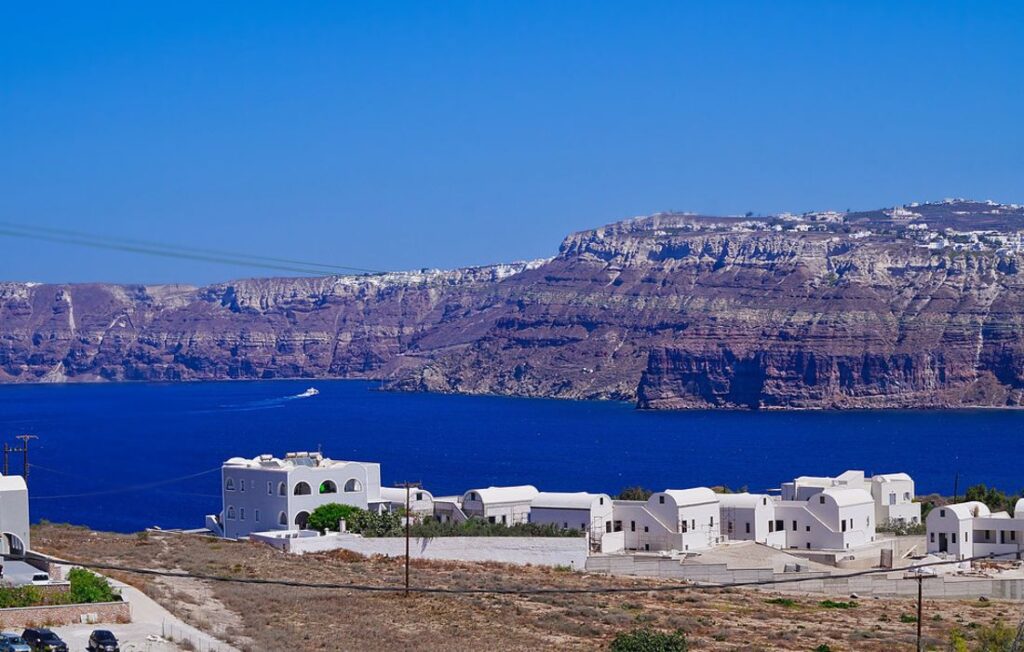 Akrotiri is an extraordinary place on the south of Santorini as it hosts the archaeological site associated with the Minoan civilization, the renowned red beach, and the Akrotiri impressive Lighthouse.
Kalimera Hotel
Kalimera Hotel in Akrotiri Santorini is simply lovely! An impressive round pool, very traditional furniture and architecture, within walking distance from Caldera beach, a small beach with a great view of the caldera.
Check for prices and availability on Booking.com
Kamari Beach
Kamari Beach is one of the most cosmopolitan and beautiful black sand and pebble beaches of east Santorini. It is a great place to stay here as it has all facilities you may need in the area.
Santa Elena
Santa Elena Hotel in Kamari Santorini will surprise you in the nicest way as everything is simply perfect. From the ultra-friendly and obliging owner Sophia to the very large swimming pool, the sunlit rooms and the rich breakfast, this is a fantastic option for a budget hotel in Santorini.
Check for prices and availability on Booking.com
Nostos Beach Hotel
Nostos Beach Hotel is located right on the Kamari Beach with fabulous sea views, peaceful and quiet with grande breakfast, super clean nice rooms, and the friendliest staff.
Check availability and prices on Booking.com
Kamari Beach with SeaTrac For the Mobility Impaired
There are over 130 beaches in Greece that have installed the Seatrac system so that people with mobility issues can have independent access to the sea. In Santorini, there are 2 beaches that you can choose from, Kamari and Perissa.
I highly recommend Costa Grand Resort & Spa, a fantastic 5-star hotel, reasonably priced, located right in front of the beach and a few minutes far from the SeaTrak Mechanism.
Check availability and prices in Booking.com HERE
Find more info on SeaTrak here
Firostefani
Firostefani is the extension of Fira, so close nowadays to each other – due to building every single free space between them – so that it is very hard to find their borders. A magical place to visit, as it is everywhere you go in Santorini.
Damigos Caldera World
I have included Damigos Caldera World as a budget hotel because of its stunning views of the caldera and its very reasonable prices. The rooms are stylish, beautifully furnished, and spacious and they bring your breakfast in your room to savor in the caldera view.
Check availability and prices on Booking.com
Perissa Beach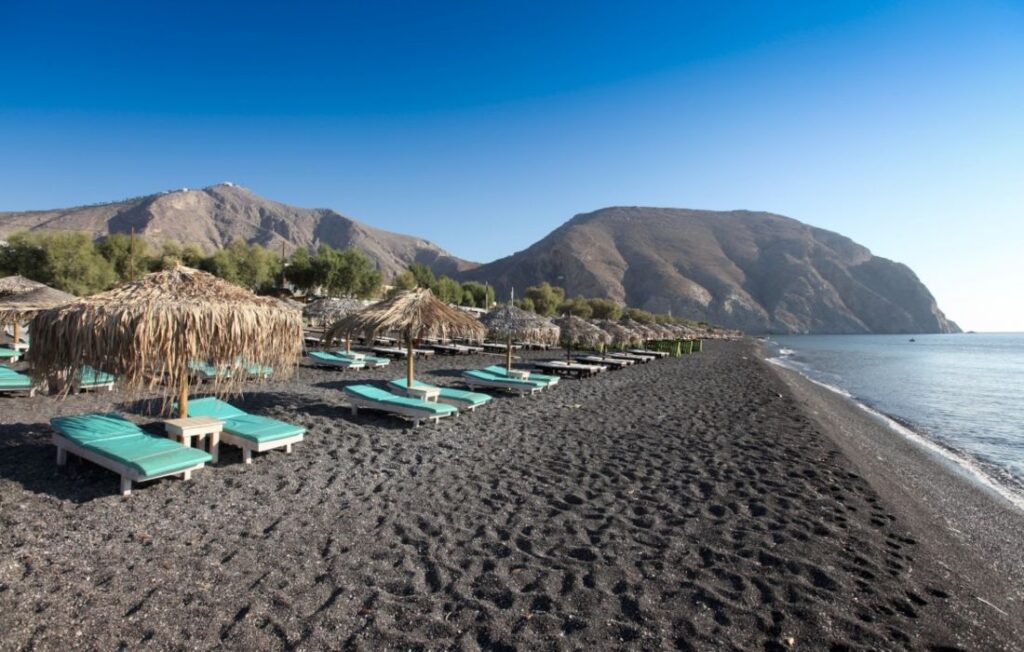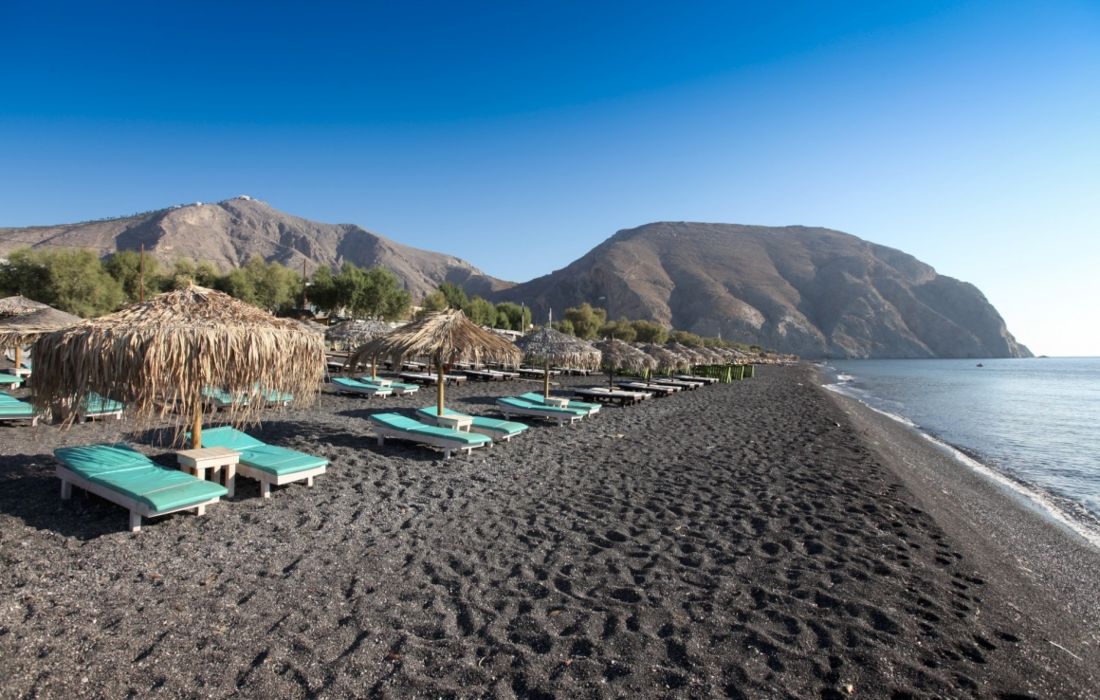 Perissa sandy beach is the famous black beach of Santorini, awarded with a Blue Flag. It is about 13 kilometers (8 mi) away from Fira, on the southeast coast of Santorini, and is easily accessible by car or bus.
The Perissa beach is very popular because of the black lava sand, crystal clear waters, and the imposing mountain on the back. It is a fully organized beach with sunbeds, umbrellas, plenty of seaside cafes, bars, traditional taverns and restaurants, all kinds of water sports, and a nice diving area.
Lucia Villas
Lucia Villas is a traditional Cycladic hotel, only 300 meters from Perissa Beach, on a quiet small street, with friendly staff and owners.
I personally love the swimming pool, with the impressive mountain view because if one day you don't feel like going to the beach you can chill out by the pool. The good life….
Check availability and prices on Booking.com
Studio Paul's
Studio Paul's is one of the best low-price hotels in Santorini, with a lovely garden, clean nice rooms, helpful owners, minutes away from Perissa beach.
Check availability and prices on Booking.com
Holiday Beach Resort
Holiday Beach Resort is very close to Perissa beach, features a nice big swimming pool, a beautiful resort offering a relaxing atmosphere. The rooms are spacious, light, clean, and nicely furnished.
Check availability and Prices on Booking. com
Hotel Close to Perissa Beach for the Mobility Impaired
Meltemi Blu is an amazing 5-star hotel, fresh and modern with hospitable hosts and with great mountain views, 15 min walk far from Perissa Beach and the Seatrac swimming system. It has 2 rooms on the ground floor, with easy access amenities for people with disabilities or on wheelchairs.
Check availability and prices on Booking.com HERE
Find more info on SeaTrak here
Read here my exclusive post on what best to do in Santorini in 3 days
More Inspiring Reading on Amazing Greece
Did you find my post on Greece useful? Feel free to buy me a coffee and support my blog!
I
Not Sure where to Go to Mainland Greece?
Grab below your free 5-Day classic itinerary in mainland Greece. It includes sites, relative informative posts, and hotel recommendations!