Rethymno is one of the four regions on Crete Island, located between Chania and Heraklion. Rethymno or Rethemnos, as the Cretans call it, is also the name of the region's capital town. The town is one of the oldest towns in Greece, built during the ancient Greek Minoan civilization (c. 3000-1450 BC) and one of the most picturesque ones!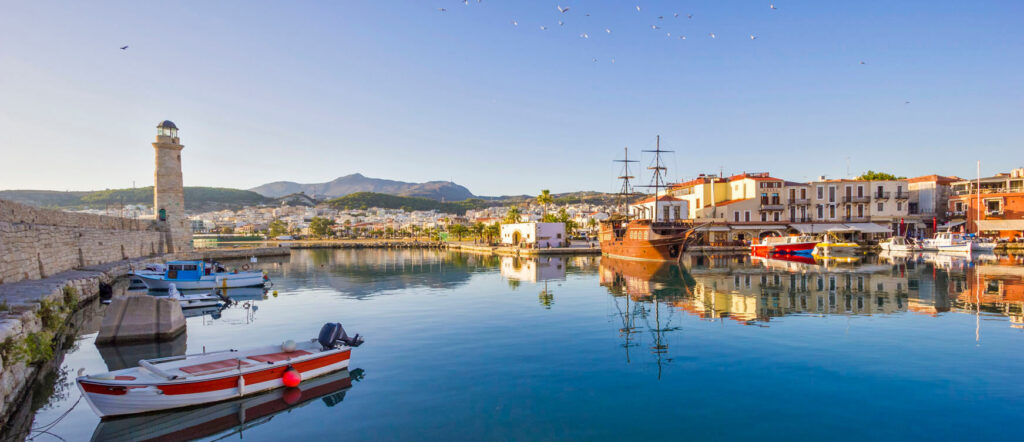 Rethymno Crete will thrill you with its ancient Greek and Roman sites, Venetian houses, Ottoman mosques, and Greek Orthodox and Catholic churches all mixed up in a fascinating stroll.
Discover in the region of Rethymno impressive historical monasteries such as the Arkadi and walk in the archaeological site of Elftherna, thousands of years old.
Enjoy its long, sandy beaches with warm waters and discover gorgeous mountainous settlements or seafront villages such as Agia Galini and Plakias. Join the lively Cretan festivals and indulge in the world-famous mouth-watering Cretan food and wine!
And if you love outdoor sports, there is a fantastic variety of hiking opportunities in gorges like Kourtaliotiko, hiking the second-highest mount in Greece, Psiloritis (or Ida Mt, 2456 m), or diving to explore the rich sea world of southern Crete.
So what is there to see and do in Rethymno? Read on for my top picks!
*Some of the links in this post are affiliate links. That means I may make a commission if you click and buy. The commission comes at no additional cost to you
Best Things to Do in Rethymno Crete
1. Explore Rethymno Old Town
The old part of Rethymno was built mostly during the Venetian era (1205 – 1654 AD) and is one of the best-preserved historical towns of Crete.
With still standing around 600 Venetian buildings, some with Ottoman additions like latticework balconies you will feel like you have traveled back in time. In 1654 Crete was conquered by the Ottomans who turned many churches into mosques.
One of the best ways to enter old Rethymno is through Porta Guora (Grand Gate), a 1560 stone archway. Porta Guora is not very impressive but will get you to the winding cobblestone alleys, the old stone buildings with overhanging vines, and the bougainvillea.
The narrow streets are often lined with cafes and shops to buy all sorts of gifts and trinkets, and local quality food such as olive oil, soap, and honey.
Are you looking for somewhere to stay in Rethymno? Check rates and availability here.
2. Go to the Archaeological Museum of Rethymno
The Archaeological Museum of Rethymno is housed inside the former church of San Francesco, with impressive and well-preserved exhibits ranging from Neolithic to Roman times. The museum is quite small but it takes you on a journey from 11,000 BC to the 17th century AD, through all of Cretan history with professionally made labels in both Greek and English. It takes about 45-50 minutes to explore.
Open Wednesday–Monday from 10 am to 15.30 pm (closed on Tuesdays), €4 ticket
3. Visit Neratze Mosque
The Neratze Mosque was originally a catholic Augustinian monastery under the name Santa Maria but was turned into a mosque in 1657. The impressive building, which today houses the Odeon Rethymnon, has a 27-m-high minaret and three domes visible from around Rethymno. Contact: (+30) 28313.413.01).
4. Drink Fresh Water from Rimondi Fountain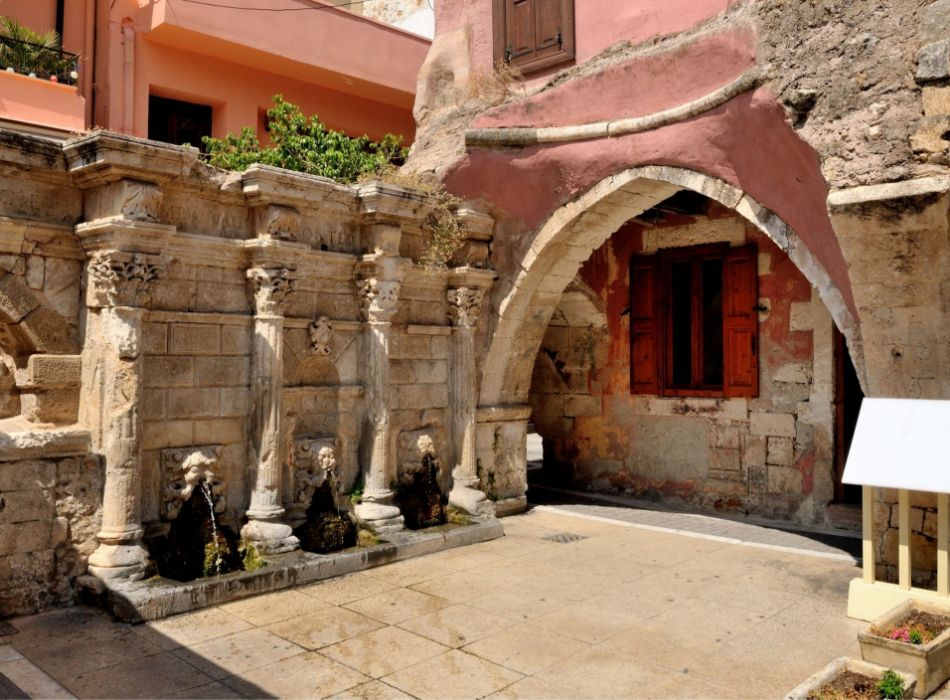 Moving around the old town will get you to the Rimondi Fountain, which was constructed by Venetian governor Rimondi in 1626. It is a beautifully crafted spring that provides freshwater coming from Mt Vrysinas and flowing from the 3 lions' heads carved into the wall. If you have already drank all your water fill your bottle up from this old spring!
5. Stroll the Magical Venetian Port
The Old Port of Rethymno was built by the Venetians in the 13th century AD and getting there is one of the best things to do in Rethymno Crete. The small but very picturesque port features 2-story Venetian buildings housing traditional fish taverns and cafes.
But what I love most is walking along the excellent preserved old tier to the beautiful lighthouse at its end which was built by the Ottomans in the 17th century. Although today the port has only small fishing boats rocking in its waters, you can almost imagine the Venetian galleys and the Turkish warships sailing from it.
6. Get to know the Venetian Loggia
If you walk for a few meters off the Old Port you will get to the Loggia of Rethymnon. The Loggia was built in the 16th century AD and was used as a meeting place for Venetian noblemen. Soon after the Ottomans had occupied Rethymnon, Loggia was converted into a mosque.
Today it houses the administration of the archaeological department in Rethymno and if you love copies of ancient statues, you should visit their in-house shop!
Are you looking for somewhere to stay in Rethymno? Check rates and availability for Vista Del Porto Luxury Suites.
7. Walk to Venetian Fortezza Castle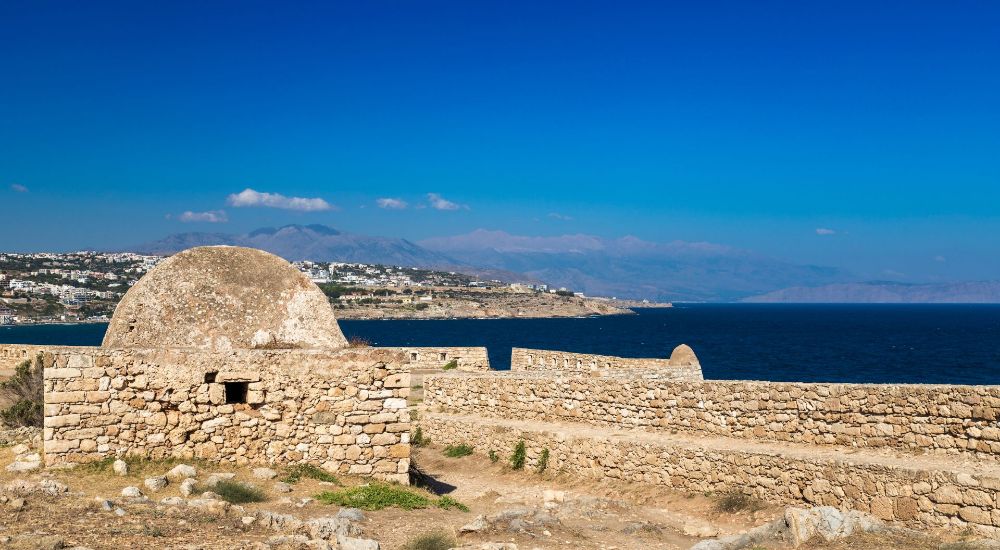 Explore Venetian Fortezza Castle, one of the best-preserved castles in Crete. It was built by the Venetians in 1573 to protect the city from the invading Ottomans. It is a fantastic place to enjoy a romantic sunset and one of the top things to do in Rethymno Crete!
When you get to the castle, you can also visit the church of Agios (Saint) Nicholas, which was converted into a mosque under Ottoman rule.
Free entrance: June–September: daily from 8 am to 8 pm. October–May: daily from 8 am to 5 pm.
8. Dive into Rethymno Beach
Rethymno beach is a 13-km long stretch of soft sand, organized with umbrellas and chairs, and super convenient if you are staying in Rethymno town. The beach is just east of the old Venetian port and is lined with great hotels such as Seaside Palette Suites or Sunset Suites Réthimno.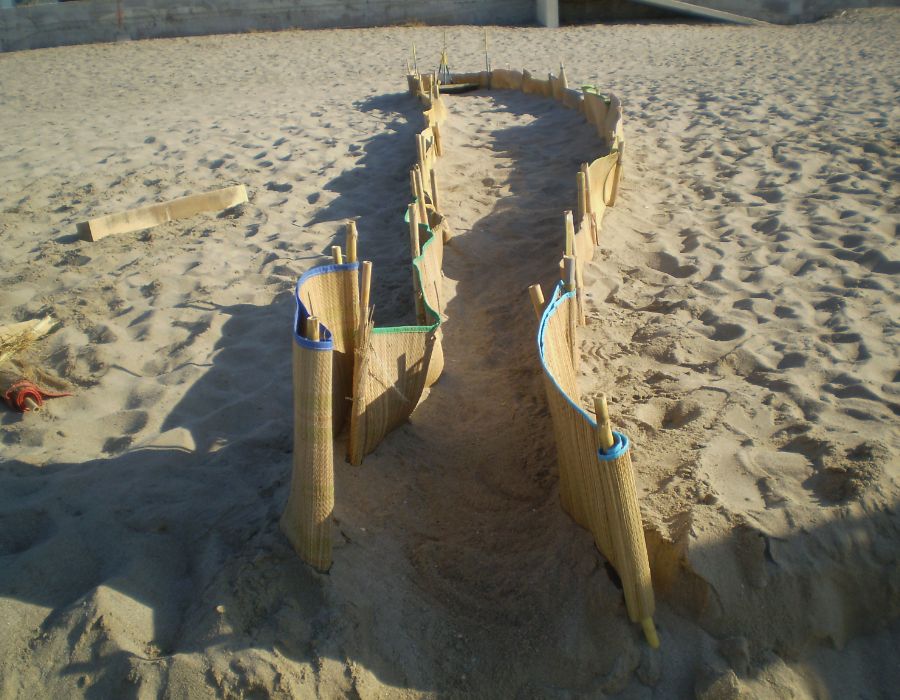 Besides all the comforts and sea sports facilities that you can find in Rethymno's organized beach, you will also see certain spots on the beach that have been marked and cordoned off with ropes. Rethymno is one of the nesting areas of the protected turtle Caretta Caretta and this is where they lay their eggs. Please try to avoid those places and do not disturb the nests.
9. Go to Arkadi Monastery (One of the top things to do in Rethymno Crete)
The fortified Arkadi Monastery is 23 km south of Rethymno town and is the ultimate symbol of Cretan resistance to the Ottomans. It is a Greek Orthodox monastery, built in the 16th century with unique Roman and baroque architectural elements.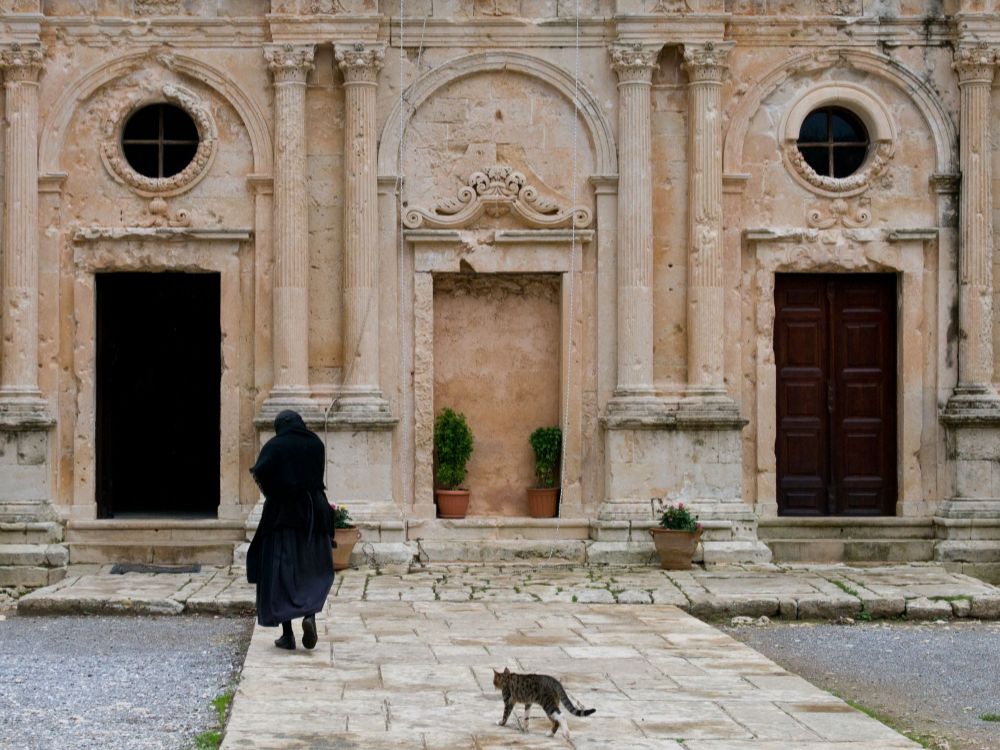 On November 8th, 1866, the Arkadi monastery was attacked by a force of 15,000 Ottomans. 943 Greeks, mostly women, and children along with the monks had sought refuge inside the walls of the monastery. When they realized that they would fall to the Ottomans, they blew up the powder barrels choosing to sacrifice themselves rather than surrender. Read here for details about Arkadi Monastery.
It welcomes visitors from April–May: daily from 9 am to 5 pm. June–August: daily from 9 am to 8 pm. December–March: daily from 9 am to 4 pm. Buses go daily from Rethymnon or you could take a guided tour to Arkadi monastery, Eleftherna archaeological and Margarites village.
10. Visit Ancient Eleftherna
12 kilometers northeast of the Arkadi Monastery lies the important archaeological site of Eleftherna. It was founded by the Dorians in the 9th century BC on a jagged ridge of Psiloritis (Ida) Mt at 380 meters.
The excavations started in 1985 and have brought to light a number of monuments dating from geometric times (1100-750 BC) to paleochristianic times (early Byzantine era). You will see the ruins of:
Geometric and Archaic Necropolis
Hellenistic walls
Roman buildings and baths
A three-aisled early Christian basilica with a narthex and wonderful mosaic decoration depicting geometric and floral motifs
11. Walk around Margarites Village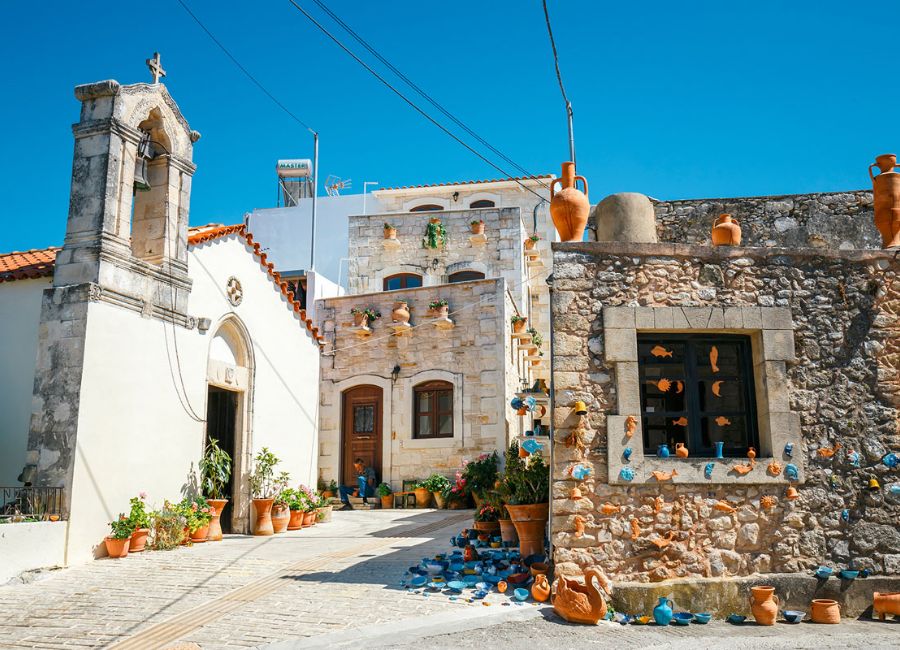 Margarites is a traditional mountainous village built on the north slope of Psiloritis Mt, north of ancient Eleftherna. It features beautiful stone houses, gardens, and flowers, where the main decoration is all kinds of handmade ceramics. Discover the many tasteful little shops that sell artifacts made by local ceramic artists.
Are you looking for somewhere to stay in Rethymno? Check rates and availability here.
12. Hike Rethymno Kourtaliotiko Gorge
Chania has the popular Samaria Gorge whereas Rethymno has Kourtaliotiko which ends up in one of the most impressive beaches in Crete, Preveli Beach. If you travel south, towards the Libyan Sea, you will get to the 7.2-km-long Kourtaliotiko gorge, a place of exceptional natural beauty.
Kourtaliotis River flows between the imposing mountains Kouroupa (984m) and the peak Koules (676m) of Xeros Mountain. The huge rocky slopes of the gorge reach 600m and are full of caves, and small pools where you can swim if you are OK with cold water as the river feels cold even on the hottest days.
On the rocks above your head, rare birds of eagle and hawk species live. At the end of this gorgeous hike, you will get to the palm forest of Preveli Beach. Level of difficulty: 2/5, good river shoes.
Hiking is one of the most fun things to do in Rethymno Crete!
13. Enjoy Preveli Beach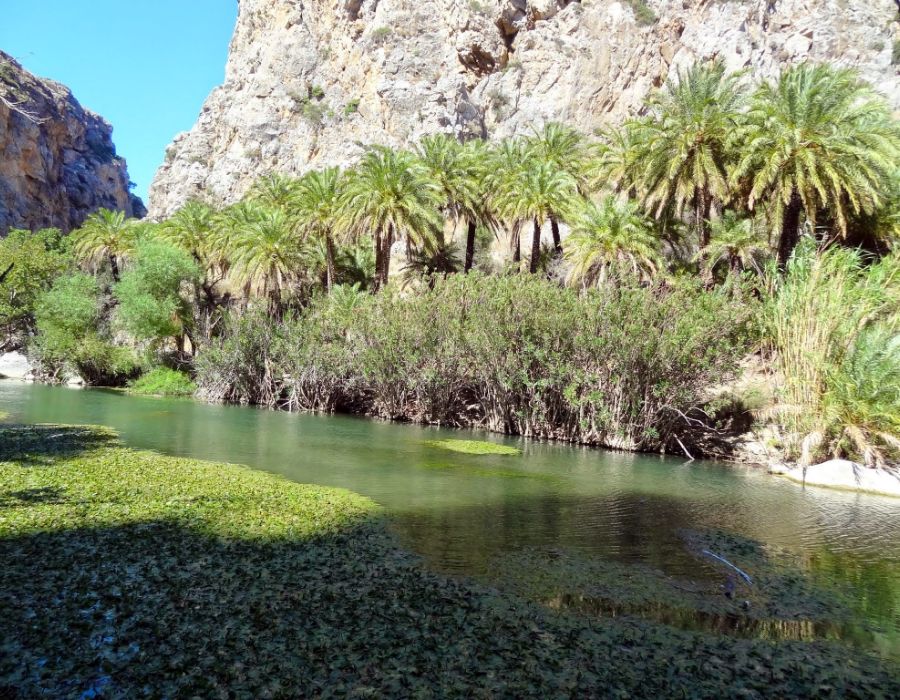 At the final meters of Kourtaliotiko gorge you find yourself in an extraordinary natural environment, walking by the palm forest of Preveli. At its end you can enjoy a swim in the stunning Preveli Beach, looking out on the Libyan Sea.
If you do not want to hike, you can drive all the way to the parking lot on top of the beach but you still need to walk a downhill path. Before you venture to Preveli beach you should keep in mind a few things:
The beach is top-rated so that means it can be very crowded at times
The way up and down from the parking area is steep, with many many steps, and needs very good walking shoes
As the beach faces the open Libyan Sea, it can get very windy at times
The parking area charges you €2
There have been some complaints about the toilets in the single bar covering the whole beach
If you do not feel like walking up and down some 400 steps, you can always drive to the nearby Katsouni beach, which is always quieter.
14. Check out the 2 Preveli Monasteries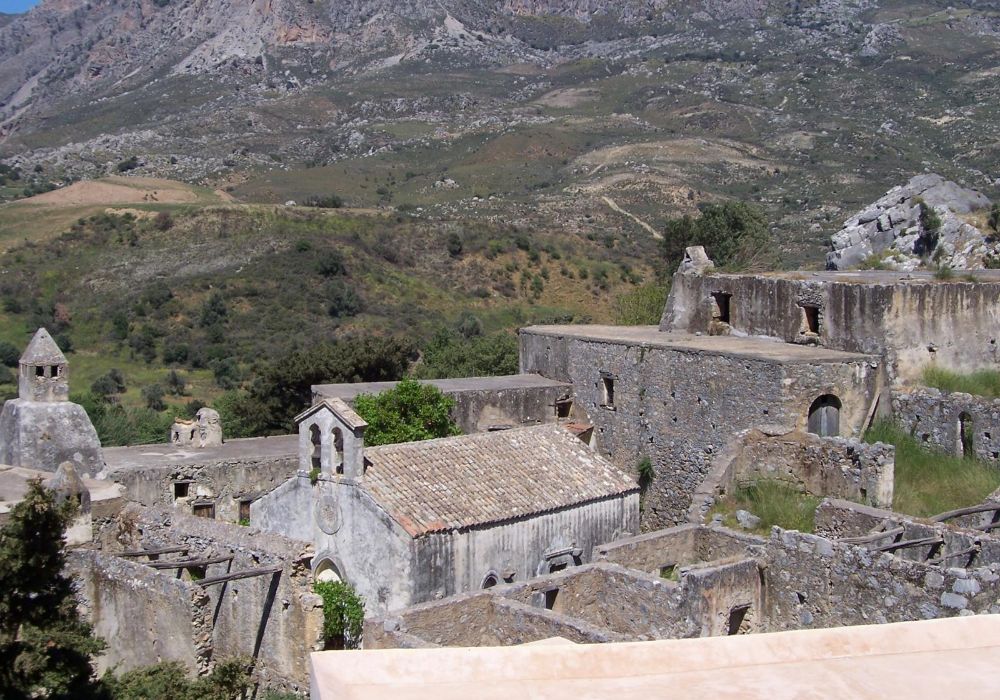 West of Preveli Beach there are 2 very old monasteries, 1.7 km apart from each other, Kato (Down) Moni Preveli and Ano (Upper) Moni Preveli. The Kato Preveli monastery was founded during the 10th and 11th centuries and it is deserted today.
Ano Moni Preveli was founded in the 16th century and is a working monk monastery built on a hill with incredible sea views. It was destroyed by the Ottomans but was promptly rebuilt and today you can admire the church and the facilities as well as religious artifacts in the well-designed museum.
Find more about the monastery's history and contact details here.
15. Stay at Plakias Village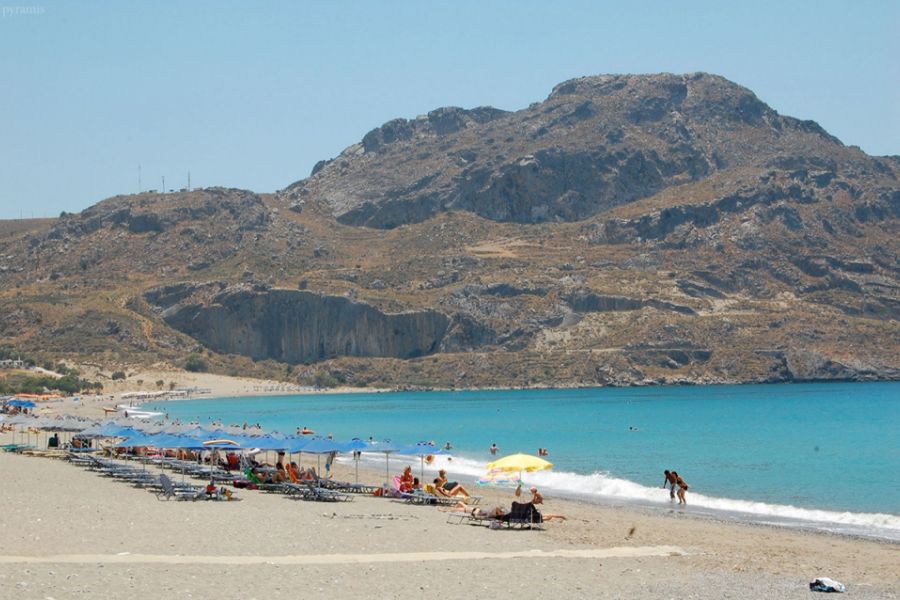 Plakias village is one of the most popular resorts in Rethymno, built on the south facing the Libyan Sea. Plakias is a must-visit place in Rethymno Crete, even for a day tour. It is built inside a protected bay surrounded by mountains and the nearby river Kotsyfos. The village is touristically advanced with a large variety of hotels, taverns, and bars. A beautiful seafront hotel in Plakias that I recommend is Aelia Seascape Apartments.
One of the best things to do in Plakias, besides spending quality time in front of its beautiful sandy beach, is to go to the windmills of the Kotsyfos River.
Dive into Schinaria Beach
8 km southeast of Plakias, is the magical beach of Schinaria.
Schinaria has a sandy beach with mostly a rich of biodiversity rocky seabed. Two streams flow into the beach, forming a small wetland with reeds that are fascinating to explore! The beach has also a restaurant and a diving school.
Are you looking for somewhere to stay in Rethymno? Check rates and availability here.
16. Dive in Kalypso Beach or Pirate Fjord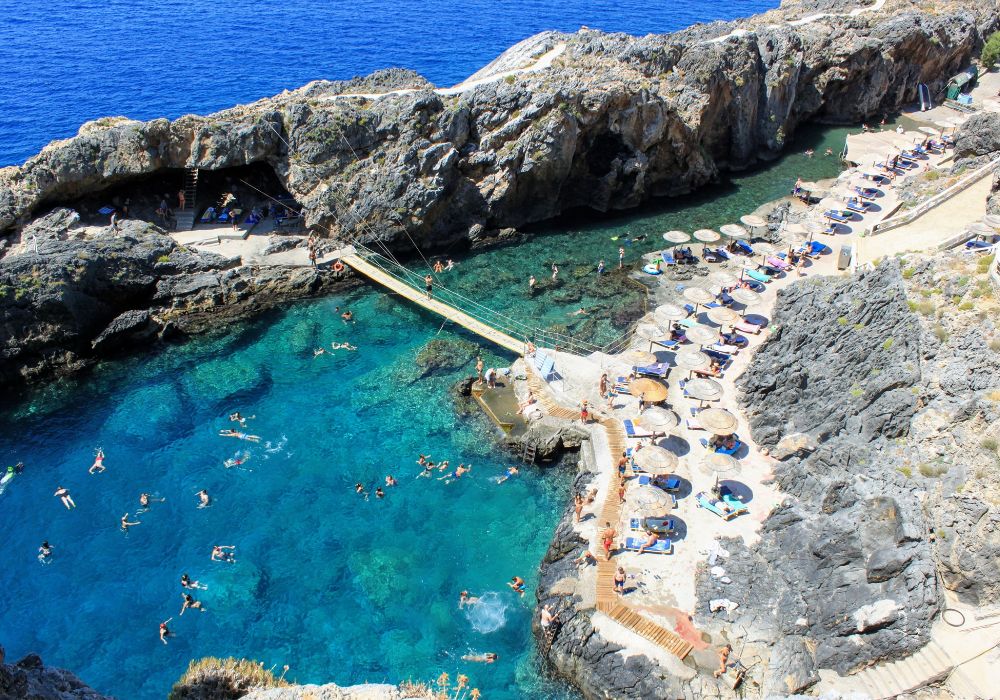 South of Plakias, is the unique Kalypso beach, a narrow piece of the sea surrounded by massive steep rocks. The bay ends in a small, sandy beach where the pirates used to take refuge during the Byzantine times.
The water is crystal clear and the color changes depending on the depth of the spot, somewhere deep blue and in other places turquoise. The seabed is also super rich in fish, plants, and coral life so if you love exploring the sea, bring along your mask.
The entrance to the beach is through the Kalypso Cretan Village Resort & Spa and is free.
17. Join a Cretan Feast (one of the coolest things to do in Rethymno Crete)
If someone invites you while you are in Rethymno – or anywhere on Crete island – to a Cretan festival, accept and go, you will enjoy a unique experience.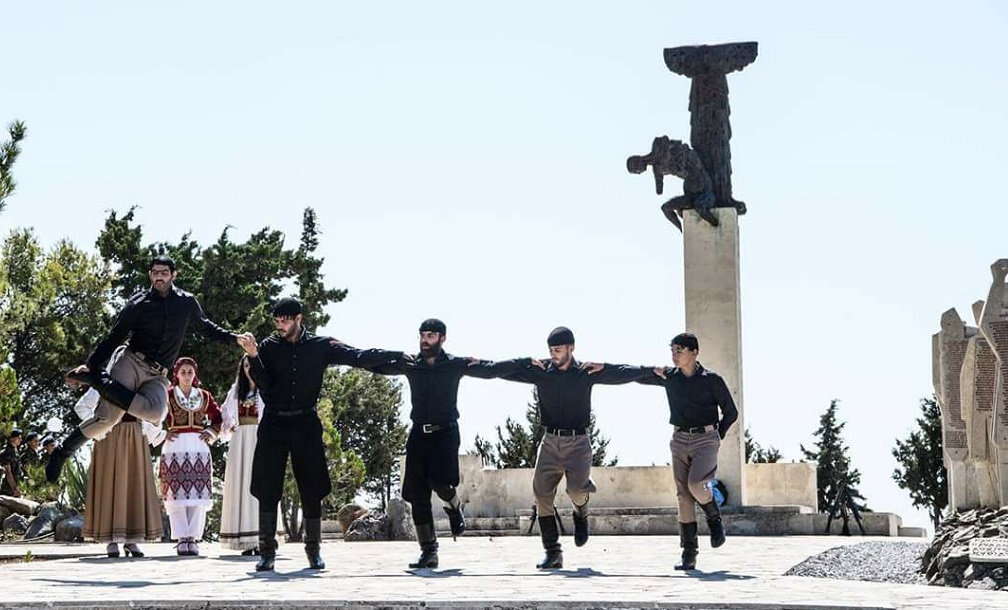 The music/ religious festivals are always accompanied by the sound of Cretan lyra – the traditional musical instrument of Crete – and by impressive folk dances, such as Pentozalis. Pentozalis is a traditional vigorous war dance, performed passionately by the Cretans.
The festivals always offer locally cooked food and wine, so prepare yourself for a long, exciting evening!
18. Master Cretan Food Tasting
Crete island is famous all over Greece for its delicious cuisine which has become a delicacy and a treat when someone cooks it in Athens. There are so many mouth-watering recipes that only when you taste them you will realize that Cretans are really culinary masters!
To mention a few of the traditional Cretan specialties and red fine wines that you should taste when in Crete:
Kalitsounia: sweet mini cheese pies
Dakos: hard Cretan bread accompanied with tomato, mizithra cheese, capers, olives, and plenty of virgin Cretan oil
Snails boubouristi: popping fried snails
Kserotigana: honey-dipped spiral pastries
Local Cretan wine varieties: Vilana (white), Kotsifali, Mandilari, Liatiko (rose and red)
19. Discover Argyroupoli Springs
Go to Argyroupoli Springs, 25 km southwest of Rethymno, a lush green, rural village with countless small waterfalls rising from underground springs. Find the tiny cave dedicated to Agia Dynami and light a candle.
Stroll the Argyroupoli village and admire the Venetian houses some from the 15th century. As the village was built on top of the ancient Lappa, discover the ancient, Roman, and Byzantine ruins scattered around the village, such as the ancient Necropolis, with hundreds of tombs.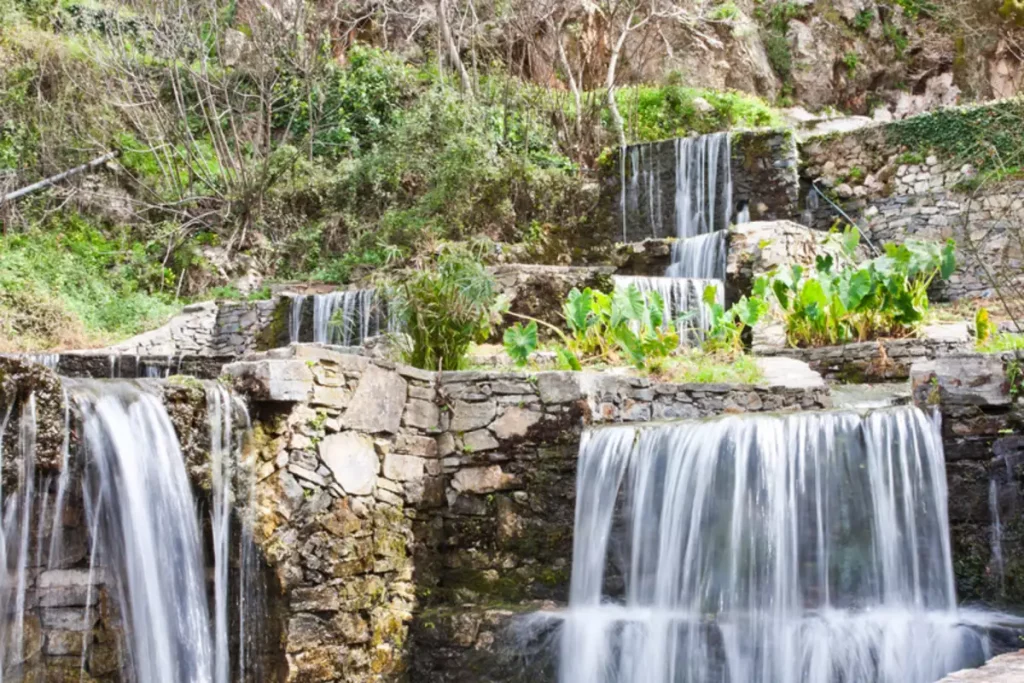 But Argyroupoli's most impressive sites are the springs of the mountains, running from everywhere, making small waterfalls, a real oasis of water. There are taverns and cafes where you can enjoy a meal or a coffee while having this aquatic paradise around you.
Are you looking for somewhere to stay in Rethymno? Check rates and availability here.
20. Hike Psiloritis Mountain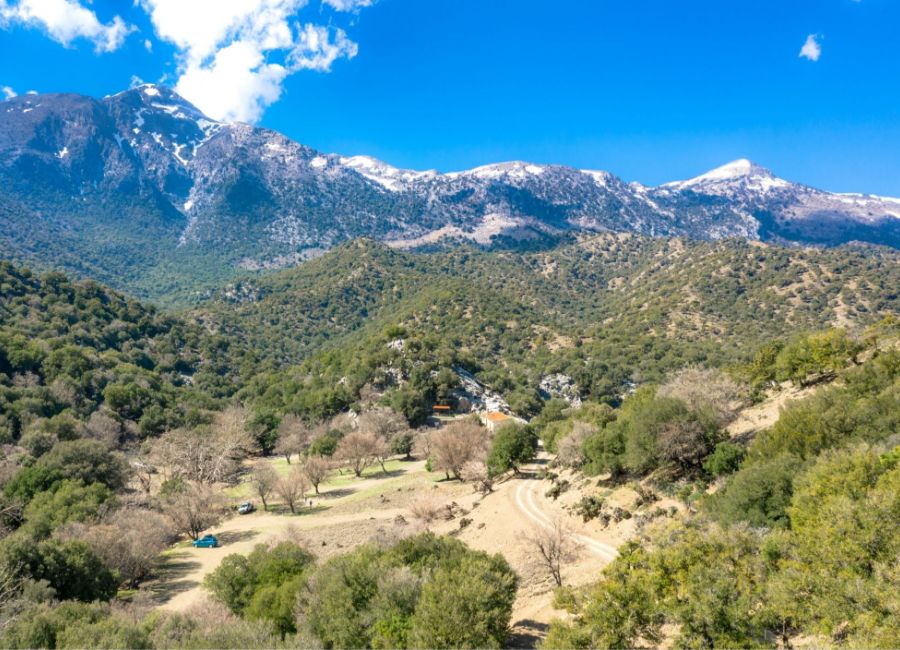 If you love hiking, then Psiloritis Mountain is perfect for you! It has a peak of 2,456 m which makes it the highest mountain in Crete and the second-highest mountain in Greece after Olympos.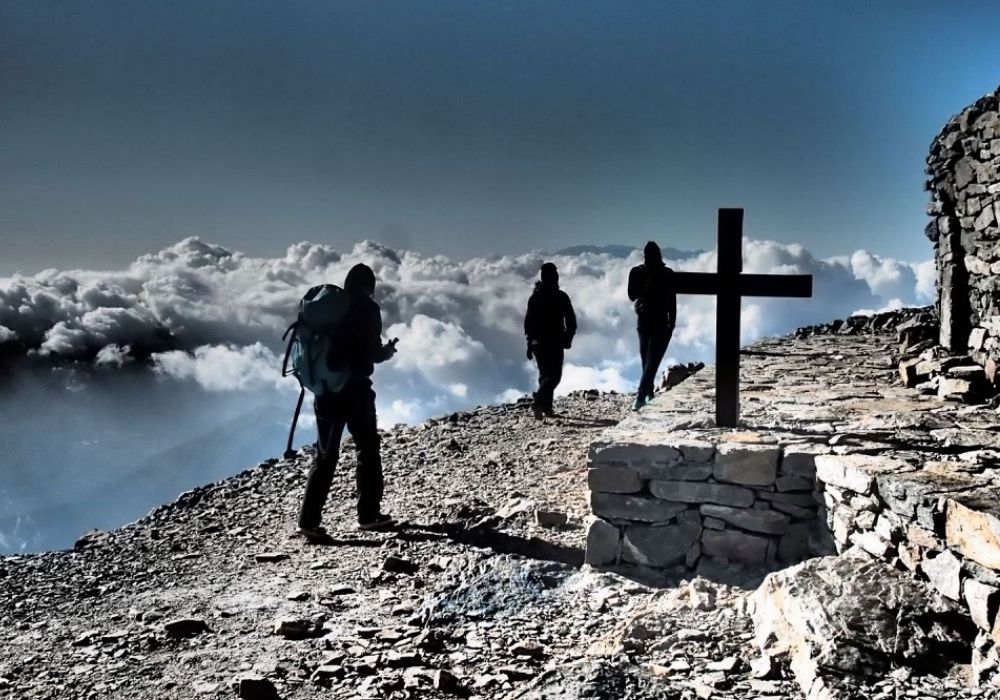 The ascent to the peaks of Psiloritis can start from a number of villages such as Kamares, Fourfouras, Platanias, the Nida plateau, or from the north, from Strata of Psiloritis, an excellent paved path, which starts from the shelter in Lakka Mygeros (1,670 m).
Find here a great website with many trails of Psiloritis, Google Maps, and starting points in Greek, but you can translate them using Google.
21. Enjoy Seaside Agia Galini Village
Agia Galini is another popular village in the south and one of the best resorts in Rethymno Crete. It is built amphitheatrically of the Cretan Sea bay and is surrounded by three mountains.
Agia Galini may be touristically advanced however, it has retained all its traditional charm and it is an ideal location for your trip to Rethymno. The beaches in Agia Galini are beautiful and organized and some of the best things to do while staying there are:
Get on one of the local boats to watch the dolphins that frequent the area
Go by boat to the beach of Agios Pavlos, or by car from the road to Saktouria and have yoga lessons by the beach
Go to the islets of Paximadia and dive to explore the rich seabed
Where to stay in Rethymno
If you only have a day or two in Rethymno, you better stay central in Rethymno town and take day trips to the places you would like to see. And the nicest area to stay in is the Old Town of Rethymno.
A value-for-money apartment for 2 persons is Atelier located in the old town, close to the waterfront and fortress. If you are a family or a small group of people and you are looking for some old-style glam then you will love Casa Moazzo Suites and Apartments.
If you are staying longer in Rethymno I would suggest staying south, in Agia Galini at Rozmari and Spa, a great small hotel with spa facilities and mouth-watering homemade breakfast (budget).
How to get to Rethymno
If you want to get to Rethymno from Athens, you will need to fly to Chania or Heraklion or take the ferry to Chania or Heraklion. There is no direct connection between Athens and Rethymno.
This may sound inconvenient but it is not. That way you will get the chance to visit as well gorgeous Chania and Heraklion with the beautiful villages and Knossos archaeological site.
Ferries to Rethymno
There are daily ferries to Chania and Heraklion from Athens port, Piraeus, all year round.
During summer, you can also reach Heraklion Port from Santorini on a daily basis. Once per week, Heraklion is also linked by ferry with Mykonos, Paros, and Milos. Three times per week Heraklion is connected with Karpathos, Kassos, and Rhodes.
From the port, you can get a taxi, a rental car, or a bus to your destination.
Book your seats to the Greek islands using FerryScanner or FerryHopper for reliable information.
Flights to Rethymno
You can fly to Chania International Airport "Ioannis Daskalogiannis" which receives domestic flights from Athens and Thessaloniki all year round, as well as seasonal flights from many European countries during summer.
Rethymno is 62.3 km or an hour's drive by car from Chania.

You can also fly to Heraklion International Airport "Nikos Kazantzakis" which is connected with daily flights from Athens, Thessaloniki, and Larnaka, while during summer it also receives flights from many countries around Europe.
Rethymno is 71.1 km or 55′ drive by car from Heraklion.
From the airport, you can get a taxi, a rental car, or a bus to your destination.
The flight time from Athens to Heraklion or Chania is about 45 minutes
How to Get Around Rethymno
If you are interested in fully exploring Rethymno, and going to remote areas and mountain villages, then you will need your own rental car, especially if you only have a few days for Rethymno.
You can also use KTEL buses, find here the timetables for Rethymno and Chania, which are quite inexpensive but can be very crowded during summer with long queues.
Rethymno Crete Google Map
Get your interactive map of Rethymno Crete here, to drive to any of the places listed on our things to do in Rethymno.
Plan My Trip to Greece
Do you need a custom travel itinerary for Greece? Are you traveling solo, with your family or your friends and you need a tailor-made multi-day tour or a transfer within Greece?
If yes, please visit my dedicated Plan My Trip Page for a free itinerary!
How to get to Athens Port (Piraeus) from Athens Airport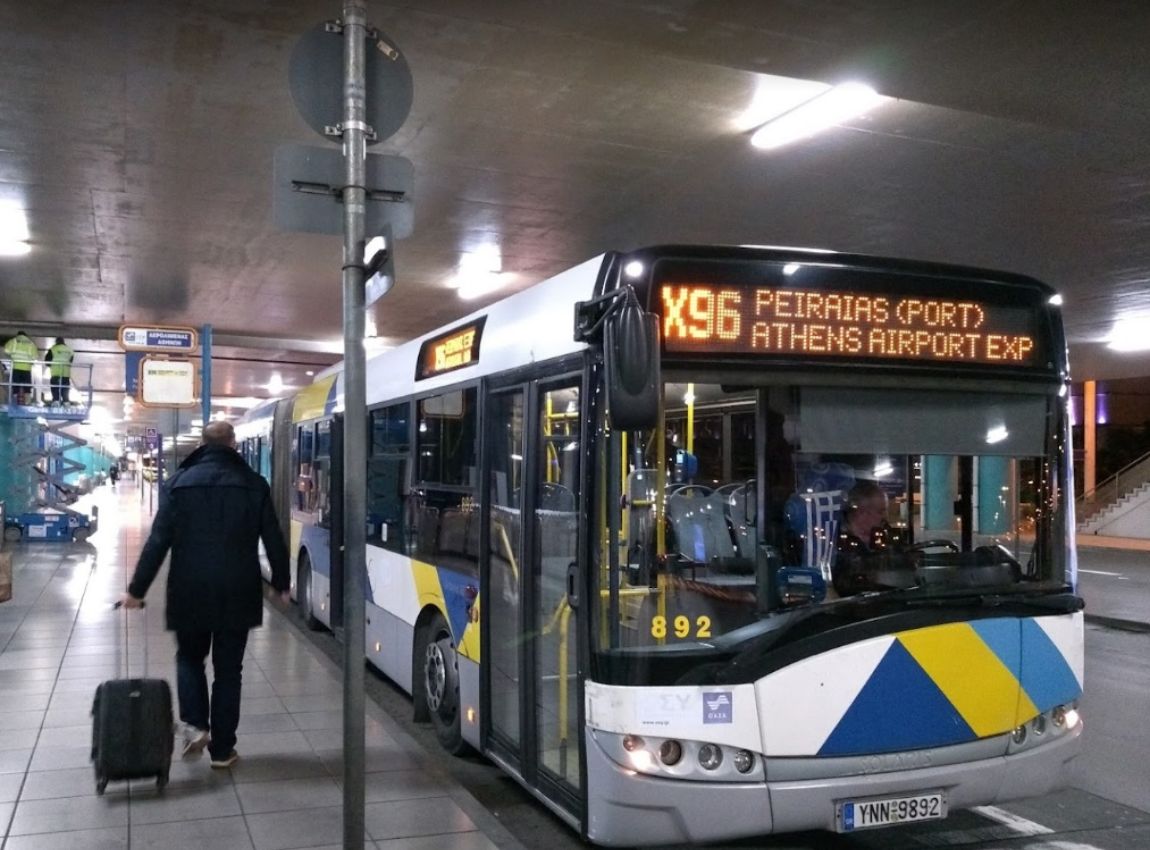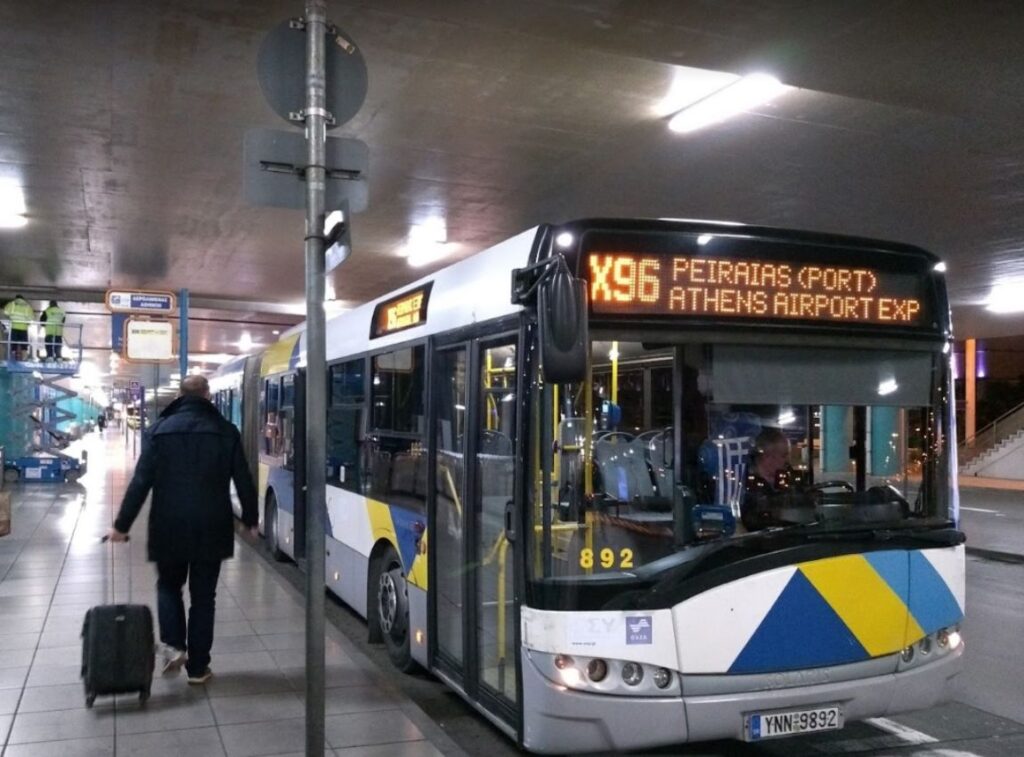 Bus: If you are arriving at Athens International Airport you can travel straight to the port by taking the X96 express bus (€5.5, children <6 yo, free entrance), which departs every 40 minutes and the average trip lasts 1 hour – runs 24/7.
Metro: (€9 ) is easily found across airport arrivals (blue line – M3) going directly to Piraeus port. The average trip to Piraeus lasts 1 hour.
Taxis are available in front of the airport (around €40 to Athens, €55-60 to Piraeus (depending on the traffic in Kifisos), and take up to 3 or 4 people with small luggage)
Rent a car with Discover Cars to rent reliable new cars at affordable prices
You don't like driving but love hassle-free solutions? Book a Private transfer with an English-speaking driver from Athens International Airport to Piraeus Ferries, or anywhere else in Greece
Check out a full post on Lavrio Port in Athens
I'd love to hear about where you're spending your vacation this year, especially if you have any exciting travel plans! There are so many things to do in Rethymno Crete! I hope that you get the chance to try as many as possible. Till next time, Evgenia❤️
My Most Popular Posts
All rights reserved © Travel the Greek Way. Republishing this article and/or any of its contents (photographs, text, links) is strictly prohibited.
Essential Travel to Greece Information
'Hello' and 'Thank You' in Greek: "Ya sou" and "Efharisto"
Booking.com: I use Booking.com because I can get the best deals on both hotels and apartments, free cancellations, and great prices!
Find Long-Term Rentals in Greece: You will find the best prices in Flatio
FerryScanner to book ferries to the Greek Islands
Athens Metro Website (timetables and ticket info)
Get Your Guide: For all your day or multi-day tours and city guide needs, I use Get Your Guide
Emergency Numbers Anywhere in Greece: AMBULANCE 166 – FIRE 199 – POLICE 100– EMERGENCY NUMBER 112