Are you looking for the Santorini best diners for your anniversary or any other special occasion such as birthdays? You may have a wedding anniversary, or you would like to propose to the love of your life in one of the most romantic places on Earth, Santorini Island!
The suggested Santorini diners are also perfect for your honeymoon, birthday celebrations, or if you are a solo traveler, for the sheer luxury of pampering yourself and enjoying an impeccable and memorable meal.
The criteria I used to choose those Santorini restaurants were just two:
Exceptional Cuisine
Stunning Setting
Up next I am going to tell you about 6 of the best (and my personal favorites) diners in Santorini for your anniversary: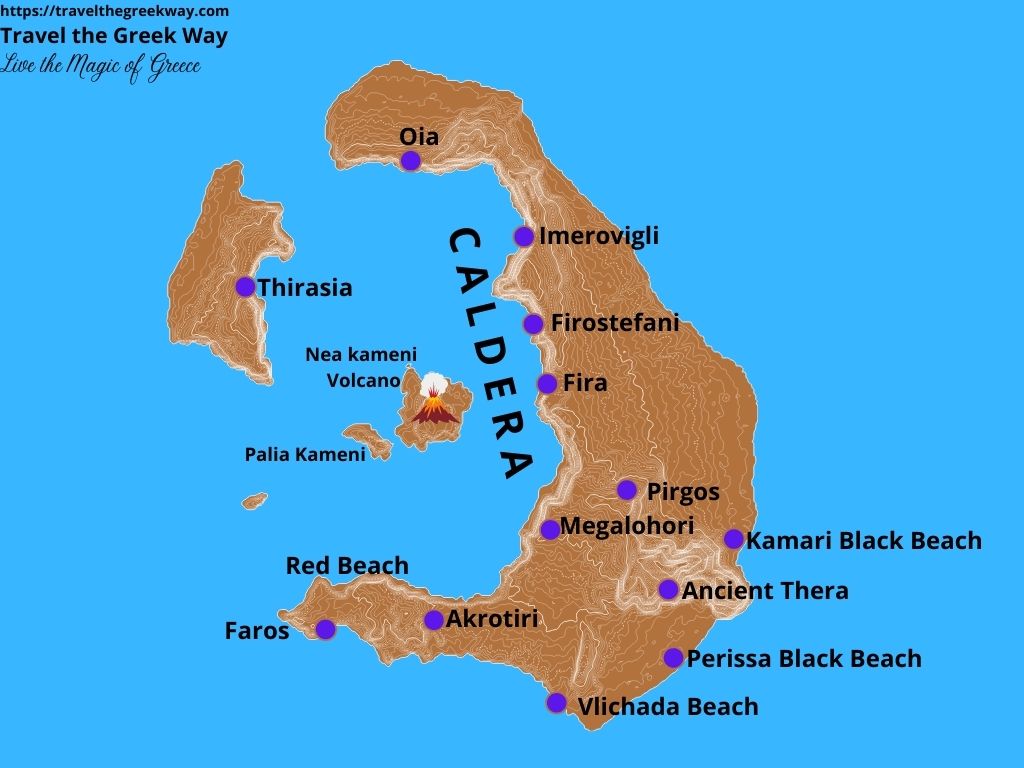 *Some of the links below are affiliate links. That means I may make a commission if you click and buy. The commission comes at no additional cost to you.
Best Restaurants in Santorini
1. Lycabettus Restaurant in Oia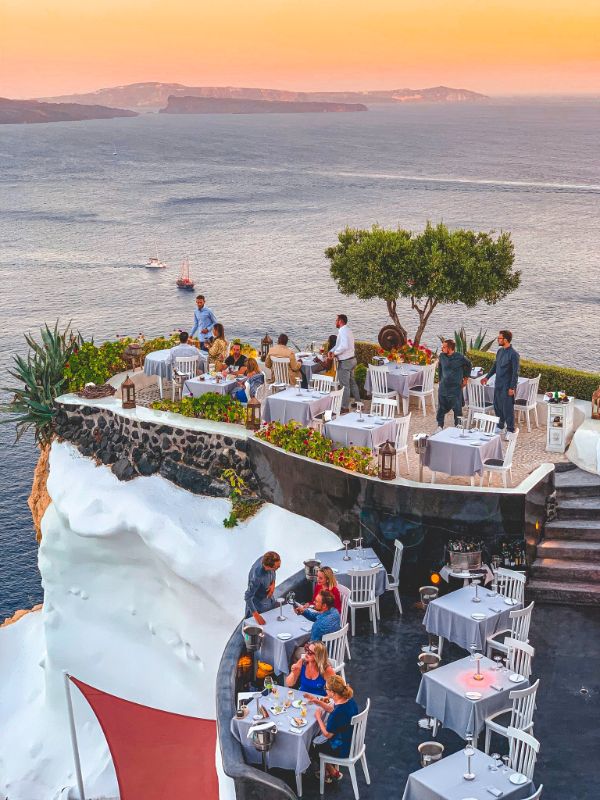 Lycabettus restaurant in Oia has the best terrace in Santorini with the most breathtaking view of the caldera and the Aegean Sea. Lycabettus restaurant is the property of the Andronis Luxury Suites in Oia.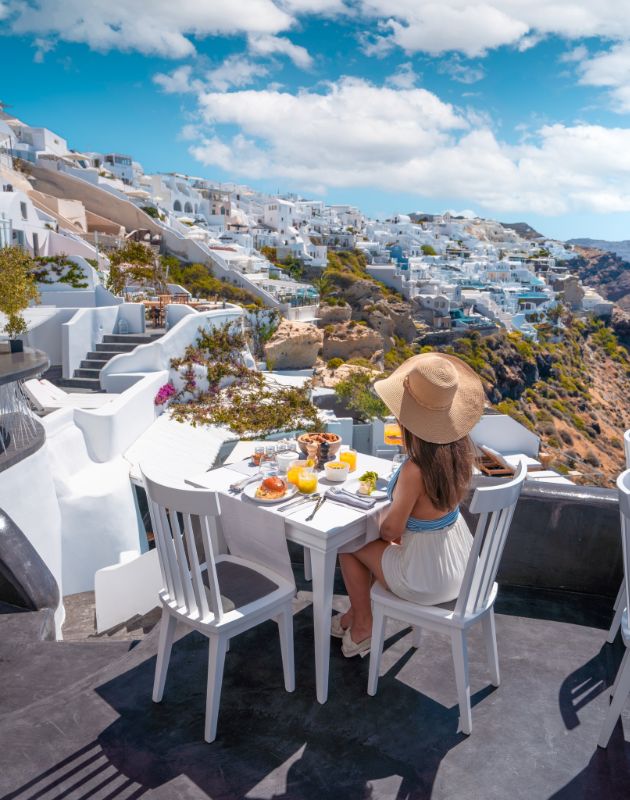 The focus on the menu is on both seafood and meat, Greek and Mediterranean fare with authenticity, creativity, and masterful execution in every bit.
Specialties
Lobster with Green asparagus and ginger
Lamb with Eggplant and Couscous
Rib eye with Carrot and Bone marrow tart
Chocolate with Cardamo, Tonga, Hazelnut, and Mousse Milk
Location: Oia, Santorini
Contact: concierge@andronisexclusive.com & +30 2286 072043
Related Article: 12 Best Things to Do in Santorini
Best Hotel in Oia Santorini
The most popular spot to watch the notorious Santorini sunset is Oia's Castle or at one of the restaurants/hotels in the caldera. Cave Suite Oia is a perfect accommodation for stunning views in Santorini.
2. Kapari Wine Restaurant
Kapari Wine Restaurant is a top-notch culinary experience in one of the most outstanding caldera views in Santorini. Voted as the 6th best restaurant in Greece, is a multiple-awarded restaurant by Trip Advisor and one of the best Santorini diners for your anniversary.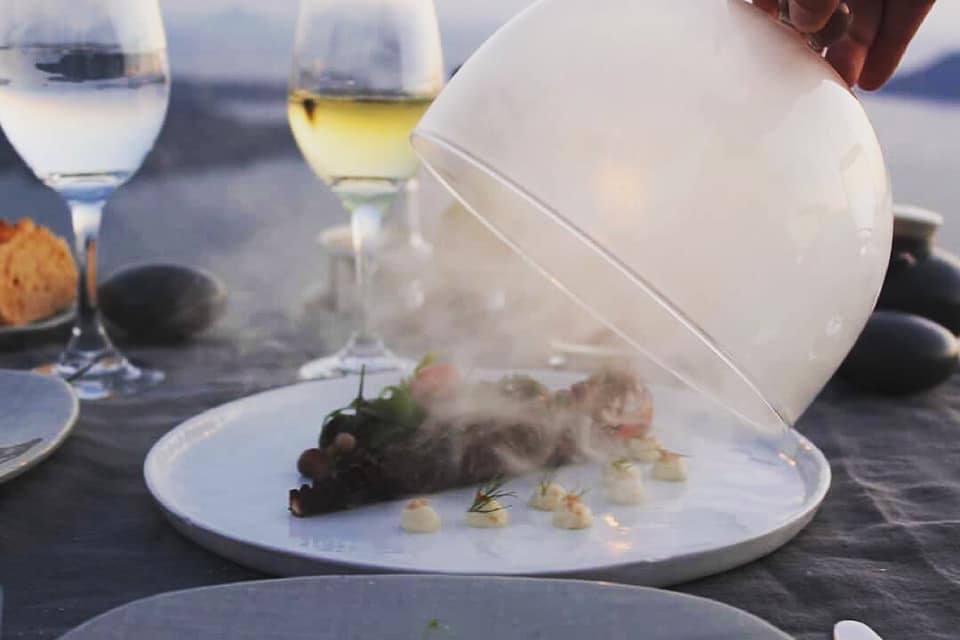 Its cuisine is Mediterranean recipes with a twist, combined with famous local Santorini delicacies. They also have a wonderful list of premium wines as well as their own stunning 5-star hotel, the Kapari Natural Resort.
Specialties
Fresh Tuna fillet with hazelnut crumbs, topinambur & grape must dressing
Agnolotti pasta with a hint of truffle and octopus
Smoked octopus with tarama mousse and summer beans salad
Tropical Sphere with white chocolate, mango, passion fruit, pineapple & coconut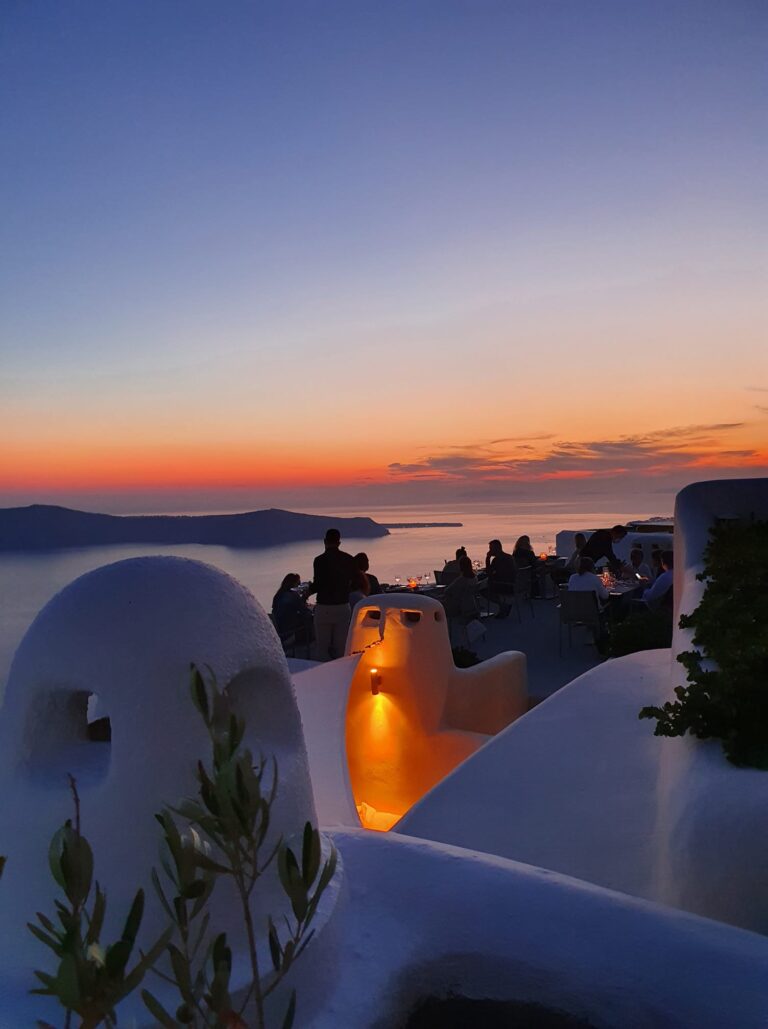 Address: Imerovigli, Santorini
Contact: info@kaparisantorini.gr & +30 2286 021120
Website: http://www.kaparisantorini.gr/
Best Hotels in Imerovigli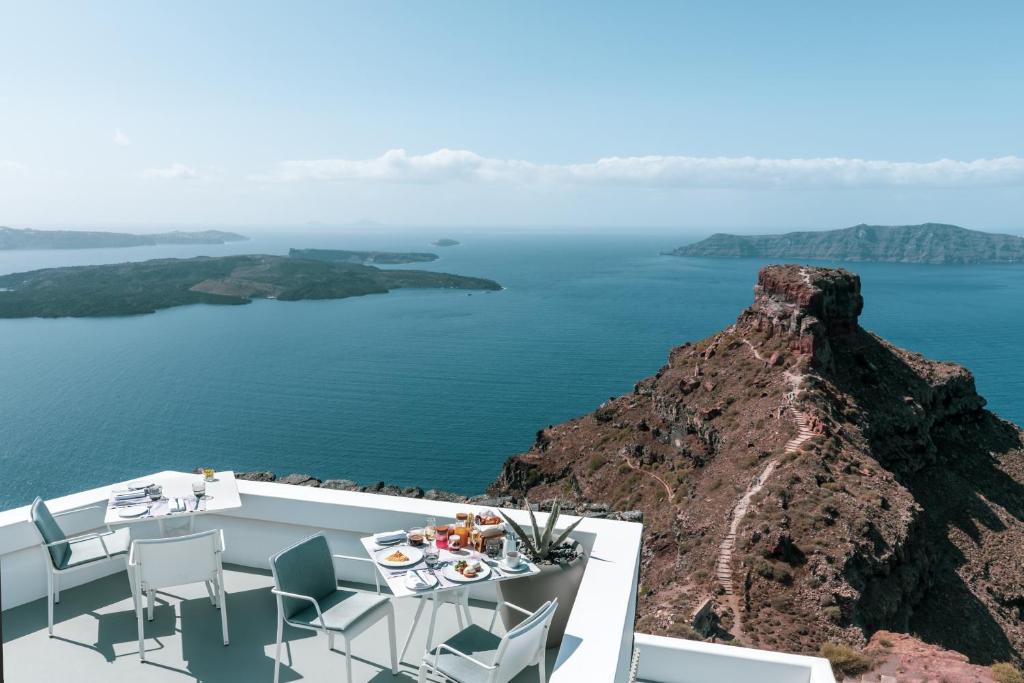 Imerovigli is 9,5 km from Oia, a comparatively unspoiled, with whitewashed houses, blue-domed churches, and an upscale Santorini village. It is built on the highest point of the caldera cliffs, at about 300 meters making it a spectacular point for photographs. Best hotels in Imerovigli:
3. Ambrosia Restaurant Oia
Ambrosia offers modern Mediterranean food at awe-inspiring cliff-top caldera views in one of the most romantic settings in Oia Santorini.
Ambrosia is – not surprisingly – a top choice for newlyweds on their honeymoon and couples celebrating an anniversary in Santorini.
Try sautéed baby squid in ouzo & pesto sauce, lamb cutlets, veal filetakia, salmon fillet, Ambrosia tarts, and Kataifi with ice cream.
Address: Ambrosia, Oia, Santorini
Telephone: +30 22860 71413
Website: restaurant-ambrosia.com
4. Selene Restaurant
Selene Restaurant is a real hidden gem in Santorini, offering an authentic gastronomic experience full of Greek history and tradition.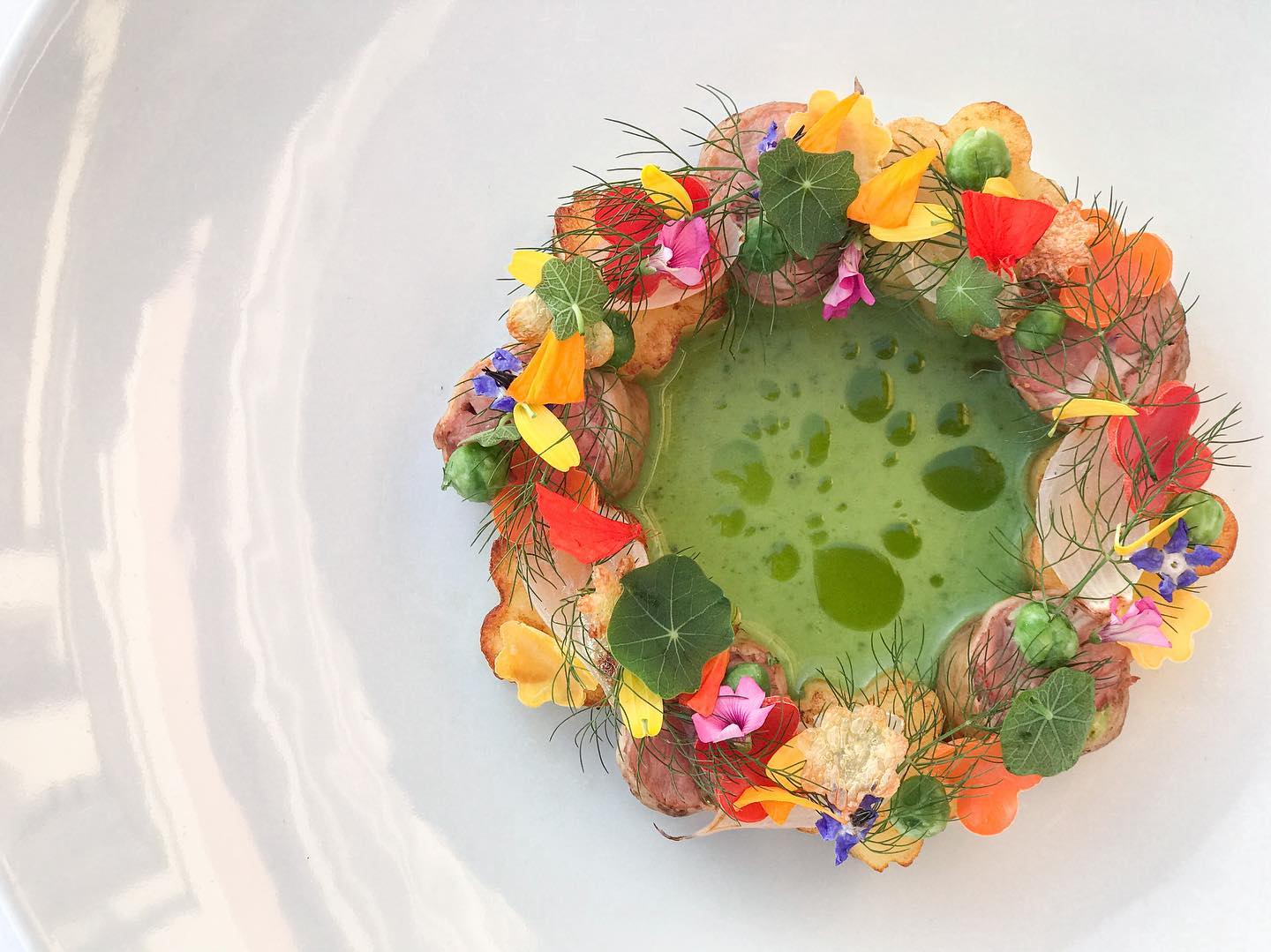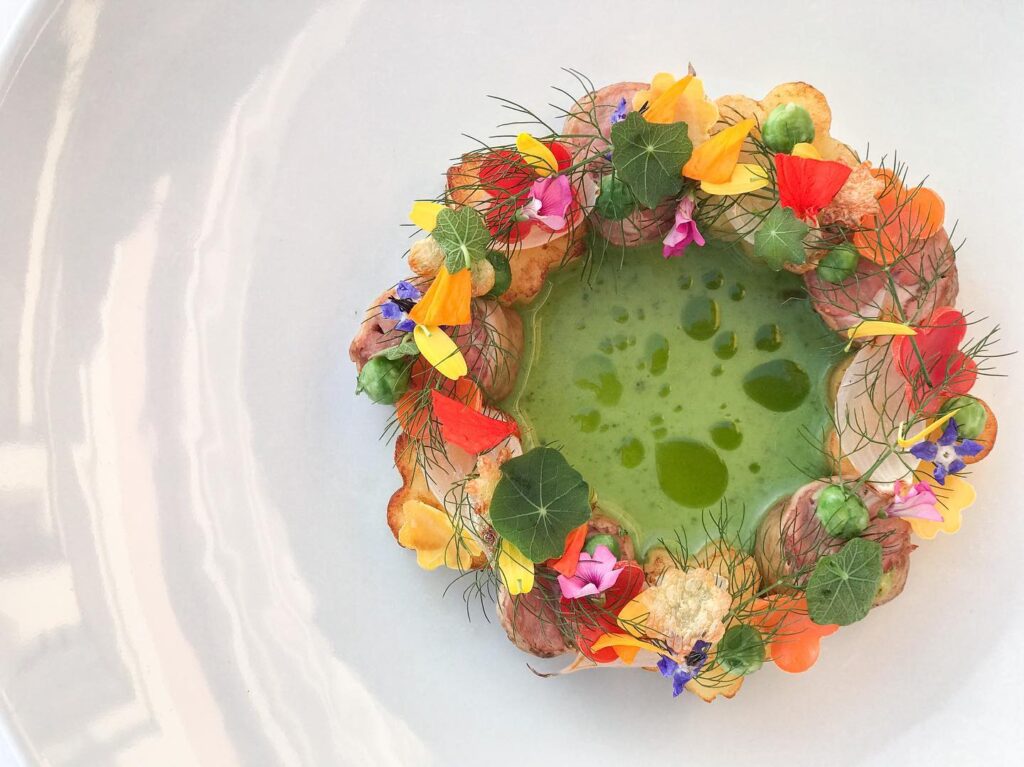 A many-times awarded restaurant by Greek Cuisine Awards, Award of Excellence from Wine Spectator, and many more, guarantee a real unique dining experience for your anniversary in Santorini.
Specialties
Cucumber Confit with olive oil cake & tarragon sorbet
Crayfish, Lard & Hazelnut
Yogurt with Bergamot Spoon Sweet
Crispy tubes with dark chocolate crémeux, hazelnut praline, lemon ice cream, and black rum with vanilla piping gel
Location: Fira Town, Santorini, 84700
Contact: info@selene.gr & +30 22860 22249
Website: https://selene.gr/
Best Hotel in Fira, Santorini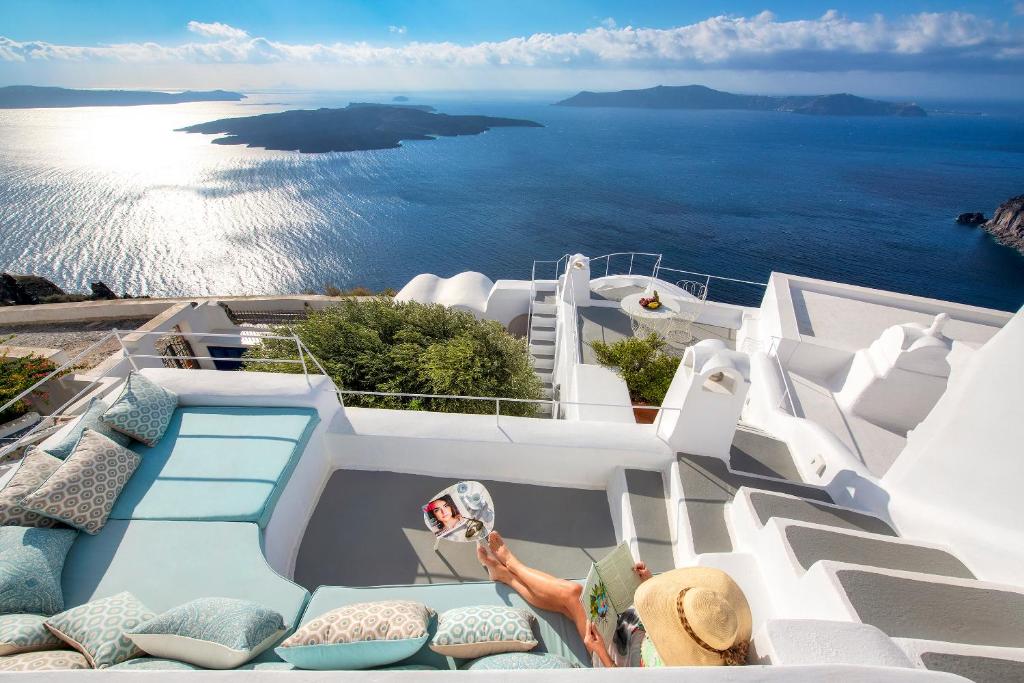 Fira is the main town of Santorini and the busiest town on the island as everyone wants to be part of the packed solid shopping area and get "lost" in the maze of winding backstreets. Stunning (and quiet) hotel in Fira:
5. Metaxy Mas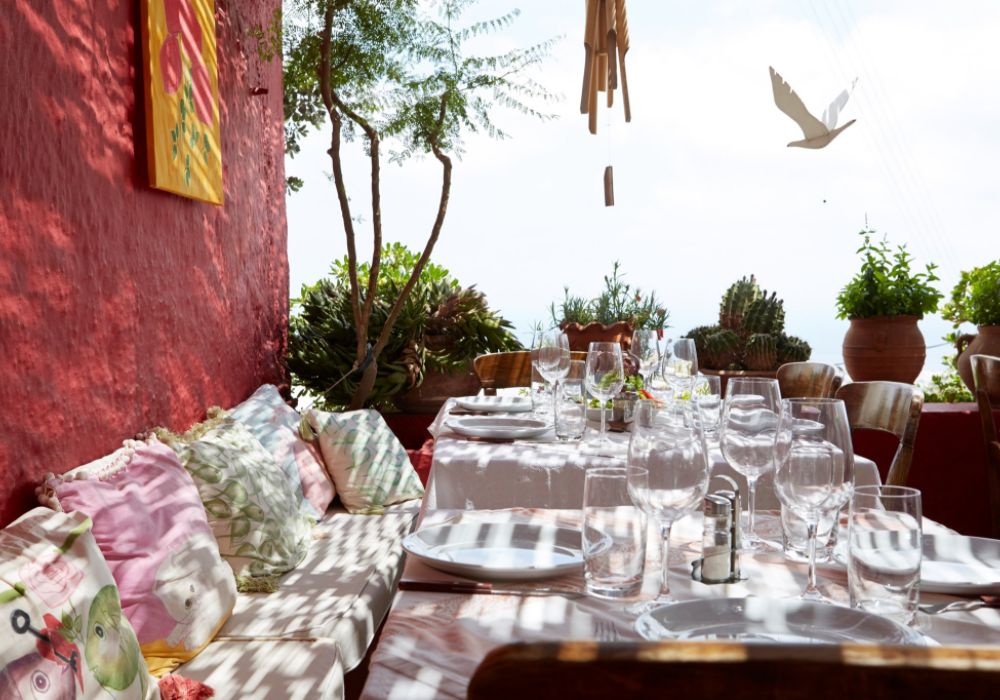 Metaxy mas Restaurant is located in a hospitable and relaxing space, reminiscent of an island house porch, in the mainland of Santorini.
Metaxy mas, differs from other high-end restaurants in Santorini in two ways:
It has no caldera view but an equally beautiful view of mainland Santorini
It offers traditional Santorinian food
The friendly staff serves authentic and original dishes made with care and fresh ingredients, inspired by Santorinian and Cretan cuisine.
Specialties
Lamb with yogurt sauce flavored with spearmint and coriander, accompanied by aromatic bulgur
Feta cheese baked in phyllo dough and soaked in honey & Cretan Salad
Kataifi cheese rolls with four different kinds of cheese and blackberry sauce.
The best cheesecake, ever!
Metaxy mas is one of the best restaurants on the island with great views. A bit tucked away so don't give up on finding this lovely place. Make sure you reserve your table as it is a very popular option.
Location: Exo Gonia Santorini: 5 km southeast of Fira, an authentic rural village
Contact: info@santorini-metaximas.gr, +30 2286 031323
6. Ammoudi Fish Tavern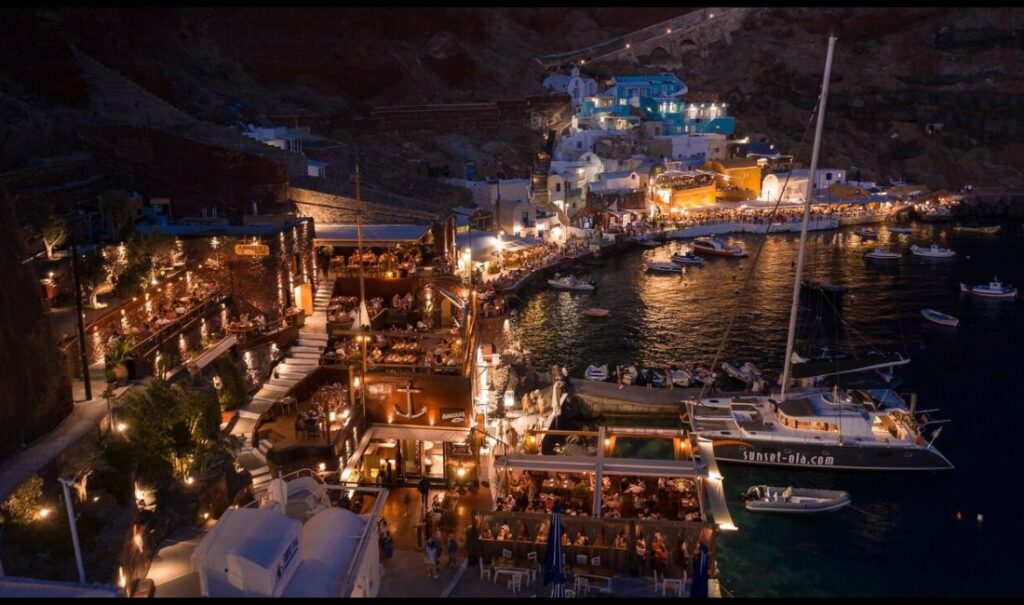 Ammoudi Bay is underneath the picturesque village of Oia and you can get there by walking down the 214 steps from Oia's castle or taking a car/scooter to the main road that connects Ammoudi with the rest of the island.
Ammoudi Fish Tavern is a predominantly fresh seafood and fish restaurant, from the sea straight into your plate, and is among the top seafood restaurants in Santorini.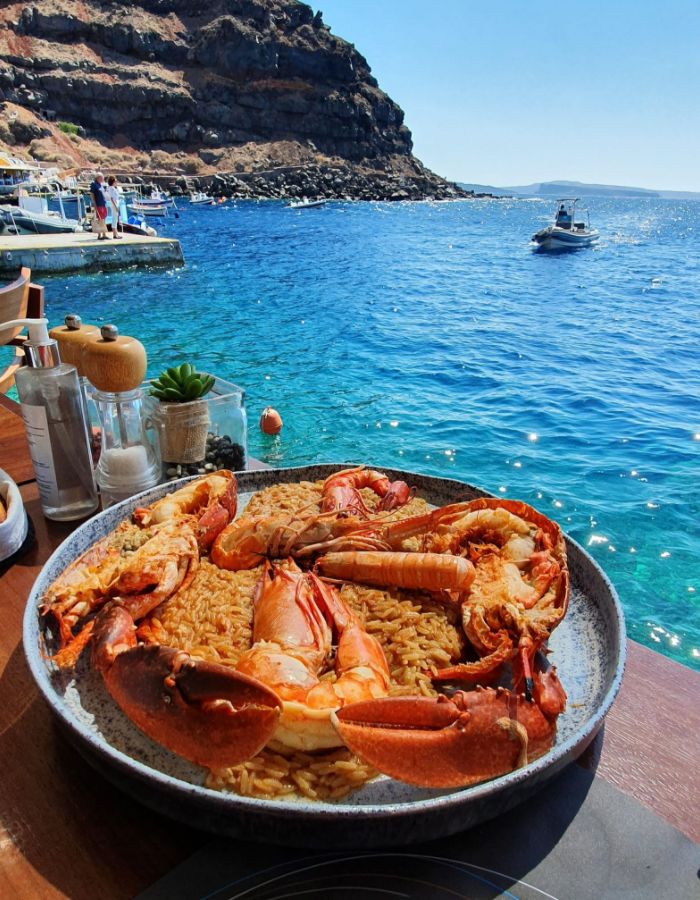 Ammoudi Tavern differs from the other restaurants as you get to have the beautiful Santorini Sea at (almost) an arm's distance.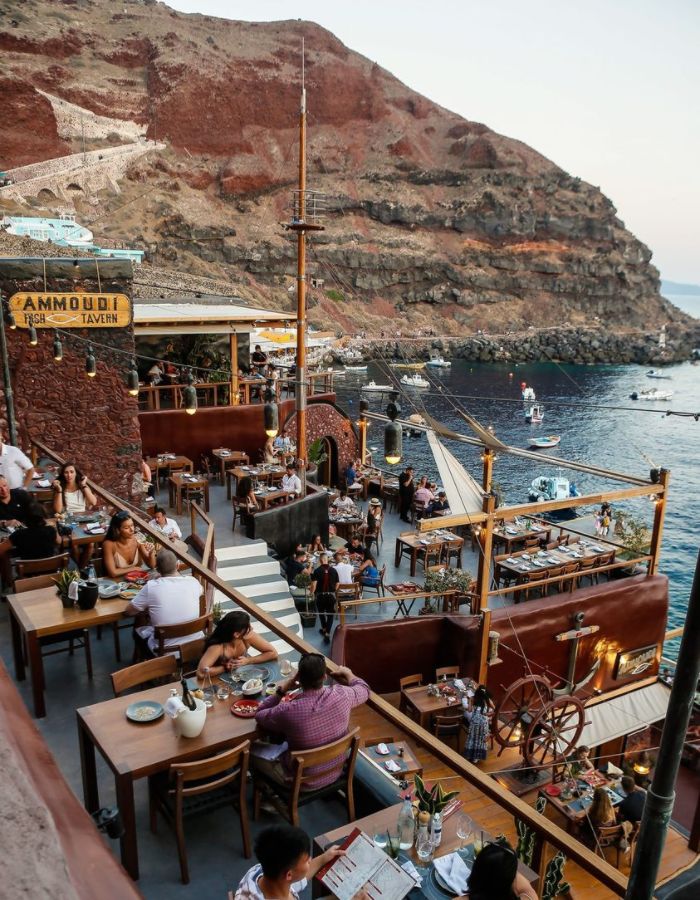 Specialties
Fried Crayfish crumb
Tartare of Salmon
Sea Bass Carpaccio
Loukoumades: Pastries made of leavened and deep-fried dough, soaked in syrup or honey, sometimes coated with cinnamon
Address: Ammoudi Bay, Santorini, Oia
Contact: +30 2286 072298 & booking@ammoudisantorini.com
Website: http://ammoudisantorini.com/
How to Get to the Pireaus Port from Athens Aiport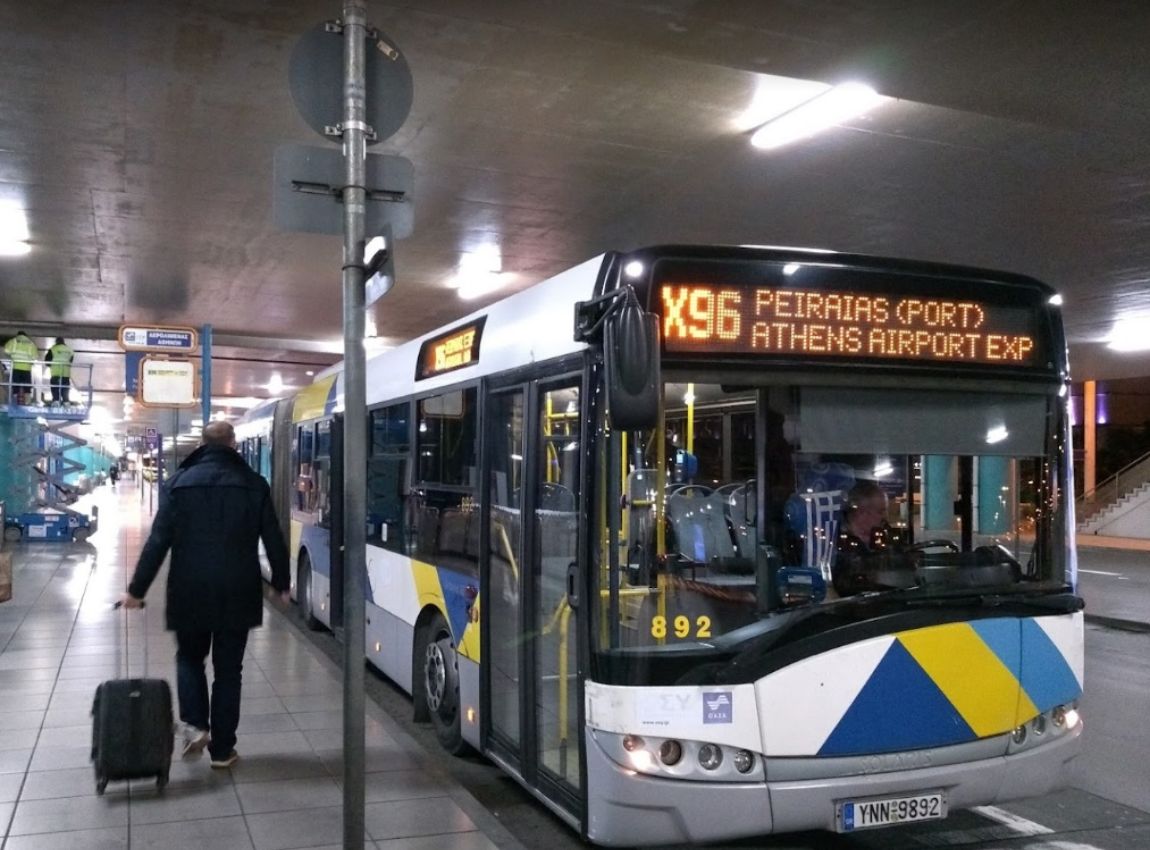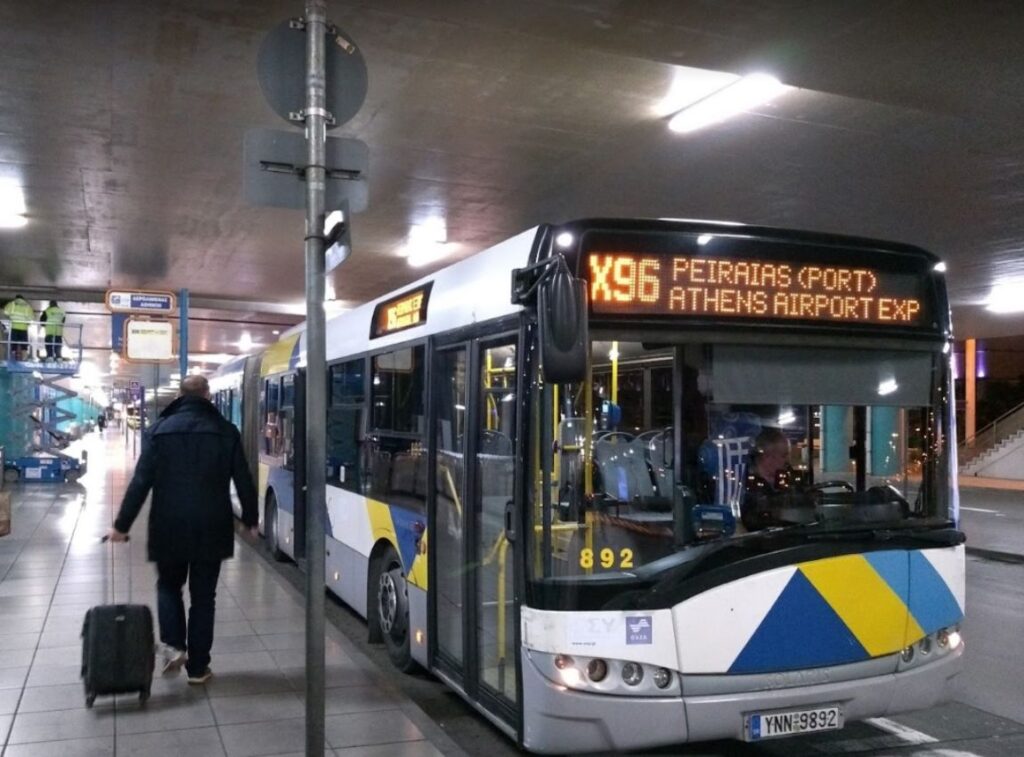 Bus: If you are arriving at Athens International Airport you can travel straight to the port by taking the X96 express bus (€5.5, children <6 yo, free entrance), which departs every 40 minutes and the average trip lasts 1 hour – runs 24/7.
Metro: (€9 ) is easily found across airport arrivals (blue line – M3) going directly to Piraeus port. The average trip to Piraeus lasts 1 hour.
Taxis are available in front of the airport (around €40 to Athens, €55-60 to Piraeus (depending on the traffic in Kifisos), and take up to 3 or 4 people with small luggage)
Rent a car with Discover cars to rent reliable new cars at affordable prices
You don't like driving but love hassle-free solutions? Book a Private transfer with an English-speaking driver from Athens International Airport to Piraeus Ferries, or anywhere else in Greece
Check out here a full post on Lavrio Port in Athens
All rights reserved © Travel the Greek Way. Republishing this article and/or any of its contents (photographs, text, links) is strictly prohibited.
Plan Your Next Trip to Greece With These Guides
Essential Travel Resources for Greece
'Hello' and 'Thank You' in Greek: "Ya sou" and "Efharisto"
FerryScanner to book ferries to the Greek Islands
Booking.com: I use Booking.com because I can get the best deals on both hotels and apartments, free cancellations, and great prices!
Get Your Guide: For all your day or multi-day tours and city guide needs, I use Get Your Guide
COVID Info for Greece: Ministry of Tourism Official Website
Emergency Numbers Anywhere in Greece: AMBULANCE 166 – FIRE 199 – POLICE 100– EMERGENCY NUMBER 112
More Reading on Greece
Best Santorini Budget Hotels
Enjoy gorgeous Santorini in beautiful accommodation with the best budget offers!
Best Athens Plaka Hotels
Stay in the most beautiful area of Athens under the Hill of Acropolis, in Plaka Boutique Hotels!
Mykonos
Salamina
Hiking Cyclades I