Updated May 15th 2021 by Travel the Greek Way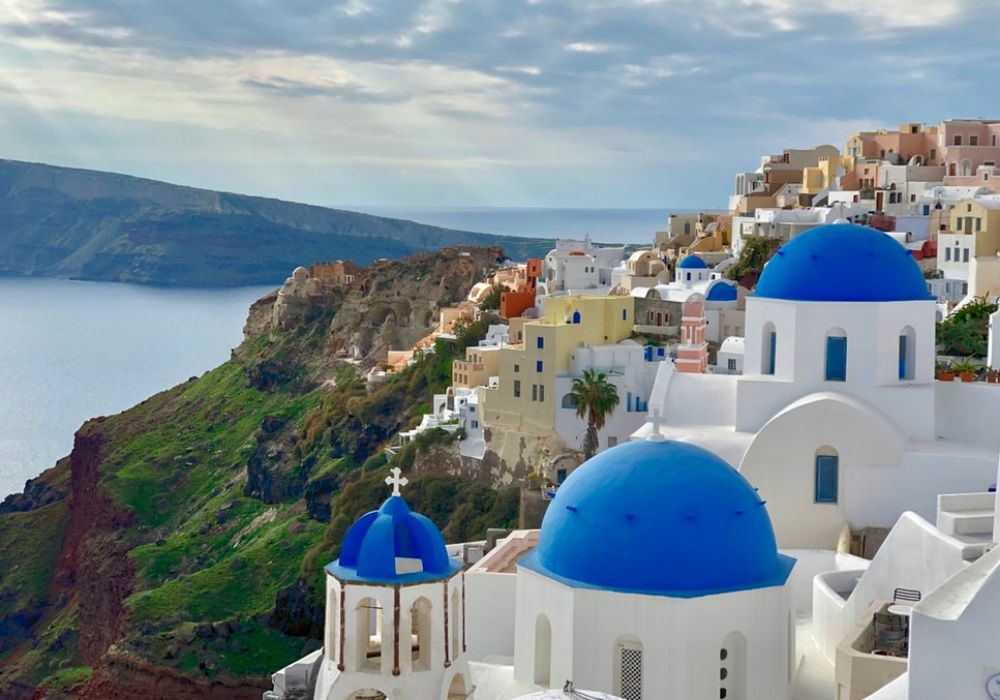 Santorini is one of the most impressive Greek islands and an absolute traveller's delight. Once you set your foot in Santorini, you'll feel like entering a magical place.
Some argue that Santorini Greece might have been the lost Atlantis. Being on the island you would probably nod in agreement, overwhelmed by the awe of Santorini's unique and romantic atmosphere.
When is best to visit Santorini?
The best time to visit Santorini is between April to June and September to October, the shoulder season. This is the time when the weather is warm enough for any outdoor activities including swimming, the tourists are fewer – that means you can find the best spots for sunsets and night outs – and prices are more reasonable.
If you love crowds, people from all over the world, hot weather and strong north August winds (meltemia) then July and August are your months.
You can visit Santorini during the winter but be prepared for a very quiet atmosphere. Still, a few shops, taverns and hotels will be open for the permanent residents of the island.
Santorini image from a Satellite
All the big semi-circular part on the western side of Santorini has been lost to the massive earthquake and all that remains are the few scattered islets. The crescent-shaped part of the western Santorini is the famous sunset caldera where all the action happens!
*Some of the links below are affiliate links. That means I may make a commission if you click and buy. The commission comes at no additional cost to you. Please see my full disclosure policy for more information*
Is Thera the same as Santorini?
Yes, it is. Santorini throughout the centuries has changed not only shape, from round to crescent-shaped due to volcanic eruption but also many names.
Name no 1: Roundabout the time of the volcanic eruption, 1550-1500 BC Santorini was inhabited by the powerful Cretan Minoans but its name back then was called Stroggyli (round).
Name no 2: Greek mythology calls the island as Kallisti (the most beautiful of all).
Name no 3: Spartan governor Thera colonised Santorini between 484-424 BC and of course he named the island after himself, Thera!
Finally, the name Santorini came from the Venetian invaders in the 13th century, who named the island after Santa Irini (Saint Irene). Today, the official name is Thera but everybody calls the island Santorini.
What is the number one thing to do in Santorini?
---
Santorini is one of the best places in the world to watch the most spectacular sunset!
Santorini caldera offers dramatic sea views and that's why Santorini is considered to be a beautiful and unique vacation destination.
Greek tip: The most impressive and ridiculously popular spot to watch the sunset is Oia's Castle where you may have to "fight" over a spot for that Instagrammable photo of the sunset. You can also try an equally stunning place to enjoy the sunset like Imerovigli village.
Is Santorini Good for Honeymoon?
Santorini is one of the best places in the world to have your honeymoon! The island is so romantic that having here your honeymoon will be a fantastic, memorable time of your life.
Make sure you stay in the part of caldera so that you have sunrise and sunset views every day:
amazing Santorini Caldera Boutique Hotels where the view is breath-taking, the service is top, everything is luxurious and you literally don't want to go anywhere else on the island!
How many days do I need in Santorini?
I have stayed for 5 days in a row in Santorini which is more than enough to see the island. I believe that 3-4 days offer ample time to witness the magic of Santorini, explore the local culture and have the time of your life!
Is Santorini Expensive?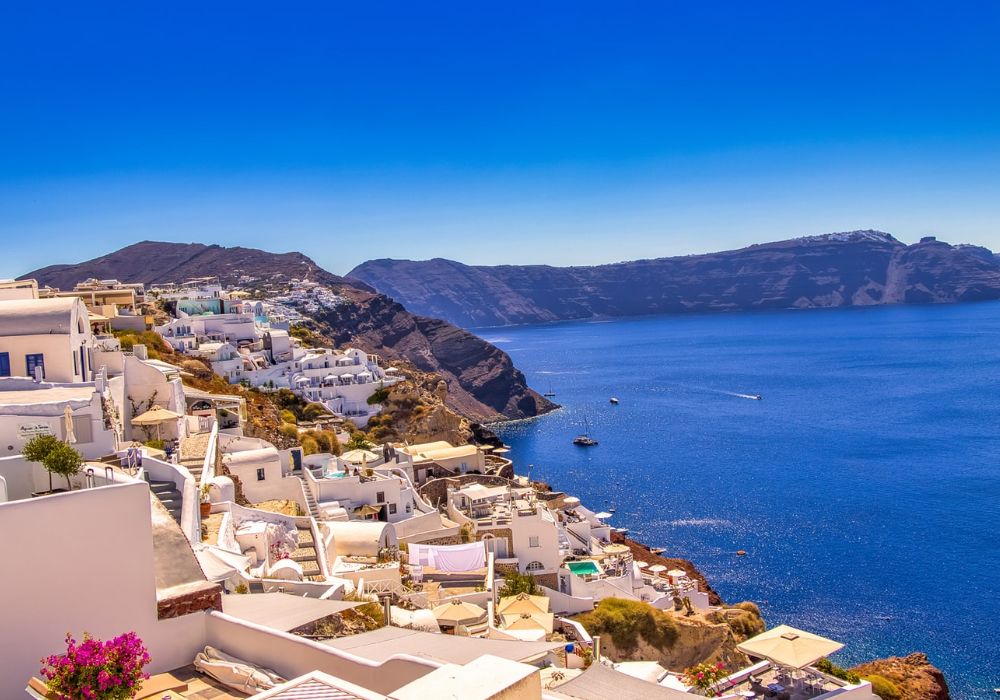 Yes, Santorini is expensive. Santorini is a luxury vacation and event destination and some of the hotels like the Cave Hotels are quite expensive (and absolutely gorgeous to stay at).
That doesn't mean that visiting and enjoying Santorini is only for the filthy rich. I am definitely not rich – not even close! – but I always manage to have a great time while visiting the island trying to balance expenses. I love good, quality hotels, a beautiful room with a view makes me very happy so I spend more money there but I spend much less on food or going out. I can be totally happy with very simple meals and a glass of wine.
What should I not miss in Santorini?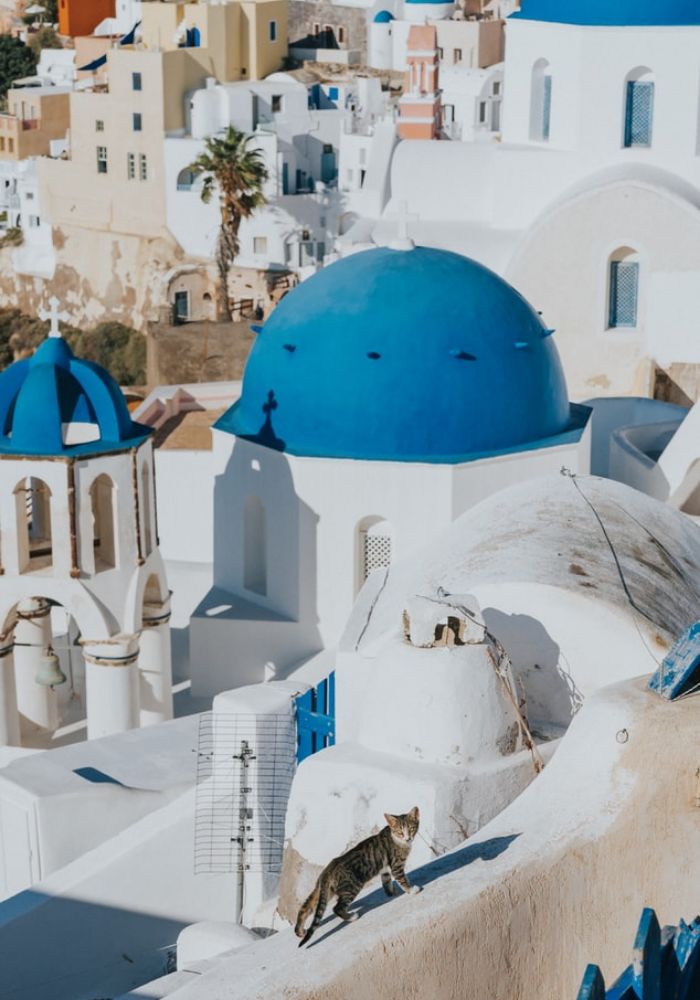 I have compiled a sample itinerary, easy to follow, based each time at a specific area of Santorini. You can travel using public transportation but I would suggest you get your international driving license with you and rent a car or a scooter.
Greek DrivingTip: The roads in Santorini are narrow, there might be a bump or two that you have to be a bit careful. If you have been drinking, please don't drive.
Get your Travel Insurance: travelling abroad can be tricky sometimes. Better be prepared. Insurance will protect you against illness, injury, theft, and cancellations.

Day 1. Best of Santorini
Stay in one of the Cave Hotels
Treat yourself, by staying in a Cave hotel, a luxurious hotel with elegant cave rooms and suites built into the cliffside.
The caves were discovered on the cliff side (Caldera) of Oia and archaeologists identified them as ancient cave houses and lodgings.
Those spectacular cave hotels have different levels for each customer offering privacy, tranquillity and breath-taking views!
Best cave hotels with caldera views:
Oia
Oia is the very symbol of Santorini, the most beautiful photographed destination on the island
Walk Oia's endless stairways, whitewashed houses and hidden paths that lead to one pretty spot after the other
Shop from the local crafts: Discover gorgeous pottery, jewellery, linen shirts or beauty products with local ingredients like volcanic stone and olive oil.
Visit the Main Oia church – Panagia Platsani, an elegant church
Great Places to Stay in Oia:
Amoudi Bay
Amoudi Bay is, quite literally, underneath the picturesque village of Oia. It used to be the old port of Oia in the 19th and 20th century.
Today, you can swim in the azure waters of Agios Nikolaos beach, enjoy the most sublime sea view and have a seaside lunch or dinner in one of the local taverns.
How to get to Amoudi Bay from Oia? Walk down the 214 steps from Oia's castle or take that rental car/scooter to the main road that connects Ammoudi with the rest of the island.
Animal Compassion Tip: Please avoid using the overworked, overloaded poor donkeys and mules
Oia Sunset
The best place to watch the stunning sunset in Santorini is from the castle of Agios Nikolaos in Oia.
Find a good spot, get this bottle of the local variety, Assyrtiko wine out and feel alive and happy while watching the sun going down in the most majestic colours.
If it is crowded, you can do some socialising and perhaps you meet the love of your life!
Day 2: Santorini's Best
Infinity Pools
What is better than an infinity pool all for yourself with a killer view on Santorini island?
You may ask, what is an infinity pool? An infinity pool is when the top of the water is at the same level as the edges surrounding the pool, creating the illusion that the pool waters are merging with the blue of the Aegean Sea or Greek blue sky.
(After finishing this sentence I sighed deeply, hoping that I will soon be able to travel to Santorini or any island!)
Swim, Swim, Swim
Get the rental car and go to Katharos (in the northwest), a lively beach with sand and small pebbles.
Do you like swimming swimsuit-less? Only 4 km from Oia is Koloumbo Cape, mostly with very young people, no umbrellas and with an underwater volcanic crater. Take drinking water with you, hats and sunscreen. Swimsuit, optional!
Very close to Koloumbo is another popular beach, Pori on the east side of Santorini, a sandy beach that locals love.
Sail around Santorini
Grab your walking shoes, swimming gear and a bottle of water and hop on board a local boat. One of the stops is Nea Kameni island where the Santorini volcano's crater is. Don't miss the hot springs that heat the sea below and feel the difference in the sea temperature.
Book this great Volcanic Islands Cruise with Hot Springs Visit and watch the sunset from your boat. I believe they offer pick-up options as well.
Best view of Santorini Tip: The best view of Santorini is on Thirasia island, one of the stops that your tour makes. Alternatively, you can take by yourself the ferry and visit just Thirasia.
Visit SAWA Santorini
The Santorini Animal Welfare Association – SAWA is a non-governmental, non-profit organization, founded in 1992 by active and devoted animal lovers of the Greek island of Santorini.
In cooperation with the Municipality of Thera and the local vet, SAWA neuters, treats and re-homes the stray animals of the island.
Moreover, SAWA oversees the implementation of the "Code of Practice" for all donkeys and mules engaged in the Bay of Fira and is constantly making efforts towards the mitigation of their health and working conditions.
At SAWA shelter there are currently around 120 dogs, 20 (retired and overworked or broken) donkeys and mules, 4 horses, 2 pigs, 3 goats and a sheep. Visits and dog walks are at 9 am and shelter can only be reached through a 1,5 klm dirt road!
Taste Santorini cuisine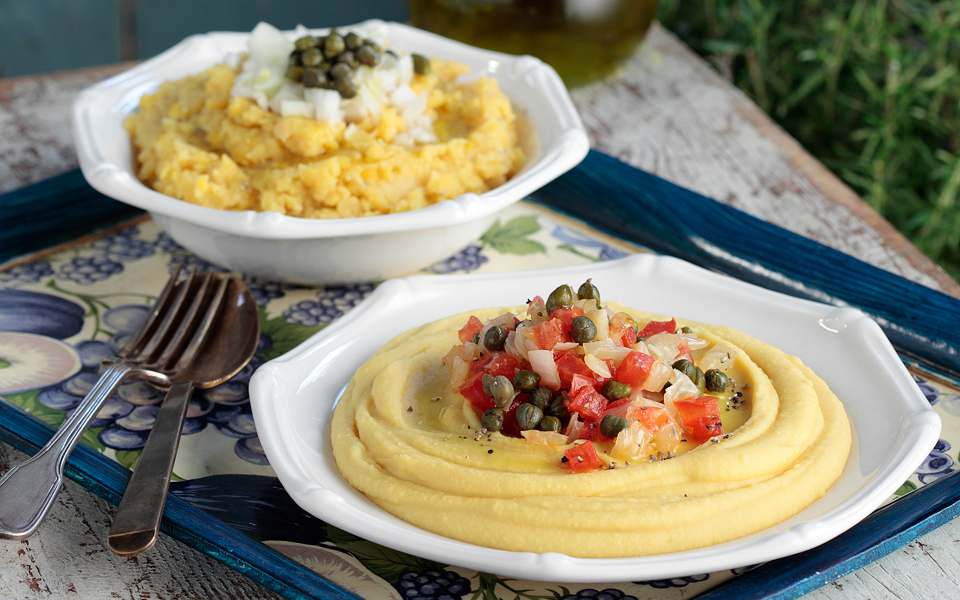 Try the local Santorini delicacies and mouth-watering dishes!
Fava, a yellow split-pea purée. Usually as an entree dish
Ntomatokeftedes, tomato fritters. They use Santorini specific tomatoes which are a special variety that grows nowhere else in the world
Chlorotyri, a local goat creamy cheese that you can only find on the island
Capers, as in local very distinct and intense taste capers
Melitinia, a sweet cheese pie made with fresh mizithra cheese, sugar and mastiha (mastic) powder.
Greek Food Tip: The further from the caldera you go, the cheaper and more authentic food you will find. I usually check how many Greeks a tavern has. If Greeks outnumber the tourists, that's the place you want to eat.
Greek Food Tip2: Hummus is not a Greek traditional dish.
Day 3: Santorini's Best
Santorini Villages
Imerovigli
9,5 km from Oia lies Imerovigli village, a comparatively unspoiled, pretty and quiet village. It is built on the highest point of the caldera cliffs, at about 300 meters. Offers majestic photo opportunities and if you are up to a good adventure, you can hike to Skaros Rock!
Alternatively, you can take the 15 minutes downhill walk to Fira.
Value for money Imerovigli hotels:
Fira
If you are visiting Santorini in the summer, then you need to get prepared for (very) big crowds in Fira town. It is the busiest spot on the island and everyone wants to be part of the packed solid shopping area and get "lost" in the maze of winding backstreets.
I would spend minimum time here, just to tick it out of my visiting places in Santorini.
Megalochori
It is a beautiful and traditional settlement, with historical mansions, old Cycladic houses and pirate hideaways.
If you have time, go to the main square and have a cup of Greek coffee under the tree-shaded area, see the bell-towers, the vineyards and swim at the not-accessible by car remote beaches of Plaka and Thermi.
Where to stay in Megalochori:
Akrotiri Archaeological Site
At the southwest area of Santorini lies an exceptional and highly important prehistoric settlement covering 4th millennium BC Neolithic to 16th century BC Bronze Age.
There is an entrance fee of 12 euro pp.
Since you are in the area don't miss to visit Akrotiri Lighthouse, a gorgeous point to see.
Where to stay in Akrotiri:
From Akrotiri, you can go to Vlihada black beach for another swim or/and visit the Tomato Industrial Museum.
Travelling towards the east seaside part of Santorini you find yourself to the famous black sand beach, Perissa.
Perissa Black Beach is the most popular beach on the island of Santorini. If you are expecting California style sandy beaches, just forget it. Black Beach and all Santorini beaches are very unlike them. Remember, this is a place shaped by a huge volcano eruption!
Some people love the extraordinary looks of it while others find it a bit intimidating, uncomfortable and not so pretty. Not far from Perissa lies the ancient Thera, mostly accessible by hiking and with dramatic sea views.
Tip: When traveling you should always have travel insurance. I always do!

---
Hike From Fira To Oia – Caldera trail
The island's most scenic trail is a 9.8km stone-paved route that follows the rim of the caldera and connects Fira and Oia. It is an easy trail but it has no shade so it is best hiked very early in the morning or late in the evening.
The trail starts in Fira and you should start walking towards the north side of Santorini, towards Oia. There are some signposts but don't count too much on them. As the trail is uphill, on its higher point you will get to Firostefani, a village so close to Fira that you won't even realise that you have reached it. While you are there, visit the famous three bells of Fira at Agios Theodoros.
The trail continues into pedestrian zones in Imerovigli but it can get more exciting if you detour to Skaros rock. You need to follow the path to the beautiful chapel Church of Christ, turn left and head to Skaros rock.
Perhaps the most demanding part is the steep uphill towards Oia. However, you will be extra compensated by the magnificent views on top when you reach Oia.
Bring with you: Plenty of water(!), sunscreen, a hat, a cover for your back and arms if you get easily burnt, good hiking shoes, something to put on in case of an insect bite.
Santorini wine tasting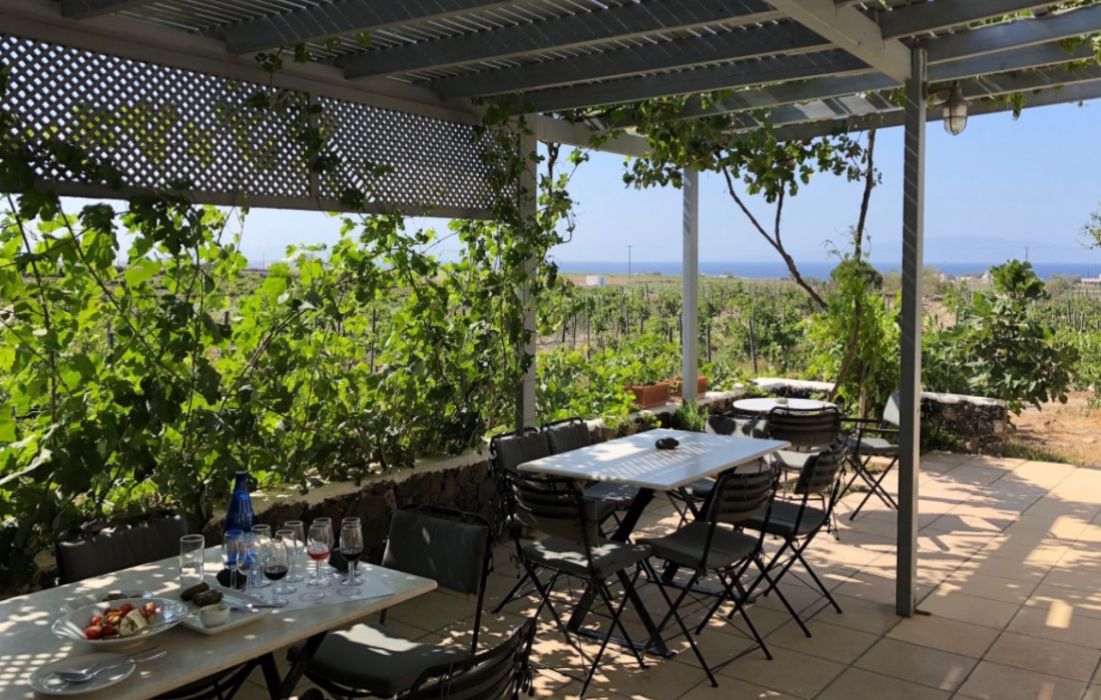 Assyrtiko is the famous wine of Santorini.
There are about twenty or so wineries on the island (almost all of them open to visitors), and you'll be able to discover indigenous varieties that are cultivated here, such as Athiri and reds like Mavrotragano and Mandilaria.
I am a great fan of Sigalas wines, and their Assyrtiko is one of the tops in Greece. You can have a wine tasting in their winery but need to contact them first to check availability and prices:
Sigalas WInery: Baxes, Oia, Santorini +30 2286 071644 or email them at sigalaswinetasting@gmail.com
Getting Around Santorini
As suggested before, it would be best to rent a car or a scooter. The prices are reasonable and you get to all the important spots of the island on time avoiding at the same time the huge crowds.
If you don't want to rent a car, you can use the local bus. Central station is at Fira:
Public Buses Timetable and Tickets
Cable Car in Fira: This is your alternative to donkeys and steps if you want to visit Mesa Gialos, the old port of Fira, where a lot of caldera cruises start. tel +30 22860 22977.
There is no Uber or Lyft on Santorini. Taxis are plentiful on the island but better discuss the price in advance before getting in.
Please avoid riding the donkeys, help having this cruel custom stopped. Thank you!
How to Get to Santorini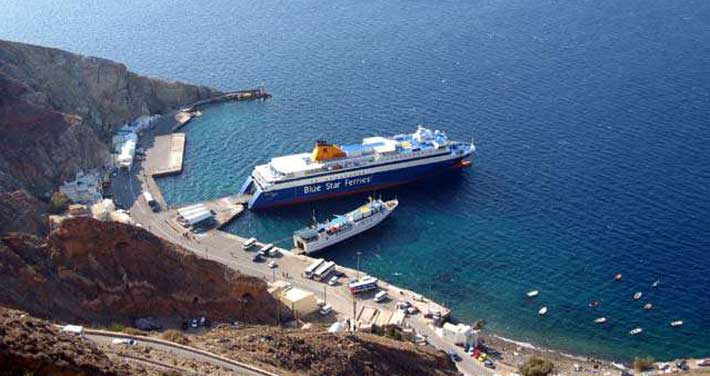 There are direct flights from Athens to Santorini. However, the Santorini airport is in slight disrepair and chaotic at busy months.
If you take the ferry from Piraeus, try to get the high-speed ferry (there are no cabins on the ferry) which trip normally lasts from 4 hours to 5 hours with and the average ticket cost is 40€ (one way). You better have purchased your ticket in advance as in the peak months you might not be able to find one. F
Greek overnight choice tip: Alternatively, you can purchase a ticket with a cabin on an overnight ferry. That way you have a nice meal in the restaurant, you go to sleep and wake up all fresh like a daisy on the island. You save money because you did not need a hotel and you are not exhausted by sitting on a chair for hours.
Solo Female Travelling to Santorini
Are you contemplating venturing Santorini and the other Greek islands all alone or with a group of female friends and wondering if Greece is safe for solo female travellers?
Greece is a perfectly safe country for everyone regardless of age, gender, race or sexual orientation. In addition to that, Greek people are gene-programmed to be hospitable and are always eager to offer directions to your destination or any other advice, so ask freely.
Naturally, common sense and gut feeling should always be trusted so if something looks suspicious or sketchy, go in the other direction.
Ethical Travelling
Please leave no rubbish behind you, no plastic bags or other items. Use the bins and if there aren't please take the rubbish with you
At no circumstance should you light a fire to bake or for any other reason on Santorini
Don't remove any shells, rocks, fossils or sand from the beach
The animals shouldn't be annoyed and they are not here for our entertainment. We respect their natural habitat. Serpents, turtles and snakes are shy creatures and avoid human contact as much as they can. If you come across one of them, change your route and leave it alone.
If you open a gate in one of your hikes please close it behind you. It is closed for a reason, the most usual of which is keeping animals inside. Shepherds get really annoyed if they have later on to search for their goats all over the place if the door is left open
Refrain from visiting private properties because it is a "great" spot for a "great" Instagram shot. You wouldn't like it if this was happening in your house. We respect the locals
Please don't step on the roofs of the churches to take your photo, it is highly disrespectful.
Which Greek Islands have an airport?
| | | | | |
| --- | --- | --- | --- | --- |
| Astypalaia | Chios | Crete-Chania | Crete-Herakleion | Crete-Rethymno |
| Crete-Sitia | Corfu | Milos | Naxos | Paros |
| Mykonos | Santorini | Syros | Skyros | Kalymnos |
| Karpathos | Kasos | Kos | Leros | Rhodes |
| Kastellorizo | Lemnos | Samos | Lesvos | Ikaria |
| | Kefalonia | Zakynthos | Kythera | Skiathos |
Travel Resourses
All the archaeological sites in Greece that have entrance fees can be found on the official Greek Ministry's website here. Before you purchase your tickets, especially if you are an EU citizen, check if you have free or reduced entrance. You should also check to see if you happen to visit on one of the free entrance dates. If you are going to Acropolis during the peak season (May-September) prepurchase your tickets as the queues are insane. Finally, from November to March entrance fees to all Archaeological Sites are 50% off everywhere in Greece for everyone.
Booking.com: I use Booking.com because I can get the best deals, has info on hotels and Airbnb's alike, with breakfast or not, free cancellations, and great prices!
Hiking Maps. You can purchase paper maps of Anavasi or Terrain from their sites which have much cheaper prices than Amazon. Alternatively, you can always buy a paper map on the island, when you get there.
Purchase the great hiking book Eastern & Northern Cyclades by Dieter Graf. You might be able to find it on a larger island but this is not always for sure.
Ferries: Book your ferry transfer with FerryHopper, and get the best price in the market with no hidden fees
World Nomads Insurance: I feel insecure traveling to another country without having even the most basic of insurances. Insurance will protect you against illness, injury, theft, and cancellations
iVisa: For any questions, you may have about your documents, passport if you need a visa, a new photo, or any visa-related matter, iVisa is your man (or woman!)
Get Your Guide: For all your day or multi-day tours and city guide needs, I use Get Your Guide
Emergency Numbers Anywhere in Greece: AMBULANCE 166 – FIRE 199 – POLICE 100
---
More Inspiring Greek Travel Stories
If you need help organising your trip to Greece, or you have questions about the country, I would be more than happy to assist!
Send me an email at travelthegreekway@gmail.com or subscribe in the form for new posts and updates!