Updated August 7th, 2022 by Travel the Greek Way
If you are looking for the best things to do in Santorini, you are in the right place! Santorini is the most impressive Greek island and a dream destination for millions of people around the globe. There are many exciting things to do on the island, such as its notoriously stunning sunsets and magical nights with impressive views.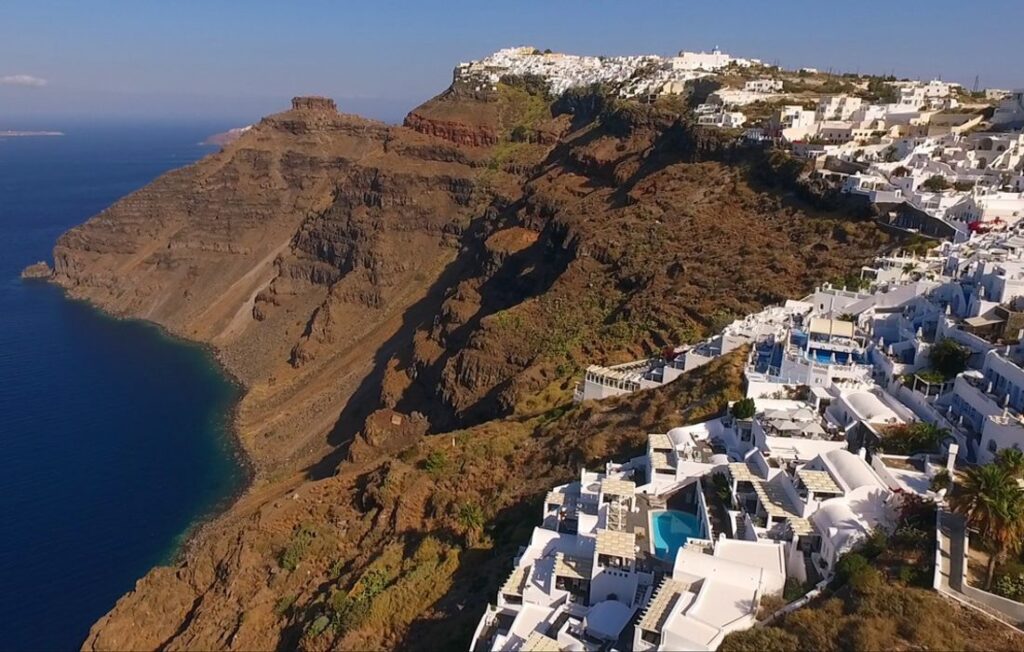 One of the best things to do in Santorini, and this is what I always do when I visit the island, is to stand in front of Santorini Caldera and let awe, happiness, and admiration for nature's wonders overwhelm you.
Top things to do in Santorini:
Stay in unique cave hotels and watch the famous Oia sunset
Hike the impressive caldera from Fira to Oia
Visit Nea Kameni (volcano) island and swim in the thermal volcano waters
Taste Santorini's Best Local Cuisine and local wine
Swimming at the two black beaches, Kamari and Perissa, the red beach, Akrotiri, and the white one, Vlichada
Discover Ancient Thera between Kamari and Perissa and the Bronze Age Santorini extensive site in Akrotiri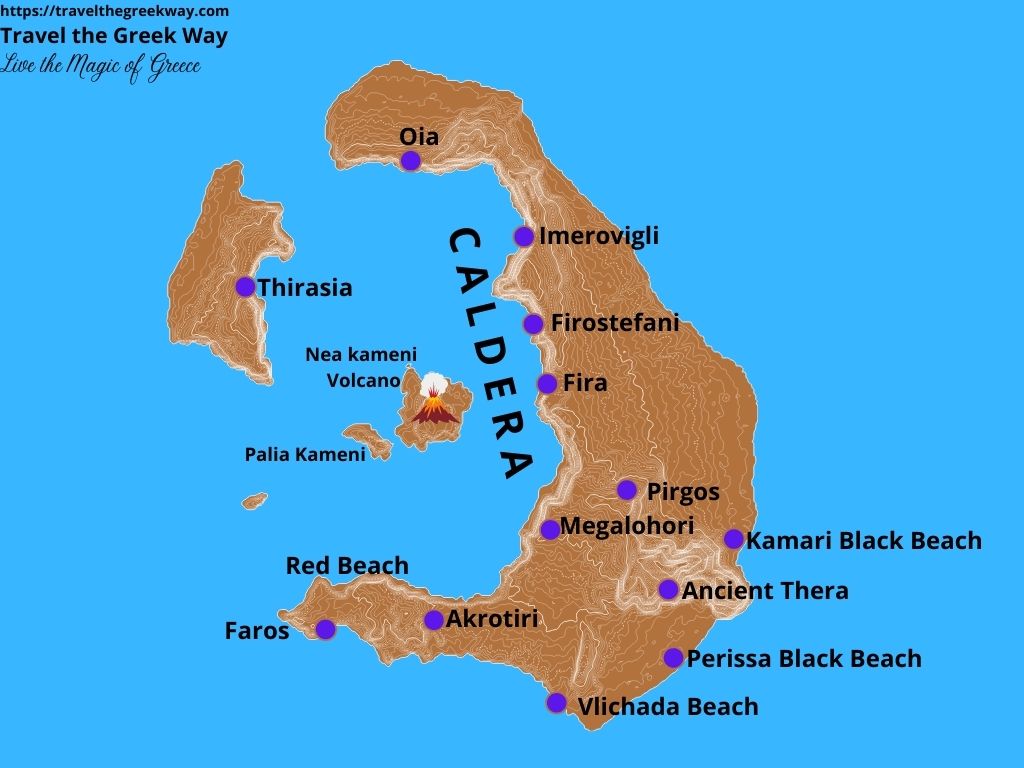 Santorini's most famous villages are Fira the capital, Oia, Imerovigli, and Firostefani all of them facing directly the stunning caldera (sunken part of Santorini).
The same villages have also the most top-rated luxury hotels, volcano view restaurants, and in the peak of the summer season – July and August – the most packed places with thousands of visitors.
*Some of the links below are affiliate links. That means I may make a commission if you click and buy. The commission comes at no additional cost to you. If you buy something, thank you! Please see my full disclosure policy for more information*
Where exactly in Greece is Santorini?
Santorini is located 127 nautical miles southeast of Athens and belongs to the Cyclades group of islands. Santorini is in the top-five most-popular Cycladic islands in Greece and Mykonos, Paros, Naxos, and Milos. Santorini and Anafi are the southernmost islands of the Cyclades.
Santorini Quick Reference
What are the Best Things to Do in Santorini?
1. Stay in a Cave Hotel in Santorini
A Cave hotel is a luxurious hotel with elegant cave rooms and suites. The caves were discovered on the cliffside (Caldera) of Oia and archaeologists identified them as ancient cave houses and lodgings.
Those spectacular cave hotels have different levels for each customer offering privacy, tranquillity, and breath-taking views!
Best Cave Hotels with Santorini Caldera Views
Atrina Canava 1894 in Oia (Doubles from €234 Β&Β)
Aqua Luxury Suites in Imerovigli (Doubles from €356 Β&Β)
2. Watch the Sunset in Oia
Santorini caldera is one of the best places in the world to watch the most spectacular sunset! The most popular spot to watch the sunset is Oia's Castle or at one of the restaurants in the caldera (you need to book your table in advance). As the best sunset spots in Oia can get too busy, you can also see the beautiful sunset from Imerovigli or Akrotiri.
Oia is the very symbol of Santorini, the most beautiful and photographed destination on the island. What are the best things to do in Oia besides watching the sunset?
You can stroll Oia's endless stairways, whitewashed houses, and hidden paths that lead to one pretty spot after the other.
Shop from the local crafts: Discover gorgeous pottery, jewelry, linen shirts, or beauty products with local ingredients like volcanic stone and olive oil. Visit the Main Oia church – Panagia Platsani, a beautiful church.
Where Best to Stay in Oia
Enalion Suites (Doubles from €168 Β&Β): Built on Santorini's caldera, Enalion boasts a privileged location 200 m from the centre of Oia. Featuring 2 shared outdoor hot tubs, it offers traditionally furnished suites with arched ceilings and views over the volcano.
You are reading about the best things to do on Santorini island.
3. Book a Full Day Tour to Santorini Highlights
If you have limited time on Santorini but you don't want to miss a thing on Santorini's best, book this fantastic VIATOR tour:
Small groups with pick-up/drop off service in an air-conditioned minivan, swim at the black beach Perissa, have lunch by the sea, have local wine tasting while watching the legendary Santorini sunset, and enjoy the interactive "musical symposium".
Check this amazing tour on Viator here
4. Go Downhill to Ammoudi Bay
Ammoudi Bay is, quite literally, underneath the picturesque village of Oia. It used to be the old port of Oia in the 19th and 20th centuries.
Today, you can swim in the azure waters of Agios Nikolaos beach, enjoy the most sublime sea view and have a seaside lunch or dinner in one of the local taverns.
How to get to Ammoudi Bay from Oia? Walk down the 214 steps from Oia's castle or take that rental car/scooter to the main road that connects Ammoudi with the rest of the island.
Animal Compassion Tip: Please avoid using the overworked, overloaded poor donkeys and mules
5. Swim in an Infinity Pool
What is better than an infinity pool all for yourself with a killer view on Santorini island?
An infinity pool is when the top of the water is at the same level as the edges surrounding the pool, creating the illusion that the pool waters are merging with the blue of the Aegean Sea or Greek blue sky.
6. Hit the Santorini's Beaches
Traveling towards southeast Santorini you find yourself at the famous Perissa black beach. It is a fully organized beach with sunbeds and umbrellas and can get busy in the peak season.
Kamari village and beach, is the second black beach in Santorini, a bit north of Perissa beach. Kamari got its name from a small arch that still rises at the south end of its beach and is what remains from an ancient sanctuary dedicated to Poseidon. Kamari beach has clear, very calm waters, and black pebbles, it is the longest beach on the island and offers a wide choice of accommodation, restaurants, cafes, bars, and nightclubs.
Akrotiri or Red Beach is an impressive beach in Santorini very close to Akrotiri's archaeological site. However, you have to be careful there as the beach is prone to landslides and there is a warning sign from the municipality of Thira (Official name of Santorini) against visiting it.
I would recommend you visit the red beach by Catamaran Cruise, see below, with stops at the Volcano Hot Springs, Vlichada, Mesa Pigadia, and Red beach:
Other beautiful beaches in Santorini are Katharos near Oia, a lively beach with sand and small pebbles, and volcanic views. 4 km from Oia is Koloumbo Cape, mostly with very young people, no umbrellas, and an underwater volcanic crater.
My favorite beach in Santorini is sandy Vlichada Beach, the southernmost and most impressive white beach.
You are reading about the top things to do on Santorini island.
Where to Stay in Vlichada Beach
Aegean Melody Suites (Doubles from €250 B&B, Booking 9.9): For an amazing and relaxing time in quality suites overlooking the Aegean sea.
7. Hike the Spectacular Santorini Caldera trail
The island's most scenic trail is a 9.8km stone-paved route that follows the rim of the caldera and connects Fira and Oia.
It is an easy trail but it has no shade so it is best hiked very early in the morning or late in the evening if you are visiting Santorini in the summer.
The trail starts in Fira and you should start walking towards the north side of Santorini, towards Oia. There are some signposts but don't count too much on them.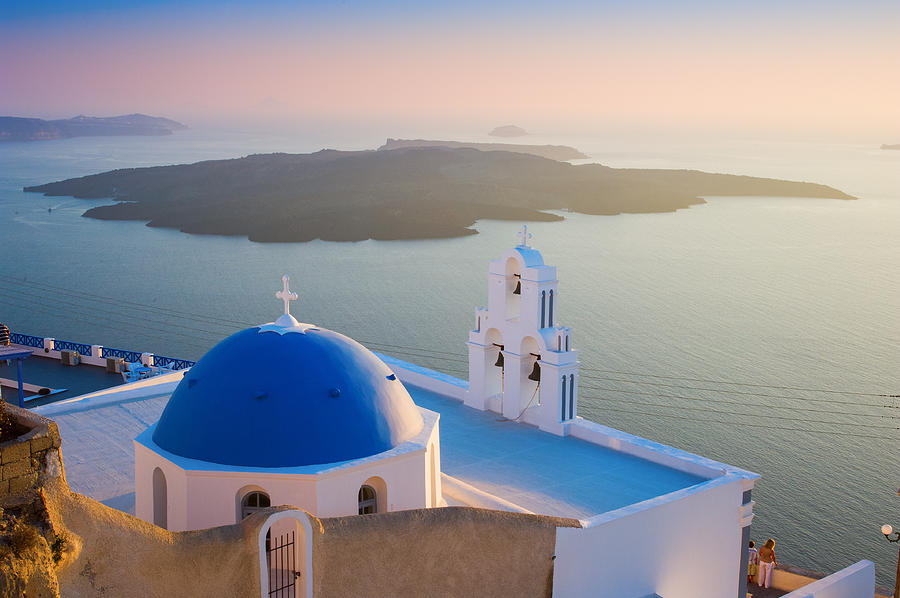 In Fira, visit the famous three bells at Agios Theodoros.
The trail continues into pedestrian zones in Imerovigli but it can get more exciting if you detour to Skaros rock. You need to follow the path to the beautiful chapel Church of Christ, turn left and head to Skaros rock.
Perhaps the most demanding part is the steep uphill towards Oia. However, you will be extra compensated by the magnificent vistas when you reach Oia.
8. Taste Santorini's Best Local Cuisine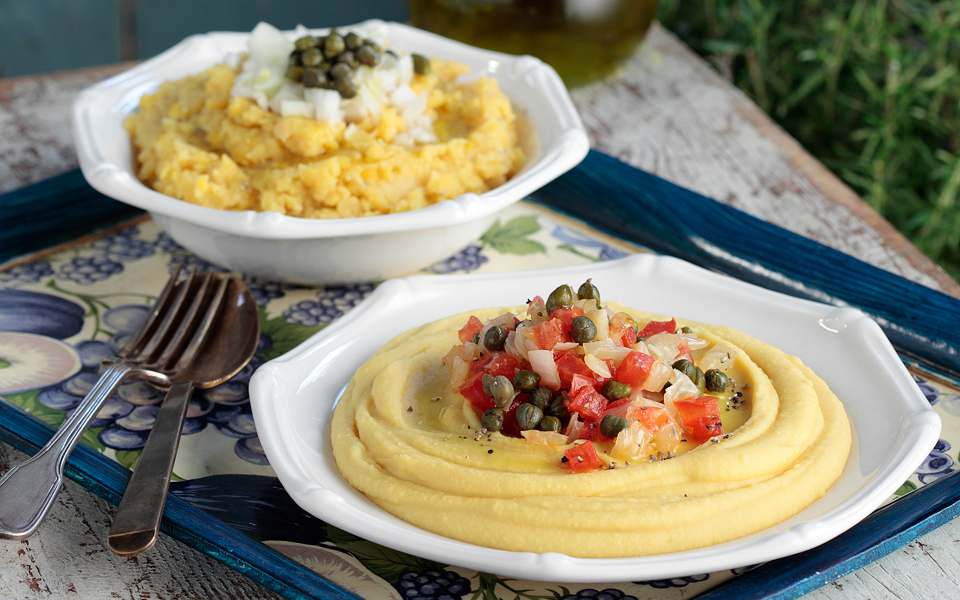 Taste the local Santorini delicacies and mouth-watering dishes!
Fava, a yellow split-pea spread, usually taken as an entree dish
Ntomatokeftedes, tomato fritters. They use Santorini specific tomatoes which are a special variety that grows nowhere else in the world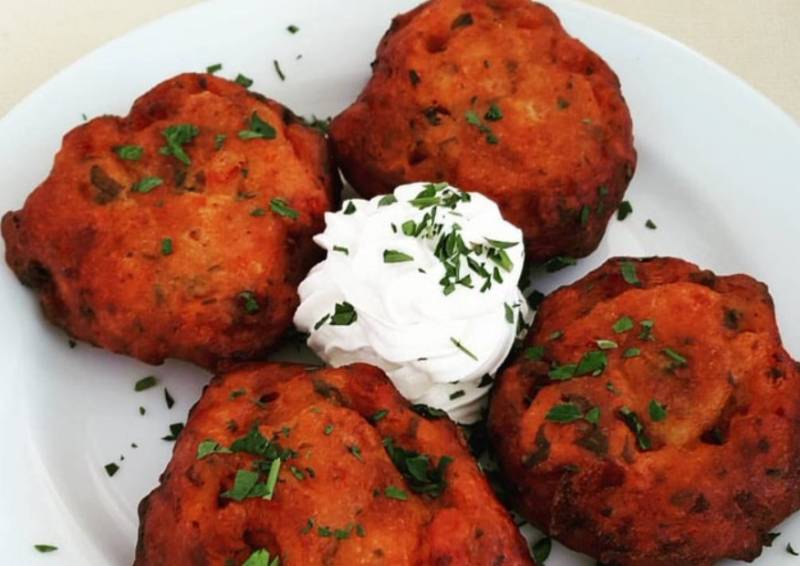 Chlorotyri, a local goat creamy cheese that you can only find on the island
Capers, as in local very distinct and intense taste capers
Melitinia, is a sweet cheese pie made with fresh mizithra cheese, sugar and mastiha (mastic) powder.
Greek Food Tip: The further from the caldera you go, the cheaper and more authentic food you will find. I usually check how many Greeks a tavern has. If Greeks outnumber the tourists, that's the place you want to eat.
You are reading about the fun things to do on Santorini island.
9. Explore Santorini's Picturesque Villages
Imerovigli
9,5 km from Oia lies Imerovigli, a comparatively unspoiled, with whitewashed houses, blue-domed churches, and an upscale village. It is built on the highest point of the caldera cliffs, at about 300 meters that making it a spectacular point for photographs.
Where to stay in Imerovigli
Gorgona Villas (Doubles from €194 Β&Β) offers panoramic views of the Santorini caldera, staff is very friendly and helpful with great tips with breakfast delivered directly to your balcony.
Fira – Firostefani
Fira is the main town of Santorini and the busiest town on the island as everyone wants to be part of the packed solid shopping area and get "lost" in the maze of winding backstreets.
Do visit the Archaeological Museum of Thera in Fira, Santorini has an amazing history. Open daily between 8:30-15:00. Mondays closed.
Where to stay in Fira
Athina Luxury Suites (Doubles from €389 Β&Β): Nestled upon a rock in Fira Town, the Cycladic-style Athina Luxury Suites feature spectacular views of the Caldera and the volcano.
Firostefani is the extension of Fira, very close nowadays to each other – due to building every single free space between them – so that it is very hard to find their borders.
Some of the best caldera-view restaurants and hotels are in Firostefani which is considered one of the most expensive areas to stay in Santorini.
Where to Stay in Firostefani
Damigos Caldera World (Doubles from €140 Β&Β) stunning views of the caldera at very reasonable prices.
Megalochori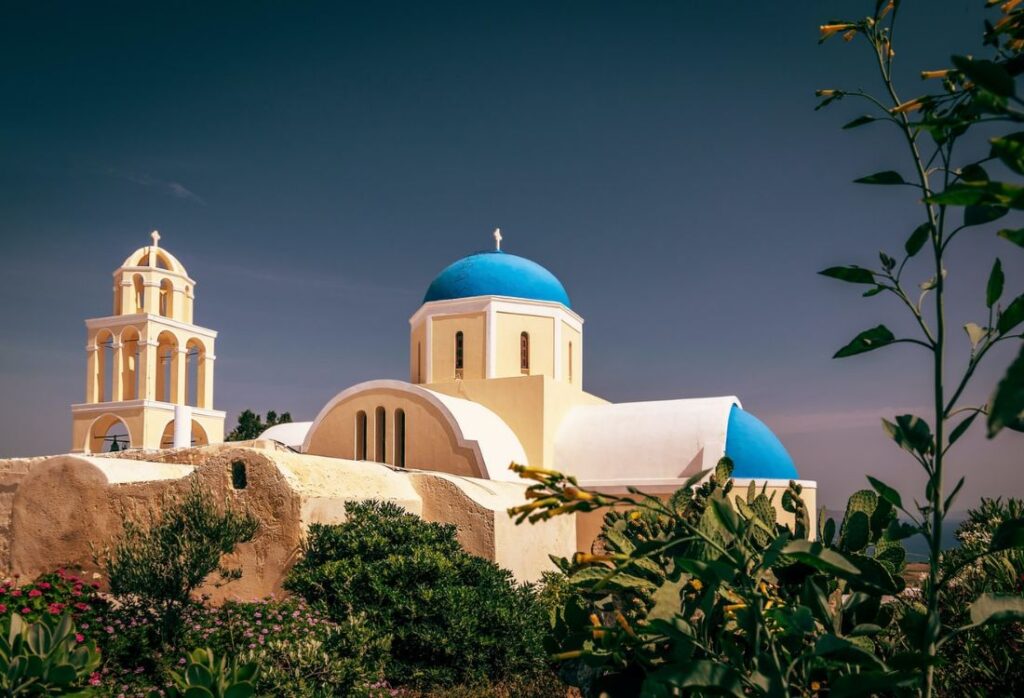 Megalochiri is a beautiful and traditional settlement, with historical mansions, old Cycladic houses, and pirate hideaways.
If you have time, go to the main square and have a cup of Greek coffee under the tree-shaded area, see the bell towers, and the vineyards, and swim at the not-accessible by-car remote beaches of Plaka and Thermi.
Where to stay in Megalochori
I totally loved Alti Santorini Suites (Doubles from €300 Β&Β): Spectacular views of the caldera and beautiful suites.
Pirgos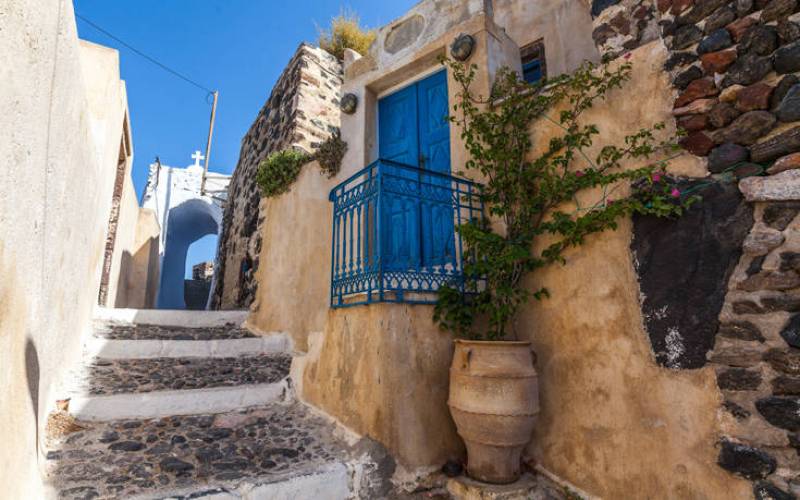 Pirgos, a medieval beautiful village in Santorini, is located on the highest point of Profitis Ilias mountain in Santorini. The settlement is 7,5 km southeast of Fira and retains the Venetian characteristics of its past as Santorini's capital until 1800. Much more quiet and closer to old Santorini, Pirgos is one of the best places to visit on the island.
Where to Stay in Pirgos
Art Hotel Santorini,(Doubles from €118 Β&Β) features a modern Interior Art Gallery, where different contemporary artists are hosted.
10. Visit Akrotiri Archaeological Site and Ancient Thera
At the southwest area of Santorini lies an exceptional and highly important prehistoric settlement covering the period from 4th millennium BC Neolithic to 16th century BC Bronze Age.
Since you are in the area don't miss to visit Akrotiri Lighthouse, a gorgeous point to see the sunset.
Where to stay in Akrotiri
CAPE 9 Villas & Suites (Doubles from €356 Β&Β), an exceptional hotel with a big pool, private Jacuzzi hot tub, and spectacular view over the caldera
Ancient Thera is located on top of the Mesa Vouno Mountain(369 meters) with its slopes going all the way to Kamari and Perissa beaches. Excavations in the area have brought to light a Hellenistic settlement of 800 meters long, a theater, constructions, and ruins of the sculptures from the Artemis Temple.
You can drive there and there is a designated parking area at the bottom of Mesa Vouno. The steep uphill is exposed, with no trees at all, just wonderful sea views. Take plenty of water, a hat, and sunscreen with you. The site is open daily between 08:30 and 16:00 and closed on Tuesdays.
11. Book a Caldera Cruise with Meal and Drinks
Enjoy a really unique experience around Santorini:
Sail around the island and caldera on a deluxe catamaran. Stop to bathe in the Nea Kameni springs; swim, snorkel or unwind at beaches; and enjoy unlimited Santorini wine and Greek beer, plus a Greek meal prepared on board.
Check availability and prices for the catamaran cruise in Santorini on the Viator website
12. Santorini Wine Tasting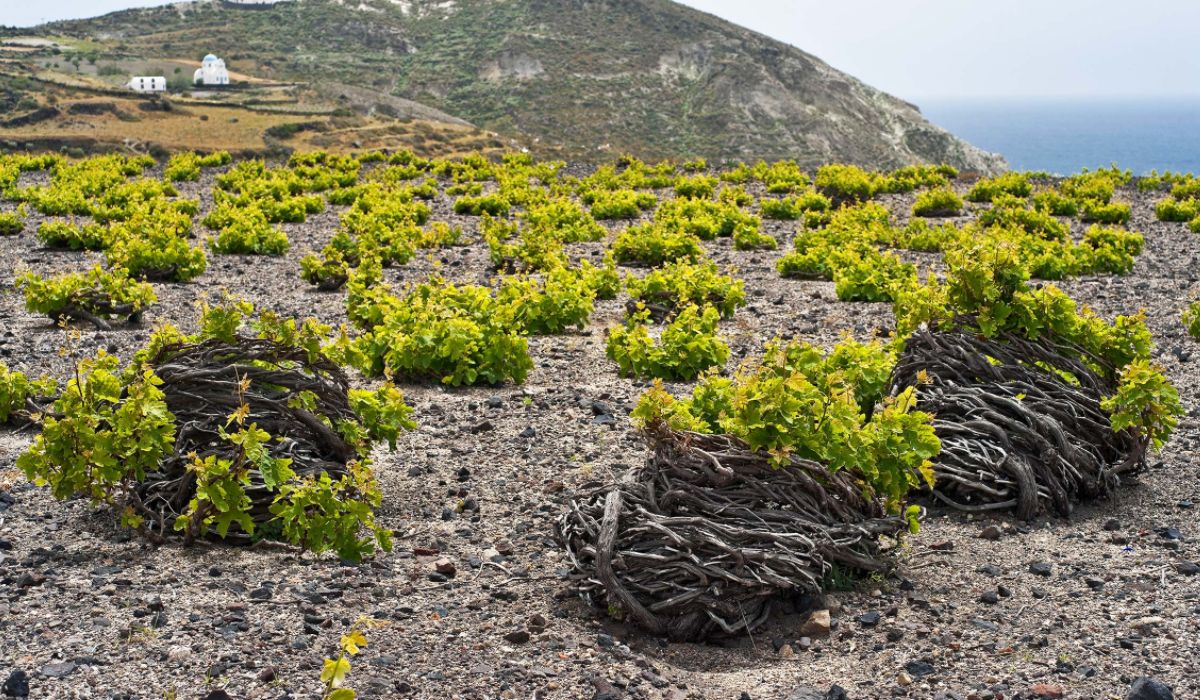 Santorini has the oldest vineyards in the world and makes excellent wine, with a very special flavor. There are about twenty or so wineries on the island (almost all of them open to visitors), and you'll be able to discover indigenous varieties that are cultivated here, such as Assyrtiko, Athiri, and reds like Mavrotragano and Mandilaria.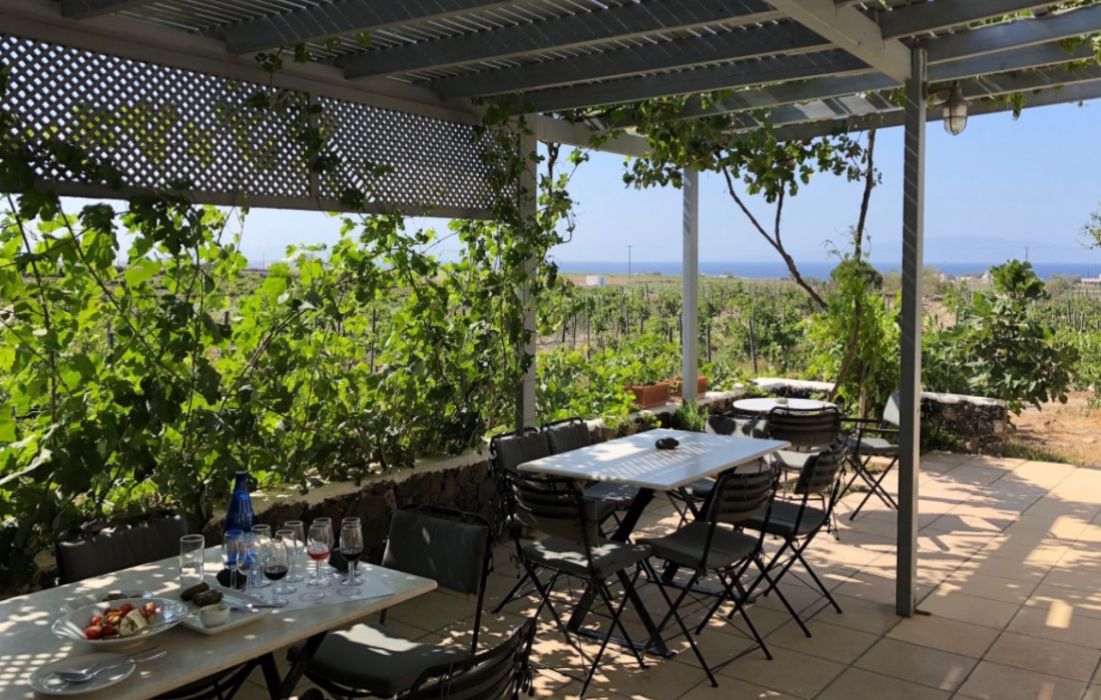 I am a great fan of Sigalas wines, and their Assyrtiko is one of the best in Greece. You can have a wine tasting in their winery but need to contact them first to check availability and prices:
Sigalas Winery: Baxes, Oia, Santorini +30 2286 071644 or email them at sigalaswinetasting@gmail.com
FAQ About Santorini
What is the Caldera in Santorini Island?
Santorini Island suffered a tremendous volcanic eruption about 3600 years ago, at the peak of the Minoan civilization, one of Greece's oldest civilizations. As a result, most of its western part sank into the sea, creating the caldera and probably causing a gigantic tsunami, some say reaching Crete island.
Santorini, along with Milos, Nisyros, and Methana in Greece, has still an active volcano but only in the form of thermal waters in the caldera, a popular swimming spot. The last volcanic activity in Santorini was in 1950.
Is Santorini Good for my Honeymoon?
Yes, Santorini is one of the best places in the world to have your honeymoon! The island is so romantic that being on this island for your honeymoon will be a fantastic, memorable time of your life.
Make sure you stay in the part of caldera so that you have majestic sunrise and sunset views every day
Where to Stay in Santorini for your Honeymoon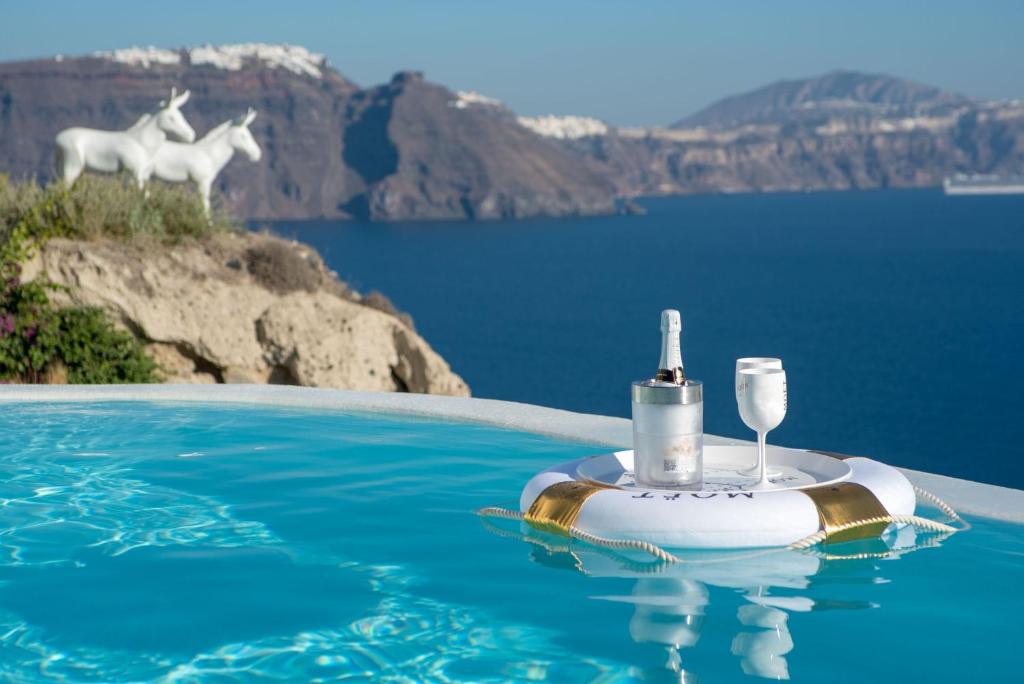 Canaves Oia Sunday Suites: (Doubles from €392 Β&Β). Top-notch service, large classy rooms, an infinity pool where you can enjoy the best sunset of your life, the professional staff, and a large breakfast, will make your honeymoon special and contribute to the happiest days of your life! Check availability and prices on Booking.com.
How Many Days do I Need in Santorini?
3-4 days offer ample time to witness the magic of Santorini and explore the local culture.
Where exactly is the Volcano in Santorini?
It is on the islet across from the main Santorini island, called Nea Kameni.
Is Santorini Expensive?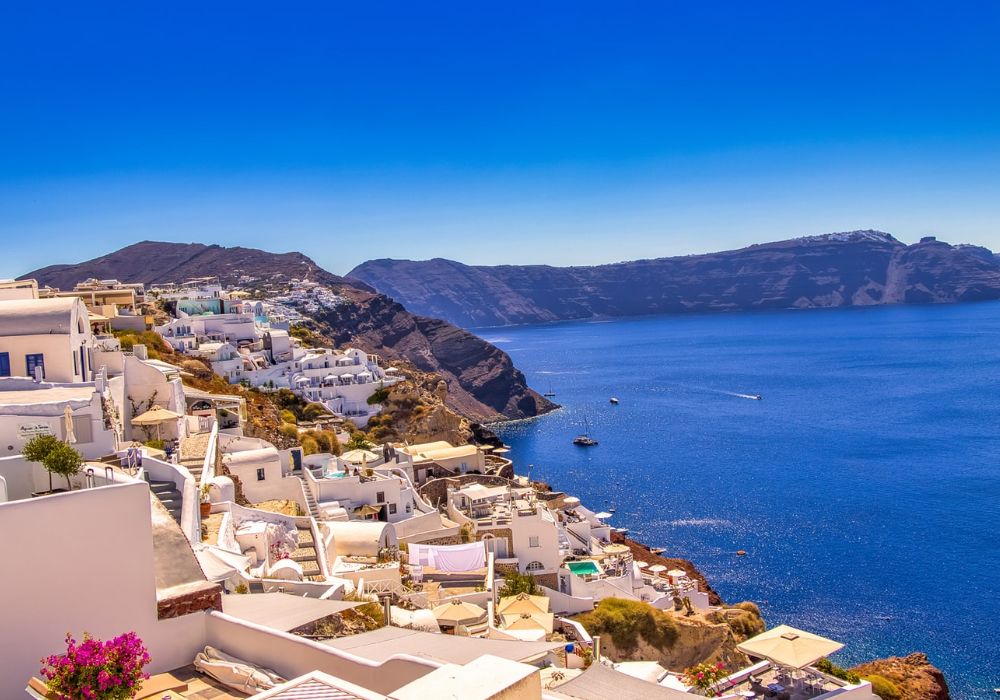 Yes, Santorini can be expensive, especially the hotels overlooking the Caldera.
That doesn't mean that visiting and enjoying Santorini is only for the filthy rich. I am definitely not rich – not even close! – but I always manage to have a great time while visiting the island trying to balance expenses.
Check below some of the best budget hotels in Santorini if you prefer a low-cost stay:
Best Santorini Budget Hotels
Enjoy gorgeous Santorini in beautiful accommodation in the best budget offers!
Is Santorini Wheelchair Friendly?
Santorini gets better and better every year for the mobility-impaired people. There are vehicles that can pick you up from the Santorini airport or the ferry and the main pedestrian street in Oia is basically flat and smoothly paved with large slabs of marble tiles.
But most importantly in Perissa and Kamari beaches, they have installed the Seatrac system so that people with mobility issues can have independent access to the sea.
Where to Stay in Santorini for the Mobility-Challenged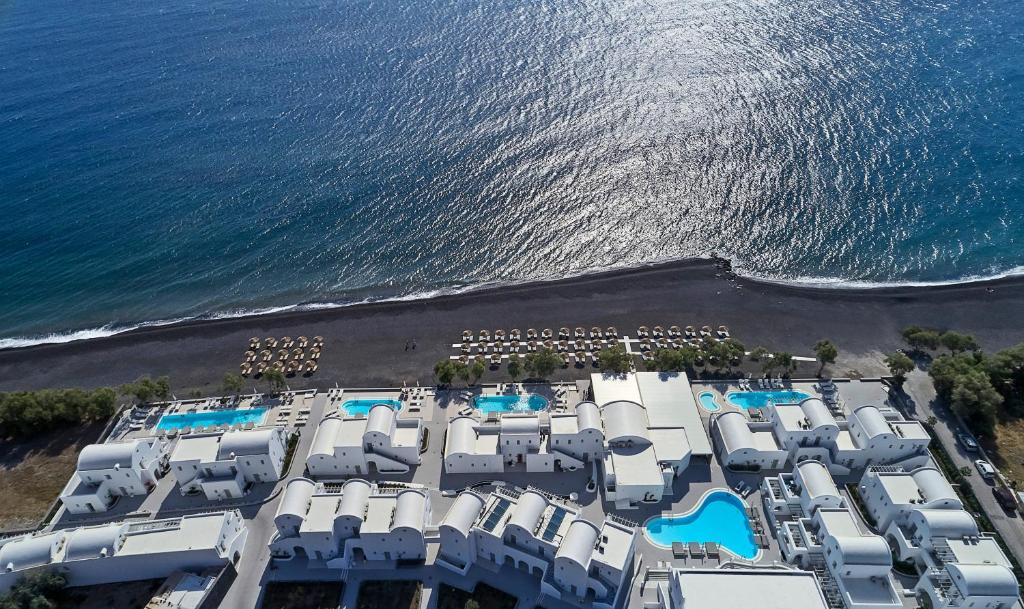 I highly recommend Costa Grand Resort & Spa (Doubles from €154 Β&Β), a fantastic 5-star hotel, reasonably priced, located right in front of the Kamari beach and a few minutes far from the SeaTrak Mechanism. Check availability and prices in Booking.
When is the Best time to visit Santorini?
The Greek islands do not close in the winter as most of them have permanent residents. Santorini has about 15.500 permanent residents that live all year round, send their children to school, and have jobs on the island.
The larger hotels and restaurants in Santorini may be closed during the winter but all the smaller touristic businesses are open. This is the best time for me to travel as I get Santorini and its stunning sunsets at super shoulder season prices.
If you prefer warm weather then you should go to Santorini from April to June and September to October. July and August are the busiest, hottest, windiest, and most expensive months on Santorini island.
What Island Hopping Can I do from Santorini?
From Santorini, you can hop on a ferry and an hour, more or less, can find yourself roaming another beautiful Greek island!
Mykonos Island – > you get there in 2-3 hours, depending on the boat you will get, Check the Ferries here
Crete island (Herakleio) – > you will need about 1 hour and 50′.
Naxos island – > You will get on the island in 1,5 – 3 hours
Tinos island – > This is a bit far, you will need 4 hours but that also means that you are closer to Athens port.
Syros island – > there is only 1 ferry going there and takes 2,5 hours.
Check availability, fares, and the fastest ferries on FerryScanner or FerryHopper with no hidden fees!
How Can I get around Santorini?
The Best way to explore a Santorini is by car or scooter, depends on what you prefer (I am a car person, never learned how to bike a scooter). I use Rental Cars as they offer low local prices with a wide selection of vehicles.
If you don't want to rent a car, you can use the local Santorini bus. The central station is at Fira.
Cable Car in Fira: This is your alternative to donkeys (please don't use the donkeys!) and steps if you want to visit Mesa Gialos, the old port of Fira, where a lot of caldera cruises start. tel +30 22860 22977.
There is no Uber or Lyft on Santorini. Taxis are plentiful on the island but better discuss the price in advance before getting in.
How to Get to Santorini from Athens
FERRIES: The most usual way is to take the ferry from Athens ports (Pireaus, Rafina, or Lavrion). Book your ferry transfer with FerryScanner or FerryHopper, and get the best prices in the market with no hidden fees. If you travel in the summer you better book your seats in advance.
AIRPORT: There are some international flights going straight to Santorini, you better check Skyscanner, for charters or direct flights from your own country.
Otherwise, you can catch a flight from Athens International Airport. Find below the list of the Greek Islands that have an airport and you can fly there:
Private Transfer to your Hotel
Book a private transfer with English speaking chauffeur from Athens International Airport or Piraeus Ferries to any hotel in Athens. You avoid the hassle of public transport and minimize the risk of having your luggage lost or stolen. Check this professional and reliable private transfer in a Luxury Mercedes Van here
Where to Stay in Athens
Looking for the Best Hotels near old Athens Plaka and Acropolis Parthenon?
Or you would like to stay at a beachfront hotel?
Perhaps you are more in budget hotels interested?
Whichever your preferences I have collected the best options for your staying in Athens below:
Best things to do in Santorini:
Stay in unique cave hotels and watch the famous Oia sunset
Hike the impressive caldera from Fira to Oia
Visit Nea Kameni (volcano) island and swim in the thermal volcano waters
Taste Santorini's Best Local Cuisine and local wine
Swimming at the two black beaches, Kamari and Perissa, the red beach, Akrotiri, and the white one, Vlichada
Discover Ancient Thera between Kamari and Perissa and the Bronze Age Santorini extensive site in Akrotiri
Some of my Favorite Resources for Greece
Ferries to the Greek Islands: Book your ferry transfer with FerryScanner or FerryHopper, and get the best prices in the market with no hidden fees
Booking.com: I use Booking.com because I can get the best deals on both hotels and apartments, free cancellations, and great prices!
Get Your Guide: For all your day or multi-day tours and city guide needs, I use Get Your Guide
COVID INFO FOR GREECE: Ministry of Tourism Official Website
Emergency Numbers Anywhere in Greece: AMBULANCE 166 – FIRE 199 – POLICE 100– EMERGENCY NUMBER 112
More Greek Travel Stories