Discover in this post some of the best hotels in Thessaloniki as well as four gorgeous apartments for your visit to this beautiful Greek city. I have separated the list for your convenience into the city, family, seaside, and close-to-the-airport hotels and apartments (AirBnbs).
Thessaloniki is Greece's second-largest city, port, and the leading financial and cultural center of Northern Greece.
It is a spectacular city with unique characteristics, quite different from Athens which is 501 km to the south. Thessaloniki is renowned for its mouth-watering cuisine, and the modern and dynamic city center surrounded by the Thermaikos Gulf. One of the best things to do in Thessaloniki is to stroll the 4 km gorgeous seafront promenade.
Thessaloniki was founded in 316 BCE by Macedonian general Kassandros. As it was built at a strategic point, it was an important Roman, Byzantine, Jewish, and Ottoman center. Thus, the city has always been a multicultural center and this is evident in its great number of historical museums and monuments from all its historical eras.
A visit to Thessaloniki is a real must and you can enjoy best the city by staying in the best accommodation available. Read below my pick of the best places to stay in Thessaloniki ranging from a chic boutique retreat, family hotels, and hotels by the sea to the city's largest and most luxurious hotel.
*Some of the links in this post are affiliate links. That means I may make a commission if you click and buy. The commission comes at no additional cost to you
Best Hotels in Thessaloniki
Central Thessaloniki
Discover below three of my favorite hotels in the Thessaloniki Center and a gorgeous apartment, all located in superb areas.
Electra Palace Thessaloniki
The Electra Palace Hotel is one of the best hotels in Thessaloniki. Set in a spectacular position, right in the heart of the city, it is minutes away from the shops and restaurants.
Electra Palace Thessaloniki is a 5-Star property on Aristotelous Square with amazing sea views
Astonishing Byzantine-inspired façade
Roof Garden where breakfast is served
Spa, Sauna, and rooftop pool
Excellent for a city break, or a romantic getaway
The Modernist Thessaloniki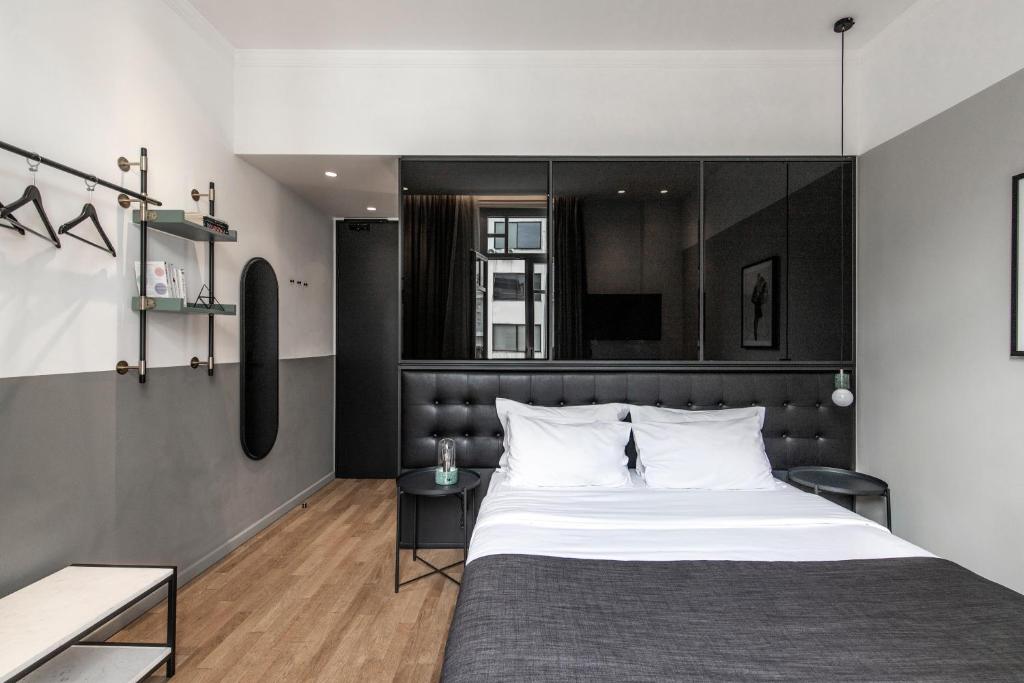 The Modernist Thessaloniki is a 4-star modern/ minimalistic decorated property
Centrally located
Art Deco chic spacious rooms
A fantastic variable breakfast, from continental to American to vegan
The Excelsior Small Luxury Hotels of the World
The Excelsior Small Luxury Hotels of the World has a grand classical and refined atmosphere
Centrally located close to the seaside and the sites
Amazing panoramic views from the roof garden where breakfast, lunch, and dinner are served, and a fantastic French bistro
A few minutes far from the expensive boutiques
Elegant Supercentral Apartment (Airbnb)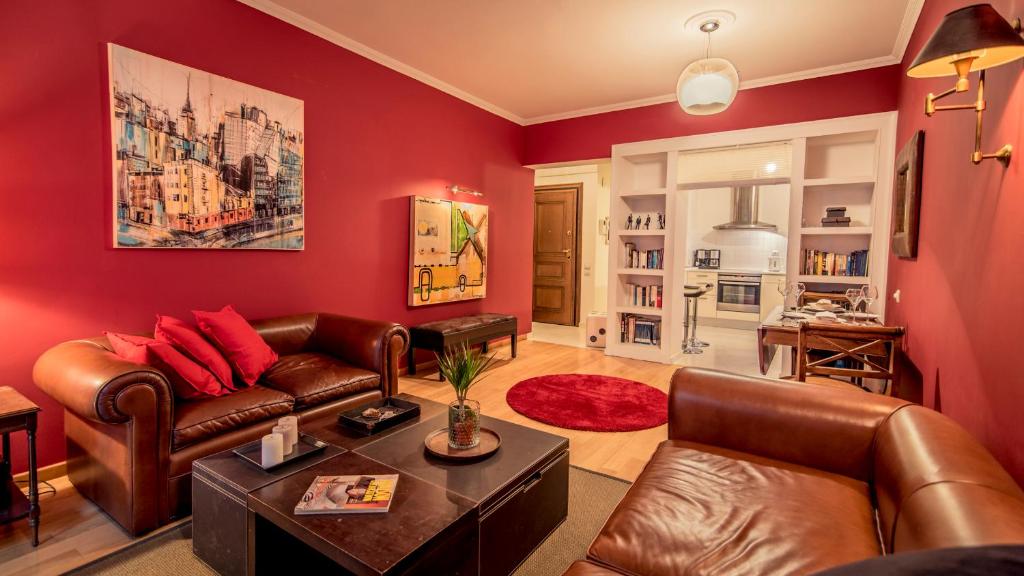 Elegant Supercentral Apartment is a really lovely apartment with a colorful classic sitting room and modern bedrooms and facilities
Centrally located close to Nikis avenue (the seaside road) and all the sites
The hosts are really supportive and helpful
It can host up to 3 persons
Hotels in Thessaloniki near the Beach
Thessaloniki is built around the sea of Thermaikos so why not take advantage of that fact and stay at a beautiful seafront hotel? I have selected three of the best central hotels in Thessaloniki near the beach for you:
Makedonia Palace
Makedonia Palace is a remarkable 5-star hotel with stunning sea views over the gulf towards Mt. Olympus. It is one of the best hotels in Thessaloniki that will make your stay memorable. It is located next to Thessaloniki City Centre and features two restaurants of high taste.
Infinity Sea View Apartment (Airbnb)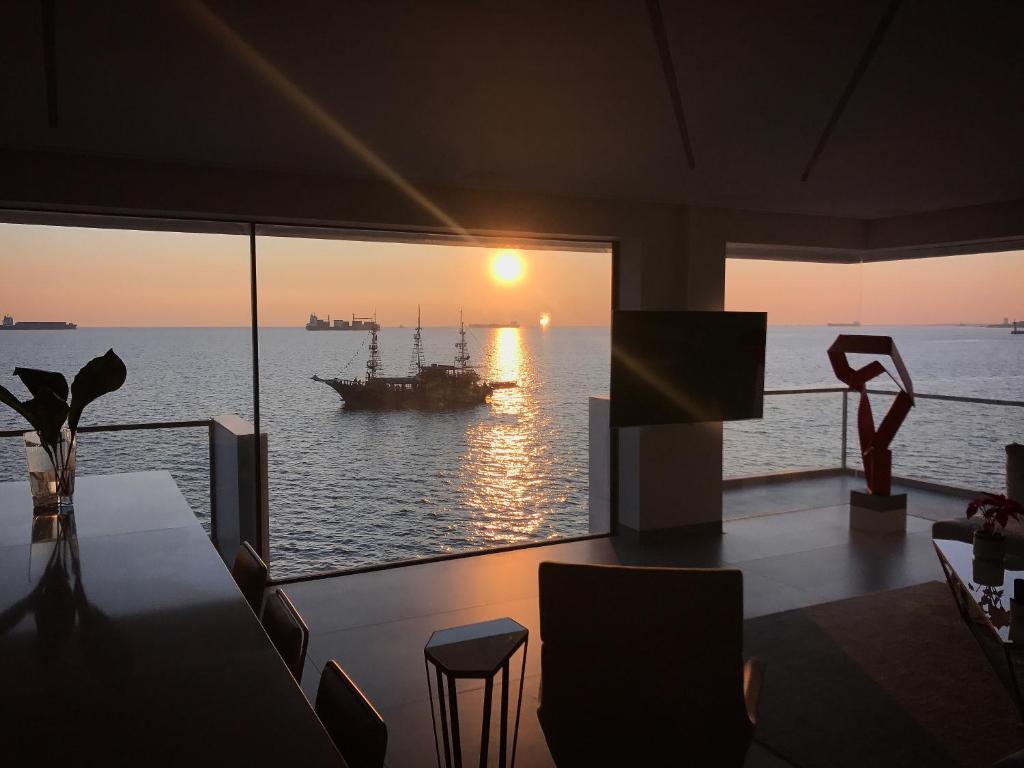 Infinity Sea View Apartment is a stunning only adults apartment very close to White Tower and the Archaeological Museum of Thessaloniki. Decorated in a modern-minimalistic style, it can host up to 5 guests people. Its best attribute is the fantastic sea view from its windows.
ON Residence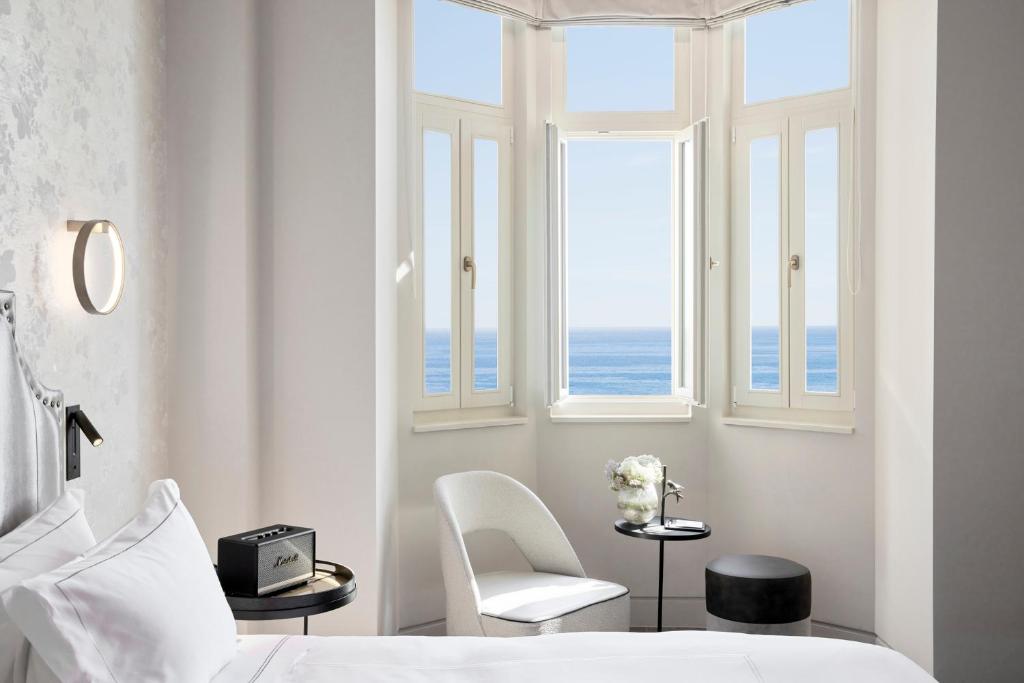 ON Residence hotel is the image of class, quality materials, and artistic decoration set in front of the Thermaikos Gulf. Opened in 2022, everything is new, fresh, and elegant with outstanding views.
Thessaloniki Hotels for Families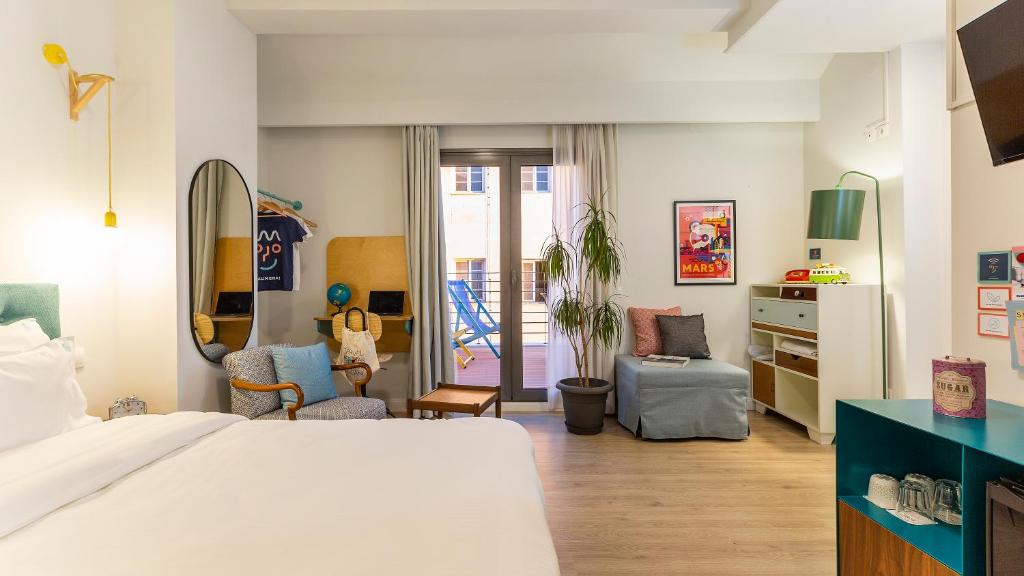 I have picked two properties that I believe are ideal for a family: The Caravan, centrally located, a brightly decorated, happy energy hotel, with outstanding service, and breakfast that provides everything you need as a family.
And my second pick for family property in Thessaloniki is Chryssa's family cozy home at the Roman Agora. It is a beautiful spacious flat in a great location, with double-deck beds for siblings, close to sites and shops.
Hotel in Thessaloniki Airport
You may be visiting Thessaloniki because you are changing flights. Or you would like to stay near the airport to be sure you will not miss your flight the next day. In any case, the best area to stay near Thessaloniki airport is Perea beach.
Perea is a small town east of Thessaloniki, built around the Thermaikos Gulf and 10 km from the Thessaloniki Airport Makedonia. Atlantis "Pleasure by the Sea" is a seafront hotel, that will make your stay in Perea really memorable!
Things to Do in Thessaloniki
Some of the best things to do in Thessaloniki are:
Walk inside the White Tower, Thessaloniki's most famous landmark
Discover Ladadika, the cool area near the port which is full of restaurants and bars. Book a 4-hour Thessaloniki Food Tour, a unique Gastronomy Experience
Visit the Archaeological, the Byzantine, the Jewish, the Olympic Museums
Stroll the Roman Agora of Thessaloniki (Did you know that there is a Roman Agora in Athens as well?)
Go to Ancient Rotunda, one of the oldest things to see in Thessaloniki that used to be a Roman temple, then a church, and later a mosque.
Explore Ano Poli and the Eptapyrgio Fortress
Explore the UNESCO monuments in Vergina, Philippi, Paleochristian and Byzantine Monuments of Thessalonika, Mount Athos
To see the best of the city, book a Thessaloniki Private Historic Walking Tour.
Find here my dedicated post on the best things to do in Thessaloniki
How to Get to Thessaloniki from the Airport
The Thessaloniki International Airport (SKG) is 13 km far from the Thessaloniki City Center but there might be some traffic on your way in, depending on the day.
There are 4 options to get to Thessaloniki Center from the airport:
Airport Bus: leaves every 20-25 minutes and reaches the city center in approximately 40 minutes during the day and 50 minutes at night (around €2)
Taxis: they are waiting right at the exit of the airport and the ride takes around 30 minutes. The cost for this ride is fixed, at 24€ during the day and 32€ during the night shift (00:00 am to 05:00 am)
Rent a car
Book a private transfer.
When is Best to Go to Thessaloniki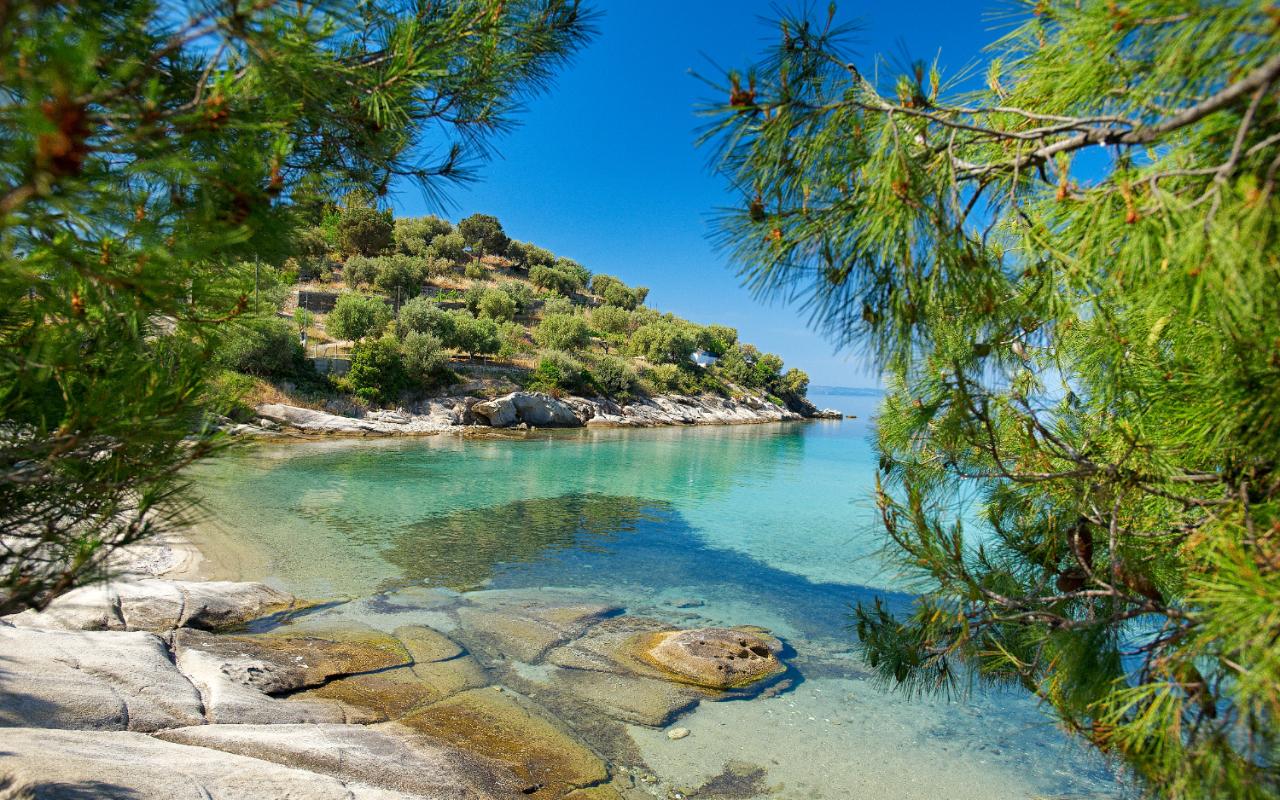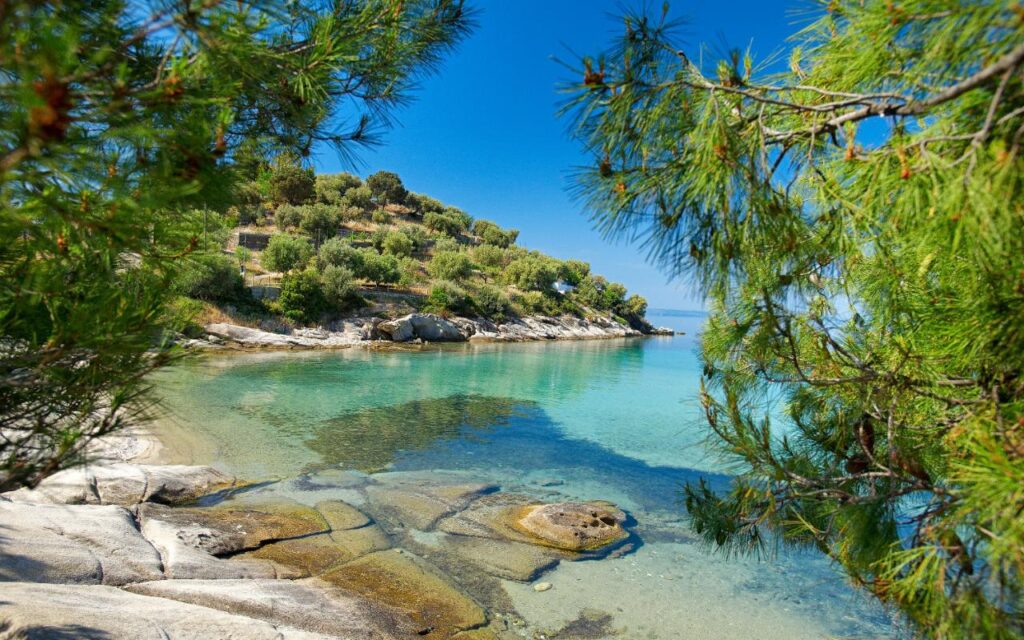 Thessaloniki is a year-round destination with numerous things to do whenever you visit. However, if you go during the summer, then you should definitely travel to stunning Chalkidiki, with some of the best beaches in Europe. This is where Mount Athos and its monasteries are located as well (where women are not allowed to visit)!
The Weather in Thessaloniki
The climate of Greece is Mediterranean, with four distinct seasons. As Thessaloniki is in the north of Greece it is much colder in winter (with temperatures often around zero C or below in the surrounding mountains). Crete at the same time might be 5-10 degrees warmer as it is the southernmost island of Greece.
Plan My Trip to Greece
Do you need a custom travel itinerary for Greece? Are you traveling solo, with your family or your friends and you need a tailor-made multi-day tour or a transfer within Greece?
If yes, please visit my dedicated Plan My Trip Page for a free itinerary!
Did you find the hotel you were looking for in Thessaloniki? Let me know what you think about the listed hotels in the comments, I'd love to hear about your experience in Thessaloniki! Till next time, Evgenia❤️
Related Posts:
Greece Travel Information
'Hello' and 'Thank You' in Greek: "Ya sou" and "Efharisto"
Booking.com: I use Booking.com because I can get the best deals on both hotels and apartments, free cancellations, and great prices!
Find Long-Term Rentals in Greece: You will find the best prices in Flatio
FerryScanner to book ferries to the Greek Islands
Athens Metro Website (timetables and ticket info)
Get Your Guide: For all your day or multi-day tours and city guide needs, I use Get Your Guide
Emergency Numbers Anywhere in Greece: AMBULANCE 166 – FIRE 199 – POLICE 100– EMERGENCY NUMBER 112
All rights reserved © Travel the Greek Way. Republishing this article and/or its contents (photographs, text, links) is strictly prohibited.
Please follow and like us: