Are you looking for the best Athens beach hotels in the Athens Riviera? If yes, in this post, you will find information on the five top of the best Athens beach hotels.
Athens, the capital city of Greece, is located in the Attika region on the east side of the country. Attika is blessed with endless coastlines on the east, south, and west areas where the best Athens beach hotels are.
The most famous seaside part of Athens is the Athenian Riviera, the southwest part of Attika. Athenian Riviera has 62.5 km of endless beaches, bays, fancy restaurants, Greek nightclubs aka Bouzoukia, traditional taverns, and small settlements, and not surprisingly, the best Athens beach hotels.
Find below short descriptions and facilities of the best Athens beach hotels and the nearby sites to visit (each hotel has 2 tabs on top to check).
*Some of the links below are affiliate links. That means I may make a commission if you click and buy. The commission comes at no additional cost to you. If you purchase something, thanks! Please see my full disclosure policy for more information*
Get your interactive map here to see the locations of the hotels mentioned in this post.
1. Four Seasons Astir Palace Hotel Athens, Vouliagmeni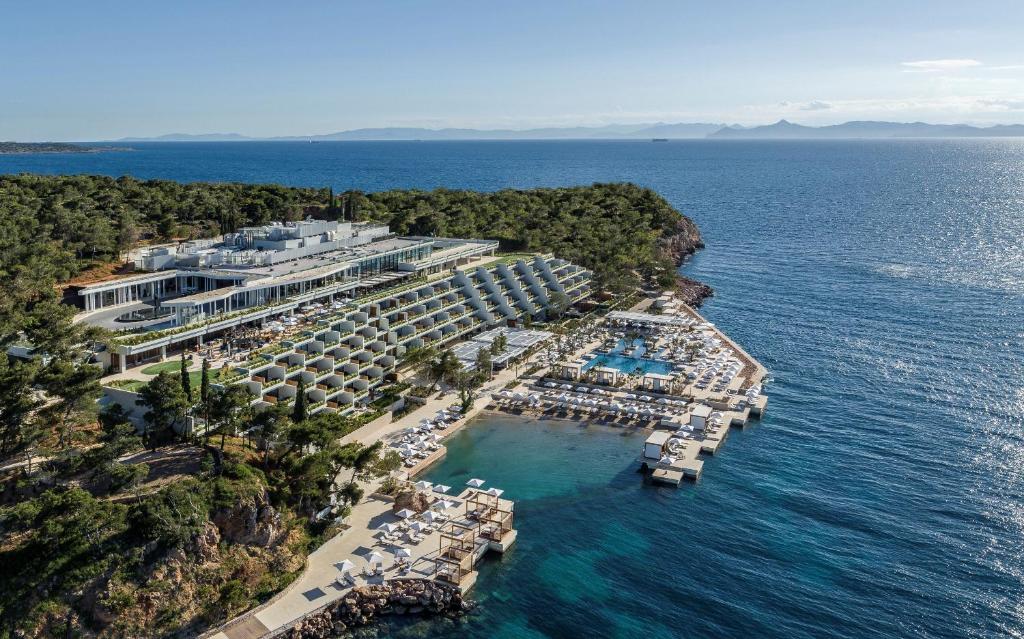 The Four Seasons Astir Palace Hotel Athens is one of the best luxury beach hotels in Greece and probably the Best Athens Beach hotel. It is set in a serene natural environment only 30 minutes far from Athens center. It is famous for its friendly and professional staff but also for the sophisticated and top-notch quality of Greek hospitality.
It is perched on a peninsula directly on the Aegean Sea, with 3 private beaches, Italian and Greek restaurants, scuba and jet-ski facilities, a beautiful spa, and swimming pools.
The standard room features a blue and white palette with floor-to-ceiling windows and all the facilities are super-sized.
The Four Seasons Hotel is a stunning classy place to fully enjoy the Athens Riviera.
Check availability and prices on Booking.
The whole area of Vouliagmeni is simply stunning with some of the most expensive houses in the country. It also offers many places to explore and things to do:
From the pine-forested sandy beaches, the large variety of excellent fish restaurants in the area, the magnificent natural spa Lake Vouliagmeni, the nooks and the bays, the cafes by the sea, and even the remains of Apollo Temple, you will definitely love Vouliagmeni!
Check availability and prices on Booking.
2. Divani Apollon Palace & Thalasso Hotel, Vouliagmeni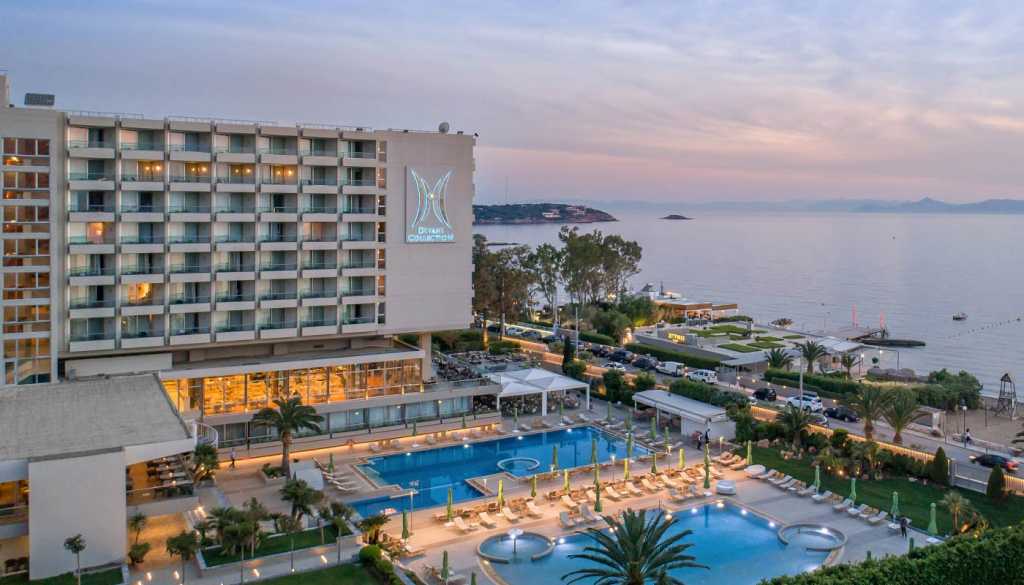 The Divani Apollon Palace & Thalasso Hotel is a luxury beach hotel in the beautiful area of Kavouri in Vouliagmeni right in front of a private sandy beach with clear waters.
The hotel offers exceptional guest rooms and suites all with impressive sea views, outdoor swimming pools, restaurants, bars, and extensive business and events facilities.
What makes Divani Apollon Palace & Thalasso Hotel stand out is that it offers an exceptional Thalassotherapy center.
Some of its treatments include natural sea mud and salt, holistic body treatment for slimming, detoxifying and relaxing.
Do visit Mythos its award-winning fresh seafood restaurant with an emphasis on locally sourced ingredients.
Check availability and prices on Booking.
On the seafront of the hotel, you can also visit some excellent seafood restaurants like the Garbi and stroll on the beautiful seaside of Kavouri.
The hotel is just 1,8 km from Lake Vouliagmeni towards Sounion and the Temple of Poseidon.
Athens center is about 10 km far and the fastest way to get there is by car.
Check availability and prices on Booking.
3. Black Diamond Luxury Beachfront Villa Selenia
The spectacular Beachfront Villa Selenia is only 8 km before Cape Sounion situated in the Palaia Fokaia area, on one of the most lovely and quiet beaches in Athens Riviera.
It consists of 2 luxurious independent villas with an unlimited view of the Aegean sea and together can host up to 14 people. Smartly decorated rooms with finesse and class, with queen size beds, a jacuzzi, swimming pool, dining room, and kitchen with all the appliances.
In the garden, there is a big outdoor lounge with a bar and the sea waves are just 6 meters far from the gate. This is an ideal villa for those who are a large family or a larger group of people, who love seclusion, close contact with nature and the sea in particular.
The villa is one of the Best Athens Beach accommodations.
Check availability and prices on Booking
Palaia Fokaia is an Athens Riviera area that you find on your way to Cape Sounion and 33 km from Athens Airport (about half an hour by car). The villa is situated next to the beautiful Thymari beach and on the side, there is a small white Greek Orthodox chapel where a lot of weddings and christenings happen during weekends.
The place has only a few more villas around as it is a perfect haven for relaxation. For your nights-out you can go to Palaia Fokaia town, 3,5 km far or Sounion with many seaside and seafood taverns.
Check availability and prices for the Villa on Booking.
4. Grecotel Cape Sounio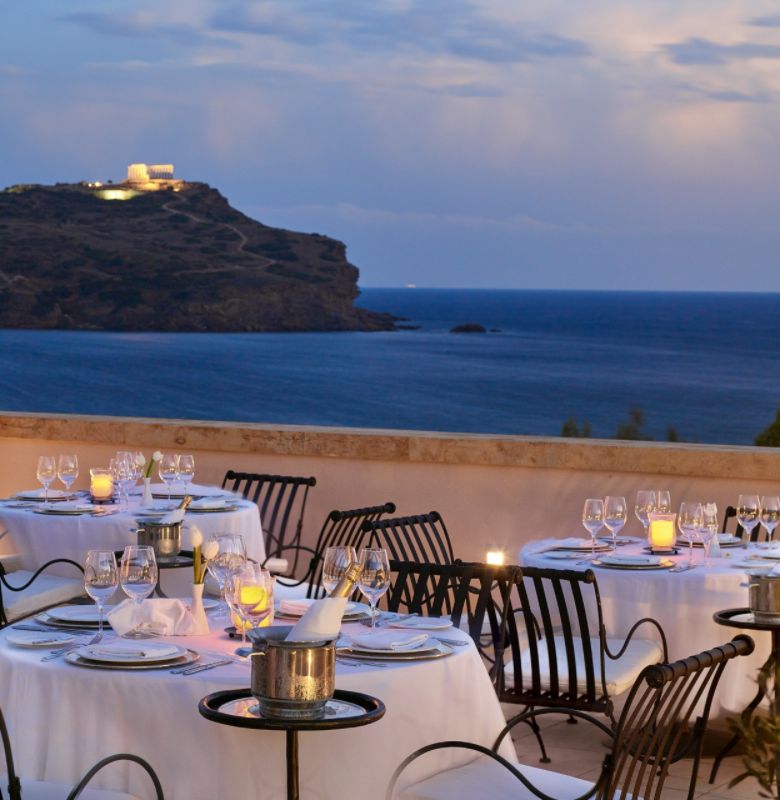 Cape Sounio Luxury Hotel sits right across from the imposing ancient Temple of Poseidon and around a stunningly beautiful beach.
Following the natural curve of the bay, the hotel has 150 terracotta-colored bungalows, suites, some with private pools and villas, blending perfectly with the intense and rugged Attika landscape.
Enjoying dinners at one of 5 restaurants by the Sounion beach watching the brightly lit ancient Temple and listening to the Aegean waves splashing close by is one of the best things to do in this amazing hotel.
And of course, you must visit the indoor Elixir Spa for treatment!
The Cape Sounio is definitely one of the top three Best Athens Beach hotels.
Check availability and prices on Booking.
Cape Sounio Hotel has 2 private and secluded crescent beaches one with sand and the other with pebbles.
4.8 km from the hotel is the unique Archaeological site of the Temple of Poseidon famous for its spectacular sunsets.
A few km further down, you can visit the ancient theater of Thoriko and the modern town of Lavrion with fantastic seafood options.
Check availability and prices on Booking.
Sounion & the Temple of Poseidon
5. Dolce by Wyndham Attica Riviera, Vravrona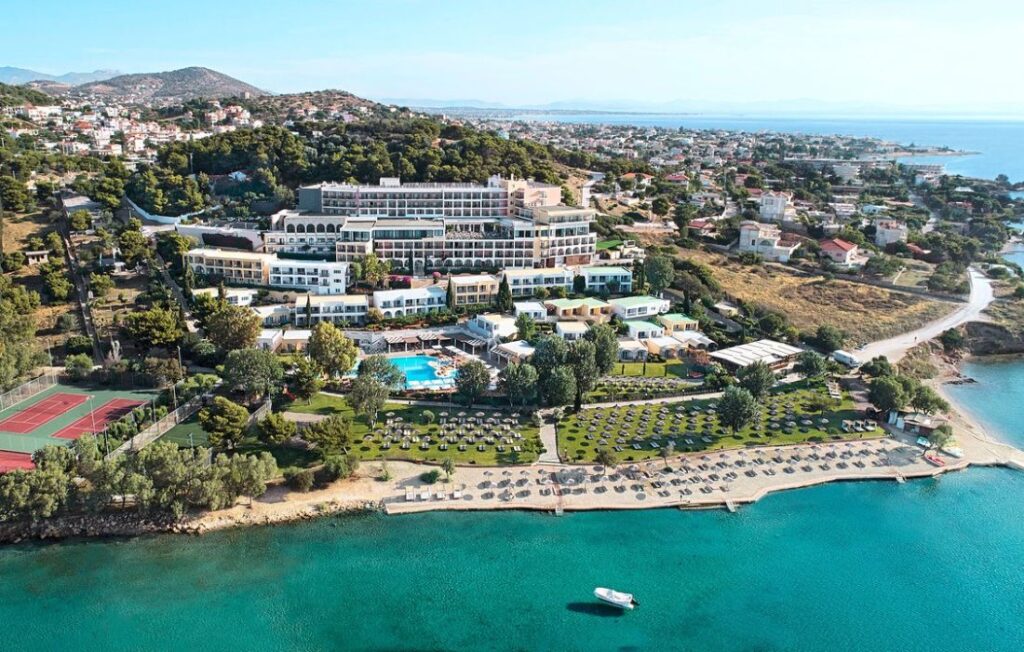 Vravrona suburb is on the east side of Attika, only 15 minutes far from the Athens International Airport and quite close to Rafina, a popular port for island hopping like Andros, Mykonos, Santorini, or Chania.
Dolce Hotel is not as luxurious as Four Seasons or Grecotel, but it is recently renovated with a fresh, that reminds both of Greek and International looks.
Dolce Hotel's location is absolutely fantastic, the beach is private with very clear and beautiful waters and the hotel offers high-quality service.
Their 346 guest rooms, suites, and bungalows some with private pools, spas, tennis and basket courts, 2 restaurants with beautiful sea views, will definitely satisfy every taste.
I have been to this hotel quite a few times as it is very popular for conferences or romantic weekend getaways!
Check availability and prices on Booking.
Vravrona was an important religious settlement in Ancient Athens and nearby you can visit the Archaeological site of Vravrona and its Museum.
Next to the archaeological site of Vravron, lies the protected natural habitat of Vravrona where many bird species live and it is a popular place for bird watching.
A worthwhile visit is also the Porto Rafti seaside settlement for a dive or to have lunch or dinner at its popular seafood and traditional Greek food taverns.
Check availability and prices on Booking.
How to Get to the Athens Riviera Hotels from Athens Airport
Book a private transfer with English speaking chauffeur from Athens International Airport or Piraeus Port to get anywhere in Athens and Athens Riviera. You avoid the hassle of public transport and minimize the risk of having your luggage lost or stolen. Check this private transfer in a Luxury Mercedes Van here.
Where to Stay in Central Athens
How to get to Greece
Like most visitors to Greece, you will probably have to fly to Athens or Thessaloniki International Airports to get to your final destinations.
For the Cheapest, Fastest, Best Worldwide Flights, I highly recommend the Skyscanner search engine site.
Message from Evgenia
Some of my Favorite Travel Resources for Greece
Airflights: Cheap/Fast/Best Worldwide Flights from KAYAK or SkyScanner search engine site
Booking.com: I use Booking.com because I can get the best deals, have info on hotels and Airbnb's alike, with breakfast or not, free cancellations, and great prices!
Ferries to the Greek Islands: Book your ferry transfer with FerryScanner or FerryHopper, and get the best prices in the market with no hidden fees
World Nomads Insurance: I feel insecure traveling to another country without having even the most basic of insurances. Insurance will protect you against illness, injury, theft and cancellations
Best car rental prices – Guaranteed. RentalCars.com
Get Your Guide: For all your day or multi-day tours and city guide needs, I use Get Your Guide
iVisa: For any questions, you may have about your documents, passport if you need a visa, a new photo, or any visa-related matter, iVisa is your man (or woman!)
Emergency Numbers Anywhere in Greece: AMBULANCE 166 – FIRE 199 – POLICE 100– EMERGENCY NUMBER 112
More Travel Ideas for Greece