Ithaca Greece or Ithaki is a beautiful Greek island in the Ionian Sea, in western Greece. It is located very close to Kefalonia island, south of Lefkada and north of Zakynthos with easy ferry access from the Greek mainland and the neighboring islands.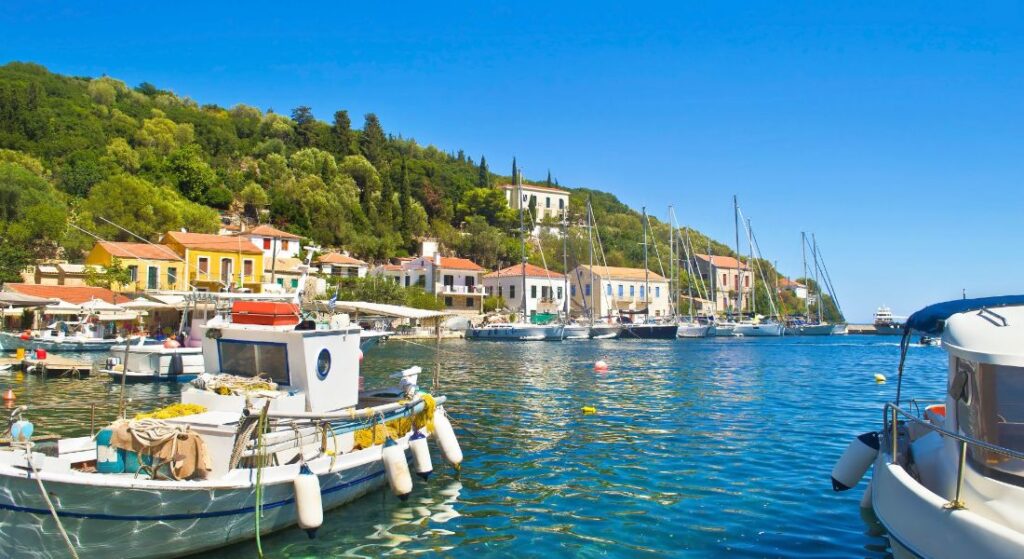 Ithaca Greece is the second smallest island in the Ionian Sea (Paxos is the smallest one) and is much less touristically developed compared to Corfu, Zakynthos, or Kefalonia. With hardly 3.000 permanent residents, Ithaca is ideal for relaxing vacations.
I have been twice to Ithaca, once for work and once during summer on vacations. I loved the picturesque villages, the crystal clear turquoise water beaches, and the stunning coves around its coastline.
Ithaca island is a symbol for the Greeks: it is the return to the haven, to spiritual journeys, to the promised land. "As you set out for Ithaca, hope the voyage is a long one, full of adventure, full of discovery," wrote the great Greek poet Constantinos Cavafy.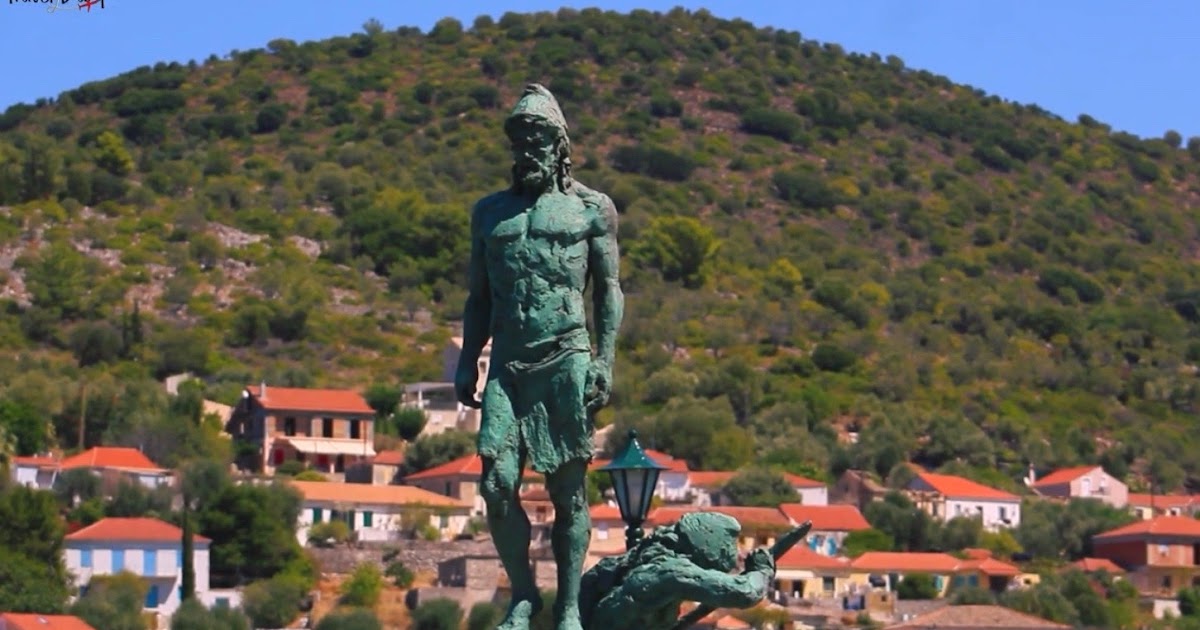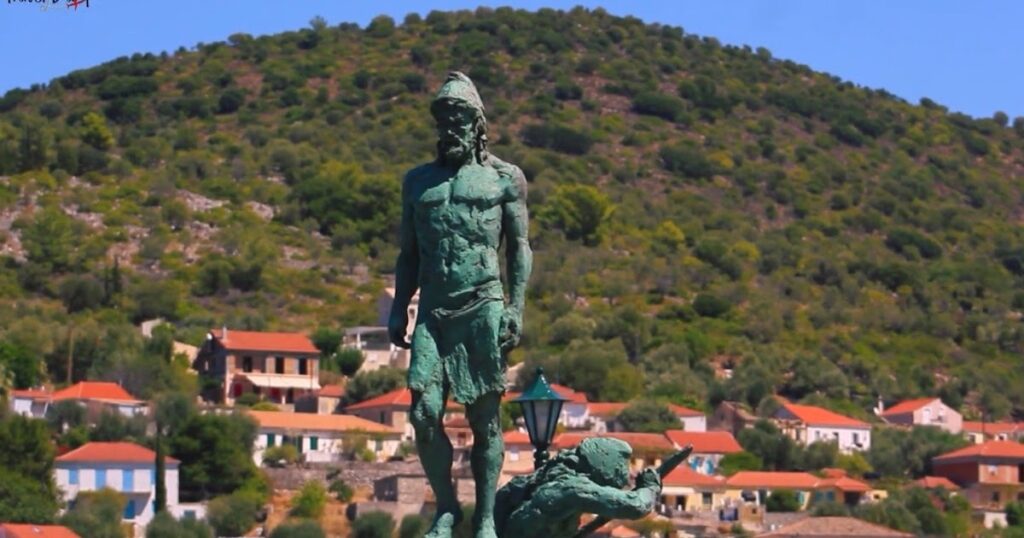 Ithaca Greece is widely known as the home island of Odysseus (Ulysses), the brilliant hero from Homer's Odyssey who traveled for 10 years after the war in Troy to get back to Ithaca.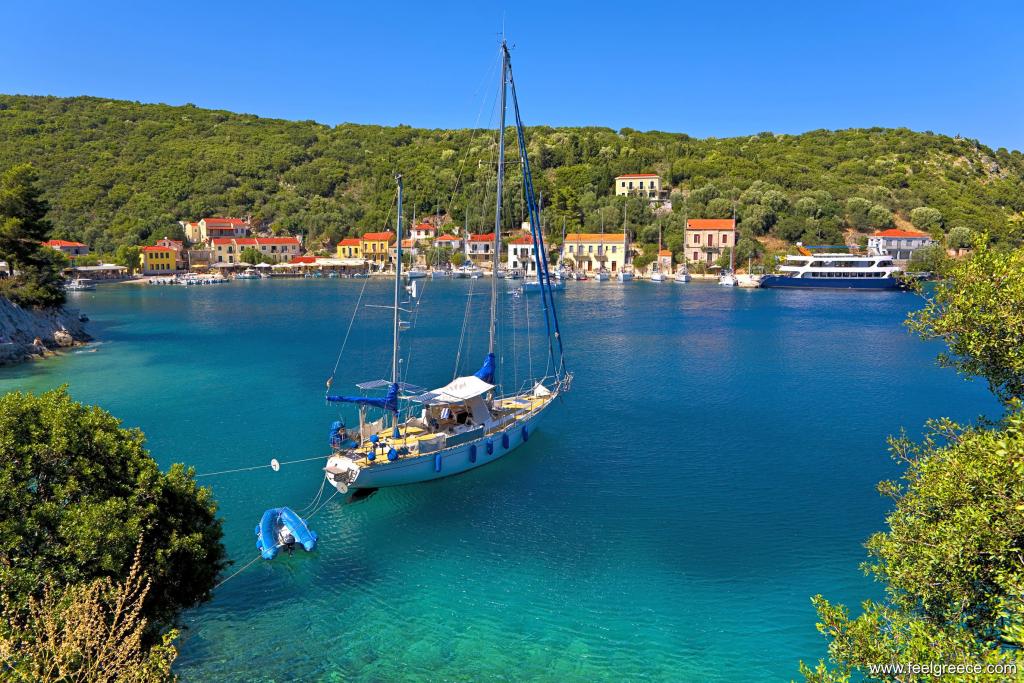 There is a Mycenean archaeological site called 'Odysseus Palace' that you can visit, read more in the post. But even if you don't have time to go to the site, you will see Odysseus everywhere: statues and plaques stand on the island stressing the fact that Ithaca is a Greek island with great history.
*Some of the links in this post are affiliate links. That means I may make a commission if you click and buy. The commission comes at no additional cost to you
Best Things to Do in Ithaca Greece
1. Walk around Vathy town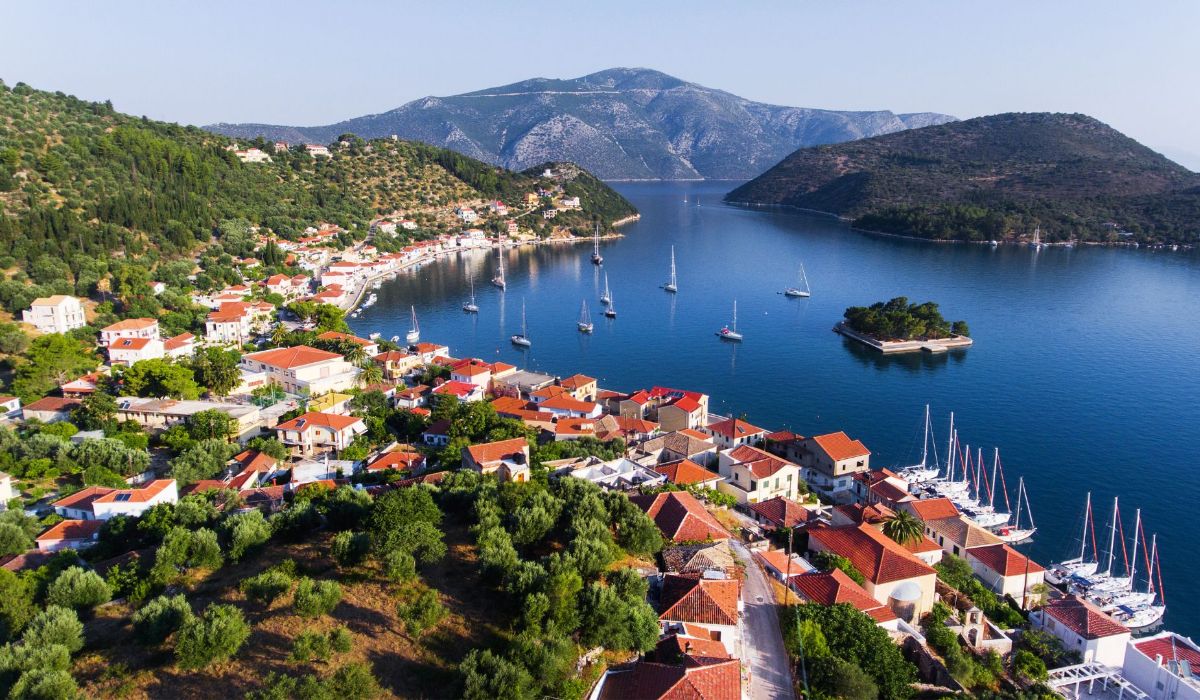 Vathy (or Vathi) is Ithaki's capital town, built in a beautiful bay where many small colorful fishing boats are lined up around the coast. It has a very distinct neoclassical architecture with colored houses, very different from the whitewashed Cycladic ones.
It is a quiet place with not a lot of traffic. Its coastline is dotted with all kinds of cafes and restaurants and most of the accommodations of Ithaca can be found here.
If you love history then a visit to Vathy's Archaeological Museum is a must. The findings, are from the southern part of the island and cover the timeline from the Geometric era to the Romans. The entrance is €2. Time 08:30-15:30 closed on Tuesdays.
Another interesting Museum is Ithaca's Folklore and Nautical Museum. It displays 1,500 exhibits, including old photographs, paintings of ships of ship-owners of Ithaca, and nautical instruments. The entrance is €2. Time of operation: All year round 09.00 – 13.00 (except Sunday and Monday), July and August 09.30 – 13.30, and 18:00 to 21:00 (except Tuesdays).
2. Renew your Vows on Lazaretto Islet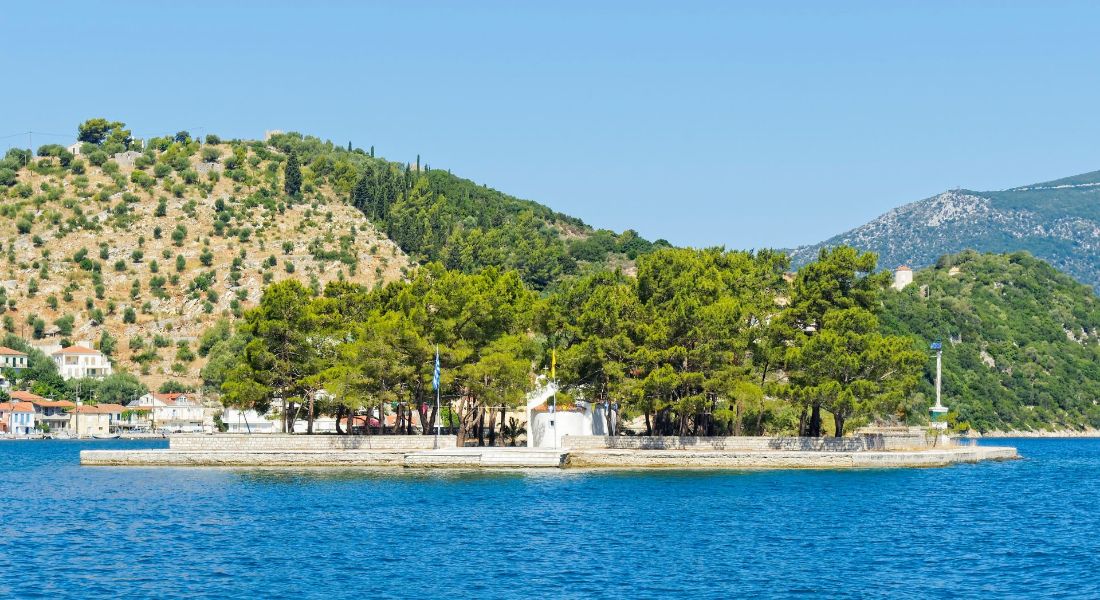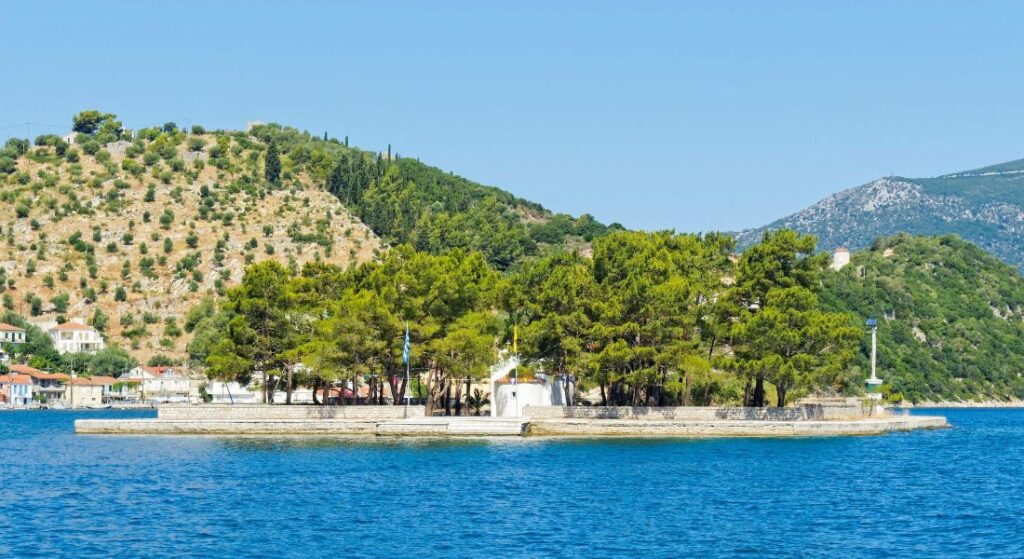 In the beautiful bay of Vathy lies the tiny island Lazaretto. On the islet, you will find the Church of Savior Christ, which is very popular for wedding ceremonies due to the picturesque atmosphere.
I believe it is a fantastic idea to get married on the romantic islet or update your vows if you have already tied the knot. 😀
3. Swim at Ithaca's Marvelous Beaches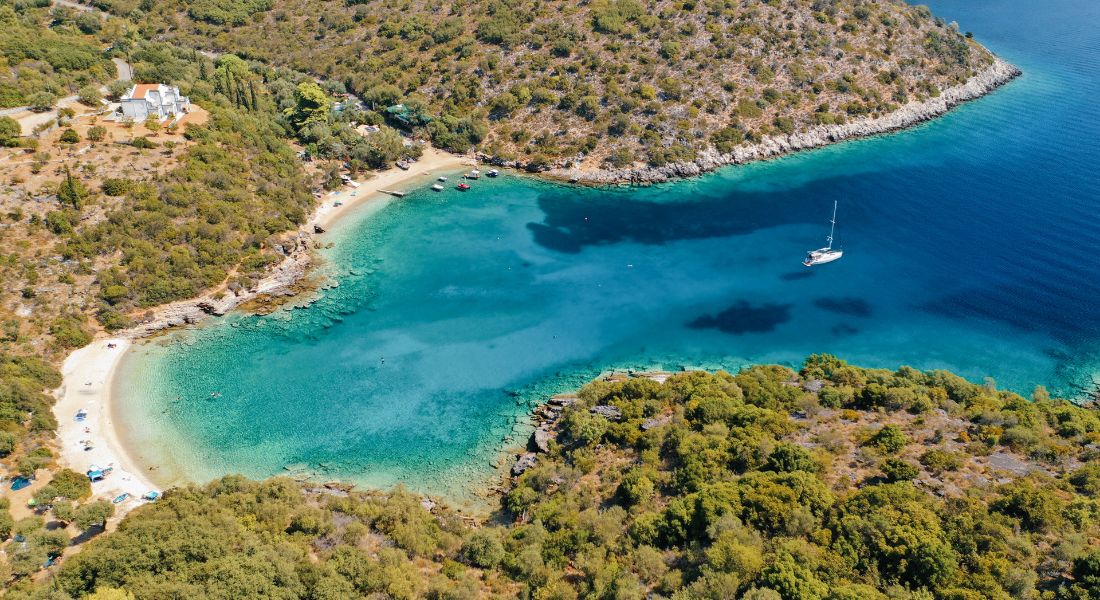 Near Vathy, right behind a hill is a quiet beautiful cove, with two beaches called Sarakiniko. It is great for families and is organized with a few sunbeds, umbrellas, and a snack bar, lined with pine trees and covered with pebbles.
Filiatro is a popular beach with emerald-colored waters (ideal for snorkeling), white pebbles, and a background of olive trees that merges into the sea. Organized with a canteen and water sports facilities, can get very busy so go early in the morning or late in the evening during July – August.
All around the island, there are many beaches, most of them quiet and not organized. I recommend checking the beaches of:
Skinos, a tranquil bay lined by cypress trees, with no amenities
Gidaki, is impressive, and pebbly, with a few sunbeds & umbrellas, a snack bar
Shoe Tip: As all the beaches in Ithaca are pebbly (except sandy Afales in the north), I recommend you avoid flip-flops and wear sturdier shoes for the beaches.
4. Discover 'Odysseus' Palace in Ithaca
In 2010, in the north of Ithaca Greece, near the village of Exogi, the remains of a Mycenean Palace (1200 BCE) were unearthed. The excavations were held by the University of Ioannina in the area called 'Homer's School'.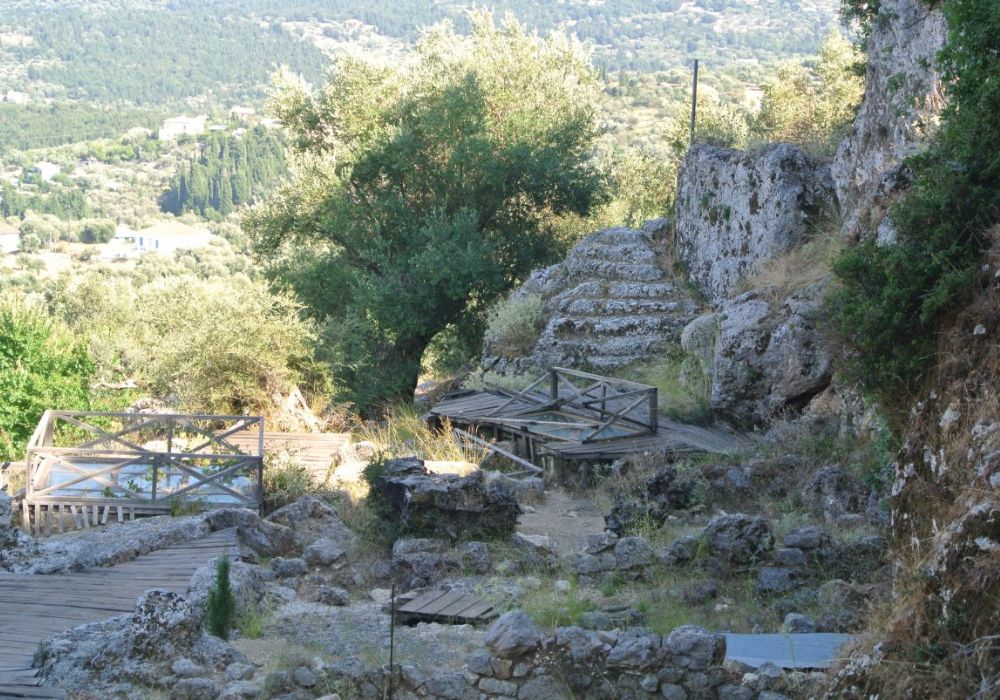 According to Homer, Odysseus had his palace somewhere in Ithaki. However, there is no concrete evidence to prove that the ruins found were indeed the Palace of Odysseus and there is still a debate going on between historians and archaeologists. Free entrance.
At the nearby Stavros village, you can see a model of how the Palace was at its peak, 3300 years ago. In Stavros do not miss visiting the exquisite archaeological collection.
History tip: Mycenean was a Greek civilization that spanned between 1600-1100 BCE. There are Mycenean tombs and remains of Palaces in many places in Greece like Nestor's Palace in Pylos. Most prominent is the UNESCO Mycenae and Tiryns in the Peloponnese.
Food Tip on Stavros: Try Rovani, a honey and rice pudding usually served with ice cream.
5. Visit the Monastery of Katharon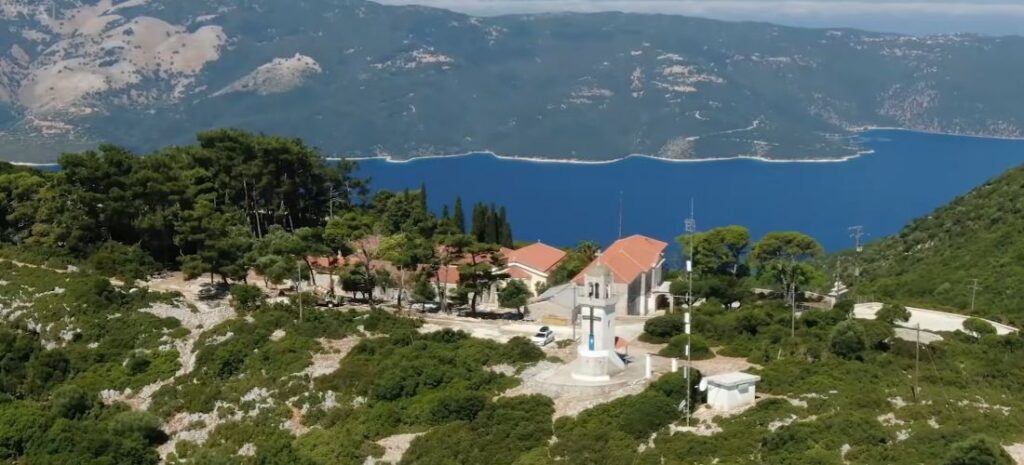 On Ithaca's highest mountain, Niritos, at 800 m and surrounded by pines and cypresses, you will find the impressive Monastery of Panagia Kathariotissa or Katharon. We do not know the exact date of its foundation but we do know that the main church, the catholicon existed since 1696.
From there, you can admire incredible vistas of southern Ithaca, the Ehinades Islands, Kefalonia, the Peloponnese, and Zakynthos to the right.
The Monastery has no monks today but it remains open to visitors from dawn till the late hours. It is 15 km far from Vathy and modest dressing is required when entering the monastery. Monastery landline: +30 26740 33460.
More about modest dressing you can read in the Meteora Monasteries Post.
6. Go to Frikes and Kioni Villages
Frikes is a beautiful seaside village, 4 km northeast of Stavros and one of the ports of Ithaca Greece. It is located right across from Lefkada. There are a few traditional taverns where you can enjoy your lunch and its landmark are the two old windmills on each side of the village.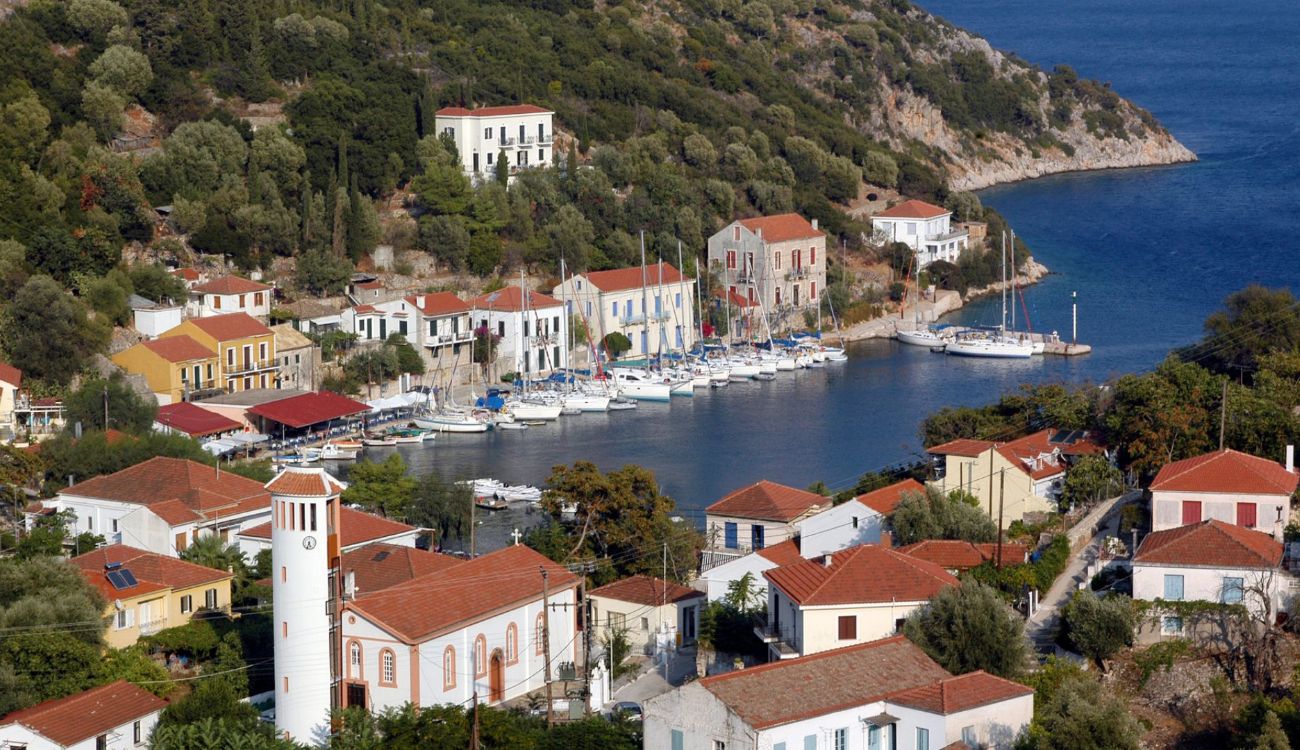 Kioni is 5 km to the west of Frikes and is one of the most beautiful settlements of Ithaca Greece. It will charm you immediately with its stone dwellings with patios brimming with flowers, little coffee shops, and restaurants with tables on the water.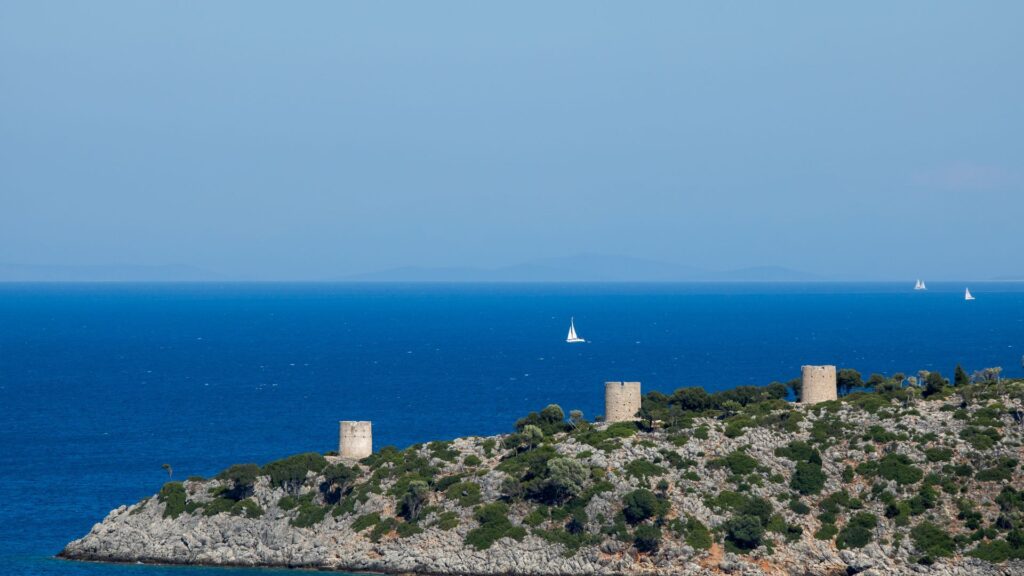 Across from the village, there is a fantastic beach called Kantina, and on top of the hill, there are three old windmills.
However, my favorite spot in Kionia for a swim is the tiny area right across from the multicolored houses that descend amphitheatrically to the sea.
7. Explore by Boat the North of Ithaca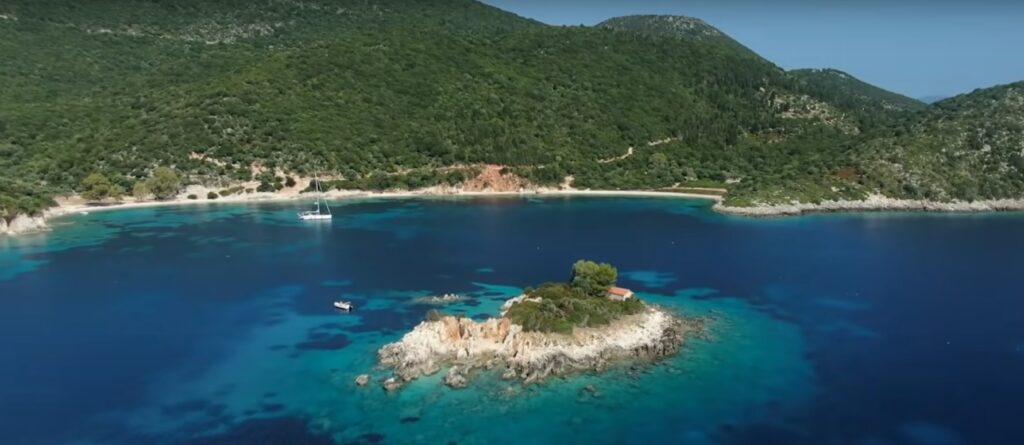 Take a boat from Vathy and travel to the north of Ithaca. Stop at Marmagkas Beach with the beautiful islet of Agios Nikolaos. This is a fantastic place for a dive as there are small natural pools formed on the island that you can explore.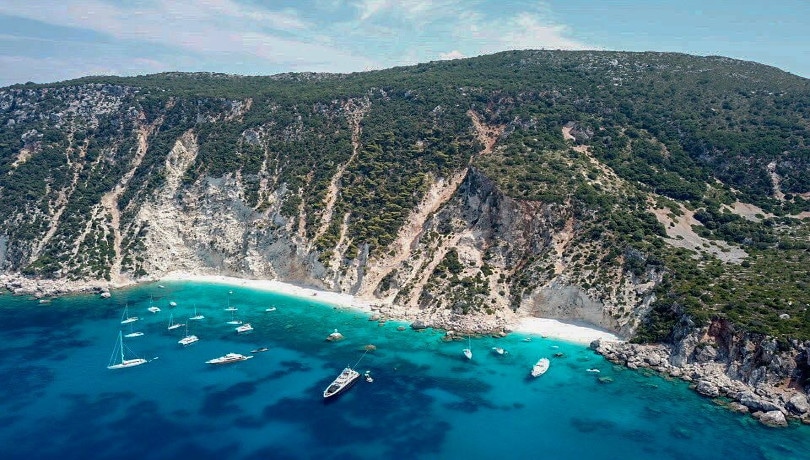 If you reach the northernmost part of Ithaca, you get to the impressive Afales, Ithaca's only sandy beach, and a favorite kayak and sailing destination. As you sail/paddle the gentle waters of the bay, you'll see cliffs, small caves, and inviting little turquoise beaches.
8. Visit the Ancient town of Alalcomenae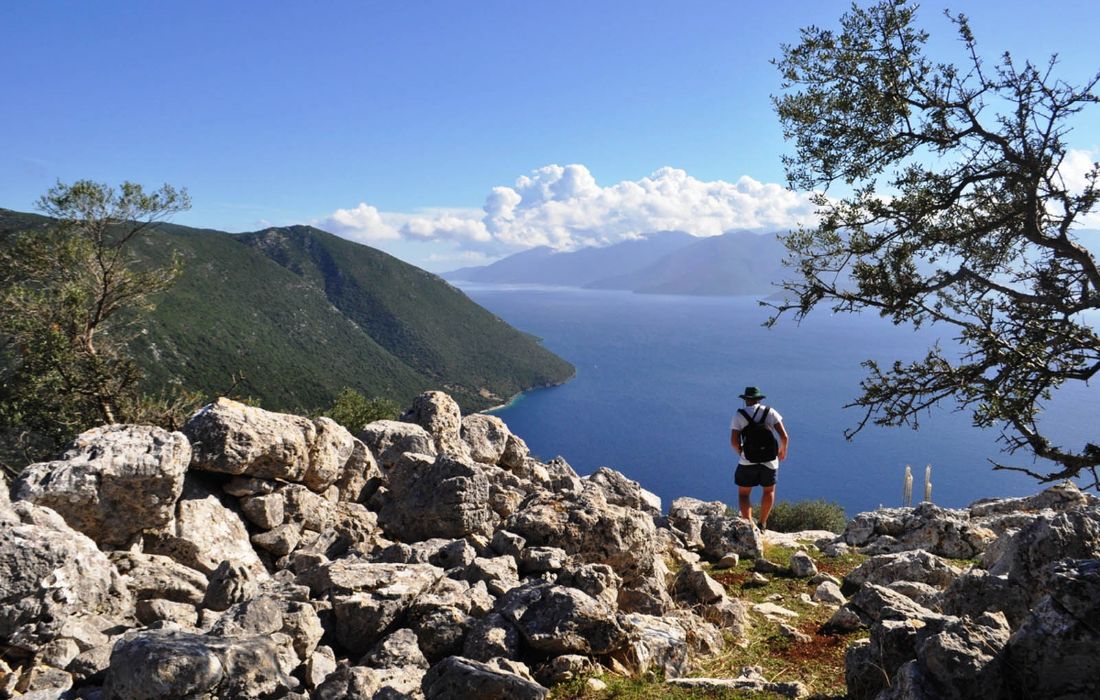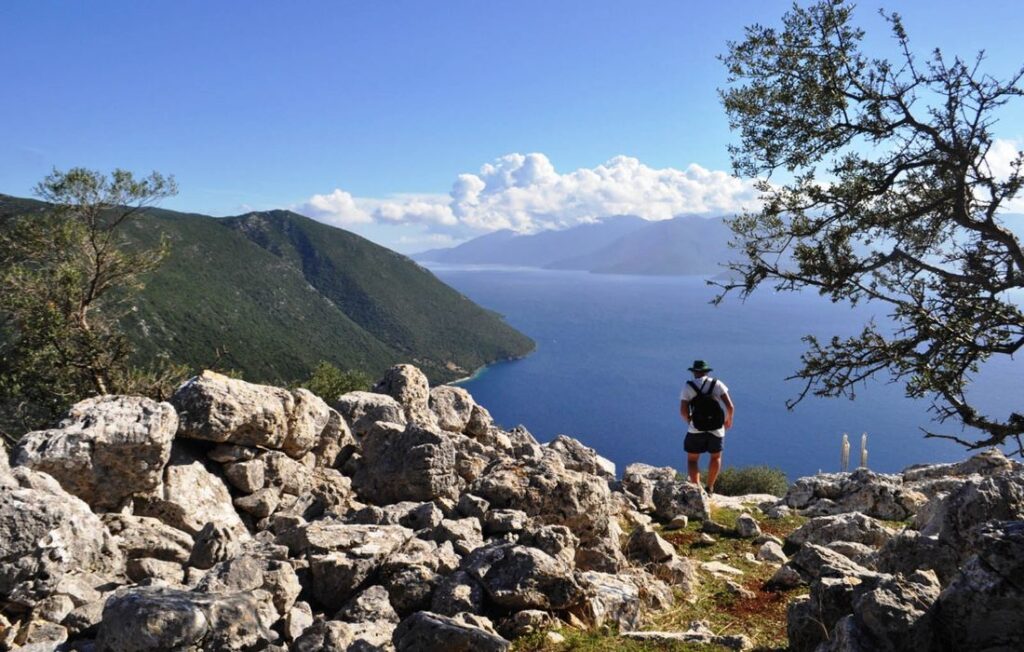 Following a short but steep path on the hill of Piso Aetos, near the isthmus that connects the two parts of Ithaca, you get to the remains of the ancient acropolis of Alalkomenes. Some historians suggest that this is Odysseus' birthplace but as there is another ancient town on the Greek mainland with the same name, nothing is for sure.
The remains of the site cover a large part of the hill and you can still see impressive Cyclopean walls and a sanctuary that was probably devoted to Apollo.
Ancient coins with the heads of Odysseus and Athena are exhibited in the Archaeological Museum of Vathy.
The entrance to the site is free.
9. Hike from Vathy to Agios Andreas Chapel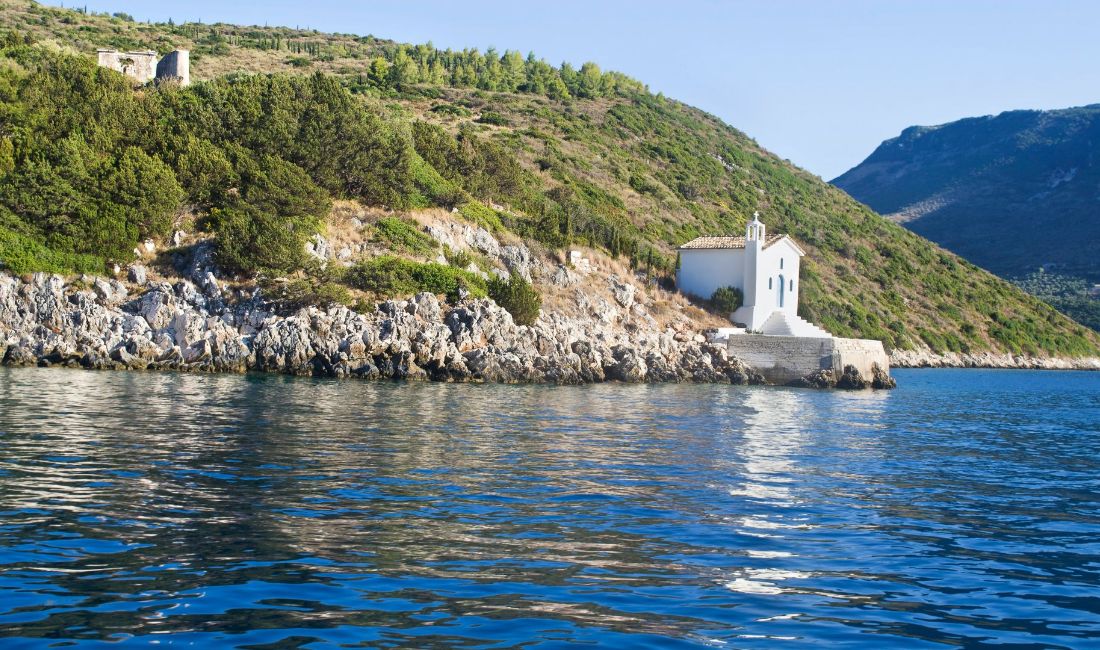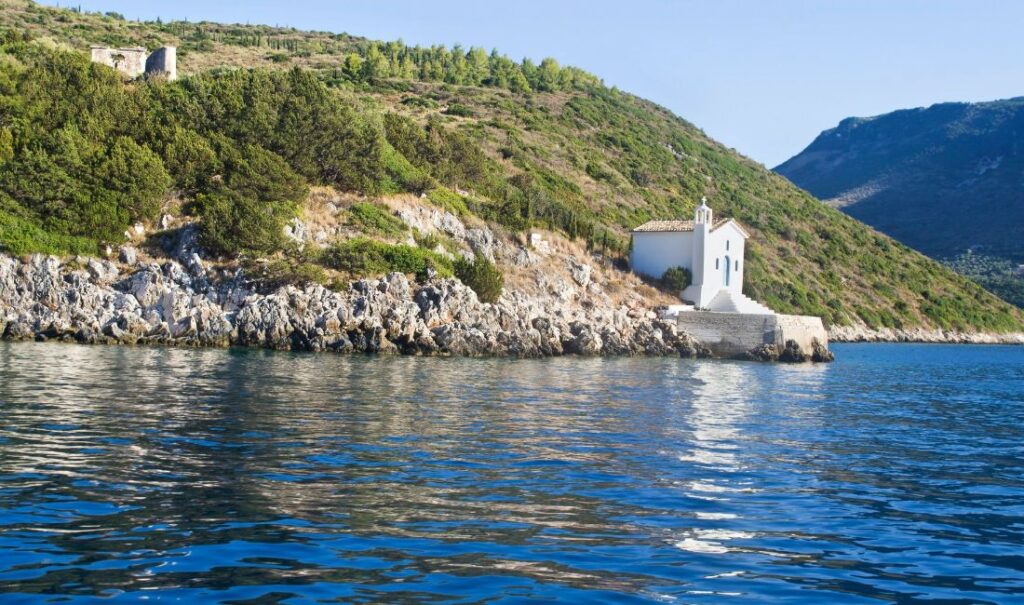 This is a fantastic seaside trail of 3.7 km (70-80′), easy even for children older than 12 years old. The trail begins a bit out of Vathy at the old port and you pass by those main spots:
Odysseus and Homer's statues
A large 2-story neoclassic mansion of Dracouli, a local ship owner family
The few remains of a castle of 1807 with 2 canons
Loutsa is a small sandy beach with shallow waters ideal for families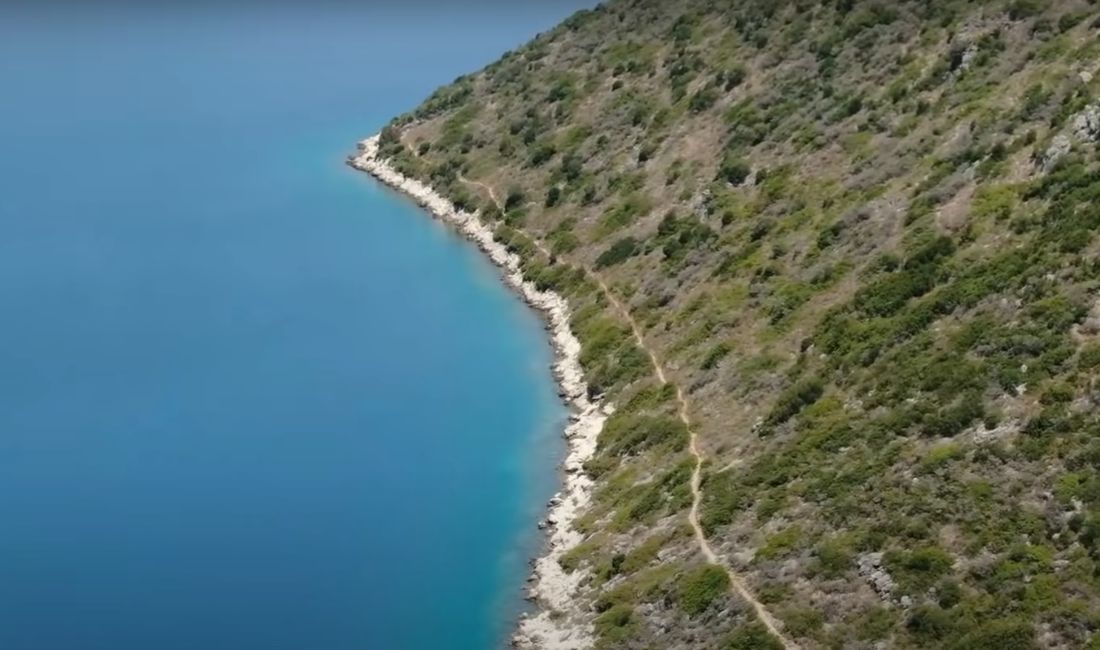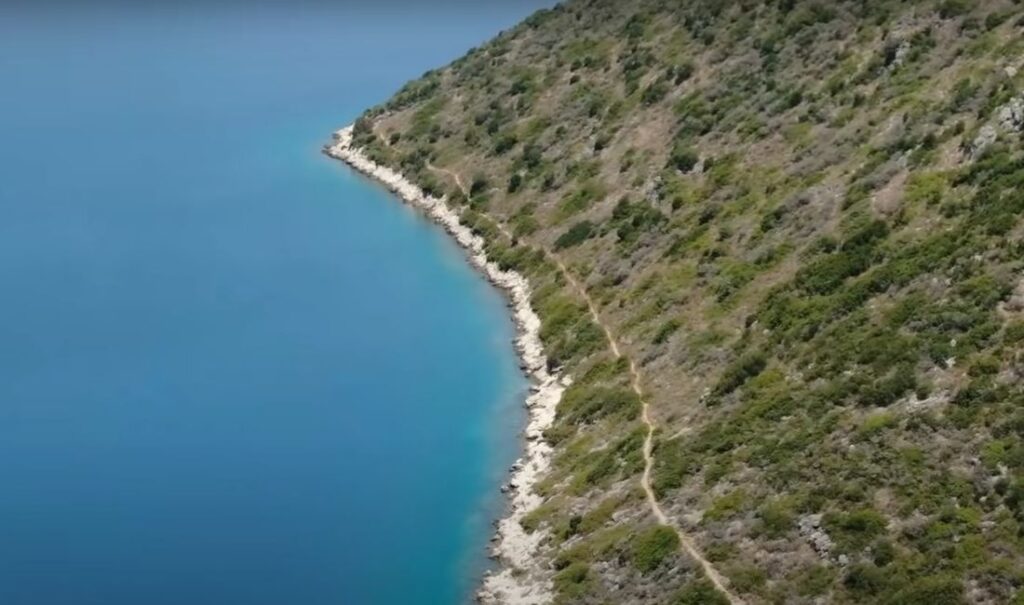 The beautiful trail ends at the cape of Agios Andreas with the small chapel (built in 1956) of the same name, which marks the entrance of the ships to the port of Ithaca. Over the chapel, you can visit the working lighthouse (1848).
History Tip: The idyllic road of Loutsa was built at his own expense by the explorer and friend of Ithaca, the Archduke of Austria Louis Salvatore (1847-1915)
10. Visit the Mountainous Perachori Village
Perachori village is built on the hill right over Vathy, an easy drive of 10 minutes max. It is one of the oldest villages of Ithaca with 354 permanent residents and a very authentic place to visit. You can stroll to the remains of the Venetian "city" where you can see medieval churches and ruins of houses.
One of the best things to do here is to taste the local recipes at the few taverns and enjoy homemade lemonade and walnut pie at the cafe 'Veranda sto Ionio'. The view is simply spectacular!
Ithaca Greece Hotels – Where to Stay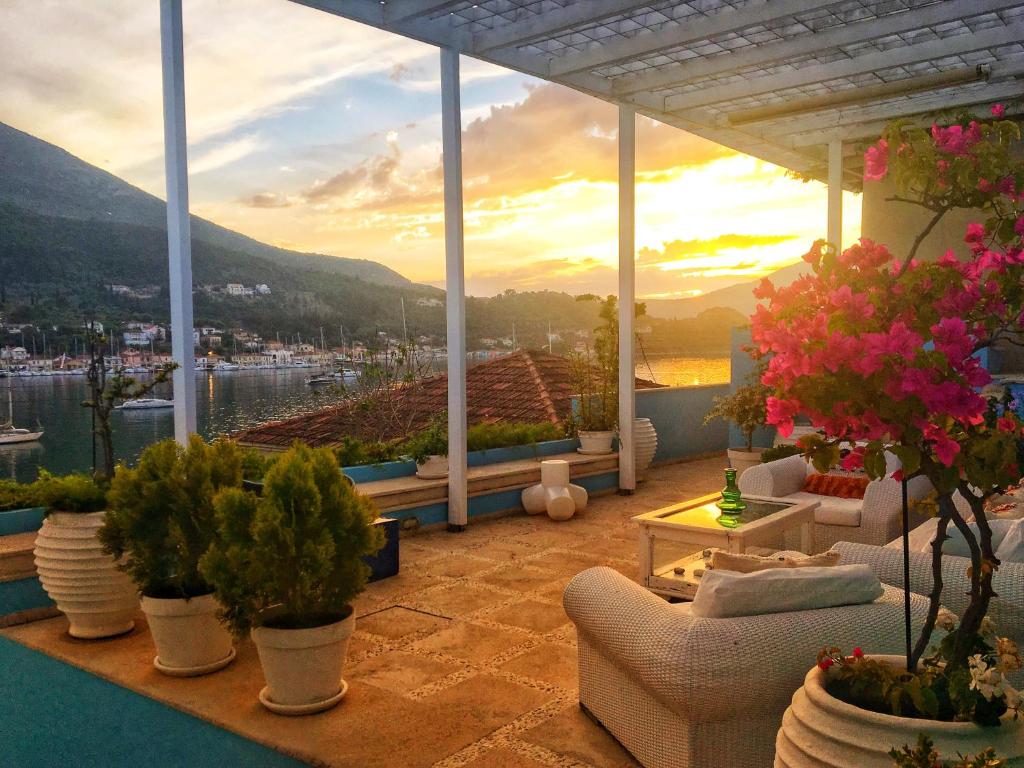 Vathy is a good place to stay as it is the liveliest village in Ithaki.
Perantzada Art Hotel is a fantastic seafront property. Built in the 19th century, it will charm you with its artistic details and impressive breakfast.
If you would rather stay by a village in Ithaca then Agnandio Apartments in Kionia or Pilikas Luxury Villas in Stavros will make your stay on the island memorable!
Where to Eat in Ithaca Greece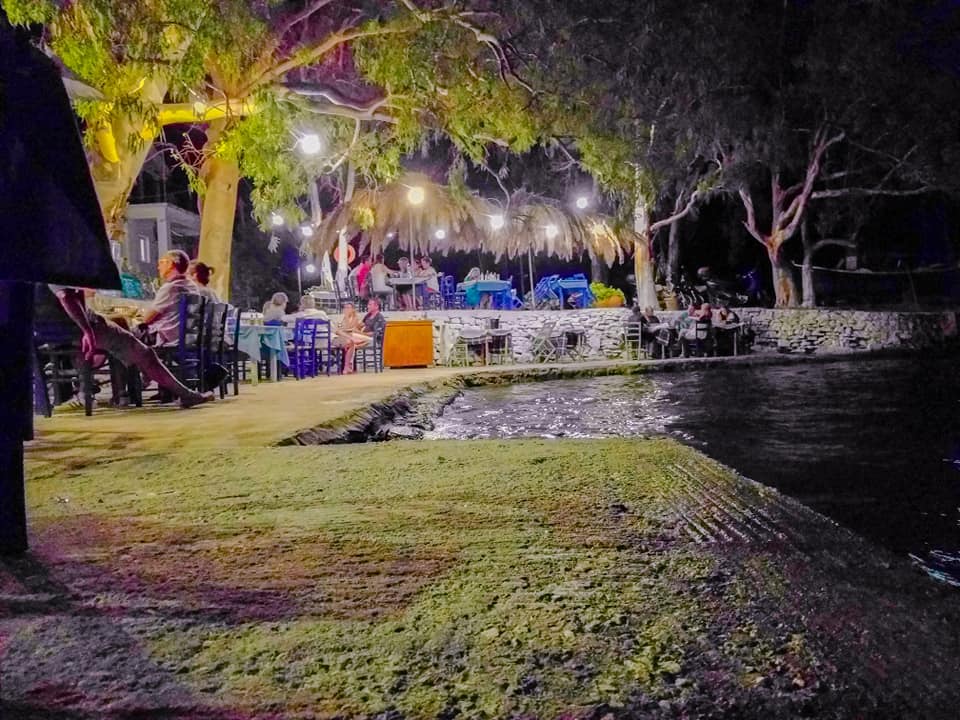 One of the best things to do in seaside Greece and mostly on islands is to enjoy your meals by the sea. You will find a lot of taverns on Ithaca that have their tables right on the water. Some of the best are:
Where to eat in Vathy
Tsirimpis restaurant in Loutsa beach near Vathy with traditional Ithacan food (shrimp pasta, grilled meat, fish stuffed with garlic)
To Trehantiri, is a traditional tavern with specialties in cooked food (Goat on the grill, moussaka, briam, local greens, but also "savoro", marinated fish with vinegar and raisins).
Where to eat in Stavros
Tavern Kanenas: probably the best tavern in Ithaca. Authentic Greek food and seafood, close to the center of Stavros
Where to Eat in Frikes
Tavern Odysseas, with divine specialties, delicious fish meze, and a wide variety of fresh fish, freshly caught with their boat
Ageri Restaurant, the picturesque port of Frikes with a view of the two well-preserved windmills and traditional dishes
How to Get to Ithaca Island
There is no airport on the island of Ithaca but you can fly to Kefalonia International Airport which receives domestic flights from Athens, Corfu, and Zakynthos all year round. During summer, the airport also receives flights from various locations around Europe.
Ferries from Kefalonia run to Ithaca's 3 ports: Frikes, Pisaetos, and Vathy. Ithaca is also connected by ferry with Lefkada.
There are no ferries from Piraeus, Athens' main port going to Ithaki island. Alternatively, you should drive/take the buses to the ports of mainland Greece:
Port Astakos in western Greece in the Aetoloacarnania region or
Port Kyllini in the Peloponnese ( a popular port for visitors to Ancient Olympia)
If driving is not your thing, consider booking a private transfer from Athens to the port of Kyllini.
Ithaca Greece Map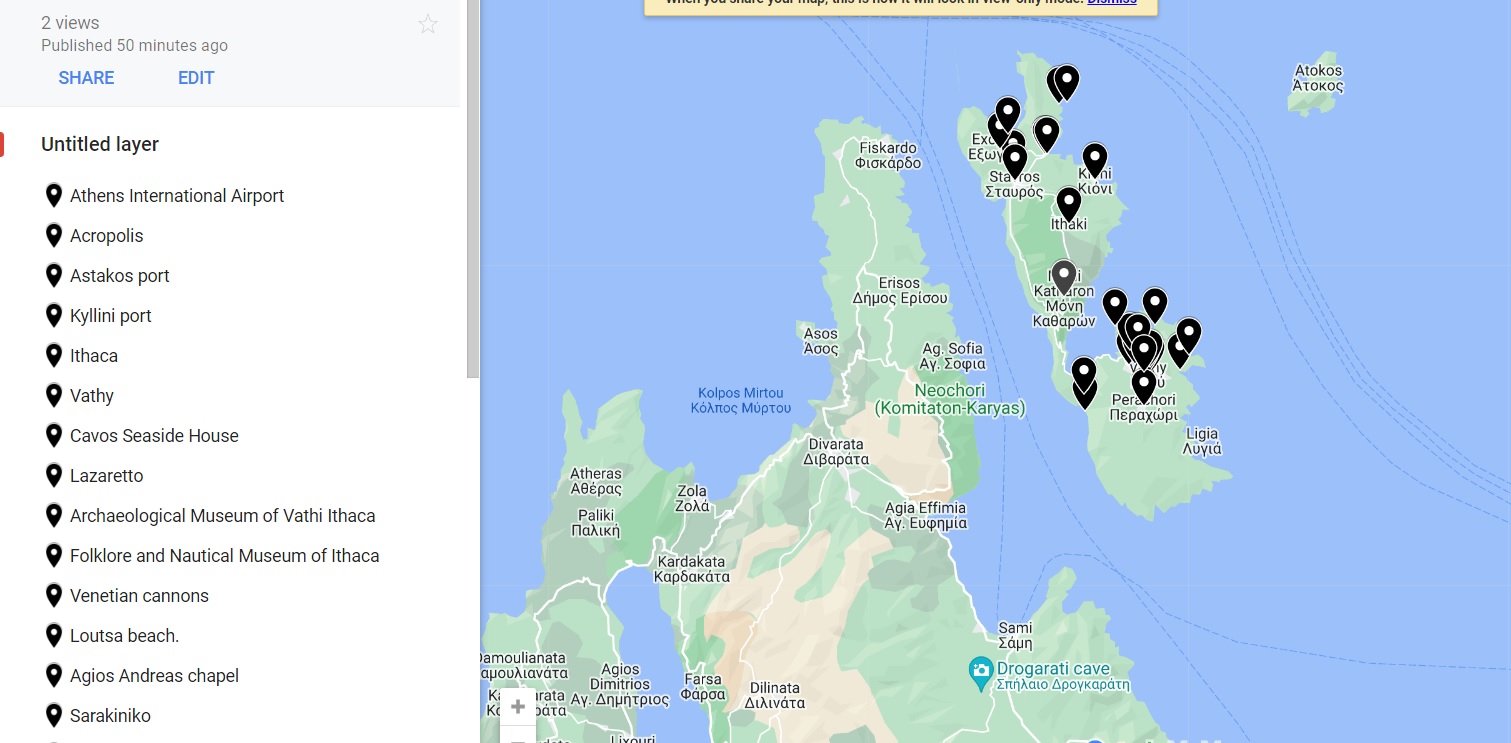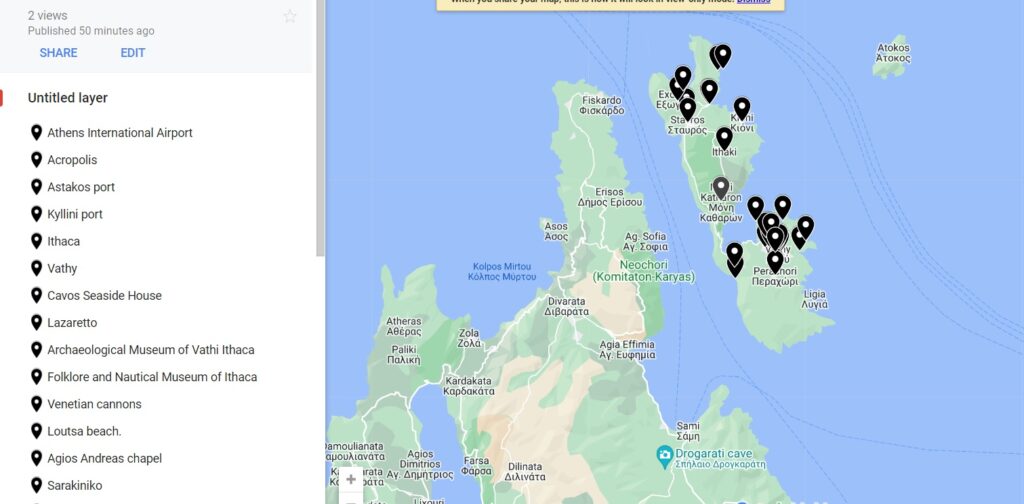 Get your map of the top Ithaca Greece attractions here on Google Maps.
What to Wear in Ithaca
This depends on the season you are visiting but anytime between May and October, essential things to have in Greece are:
When is The Best Time To Visit Ithaca?
The island is at its liveliest between May and September. June is a good month to go to Ithaca as it will be warm with little crowds. You can visit in winter, there will be hotels, cafes, and taverns working but it will be very quiet.
Plan My Trip to Greece
Do you need a custom travel itinerary for Greece? Are you traveling solo, with your family or your friends and you need a tailor-made multi-day tour or a transfer within Greece?
If yes, please visit my dedicated Plan My Trip Page for a free itinerary!
Where is your dream destination? Would you go to Ithaca?
I'd love to hear about where you're spending your vacation this year, especially if you have any exciting travel plans! There are so many things to do on Ithaca Island. I hope that you get the chance to try as many as possible. Till next time, Evgenia❤️
All rights reserved © Travel the Greek Way. Republishing this article and/or any of its contents (photographs, text, links) is strictly prohibited.
My Most Popular Articles
Greece Essential Travel Info
'Hello' and 'Thank You' in Greek: "Ya sou" and "Efharisto"
Booking.com: I use Booking.com because I can get the best deals on both hotels and apartments, free cancellations, and great prices!
Find Long-Term Rentals in Greece: You will find the best prices in Flatio
FerryScanner to book ferries to the Greek Islands
Athens Metro Website (timetables and ticket info)
Get Your Guide: For all your day or multi-day tours and city guide needs, I use Get Your Guide
Emergency Numbers Anywhere in Greece: AMBULANCE 166 – FIRE 199 – POLICE 100– EMERGENCY NUMBER 112
Please follow and like us: