Chios Greece is one of the North Aegean Islands and ranks as the fifth-largest Greek island, following Crete, Evia, Lesvos, and Rhodes. It is a stunning island, renowned worldwide for its mastic tree cultivation, well-preserved medieval villages, delectable local sweets, and the warm hospitality of the Chian residents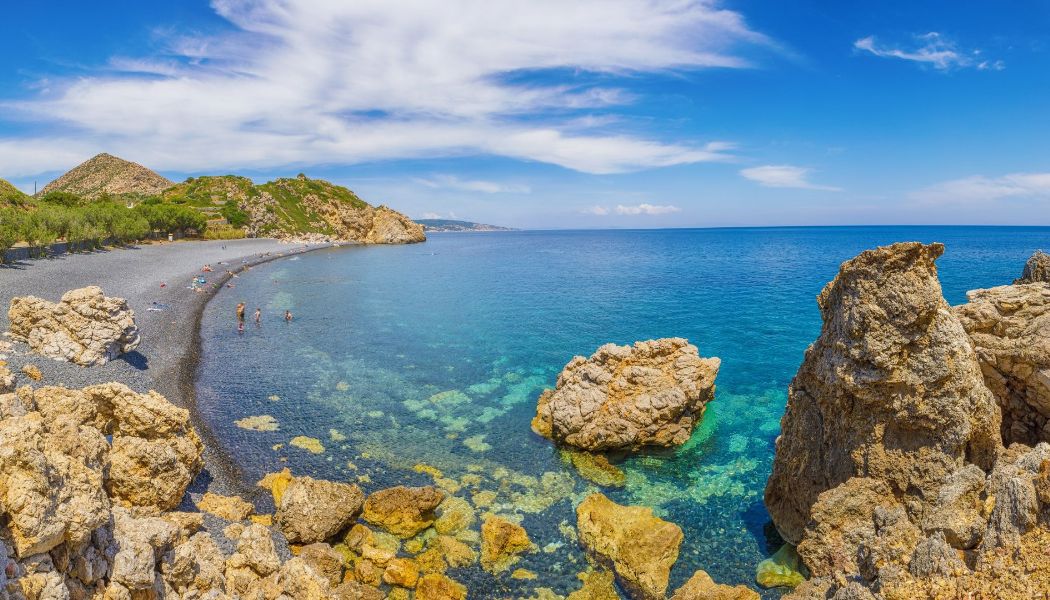 Chios, Greece, remains an undiscovered gem, far from the bustling summer crowds. It's an ideal destination if you seek relaxation, love the rich history, and enjoy exploring beaches as the island has over 70 beaches. Among its renowned beaches, you'll find the dark, pebbled beauty of Mavra Volia and the soft, sandy shores of Komi Beach.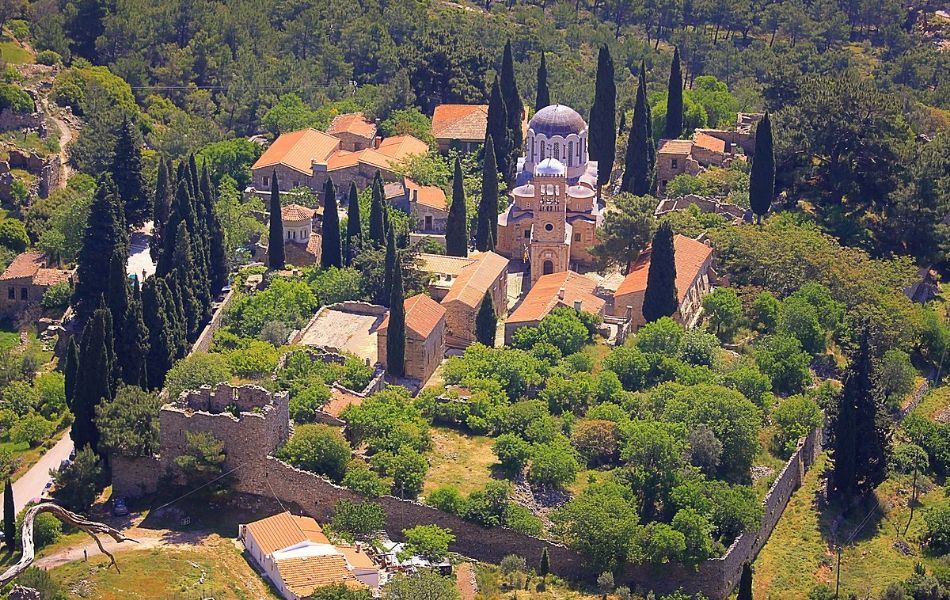 Chios Greece, is home to splendid Greek Orthodox monasteries and churches, with the most renowned being the UNESCO-listed Nea Moni of Chios, an 11th-century monastery.
A tragic time in Chios history occurred between March 30th and June 1822 when the Ottomans slaughtered all the men and sold all the young population of Chios as slaves. There are monasteries such as the Historical Moni of Agios Minas where 3.000 Chians were brutally slaughtered, with in-house museums dedicated to this dark moment of Greek history.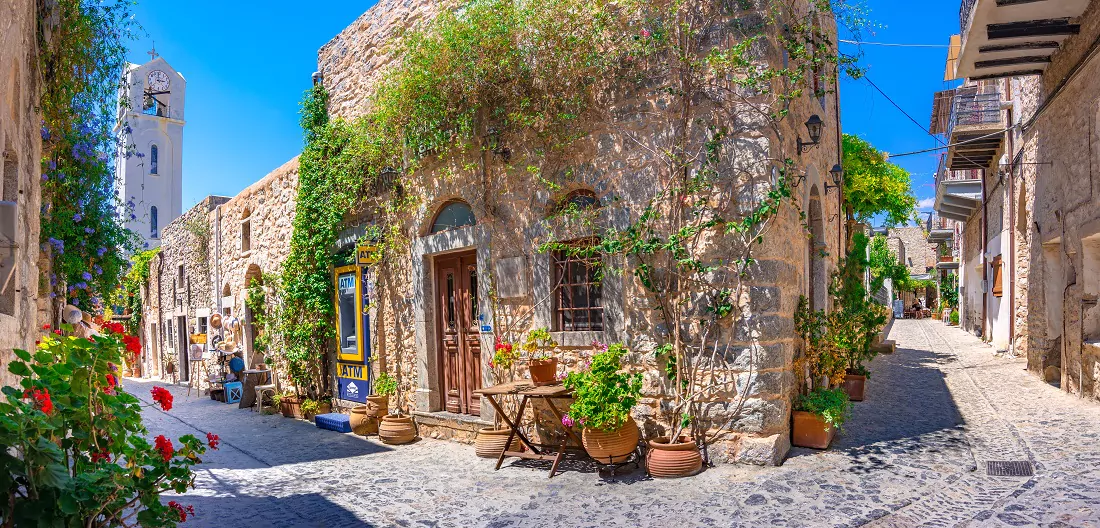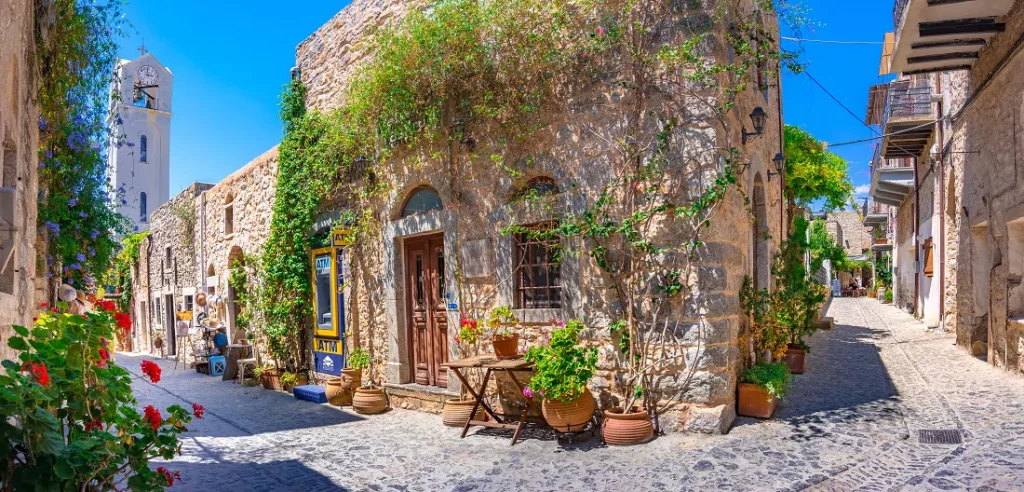 Chios Greece also houses stunningly beautiful villages, medieval structures that remind of labyrinths such as Mesta village, or black and white carved villages such as Pyrgi. And if you happen to be during Greek Easter Orthodox in Chios Greece you will enjoy the most spectacular celebrations in Vrontados village.
Find in this post all about the best things to do in Chios Greece. From historical monuments to the best beaches, attractions, and activities, how and when to get to the island of Chios.
*Some of the links in this post are affiliate links. That means I may make a commission if you click and buy. The commission comes at no additional cost to you.
Best Things to Do in Chios Greece
When you visit Chios Greece I recommend spending at least 4 days to really experience all the top Chios attractions. This is a large island with many stunning villages and beaches, and you will need some time to explore.
Walk around Chios Town
Chios town is the financial, administrative, and cultural center of the island. When you arrive in the town you will not be very impressed because Chios town is the least traditional area on the island. However, there are specific sites that you should not miss visiting:
Chios Town Castle
One of the top things to visit in Chios town is its fortified castle. Chios was given in fief to the Genoese family of Zaccaria and the ruler of the island built the castle in 1328 CE. Inside this impressive construction, apart from monuments of different eras, there is a living settlement of about 650 inhabitants.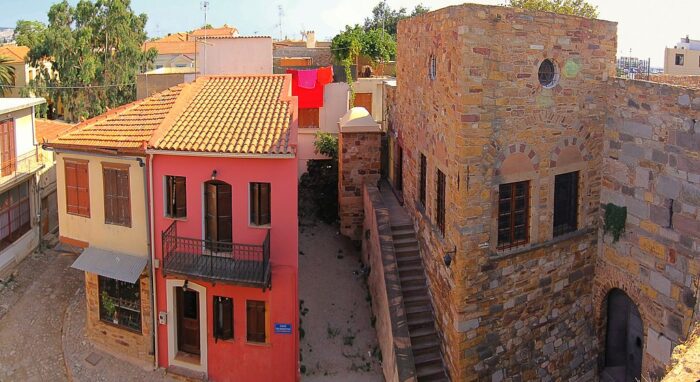 The main entrance to the castle is the monumental South Gate (Porta Maggiore) above the moat, which is protected by a circular tower on the right and decorated with representations, cornices, and symmetrical fins.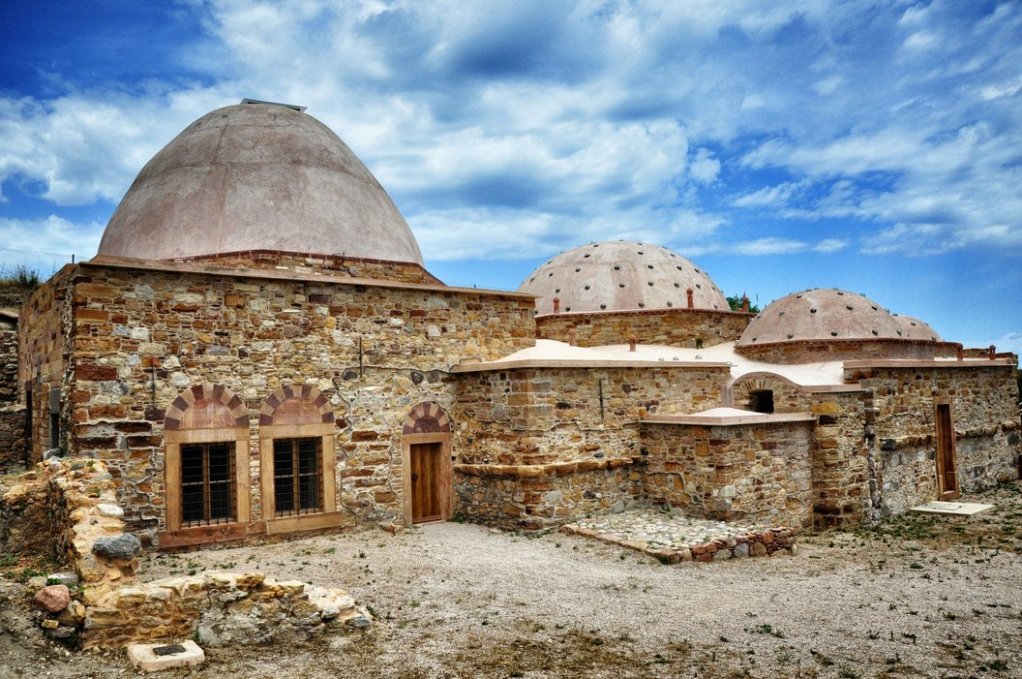 Inside the castle you will see:
The Justinian Palace, a 15th-century building that is used as a museum with antiquities today
The 'dark prison' in which 70 of Chios' priests were imprisoned before being hanged on 23 April 1822 by the Ottomans
The remains of Bayrakli Mosque
The Church of St. George (formerly the Eski Mosque)
A small Ottoman cemetery and the Ottoman baths
Great accommodation inside the castle is the Frourio Apartments.
Municipal Gardens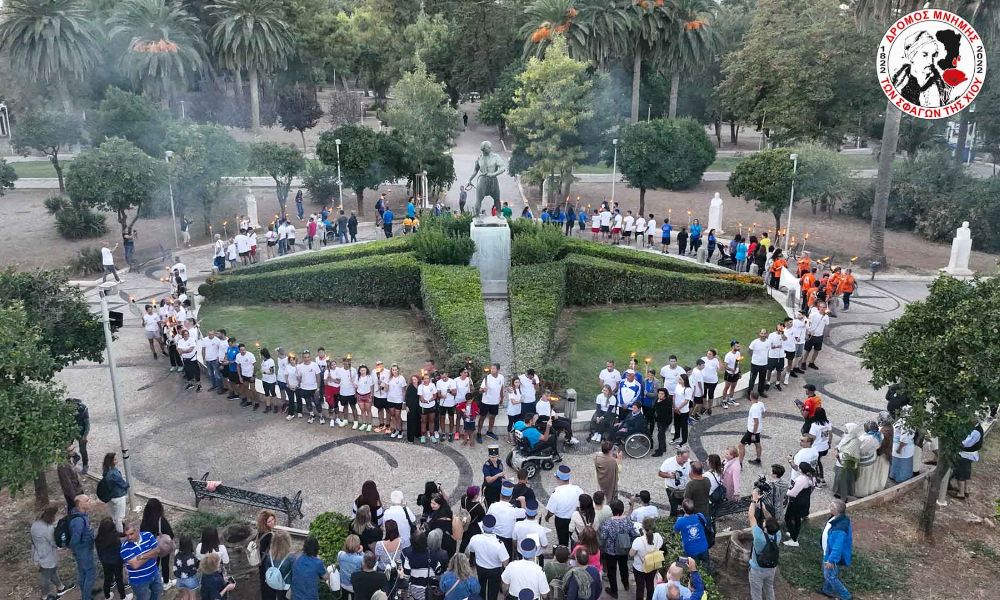 Walk through the town's large main municipal square with its gardens paved with the unique Chios mastery of pebbled mosaics. On a prominent pedestal, you will find the statue of Constantine Kanaris, a Chian admiral, patriot, and politician who lived during the period 1790-1877.
On the night of June 6th, 1822, Kanaris burnt down the admiral's flagship Bourlota Saimaz with the consequence death of Ottoman Admiral Kara Ali Pasha, responsible for the Chios massacre.
Chios Windmills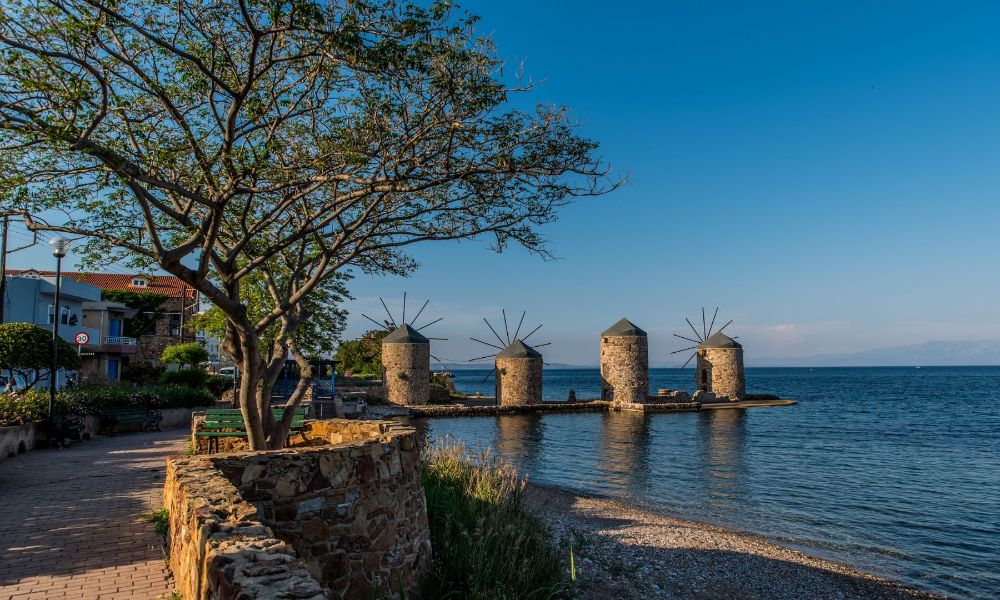 Drive or even better walk 1,5 km north of Chios town to 4 restored old windmills, in Tampakaria, a previously industrial area. Right at the windmills, there is a fabulous small seafood tavern with ouzo drinks called the Myloi Ouzeri. Grab a seat, order some small plates of food and a glass (or 2) of ouzo or souma, and enjoy a beautiful sunset.
Alternatively, book this fantastic food tour in Chios Town Food Tour!
Visit the Museums of Chios Town
There are quite a few museums on the island of Chios and my favorites are:
Archaeological Museum
The museum is located in Chios town and has 3 floors with exhibits of prehistoric Chios from the Final Neolithic Age to the Mycenaean period, sculptures from the 8th century BC to the Roman period, tombstones, and inscriptions. Its most recent significant exhibit is 2 large statues (Kouroi) from the archaeological site of Emporios. Daily open except Tuesdays from 8.30 -15:30. General entrance €3.
Byzantine Museum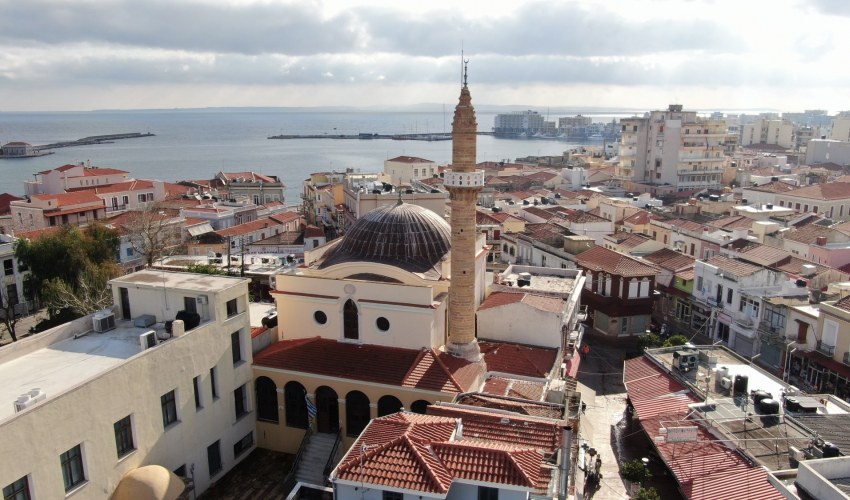 The Byzantine Museum of Chios is housed in the Ottoman Mezzitiye Mosque, which was built by Sultan Abdul Majid in the mid-19th century in the main square of the town. Inside the museum, you will see exhibits from the paleo-Christianic and Byzantine periods of the island.
Some of the exhibits include:
Sculptures from temples of the early Christian period (4th-7th centuries CE)
Architectural plans of Basilica churches
Details about the octagonal type of the churches influenced by Constantinople (best example the Nea Moni of Chios)
Copy of the famous Delacroix painting "Massacre at Chios"
Every day except Tuesday: 8:30-15.30, €4 entrance.
Citrus Museum
The Citrus Museum is 6 km from Chios town in a very fertile area with oranges and lemons, called Kampos. The small museum is housed in a traditional stone mansion with a large garden where you can enjoy coffee or drinks from fresh oranges, tangerine sorbet, orange pies, and local desserts with citrus flavors. The entrance is €3. Needless to say, this is by far my favorite museum in Chios 😀
Learn History in the Monastery of Agios Minas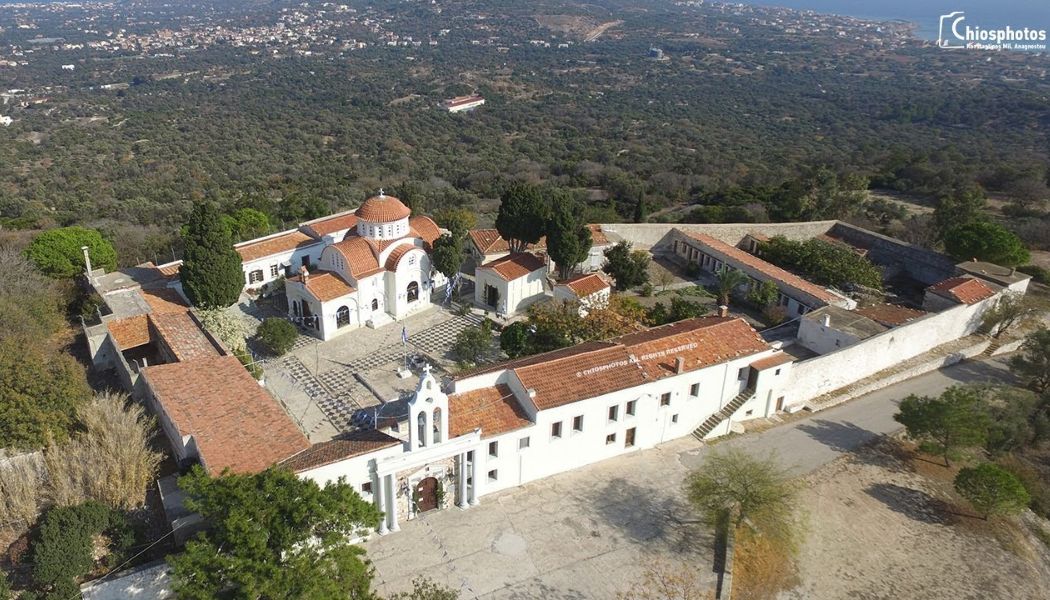 2.7 km south of Citrus Museum stands the large monastery of Agios Minas founded in 1572 CE, with a tragic history. Inside the Monastery 3.000 Chians, adults, and small children were hiding to escape slaughter from the Ottomans on April 2nd, 1822. When the Ottomans invaded the monastery, the Chians in a desperate attempt to save the women and children, put them inside Catholicon – the monastery's main church.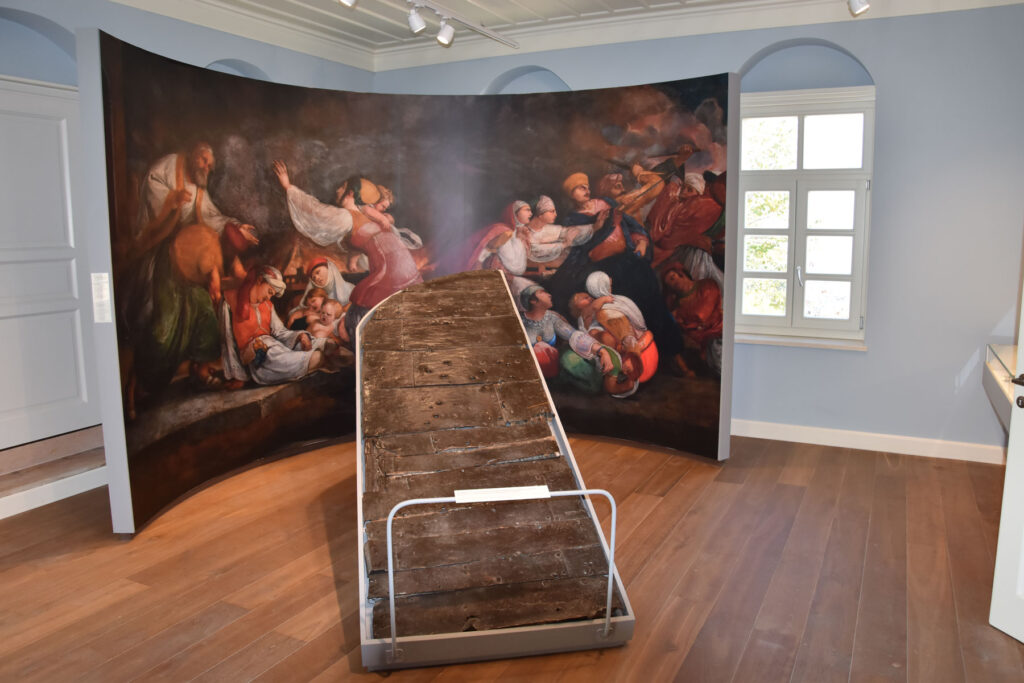 The Ottomans set the church on fire and they all died. There is still evidence of blood on the church's marble floor that can be visited. Later on, the monks and nuns who went to the monastery to start repairing it found thousands of bones scattered around the monastery. They have retrieved them and can be seen today inside the monastery and since 2021 there has been a dedicated museum to the Chian slaughter inside the monastery. Open between 8.00 – 12.00 am and 17.00-20.00 pm.
History Tip: The Ottoman slaughter of Chios resulted in the deaths of twenty thousand citizens and the forced deportation into slavery of almost all the surviving seventy thousand inhabitants. A large number of Chians committed suicide (Anavatos village) and some lucky ones escaped death and went to nearby islands. The famous painter Eugène Delacroix painted the Massacre of Chios which is today exhibited in the Museum of Louvres in Paris.
Explore Mastichochoria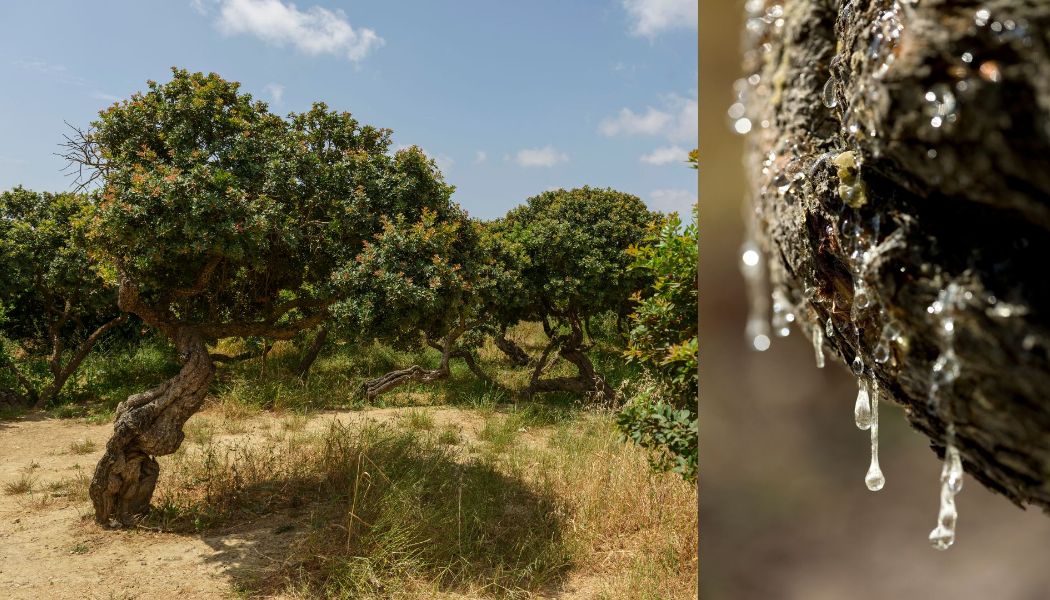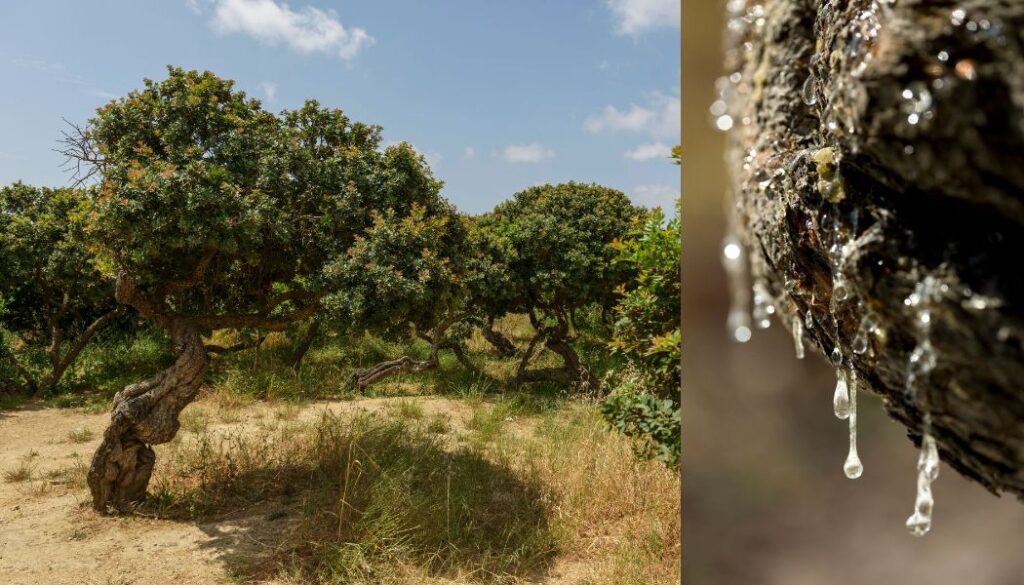 Pistacia lentiscus or mastic tree is a small tree cultivated for its aromatic seed, mainly on the Greek island of Chios and around the Turkish town of Çeşme. Mastic is used as a flavoring for cakes, pastries, liqueurs, and gum. Masticha has also proven medicinal properties (antimicrobial and antibacterial) and is used as well in cosmetics for its rejuvenating action on the skin.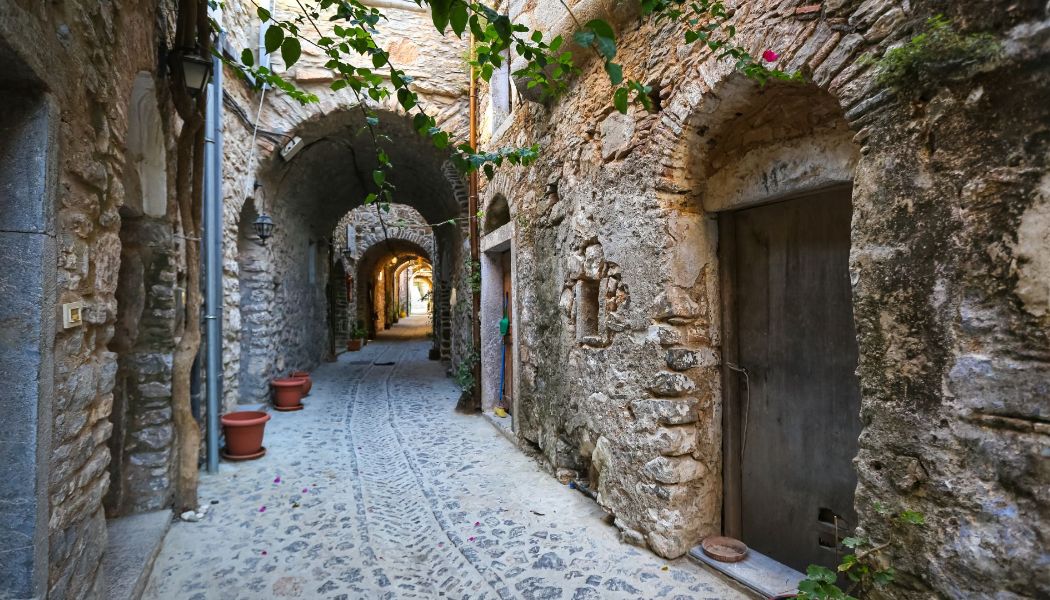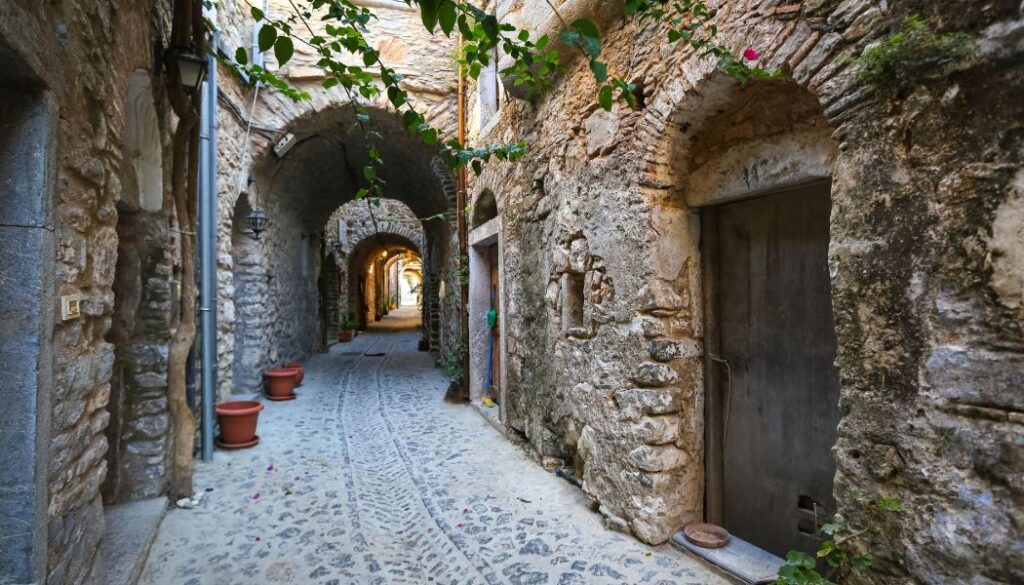 The most unique thing about Chios is the area known as the Mastichohoria ('mastic villages') in the south of the island. There were originally 24 medieval villages built between the 14th and 16th centuries, but many of them were devasted in the earthquake of 1881. The Mastichochoria were built by the Genoese to control the production of mastic in the area.
The villages have retained their medieval architecture making them exciting places to explore, a real trip back in time. The best well-preserved villages today are Mesta (my favorite), Pyrgi, Olympi, Kalamoti, Vessa, Lithi, and Elata.
All of these villages share a meticulously planned layout, featuring fortified gates and narrow streets designed to provide protection against the frequent raids by pirates.
Mesta Chios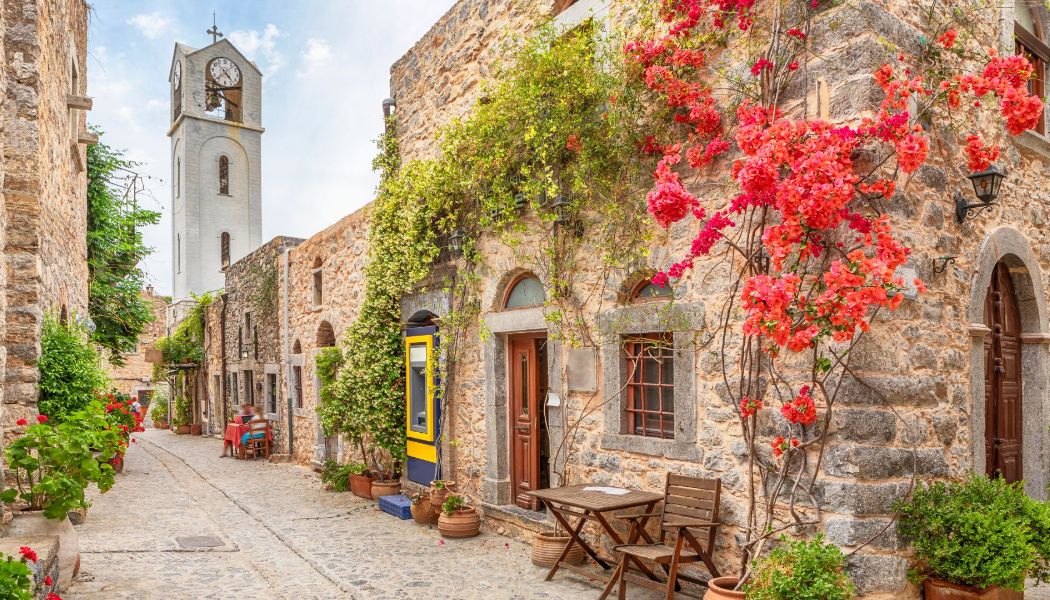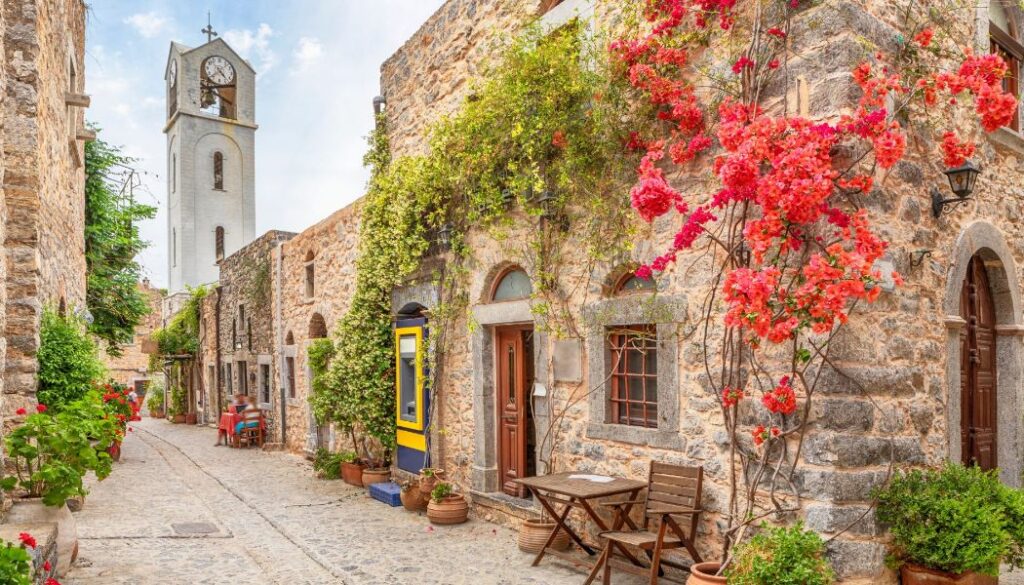 Mesta is a fortified village, built in such a way as to prevent any intruder or attacker, from invading the village. It used to have 3 iron gates which would remain locked up right after sunset and opened every sunrise.
Mesta Chios has a number of interesting churches but the new church of Agioi Taxiarches is the largest and most impressive one, containing beautiful religious artifacts. Seek out the old medieval church of Agioi Taxiarches with its stunning wooden temple.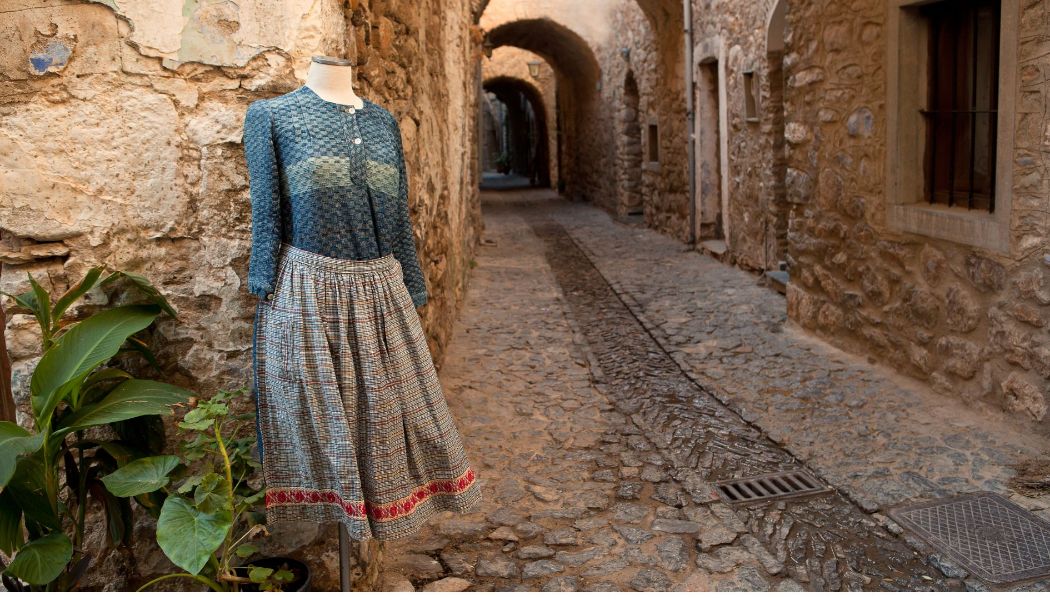 The houses are all stone built, inside confusing mazes with cobblestones and narrow galleries, creating a unique medieval site. A beautiful medieval place to stay in Mesta Chios is Lida Mary rooms with a lovely mixture of traditional and contemporary design.
Pyrgi Chios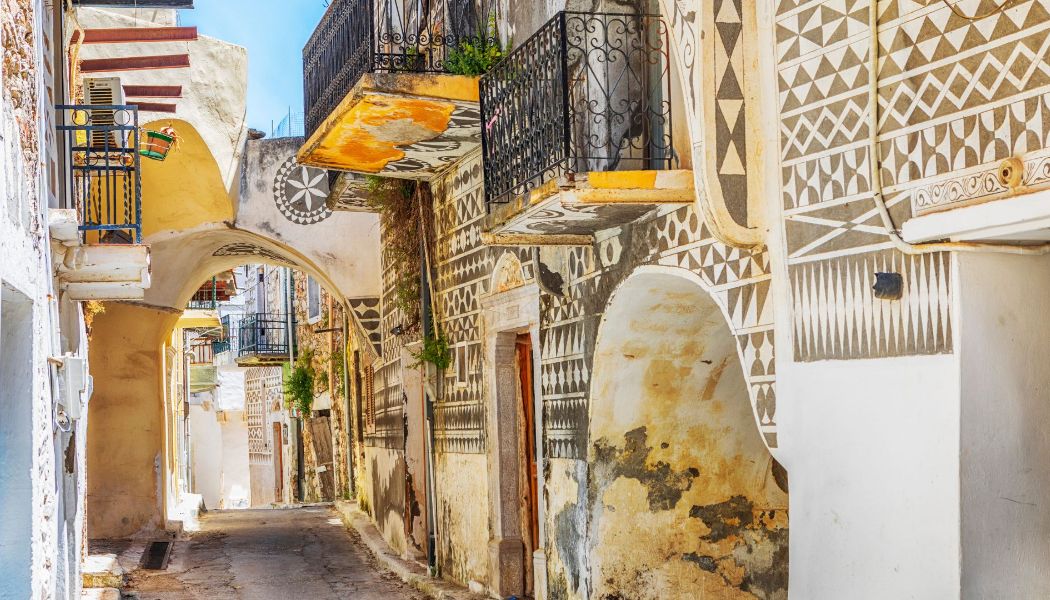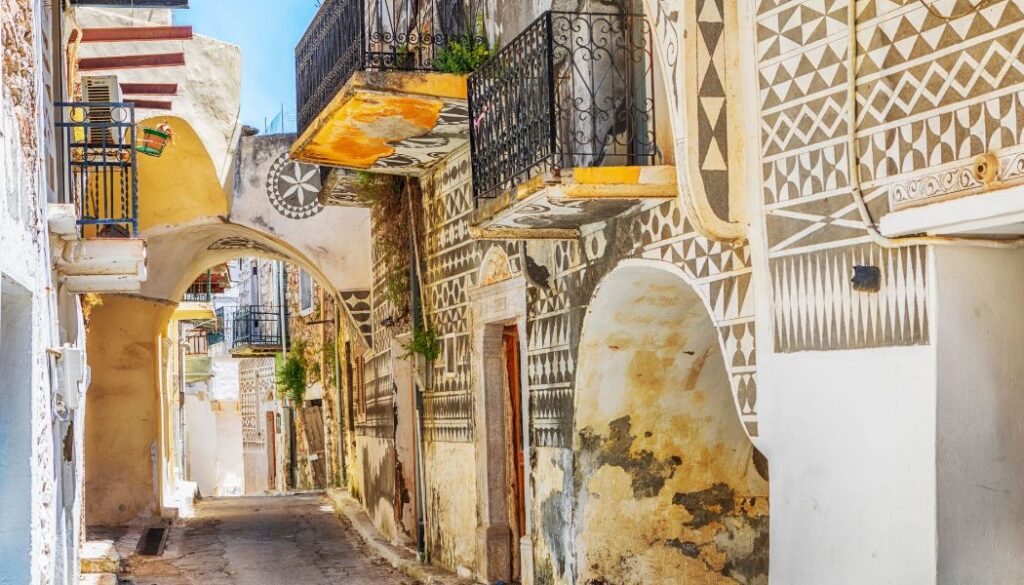 Pyrgi is the largest of the Mastichochoria villages often called 'The Painted Village'. Every house is decorated in black and white geometric intricate decorative shapes. The shapes are not actually painted but engraved, in a variety of patterns including circles, rhombuses, storks, and tree branches.
Pyrgi Chios is also a medieval village whose economy is based mostly on mastic production and much less on tourism. One of the most attractive places to be in Pyrgi is the main square, surrounded by engraved houses and the imposing church.
Cave Tip: The Cave of Olympi, a small but impressive cave is close to Pyrgi and Mesta. Open May to November (not Mondays) 11:00 – 18:00.
Visit Nea Moni Monastery Chios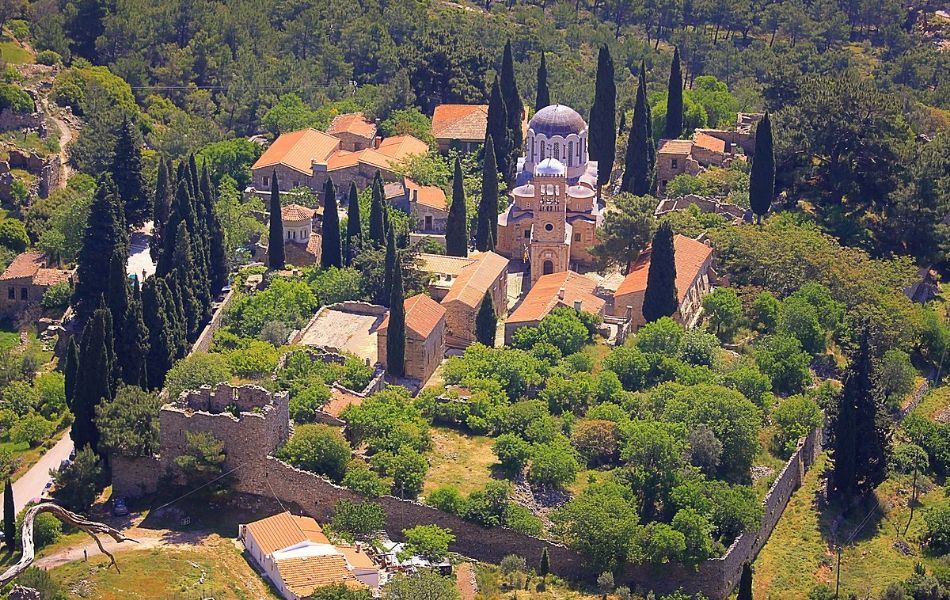 UNESCO-listed Nea Moni of Chios was founded in 1042 CE, presenting superb marble works as well as mosaics on a gold background, all characteristic of the 'second golden age of Byzantine art'. Zoe and Theodora, daughters of the Byzantine Emperor Constantine VIII and as well as Emperor Constantine IX the Gladiator, were the sponsors for the construction of the monument.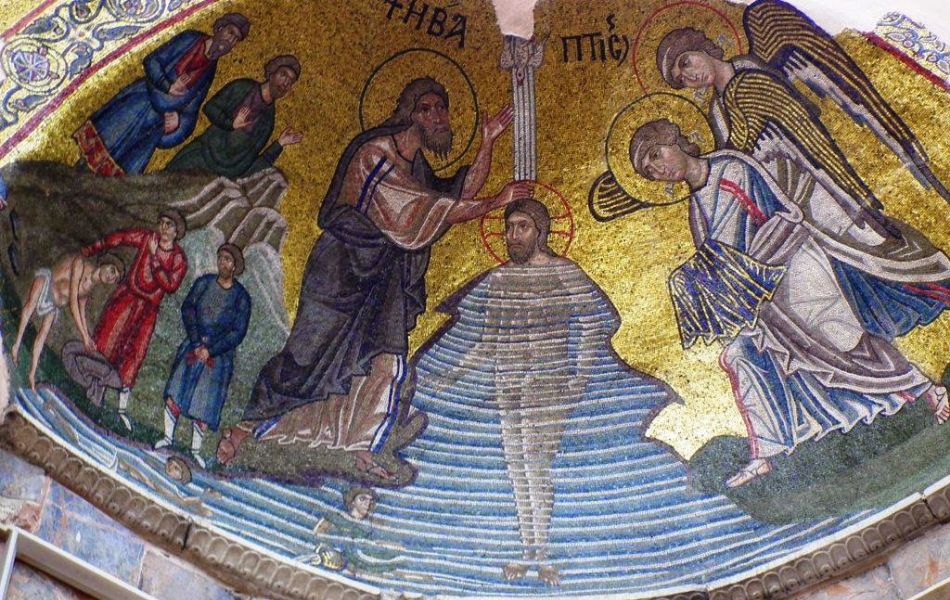 It is located 12 km from Chios town, on a mountain 670 meters high surrounded by a pine forest. Visiting hours in winter are 09:00 to 13:00 and 16:00 to 17:30 and in summer 09:00 to 13:00 and 17:00 until sunset. Free entrance with modest attire inside the monastery (covered shoulders and thighs).
Greek Monastery Tip: UNESCO has listed Nea Moni in Chios, Daphni Monastery in Athens, and Osios Loukas in Phocida near Delphi, as monuments that belong to the same typological series and share the same aesthetic characteristics.
Swim to Chios' Beaches
Mavra Volia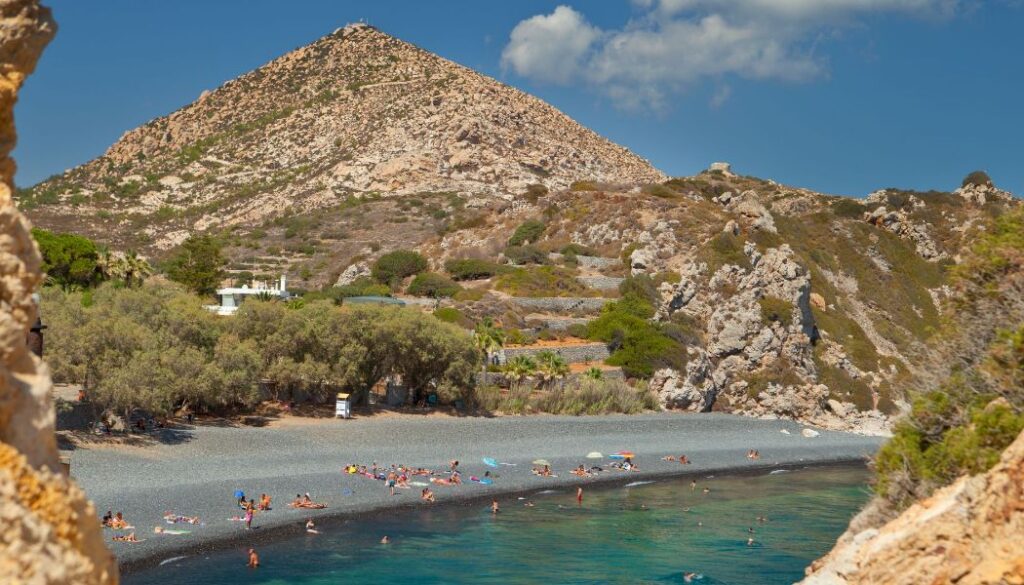 Mavra Volia, near Emporeios in the south, is an exotically beautiful beach full of black volcanic pebbles with beautiful surroundings and a stunning view of the Aegean Sea.
It can be very crowded during July – August, the water is not as warm as it is in the south of Greece, as in most beaches in Chios and Lesvos, and the waterfront is very steep with deep waters! All that makes Mavra Volia not great for families with small children. You can drive there or go by public bus. There are trees in case you can't stand the sun and a canteen/tavern for water or food.
I would advise against flip-flops as you will need good sturdy shoes for walking on the pebbles.
Komi Beach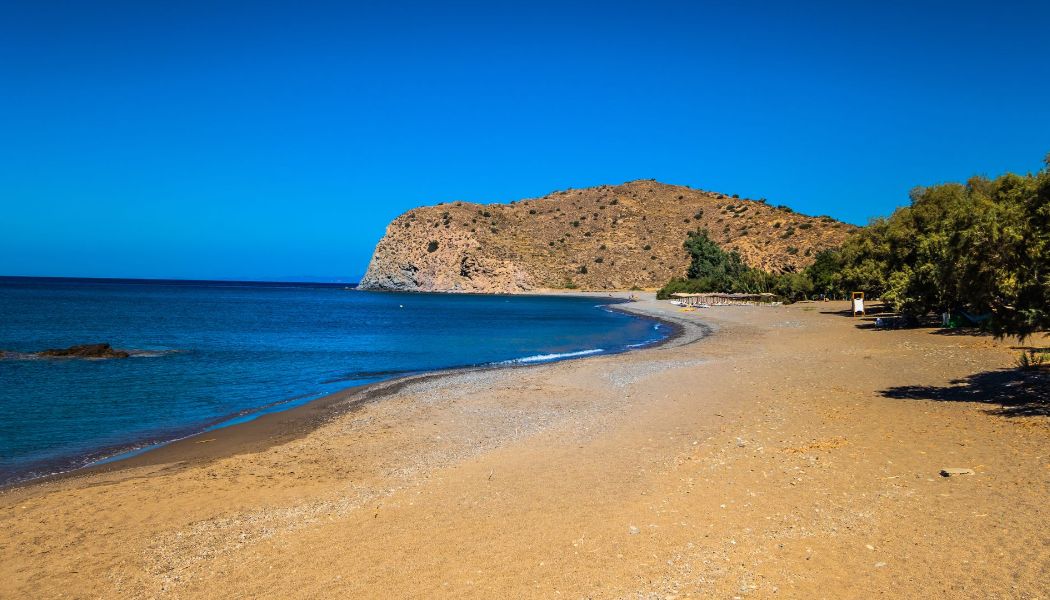 Komi beach, a bit to the north of Mavra Volia, is a much easier beach as it has sand and the waters are shallow. It is a fully organized beach, great for water sports, and a place where you can rent umbrellas, sunbeds, canoes, and other water games and sports.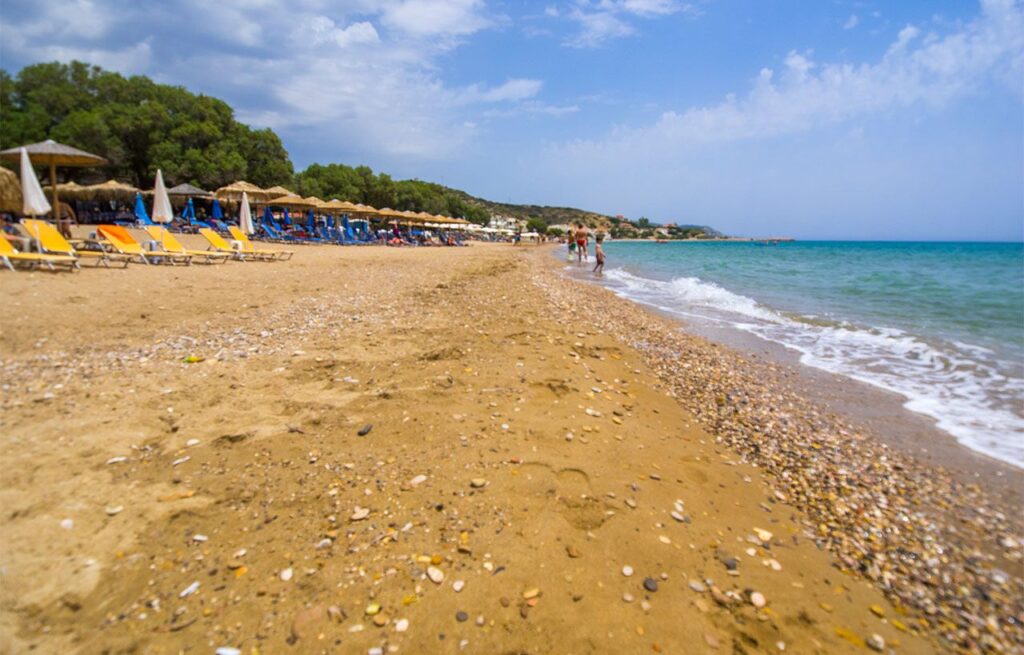 Also along the beach, nice cafes and bars are offering their services to summer visitors. In the main pedestrian street of Komi, there are also restaurants and taverns where one can enjoy delicious snacks, fresh fish, and authentic Greek cuisine. It is accessible by car and public bus.
A great seafront house to stay in is Goldfish Seaside Luxury Houses overlooking the beach Komi.
Glaroi beach
Glaroi Beach, located on the eastern side of the island of Chios, is a small gorgeous cove, very popular during summer. It is a sandy beach, with turquoise crystal clear waters that deepen fast with a beach bar and umbrellas. It can be accessed by car and public bus.
Agia Dynami Beach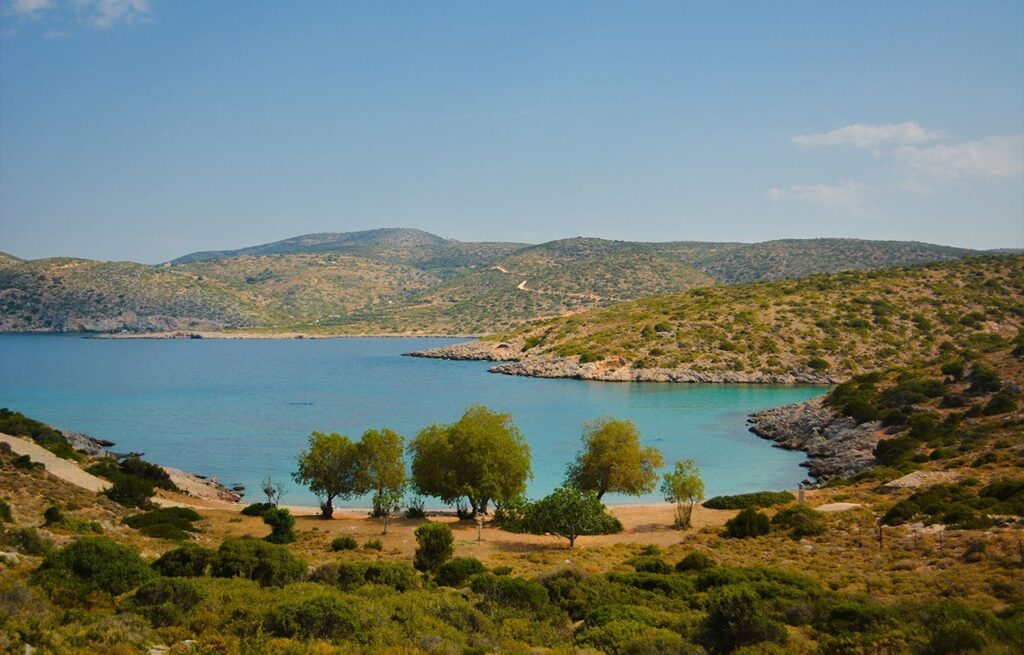 Agia Dynami is my favorite beach. It is near the village of Olympi and is also called "Agia Theodosia". It is worth noting that here the waters have a unique emerald color and incredible clarity.
This is one of the quietest beaches in the south of Chios Greece with no beach bar or any other facilities. There is both sand and small pebbles on the beach. You can get there only in a private car.
Agios Isidoros
Agios Isidoros is another top beach of Chios with a unique landmark. The tiny chapel is set at the end of a rocky pathway which is also a very popular and ultra-romantic place for weddings. It has a popular beach bar with many facilities (sunbeds, sunshades, coffee, snacks, and creative cocktails), and frequent parties with DJs. You can get there only by private car.
Learn about Mastic Production and History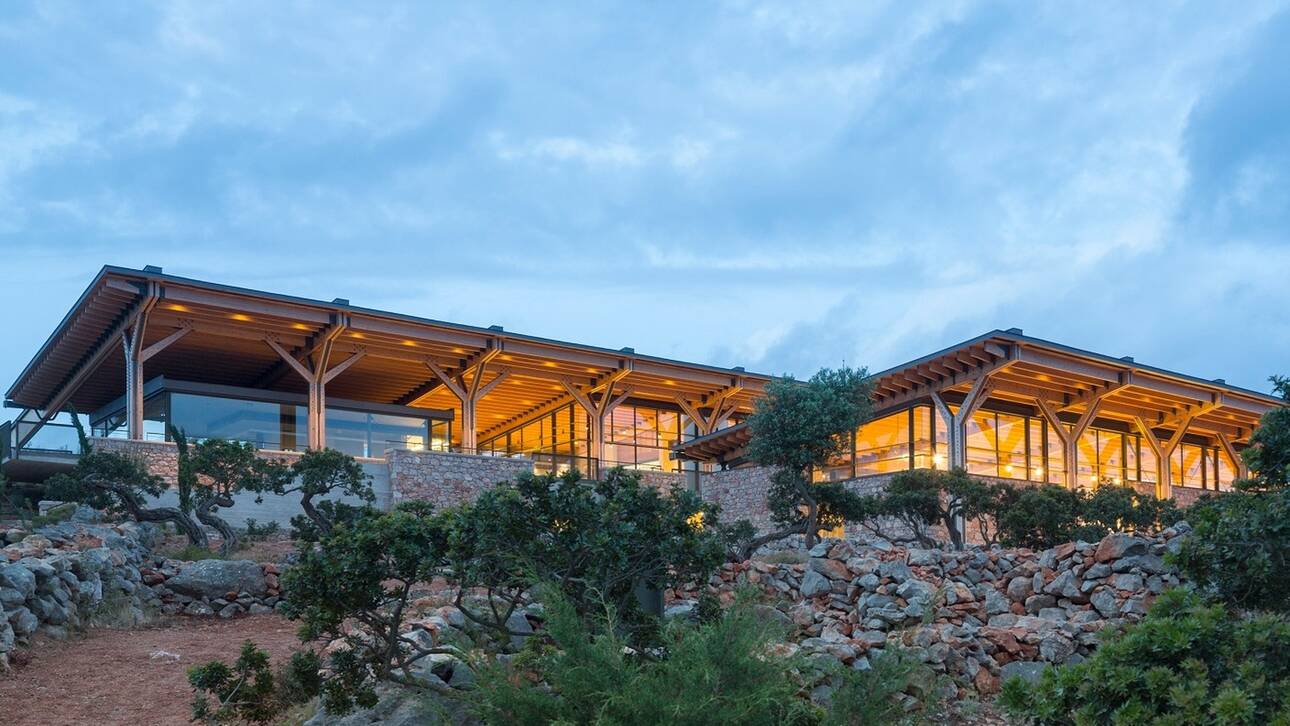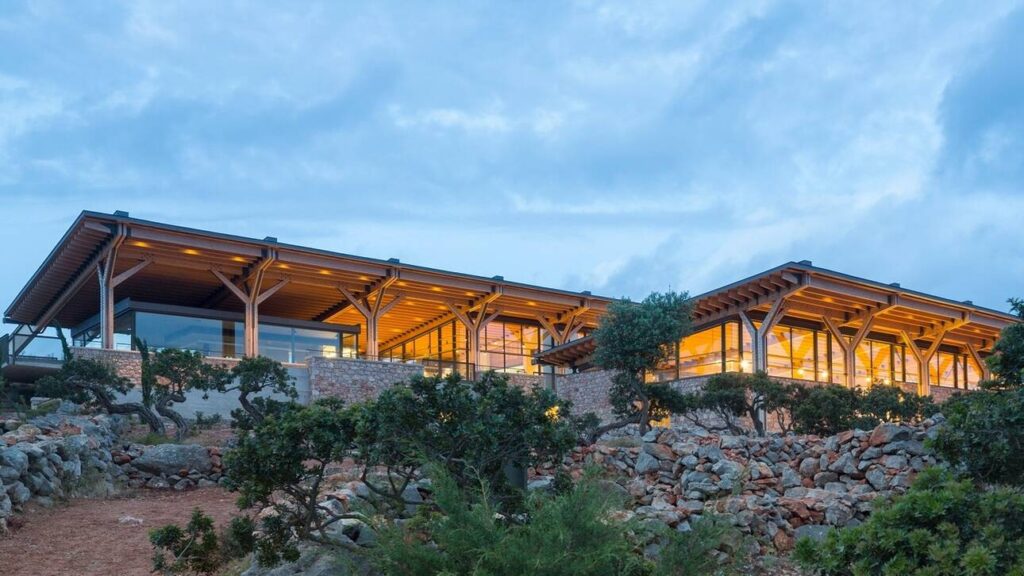 Near Pyrgi, you can find the Chios Mastic Museum. Situated atop a hill along the renowned Mastic trail, this modern-designed, spacious building offers stunning views in all directions.
Using photographs and objects, you can find out about the centuries-old history of mastic production, the tree, the collection, and the process of mastic drops. There is also information about the political and cultural aspects of mastic production and you can also buy mastic of every kind in the shop!
This is an ideal visit for a family and the children will love all the antiques and the lovely smell of mastic. Don't miss wandering around the mastic yard right below the museum. You will enjoy a beautiful walk with the smell of lavender, oregano, and rosemary. Standard entrance fee: € 4,00.
Open From March 1st – October 15th: Daily (except Tuesdays) 10 am-6 pm.
From October 16th- February 28th: Daily (except Tuesdays) 10 am-5 pm.
Discover Deserted Anavatos Village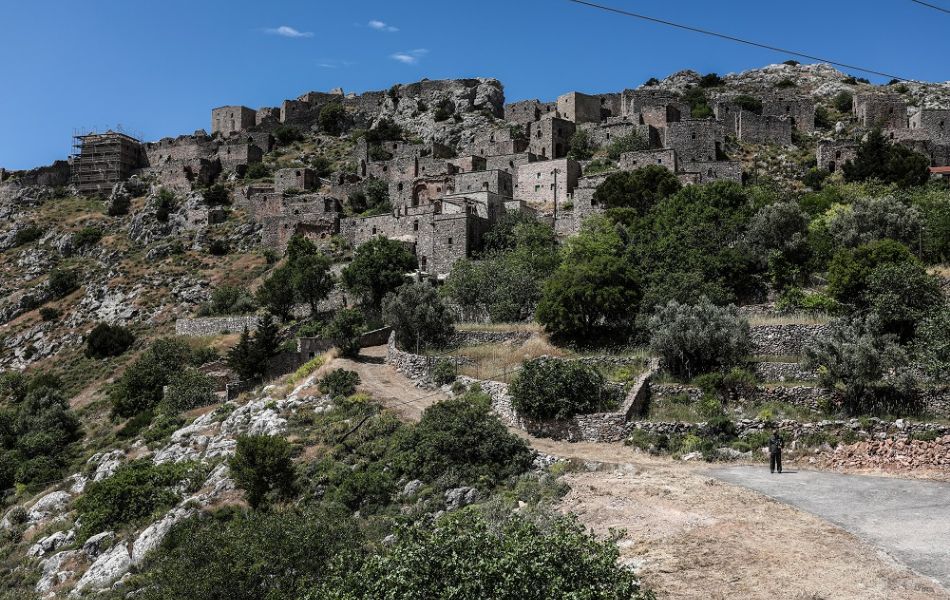 Anavatos is an abandoned medieval village, perched atop a steep hill 450 meters high, often referred to as the 'Mystras of the Aegean.' Surrounded by two gorges, the settlement can only be accessed from the north. Located 16 km from the town of Chios, it is a truly impressive place, especially when you take a walk towards the castle at the summit and admire the view.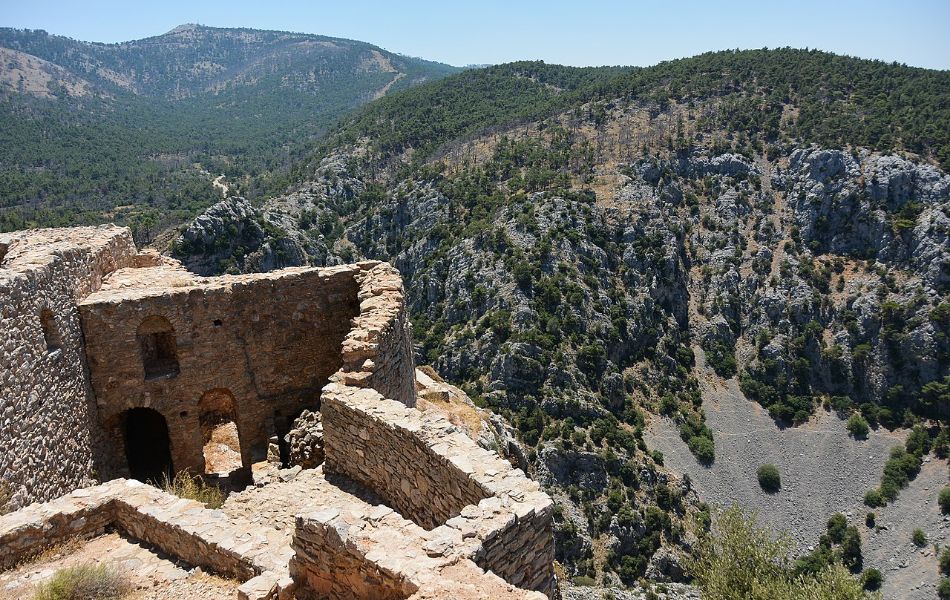 The village was destroyed during the Chios Massacre in 1822 and its few remained residents abandoned the village after the earthquake of 1881.
Go to Kardamyla Village
Kardamyla is a large, seafront village in the northeastern of the island, 27 km from Chios town. It has a traditional Greek village character, with cobblestone alleys and stone-built houses. A small river crosses the village, and its large main square is full of plane trees and old-style coffee shops.
The upper side of Kardamyla (Ano Kardamyla) used to be a fortified medieval village with traces of the walls still standing. Nearby you can find one of the most beautiful beaches in Chios Greece, Nagos Beach with small pebbles and crystal clear water.
Hike Chios Greece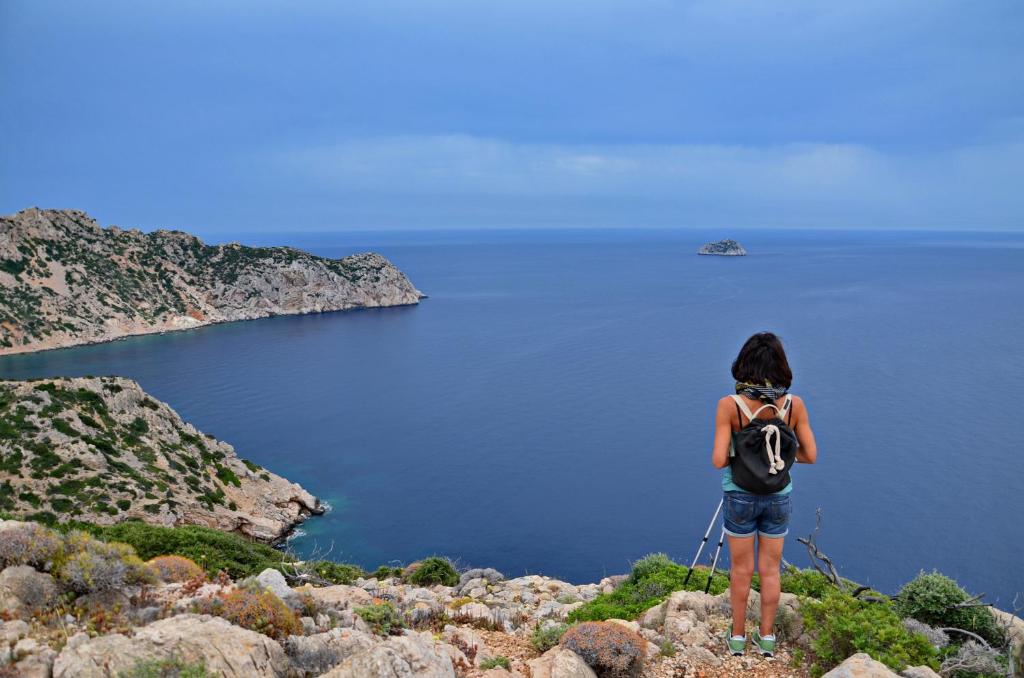 Chios has a diverse terrain with dramatic landscapes and valleys with mastic trees, citruses, and oranges. It also has two large mountains, Pelineon (1,297 m) and Epos (1,188 m), which are situated in the north of the island.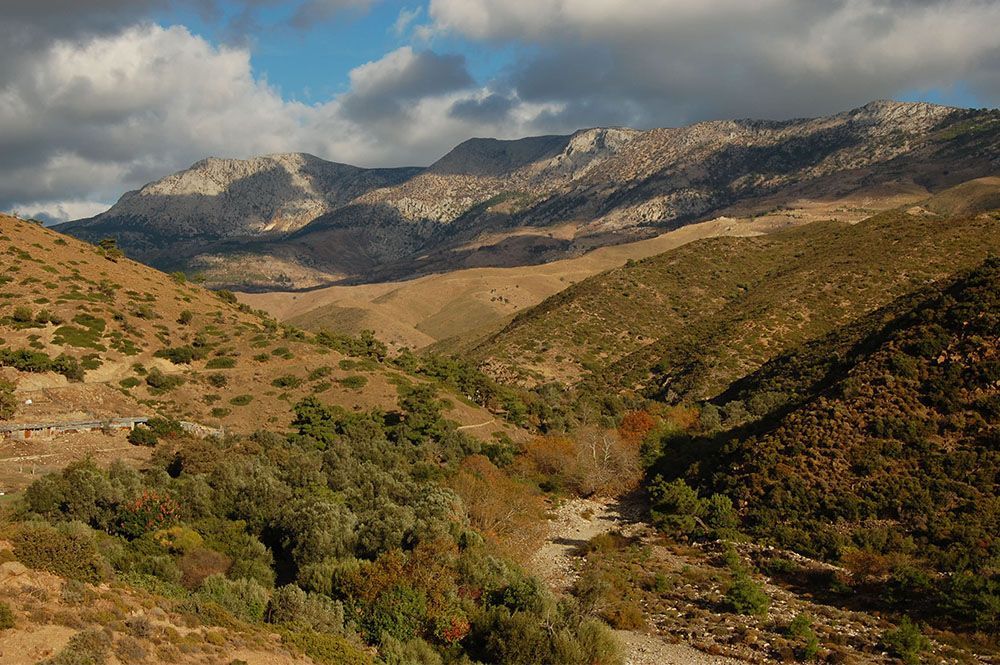 Popular and beautiful hikes are the ones connecting the Mastichochoria, such as the Olympi-Mesta trails, an easy 2615 m trail. A longer trail is the circular Volissos – Malagkiotis Valley an 8.825 m, easy trail with very little elevation difference. This is a nice trail passing by churches and abandoned buildings in a beautiful natural environment.
There are many trails on the island but not many of them are signposted.
Sail to Oinousses Island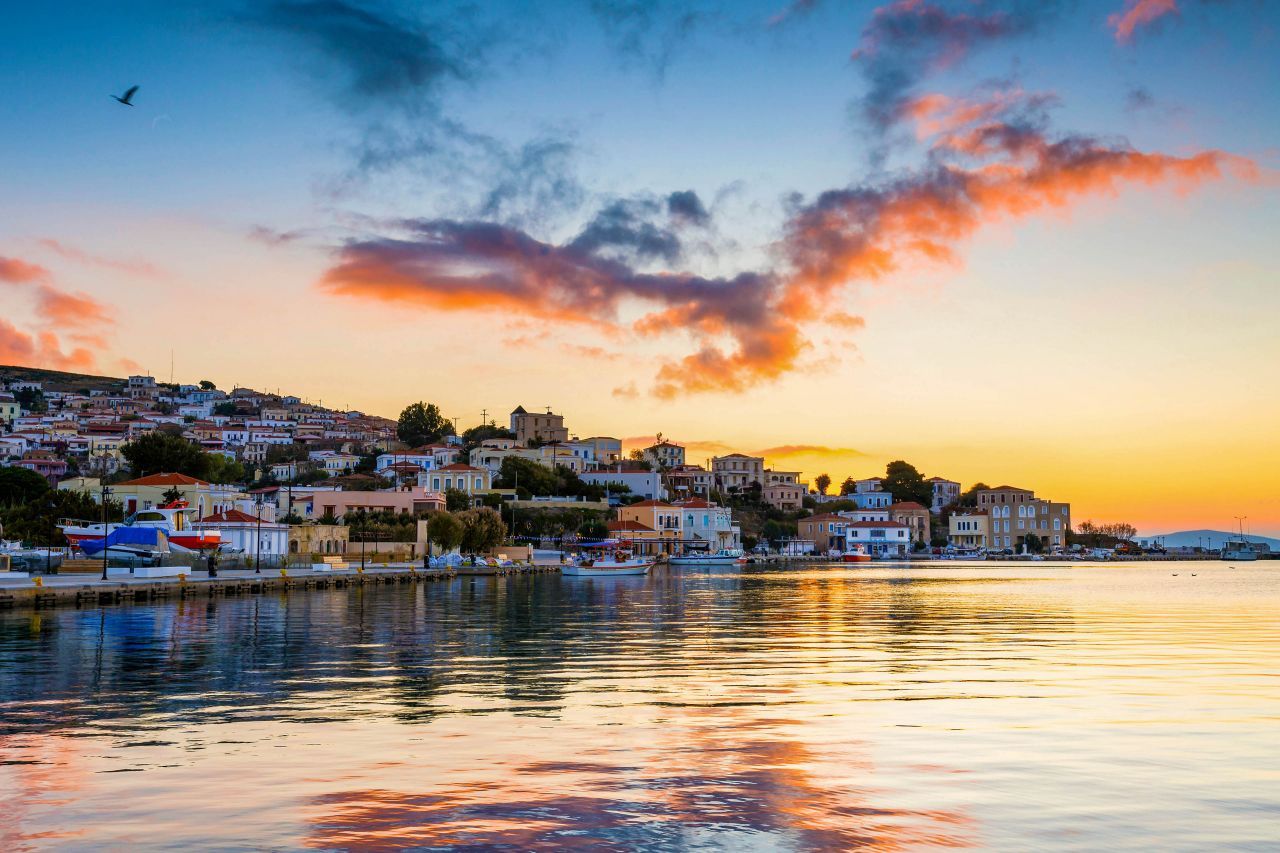 Oinousses is a cluster of 9 small beautiful islands 15 nautical miles off Chios, famous for its quiet and hospitable atmosphere, the wonderful beaches with clear blue waters, and the sea caves.
Walk through the narrow cobblestone streets of the island and admire the traditional mansions built amphitheatrically on the hill. You can visit the Oinousses Maritime Museum or explore the mainland of the island and its gorgeous beaches.
Easter Celebrations in Vrontados
One of the most spectacular customs that take place during Greek Orthodox Easter (May 5th, 2024) celebrations is organized in Chios Greece. It is called the 'fireworks war' and has its roots in the times of the Ottoman occupation and it takes place on the evening of Holy Saturday in Vrontados.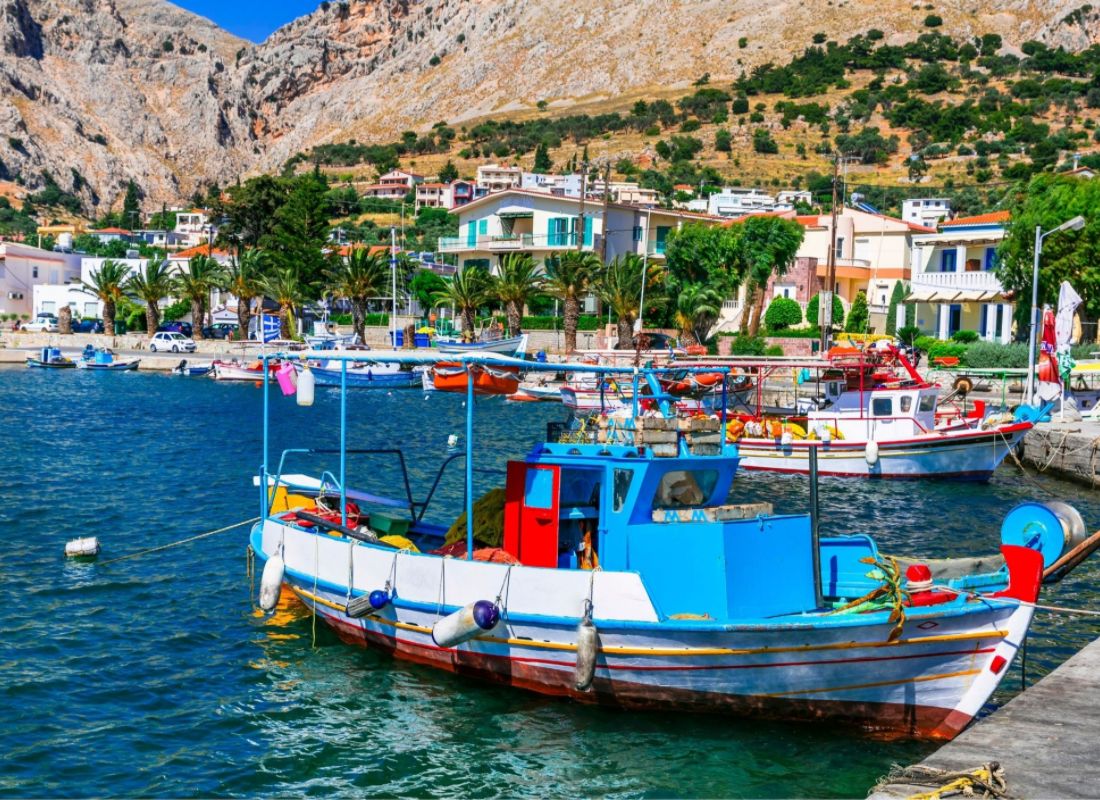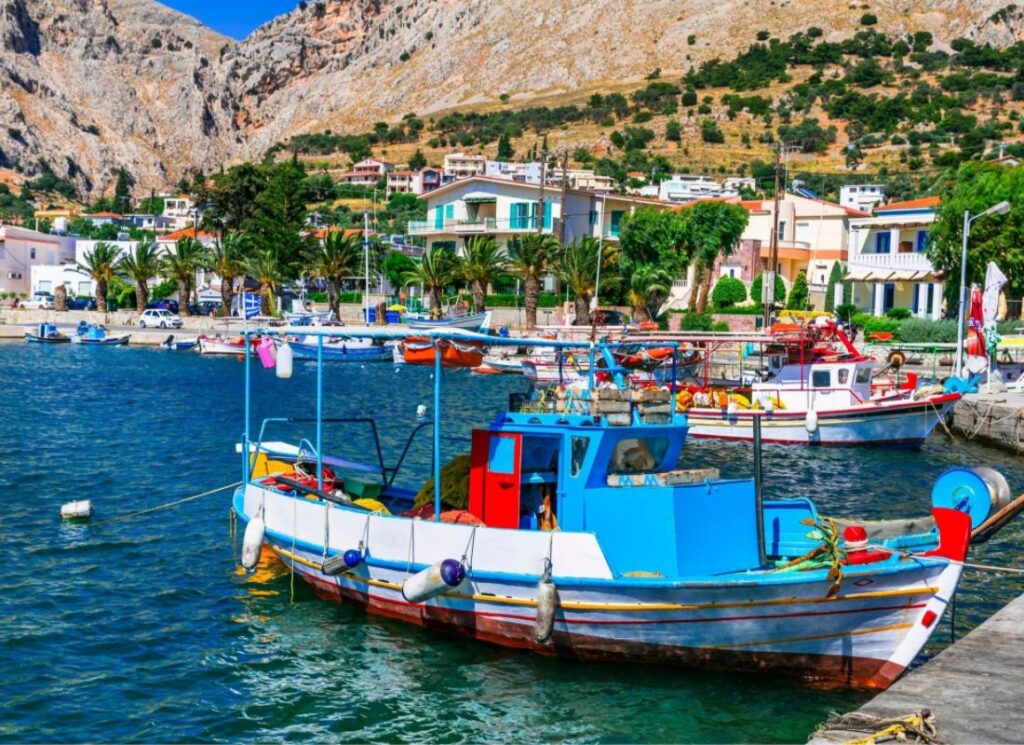 It is an exchange of fireworks between the two largest parishes in this region, St. Mark's and Panagia Erythiani. The visitors can enjoy this spectacular visual experience, either by going to one of the two parishes or by watching it from the area of Aipi. Recommended Accommodation for Vrontados is Pearl Bay Hotel Apartments.
Safety Note: The local authorities have taken responsibility for the protection of the attendees and the neighboring houses, taking all the necessary protective measures.
Food tasting in Chios Greece
Chios cuisine as you can imagine has added mastic in many recipes, mostly in desserts and liqueurs. It also has some local productions that offer a special flavor to any food that you will taste in the restaurants. And like any other Greek island, there is fresh fish and seafood available at most of its taverns and restaurants.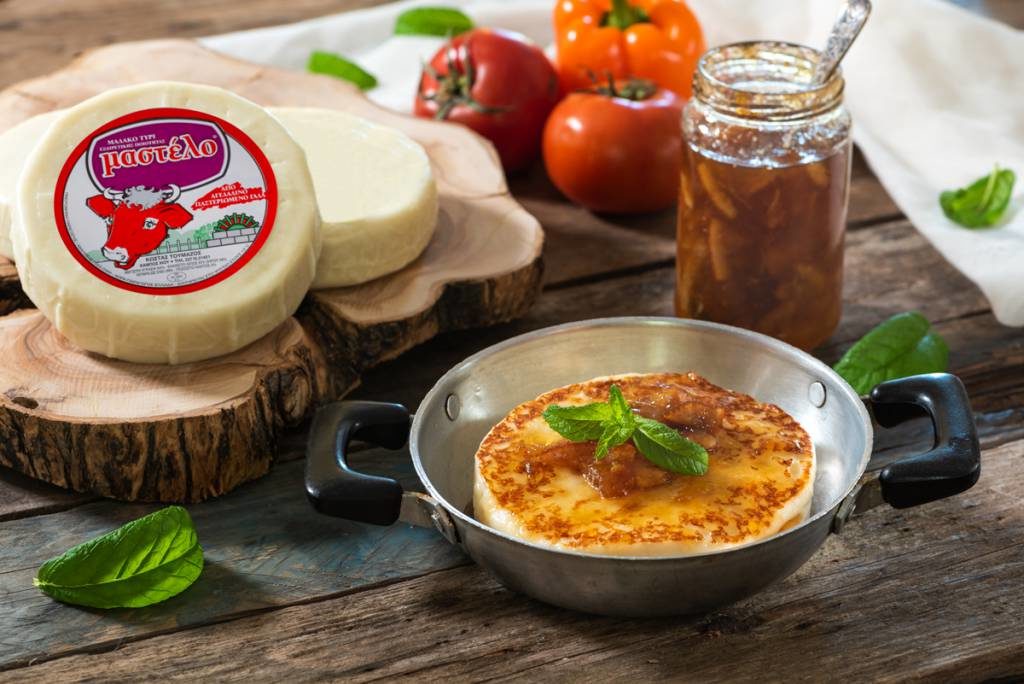 Some of my favorite Chios foods are:
Neratzopita (Citrus pie)
Local pasta: fytilaki short twisted and the curly tagliatelle with mastic flavor all topped with cooked tomato sauce
Mastello (cheese) is a salty white cow's milk cheese, often served as a fried cheese appetizer
Sfougato, type of omelette
Masourakia (dessert), is a dessert made from a thin pastry wrapped around a filling of mastica, almonds, egg whites, and lemon
Mastiha (drink), an alcoholic drink made of mastic seeds
Souma (drink), tsipouro made from figs
A great food tour you can book is Chios Town Food Tour.
Where to Stay in Chios Greece
If you are going to stay for a night or two on the island then Chios Town is the best base for you, especially if you do not have your own car.
Enδόtera Chios apartments is a modern apartment, located near the port of Chios and close to the town's center (mid-range).
If you are willing to travel 5 km out of Chios town then you should stay at the exceptional Archontiko Riziko, in the Kampos area. It is a traditional stone-built mansion with a garden of oranges (mid-range).
The Best Time to Visit Chios
Like Rhodes, Crete, Corfu, and Syros, Chios is also quite lively throughout the year. With a steady population of around 52.000 people and with the University of the Aegean in Chios town, there is an active vibe all year round. I love islands in the winter, as they get back their authenticity after their touristic summers and offer a unique perspective for the fortunate visitors.
If you are after warm weather and hitting the beaches, then May to October is ideal with August being Chios' busiest month.
How Long to Stay in Chios Greece
If you really want to explore Chios then you should put aside at least 4-6 full days.
How to Get to Chios Island
There are two ways to get to Chios, you can fly or take the ferries:
Chios Greece Airport
Chios has a national airport (code: JKH) with daily flights (35 minutes flight) all year round and during summer there are also flights from Thessaloniki, 2 to 3 times a week. The airport is about 2 miles from Chios main town and port. There are also direct flights to Chios from Oslo, Amsterdam, and Vienna, once a week.
Ferries to Chios
The island is also accessible by ferry from Piraeus, Athens' main port once a day (twice a day in summer) or from Kavala port (Northern Greece) during summer. There are also ferries passing by Chios from Athens' smaller port of Lavrio.
There are also regular connection ferries to Chios from Samos, Lesvos, and Rhodes islands, throughout the year.
Finally, you can also take a ferry from Cesme (Turkey) which is just 5 miles off the coast of Chios. Book your ferry to Chios Greece here.
Getting Around Chios
If you are like me and want to explore each village and every site in a place, then you should rent a car in Chios. In the islands I always use DiscoverCars and I am very happy with their prices and services.
If driving is not your thing, there are public buses that link Chios to various villages as well as taxis that you can easily find in both the main town and villages.
As for the need for your international driving license, it will depend on which country you come from. Please check my dedicated post First Time to Greece for more info on licenses.
Where is your next dream destination? Would you go to Chios?
I'd love to hear about where you're spending your vacation this year, especially if you have any exciting travel plans! There are so many things to do on Chios Island. I hope that you get the chance to try as many as possible. Till next time, Evgenia❤️
Essential Travel Resources for Greece
'Hello' and 'Thank You' in Greek: "Ya sou" and "Efharisto"
Booking.com: I use Booking.com because I can get the best deals on both hotels and apartments, free cancellations, and great prices!
Find Long-Term Rentals in Greece: You will find the best prices in Flatio
FerryScanner to book ferries to the Greek Islands
Athens Metro Website (timetables and ticket info)
Get Your Guide: For all your day or multi-day tours and city guide needs, I use Get Your Guide
Emergency Numbers Anywhere in Greece: AMBULANCE 166 – FIRE 199 – POLICE 100– EMERGENCY NUMBER 112
All rights reserved © Travel the Greek Way. Republishing this article and/or any of its contents (photographs, text, links) is strictly prohibited.
Please follow and like us: