Syros Greece is one of the most beautiful Greek islands and certainly one of my favorite ones. Situated south of Andros, west of Mykonos, and north of Sifnos, Paros, and Naxos is no wonder why it is the capital island of the Cyclades.
Syros Greece is known for its culture and the variety of past civilizations, with impressive monuments, waiting to be discovered all over the island. A unique characteristic of Syros is that Greek Orthodox and Catholic churches are scattered all over the island in a very harmonious co-existence.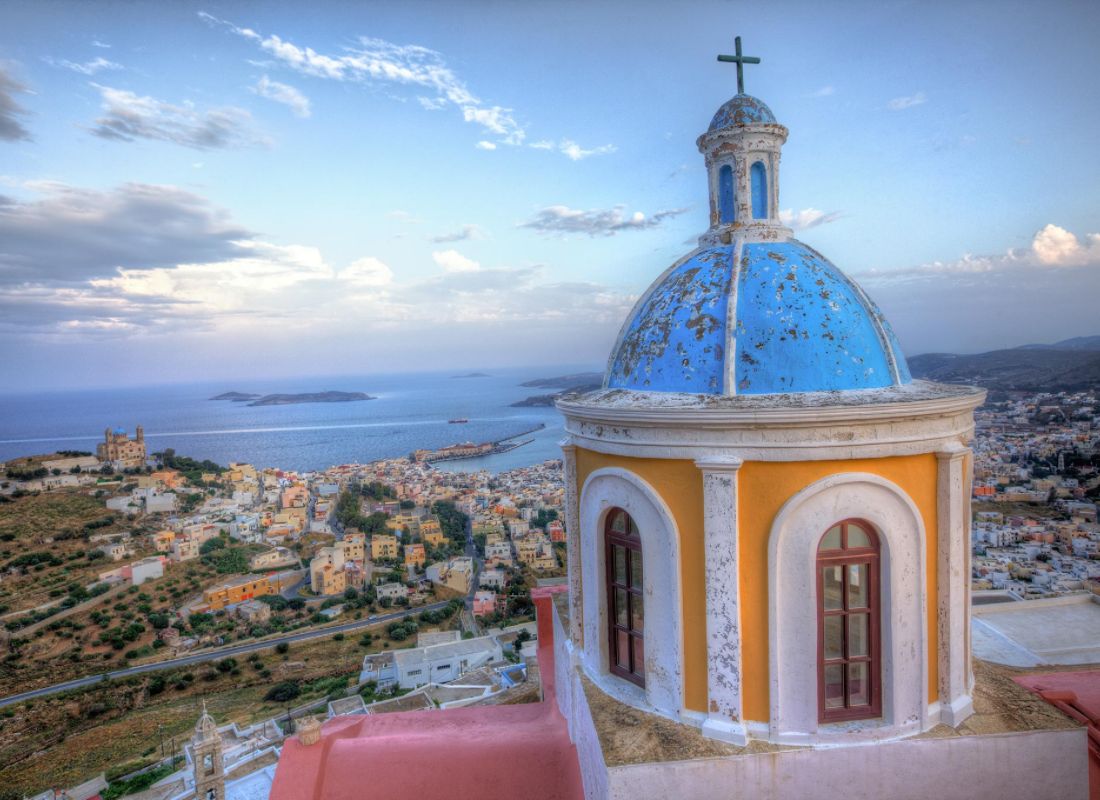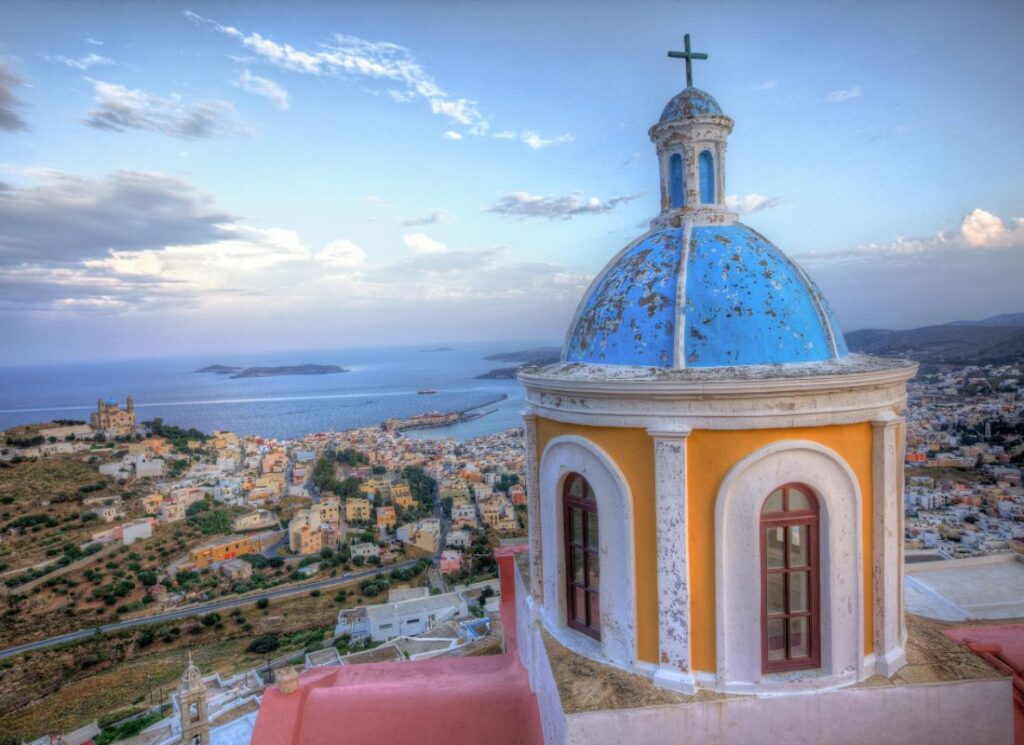 The Island is also full of natural attractions, beautiful beaches, and low mountains offering superb vistas, with an invisible line to be separating the island into two main parts:
The north part of Syros Greece, known as Apano Meria, with limestone rock mountainous, is mostly very quiet with traditional small villages, imposing rugged terrain, and sea views, ideal for people who love seclusion, hiking, and tranquility.
The south part of the island, covered by volcanic rocks, is mostly flat and this is where most of the villages and the most famous beaches of the island are. The settlements there are developed for tourism, while the road network is quite good.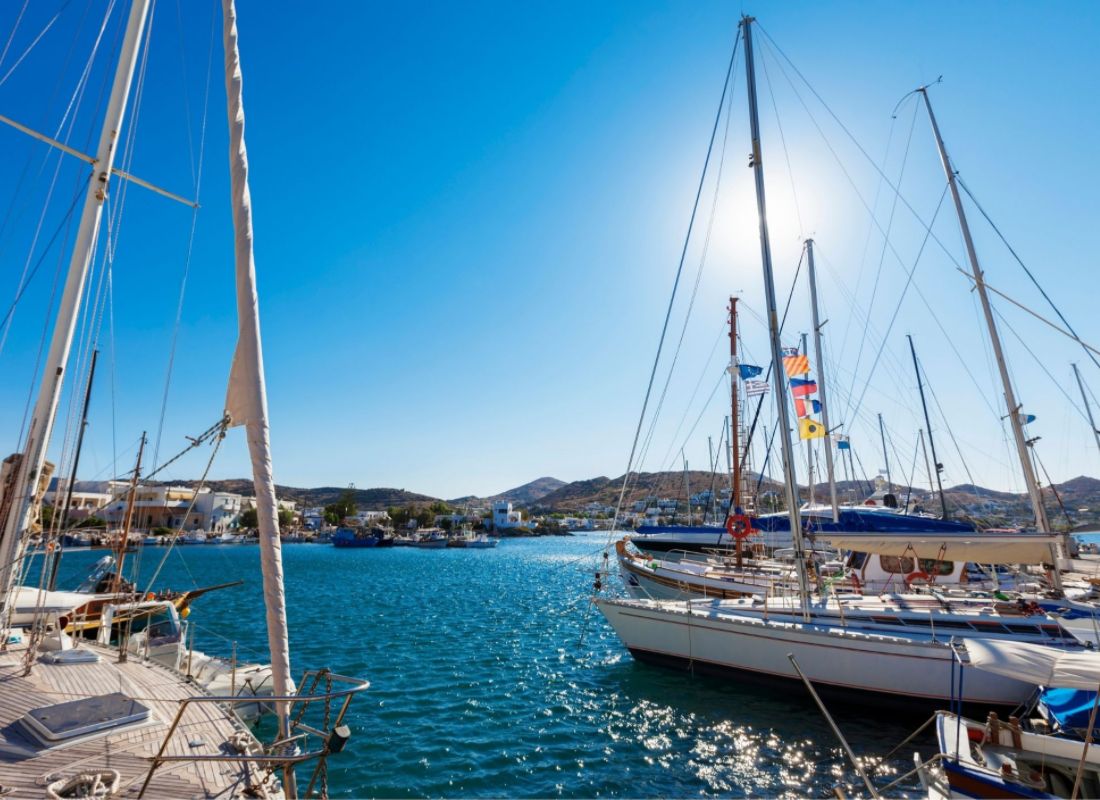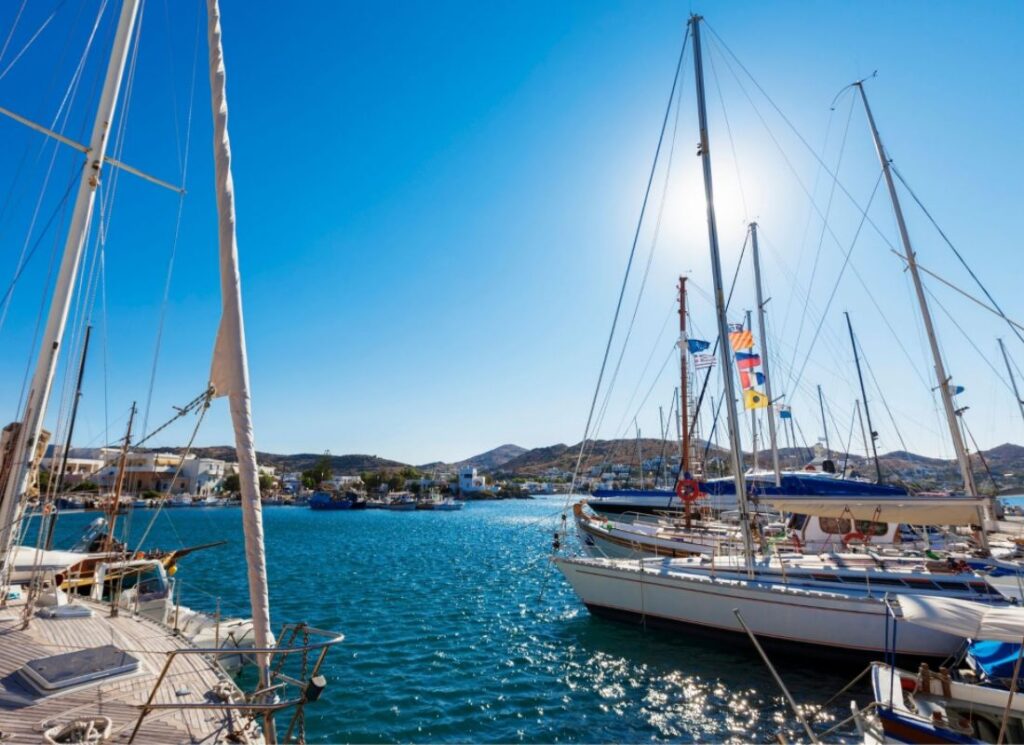 *Some of the links below are affiliate links. That means I may make a commission if you click and buy. The commission comes at no additional cost to you.
Up next I am going to tell you about 14 of the best things to do in Syros Greece.
Where to Stay in Syros Greece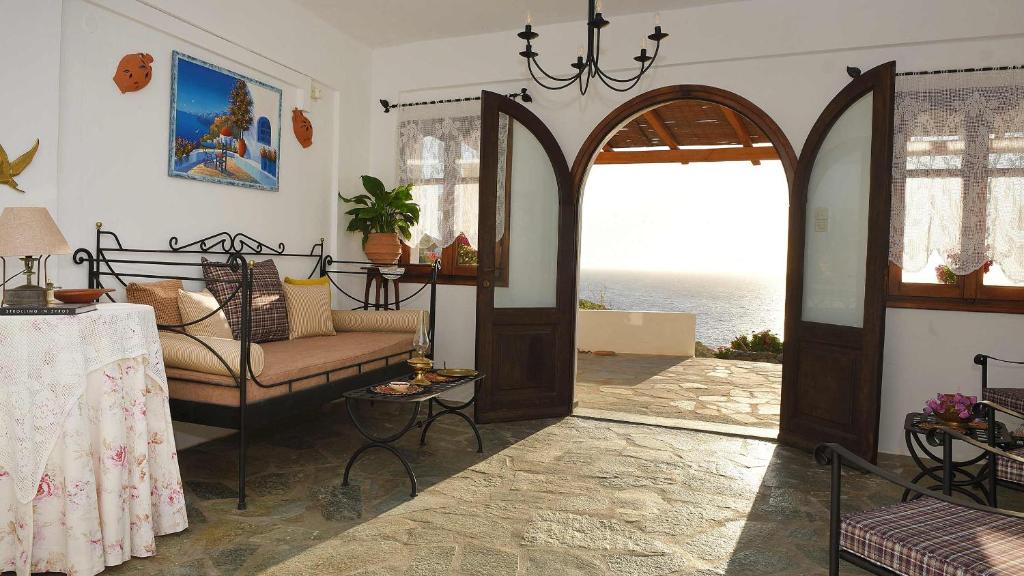 If you love to be in the center of a large island town with plenty of taverns, nightlife, buses to take you around, and plenty of things to do and see, then choose Ermoupolis!
I loved Guesthouse Lila a beautifully decorated traditional guesthouse, very quiet but also very central in Ermoupolis. You can always stay for a couple of nights in Ermoupoli and then move on to a seaside village like Kini, Galissas, Finikas, or Vari.
Anemos and Almyra in Kini, in eastern Syros, is one of the most authentic and traditional hotels (it reminded me of my grandmother's summer house) close to nature on the island. Highly recommended!
The Best Things to Do in Syros Greece
1. Explore Elegant Ermoupolis
Ermoupolis is a town full of historical and impressive buildings, a really unique Chora in the whole of the Cyclades.
Stroll the main square of Ermoupolis, Miaouli sq. with the imposing City Hall built in 1863 by the famous architect Schiller, a popular meeting place for both tourists and locals. The majestic stairs of the large city hall attract a lot of Instagram photographs.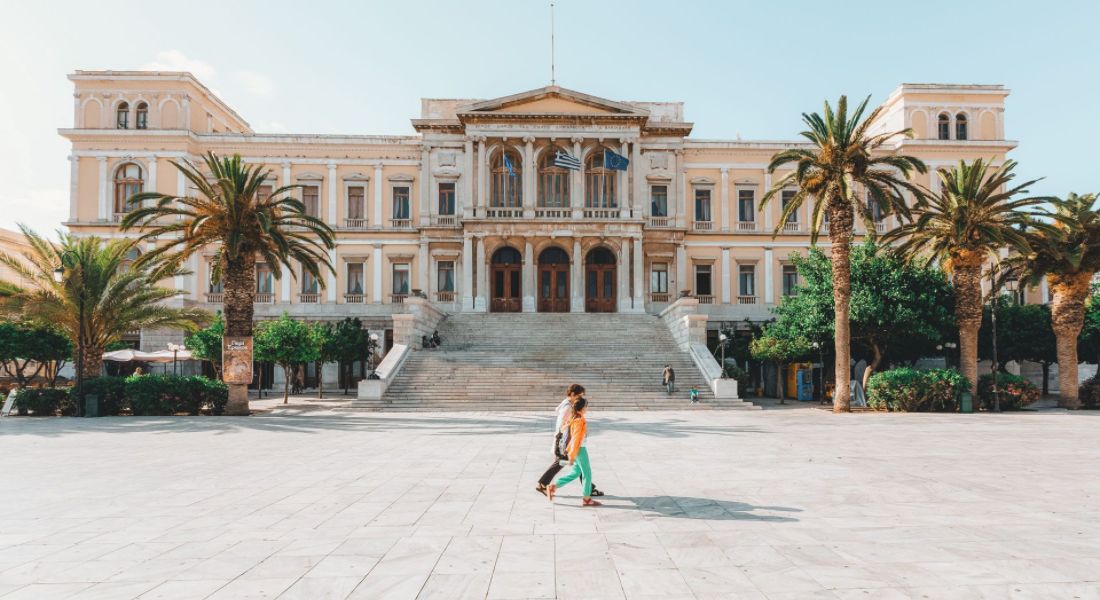 Inside the City Hall, you can visit the Archaeological Museum of Syros Greece with Cycladic and Byzantine exhibits (open 9-4, closed on Tuesdays & Thursdays)
Ermoupolis has a great vibe, and the food is top-notch, there is so much choice for every taste, and relatively inexpensive compared to other islands.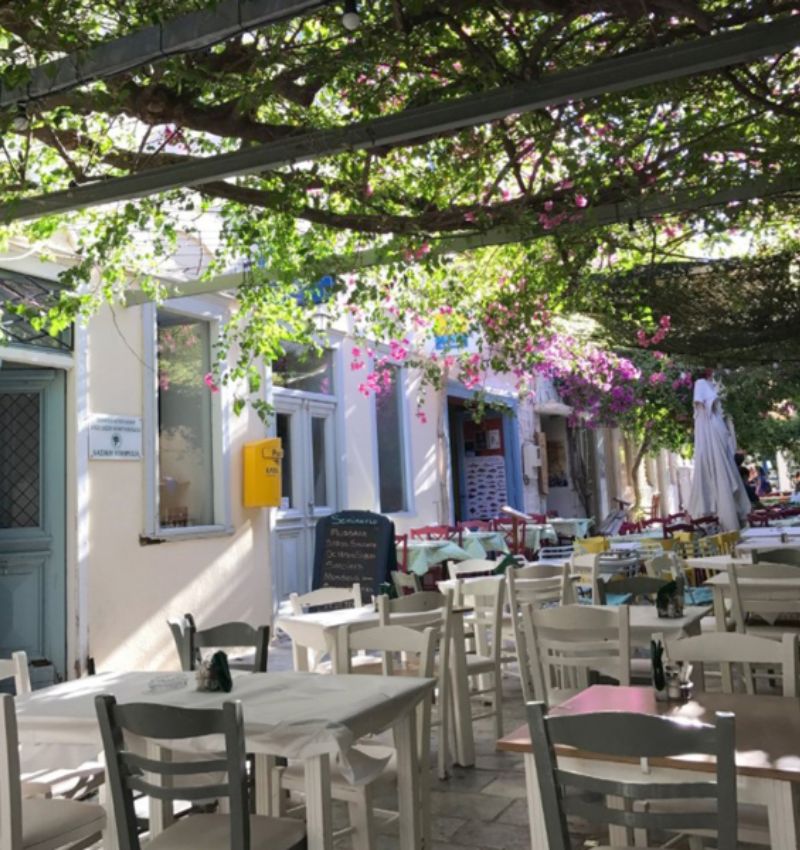 Stroll by the Apollo Theatre, built in 1864, reminds me of La Scala in Milan in sublime Venetian decoration. If you are visiting Syros in August don't miss the International Cycladic Classical Music Festival with a series of five unique concerts at the iconic Apollo Theatre.
Looking for accommodation in Syros? Check out here for rates and availability!
Go to Vaporia, the coastal side and the poshest area of Ermoupolis, famous for its unique high-ceilinged mansions with impressive murals, wood-carved doors, marble balconies, and wooden floors.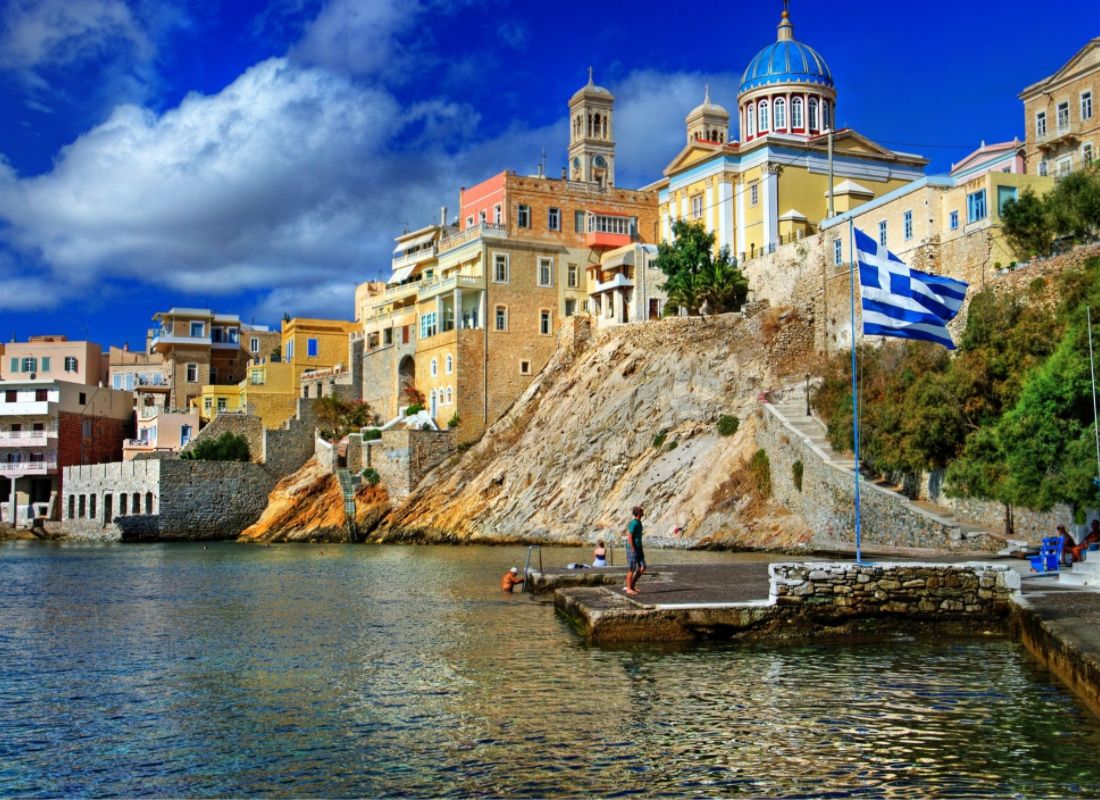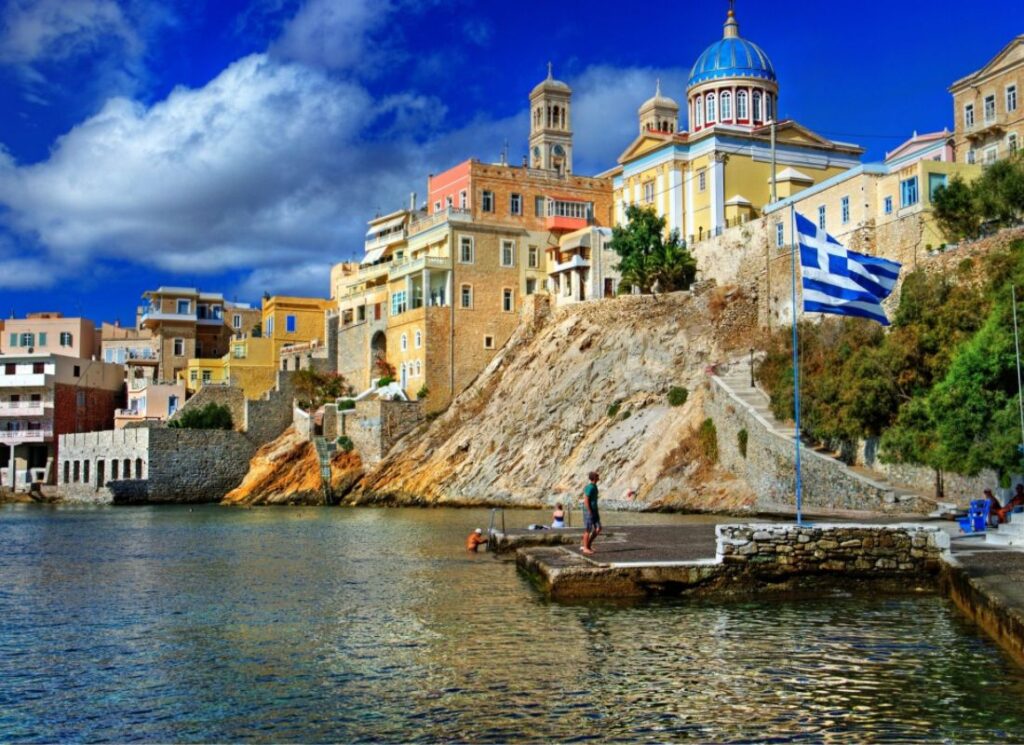 Nearby is Asteria, a nice beach, and the church of Agios Nikolaos which dominates the Vaporia area with the towering bell towers. And if you feel like gambling, there is a Casino in the Ermoupolis port!
2. Have a Cocktail at Asteria Beach Bar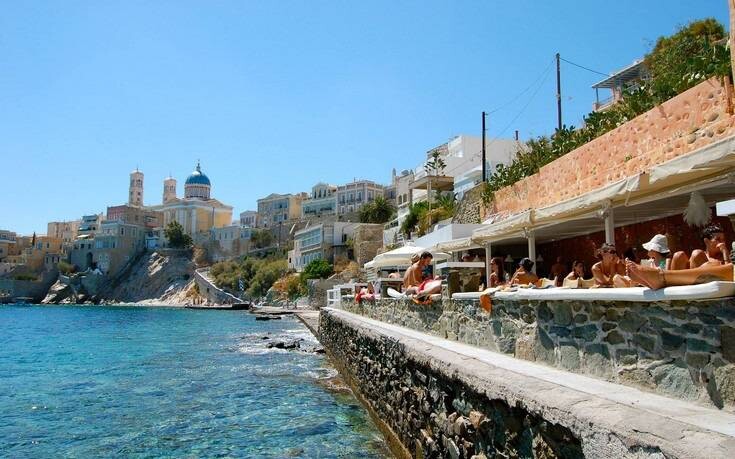 One of the best things to do in Vaporia is to have a cocktail or grab a bite at the Asteria Beach Bar (suggested by Guardian). It is a modest place but with magnificent views of the sea and the mansions.
3. Walk up to Ano Syros (steps involved) and the Capuchin Monastery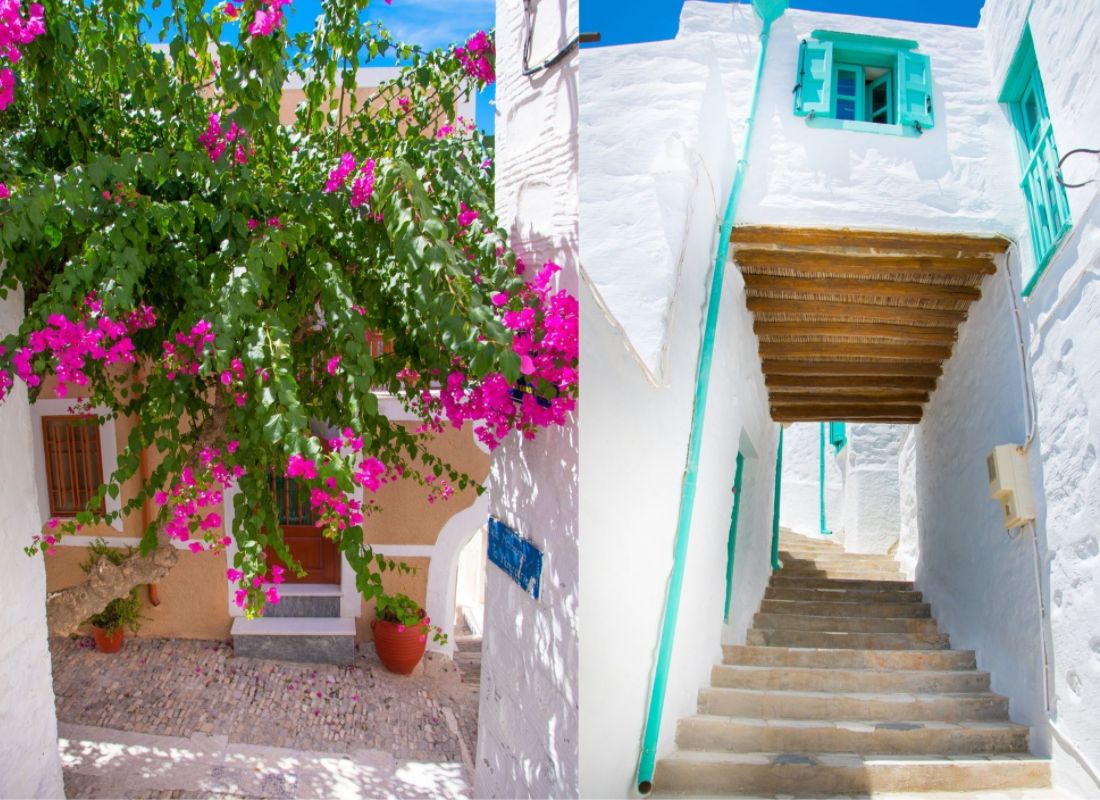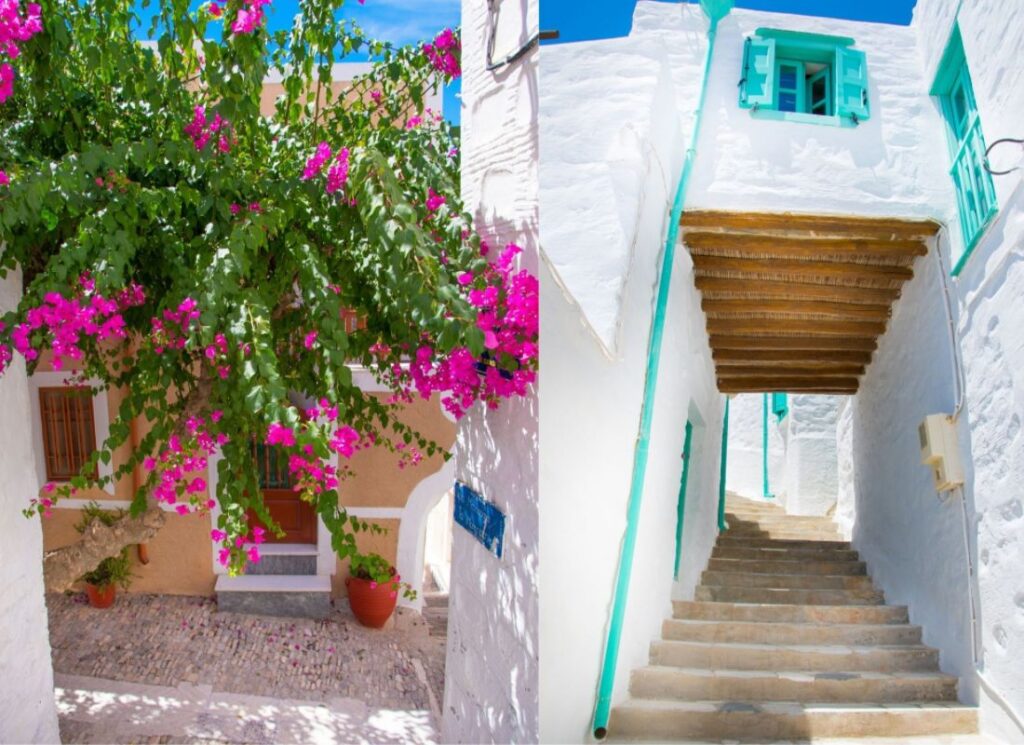 Ano Syros (the upper part of Ermoupolis) was founded in 1200 AD by the Venetians to protect the inhabitants from the pirates. To make things even more difficult for the pirates, they made narrow cobblestone streets with countless steps that pass by charming whitewashed houses and arches to get to the top.
When you finally reach the top – well done, you are in good physical condition! – visit the impressive Monastery of Capuchin in Ano Syros, founded in 1653 by King Louis XIII of France. In its basement, there are crypts that were used as shelters during pirate raids. There are no monks there today.
4. Visit the 12th-century Catholic Church of Saint George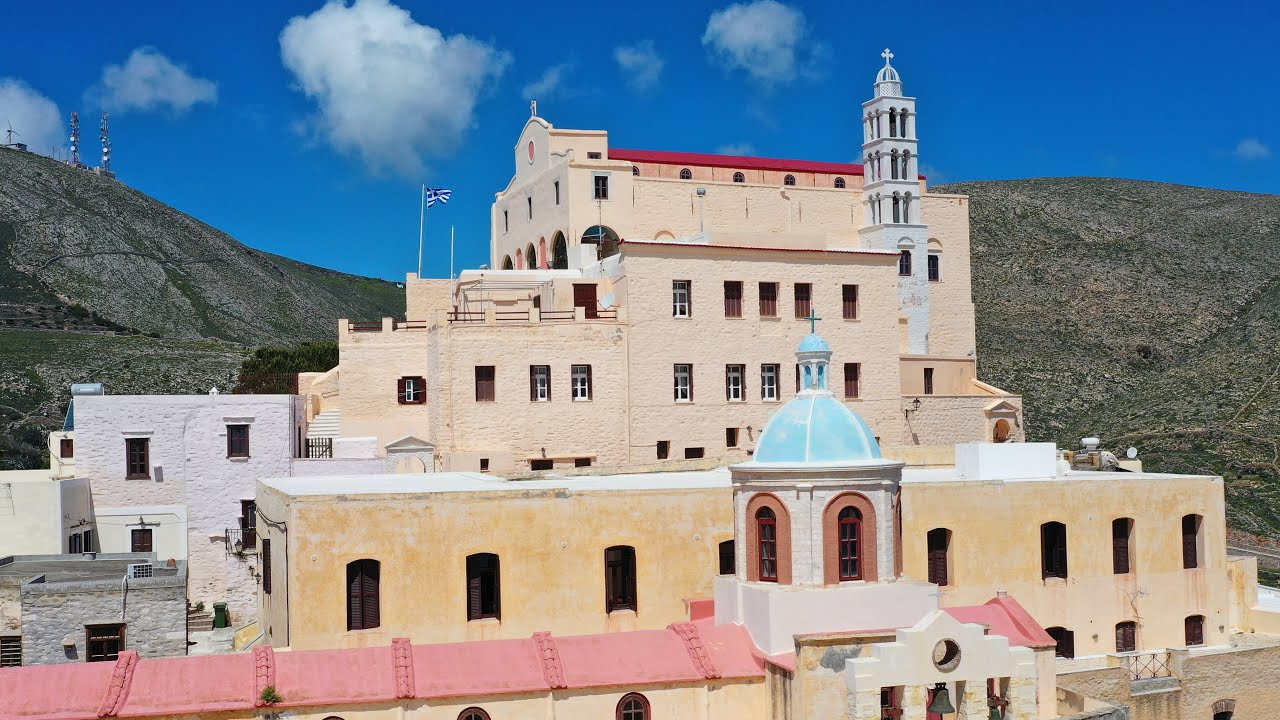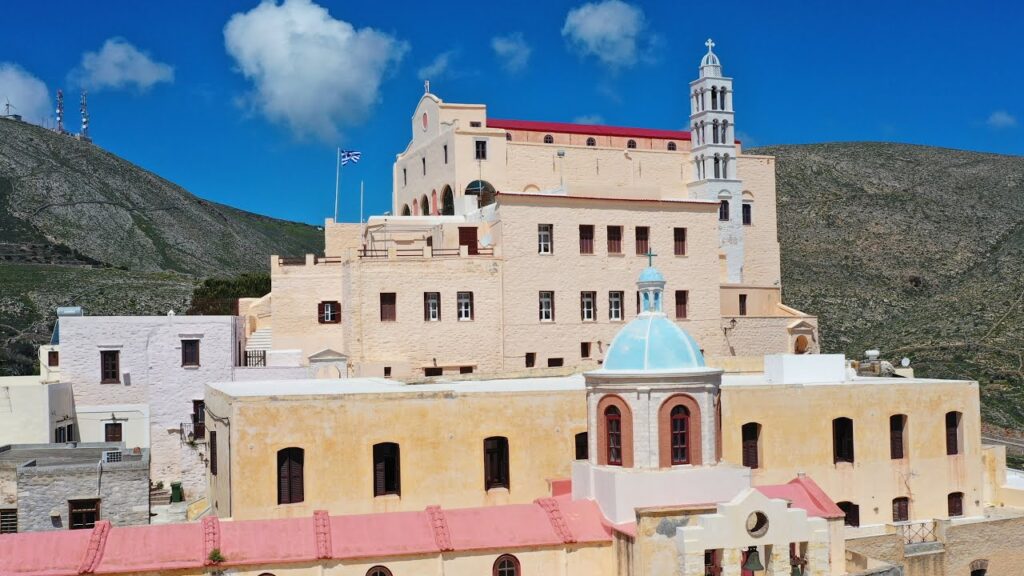 The Catholic Church of Saint George in Ano Syros, a three-aisled Basilica with marble columns, is built on the highest point of the hill in 1200 AD. It is a large complex of buildings such as the Bell Tower, the historical archive building, and the Episcopal Palace.
5. Photograph the Syros Greece Cats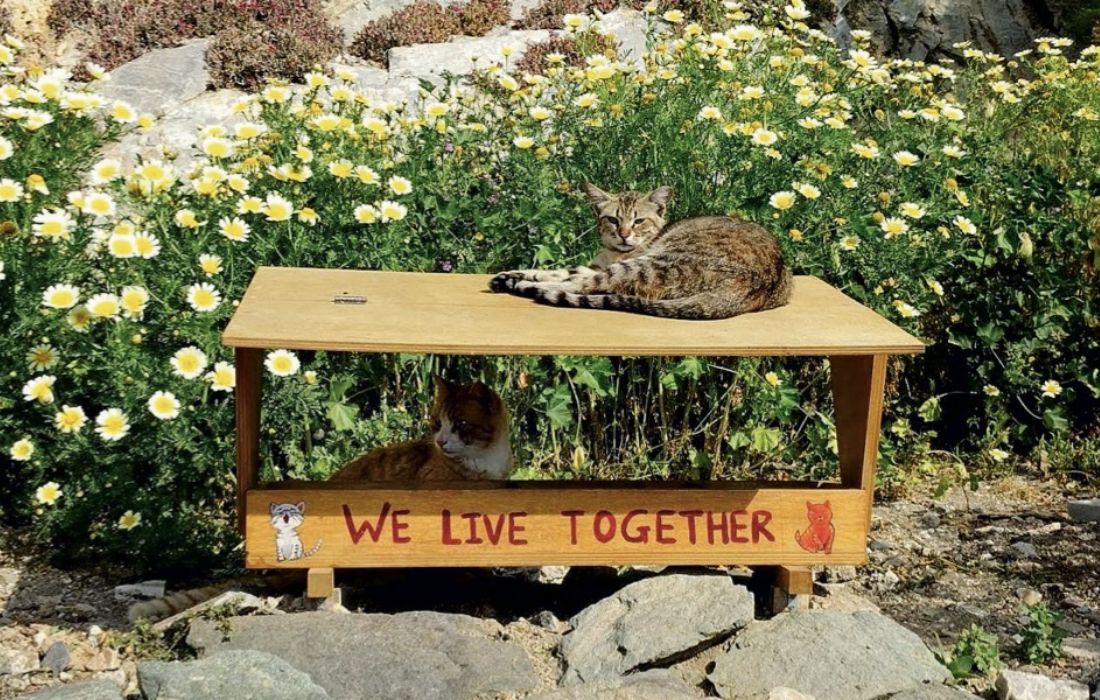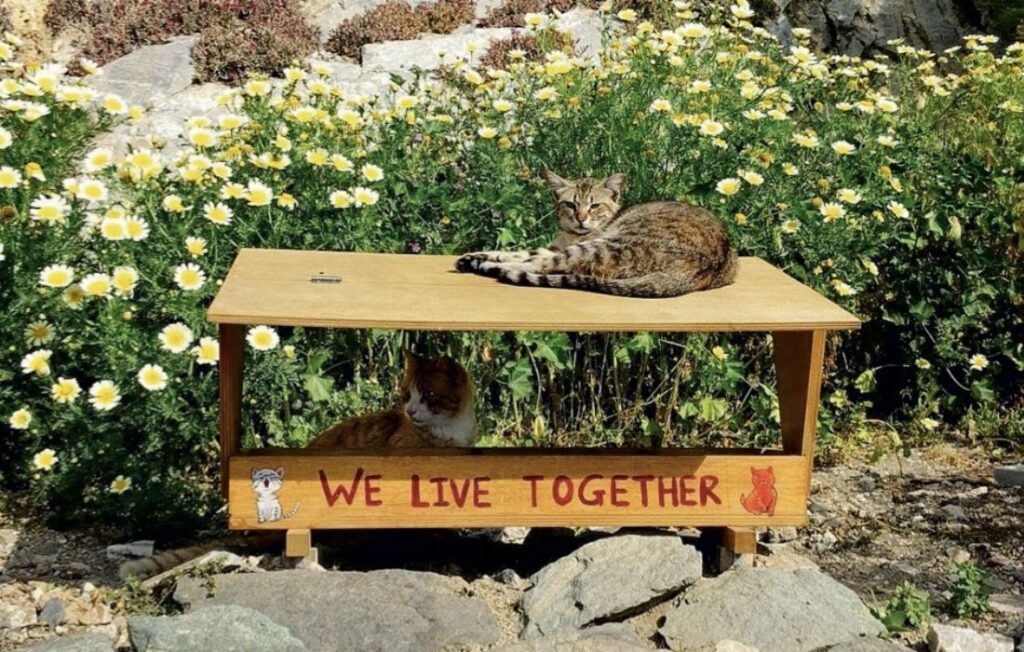 Like most Greek islands, Syros has also its share of stray cats being well looked after by the cat NGOs on the island and the vets supporting neutering programs.
There is actually a Syros Cat Garden, where neutered cats hang out, or get fed by the local volunteers.
Looking for accommodation in Syros? Check out here for rates and availability!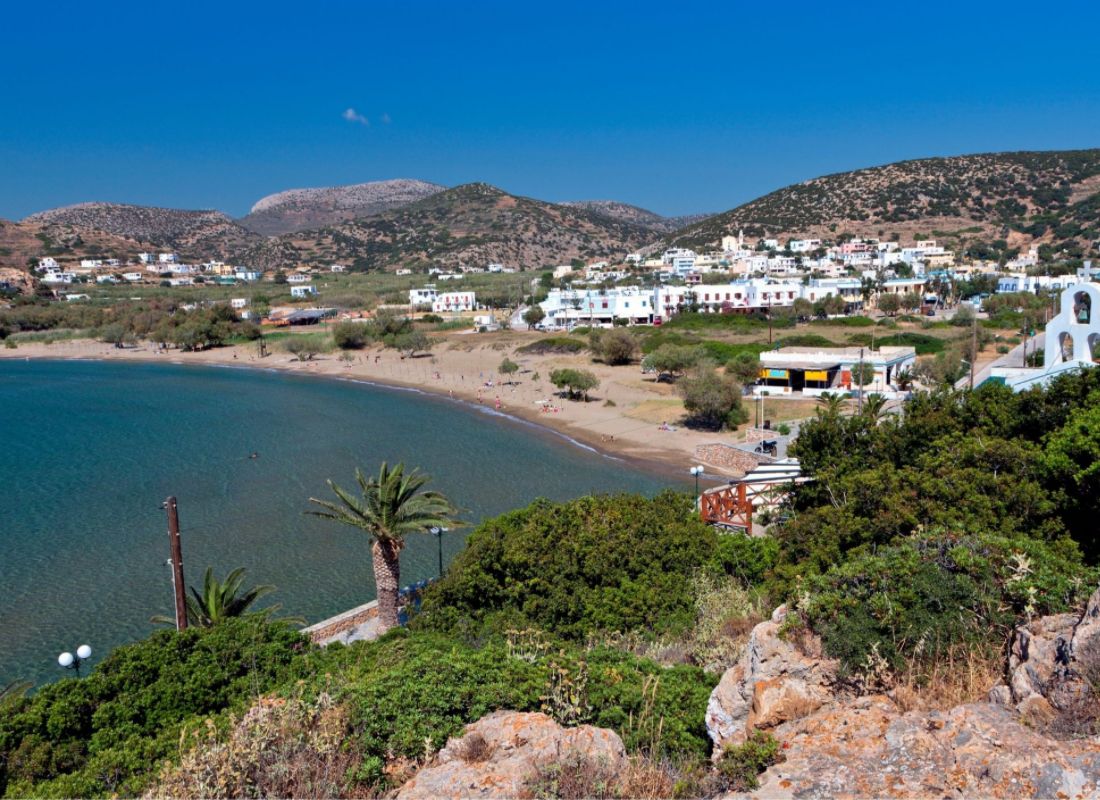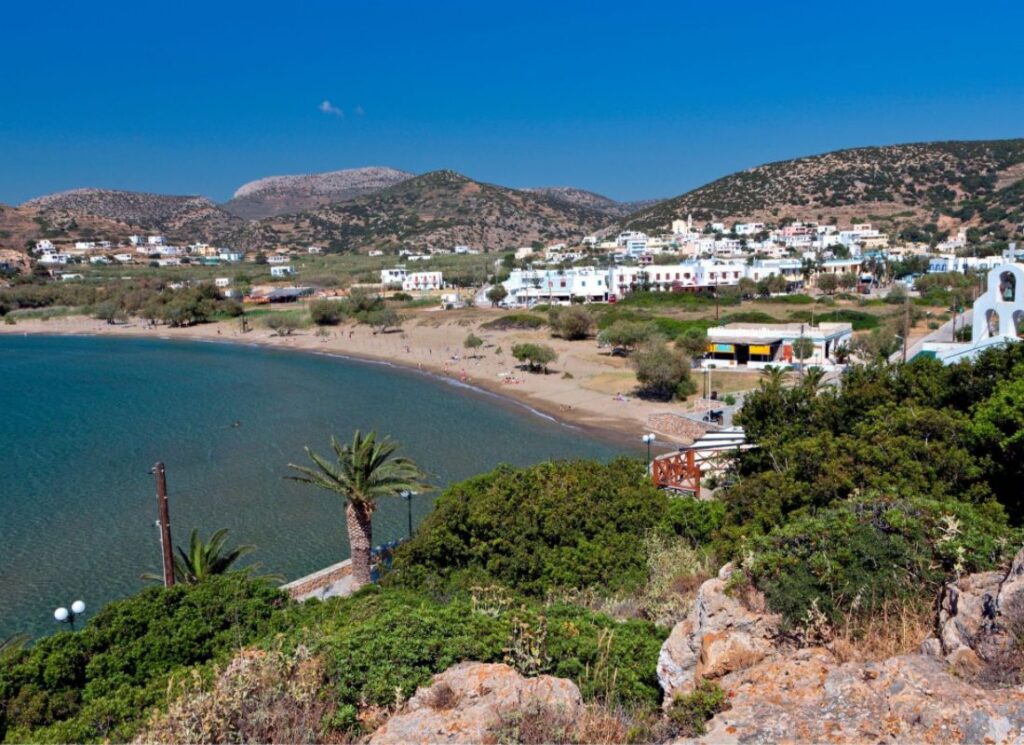 Galissas is a beautiful sandy bay between two low hills on the southwestern part of Syros with a couple of great restaurants by the beach. The beach is organized with sunbeds and umbrellas but has also trees if you prefer the more natural shade.
On the left side of Galissas Beach sits the tiny Catholic chapel of Saint Pakou, offering beautiful sea views.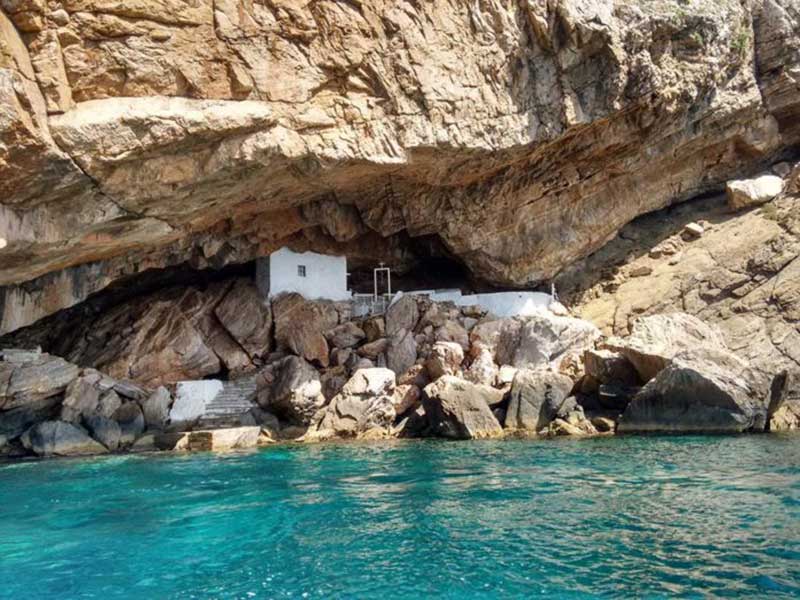 Hike from Galisas (or go there by boat) for about 2 km to the north and find the little Catholic chapel of Agios Stefanos built inside a cave overlooking the bay. Follow the signs to get to the unique chapel and take some of the best photos on Syros Island.
7. Drive to Megas Gialos Beach
Megas Gialos is one of the best beaches in Syros Greece. It is a large sandy beach with shallow and warm waters and plenty of sunbeds and shades, ideal for families. That means that it is a popular beach with taverns and cafes around to choose from.
It is 12 km from Ermoupolis towards the south and to get there you pass by a number of villages and beaches that you can explore on your way to Megas Gialos.
If you would like a more secluded beach, walk to the nearby Chapel of Agios Antonios, and right behind it, a trail begins that leads to the quiet beach of Ampela.
8. Watch the Best Syros Sunset in Kini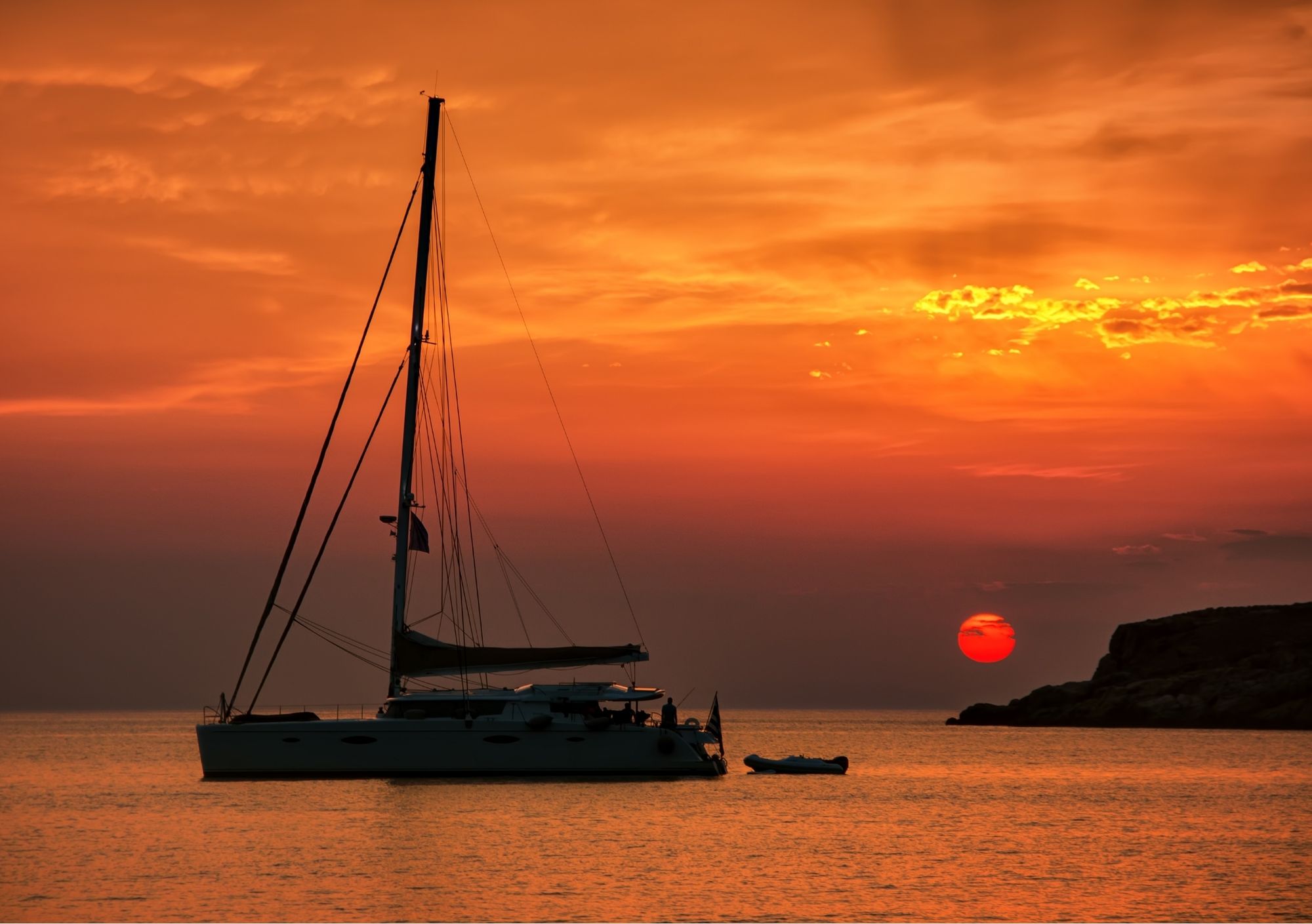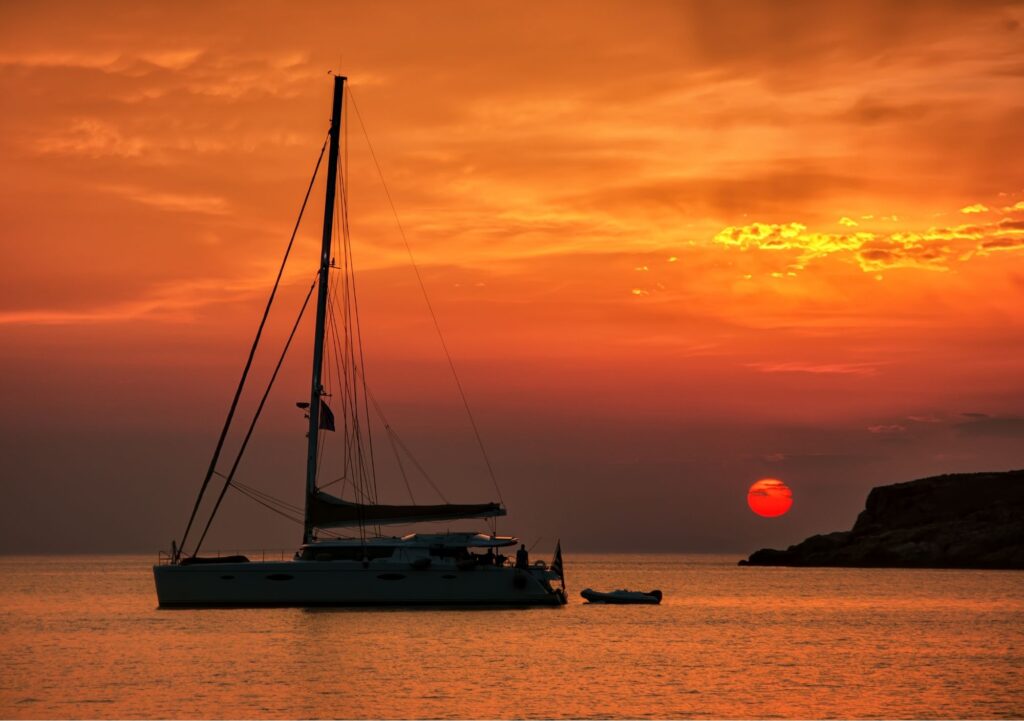 Kini village is 10 km east of Ermoupolis and offers the best sunset on Syros. The sandy beach is mostly organized with sunbeds and umbrellas but there are also free areas with trees if you prefer quiet time on the beach.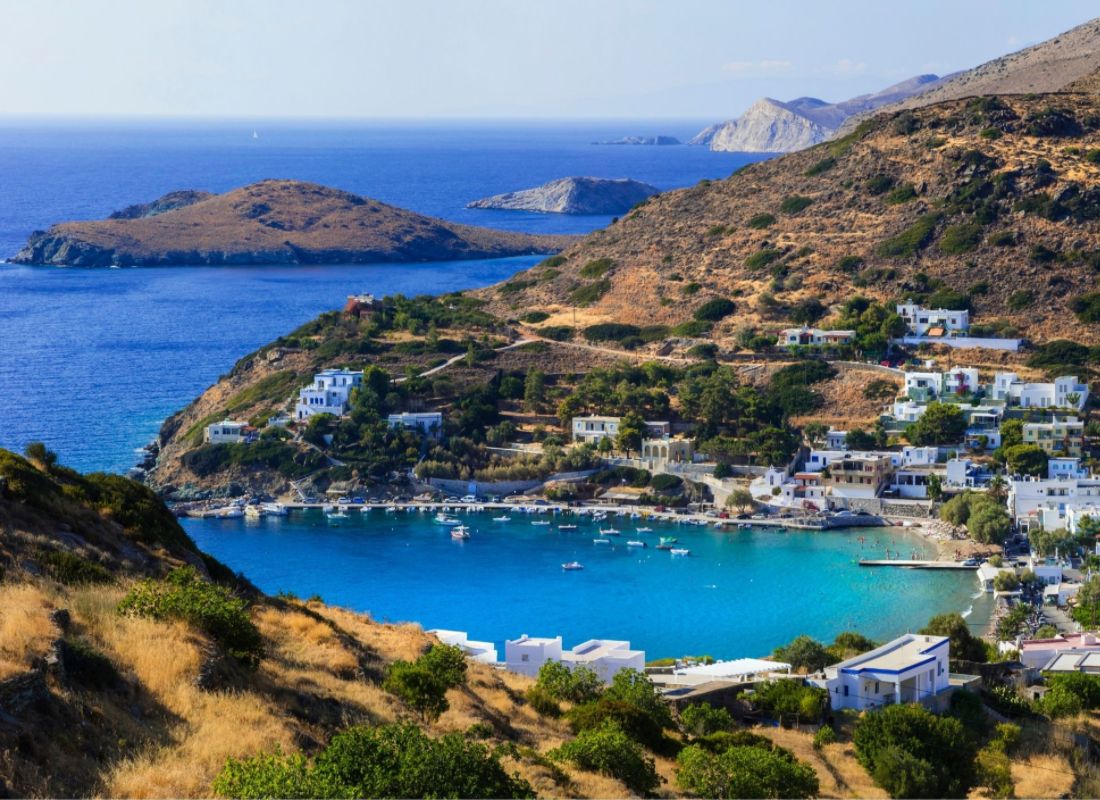 I discovered one of the best accommodations, Anemos and Almyra, a beautiful traditional settlement in Kini Village.
Kini Beach has also an interesting aquarium, with live fish and tools in a display used traditionally by the local fishermen.
9. Explore the Mansion of Count Diakakis on Komito beach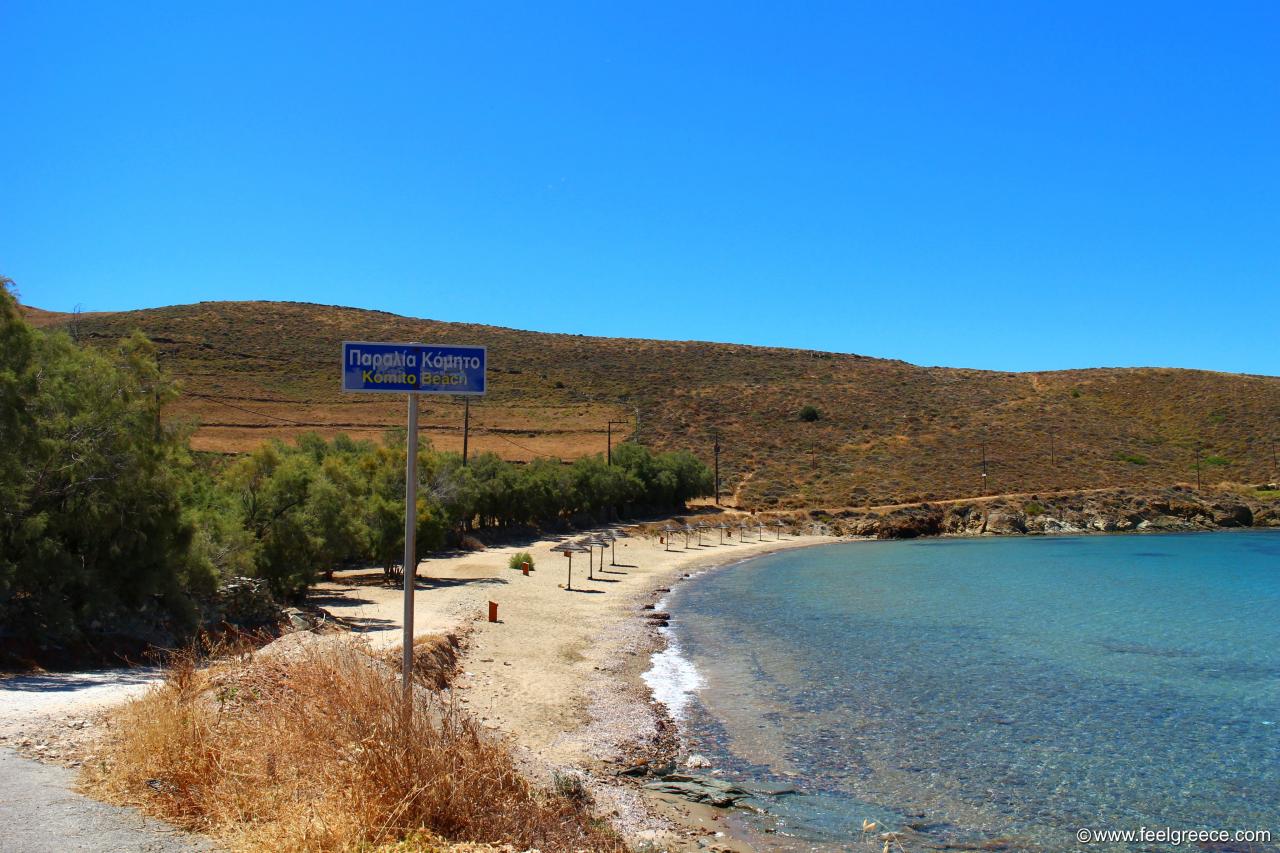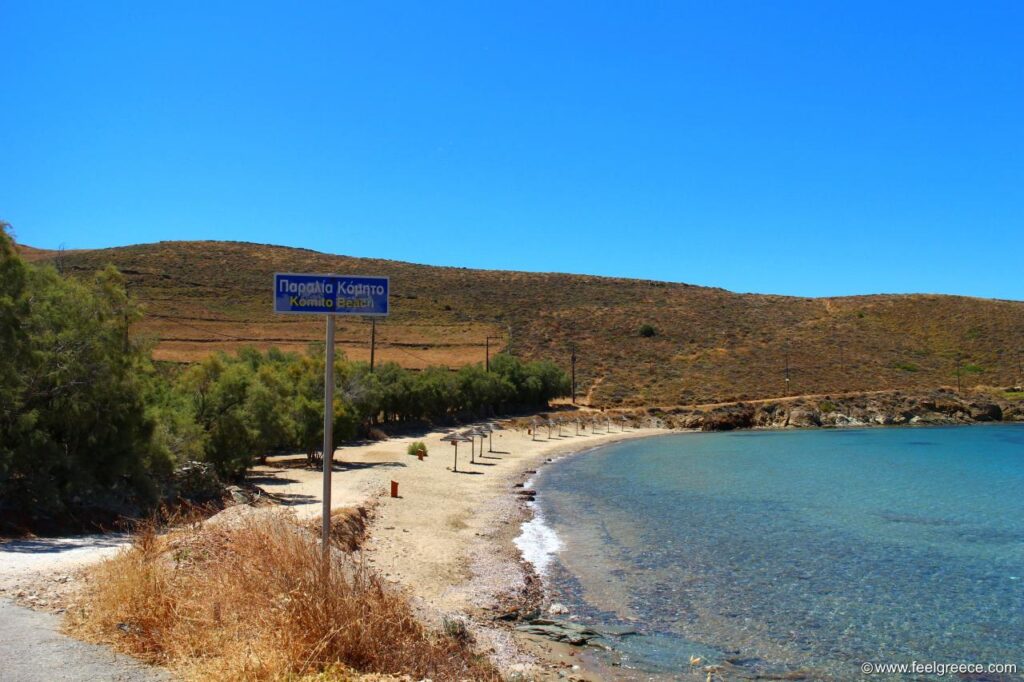 Drive southeast to the beautiful fine golden sand Komito Beach located across two islets and explore the abandoned but amazing Mansion of Cοunt Diakakis.
10. Take a Cooking Class on traditional Syros Greece Cuisine
My favorite way to explore a new place is to taste their local goodies and what is better than learning how to cook them?
Take this Private Cooking class on traditional Greek cuisine, on Syros. Sample wines and cheese from various areas of Greece. Learn secrets and techniques and see how Greeks eat at home. At the end of the class, enjoy a Greek feast in the lovely shaded courtyard and return home able to cook a full Greek meal from scratch! Check out this amazing cooking class here.
11. Hike Apano (Ano) Meria
Syros has low mountains and low vegetation in general with its highest peak being Pyrgos, at 442 meters. From the hillsides of Ano Syros, the neighboring islands of Tinos, Mykonos, and Delos can be seen.
Syros features 10 signposted trails marked by the local authorities as 'Paths of high cultural interest'. There are several more unmarked and equally beautiful to explore with the most demanding being the trail to the gorge of Schizomenes.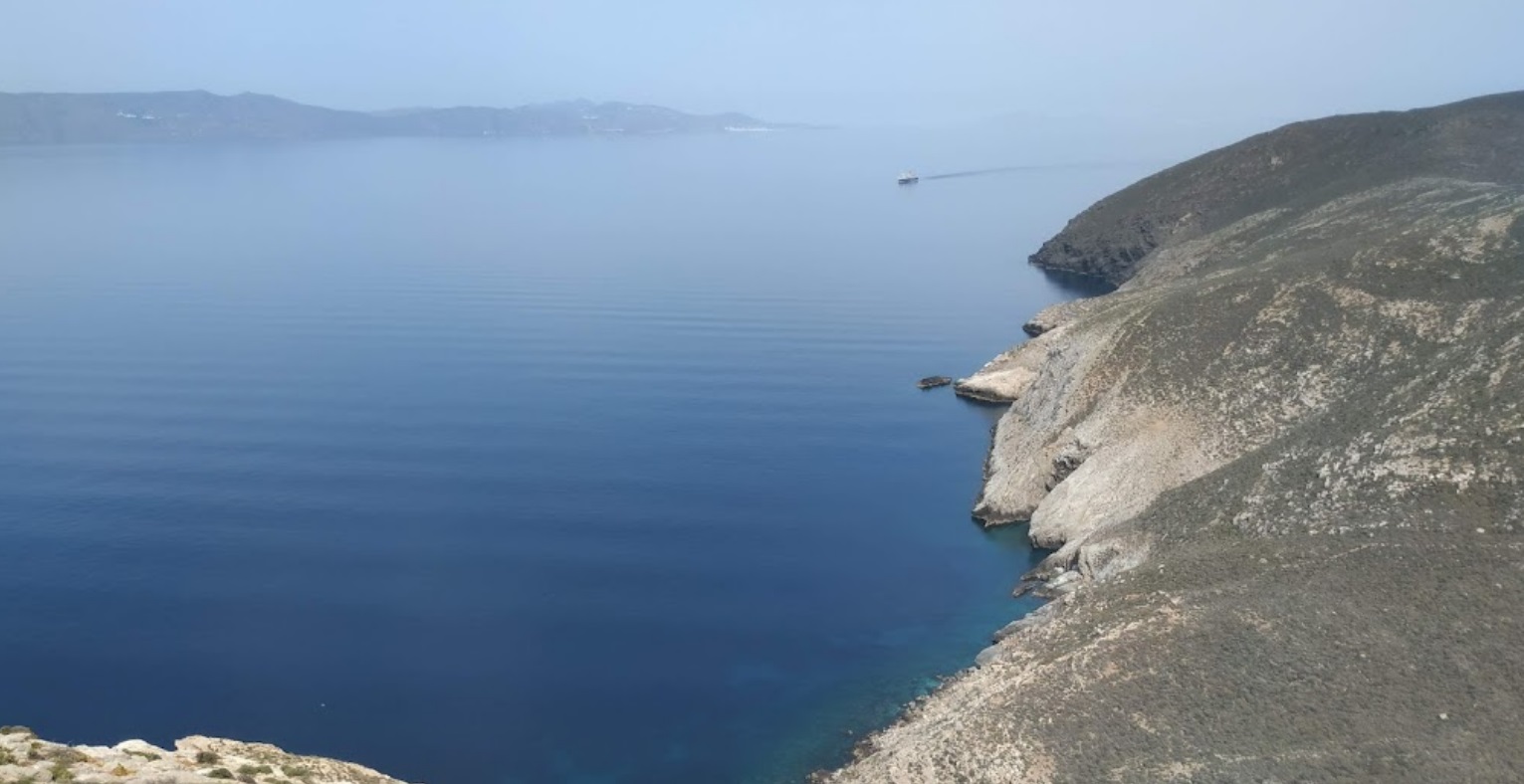 Another demanding but stunningly beautiful trail is on the northwest of Syros, where the terrain is rugged and barren at the Diapori area close to the north Syros Lighthouse.
Looking for accommodation in Syros? Check out here for rates and availability!
12. Visit the beautiful remote village of Ai Michalis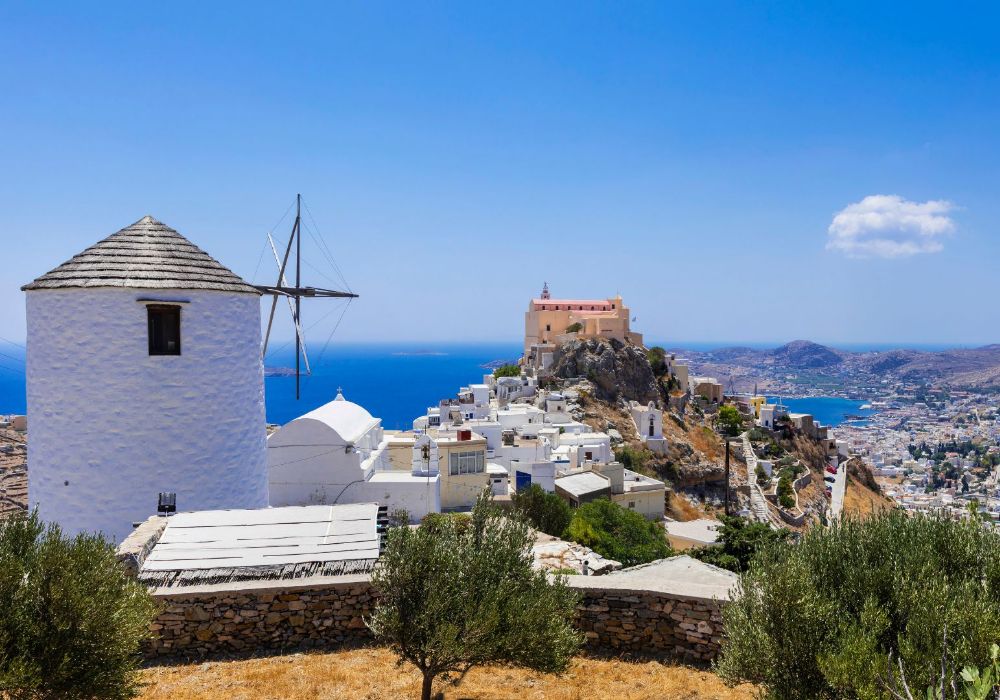 Go to the small traditional village of Ai Michalis with imposing vistas and have lunch in one of the taverns there for really traditional Greek food.
13. Hike to the Early Bronze Age Settlements of Kastri and Chalandriani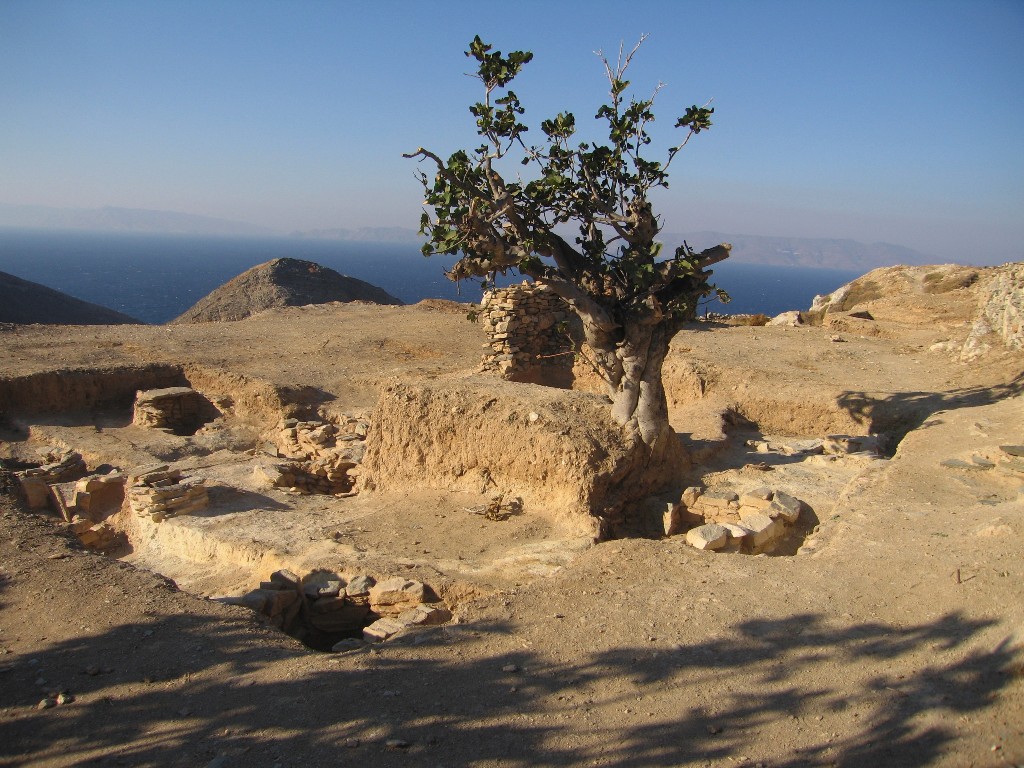 Syros island has many ruins from the Cycladic Civilization – a Bronze Age culture (c. 3200–c. 1050 BC). Excavations have revealed the remains of fortified settlements in Kastri dating circa 2300-2200 BC and a cemetery in Chalandriani.
More than 600 tombs have been excavated dated between 2700-2400 BC all belonging to the Cycladic Civilization.
The two settlements are linked with a long and rough trail that is easy to find and is marked with red spray paint including arrows. If you wake up really early you will watch the most stunning sunrise of your life.
**Other ancient sites in Syros include:
Ermoupolis: remains of an ancient wall and a theater north of the citadel at the hill where the Church Panagia Theotokos is
Vari: Roman tombs and ruins of a prehistoric settlement (4000-3000 BC)
14. Taste Syros Local Delicacies
The most famous of the island's local tastes is loukoumi — essentially the Greek version of Turkish delight and white-round scented nougat. They can be found in every bakery and pastry shop in Syros but also at the Greek coffee shops (Kafenio) served with Greek coffee.
Other local delicacies that you can taste on the island – in taverns or in groceries are:
Halvadopita, kaparosalata (capers salad), ladopita (olive oil pie), local cheeses: San Michali, sweet gruyere, and spicy Kopanisti.
Getting around Syros
There are public buses that will take you to beaches in Syros, starting from Ermoupolis but I recommend renting a car and driving around the island. I loved having the freedom to find hidden sites and stay as long as I wanted wherever I wanted.
How to Get to Syros Island
You can fly to Syros from Athens International Airport. The Airport Dimitrios Vikelas of Syros is only three km away from Ermoupolis, with a daily connection to Athens.
Syros is well connected by ferries from Athens' main port, Piraeus (the fastest ferry takes about 2,5 hours to reach Syros), or from the smaller Athens port of Lavrion.
Book your ferry transfer with FerryScanner to secure your seat, especially if you travel during the summer.
What to Wear in Syros
This, apparently, depends on the season you are visiting but anytime between May and October, essential things to have in Greece are:
When is Best to Go to Syros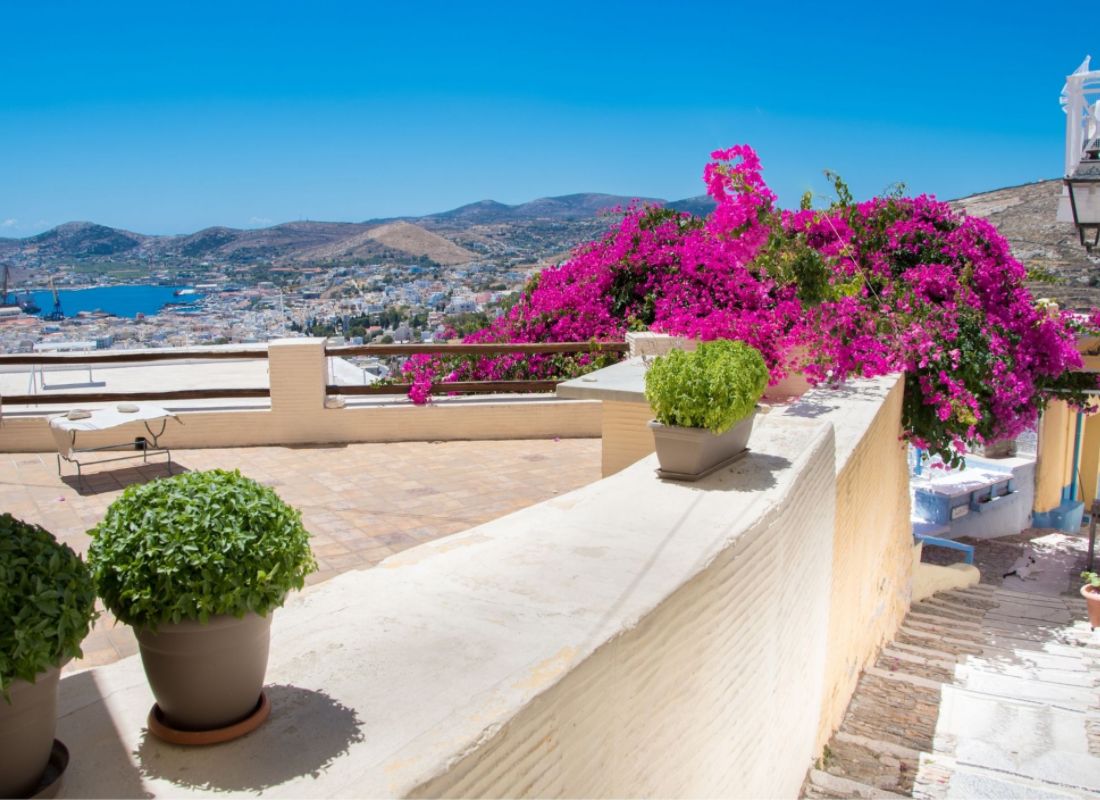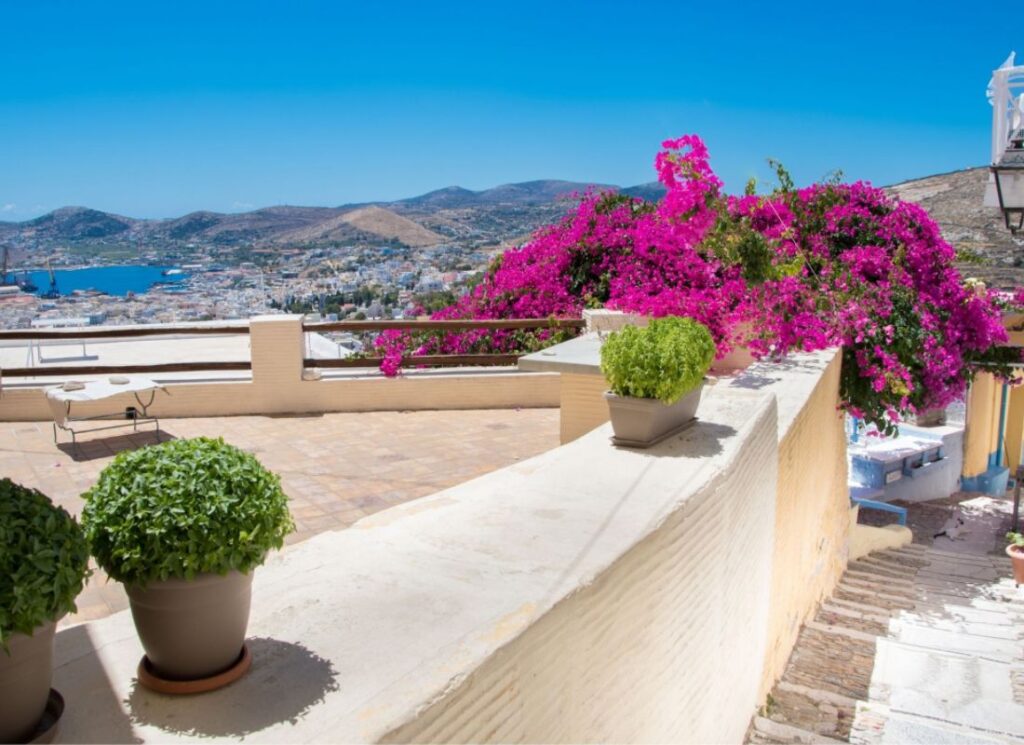 Syros island has been one of the most important industrial centers of the new Greek state – after the War of Independence in 1821 – and has still a thriving economy.
That makes it a 4-seasons island as it is busy all year round with frequent ferry transfers.
If you are interested in summer vacation, then June to October in Syros will be quite warm. July and August are the busiest, hottest, and windiest months for the Cyclades.
A great time to go to Syros is during Easter, with magnificent Greek Orthodox and Catholic celebrations in April. The sea waters will be cold to swim in but hiking will be at its best as the whole island will be covered in wildflowers and the weather is simply perfect.
Easter in the Cyclades is very popular among Greeks so you better check for availability early on Booking.com.
Map of Syros Greece
Get your interactive map of Syros Island here, to drive to any of the places listed on our things to do in Syros.
How to get to Pireaus Port from Athens Airport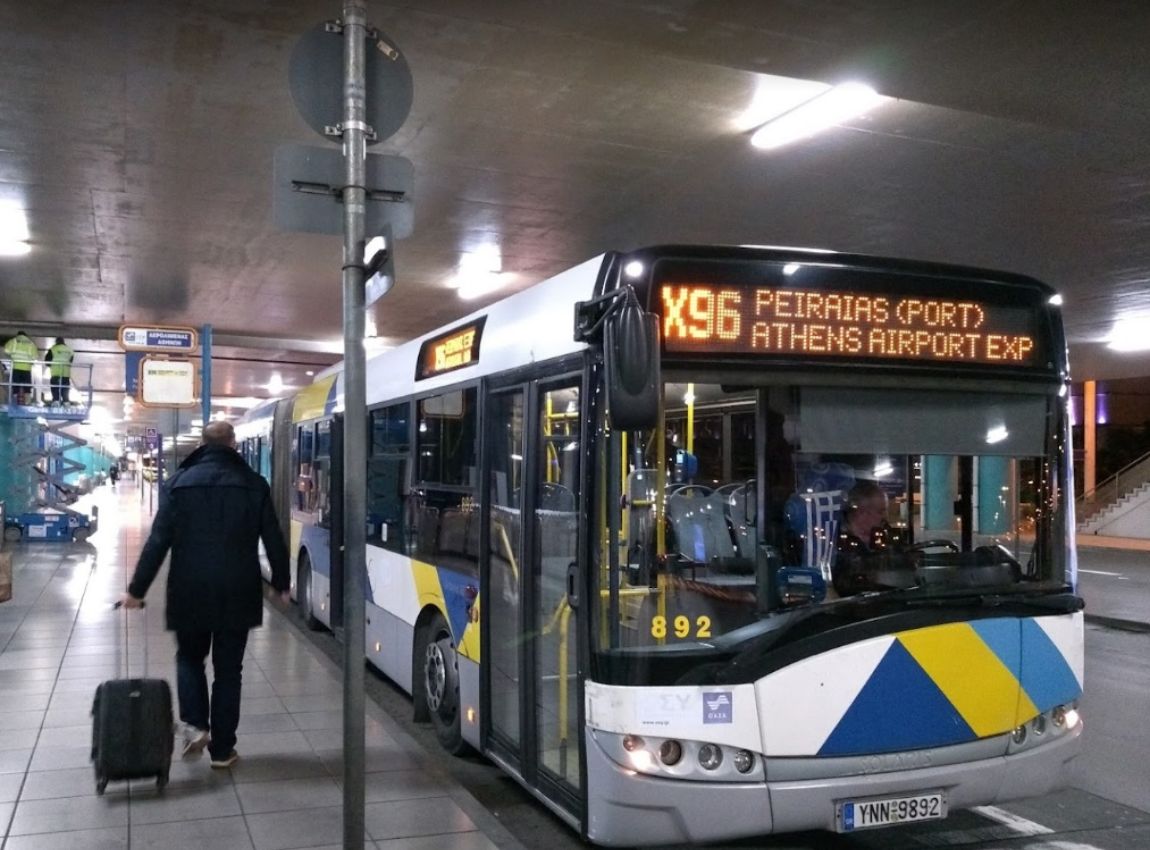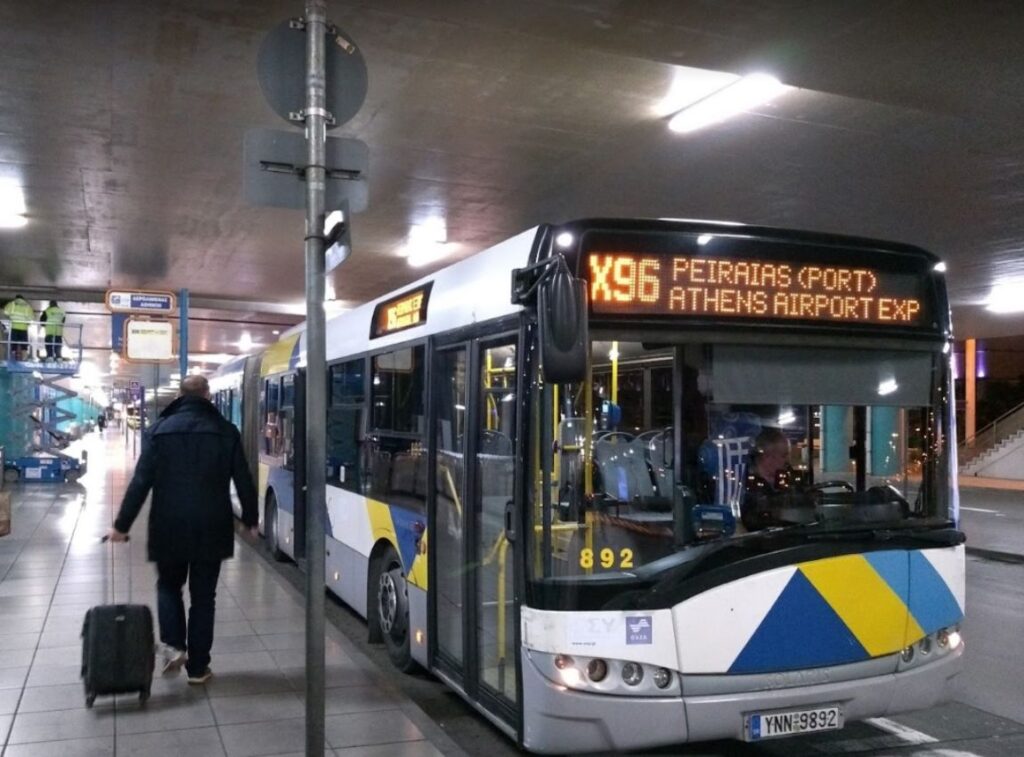 Bus: If you are arriving at Athens International Airport you can travel straight to the port by taking the X96 express bus (€5.5, children <6 yo, free entrance), which departs every 40 minutes and the average trip lasts 1 hour – runs 24/7.
Metro: (€9) is easily found across airport arrivals (blue line – M3) going directly to Piraeus port. The average trip to Piraeus lasts 1 hour.
Taxis are available in front of the airport (around €40 to Athens, €55-60 to Piraeus (depending on the traffic in Kifisos), and take up to 3 or 4 people with small luggage)
Rent a car with Discover Cars to rent reliable new cars at affordable prices
You don't like driving but love hassle-free solutions? Book a Private transfer with an English-speaking driver from Athens International Airport to Piraeus Ferries, or anywhere else in Greece
Check out an entire post on Lavrio Port in Athens
Plan Your Next Trip to Greece With These Guides
All rights reserved © Travel the Greek Way. Republishing this article and/or any of its contents (photographs, text, links) is strictly prohibited.
Some of my Favorite Travel Resources for Greece
'Hello' and 'Thank You' in Greek: "Ya sou" and "Efharisto"
Booking.com: I use Booking.com because I can get the best deals on both hotels and apartments, free cancellations, and great prices!
Find Long-Term Rentals in Greece: You will find the best prices in Flatio
FerryScanner to book ferries to the Greek Islands
Athens Metro Website (timetables and ticket info)
Get Your Guide: For all your day or multi-day tours and city guide needs, I use Get Your Guide
Emergency Numbers Anywhere in Greece: AMBULANCE 166 – FIRE 199 – POLICE 100– EMERGENCY NUMBER 112
Please follow and like us: