This Greece 10-day itinerary covers everything you need to know on your trip to popular Greek islands such as Santorini, Naxos, Mykonos, and Athens, the ancient capital of Greece.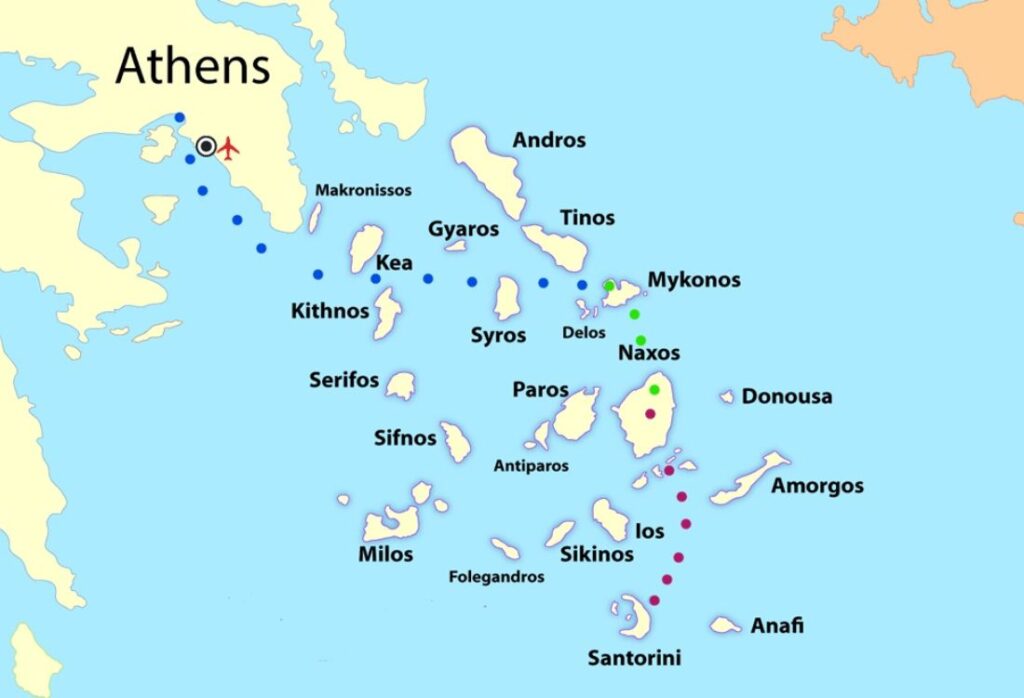 Santorini, Naxos, and Mykonos islands belong to the most popular group of Greek islands, the Cyclades. They are frequently interconnected during summer and there are 3-4 daily ferries from Athens and Rafina (a smaller port in Athens). You can also fly to Santorini, Naxos, and Mykonos from Athens or from some of the European cities.
This is a suggestion for a Greece 10-day itinerary with 3 nights in Santorini, 2 nights in Naxos, 2 nights in Mykonos, and 2 nights in Athens. Sometimes, you have to play it by ear, you may stay more on one island and less on another and you figure this out while you are on the islands. It all comes down to how a place makes you feel or how exhausting/exciting you find it to check in and out as frequently and take the ferries/airplanes.
Logistics of the Greece 10-day Itinerary
This 10-day itinerary in Greece can work both ways: You can land in Santorini and end up in Athens or start off at Athens, take the ferry, or fly to Mykonos, Naxos, and Santorini. From Santorini, you can fly either to Athens and from there fly back home or fly straight home from Santorini.
If you travel during summer, there will be at least 3 to 4 ferry connections between the islands.
In winter, there might be 1 or 2 ferry connections but not to all islands and not even every day. I checked the 11th of January (a random date) for ferries from Santorini to Naxos and there were 2 ferry connections, which was good. So if you are traveling off-season the ferries must be carefully selected.
Tip: I would keep Athens for last, to make sure that I will definitely fly back home.
Some of the links below are affiliate links. That means I may make a commission if you click and buy. The commission comes at no additional cost to you.
Greece 10-Day Itinerary – Greek Islands & Athens
Athens Quick Reference
Where to stay in Athens with stunning Acropolis view: Niche Hotel or The Foundry Suites
Book your ferry tickets with no-hidden-fees at FerryScanner

or FerryHopper
Rent a car with Discover Cars for reliable new cars at affordable prices
Day 1 of Greece 10-day Itinerary: Arrival in Santorini
I suggest you arrange in advance with your hotel to pick you up from the Santorini airport or port. Most of the hotels in Santorini have their own vehicles to transport their guests. If they haven't got one, they collaborate with local taxis. In any case, they should be able to pick you up.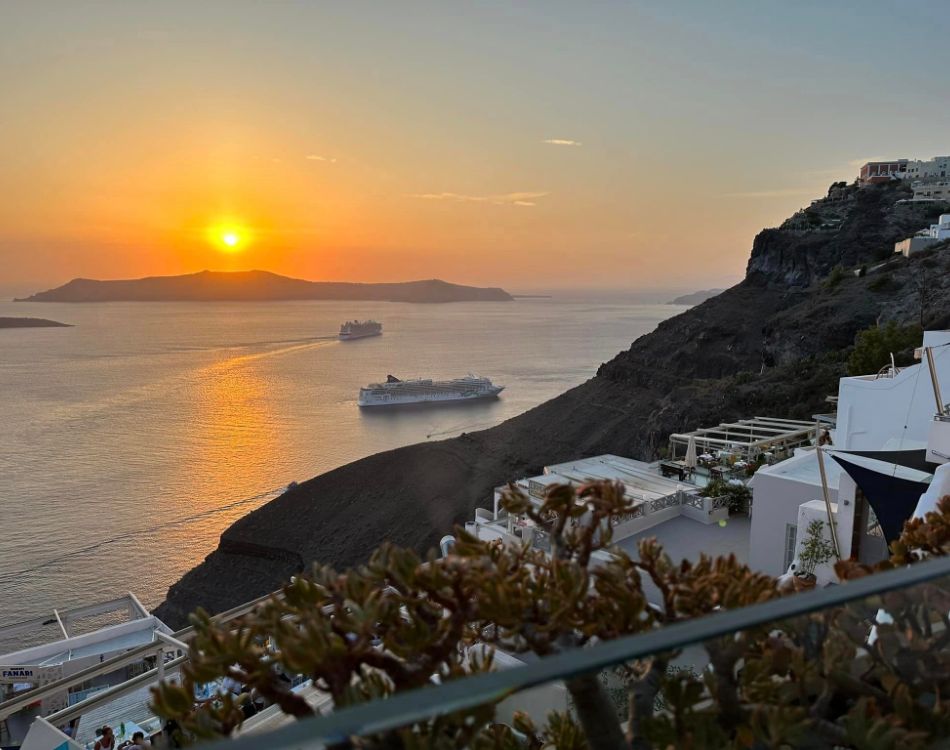 Dependent on the time you arrive and after you have settled in the hotel you may have time to do sightseeing around the town you are staying in Santorini. As a top site, go to Oia, find a nice spot, and enjoy your first sunset in Santorini.
The shops stay open until late, so go around and explore, and enjoy your evening. If it is July or August you may find it difficult to get a table at any caldera view restaurant. For the other evenings in Santorini, I suggest you book your table in advance.
Budget Tip: The further from the caldera you book, the cheaper everything is
Best Oia Sunset View Restaurants
Kastro Oia Restaurant and Lycabettus Restaurant will leave you breathless with their awesome views and their excellent cuisine. But you do need to book your table in advance. Check out here my post on the 6 best diners in Santorini for your anniversary.
Where to Stay in Oia Santorini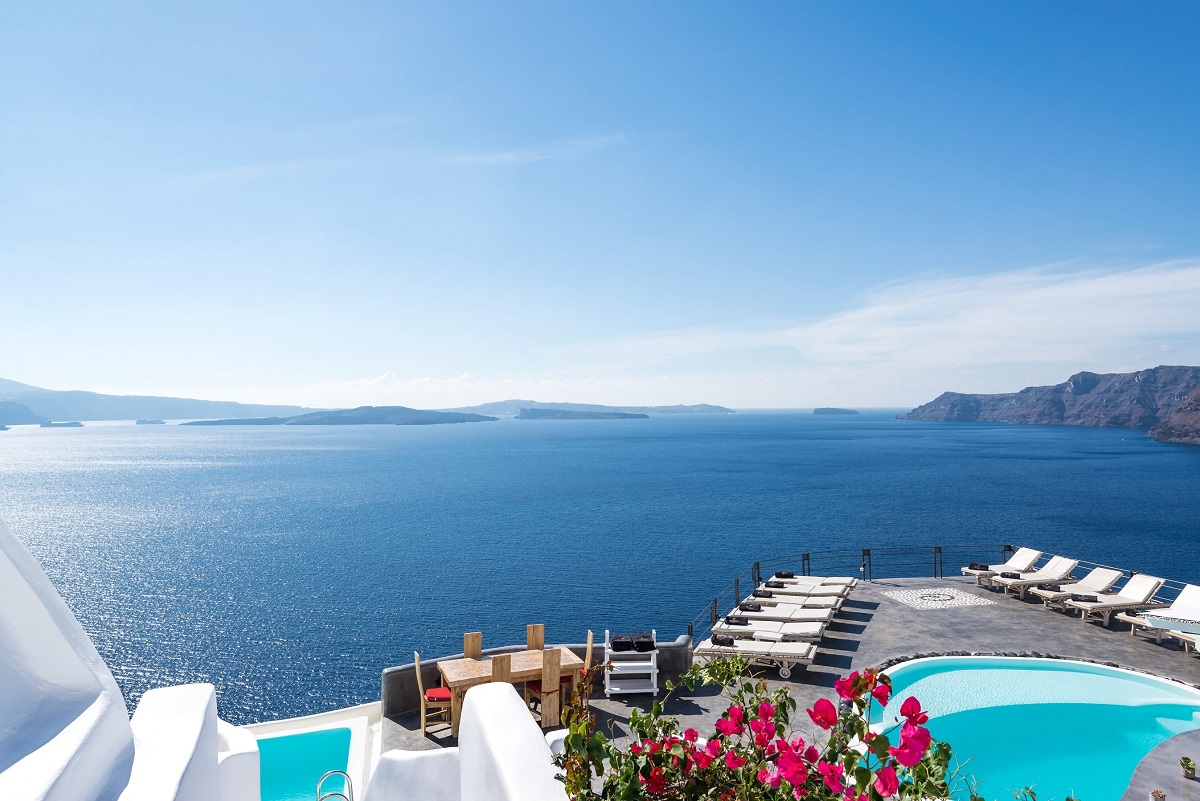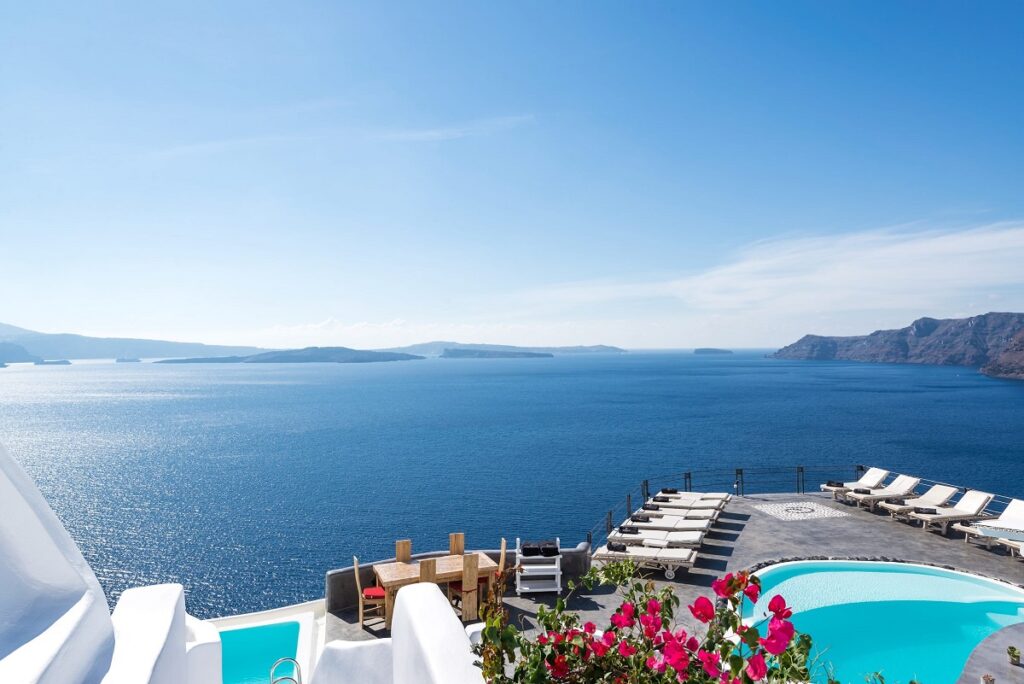 Andronis Boutique Hotel: The hotel has spectacular views over the Caldera, spa, swimming pool, organic restaurant, and amicable staff. They also provide free pick-up from the airport. The famous Lycabettus restaurant belongs to the Andronis Hotel chain in Santorini.
Canaves Oia Suites and Spa: If this trip to Greece is your honeymoon, consider staying at the best Suites in Santorini for newlyweds.
For budget hotels in Santorini, read my recommendations on the Best Santorini Budget Hotels.
Day 2: Santorini – How to get around the Island
For your second day of this Greece 10-day Itinerary, you can rent a car but keep in mind that the roads are narrow, there is going to be some traffic, and parking can be challenging at times. The local public buses (Central station is at Fira) go around the island but not to the remote areas, they can be packed with people, and be slow in the summer.
Cable Car in Fira: This is your alternative to donkeys (please don't use the donkeys!) and steps if you want to visit Mesa Gialos, the old port of Fira, where a lot of caldera cruises start.
For the second day of your Greece 10-day itinerary, you can go to Fira, Santorini's capital, and Firostefani village, which are very close to each other, stroll the picturesque alleys, take photos of the blue-domed churches and enjoy your day in Santorini.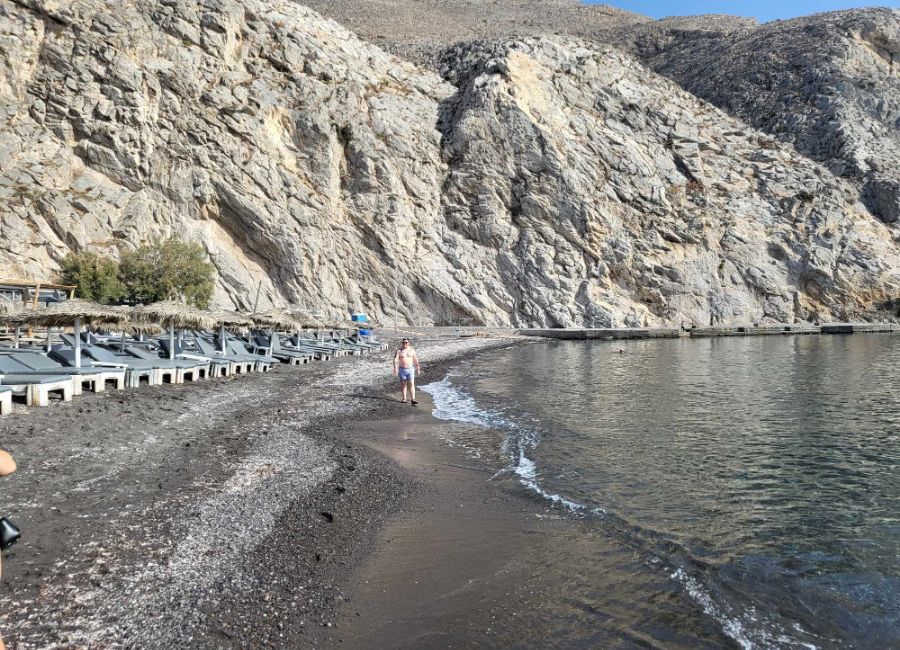 Swim on the eastern side of Santorini, the black beaches of Perissa and Kamari.
Explore the stunning ancient Thera between Perissa and Kamari's black beaches. Go to the impressive Vlichada, my favorite beach in Santorini.
In the evening dine at the beautiful Esperisma Bar-Restaurant in Fira.
For the full list of the things to do in Santorini, read my article 12 Best Things to Do in Santorini!
Day 3: Santorini
Explore the southwest part of Santorini. Go to the Akrotiri Bronze Age Site and visit the nearby impressive Red Beach.
A note of caution about Red Beach: The Municipality of Thira (Official name of Santorini) has put up warning signs against visiting it as the beach is prone to landslides.
I recommend you visit Red Beach on Catamaran Cruise, with stops at the Volcano Hot Springs, Vlichada, Mesa Pigadia, and Red Beach.
Day 4 of Greece Itinerary: Santorini and Naxos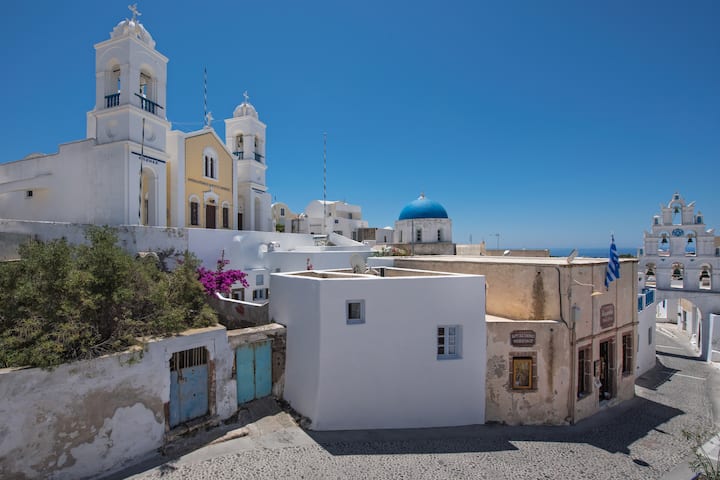 The ferry to Naxos leaves at around 15:45 pm so you have plenty of time to experience a bit more of Santorini.
The port in Santorini is southwest of Megalohori, the capital village of wine production in Santorini. This is the perfect place to experience the authentic Santorini, which is less touristically developed and has amazing wine tasting. And buy a few bottles for Naxos nights as well!
Then off to your ferry to your next adventure, Naxos. Ferries take from 1 to 3 hours to reach Naxos, depending on the type of boat you have booked.
Where to Stay in Naxos
Naxos Greece is very different from Santorini. It is the biggest and greenest island in the Cyclades, less touristically advanced, and much closer to the authentic idea of Greece.
I suggest you stay in Chora (or Hora) Naxos, the capital town and port, a beautiful place with a maze of whitewashed houses and centuries-old Greek Churches.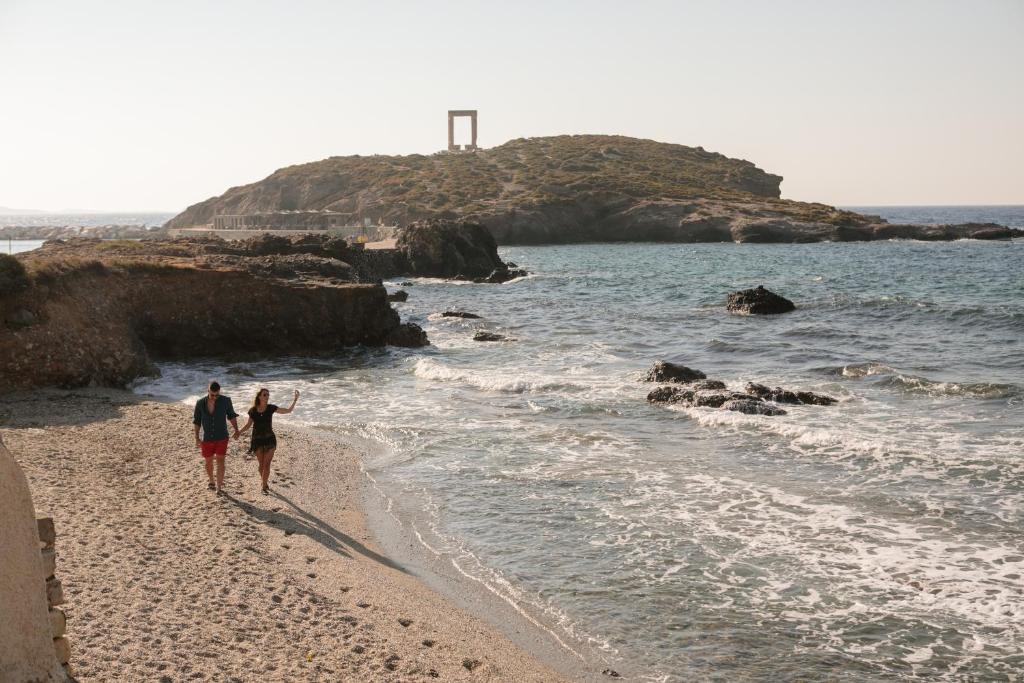 One of the best and most reasonably priced hotels is Hora Seaside Suites, built very close to the Naxos landmark: the Ancient Portara or Temple of Apollo, and the best place in Naxos to see the stunning sunset.
The beautiful Suites are next to the sea, just a 5min walk from Chora shopping center and the port, and neatly tucked away from the busy main road. Both a gorgeous and convenient hotels to stay in Naxos.
After you have settled in your hotel, stroll the iconic alleys of Naxos and start feeling the vibe of the island. I suggest you try some really traditional Greek taverns such as Apostolis Restaurant for your dinner.
Apostolis restaurant has a fantastic Cycladic yard and is a few streets off the main seaside road, a 5-minute walk from your hotel. Try his mixed salads with the local but Greekwide famous Graviera yummy cheese and pick a local dish of the day.
Greece 10-day Itinerary
Day 5: Naxos – How to get around the island
Naxos island is famous in Greece for its delicious cheese and potatoes, the endless golden sand azure-colored beaches, the picturesque villages scattered around the island, and fantastic hiking opportunities in its mountains.
There are public buses on Naxos but I got around the island with a rental car. The private car offered the freedom to explore the island in-depth and save time, especially when you only have 2 days to explore a large island.
The best sandy beaches in Naxos are the ones on the west side of the island: Agios Prokopios, Agia Anna, Maragas, and Plaka are all beaches one after another in a big bay.
Alternatively, explore mainland Naxos with its beautiful and traditional villages.
Day 6: Naxos and Mykonos
The ferries to Mykonos leave around 15.30 every afternoon and the trip lasts between 40 to 80 minutes, again depending on how fast is the boat you have booked.
You will have plenty of time to have a fast swim around Portara or explore a bit further Chora Naxos. You can visit the Venetian Castle on top of Chora and the medieval Catholic Metropolis Church with graves of the most essential catholic families that lived on the island.
Another landmark is the Archaeological Museum with exhibits from the Cycladic and Mycenean times.
Where to Stay in Mykonos
If you take the fast ferry then around 4.30 or 5 pm at the latest you should be at your Mykonos hotel. This time I would advise against staying very close to Chora Mykonos because in the summer it can get very noisy, the hotel prices are really high and the beaches are either not so great or just too busy.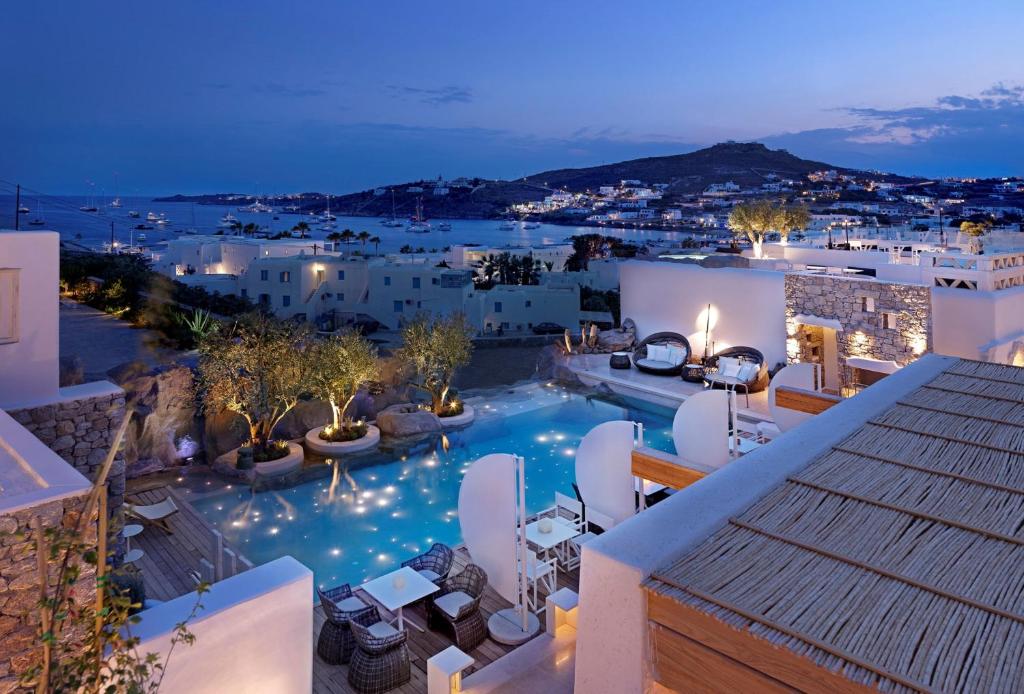 As with Santorini, you can again organize with your hotel to pick you up from Mykonos main port. The Kensho Ornos hotel is 6.5 km from Mykonos Chora and port, situated on the beautiful beach of Ornos village. The hotel is simply stunning and offers 5-star service.
Ornos Beach is a popular beach in Mykonos, dotted with bars and taverns and many things to do. As soon as you have settled into your room you can go straight for a swim on Ornos beach or have a cocktail and seafood in one of the best restaurants in Ornos: The Buddha-Bar Beach.
Alternatively, go to Chora and wander one of the most beautiful Cycladic villages but be prepared: if you are visiting Mykonos in July and August, it is going to be very crowded and noisy.
Walk around the centuries-old windmills, go to Paraportiani Church, and take a photo with the notorious Mykonos Pelikan (there are currently 3 on Mykonos).
Find Scarpa bar in Little Venice, get a table, and enjoy your first breathtaking sunset in Mykonos.
For a detailed list of things to do read my post on How Best to Spend 3 Days on Mykonos Island.
Day 7: Mykonos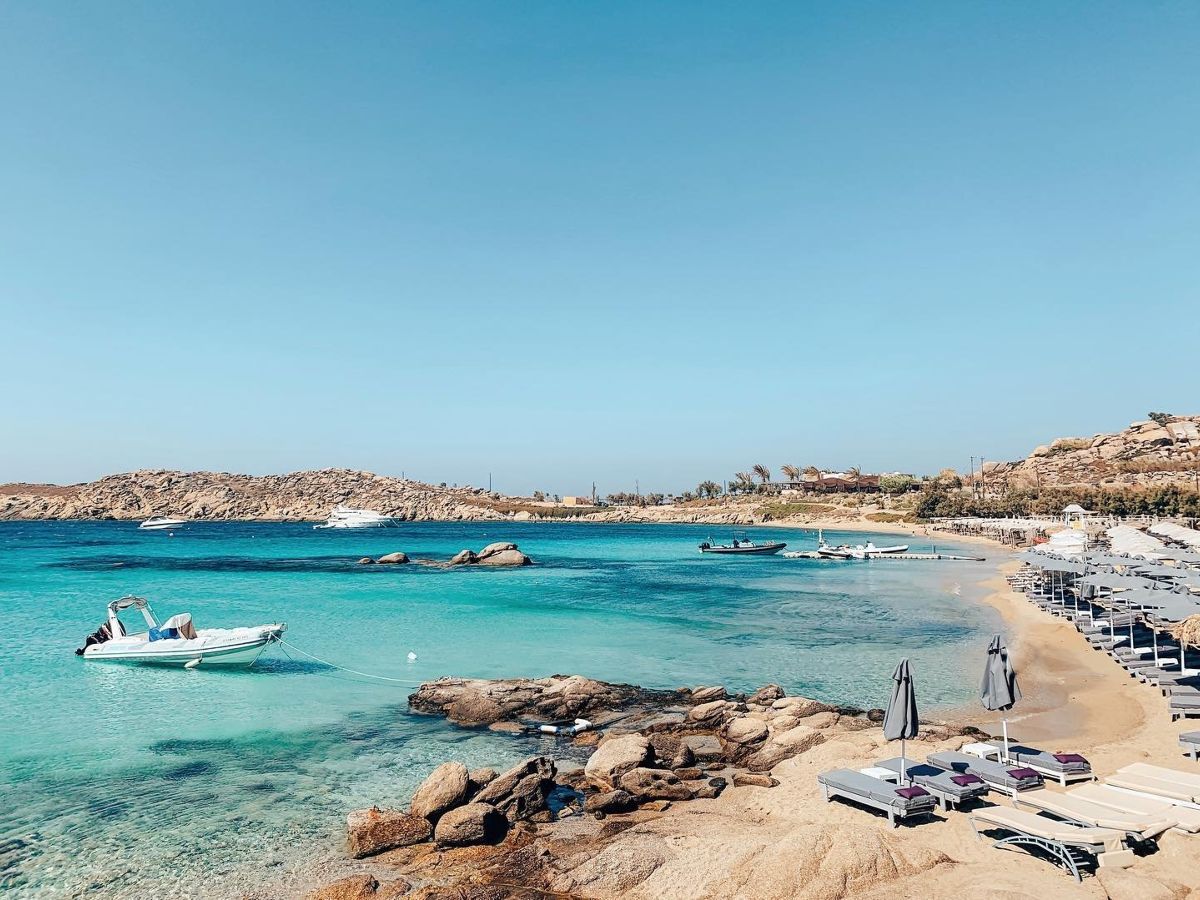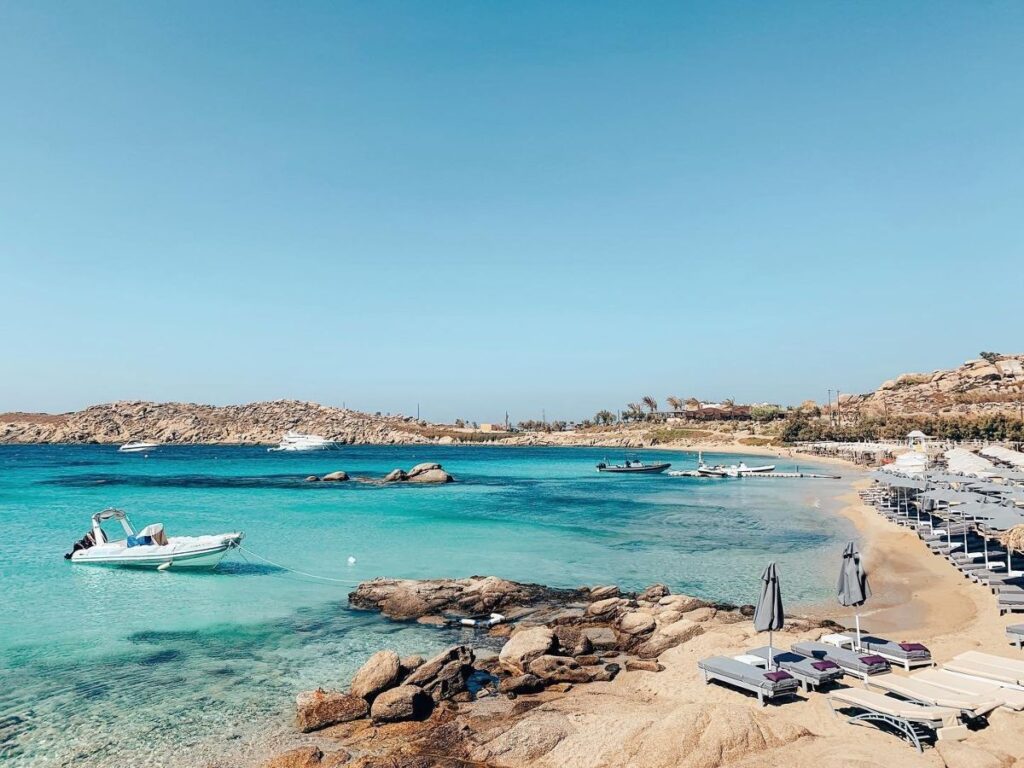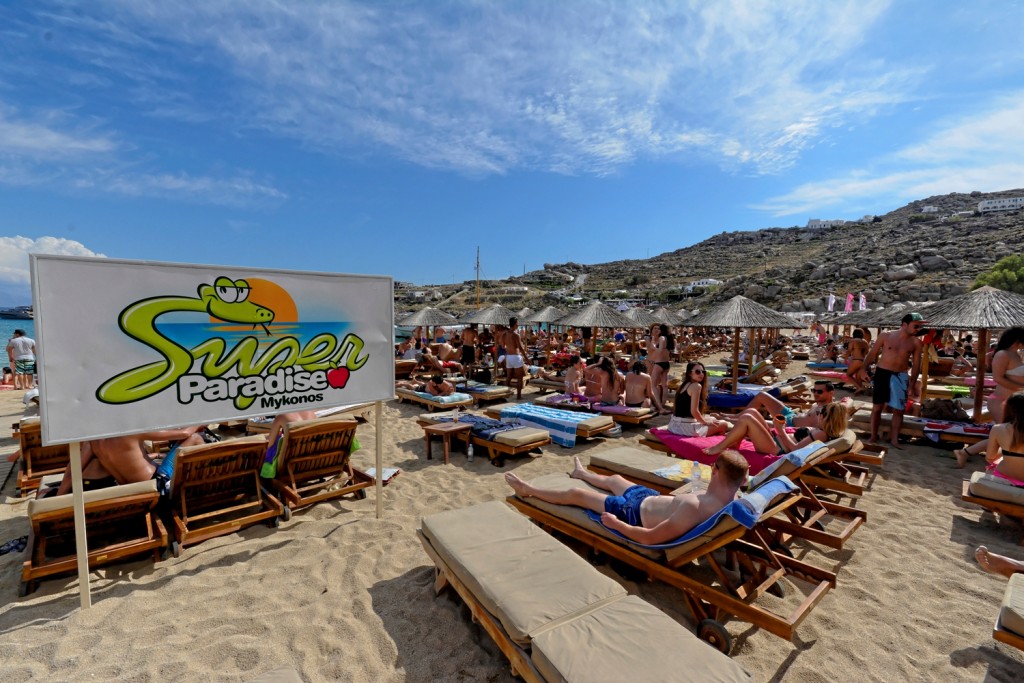 On your full day in Mykonos, you can explore the super cosmopolitan and party beaches of Super Paradise, Paraga, Kalo Livadi, Elia, and Agios Stefanos.
If you love archaeological sites then a trip to Delos Island, a UNESCO-listed site is a must. Delos is one of the most important archaeological sites and one of the five Sacred Ancient Cities in Greece along with Athens, Eleusis, Olympia, and Delphi. There are boats leaving from Ornos to Delos every day.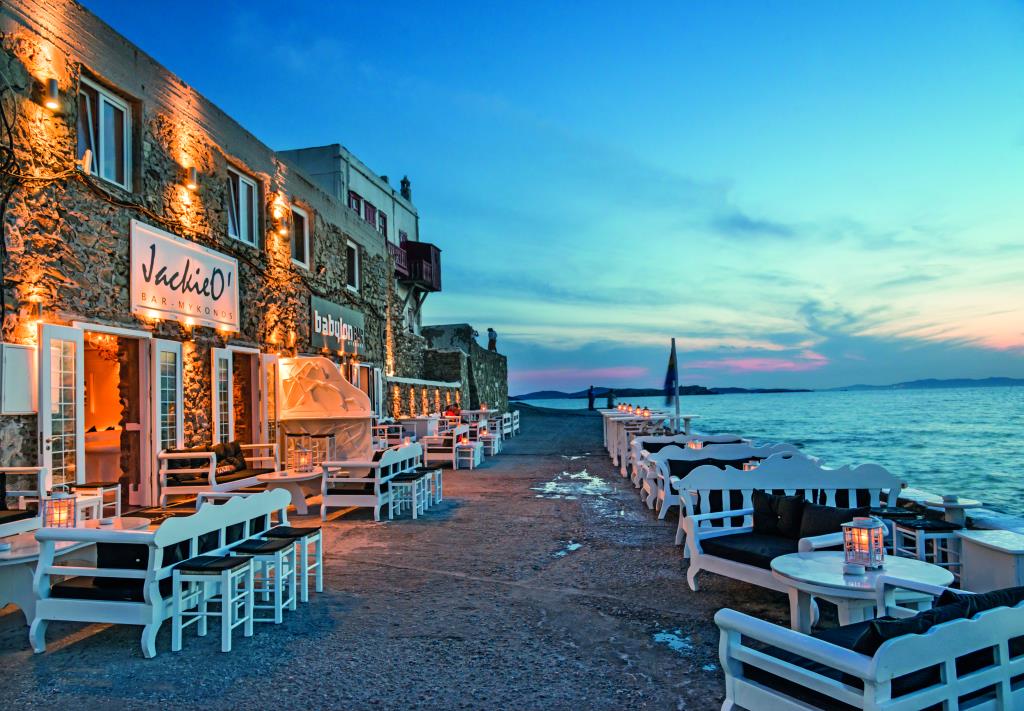 A very nice bar in Mykonos Chora is Jackie O' Club, by the seaside where you can enjoy another beautiful sunset.
Day 8: Mykonos and Athens
Your ferry from Mykonos to Athens leaves around 17.00 (always check with FerryScanner or FerryHopper) and the trip will last 3.5 hours to Athens port Piraeus. From the port, the Athens center is about 20-25 minutes away and you can take a taxi from the port or book a private transfer to your hotel.
You can also fly to Athens from Mykonos. The flight will be about 45 minutes but you have to add the extra hour that you will have to wait at the airport and 45 min to an hour to get to Athens city from the airport.
Where to Stay in Athens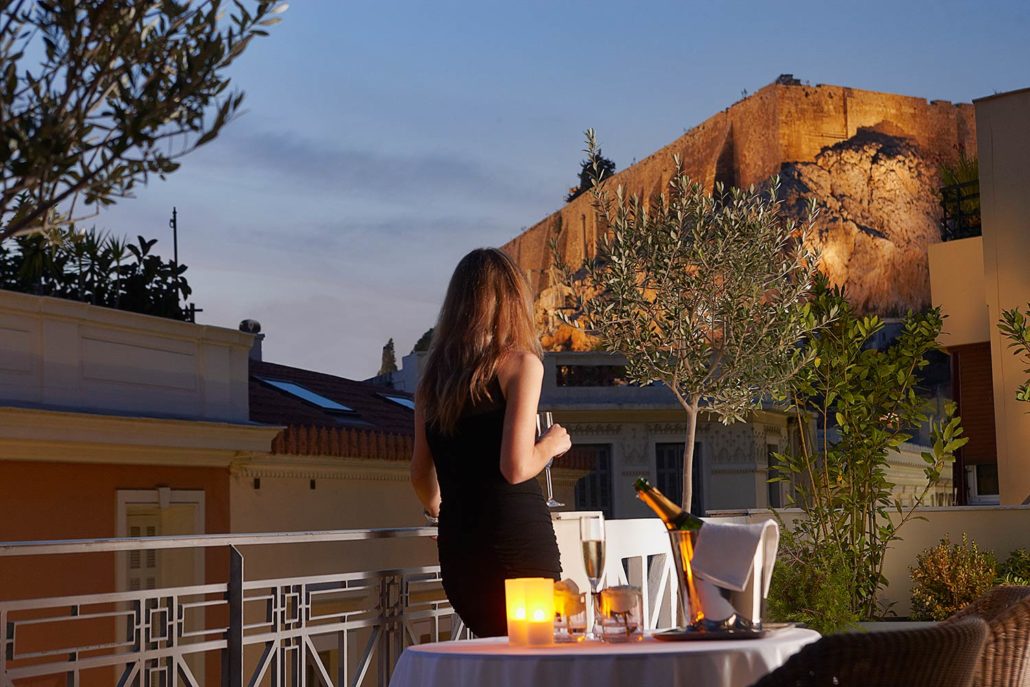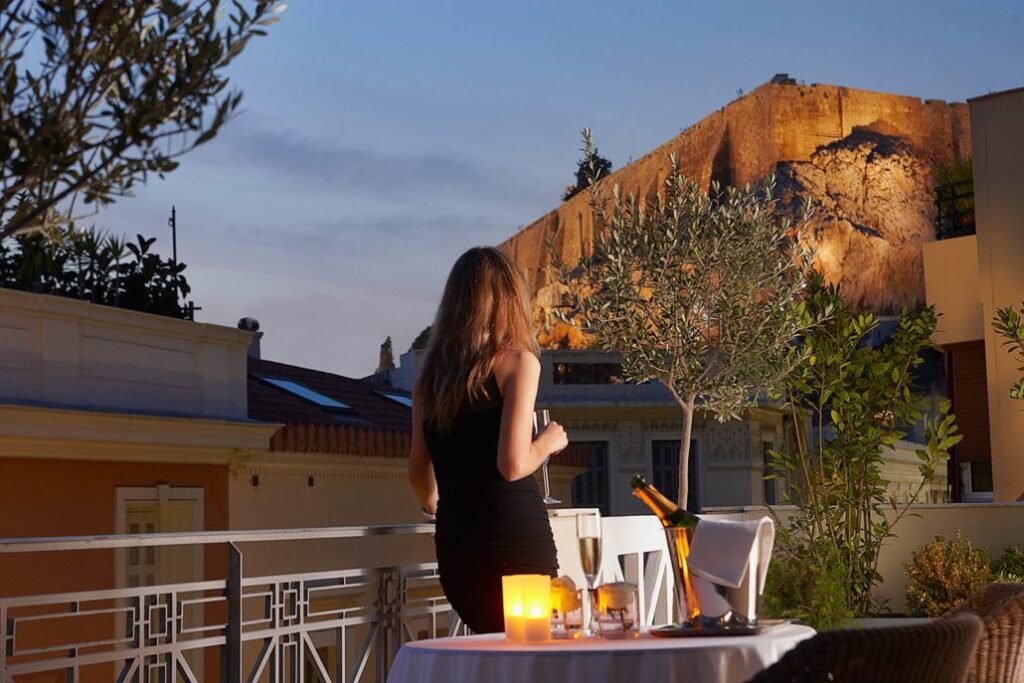 I suggest you stay near the Acropolis in Athens so that you are central to all the sites and just walk around the city. The most luxurious hotel to stay in Athens is Grande Bretagne situated right across from the Greek Parliament on Syntagma Square. Grande Bretagne is 15 15-minute walk away from the Acropolis entrance.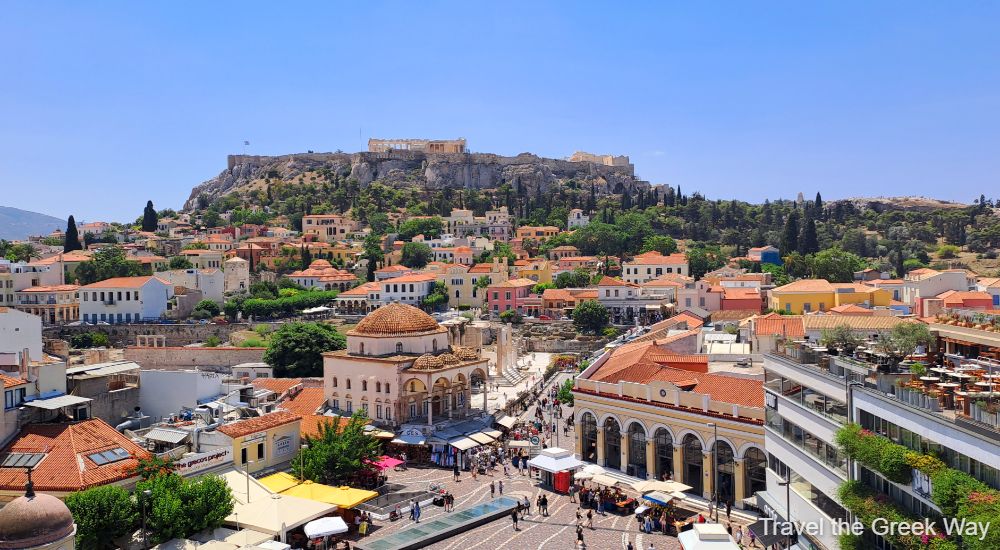 Another option is Ava Hotel and Suites, a small luxury hotel, on a tiny Plaka (Old Athens where Acropolis is) street with its balconies overlooking Adrian's Arch and its terrace towards the Acropolis Hill.
My related post on Acropolis View Hotels and Apartments will offer many choices to choose from. Alternatively, check out my best Athens Budget Hotels and Apartments here.
Day 9: Athens
The good news with most of Athens' Best Landmarks and Monuments is that they are more or less in the same area, in the Athens Historical Triangle, so you can walk almost everywhere. If you take the metro be careful of your belongings, there is a petty theft issue.
Essential Things to Have for Athens Metro: An anti-theft design Backpack
Purchase your Acropolis ticket – the lines can be crazy – from Official Acropolis Tickets here. The only catch here is that if you change your mind you can't change dates or cancel them. The usual ticket for Acropolis in the high season is €20 pp.
There is the €30 option that allows you entrance to:
Olympieio (Temple of Zeus)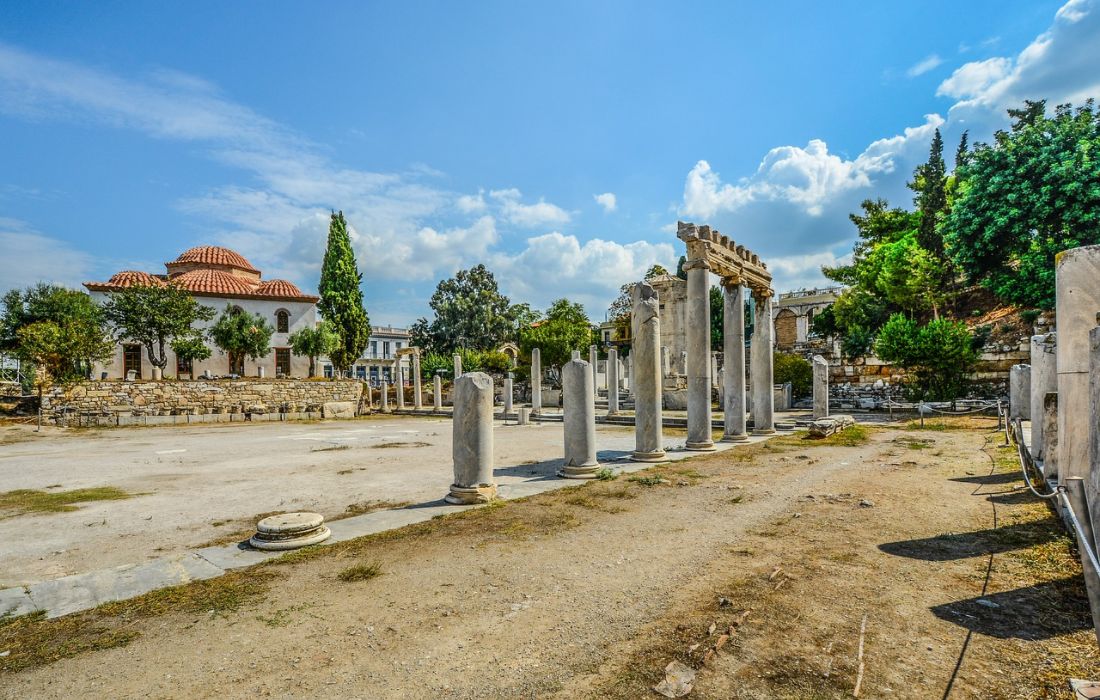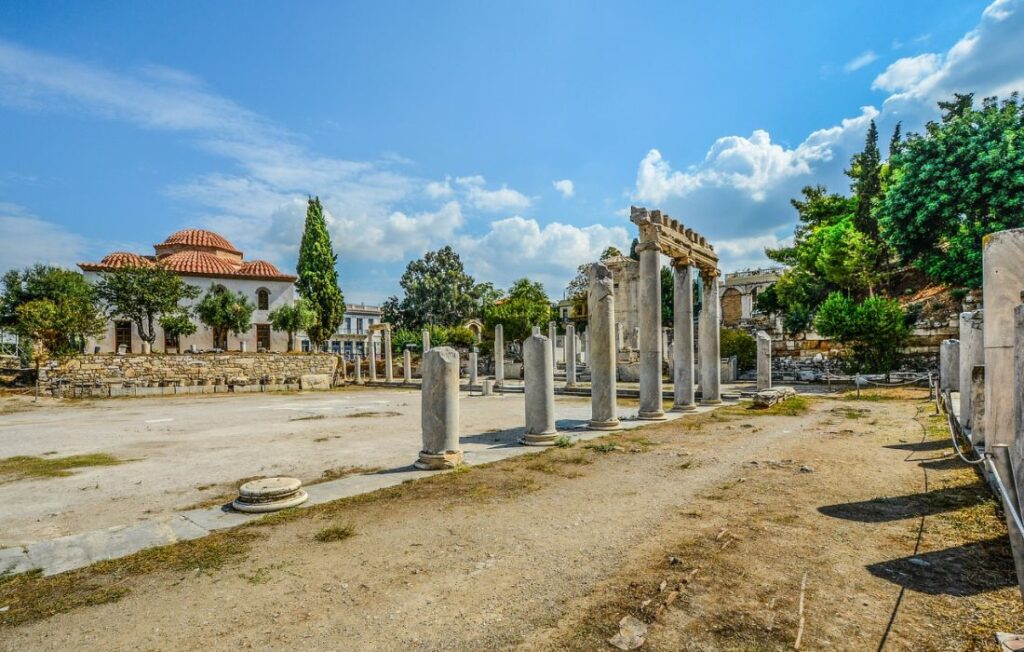 If you prefer the freedom of changing dates or free cancellation then you better book your ticket through GetYourGuide.
Other significant sites in Athens are:
Kallimarmaro Stadium
Zappeion Park and Mansion
Parliament
Athens Trilogy
Acropolis Museum, National Archaeological Museum, Benaki Museum, Byzantine Museum
Lycabettus Hill
Related Posts for Athens:
Possible Issues with the Itinerary
This Greece 10-Day Itinerary is a packed travel plan, great if you have limited time and want to see as much as possible. However, you need to take into consideration the following:
There is a mandatory check out at 11 am so you may have to wander around with suitcases after breakfast and kill time in 90 degrees heat waiting for the next ferry
The ferries can be delayed!
The check-in at the hotels can be at 14.00 pm, meaning if you have arrived early at a destination you will have again to kill time until 14.00
This itinerary is great if you just want to scratch the surface of each island
Santorini, Naxos, and Mykonos have significant archaeological sites that you may be interested in but the time will be limited to visit them
Ideally, you spend your Greek 10-day itinerary on two islands or extend your itinerary to 15 days
Suggested Athens Guided Tours
Day 10: Athens, Cape Sounion, and Flying Back Home
Depending on the time your flight is, and if you have 4 free hours then I highly recommend you visit Cape Sounion and the Temple of Poseidon through the Athens Riviera. Cape Sounion from the Athens airport is 45 km away and easily connected with excellent roads.
The Temple of Poseidon in Cape Sounion, built between 444–440 BC is one of the most important archaeological sites in Greece. It was strategically built so that Athenians had control over the sea and most importantly over the silver mines next door to Lavrion town.
Check out my dedicated post on the Best Day Trips from Athens!
If you are short of time you better book a guided tour of Viator local agents that will pick you up from your Athens hotel, drive you to Sounion, and then to your airport. Check below the best-guided tours to Sounion:
When is Best to Go to Greece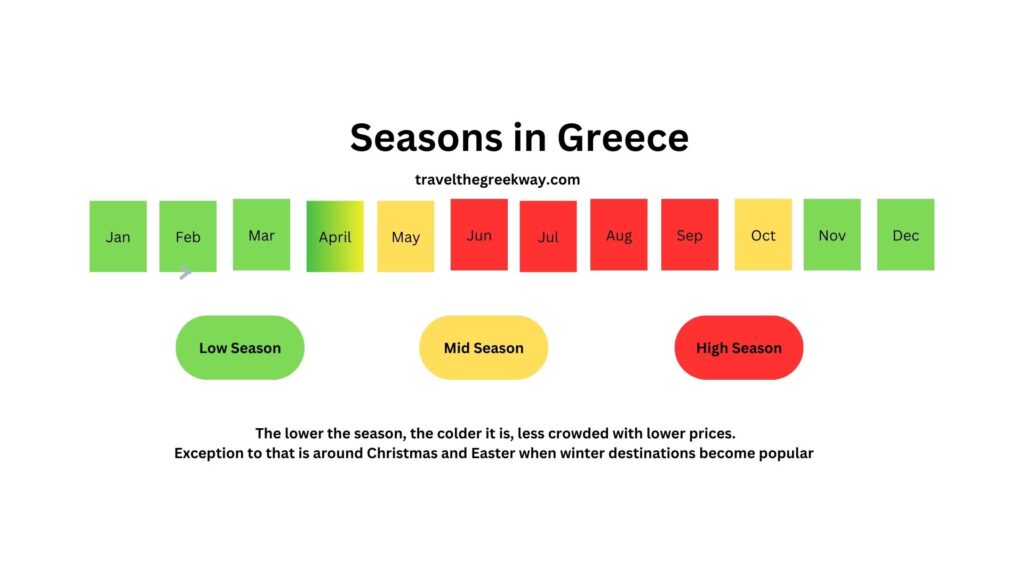 Greece has 4 distinct seasons with considerable temperature differences if you are in Thessaloniki in the north or Crete in the south. The islands never close, they have permanent residents but they are at their liveliest between May, June, and September.
The peak season in Greece is from June to September, and the islands can get very busy and crowded, especially in August. The sea water is at its warmest (25-28 C) in August and September. I love exploring the islands in the off-season, and that means that there will be hotels, cafes, and taverns working, but it will be quiet with just the permanent residents.
If you're looking to escape the colder weather in your country, celebrate Christmas, enjoy hiking, and explore archaeological sites with fewer crowds and at half the price, I recommend visiting Greece between December, January, and February. Discover what to do in one of Greece's warmest winter destinations, Crete Island, by checking out the details here.
You may also enjoy:
What to Wear on Greek Islands
This, apparently, depends on the season you are visiting but anytime between May and October, essential things to have in Greece are:
What Difficulties you may Encounter in Greek Islands?
There are a few things that a first-time visitor should keep in mind while visiting the Cyclades Islands:
The roads are not always in good condition or they may be too narrow for what you are used to. You need to be careful especially if you are driving at night, as the islands tend to have their main town built on top of their mountains and there are limited to no road lights.
If a beach is not organized, it will probably have no trees or other shade available, water, or food supply. You should always carry your supplies if you are visiting a remote beach
When it gets windy (June – August meltemia), it just won't stop. It can also get a bit chilly in the evening. Get a light jacket with you just in case
If you go hiking in summer on an island with no trees, you can get very easily heat stroke and get disorientated. If you go hiking, go with a group so that they can help you if you feel unwell.
For more info on travel dangers and precautions in Greece, read my post on hiking safely in Greece
Plan My Trip to Greece
Do you need a custom travel itinerary for Greece? Are you traveling solo, with your family or your friends and you need a tailor-made multi-day tour or a transfer within Greece?
If yes, please visit my dedicated Plan My Trip Page for a free itinerary!
How to Get to Athens Port (Piraeus) from Athens Airport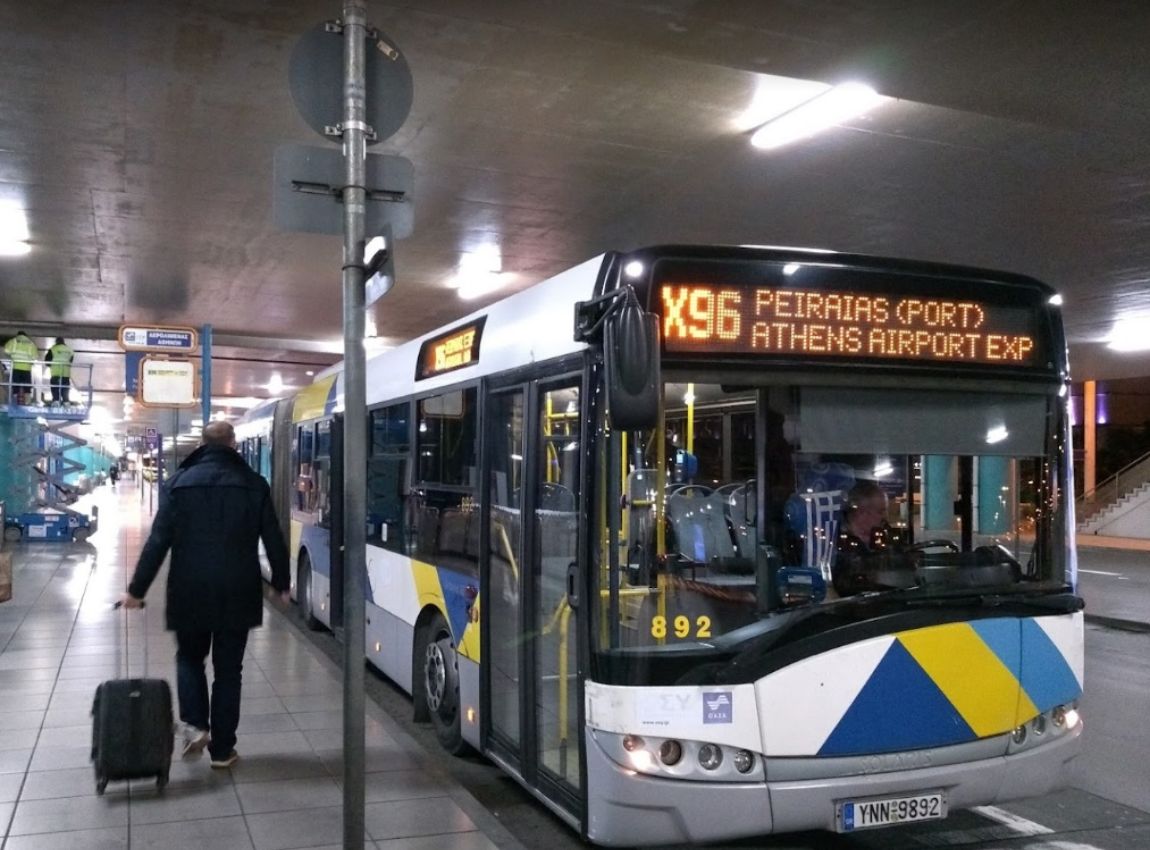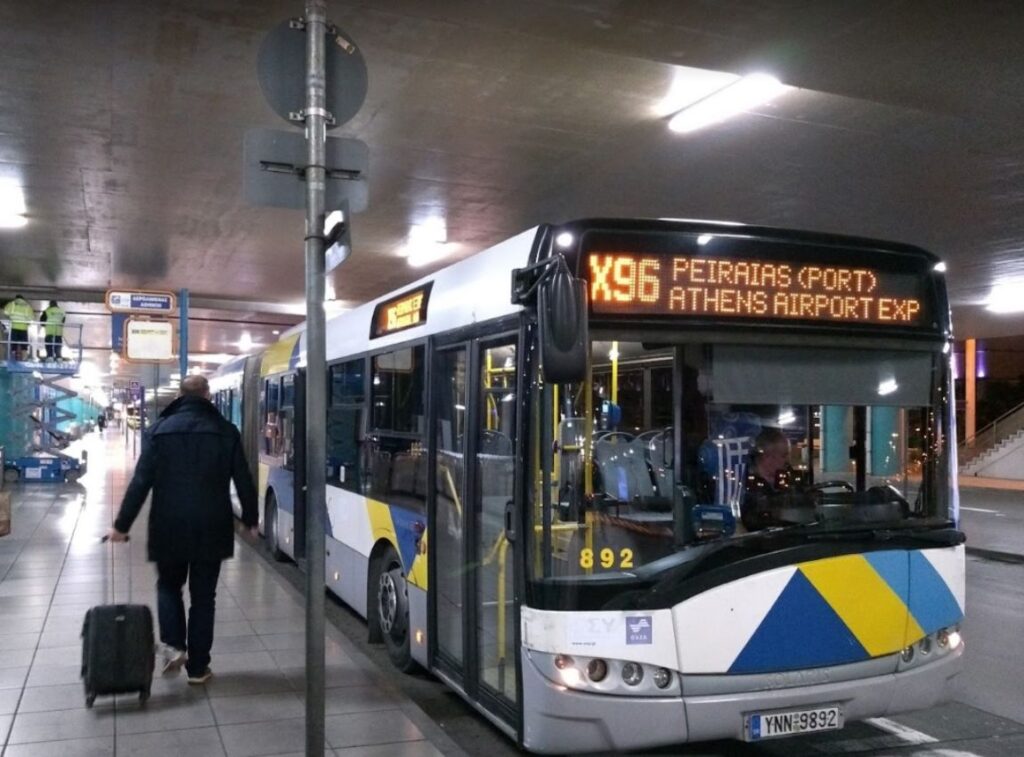 Bus: If you are arriving at Athens International Airport you can travel straight to the port by taking the X96 express bus (€5.5, children <6 yo, free entrance), which departs every 40 minutes and the average trip lasts 1 hour – runs 24/7.
Metro: (€9) is easily found across airport arrivals (blue line – M3) going directly to Piraeus port. The average trip to Piraeus lasts 1 hour.
Taxis are available in front of the airport (around €40 to Athens, €55-60 to Piraeus (depending on the traffic in Kifisos), and take up to 3 or 4 people with small luggage)
Rent a car with Discover Cars to rent reliable new cars at affordable prices
You don't like driving but love hassle-free solutions? Book a Private transfer with an English-speaking driver from Athens International Airport to Piraeus Ferries, or anywhere else in Greece
Check out an entire post on Lavrio Port in Athens
Did you visit the Greek Islands? Let me know what you think about visiting Mykonos, Santorini, and Naxos in the comments, I'd love to hear whether I managed to get it onto your bucket list! Till next time, Evgenia❤️
My Most Popular Posts
Some of my Favorite Travel Resources for Greece
'Hello' and 'Thank You' in Greek: "Ya sou" and "Efharisto"
Booking.com: I use Booking.com because I can get the best deals on both hotels and apartments, free cancellations, and great prices!
Find Long-Term Rentals in Greece: You will find the best prices in Flatio
FerryScanner to book ferries to the Greek Islands
Athens Metro Website (timetables and ticket info)
Get Your Guide: For all your day or multi-day tours and city guide needs, I use Get Your Guide
Emergency Numbers Anywhere in Greece: AMBULANCE 166 – FIRE 199 – POLICE 100– EMERGENCY NUMBER 112
All rights reserved © Travel the Greek Way. Republishing this article and/or any of its contents (photographs, text, links) is strictly prohibited.
Please follow and like us: