Are you thinking of hiking the Cyclades islands on your next trip to Greece? Maybe you are wondering what is the best Greek Island for hiking and if you can combine it with some sightseeing. If yes, then you will find this post very useful especially if you are thinking about walking the Cyclades Islands.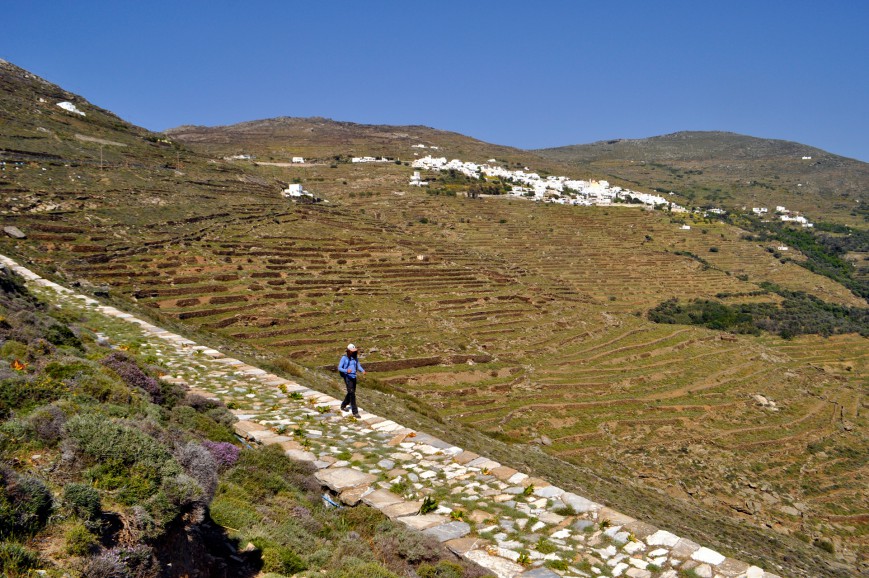 The Cyclades is the most popular island group and hiking the Cyclades islands is one of the best things to do besides enjoying the beaches or the bustling nightlife like Mykonos and Ios. One unique characteristic of hiking Cyclades islands is the ancient donkey trails that invite you to explore them.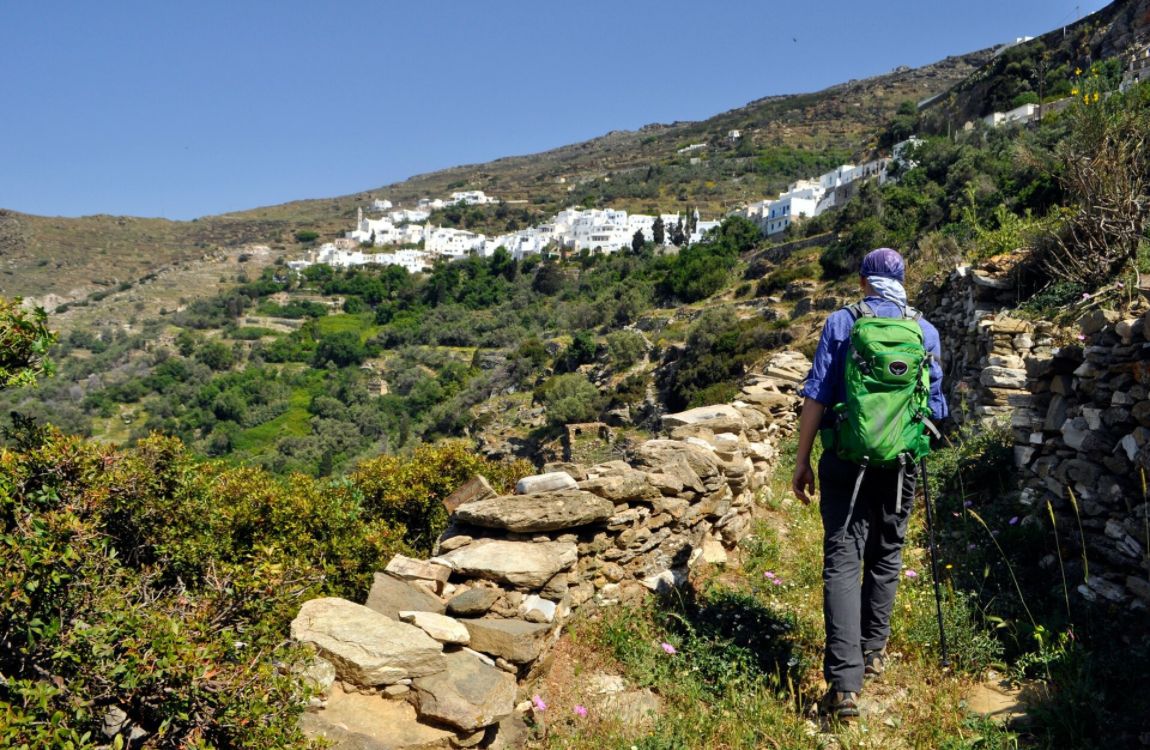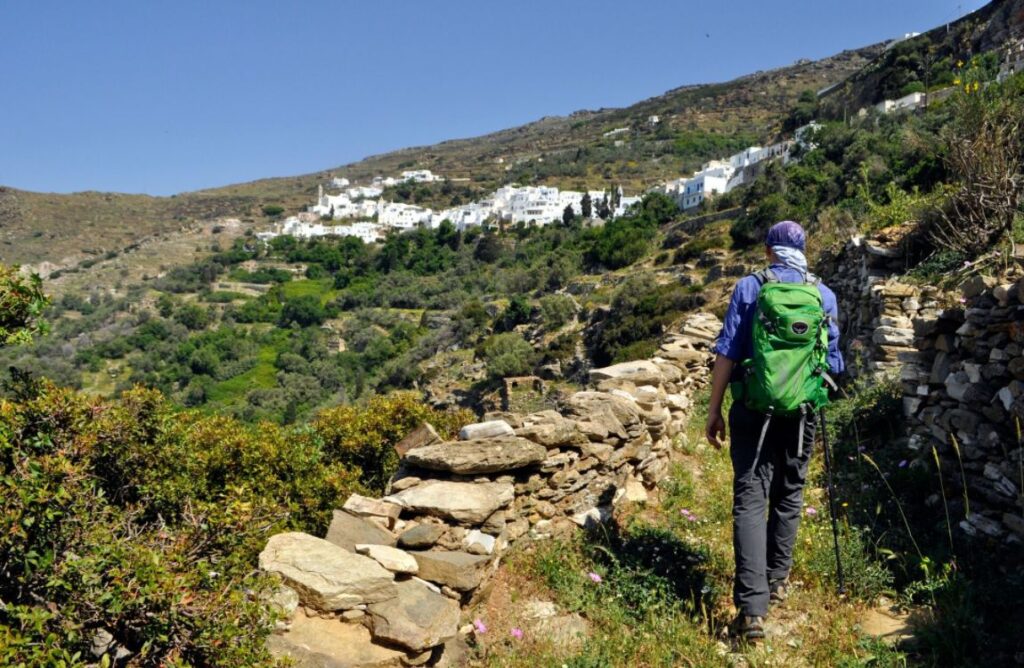 In this post, you will find information on hiking Serifos, Sifnos, Sikinos, Syros, and Tinos islands and why hiking is one of the best ways to explore the Greek Islands.
*Some of the links below are affiliate links. That means I may make a commission if you click and buy. The commission comes at no additional cost to you.
Athens Quick Reference
Where to stay in Athens with stunning Acropolis view: Niche Hotel or The Foundry Suites
Book your ferry tickets with no-hidden-fees at FerryScanner

or FerryHopper
Rent a car with Discover Cars for reliable new cars at affordable prices
Hiking Cyclades islands
Serifos: the Mining Island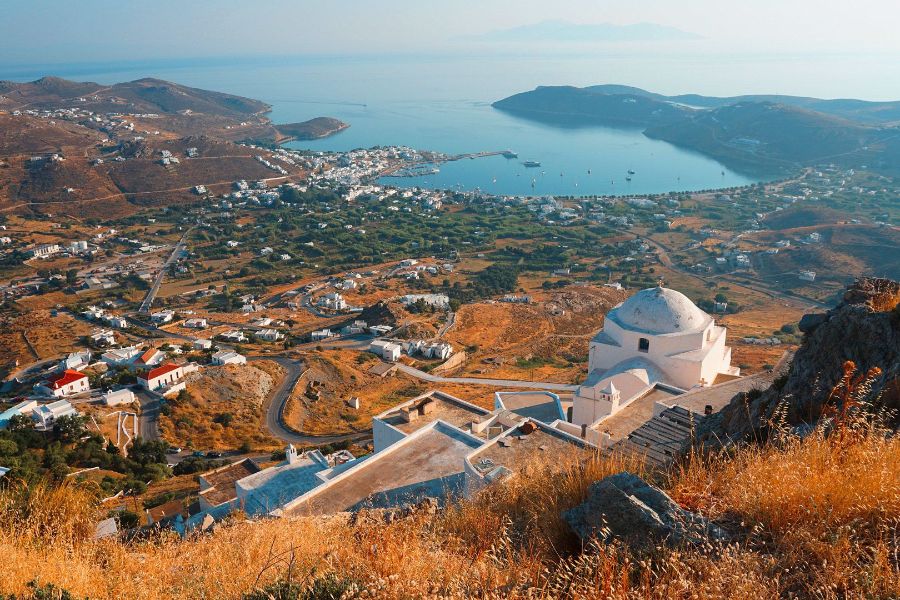 Serifos island has retained its original charm and laid-back rhythm of life, ideal for hiking Cyclades island, relaxation, and a more authentic Greek lifestyle.
Serifos' history is linked to its old ore mines since ancient times. Today, the mines are closed as the ore was gradually exhausted but objects from the glorious mining past of Serifos are visible between the southeast villages of Megalo Livadi and Koutalas, fantastic areas for hiking and exploring.
What is hiking in Serifos like?
Serifos is a typical mountainous, dry Cycladic island, defined by old stone paths crisscrossing villages and bare hillsides, with the highest peak being Troulos at 585m. Other mountains are Petrias, Trachilos, and Varda with an altitude of 553m, 519m, and 432m respectively.
The island has 80 km of both signed and non-signed trails, mostly easy hikes that end up at an inviting beach. Serifos, besides the amazing mining sites, has also abandoned mountain villages that can be hiked through and which offer wonderful sea views.
As expected, a very popular and unmarked hike on Serifos is the mining trails. Starting from Megalo Livadi, the magnificent seaside trail passes through crumbling bridges, neoclassic ruins, and caves (don't go inside the caves without a local guide, the caves have no exit marks and you can easily get lost).
If you love hiking in mining areas you may also enjoy Lavrion Port Hiking in Athens
If you are hiking in the area, you should visit the Throne of Cyclops or Psaropyrgos, a rectangular slate building offering endless Serifos sea views.
Where Best to Stay in Serifos
Alexandros Resort Serifos: An exceptional, beachfront budget hotel! Check availability and prices on Booking.
Sifnos Island: the Authentic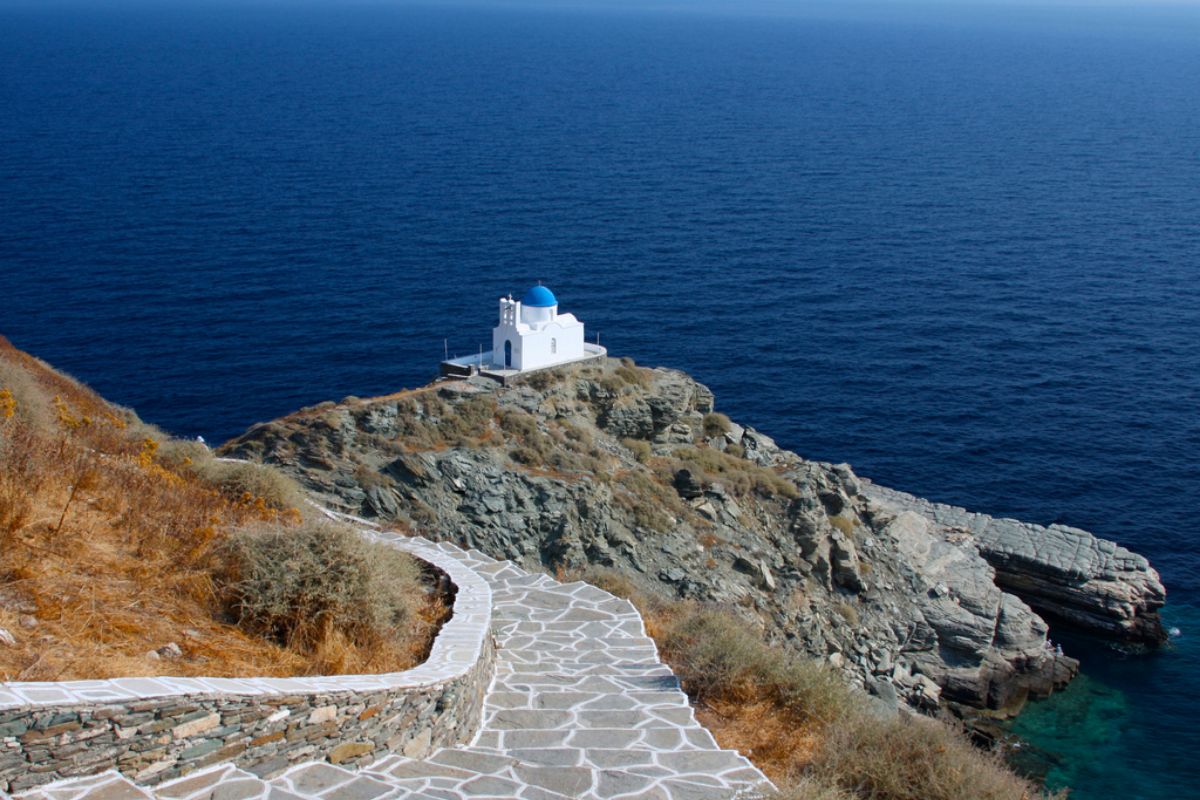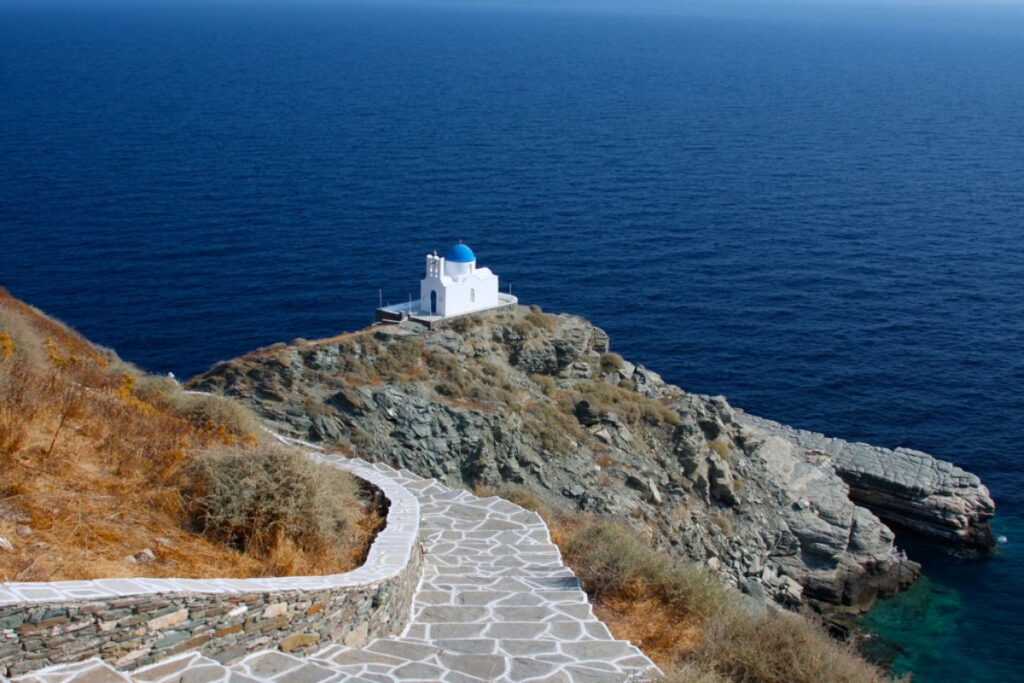 Hiking Cyclades islands and not including Sifnos with its whitewashed houses and some of the oldest donkey trails in the Cyclades is really a pity. Sifnos is on the quiet side of the lifestyle with many beautiful villages and sites to visit.
What is hiking in Sifnos like?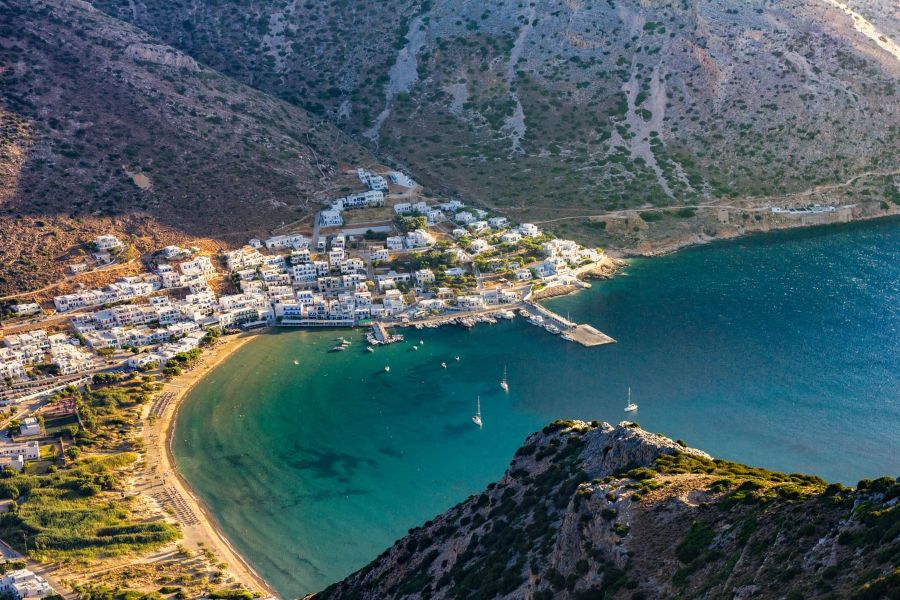 Sifnos has 4 mountains, with the peak being Prophitis Elias at 682 m. Sifnos' terrain is mainly granite rock formations, sandstone, limestone, and mineral deposits, including iron ore, copper, lead, manganese, galena, and magnesium.
The island has more than 100km of professionally designed and signposted trails, one of the largest trail networks of the Aegean. Generally speaking, they are easy trails, with few exceptions, perfect to enjoy the beautiful nature of Sifnos.
Where Best to stay in Sifnos: Margado
Sikinos: the Little Gem of an Island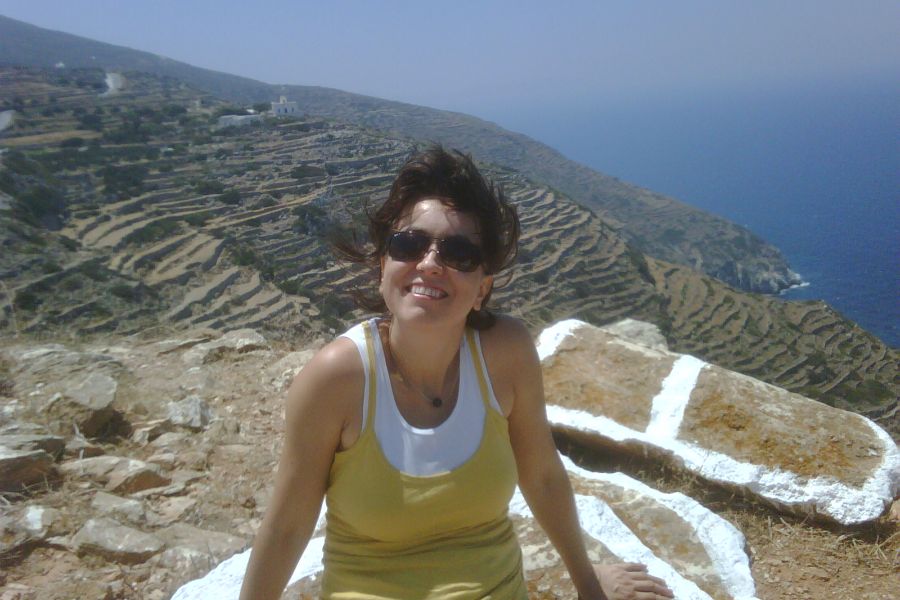 I first visited Sikinos island in the summer of 2009 and I was immediately fascinated by the small port and the nearby sandy beach of Alopronia, where people were swimming blissfully in the apparently crystal clear waters.
As soon as we had settled in the nearby rooms with a sea view, we went for a meal in one of the Alorponia taverns where I had probably the best and most tasteful Greek salad of my life.
Besides, the best Greek Salad ever, Sikinos is a beautiful, low-key, very quiet, authentic, and far from mass tourism small Cycladic island.
Where best to stay in Sikinos: Sikinos Elegant Studio
What is hiking in Sikinos like?
Sikinos island has 3 main low mountains: Troulos (553m.), Agios Mamas (549m.), and Agia Marina (450 m) offer generous views of the Aegean Sea.
The island has a great ancient network of trails which is very well preserved and offers the opportunity to get to all of the far-off places and remote valleys of the island.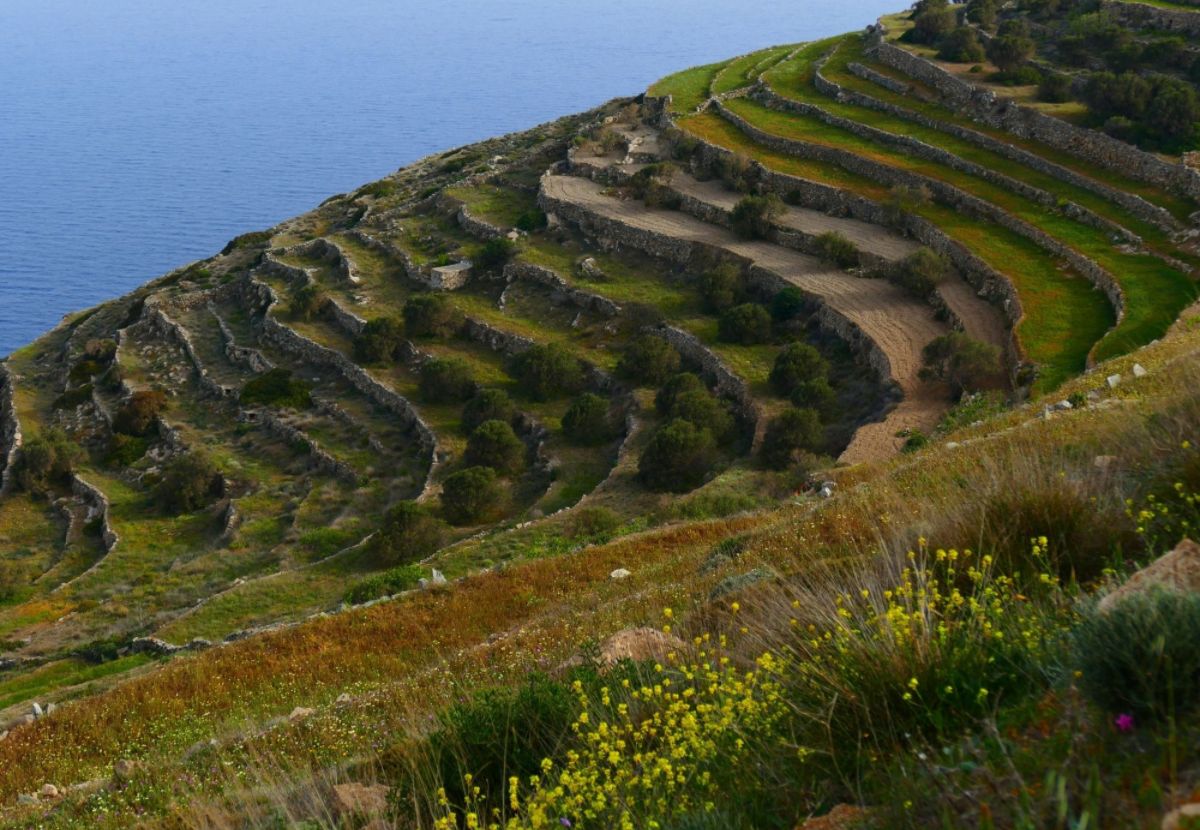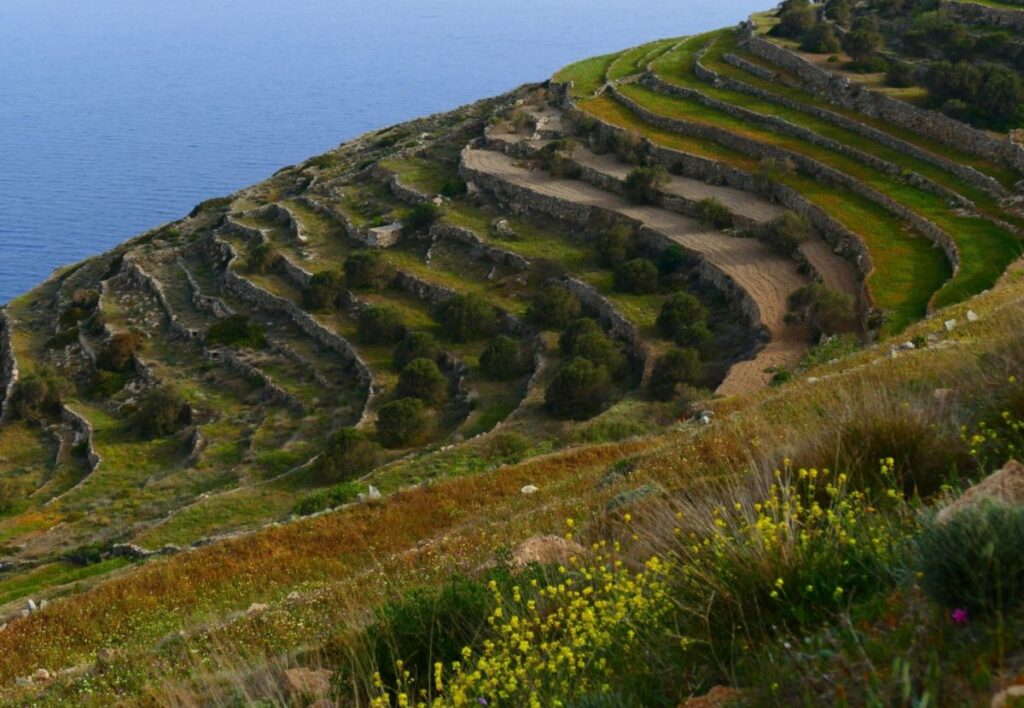 The Society for the Environment and Cultural Heritage has signposted and mapped 7 great trails, the longer one is a circular one from Chora at 14,7 km. Sikinos is one of the best Cyclades Islands for hiking.
Syros: The Classy Island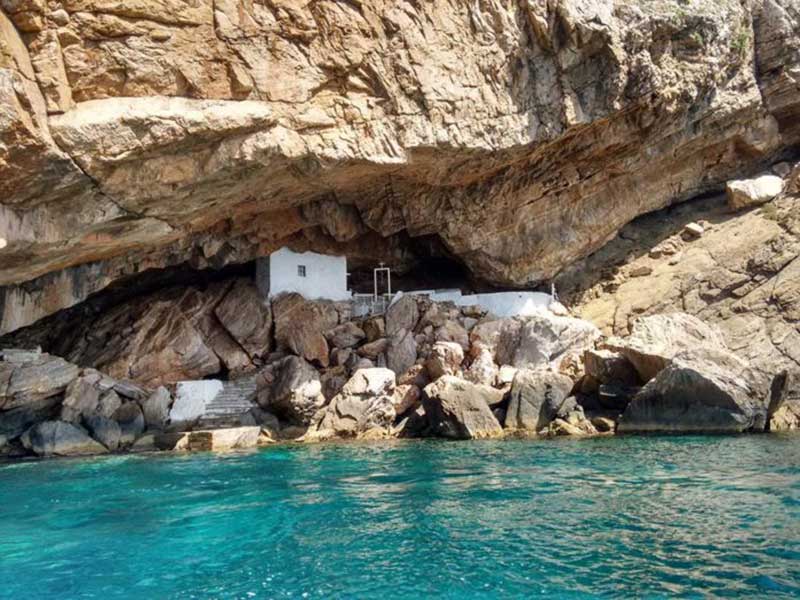 Syros is the regional capital of the Cyclades and the most aristocratic island of the Cyclades.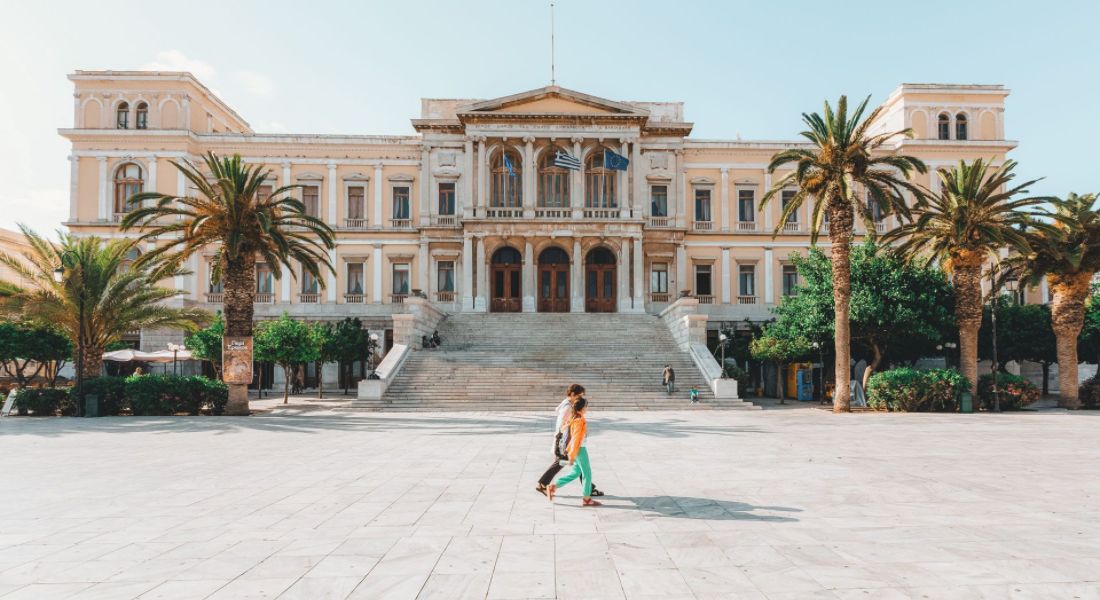 Its capital town, Ermoupolis, is a lively town full of impressive neoclassic buildings with a cosmopolitan ambiance. Syros island used to be the biggest Greek port in the 19th century and had a significant industrial bloom in the same period. The island presents a typical Cycladic barren and rugged landscape and that makes it ideal for hiking Cyclades Islands.
What is hiking in Syros like?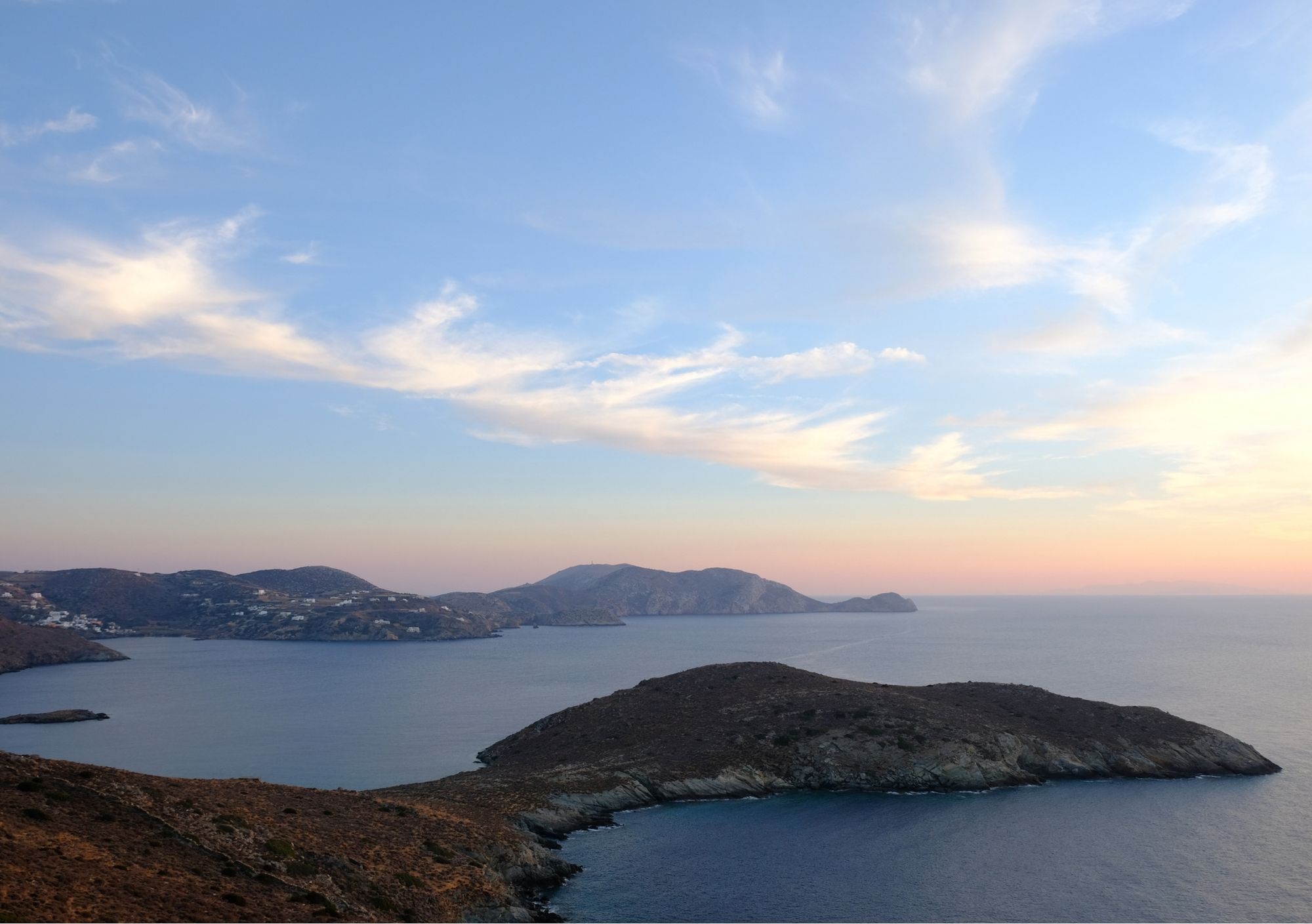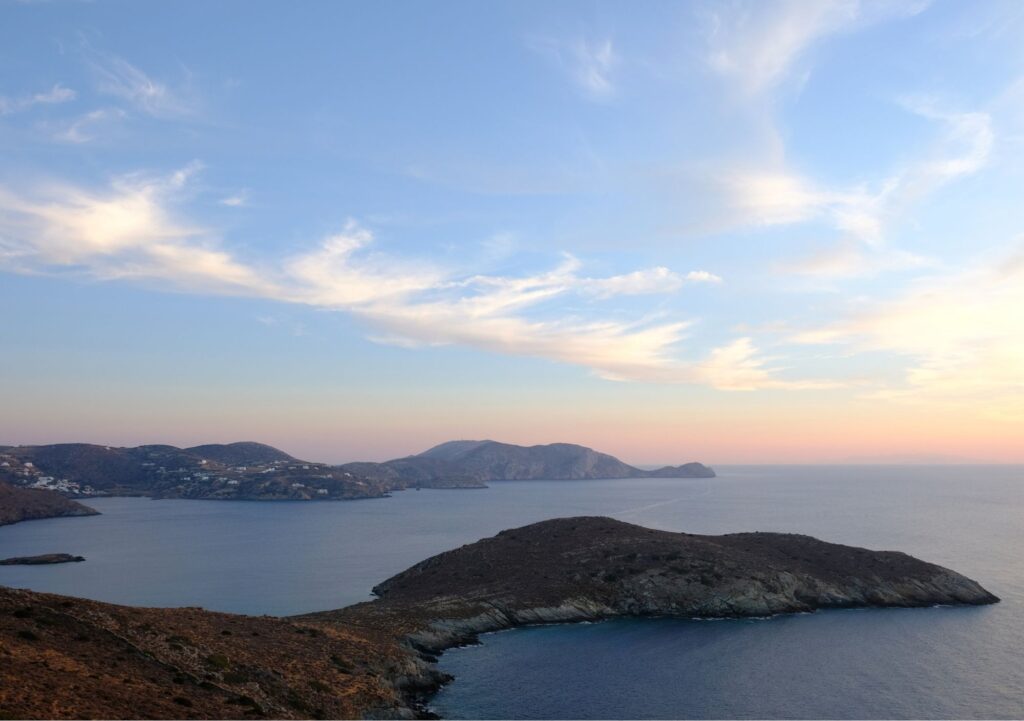 Syros has low mountains and low vegetation in general with its highest peak being Pyrgos, at 442 meters. From the hillsides of Ano Syros, the neighboring islands of Tinos, Mykonos, and Delos can be seen.
The mountain Syringa belongs to the NATURA 2000 Network of Protected Areas with migratory birds and many other species like hares and reptiles. However, the most common animal you will see everywhere is the happy roaming goat!
The geography of the island also features a great number of capes and bays of unspoiled beauty with rocky islets all-around Syros.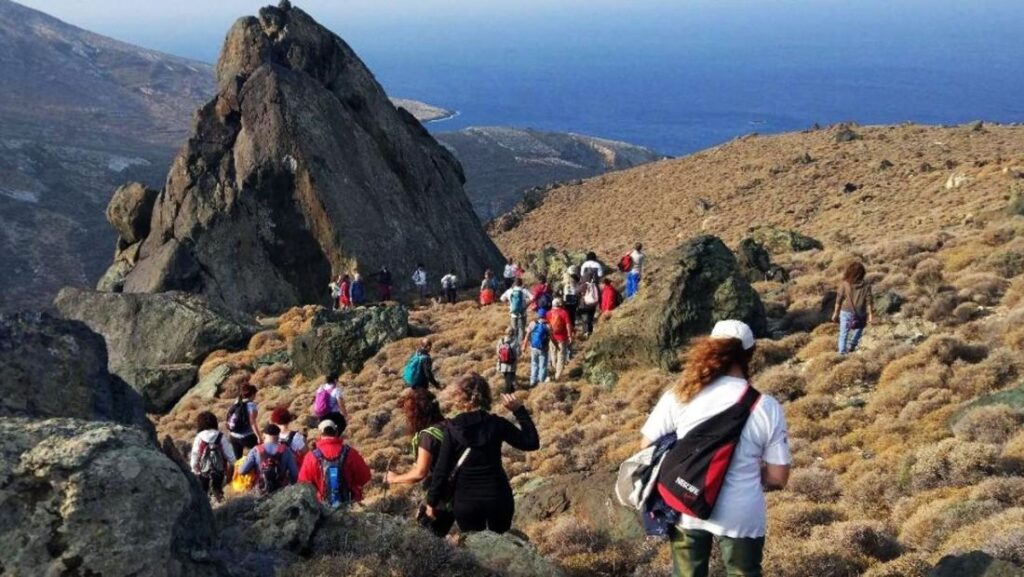 The best part of Syros island for hiking can be the northern side of it, as it is less developed, thus more wild and sparsely populated. The ground consists of rare metamorphic rocks among which are the eclogites, rounded dark rocks.
Syros features 10 signposted trails marked by the local authorities as trails of high cultural interest and several more unmarked and equally beautiful to explore.
There are also alternative routes passing by rural landscapes with vineyards and low stone walls, the most demanding to be the trail to the gorge of Schizomenes.
The routes leading out of Kampos in the north take you to the remote mountainside and secluded beaches (Lia, Marmari, Amerikanou). Another great hiking trail takes you from the village of Richopo, past the Cave of Ferekidis, and on to Plati Vouni village.
The two archaeological sites Halandriani & Kastri are linked with a long and rough path that is definitely worth the while as it leads into the depths of history.
Related Post: 14 Best Things to do on Syros Island
Tinos Island: the Blessed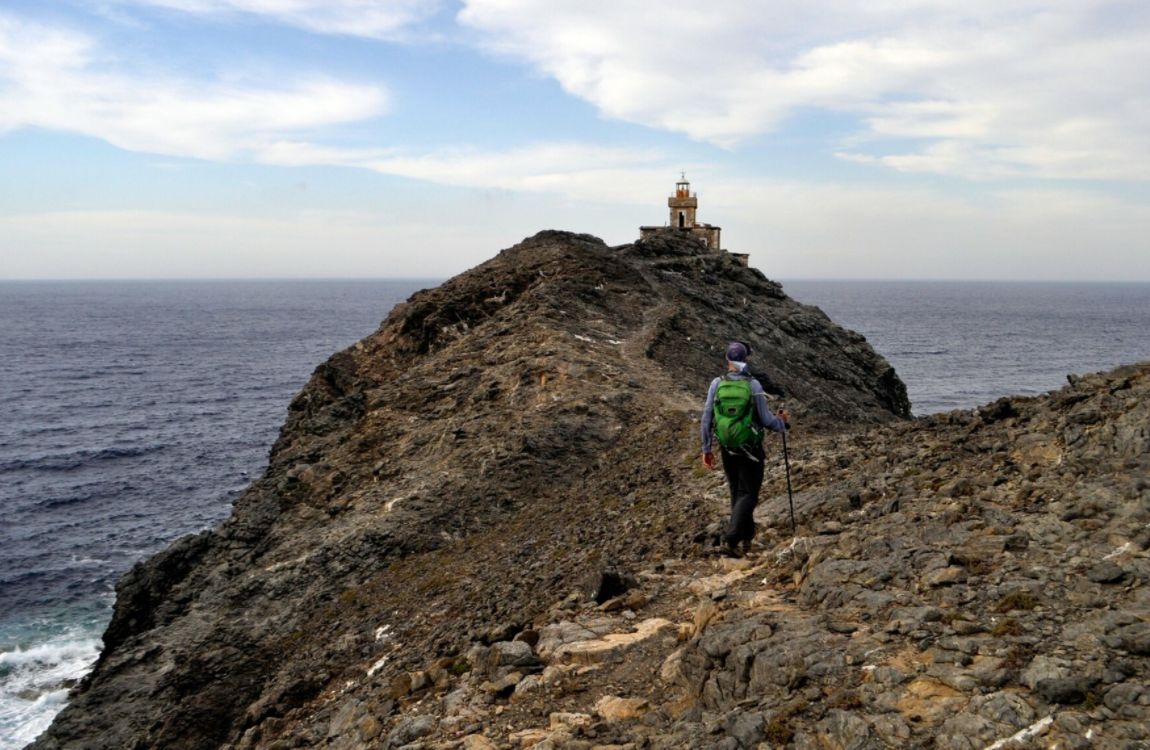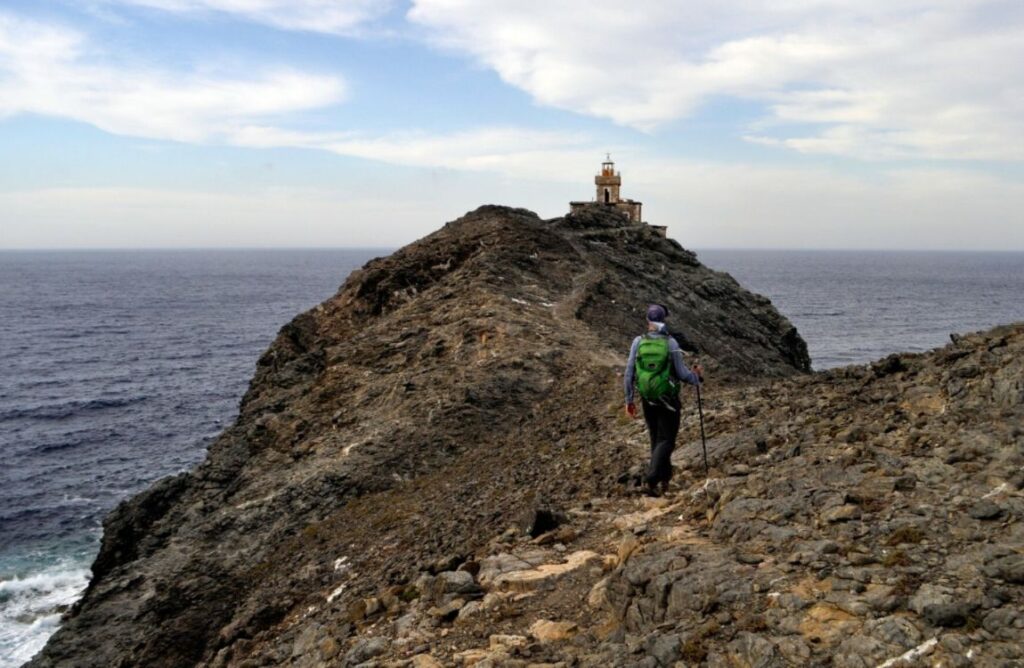 After the discovery of the miraculous icon of the Virgin Mary on January 30th, 1823 at the site of an ancient Byzantine Church and the temple of Dionysos, Tinos has grown into one of the most important religious pilgrimage places for the Orthodox Greeks.
Where Best to Stay in Tinos: White Tinos Luxury Suites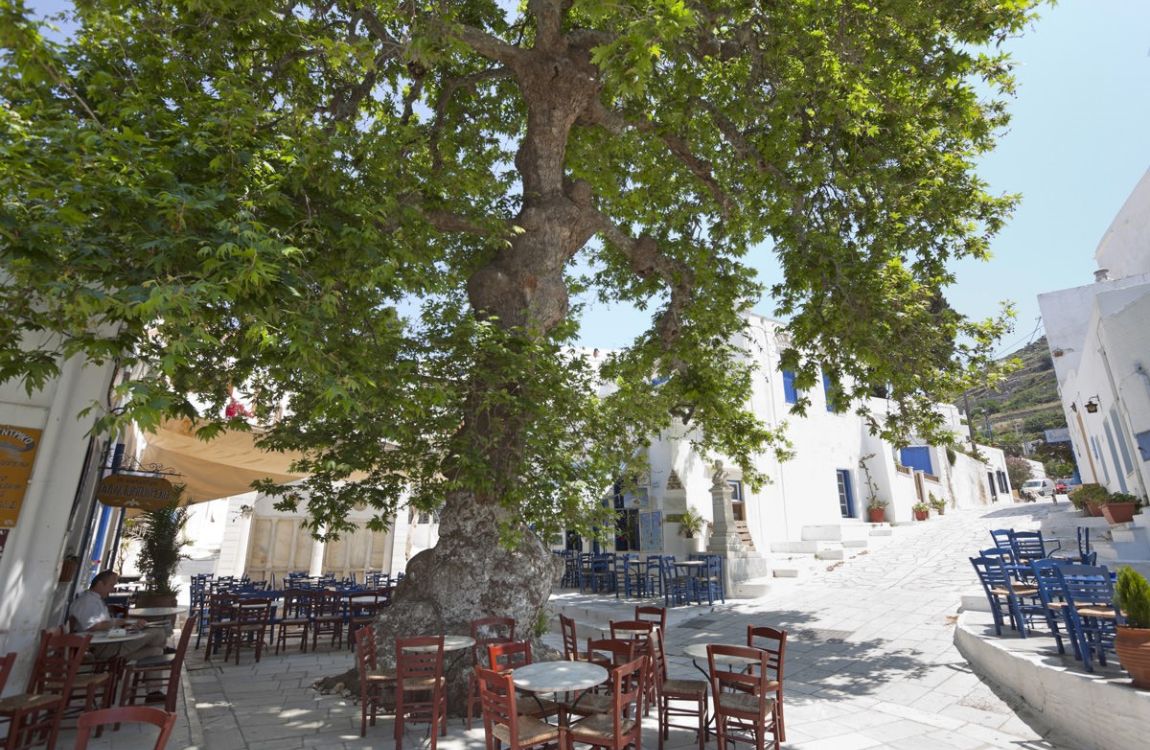 Tinos island is famous for its authentic, picturesque, and mostly mountainous preserved villages, forgotten by time, beautiful to stroll or drive through them, or even better hike through them!
What is hiking in Tinos like?
Being a mountainous, barren, highly artistic, and traditional island, Tinos is an amazing Greek island for hiking. The highest peak can be found on Tsiknias Mt(726m) and the second-highest is the rock of Exomvourgo (641m) where the capital of the island once laid.
You need to stay at least a week on Tinos island to walk a good number of the extensive and incredible network of 300 km trails, 150 of which are signposted and cleared.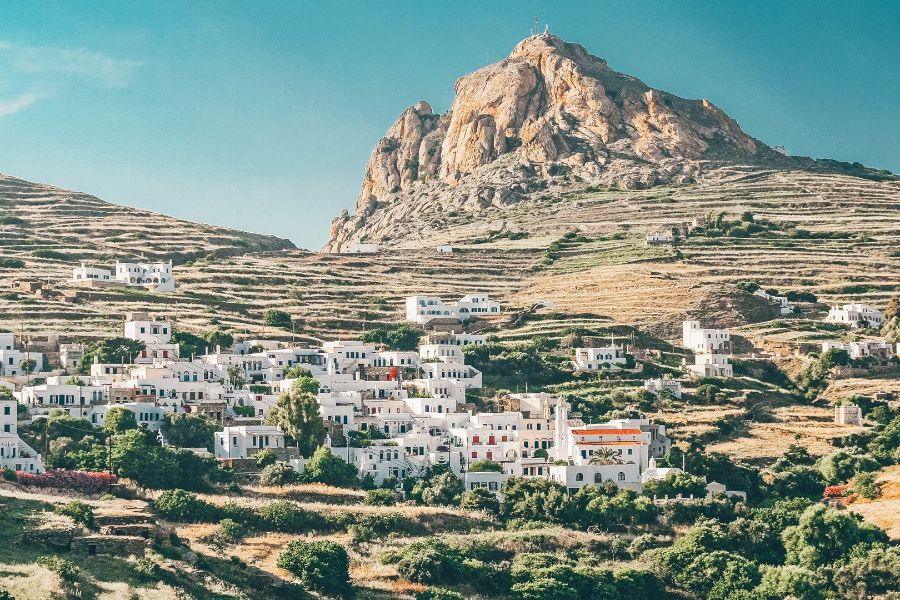 The wonderful trails, like most Greek island trails, are circular or follow the coast, taking you past dams, remote beaches, archaeological sites, monasteries, caves, and towers.
On the more challenging M2 and M2A trails, you will pass by the quaint village of Volakas, where there is a strange geological formation, the Boulders of Volakas, a hike that you should definitely not miss on Tinos island.
Related article: Greek Orthodox Easter 2022 on Tinos Island
How Best to Hike Greece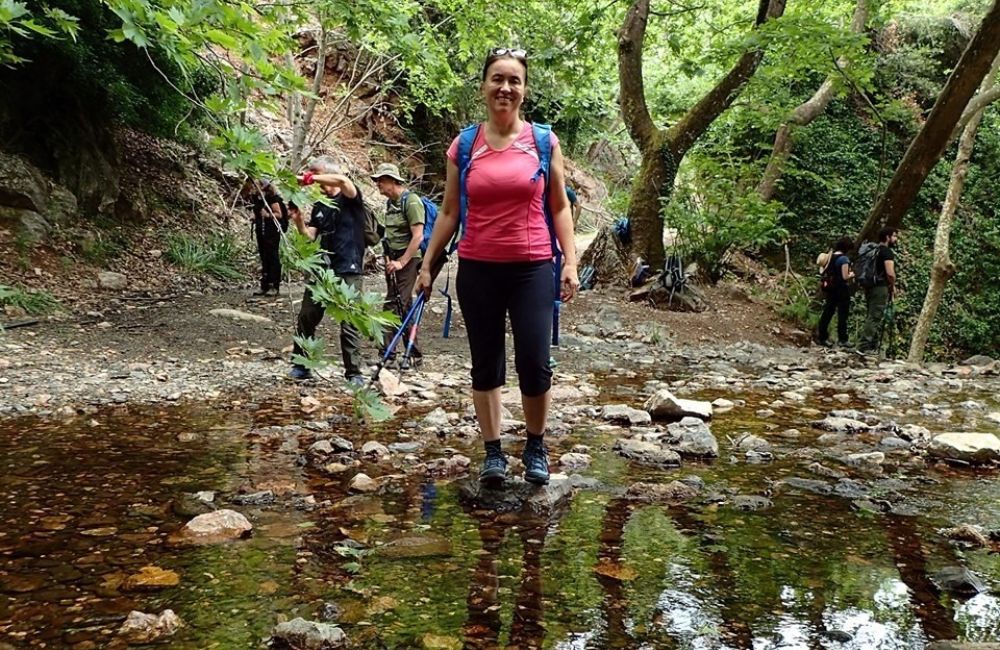 During the summer, I hear about hiking accidents, sometimes fatal, that happen to hikers from all over the world. The usual cause is extreme heatstroke as people from colder climates are not familiar with Greek summer temperatures, and barren Cycladic landscapes and can suffer from that.
That's why I have created this post that addresses potential hiking dangers in Greece, potential dangers, and how best to deal with them. The majority of them are from my own experience as I love hiking and I hike at least once a week.
Sailing and Hiking Kea, Kythnos, Syros, Serifos Islands
Sail to the most unknown corners of the stunning Cyclades Islands such as Kea, Kythnos, Syros, and Serifos. Walk in the footsteps of the ancients along beautiful trails and visit integral sites from the canon of Greek Mythology.
Check out availability and prices on the GetYourGuide website.
How to Get to Athens Port (Piraeus) from Athens Airport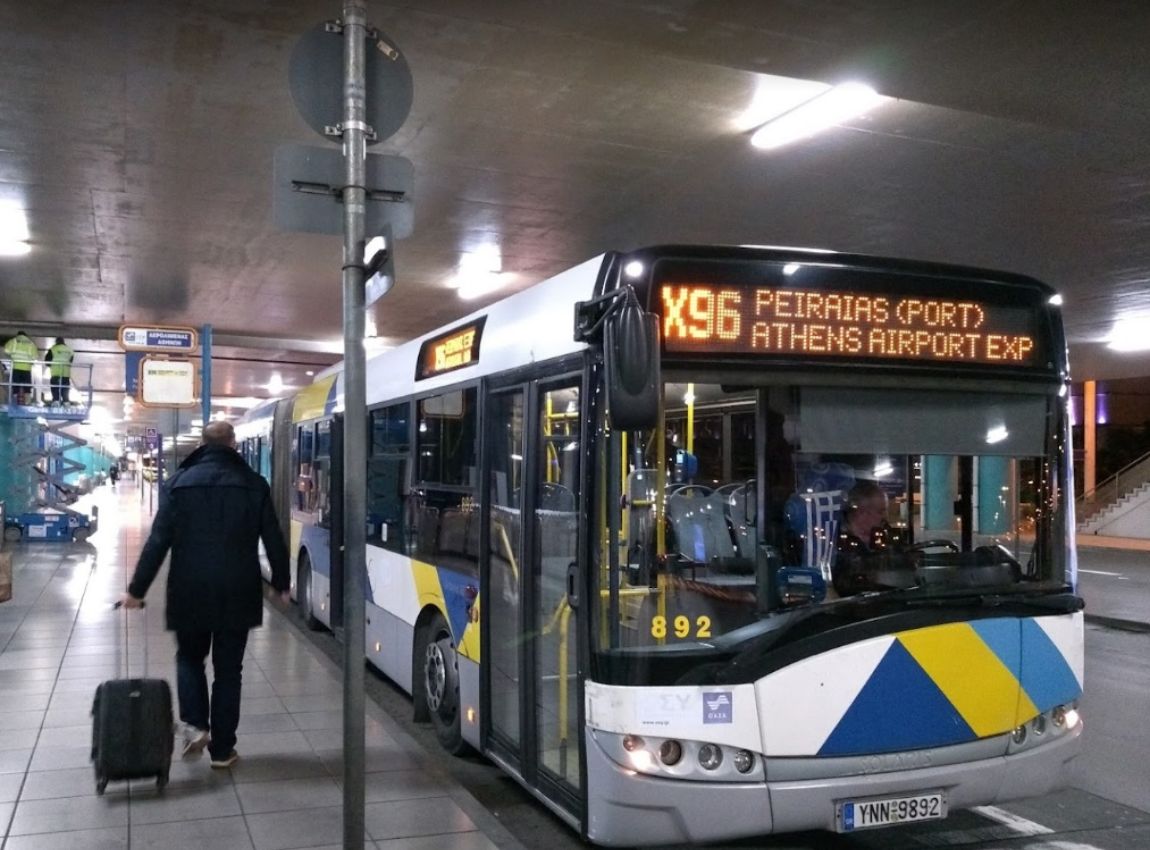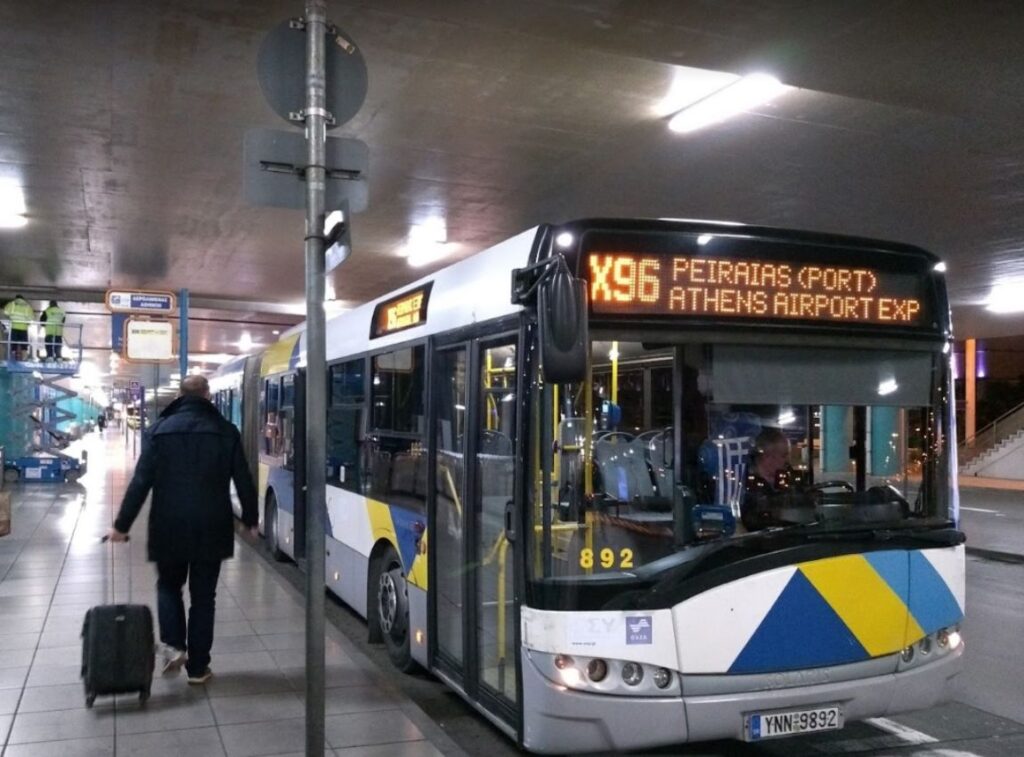 Bus: If you are arriving at Athens International Airport you can travel straight to the port by taking the X96 express bus (€5.5, children <6 yo, free entrance), which departs every 40 minutes and the average trip lasts 1 hour – runs 24/7.
Metro: (€9 ) is easily found across airport arrivals (blue line – M3) going directly to Piraeus port. The average trip to Piraeus lasts 1 hour.
Taxis are available in front of the airport (around €40 to Athens, €55-60 to Piraeus (depending on the traffic in Kifisos), and take up to 3 or 4 people with small luggage)
Rent a car with Discover cars to rent reliable new cars at affordable prices
You don't like driving but love hassle-free solutions? Book a Private transfer with an English-speaking driver from Athens International Airport to Piraeus Ferries, or anywhere else in Greece
Check out here a full post on Lavrio Port in Athens
Some of my Favorite Travel Resources for Greece
'Hello' and 'Thank You' in Greek: "Ya sou" and "Efharisto"
FerryScanner to book ferries to the Greek Islands
Booking.com: I use Booking.com because I can get the best deals on both hotels and apartments, free cancellations, and great prices!
Get Your Guide: For all your day or multi-day tours and city guide needs, I use Get Your Guide
COVID Info for Greece: Ministry of Tourism Official Website
Emergency Numbers Anywhere in Greece: AMBULANCE 166 – FIRE 199 – POLICE 100– EMERGENCY NUMBER 112
More Reading on Greece