Updated December 4th, 2021 by Travel the Greek Way
Mykonos island is a wonderful Greek island, where you can enjoy a fun, exciting, or even a resting vacation if you know where to go!
Mykonos is, above all, an idea, a feeling, an energy that you are visiting an island-myth, that before you, celebrities and members of the set-jet were there as well:
Aga Khan, Grace Kelly, Richard Burton, Marlon Brando, Elisabeth Taylor, Jackie Kennedy, Rita Hayworth, Mick Jagger, and dozens of other names-symbols have strolled the same paths that you are also planning to do!
Mykonos, or else the island of the winds, is the most cosmopolitan Greek island, a real party island! It is a popular vacation destination, characterized by many sandy warm beaches, bustling beach club scene, gay-friendly atmosphere, and legendary upbeat nightlife. And sky-high prices!
An interesting fact that you should keep in mind about Mykonos, is that all famous and party lovers go, more or less, to the same certain popular and cosmopolitan areas.
So if you want, you follow suit, if not, you can choose the quiet and more reasonably priced areas and can have a great and more peaceful vacation in Mykonos.
I have collected information for both cases and you can read all about it in this comprehensive post!
*Some of the links below are affiliate links. That means I may make a commission if you click and buy. The commission comes at no additional cost to you. Please see my full disclosure policy for more information*
Where is Mykonos Island?
Mykonos island belongs to the Cyclades group along with Santorini and other popular Greek islands:
Which are the top beaches in Mykonos?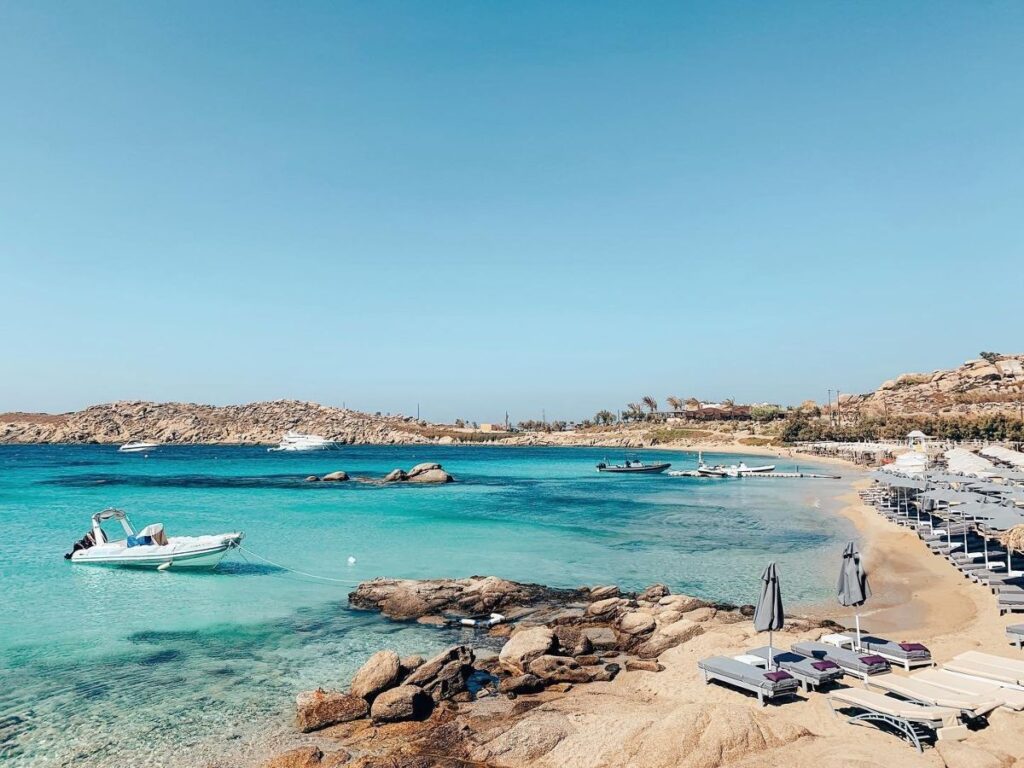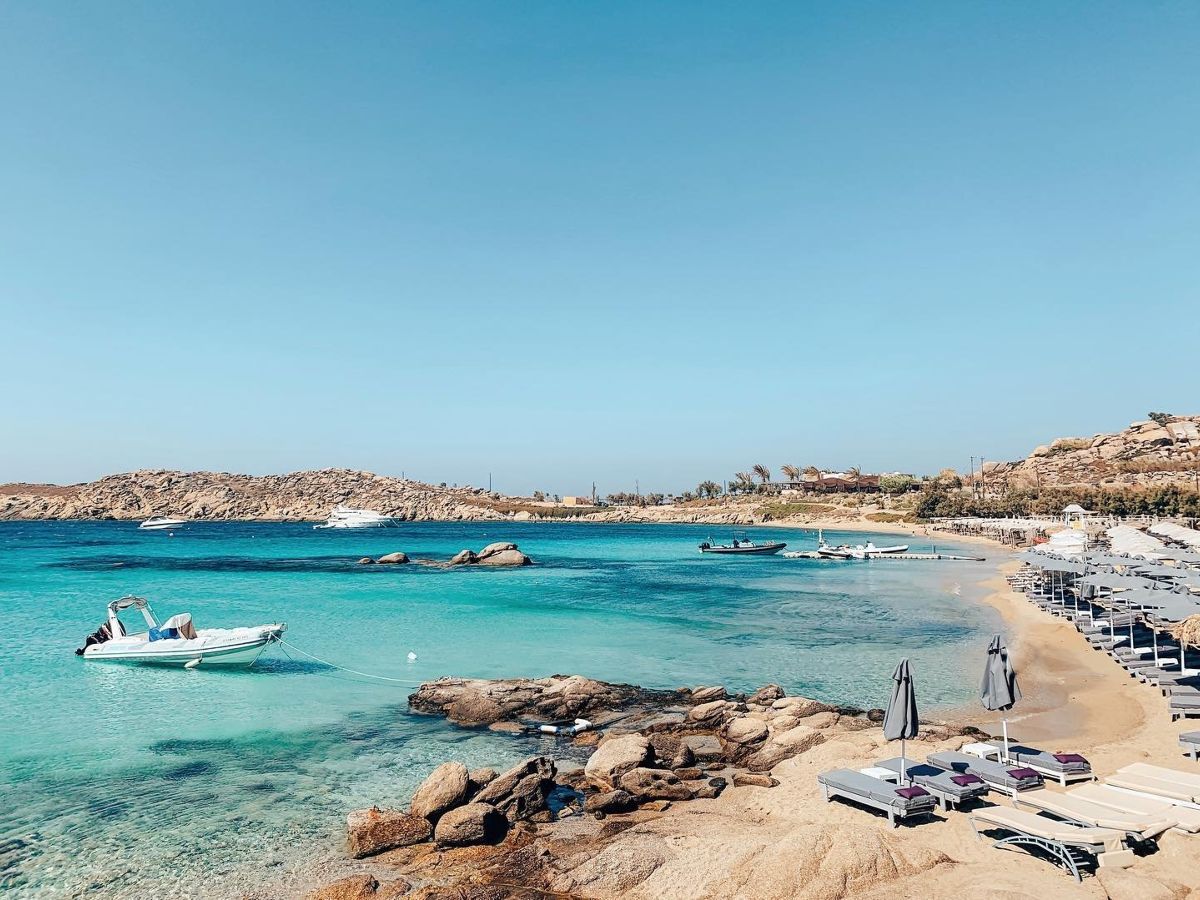 Mykonos has some of the most stunning beaches in Greece!
As a general rule, all the Mykonos beaches that have bus connections will be busy in July and August.
All the very popular Mykonos beaches are on the south part of the island, as they protected from the "Meltemi", the strong northern winds that blow in July and August:
The Popular Mykonos Beaches of Platys Gialos, Agia Anna, Paraga, Paradise, Super Paradise, Ornos, Kalo Livadi, Elia, Agios Stefanos have beach bars, loud music, umbrellas, beach beds, a party atmosphere. You will also find luxury hotels and both traditional taverns and high-end luxury cuisine.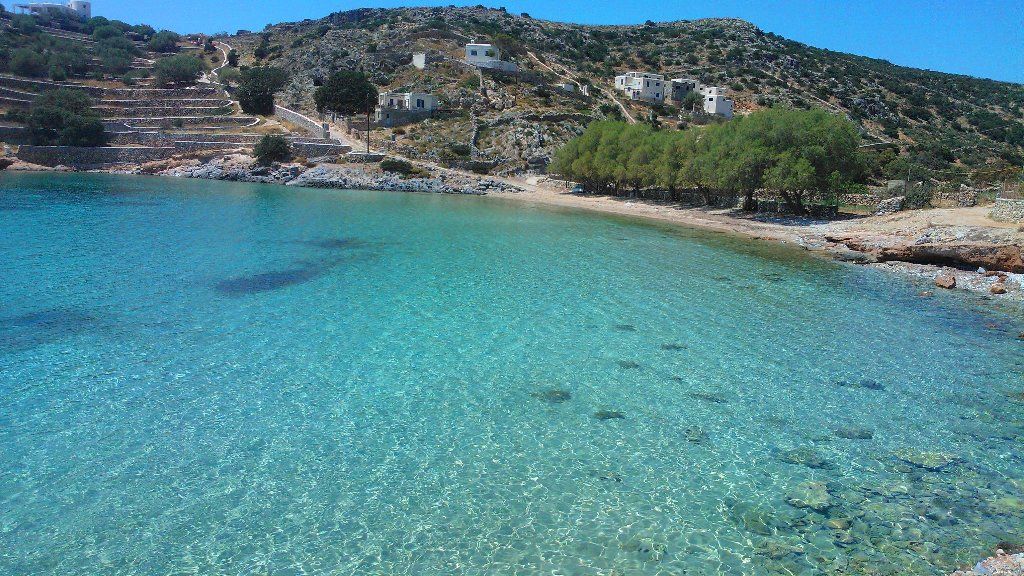 For quieter Mykonos beach choice, you should rent a car or a motorbike, and explore the sandy beaches of:
Quiet Mykonos Beaches: Agrari (less developed and nudist-friendly), Panormos-Agios Sostis (my favorite with beloved Kiki's tavern), Fokos, Ftelia, Mersini, Merchia (no restaurants, no water, some tree shade) and Kapari.
What to do in Mykonos in 3 days
Day 1: Explore Mykonos main town, the Chora*
*All Cycladic islands' main towns are called Chora.
After your breakfast, you should explore Mykonos town, the Chora, the labyrinth-like Cycladic town, with bougainvillea alleys and small posh boutiques.
Mykonos Chora has beautiful cubic whitewashed houses with colorful doors and balconies making strolling a fairy-tale-like experience.
The town is a maze, specially built that way by the Mykonians, centuries ago, to discourage all kinds of invaders-pirates from finding their way.
But not to worry, the Mykonos town is small, and losing your way in Mykonos today can be one of the most enjoyable things you can do on the island!
Wandering on Matogianni Street, the main Mykonos street, you encounter all kinds of cafes, restaurants, jewelry, souvenir shops, and luxury shopping clothes shops (I always look for linen scarves or shirts, love linen).
Panagia Paraportiani Church
By Mykonos seaside, at the Kastro area and 7 minutes walk from the central bus stop, lies the Church of Panagia (Virgin Mary) Paraportiani. Panagia Paraportiani, with endless Aegean sea views, is one of the most photographed churches in the world.
Panagia Paraportiani Church is unique as it consists of 5 in total churches, built on top or next to each other. The first church was built in the 14th c and the last one in the 17th c.
Whenever I visit Mykonos, I sit there with the church on my back losing myself in the blue waters.
A 1-minute walk from Paraportiani Church, lies the Mykonos Folklore Museum, a tribute to the island's rich history.
The Museum is open from 10.30-14.00pm & 5.30-8.30 every day except Sundays from April-October.
Little Venice Mykonos
Little Venice lies by the seaside of Mykonos Chora, a very romantic spot across the iconic famous Mykonos windmills and probably the most beautiful spot in Mykonos Town.
Little Venice Mykonos is full of vibrant colors, charming ambiance, white buildings, and colorful windows. Around, there is a great selection of eateries, bars and clubs to have a drink by the seaside and gaze at the cruising yachts passing by on the blue horizon.
At Little Venice, the best thing to do is to admire the stunning sunset. As many others will have the same idea, try to book a place early. Mind you, prices can be quite high at the bars/cafes/restaurants.
Petros the Pelican, Mykonos Mascot
The first Petros Pelican arrived in Mykonos in 1958, badly injured, and was rescued by a fisherman, who nursed him back to health.
For some reason, Petros the Pelican didn't fly away but lived happily for many years on Mykonos island.
When the original Petros the pelican died in a car accident in 1985, the Mykonians were devastated. Jackie Kennedy-Onassis, who heard about the Mykonos story of its pelican came to the rescue and donated a female pelican under the name Irene.
Today in Mykonos, there are three pelicans wandering about, Irene, Petros, and a younger male called Nikolas.
Look out for them but feed them only fish and be careful of that beak!
Mykonos Windmills
Right across Little Venice and over the ridge, stretch the famous Mykonos landmark of white windmills.
Built by the Venetians in the 16th century and facing the sea, the imposing mills are the international hallmark of Mykonos.
There are currently 16 windmills in the whole of Mykonos but only 7 of them are in the Chora. One of the windmills, the Bonis one, has been turned into a museum exhibiting the cultural changes in Mykonos history. Bonis Windmill, only opens in the afternoon from July to September, usually at 4 pm – and that is not always.
Since you will be in the neighborhood:
Visit The nearby "Bakery of Yiora", in Mykonos Chora, on Agiou Efthimiou Street, the oldest operating oven in Mykonos. Dates from the 17th c, and with the wood-burning oven, is a working example of the bakeries of past time. Follow the smell of freshly made bread and explore the traditional way of Greek baking bread.
Mykonos Beaches: Swim in Agios Ioannis & Ornos
Every each one of Mykonos beaches specializes in a different target group. You have family-friendly, gay-friendly, straight, party beaches, nude or semi-nude-friendly.
The closest beaches to Mykonos town are Agios Ioanni, a sandy beach, with two tavernas serving fresh food, and the low-key more family-oriented Ornos beach. They will be some of the busiest beaches in Mykonos.
Mykonos Restaurants and Taverns Day 1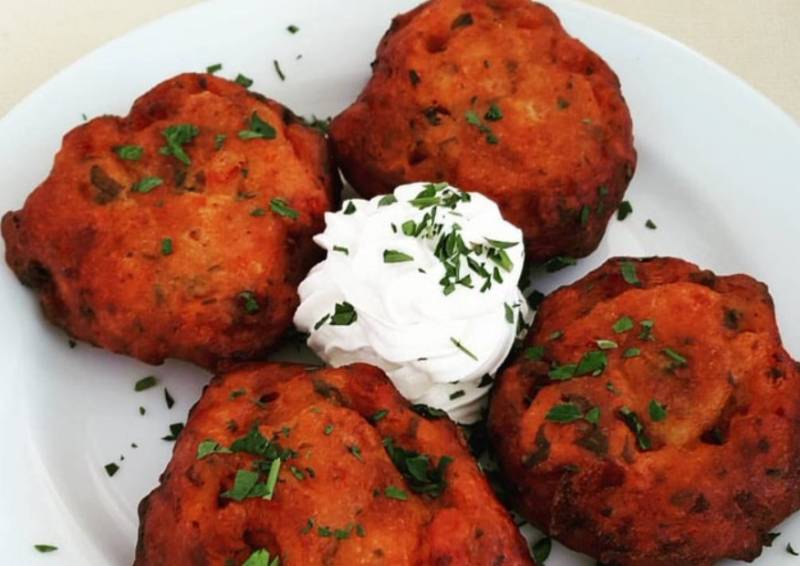 Greek food is the best, and there is a huge variety of delicious meals you can have while on the island. I have tried to cover, as much choice as possible, places with fresh ingredients and amazing views.
However, this is definitely not a final list and you can explore or even better send me any new fun restaurants you visited and had a good meal in. Some great eateries are:
Baos Fine Dining, in Mykonos Town.
Funky Kitchen, situated in the heart of Mykonos town just behind the busy square of Lakka. Authentic Mediterranean food and Greek gastronomy.
Vasilikos bar-restaurant, in Agios Ioannis for home-made Greek cuisine.
Mykonos Nightlife: Bar-Clubs Day 1
Note that some bars may require not only reservations but also a minimum spend of euro.
Little Venice, Galleraki Cocktail Bar perches right above the sea, with chill-out moods music, and full views of the stunning sunset. You would probably need to make a reservation for a spot.
Little Venice, Scarpa Bar, you literally smell the seawater splashing happily a meter away from you. Great cocktails and drinks, try the Greek Scarpa cocktail (mastiha, vanilla, beet, lemon, yogurt). Dance till morning. Do make a reservation though for a table.
Day 2: Explore Ano Mera, Cosmopolitan Beaches, Delos Island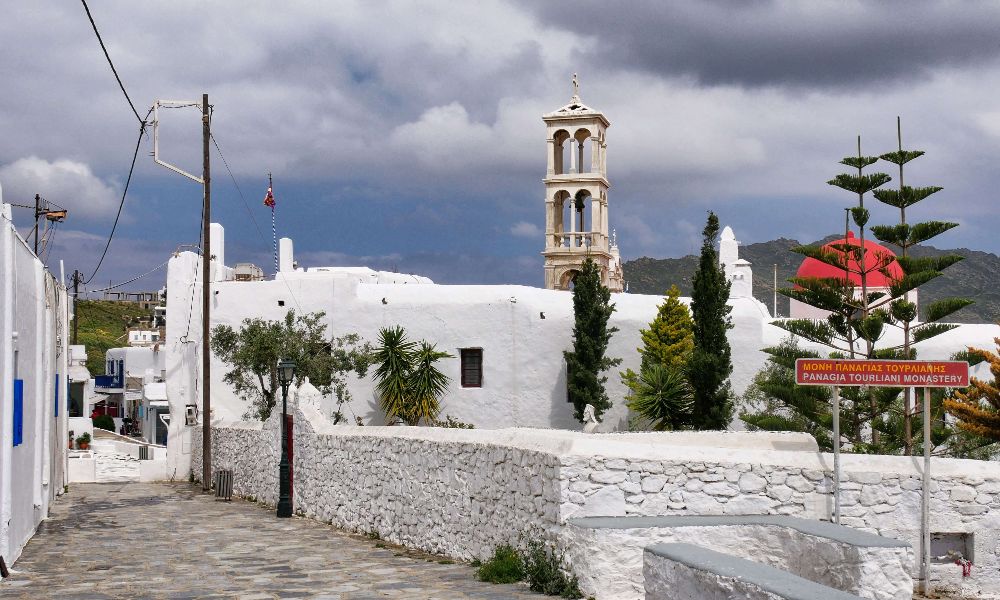 Located in the heart of the island, Ano Mera is one of the oldest villages of Mykonos, centred around a large square with typical white-washed houses, many small churches and local cafes.
The nearby 500-year-old Monastery of Panagia Tourliani has an impressive design, a complex with an elaborately decorated water spigot in the courtyard. It's open every day from 9:00 am to 1:00 pm and from 2:00 pm to 7:30 pm.
If you like monasteries, close by is also the Monastery of Paleokastro that you can visit, a women's 18th-century monastery on the north part of Ano Mera.
Wine Tasting at Mykonos Vioma Organic Farm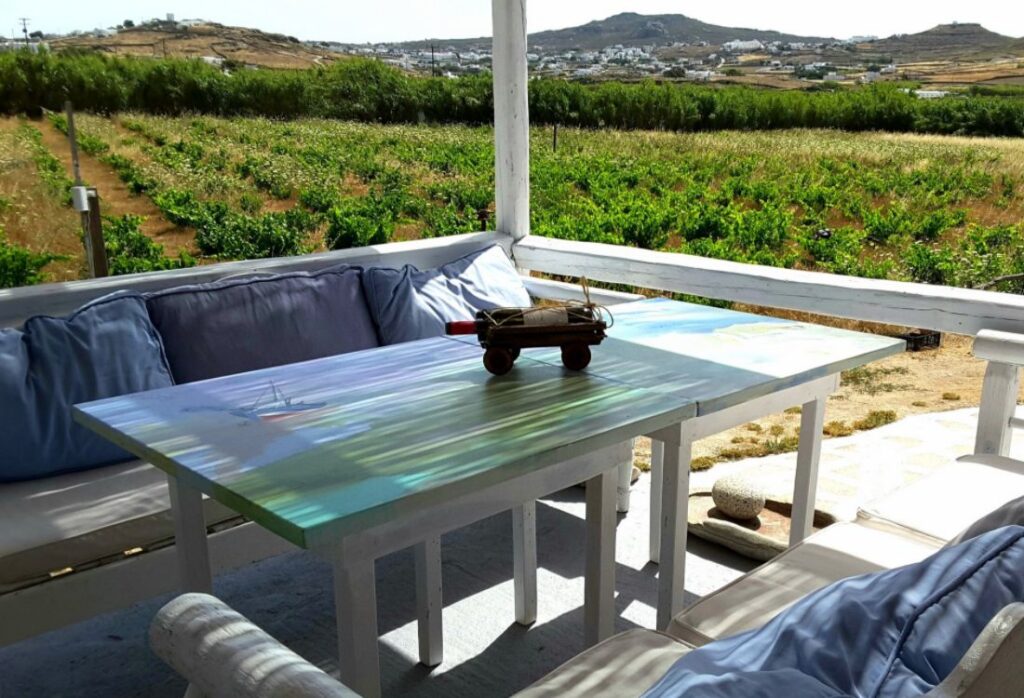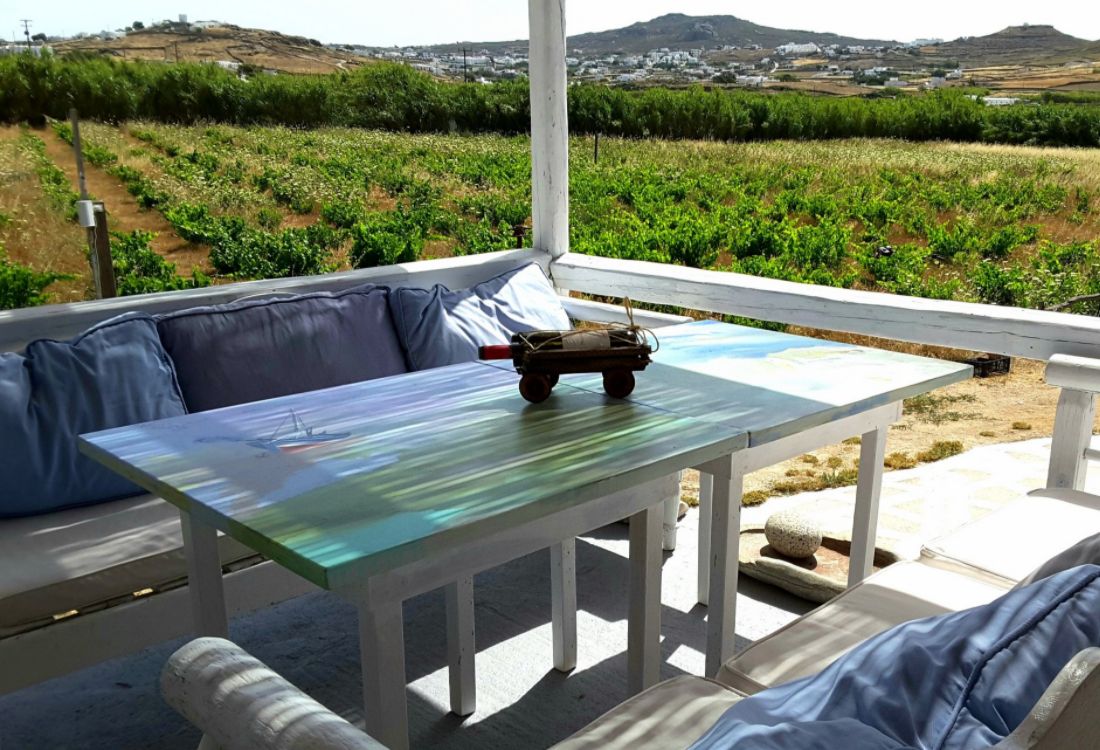 In Ano Mera, in the Maou location, you can visit the Organic Winery Vioma for wine tasting and a tour of the facilities and the vineyard.
Mykonos Popular Beaches: Psarou, Paradise /Super Paradise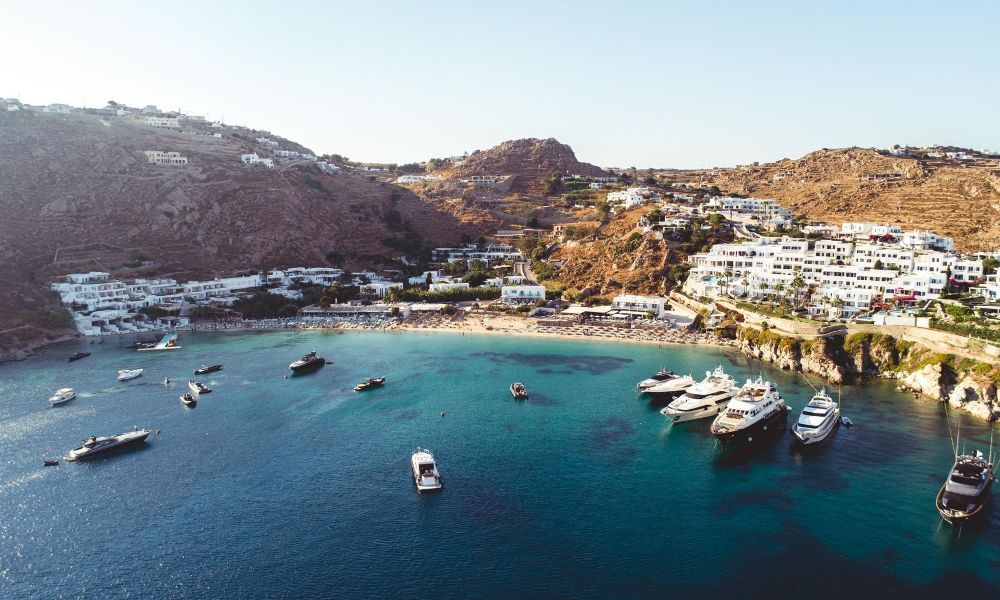 Psarou beach is a total must to visit even once! It attracts local and international celebrities and the bay will be lined with their expensive large yachts, totally packed during the summer.
The beach is located in a beautiful natural environment, with soft sand and emerald clear waters surrounded by the dry and barren low Mykonos hills.
Here you will also find upbeat beach clubs, many luxury hotels, and a large happy crowd.
Cavo Paradiso club, is in Paradise Beach, the most grandiose nightclub on Mykonos, hosting top-notch international DJs.
The club and Paradise beach can often be packed with thousands of young people during the high season.
Paradise and Super Paradise beaches are magnificent beaches with clear waters in an enchanting environment.
They are both mostly party beaches, music playing loud, young people dancing and crowded and consider yourself lucky if you find a free sunbed!
I have been to the Paradise & Super Paradise beaches when I was very young and then again when I was in my early 30s and it was a bit too much for me who I prefer quieter sceneries.
Restaurants in Mykonos Beaches
Find here some of the best restaurants in Mykonos Beaches:
Mykonos Psarou Beach: For a great island culinary experience, head over to Kensho Psarou restaurant, a many awards restaurant. If your budget allows you, book your table and enjoy a lifetime experience
Agia Anna Beach: Spilia (cave) Seaside restaurant, with tables poised on the cliff edge, this is one of the best restaurants in Mykonos for a romantic evening
Agios Ioannis Beach: Hippie Fish, specializes in local fish dishes from crab to sea-urchin spaghetti. It is also notable as the setting for the movie Shirley Valentine, which was filmed at this location
In Super Paradise visit Jackie O' Restaurant, overlooking the beach, for lunch or dinner with fine cuisine
Boat trip to the Archaeological Site of Delos
Delos (or Dilos) island, a UNESCO-listed World Heritage Site, is the birthplace of twins Apollo and Artemis gods and houses a large sanctuary that was built to honor them.
Delos is the most important archaeological center of the Cycladic islands and one of the five Sacred Ancient Cities in Greece along with Athens, Elefsina, Olympia, and Delphi
Delos also houses the oldest known Synagogue, built in 2nd c BC.
Delos' highest hill is Kythnos at 112m, south of the archaeological site which offers a hiking opportunity and a sweeping panoramic view of the islands around. On top, you can rest on the broken stones of the once foundations of Zeus Sanctuary.
You can visit Delos as a half-day trip from Mykonos port. The boats leave between 9 and 10 am, the cost is 20 euro round trip and the trip to Delos is about 30 minutes. Take hats, sunscreen, and water with you, the island has no shade.
Mykonos Nightlife: Bar-Clubs Day 2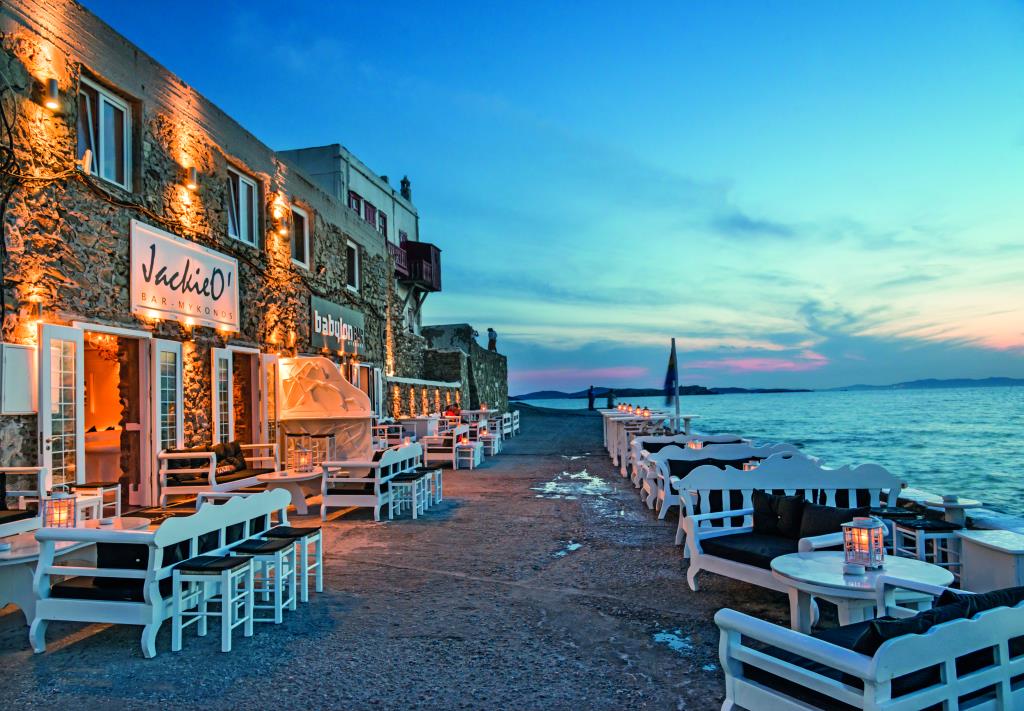 Jackie O' Town Bar, the best gay bar in Mykonos town overlooking the seafront
Little Venice, 180 Sunset Bar with great cocktails and wine and unobstructed views of the sunset over the Old Port and the Aegean Sea. Reservation is a must in order to sit on the front row
Scandinavian Bar & club in Mykonos town attracting mostly a younger crowd
Day 3. Explore Mykonos Quiet Beaches of Agios Sostis & Fokos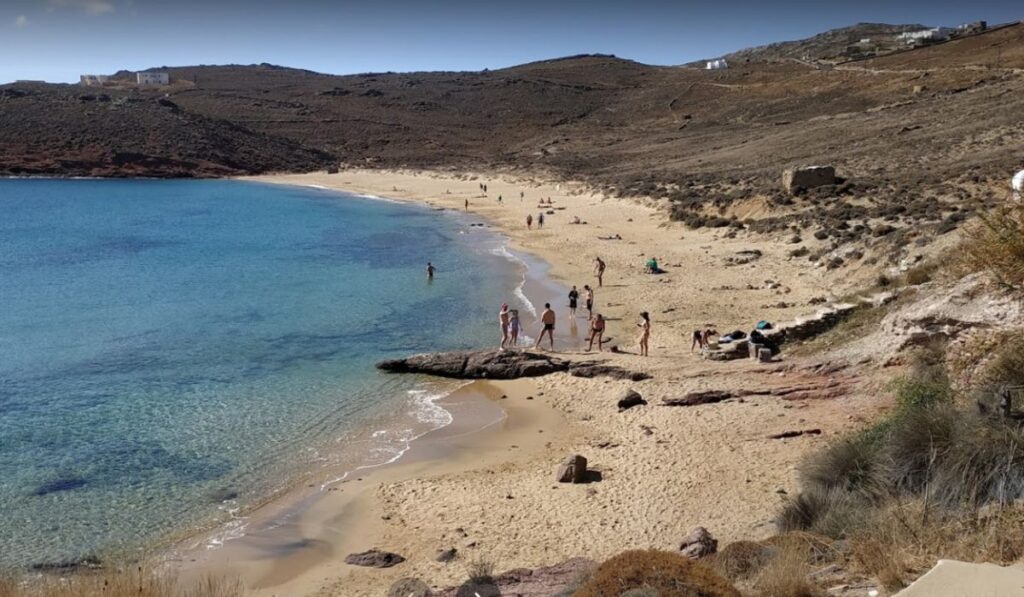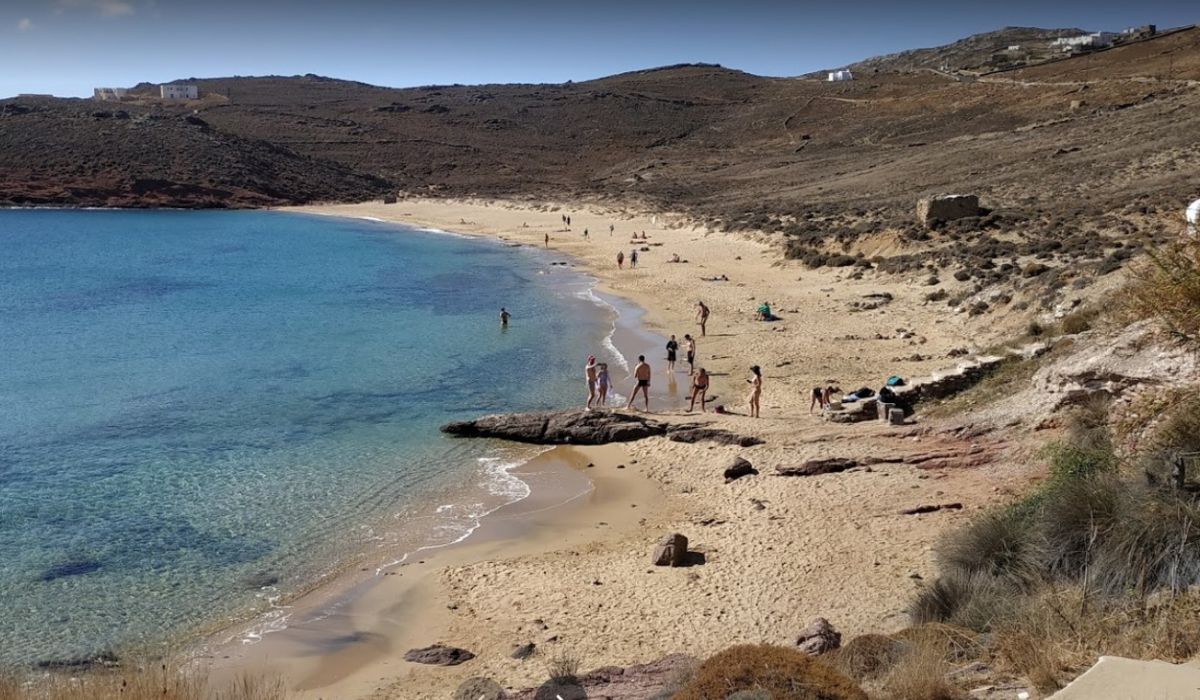 Two of the best quiet beaches in Mykonos Island are Agios Sostis beach and Fokos beach
They have no beachfront bars, parties, or sunbeds, it will be just you and a few other like-minded people around.
No much of a shade either, so buy yourself an umbrella if you don't like being under the sun a lot.
The beaches can be reached only by car or motorbike. Bring food and water supplies and tons of sunscreen with you.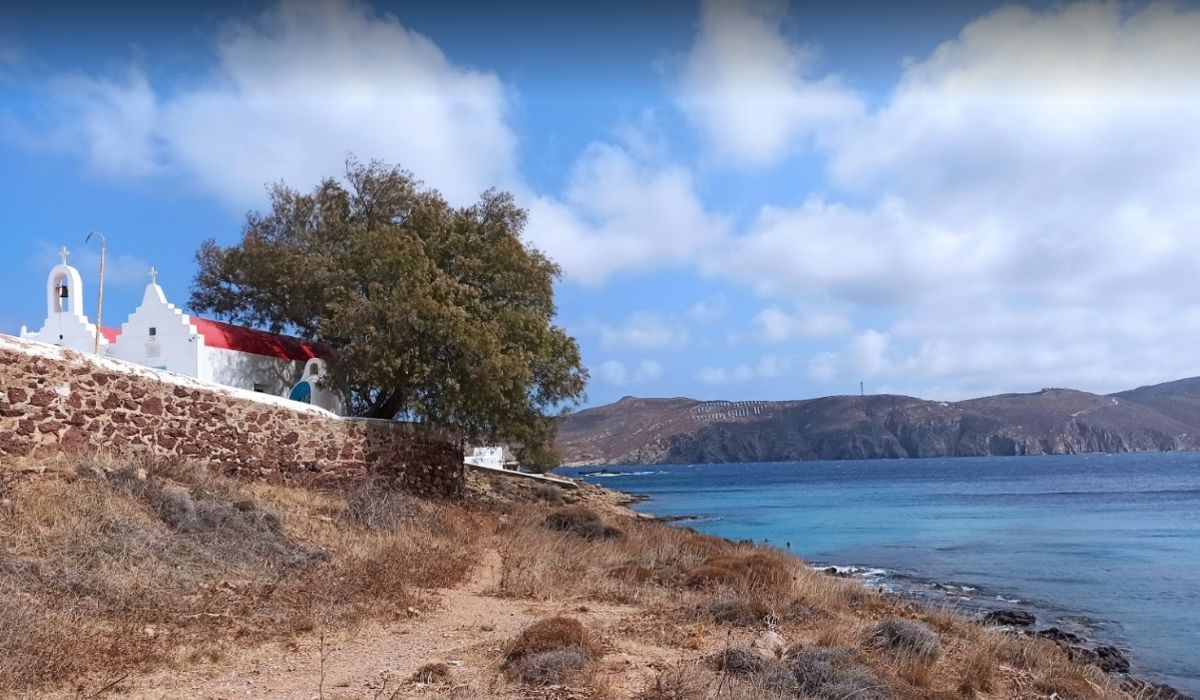 If you choose Agios Sostis Mykonos beach, you definitely want to visit, hidden under the trees, Kiki's famous tavern.
I love Kiki's because of the authenticity of the place and because they are cat lovers!
The place doesn't have a sign, doesn't have a phone to take reservations, and doesn't have electricity!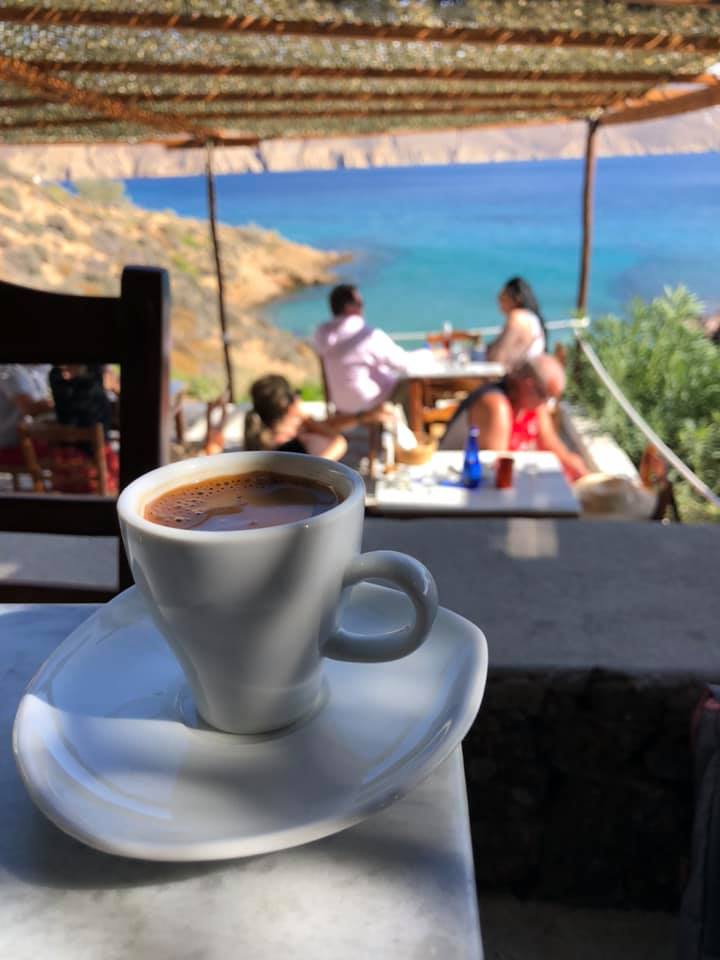 There might be some line for a table but the food is divine and as fresh as it can be. Kiki's tavern closes at 6 pm.
Don't forget to visit the next door picturesque Church after your happy meal.
Take a Small Boat to Impressive Caves of Tragonisi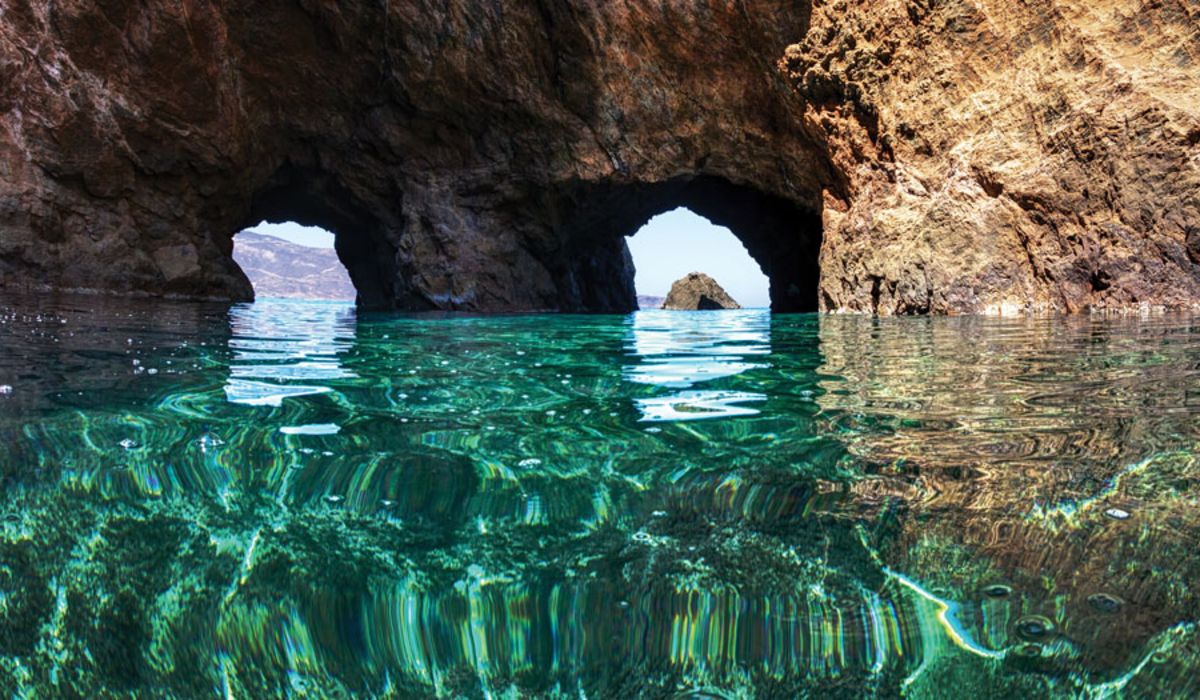 The islet of Tragonisi or Dragonisi is on the east side of Mykonos, a mile away from Mykonos. It is a protected tiny island famous for its caves, its tiny church where once a year an only-for-men festival is held, and for being a haven for the monachus-monachus seal.
Tragonisi is favored by divers for its rich underwater sea life and for being the exclusive habitat of the yellow sea anemone.
Armenistis Lighthouse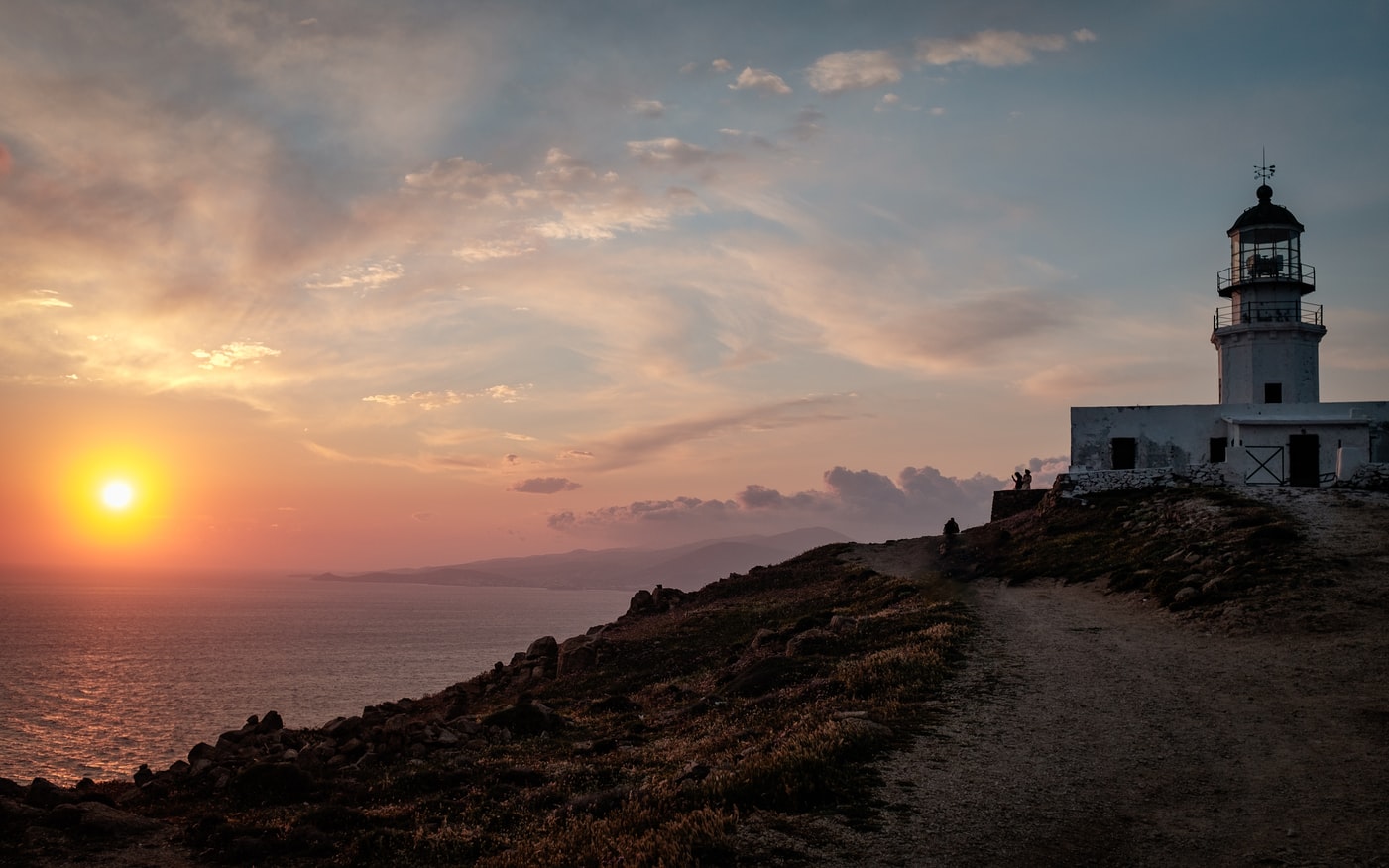 Six km north of Chora is the working Armenistis lighthouse of 1891 guiding the traffic between Mykonos and the neighboring Tinos island.
The Armenistis Lighthouse, a 19-meter construction that flashes a white signal every ten seconds. The best time to visit is around sunset when you can see the lights of the Mykonos and Tinos islands.
Even though visitors are not allowed inside the lighthouse the panoramic views make the visit worthwhile.
Mykonos Restaurants Day 3
Avli tou Thodori, a highly-rated restaurant in Platys Gialos, serving popular traditional dishes from various regions of Greece
Mykonos town, best Greek traditional local prefered tavern, To Maereio. 16 Kalogera N., Mykonos Town.
A ten-minute drive from Mykonos Town, lies Karavaki Restaurant, a stunning sea, sunset view and delicious choices.
Mykonos Nightlife Bar-Clubs Day 3
Queen of Mykonos, an evening warmup glam cocktail spot in Mykonos town
Old Customs Café in Mykonos Town, the only rock n roll bar in Mykonos with a great beer selection and reasonable prices
Babylon in Mykonos town, a gay and straight clubbers alike club, with great drinks and by the sea view
What else can I see/do on Mykonos Island?
There are many interesting, alternative, cultural, and historical places that you can visit in Mykonos that can be found in all the Cyclades islands.
Some suggestions that I have explored and would love to revisit are:
Mycenaean vaulted tomb from the 15th century BC, in the Vrissi area and see the findings from the tomb in the Archaeological Museum of Mykonos. If you are in the area, don't miss the splendid dovecotes located in ancient gardens.
Mykonos Portes, Ruins of a Hellenistic round watchtower or beacon tower and a shrine right above Platys Gialos.
Mykonos Maritime Museum (next to Lena's House), full of Greek prehistoric connections with the sea and relics from the past such as maps, coins, and statues
Mykonos Galleries: Dio Horia Gallery, with offices in Athens and Mykonos, is a contemporary young international artist and culture gallery, with a beautiful terrace to have a drink after your walk. It is located in the heart of Mykonos Chora. Rarity is another international-calibre gallery that you can visit, very close to Dio Horia
Lena's House Museum, an authentic sample of a Mykonian middle-class family house of the 19th century
Cine Manto, an open-air movie theatre in the heart of Mykonos Town serving food and drinks as well
Kafenio of Bakogias: one of the most (and one of the last) authentic places to have a really traditional meal in Mykonos since 1970, small family place. Find it in the Gialos area
Hiking is limited in Mykonos because it lacks the ancient "donkey trails" the other Cycladic islands have. I have an analytical post on hiking Cyclades and Mykonos island in this Greek Island Hiking Guide: The Cyclades I
Solo Female Travel to Mykonos
Women who travel alone are perfectly safe in Mykonos, or any other Greek island or large city.
Traveling around the country is quite easy as Greek people are very friendly and eager to help and reply to any questions from visitors.
Having said that, common sense should always be exercised and sketchy places should be avoided.
Where to Stay in Mykonos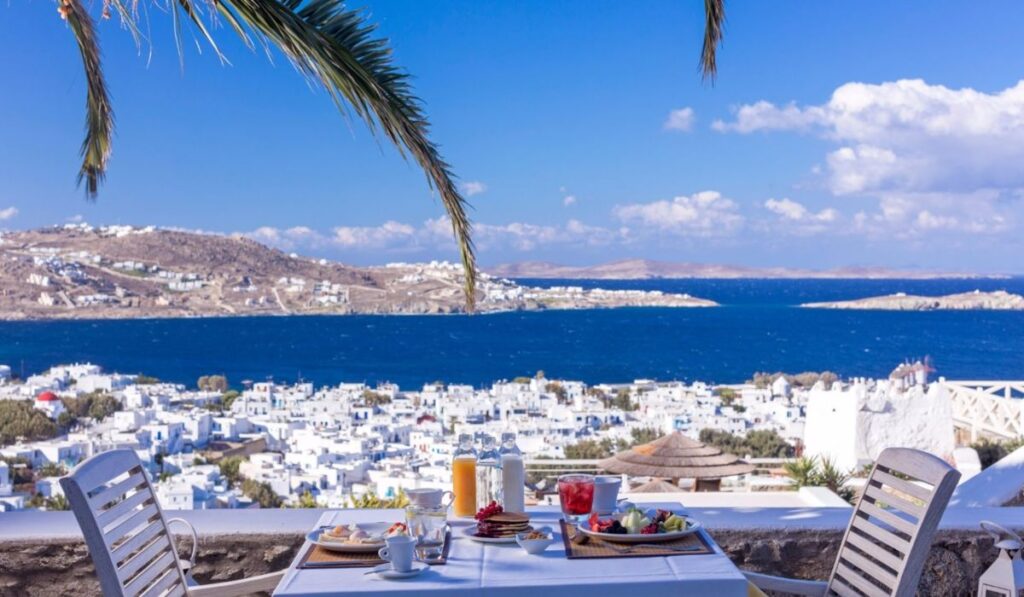 Probably the most popular and convenient area to stay on the island would be Mykonos town where most of the dining and bar scene is located.
However, Mykonos has lots and lots of little, intimate and cozy places to rest after a full day's adventures. I have a small selection of luxury and mid-range priced hotels that you may find helpful.
I am working on a budget hotel list for Mykonos just like I did with Santorini Budget Hotel List
Luxury Mykonos Hotels:
Mid-Range Hotels:
A great option is Cape Mykonos with great views to Platys Gialos, its own parking lot, a 20-minute walk from Mykonos Chora
Damianos Mykonos Hotel, with amazing reviews, airport pick up and reasonable prices
Chill Out Studio, hospitable, reasonable, great in any way.
When is Best to Visit Mykonos Island?
Mykonos is not an island just for tourism. Mykonos has 10.134 permanent residents, so a lot of the facilities stay open during the off-season to serve the locals. What closes are the large hotel chains, clubs, and bars.
You will definitely find hotels, and taverns, and a bar or 2 or more to serve you if you visit off-season, and it will be great service with much more reasonable prices.
If you would like warm weather to hit those beautiful beaches then anytime between late May and early October will be good for swimming.
Spring and around Easter time, Mykonos is at its best and busy with Greeks having Easter on the island. Mykonos is full of flowers, churches are decorated and getting ready for the biggest Greek Orthodox Feast, Orthodox Easter.
Drop me a line if you will need more info about traveling to Mykonos off-season.
What to wear in Mykonos
Whatever you feel like it, but you may feel like adding just a bit of glam in your clothes and accessories. This is an island where you can dress as extravagant as you want and nobody will bat an eye. I have listed some garment suggestions for you that you may like, I know that I do like them and would love to have them!
Enza Costa, a beautifully designed T-shirt for simple and chic nights out in Mykonos. You can see in Amazon site here
For the windy nights in Mykonos, you may find this long sleeve Enza Costa top very useful. You can see in Amazon site here
How to Get Around Mykonos
There is a choice of selection on how best to get around the island of Mykonos.
Rent a car or a motorbike to explore the many beaches around the island. Mykonos' roads are not in perfect condition (there are twists and turns and bumps) and to reach more remote areas you might have to drive dirt roads. **You will need International Drive Permit to be eligible for renting a vehicle
Driving Tip: If you are unfamiliar with steep uphills or downhills, it is better to leave the car/motorbike on a level road and walk the rest of your destination. Also, the road signs are usually small, sometimes behind trees so you need to be alert to find them. I suggest you buy an inexpensive Mykonos paper map from any of the shops in Mykonos so that you can always easily navigate, in case your mobile has no reception. Check if your hotel has maps to give you one for free.
Take the buses that go around Mykonos. There is a bus terminal just off the yacht docking area (see the map, here) in Mykonos main town.
Use the local road taxis. As there are only a few taxis on the island, during peak season, you might have a problem finding one available. It is also a good idea to know in advance how much they will charge you.
Take a boat-taxi (a Kaiki as Greeks call it) from key points around the island, a really cool way to get from one beach to another.
How to get to Mykonos Greece
It is very easy to get to Mykonos as there are many flights a day from Athens or you can get the ferry leaving several times a day from Pireaus or Rafina. The fast ferries (dolphins) make the trip in 2or 3 hours (depending on your departing port) and the slow ferry in 5 hours.
By plane: During summer there are daily flights from Athens to Mykonos. The flight lasts about 25 minutes.
Mykonos has an easy ferry connection with other Cycladic Islands: Andros, Tinos, Paros, Syros, Santorini, Naxos, Ios, and Crete.
In August, the ships may be full (thousands of Greek pilgrims go to Tinos island on the 15th of August) so book your ferry in advance.
I book my tickets through Ferry Hopper, an easy-to-use website with no additional or hidden fees for using their service.
More Inspirational Readings on Greek islands
Not Sure where to Go to Mainland Greece?
Grab below your free 5-Day classic itinerary in mainland Greece. It includes sites, relative informative posts, and hotel recommendations!