Mykonos is renowned as one of Greece's most famous and popular islands, cherished for its stunning beauty. Situated in the northeastern part of the Cyclades, a well-known Greek island group, Mykonos captivates travelers with its allure.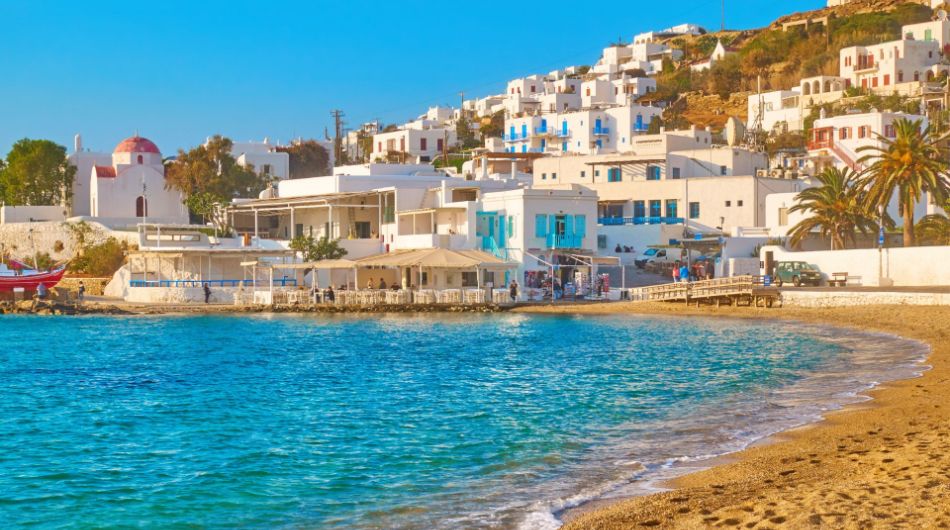 On the northern of Mykonos, you find Tinos and Andros, on the south Paros and Naxos, and on the west Syros and Kythnos islands.
Mykonos is famous for its sandy golden beaches and bustling beach club scene, gay-friendly atmosphere, legendary upbeat nightlife, and prices to the sky. Some of the Mykonos' Best Things to Do in 3 Days are: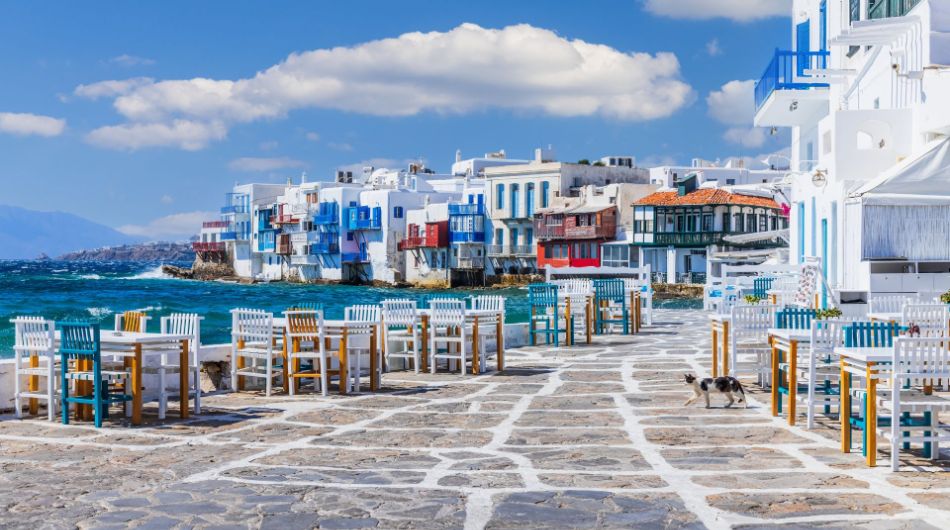 Explore Picturesque Mykonos Chora
Enjoy cosmopolitan beaches like Ornos, Paradise, Psarou, and Super Paradise
Visit Delos Island, the most important archaeological site in the Cyclades
Swim on quiet beaches with authentic taverns like Agios Sostis and Fokos
Visit museums, churches, monasteries, galleries
Indulge in wine tasting at the organic winery Vioma
Explore small, traditional villages in Mykonos inland
Dance till sunrise at some of the best clubs in Greece
Discover Tragonisi caves
Up next I am going to tell you about the best things to do on Mykonos Island in 3 days:
*Some of the links below are affiliate links. That means I may make a commission if you click and buy, which costs you nothing.
What Best to do in Mykonos in 3 days
This 3-day itinerary for Mykonos will keep you busy and inspire you for a spectacular trip. If you are visiting from Santorini you need to stay for at least 2 nights to fully enjoy this beautiful island! So what can you see and do on Mykonos in 3 days?
Day 1: Explore Mykonos' main town, the Chora*
Mykonos Chora has beautiful cubic whitewashed houses with colorful doors and balconies making strolling a fairy-tale-like experience. The town is a maze, specially built that way by the Mykonians, centuries ago, to discourage all kinds of invaders-pirates from finding their way.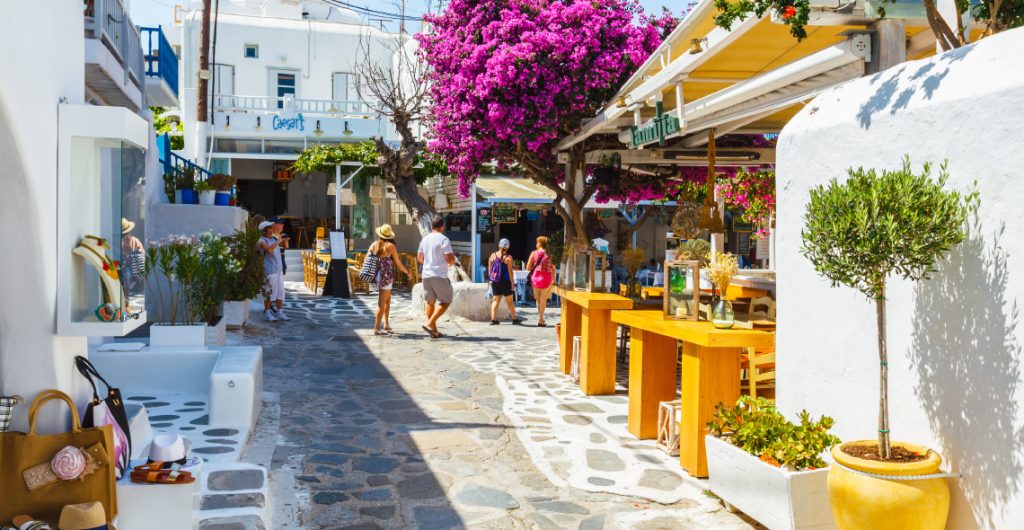 Wandering on Matogianni Street, the main Mykonos street, you encounter all kinds of cafes, restaurants, jewelry, souvenir shops, and luxury shopping clothes shops.
Panagia Paraportiani Church
Panagia Paraportiani Church is in Chora and is unique as it consists of 5 total churches, built on top or next to each other. The first church was built in the 14th c and the last one was in the 17th c.
A 1-minute walk from Paraportiani Church lies the great Mykonos Folklore Museum. The Museum is open from 10.30-14.00 pm & 5.30-8.30 every day except Sundays from April-October.
Little Venice Mykonos
Little Venice lies by the seaside of Mykonos Chora, a very romantic spot across the iconic famous Mykonos windmills and probably the most beautiful spot in Mykonos Town to admire the sunset. Little Venice is a very popular and expensive place to visit so if you would like to sit at one of the shops, book your table.
Mykonos Old Windmills upon the Hill
Right across Little Venice and over the ridge, stretch the famous windmills. Built by the Venetians in the 16th century, still, stand 16 windmills in Mykonos but only 7 of them are in the Chora.
One of the windmills, the Bonis one, has been turned into a museum exhibiting the cultural changes in Mykonos history. Bonis only opens in the afternoon from July to September, usually at 4 p.m. – and that is not always.
Mykonos Beaches: Swim in Agios Ioannis & Ornos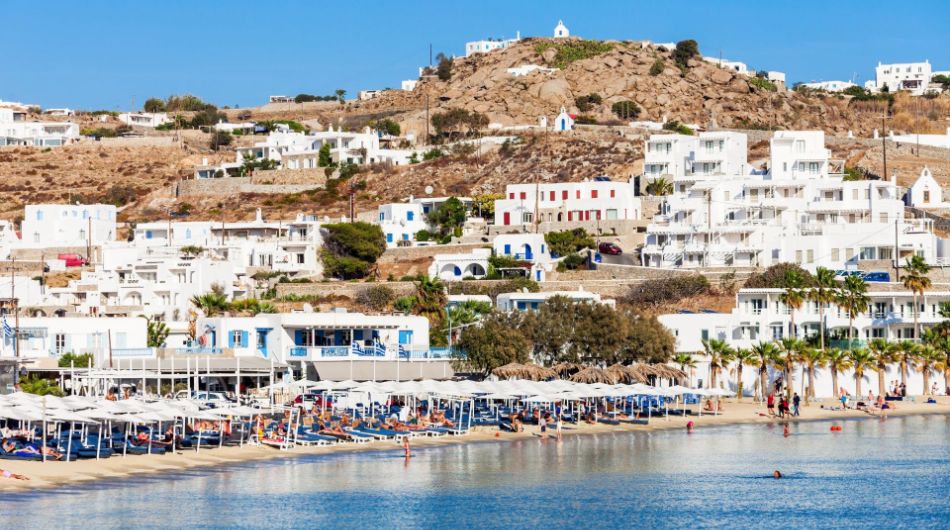 The closest beaches to Mykonos town are Agios Ioannis, a sandy beach, with two tavernas serving fresh food, and the low-key more family-oriented Ornos beach. Expect them to be quite busy during July and August.
Where to eat in Mykonos
Some of the finest restaurants and taverns on Mykonos are:
Baos Fine Dining & Funky Kitchen, just behind the busy square of Lakka. Authentic Mediterranean food and Greek gastronomy.
Vasilikos bar-restaurant, in Agios Ioannis for home-made Greek cuisine
Avli tou Thodori, a highly-rated restaurant in Platys Gialos, serves popular traditional dishes from various regions of Greece
The best Greek traditional local preferred tavern, To Maereio
A ten-minute drive from Mykonos Town, lies Karavaki Restaurant, a stunning sea, sunset view, and delicious choices.
Day 2: Explore Ano Mera, Cosmopolitan Beaches, Delos Island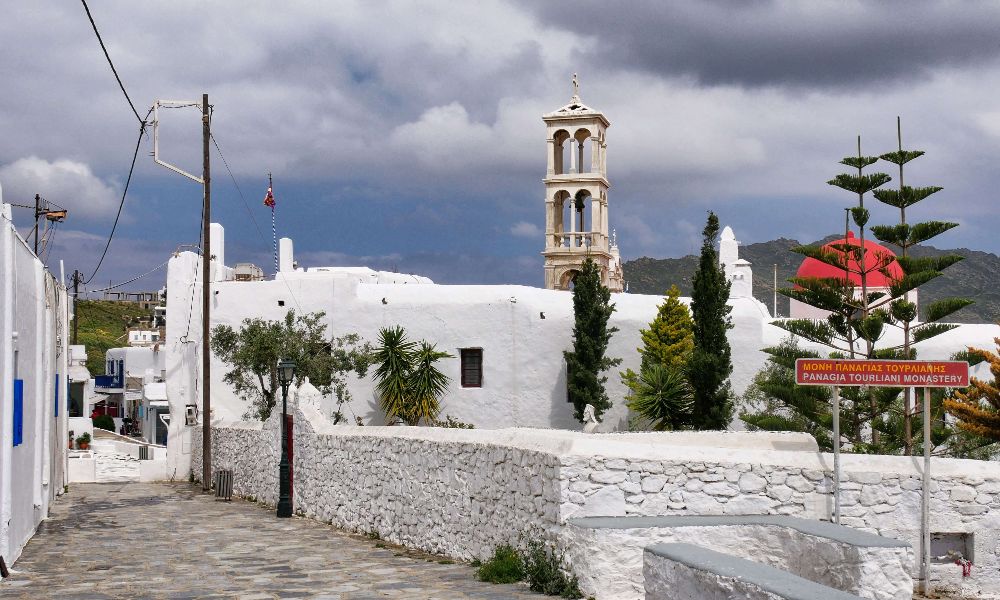 Located in the heart of the island, Ano Mera is one of the oldest villages of Mykonos, centered around a large square with typical white-washed houses, many small churches, and local cafes.
The nearby 500-year-old Monastery of Panagia Tourliani has an impressive design, a complex with an elaborately decorated water spigot in the courtyard.
If you like monasteries, close by is also the Monastery of Paleokastro that you can visit, an 18th-century monastery on the north part of Ano Mera.
Wine Tasting at Mykonos Vioma Organic Farm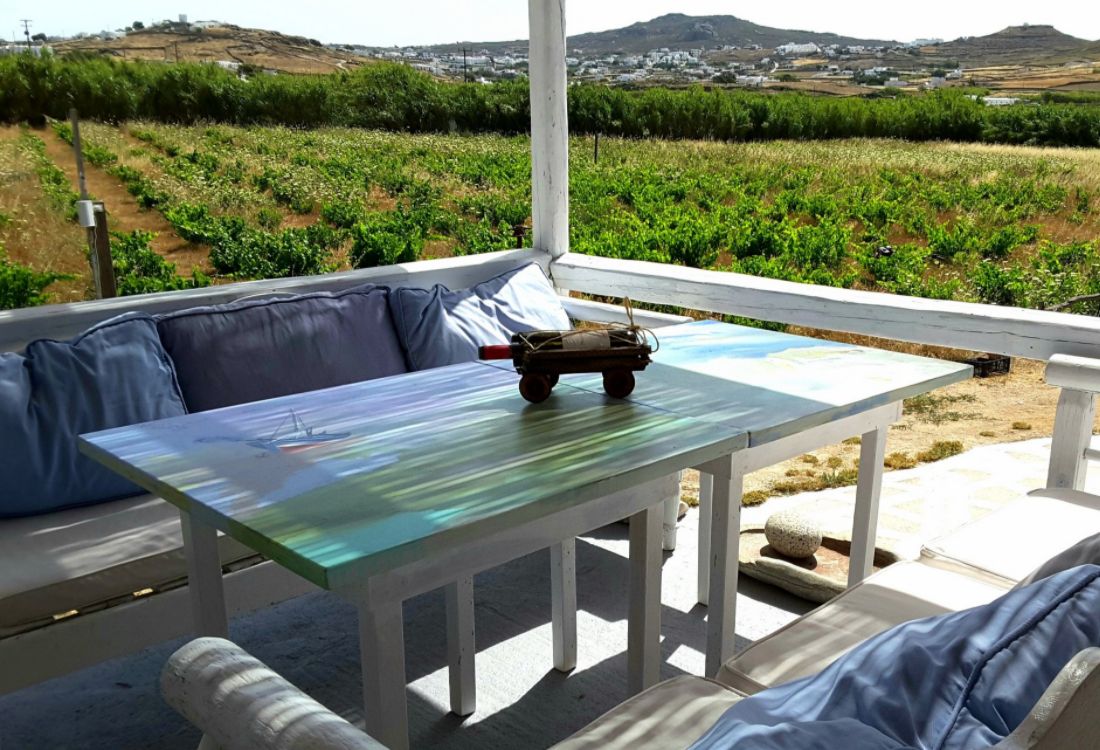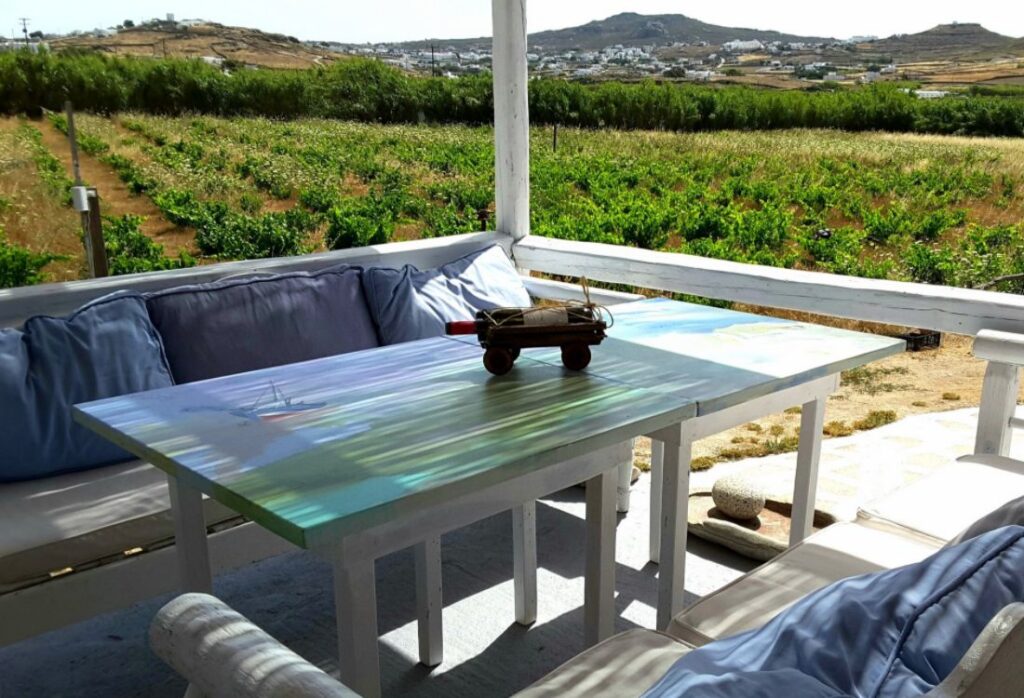 In Ano Mera, in the Maou location, you can visit the Organic Winery Vioma for wine tasting and a tour of the facilities and the vineyard.
Mykonos Popular Beaches: Psarou, Paradise, Super Paradise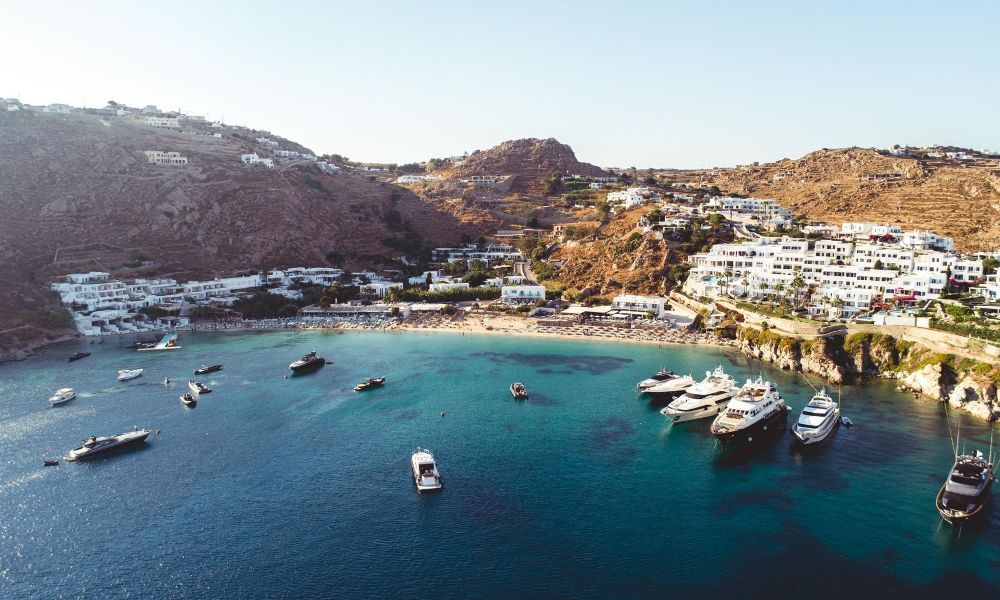 Psarou Beach is an absolute must to visit even once! It attracts local and international celebrities and the bay will be lined with expensive large yachts, totally packed during the summer.
Here you will also find upbeat beach clubs, many luxury hotels, and a large happy crowd.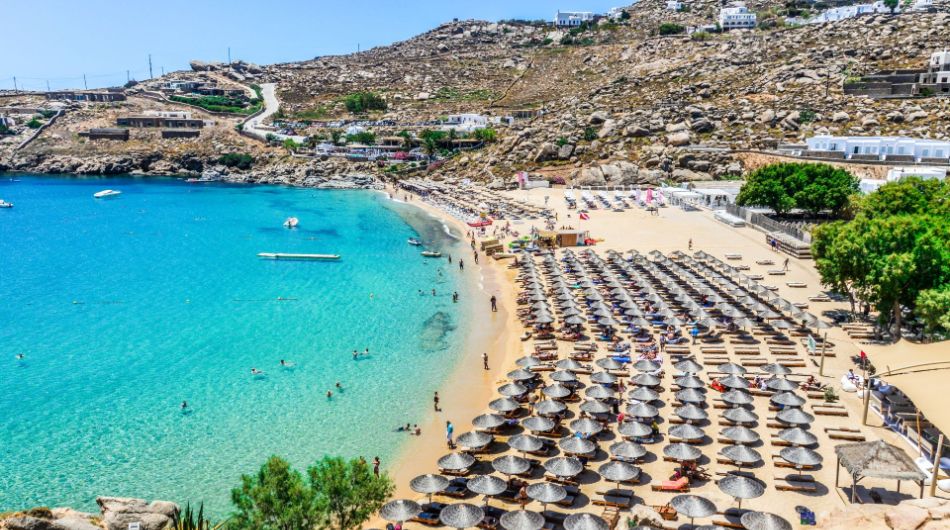 Paradise and Super Paradise beaches are magnificent beaches with clear waters in an enchanting environment.
They are both mostly party beaches, music playing loud, young people dancing and crowded and consider yourself lucky if you find a free sunbed!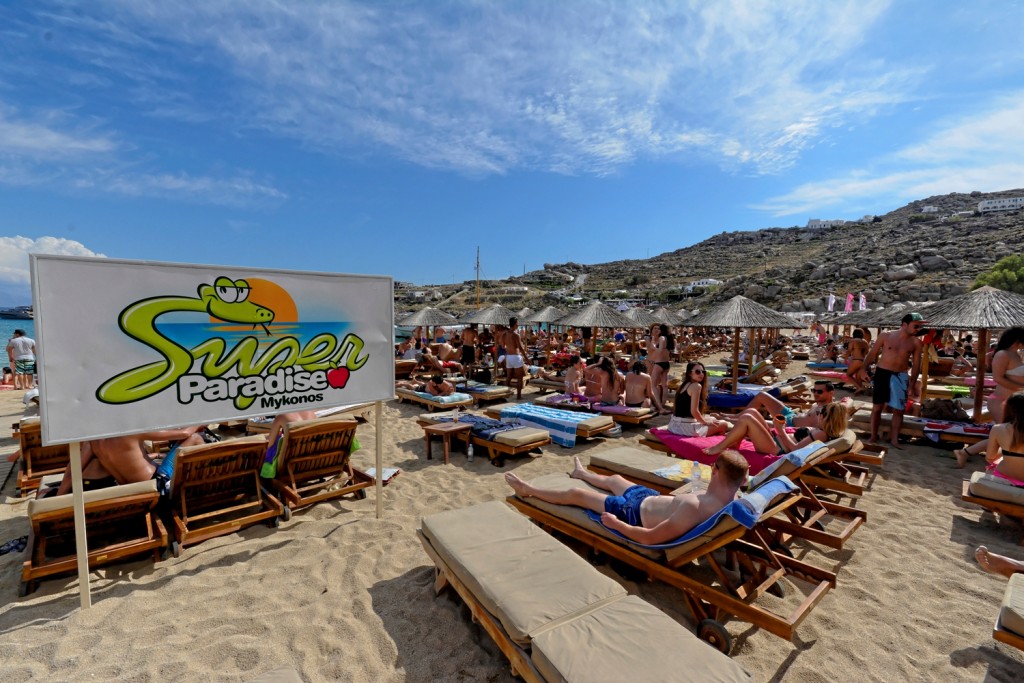 I have been to the Paradise & Super Paradise beaches when I was very young and then again when I was in my early 30s and it was a bit too much party atmosphere for me 😀
Restaurants in Mykonos Beaches
Find here some of the best seaside restaurants are:
Mykonos Psarou Beach: For a great island culinary experience, head over to Kensho Psarou restaurant, a many-awards restaurant. If your budget allows you, book your table and enjoy a lifetime experience
Agia Anna Beach: Spilia (cave) Seaside restaurant, with tables poised on the cliff edge, this is one of the best restaurants in Mykonos for a romantic evening
Agios Ioannis Beach: Hippie Fish, specializes in local fish dishes from crab to sea-urchin spaghetti. It is also notable as the setting for the movie Shirley Valentine, which was filmed at this location
In Super Paradise visit Jackie O' Restaurant, overlooking the beach, for lunch or dinner with fine cuisine
Boat trip to the Archaeological Site of Delos
Delos (or Dilos) island, a UNESCO-listed World Heritage Site, is the birthplace of the twin Apollo and Artemis gods and houses a large sanctuary.
Delos is the most important archaeological center of the Cycladic islands and one of the five Sacred Ancient Cities in Greece along with Athens, Eleusis, Olympia, and Delphi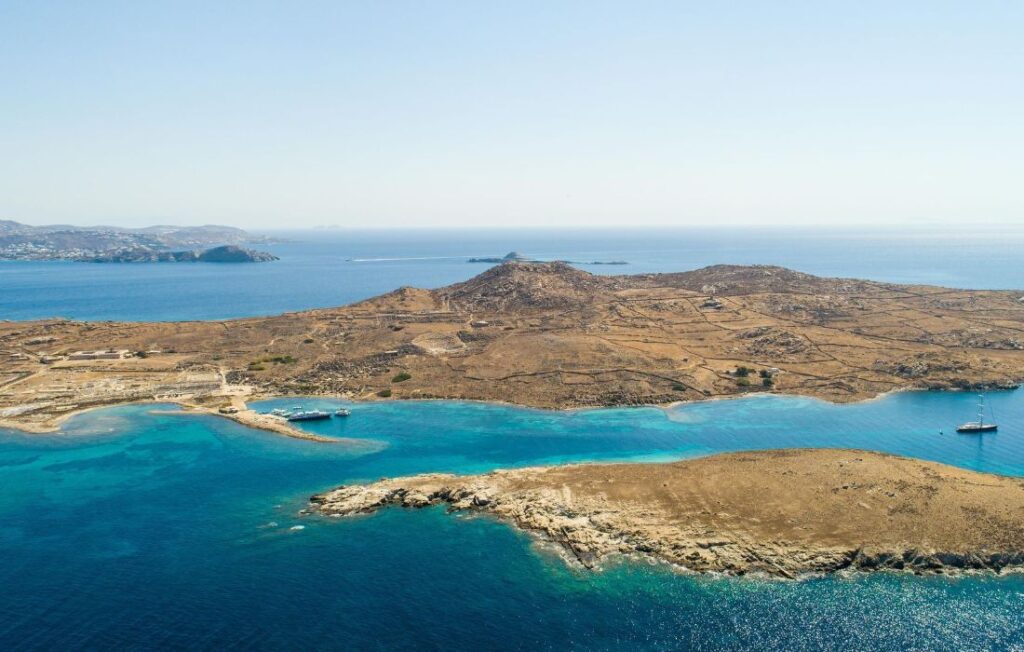 Delos also houses the oldest known Synagogue, built in 2nd c BC.
Delos' highest hill is Kyνthos at 112m, south of the archaeological site which offers a hiking opportunity and a sweeping panoramic view of the islands around. On top, you can rest on the broken stones of the foundations of Zeus Sanctuary.
You can visit Delos on a half-day trip from Mykonos port between April 1st to November 30th. The boats leave between 9 and 10 a.m., and the trip to Delos is about 30 minutes. Take hats, sunscreen, and water with you, the island has no shade.
Mykonos Nightlife: Bar-Clubs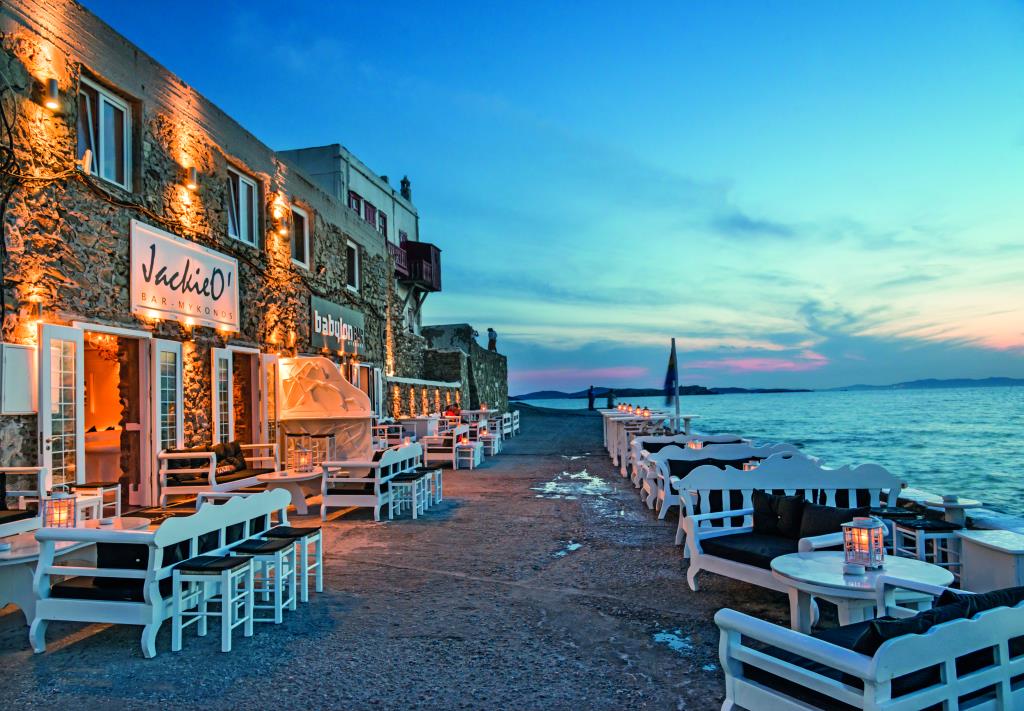 Jackie O Town Bar, the best gay bar in Mykonos town overlooking the seafront
Little Venice, 180 Sunset Bar with great cocktails and wine, and unobstructed views of the sunset over the Old Port and the Aegean Sea. Reservation is a must in order to sit on the front row
Scandinavian Bar & club in town attracting mostly a younger crowd
Day 3. Explore Mykonos Quiet Beaches of Agios Sostis & Fokos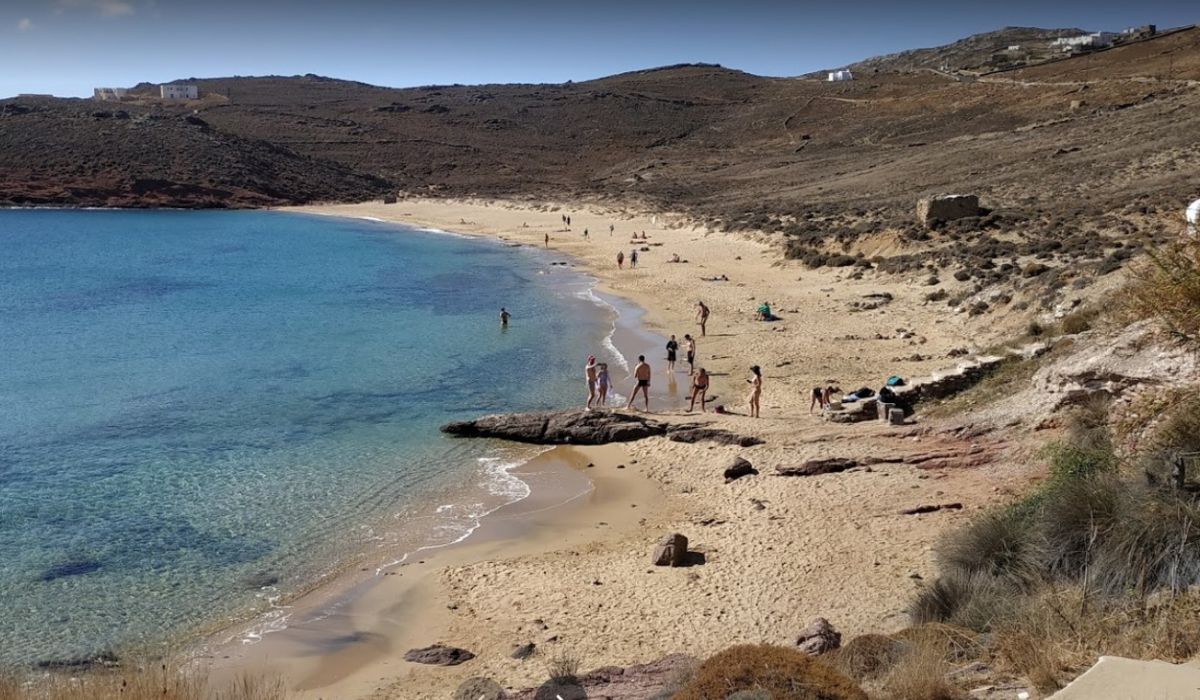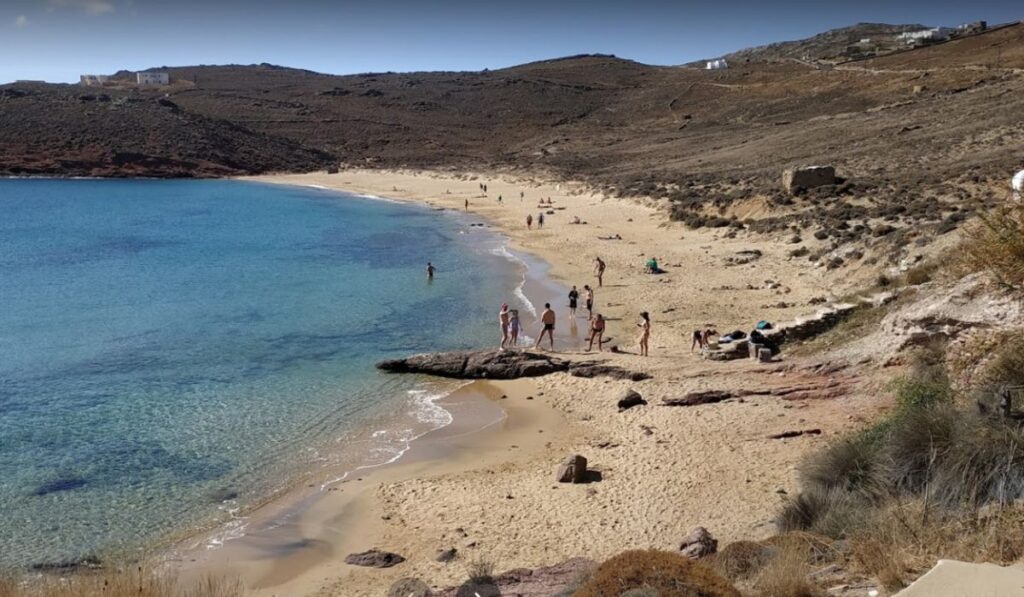 Two of the best quiet beaches on Mykonos Island are Agios Sostis Beach and Fokos Beach. They have no beachfront bars, parties, or sunbeds, it will be just you and a few other like-minded people around.
The beaches can be reached only by car or motorbike.
If you choose Agios Sostis Mykonos beach, you definitely want to visit, hidden under the trees, Kiki's famous tavern.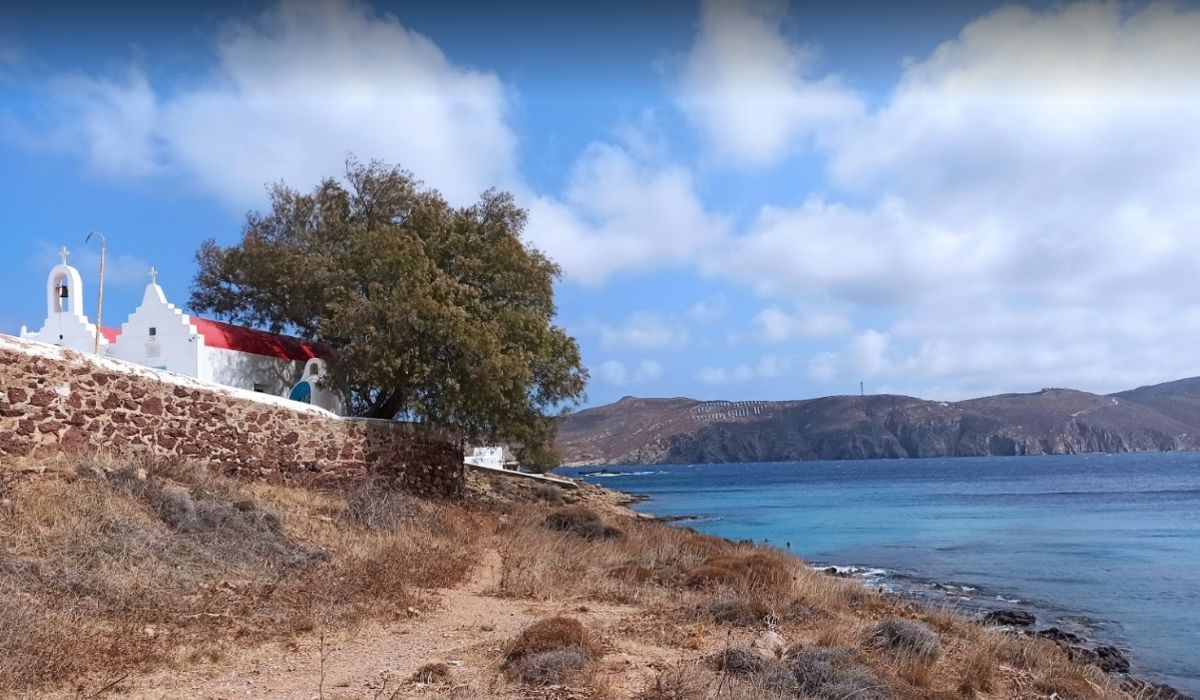 I love Kiki's because of the authenticity of the place and because they are cat lovers! There might be some line for a table but the food is divine and as fresh as it can be. Kiki's Tavern closes at 6 pm. Don't forget to visit the next-door picturesque Church after your happy meal.
Take a Small Boat to the Impressive Caves of Tragonisi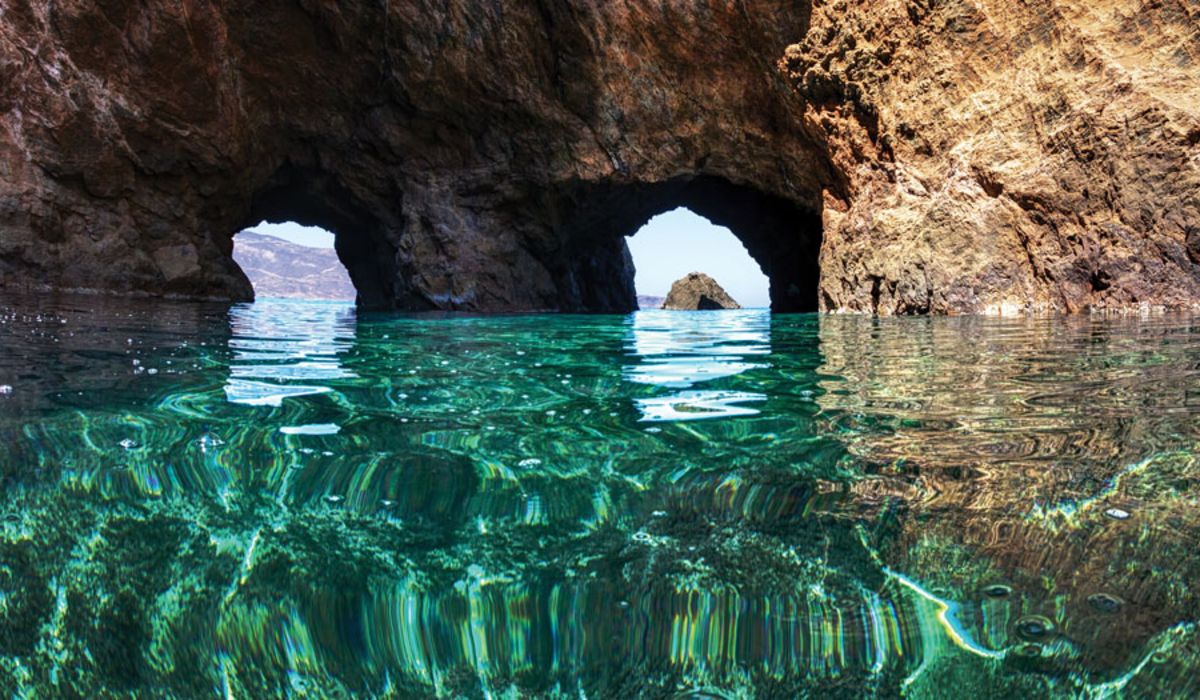 The islet of Tragonisi or Dragonisi is on the east side of Mykonos, a mile away from Mykonos. It is a protected tiny island famous for its caves, its tiny church where once a year an only-for-men festival is held, and for being a haven for the monachus-monachus seal.
Tragonisi is favored by divers for its rich underwater sea life and for being the exclusive habitat of the yellow sea anemone.
Armenistis Lighthouse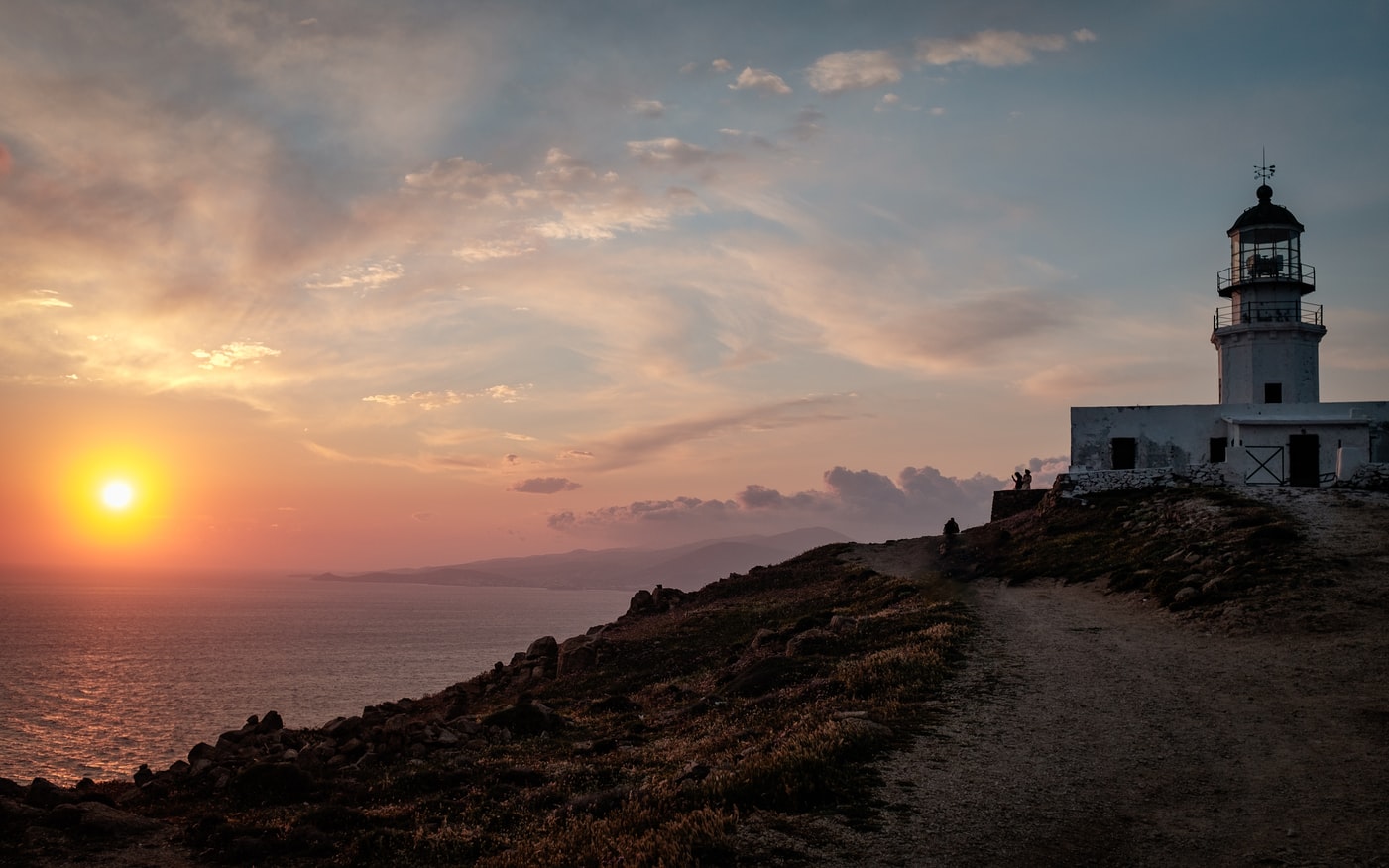 Six km north of Chora is the working Armenistis lighthouse of 1891 guiding the traffic between Mykonos and the neighboring Tinos island.
The Armenistis Lighthouse is a 19-meter construction that flashes a white signal every ten seconds. The best time to visit is around sunset when you can see the lights of the Mykonos and Tinos islands.
Mykonos Nightlife Bar-Clubs
Queen of Mykonos, an evening warmup glam cocktail spot in Mykonos town
Old Customs Cafe in Mykonos Town, the only rock n roll bar in Mykonos with a great beer selection and reasonable prices
Babylon in Mykonos town, gay and straight clubbers alike club, with great drinks and the sea view
Museums on Mykonos Island
There are many interesting, alternative, cultural, and historical places that you can visit in Mykonos such as:
Mycenaean vaulted tomb from the 15th century BC, in the Vrissi area, and see the findings from the tomb in the Archaeological Museum of Mykonos. If you are in the area, don't miss the splendid dovecotes located in ancient gardens.
Mykonos Portes, Ruins of a Hellenistic round watchtower or beacon tower, and a shrine right above Platys Gialos.
Mykonos Maritime Museum (next to Lena's House), is full of Greek prehistoric connections with the sea and relics from the past such as maps, coins, and statues
Mykonos Galleries: Dio Horia Gallery, with offices in Athens and Mykonos, is a contemporary young international artist and culture gallery, with a beautiful terrace to have a drink after your walk. It is located in the heart of Mykonos Chora. Rarity is another international-caliber gallery that you can visit, very close to Dio Horia
Lena's House Museum, an authentic sample of a Mykonian middle-class family house of the 19th century
Cine Manto, an open-air movie theatre in the heart of Mykonos Town serves food and drinks as well
Hiking is limited in Mykonos because it lacks the ancient "donkey trails" the other Cycladic islands have. I have an analytical post on hiking the Cyclades and Mykonos in this Greek Island Hiking Guide: The Cyclades I
Where Best to Stay on Mykonos Island
The most popular area to stay on the island would be Mykonos town where the dining and bar scene is located. Some of my favorite accommodations on Mykonos Island that I would love to return to are: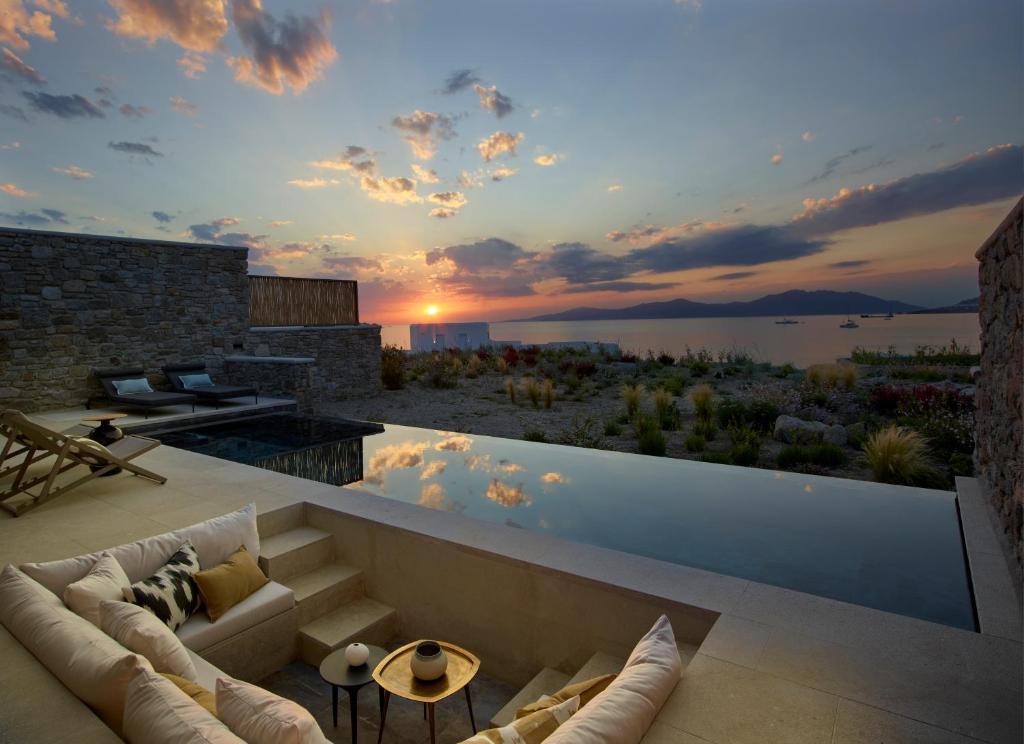 Bonzoe Homes & Villas in Megali Ammos beach, just 400 meters far Mykonos Chora, an easy stroll to town.
The TownHouse Mykonos. Fabulous premises with an amazing view over the terrace and excellent A/C for those summer months. Loved the shuttle that can pick you up for free from the airport!
For budget, mid-range, or family hotels and apartments in Mykonos' nicest villages, read my dedicated post on Where to Stay in Mykonos: Best Hotels and Villages.
FAQ: Which are the top beaches in Mykonos?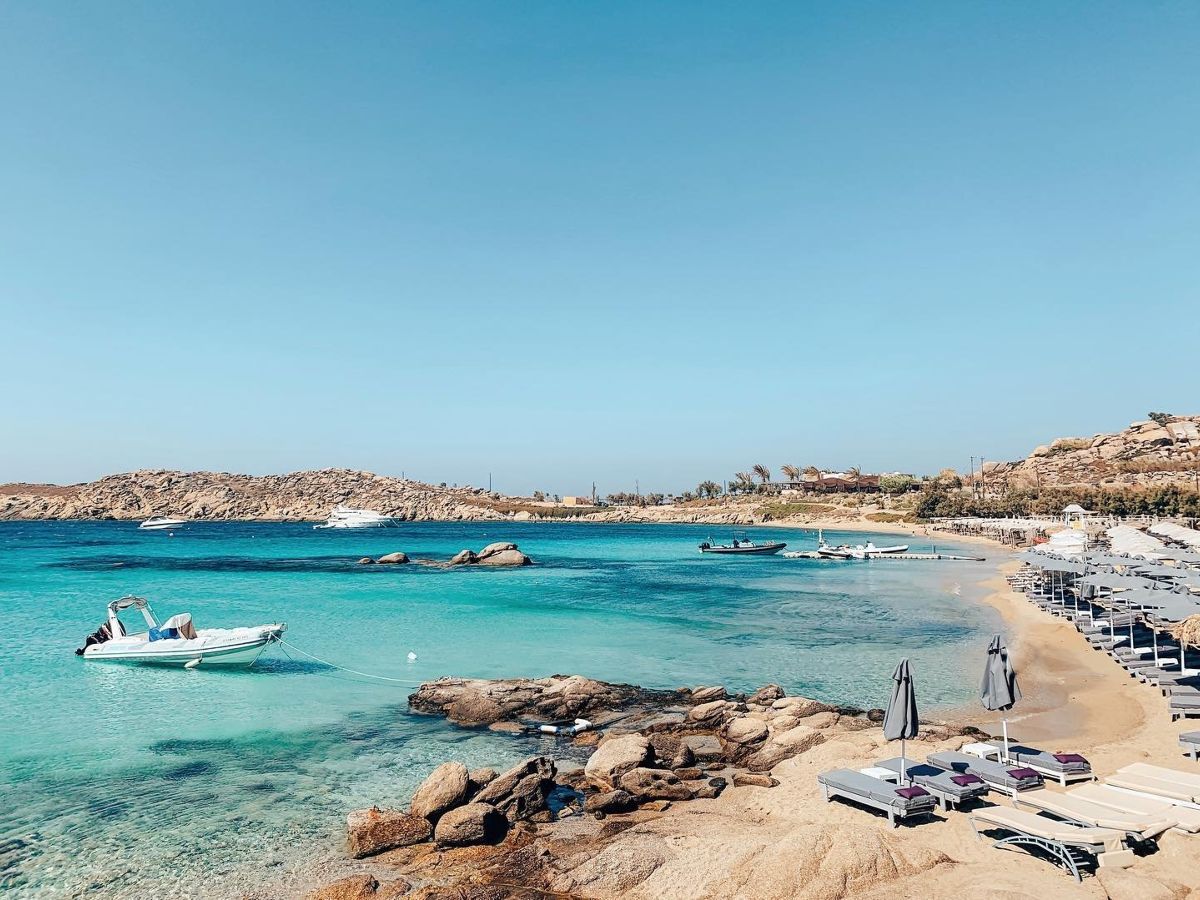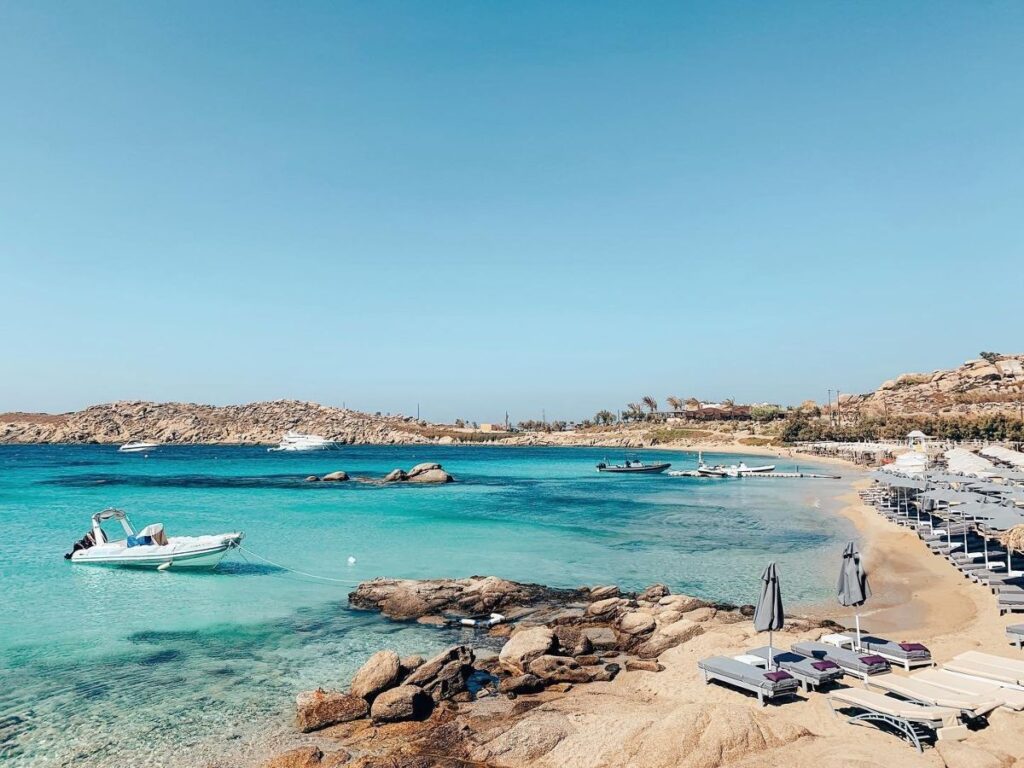 Mykonos has some of the most stunning beaches in Greece but if there is a bus connection to them, they will be super busy in July and August. All the very popular Mykonos beaches are on the south part of the island, as they are protected from the "Meltemi", the strong northern winds that blow in July and August: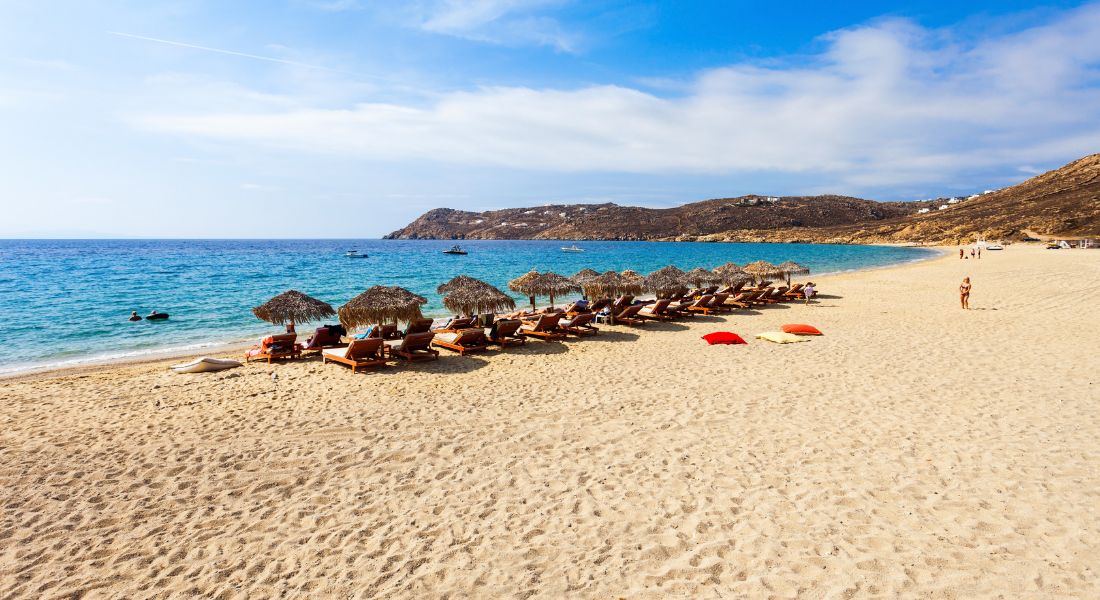 The most popular Mykonos Beaches of Platys Gialos, Agia Anna, Paraga, Paradise, Super Paradise, Ornos, Kalo Livadi, Elia, and Agios Stefanos have beach bars, loud music, umbrellas, beach beds, and a party atmosphere. You will also find luxury hotels and both traditional taverns and high-end luxury cuisine on their seaside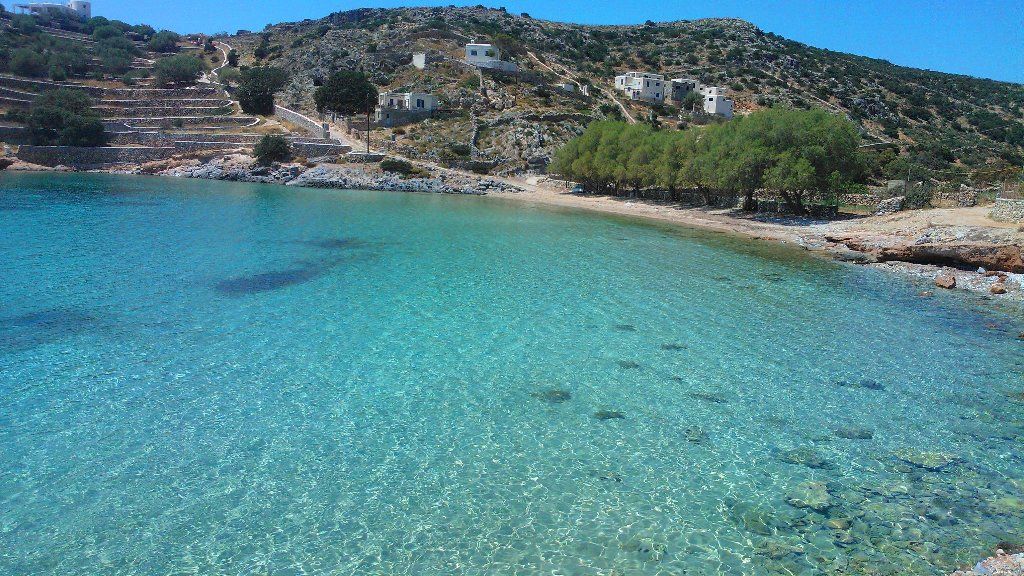 For quieter Mykonos beaches, you should rent a car or a motorbike, and explore the sandy beaches of: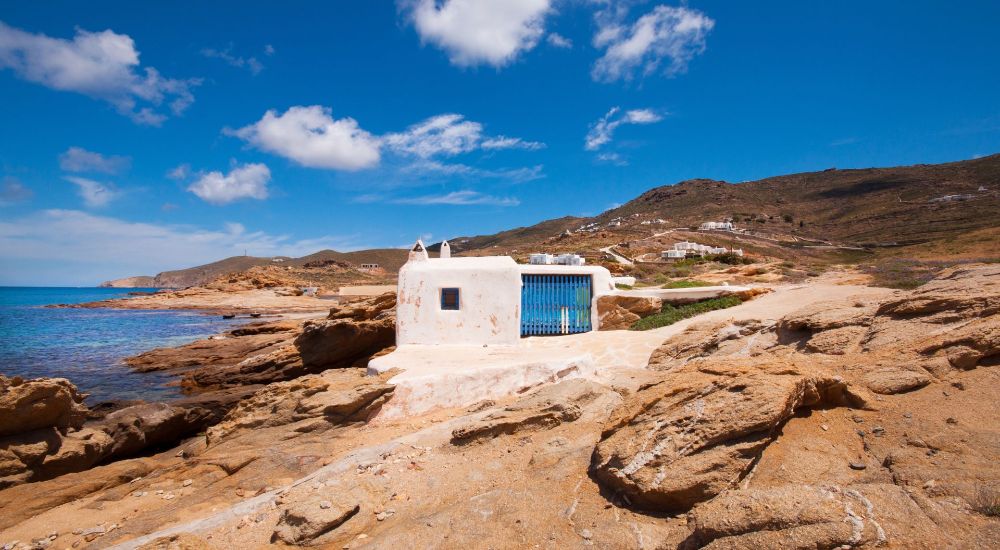 Agrari (less developed and nudist-friendly), Panormos-Agios Sostis (my favorite with beloved Kiki's tavern), Fokos, Ftelia, Mersini, Merchia (no restaurants, no water, some tree shade) and Kapari
What is the Best Time to Visit Mykonos?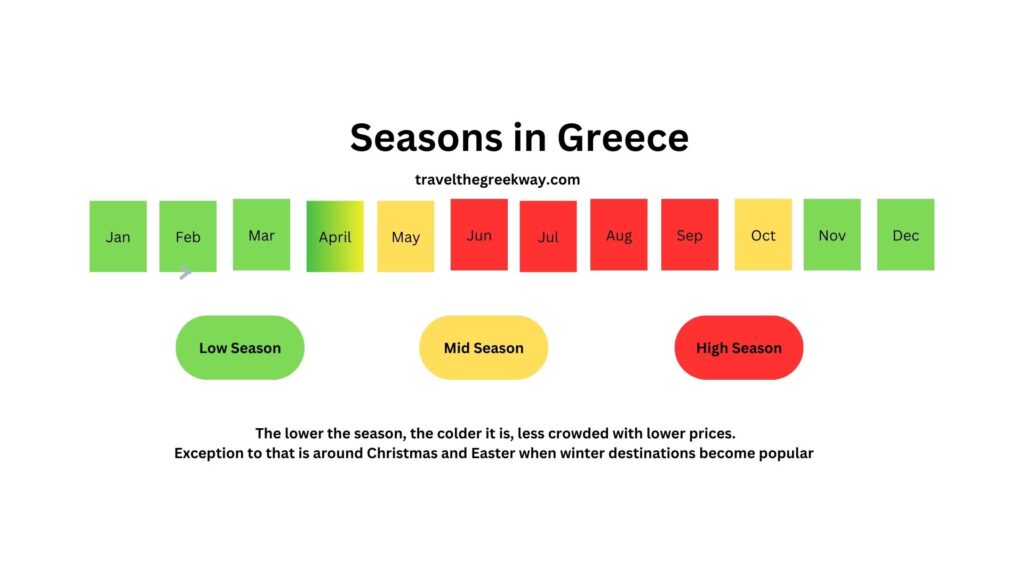 The island is at its liveliest between May and September. July and August are crazy busy and this is the right time to go for wild beach parties and see all the celebrities parading at Matogianni Street.
If you visit in October the waters will still be great for swimming, and the hotels will be much cheaper.
Spring and around Easter time, Mykonos is at its best and busy with Greeks. The island will be full of flowers, churches will be decorated and getting ready for the biggest Greek Orthodox Feast, Orthodox Easter.
How to Get to Mykonos
If you wonder how to get from Athens to Mykonos, you can fly or you can take the ferries:
Mykonos International Airport
Mykonos International Airport connects the island with Athens (45′ flight) and Thessaloniki (1 hour and 5′) International Airports. There are flights to the island daily. The airport is located in Tourlos, 3 km away from the Main Town of Mykonos and you can reach it by bus, car, or taxi.
There are also direct flights to Mykonos from several European countries.
From Athens to Mykonos by Ferry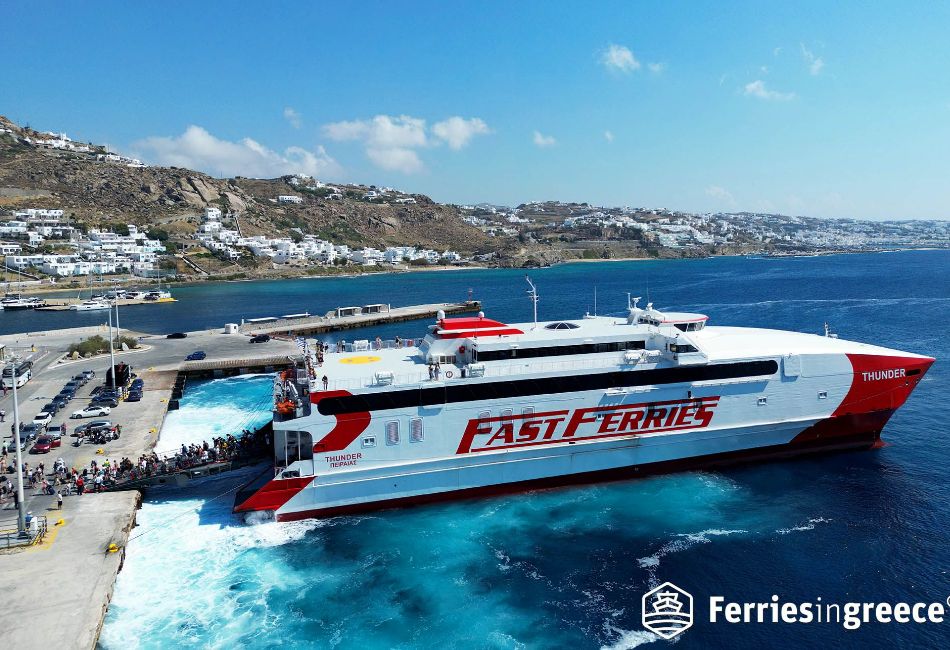 Mykonos island is connected by ferries from Athens' main port, Piraeus, and Rafina, a smaller port of Athens. During summer there are at least 4 to 5 ferries going to Mykonos from Piraeus and the trip duration ranges between 2 and 5 hr depending on how fast your boat is.
Book your ferry transfer with FerryScanner to secure your seat, especially if you travel during the summer.
If you travel from Rafina port, which is 30 km away from Athens, there are at least 7 daily ferries in the summer and the trip lasts 2-4.5 hr. You can always stay overnight in Rafina at the fantastic Avra Hotel with free shuttle transport from the airport. The next day you take the ferry to Mykonos and you make your trip smooth and enjoyable!
How Many Days Should I Stay in Mykonos?
You should stay on the island for at least 2 nights to experience the top things on the island.
What to Wear in Mykonos
This depends on the season you are visiting but anytime between May and October, essential things to have in Greece are:
Plan My Trip to Greece
Do you need a custom travel itinerary for Greece? Are you traveling solo, with your family or your friends and you need a tailor-made multi-day tour or a transfer within Greece?
If yes, please visit my dedicated Plan My Trip Page for a free itinerary!
How to Get to Pireaus Port from Athens Airport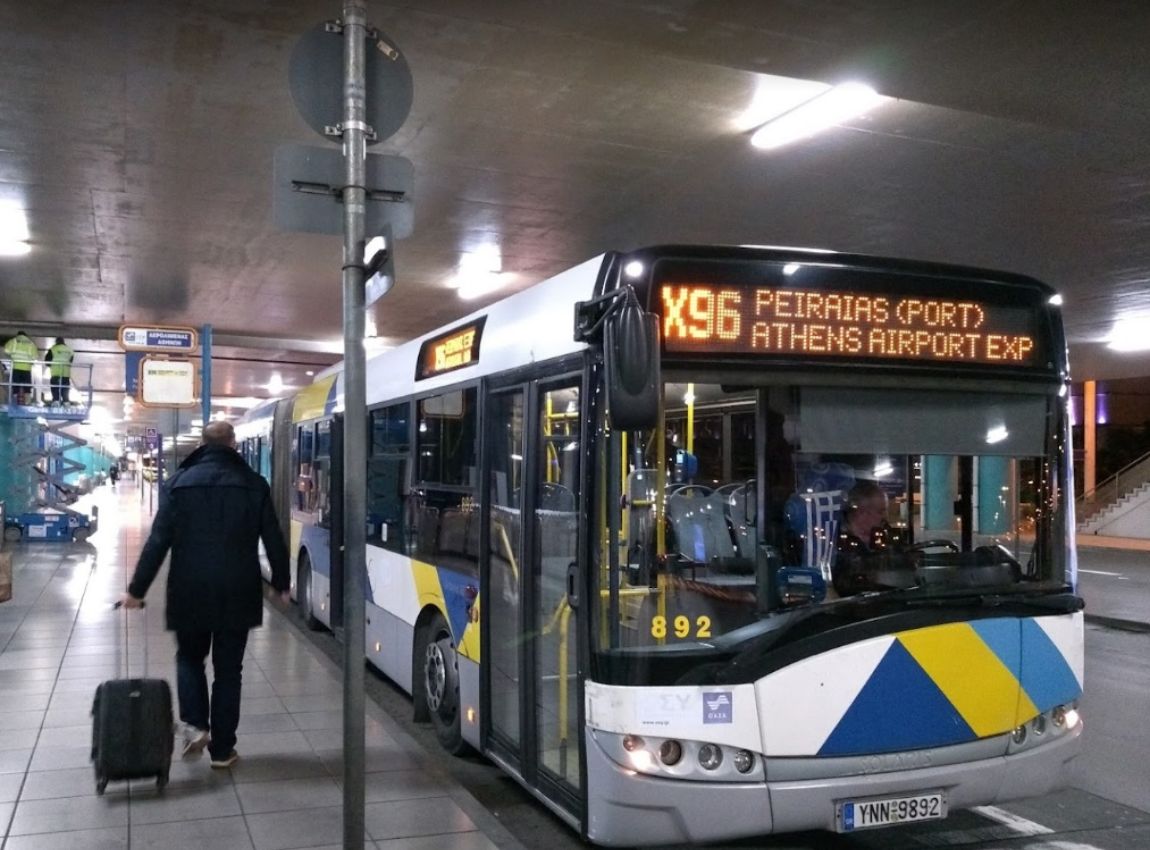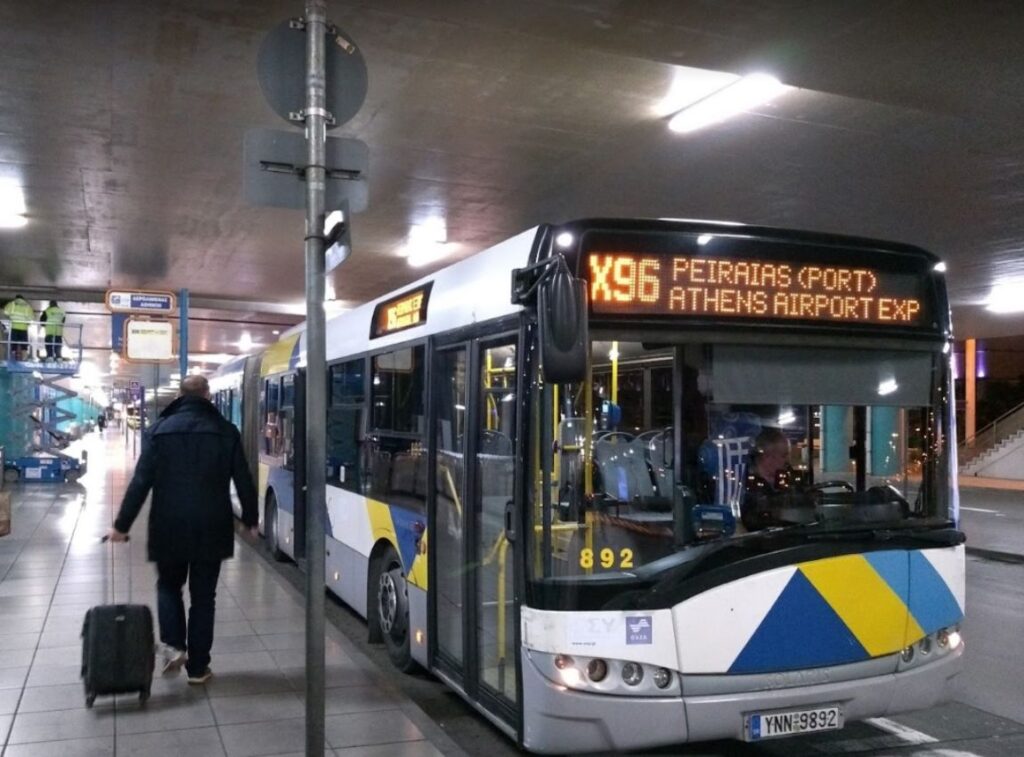 Bus: If you are arriving at Athens International Airport you can travel straight to the port by taking the X96 express bus (€5.5, children <6 yo, free entrance), which departs every 40 minutes and the average trip lasts 1 hour – runs 24/7.
Metro: (€9) is easily found across airport arrivals (blue line – M3) going directly to Piraeus port. The average trip to Piraeus lasts 1 hour.
Taxis are available in front of the airport (around €40 to Athens, €55-60 to Piraeus (depending on the traffic in Kifisos), and take up to 3 or 4 people with small luggage)
Rent a car with Discover Cars to rent reliable new cars at affordable prices
You don't like driving but love hassle-free solutions? Book a Private transfer with an English-speaking driver from Athens International Airport to Piraeus Ferries, or anywhere else in Greece
Check out an entire post on Lavrio Port in Athens
Where is your dream summer destination? Would you go to Mykonos?
I'd love to hear about where you're spending your vacation this year, especially if you have any exciting travel plans! There are so many things to do on Mykonos Island. I hope that you get the chance to try as many as possible. Till next time, Evgenia❤️
My Most Popular Articles
Some of my Favorite Travel Resources for Greece
'Hello' and 'Thank You' in Greek: "Ya sou" and "Efharisto"
Booking.com: I use Booking.com because I can get the best deals on both hotels and apartments, free cancellations, and great prices!
Find Long-Term Rentals in Greece: You will find the best prices in Flatio
FerryScanner to book ferries to the Greek Islands
Athens Metro Website (timetables and ticket info)
Get Your Guide: For all your day or multi-day tours and city guide needs, I use Get Your Guide
Emergency Numbers Anywhere in Greece: AMBULANCE 166 – FIRE 199 – POLICE 100– EMERGENCY NUMBER 112
All rights reserved © Travel the Greek Way. Republishing this article and/or any of its contents (photographs, text, links) is strictly prohibited.
Please follow and like us: