Sikinos Greece is one of the quietest and least visited Greek islands in the Cyclades. Known for its simplicity, authenticity, rugged landscapes, and …capers, Sikinos is one of the best places to relax.
With just 260 permanent residents, Sikinos Greece is an ideal island if you are after simple beauties of life, on the Doric side of the country. Tom Hanks, the actor, seems to love Sikinos for exactly the same reasons.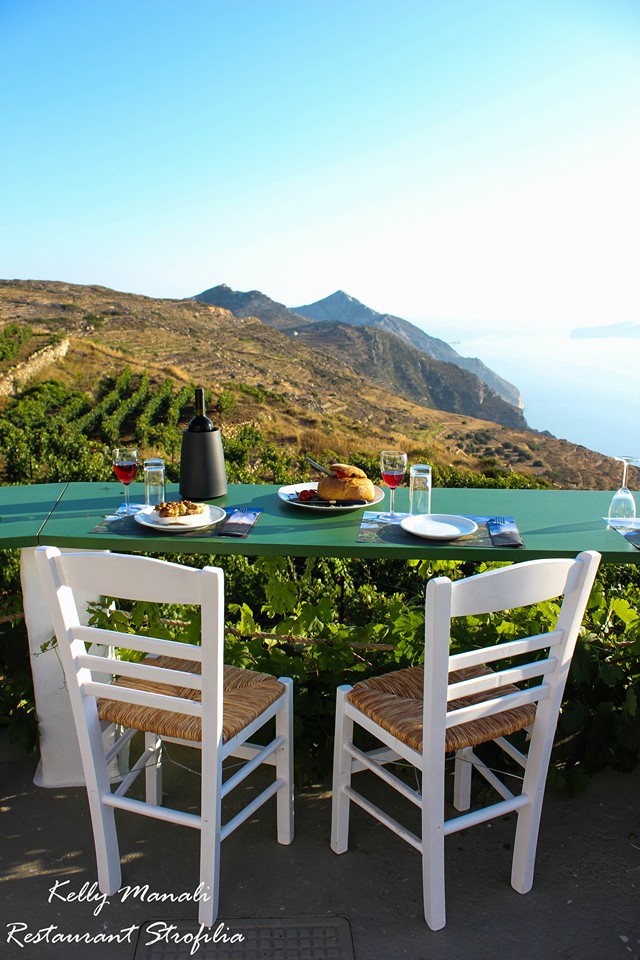 *Some of the links below are affiliate links. That means I may make a commission if you click and buy. The commission comes at no additional cost to you.
The best things to do in Sikinos Greece are:
Dive into its beaches with clear crystal blue waters
Walk impressive ancient hiking trails
Visit 60 remote chapels and monasteries with stunning sea views
Food tasting in authentic Greek taverns with the best Greek salad
Wine-tasting with sunset at the single but with a magnificent view winery
and.. dance at the single after-hours bar in Chora!
Up next I am going to tell you about the best things to do in Sikinos Greece!
Best Things to Do in Sikinos Greece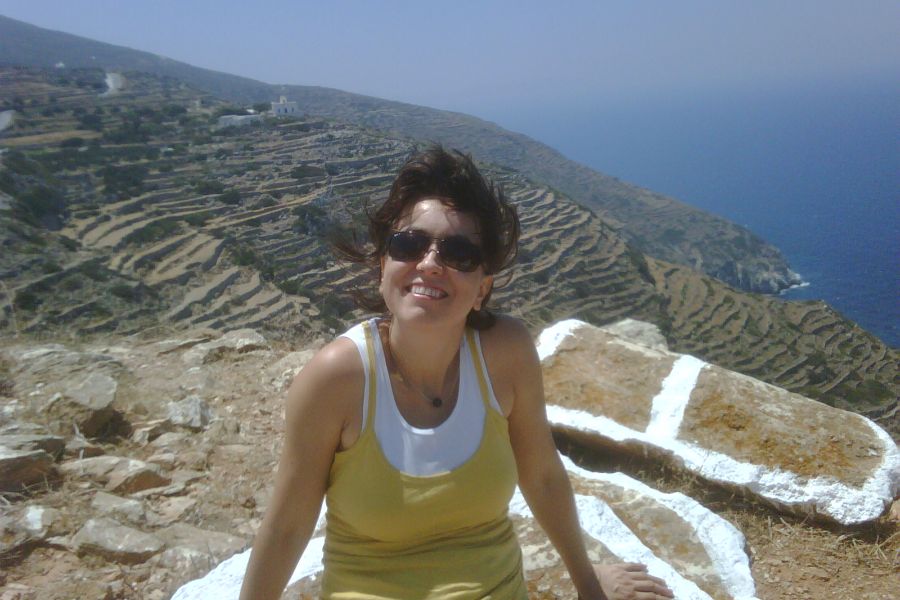 Explore Alopronia, Sikinos Tiny Port
Sikinos is a small island, located in the south of the Cyclades between Folegandros and Ios, north of Santorini, and south of Paros. If you are visiting Sikinos from cosmopolitan Santorini or lively Ios, you might find the quietness of Sikinos a bit eerie.
The ferries arrive at Alopronia, Sikinos' single port, one of the three settlements in Sikinos, and the most popular beach on the island. Alopronia is a sandy, family beach with very clear waters, a real delight to swim in.
At the port, you can go to the 3 to 4 traditional taverns working around the coast. Try the Greek salad with the soft sour local cheese and taste a caper pie, if there is one on the menu, you will thank me.
Alopronia is a convenient place to stay as most of the hotels/rooms and supermarkets are around the beautiful small, sandy bay. From here you can take the bus to Chora or the small boats to get to more remote areas of Sikinos.
Where Best to Stay in Alopronia
My Pick! Porto Sikinos Hotel (mid-range): With a fabulous location right over Alopronia Bay and with endless sea views, this is one of the best cottages to stay in Sikinos.
My Pick! Maistrali (budget): Maistrali is so close to the water, that you can hear the waves if you leave the balcony doors open at night. A fab low-cost property, 4 minutes walk from the beach. Check availability and prices on Booking.
Stroll Beautiful Sikinos Greece Chora
One of the best things to do on Sikinos Island is to visit its main settlement, Chora. Chora is 3,5 km from Alopronia, built at 280 meters in height.
Chora is actually two villages Kastro and Chorio, which are spread on two opposite mountain slopes. On the left, the Chorio is a beautiful maze of whitewashed houses and prickly pears, and on the right Kastro, the fortified settlement of the 15th century of Sikinos.
Stroll to the picturesque main square in Chora where the Folklore Museum and the old School are located. Right across the Old School, built by Greek benefactor Andreas Syggros, you will find the modern school with just 17 pupils, the children of Sikinos.
The main church of Chora is Panagia Pantanassa, a basilica with a blue dome, a usual characteristic of Cycladic churches.
If you take the slightly uphill cobblestone path to the north of Kastro and past an old windmill, you will get to the impressive Monastery of Zoodochos Pigi (or Chrisopigi), built in 1690.
The monastery (nunnery) has a fortification because this is where the residents were hiding from the pirates' raids for centuries. It has a spectacular view and is best visited at sunset. Currently, just one nun, young Sister Dorothea, lives here, taking care of the Monastery and its exhibits. If you would like to visit contact at +30 69 75 743928 email: imhrysopigis@gmail.com. (Please try to dress modestly inside the monastery).
Below the Monastery, is another small chapel, Panagia Pantochara, built by the Nobel prize-awarded Greek poet Odysseas Elytis, though he never got around to visiting it.
Elytis loved the island and believed Sikinos to be an eternal symbol of Greece's essence, the perfect mix of the Greek glorious archaeological past with the Christian element through purity and transparency.
Where Best to Stay in Sikinos Chora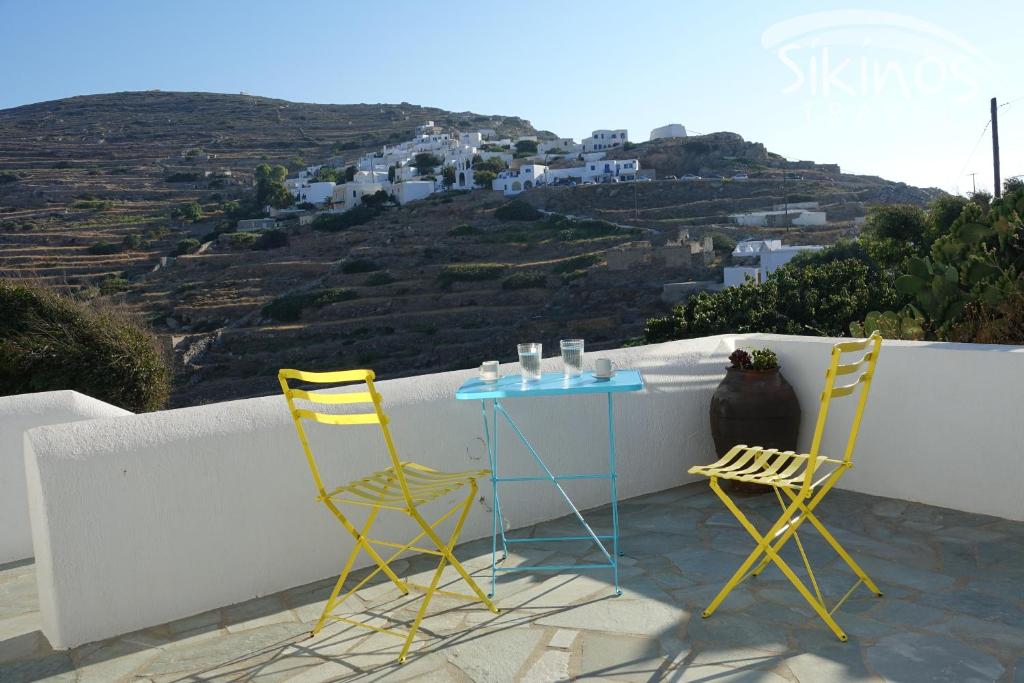 My Pick! Sikinos Elegant Studio(mid-range): A relatively new studio, located in Chora of Sikinos with beautiful views and treats from the hosts including transport from and to the port, local bread products, and Nespresso capsules. Check availability and prices on Booking.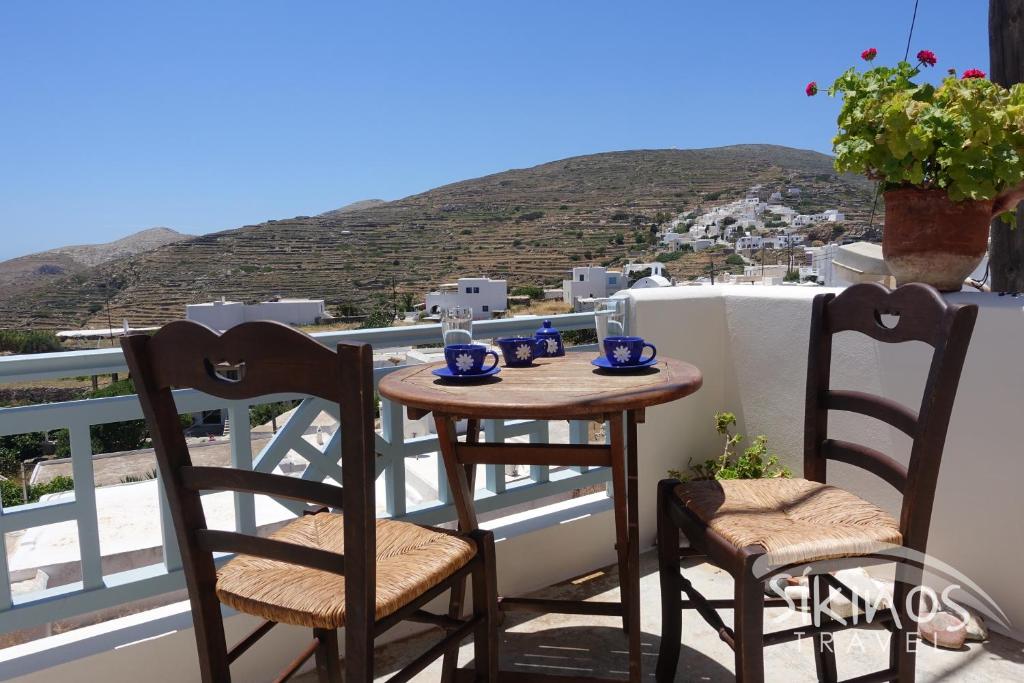 My Pick! Traditional Apartment In Kastro (budget): Located in Kastro, beautifully decorated rooms, with all necessary kitchen utensils and freebies like welcome fruit, bread, and some coffee capsules. Check availability and prices on Booking.
Best Things to Do in Sikinos Greece: Hike to the Episkopi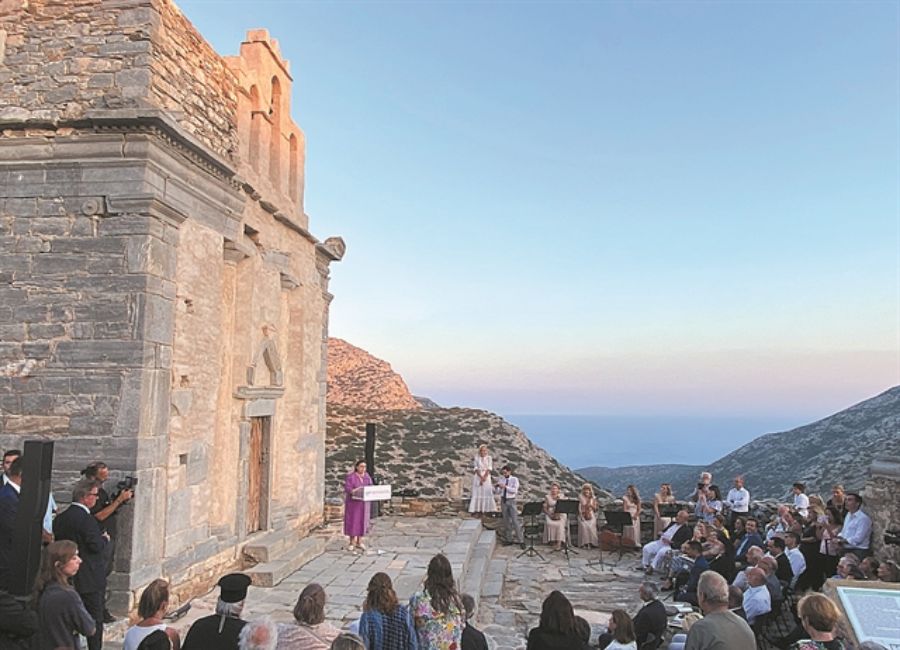 Within a one-hour walking distance from Chora Sikinos, you reach the ancient settlement of Episkopi. The local residents have been fighting for years to save the ancient site. Their efforts resulted in a grand opening of Episkopi again on September 4th, 2022. After 60 years there was also a service held.
The hike to Episkopi is stunning as you pass by local farms using the specific farming method of steps (agriolithies).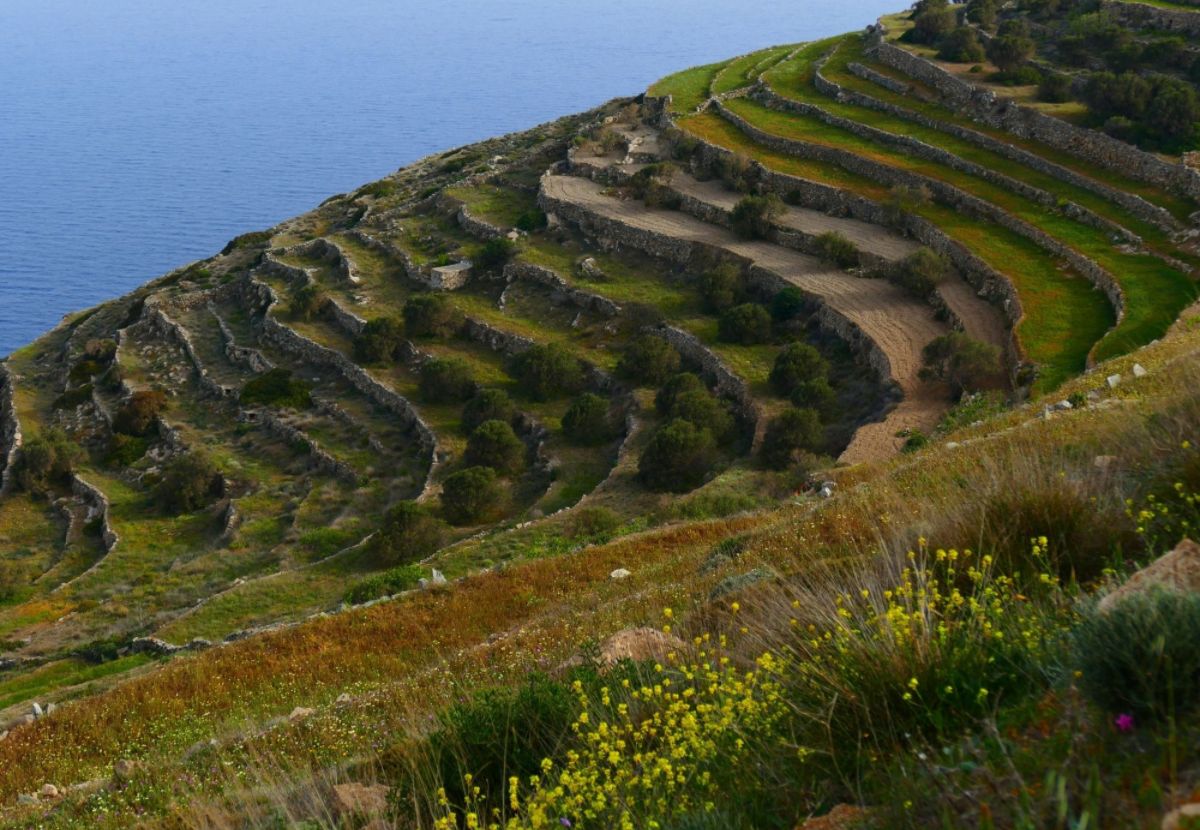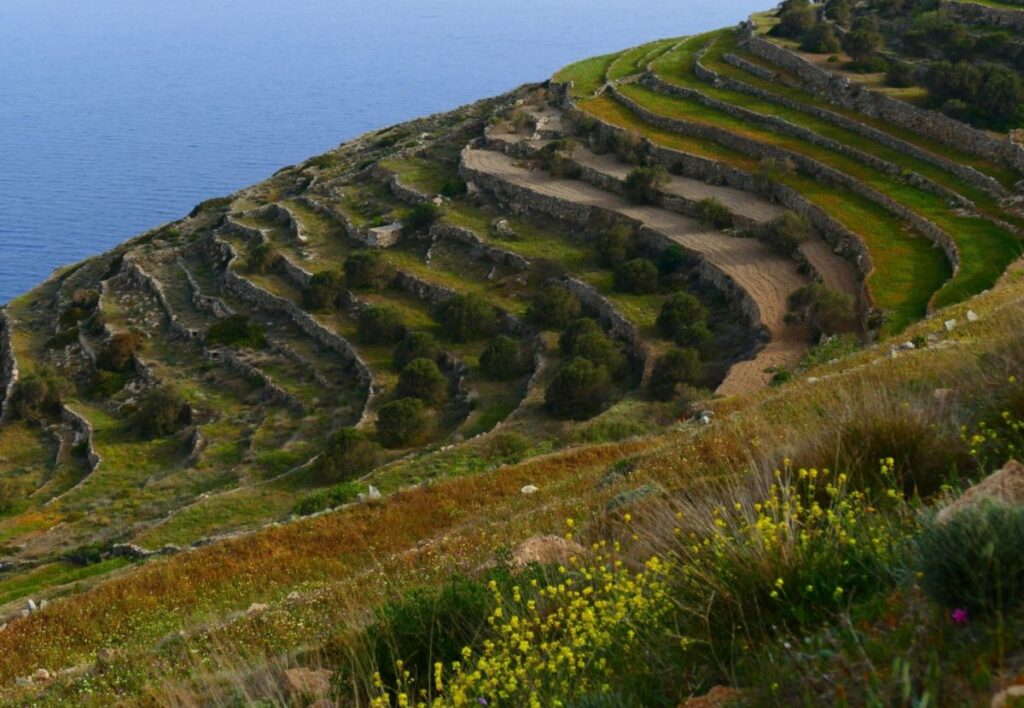 The monastery was built on the site of a 3rd-century BC Roman Mausoleum, an Ionic Temple with Doric columns (an intact tomb containing a noblewoman named Neiko was found in 2017 with all her burial jewelry and precious objects). The Mausoleum was converted into a Byzantine Church during the 5th century AD.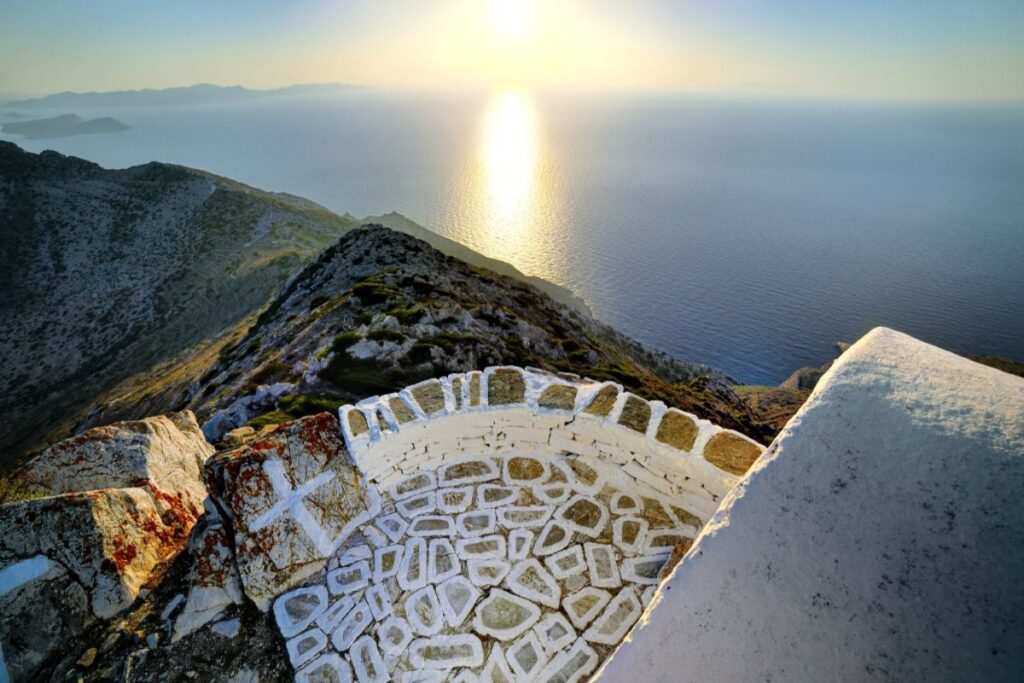 If you continue walking well a half an hour or so, you will get to the church and the Archaeological site of Agia Marina with ruins from the Hellenistic and Roman periods and a splendid view.
You may also enjoy: 30 Best Places to Go to Greece
Explore the (few) Sikinos Beaches
Sikinos doesn't have a massive variety of beaches like Milos, Mykonos, or Paros. In fact, there are only three beaches that are directly accessible by car, all with crystal clear sea and usually very few people: Alopronia(the port), Dialiskari, and Agios Georgios.
Agios Georgios Beach is 5 km from Chora Sikinos with municipal umbrellas (free of charge), a golden sandy beach with a nearby tavern serving fresh fish.
A dirt road in good condition leads to Dialiskari Beach, a small, pebbly beach, 2 km from Sikinos port, with free-of-charge umbrellas. There is no tavern or canteen so you better have lots of water and snacks with you.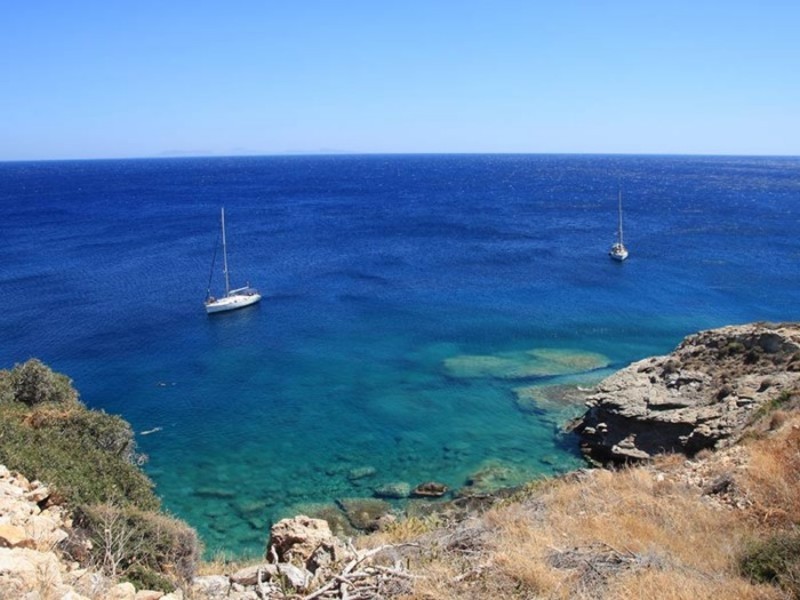 If you would like to explore the other beaches (Agios Panteleimonas, Santorinaiika, Malta, and Ai Giannis) you have either to hike there or take the small boat that departs from Alopronia. Necessary supplies to survive the remote, shade-less beaches, are a beach umbrella, a lot of water, and snacks like fruit.
Discover the Black Cave
Sikinos is also home to an impressive cave, which is among the most extensive caves in the Cyclades. The Black Cave (Mavri Spilia) is located straight beneath the Monastery of Zoodochos Pigi; however, you can only access it by boat.
Wine Tasting at Sikinos Manalis Winery
George Manalis, the owner of the single winery on Sikinos, is one of the top three best things to do on Sikinos Island. The winery can be found at an organic vineyard in the steep northwestern part of the island 2,5 km outside Chora.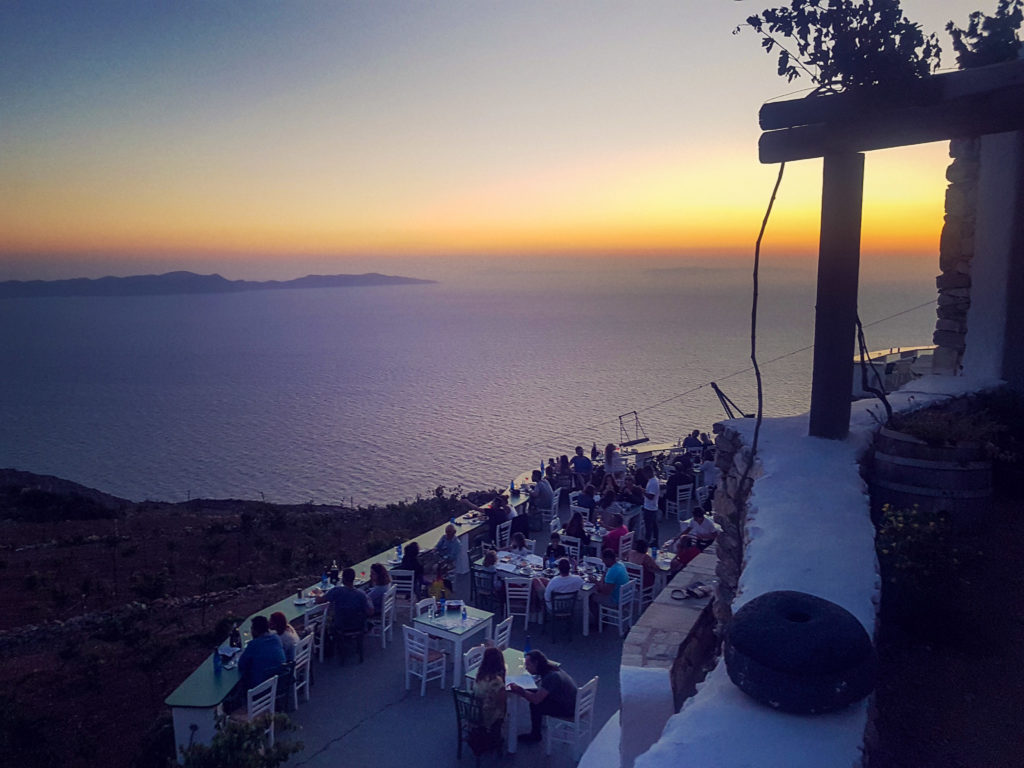 The winery operates with renewable energy sources and produces four delicious wines from very old Greek varieties: "En Lefko", "En Thermo", "Manalis Rose" and "Liosato", operates a restaurant, wine tasting, and hosts exhibitions (weddings and yoga classes) on one of the most beautiful terraces of the Cyclades. The terrace overlooks the endless vistas of the Archipelago all the way to Folegandros and Ios.
Hike the Ancient Trails of Sikinos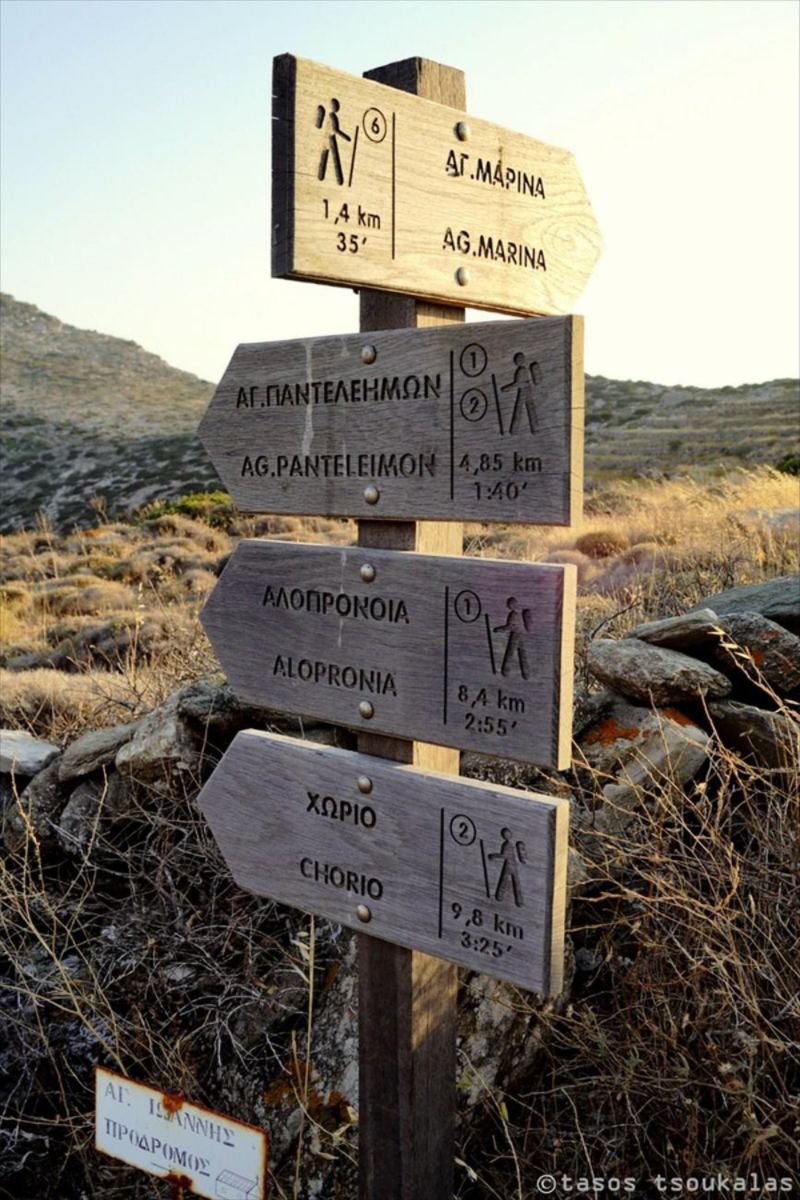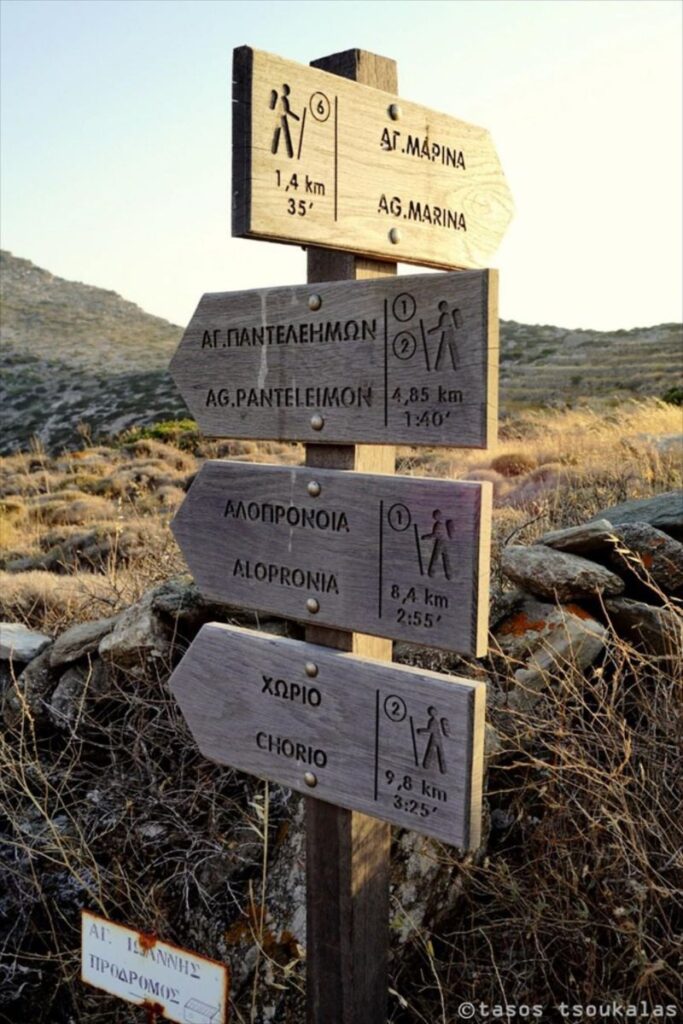 If you love hiking, Sikinos is a hiker's paradise, with remnants of ancient settlements, distant beaches, inaccessible caves, and trails that reach the edge of high cliffs.
As you walk, thyme and wild oregano aromas accompany you and bring you to gorges, Byzantine chapels, traces of ancient settlements, and remote beaches.
From easy hikes, like the one that connects Chora with Alopronia, to demanding ones like the circular Castle-Pigadi Manali-Agios Panteleimonas-Alopronia-Castle, you will love hiking Sikinos.
Attend the Famous Sikinos Panigiria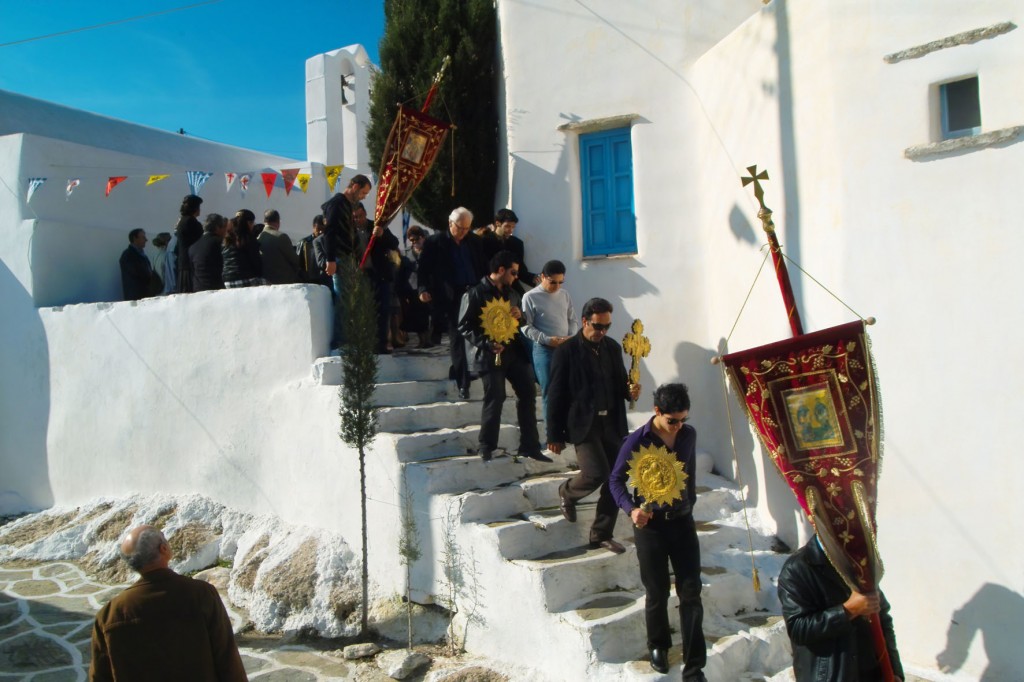 The best time to go to Sikinos is at one of the Panigiria (local feasts organized by the churches). There will be some eulogy from the priest and then the music will start accompanied by a lot of good food and wine for everyone present. Food such as favakeftedes, giant beans, string beans, fish and seafood, chickpeas, Sikinioti wine, and local meat.
The dates for Panigiria in Sikinos are:
May 5th, July 1st & 27th, August 6th & 15th, September 8th &14th, and November 21st.
Perhaps you can arrange your visit to Sikinos to coincide with one or two of the panigiria.
Related Article: When is the Best Time to Go to Greece?
Taverns on Sikinos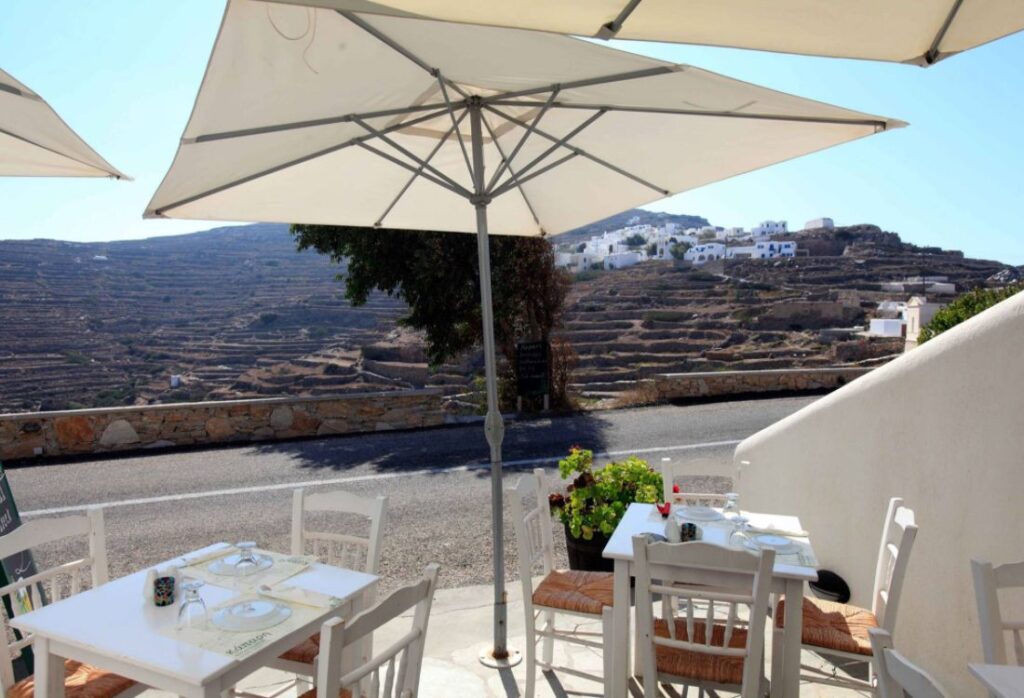 If you would like to experience traditional Greek food there are a couple of choices in Chora and at the port.
Chora Taverns:
Kapari tavern with traditional Cycladic dishes, Aegean Cuisine network, serves appetizers of all kinds and dishes with capers as the main ingredient, such as octopus stew with capers, baked sardines with mustard and capers but also pork fillets with herb sauce and capers www.kapari-sikinos.gr
Steki tou Garbi, for amazing souvlaki
Klimataria, for local traditional dishes and classic Greek dishes like gemista (stuffed tomatoes)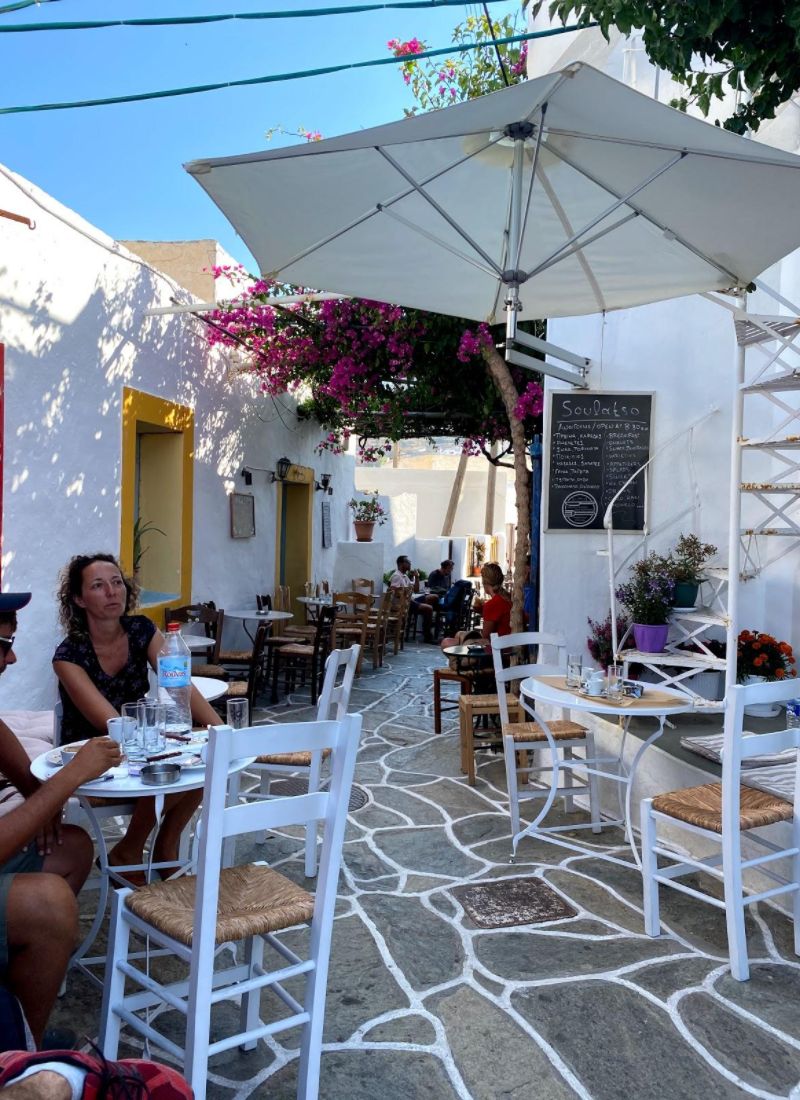 For coffee, snacks, and local sweets go to Soulatso, and for beers to Anemelo.
I love the tiny bar 'Kastro' and a few meters far go downhill to the only after bar of Sikinos 'Themonies' with disco balls and current hits.
Island Hopping from Sikinos
Sikinos is directly connected with the following islands:
Folegandros, Ios, Naxos, Kimolos, Milos, Santorini, Paros, Syros, Anafi, Kea, Kythnos, Sifnos. You can check timetables and book your seat at FerryScanner.
How to Get to Sikinos
Piraeus – Sikinos: The ferry connection runs at least 3 times a week. The duration of the trip from Piraeus to Sikinos is about 10.5 hours.
Lavrio – Sikinos: The route runs at least once a week and the trip lasts around 11 hours.
Check timetables and prices at FerryScanner.
Interactive Map on Sikinos Greece
Get your interactive map of Sikinos here, to drive/get to any of the places listed on the best things to do in Sikinos.
General Info on Sikinos
When it gets windy (June – August meltemia), it just won't stop. It can also get a bit chilly in the evening
If you go hiking in summer, you can get very easily heat stroke, so you either hike very early in the morning or late evening with a local guide and flashlights. For more info on travel dangers and precautions in Greece, read hiking safely in Greece
For Solo Female Travelers: Greece is a perfectly safe country for everyone regardless of age, gender, race, religion, or sexual orientation. In addition to that, Greek people are gene-programmed to be hospitable and are always eager to offer directions to your destination or any other advice, so ask freely
Seek out the local shops for Sikino's excellent local thyme honey and capers
Local Bus will be your friend to go to Chora, Alopronia, and Episkopi. There are no taxis on Sikinos. If you rent a car, the roads may be a bit narrow for what you are used to. You need to be careful especially if you are driving at night.
There is free public WiFi
Medical Center +30 22860 51211 in Chora
Best Things to Do on Sikinos Island
Explore Alopronia, Sikinos Tiny Port
Stroll Beautiful Sikinos Chora
Panagia Pantanassa and Panagia Pantochara churches
Monastery of Zoodochos Pigi (or Chrisopigi)
Ancient Episkopi Temple
The archaeological site of Agia Marina
Beaches: Agios Georgios, Alopronia (the port) and Dialiskari
Large Black Cave or Mavri Spilia
Wine Tasting at Sikinos Manalis Winery
Hike the Ancient Trails of Sikinos
Famous Sikinos Panigiria
Sikinos Local Cuisine
Plan My Trip to Greece
Do you need a custom travel itinerary for Greece? Are you traveling solo, with your family or your friends and you need a tailor-made multi-day tour or a transfer within Greece?
If yes, please visit my dedicated Plan My Trip Page for a free itinerary!
Athens Quick Reference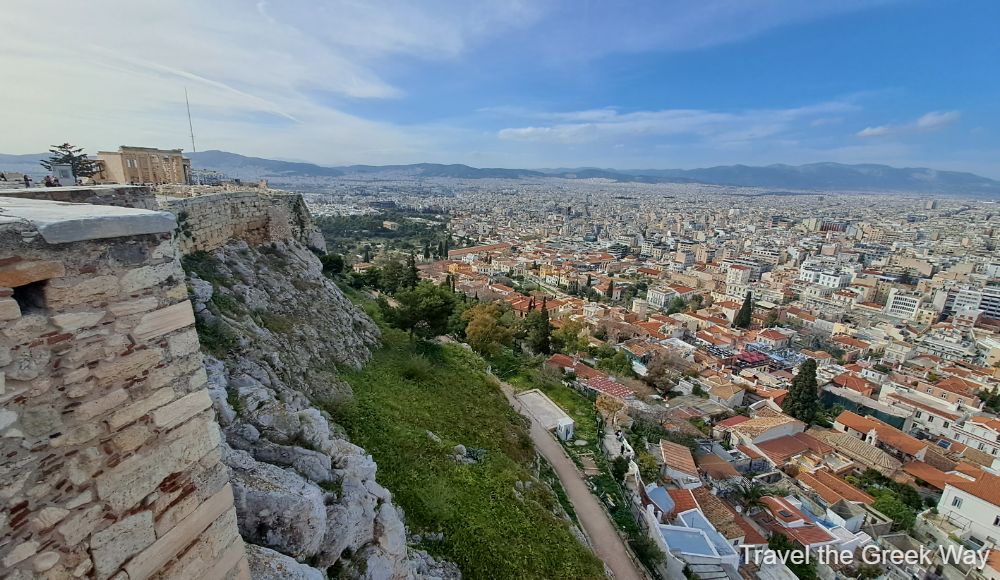 How to Get to Athens Port(Piraeus) from Athens Airport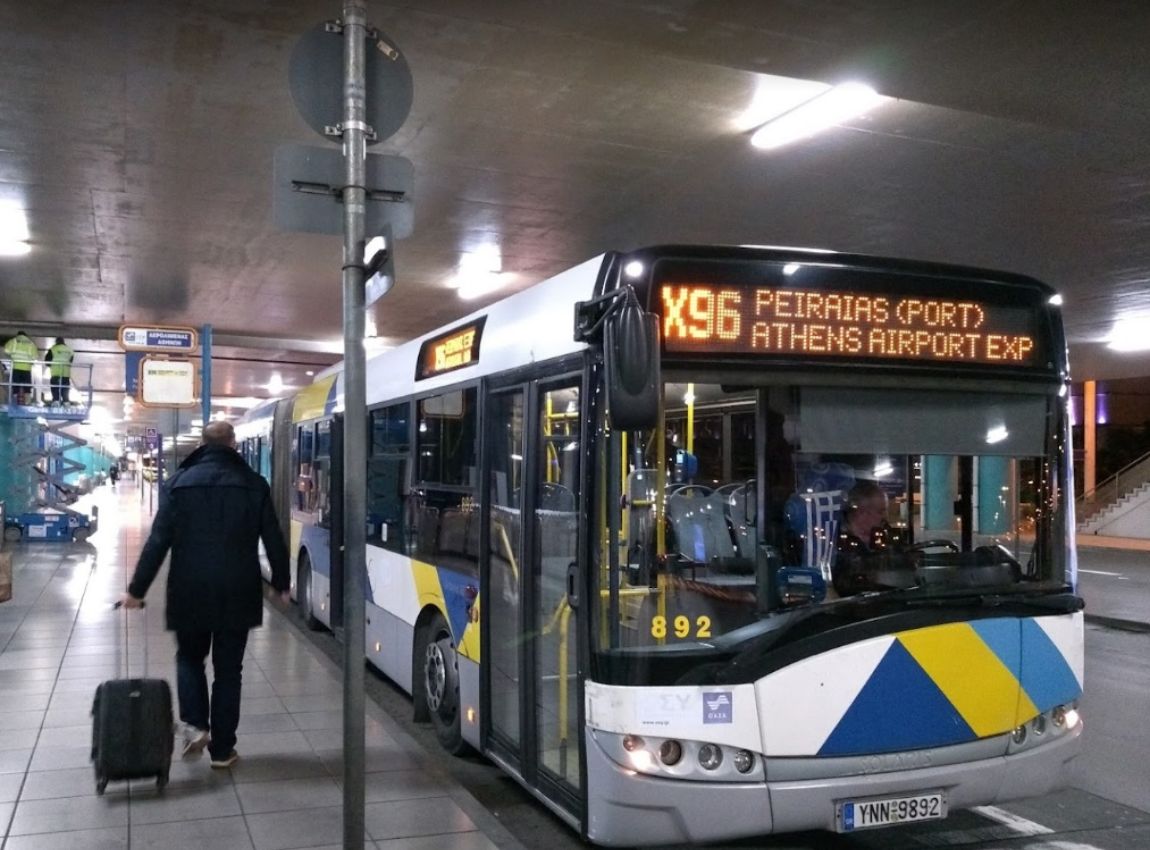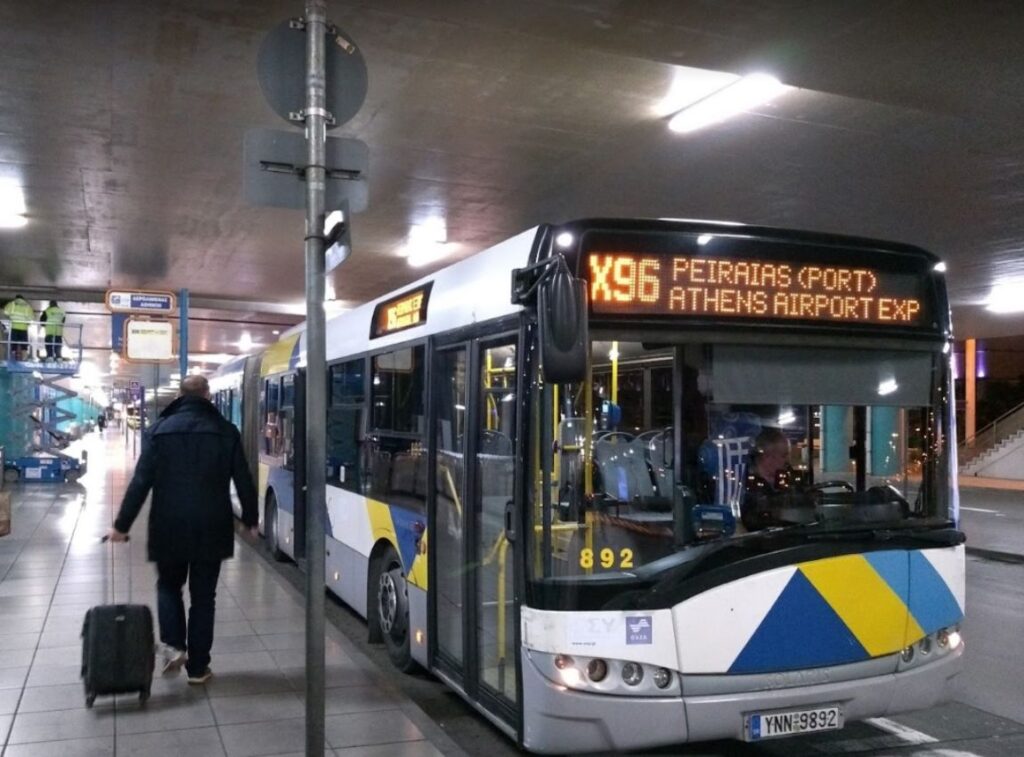 Bus: If you are arriving at Athens International Airport you can travel straight to the port by taking the X96 express bus (€5.5, children <6 yo, free entrance), which departs every 40 minutes and the average trip lasts 1 hour – runs 24/7.
Metro: (€9) is easily found across airport arrivals (blue line – M3) going directly to Piraeus port. The average trip to Piraeus lasts 1 hour.
Taxis are available in front of the airport (around €40 to Athens, €55-60 to Piraeus (depending on the traffic in Kifisos), and take up to 3 or 4 people with small luggage)
Rent a car with Discover Cars to rent reliable new cars at affordable prices
You don't like driving but love hassle-free solutions? Book a Private transfer with an English-speaking driver from Athens International Airport to Piraeus Ferries, or anywhere else in Greece
Check out an entire post on Lavrio Port in Athens
Where is your dream summer destination? Would you go to Sikinos Greece?
I'd love to hear about where you're spending your vacation this year, especially if you have any exciting travel plans! There are so many things to do in Sikinos. I hope that you get the chance to try as many as possible. Till next time, Evgenia❤️
Some of my Favorite Travel Resources for Greece
'Hello' and 'Thank You' in Greek: "Ya sou" and "Efharisto"
Booking.com: I use Booking.com because I can get the best deals on both hotels and apartments, free cancellations, and great prices!
Find Long-Term Rentals in Greece: You will find the best prices in Flatio
FerryScanner to book ferries to the Greek Islands
Athens Metro Website (timetables and ticket info)
Get Your Guide: For all your day or multi-day tours and city guide needs, I use Get Your Guide
Emergency Numbers Anywhere in Greece: AMBULANCE 166 – FIRE 199 – POLICE 100– EMERGENCY NUMBER 112
Please follow and like us: