Greek Orthodox Easter for 2022 falls on April 24. The weather in late April in Greece is warm, springtime at its best, and a great time to experience both a really authentic Greek holiday and one of my favorite and versatile islands, Tinos.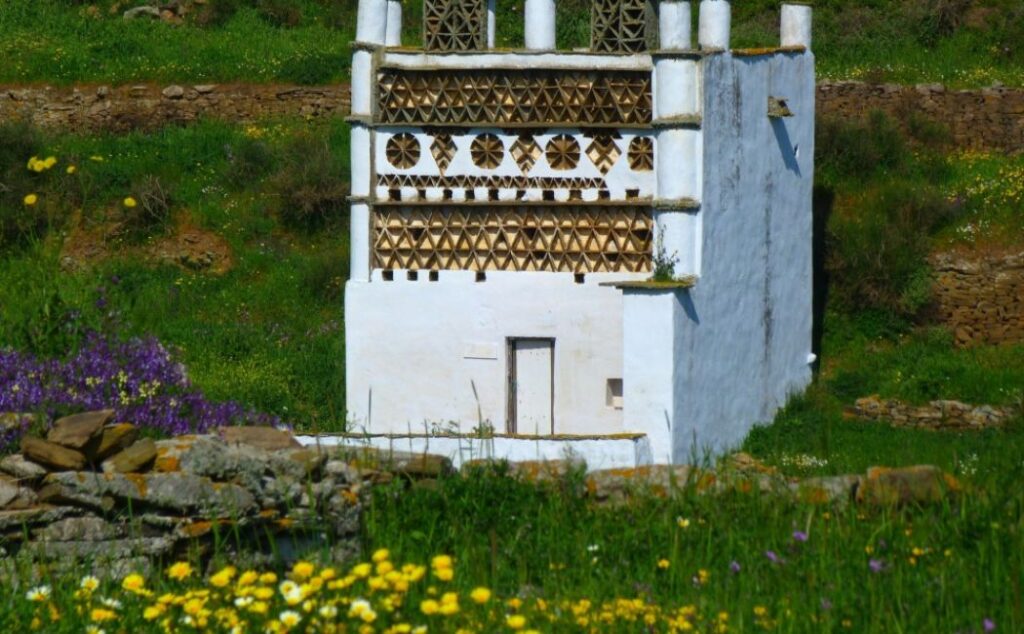 Greek Orthodox Easter is the most important religious holiday for Greeks which includes rituals, a strict 40-day fast before Easter, special food preparation, and celebrations. What is more amazing with Greek islands and Greek Orthodox Easter is that besides the standard celebrations each and every island has its own local customs.
In this post, we will focus on how best to spend your Greek Orthodox Easter in Tinos, a low-key and authentic Greek island. Tinos island, along with Syros, is unique as they combine gracefully the Greek Orthodox religion with Catholics and they celebrate Easter together.
Tinos is famous for the 15th of August Holy Mary Pilgrimage, for marble sculpture, its gorgeous Cycladic villages (around 90 villages in total), and gastronomy, a real foodie island.
Note that Museums and Archaeological Sites will be closed on Great Friday and Easter. The Churches will be open all day, although their main Service will be afternoon and evenings
*Some of the links below are affiliate links. That means I may make a commission if you click and buy. The commission comes at no additional cost to you. If you purchase something, thanks! Please see my full disclosure policy for more information*
Tinos Quick Reference
Unique Hotel in Tinos: Tinos Pigeon House
Heading to the Greek Islands from Athens? Book your ferry tickets in advance with no-hidden-fees FerryScanner or FerryHopper
What food not to miss in Tinos: fourtalia (omelet with sausage), loutza (like Italian prosciutto), Tinian cheese, and thyme honey
Don't forget to bring along your Microfiber Quick Drying Beach Towel that looks like the Greek Flag!
Where Best to Stay in Tinos
The Greek islands in April are much quieter than July or August but they get busier during Easter week from both Greek and other visitors. You can stay in the main and most lively town of Tinos, Chora where most of the impressive Easter events will happen. Or you can stay 2-3 km out of the town and commute to the town for nightlife and Easter celebrations. In any case, I have you covered with three hotel options:
Poseidonio Hotel is situated a few steps away from the busy Evagelistria Street and a 10-minute walk from the nearest beach in Tinos. It offers rooms with views of the Aegean Sea or the scenic Old town and it is a very central, budget, and refundable options hotel.
Vincenzo Family Rooms, is a 3-minute walk from the beach, in the religious district of Tinos. It may say family rooms but this is ideal for any travel, especially for solo female travelers. The rooms are so well-decorated and you can spend some time in the hot tub or try a Turkish steam bath as the sea will be a bit on the cold side that early in April. Check prices (refundable options) and availability on Booking.
Seaside Tinos is in Kionia, 2,5 km to the north and the closest beach village of Tinos port/main town. If you prefer more alone time and you love serene and endless sea views in a modern environment, then you will love Seaside Tinos. If you are concerned about getting to town, there are public buses 2-3 times per day, dependent on the season. Check Booking for availability and prices (refundable).
How Best to Spend Greek Orthodox Easter in Tinos
Every day of the Great Week has its own different local customs that you may want to participate in. I have also included some of the best sites that you can visit in Tinos. Tinos has (too) many villages which are all exceptionally beautiful and a delight to explore. You can use the buses, but perhaps a rental car is the best way to explore the island.
Great Monday
The Holy Week in Greece starts with Monday which is dedicated to Joseph the most beloved son of Jacob. The relative Gospel is read in the Churches and a lot of Greeks will begin the strictest part of the fast of Great Week until communion on Great Saturday.
On your first day on Tinos island, you can explore Chora Tinos and visit its most important landmark, the Shrine of Panagia (Holy Mary) Evangelistria. The magnificent Church is the most popular and famous pilgrimage destination for Orthodox Christians and gets very busy around the 15th of August. The Shrine has an interesting story that connects a Sacred Icon of Panagia that was found with Greek's War of Independence in 1821.
Inside the premises, you can also visit the six museums and galleries related to the Temple and Tinos' religious and local history. The Shrine is open daily from 7.30 am with free entrance.
Closeby is the archaeological museum of Tinos, which has interesting exhibits, and an entrance fee of 3 euros.
You can go to nearby Agios Fokas Beach and have lunch at great seaside fish restaurants in Tinos, at Marathia (pricey), or at San to Alati.
There will be quite a few bars for an after-dinner drink all over Chora to choose from.
Great Tuesday
On Tuesdays, the houses bake the sweet Easter cheese pies, made of unsalted local cheese and flowery-shaped, a unique and delicious custom found only on Tinos. Check if they are being served in your breakfast, or buy them from a bakery nearby.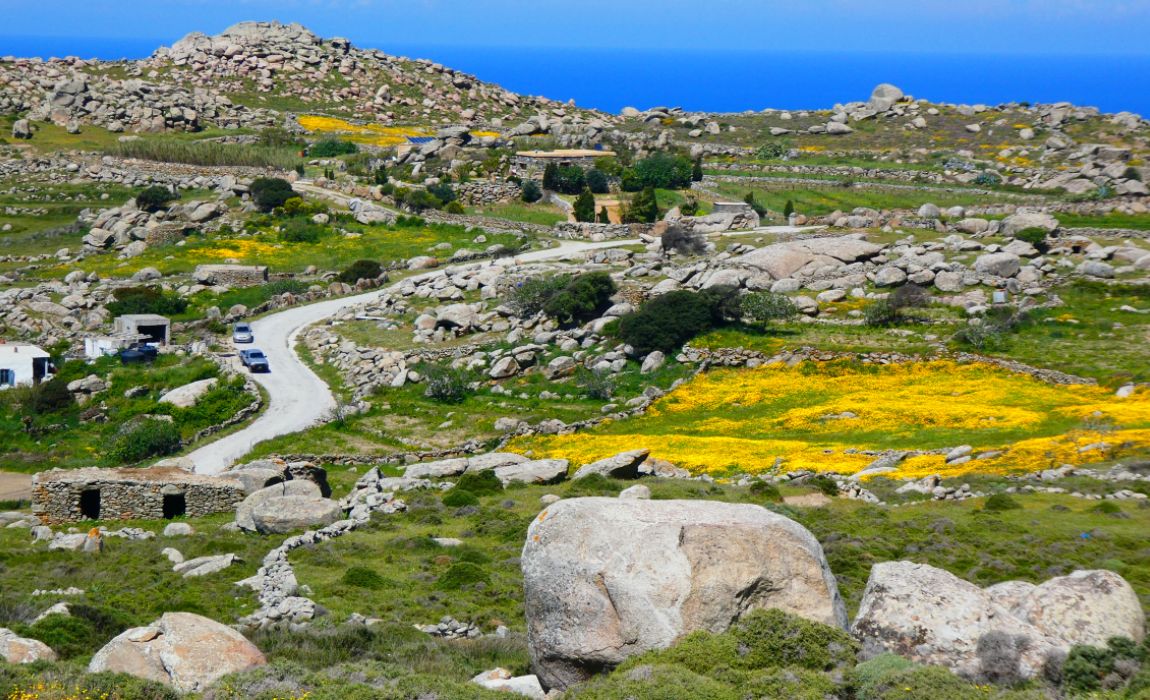 April is the best month in Greece and a great time to spend Greek Orthodox Easter in Tinos in particular. All the fields are green from winter rains and full of colorful wildflowers. Thyme, lavender, and oregano plants are in bloom, and the air smells wonderful. If you love the outdoors go to Volakas village with the lunar landscape and wander around this extraordinary area.
The whole area of Volakas is covered in gigantic granite rocks and you often see people climbing them I think they call it bouldering. The geologists say they are volcanic rocks, others say they are meteorites, in any case they are beautiful.
Go to Volacus Wine in Falatados village, for a wine tasting of malagouzia, assyrtiko, and mavrotragano wine varieties: for reservations volacuswine@gmail.com +30 6978485671
Drive to Livada waterfalls, walk on the impressive rocky beach and hike to the Livada Lighthouse. Preferably, you will not hike all alone in this area but you will go with other people. It is a rocky, isolated area and it can be windy at times. Check out the Tinos Trails for more trails if you love hiking.
Great Wednesday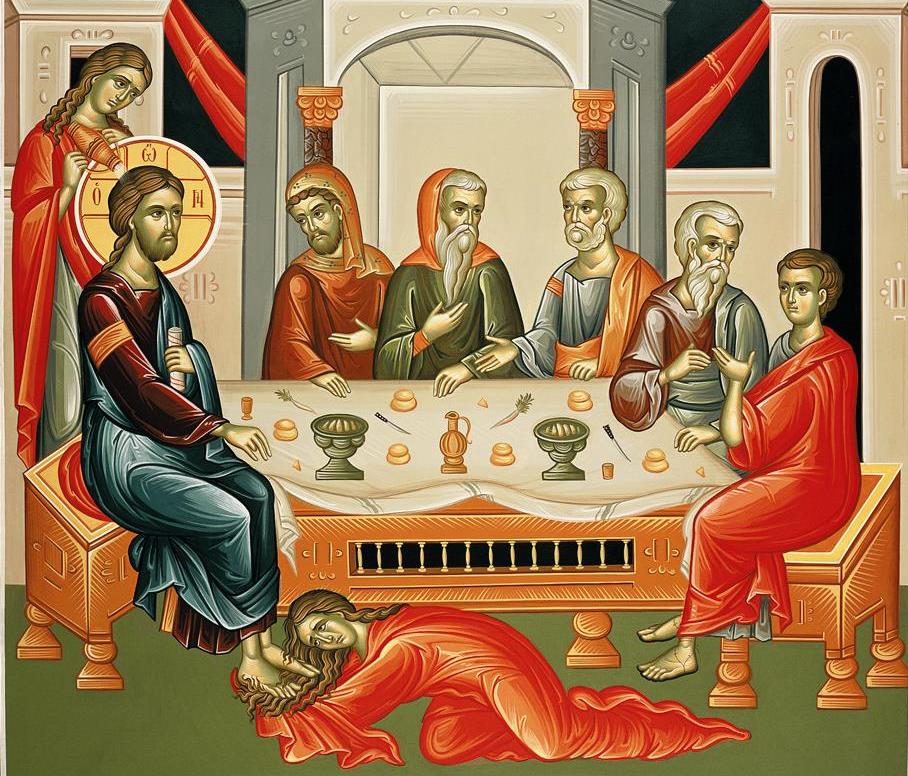 In the afternoon of Great Wednesday, the Mystery of the Eucharist (Service of the Holy Unction) is held. The day is dedicated to the memory of the sinful woman, who repented, believed in Jesus Christ, and anointed His feet with myrrh.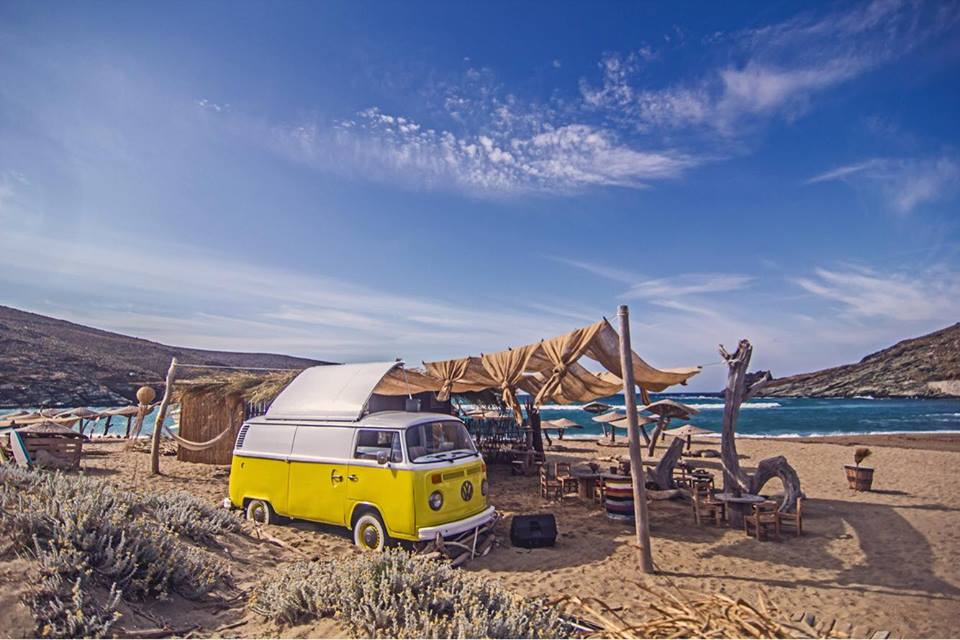 If you want to swim (too cold for me in April but perhaps OK for you?) or stroll by the most beautiful beach in Tinos, go to Kolimbithra. Kolimbithra is a sandy beach, with crystal clear waters about 15 km to the north of Tinos with one of the best beach bars in the Cyclades.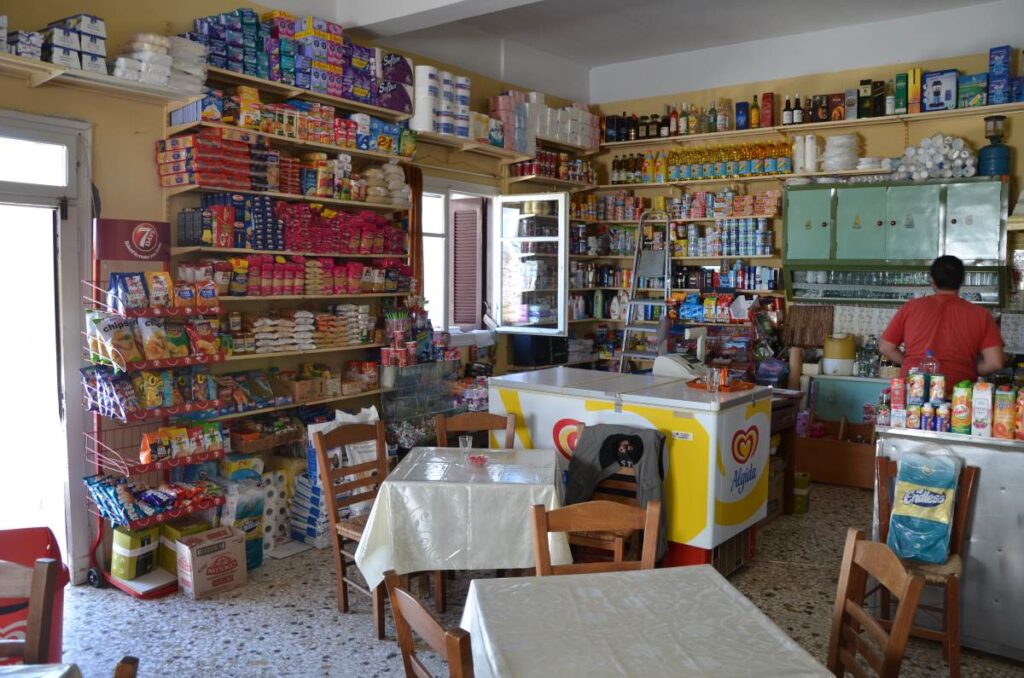 Go to Teresa Coffee and Grocery Store in Myrsini village, and taste their different local specialties for every day: pickled artichokes, cheese pies, louza, and garlic sausages, lemon lamb. Contact +30 2283 041320.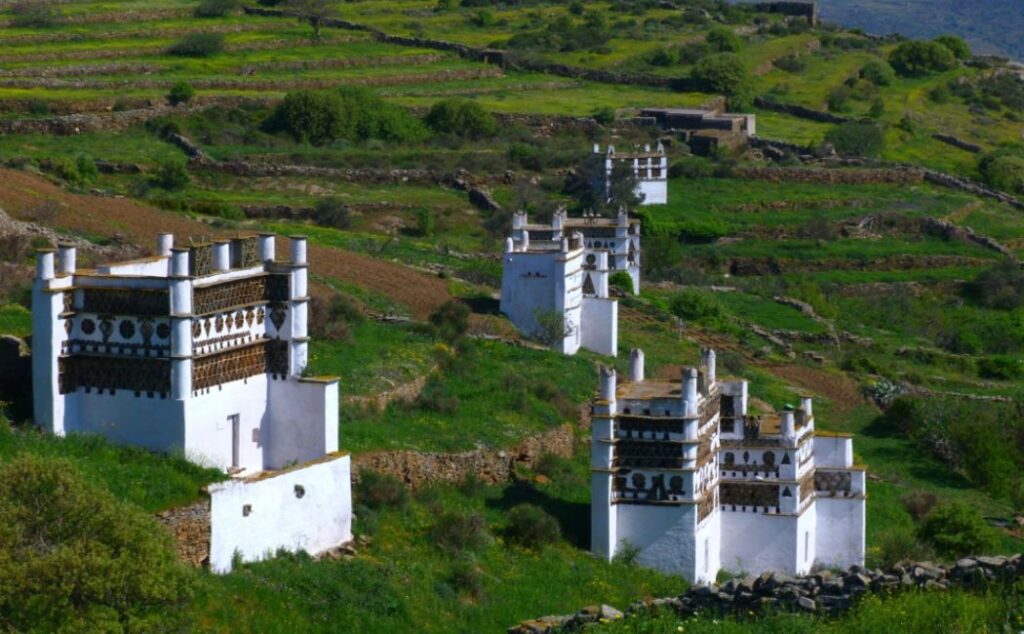 Visit the Pigeon Houses all over Tinos, a breeding custom brought by the Venetian in the 15th century. In Tarabados village are the more impressive pigeon houses.
Are you interested in staying in a renovated Pigeon house? Check out the stunning Tinos Pigeon House for prices and availability
Great Thursday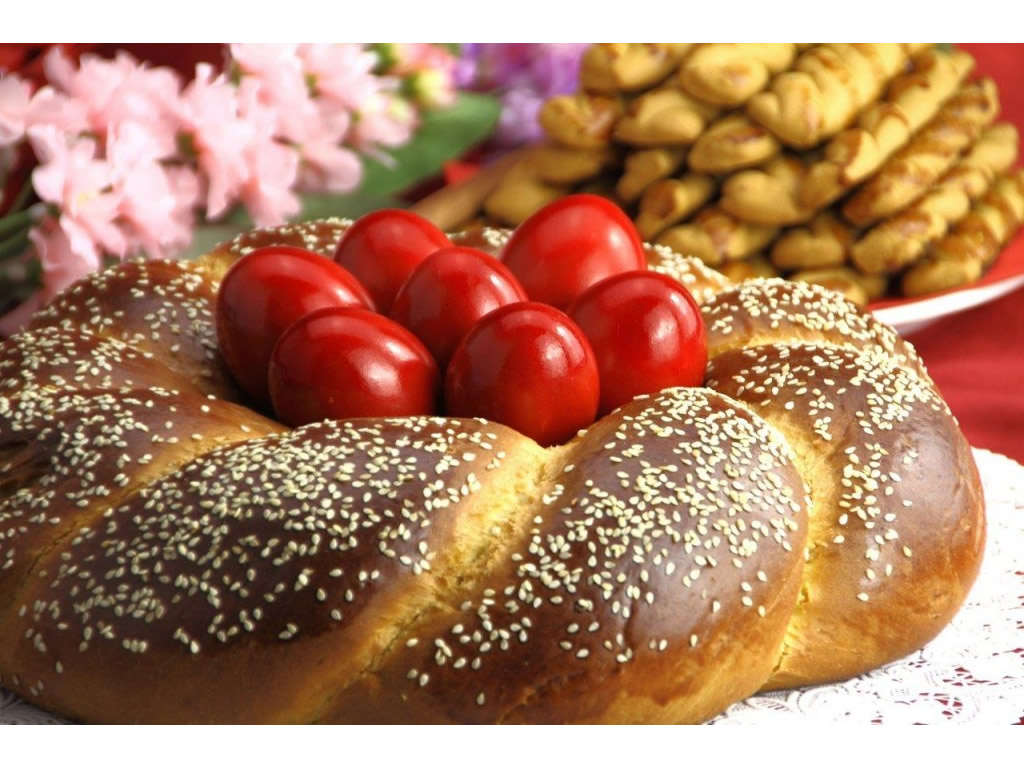 On Thursday Greeks dye their eggs red to symbolize the blood of Christ, and they are never made of chocolate. The eggs will be not consumed until Easter Day. They also bake the Easter sweet bread called Tsoureki and the special cookies called Koulouria. Buy them from any bakery in Tinos or check your hotel breakfast, they may include them.
Watch a short video of Tinos villages:
On Great Thursday you can go to gorgeous Panormos or Pyrgos village with the beautiful maze of whitewashed alleys. Go to the cemetery to admire the marble works of Gianoulis Halepas, a famous Greek sculptor.
Taste the galaktoboureko sweet under the plane tree in the main square for a little energy before visiting the Marble Museum (Closed on Tuesdays, Great Friday, and Easter).
Great Friday
Great Friday is a very holy day for the Greeks, it is the day that Christ dies. The bells of all churches on Tinos chime sadly and women from each parish decorate with flowers their own Epitaph.
In the evening, the Epitaph of each parish passes through the alleys of each neighborhood and the parishioners follow the solemn procession with their candles and sprinkle the way of the Epitaph with flowers.
On Good Friday night, six decorated epitaphs, together with the unique wood carving of the Virgin Mary, gather on the beach platform in Chora Square, at the port, where the praises are sung.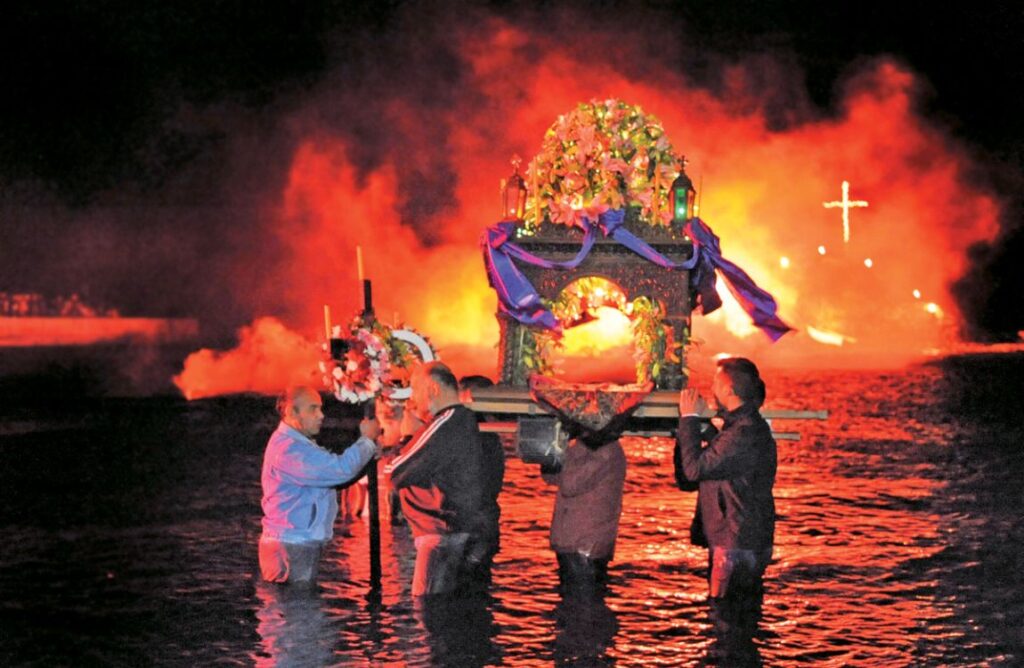 The Epitaph of the church of Saint Nicholas in Kalamia will be taken into the sea which is quite an impressive and moving spectacle.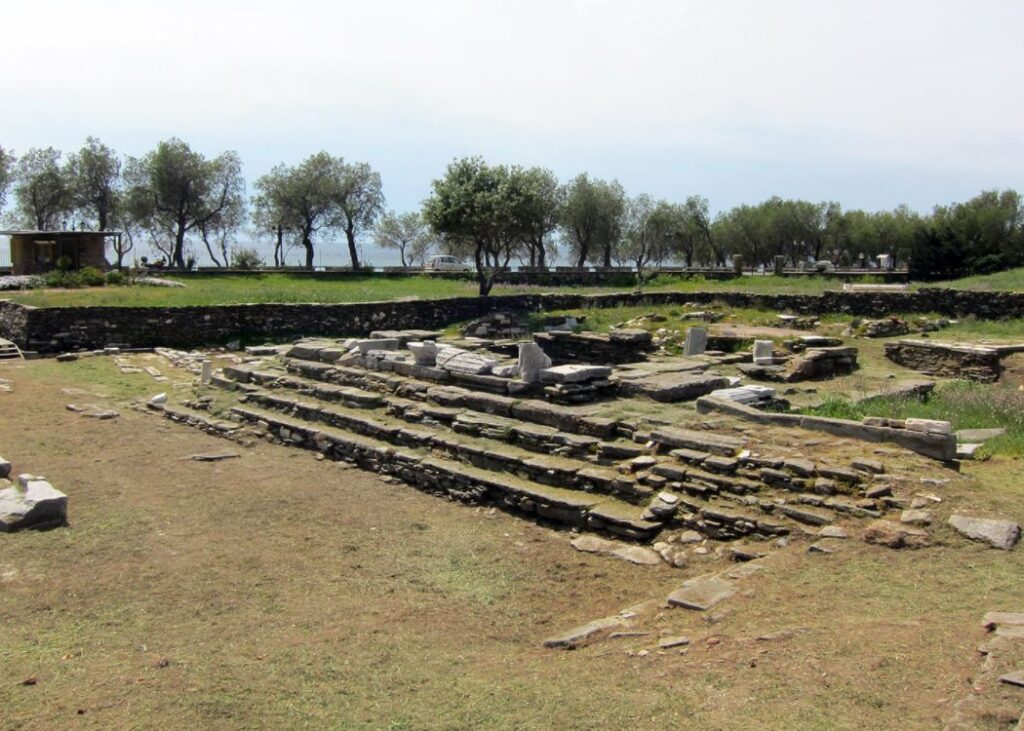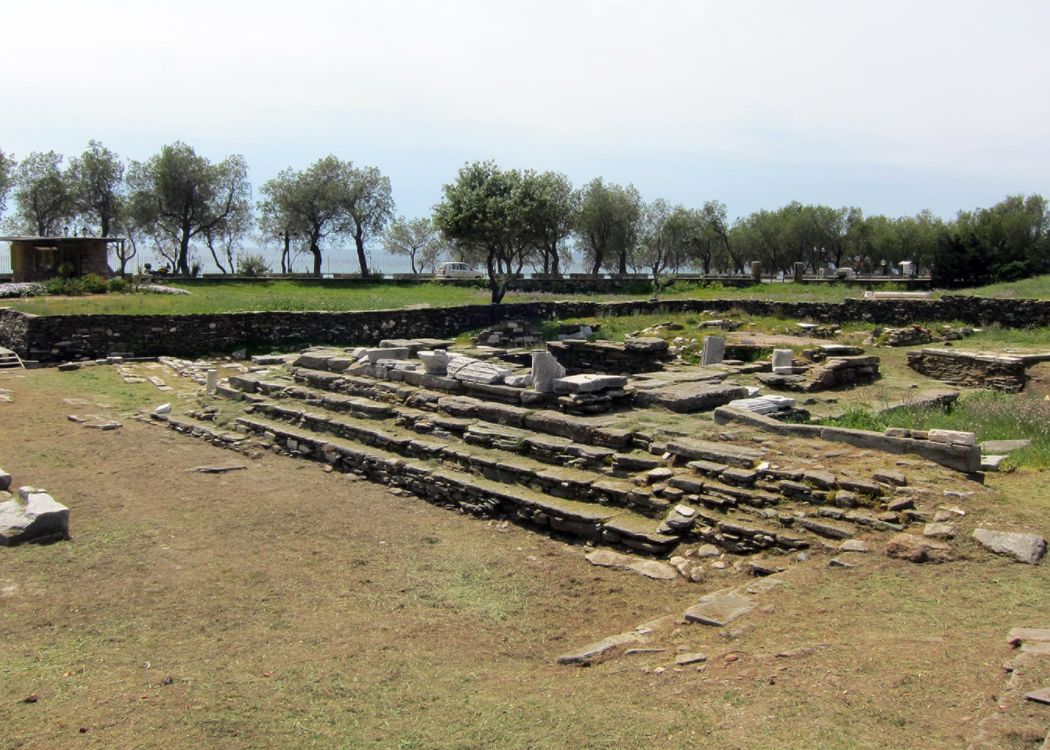 As the shops will be closed all morning until noon, mourning Christ's death, this is a good day to relax or explore the nearby seaside Kionia village, have lunch by the sea and visit the archaeological site of Poseidon and Amphitrite.
Great Saturday
Everyone is getting ready for the big celebration of Easter, so you will see a lot of commotion around the town, people painting with limestone the pavements, and the supermarkets will be full with customers buying the necessary for the Easter meal.
During the day you can go to Krokos, a village of 10 permanent residents, and visit the cafe of Mrs. Lenis. The cafe serves mouth-watering local cold meat cuts, handmade spicy cheese (kopanisti), sausages, and local fried bread. Contact them at +30 22830 51409.
In the evening, dress up like all Greeks, and get ready for the big spectacle of the night.
On Great Saturday, the Orthodox Patriarch breaks the seal of the door of the tomb of Christ in Jerusalem and emerges with the Holy Fire, which is then flown to Athens to the church of Agia Anargyroi in the Plaka. From there the light is distributed to churches all over Greece.
At 11 pm, everyone is at the Churches yard and just before the Resurrection procession, candles and red candles are distributed. After "Christ is Risen" one parish competes with the other in which one will be heard more.
Watch the video for Easter in Tinos in 2019.
Everyone carries their lit candle, the bells chime festively and the fireworks make a lot of impressive coloring in the sky. Meanwhile, the families kiss each other and wish 'Chronia Polla'. After the church, everyone hurries back home to eat Magiritsa, a soup made of the internal organs of the lamb. If you are interested in tasting it, check with your hotel or a tavern near you that may be serving it.
Greek Orthodox Easter in Tinos
Easter day is a happy day for everyone as they celebrate in the most festive way Christ's Resurrection. Lambs are being roasted in houses yards in a skewed way, people wish each other 'Chronia Polla' which literally means 'Many Years'. Families come together, they eat all day, drink, and dance.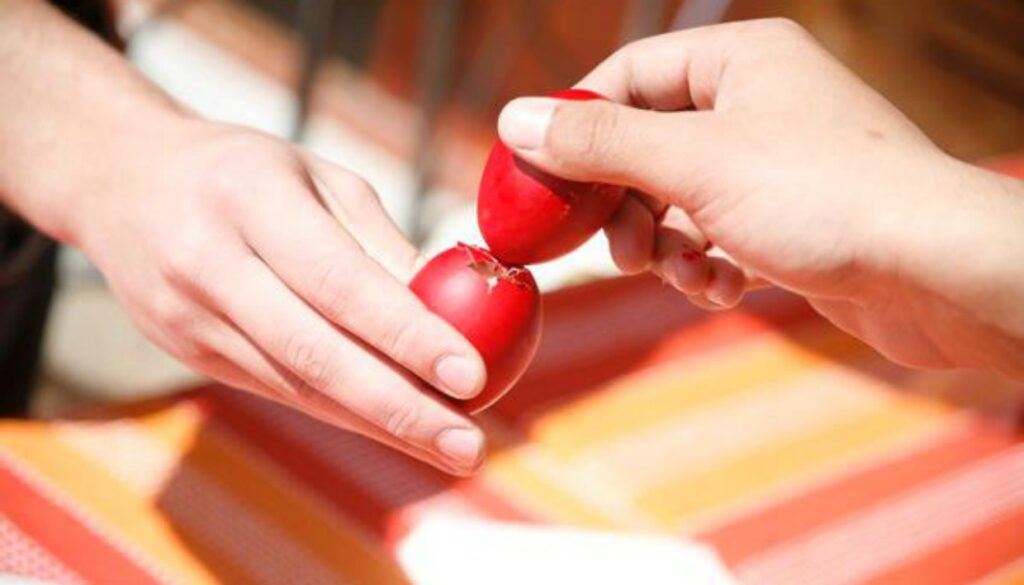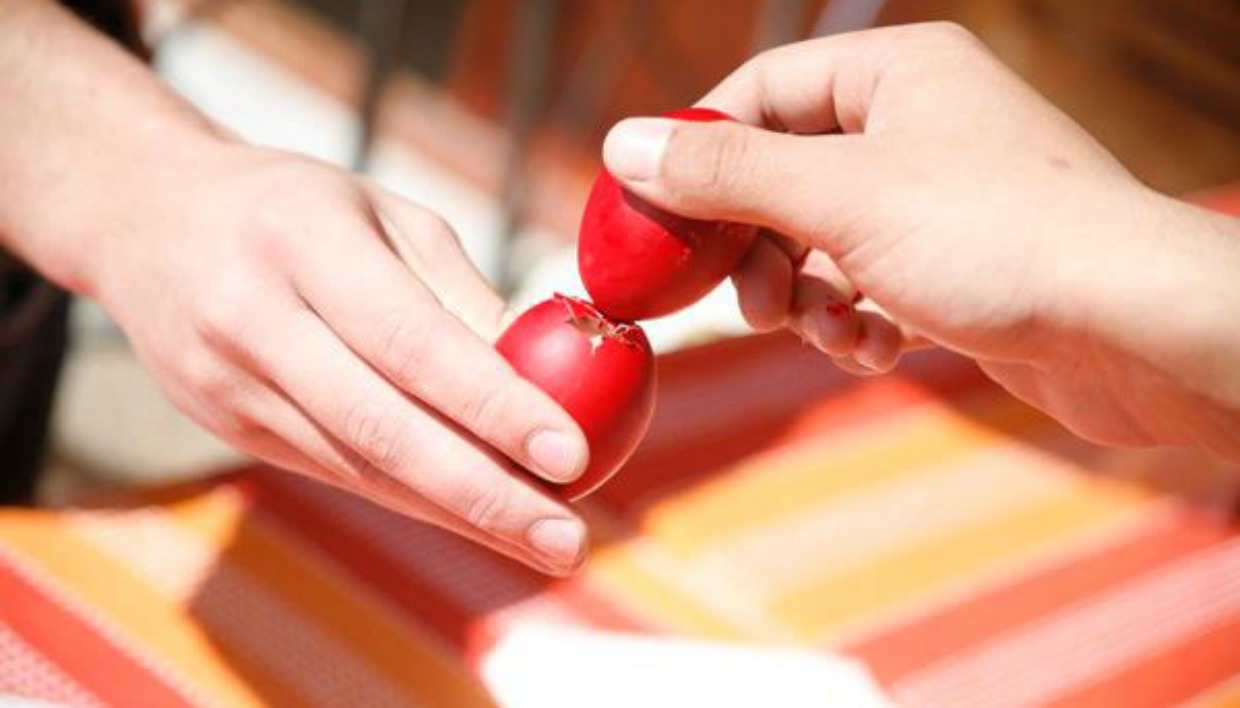 The Red eggs prepared on Thursday are used to clink each other's eggs, with the hope that you will win everyone and your egg will be the hardest victorious one! While clinking you tell each other, 'Christos Anesti' (Christ has Risen), and reply, 'Alithos Anesti' (He has indeed risen).
Easter Sunday is a great day to drive to a village for a very traditional Greek Orthodox Easter and I strongly recommend Kardiani, one of the most beautiful villages of Tinos.
Kardiani has picturesque cobbled narrow streets, beautiful arches, and traditional old houses with flat roofs, colorful windows, doors, courtyards, and balconies full of flowers. The village has the most stunning sea view and is the ideal place to admire the sunset.
FAQ on Tinos Island
How to get to Tinos Island
Tinos island is well connected by ferries from Athens' main port (the fastest ferry takes about 4,5 hours to reach Tinos), or from the smaller port of Rafina (3 hours and 15′ the fastest). Book early for Easter your ferry transfer with FerryScanner or FerryHopper to secure your seat.
If you prefer to avoid the hassle of public transport and wish for some luxury pampering, you should book a private transfer with English speaking chauffeur from Athens International Airport to Piraeus Ferries. Check availability and prices on Viator here.
How is the Weather in April in Tinos
As Easter is late in April, and compared with the temperatures of 2021, the max temp should be around 20-25 C. You can see details on the Greek weather and when is the best time to travel to Greece here.
What is the Dress Code for Greek Churches/Monasteries
For Greek Orthodox Easter in Tinos: Please avoid short skirts or shorts and prefer longer skirts that cover your knees and shoulders if you are a female, and wear a shirt and long trousers (pants) if you are a male. You also need to remove your hat inside a church. Ask if it is OK to take a photo inside the monasteries, the flash may harm the artifacts and frescos.
What Island Hopping Can I Do from Tinos
A lot of Greek Islands are an hour or two away from Tinos. Andros island is 1,5 hours far by ferry, Mykonos is just half an hour away, Paros is 2 hours away.
Other impressive Easter Celebrations like the Greek Orthodox Easter in Tinos are in Chios, Corfu, Folegandros, and Athens!
How to get to Greece
Like most visitors to Greece, you will probably have to fly to Athens or Thessaloniki International Airports to get to your final destinations.
For the Cheapest, Fastest, Best Worldwide Flights, I highly recommend the Skyscanner search engine site.
If you prefer to avoid the hassle of public transport and wish for some luxury pampering, you should book a private transfer with English speaking chauffeur from Athens International Airport to Piraeus Ferries. Check availability and prices on Viator here
COVID-19 Info for Traveling to Greece
Where to Stay in Athens
Support Evgenia's Blog
Do you enjoy using my travel blog? Have you found it entertaining as well as useful? If you are appreciative of all the free information you get on my website you can send me a donation through Paypal. Or you can visit my small Etsy Shop and perhaps you find something you would like to purchase. Thank you!
Some of my Favorite Travel Resources for Greece
Ferries to the Greek Islands: Book your ferry transfer with FerryScanner or FerryHopper, and get the best prices in the market with no hidden fees
Air flights: Cheap/Fast/Best Worldwide Flights from KAYAK or SkyScanner search engine sit
Booking.com: I use Booking.com because I can get the best deals on both hotels and apartments, free cancellations, and great prices!
Best car rental prices – Guaranteed. RentalCars.com
Get Your Guide: For all your day or multi-day tours and city guide needs, I use Get Your Guide
Emergency Numbers Anywhere in Greece: AMBULANCE 166 – FIRE 199 – POLICE 100– EMERGENCY NUMBER 112
More Reading on Greece