Updated January 11th, 2021 by Travel the Greek Way
What are the hazards of hiking in Greece? What are the biggest hiking dangers you may encounter on Greek mountains?
And is hiking in Greece any different than hiking in other countries, let's say like it is in Switzerland?
The Most Usual Hiking Dangers
| | |
| --- | --- |
| Hikers getting lost | |
| Fatigue, hypothermia, dehydration, and heatstroke | |
| Injuries from slips and falls | |
| Hikers trapped or injured by extreme weather conditions or animal attacks. | |
| | |
Besides the above usual hiking dangers, there are also some other local risks found while hiking in Greece.
This post is all about those hazards, how to make your trip to Greece a safe experience, information on the Greek terrain and wildlife, and what to do if you bump into 8 shepherd dogs (or more)!
*Some of the links below are affiliate links. That means I may make a commission if you click and buy. The commission comes at no additional cost to you. Please see my full disclosure policy for more information*
Best Hiking Trails in Mainland Greece
I love hiking in Greece and have hiked extensively all over the country. From my experience, I would like to suggest some of the best hikes in mainland Greece:
Mountain Olympus
Mountain Olympus has the highest peak in Greece at 2917 m: Prionia, Skala, Mytikas: Mountain Olympus is 430 km north of Athens.
Hiking in Peloponnese
Viros Gorge, Taygetus summit that takes you all the way to Kardamili seaside picturesque village
Kalavrita and Chelmos Mountain
The archaeological site of Mystras & Vlahokerasia gorge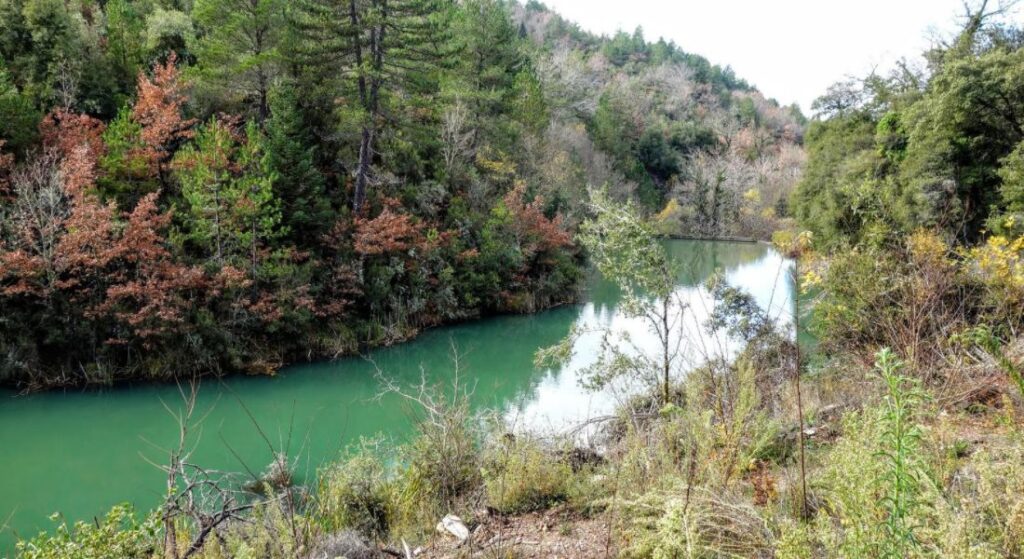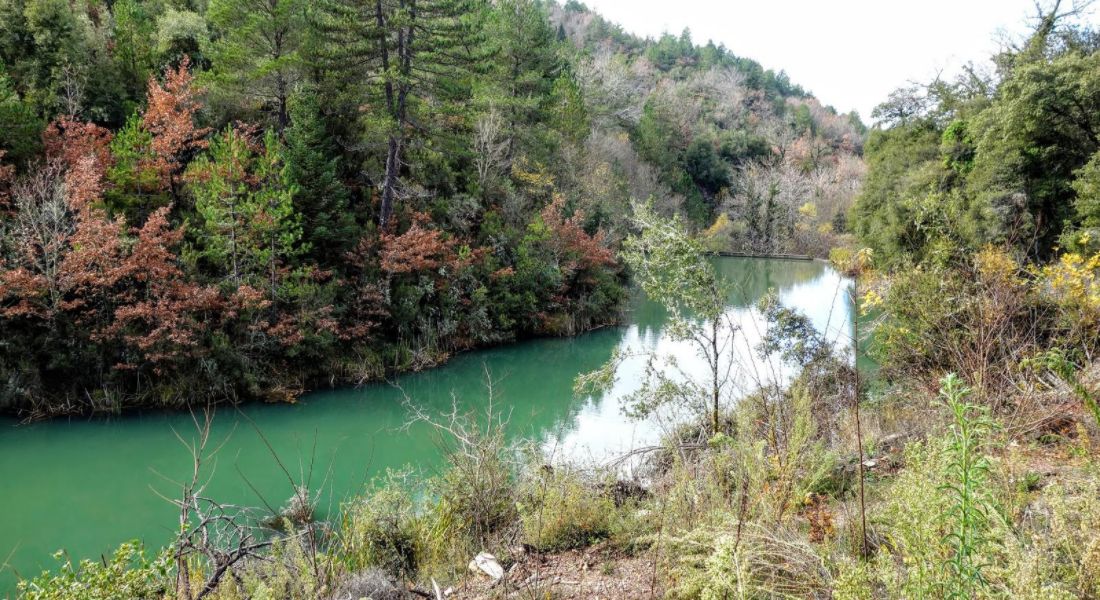 The Menalon Trail, a 75km trek with valleys, gorges, canyons, and villages
Nemouta Waterfalls in Ancient Olympia
Loutraki Perahora seaside hike
Crete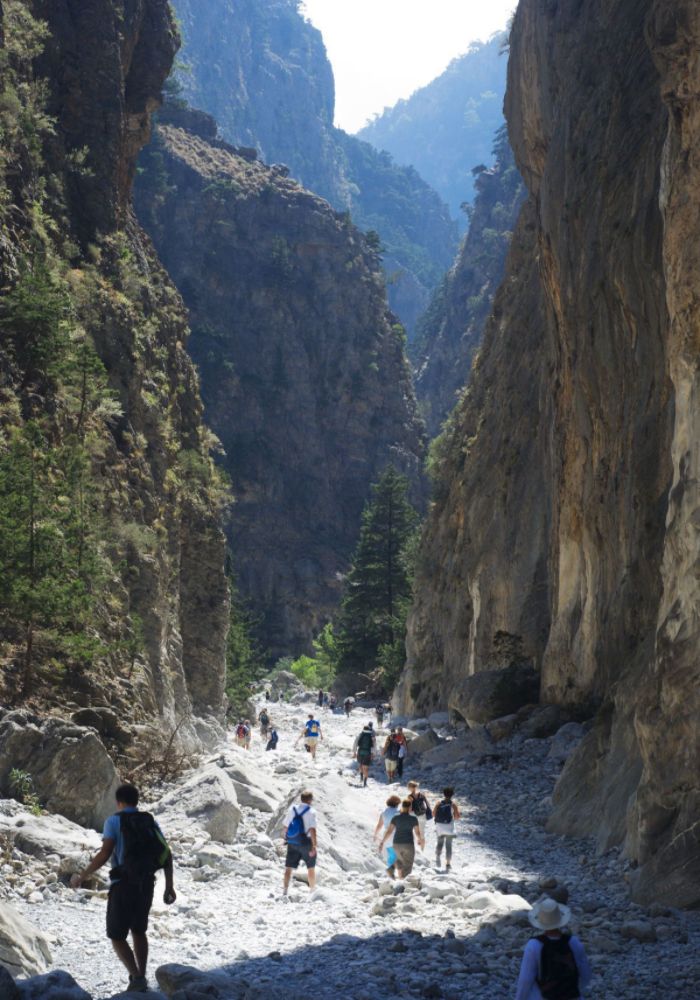 Samaria Gorge Trail & Lefka Ori
Pelion Peninsula
Tsagkarada trails, The Centaurus Path, the Trikeri loop
Pindos
Vickos Aoos Gorge, Zagorochoria and the Dragon Lake: Epirus, Midwestern Greece
Meteora Monastery and Rocks
Parnassos Mountain and Delphi Site
Xerovouni & Dirfi Mounts in Evia Island
Parnitha Mountain and 5 other hiking destinations in Athens!
Hiking the Greek Islands
I have made 2 separate posts for hiking the Cyclades Islands and one for hiking Sifnos: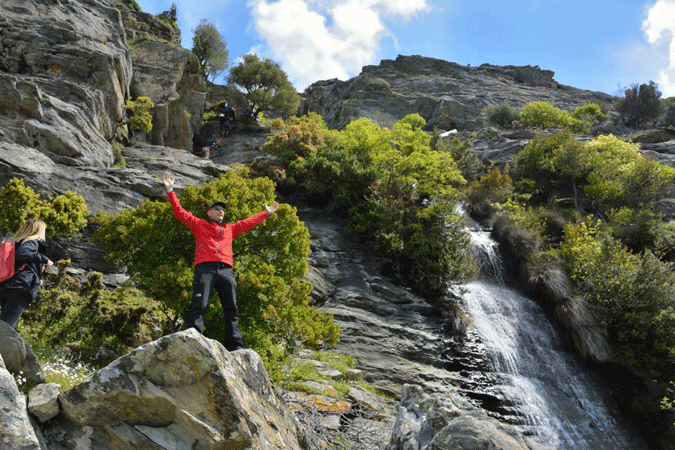 Hiking Information on Amorgos, Anafi, Andros, Paros and Antiparos, Ios, Mykonos and Delos, Santorini
Hiking Information on Folegandros, Kea, Kythnos, Milos, Naxos, Serifos, Sifnos, Sikinos, Syros, Tinos
When is Best to Hike in Greece?
All seasons are great for hiking in Greece and it all depends on your hiking preferences and your level.
Summer (especially July and August) is way too hot to hike (unless you wake up at dawn and go for a short hike), winter will probably have some or a lot of snow on the mountains which is great if you love more demanding hikes and in April or May, everything will be green full of wildflowers (my favorite time to hike in Greece).
I also love hiking Greece in late September, or October when it is not so hot as in the summer but still warm enough to swim.
When there is no Trail Sign – what should you do?
Greek hiking trails aren't generally speaking as well-signed and standardized as you may be accustomed to while hiking in other parts of the world.
Often you have to look around to find the beginning of the trail signs, which can be a colored rock, or some shaped sign or plastic ribbons hanging from trees or small stones stuck on each other or none at all.
Greece's many popular trails can be overgrown sheep paths (monopatia in Greek, shepherds' or monks' trails), kalderimi paths, which can be in a poor condition with uneven surfaces and loose stones that can make walking in Greece very tricky.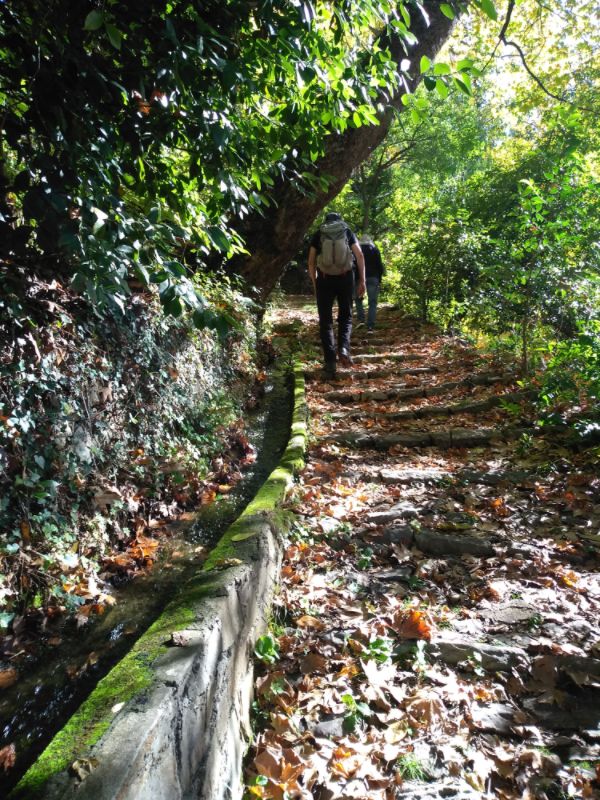 Another issue that happens when you hike in Greece is that if you lose the trail, you might have a hard time finding it back. So, be prepared for such a case with navigation tools, maps, apps, or better turn back to where you came from if you can't find it.
Tip: Learn all about your trail in advance by reading articles on the net and downloading the path to have an idea of its route. Mark where the closest refuge or other huts/houses may be in the area to go in case of electrical storms or other reasons that you need to do so.
Rough and Steep Greek Mountains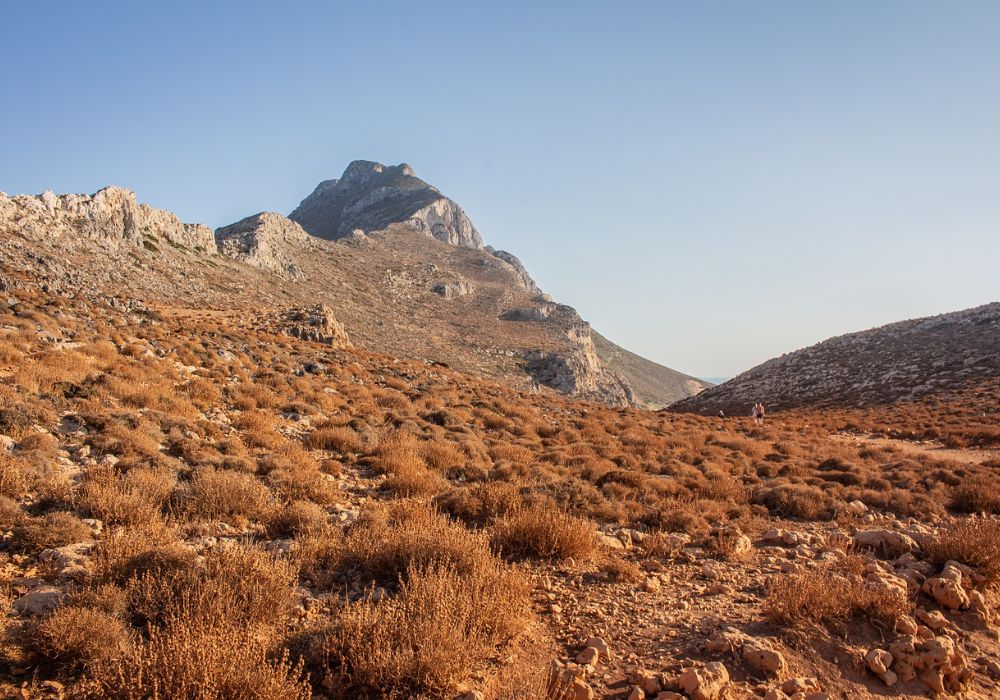 Hiking in Greek mountains can be challenging as the mountains are in general particularly steep and rough, even the low ones, with a great variety of terrain. The larger Greek mountains require climbing skills and a lot of hiking/mountaineering experience.
The Cyclades mounts have, almost all of them, Aegean sea views with rugged terrain and spectacular steep beaches. Hiking dangers in the Greek islands are the strong winds almost all year round, the sudden fogs in winters, and the heat in the summer.
Proper hiking apparel: Boots/shoes/hard hat
If you are going hiking to Greek mountains wear well-broken hiking boots but for places with rounded river rocks – like many spectacular gorges in Greece, such as Kalavrita, Vlahokerasia, or Samaria – better go for the well-broken hiking shoes, as they tend to offer more stable footing.
People have been injured/killed on Mt Olympus, from the loose rocks when hit by rocks kicked down from hikers and mountain goats above. Mt Olympus should be visited in good weather, with an experienced guide, a group, and wearing a hard hat.
Recommended Hard Hat: Ergodyne Class C Safety Helmet with LED Light
Ergodyne hard hat will protect you from any rocks fallen from above and will light the way if it gets dark with easily adjustable harnesses.
Is it Safe to Hike Alone in Greece?
I am not happy when people want to hike solo in Greece, especially on an unusual or new trail, and I worry even more if it is very cold or very hot.
Every year we hear in the news about tourists hiking during the summer and dying from heatstroke, which is awful but it happens because people overestimate their strength especially in a climate they are not used to at all!
I would advise you to take a companion, find out about the local groups and join them (there are plenty of hiking groups all over Greece), charge your mobile, and upload the trail in advance on your favorite app (keep in mind mobile service might be unavailable at times).
If you insist on hiking alone – you shouldn't! – some safety tips are:
Let your hotel know your hiking route and what time you should be expected back. Ask for the reception to inform the other shift too – hotel receptions staff have an 8-hour working rota
Take a torch and a whistle with you. If it is winter, take warm equipment to huddle in in case of bad weather
Take with you – in summer – 3 lt of water, plenty of salty food, electrolytes (in pills or ready made drink) UPF clothes and hat and 50UV sunscream. Drink water often even when you are not thirsty and replace your natrium with the salty food
If you feel dizzy, find a shade ASAP and stay there until you feel better or call for help
Know where you are hiking and what else is around to seek help/refuge
Get a Garmin inReach Explorer+ Satellite: you can send and receive messages anywhere in the world even when out of mobile range, call for emergency assistance anywhere in the world with the SOS function and most importantly keep friends, family, and colleagues informed of your whereabouts with global tracking via the Iridium satellite network.
What is Like Hiking in Greek Winter?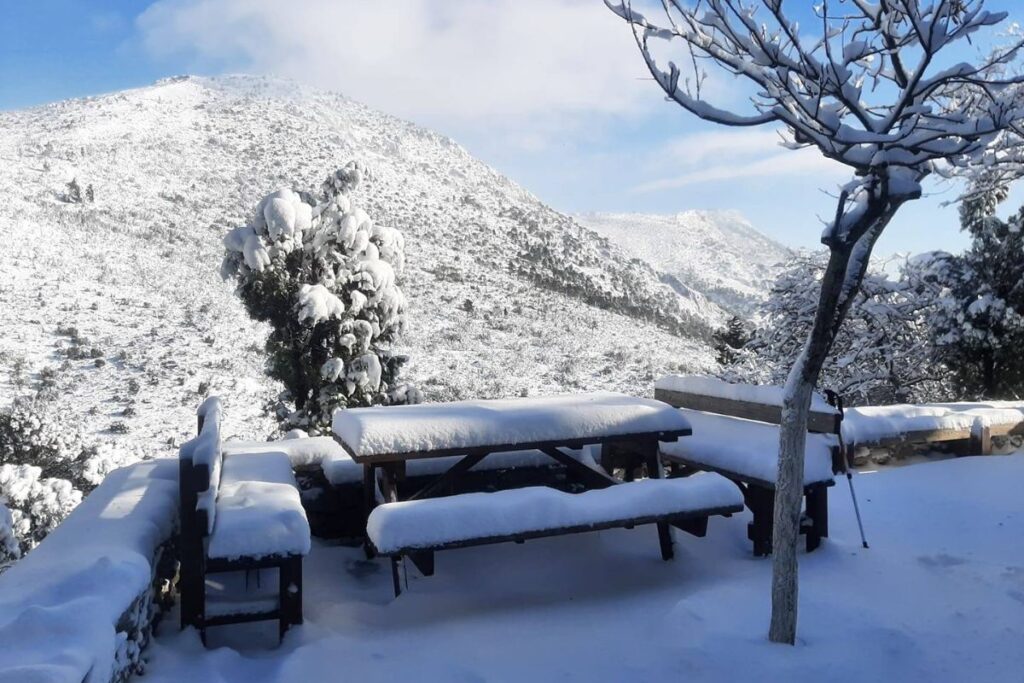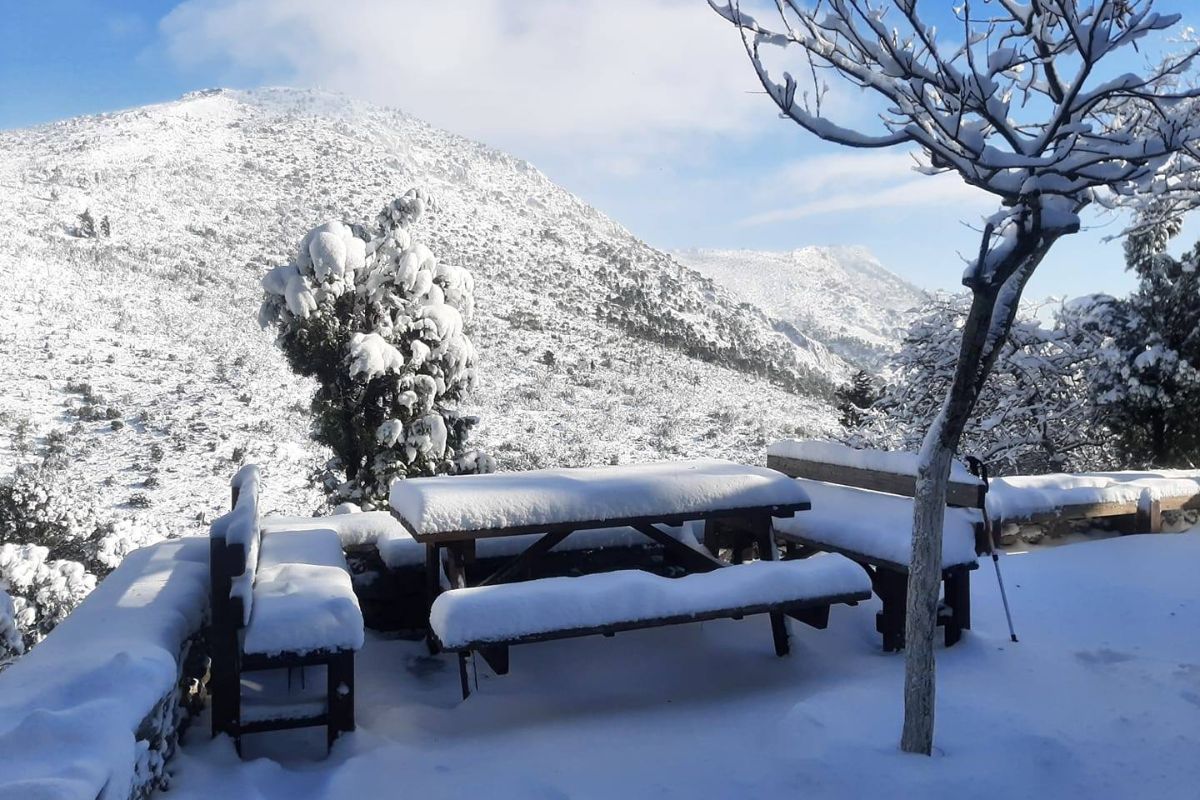 Winters on Greek mountains can be very severe with biting cold and temp well below -15 C, especially in the north side of Greece.
Most people, unfamiliar with Greek hiking, think that since it is a warm country they will hike and not freeze during the night if they are not adequately equipped.
Greece is indeed a warm country but only during the summer and on some Greek mountains, you can find snow until late May or even June.
Ski Resorts
Greece has 19 organized ski resorts all over the country, usually near hiking refuges. Read here a related post about ski resorts in Greece:
As in every wintry mountain, you should also dress in layers, so you can adjust to the temperature.
If you venture alone in winter on a Greek mountain, take with you winter equipment as if you have to sleep during the night in a snow blizzard.
The list of tents from Amazon below are high-quality tents, great for any type of Greek weather. Check them out:
Sudden Fogs and Mighty Clouds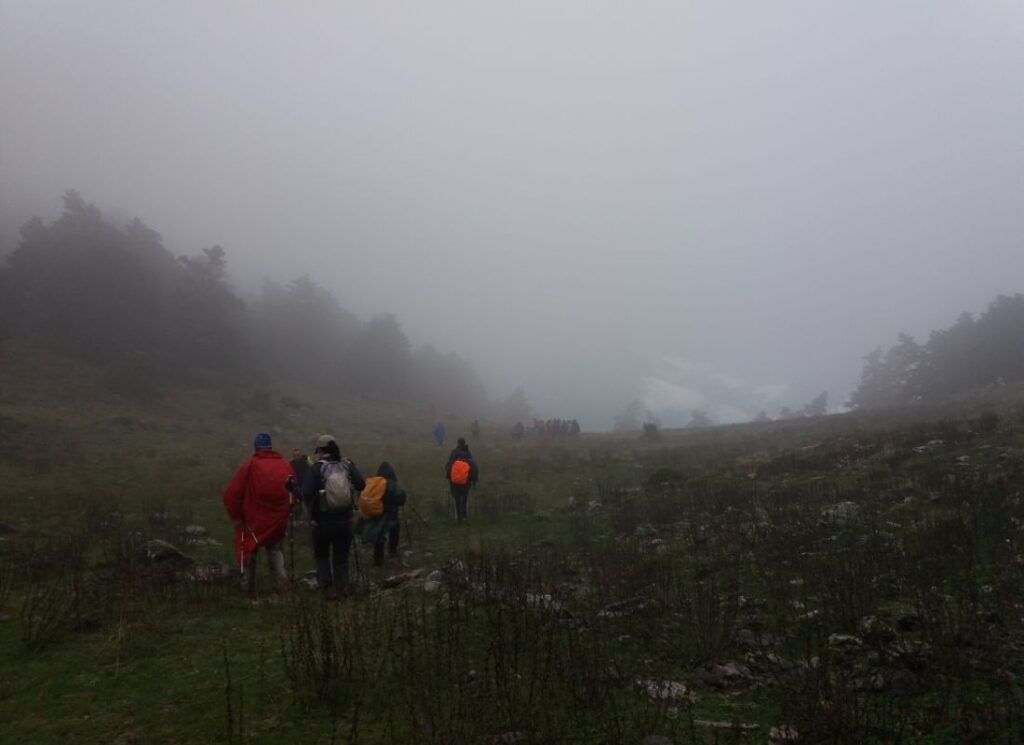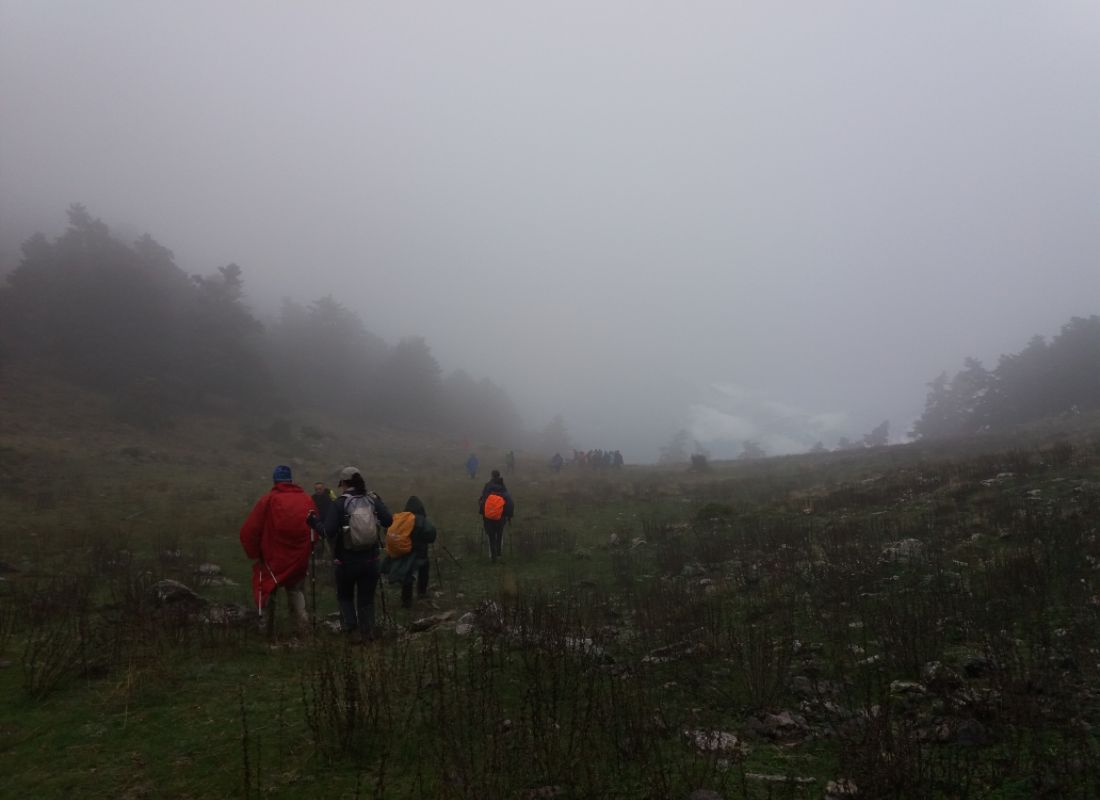 Sometimes, when you are hiking high up on a Greek mountain, on the mainland, or a beautiful Greek island, clouds can come out of the blue, across the mountain.
Even with a compass, you can't find your way ahead, especially when the trails are not properly signposted.
You should do as my hiking and cat friend Fred from Nashville did in a similar situation in Amorgos island:
"I decided to turn around immediately and walked quickly back the way I came. Still, it was hard to find the way even though I had walked it only minutes before. Finally, I passed a familiar ruined shed and then a faint trail started and I finally reached the chapel where the main trail started back. The clouds never went away so I had to give up the hike. In fact, the clouds came even lower and it was likely I would have become completely lost on the top if I had not turned around quickly".
So, be smart, do it like Fred!
Hiking Greece in Summer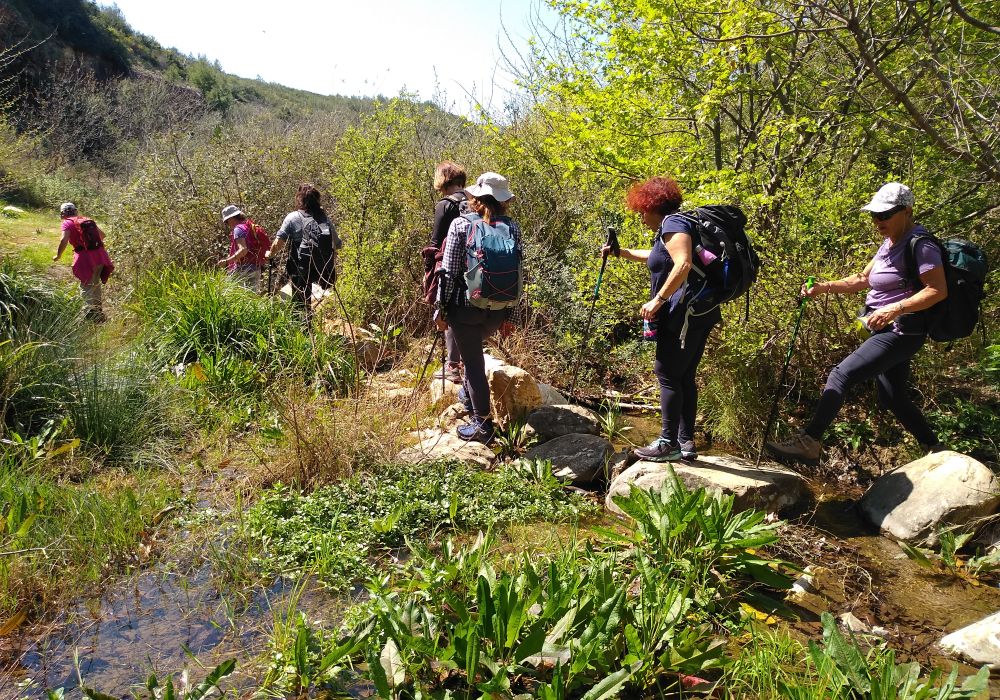 During Greek summer you will need to have a round-brimmed hat, to cover your back and arms from sunshine, to apply a lot of sunscreens, to drink plenty of water and isotonic tablets or liquids or whatever replenishes your electrolytes.
If the weather in Greece is predicted to have a heatwave, skip the hiking altogether, especially if you hike in barren areas or gorges like Samaria in Crete, the heat can be unbearable.
Sometimes the authorities on very hot days close down the trails to deter people from hiking.
It is very easy to suffer a heat stroke while hiking in the Greek heat.
Greek Wildlife
The most dangerous Greek wild animals are the brown bears, a protected species in Greece. According to Arcturos NGO, there are about 400 bears mostly in the Rodopi & Pindos mountains in the north of Greece.
Other wild animals are the grey wolves (also protected species), the wild boars and the vipers, and a large variety of smaller mammals like foxes, squirrels, and so on.
Attacks on people by any of those animals are extremely rare.
Hiking Safely in Greece and Vipers
Vipers can be found all over Greece and in the Cyclades islands where the terrain is barren of large vegetation.
However, vipers are not aggressive snakes, they are actually quite shy and slow in reactions and will bite someone only if you try to snatch them or if you step on them.
Generally speaking, attacks on people from the vipers are rare, and Greece's most snakes are non-poisonous. If you see a snake and you are not sure whether it is poisonous or not, just walk away.
Use your walking stick to shoo it off if this becomes necessary. You should never kill the snake if you see one, make a wide berth, and let it be!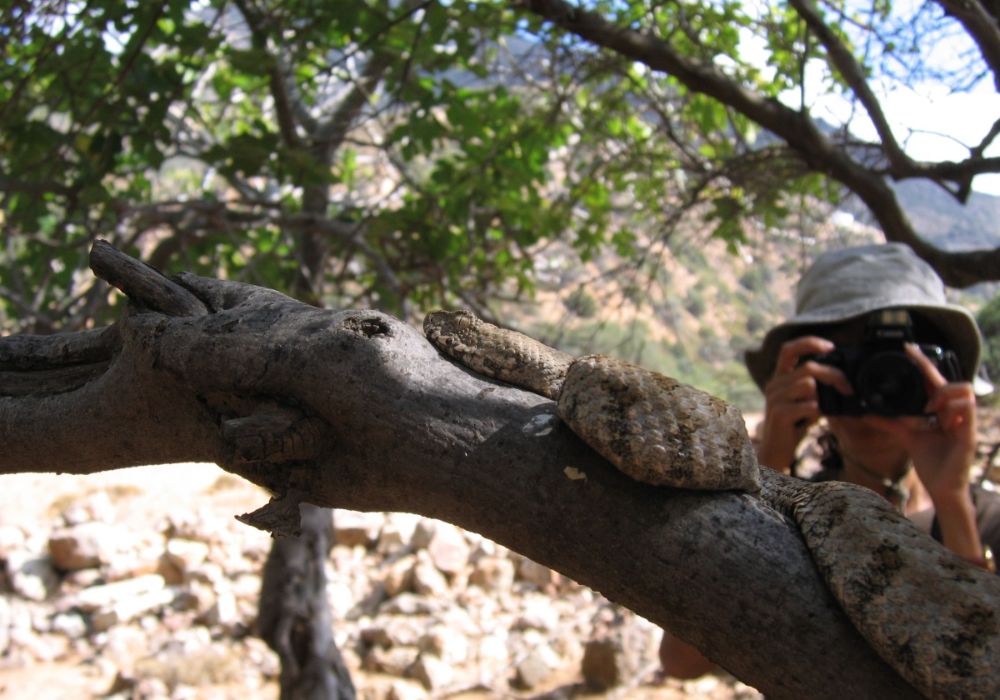 However, if for any reason you get bitten by a snake, try to remember its coloring and get to a hospital asap.
Scorpions also exist on many islands, so check your luggage, shoes, and bedding carefully. Again, if you get bitten by a scorpion, reach for medical assistance immediately.
Greek Animal Tip: Occasional shouting will warn wildlife that you are walking in the area, especially near noisy creeks and dense forests. Remember, we are the intruders to their habitat and not them, so please respect wildlife and nature.
Buzzing Bees and Vicious Mosquitos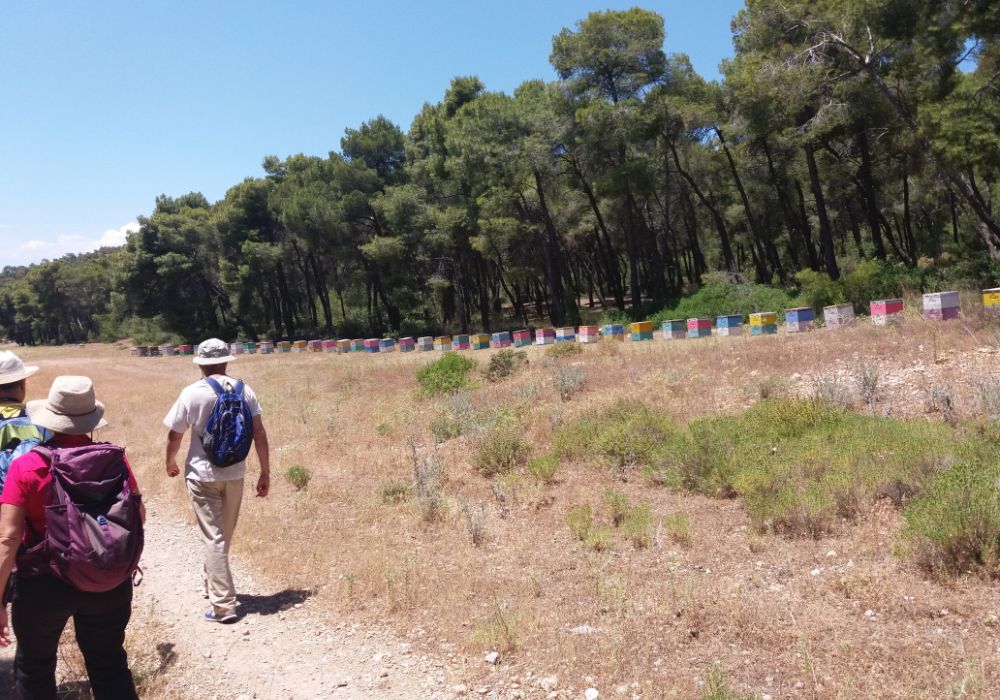 If you come across apiaries, which are everywhere on Greek mountains, islands, and valleys, keep at least 10 meters distance and be quiet. You don't want to alert these busy bees, as they can come out in a swarm to chase you away and sting you in the process!
There are also plenty of mosquitos in some areas in Greece, so make sure you are prepared with anti-mosquito lotion if you will be spending a lot of time outdoors.
In summer 2020, we camped in Elassona Mt, Kastanitsa peak for a weekend and when the sun fell, I don't know where all those mosquitoes came from. We had to rush and cover ourselves with long sleeves and trousers and 'bathed' in mosquito repellent.
What to do if you Bump into a Pack of Shepherd Dogs
The shepherd dogs can pose a serious threat if you bump into them on remote Greek mountains or valleys and they can be very protective towards the sheep, to put it mildly.
There might be 1 or 2 dogs but with a hiking group out of Larissa, we came across a flock with 8 shepherd dogs. Thankfully, nothing bad happened, they were friendly dogs, just curious and happy to see humans.
For the last 20 years, the shepherd dogs have reclined numbers as Greece is moving constantly away from small-scale farming. However, the dogs are still around working, and many of them seem to not like visitors to their area very much!
Easier to say than to do but the following may save you from nasty bites:
No shouting, no running, no sudden movements, no aggressive behaviour. Stay Cool, dogs can smell your fear!
Don't turn your back to the dogs, don't look them straight into their eyes, start walking slowly sideways keeping a lowered eye on the animals. Talk to the animals in a calm and tender way. Try to see if the shepherd himself is around to save the situation.
If there is any large object around you that you can hide behind it, go behind it.
If possible, carry with you some dog food or anything meaty and tasty. Offer the food on the ground without looking at them and retreat slowly to the other direction. Last time I sued this technique was in Pelion. 3 dogs came to us barking and seems to have defensive behavior. I had some ….cat food with me for the stray cats, left it on the ground and we had plenty of time to leave as they wer ebusy eating the food.
Hiking in Greece and Allergies (sneeze that trail)
Greek springs are stunningly beautiful with hundreds of wildflowers, chamomile, oregano, thyme, mountain tea, blooming everywhere in the countryside.
As the sun warms the soil, and as you hike a lot of aromas come from the flowering trees and the herbs and may cause allergies.
If you get pollen allergies in general, better bring your allergy medication with you.
I am also slightly allergic to pine trees and can start sneezing or sometimes even coughing, but it lasts only a minute or two.
Those Thorny Summer Plants!
You are going to have some serious Greece hiking this summer and you are thinking to wear short shorts? I would advise against it unless you go hiking on rocky surfaces with no vegetation at all.
In the Greek summers, the low bushes on rocky places and islands become very dry and a lot of them have thorns that not only can scratch repeatedly your legs but can also give you allergy reactions if you are prone to it (like I am!).
It is better to wear a light long zip-off or convertible pair of hiking trousers like these offers on Amazon.com:
Cheerful and Hospitable Greek People
They say that you love or hate a place depending on the people you meet in the place.
Greek people are, generally speaking, (still) kind, hospitable, always ready for a party and being in a festive mood and generous, especially in the countryside. The Greek word Philoxenia means, "love of foreigners".
Female travelers or LGBT people are at no risk at all of traveling alone in Greece.
However, you should always exercise common sense when it comes to darkness and solitude as one would do, in your home country.
Where to Stay in Athens
Looking for the Best Hotels near old Athens Plaka and Acropolis Parthenon?
Or would you like to stay at a beachfront hotel?
Perhaps you are more in-budget hotels interested?
Whichever your preferences I have collected the best options for your staying in Athens below:
Hiking Trip to Parnitha National Park in Athens with Lunch by Viator
Book a private tour to Parnitha Mt National Park in Athens, explore the beautiful trails, and enjoy a healthy Mediterranean meal in Mpafi (Bafi) Refuge. Check for availability and prices for the hiking trip to Parnitha here
Ethical Travelling to Greece
Please leave no rubbish behind you, no plastic bags or other items. Use the bins and if there aren't please take the rubbish with you
At no circumstance should you light a fire to bake or for any other reason on forest or beach or anywhere in Greece
Don't remove any shells, rocks, fossils, or sand from the beach
The animals shouldn't be annoyed and they are not here for our entertainment. We respect their natural habitat. Serpents, turtles, and snakes are shy creatures and avoid human contact as much as they can. If you come across one of them, change your route and leave it alone.
If you open a gate in one of your hikes please close it behind you. It is closed for a reason, the most usual of which is keeping animals inside. Shepherds get really annoyed if they have later on to search for their goats all over the place if the door is left open
Refrain from visiting private properties because it is a "great" spot for a "great" Instagram shot. You wouldn't like it if this was happening in your house. We respect the locals
Remote Churches and Chapels: they may look abandoned, they may look in disrepair, they may be half-demolished, still Greeks love their churches and would never tolerate any disrespect or vandalism.
How to Get to Greece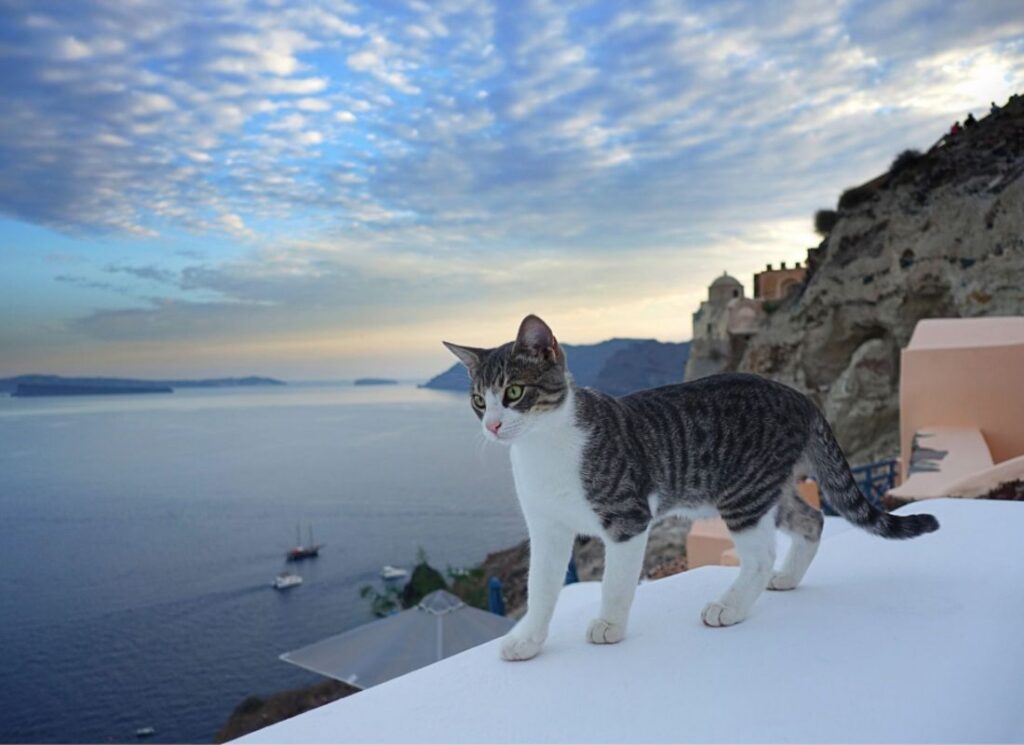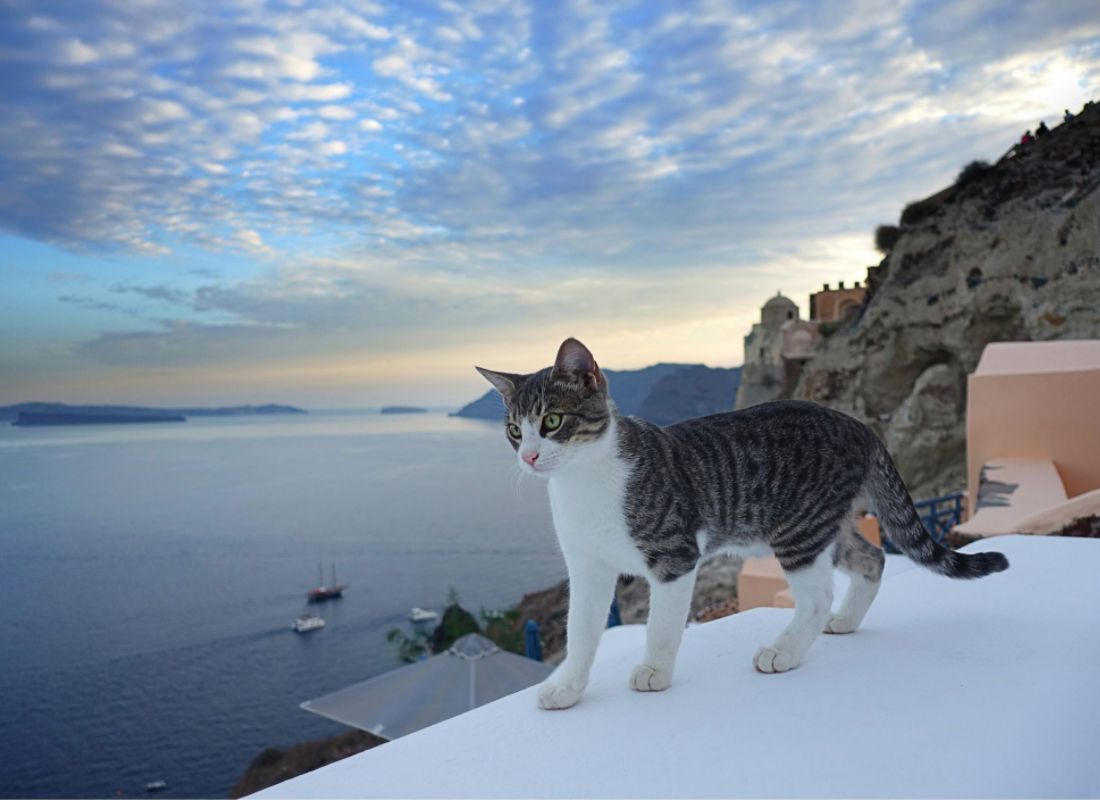 Like a lot of other visitors to Greece, you probably need to fly to Athens or Thessaloniki International Airports to get to your final destinations.
I highly recommend you check the Skyscanner search engine site for the Cheapest/Fastest/Best Worldwide Flights.
My most Favorite Travel Resources for Greece
Airflights: Cheap/Fast/Best Worldwide Flights from KAYAK or SkyScanner search engine site
Booking.com: I use Booking.com because I can get the best deals, have info on hotels and Airbnb's alike, with breakfast or not, free cancellations, and great prices!
Ferries to the Greek Islands: Book your ferry transfer with FerryScanner or FerryHopper, and get the best prices in the market with no hidden fees
World Nomads Insurance: I feel insecure traveling to another country without having even the most basic of insurances. Insurance will protect you against illness, injury, theft and cancellations
Best car rental prices – Guaranteed. RentalCars.com
Get Your Guide: For all your day or multi-day tours and city guide needs, I use Get Your Guide
iVisa: For any questions, you may have about your documents, passport if you need a visa, a new photo, or any visa-related matter, iVisa is your man (or woman!)
Emergency Numbers Anywhere in Greece: AMBULANCE 166 – FIRE 199 – POLICE 100– EMERGENCY NUMBER 112
More Inspirational Reading on Greece
Cyclades
If you would like to know about the best hiking in the Cyclades Islands you can read my post here: