Updated May 11th 2021 by Travel the Greek Way
Is hiking in Greece any different than hiking to other countries? Are there any specific hiking dangers in Greece that the first time hiker/visitor should be aware of?
Yes, there are certain conditions that you may encounter while hiking or just travelling in Greece.
Reading about hiking dangers in Greece you can reduce the risk of having an unpleasant surprise that will definitely ruin your so much anticipated holidays.
In this post, you can find out all about the Greek hiking particularities I have faced myself all over Greece, such as: the hiking conditions, the trails signs, the Greek terrain, the Greek wildlife, weather tips and what to do if you bump into 8 shepherd dogs (or more)!
| Most Frequent Hikers Risks & Hazards | |
| --- | --- |
| Hikers getting lost | |
| Fatigue, hypothermia, dehydration and heatstroke | |
| Injuries from slips and falls | |
| Hikers trapped or injured by extreme weather conditions or animal attacks. | |
| | |
Best Season to Hike in Greece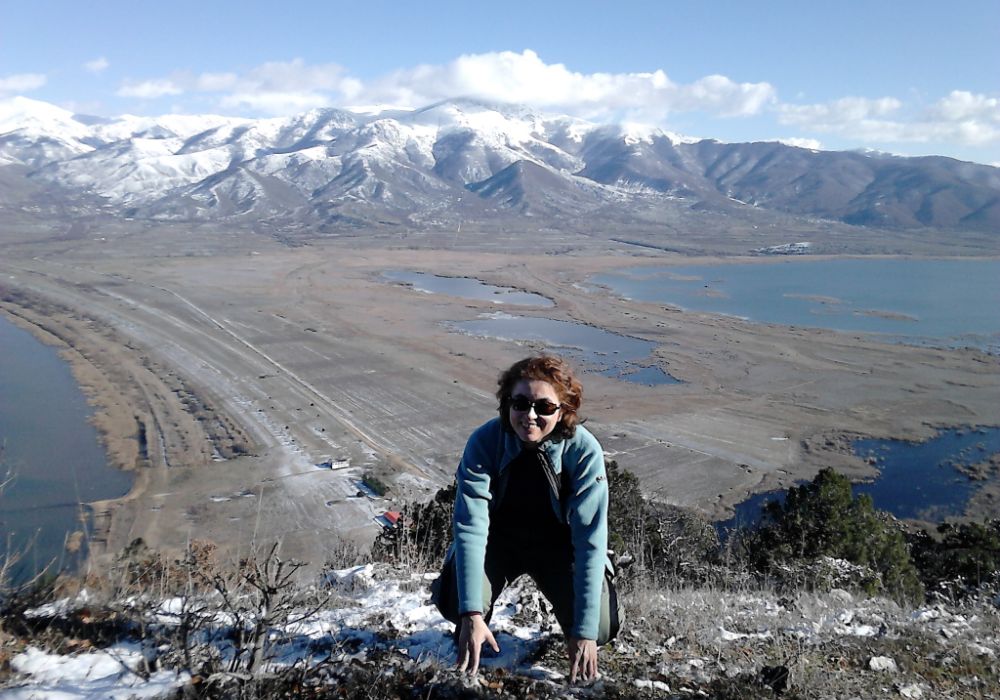 A lot of friend bloggers suggest hiking in Greece in the late spring or early autumn, which I agree is ideal.
I hike almost all year round in Greece. By "almost" I mean that I do not hike during heatwaves, blizzards or heavy rain. I also avoid going to difficult trails like Olympus Mt in winter (experienced hikers have died from the cold or avalanches, way too often). In the summer when it is hot – not heatwave just normal Greek summer hot – I hike in forested areas which are numerous in Athens or all over the mainland or in some Greek islands, Cyclades excluded.
Weather Tips: Use your common sense and know your hiking capabilities and limitations. Keep in mind that mobile service can be limited in the Greek mountains (I sometimes have no service in Parnitha Athens!). Check the weather before you venture to the trail and don't hike alone, strength is in numbers!
Trail sign: Hikers Getting lost
Greek hiking trails aren't generally as well-signed and standardized as you may be accustomed to while hiking in other parts of the world. Often you have to look around to find the beginning of the trail signs, which can be a coloured rock, or some shaped sign or plastic ribbons hanging from trees or small stones stuck on each other or none at all (panic mode!).
Greece's many popular trails can be overgrown sheep's paths (monopatia in Greek, shepherds' or monks' trails), kalderimi paths, which can be in a poor condition with uneven surfaces and loose stones that can make hiking very tricky.
Another issue that happens when hiking in Greece is that if you lose the trail, you might have a hard time to find it back. So, be prepared for such a case with navigation tools, maps, apps or better turn back to where you came from if you can't find it.
Tip: Learn all about your trail in advance by reading articles on the net and download the path to have an idea of its route. Mark where the closest refuge or other huts/houses may be in the area to go in case of electrical storms or other reason that you need to do so.
*Some of the links below are affiliate links. That means I may make a commission if you click and buy. The commission comes at no additional cost to you. Please see my full disclosure policy for more information*
Rough Terrain – Steep Greek Mountains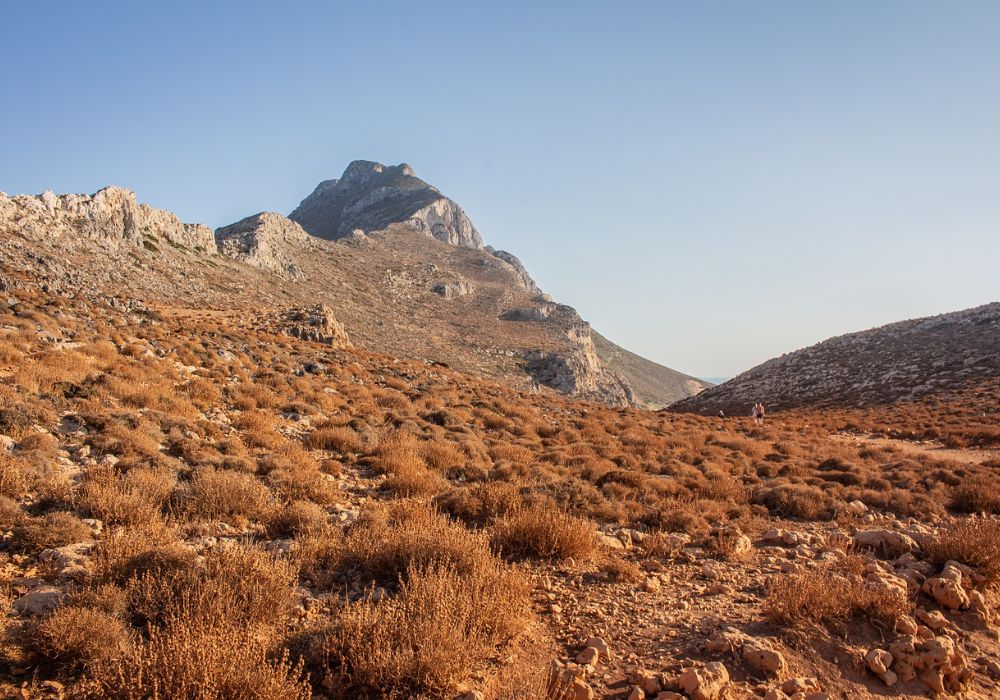 Greek mountains are in general particularly steep and rough, even the low ones, with a great variety of terrain. The larger Greek mounts require climbing skills and a lot of hiking/mountaineering experience.
The Cyclades mounts have, almost all of them, sea views and it is difficult to get lost, at least on the smaller ones. Of course, there are other problems with the islands and one of them is the strong winds all year round.
Proper apparel. Boots/shoes/hard hat
Wear well-broken hiking boots if you venture to Greek mountains but for places with rounded river rocks – like many gorges in Greece, eg Kalavryta or Samaria- go for the well-broken hiking shoes, as they tend to offer more stable footing.
People have been injured on Mt Olympus, from the loose rocks when hit by rocks kicked down from hikers and mountain goats above. Mt Olympus should be visited in good weather, with an experienced guide, in a group and wearing a hard hat.
Hiking Alone in Greece
I never encourage people hiking alone, especially in an unusual or new trail. Hiking in numbers is power.
So, take a companion, find about the local groups and join them, charge your mobile and upload the trail in advance on your favourite app (keep in mind mobile service might be unavailable on times).
If you insist on going alone – you shouldn't! – some safety tips are:
Let your hotel know where you are going and what time you should be expected back. Ask for the reception to inform the other shift too – hotel receptions staff have an 8-hour working rota
Take a torch and a whistle with you. If it is winter, take warm equipment to huddle in in case of bad weather
Know where you are going and what else is around to seek help/refuge
Purchase a Garmin In-Reach mini (GPS satellite tracker for an emergency, location use while on the trail, weather updates) like this one:
If you hike alone in Greece you do so at your own risk.
Greek Winters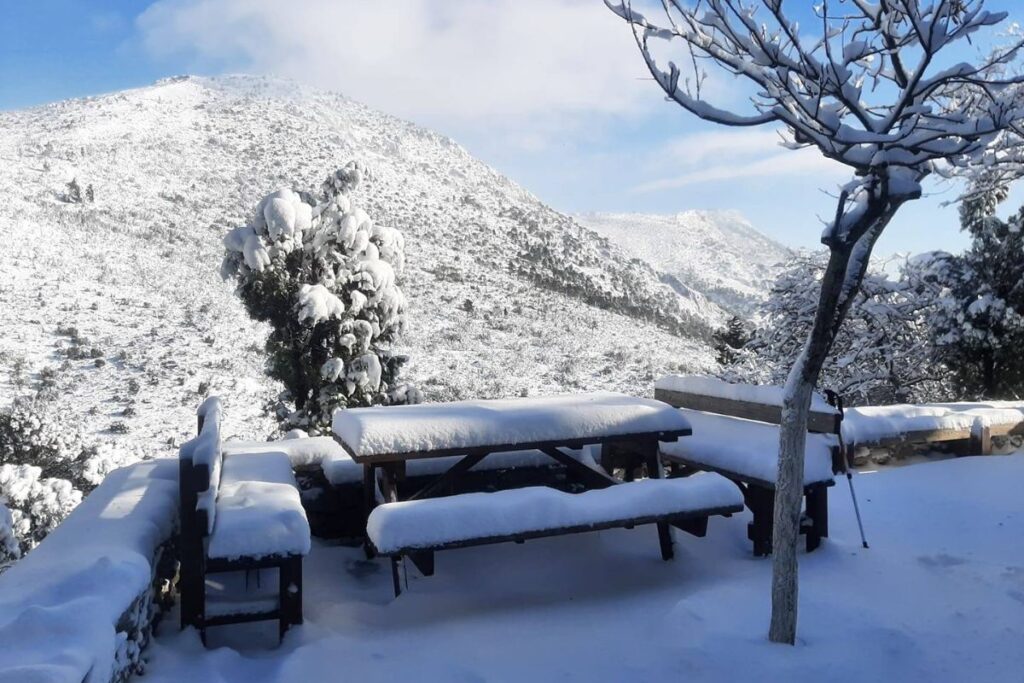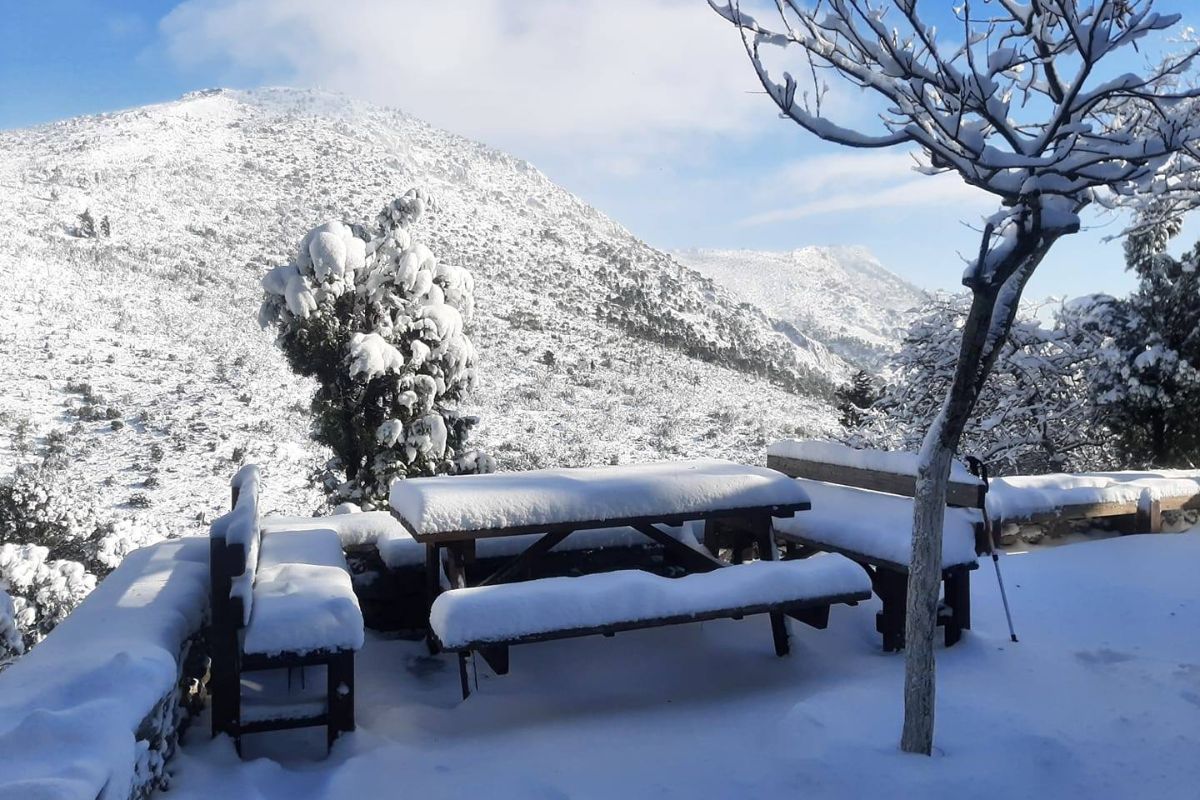 Winters on Greek mountains can be very severe and heavy, with temp well below -10 C. Most people, unfamiliar with Greek hiking, think that since it is a warm country they will not freeze during the night if they are not adequately equipped. Greece is indeed a warm country but only during the summer and on some mountains, you can find snow until late May.
Dress in layers, so you can adjust to the temperature.
If you venture alone in winter on a Greek mountain, take with you winter equipment as if you have to sleep during the night in a snow blizzard.
If possible, carry with you a good lightweight mountaineering winter expedition tent:
---
Sudden Fogs / Clouds
Sometimes, when you are hiking high up on a Greek mountain, in the mainland or in a beautiful Greek island, clouds can come out of the blue, across the mountain. Even with a compass, you can't find your way ahead, especially when the trails are not properly signposted. You should do as my hiking and cat friend Fred from Nashville did in a similar situation in Amorgos island:
"I decided to turn around immediately and walked quickly back the way I came. Still, it was hard to find the way even though I had walked it only minutes before. Finally, I passed a familiar ruined shed and then a faint trail started and I finally reached the chapel where the main trail started back. The clouds never went away so I had to give up the hike. In fact, the clouds came even lower and it was likely I would have become completely lost on the top if I had not turned around quickly".
So, be smart, do it like Fred!
Consider purchasing a World Nomads Insurance against injury:

---
Greek summertime
During Greek summer you will need to have a round-brimmed hat, to cover your back and arms from sunshine, to apply a lot of sunscreens, to drink plenty of water and isotonic tablets or liquids or whatever replenishes your electrolytes.
If the weather in Greece is predicted to have a heatwave, skip the hiking altogether, especially if you hike in barren areas or gorges like Samaria in Crete, the heat can be unbearable.
Some times the authorities on very hot days close down the trails to deter people from hiking.
It is very easy to suffer a heat stroke while hiking in the Greek heat.
Greek Wildlife
With relation to Greek wild animals, the most dangerous can be the brown bears, a protected species – according to Arcturos NGO there are about 400 bears mostly in Rodopi & Pindos – the wolves (protected species), the wild boars and the vipers which can be found all over the mainland.
Attacks to people by those animals are rare.
Greek Vipers & Scorpions
Especially in the Cyclades where the terrain is barren of large plantation, you should be cautious of the vipers which are poisonous snakes. However, vipers are not aggressive animals, they are actually quite shy and slow in reactions and will bite someone only if you try to snatch them or if you step on them.
Read here info on Greek vipers, the species and the places in Greece they mostly live.
Generally speaking attacks to people from the vipers are rare, and Greece's most snakes are non-poisonous. If you see a snake and you are not sure whether it is poisonous or not, just walk away. Use your walking stick to shoo it off if this becomes necessary. You should NOT kill the snake if you see one, make a wide berth and keep on walking.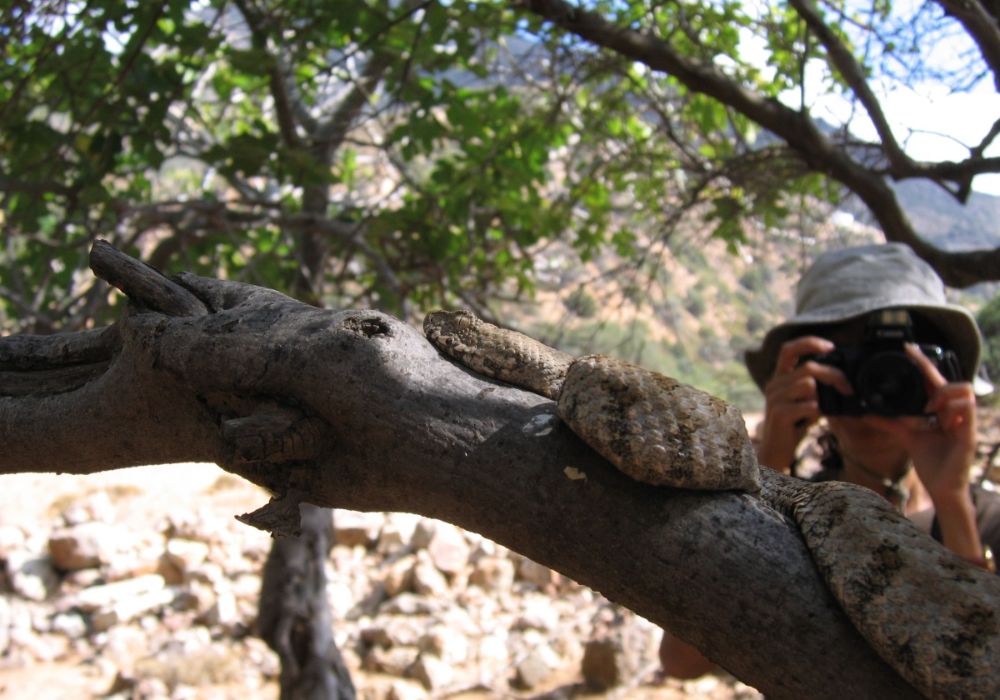 However, if for any reason you get bitten by a snake, try to remember its colouring and get to a hospital asap.
Scorpions also exist on many islands, so check your luggage, shoes and bedding carefully. Again, if you get bitten by a scorpion, reach for medical assistance immediately.
Greek Animal Tip: Occasional shouting will warn wildlife that you are walking in the area, especially near noisy creeks and dense forests. Remember, we are the intruders to their habitat and not them, so please respect wildlife and nature.
Greek Apiaries & Mosquitos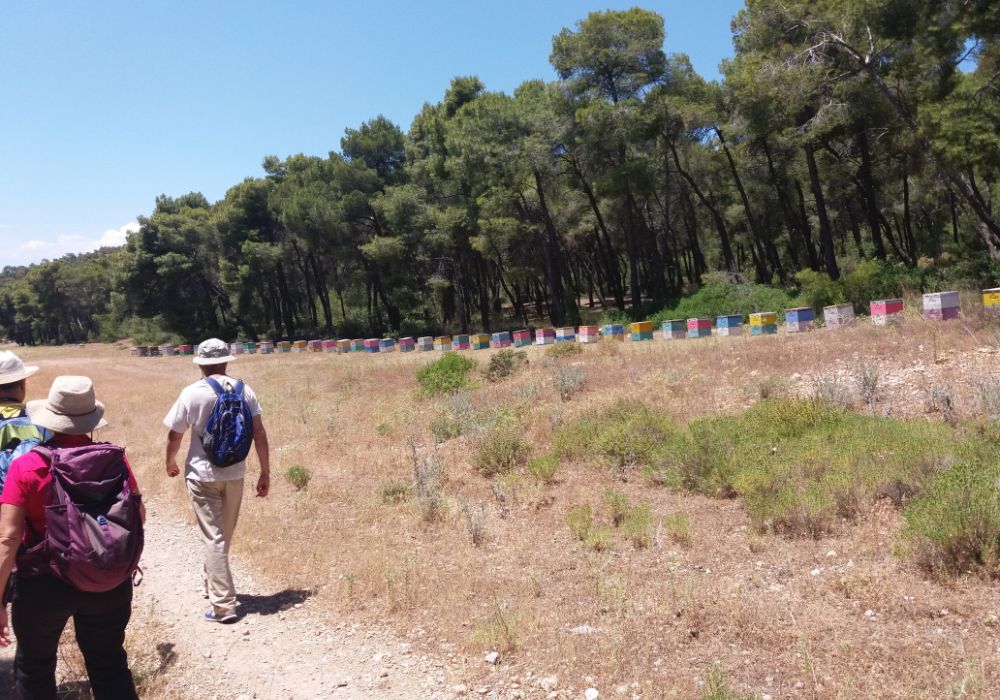 If you come across of apiaries, which are literally everywhere on Greek mountains, islands and valleys keep an at least 10 metres distance and be quiet. You really don't want to alert these busy bees, as they can come out in a swarm to chase you away and sting you in the process!
There are also plenty of mosquitos in some areas in Greece, so make sure you are prepared with anti-mosquito lotion if you'll be spending a lot of time outdoors.
In summer 2020, we camped in Elassona Mt, Kastanitsa peak for a weekend and when the sun fell, I don't know where all those mosquitoes came from. We had to rush and cover ourselves with long sleeves and trousers and 'bathed' in mosquito repellent.
Shepherd Dogs
The shepherd's dogs can pose a serious threat if you bump into them on remote Greek mountains or valleys and they can be very protective towards the sheep, to put it mildly. There might be 1 or 2 dogs but with a hiking group out of Larissa, we came across a flock with 8 shepherd dogs. Thankfully, nothing bad happened, they were friendly dogs, just curious and happy to see humans.
For the last 20 years, the shepherd dogs have reclining numbers as Greece is moving constantly away from small scale farming. However, the dogs are still around working and a lot of them seem to not like visitors to their area very much!
So, what to do if you bump into a large group of shepherd dogs?
Easier to say than to do but the following may save you from nasty bites:
No shouting, no running, no sudden movements, no aggressive behaviour. Stay Cool, dogs can smell your fear!
Don't turn your back to the dogs, don't look them straight into their eyes, start walking slowly sideways keeping a lowered eye on the animals. Talk to the animals in a calm and tender way. Try to see if the shepherd himself is around to save the situation.
If there is any large object around you that you can hide behind it, go behind it.
When the dogs realise that you are not a threat they will leave you alone
If possible, carry with you some dog food or anything meaty and tasty
Hopefully you will never have to deal with an aggressive group of dogs and they will be the usual friendly tail-wagging loving creatures.
Spring Plants
Greek springs are stunningly beautiful with hundreds of wildflowers blooming everywhere in the countryside. As the sun warms the soil, a lot of aroma comes from the flowered trees and brings with it … allergies.
According to the National Library of Medicine:
In Greece…most prevalent allergenic plants with known clinical significance are grasses, Olea europaea (olive trees) and Parietaria species. The pollen grains of these plants can reach high atmospheric concentrations if the weather conditions are favourable, causing severe clinical symptoms of rhinoconjunctivitis and/or asthma.
So if you get pollen allergies in general, it is best to come prepared if you are planning to hike in Greece, especially during the Spring. I am slightly allergic to pine trees and can start sneezing even when it is summer or autumn.
Summer Plants
In the summer, the low bushes on rocky places and on islands become very dry and a lot of them have thorns that not only can scratch repeatedly your legs but can also give you allergy reactions if you are prone to it (like I am!).
It is better to wear a light long zip-off or convertible pair of hiking trousers like these offers in Amazon.com:
Greek People
They say that you love or hate a place depends on the people you meet in the place.
Greek people are, generally speaking, (still) kind, hospitable, always ready for going out and being in festive mood and generous, especially in the countryside. The Greek word Philoxenia literally means, "love of foreigners".
Female travellers or LGBT people are at no risk at all of travelling alone in Greece. However, we should always exercise common sense when it comes to darkness and solitude as one would do, in your home country.
Please also note that trespassing into people's properties – usually because you think it is a shorter way or to take this amazing unique photo – is never welcome and if you have to do so, especially in the Greek islands, please close the gate behind you. They usually have goats or other animals keeping in and they will not be happy if they have to chase them all over the island.
Travel Resources
All the archaeological sites in Greece that have entrance fees can be found on the official Greek Ministry's website here. Before you purchase your tickets, especially if you are an EU citizen, check if you have free or reduced entrance. You should also check to see if you happen to visit on one of the free entrance dates. If you are going to Acropolis during the peak season (May-September) prepurchase your tickets as the queues are insane. Finally, from November to March entrance fees to all Archaeological Sites are 50% off everywhere in Greece for everyone.
Booking.com: I use Booking.com because I can get the best deals, has info on hotels and Airbnb's alike, with breakfast or not, free cancellations, and great prices!
Hiking Maps. You can purchase paper maps of Anavasi or Terrain from their sites which have much cheaper prices than Amazon. Alternatively, you can always buy a paper map on the island, when you get there.
Purchase the great hiking book Eastern & Northern Cyclades by Dieter Graf. You might be able to find it on a larger island but this is not always for sure.
Ferries: Book your ferry transfer with FerryHopper, and get the best price in the market with no hidden fees
World Nomads Insurance: I feel insecure traveling to another country without having even the most basic of insurances. Insurance will protect you against illness, injury, theft, and cancellations
iVisa: For any questions, you may have about your documents, passport if you need a visa, a new photo, or any visa-related matter, iVisa is your man (or woman!)
Get Your Guide: For all your day or multi-day tours and city guide needs, I use Get Your Guide
Emergency Numbers Anywhere in Greece: AMBULANCE 166 – FIRE 199 – POLICE 100
---
If you need help organising your trip around Athens, or you have questions about other Acropolis food and wine tasting, I would be more than happy to assist!
Send me an email at travelthegreekway@gmail.com or subscribe in the form for new posts and updates!