Paxos Greece (or Paxi) is a small, beautiful island in western Greece, south of Corfu island and north of Lefkada, Kefalonia, Ithaca, and Zakynthos. Paxos Greece will impress you with its exotic, turquoise water beaches, century-old olive groves, unpretentious seafront villages, and lush vegetation that reaches the water.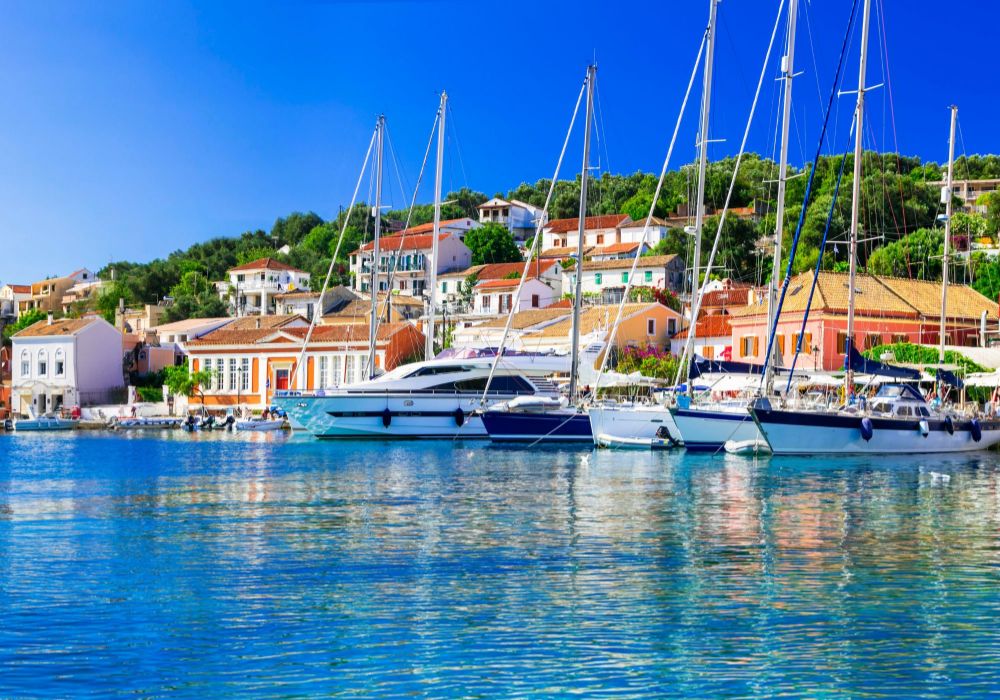 Paxos is one of the least commercialized islands in Greece, so charming and scenic that a lot of artists have made it their permanent home. The architecture of the houses is also very artistic-like built by the Venetians, with impressive mansions mostly found hidden inside olive tree gardens.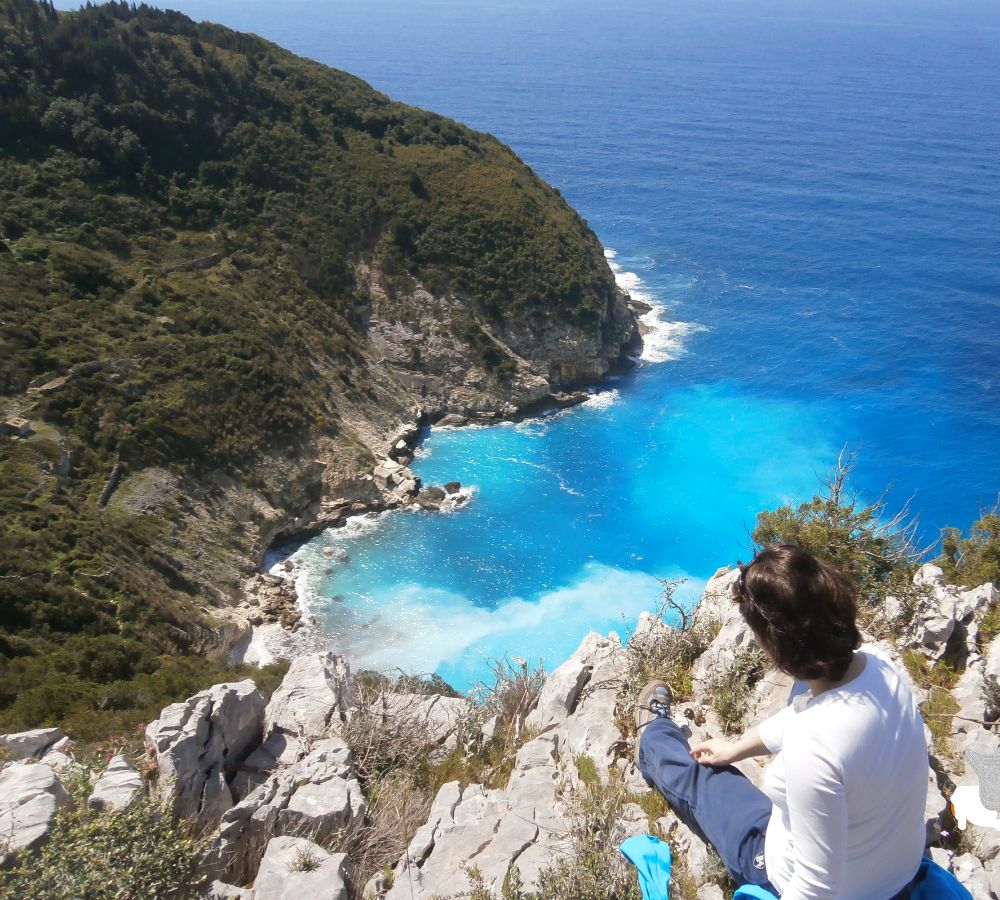 If you are looking for peaceful, low-key vacations in gorgeous scenery with picturesque villages, you have to go to Paxos. I have visited Paxos many times as I love its quiet nature interrupted only by buzzing bees and cicadas. I also find its wild western coast fascinating: the island's coast is steep, with remarkable chalky formations: caves, arches, domes, and vertical cliffs awaiting to be explored!
*Some of the links in this post are affiliate links. That means I may make a commission if you click and buy. The commission comes at no additional cost to you.
Athens Quick Reference
Where to stay in Athens with stunning Acropolis view: Niche Hotel or The Foundry Suites
Book your ferry tickets with no-hidden-fees at FerryScanner

or FerryHopper
Rent a car with Discover Cars for reliable new cars at affordable prices
Best Things to Do in Paxos Greece
Paxos island has three main villages, Gaios, the port, Lakka, and Loggos, at a short distance from each other. They have all retained their traditional, small fishing-village look, with great options for your meals or (low-key) nightlife.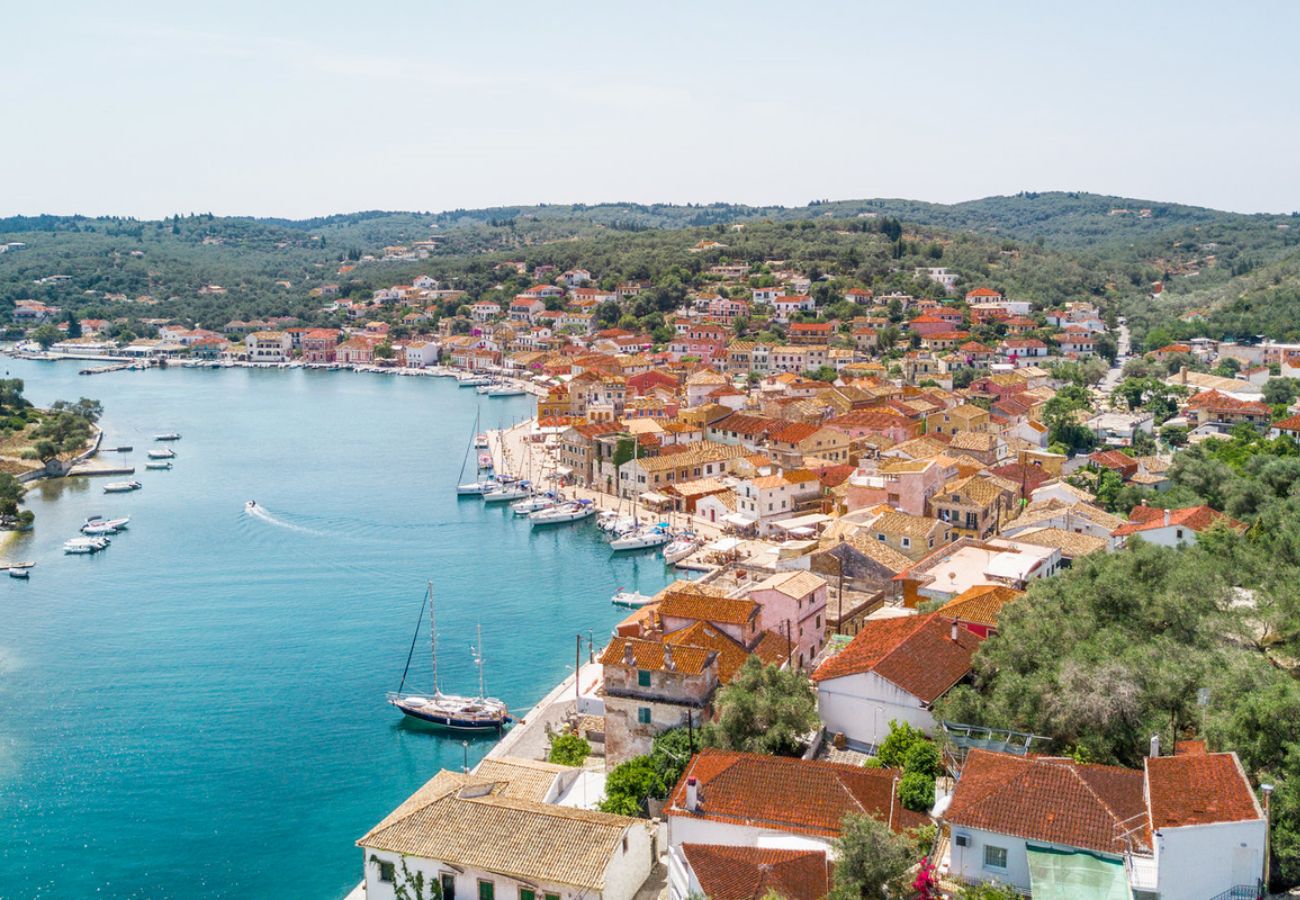 According to Greek mythology, Paxos Greece was formed when god Poseidon threw his trident with force at Corfu to detach a piece of land and turn it into his love shelter with the nymph Amphitrite. In other words, Paxos is a haven, to relax and enjoy life!
Up next I am going to tell you about 12 of the best things to do on Paxos island!
1. Explore Port Town Gaios Paxos
Gaios is the beautiful main village of Paxos Greece and this is the first thing you see when you are on a ferry or a hydrofoil from Corfu. Right across from Gaios sit the two islets of Agios Nikolaos and Panagia (Holy Mary) creating a stunning fjord that welcomes you as soon as you reach the island.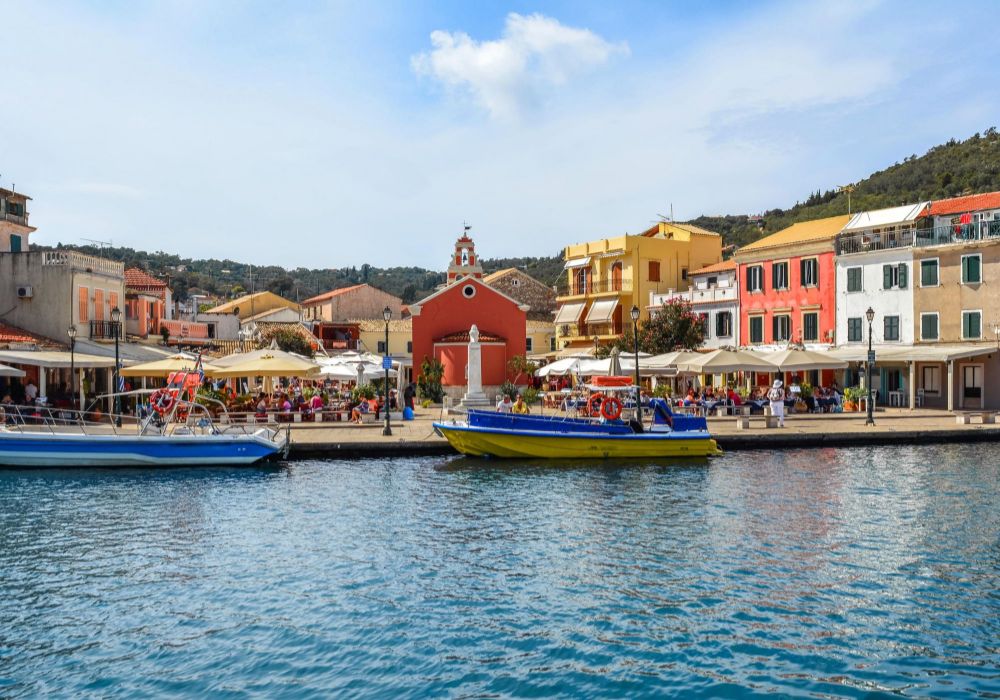 The seafront of Gaios is lined with cafes, traditional houses, and sepia-painted churches, giving it a refined Italian atmosphere. Perhaps this is one of the many reasons why Italians love Paxos so much and visit every year.
The small boats are rocking peacefully in the sea, and as you stroll the paved street, you will get across tamed ducks and geese which seem to be the island's mascots.
The seafront alley also hosts the single nightclub on the island, the main square of Gaios, along with a few taverns, fantastic cafes for a quality brunch, a bakery, and a grocery. The tiny alleys leading to the internal part of Gaios are a mixture of modern and Venetian-looking buildings, with tourist shops and cafes making it a colorful stroll.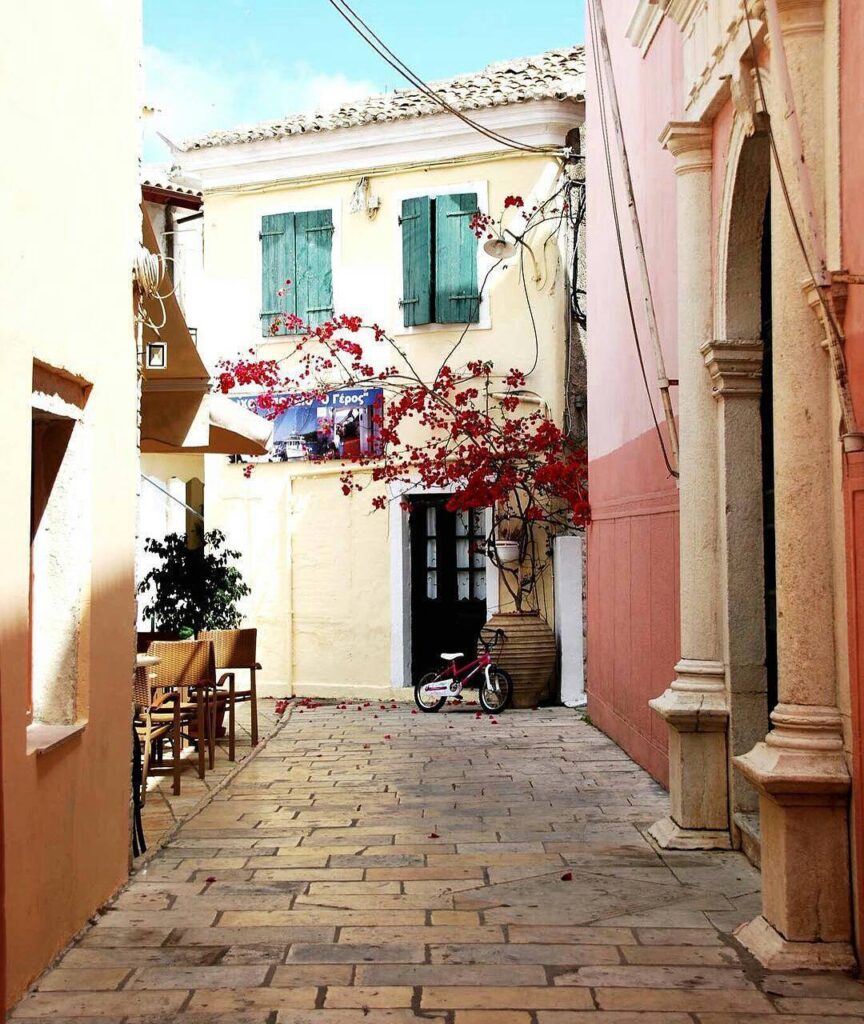 If you are interested in folk art and tradition, visit the Folklore Museum in Gaios with exhibits such as objects and paintings, from Paxos' past and historical documents. Open daily from 11.00-13.00 & 19.30-22.30.
Looking for great accommodation in Gaios? Check out Jenny's Apartment for prices and availability!
2. Find out about a Paxian Hero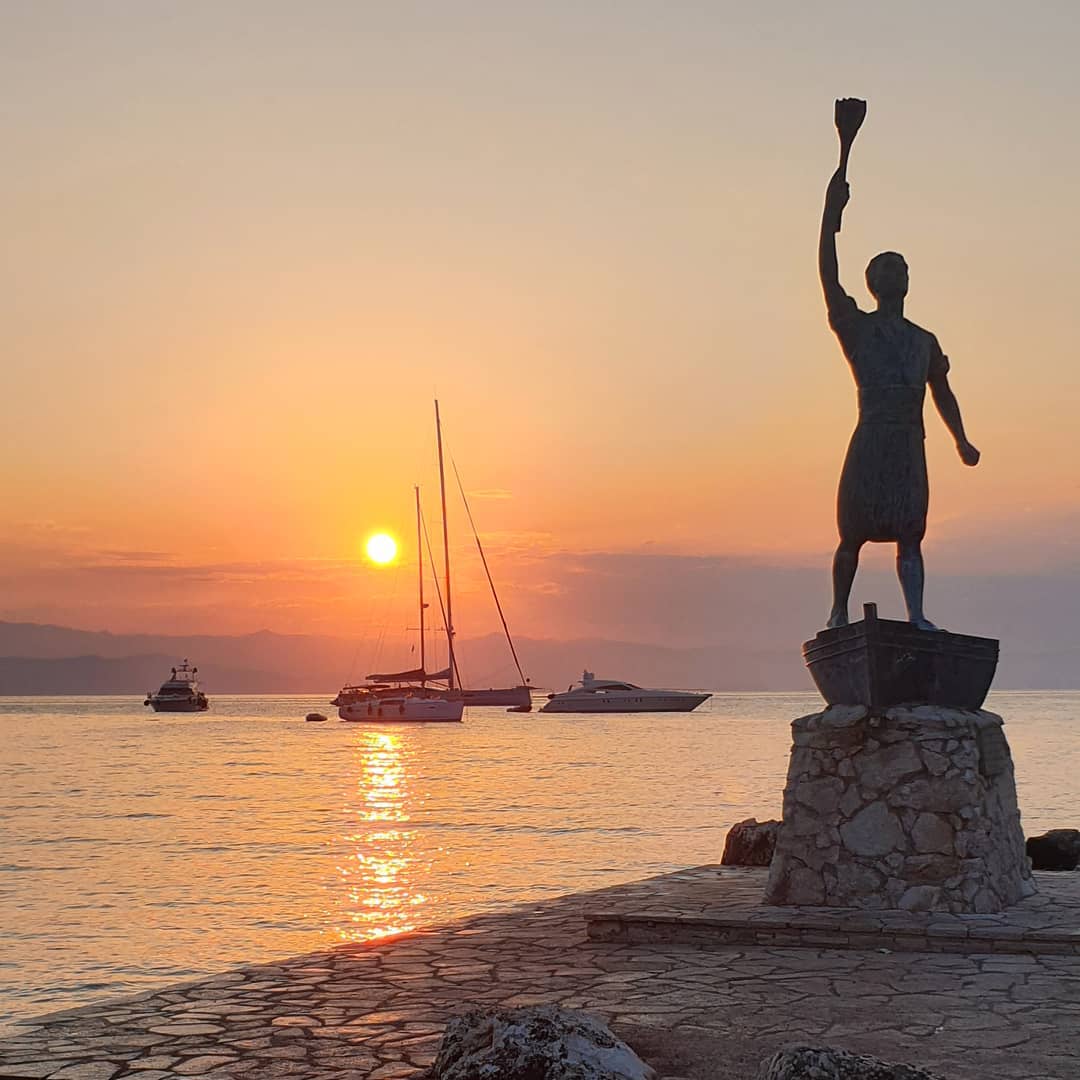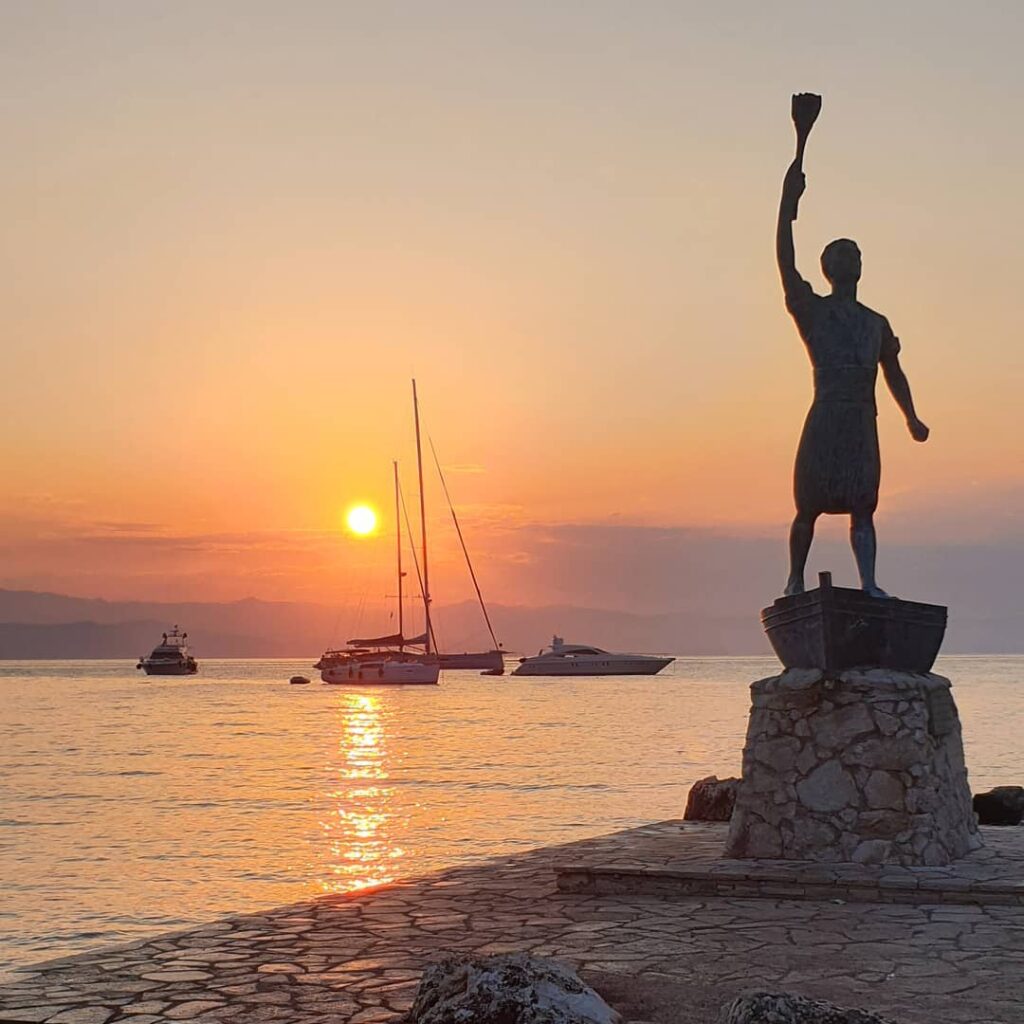 Wandering around the port of Gaios you will spot the statue of Georgios Anemogiannis, born in Paxos in 1798. Paxos and all the other Ionian islands were not conquered by the Ottomans. However, Georgios, along with thousands of other Ionian island residents, volunteered at the Greek War of Independence against the Ottomans.
During a naval fight in Nafpaktos on June 10th, 1821, Georgios led a flaming Greek ship against the Ottoman fleet, single-handedly. He jumped into the sea the very last minute before the collision, soon to be captured by the Ottomans who burnt him alive as a punishment. Georgios Anemogiannis has been declared a Greek hero ever since and there is a similar statue dedicated to him in the port of Nafpaktos town (mainland Greece).
3. Visit the Pretty Islets of Gaios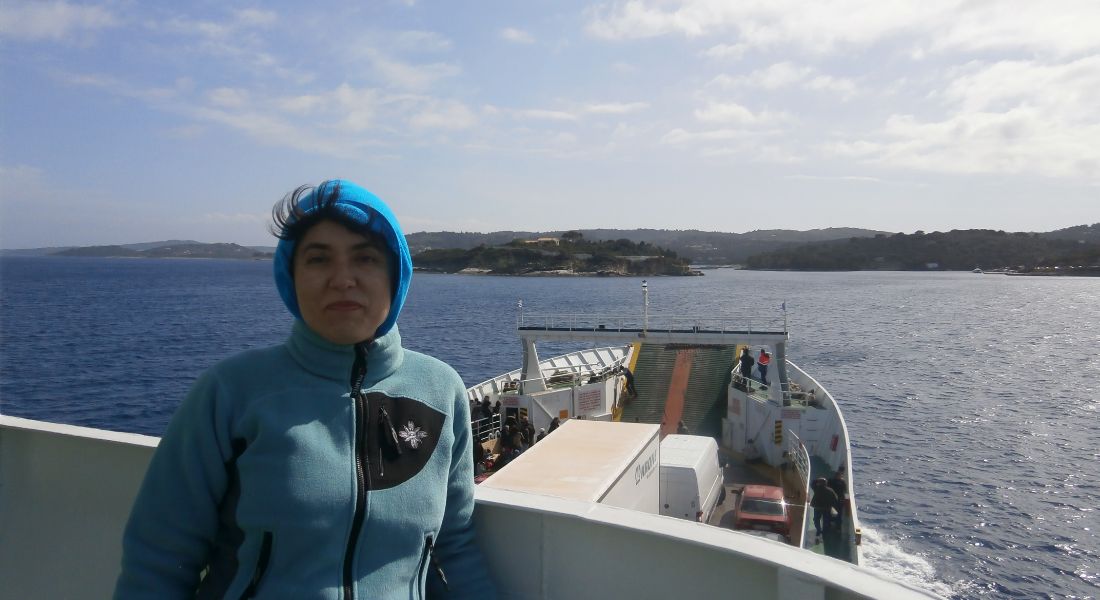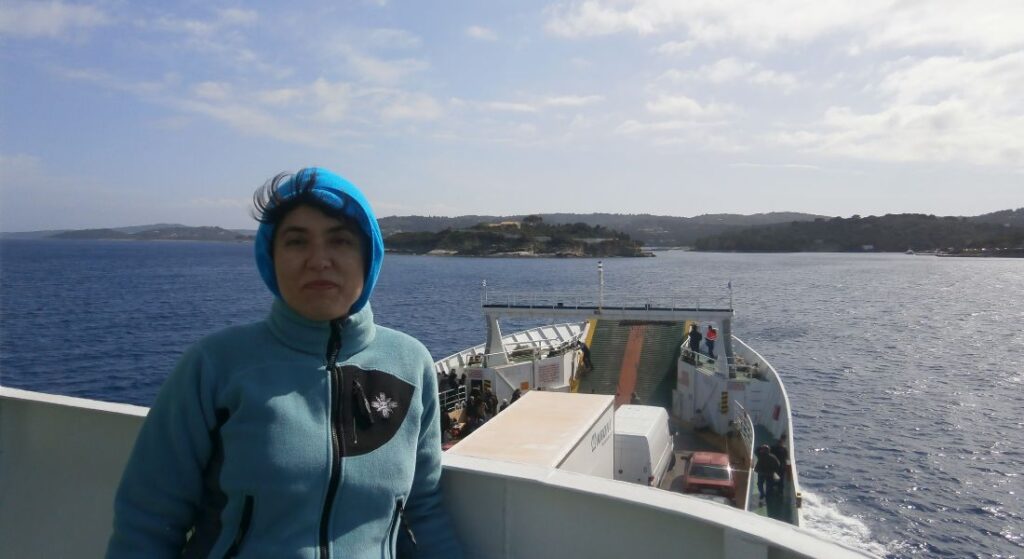 Paxos Greece is a cluster of a total of nine islands with Paxos island being the largest and the islet of Panagia (Holy Mary) the smallest.
The islet of Panagia is uninhabited with a single white monastery dedicated to Holy Mary. It celebrates every August 15th and there is a mass performed.
Agios Nikolaos islet is the second islet you will see upon reaching Paxos. It is also uninhabited but in the center of its land sit the ruins of a once mighty castle built in 1423 by the Venetians. There are also two churches. The castle has been declared a protected monument and you can visit the islets using one of the taxi boats that depart from the port of Gaios on a daily basis.
4. Go to Lakka village
Lakka, is a small seaside village, with a traditional atmosphere and is very popular for sailing boats, located north of Paxos. Lakka is a top destination for food tasting, a mouth-watering mixture of Greek and Italian cuisine (yum!). In Lakka Paxos, you'll also find a great selection of quaint bars and restaurants to dine in and several artisan shops, including beautiful, hand-painted ceramics.
Check out the pretty, turquoise beach of Lakka (pebbled) with sunbeds to rent, a beach bar, and kayak boats if you would like to explore the small bay.
Looking for accommodation in Lakka? Check out Villa Ermis for prices and availability!
5. Walk to Lakka Lighthouse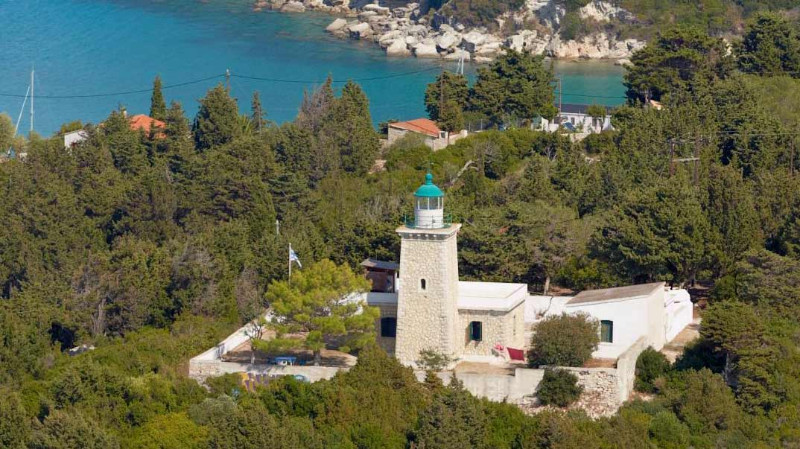 One km northwest of Lakka Bay stands the lighthouse of Paxos island built in 1825 in a different spot but was rebuilt in 1919. You can hike there on an easy dirt road or you can drive to its entrance. The stone building might be closed but the hike is worthwhile with great sea views.
6. Check out the 2-Dome Church of Ypapantis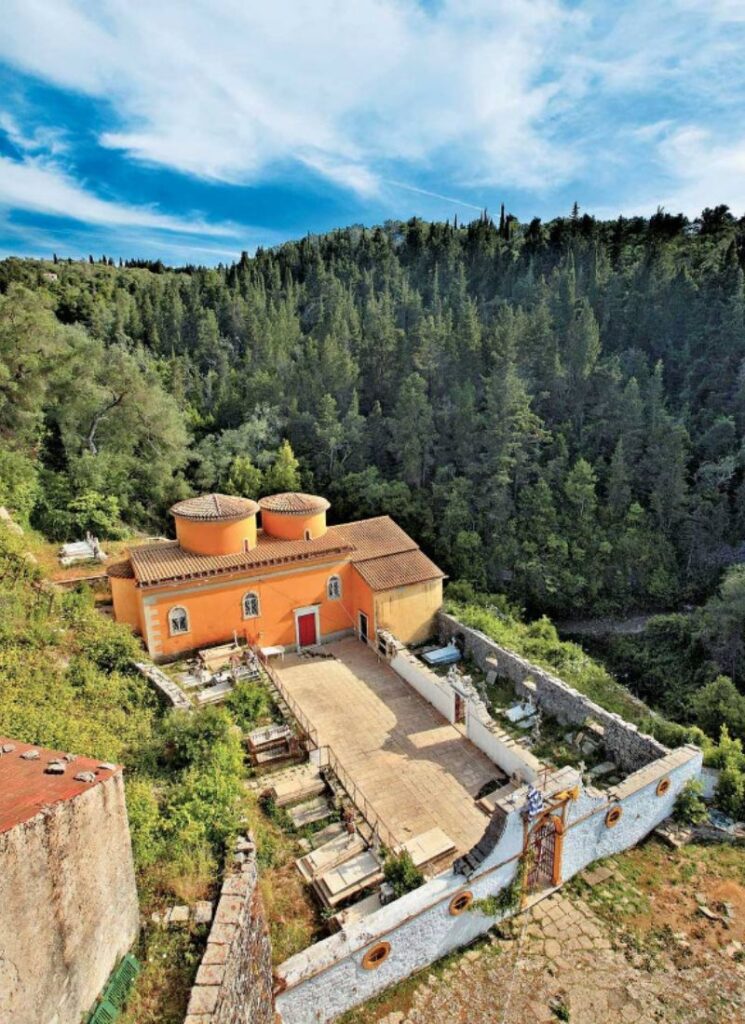 Traveling south of Lakka, in the lush green area of Grammateika, you will discover a rare church in Greece, one with a double dome, the Church of Ypapantis. It was built by the brothers Adam and Vasilis in 1601 and has a magnificent marble iconostasis, added in 1909.
If you get to the top of the bell tower with four large bells, the 360° view of Paxos, is stunning.
You may also enjoy: 20 Best Things to Do in Zakynthos
7. Indulge in the Best Beaches on Paxos Island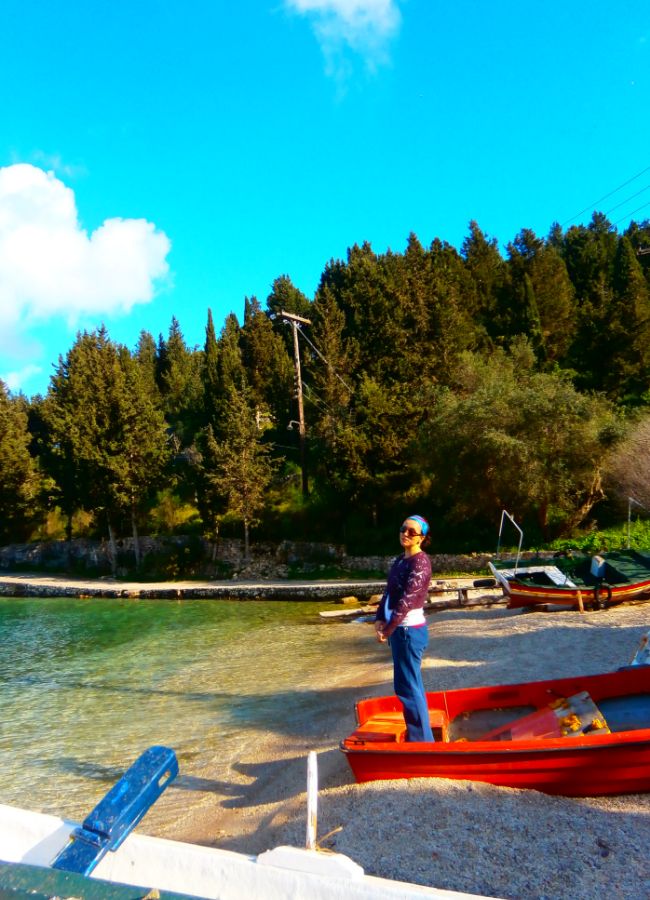 The beaches on Paxos are usually quite small, pebbled, with crystal clear waters, and mostly unorganized. My favorite ones are Erimitis Beach, a secluded, imposing beach, and Kipiadi, a large but low-key beach.
Erimitis Beach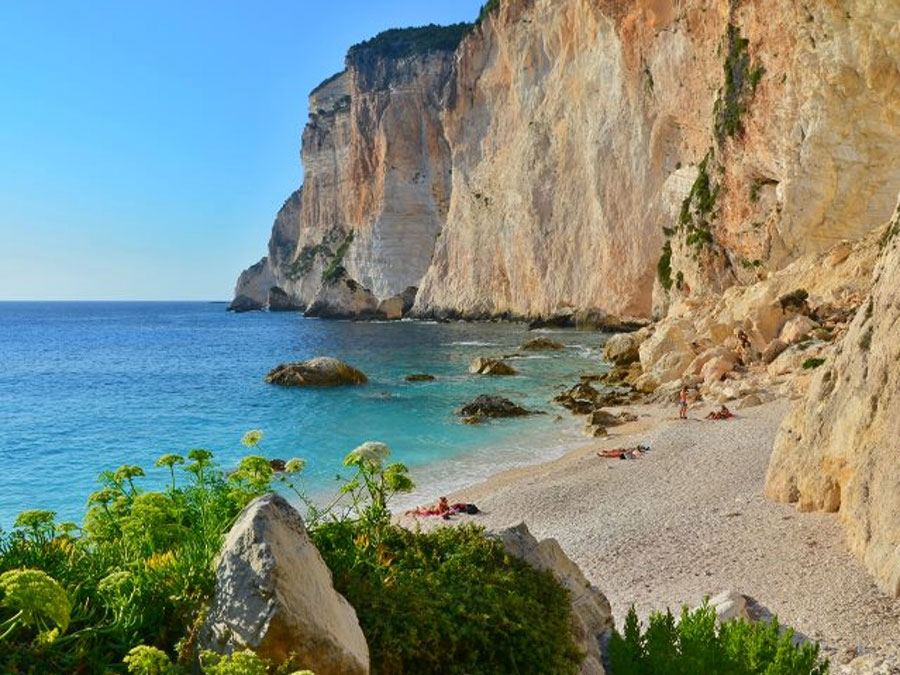 The most impressive beach on Paxos Greece, Erimitis, is located on the west of the island, an absolutely beautiful beach. If you go early in the morning in summer, it will be all yours to admire the most stunning cliffs and be greeted by clear crystal waters. Erimitis is the perfect location for a magical sunset on Paxos Greece.
The path to the beach is quite steep so you better wear your anti-slippery/hiking shoes (no flip-flops). There is no natural shade or a kiosk, so you better bring supplies with you. If you have small children, this beach is definitely not a good one for them.
Kipiadi Beach
Kipiadi, in eastern Paxos, is the largest beach on the island with beautiful turquoise waters and pebbles. It is close to Loggos with easy access through a dirt path. The beach is not organized so you better bring with you water, a sunbed (the beach has large round pebbles) and an umbrella. This is mostly a quiet beach and you can enjoy the peacefulness and beauty of nature.
If you are with kids the best beaches in Paxos are:
Monodendri Beach is partly organized (has sunbeds) and gets crowded in the summer
Mongonissi, one of the few sandy beaches on the island, with crystal clear waters, is an idyllic place for children and is easily accessible by road. And gets very popular during the summer
Harami is a well-organized beach with water sports rentals and a beach bar.
8. Stroll Loggos Village
Loggos is the smallest port on Paxos island, its seafront lined with sepia, red, and yellow colored houses, and small boats. Between the houses and the taverns, you will also find the odd flip-flop shop or bars where you can sip a cocktail watching all day the yachts and the gulls shouting from above.
Looking for where to stay? The Country House in Loggos is a charming stone property inside an olive tree garden with its own private swimming pool.
9. Hike the Olive Groves of Paxos Greece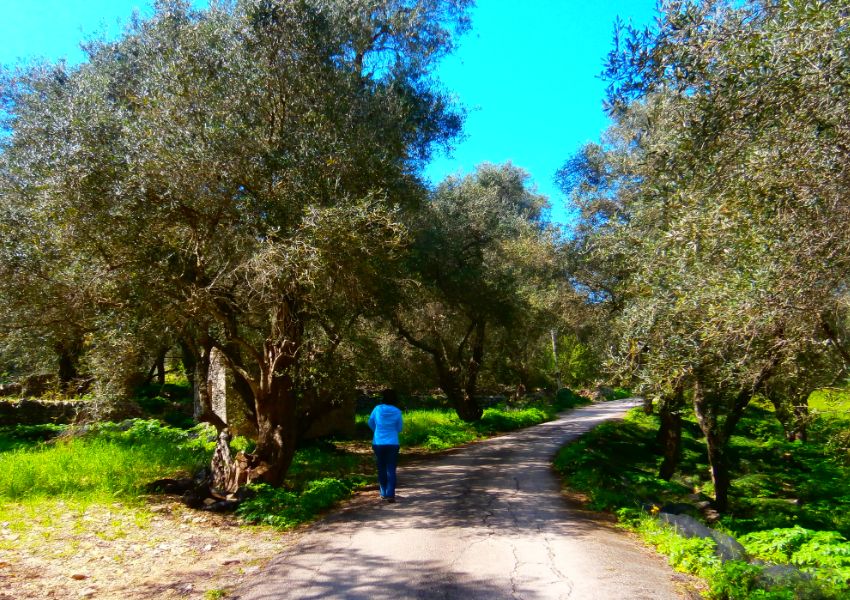 There are an estimated 300,000 olive trees on Paxos so hiking in beautiful olive groves is a must on the island. There are many hiking trails, all very easy with slight elevation differences in a mixture of clearly marked trails, some of them are stone-paved and asphalt in some parts.
You can even hike from one side of the island to the other and meet some of the island's fairy-tale buildings of particular architecture, as well as chapels, windmills, and abandoned olive mills.
A unique landmark that you can hike to in Paxos is the Tripitos Arch, a natural rock arch near the village of Ozias. There are signs that you can follow to get there.
Avoid walking in the arch if there is wind, the specific spot is always very windy and there are no protective bars to grab in case of a gust. Good hiking shoes are recommended as well.
You may also enjoy: 14 Awesome Things to Do in Lefkada
10. Hop from Paxos to Antipaxos
Antipaxos island is just 3 nautical miles from the port of Gaios, in Paxos, famous for its stunning beaches and fine wine production.
The exotic beach of Voutoumi is considered one of the most beautiful beaches in the world. It is a white sand beach with crystal clear turquoise water that you can see clearly every single sand grain in the seabed.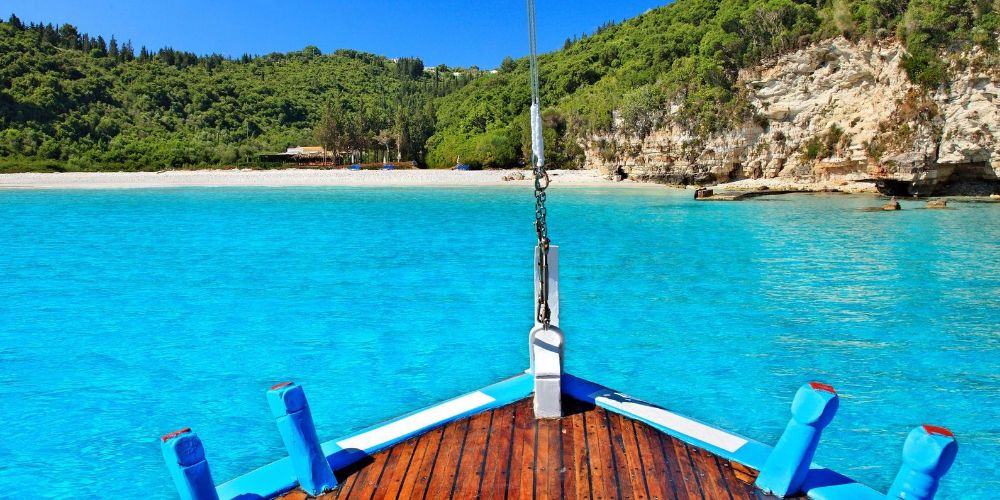 Antipaxos is a unique paradise for wine tourists as well, as tsoukaniaris, lianorogo, asproudi are among the varieties of white wines that thrive on the island, while fidias and petrokorinthos are some of the varieties of red wine.
Antipaxos has no facilities to stay overnight although there is a tiny settlement with private houses. There is a cafe where you can sit right by the beach and enjoy the magnificent view that also rents seabeds and umbrellas.
11. Sail around Paxos to the Blue Caves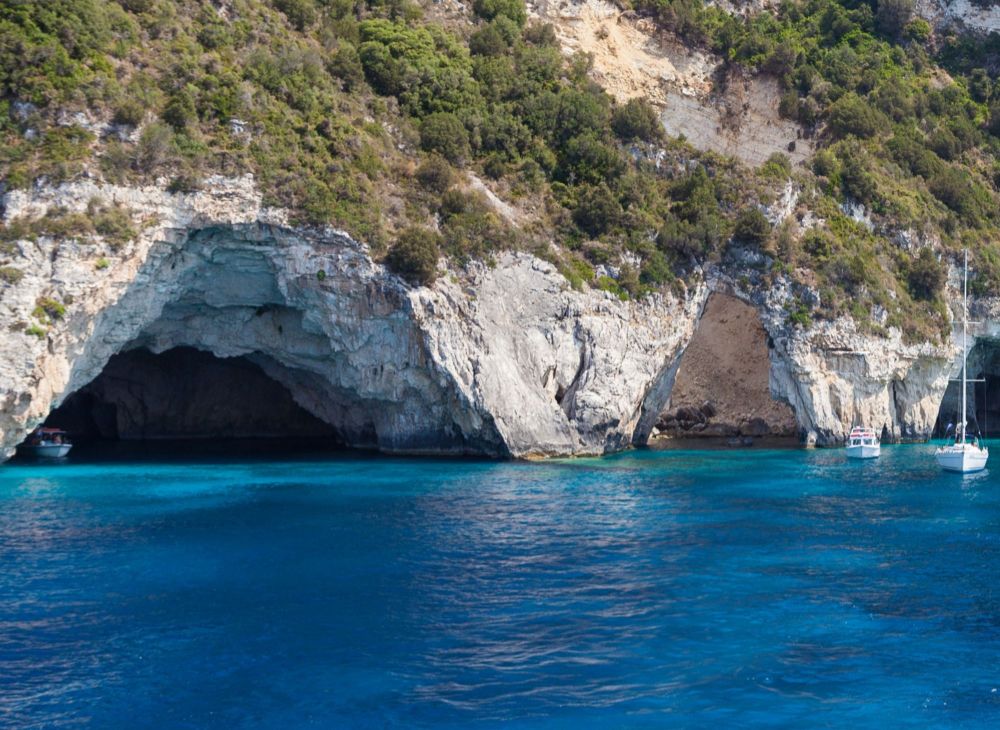 One of the coolest things to do in Paxos Greece is to sail around the island. That way you can not only dive into any remote beach you would like to but also you can explore the imposing Blue Caves and impressive rock formations, at the wilder western part of the island.
You can rent your own motorboat from Lakka or Gaios but if you are in Corfu and would like to visit for a day you can book this exciting Full-Day Boat Tour of Paxos Antipaxos and Blue Caves!
12. Visit the Olive Oil Museum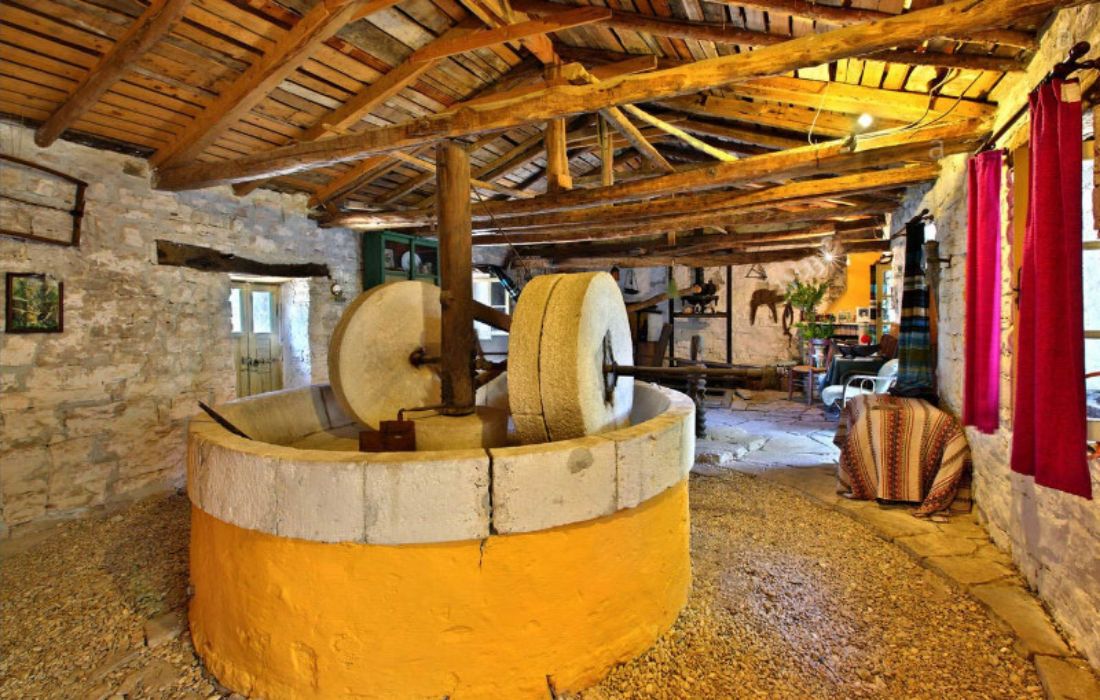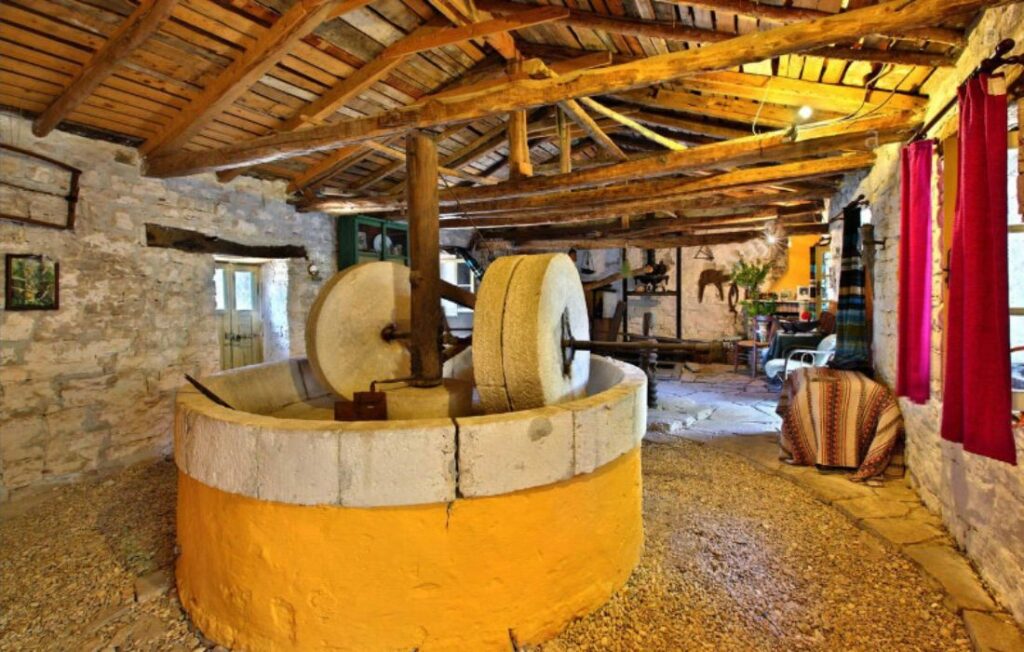 The Olive Museum is housed in an old stone olive press of the 18th century, just outside the settlement of Magazia.
Here you have the opportunity to learn the secrets of the olive tree, as well as its cultural history in Paxos. In the museum, you can also learn about the traditional process of oil production from the crushing of the fruit. Contact +30 26620 30043.
Where to stay in Paxos Greece
There is not a huge selection of properties to stay in Paxos Greece and the majority are apartments with self-catering. I have singled out Jenny's Apartment, centrally located in Gaios and with beautiful views of the sea and the town.
Villas in Paxos Greece
Or, you can choose one of the luxurious stone villas with private pools and magnificent sea views, usually hidden by the olive trees. One of the best, 2 km from Gaios, is Jean Luc Villa which can host up to 8 people.
Lakka Paxos Accommodation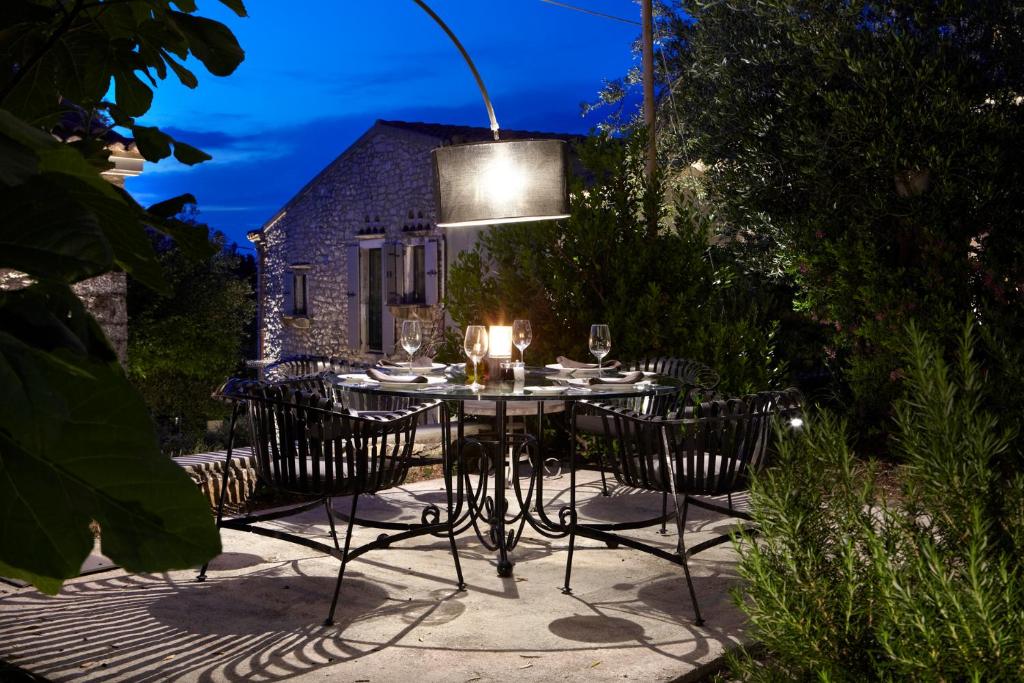 Torri E Merli Boutique Hotel is one of the few hotels operating in Paxos and probably the one with the best breakfast. Surrounded by olive trees and with its own swimming pool, this modern hotel will make your vacation in Paxos a complete treat!
Where to eat in Paxos Greece
Taste Antipaxos' local demi-sec wine, dark in color, made using local indigenous varieties of Phidia and Petrokorinhtos. Its small production makes it hard to find, but if you love wine tasting, seek it out.
Local cuisine on Paxos island is quite similar to Corfu's. Pastitsada (beef stew, cooked in a tomato ragu with spices), bourdeto (spicy fish with red sauce) and sofrito (beef in a rich gravy) are some of the main dishes of Paxos. Also try beans, artichokes, and olive oil.
Taverns in Paxos that I like
Wherever you go on Paxos, you will have high-quality food. Bono, the famous Irish singer-songwriter, was at the superb seaside taverna Bouloukos, in Levrechio beach in Loggos.
For a really traditional Greek cafe, go to Bournaos Kafenio in Magazia.
Genesis seaside Tavern is a traditional Greek cuisine hub right on the seafront of Gaios, a great place to enjoy a romantic dinner.
When Best to Visit Paxos
The island is at its liveliest between May and September and in peak season from July to August, Paxos can get very busy. The sea water is at its warmest (25-28 C) in August and September and the hottest months are July and August with average temps around 33 C.
I love exploring the islands in the off-season, and that means that there will be hotels, cafes, and taverns working, but it will be quiet with just the permanent residents around (2.419 people, 2021 census).
How to Get Around Paxos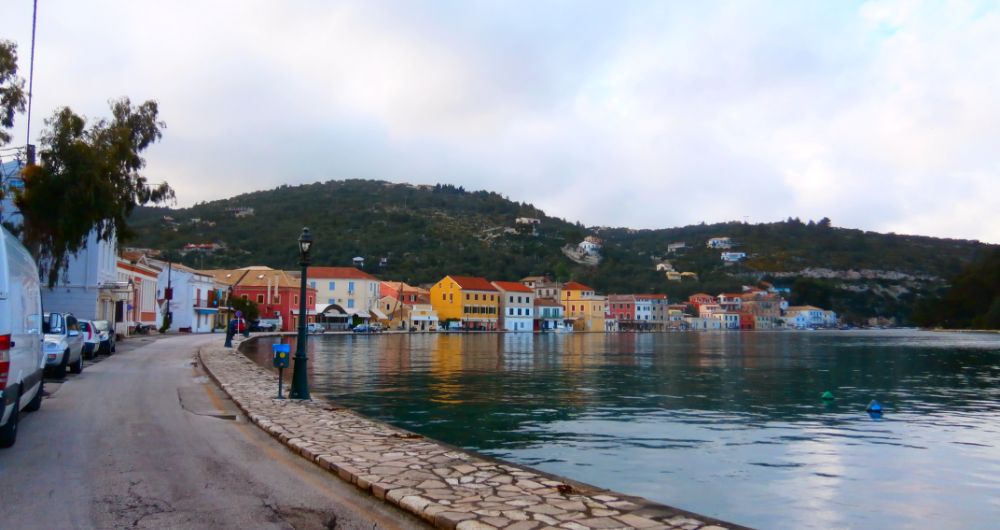 There is public transport on Paxos Greece that you can use, the KTEL buses. There are 3 routes during the day on the island, which go around the island and start/end at Gaios. The buses pass through all the major settlements on the island.
If you would like to have the freedom to wander around the island whenever you want, then you should rent a car. As the three port towns of Gaios, Lakka, and Loggos are full of yachts, sailboats, and inflatables, you can also rent a little motorboat (you don't need a skipper's license).
Finally, you can make use of the 5 taxis that are working on Paxos. It is best to discuss in advance the cost and book them if you will need them in the near future.
Taxi owners' numbers:
Nikos Mourikis: +30 6974349260
Tasos Mourikis: +30 6976648486
Kostas Antiochos: +30 6974002236
Christos Argyros: +30 6977472747
Nikos Bogdanos: +30 6974135660
How long should you stay on Paxos island
If you are visiting Paxos from Corfu, you can see a lot of the island on a day trip but I would suggest you stay overnight, it is such a beautiful island and needs more than a day trip to discover its charm.
If you do not have the time to stay in Paxos it is well worth booking a Full-Day Boat Tour of Paxos Antipaxos and Blue Caves!
How to Get to Paxos Greece
Ferry to Paxos from Corfu
There are no flights going directly to Paxos Island. Instead, you can fly to Corfu island and take the connecting ferry from there.
Between May and October, you can fly direct to Corfu from most European airports. Between November to April, you have to fly to Athens airport and change for the flight to Corfu. From Corfu airport, you have to take a taxi to the New Port (cost €10-€15) to get on the ferry. The trip from Corfu to Paxos will last between 60 and 90 minutes, depending on the type of vessel you will get.
Ferry to Paxos from Igoumenitsa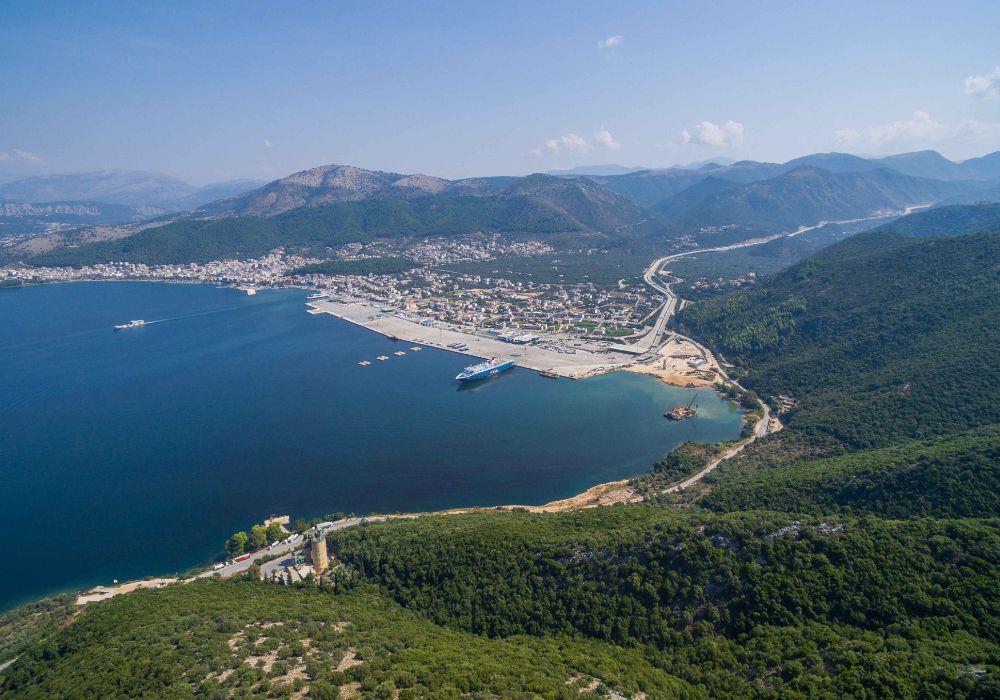 Igoumenitsa is a mainland port across from Corfu and has 2 ferries running per day (all year round) to Paxos. One is at 10.30 am and the other is at 15.30 pm. (Time may change so you better check the ferries in advance). The trip lasts 1.5 hours and the ticket is around €10 one way.
Day Tour with a wooden ship from Parga
If you are in Parga and would like to visit Paxos and Antipaxos you can book a day trip with a … pirate-looking ship, called 'Captain Hook'! It looks like a lot of fun to me and you can book online for a day trip here.
Google Map of Paxos Greece
Find here the Google map of Paxos to drive to all the places mentioned in this post.
Where is your dream summer destination? Would you go to Paxos?
I'd love to hear about where you're spending your vacation this year, especially if you have any exciting travel plans! There are so many things to do on Paxos island. I hope that you get the chance to try as many as possible. Till next time, Evgenia❤️
All rights reserved © Travel the Greek Way. Republishing this article and/or any of its contents (photographs, text, links) is strictly prohibited.
Travel Guides for Greece
Essential Travel Info for Greece
'Hello' and 'Thank You' in Greek: "Ya sou" and "Efharisto"
Booking.com: I use Booking.com because I can get the best deals on both hotels and apartments, free cancellations, and great prices!
Find Long-Term Rentals in Greece: You will find the best prices in Flatio
FerryScanner to book ferries to the Greek Islands
Athens Metro Website (timetables and ticket info)
Get Your Guide: For all your day or multi-day tours and city guide needs, I use Get Your Guide
Emergency Numbers Anywhere in Greece: AMBULANCE 166 – FIRE 199 – POLICE 100– EMERGENCY NUMBER 112