Are you planning your trip to Greece and you are looking for the best things to do in Lefkada, one of the most impressive islands in the Ionian Sea?
Lefkada is a lush green island with stunning white sand/pebble beaches with the bluest water in Greece. Set in western Greece, north of Kefalonia and Ithaki, it is connected to the mainland with a floating 400-meter bridge that you can drive through.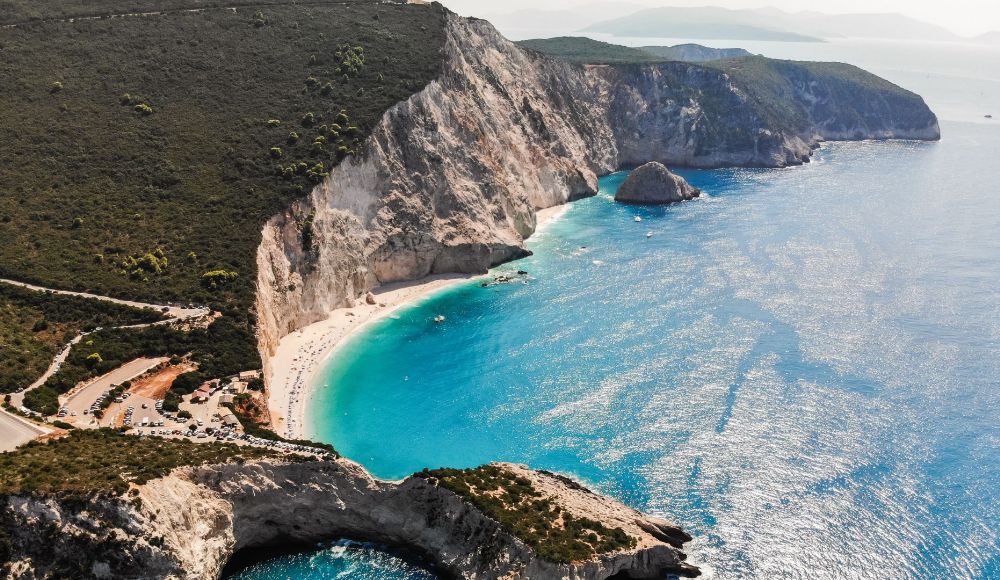 Lefkada is one of the world's top beach and sea sports destinations (especially for windsurfing and kitesurfing). The best time for any wind-related sports is in July and August when there is a constant moderate breeze.
Because of the island's gorgeous mountainous, forest and waterfall landscape, mountain biking, trekking, and hiking are also some of the best things to do in Lefkada.
Lefkada is also ideal for families with the long, gorgeous beaches, and the tranquil small mountain villages that offer the opportunity for relaxation and entertainment for everyone.
Finally, with Lefkada's famous vineyards and olive groves, the island is a paradise for those who love Greek cuisine and wine tasting!
Let's now see all the fantastic things to do in Lefkada during your vacations.
Some of the links below may be affiliate links. That means that I may earn a commission if you click and buy. The commission comes at no additional cost to you.
Best Things to Do in Lefkada
When you visit Lefkada I recommend spending at least 4-5 days on the island to really experience all the top Lefkada attractions.
1. Walk around Agia Mavra Fortress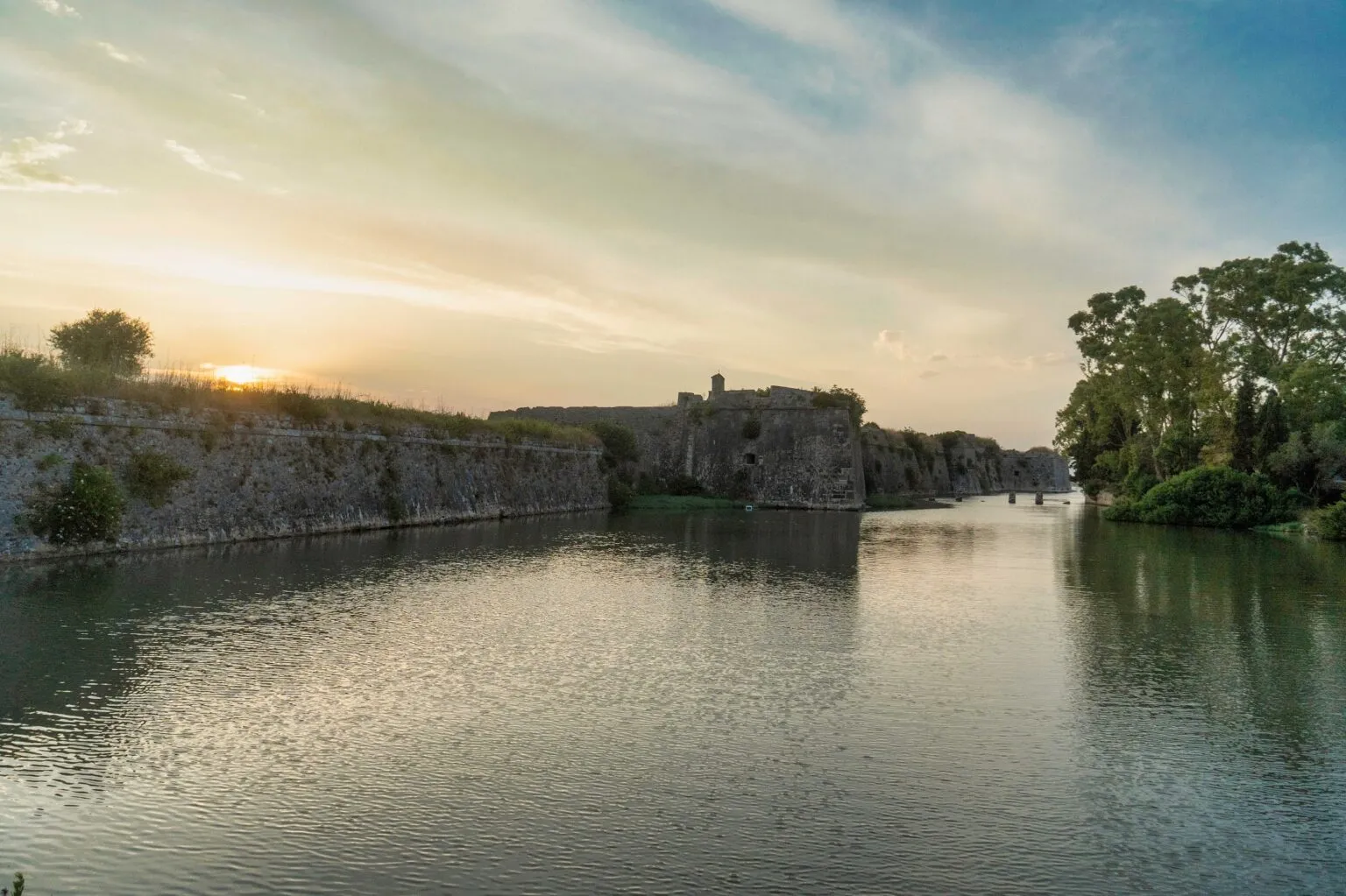 The 13th-century fortress of Agia Mavra sits right at the entrance of Lefkada and is one of the most imposing medieval buildings in Greece. Wandering around you will see the remains of the Church of the Pantocrator, built on the site of a mosque in 1684, the small Orthodox church of St. Mavra inside the bastion built in 1883, and the eastern gate with the suspension bridge.
You can visit the fortress every day between 8.00 to 15.00 in winter and 19.00 in summer except on Tuesdays that is closed. There is a small entrance fee (around €4).
2. Explore Lefkada Town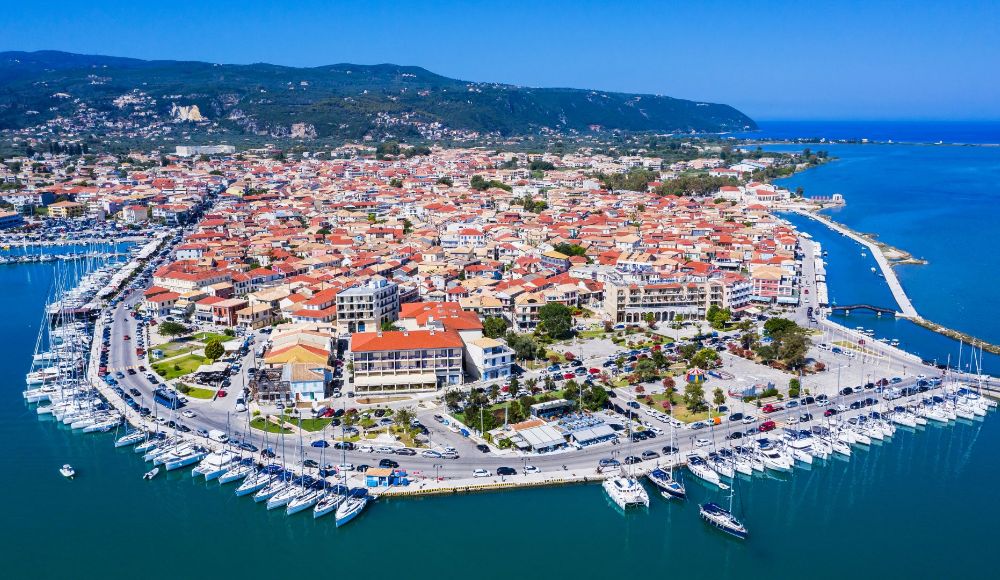 In 1953, one of the most catastrophic earthquakes in Greece hit the Ionian Islands. Zakynthos was flattened but also Lefkada town was mostly destroyed so everything you see today is new buildings.
The town is surrounded by the sea and two impressive lagoons, a protected ecosystem with many plants and birds such as cormorants, herons, and hawks. Weasels, foxes, and hares are often spotted near the lagoons as well.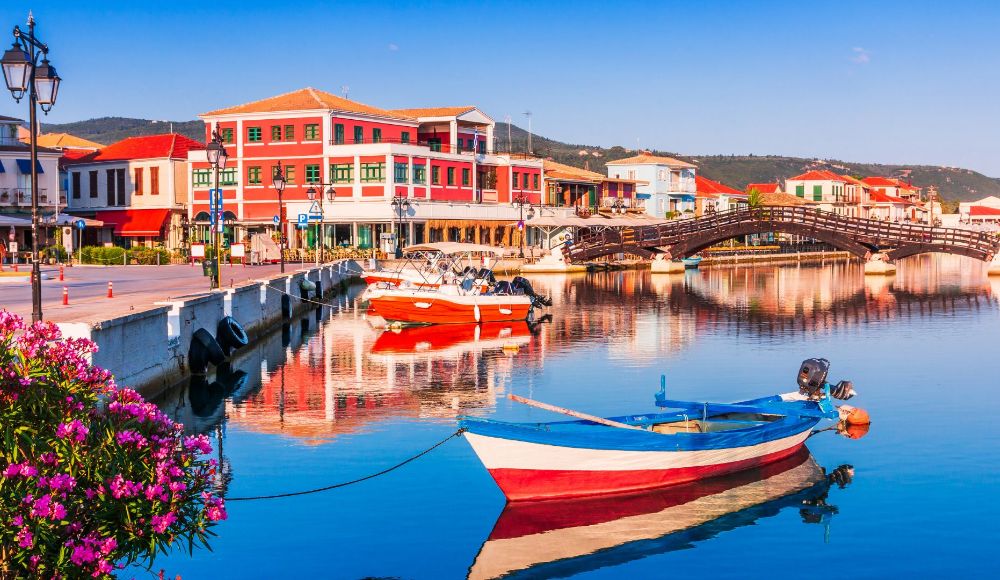 Next to the lagoons, you will find a modern, and well-equipped marina with 600-plus berths, a great place to stroll and see the yachts passing by. Lefkada is the financial center of the island so here you will find any kind of businesses you may need plus a large number of restaurants, bars, cafes, and traditional taverns.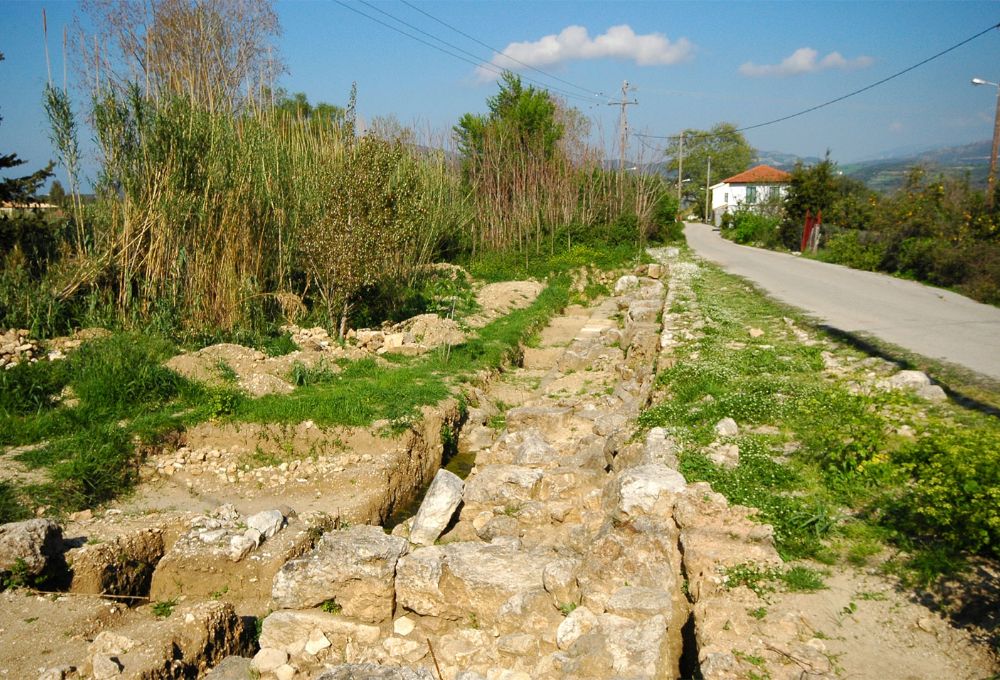 If you love walking and archaeological sites then you can go to Kalligoni, 2 km east of Lefkada town, passing through an olive grove. Kalligoni was the center of ancient Lefkada. The area has been declared an archaeological site and you can visit the remains of ruins dating from Archaic to Roman times. Free entrance.
In Lefkada town, you should visit the impressive Archaeological Museum which contains objects from the Middle Palaeolithic period (200,000 BC – 35,000 BC) to the late Roman period (4th century AD). Open daily between 8.30 am – 15.30 pm except on Tuesdays.
3. Visit the Monastery of Panagia Faneromeni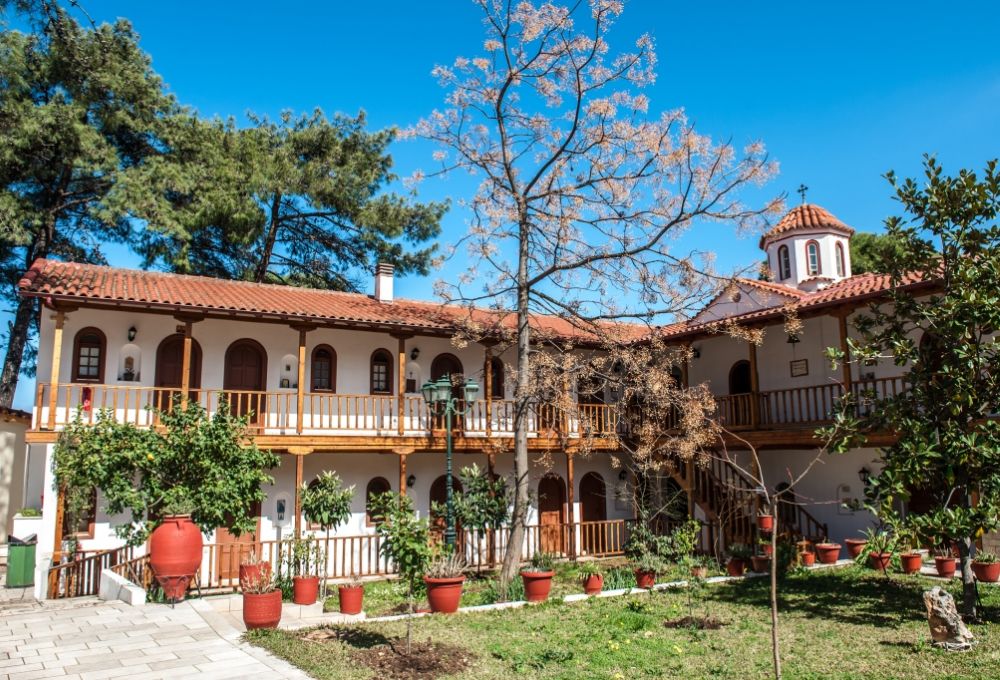 Panagia Faneromeni Monastery (dedicated to the Assumption of the Virgin Mary) is just 3 km far from Lefkada town and is the largest and most significant monastery on the island. Built on top of an ancient temple to Artemis, its story begins in 63 CE, when Apostle Paul sent his 3 students Akyllas, Sosionas, and Irodionas to preach about Christianity.
Besides the monks' chambers and the Catholicon, you can visit the modern Ecclesiastical Museum, as well as the Maritime Museum, with ship models.
In the Monastery 4 monks and 1 novice live, and welcome visitors from sunrise to sunset. During the summer it is closed between 2-4 pm. Please wear modest clothes inside the monastery (no shorts, or uncovered shoulders).
4. Dive into Lefkada's Divine Beaches
The impressive beaches with the white vertical cliffs and the dazzling blue waters are mostly in the western part of Lefkada. Here are the best beaches that you should definitely go to when you are on the island:
Porto Katsiki
Porto Katsiki (Katsiki = goat in Greek) is a world-famous small-pebble beach in Lefkada about an hour's drive south of Lefkada town. It is an extraordinary remote beach, surrounded by breathtaking steep, white cliffs with turquoise crystal clear waters.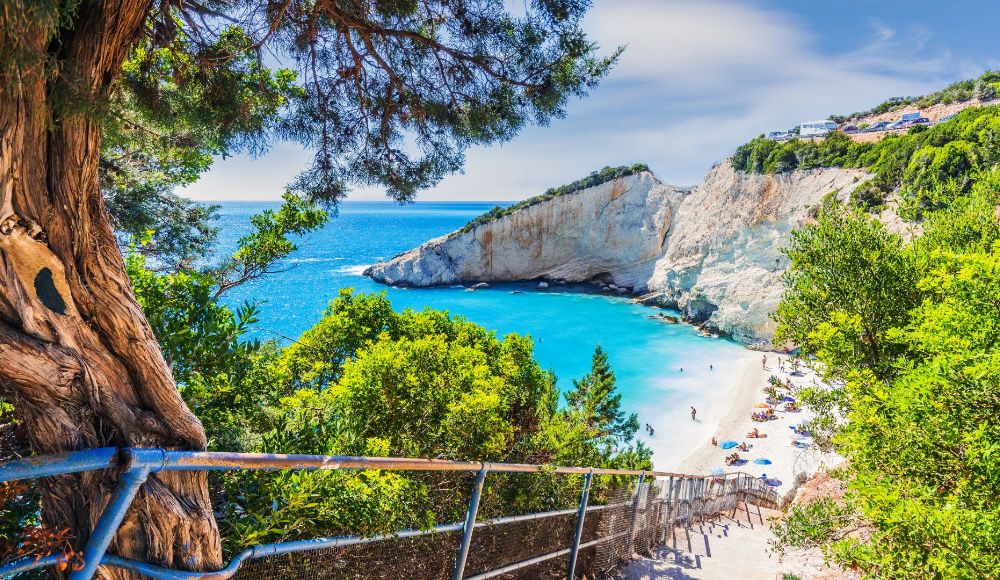 There is a parking lot on top of the beach with small stores where you can buy food, drinks, umbrellas, and such. Then you have to descend 80 easy steps to get down to Porto Katsiki and indulge in a magnificent beach.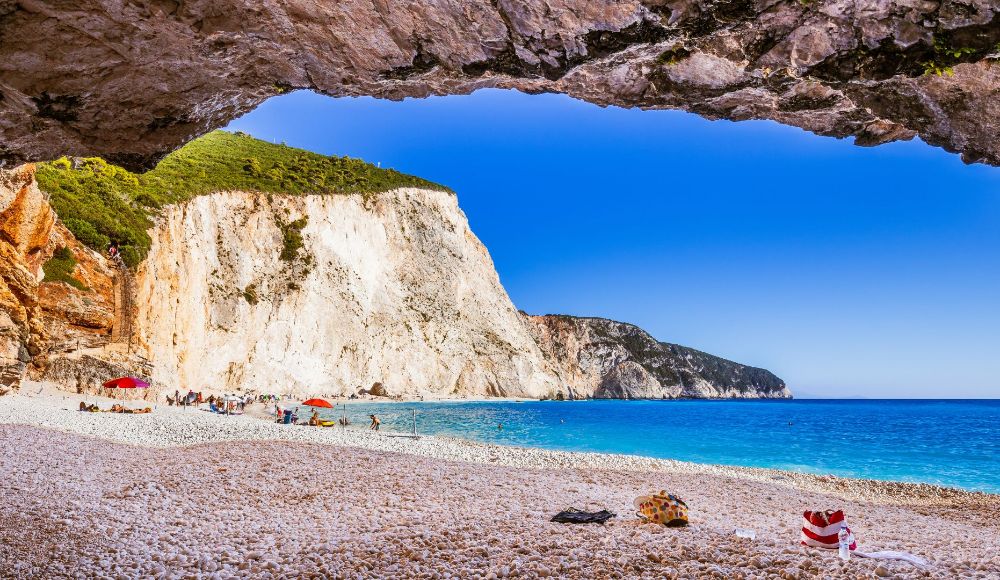 If you can only do one thing on Lefkada, make sure it is to head to Porto Katsiki as it's one of the best things to do in Greece.
Shade Tip: If you get there early in the morning, before 10 am, the beach is still all in the shade as it is on the western part of the island. This is probably very convenient if you have very small children/infants.
Egremni Beach
Egremni is a long, 2km sandy beach, north of Porto Katsiki with enchanting translucent blue waters, and a very impressive Mediterranean beach. It is breathtaking to view it from the top but if you wish to swim, you will have to walk down 350 or so steps.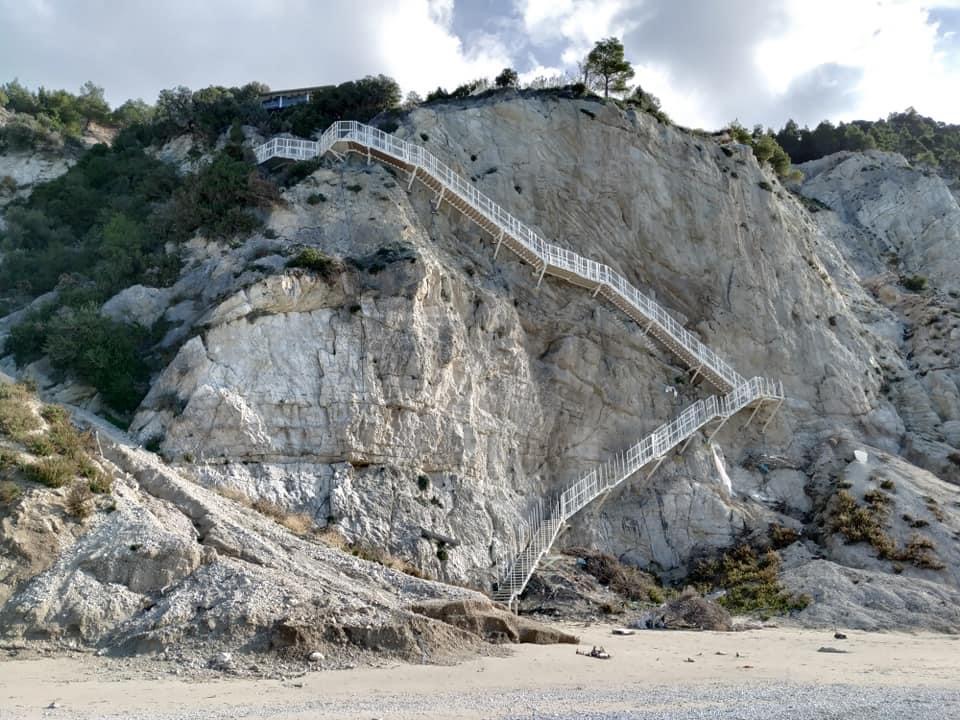 The beach totally worth the climb down, but if you have to climb back up in the heat of the day might be a pain. You can also reach the beach by boat from Nidri or Vasiliki if you have knee issues or any other serious health problems.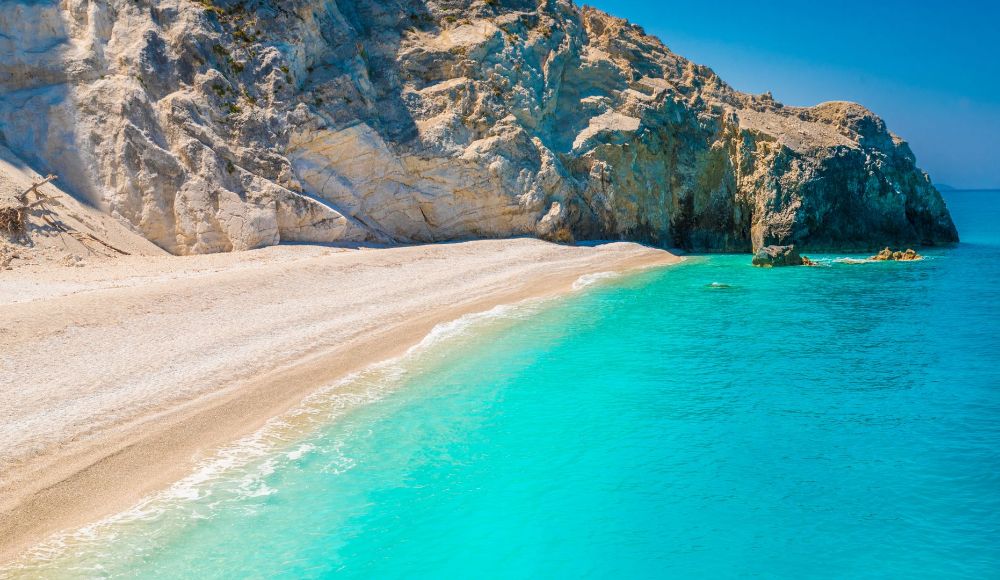 Once you get to the beach, you'll enjoy beautiful white pebbly sand, and stunning blue waters completed by a cliff backdrop. Do bring your own supplies here as there is nothing on the beach besides a few locals selling water and umbrella rentals (and that is not always the case).
Safety Tip: The very steep cliffs always hide the risk of them falling down, due to some goats walking or any other rocky reason. Better stay closer to the sea.
Milos Beach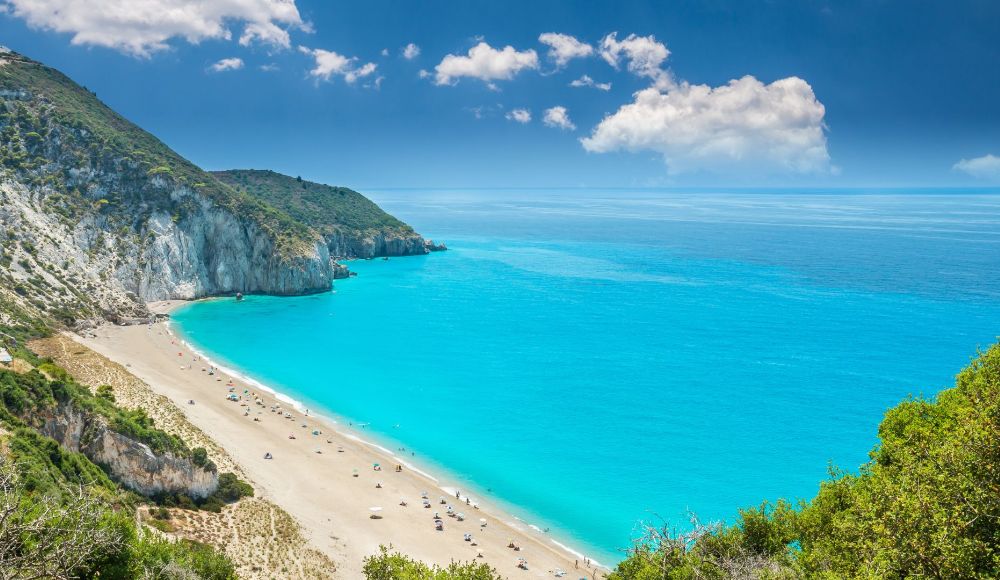 Exotic, secluded, unorganized, nudist-friendly, and gorgeous beach close to Kathisma beach. Not so fit for a family with small children as it can get wavy and it requires 20 minutes of walking downhill through a beautiful dirt footpath (and then uphill!) or 5 minutes by taxi boat from Agios Nikitas.
Bring sunscreen, beverages, lots of water, and food, there are no bars or toilets on the beach, nor sunbeds and umbrellas, no shade, so be prepared.
Mikros Gialos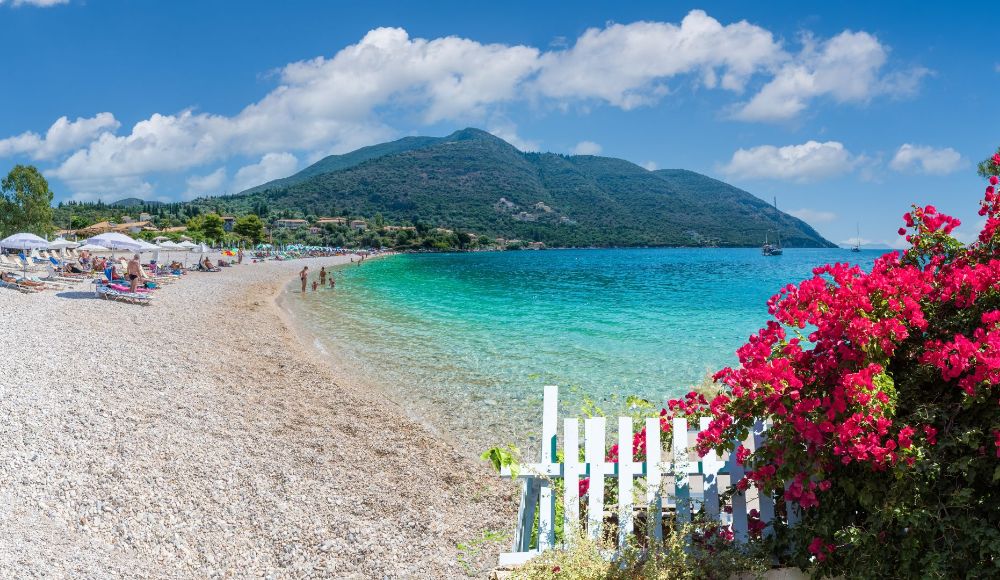 Blue Flag winner Mikros Gialos is a picturesque small cove, a gravel beach in the south of Lefkada. It is an organized beach with a small watersports center. This is a great beach for families.
Kathisma Beach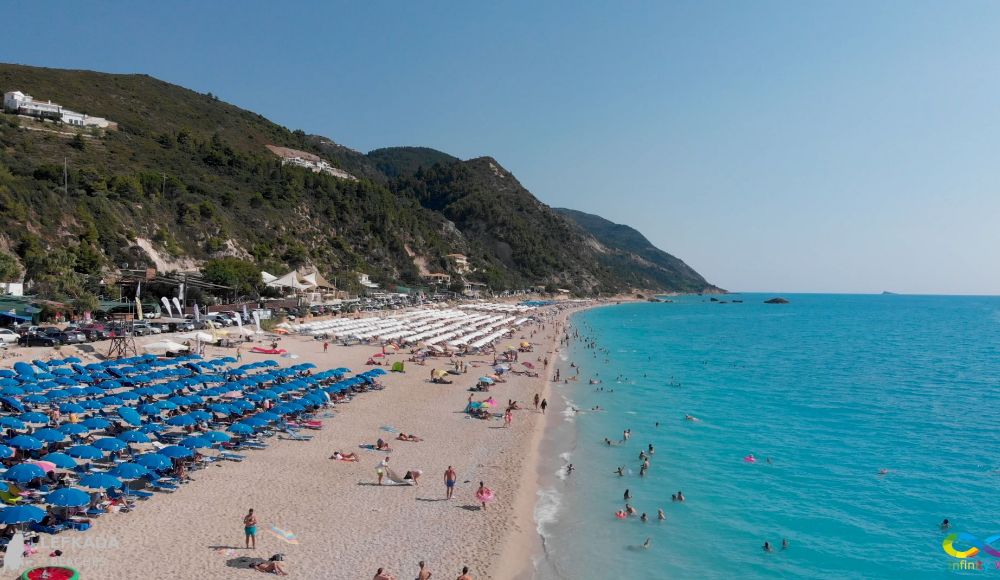 Kathisma beach has a young vibe and a cosmopolitan feel. You will find everything you need here – not just umbrellas & sunbeds but restaurants, beach bars, and a water sports center. Access is easy, there is a parking lot and if you don't like the big crowds, the beach is wide enough to find an easy spot.
A fantastic hotel in Kathisma beach is Sunset Supreme Studio C, 5 minute's walk far from the beach.
Lefkada island has numerous beautiful beaches to discover but a few extra of my favorites are:
Agiofilli Beach
Ammousa Beach
Kavalikefta Beach
5. Explore Cape Lefkatas
You can drive on probably the most impressive road trip in Lefkada from Porto Katsiki to Cape Lefkatas, the southernmost point of the island. Arriving at the end of the island, you will be inspired by the towering white cliffs that dominate the view and the Ducato Lighthouse built in 1890.
6. Get Amazed in Nidri Village
Nidri is located inside a gorgeous cove and is the most cosmopolitan resort on the island, 17 km far from Lefkada town. It is very touristically advanced, and you can find everything you need for your vacation.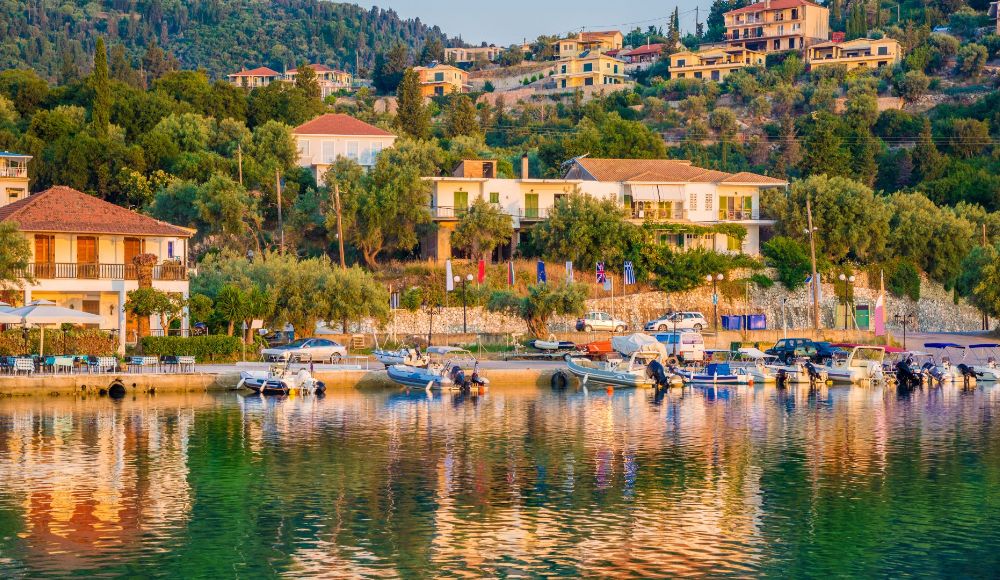 Nidri became widely known when ultra-rich Aristotle Onasis purchased Skorpios island in 1963, which sits across from Nidri.
There is an organized marina at its port where boats sail for the nearby islands of Skorpios and Meganisi and the other Ionian islands.
Nidri is also one of the best places in Lefkada to admire a stunning sunset!
7. Hike to Nidri Waterfalls
One of the best things to do in Nidri is to visit the Dimossari Waterfalls. Set in lush vegetation, it is very easy to find the trail and at its beginning, there is a cafe with signs that you can't miss!
You will walk on a protected path on top of a beautiful gorge for 20 minutes mostly in the shade. Soon you will get to an impressive area with rock formations, cave-like chambers, tiny pools, and waterfalls which is at their best in spring.
8. Take a Boat Trip to Meganisi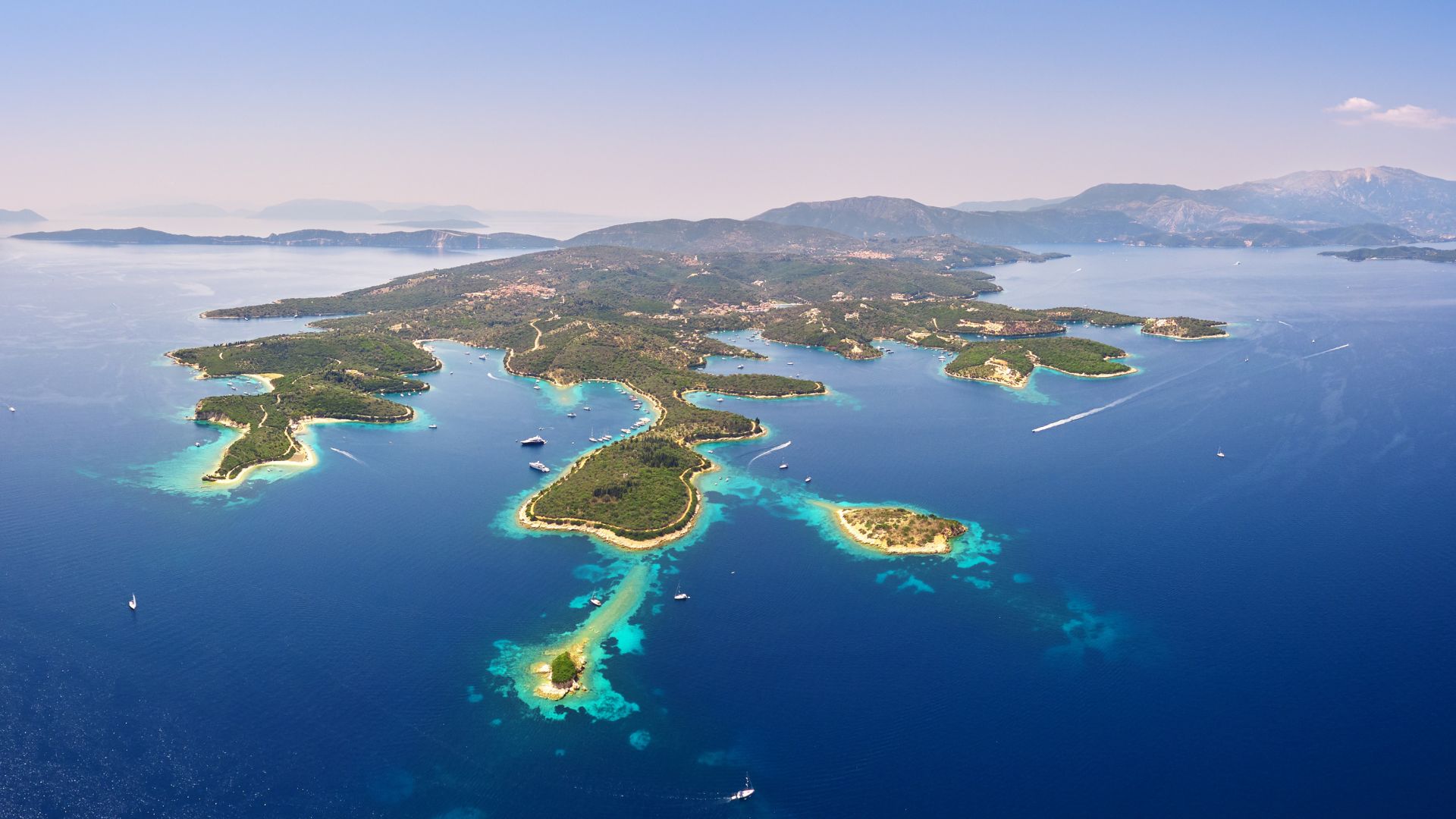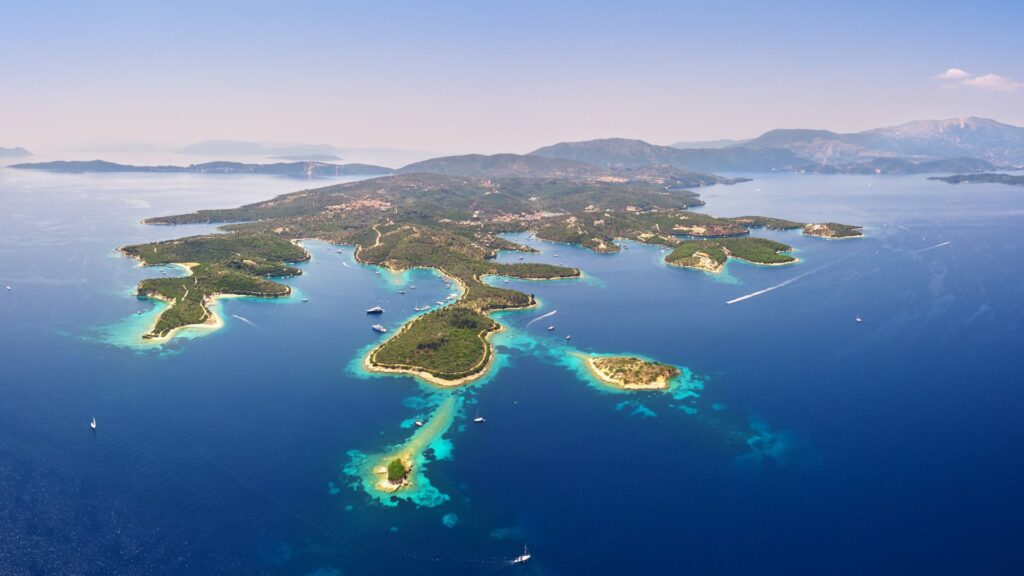 One of the best experiences to have while in Lefkada is to join a day boat trip around the island. This is an amazing way to reach a number of beautiful but isolated coves of Lefkada while enjoying traditional local meals and drinks on board.
Set sail for Meganisi, the island across Nidri, or take the ferry along with your car there and explore the whole island. Meganisi's villages (Vathy, Spartochori, Katomeri) are very picturesque and traditional looking. If you have time, the green island is totally worth an exploration of its own!
One of the best-guided tours to take from Nidri is the Guided Cruise to Meganisi with Lunch & Swimming.
9. Hike Melissa Gorge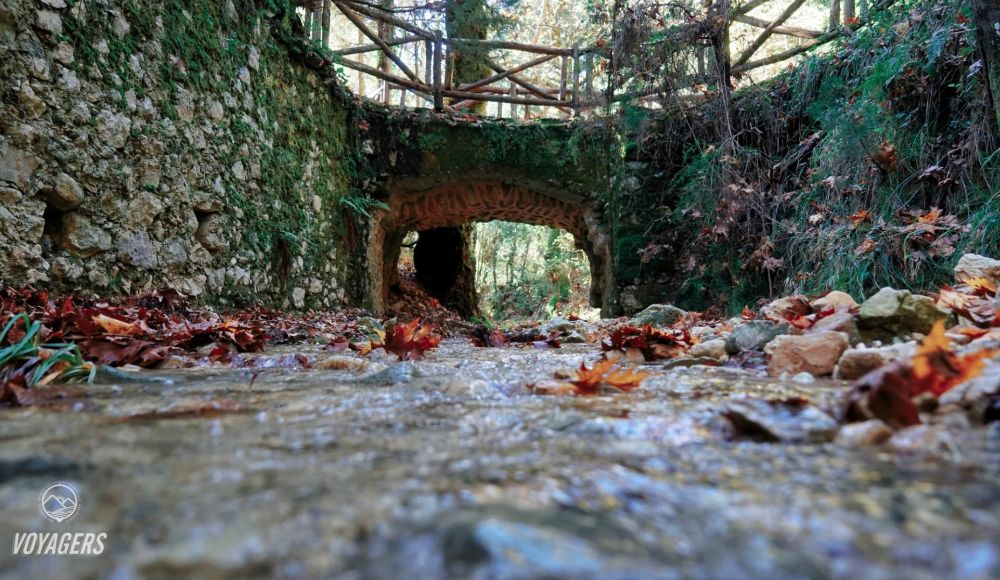 Hiking Melissa Gorge, north of the village of Kavallos, is one of the best things to do in Lefkada. The trail is relatively easy, parallel to a small spring that passes by the ruins of several watermills, in a picturesque forest signposted trail.
Find here a great guided hiking loop tour from mountain villages to the peak of Elati mountain.
10. Drive to the Mountainous Villages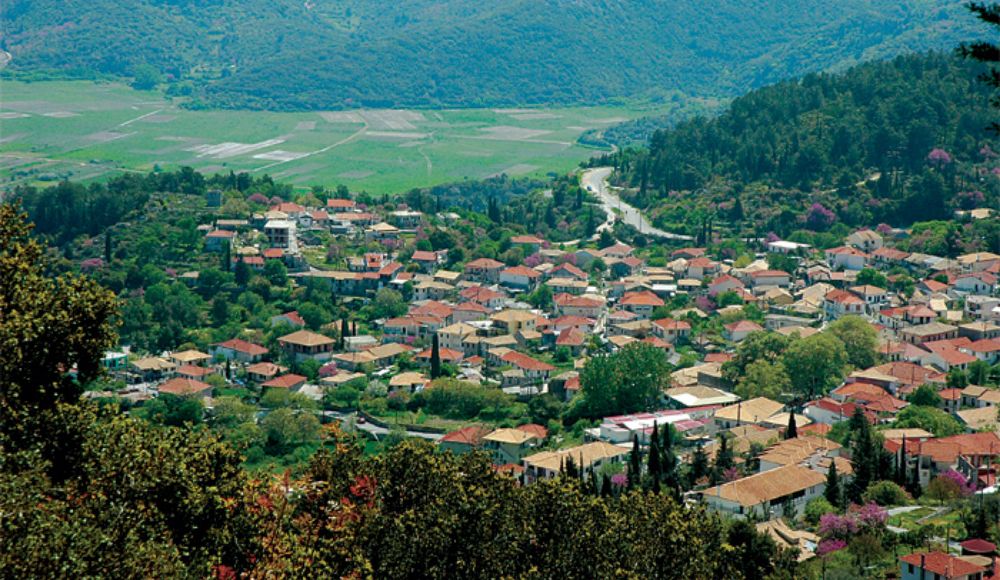 In the mainland of Lefkada, you can drive to some very traditional villages like Egklouvi, the oldest village on the island. Walk to its main square and have a Greek coffee under its plane trees. Egklouni is famous in Greece for producing excellent quality lentils.
Karia is another lovely mountainous village built 500 m in Elati Mount famous for its handmade fabrics. It is a very traditional place surrounded by plane trees and old-fashioned cafes. In Karia, you can also the unique phonograph-gramophone-radio Museum.
11. Enjoy Seafront Sivota
Sivota is another popular tourist resort, 32 km south of Lefkada town, a preferred destination for yacht owners. Sivota hosts some wonderful beaches with amazing waters and white sand, accessible only by boat. One of the best things to do in Sivota is to have fish at one of the seafront taverns.
An awesome villa in Sivota to stay in with a breathtaking sea view is Villa Porto Katsiki.
12. Wine Tasting in Lefkada
Lefkada produces excellent red wine using the local indigenous variety Vertzami and the dry white variety of Vardea. My favorite one is a sweet wine called Melidonos.
There are 4 excellent wineries you can visit and have a tour of their facilities and have wine-tasting of the local varieties:
You may also enjoy: Wine tasting in Greece
13. Windsurf in Vasiliki Resort
Vassiliki is a lovely little fishing village south of Lefkada town, touristically organized and a popular spot for windsurfing. There are also some nice hiking trails nearby and some good restaurants down by the marina as well that you can visit.
14. Food Tasting in Lefkada
The food of Lefkada is dominated by seafood and mostly cod, squid, cuttlefish, eel, crab, and sardines. Lefkada produces excellent wine, olive oil, sausages, pasteli, lentils, and thyme honey. Do not miss the opportunity to try some local honey. In the mountain villages, you will see kiosks selling honey.
One of the best restaurants in Lefkada is Rachi Restaurant, in the village of Exanthia on an outdoor terrace with the sea as your backdrop.
In Karia village go to Pardalo Katsiki tavern serving their specialties: goats and rooster, cooked with spaghetti and red sauce.
Where to Stay in Lefkada
Daglas Beach House at Nidri is a gorgeous seafront house with a very pretty front garden where you will have your breakfast.
For a budget option, I have stayed at the exceptional Aristotelis Studios in Nidri.
The best couple's choice in Lefkada is the Private Cottage in Stavros.
If you are a family or a small group of travelers then you should check out Epiphany Villas Lefkada!
Where is Lefkada Island
Lefkada is off the western coast of Greece. The nearby islands include Kefalonia, Ithaca, and Kalamos.
How to Get to Lefkada
Drive to Lefkada
Lefkada and Evia are the only Greek islands connected to the mainland with a bridge. That means that if you are anywhere on the mainland you can either drive to the island or use the public buses (Ktel buses for Lefkada).
Fly to Lefkada
If you prefer to fly to Lefkada, the nearest airport is Aktion International Airport in Preveza town, 27 km from Lefkada. From Preveza, you can take the bus or book a private transfer for maximum comfort after a long trip.
Ferry to Lefkada
If you are in Corfu, Ithaca, Kefalonia, or Zante, they are all connected with ferries to Lefkada. If you are in the Peloponnese, you can take the ferry to Lefkada from the ports of Patras and Kyllini.
Lefkada Greece Map
Find here Lefkada Map with all the places mentioned in this post.
How to Get Around Lefkada
The best way to explore the island is by renting a car which you can easily do so in Lefkada main town or Nidri or at the airport in Preveza.
As for an International Driving Permit, if you come from the USA, Canada, Australia, the UK, and Gibraltar you do not need it. You can rent a car with your national driving permits as long as you are over 18 years old (Article 94 of Greek Law No. 4850/2021 – November 5, 2021).
If you do not wish to rent a car, there are public buses and water taxis that you can use to move around Lefkada.
Tips for visiting Lefkada
Take with you comfortable/ hiking shoes for descending to beaches for the rocky and slippery areas
The unorganized beaches may have no trees or other shade available, water, or food supply. You should carry your own supplies if you are visiting a remote beach. Keep a distance between you and the vertical cliffs on the beaches
Lefkada's roads are in very good condition but they may be narrow at some points. The road network is quite extensive and you can often go to your destination from 2 or 3 different routes
The wind can be very variable on islands, on a hot day it's even more than welcome and it keeps the insects away, remember to have an anti-mosquito with you just in case
If you go hiking in summer on an island with no trees, you can get very easily heat stroke. For more info on travel dangers and precautions in Greece, read here my post on hiking safely in Greece
For Solo Travelers: Greece is a perfectly safe country for everyone regardless of age, gender, race, religion, or sexual orientation. In addition to that, Greek people are gene-programmed to be hospitable and are always eager to offer directions to your destination or any other advice, so ask freely.
Where is your dream summer destination? Would you go to Lefkada?
I'd love to hear about where you're spending your vacation this year, especially if you have any exciting travel plans! There are so many things to do on Lefkada island. I hope that you get the chance to try as many as possible. Till next time, Evgenia❤️
Plan your Trip to Greece
Are you interested in a day or multi-day tour or a transfer anywhere in Greece? We can plan your trip and organize everything:
Book your private vehicle with an English-speaking driver
Arrange your accommodation, hotel, or apartment
Organize local thematic tours (food, wine-tasting, hiking, sailing)
Extras that you can purchase while booking:
Admission fees
Issue your ferry tickets
Professional Licensed guide (for the sites)
Lunch or dinner for each passenger
Does this sound like what you are looking for? Please send us your request here.
How to Get to Athens Port (Piraeus) from Athens Airport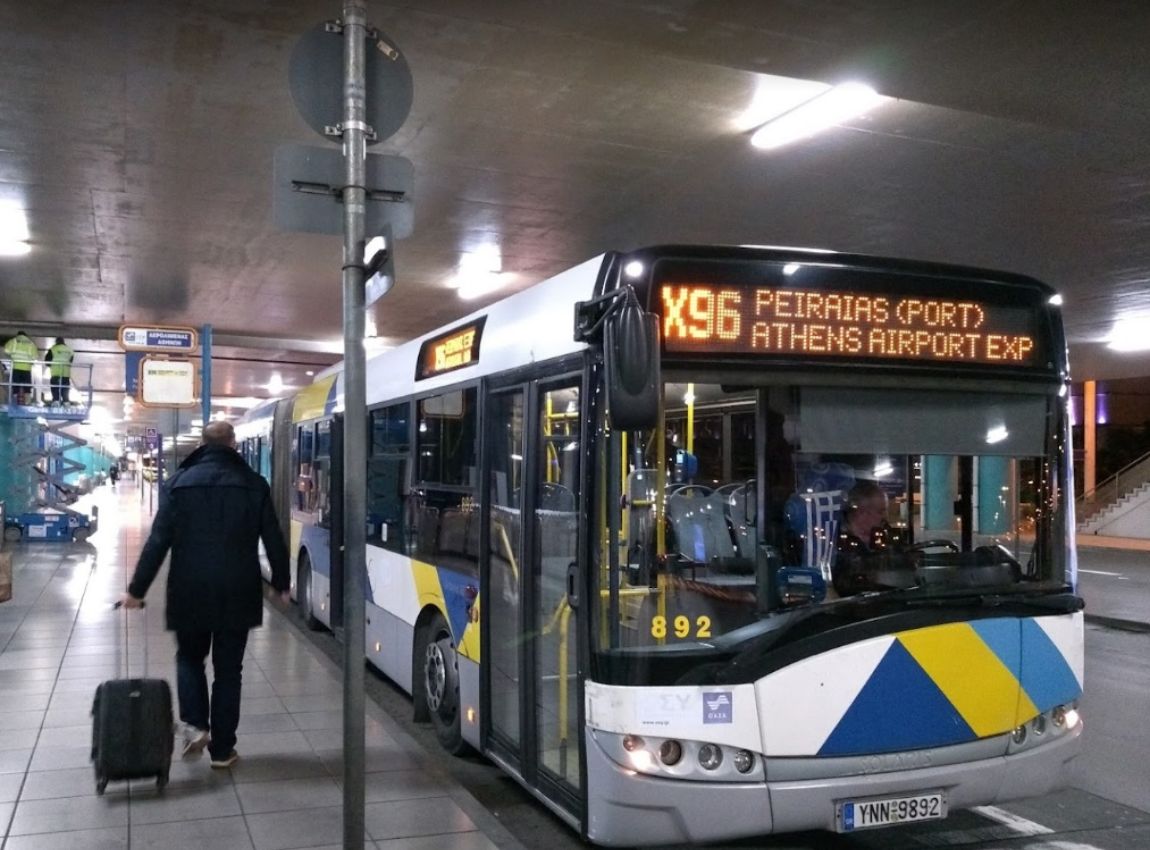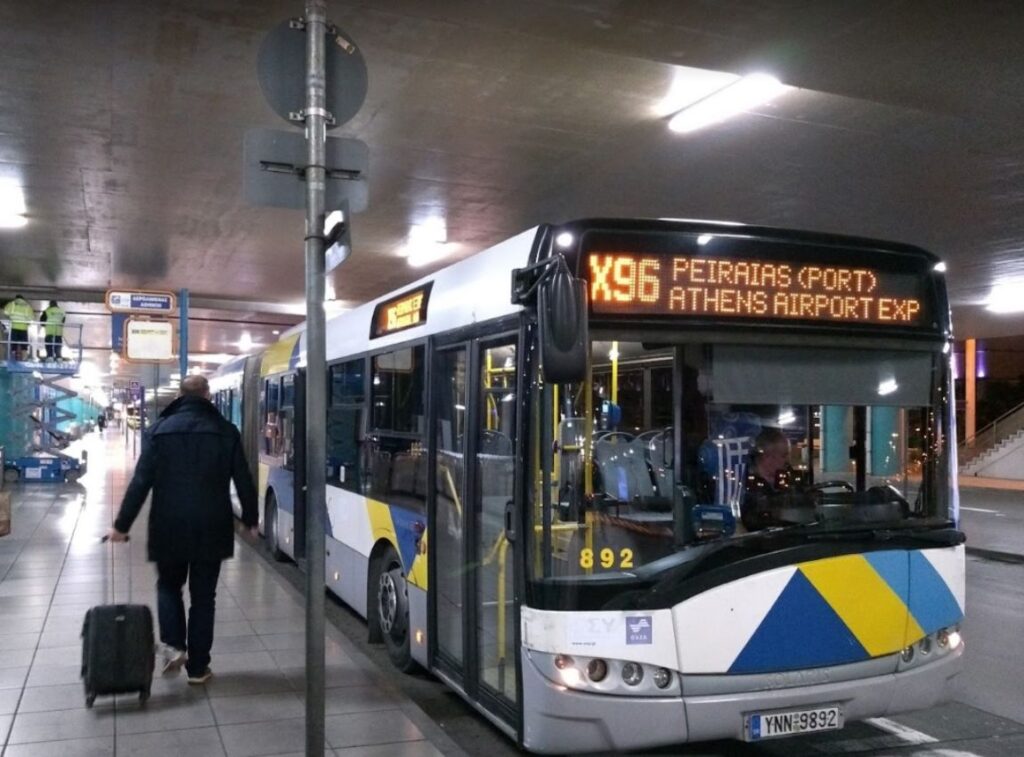 Bus: If you are arriving at Athens International Airport you can travel straight to the port by taking the X96 express bus (€5.5, children <6 yo, free entrance), which departs every 40 minutes and the average trip lasts 1 hour – runs 24/7.
Metro: (€9 ) is easily found across airport arrivals (blue line – M3) going directly to Piraeus port. The average trip to Piraeus lasts 1 hour.
Taxis are available in front of the airport (around €40 to Athens, €55-60 to Piraeus (depending on the traffic in Kifisos), and take up to 3 or 4 people with small luggage)
Rent a car with Discover cars to rent reliable new cars at affordable prices
You don't like driving but love hassle-free solutions? Book a Private transfer with an English-speaking driver from Athens International Airport to Piraeus Ferries, or anywhere else in Greece
Check out here a full post on Lavrio Port in Athens
All rights reserved © Travel the Greek Way. Republishing this article and/or any of its contents (photographs, text, links) is strictly prohibited.
Travel Guides to Greece
Essential Travel Info for Greece
'Hello' and 'Thank You' in Greek: "Ya sou" and "Efharisto"
FerryScanner to book ferries to the Greek Islands
Booking.com: I use Booking.com because I can get the best deals on both hotels and apartments, free cancellations, and great prices!
Get Your Guide: For all your day or multi-day tours and city guide needs, I use Get Your Guide
COVID Info for Greece: Ministry of Tourism Official Website
Emergency Numbers Anywhere in Greece: AMBULANCE 166 – FIRE 199 – POLICE 100– EMERGENCY NUMBER 112