Are you considering sailing in Greece for your next vacation? Renting a sailing boat in Greece is one of the best ways to explore the beauty of the Greek islands. With approximately 220 inhabited islands and 6,000 uninhabited islets boasting hidden beaches, impressive coves and caves, and endless marine wildlife, Greece is a sailor's paradise. Renting a sailing boat in Greece presents the following advantages:
You can anchor wherever you please, and explore any island or village at your own pace, free from worries about transportation, ferry schedules, accommodation arrangements, and tour coordination.
Within just a few hours of sailing, you can easily reach a different Greek island, avoiding the bustling summer crowds and relishing the experience exclusively with your group of friends.
Moreover, sailing in Greece can be very cost-effective if you consider how steep the prices of ferry tickets are.
So, here's everything you need to know about sailing in Greece!
*Some of the links in this post are affiliate links. That means I may make a commission if you click and buy. The commission comes at no additional cost to you.
Sailing in Greece: The Yachting Numbers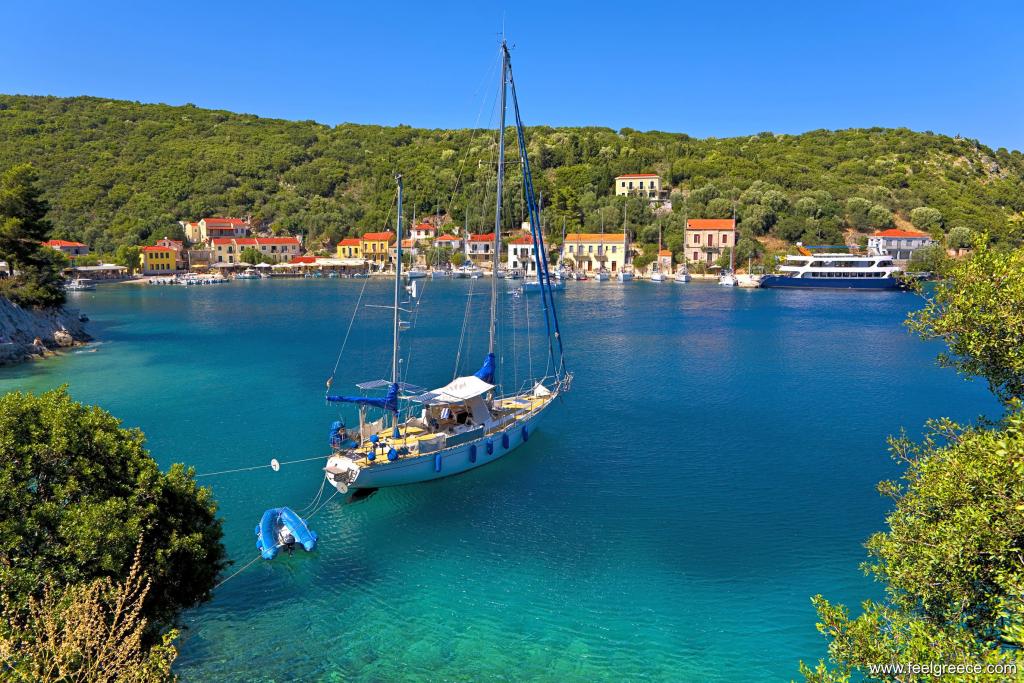 There are more than 6.000 professional pleasure crafts in Greece, ranging from inflatable boats to mega-yachts. Notably, there are 350 mega-yachts (more than 24 meters in length), out of a global population of 8,500, making Greece a prominent destination for luxury yacht enthusiasts. The country hosts 35 marinas and is home to 83 boat-building companies.
The chartering season extends from April to November, with the peak period occurring between June and September.
Sailing in Greece: Types of Vessels
The Greek chartering market offers a wide array of vessels, with the primary distinction being between sailing boats and motorboats. An essential consideration is whether the vessel is chartered bare, assuming the client holds the required license, or with the necessary crew.
Furthermore, there's a diverse range of sizes available. Options span from two-cabin, 30-foot sailing boats to impressive 300-foot mega yachts. In between, there are 40-70 foot motor yachts, as well as the versatile hybrid category of motor sailers.

1. Sailing Boats
A sailing charter boat, though relatively slower and with limited space, offers an unparalleled experience of cruising. It provides the unique sensation of gliding through the water without the hum of an engine, only the soothing sounds of the wind in the sails and the water flowing around the hull. This type of vessel allows passengers to actively participate in its handling, making it an ideal choice for groups who enjoy physical activity and are environmentally conscious about their carbon footprint.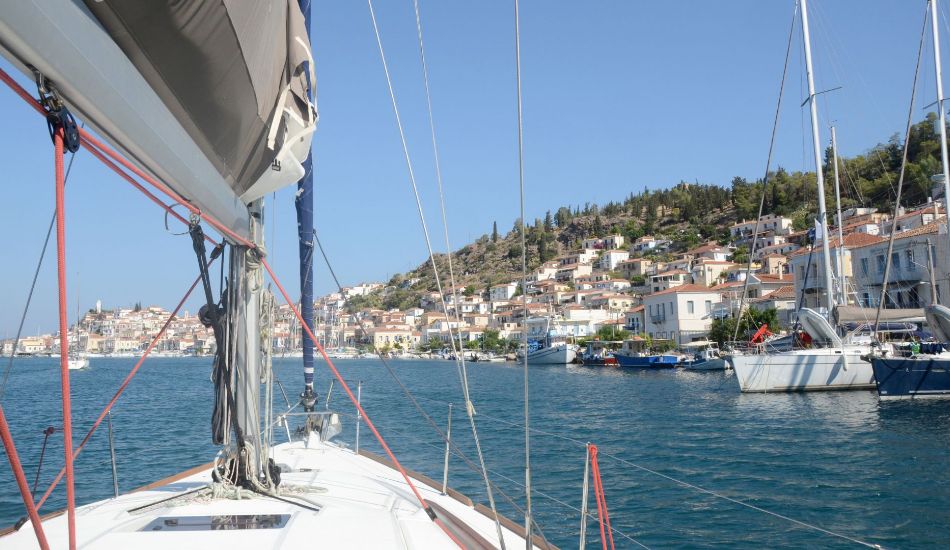 While sailing boats primarily rely on the wind, they are equipped with small engines for situations where there is no wind or much time to wait for the wind to blow. If you are not an experienced sailor, boats can be hired with a skipper (see "Other Practical Information" below for minimum qualifications to hire a bare sailing boat).
2. Catamaran Sailing Yachts
A catamaran is a double-hull boat that offers a roomier living space and thus, more comfort on board. Due to their two hulls, they do not yaw making for smoother sailing with minimal heeling. This stability allows for the ease of performing everyday activities, such as cooking, while under sail.
Moreover, it has a lower draught allowing it to sail in shallower waters or anchor closer to the shore. Finally, it may be safer due to the duplication of the motor and the rudder (one per hull).
On the flip side, catamarans tend to be pricier both in terms of purchase and charter costs. Their wider beam also translates to higher docking expenses.
Regarding sailing, a catamaran will drift more easily, due to its lower draught. This requires swift anchoring especially if winds blow from the side.
3. Motor Yachts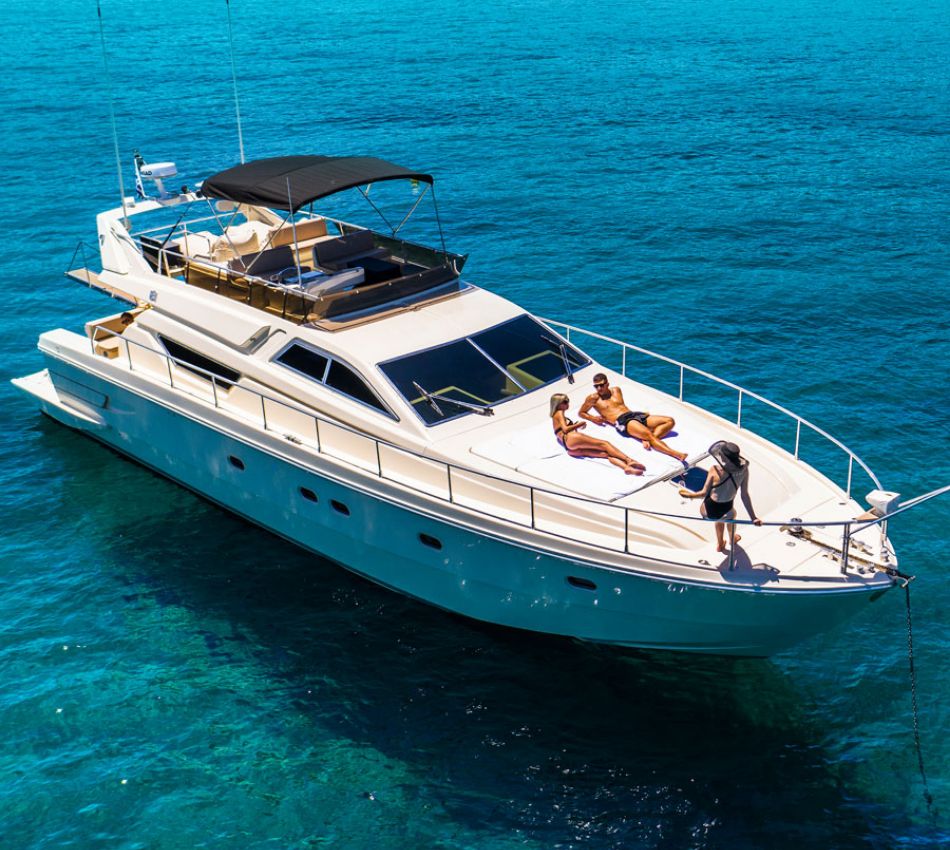 A motor yacht provides greater speed, allowing you to cover more significant distances in a day without relying on the wind. Additionally, it offers a bit more space, making it well-suited for sunbathing, and often comes with a protected cockpit for rainy days.
However, it's worth noting that motor yachts may not be suitable for use in rough seas, defined as conditions exceeding 6 Beaufort. Due to their power and speed, motor yachts are typically chartered with a captain.
4. Motor Sailers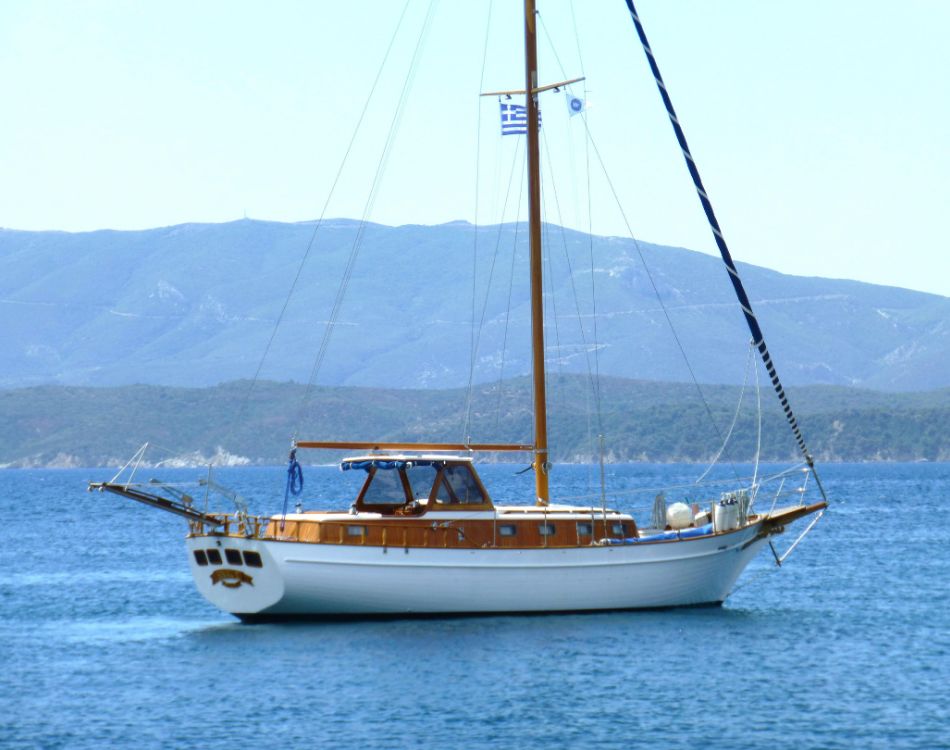 Motor sailers are a hybrid of a sailing boat and a motor yacht. They have sails but they are bulkier and roomier than a pure sailing boat, they therefore also rely on their engine.
5. Mega Yachts
This category represents the essence of yachting luxury. Officially, it includes yachts that are more than 24 meters long. In the chartering market, however, one can find vessels exceeding 100 meters in length, accompanied by crews ranging from 10-15 people for vessels accommodating up to 12 passengers to more than 30 people crews for those designed for larger guest capacities. Yachts of this magnitude must comply with the SOLAS (Safety of Life at Sea) convention set by the International Maritime Organization (IMO).
How Much does Sailing in Greece cost?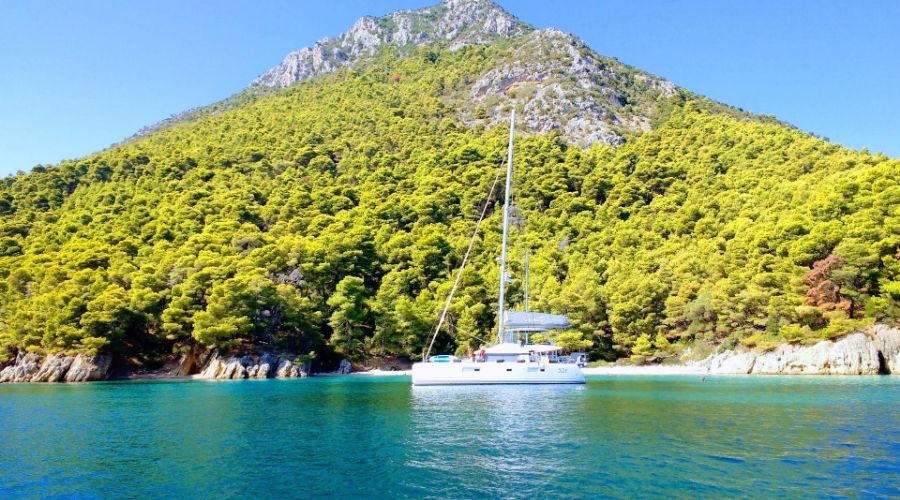 Chartering prices greatly vary, mainly according to the period of the year and the type of yacht, (size, age, condition, equipment).
Here are some indicative starting prices:
(36") sailing yacht (w/out skipper): 300 €/day or 1.500 €/week
(38") catamaran sailing yacht (w/out skipper): 2.750 €/week
Motor Yacht (w/ skipper): 1.500 €/day
Skipper: 150-180 €/day
Hostess: 110-150 €/day
Essentials for Chartering a Yacht in Greece
Number of persons
It's crucial to choose travel companions with whom you're confident your friendship can withstand the closeness of confined spaces. A yachting vacation serves as a test for friendships. Consider individuals who share a compatible travel style and communication, ensuring a smoother and more enjoyable sailing experience for everyone on board.
The idea is you all have a blast cruising the seas without driving each other crazy!
Sailing in Greece: When is the Best Season?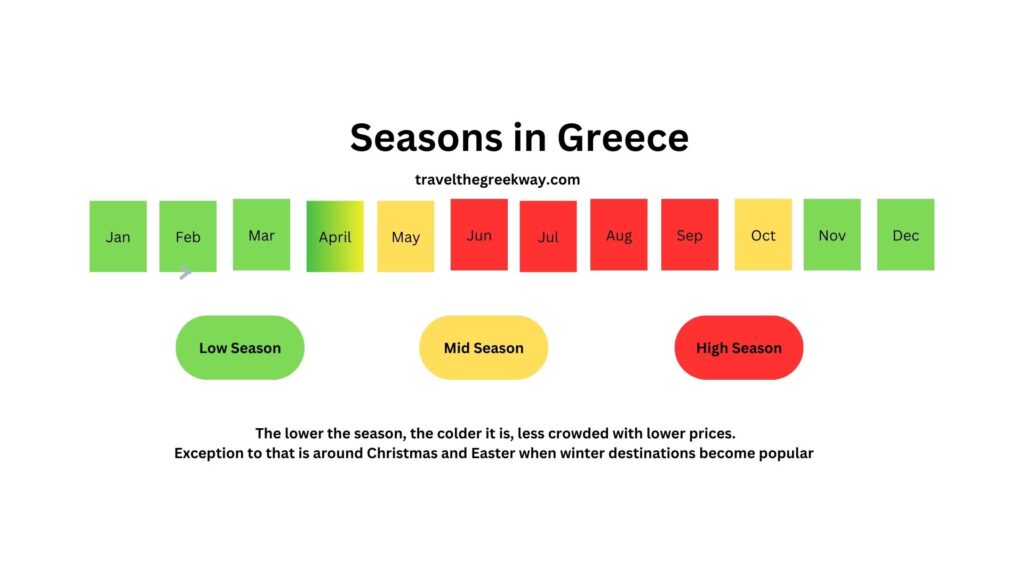 Peak season in Greece runs from June to September, with warm or even hot air and perfect sea temperatures for swimming. Keep in mind that late July to mid-August can get pretty windy in the Aegean. While the weather stays fine until early October, from September (or sometimes even late August), there might be some rain, particularly in the more humid Ionian Sea as opposed to the drier Aegean.
Make sure to keep an eye on the weather forecasts, adjusting your plans as needed for a smooth sailing experience.
Type of Vessel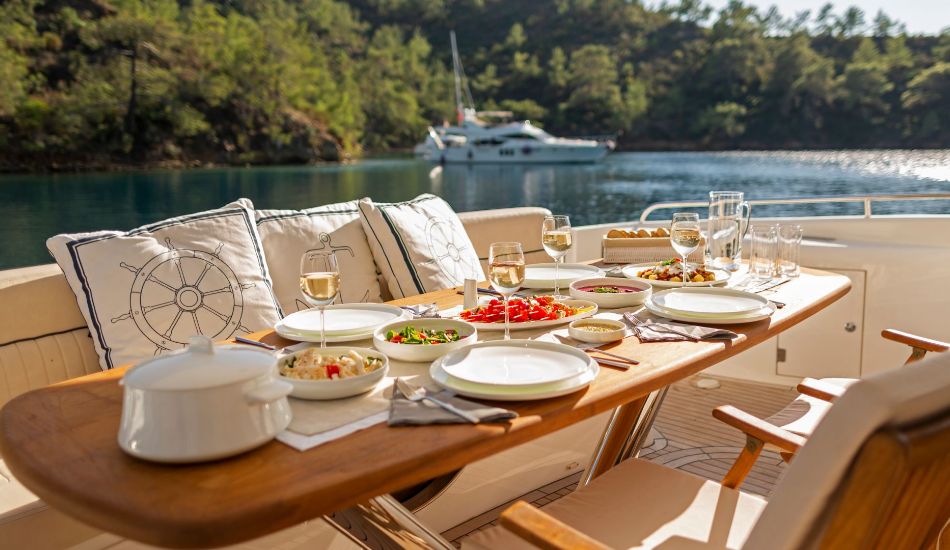 Choosing the right yacht for your Greek adventure is a matter of personal preference. If you're into the thrill of sports and the excitement of the sea, or if you're seeking a more relaxed and leisurely experience, the type of yacht matters. Your familiarity with nautical activities and your ecological concerns also play a role in making the best choice.
When it comes to size, consider your budget and the number of companions on your journey.
With or Without Crew
In most cases, motor yachts come with a captain, and for larger vessels, additional crew members may be included. Depending on the yacht's size, you might have the option to add a cook and/or hostess for extra convenience. On the other hand, sailing boats are commonly chartered bare, especially by experienced sailors who prefer to take control. However, if you're not an expert sailor, you can always request a skipper for a smoother sailing experience
For larger sailing boats, having a second crew member can be beneficial, and they might also take on the role of a cook or hostess. Opting for a skipper ensures a seamless sailing holiday. Beyond commanding the vessel and understanding local sea conditions, the skipper handles all communications with ports, marinas, and suppliers.
However, it's essential to note that the skipper's presence may slightly compromise your privacy onboard.
Duration of the Trip
Sailing boats are typically chartered on a weekly basis, starting on Saturday although charterers may offer more flexible arrangements. Motorboats can be hired on a daily basis.
Sailing the Greek Islands
The Greek seas boast various sailing areas, each with its unique characteristics and charm.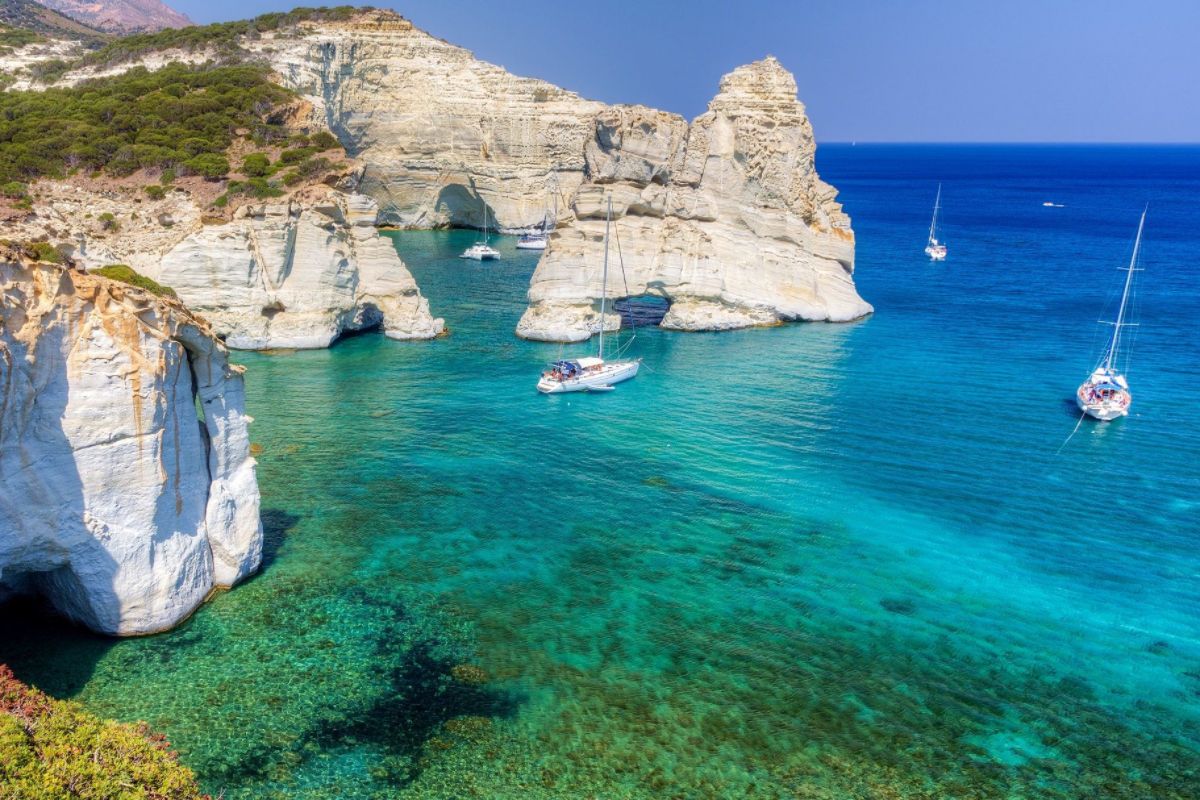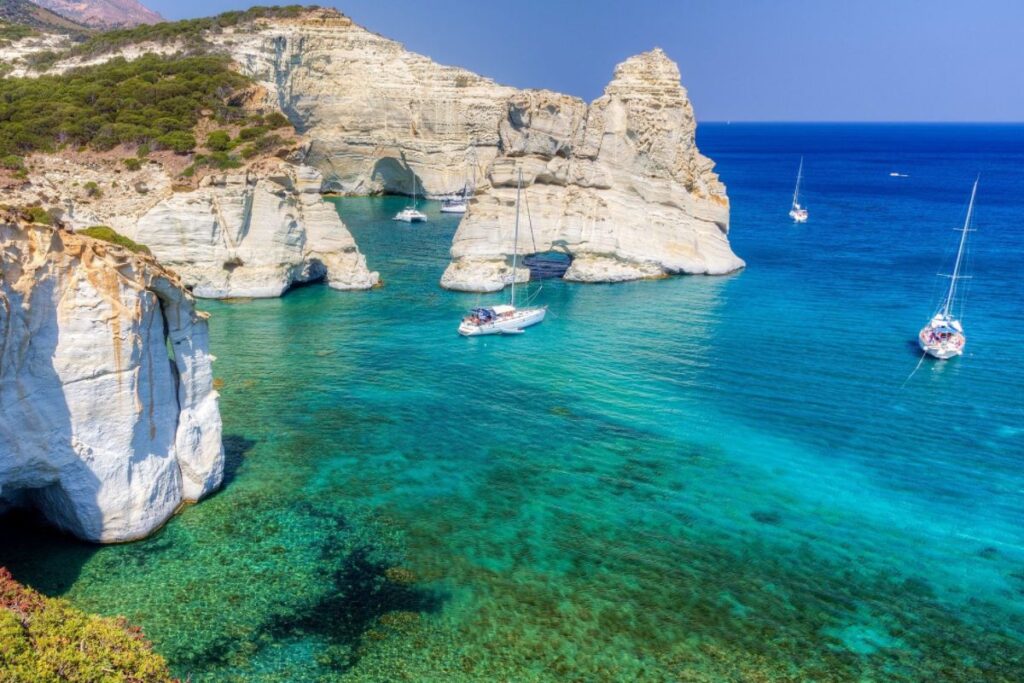 The Cyclades are the most internationally known destination in Greece thanks to the reputation of Mykonos and Santorini. All islands share the same iconic whitewashed houses, arid landscapes, golden sand beaches, and crystalline blue waters.
Cyclades islands are known for the windy conditions, particularly the 'meltemi' winds, prevalent from June to August, peaking between mid-July and mid-August. Navigating these waters demands strong sailing skills and experience.
The Dodecanese are the warmer sailing destination with moderate winds, allowing sailing during the shoulder months (April-May, October-November) when the winds are calmer. It also offers proximity to popular destinations on the Turkish shore like Bodrum.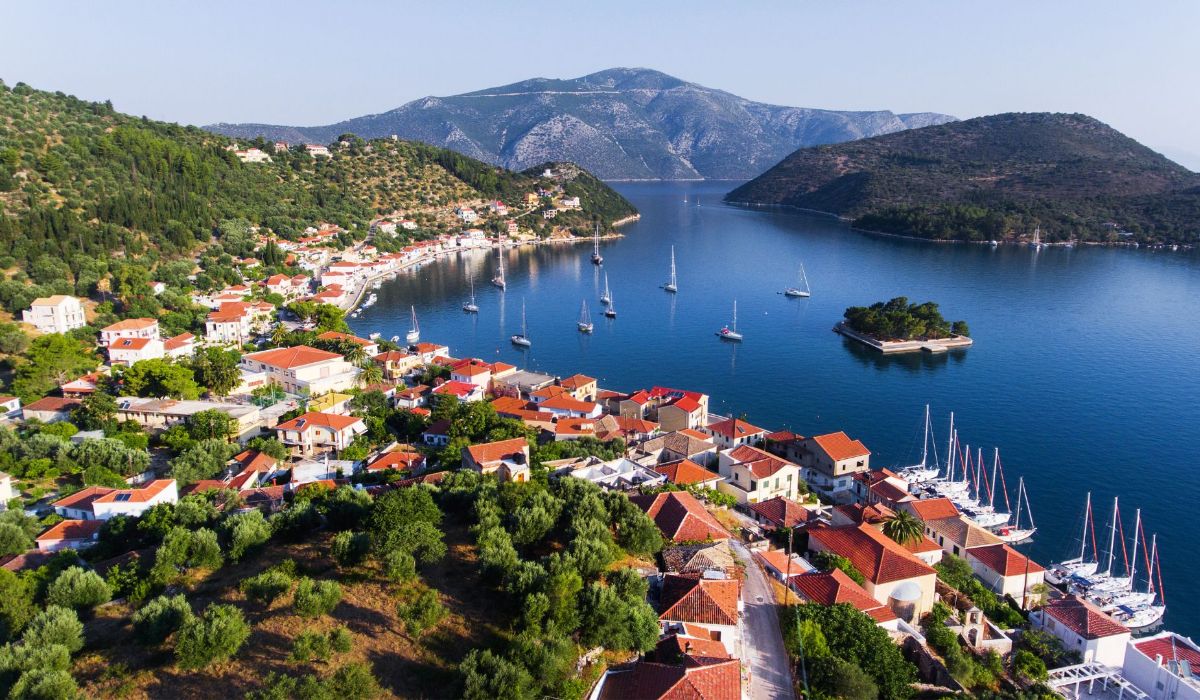 Sailing in Greece and in particular the Ionian Sea, in the western part of the country, offers a different scenery with green islands and blue-emerald waters. Prevailing NW winds are mild and the sea is calm. This makes the area the perfect destination for the less experienced sailors.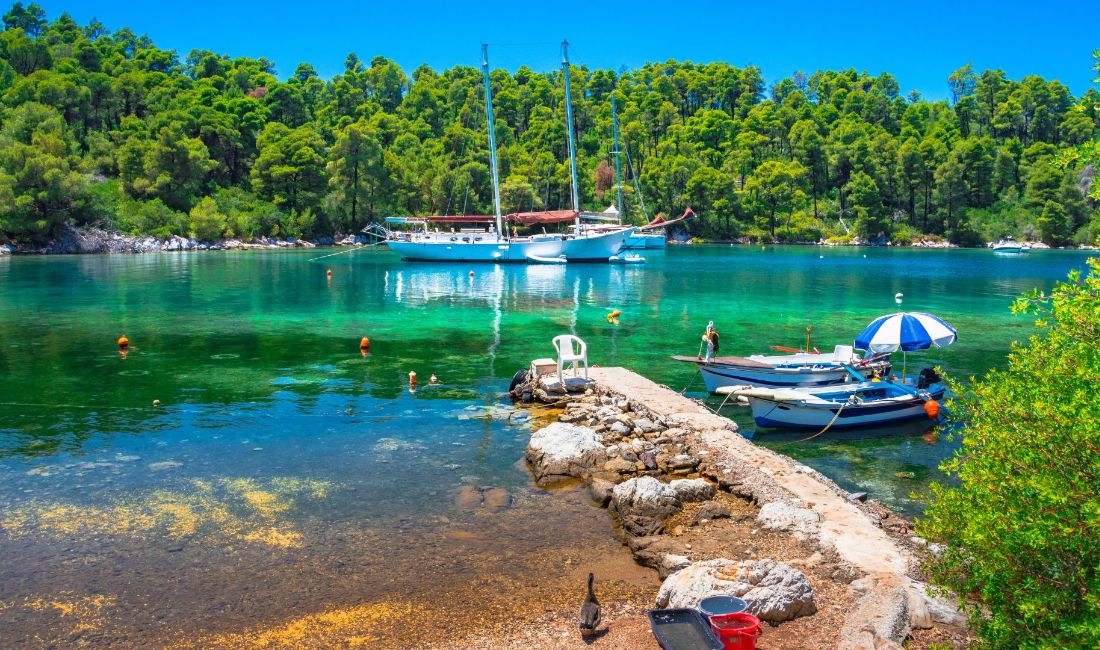 The North Sporades islands, located on the Northwest side of the Aegean Sea are a chain of 6 islands three of which, the easternmost ones, are non-inhabited and are an important shelter for the Mediterranean seal. The westernmost ones offer rich vegetation and beautiful beaches. The prevailing wind is usually N – NW. Moderate to good sailing skills and experience are required in this area.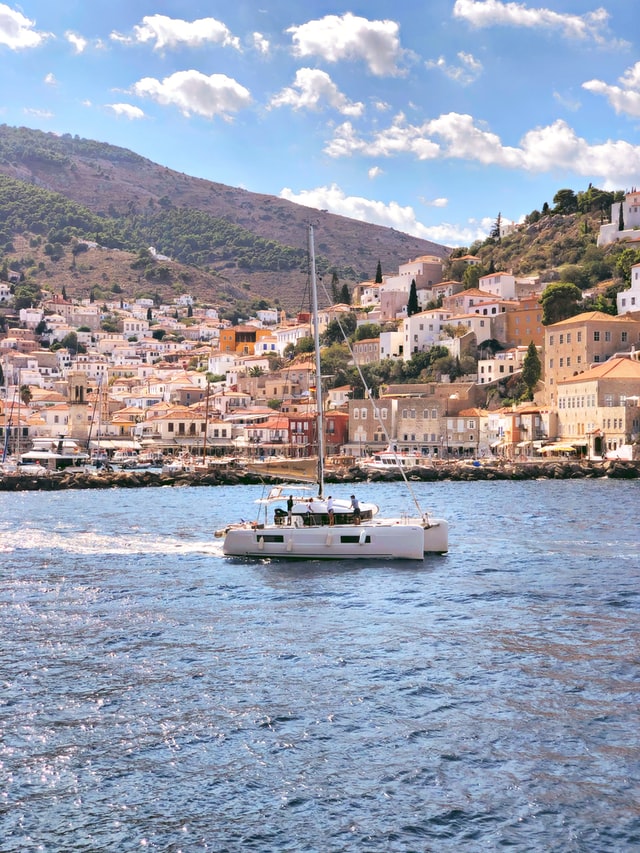 The Saronic and Argolic Gulfs (Argo-Saronic) present three advantages, in addition to its islands: Ease of access as it is close to Athens, proximity to the archaeological sites of Epidaurus and Mycenae, and calmer sea as the area is somehow covered by the north. It is, therefore, along with the Ionian Sea a good pick for sailors with moderate experience.
Sailing in Greece and Children
If there will be children on board, please inform the charterer so that appropriate life vests can be provided, along with the possibility of a safety net below the vessel's rail for added security.
Insurance
Typically, the boat comes with a policy that covers the client against responsibilities concerning third parties, marine pollution, and significant damages to the boat. However, it's essential to note that the personal injuries of the clients are not covered. Therefore, it is advisable for potential clients to review the coverage provided by their personal insurance policies and consider purchasing additional insurance if necessary.
Renting a Sailing Boat in Greece
The minimum qualification to hire a bareboat sailing yacht is either two sailing licenses or at least one sailing license and one declaration of sailing experience for the co-skipper. In the latter case, the co-skipper will sign such a declaration of sailing experience upon embarkation.
Sailing licenses can be issued by various entities, including the government of origin, sailing clubs, sailing schools, yachting and sailing associations, as well as established charter companies.
Marinas in Greece
Marinas are quite cheap in Greece. They may cost from 5-15 € per day plus
expenses on the water and electricity. On the other hand, there are not many
marinas but there are many commercial ports as well as small ports in fishing villages. Places in ports are free, however, one cannot reserve them in advance.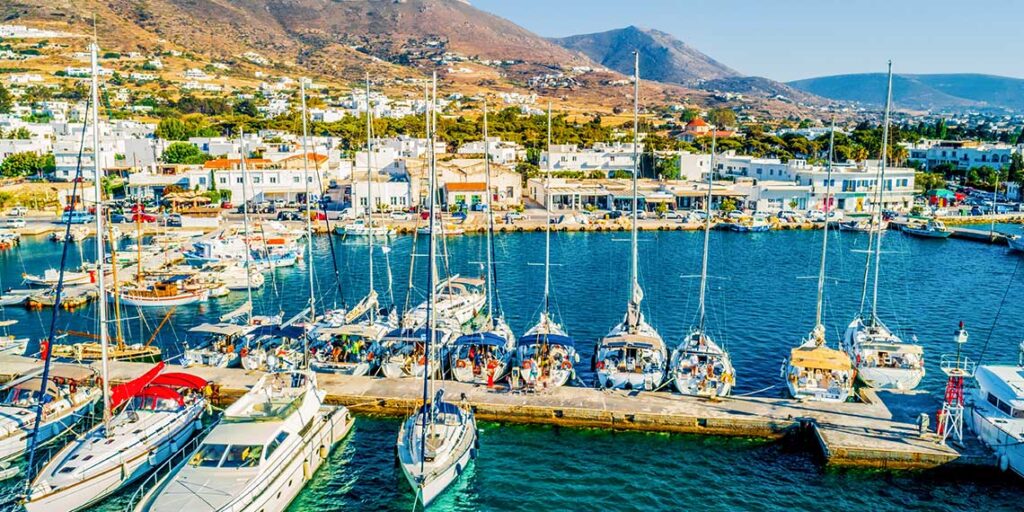 Docking at commercial ports may be a bit challenging due to the maneuvering of liners, especially if they arrive at night. The typical berthing approach is stern-to, while berthing alongside is less common, particularly during the busy high season. Opting for bows-to berthing (generally feasible) offers more privacy.
How to Charter a Boat in Greece
Feel free to submit your request here, and we'll promptly send you an offer from reputable charterers. If you have any general questions, don't hesitate to reach out as well. Keep in mind that making a reservation sooner increases the variety of available vessels that can better match your preferences and needs.
Practical Tips for Sailing in Greece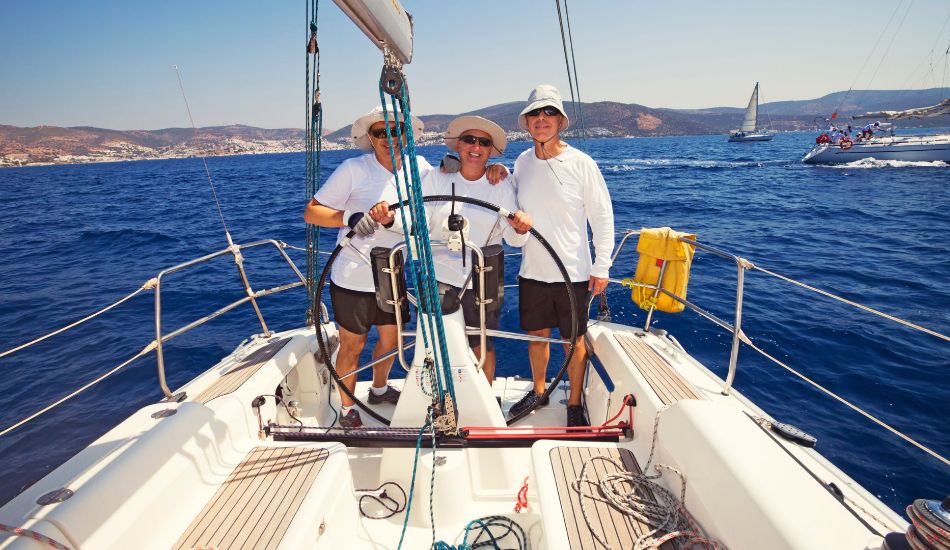 Pack light when sailing, there's nowhere to store big suitcases so choose a small backpack and, if you need to, leave extra luggage behind in storage.
Learn Local Navigation Rules: Familiarize yourself with local navigation rules and regulations to avoid any legal issues.
Ensure you have essential emergency equipment on board, such as life jackets, a first aid kit, and a throwable lifebuoy.
Have reliable communication tools on board, including a VHF radio, and know the emergency channels.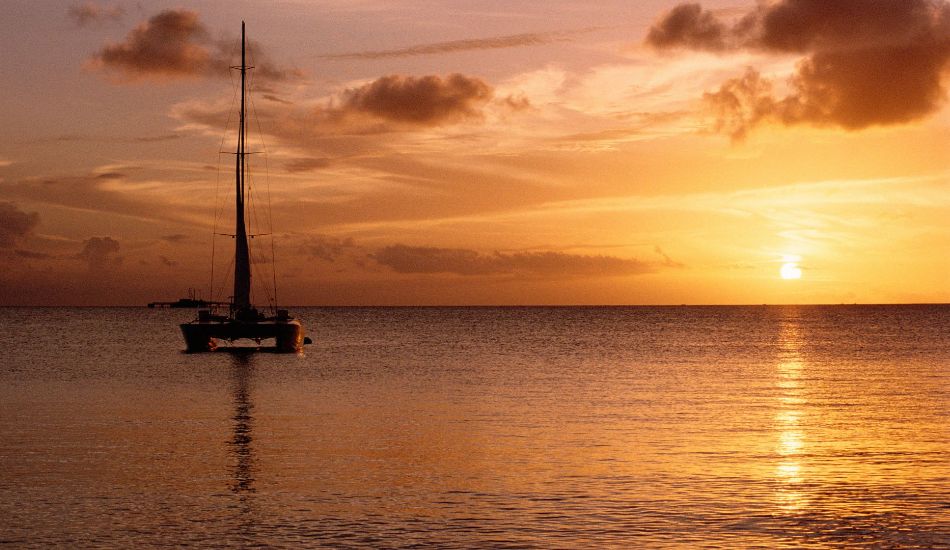 You will be spending a lot of time traveling on board (with stops for swimming and lunch breaks) so be prepared if you get seasick. Stock up on anti-nausea medications or use seasick bracelets. Stay above deck and keep your eye on the horizon line. Being below deck (usually) makes seasickness worse.
If you are on the front part of the boat you may get sprayed which you may find fun or you may not. If not, you better sit in the back of the boat.
The Wi-Fi access will probably be limited. Bring a book with you (or two).
Dispose of waste properly, respect marine life, and follow eco-friendly practices to preserve the beauty of the Greek Islands.
Packing List for Sailing in Greece
Starting from your luggage you should rather get a waterproof duffel bag than a large, hard suitcase. Remember, storage room may be limited.
This is an opportunity to invest in a good underwater camera like GoPro 12 or Olympus TG-6. Bring along rechargeable batteries for your phones, laptops, and cameras.
Cover-ups for the constant sun on the boat are your best friends!
Dry bags for mobile and any other electronics on board.
The light sea breeze feels wonderful on your skin but the sun will burn you if you are not covered or protected with strong UV, a couple of good sunglasses, and a hat.
Popular Articles on Greek Islands
Essential Travel Info for Greece
'Hello' and 'Thank You' in Greek: "Ya sou" and "Efharisto"
Booking.com: I use Booking.com because I can get the best deals on both hotels and apartments, free cancellations, and great prices!
Find Long-Term Rentals in Greece: You will find the best prices in Flatio
FerryScanner to book ferries to the Greek Islands
Athens Metro Website (timetables and ticket info)
Get Your Guide: For all your day or multi-day tours and city guide needs, I use Get Your Guide
Emergency Numbers Anywhere in Greece: AMBULANCE 166 – FIRE 199 – POLICE 100– EMERGENCY NUMBER 112
All rights reserved © Travel the Greek Way. Republishing this article and/or its contents (photographs, text, links) is strictly prohibited.
Please follow and like us: