Tsagarada Pelion is a beautiful mountainous, traditional, and popular village in mainland Greece. Tsagarada, dotted with old-style stone mansions and centuries-old churches, is built at 450 meters on Pelion offering wonderful views of the surrounding Aegean Sea.
Tsagarada is a blessed area, beautiful and fertile, perfect for travelers who love nature, tradition, historical monuments, and old traditional Greece. The picturesque houses are covered by large flowering gardens with gardenias, camellias, and hydrangeas in a multitude of colors, a really lovely view.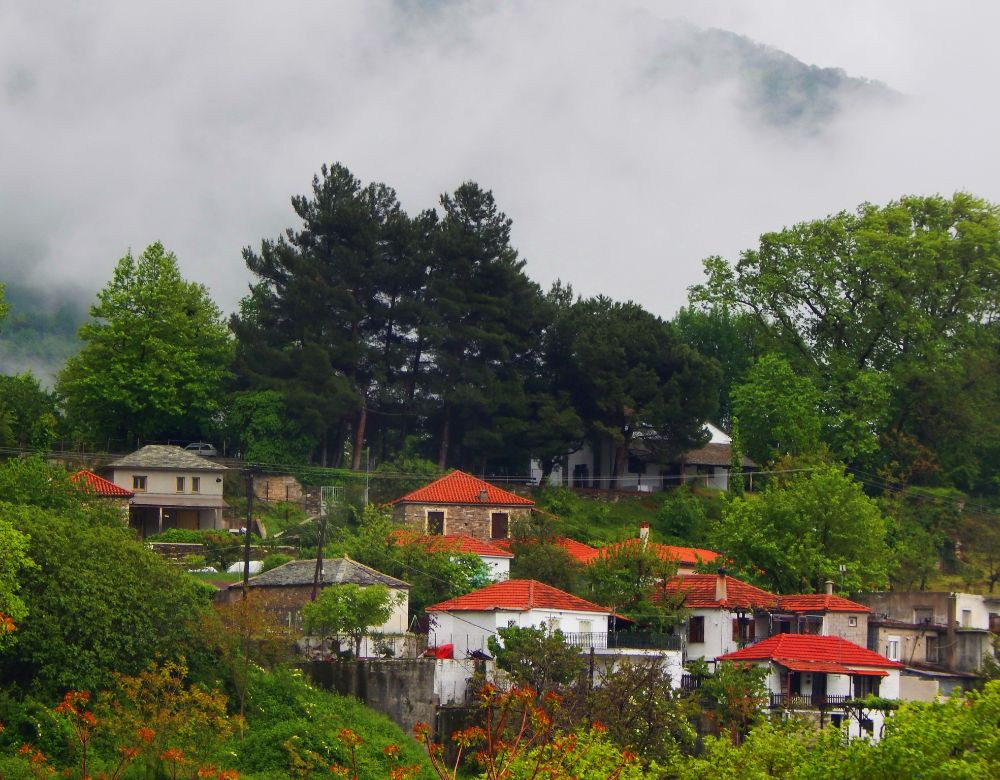 In the fall, the surrounding forest of Tsagarada turns into many beautiful shades of orange and red colors while in winter you can enjoy the magnificent snowclad landscape.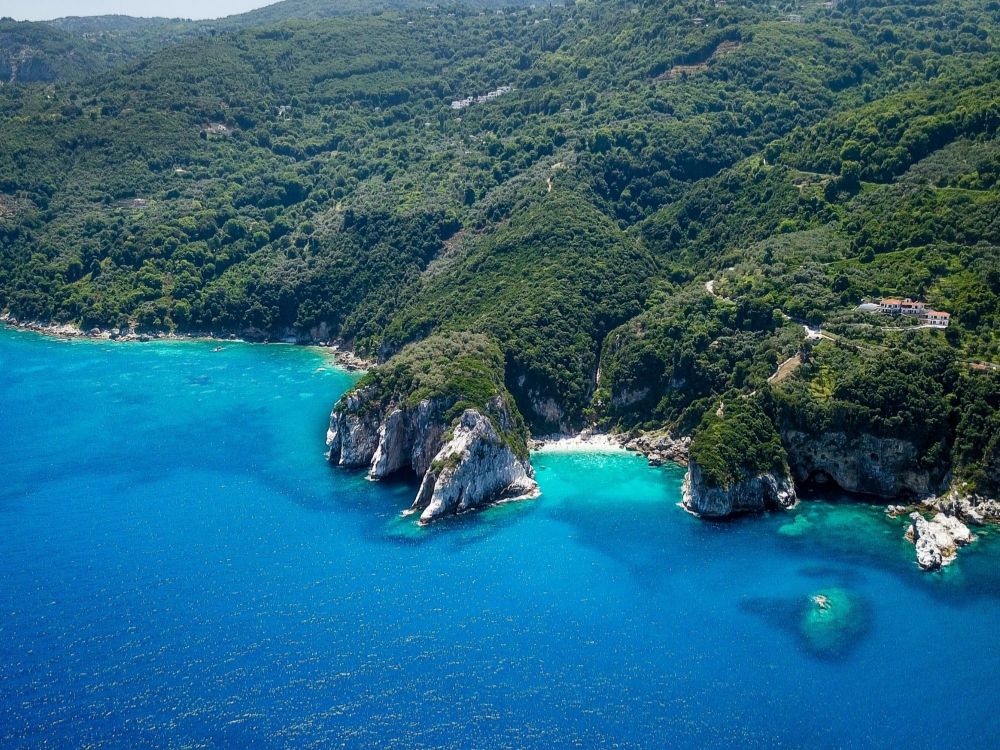 In spring, Tsagarada in Mt Pelion is probably at its most colorful and aromatic from the wildflowers and herbs. In summer, the stunning beaches of Mylpotamos, Fakistra, and the seaside villages of Agios Ioannis, and Damouchari offer enjoyable summer vacations.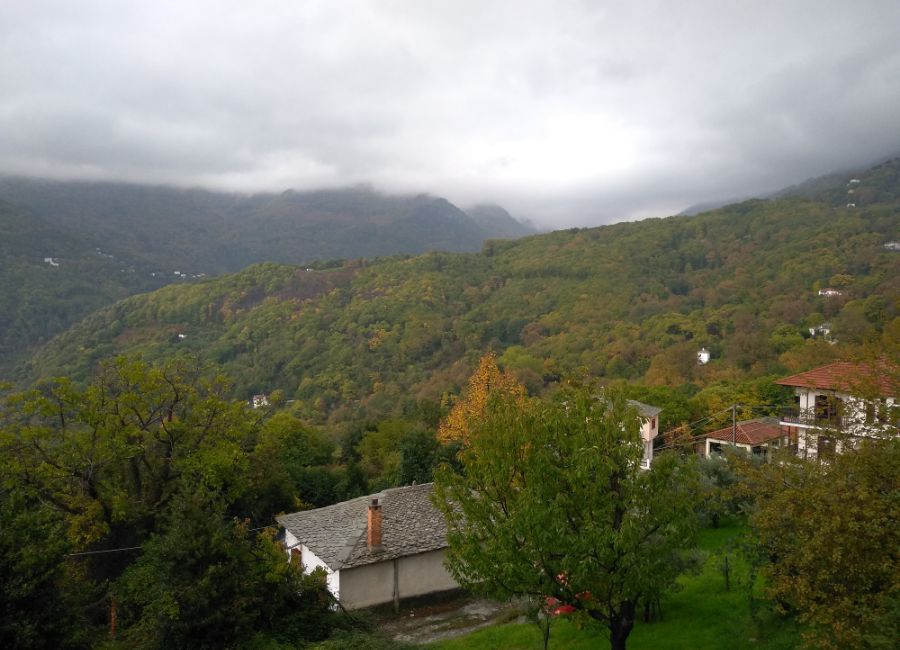 My Best Things to Do in Tsagarada Pelion:
Discover Tsagkarada's 4 Districts
Walk to Tsagarada's Old Bridge
Find out about Achillopouleio Digital Museum
Explore Tsagarada's Famous Beaches
Hike from Tsagarada to Mamma Mia's Location
Canyoning, Biking, and Skiing in Tsagarada
Explore the Nearby Pelion Villages
*Some of the links below are affiliate links. That means I may make a commission if you click and buy. The commission comes at no additional cost to you.
How to Get to Tsagarada
Mt. Pelion is located in the southeastern part of Thessaly in central Greece. Tsagarada is 373 km from Athens (about 4,5 hours) and 256 km (about 3 hours) from Thessaloniki.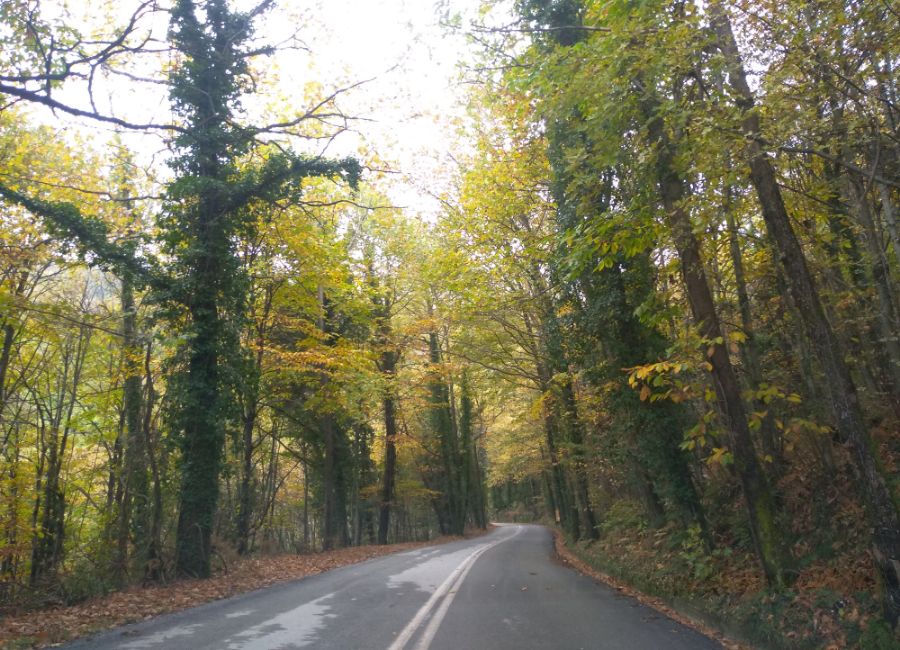 The best way to get to Tsagarada is by private/rental car but driving after Volos, the town on the hills of Pelion, may be a bit of a challenge. Roads are narrow with hairpin turns every 20-50 meters the views are stunning. Alternatively, you can fly to the city of Volos and drive the 49 km to Tsagarada.
Best Things to Do in Tsagarada Pelion
1. Discover Tsagkarada's 4 Districts
Tsagarada is sparsely built in 4 distinct settlements, each one of them around a beautiful old church. Every single church houses a wonderful wooden carved iconostasis and impressive frescoes.
Agioi Taxiarches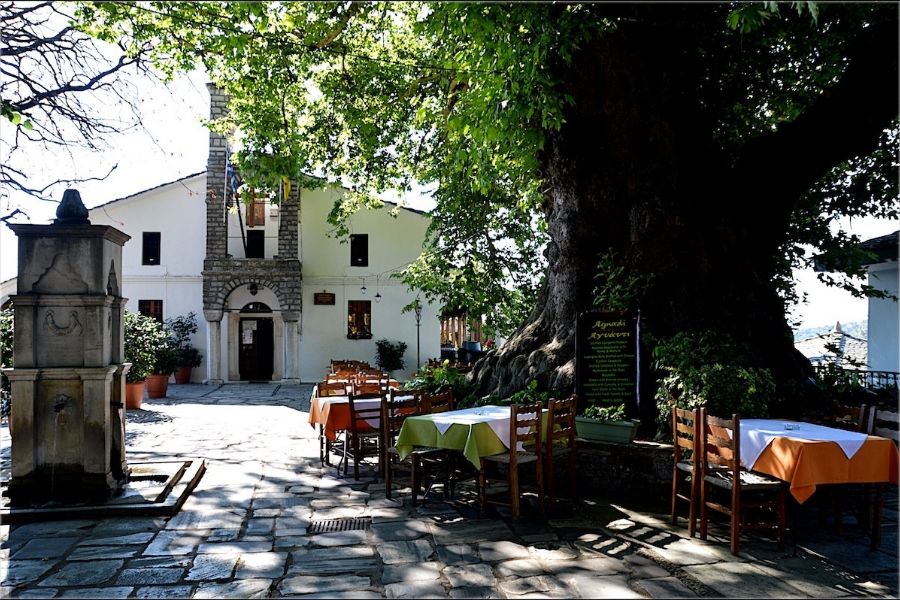 The Church of the Agioi Taxiarches (1746), is located in the central square of the Agioi Taxiarches area and its most characteristic feature is the unique Venetian-style temple. On the right side of the Church starts a path passing by traditional houses with beautiful views of the mountain all the way to the sea.
Where to Eat: Across from the church, you will find the Agnanti tavern, under the century-old plane trees (you can see its tables in the above photo). This is my favorite tavern in Pelion and I always have a meal or two here. You will experience authentic, local, dreamy cuisine. Taste its fried pork, rooster in wine sauce, dolmades, pies with homemade puff pastry, and yogurt.
Where to Stay in Tsagarada: Amalthia Traditional Guesthouse!
Agia Paraskevi
The second settlement of Tsagarada, Agia Paraskevi, is 4 km away from Agioi Taxiarches. Its central square is dominated by the church of Agia Paraskevi (1719) on a beautiful paved square and the thousand-year-old gigantic plane tree.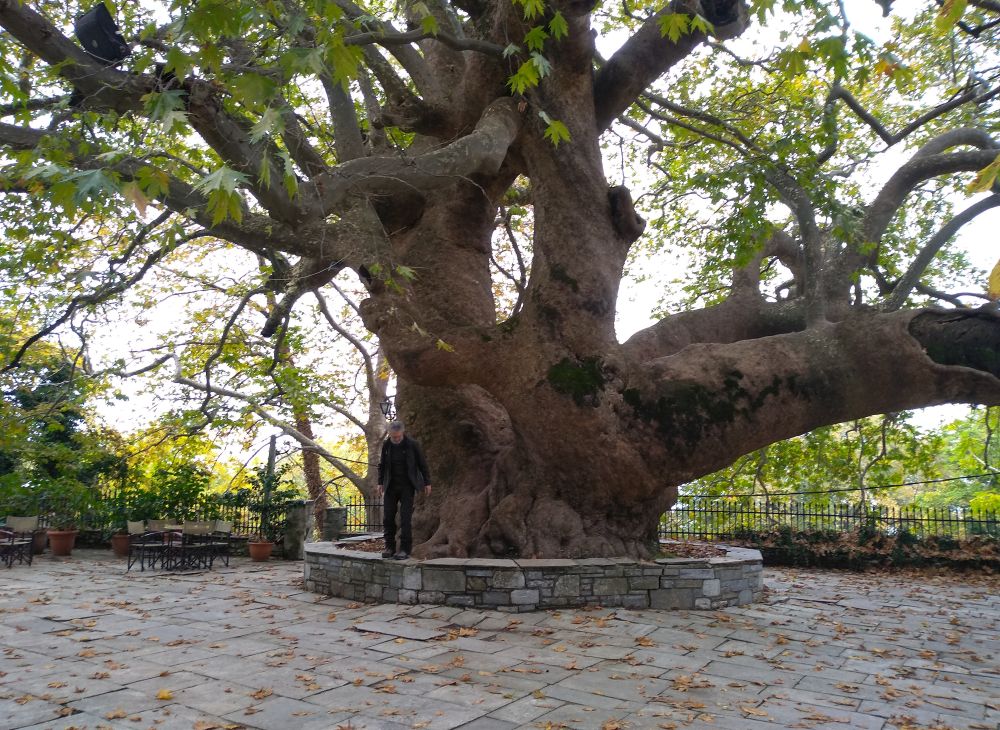 It is the oldest plane tree in Greece and perhaps in Europe. The perimeter of the trunk is at least 15 meters wide and is supported by a large column to keep it up straight. There is a coffee shop serving local sweets and fresh fruit juices that you can enjoy under the same plane tree.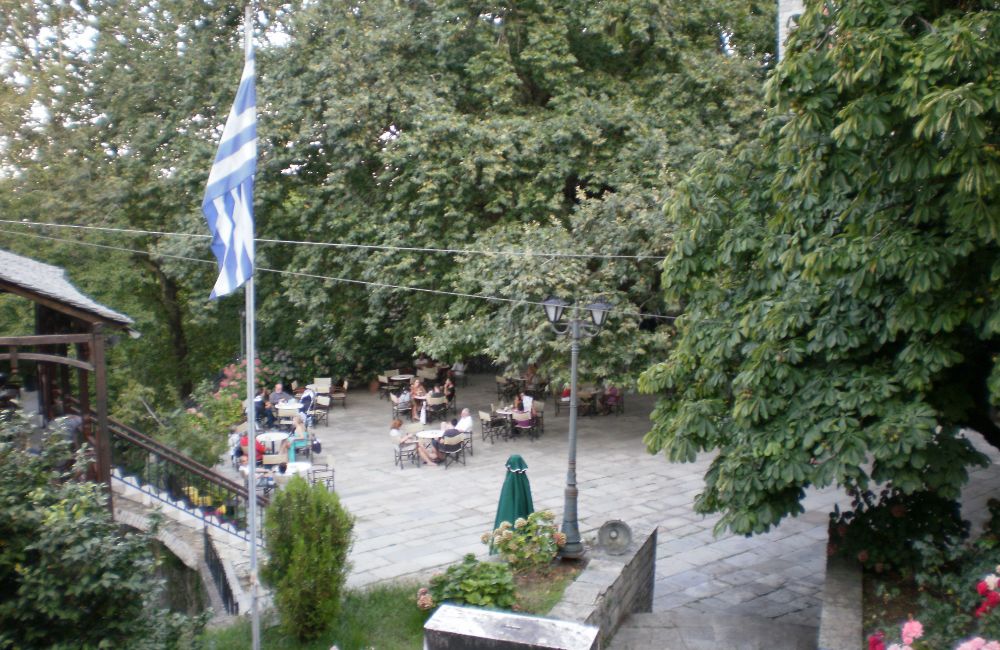 The surrounding area is lush green full of trees and stunningly beautiful mansions.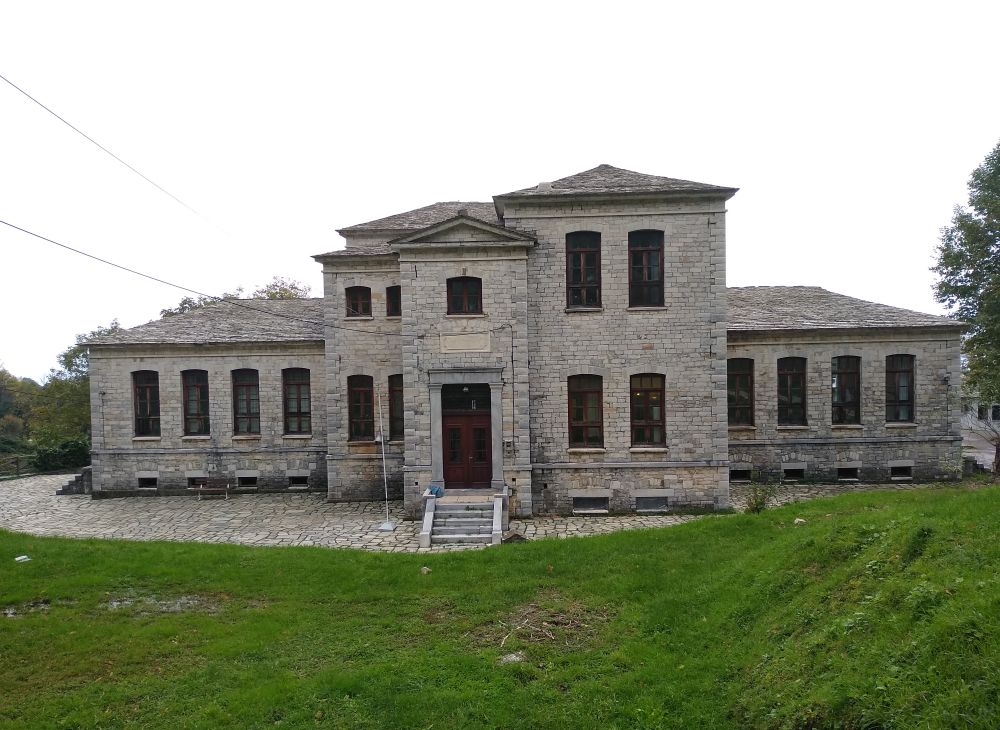 In the same area stands the neoclassic stone-built Nanopouleio School which currently houses the primary school of Tsagarada.
Don't miss visiting the Apalou Cafe in the area for an inventive menu with some original local dishes and delicious handmade sweets.
You are reading the best things to do in Tsagarada Pelion.
Agios Stefanos & Agia Kyriaki
Agios Stefanos, Tsagarada's third settlement, has its own small church (1772) with an impressive and elaborate iconostasis. Behind the church, there is a hill covered with pine trees that you can stroll, and enjoy the wonderful view of the mountain. Finally, Agia Kyriaki, which is the southern settlement of Tsagarada, has a pretty small church built in 1886. The church is only open during summer.
In total, there are 40 churches and monasteries in Tsagarada.
Where to Stay(my pick!): Olga Studios (Self-catering). Great place to start hiking towards Damouchari.
Between the four settlements, there are many taverns, restaurants (like Dipnosofistis with a beautiful garden), cafes, and small supermarkets. There are also a couple of specialized shops with outdoor gear and my favorite gift shop with handpainted and handmade ceramics near the Agnanti tavern on the main road (Eroterra Art Workshop).
2. Walk to Tsagarada's Old Bridge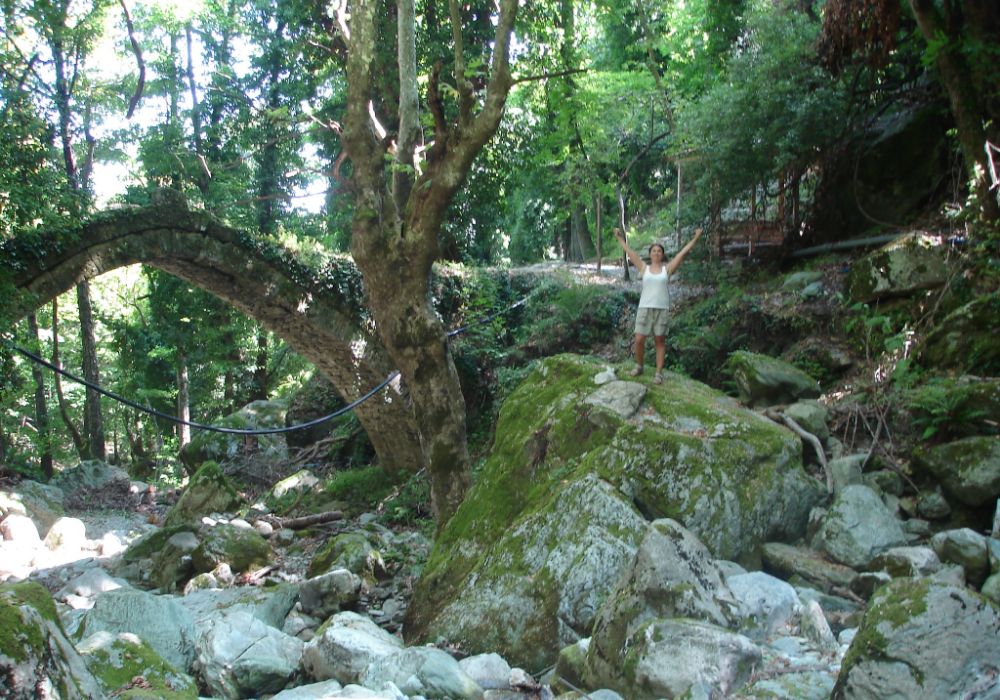 At the beginning of the village of Tsagkarada stands the oldest and most well-known stone single-arched bridge built in 1728 in Pelion Mt. In 2021 during a storm, the bridge collapsed but the local authorities are determined to rebuild it, so hopefully when you visit the bridge will have been restored.
The bridge crosses the gorge of Milopotamos and is located amongst the plane and chestnut tree forest. You will reach the bridge following the small, wooden signs along the cobbled footpath, and the trail to get to the bridge is unbelievably beautiful, dreamy, and fairytale-like.
3. Find out about Achillopouleio Digital Museum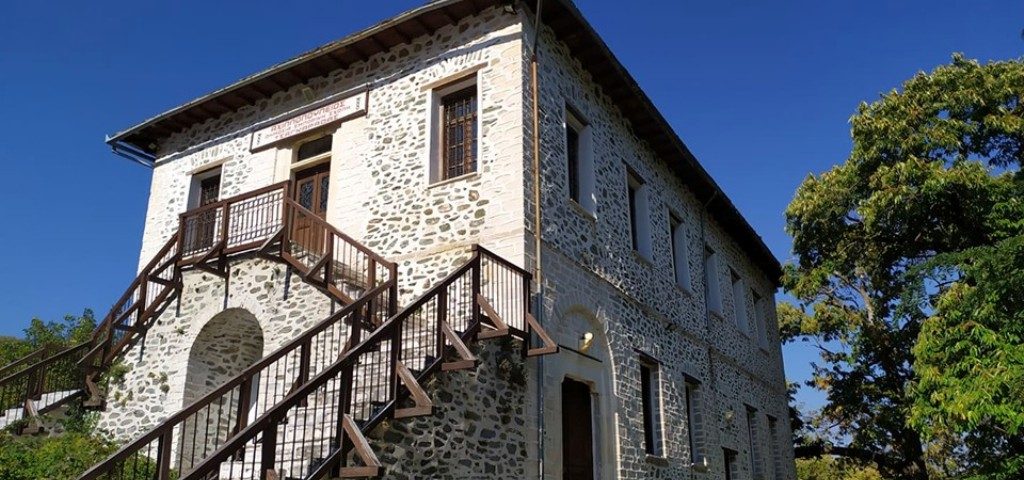 In the settlement of Agia Paraskevi stands the impressive building of Achillopouleio Commercial School built in 1864. Achillopouleio houses the brand new museum of a large folklore collection in interactive digital 3D format and various natural exhibits in miniature.
There are artifacts from the primary sector and exhibits from pottery, painting, weaving, building, shipping, and trade. Finally, from the field of mythology, the museum exhibits the battle of Centaurus against Lapithus, Achilles, and Chiron. Open 8 am – 2 pm.
4. Explore Tsagarada's Famous Beaches
Mylopotamos
The blue-flagged beach of Tsagarada, the famous Mylopotamos, is in fact 2 beaches one larger and one smaller. They are separated by a rock that has a passage at its base that allows you to go from one beach to the other. The smaller beach is more private and has a small cave in the mountain that offers shade and a wonderful view of the crystal blue waters of the Aegean Sea.
Mylopotamos is an organized beach, with sunbeds and umbrellas (you have to pay to get them). There is also a small beach bar with drinks and snacks. Above the sandy beaches, there is a parking area, with a spectacular view of the bay, ideal to enjoy a stunning sunrise (if you are an early bird!). You can get to the beach by walking down the stone steps or by a trail.
The best time to enjoy Mylopotamos is in May, June, July, and September. August will be busy and crowded and the sea may be a bit windy. Mylopotamos is 7 km far from Tsagarada.
Fakistra
Fakistra will amaze you for its serenity and wilderness, its turquoise water, and the imposing cliffs rising above your head. It is not an organized beach, so you better bring your own water and snacks.
It is about 15 minutes of walking each way on a steep downhill (and later uphill), so if you are visiting during the summer, wear anti-slippery shoes, a hat, and sunscreen, and have water with you. If you have very young children this might be too difficult for them. There is a parking area but it is quite small.
From this sandy beach, you can take a boat or walk using the nearby path to the Sea Cave Panagia Megalomata, which is a Stalactite cave dedicated to the Virgin Mary. Next to this cave, according to tradition, was the Hidden School (there is a sign indicating the place) where the monks during the Ottoman occupation taught Greek children the Greek language.
The lovers of rocky beaches should go to Karavostasia, a beach located between Fakistra and Mylopotamos.
5. Hike from Tsagarada to Mamma Mia's Location!
The 4 settlements of Tsagarada are linked together by a well-maintained network of stone paths, (called Kalderimis), ideal for trekking. Many trails start and end in Tsagarada. Find here an exceptional site with trails in Tsagarada.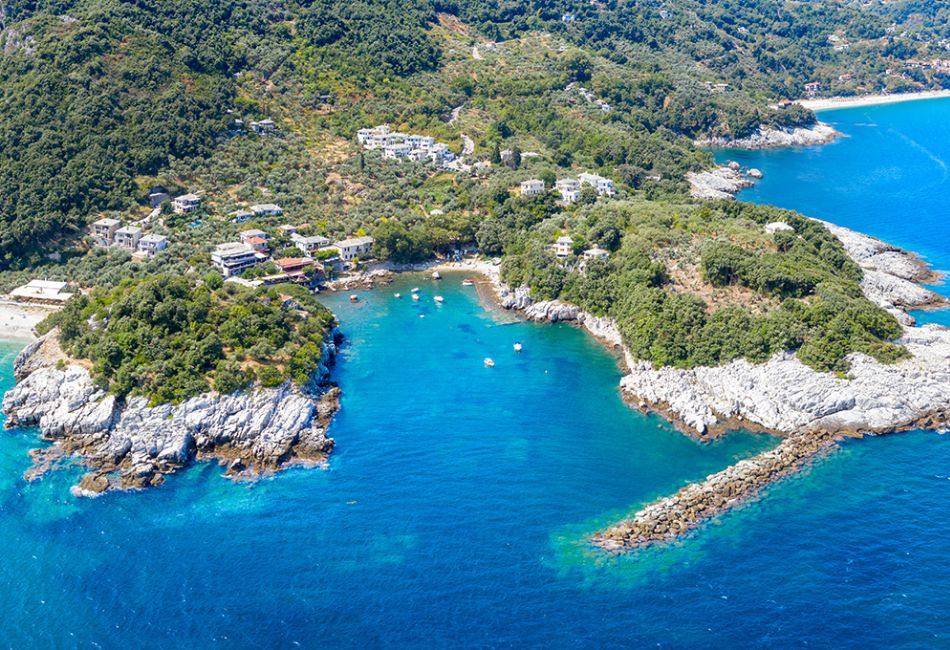 The most famous trail is the one that starts from the district of Agia Paraskevi and through the old path that crosses the forest, with bridges and springs, ends up in Damouchari, one of Mamma Mia's film destinations. This is where Meryl Street followed by a large group of women singing 'Dancing Queen', jumped into the sea.
Damouchari has two separate areas, the lovely small bay where you can have memorable meals and the nearby beach.
Best Place to Stay in Damouchari: Dreamy perfect seaside Damma Mia House (capacity for 6 persons).
6. Enjoy Canyoning, Biking, and Skiing in Tsagarada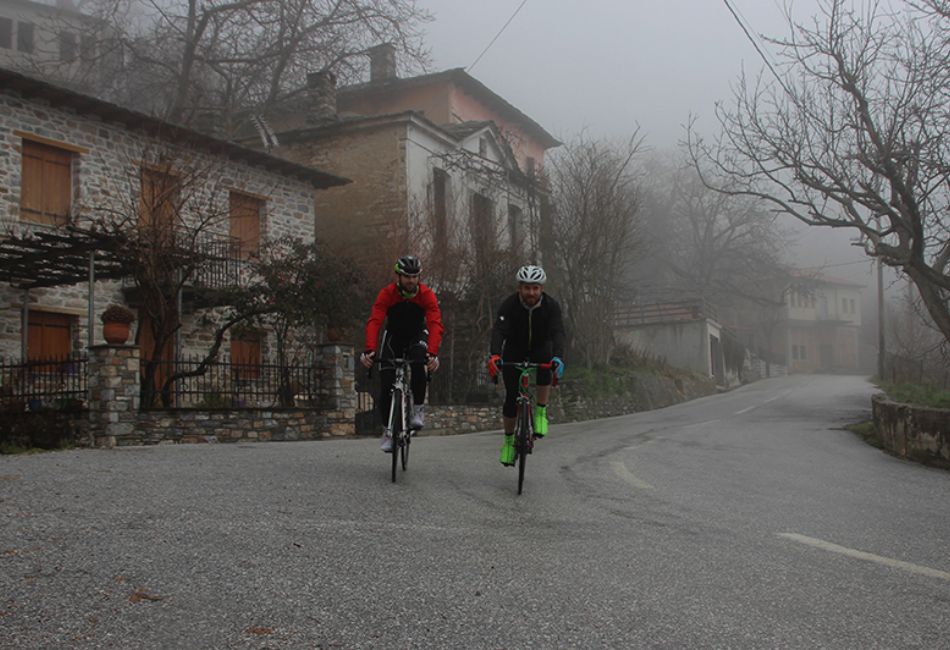 Tsagarada and Pelion in general is the outdoor lover's paradise. The area around Tsagarada has the deepest gorges in Pelion (Koutra, Milopotamos and Fakistra gorges to name but a few) ideal areas for canyoning or challenging hiking. Kayaking is also very popular in the area and ideal for exploring the more remote areas of Tsagarada.
In the winter, you can ski at the fully organized ski resort in Chania.
7. Explore the Nearby Pelion Villages
Drive to one picturesque Pelion village after the other. Go to Kissos, a beautiful mountainous traditional village, sit in one of the small traditional taverns and cafes, and try delicious snacks, spit roasts, and local wine.
Explore Zagora village with its stunning sea views, its red apples, and the famous Chorefto beach.
Visit Milies village with the extraordinary church and the gorge little train that goes to Lechonia.
Swim on the sandy perfect beaches of Papa Nero (with large organized camping), Agios Ioannis popular village, and Plaka beach.
Where to Stay in Tsagarada
I always stay at traditional guesthouses in Tsagarada with large gardens and magnificent sea views of the open Aegean Sea.
Stone-built Hotel Maistra has an amazing view of Mylopotamos Beach, perfect for magical sunsets in its green garden.
If you prefer a forest view choose Amalthia Traditional Guesthouse. it is located in the greenest part of Tsagarada and boasts a lovely swimming pool. I always find it hard to choose between those two!
Best Time to Go to Tsagarada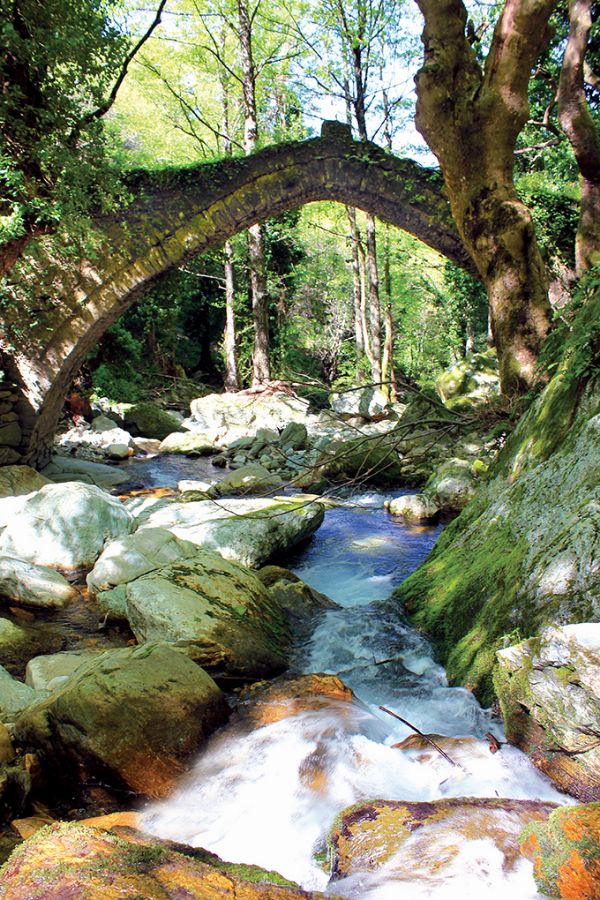 Tsagarada is a four-season destination, super romantic for couples, perfect for outdoor lovers, and ideal for families, especially in the summer. On the last weekend of October, the Chestnut Festival is also organized where the wine flows abundantly (yum) and you can taste the chestnut-based delicacies.
FAQ for Driving in Greece in Winter
Always carry chains for your tires, you never know when the next crazy blizzard will find you
Most of the country is connected by a highway system that uses tolls – open all year round
Belts are mandatory and you get a huge fine if you haven't fastened them up
Children should always be kept in their special seats, fastened, in the back seat
Driving and talking on the phone also can give you a gigantic fine, use hands-free options
The high-speed roads are in excellent condition. When you get off the main highways, the roads get significantly smaller, and as all the ski resorts are on mountains, they may look a tad intimidating
All the ski resorts in Greece have parking places and they keep the roads clear from too much snow or add some salt to make them less slippery.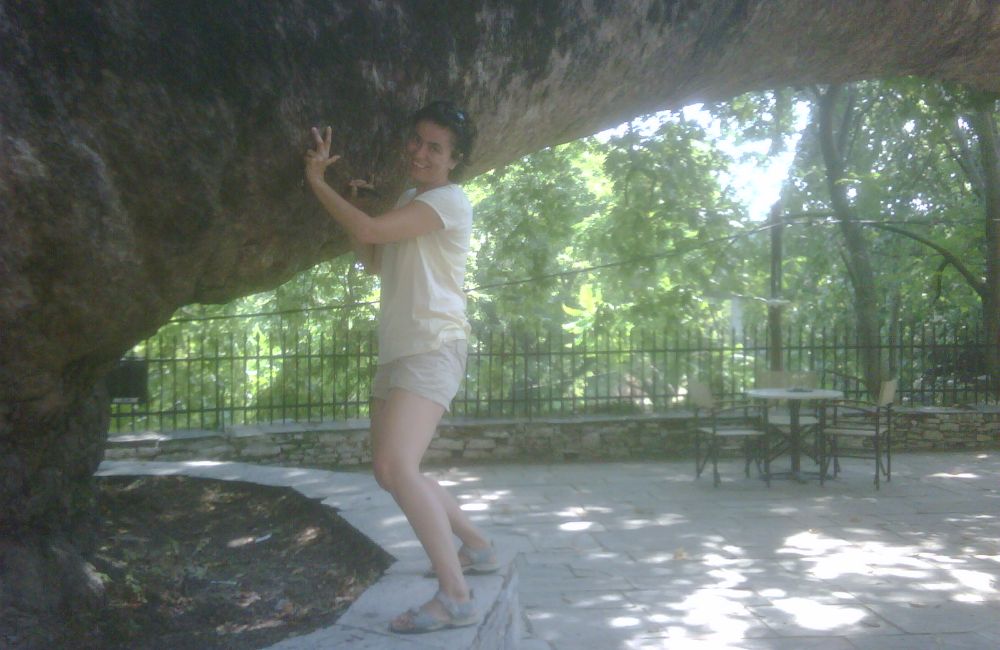 Top Things to Do in Tsagarada Pelion:
Tsagkarada's 4 Districts
Tsagarada's Old Bridge
Achillopouleio Digital Museum
Tsagarada's Famous Beaches
Mamma Mia's Location
Canyoning, Biking, and Skiing in Tsagarada
Nearby Pelion Villages
Plan Your Trip to Greece
Do you need a custom travel itinerary for Greece? Are you traveling solo, with your family or your friends and you need a tailor-made multi-day tour or a transfer within Greece?
If yes, please visit my dedicated Plan My Trip Page for a free itinerary!
Essential Travel Resources for Greece
'Hello' and 'Thank You' in Greek: "Ya sou" and "Efharisto"
Booking.com: I use Booking.com because I can get the best deals on both hotels and apartments, free cancellations, and great prices!
Find Long-Term Rentals in Greece: You will find the best prices in Flatio
FerryScanner to book ferries to the Greek Islands
Athens Metro Website (timetables and ticket info)
Get Your Guide: For all your day or multi-day tours and city guide needs, I use Get Your Guide
Emergency Numbers Anywhere in Greece: AMBULANCE 166 – FIRE 199 – POLICE 100– EMERGENCY NUMBER 112
All rights reserved © Travel the Greek Way. Republishing this article and/or any of its contents (photographs, text, links) is strictly prohibited.
Please follow and like us: