Updated September 12th, 2022 by Travel the Greek Way
Zagora in Pelion is a large, prosperous, totally unspoiled, and mountainous village on the east mainland of Greece spread on a green slope, overlooking the nearby Chorefto Beach of the Aegean Sea.
For those of you who have never heard of Pelion villages before, imagine a stunning Greek area with an abundance of forests, wildlife, streams, exotic beaches, and some of the most beautiful villages in Greece. Read along for the best things to do in Zagora Pelion.
*Some of the links below are affiliate links. If you click and buy something through them, I may earn a small commission — which costs you absolutely nothing! I am very grateful when you use my links to make a purchase. Please see my full disclosure policy for more information*
Best Things to Do in Zagora Pelion
Get your Zagora interactive map here to visit the locations of the sites mentioned in this post.
Stay in a Traditional Zagora Pelion Mansion
Zagora is built at a height of 500 meters on one of the slopes of Pelion mountain and most of the houses are centuries-old made mostly with wood and stone.
One of the best things to do in Zagora Pelion is to stay at a traditional mansion. I stayed at Archontiko Stamou (Booking rate 9.5, from €70) a historic boutique hotel in a quiet street in Zagora, with a large lush garden, full of trees and flowers. The garden was the most difficult to leave when I had to check out.
Archontiko Stamou dates back to the 1860s and has been renovated with great care and taste to make a beautiful hotel full of charm, local character, and modern facilities.
Visit the Beautiful Churches of Zagora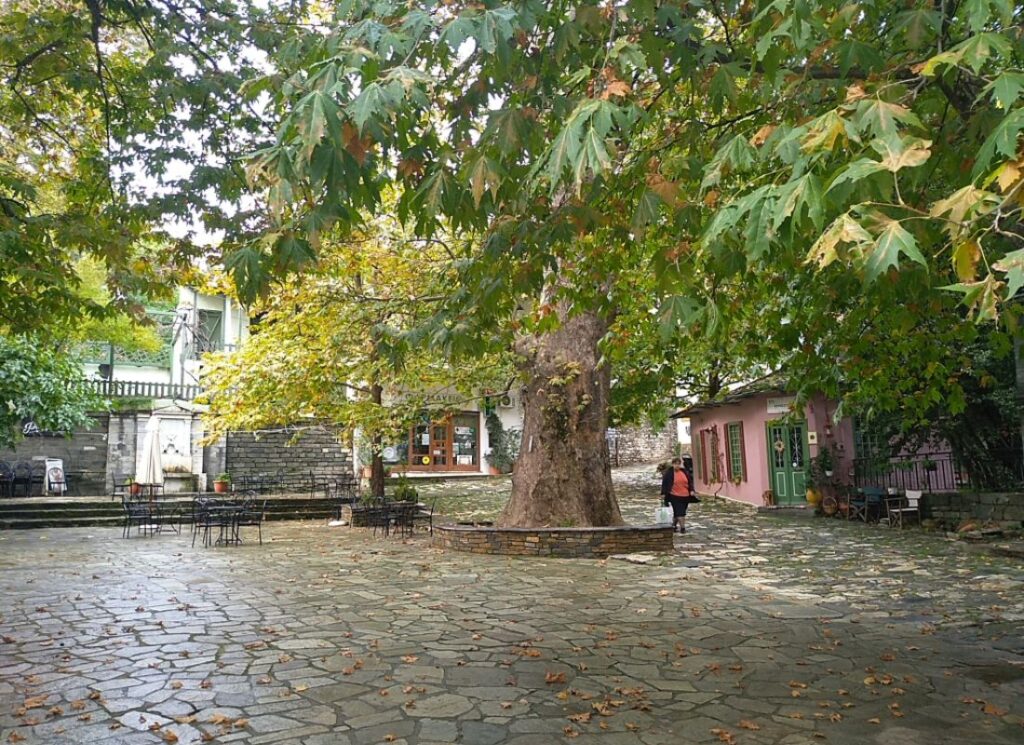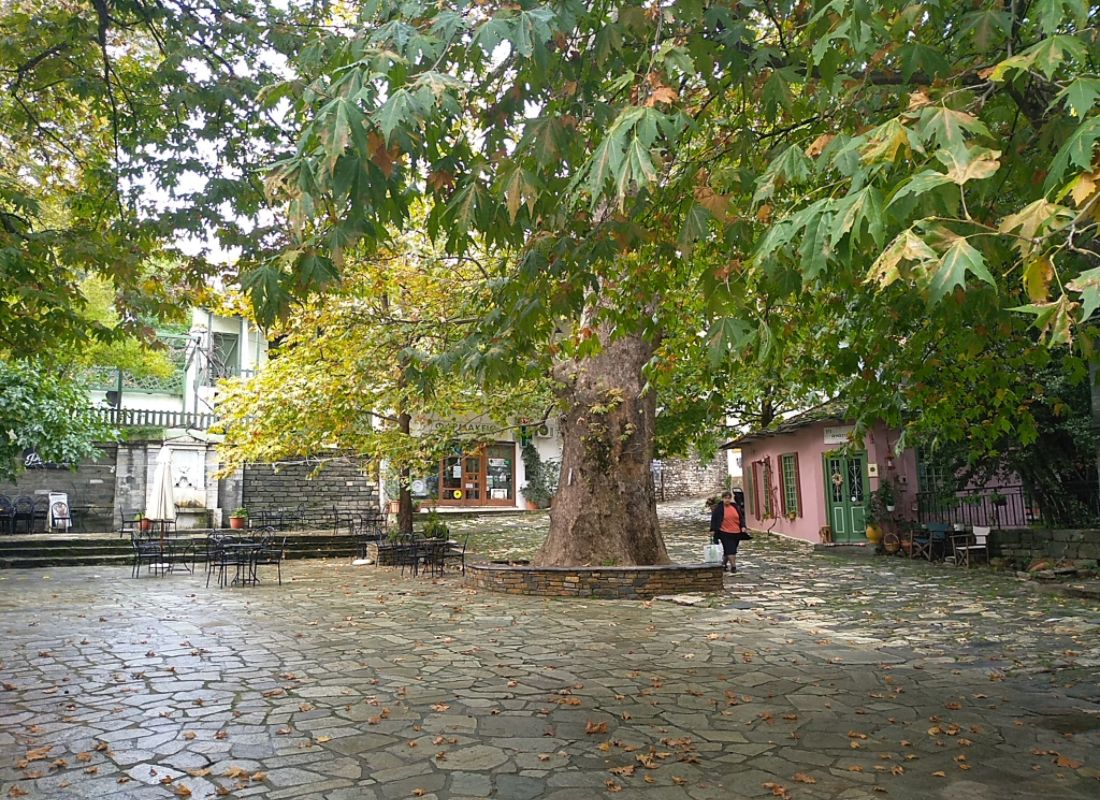 At the main Square of Zagora with centuries-old plane trees, you will find the Agios Georgios Church, built in 1765, with a very impressive wood-carved iconostasis (1774).
**The pink house in the above photo is the Zagora women's fruit cooperative where they sell their delicious, freshly homemade jams, marmalades, and other local sweets.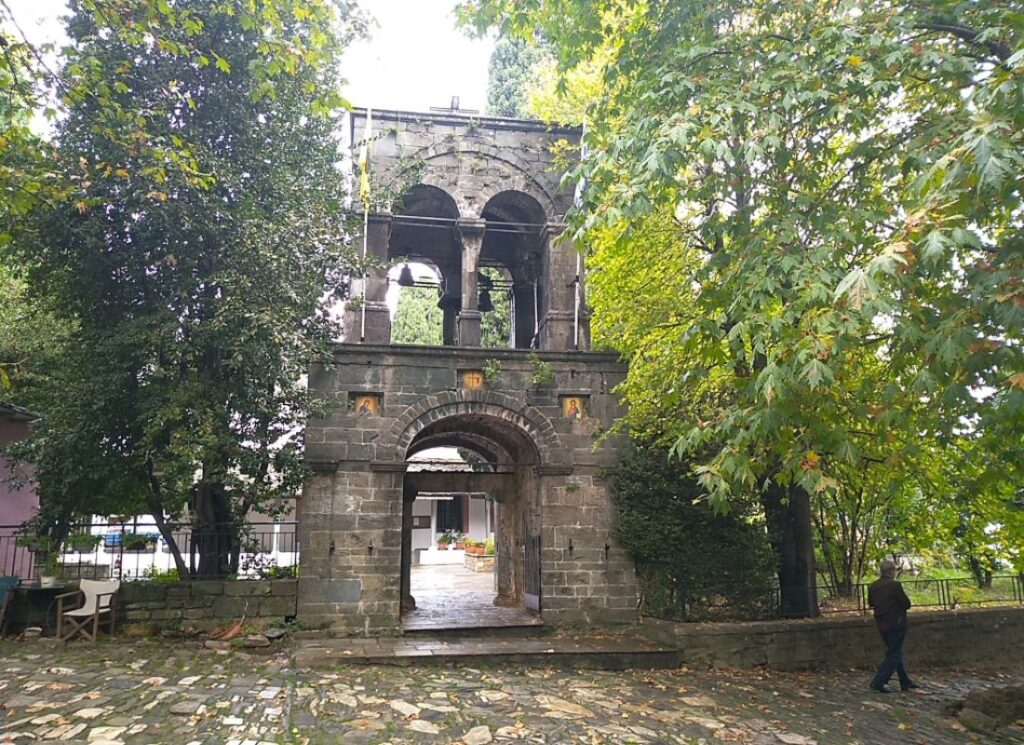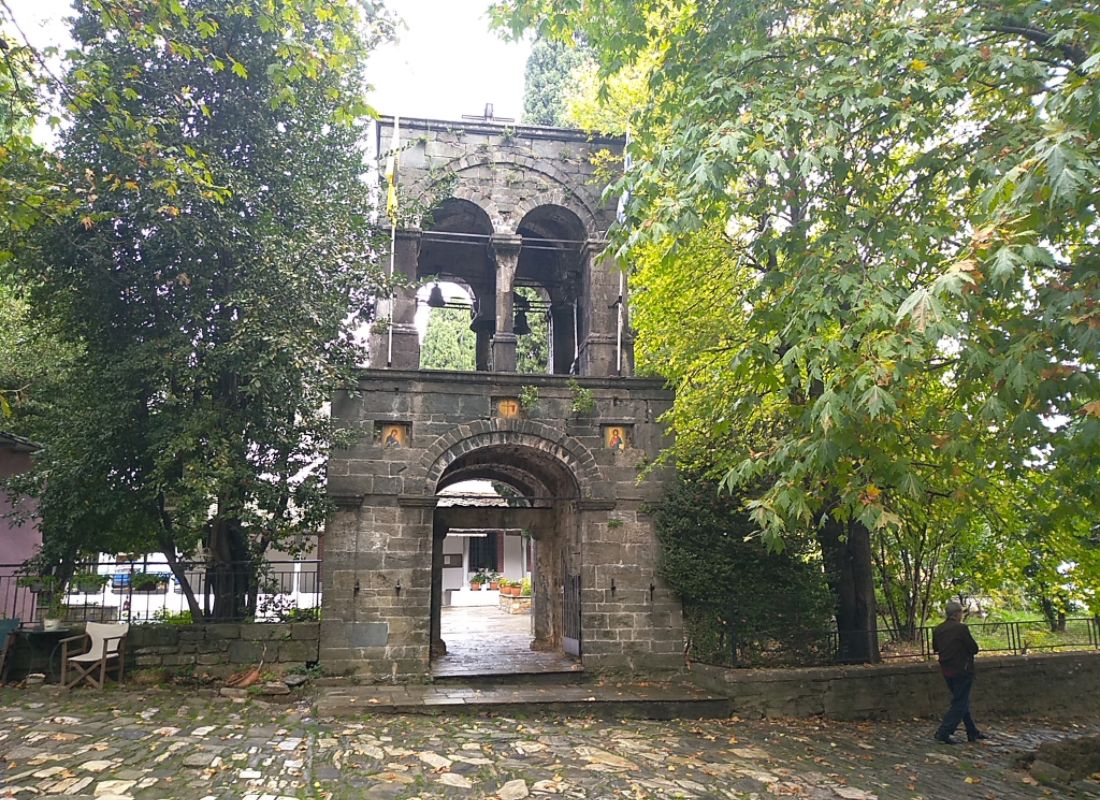 At Agia Kyriaki Sq in Zagora with the same-named Chruch of Agia Kyriaki (1740) is a very impressive church with brilliant interior decoration and a magnificent gilded wood-carved iconostasis.
If you love churches and chapels Zagora has plenty you can visit and explore their tradition and decoration.
Agia Kyriaki is also a fantastic place to have your lunch or dinner.
Explore the Historical Public Library of Zagora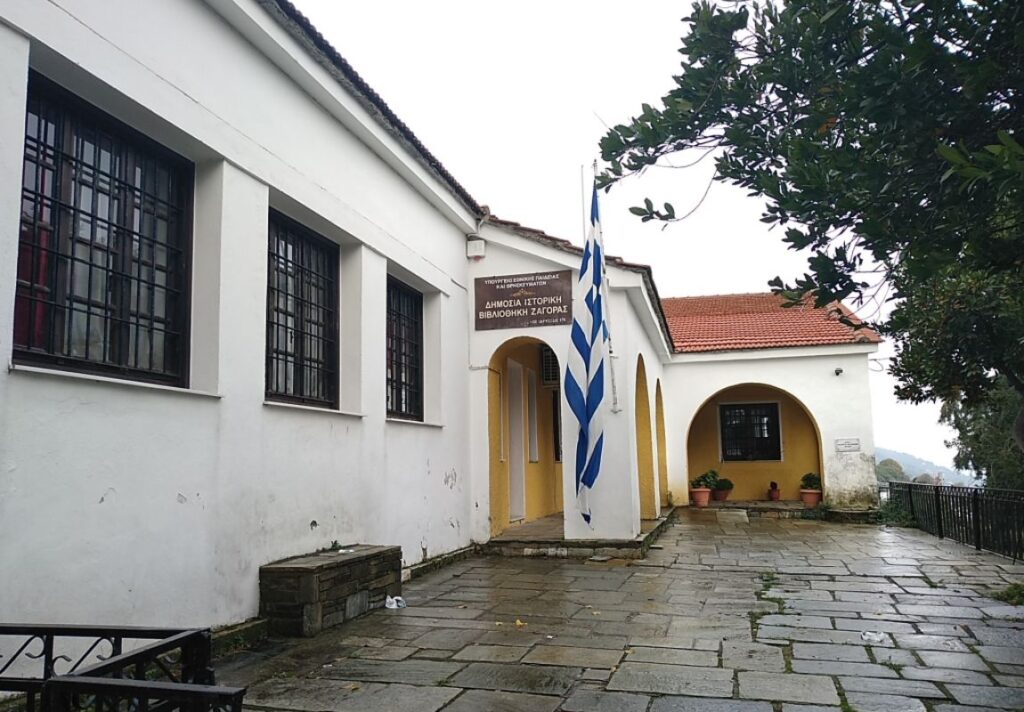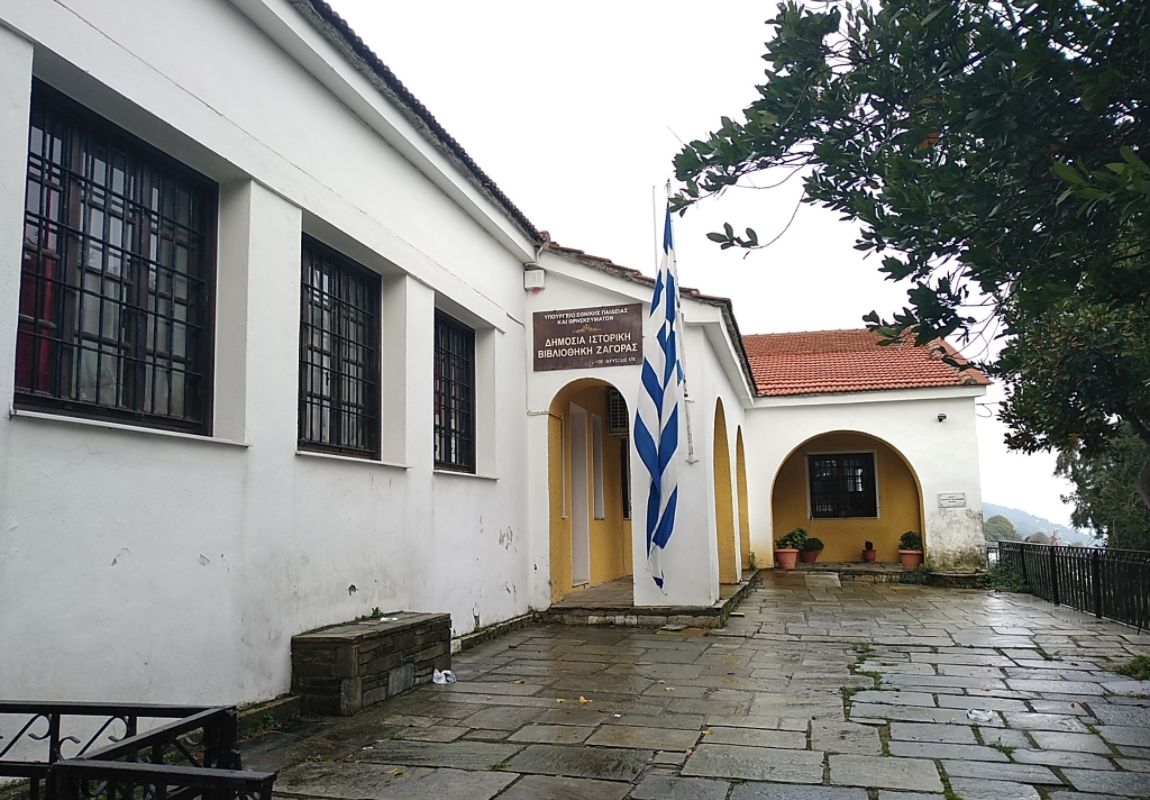 The famous Library of Zagora in Pelion, founded in 1762, holds today more than 10,000 titles of books, magazines, and about 3,500 old books and manuscripts. The Library is housed in a building owned by the Municipality of Zagora, under the supervision of the Greek Ministry of Education.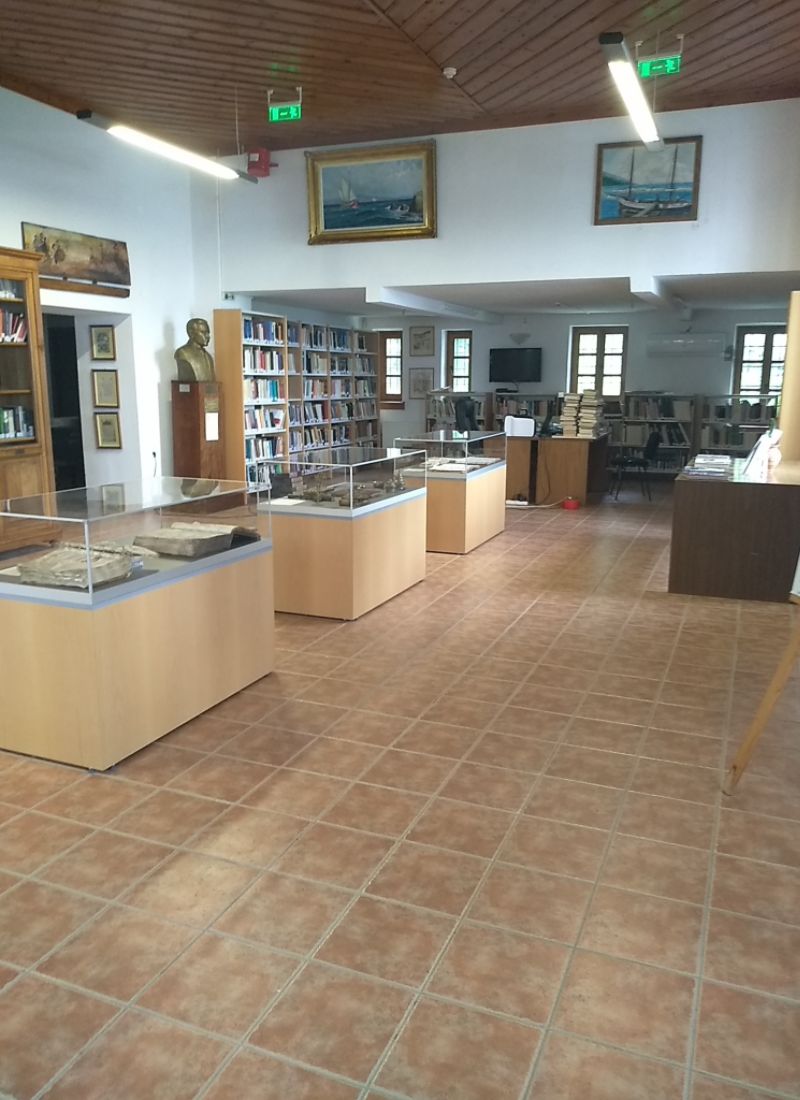 The Zagora Library holds precious books like 'Greek Grammar' by Theodoros Gazis printed in January 1495, in Venice. Many books have handwritten notes in the white margins of their pages, very enlightening for the history of Zagora, but also for the Greek history of the 18th century in general.
The library is next to the main square of Zagora and I had the pleasure to be guided to the library's treasures by the very kind lady responsible for the Museum.
More: http://www.library-zagora.gr
Munch on the Renown Zagorin Apples
One of the best things to do in Zagora Pelion is to eat…apples!
Zagora is famous for its Starling variety of juicy, delicious red apples, so unique that they now are a trademark. The apples are exported all over the world under the Zagorin brand, from the local Zagora Agricultural Cooperative contributing significantly to the prosperity and local wealth of the village.
Zagora village has also a succulent variety of fruits such as plums, strawberries, pears, kiwis quinces, and large chestnuts.
Visit the Ellinomouseio or Rigas Feraios School
Ellinomouseio is the oldest school of Pelion, founded in 1777, and some of its students are famous in Greece as they became later the pioneers of the Greek War of Independence (1821):
Rigas Feraios, Anthimos Gazis, Grigoris Konstantas, and Kallinikos Lapatis studied here Philosophy, ancient Greek, Latin, and French, history, and mathematics.
The building is one of the most beautiful and durable buildings of Pelion, a remnant of the popular culture that endured the raids of many during the centuries.
Today it works as a museum and library, containing a large number of books, maps, and manuscripts from Greek history.
Have a meal at the Best-View Traditional Tavern in Zagora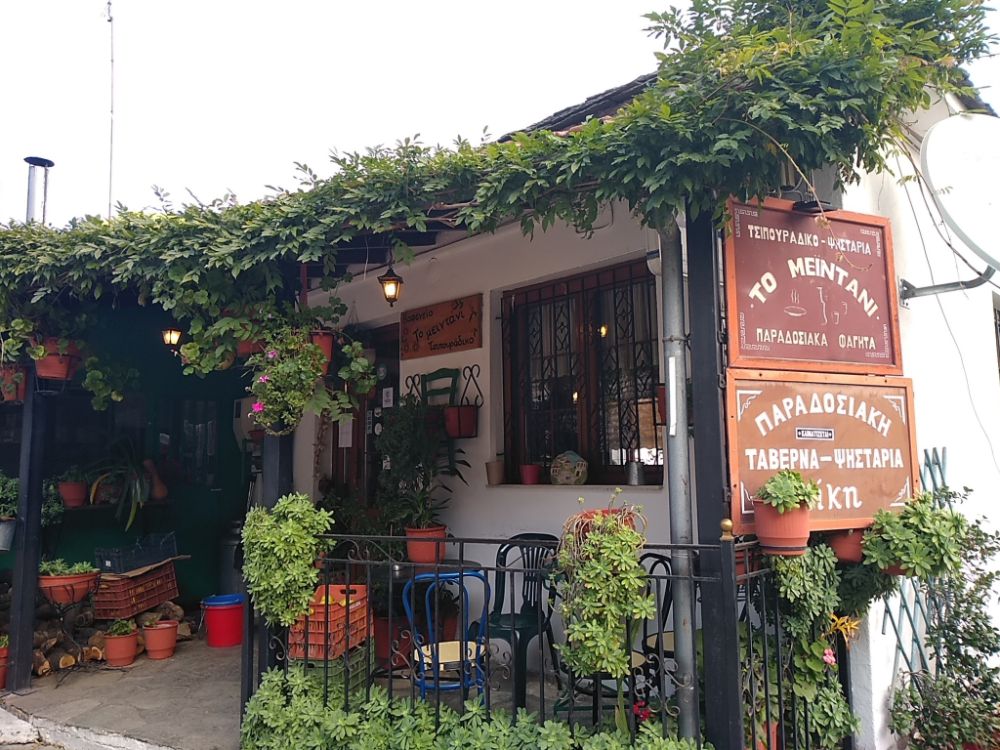 Having lunch with my friends in Meintani traditional tavern, was one of my happiest moments and the best thing to do in Zagora Pelion!
Meintani or Niki's tavern – Niki is the amazing owner – is a 5-minute walk from Zagora's main square. Tasteful Greek dishes, such as her famous stuffed zucchini flower, dolmadaki, filled vine leaves, freshly caught fish, spetzofai (Pelion traditional dish), and local wine are just perfect and remind us of old Greece.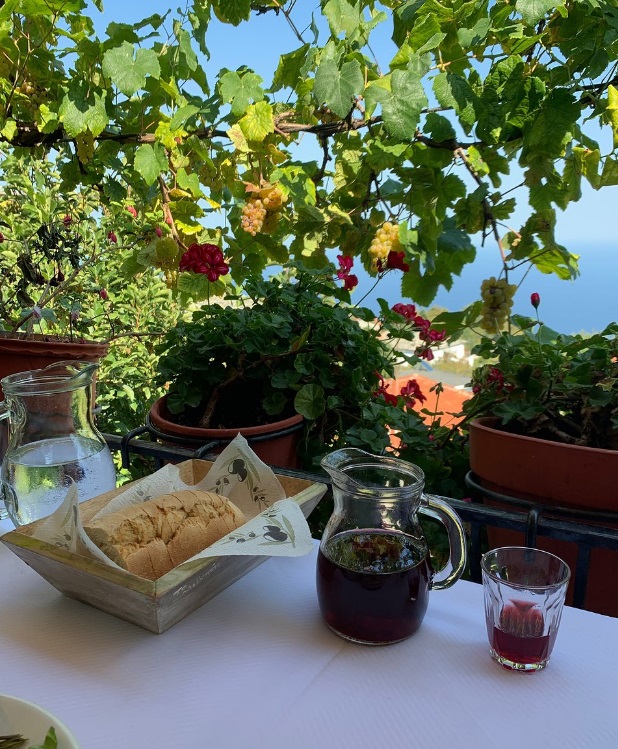 We stayed on the balcony, with a really breathtaking view of the mountains and Chorefto beach. At this tavern, I had one of the best memories of Zagora.
Go Hiking at the Zagora Trails
One of the best things to do in Zagora is to hike from the Zagora center all the way to Chorefto Beach, a 3,1 km total distance.
The trail passes from Ellinomouseio, and if you walk for 150 meters down the main asphalt you will find a signed post where the kalderimi (Greek type of trail found in rural and islands) begins.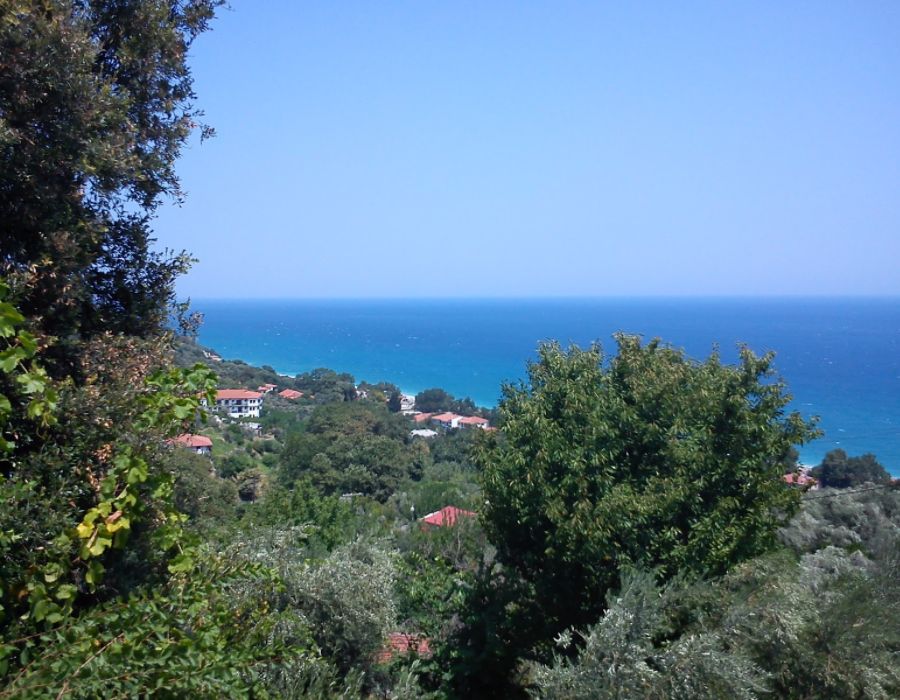 As you hike downwards towards the beautiful beach of Chorefto, you pass by fields of apple trees and the large Zagorin factory. On a couple of occasions you end up in the main street, and you have to find again the trail a bit further down. That happens a lot with Pelion hiking close to the villages as they have made the roads around the old donkey trails.
Swim in Chorefto Beach, Zagora's main Beach
Chorefto beach (or Horefto) is one of the most beautiful beaches of Pelion. It is a popular beach with soft golden sand and crystal clear blue-green waters of ​​the Aegean Sea.
As Chorefto beach has 2.5 km in length, there is a part of it that is busy and organized especially during August but also many quieter and secluded spots to choose from if you prefer the quiet beach scene.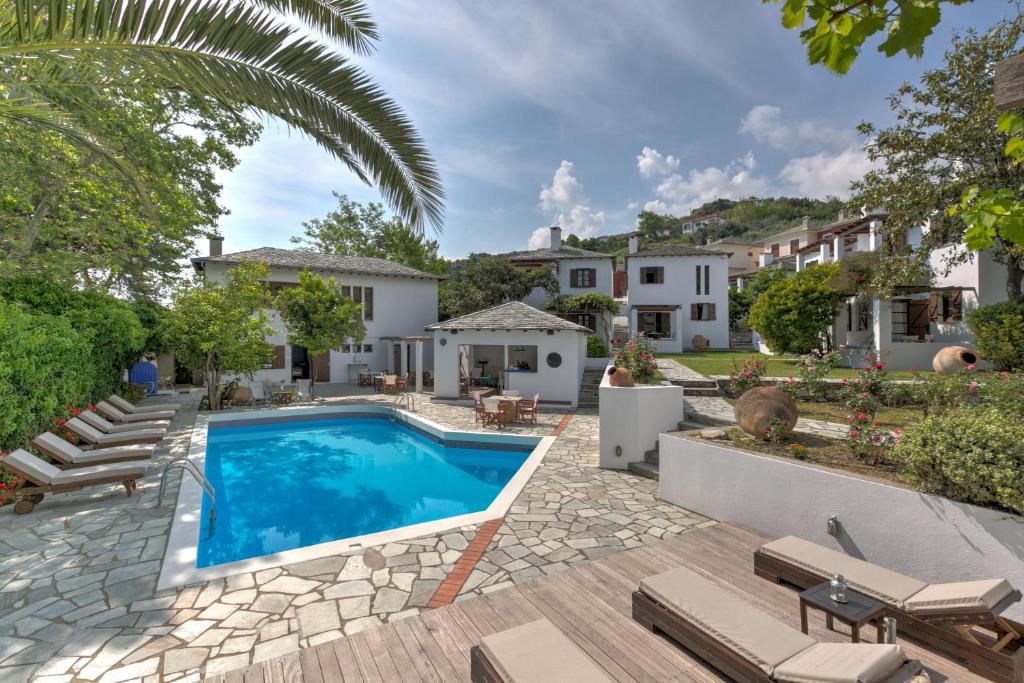 One of my favorite – and one of the most amazing places to stay in Chorefto – is Aeolos Hotel & Villas – Pelion. A beachfront quality hotel that has managed to combine beautifully the tradition of Pelion mountains with a Greek island feeling. Highly recommended! Check availability and prices in Booking.
Ski in Agriolefkes, Pelion Ski Resort
The ski center Agriolefkes in Chania Pelion is 21 km far from Zagora and is one of the most picturesque ski resorts in Greece. While you ski you get to have amazing panoramic views of the Pagasitikos Gulf and the Aegean Sea. It has 5 lifts and 5 slopes, one is Lang-Lauf, at 1471 m height, a chalet, shops to rent or buy ski gear, restaurants, and a cafe. A great place in total if you love skiing with sea views!
Explore the other Stunning Pelion villages
Zagora is not the only beautiful village in Pelion Mountain. Pelion has 28 traditional, beautiful villages full of old mansions and monuments, trees laden with pears, apples, and chestnuts, planes, streams, and centuries-old bridges.
Some of the most popular villages in Pelion and relatively close to Zagora that you will love to explore are:
Makrinitsa, Portaria, Tsagkarada, Kissos, Milies, Argalasti, Damouchari and Agios Ioannis.
When is Best to go to Zagora Pelion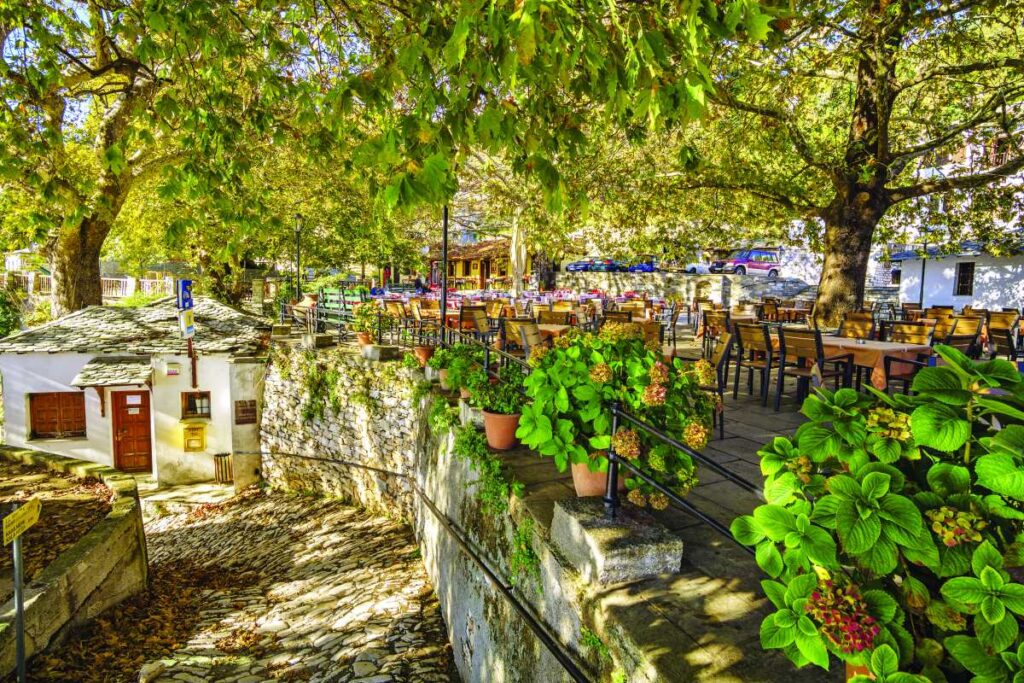 Pelion is simply amazing whenever you visit, as all four seasons offer endless opportunities for both adventurous and relaxed vacations.
Summer vacation in Pelion starts in June and it will be over by early September. The beaches are simply stunning, sandy with trees and clear waters. The waters might be cooler than it is in the south of Greece.
October and November are fantastic months for hiking, watching the colors of the forests change from green to purple, orange, pink, and all colors in between. December – March are perfect months for skiing or snow hiking. And the rich wildflower and dense forests in Spring Pelion and Zagora, in particular, will just astonish you.
Related Article: When is the Best Time to Go to Greece?
How to Get to Zagora in Pelion
How to reach Zagora by air
The closest airport to Pelion is the Nea Anchialos National Airport, 30 km from the town of Volos near Almiros. During summer a number of European airlines fly to Nea Anchialos. If this is not possible for you, you can fly to Athens (334 km far from Pelion, driving time 3.5-4 hours) or to Thessaloniki (218 km far, driving 2,5-3 hours).
How to reach Zagora by car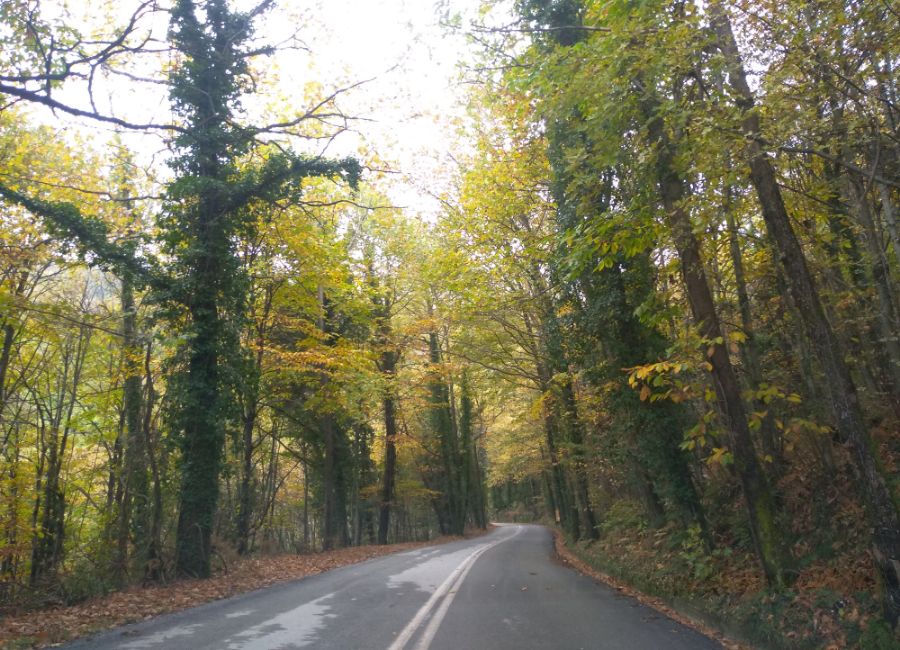 Zagora is 365 km from Athens and 252 km from Thessaloniki. Driving to Pelion Greece is my favorite way of traveling and it is not only because I love driving and the roads leading to Volos are impeccable. It is the freedom to stop whenever I want and visit a site en route I have never been to before. When I don't get my own car, I use DiscoverCars to search and compare rental car prices in Greece.
How to reach Zagora by Bus
If driving is not your thing, you can take the public bus from the Athens bus station (KTEL) in Liosion (there is a large KTEL in Kifisos but it doesn't go to Pelion). Find the routes to Volos and how to issue your ticket here. The thing with the public buses is that when you get to Volos you will have to change buses that go to Pelion Greece. Choose your destination village from this list here.
How to reach Zagora by Private Tour
A private tour to Pelion Greece, customized to your wishes with a tailored itinerary and a professional, English-speaking driver (with live commentary on the road), is the most carefree choice. Would you like us to help you organize one? Send us a message from this short form and will get back to you with free-of-charge travel ideas for Greece.
FAQ for Zagora Pelion
Are there any ATMs in Zagora?
Yes there is an ATM of Piraeus Bank in the centre of Zagora (see Zagora Map on top).
More Pelion Villages Reading
If you would like a customized itinerary for a private tour in Greece please send your inquiry here for a free itinerary. Thanks!
All rights reserved © Travel the Greek Way. Republishing this article and/or any of its contents (photographs, text, links) is strictly prohibited.
Some of my Favorite Travel Resources for Greece
Ferries to the Greek Islands: Book your ferry transfer with FerryScanner or FerryHopper, and get the best prices in the market with no hidden fees
Booking.com: I use Booking.com because I can get the best deals on both hotels and apartments, free cancellations, and great prices!
Get Your Guide: For all your day or multi-day tours and city guide needs, I use Get Your Guide
COVID INFO FOR GREECE: Ministry of Tourism Official Website
Emergency Numbers Anywhere in Greece: AMBULANCE 166 – FIRE 199 – POLICE 100– EMERGENCY NUMBER 112
More Readings on Greece