Are there any black Orthodox Saints in the Greek Orthodox Church? Yes, there are black Orthodox Saints, and can be found in the Pelion Peninsula, in central Greece.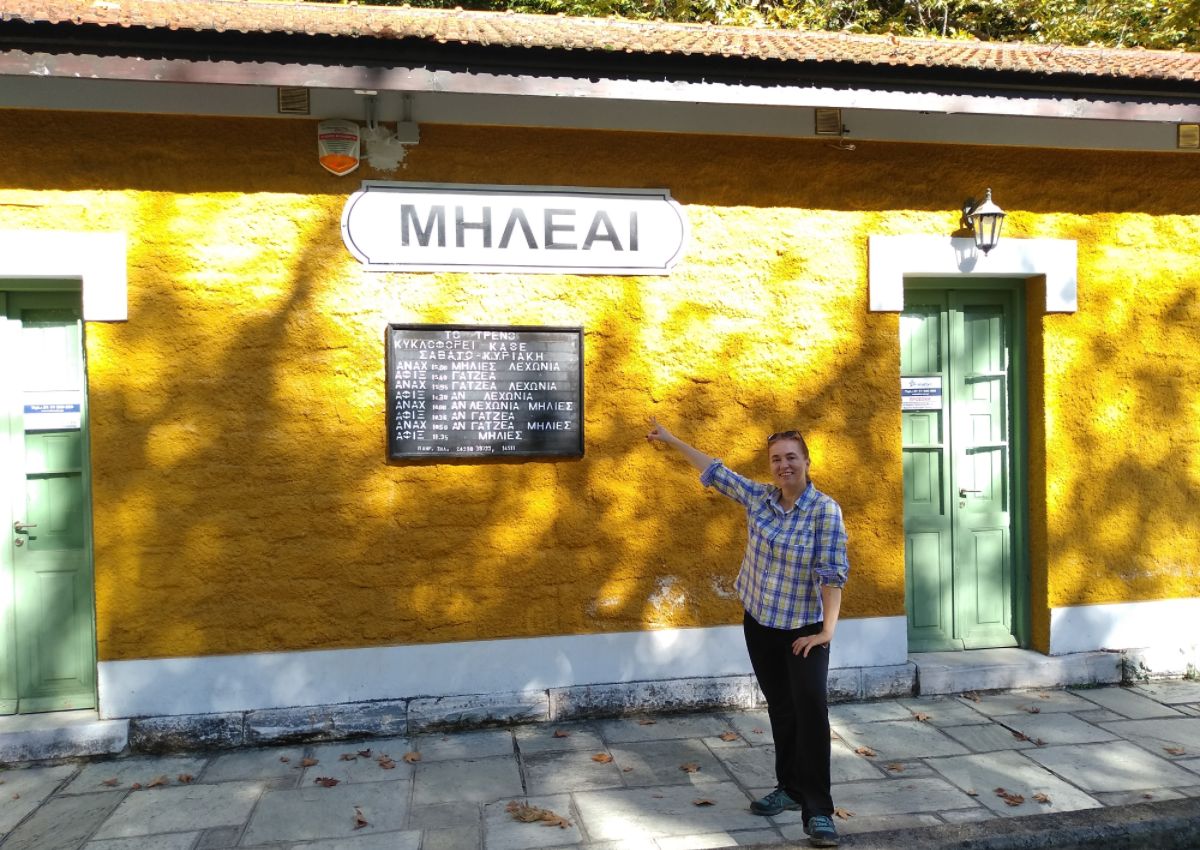 Greece is a predominantly religious country, with Greek Orthodox churches and Monasteries at every corner of the country. The most famous and well-known Greek Orthodox Monasteries are the large complexes of Mount Athos and Meteora Monasteries.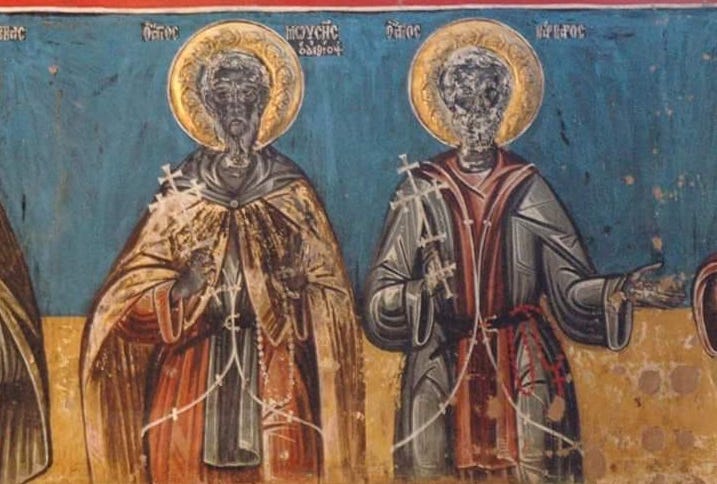 However, a very old church, Agioi Taxiarhes Pammegiston Church in Milies in Pelion Mt., contains the rare Icon of Saint Moses and Saint Barbaros, the two Ethiopian Orthodox Saints.
There are not many black Orthodox Saints in the Greek Church. Historically, there has been a very strong religious connection between Greece and Ethiopia throughout the centuries that continues until today.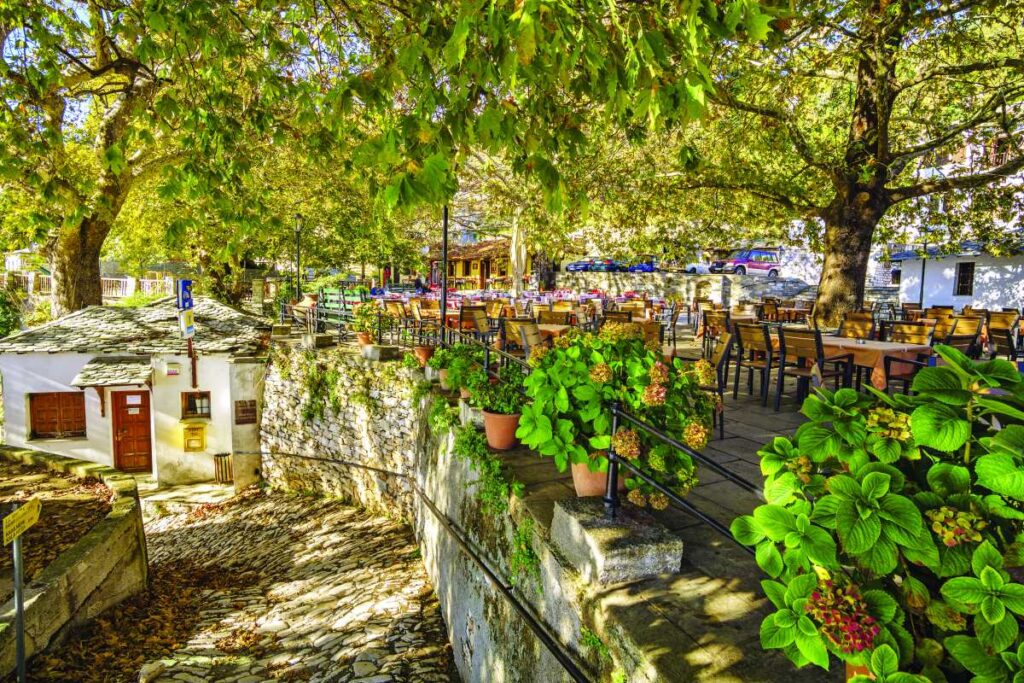 60% of Ethiopia's population are Christians and most of them are Coptic Orthodox Christians. Coptic actually means "Egyptian" and they originate from Alexandria.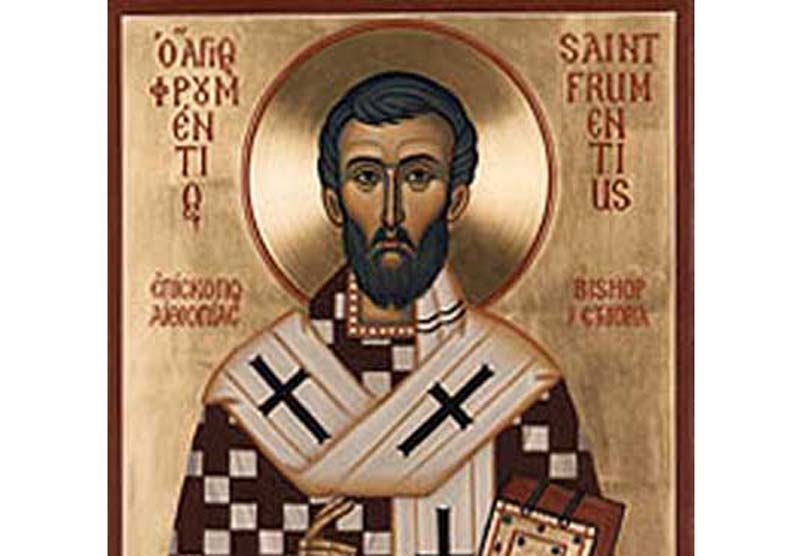 If you wonder how the Ethiopians became Christians: Froumentius, a Greek-Phoenician merchant, went to Ethiopia in 320 AD and preached Christianity to the locals. He translated the Scripts into their native language and traveled incessantly all over Ethiopia talking to the locals about Christ. He was nominated a Saint by the Orthodox Coptic Church right after his peaceful death in 383 AD.
*Some of the links below are affiliate links. That means I may make a commission if you click and buy. The commission comes at no additional cost to you.
Who were the two Black Orthodox Saints?
Saint Moses the Ethiopian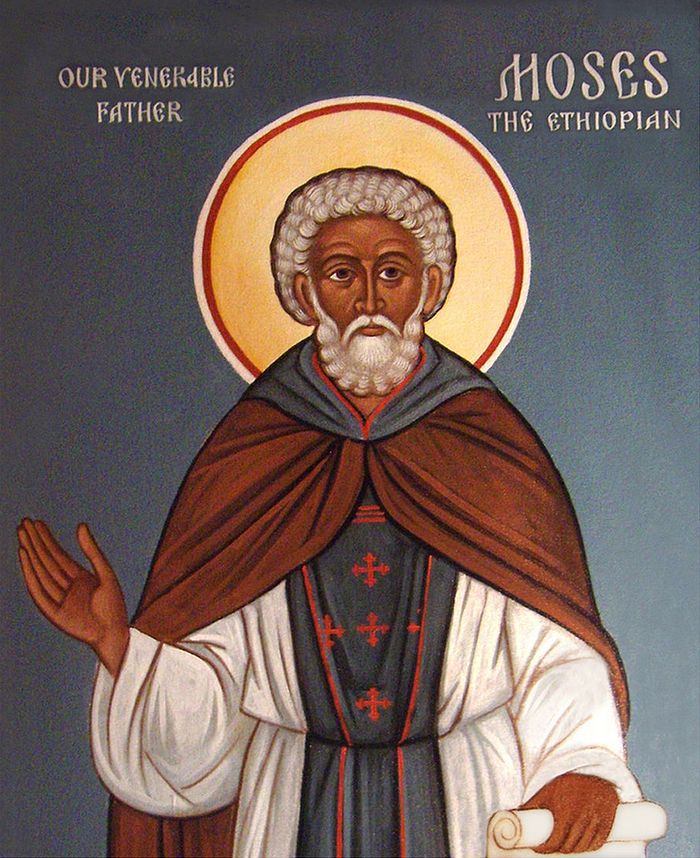 St. Moses the Ethiopian (330-405 AD) was sold as a slave to a rich landowner but he was expelled from the property because of a murder he committed. Soon after St. Moses, the Ethiopian became the leader of a gang of bandits who committed numerous robberies and murders. The authorities were chasing them relentlessly so he sought refuge in a monastery near Alexandria.
In the monastery, he was intrigued by the sermons of the monks and was soon overwhelmed by the great piety of the monastic community and begged them to allow him to join. The sermon of the Christ and monks' piety made a radical change in his character and he was soon baptized and became a Christian. Later on, the Orthodox Church made him a Presbyter.
He spent his entire life feeling repentance for his crimes and living a humble and pious life. He was violently killed by a band of robbers when he was 75 years old and soon after the Orthodox Church declared him a Saint.
Black Orthodox Saint Barbaros the Ethiopian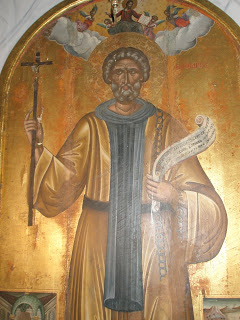 St. Barbaros was born 500 years later than St. Moses but he shares a similar life story. He was born in 800 AD in Egypt to Ethiopian parents who were possibly Christians.
When he was still quite young he became a member of a pirate band that somehow arrived in the Greek area of Akarnania slaughtering and destroying everything. At the Xiromero village, there was a big battle between the pirates and the locals. The locals killed all the pirates except St. Barbaros who escaped and survived by hiding in the vineyards.
One day St. Barbaros reached a church where he witnessed a miracle and this changed his whole life. He was later baptized Christian and lived as a monk in a nearby cave. He was accidentally killed by a group of hunters who thought he was a wild animal. St. Barbaros was later declared a saint by the Orthodox Church.
Where is the Icon of the Black Orthodox Saints?
The rare Icon is housed along with other 300 Icons depicting Saints not widely known in the Greek Orthodox Church in a historical church called Agioi Taxiarches Pammegiston, in Milies village in Pelion Mt.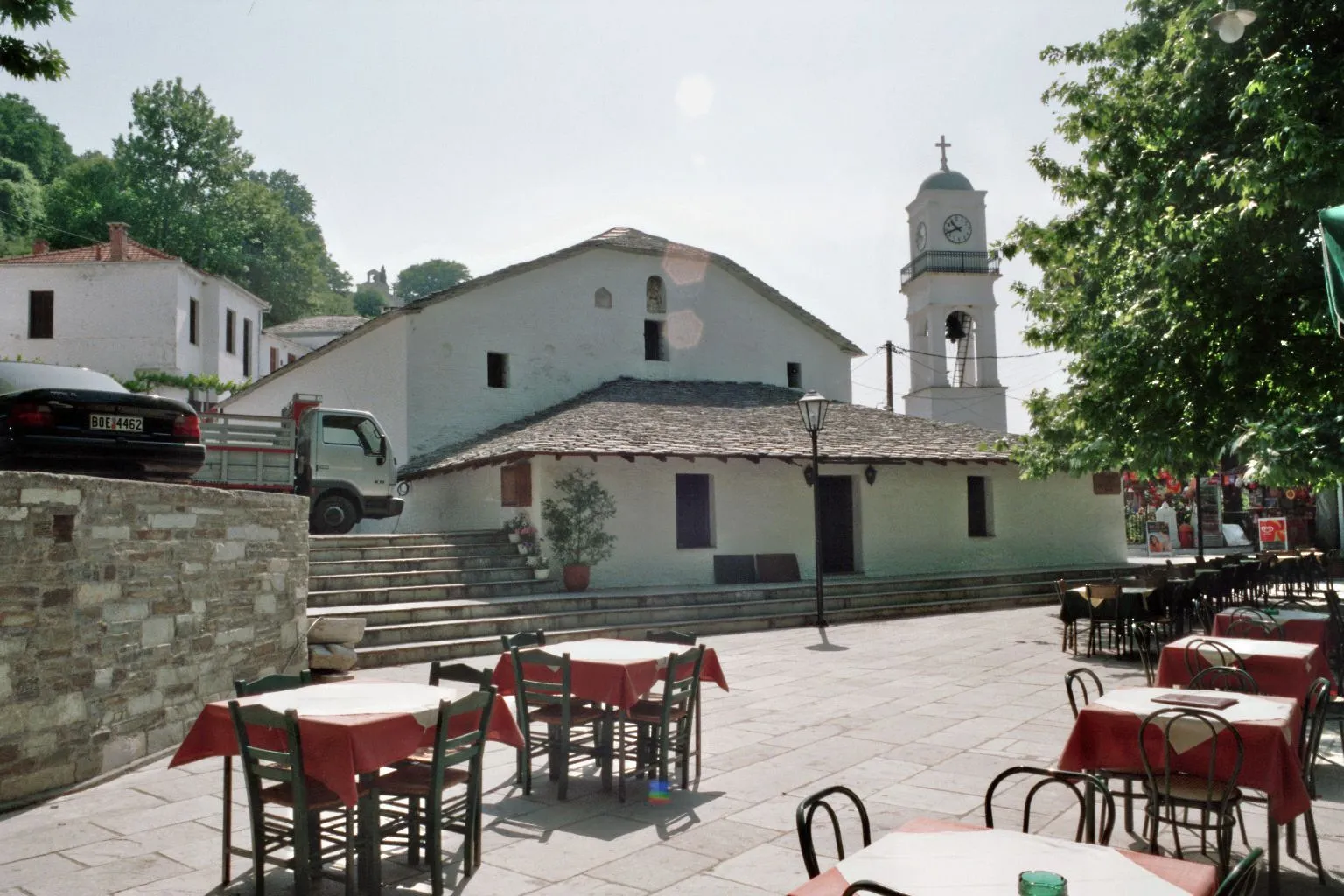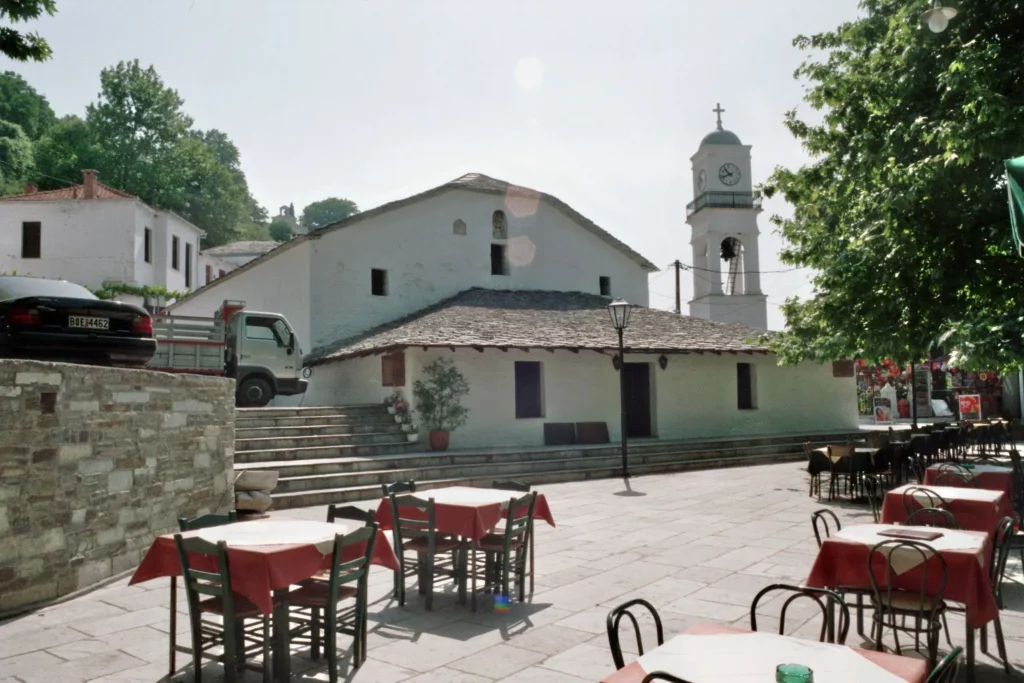 We don't really know when exactly the beautiful and historic Agioi Taxiarches church was built. We do know, however, that it was renovated in 1741, and the remarkable post-Byzantine religious paintings were revealed in their full splendor.
Agioi Taxiarches is a special and unique Greek Orthodox church built in such a way that at first glance doesn't look like a usual Byzantine-style Greek church. The reason behind that was that during the Ottoman occupation of Greece, Greeks were trying to keep their churches as invisible as possible.
There are no windows only small openings high in the walls so that it looks more like a shed rather than a Greek church.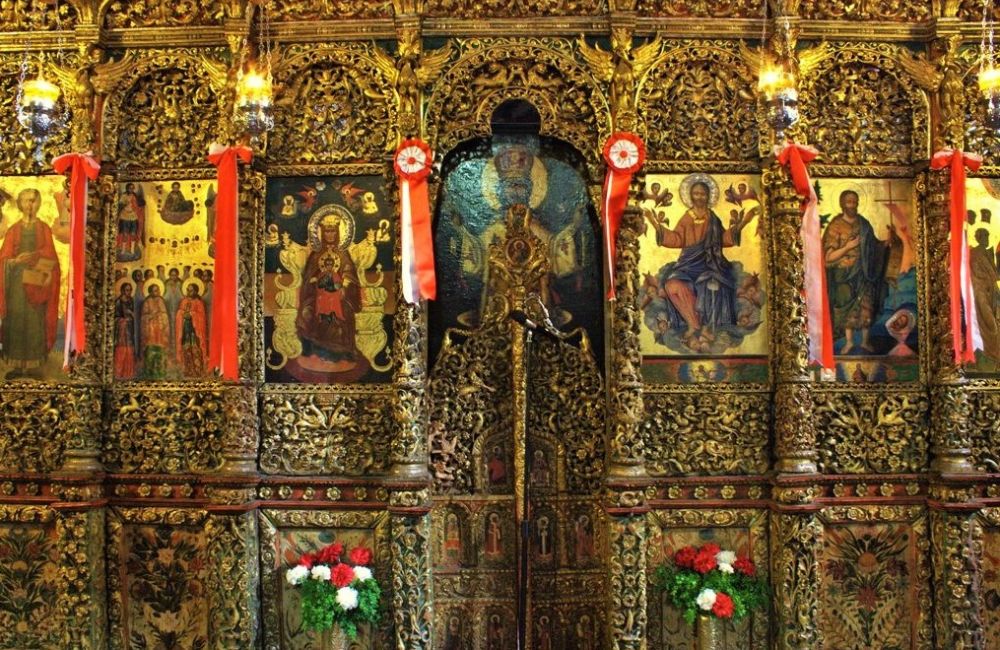 The church is notorious for its excellent acoustics, its unique frescoes, and the rare Greek Orthodox icons such as:
The 2 Black Orthodox Saints
Christ fights against the Devil
A very rare human life cycle with astrological depictions or Rota Fortunae.
Saint Christopher in the shape of a sheep
The exquisite wood-carved iconostasis made of linden wood and covered with gold leaf depicts, embroidered and "embroidered" on it, representations and scenes from Noah's ark, animals, and birds of Africa.
The Agioi Taxiarches Pammegistoi Church can be easily found on the main square of Milies village in Mount Pelion.
What to Do in Milies Village
The old stories mention that Milies village was built deep in the forest and high on the Pelion mountain so that the Pelion villagers escape from the constant pirate raids. The view of the surrounding areas is gorgeous.
Milies, besides being a beautiful place to visit, is also famous for its old gorge train "Moutzouris" which connects Milies with Ano Lechonia village. (Just like the other famous gorge train in Kalavryta Peloponnese)
For general info on the train and ticket purchase for Milies – Lechonia check out the official website of the train here. From the train station, you can hike the 2-3 km to Milies using a narrow cobblestone trail.
If you like old books and artifacts pay a visit to the "Old Library" in Milies, which is home to a huge number of old artifacts, books, and maps.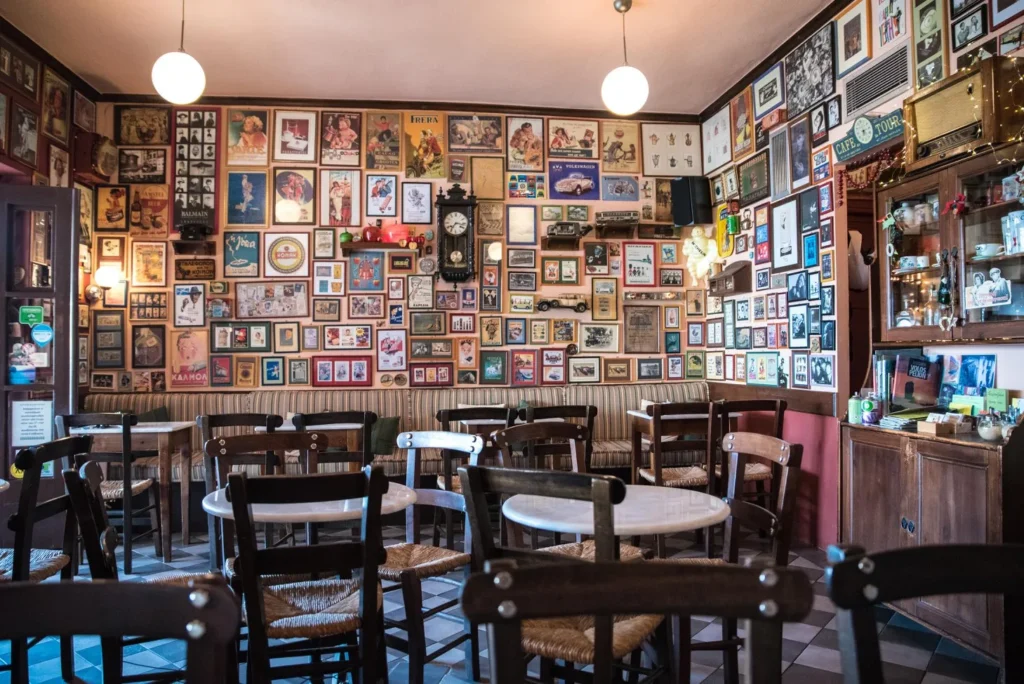 Have a coffee at one of the most famous cafe bars in all of Pelion the "Anna, Here's an Apple. It has special decoration with old Greek advertisements (Olympic Airways, Papadopoulos Biscuits, etc.), as well as of Elvis Presley. Don't miss trying their mouth-watering apple pie!
Where Best to Stay in Milies Pelion Mt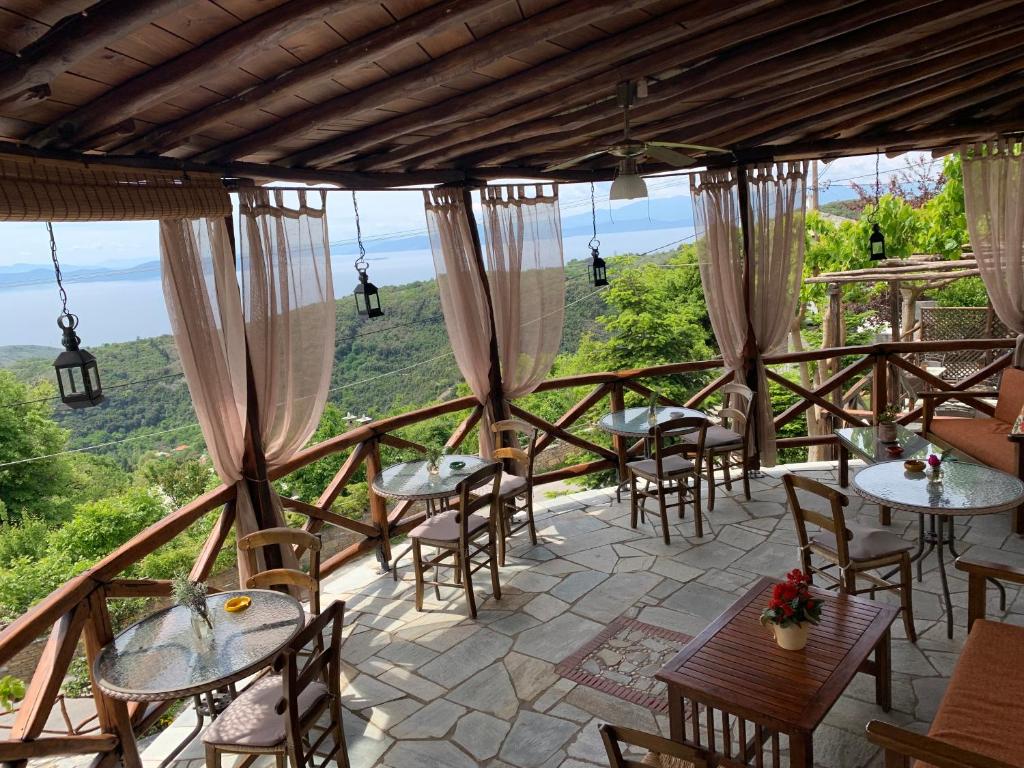 Iliovolo Guesthouse (mid-range): A lovely hotel, 15 minutes from the Pelion beaches, with fantastic views, perfectly clean rooms, and the personal touch of a family-run hotel.
How to Get to Milies
Milies is 357 km north of Athens, with an easy highway drive all the way to the large city of Volos, which sits on the foot of the Pelion Mt. After Volos, and towards its first large village Portaria, the road gets narrower with turns, and changes in altitude until you get to Milies.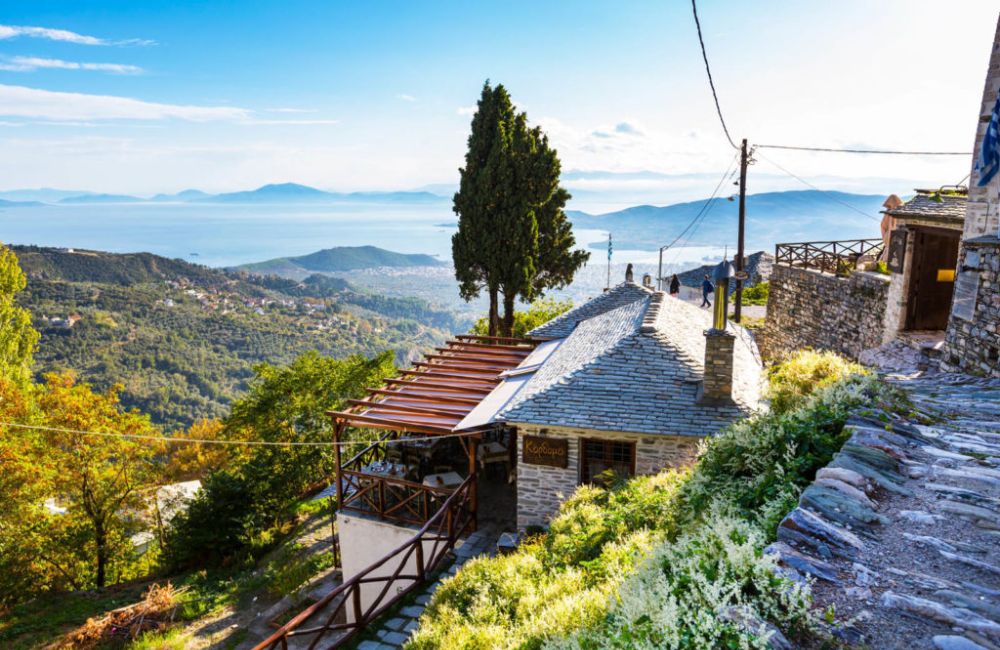 Pelion Greece is an ideal summer vacation destination as both its western and eastern areas face the Aegean Sea with wonderful beaches to choose from.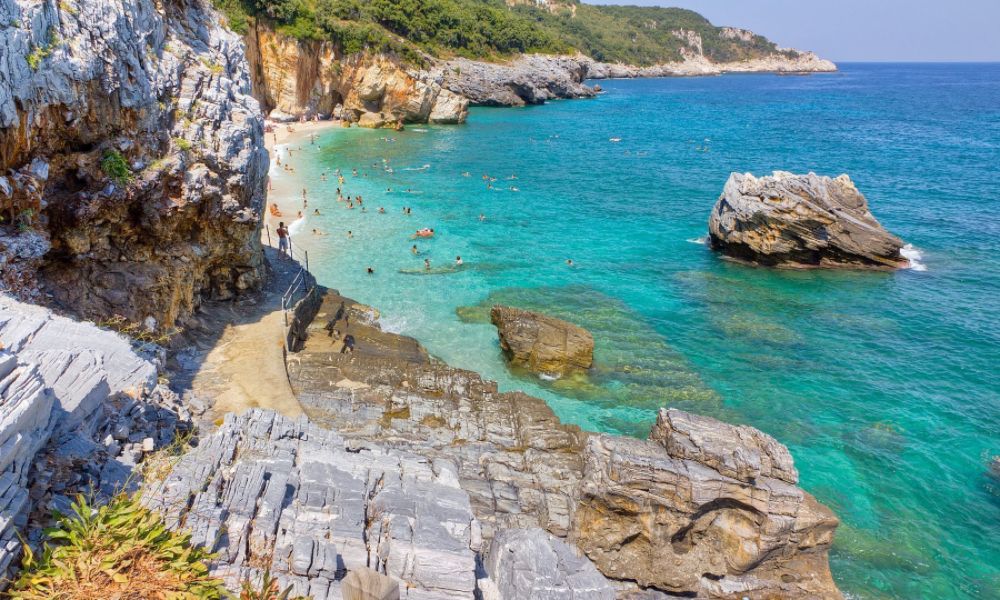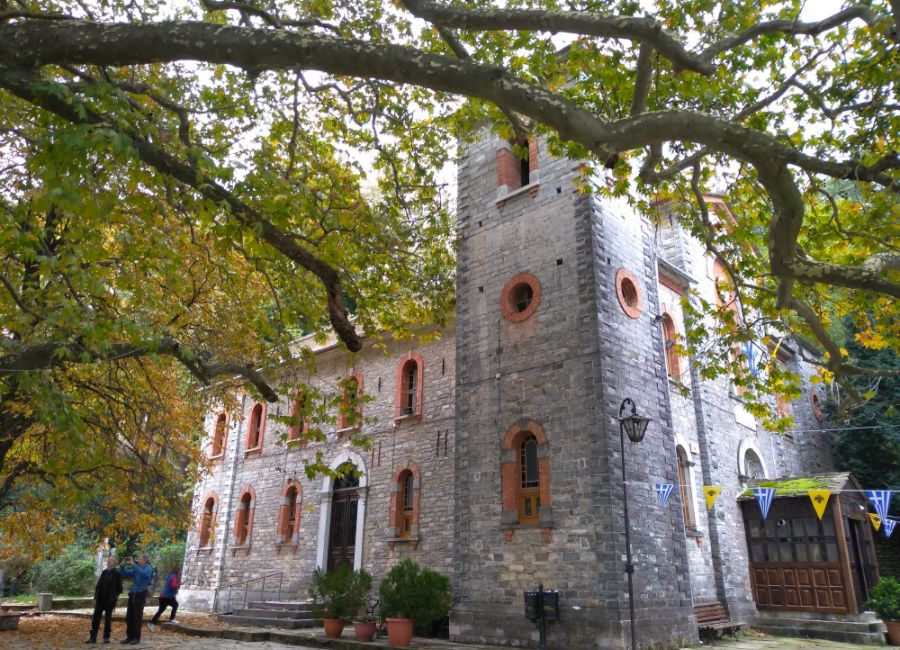 Pelion Mount's highest peak is at 1624 m. It is also perfect for a winter vacation as it has forested mountains, ski resorts, and amazing accommodation opportunities with fireplaces.
There is a well-organized ski center in the Agriolefkes with four slopes for downhill skiing, aerial lifts, and a nice resort for overnight accommodation.
There are more than 25 stunningly beautiful villages on Mount Pelion surrounded by green landscapes, and crystal clear springs, built with the traditional Pelion architecture with paved cobbled streets and stone bridges.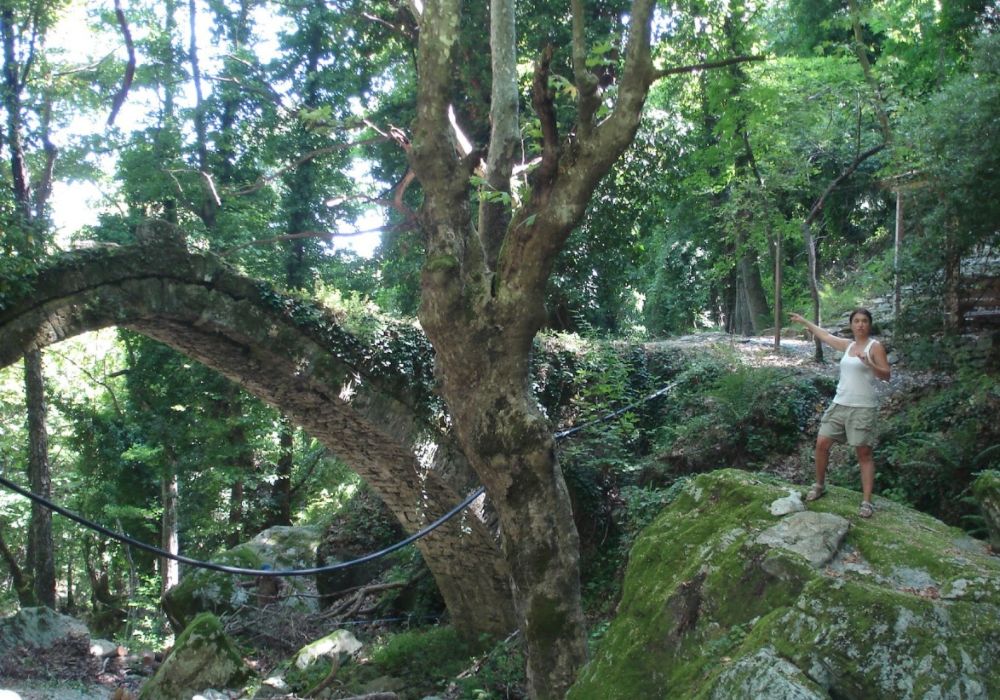 The villages are built amongst forests with tall beeches, plane trees, chestnuts, oaks, pines, and crops with olives and apples at lower altitudes, and in many cases, there are streams running around. Pelion is ideal for hiking, climbing, canyoning, or any other outdoor activity you can think of.
The most popular Pelion villages are:
Makrinitsa, Argalasti, Tsagarada, Vyzitsa, Milies and Zagora
Read More About Pelion Villages
Do you need a custom travel itinerary for Greece? Are you traveling solo, with your family or your friends and you need a tailor-made multi-day tour or a transfer within Greece?
If yes, please visit my dedicated Plan My Trip Page for a free itinerary!
Essential Greek Travel Info
'Hello' and 'Thank You' in Greek: "Ya sou" and "Efharisto"
Booking.com: I use Booking.com because I can get the best deals on both hotels and apartments, free cancellations, and great prices!
Find Long-Term Rentals in Greece: You will find the best prices in Flatio
FerryScanner to book ferries to the Greek Islands
Athens Metro Website (timetables and ticket info)
Get Your Guide: For all your day or multi-day tours and city guide needs, I use Get Your Guide
Emergency Numbers Anywhere in Greece: AMBULANCE 166 – FIRE 199 – POLICE 100– EMERGENCY NUMBER 112
All rights reserved ֱ© Travel the Greek Way. Republishing this article and/or any of its contents (photographs, text, links) is strictly prohibited.
Please follow and like us: