Updated October 2nd 2021 by Travel the Greek Way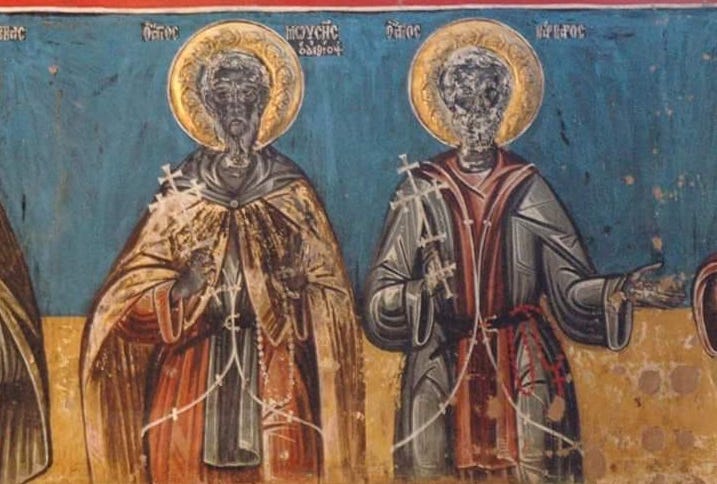 Are there any black Orthodox Saints in Greek Church? Yes, there are black Orthodox Saints and can be found in Pelion.
There is an Icon in the Agioi Taxiarhes Pammegiston Church in Milies village of Mount Pelion that depicts Saint Moses and Saint Barbaros, two Ethiopian Orthodox Saints.
There are not many black Orthodox Saints in the Greek Church. However, there has been a very strong religious connection between Greece and Ethiopia throughout the centuries.
Ethiopia's 60% of its population are Christians and most of them are Coptic Orthodox Christians. Coptic actually means "Egyptian" and they originate from Alexandria, one of the most fruitful cities during the Apostle Paul travels to spread Christianity.
Today, the population of the Coptic Church ranges from 10 million to 60 million members worldwide. Theologically, Coptic Christianity is very similar to Roman Catholicism and Eastern Orthodoxy.
How did the Ethiopians Become Christians?
The story is that Froumentius, a Greek – Phoenician merchant, went to Ethiopia in 320 AD and spread Christianity to the locals. He translated the Scripts into their native language and traveled incessantly to villages in the whole of Ethiopia talking to the locals about Christ. He was nominated a Saint by the Orthodox Coptic Church right after his peaceful death in 383 AD.
Τhe establishment of the 16-century Ethiopean – Greek friendship is also attributed to Saint Froumentius even though the once large and thriving Greek community in Ethiopia is today declining steadily.
Where is the Black Orthodox Saints' Icon?
I was very happy to discover that the rare Icon is housed in a historical church called Agioi Taxiarches Pammegiston. The very interesting and probably one-of-a-kind church is located in Mount Pelion in one of its many stunning villages, Milies.
The Icon in the Agioi Taxiarches Pammegiston church depicts not one but two black Orthodox Saints: Saint Moses and Saint Barbaros both from Ethiopia.
But let's take things from the start. Where is Pelion in Greece?
*Some of the links below are affiliate links. That means I may make a commission if you click and buy. The commission comes at no additional cost to you. Please see my full disclosure policy for more information*
Who were the two Saints in Agioi Taxiarches Icon?
Saint Moses the Ethiopian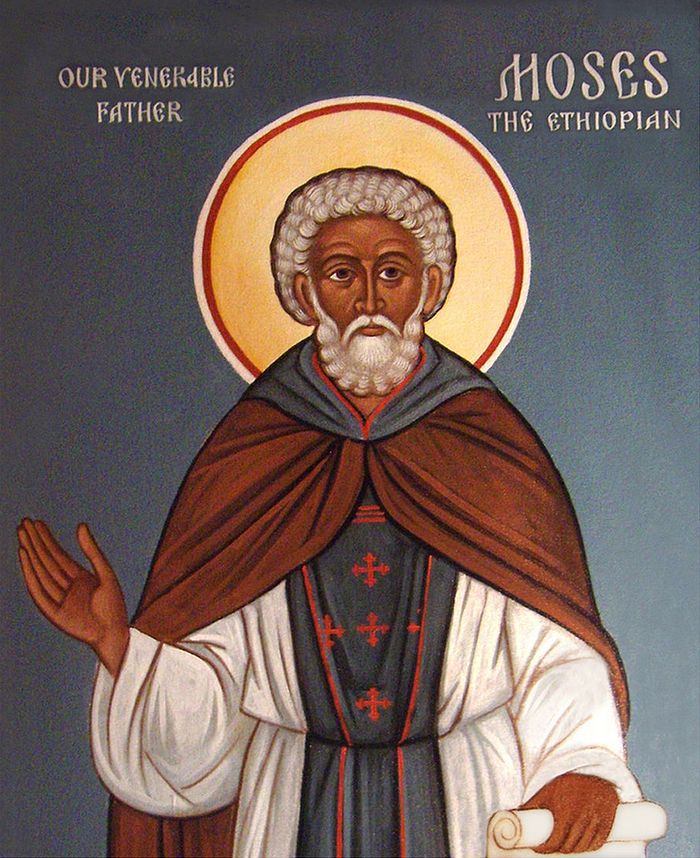 St. Moses the Ethiopian (330-405 AD) was sold as a slave to a rich landowner but he was expelled from the property because of a murder he committed. Soon after St. Moses the Ethiopian became the leader of a gang of bandits who committed numerous robberies and murders. The authorities were chasing them relentlessly so he sought refuge in a monastery near Alexandria.
In the monastery, there were wise anchorites and eremites and he started to listen to their sermons. He was soon overwhelmed by the great piety of the monastic community and begged them to allow him to join. The sermon of the Christ and monks' piety made a radical change in his character and he was soon baptized and became a Christian. Later on, the Orthodox Church made him a Presbyter.
He spent his entire life feeling repentance for his crimes and living a humble and pious life. He was violently killed by a band of robbers when he was 75 years old and soon after the Orthodox Church declared him a Saint. St. Moses the Ethiopian is one of the most beloved black Orthodox Saints.
Saint Barbaros the Ethiopian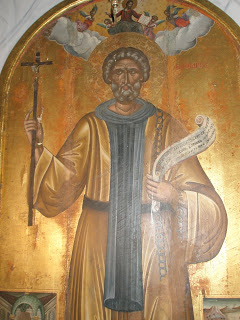 St. Barbaros was born 500 years later than St. Moses but he shares a similar life story. He was born in 800 AD in Egypt to Ethiopian parents who were possibly Christians.
When he was still quite young he became a member of a pirate band who somehow arrived in the Greek area of Akarnania slaughtering and destroying everything. At the Xiromero village, there was a big battle between the pirates and the locals. The locals killed all the pirates except St. Barbaros who escaped and survived by hiding in the vineyards.
One day St. Barbaros reached a church where he witnessed a miracle and this changed his whole life. He was later on baptized Christian and lived as a monk in a nearby cave. He was accidentally killed by a group of hunters who thought he was a wild animal. St. Barbaros was later declared a saint by the Orthodox Church. St. Barbaros is a beloved black Orthodox Saint in the Greek Church.
Agioi Taxiarches Pammegistoi Church
The two icons are housed in the extraordinary church of Agioi (Saints) Taxiarches along with another 300 Icons depicting Saints not widely known in the Greek Orthodox Church.
We don't really know when exactly the beautiful and historic Agioi Taxiarches church was built. We do know, however, that it was renovated in 1741, and the remarkable post-Byzantine religious paintings were revealed in their full splendor.
Agioi Taxiarches is a special and unique Greek Orthodox church built in such a way so that at first glance doesn't look like a usual Byzantine-style Greek church. The reason behind that was that during the Ottoman occupation of Greece, Greeks were trying to keep their churches as invisible as possible.
There are no windows only small openings high in the walls because the church was supposed to look like a shed rather than a Greek church.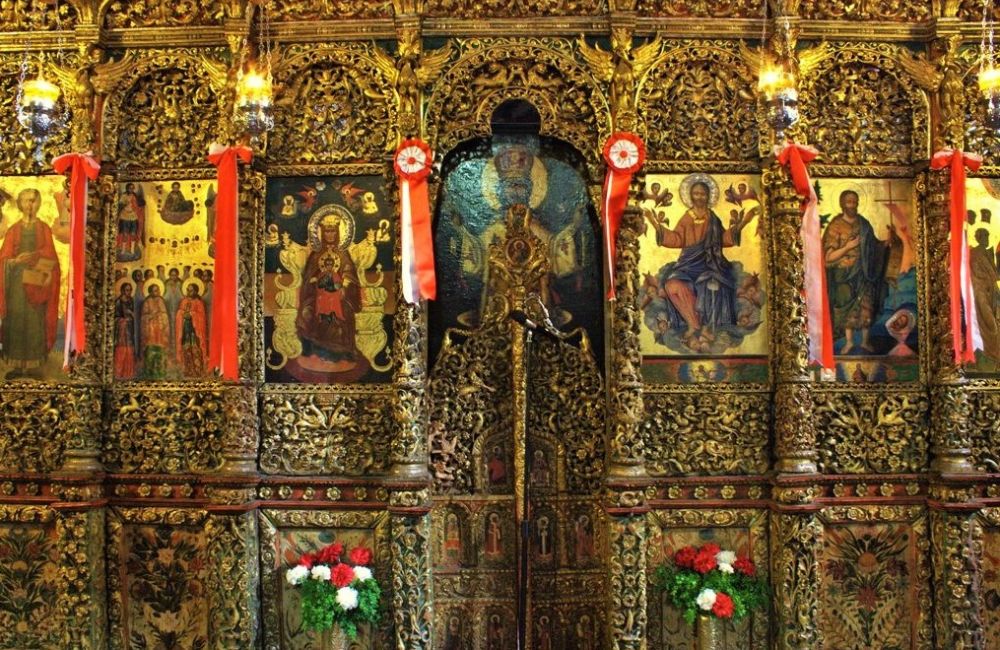 The church is notorious for its excellent acoustics, its unique frescoes, and the rare Greek Orthodox icons such as:
The 2 Black Orthodox Saints
Christ fight against the Devil
A very rare human life cycle with astrological depictions or Rota Fortunae.
Saint Christopher in the shape of a sheep
The exquisite wood-carved iconostasis made of linden wood and covered with gold leaf depicts, embroidered and "embroidered" on it, representations and scenes from Noah's ark, animals, and birds of Africa.
The Agioi Taxiarches Pammegistoi Church can be found easily on the main square of Milies village in Mount Pelion.
Where is Mount Pelion in Greece?
Pelion Greece is a mountainous forested peninsula located in the eastern center of Greece and as far as I am concerned, the most beautiful place in the whole country.
Pelion Mount is also known as the Centarus mountain. The Centaurs were mythical creatures, with an upper human body and a lower horse body and Pelion Mount was their home.
Pelion is about 360 km (224 miles) far from Athens, with an easy highway drive all the way to the large city of Volos, which sits on the foot of the Pelion Mt. (Volos, a seaside town, is famous for its ouzo small shops and yummy seafood).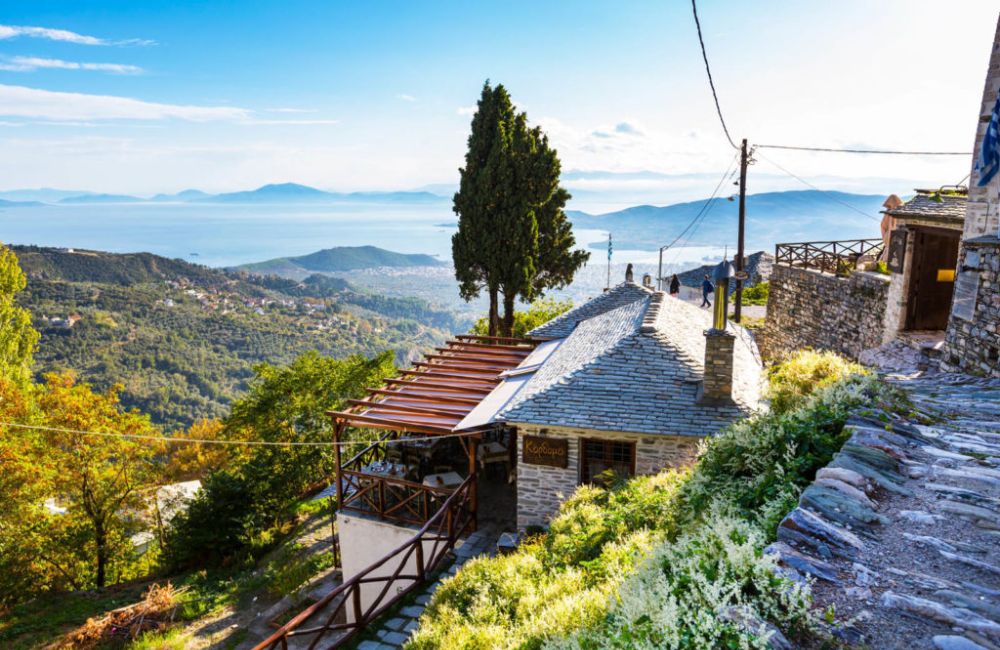 Pelion Greece is an ideal summer vacation destination as both its western and eastern areas are facing the Aegean sea with wonderful beaches to choose from. A distinct difference between east and west beaches is that the eastern ones, as they are facing the open Aegean sea, are cooler and much wavier. And this is where I always go swimming when I am fortunate enough to go to Pelion.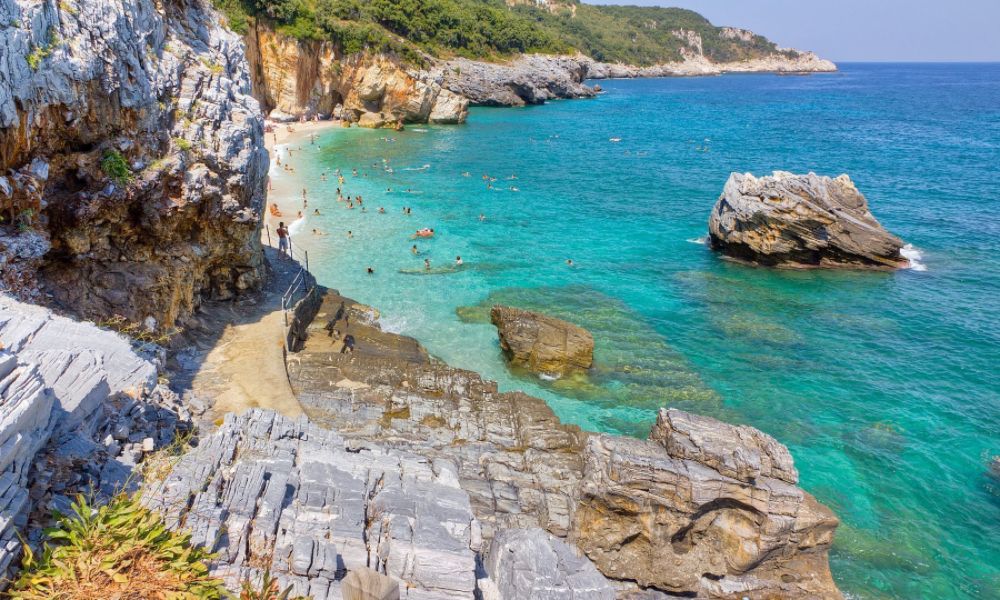 Pelion Mount's highest peak is at 1624 m. It is also perfect for a winter vacation as it has forested mountains, ski resorts, and amazing accommodation opportunities with fireplaces.

There is a well-organized ski center in the Agriolefkes area in Pelion with four slopes for downhill ski, aerial lifts, and a nice resort for overnight accommodation.
Mount Pelion Magnificent Villages
There are more than 25 stunningly beautiful villages on Mount Pelion surrounded by green landscapes, crystal clear springs, built with the traditional Pelion architecture with paved cobbled streets and stone bridges.
The villages are built amongst forests with tall beeches, plane trees, chestnuts, oaks, pines, and crops with olives and apples at lower altitudes, and in many cases, there are streams running around.
The most famous and popular Pelion villages that you must visit in Pelion are:
Argalasti is a lovely and vibrant village, full of Pelion mansions, beautiful gardens, cobblestone alleys, impressive arched bridges, overlooking the Aegean Sea and Pagasitikos Gulf
Vyzitsa: it is only 3 km far from Milies, a true retreat away from almost any tourist development, a real authentic old type Greek village. Have a Greek coffee at the large main square sheltered under a big plane tree and enjoy the most serene natural environment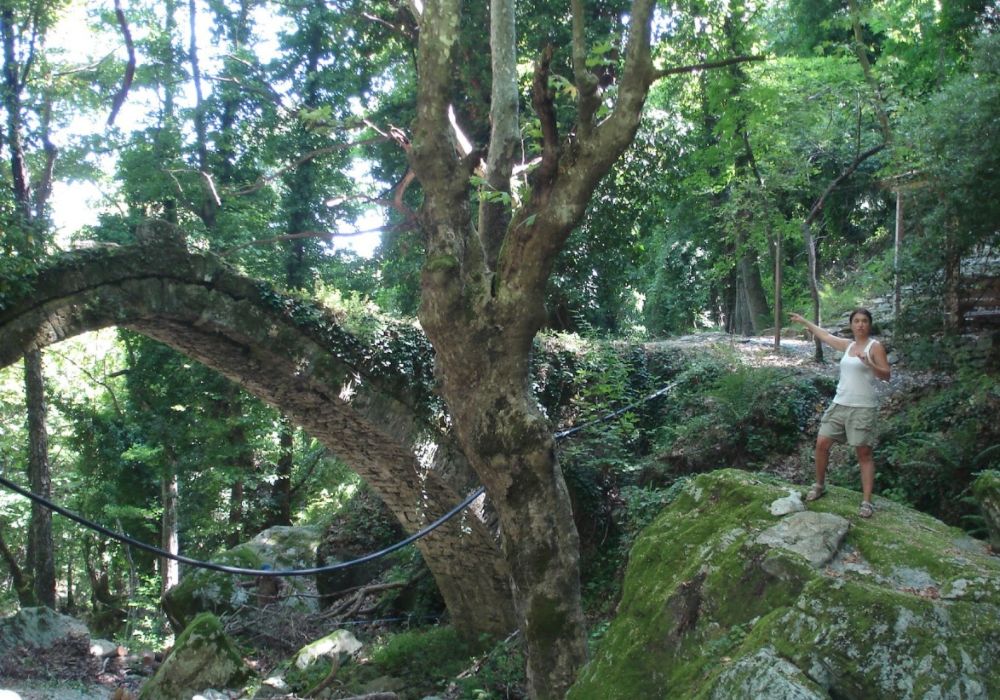 Tsagkarada, is one of the most famous and popular villages of Pelion, literally built into a forest. It is all spread out making small settlements that all come under the authority of Tsagkarada. From its stone mansions, you can admire the spectacular views of the Aegean Sea and is surrounded by beautiful beaches, bays, and coves. Do visit the over 1000-years-old plane tree at the central square of Agia Paraskevi and try one of the local fruit sweets at the cafe
Milies
Milies Village in Central Pelion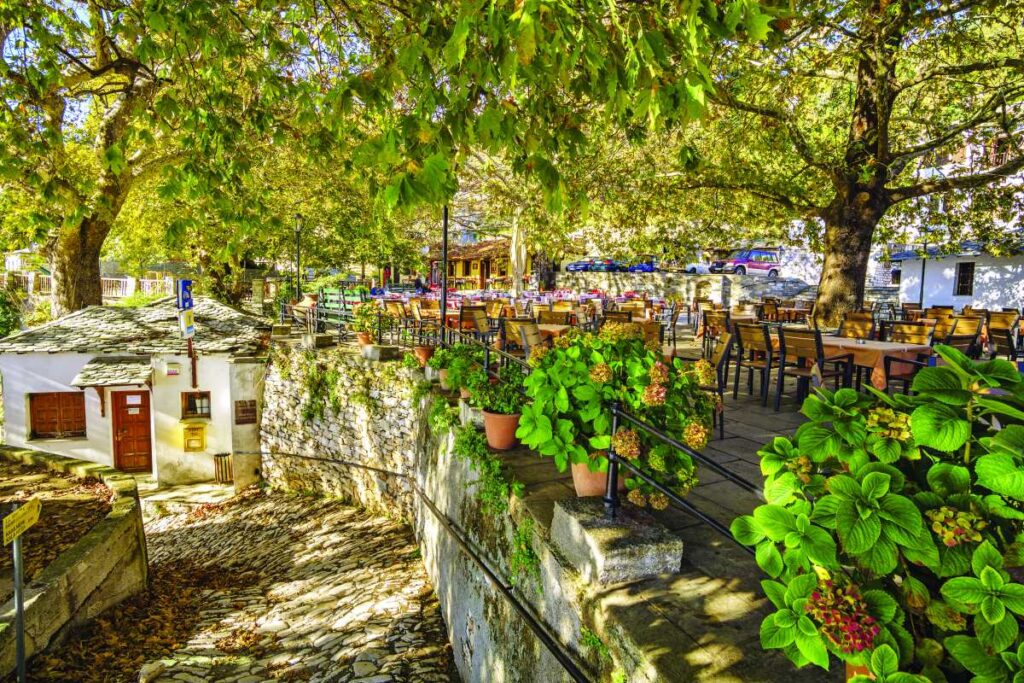 The old stories mention that Milies village was built deep in the forest and high on the Pelion mountain so that the Pelion villagers escape from the constant pirate raids.
Milies, besides being a gorgeous place to visit and stay, is also famous for its old gorge train "Moutzouris" that connects Milies with the Ano Lechonia village.
The Milies train station has a traditional guest house, the ruins of the big old mill, and the monument of those executed by the Germans in 1943.
For general info on the train and ticket purchase – which I recommend you do so as the train gets very busy in summer – you can check the train's website here
Nearby are many sandy, beautiful beaches to swim in the summer or have wonderful meals by the seaside. Around Milies begin many hiking trails leading to nearby villages like Tsagkarada.
Milies village was an important intellectual center during the time of the Greek liberation against the Ottomans in 1821 and one of the first villages to uprise.
If you like old books and artifacts pay a visit to the "Old Library", which is home to a huge number of old artifacts, books, and maps.
Where to Stay in Milies Pelion
Palios Stathmos: located in a magical green forest, Palios Stathmos is a minute far from the train station with exceptional service, fine rooms, perfect in any sense. Check on Booking for availability and prices here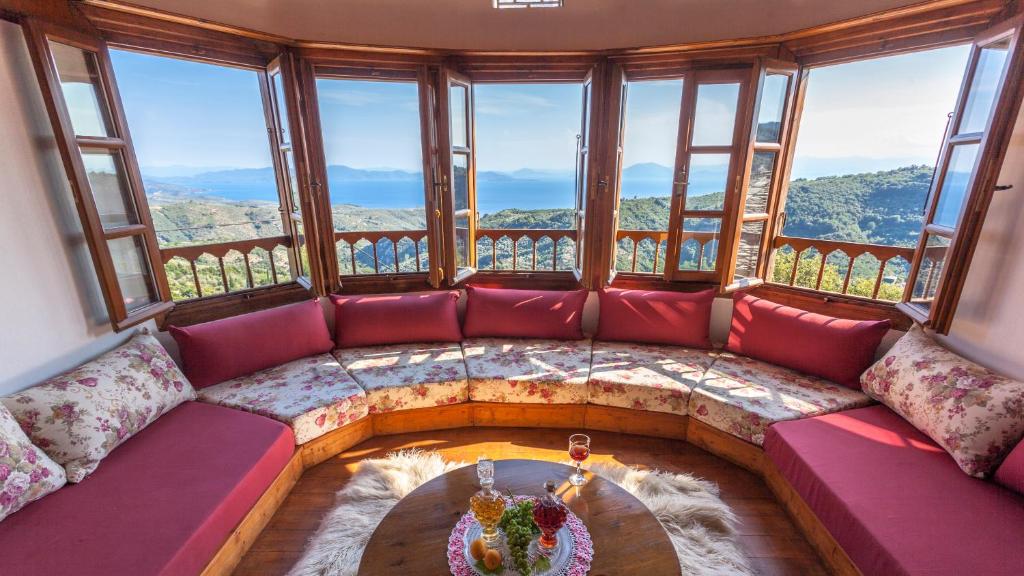 Archontiko Filippidi in Milies. A beautiful and impressive Pelion stone Mansion with one of the best views in Milies village. The hosts are very hospitable offering a memorable stay. Check prices and availability on Booking.com here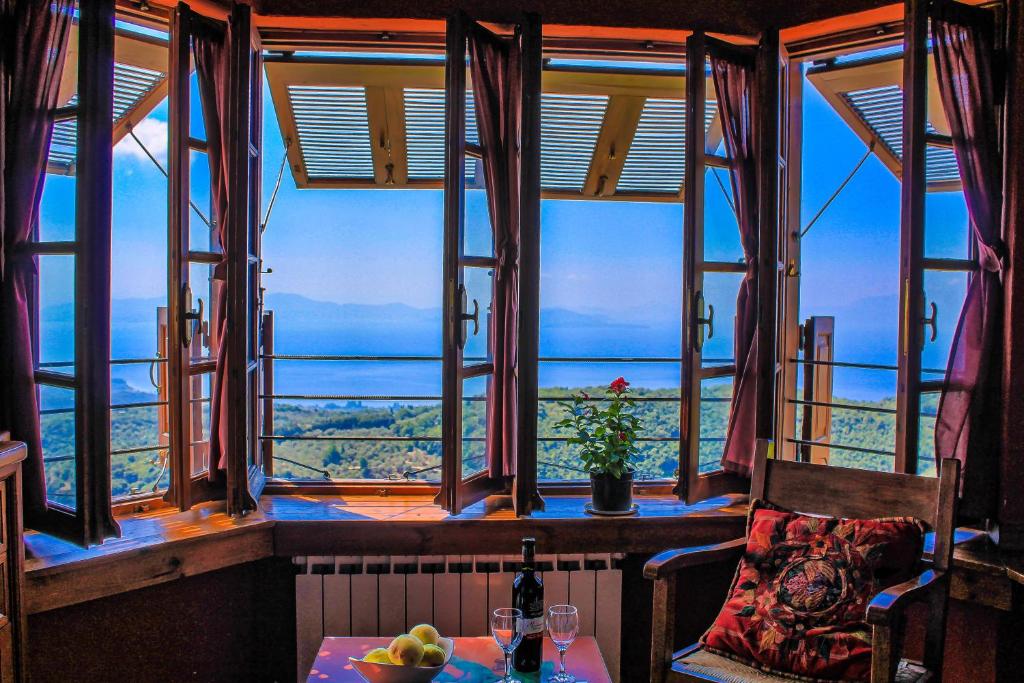 Hotel Stoikos. It is in Vyzitsa village, just a 5-minute drive from Milies, hospitality at its best. A beautiful traditional mansion with an excellent view and homemade breakfast! Check for availability and prices on Booking here
Iliovolo Guesthouse: A lovely hotel, 15 minutes from the beaches, with fantastic views, perfectly clean rooms, and the personal touch for a family-run hotel (budget). Check it out on Booking.com here
Greek Travel Resources
All the archaeological sites in Greece that have entrance fees can be found on the official Greek Ministry's website here. Before you purchase your tickets, especially if you are an EU citizen, check if you have free or reduced entrance. You should also check to see if you happen to visit on one of the free entrance dates. If you are going to Acropolis during the peak season (May-September) prepurchase your tickets as the queues are insane. Finally, from November to March entrance fees to all Archaeological Sites are 50% off everywhere in Greece for everyone.
Map of Athens Metro here
Booking.com: I use Booking.com because I can get the best deals, have info on hotels and Airbnb's alike, with breakfast or not, free cancellations, and great prices!
Ferries: Book your ferry transfer with FerryHopper, and get the best price in the market with no hidden fees
World Nomads Insurance: I feel insecure traveling to another country without having even the most basic of insurances. Insurance will protect you against illness, injury, theft and cancellations
iVisa: For any questions, you may have about your documents, passport if you need a visa, a new photo, or any visa-related matter, iVisa is your man (or woman!)
Get Your Guide: For all your day or multi-day tours and city guide needs, I use Get Your Guide
Emergency Numbers Anywhere in Greece: AMBULANCE 166 – FIRE 199 – POLICE 100
More Inspiring Reading on Greece
Did you find my post on Greece useful? Feel free to buy me a coffee and support my blog!
Not Sure where to Go to Mainland Greece?
Grab below your free 5-Day classic itinerary in mainland Greece. It includes sites, relative informative posts, and hotel recommendations!