Are there any ski resorts in Greece? If you are wondering whether you can ski in Greece, the answer is 'of course you can'! We have 19 organized ski resorts in the country spread all over the mainland. Greece is one of the most mountainous countries in the world covering 80% of the land.
Greece is a well-established summer destination, however, skiing is also one of the most popular wintry activities you can enjoy.
The vast majority of ski resorts in Greece are open between December and late March as the temperatures are at the lowest all over the country. There is not enough snow after March although, sometimes, when I hike in May a high mountain, I can still see the snowy northern peaks.
The organized ski resorts in Greece are located in spectacular nature close to important historic sites and lovely villages. A good example is the oracle of Delphi and the Parnassos ski resort which are in close and convenient proximity for a 2-day trip to Delphi.
In this post, you will find technical information about the ski resorts and snowboarding in Greece separated into three main regions:
the Peloponnese, the large peninsula southwest of Athens
the central mainland near Pelion, Epirus, and Meteora
and northern Greece, near Thessaloniki.
You will also find information on the best mountainous resorts in Greece, the best sites to visit around the ski resorts, and a few basic driving tips in wintry and snowy Greece.
*Some of the links below are affiliate links. That means I may make a commission if you click and buy. The commission comes at no additional cost to you.
Ski Resorts in Greece, Peloponnese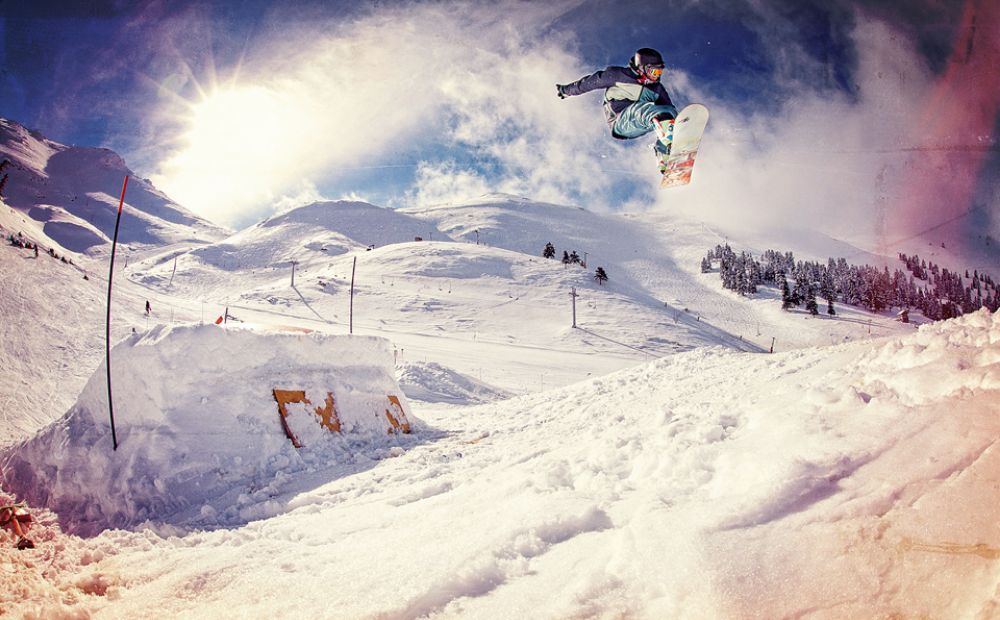 Peloponnese is home to some spectacular archaeological sites such as Epidaurus, Mycenae, and ancient Olympia, gorgeous towns such as Nafplion and Monemvasia, and many mountainous villages. Kalavrita is one of them, beautiful, versatile, historical, and great for a weekend from Athens.
1. Kalavrita Ski Center (Helmos Mt)
Kalavrita houses the biggest ski resort in the Peloponnese just 15 km far on the mountain of Helmos. It is one of the most popular in Greece as it is just 187 km from Athens. The slopes are great for all levels of skiing and two are for children. One of the slopes is certified for skiing competitions, while another one at 3.2 kilometers, ranks as one of Greece's longest slopes. There are even freeskiing slopes.
Technical Info
8 lifts (2 for kids)
10 slopes and a snow park
a snowboard track at Vathia Lakka, with rails and half pipes
altitude ranging from 1,700 to 2,340 meters
Total 22.7 Km
Tickets for adults are €28 for high season and €18 for low season
There is a chalet, ski training, and gear-renting shops available.
Contact Kalavryta Ski Resort: (+30) 26920.244.51–2, website in Greek
Where to Stay in Kalavrita
Georgio's V Chalet Kalavrita are amazing storehouses in the forest near the ski resort in a fantastic location with excellent mountain views.
Related Posts:
2. Menalon Ski Center, Ostrakina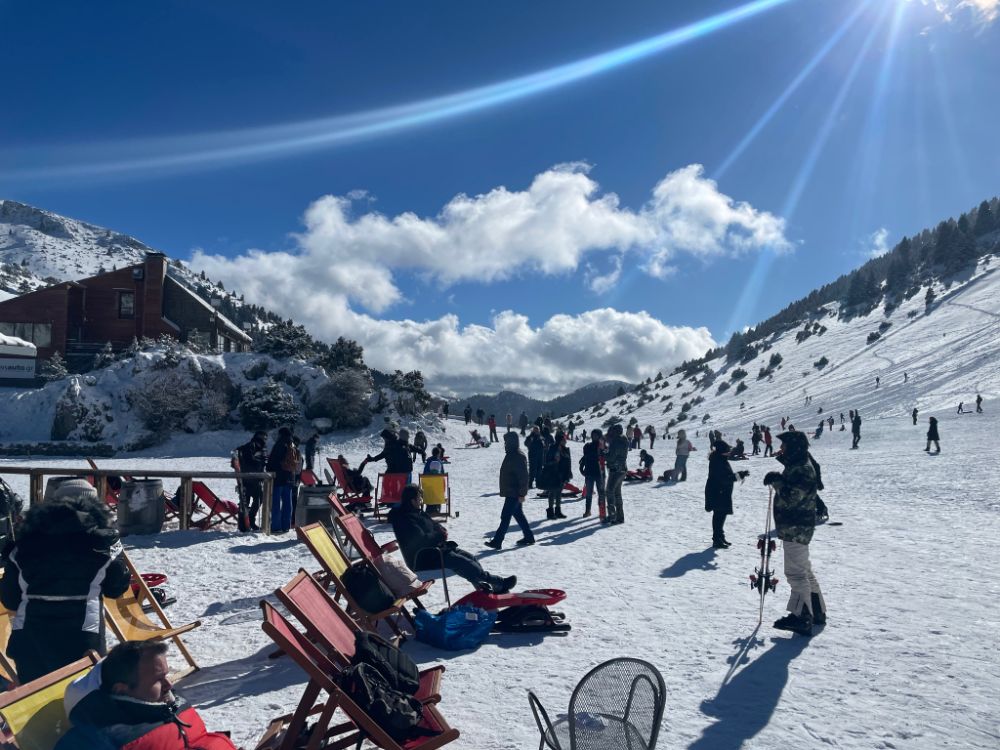 Menalon is well-known amongst hikers as it is one of the most scenic and well-signposted hiking trails in Greece. It also houses a ski resort in Ostrakina plain at 1600 m in the Arkadia region, 12 km from Vytina and 162 km from Athens.
It has 3 lifts (570, 359, 100 m) and 6 slopes surrounded by beautiful fir trees. The slopes are between 130 & 350 m for beginners, 3 are between 600 and 800 m, and 1 is 2500 m.
There is a dedicated area for snowmobiles and snow tubes. You will also find a chalet for snacks and hot chocolate, ski training options, and a gear-renting shop.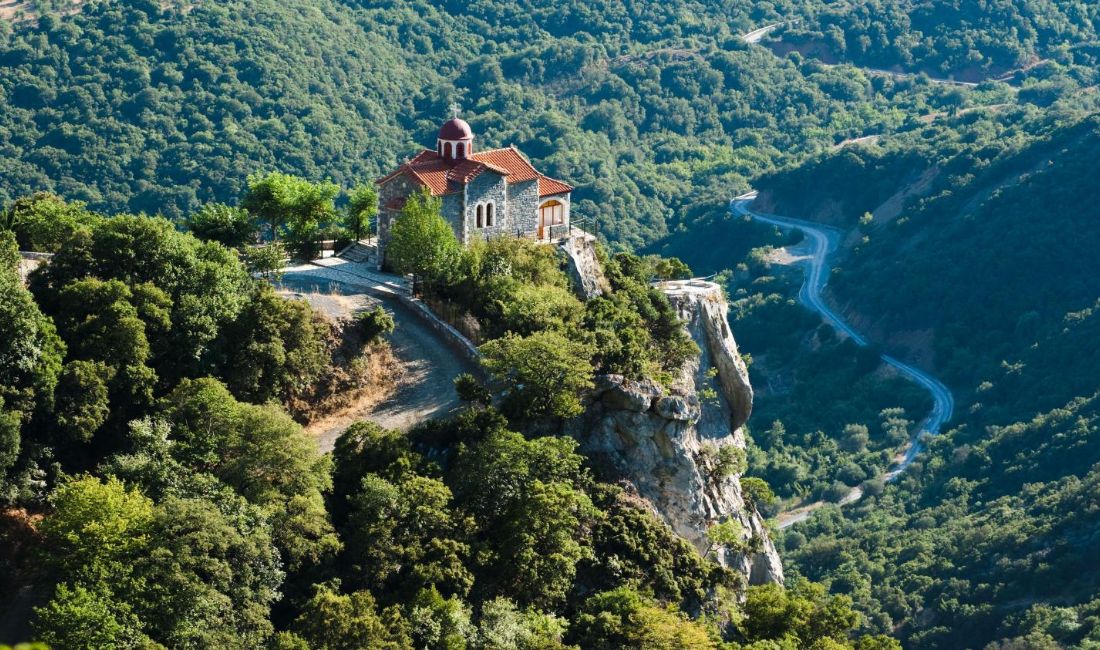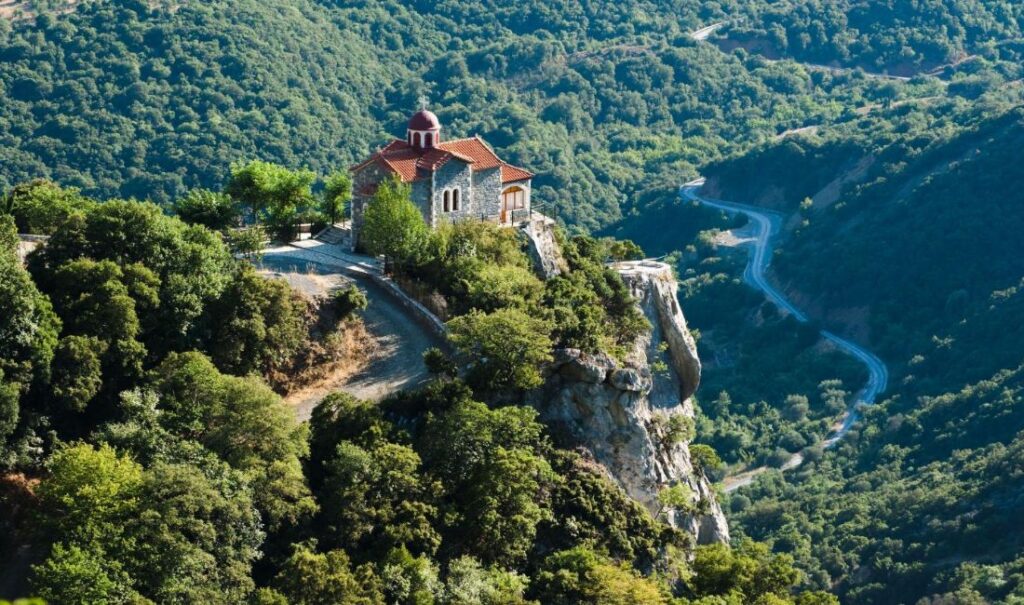 The whole Menalon area is dotted with traditional villages and impressive mountains. It is worth visiting:
Kapsia Caves
Mantineia & Orchomenos Archaeological Sites
Vytina and Dimitsana Villages
Where to stay in Menalon
Ostra Menalon Luxury Suites is a 4-star classy traditional mansion with amazing forest views.
For more details about Menalon Ski Resort visit their website here.
3. Ziria Ski Center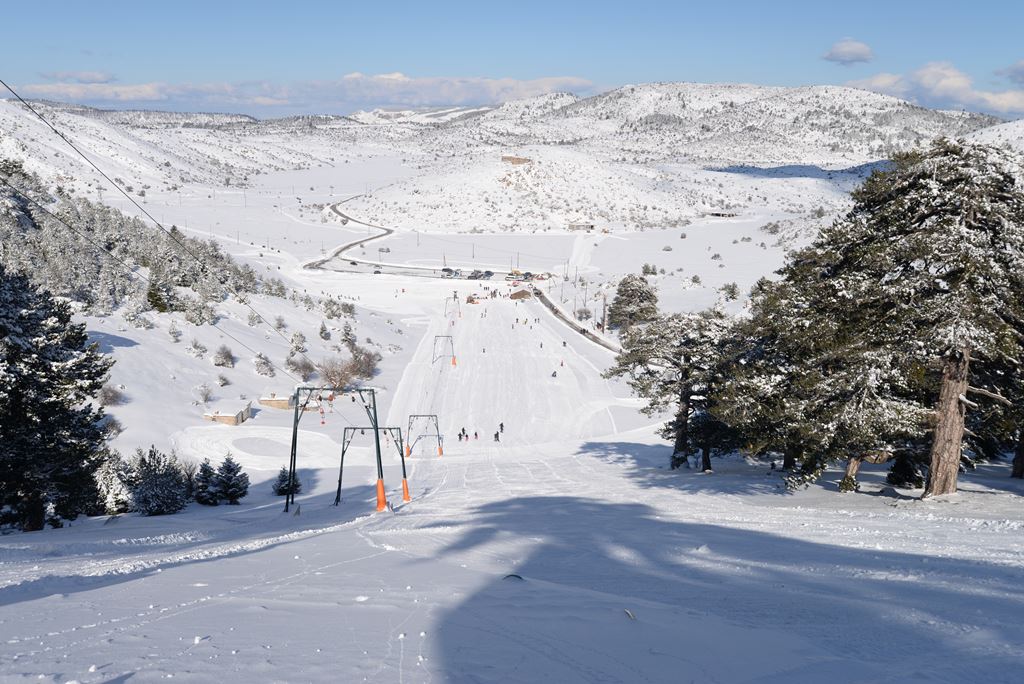 Ziria ski center is 12 km from Trikala Korinthias,160 km from Athens, and just 10 km from the traditional village of Trikala in Corinth. It is a small ski center at 1500 m with 2 lifts and 2 (one very easy, one medium) slopes, ideal for beginner skiers and families.
One of the slopes has a baby lift, measuring 150 meters in total length, and the second one has different levels, with a total length of 400 meters.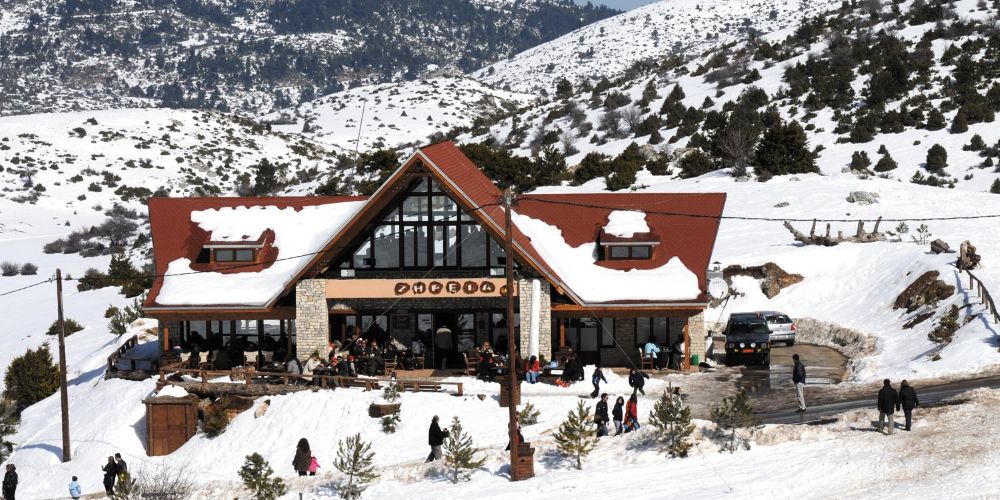 While you ski, you can enjoy endless views of the peaks of Mount Megali Ziria (elevation 2,374 meters) and Mount Mikri Ziria (elevation 2,117 meters), as well as the gorge of Flampouritsa.
There is a chalet with a large open terrace overlooking the slope, perfect to sit on the comfortable lounge seats when the sun is out. At the chalet, you can rent ski gear, and snowmobiles or organize mount ski for groups.
More info for Ziria ski center is on their website here.
Where to Stay in Ziria
Theasis Suites has lovely, spacious rooms at a great location, with friendly and accommodating hosts. A great value-for-money stay!
What to Visit
Trikala Korinthias village
Doxas & Dasiou Lakes
Vytina Village
For more information visit the Ziria Ski Center website here.
Ski Resorts in Greece (Mainland, Central)
4. Parnassos Mountain (the top ski resort in Greece)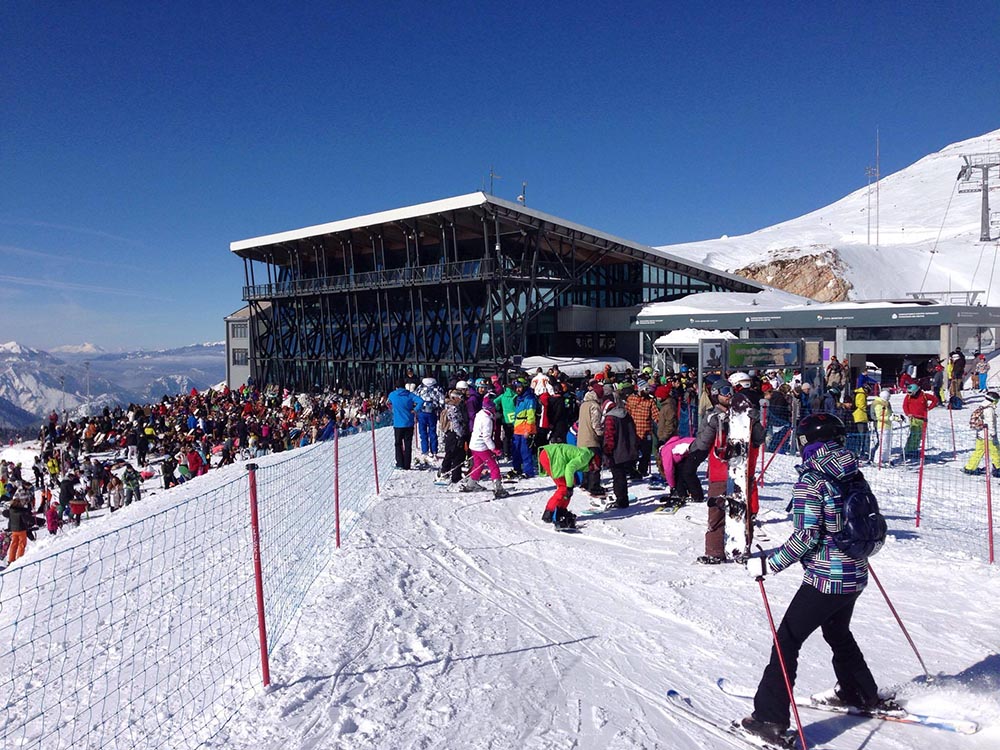 Parnassos Ski Resort is the most organized and cosmopolitan ski resort in Greece. It is located 182 km north of Athens in impressive nature.
23 slopes for all levels (including four competition-certified and four novice slopes); 17 ski lifts (seven aerial, six surface, and four baby lifts). Liakoura Peak is at 2457m.
There are two connected centers, one in Fterolakka and one in Kellaria, both with chalets at an elevation of 1750 m and 2280 m respectively. There are plenty of shops to rent or buy ski gear, restaurants, and cafes. Find out more about Parnassos Ski Center here.
Where to Stay in Parnassos
Nefeles Stone House is located in the traditional Arachova village (25 km far from the ski center), with the most beautiful view of the mountains and olive groves.
What to Visit
Hosios Loukas Monastery
Arachova
A fantastic 4-day private tour that gets you to Delphi and Pelion from Athens is perfect if you want to combine archaeological sites, with nature and the cosmopolitan village of Arachova.
5. Velouchi Ski Center
Velouchi ski resort is 284 km northwest of Athens and 12 km from Karpenisi town. It has 5 lifts and 15 slopes at 1850 m in height.
There is a chalet, shops to rent or buy ski gear, restaurants, and cafes. Ski training for both adults and children. Here you can have the best night ski slopes in Greece – for night ski lovers.
Check out ticket information for Velouchi ski center here.
Where to Stay in Karpenissi
Oniropetra Boutique Hotel is a gorgeous new hotel in Karpenissi with wonderful views, saunas, and high-quality design rooms. Their breakfast is really one of its kind, with fantastic choices.
What to Visit
Karpenissi Town
Dragon Lake

Hike Tymfristos Mt (peak at 2315 m)
6. Pelion, Agriolefkes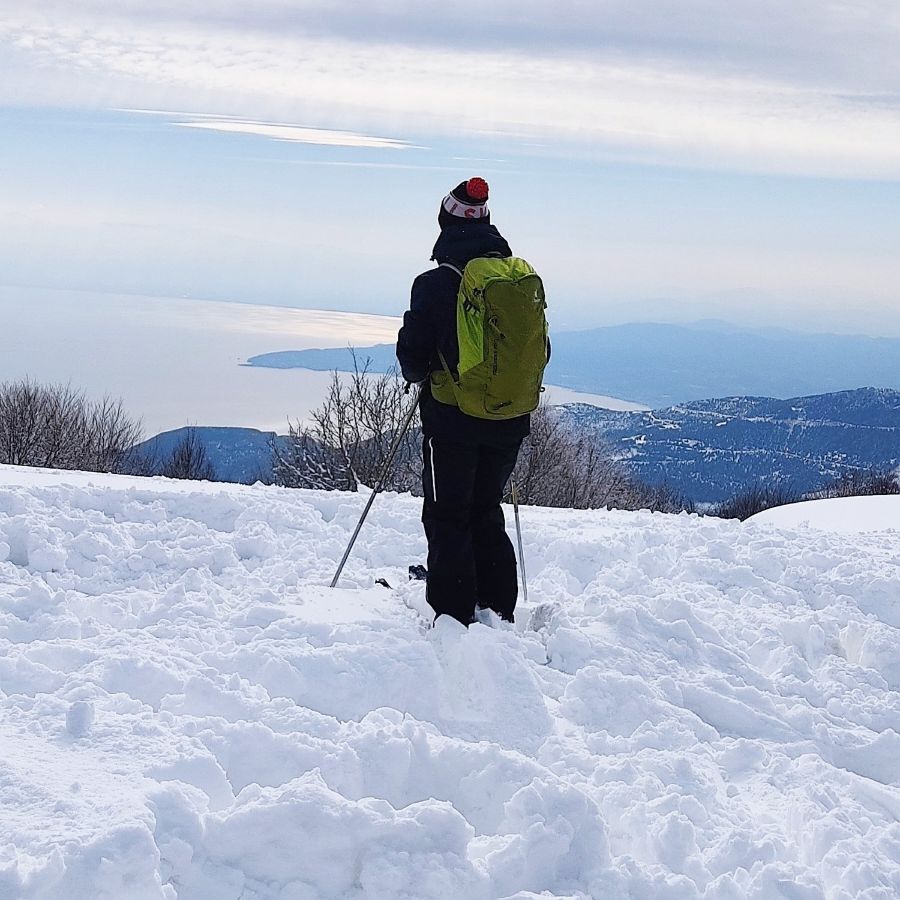 Pelion Ski Center in Agriolefkes is 346 km north of Athens and located at a relatively low height of 1471 m. The beauty of the landscape in Pelion is notorious. From its slopes, the skiers can admire the vastness of the Aegean Sea and the serenity of the Pagasetic Gulf.
There are 5 ski tracks with a total length of 15 km: 4 main downhill ski tracks approved by the International Ski Federation (FIS) and 1 endurance road track (Lang-Lauf) that is 5 km long.
The Ski Resort has 3 parking areas for more than 800 cars, a shelter, a refreshment area, a restaurant, equipment rentals and sales for skiing and snowboarding, and, of course, a medical center.
Additionally, there is a ski and snowboard school with specialized classes for children aged 3 and above, taught by experienced instructors.
Where to Stay in Pelion
The Pelion ski resort is 2 km away from tiny Hania village which has mostly a few taverns and nothing else. Instead, I suggest you stay in a much more charming and lively Portaria village which is 14 km away. One of the best hotels in the area is Archontiko Naoumidi a charming, classy stone hotel.
What to Visit
Gorgeous Pelion Villages such as Makrinitsa, Portaria, Tsagarada, or Zagora.
Ski Resorts in Greece (the North)
As you travel to the north of Greece, the possibility of snow and finding a ski resort increases substantially! There are 13 ski resorts in the northern part of Greece, covering large Greek regions such as Epirus, Macedonia, and Thrace.
Some of the Greek ski resorts are quite small, and they may not be included in this list, but they are all worth visiting as they are always set in stunning nature with lots of other things to do in the area.
7. Olympus Ski Center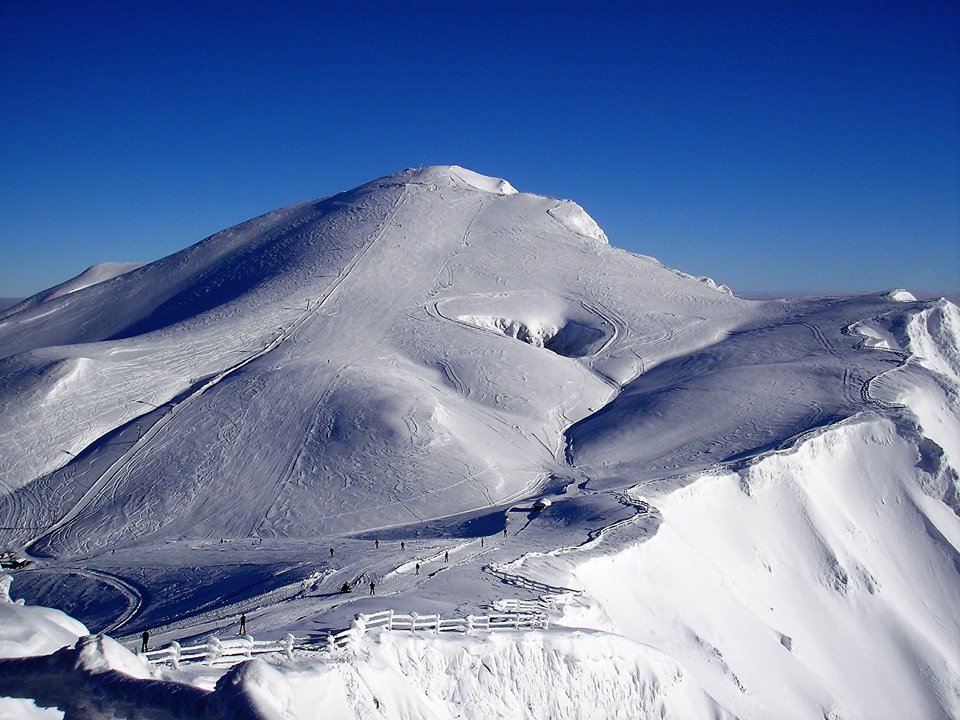 Olympus Mt Ski Center in Vryssopoules (2450 peak) is unique not only because it is located on the highest and most famous Greek mount. The Olympus ski center belongs to the Greek army. However, it is open to the public every Sunday between 9 am-3 pm.
There are 2 easy slopes, 2 km each, 2 one-person lifts, and 1 baby lift. There is also a cafe that you can visit. Parking is allowed at a designated area about 15 minutes walk from the center.
Entrance Tip: you will need to show an ID and you will sign a paper mentioning that the army is not responsible for any injuries. You can contact them at +30 (24930) 62163.
Where to Stay in Litochoro
Stay in beautiful Litochoro, 18 km far from the Olympus resort, at To Palio Litochoro stone mansion with fireplace in an amazing location.
8. Pertouli Ski Center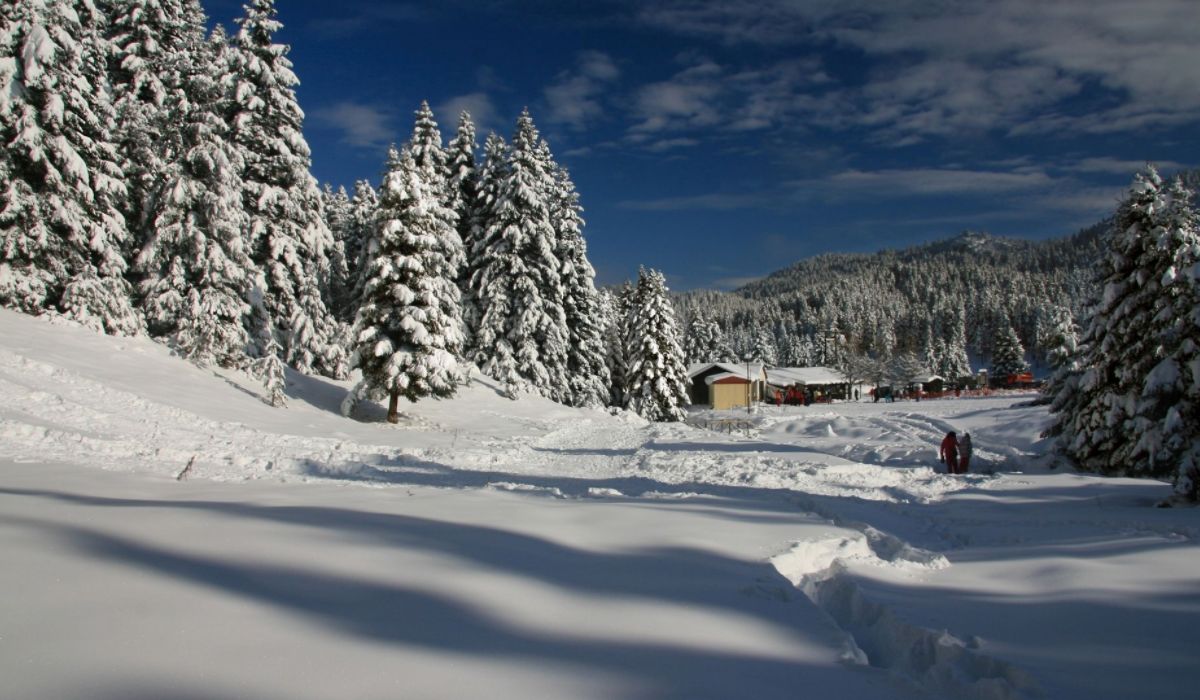 Pertouli Ski Center is a small winter center in the mountain Koziakas. It is set in one of the most beautiful natural environments in Greece. You can find the center 40 km from Trikala, 260 km from Thessaloniki, and 370 km from Athens.
It has 3 easy/medium slopes:
One red slope, 1,500m long, one blue slope, 400m long, and one green educational slope, 80m long. Additionally, there is an aerial two-seater ski lift, 1,170m long, a chairlift, 350m long, and a baby lift, 60m long.
There are three chalets, and during the ski resort's operation, night skiing sessions take place. There is a large and convenient parking area at the base of the ski resort, and access is safe and comfortable without the need for tire chains.
Contact at: +30 24340-91545 or +30 24340-91297.
Where to Stay in Elati
Stay at Hotel Giamandes with great mountain views in Elati.
What to Visit
Hiking Shelter of Koziakas
River Kefalopotamos
Pertouli village
9-10. Anilio Park & Profitis Ilias
Anilio Park Center is 10 km far from Metsovo, 200 km from Thessaloniki, and 400 km from Athens. It has five ski lifts (one aerial, two surfaces, and two baby lifts) and 7 slopes (from easy to medium difficulty). There is a chalet and you can rent ski gear from the center. Ski and snowboard lessons are also available.
Info Tel. (+30) 698.470.1756
Where to Stay in Metsovo
Katogi Averoff Hotel & Winery is a traditional hotel with cellars that guests can visit and taste fantastic Greek wine (wine tasting after your skiing not before!)
What to Visit
The second nearby ski center of Prophitis Ilias or Politsies, (four kilometers from Metsovo) with six slopes, three lifts, a chalet, ski schools, and equipment rental stores. It is ideal for families and ski beginners
The third nearby ski center of Karakoli, 1.5 km from Metsovo, with two medium slopes and one aerial lift
Metsovo is a gorgeous traditional town with spectacular natural beauty, and wine culture
Monastery of Zoodochou Pigis
11. Vasilitsa Ski Center Grevena (one of the top ski resorts in Greece)
Vasilitsa Ski Center (peak 2150m) is 458 km north of Athens and 211 km from Thessaloniki. It is one of the best ski resorts in Greece with excellent-quality snow and one of the most popular ski centers.
It has 24 slopes for all difficulty levels (including two of Olympic standard); and seven lifts (two aerials, four surfaces, and one baby lift) with snow almost all winter. There is a chalet with a bar, cafe, restaurant, and gear to rent.
More information about the center at their website here.
Where to Stay in Grevena
Stay in Pindos Resort a stunning mountain shelter in a pine tree forest.
What to Visit
Lakes Flegga & Smolikas
Grevena Town
Samarina village
Rafting in Venetiko River
12. Seli Ski Center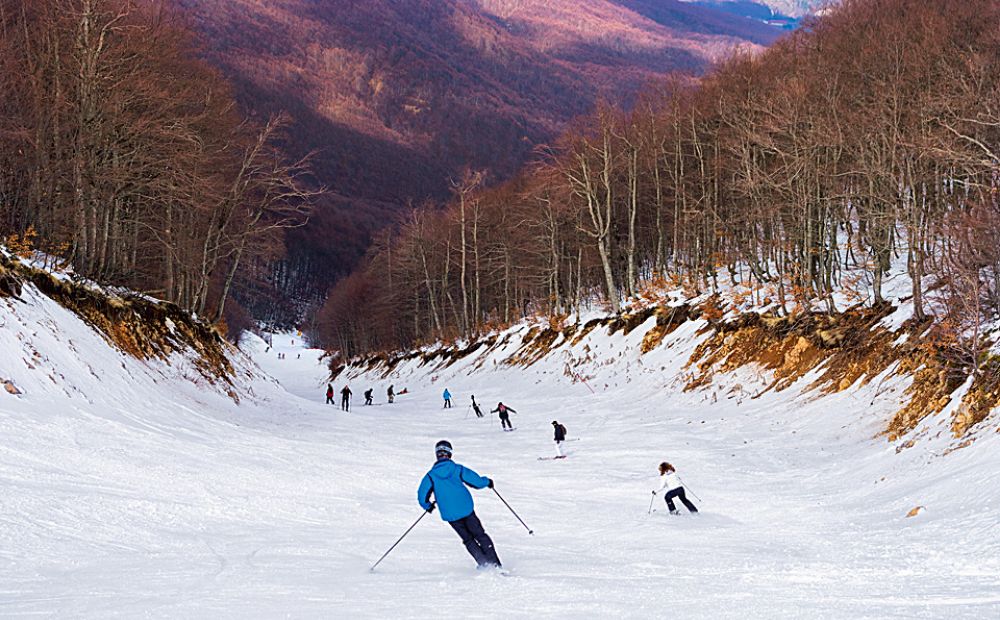 Seli Ski Center is in Mt Vermio (peak 1530m), 24 km from Veria, 100 km from Thessaloniki, and 520 km from Athens. It has 18 slopes for all difficulty levels (four slopes for children) and 11 lifts (one aerial, six surface, four baby lifts).
There is an impressive chalet with a pointy roof and shops to rent or buy ski gear, restaurants, cafes, and hiking shelters. Discover more about Seli Ski Resort here.
Where to Stay
Stay in Villa Anthemia, a really lovely traditional house (ideal for cat lovers!)
What to Visit
Vergina Site
Wine Tasting of local Xinomarvo variety
Lake Polifitoy & Velvento village
13. 3-5 Pigadia Ski Centre Naoussa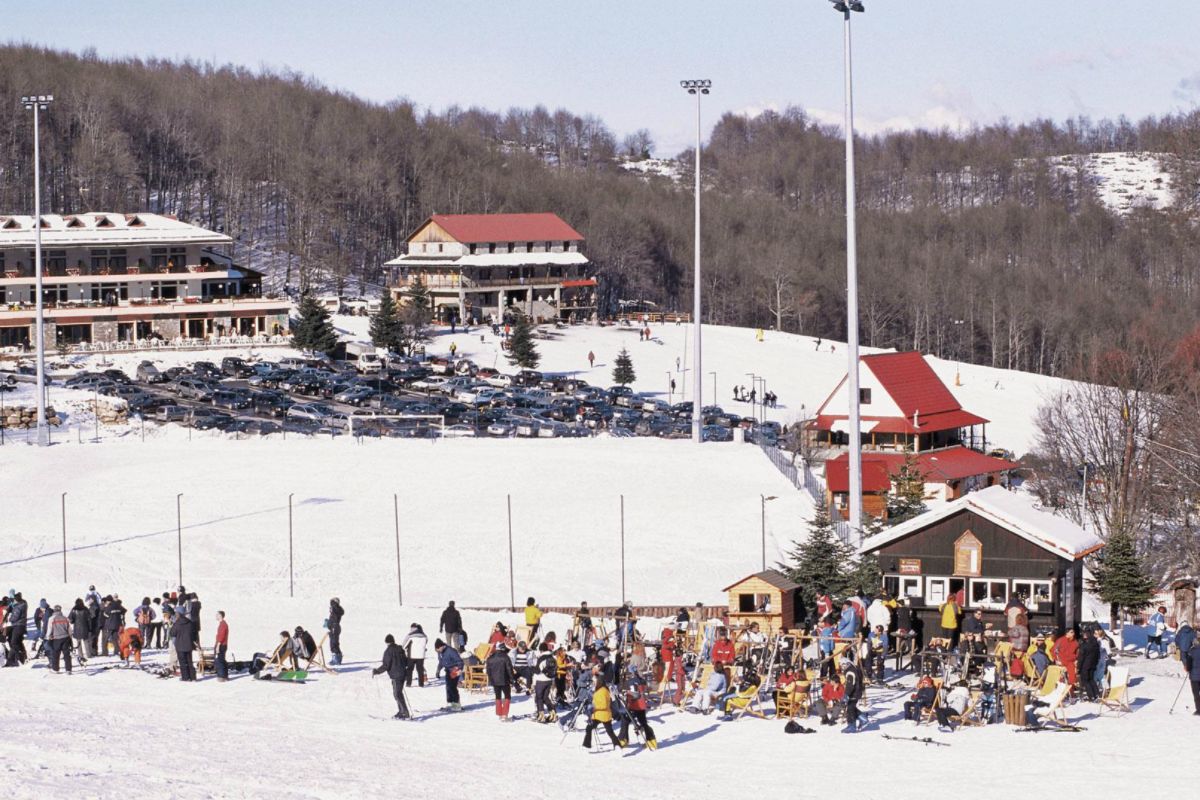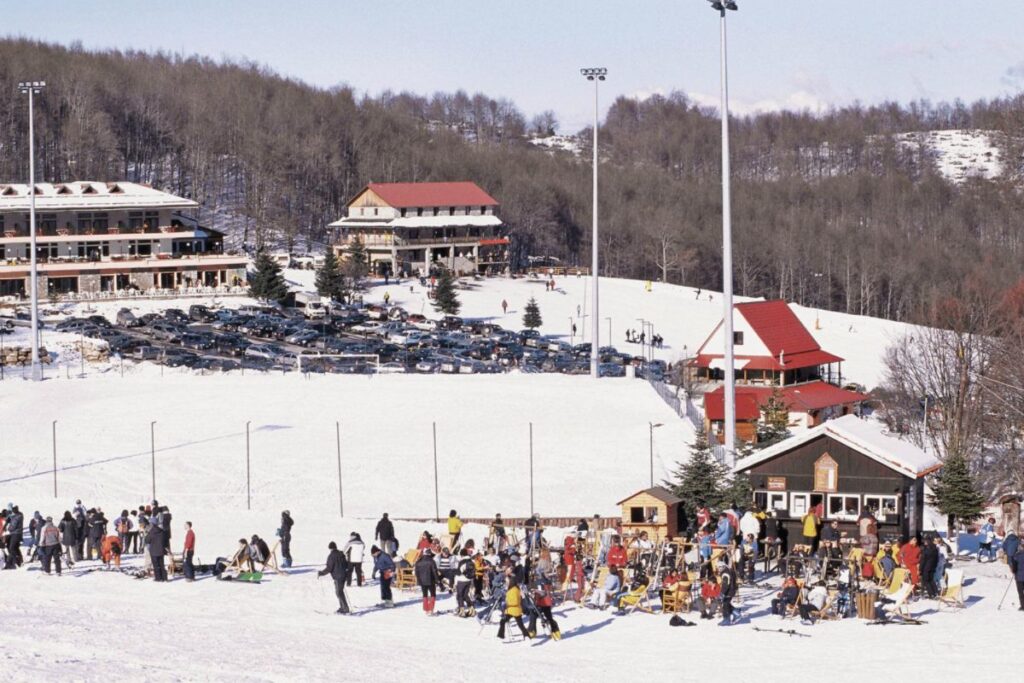 3 – 5 is 546 km north of Athens and 109 km from Thessaloniki. It has 6 lifts, and 12 slopes, 3 of which are cross-country slopes, at 2005m height. There is a chalet, a shelter, ski training, and gear-renting shops.
Skiing in Pigadia Ski Center offers panoramic views of the Olympus and Voras Mountains.
Where to Stay in Naousa
Sfendamos Wood Village is 3 km away from the ski resort and has lovely wooden chalets with amazing scenery.
What to Visit
Vergina Site
Vegoritida Lake
Naoussa and Veria towns
14 -15. Pisoderi Ski Center Florina
Pisoderi Ski Center is very close to North Macedonia, 179 km west of Thessaloniki. It has 12 slopes for all difficulty levels (one Olympic standard, one for night skiing 1.4 km in length, two of the longest slopes in Greece, 5,5 km and 6 km); and five lifts (two aerial and three surface). I have been there during Christmas and I had a wonderful time – the snow was great too!
The chalet is large with a restaurant and a cafe with easy access from the National Road. Find more details on their website here.
Where to Stay in Prespes
Kivotos Epavlis Alexandros in Prespes Lakes, a beautiful traditional cottage.
What to Visit
Prespes Lakes
Nymfaio village
Amyntaio village
Florina
Vitsi Ski Center is 22 km from Kastoria. It has five slopes (two medium, one easy, one for children, and a snowboarding snowpark); and two lifts (one surface and one baby lift). Tel. (+30) 694.429.8482, 694.476.3036
16. Lailia Ski Center, Serres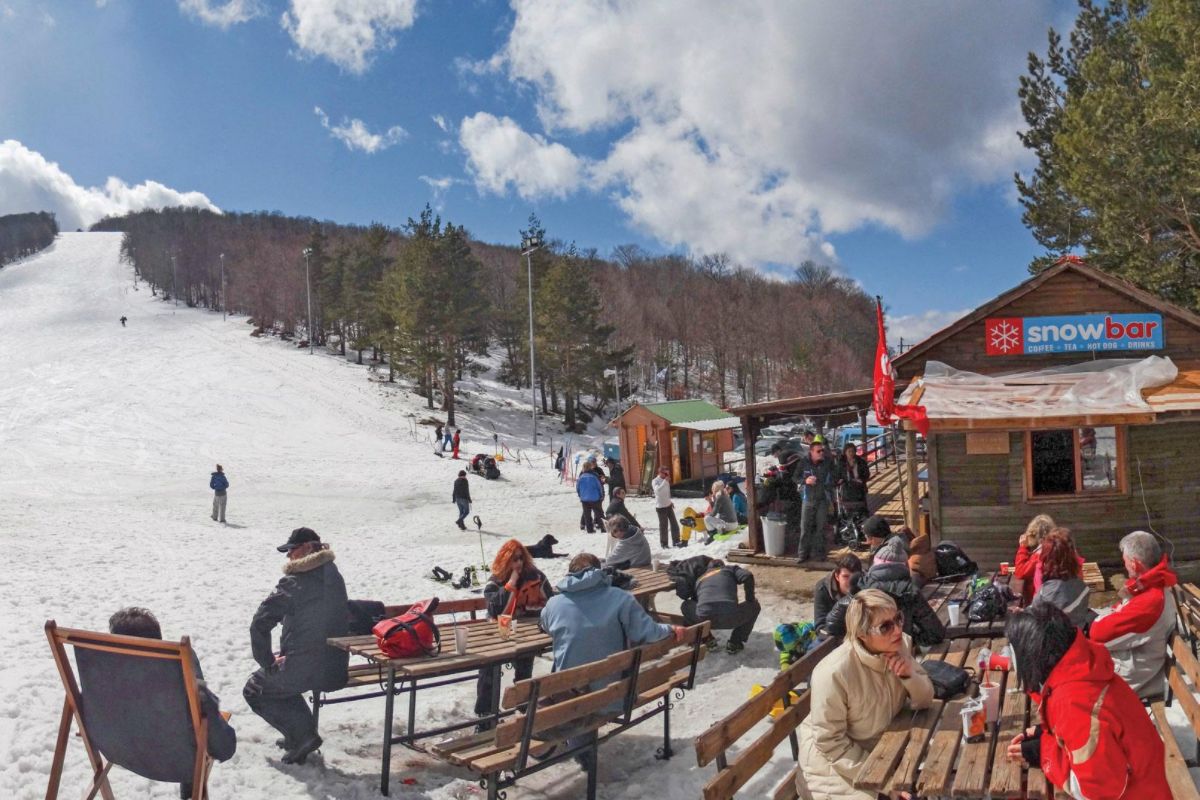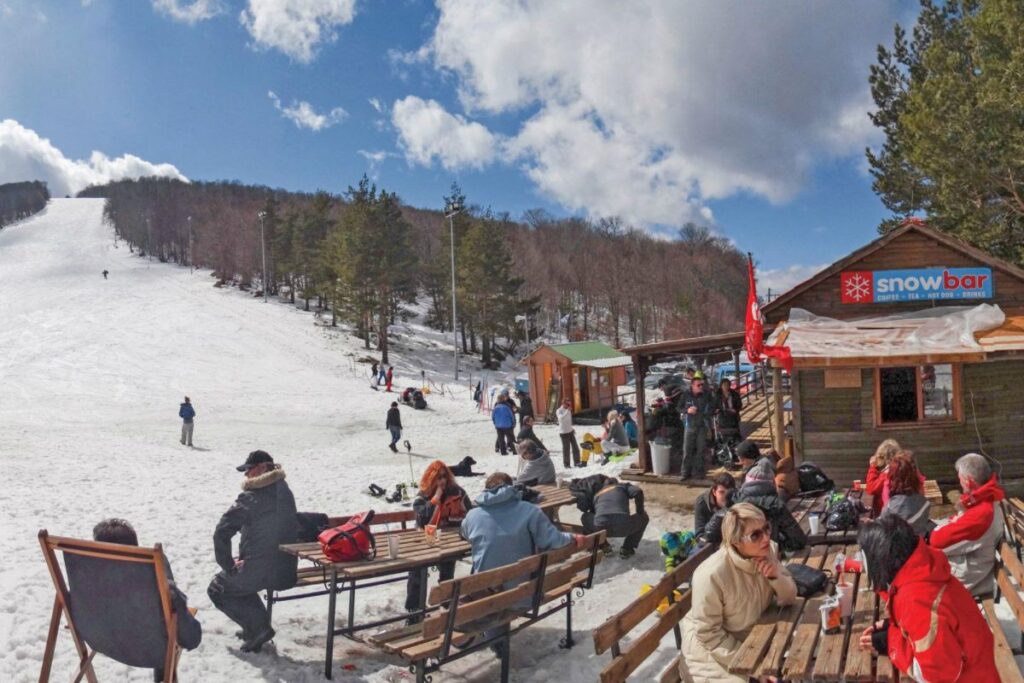 The Lailia Ski Center is 110 km northeast of Thessaloniki. It has 2 lifts, 1 track of 1200m, a baby lift, and 1 beginner track at 1471 m in height. The center has a chalet with a restaurant, cafeteria, ski and snowboarding schools, gear, and snowmobile rental stores.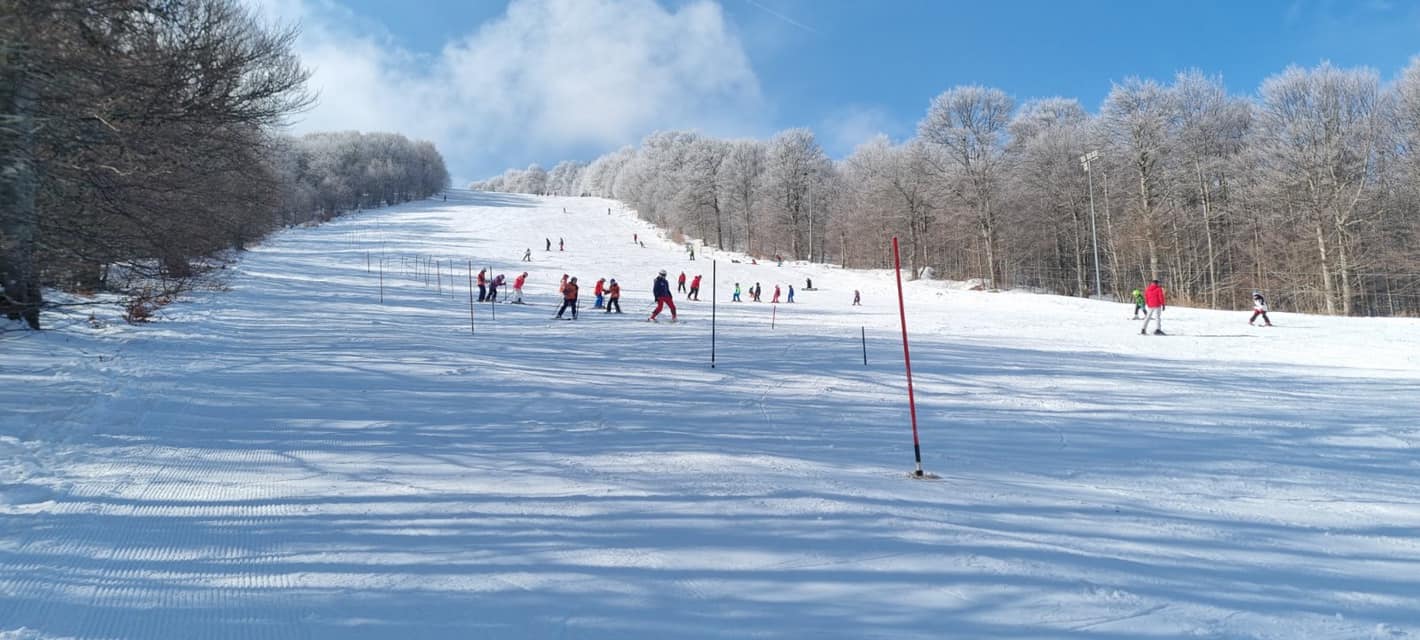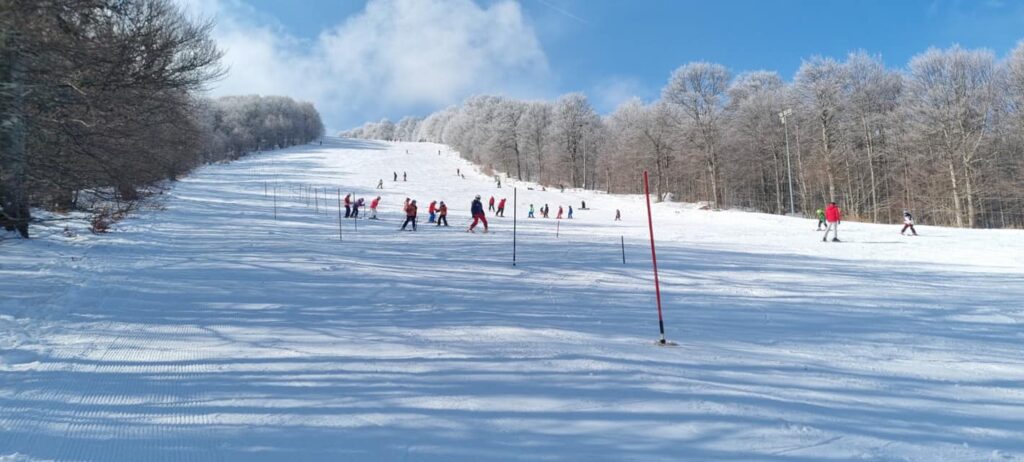 Nature is magnificent all around the Lailia ski center. Visit its many stone old bridges and Vrontou villages.
Stay in Serres town at Metropolis Hotel, a great place for a stopover and to enjoy Serres.
17. Elatochori Ski Center Pieria
Elatochori Ski Center has 10 slopes (one for snowboarding and one for sleds) and 5 lifts (one aerial, two surface, and two baby lifts). It is a well-organized ski center with provisions for all levels of experience. There is a restaurant, a cafe, rent and buy ski gear shops, and ski teachers.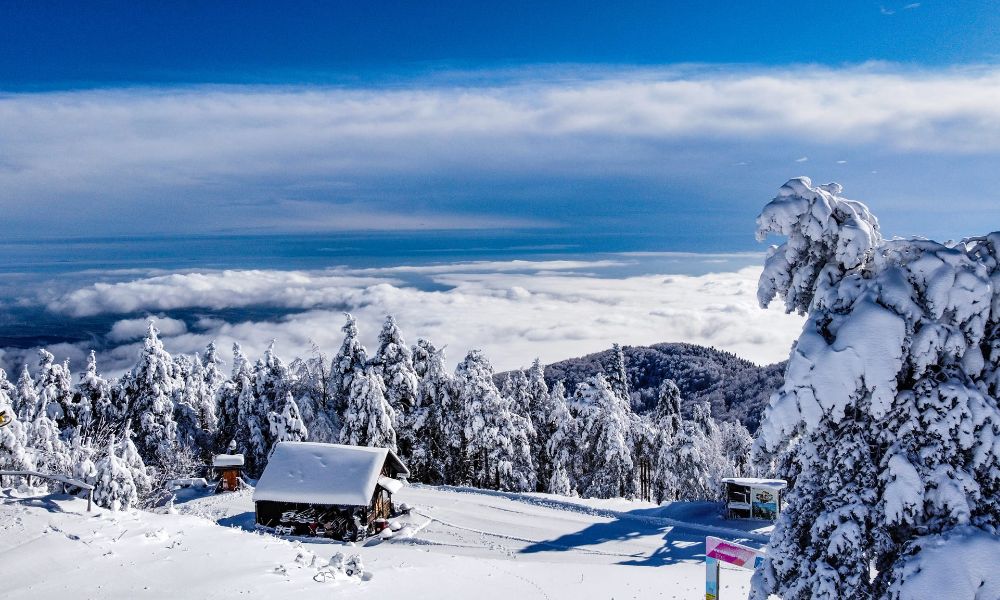 It is located at Pieria Mt at 1450 m, 7 km from beautiful Elatochori village, 474 km from Athens, and 104 km from Thessaloniki. You can find out more on their website here.
Where to Stay in Elatochori
Atrion Highland Hotel, with spectacular rooms, views, and great hospitality.
What to Visit
Pieria Mt is the natural continuation of Olympus Mt and is ideal for hiking
Ritani village
Dion Site
18. Kaimaktsalan Ski Center (Vora)
Kaimaktsalan Ski Center is one of the best ski resorts in Greece with the highest peak at 2480m. You can find it 46 km from Edessa, 590 km from Athens, and 140 km from Thessaloniki.
It has 11 skiing slopes (blue, red and one certified for competitions), one snowmobile route; and six lifts (three surface, one aerial, two baby lifts).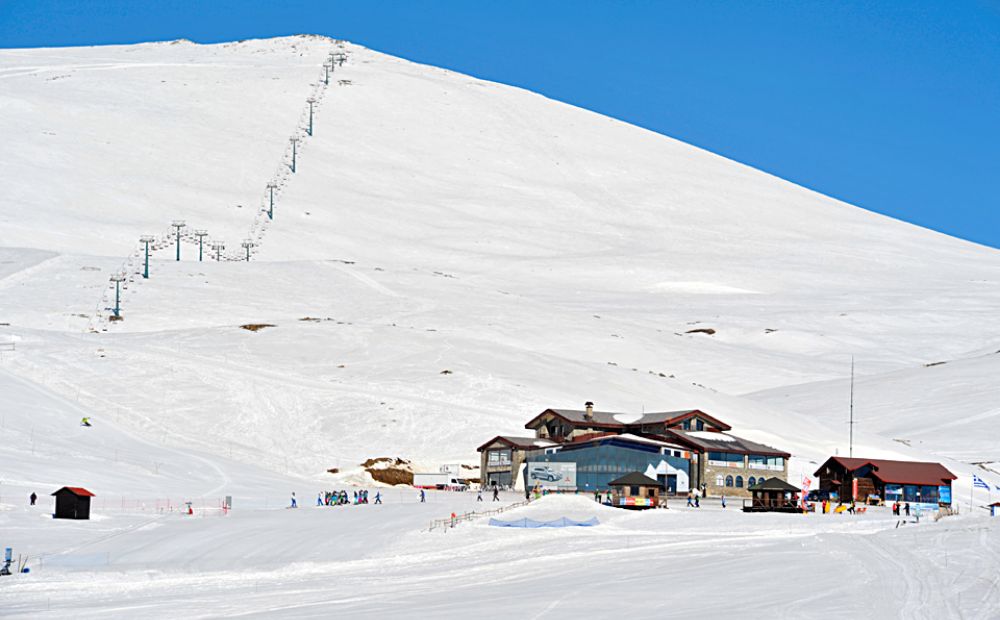 There are 2 chalets, a ski lessons center, gear rent, snowmobiles, and a souvenir shop. Find out more about Kaimaktsalan Ski Resort here.
Where to Stay
Stay in 4 Seasons Premium Chalet, a very beautiful stone mansion.
What to Visit
Edessa waterfalls
Pozar Village and Baths
Agios Athanasios village
19. Falakro Ski Resort, Drama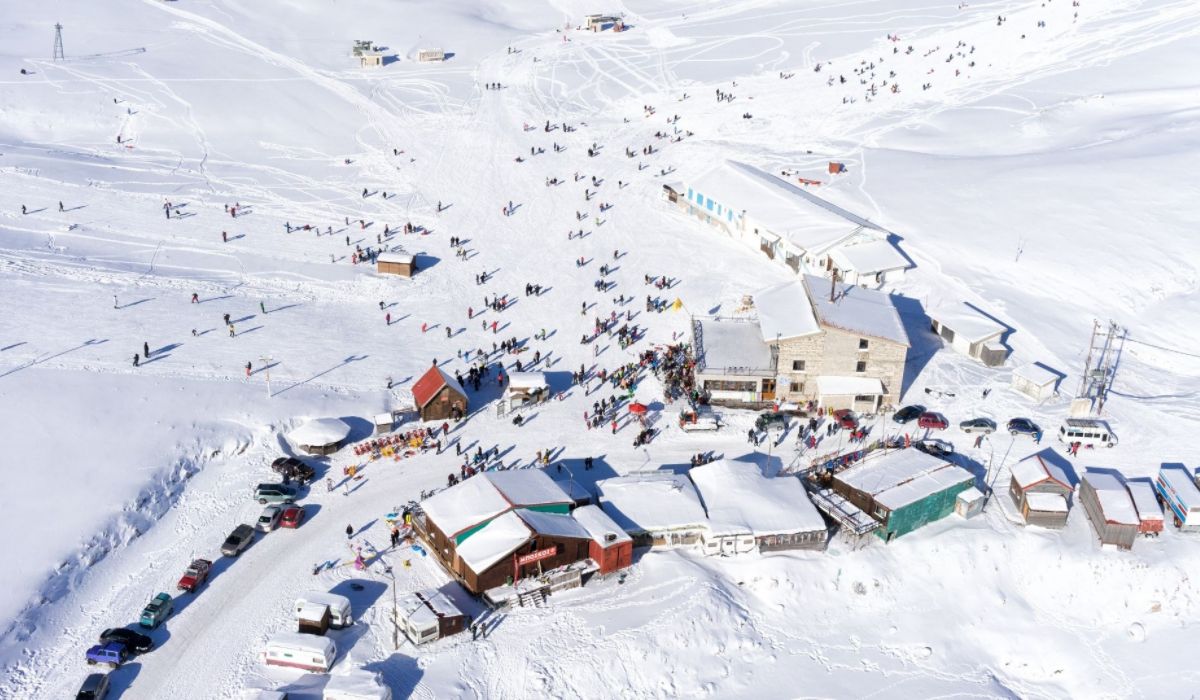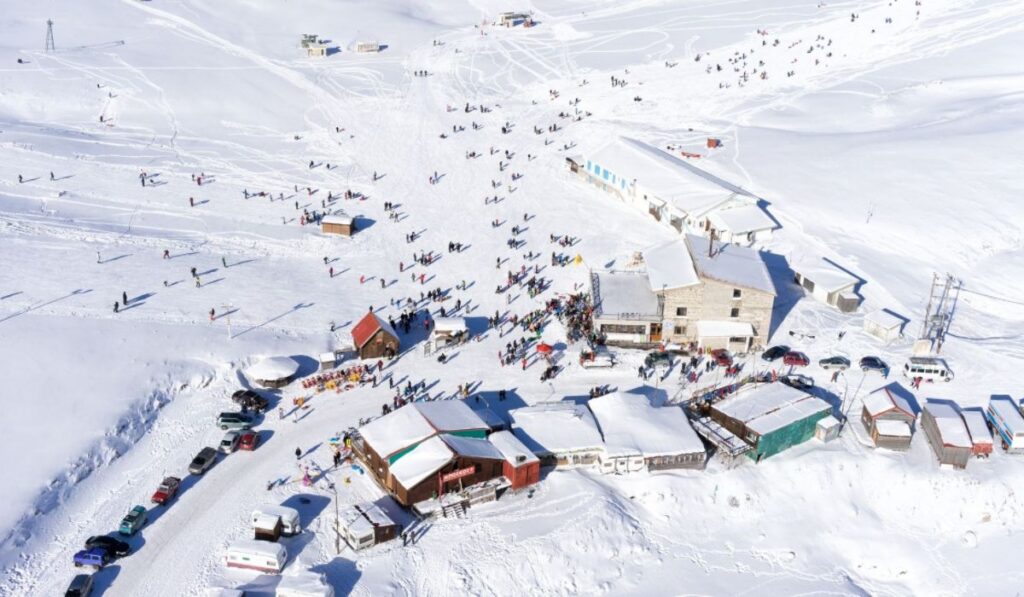 Falakro Ski Resort is 346 km north of Athens and 239 km from Thessaloniki. It has 8 lifts and 21 slopes, some with big altitude differences and it is great for athletic events.
It has 3 chalets with a restaurant, cafes, and bar, gear rent shops, ski training, and facilities for large groups of visitors.
Where to Stay
ROUGA Mountain Boutique Suites & Spa is a gorgeous stone-built hotel with magnificent views, warm rooms with a fireplace, and a delicious, homemade breakfast.
What to Visit
Ritini Village
Nestos river
Pyrgos canyon
Chionotrypa cave
Can you Ski in Crete?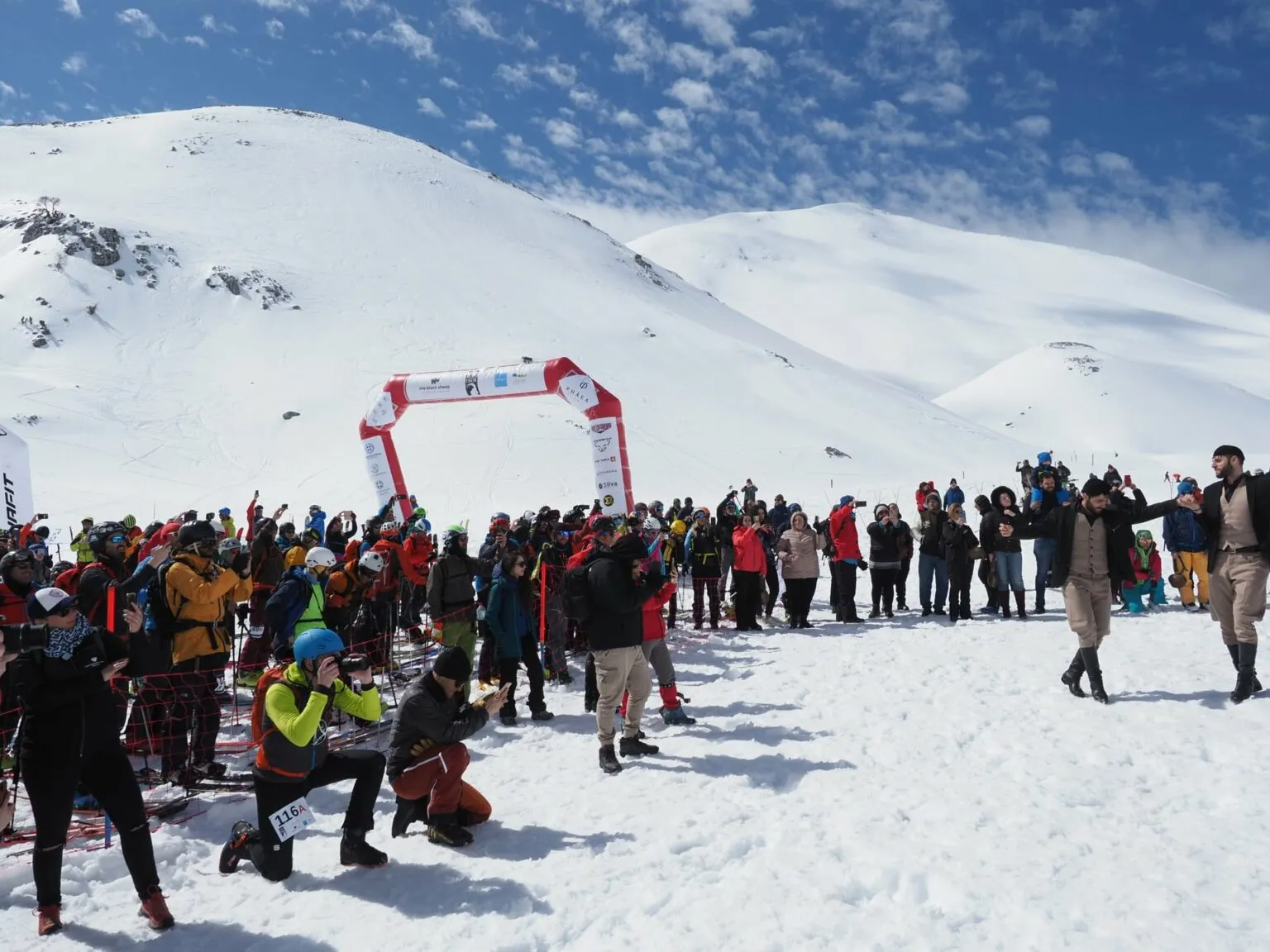 Crete has the 9th-highest mountain in Greece, Psiloritis at 2,456 meters, and the 10th-highest Lefka Ori at 2,454 meters. And yes, you can ski in Crete! You can slalom in the Lefka Ori (White Mountains), as it has over 50 peaks that exceed 2,000 m. Dikti Mt (2,168 meters) in Lasithi is also a great option, but the snow does not last long. 
Discover in this post everything you need to know for visiting Crete in Winter!
Related Posts for Crete Island:
Which are the Best Ski Resorts in Greece?
The top ones are: Parnassos, Kalavrita, Kaimaktsalan and Vasilitsa.
FAQ for Driving in Greece in Winter
If you would like to rent a car in Greece, you may need an International Driving Permit. However, the residents of the US, Canada Australia, the UK, and Gibraltar are exempted from this obligation and can rent with their national driving permits as long as they are over 18 years old (Article 94 of Greek Law No. 4850/2021 – November 5, 2021). Greeks drive the right-hand side of a street.
Always carry snow chains for your tires, you never know when the next crazy blizzard will find you
Most of the country is connected by a highway system that uses tolls – open all year round. However, smaller roads in the mountains might be closed due to heavy snow
Belts are mandatory and you get a huge fine if you haven't fastened them up plus you are putting your life at risk if an accident happens
Young children should always be kept in their special seats, fastened, in the back seat. Children under 10 are not allowed in the front seat
Driving and talking on the phone also can give you a gigantic fine, use hands-free options
It's illegal to drive with a blood-alcohol level of more than 0.05%
The middle lane of a 3-lane highway is used for overtaking – this is different from most places in the world where it is the outside lane
The high-speed roads are in excellent condition. When you get off the main highways, the roads get significantly smaller, and as all the ski resorts are on mountains, they may look a tad intimidating
All the ski resorts in Greece have parking places and they keep the roads clear from too much snow or add some salt to make them less slippery
Read here some regulations with regard to vehicles in Greece
Plan My Trip to Greece
Do you need a custom travel itinerary for Greece? Are you traveling solo, with your family or your friends and you need a tailor-made multi-day tour or a transfer within Greece?
If yes, please visit my dedicated Plan My Trip Page for a free itinerary!
Did you visit a ski resort in Greece? Let me know what you think about skiing in Greece in the comments, I'd love to hear whether I managed to get it onto your bucket list! Till next time, Evgenia❤️
My Most Popular Posts
Essential Travel Resources for Greece
'Hello' and 'Thank You' in Greek: "Ya sou" and "Efharisto"
Booking.com: I use Booking.com because I can get the best deals on both hotels and apartments, free cancellations, and great prices!
Find Long-Term Rentals in Greece: You will find the best prices in Flatio
FerryScanner to book ferries to the Greek Islands
Athens Metro Website (timetables and ticket info)
Get Your Guide: For all your day or multi-day tours and city guide needs, I use Get Your Guide
Emergency Numbers Anywhere in Greece: AMBULANCE 166 – FIRE 199 – POLICE 100– EMERGENCY NUMBER 112
All rights reserved © Travel the Greek Way. Republishing this article and/or any of its contents (photographs, text, links) is strictly prohibited.
Please follow and like us: