Elafonisos Island is the absolute Greece's hidden gem with some of the finest and longest sandy beaches in Greece. It is a tiny island (7 square miles) located on the south of the Peloponnese and north of Kythera island. Elafonisos is mostly famous for the double Simos beach with its turquoise waters that meet wonderful golden sands.
Elafonisos is also a very quiet island to visit with only one village. No big beach bars, huge parties, or all-night clubs here. Everything is peaceful, authentic, relaxed, and stunningly beautiful. It is also a favorite windsurfing and snorkeling destination.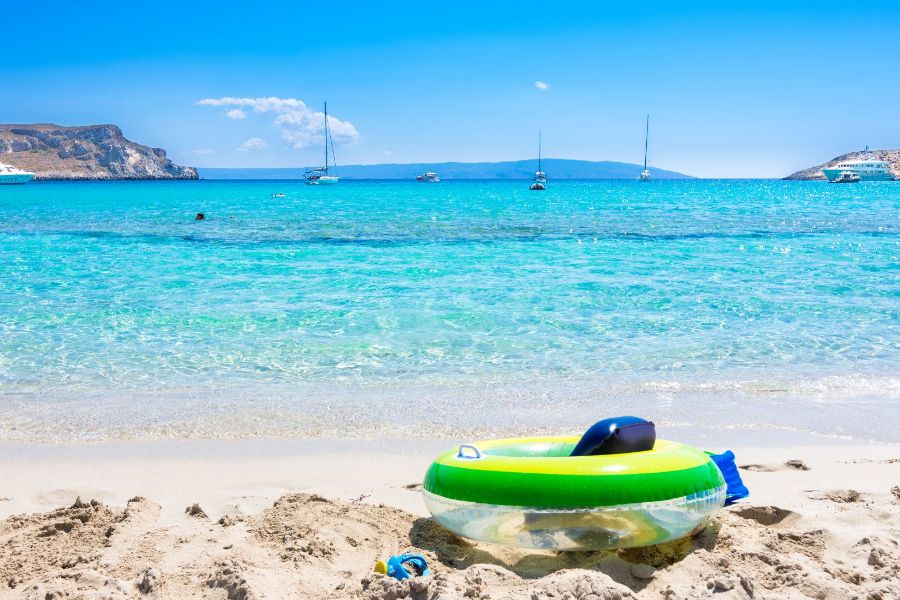 If you are exploring the southern Peloponnese, you should definitely visit Elafonisos. From the mainland port of Neapoli (Pounta) via a 10-minute ferry you get to a Beach Lover's Dream Come True!
Top Things to Do in Elafonisos
There is not a great deal of things to do once on the island. I would sum them up as feeling the sun, the soft sand, and the diaphanous, emerald sea with the occasion break in a fish tavern for a traditional meal. However, there are a few unique things you can experience. Were you looking for simplicity and paradise? You will find it on Elafonisos!
This guide will provide everything you need to know if you are seeking to experience Elafonisos' wonders.
The Beaches of Elafonisos Island
The beaches of Elafonisos have crystal-clear turquoise waters, and fine, soft golden sand. They are surrounded by low cedar bushes and sand dunes with white flowers, a really rare beauty.
Simos Beach
Simos Beach is divided into two parts, known as Sarakiniko and Fragkos. Both sections offer slightly different experiences. Sarakiniko is more organized with a modest beach bar and facilities, while Megalos Simos is more secluded and ideal for those seeking a quieter and more private beach experience.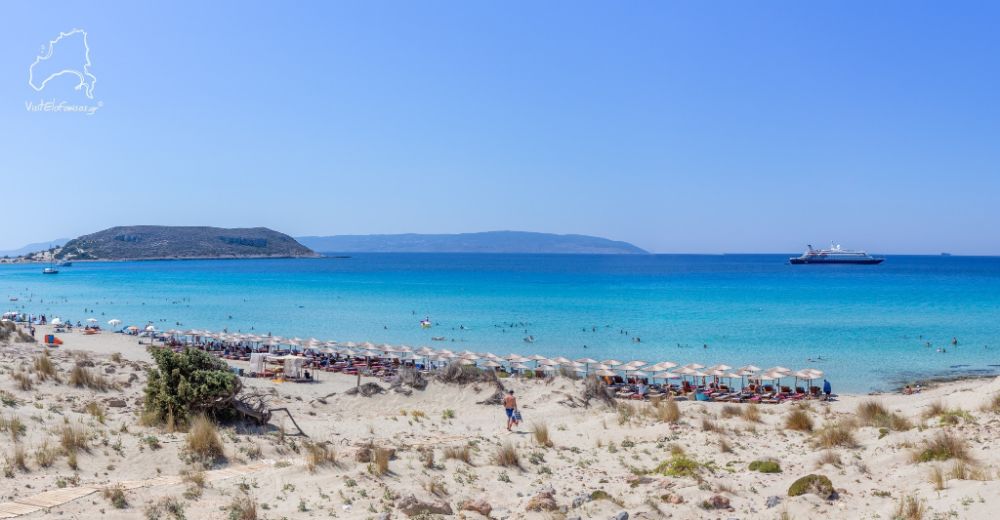 Simos is a very children-friendly beach, with a lifeguard during summer and easy access by car on asphalt roads. It is located approximately 4.5 km from the Elafonisos village but in the summertime, you can also rent a small boat to get there from the old port of Elafonisos.
A fantastic place to stay very close to Simos Beach is the Double Bay Beach Hotel!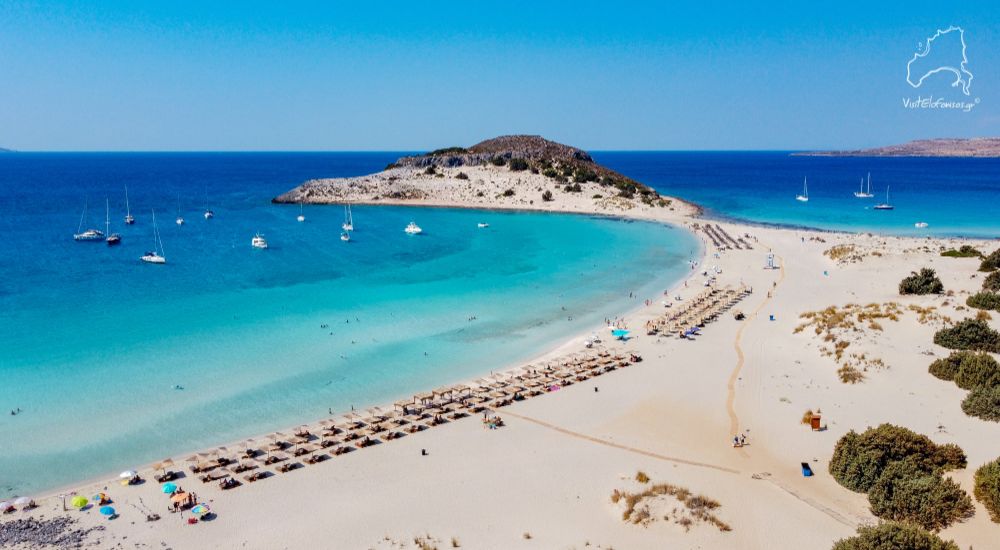 This Half-Day Tour of Elafonisos Island From Monemvasia is also perfect if you want to hit Elafonisos in style and comfort.
Kato Nisi or Panagia Beach
This is another beautiful beach located 5 km southwest of Elafonisos village. It has easy road access and it is partially organized with umbrellas. Panagia Beach has fine sand, shallow warm waters and is a very children-friendly beach.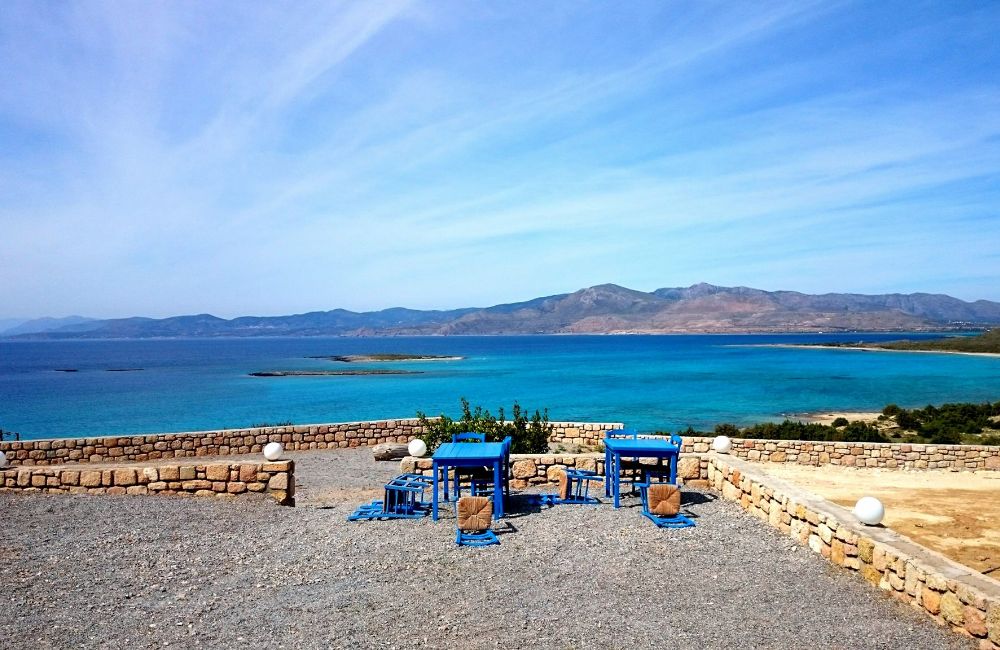 Right across from the beach, there are four islets: the Xeropoules, the Thin Island, the Prasonisi, and the Kassela, which you can visit on a boat tour.
The Panagia beach is great to experience impressive sunsets. There is also a fantastic tavern nearby called 'Ta Nisia Tis Panagias' where you can enjoy authentic Greek food.
Lefki Beach
Lefki is a less-known beach on the east side of Elafonisos. It combines white sand with rocks, crystal-clear waters with a rich seabed, and beautiful emerald shades.
Often, the cove of Lefki becomes a haven for small boats, as, during southern summer winds, this is the calmest spot on the island. If you love snorkeling, Lefki will become your favorite beach!
Elafonisos Village and Port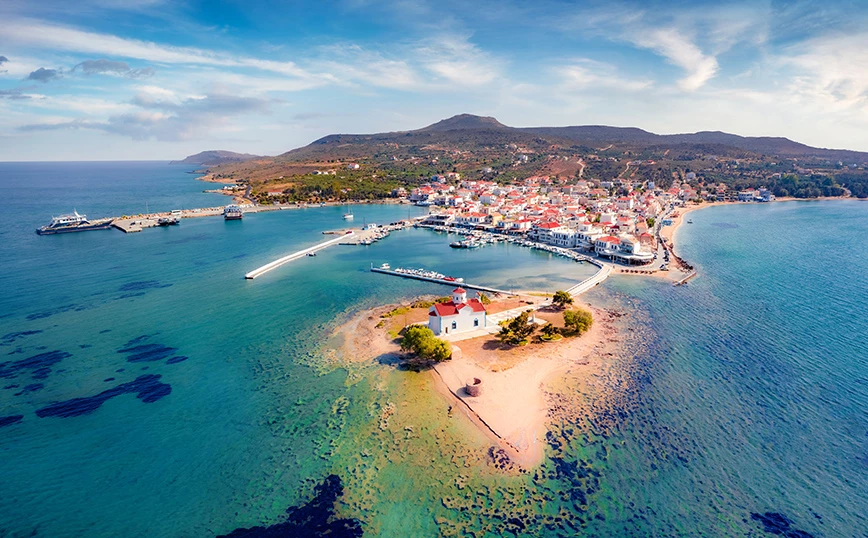 This is the main and only village on the island that your ferry will get you. As you approach the port, you will notice the picturesque chapel of Agios Spyridon. Agios (Saint) Spyridon is the patron saint of the island, standing on a rocky islet since 1858, accompanied by a ruined windmill.
The seafront of Elafonisos villages has small, colorful fishing boats and a multitude of ouzeri and seafood taverns with their tables next to the sea. There are also hotels and apartments where you can stay for a night or two on the island such as Selinopetra Rooms, and Kedros apartment.
Kontogoni is the pretty beach located inside the village, west of Agios Spyridon Church. As it is close to the village, with beautiful, sandy waters is ideal for a quick dive.
Outdoor Activities in Elafonisos
Despite its size, Elafonisos offers six hiking trails and three biking routes. If you hike to Vardia, the highest point of Elafonisos, at an altitude of 276 meters, you will enjoy impressive vistas. This is a great spot to get stunning photos of Sarakiniko Beach from a height.
The most popular hiking trail from Vigla to Vardia is better done during the sunset, as the colors of the sky will be spectacular. Discover the trails here.
Elafonisos is also an excellent destination for sea activities such as surfing, windsurfing, and kitesurfing, as the island can be quite windy.
Pavlopetri Sunken City
Pavlopetri is the oldest submerged settlement in the world, located in the area between Pounta (the port in the Peloponnese) and the islet of Pavlopetri, 700 meters northeast of Elafonisos. Historians believe that it was inhabited during the Bronze Age, from around 3000 to 1100 BCE. It appears that a major earthquake that occurred in the region submerged the city.
It is at a depth of no more than 3 meters and quite easy to access the remains of the town. The site includes well-preserved architectural complexes, streets, and courtyards.
Nearby Pavlopetri you will also find a prehistoric cemetery, a quarry, the canal, and a lake. As for the findings from the prehistoric settlement of Elafonisos, you can visit them at the Archaeological Museum of Neapolis.
Tip: Please respect the natural environment of the ancient town.
Local Cuisine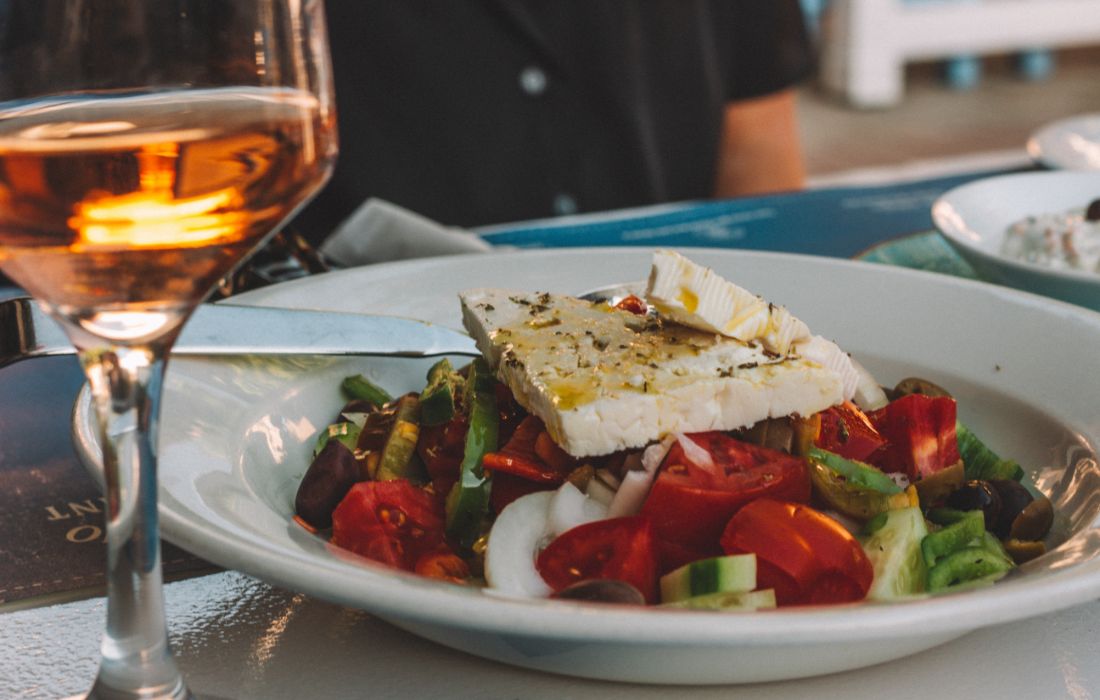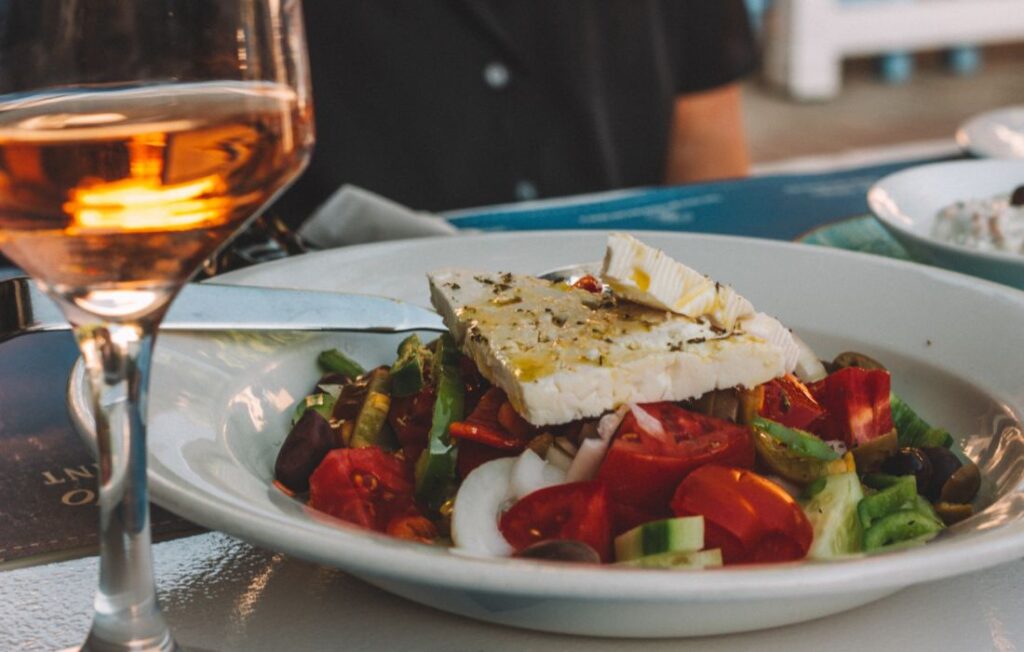 Elafonisos, like all Greek islands, is the perfect place to taste fresh fish and seafood. Moreover, the island cultivates over 500 acres of olive groves, producing ample, fine, and light olive oil, as well as olives that you will taste in the Greek salads.
A specialty of the island is "kakavia," a local velvety fish soup with aromas from herbs. If you love pies you should taste "tsaiti", a fresh goat cheese and mint traditional pie. Delicious!
Some of the best taverns and shops on the island are:
The Mentis Brothers is the oldest establishment on the island, offering consistent excellence in service, good food, quality, and hospitality
Ourania is open year-round and will welcome you with quality food and service every day
Antonis is open for the majority of the year, and in a narrow alley, you'll find Pantelina where you can purchase traditional sweets
Lafonisi is a fine resort boutique at the bay of the port. Its merchandise includes an exceptional selection of Greek designers.
Religious Festivals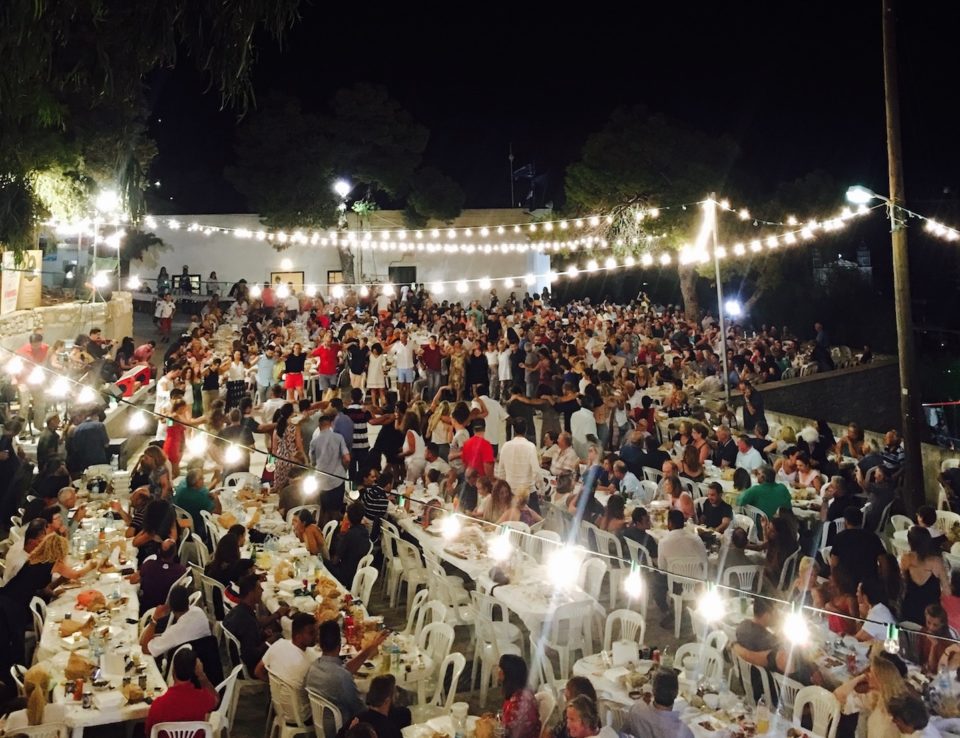 A religious festival or as we call it 'panigiria', is a wonderful feast that offers a glimpse into real, authentic Greece. It is almost always dedicated to a local saint. The ritual begins in a church with a mass, there might be a procession of an icon of the celebrated saint and in the evening there is always live music, traditional dances, a lot of food, and wine until late.
The most popular panigiria that you can participate in Elafonisos are:
Liberation Day, 6-9 July: a number of events take place such as the Festival of Traditional Dances, with dance groups from both Greece and abroad attending
Fisherman's Day: The last 10 days of August
Feast of Saint Spyridon, patron saint of Elafonisos: December 12th.
Monemvasia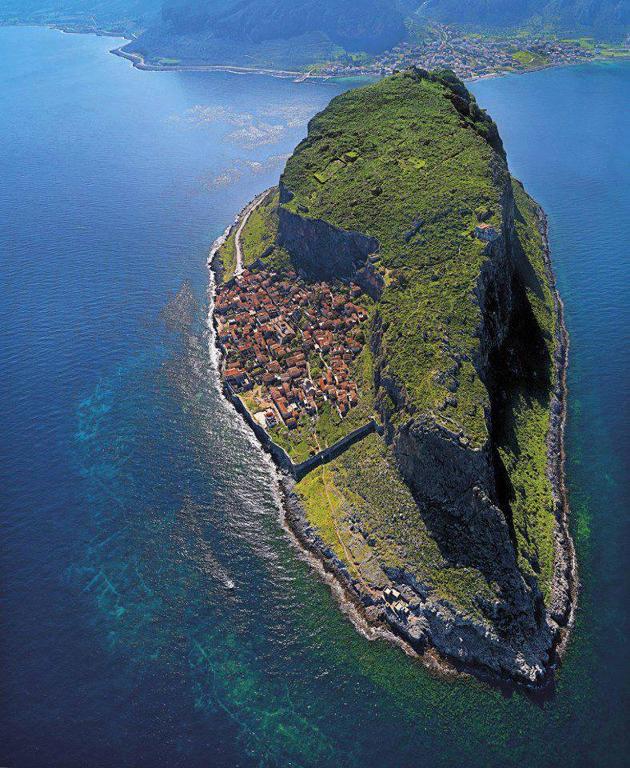 31 km north of Pounta, you will find Monemvasia, a stunning and historic medieval town. Monemvasia is situated on a rocky islet, linked to the mainland by a narrow causeway.
You will love exploring its well-preserved stone architecture, and the winding cobbled streets. And if you manage to climb to the top of the ancient fortress you will be rewarded with impressive Aegean views.
This private Tour to Sandy Beaches of Monemvasia takes you to 3 of the best blue flag, sandy beaches in Monemvasia and Elafonisos. This is a great tour if you have young children as the waters are warm and shallow.
Elafonisos Island FAQ
Where to Stay in Elafonisos
Hotels
Elafonisos does not have a huge amount of hotels and apartments. So, when you find what you like I suggest you book it because the hotels get really fast booked. My picks for the best accommodation in Elafonisos are:
Camping in Elafonisos
There is an organized camping near Simos Beach offering camping and bungalow services. You can choose to camp near the beach, enjoying the unspoiled nature and the beauty of the starry nights.
How to Get to Elafonisos
Elafonisos regionally belongs to mainland Greece, Peloponnese. But how do you get there? There is only one way: you need to take the 10-minute ferry from Pounta, the small port close to Neapolis Laconia, southern Peloponnese (320 km from Athens).
The ferries operate almost every half an hour, all year round. There are ferries that carry only passengers and ferries that carry both passengers and vehicles.
Kythira to Elafonisos
If you are in Kythira and want to hop to Elafonisos, you need to take the ferry from Kythira to Neapolis. From Neapolis' port of Pounta, you take the 10-minute ferry to Elafonisos island.
Book your ferries for Greek islands at Ferryscanner, a reliable Greek company with the best prices in the market.
How Long to Stay in Elafonisos
You can visit as a day trip if you are touring the southern Peloponnese or you can stay a night or two. As there are not many things to do on the island, perhaps a day or two would be more than enough.
When is Best to Visit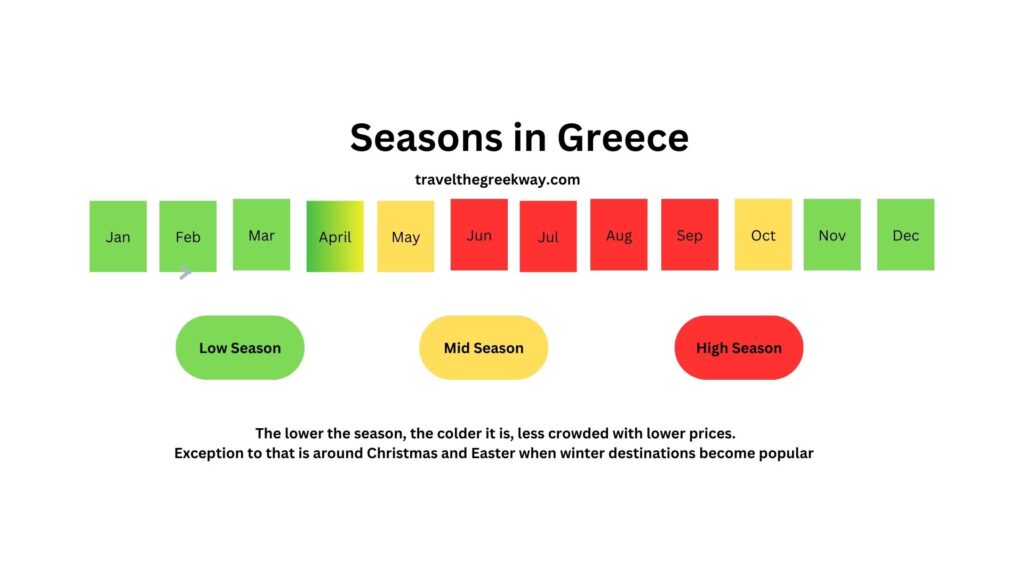 Like many beaches and islands in Greece, Elafonisos and Simos Beach can get very crowded during the peak summer months. If you prefer a more tranquil experience, consider visiting during the shoulder seasons (May, late September, and October) when the weather is still warm to swim.
Are Elafonisos and Elafonissi the Same Thing?
It is indeed very easy to get confused as the name sounds so similar, and no, they are not the same. Elafonissi is a spectacular and famous beach in the southwestern part of Chania in Crete.
What to Wear in Elafonisos?
As you will be, most probably, visiting Elafonisos during the summer, I recommend the following items for your visit:
Survival Tips for Elafonisos
The island is not as expensive as Mykonos or Santorini but is not either a budget destination. Expect a mid-range budget for visiting it
The sea in Elafonisos remains warm until early October
Avoid visiting the sandy beaches when it is very windy
There is 1 gas station, and 2 ATMs
The only pharmacy on the island is located at the port of the main town (+30 2734 061363).
Do not order food from a restaurant that does not provide a menu. They can charge as much as they want for the dishes!
You should be able to pay in restaurants with both a card and cash
Visitors are encouraged to respect the environment and wildlife during their stay.
Conclusion
Elafonisos is a uniquely, beautiful Greek island, a hidden paradise that creates unforgettable memories. The beach and the surrounding area are part of the European Natura 2000, a network of protected natural areas. I hope that you get the chance to visit Elafonisos on your next trip to Greece! Till next time, Evgenia❤️
More Travel Ideas for Greece
All rights reserved © Travel the Greek Way. Republishing this article and/or any of its contents (photographs, text, links) is strictly prohibited.
Essential Travel Info for Greece
'Hello' and 'Thank You' in Greek: "Ya sou" and "Efharisto"
Booking.com: I use Booking.com because I can get the best deals on both hotels and apartments, free cancellations, and great prices!
Find Long-Term Rentals in Greece: You will find the best prices in Flatio
FerryScanner to book ferries to the Greek Islands
Athens Metro Website (timetables and ticket info)
Get Your Guide: For all your day or multi-day tours and city guide needs, I use Get Your Guide
Emergency Numbers Anywhere in Greece: AMBULANCE 166 – FIRE 199 – POLICE 100– EMERGENCY NUMBER 112