This post is about Greek Island hiking, specifically about the best trails in some of the Cycladic islands: Amorgos, Anafi, Andros, Antiparos & Paros, Ios, Mykonos & Delos, and Santorini.
The Greek islands are well-known for their endless sandy and rocky beaches, clear green-blue waters, amazing vistas, friendly locals, and delicious Greek food. But, did you know that Greek island hiking is a fantastic way to experience real Greece and its well-hidden secrets behind every mountain, hill, or valley?
Find in this post, about Greek island hiking information for each island, links to the trails, information on their top sites, and suggestions on where to stay.
*Some of the links below are affiliate links. That means I may make a commission if you click and buy. The commission comes at no additional cost to you.
Greek Island Hiking
Greece Quick Reference
Which Islands Belong to the Cyclades?
The Cyclades Greek islands are an island cluster, including the likes of Mykonos and Santorini, and another 220 islands (approx).
The largest ones are: Amorgos, Anafi, Andros, Antiparos, Delos & Mykonos, Folegandros, Ios, Kea, Kimolos, Kythnos, Milos, Naxos, Paros, Serifos, Sifnos, Sikinos, Syros, Tinos, and Santorini.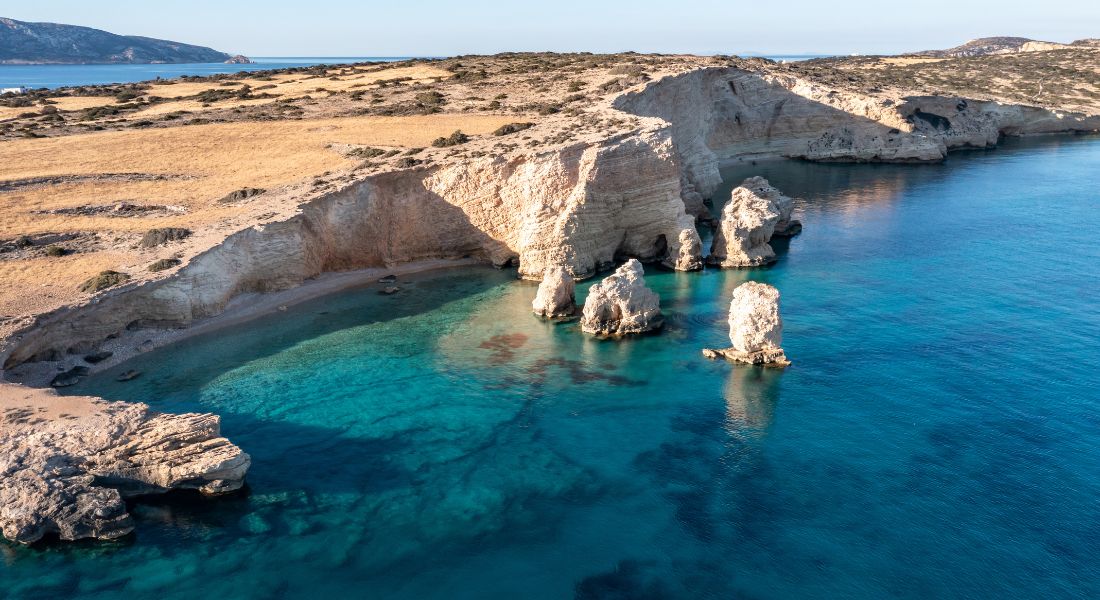 There are also smaller Cycladic islands, an island cluster within a cluster, the so-called "Small Cyclades" favored by the more adventurous-minded hikers. The largest inhabitant of the Small Cyclades islands is Donousa, Koufonisia (Ano and Kato), Schinousa, and Iraklia.
The general morphology of Cyclades Islands (with few exceptions such as Andros) is rocky and barren ground, with low or no vegetation and limited water/springs – you must carry your own, ample, water supply at all times when visiting the Cyclades.
Greek Island Hiking: Where to Go?
All the Greek islands provide excellent hiking choices as they have high mountains with hiking trails crossing them. The same trails often end up on majestic seasides, pass by classic archaeological sites, abandoned medieval towers and churches, deserted villages and so much more. A surprise view in every turn you take!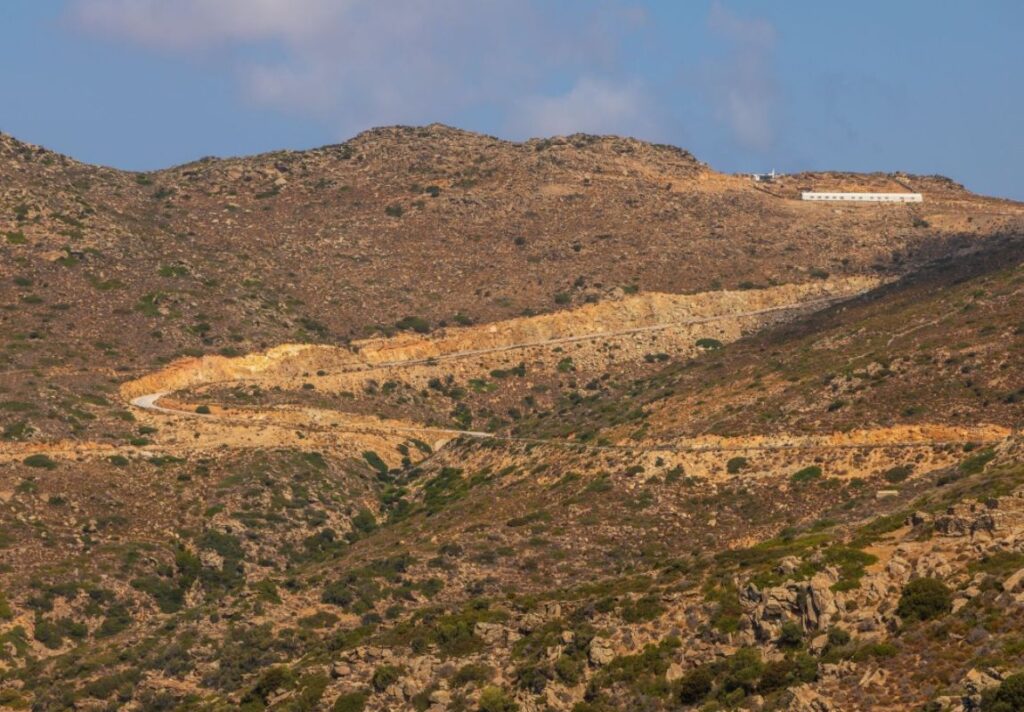 Those trails are the old paths the islanders used to take to go about their businesses, mostly on horses, mules, or donkeys, and to visit neighboring villages. Today, most of the old "donkey" trails, have been cleared out, signposted, and are used mainly by nature lovers and hikers.
Best Greek Islands for Hiking
Amorgos, the Island of Colors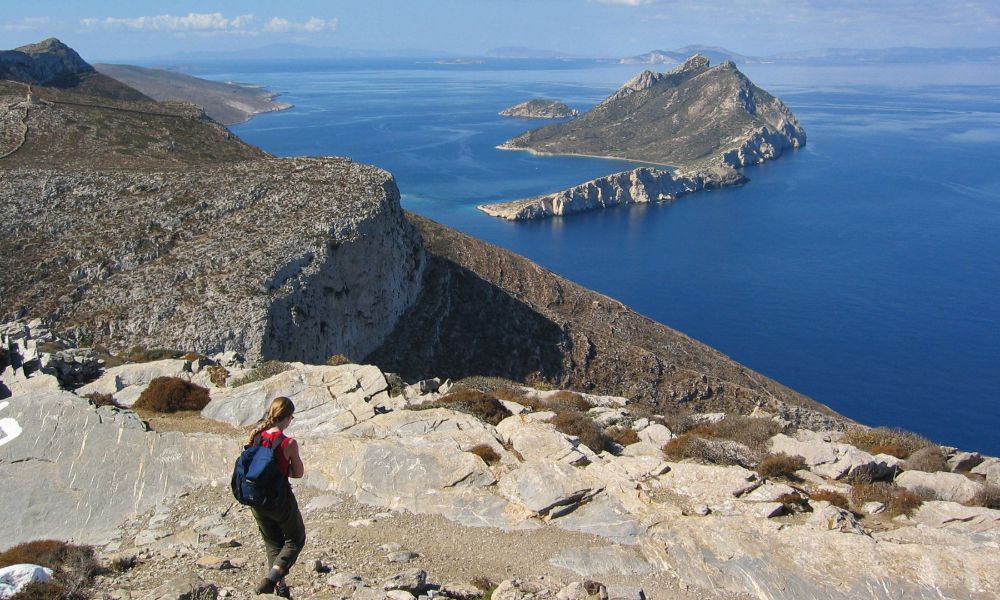 Amorgos is a top Greek Island hiking destination! It is a long and narrow island of the Aegean Sea, famous for its amazing variety of herbs and wild birds, with minimal Cycladic architecture.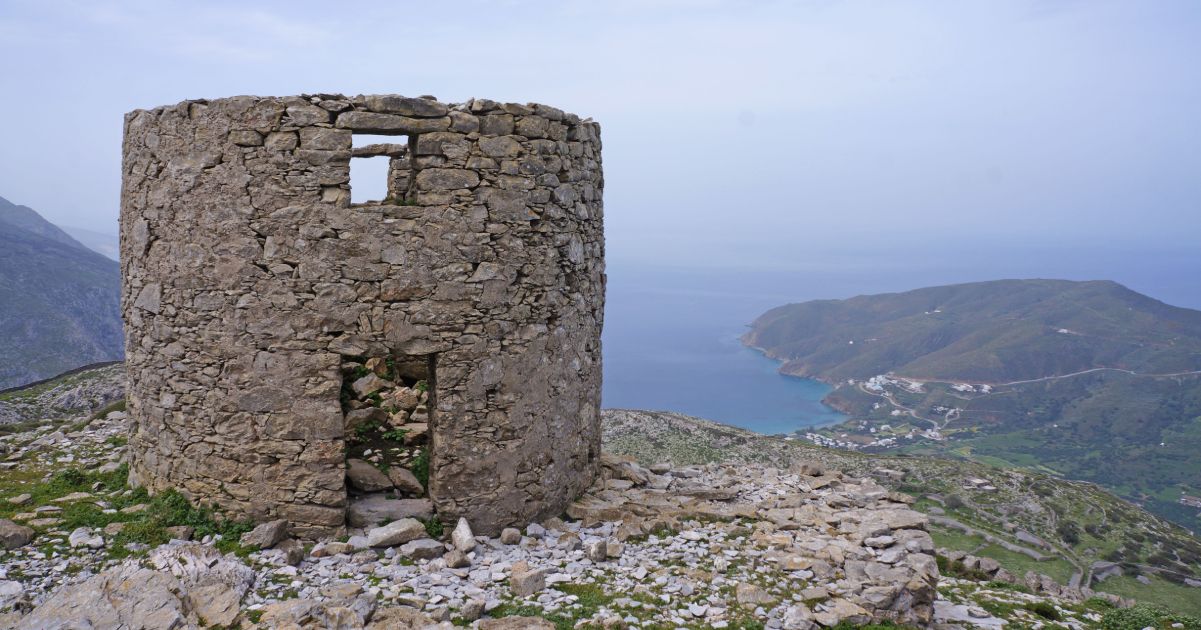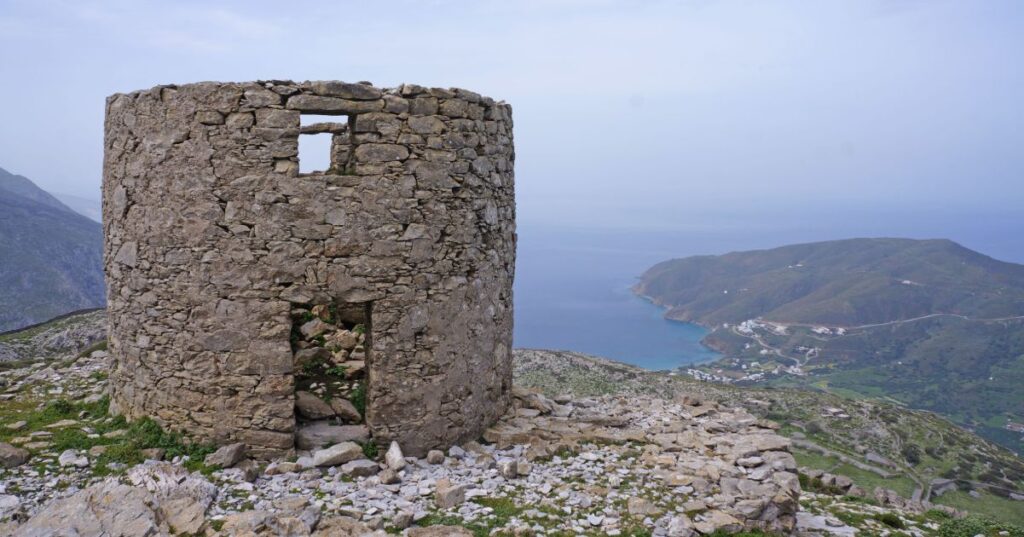 A very beautiful island in all, with high mountains and trails, that crisscross Amorgos, just perfect for hiking. Amorgos is also an island for people who seek privacy, tranquillity, and contact with the wild nature of the Cycladic Islands.
What is hiking in Amorgos like?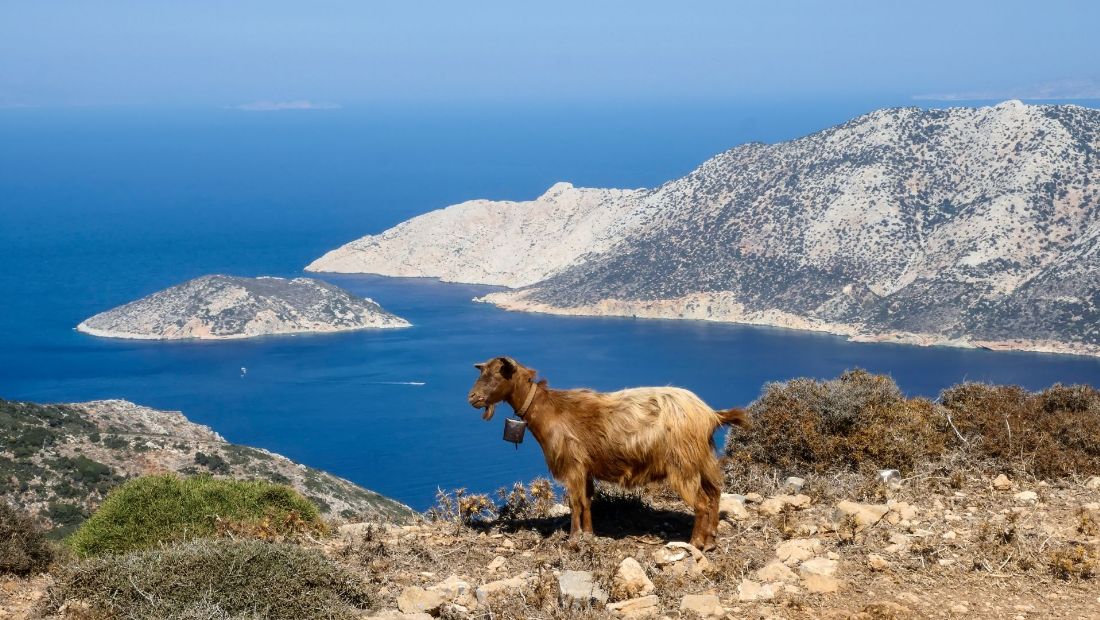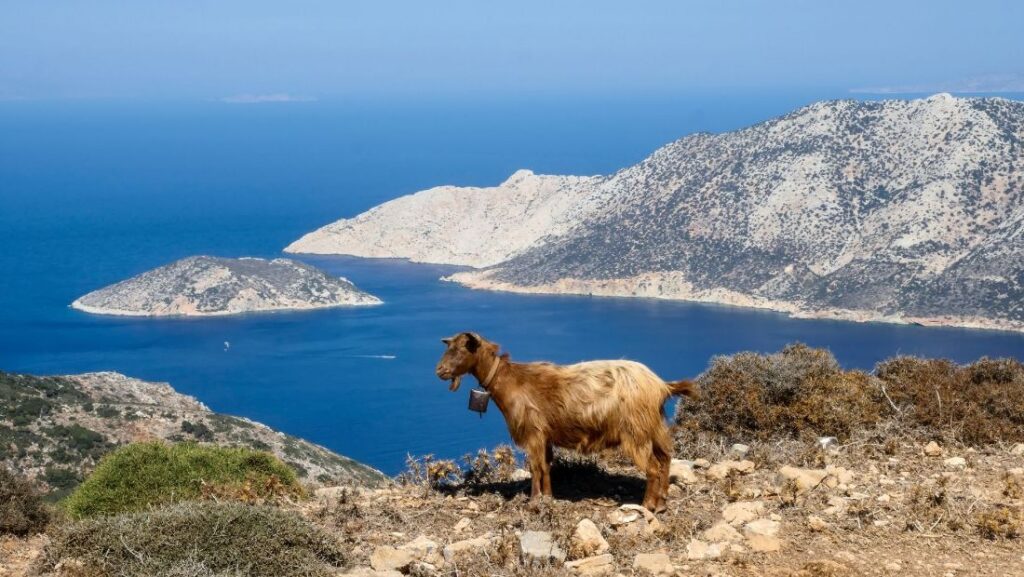 The local guides call the Amorgos trails "Blue Paths" because they all have stunning sea views. There are 7 spectacular hikes (altitude: 300-821 m) for all levels which have been used since antiquity.
The locals still use them to move around the island. Some of them are quite challenging (the peak is Krokellos at 821m) and would require a lot of mountainous hiking experience.
Some trails follow exposed ridgelines where the winds can be so fierce that they can actually blow you off the path. Be careful of the winds and use wisely your walking sticks.
For full details of all 7 trails visit the Official Amorgos Island Website.
What else can I see on Amorgos Island?
5 Archaeological sites, 4 Museums & remains of a Venetian Castle
The hanging on-the-cliffs Monastery of Hozoviotissa (can be visited by hiking – the sunset is awe-inspiring from the spot) and another 10 Byzantine churches and monasteries
All kinds of outdoor activities (scuba, diving, yoga)
22 Beaches (some very secluded ) & 9 villages to visit, explore, and enjoy
Kafe "Naftilia" of Prekas. A traditional family-run cafe in Katapola working since 1944!
Interesting facts about Amorgos, Greece
Luc Besson's movie The Big Blue was filmed here
It is an unspoiled Greek Island – no cruise ships or sushi bars here, no sophisticated tourist facilities
Very close to Kalotaritissa Beach lies the Shipwreck of Amorgos, which allegedly belonged to modern pirates. Sank in 1980
The boat needs 8-9 hours if you take a Blue Star Ferries or about 6 hours with a SeaJet
On Amorgos is produced exquisite thyme honey, and local Psimmeni Raki (an alcoholic drink). Drink wisely and in small doses!
Where to Stay in Amorgos
My pick! Kaerati Apartments: Located on a beautiful hill overlooking Katapola village, with big, new, fully equipped, spotlessly clean rooms and a garden perfect for breakfast, you will have an amazing stay.
Related Post: Best Things to Do on Amorgos Island
Anafi Greece, the Small Volcanic Island
Anafi Greece is one of its one-of-a-kind islands, unspoiled from mass tourism, a gorgeous, wild, and remote island offering absolute peacefulness and connection with nature.
Anafi is also an ideal Greek Island Hiking destination!
It is situated east of Santorini, and its most impressive feature is a gigantic and intimidating rock, Kalamos, only second in size to Gibraltar rock. As it is 460 m high, it is a very popular climbing spot.
The brave ones who climb or hike to Kalamos Rock, have also the pleasure of visiting Panagia Kalamiotissa church, a beautiful whitewashed chapel, built in 1715, right on the top of Kalamos. From there you can enjoy one of the best sunsets in the Mediterranean.
What is hiking in Anafi like?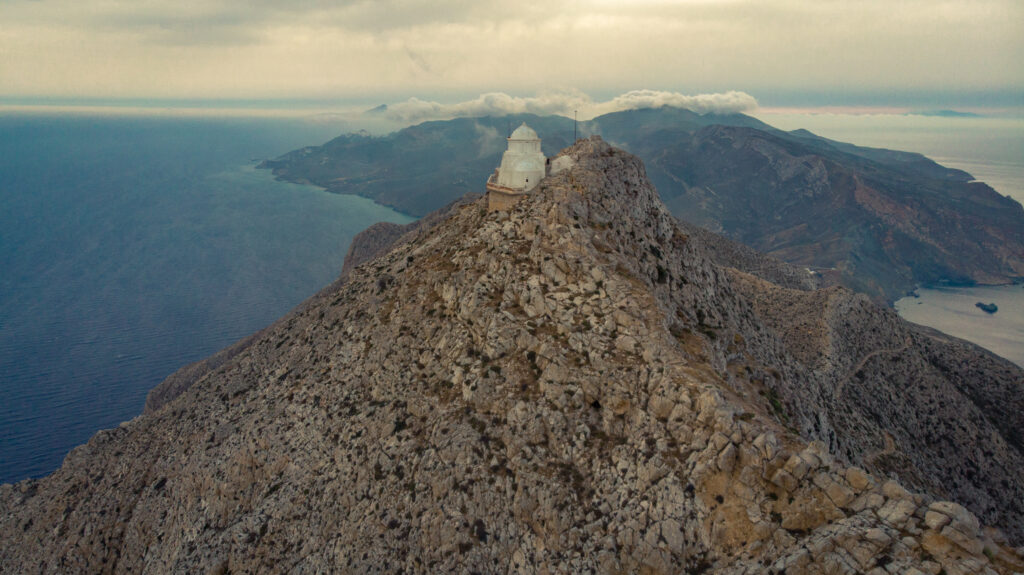 Rocky terrain, volcanic-ash granite, and limestone from the Santorini volcanic eruption paths, steep cliffs, and cove-scalloped morphology. Barren of trees or large plants. The peak is Vigla at 582 m.
There are a few paths to choose from on the 18km trail very old network and well-signposted, but if you had to choose one it could be:
Chora – Ancient Kastelli – Kalamos peninsula all the way to the top of Panagia Kalamiotissa church (around 7 km)
Check here for Hiking Trails of Anafi from Wikiloc
What else can I see on Anafi Island?
Chora (the capital town) is considered to be one of the most beautiful villages in the whole Cyclades
3 Archaeological sites and a museum
Too many beaches to choose from: all with sandy or pebbled, some secluded, crystal clear, emerald, turquoise, and blue water
Interesting facts about Anafi, Greece
Mouth-watering thyme honey, strofilia wine, local cheese
There are 2 ATMs in Agios Nikolaos Port and 1 in Chora
The trip from Piraeus lasts 9-11 hours. Alternatively, go to Santorini at a high speed (4 hours) or fly from Athens and from Santorini take the 2-hour boat connection to Anafi. Once a week there is a ferry leaving from Lavrio in Athens
Anafi used to be an exile island for the Greek communists
The Anafiotika area in Athens Plaka was built by Anafi workers back in the 19th century
Where to Stay in Anafi
My Pick! Maki House is a fantastic property, offering unlimited views of the Aegean Sea, in a beautiful whitewashed Cycladic house.
Related Article: The Complete Guide to Anafi Island
Andros Greece, the Captain Island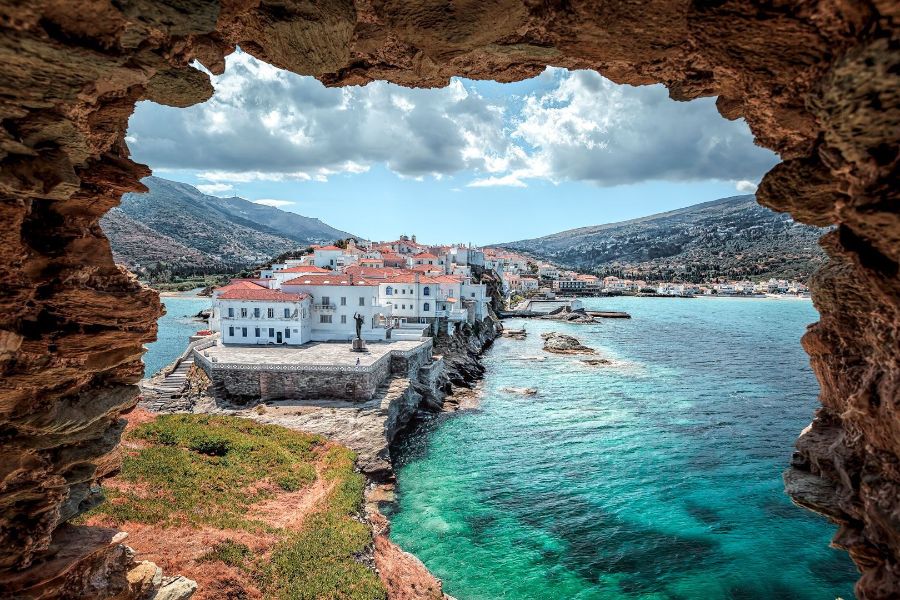 Andros Greece is the second-largest island of the Cyclades, only 2 hours away from Athen's smaller port of Rafina.
Andros is considered the top Greek Island hiking destination. It has a low touristic development, which is surprising considering its proximity to Athens and its beautiful Cycladic characteristics.
It differs from the other barren Cycladic islands as it has a lot of water and consequently a much greener environment. There are 7 mineral water springs on Andros with the most famous in Greece being Sariza, which is bottled and sold in supermarkets.
What is hiking in Andros like?
Generally speaking, there is a high level of a walking culture on Andros island and this is reflected in the well-signposted paths of the island.
There is a well-signed network of over 170 km of waymarked and some of them are cobblestoned paths. 100 km of them are signposted trails that connect the north with the south part of Andros and form the Andros Routes.
Andros has a rich landscape, composed of 4 main mountains, offering magnificent sea views and some challenging uphills, with Kouvaras being the highest at 1,000 m.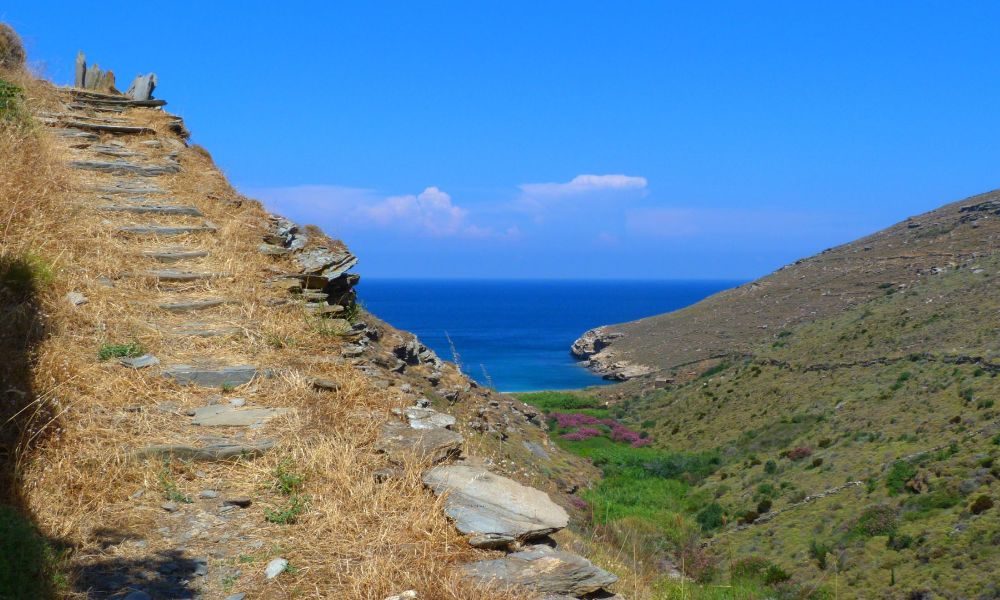 The island also features 4 small rivers that have created fertile valleys with a variety of lovely figs, pines, apples, and plane trees. Gorgeous paths lead to the Cave of Foros, rich in Stalagmite formations cave, the ravines of Pithara, rivers, abandoned towers, secluded picturesque villages, and springs at every turn.
If you had to choose one, then an exciting trail can be the 10 km circuit route from Chora along the Pythara ravine, across a medieval stone bridge to the Pythara waterfalls.
Find detailed info on Andros' trails in the links below:
What else can I see on Andros Island?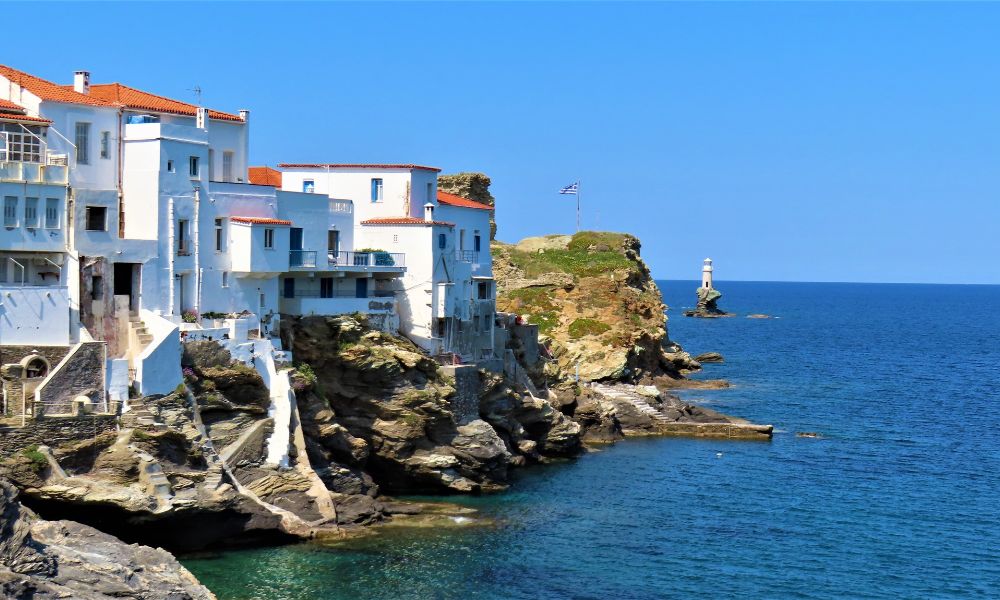 Classy and elegant Chora town, with a mixture of neoclassical buildings and Cycladic whitewashed houses
3 Archaeological Sites, 2 Castles, 4 Monasteries
6 Museums (Archaeological, Folklore, Nautical, wonderful Goulandris Museum of Modern Art)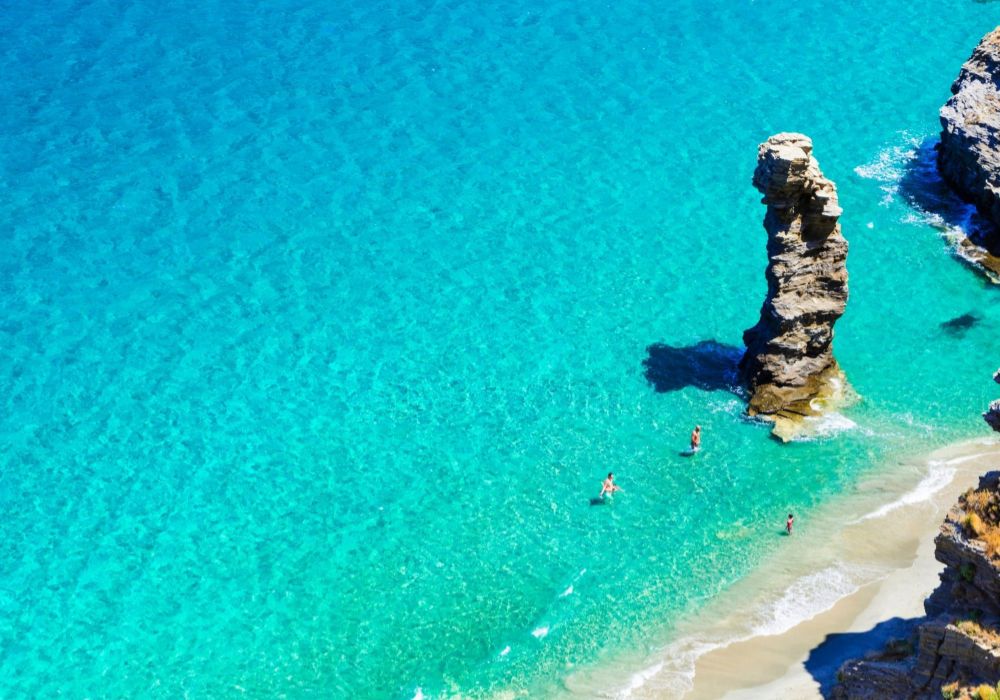 Many soft, golden sand beaches like Chryssi Ammos or Tis Grias to Pidima Beach, where the characteristic rock on one side
Tower of Agios Petros (There is a hiking trail up to the tower)
Tourlitis Lighthouse
Interesting facts about Andros Island, Greece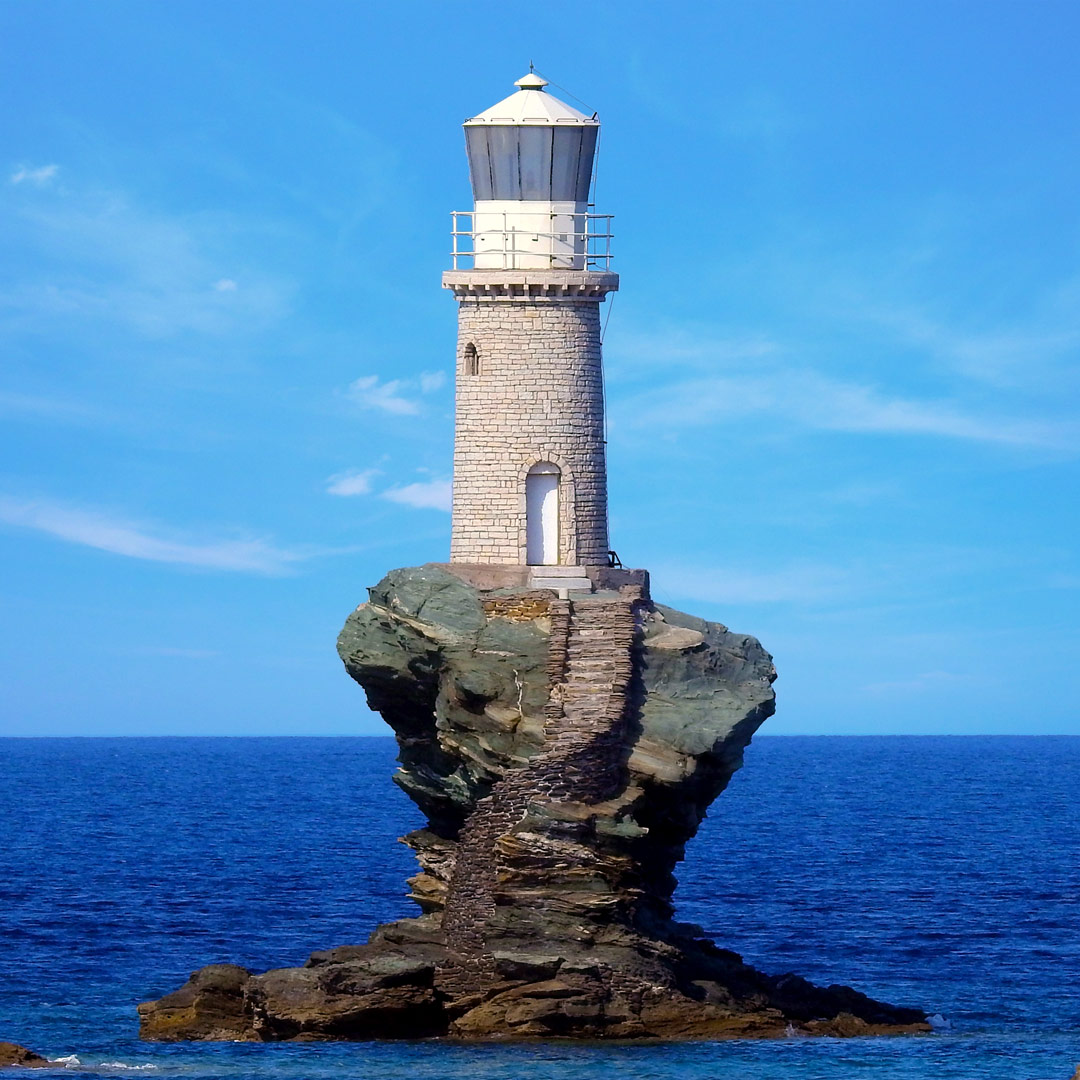 Try Fourtalia, a traditional dish made of potatoes, omelets, and cheese.
Sweet choices: nougatines, local marzipan sweet, Kaltsounia made with honey, walnuts, pin nuts, and patsitsakia, made of roasted almonds.
Andros is connected by boat to many Cycladic islands.
Where to Stay in Andros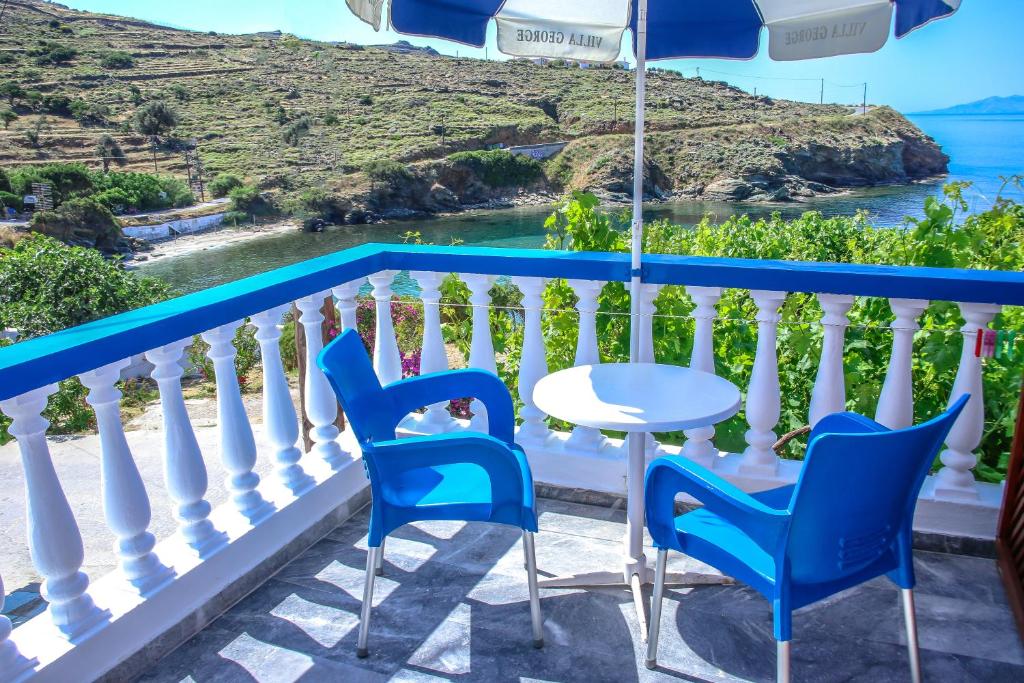 My Pick! Villa George in Batzi Andros is perfectly located in front of the sea with a fantastic beach to swim in, quiet, super clean with friendly and helpful staff. Batsi village is just a 5-minute walk.
Related Article: Amazing Things to Do on Andros Island
Paros & Antiparos, the Sister Islands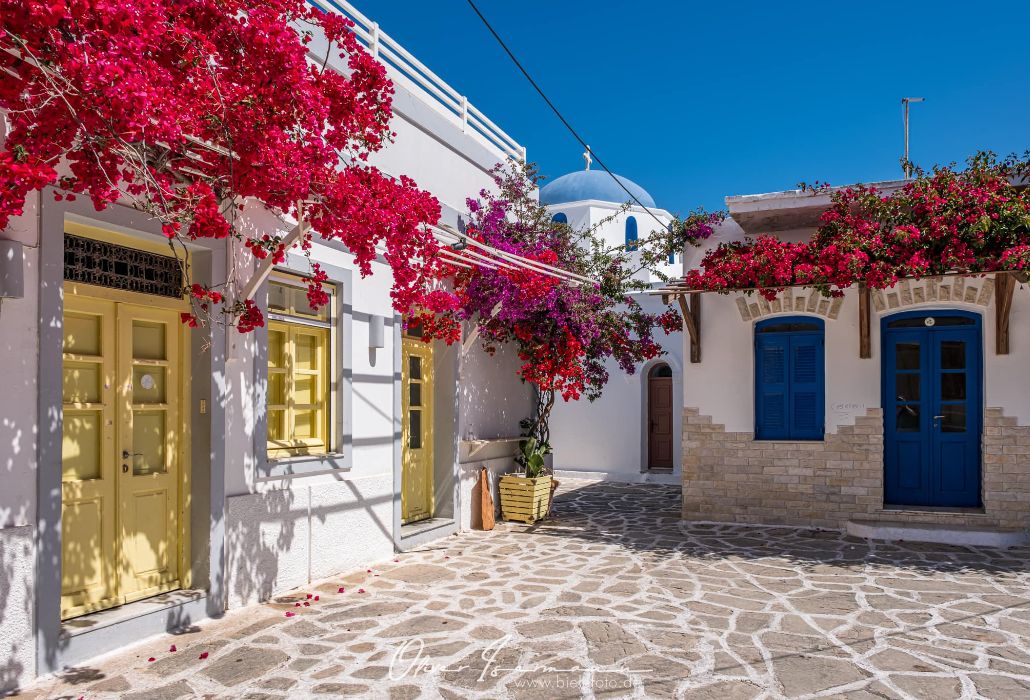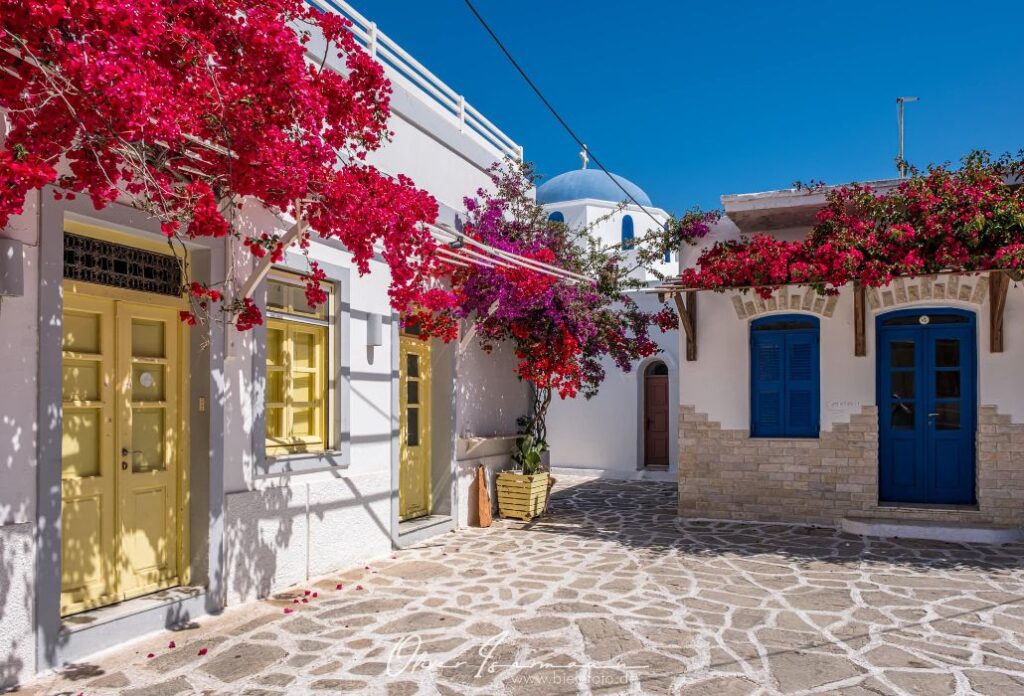 The two islands are very close and there is a ferry boat trip duration is about 7 minutes. It is usual to pop into Antiparos for a day tour if you are already in Paros.
Paros is a very popular vacation island and is famous for its golden-sand beaches and its simple lines as a place. Antiparos is less crowded than Paros and really worth visiting just for its stunning beaches.
Paros was one of the first Cycladic islands I visited back in my early twenties and the only thing I remember doing was staying on the beach all day and clubbing all night. No hiking back then! 😀
What is hiking in Paros – Antiparos like?
Paros Island is formed by a single mountain, Profitis Ilias (724 m peak), which ends up in small hills around the seaside of the island. Paros has a hiking trail network of approximately 35 km, not all of them well-marked.
While hiking in Paros you can come across numerous old houses, olive groves, windmills, watermills, cisterns, and pigeon houses. The island has no forests but mostly low trees and bushes.
Find here Paros & Antiparos Hikes with details and photos of the trails.
What else is there to do on Paros Island?
Byzantine Monastery of Ekatontapyliani, a 4th Century Byzantine Masterpiece
Naoussa, Lefkes, and Parikia most picturesque towns
The (very) popular beaches: Kolymbithres, Golden Beach, New Golden Beach, and Santa Maria
The Ancient Quarries, Cave of Nymphs & Aghios Minas Monastery
Archaeological, Byzantine, Folklore & Wine Museums
Sanctuary of Asklepios, Mycenaean Acropolis, Ancient Cemetery
Interesting facts about Paros Island, Greece
Paros is a favored windsurfing location
It is surrounded by a few islets biggest being its sister-island Antiparos
There is the Valley of Butterflies or Petaloudes, where Tiger Moth butterflies gather in large numbers in June
It is a very fertile island producing world-famous excellent wine with varieties like Mavrotragano, Mandilaria, Savvatiano
Where to Stay in Paros
Villa Kelly Rooms & Suites: Built in a traditional Cycladic style and featuring a swimming pool, Villa Kelly Rooms & Suites is just a 7-minute walk center of Naousa and 700 m from Aghii Anargyri Beach.
Ios, the Party Island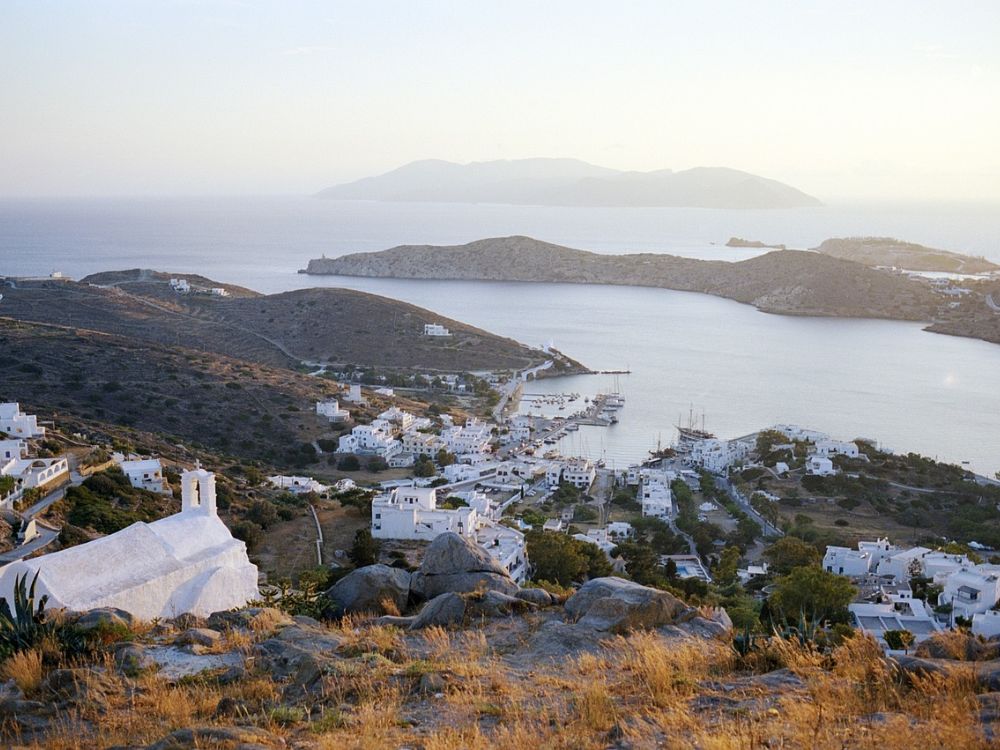 Ios Greece is a medium-sized island, located between Naxos and Santorini.
Although the busy nightlife in Chora and on the beach of Mylopotas has given Ios the "youth island" reputation, it is a very beautiful Cycladic island worth visiting and exploring.
What is hiking in Ios Greece like?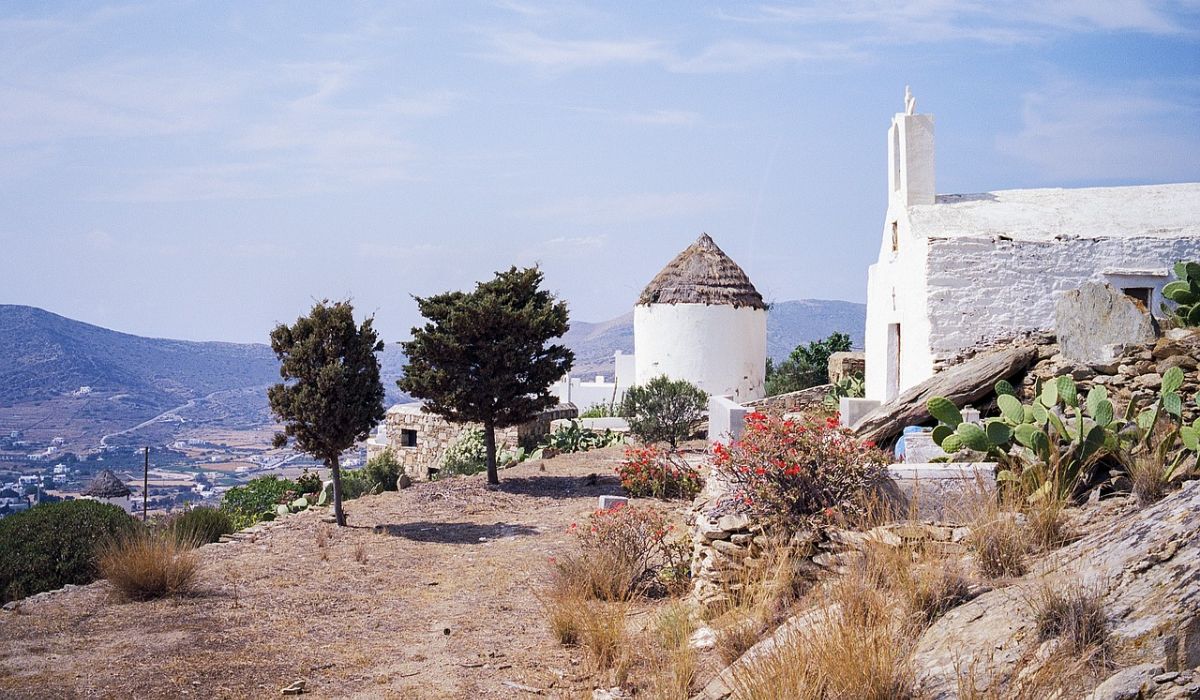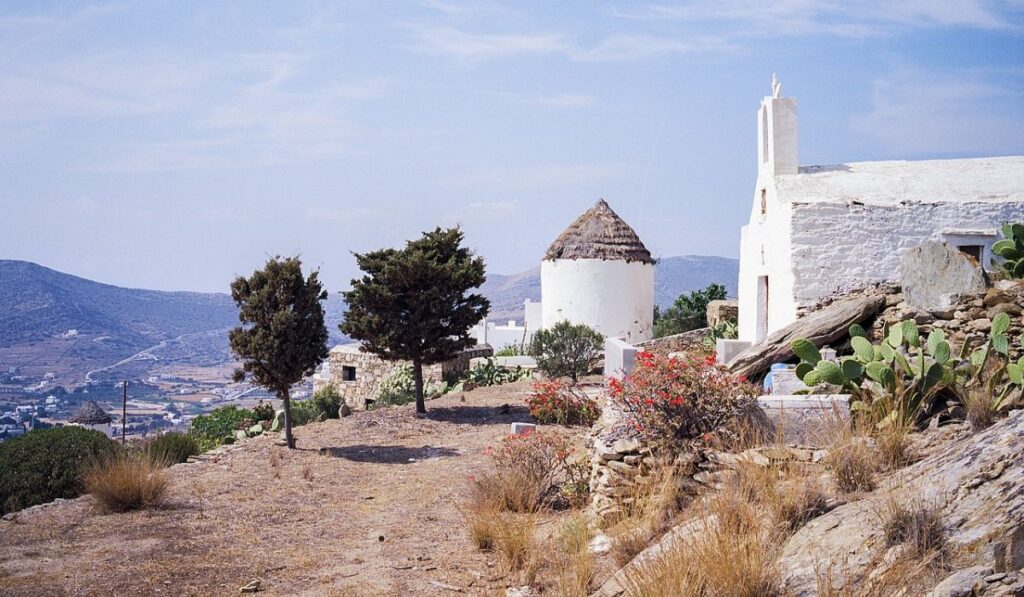 Ios Island Terrain: rocky, barren landscape with most hikes being demanding and requiring experience on similar ground. Its highest mountain peak is Pyrgos (704m) with Profitis Ilias at 514m and Vouni at 409m. There are 9 marked trails crossing most of this Ios island.
Interesting facts about Ios Island, Greece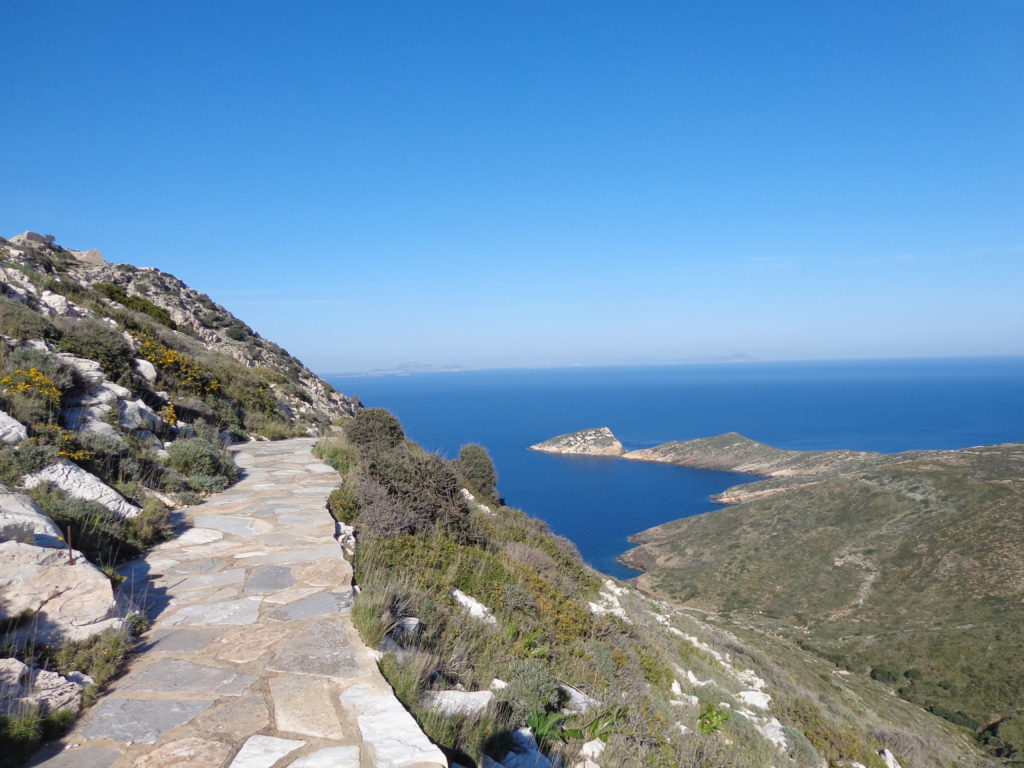 Chora's architecture is dominated by Classic Cycladic whitewashed houses with thick walls, made of stone in order to protect from heat and cold
35 km of sandy beaches
Must try its local cheeses, like Xino, Skotyri, Myzithra, and the Mizithropites (Mizithra pies) and the watermelon pies, yummy!
What else is there on Ios Island?
Tiny Archaeological Museum: mainly exhibits from the Bronze Age
The Prehistoric Settlement of Skarkos
Tomb of Homer (allegedly)
365 churches, including the Ios landmark church of Virgin Mary Gremiotissa
12 windmills, remains of a Venetian castle, and numerous bars!
Where to stay in Ios
Liostasi Hotel is located in a beautiful area overlooking the protected bay of Ios Chora, with an excellent breakfast and a swimming pool.
Related Article: Best Things to Do on Ios Island
Mykonos and Delos, the Famous and the Sacred
Mykonos island lacks the ancient donkey paths the other islands have, it is a quite flat Greek island, and most of it is touristically developed, so that leaves you with very few hiking options.
What is hiking on Mykonos Island like?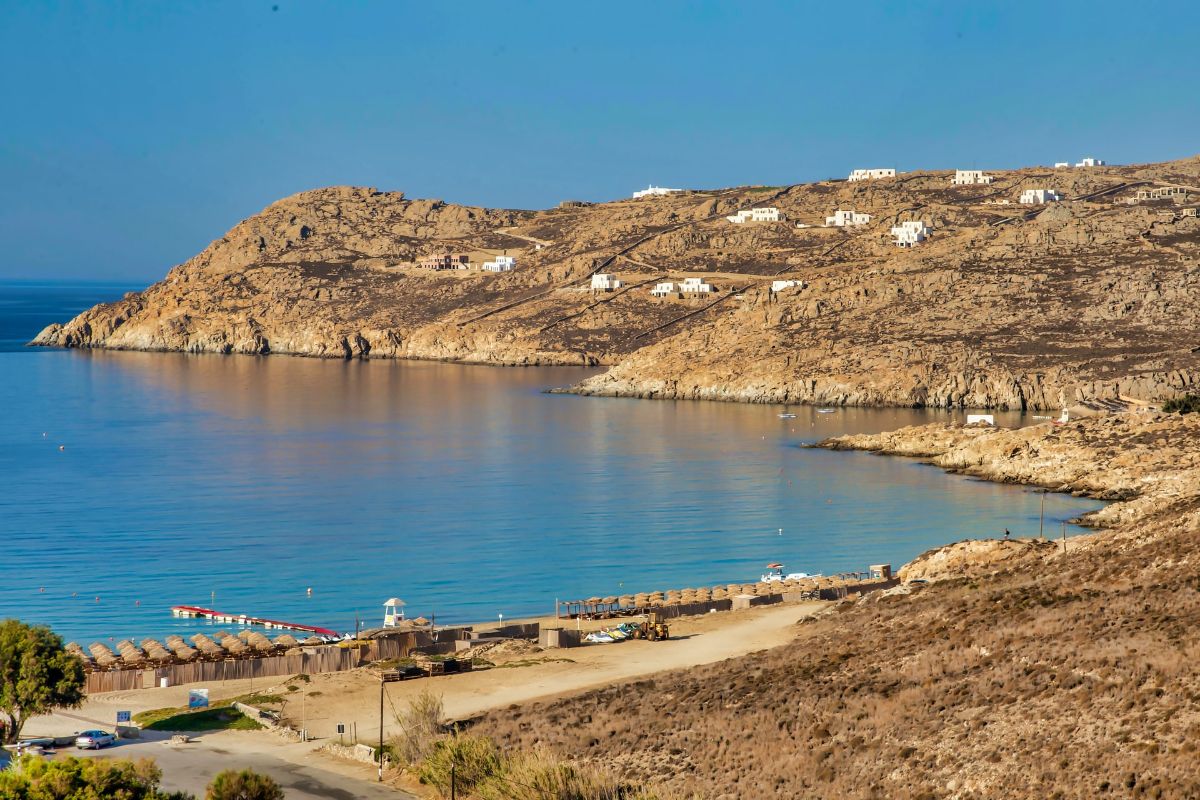 The island's highest summit is the Profitis Ilias hill at 372m, it features no rivers, but numerous seasonal streams.
The terrain is very rocky with many areas eroded by the strong winds. There are some places in the inner part of Mykonos that may have some walking interest.
Interesting facts about Mykonos
Mykonos was a flourishing center during the Cycladic (2000 – 1600 B.C.) and the Mycenean (1400 – 1200 B.C.) civilization
It is centrally located among the Cyclades and that makes it a good base for island-hopping
Jacqueline Kennedy visited Mykonos in 1961 which kick-started the Mykonos boom. For the last few decades, Mykonos has been the must-visit island if you are a Jet Set member
The best time to visit Mykonos is in May when all the places are covered in colorful wildflowers and September when all the mass tourism is gone and you are left with a still very warm sea but in a much quieter environment
It is an expensive island
What else is there on Mykonos?
Mykonos Chora boasts one of the most picturesque harbors of the Cyclades and the labyrinth of alleys offers stunning views of the sea or hidden authentic Cycladic architecture.
Beautiful but super-busy sandy beaches. Bustling nightlife.
3 Pelicans, Irene, Petros & Nicolas, Mykonos official mascot since 1958
Church Panagia Paraportiani, built in the 1500s, is a great place to view the sunset
The 7 windmills in Chora which you can admire while having lunch at the "little Venice" seaside
Archaeological, Nautical, and Folklore Museums
Kafenio of Bakogias: one of the most (and one of the last) authentic places to have a really traditional meal in Mykonos since 1970, a small family place. Find it in the Gialos area
Delos Island
Delos (or Dilos) island, a UNESCO-listed World Heritage Site, is the birthplace of the twins Apollo and Artemis gods and houses a large sanctuary that was built to honor them. Delos is the most important archaeological center of the Cycladic islands.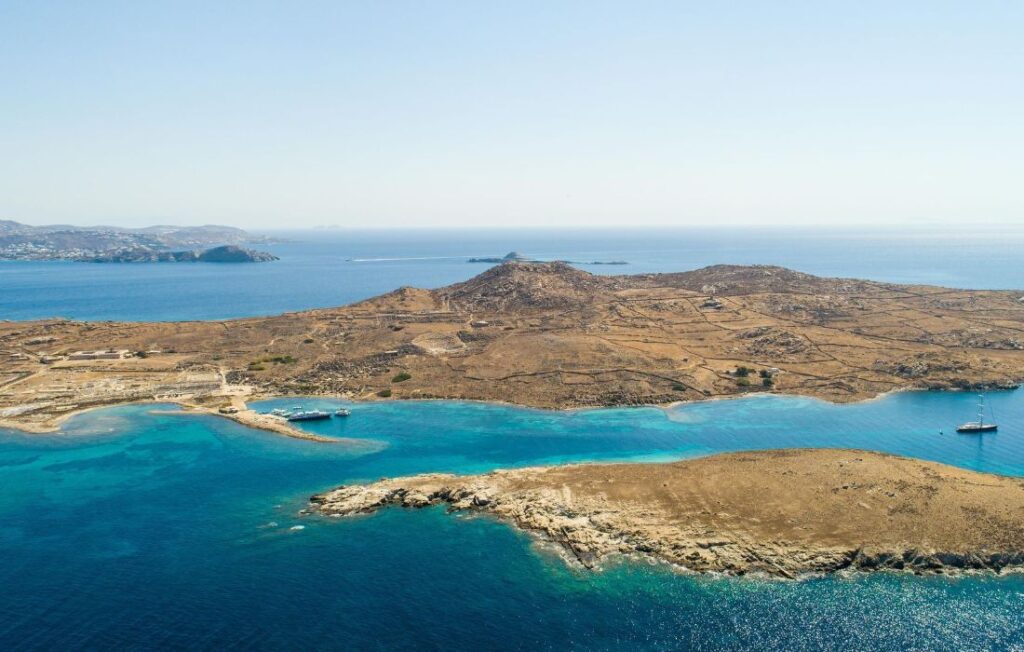 Delos' highest hill is Kythnos at 112m, south of the archaeological site which offers a hiking opportunity and a sweeping panoramic view of the islands around. On top, you can rest on the broken stones of the foundations of Zeus Sanctuary.
This is an interesting, yet short hike as the lower slopes of the hill are covered in ancient ruins. You can go uphill by using the stone stairs past the Temple of Isis.
Delos is open between April 1st and November 30th. The boats leave early in the morning at 9 or 10 am and the trip lasts 30 minutes.
Where to stay in Mykonos
You may also enjoy: What to Do on Mykonos (besides beach partying!)
Santorini, the Super-Star Island
You can read essential tips on Santorini Greek island, a 3-day itinerary, and the Caldera – Oia trail which is very impressive in my post here: The Best Things to do in Santorini.
Hiking Dangers in Greece
I have collected information from my own experience and from American friends who have hiked extensively on Greek islands and I have compiled a useful list for you:
Read here how to Hike Safely in Greece
What is the best time to hike the Cyclades Islands?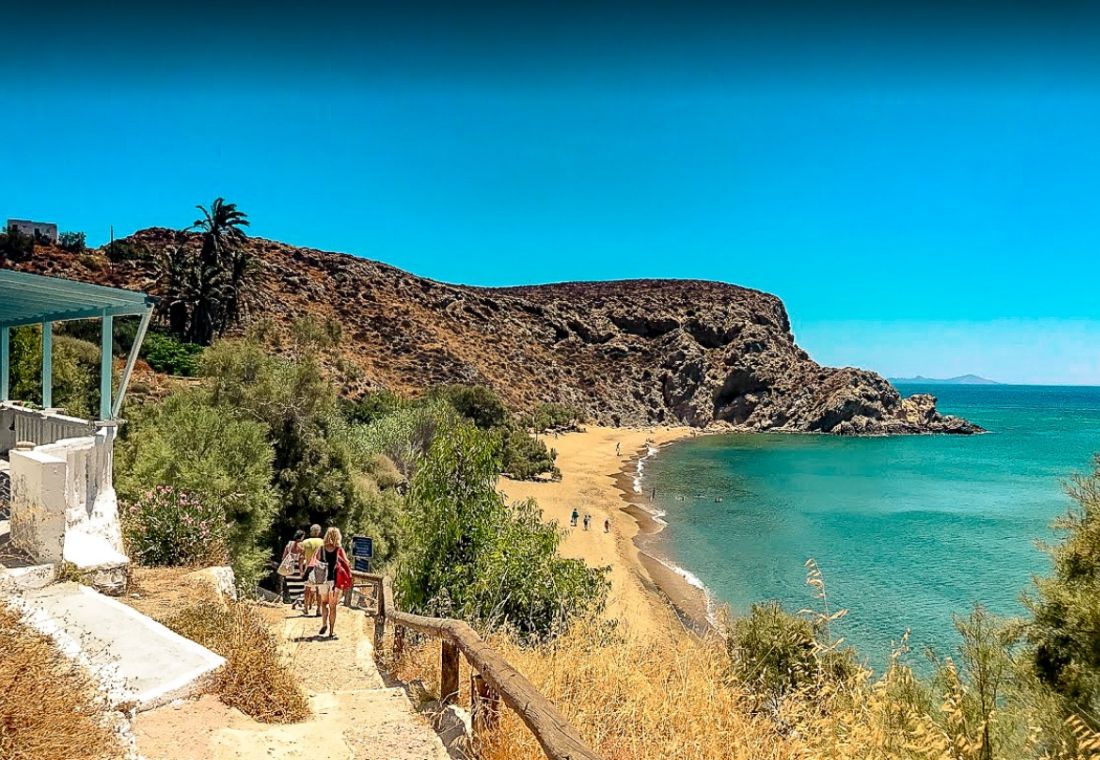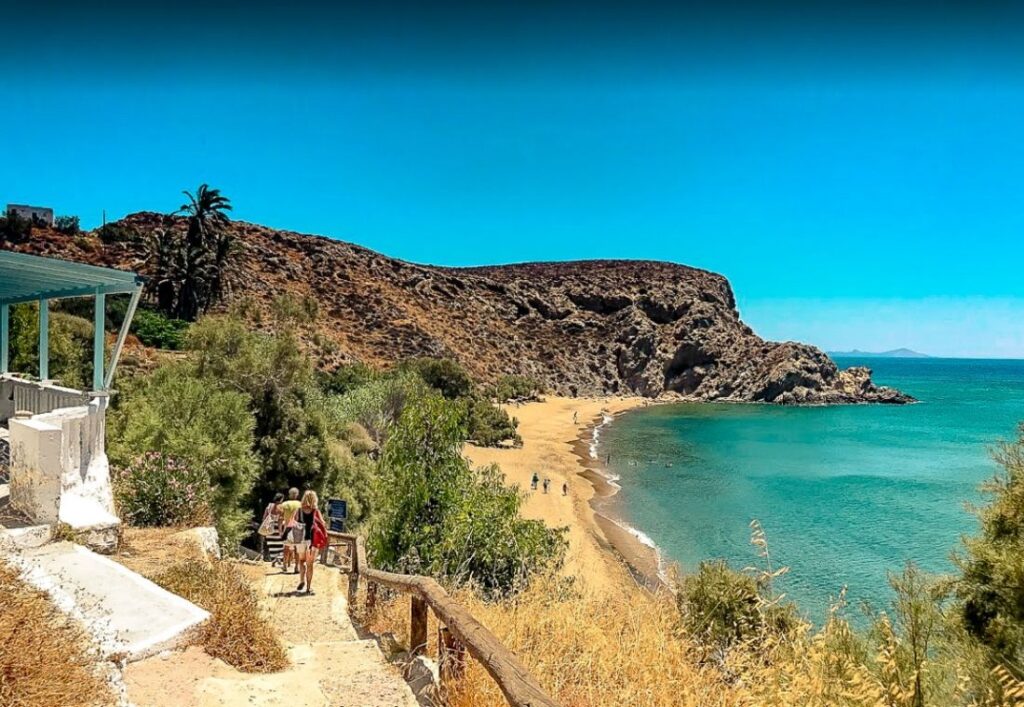 All year round is great to hike in the Cyclades.
However, during the winter it can get too windy so you risk falling off the ridges while in summer it is too hot to hike, and risk getting heatstroke. If you really would like to hike in the summer, you should start off at the earliest possible.
My favorite months to hike in Greece are October, November, March, and April (everything has blossomed).
This Greek island hiking guide acts as a useful guide to choosing the Greek islands for hiking that suit you best.
Where to Stay in Athens
Looking for the best hotels and apartments near old Athens Plaka and Acropolis Parthenon? Find in my complete list below the best accommodation in Athens for a really unique travel experience!
How to Get to Athens Port (Piraeus) from Athens Airport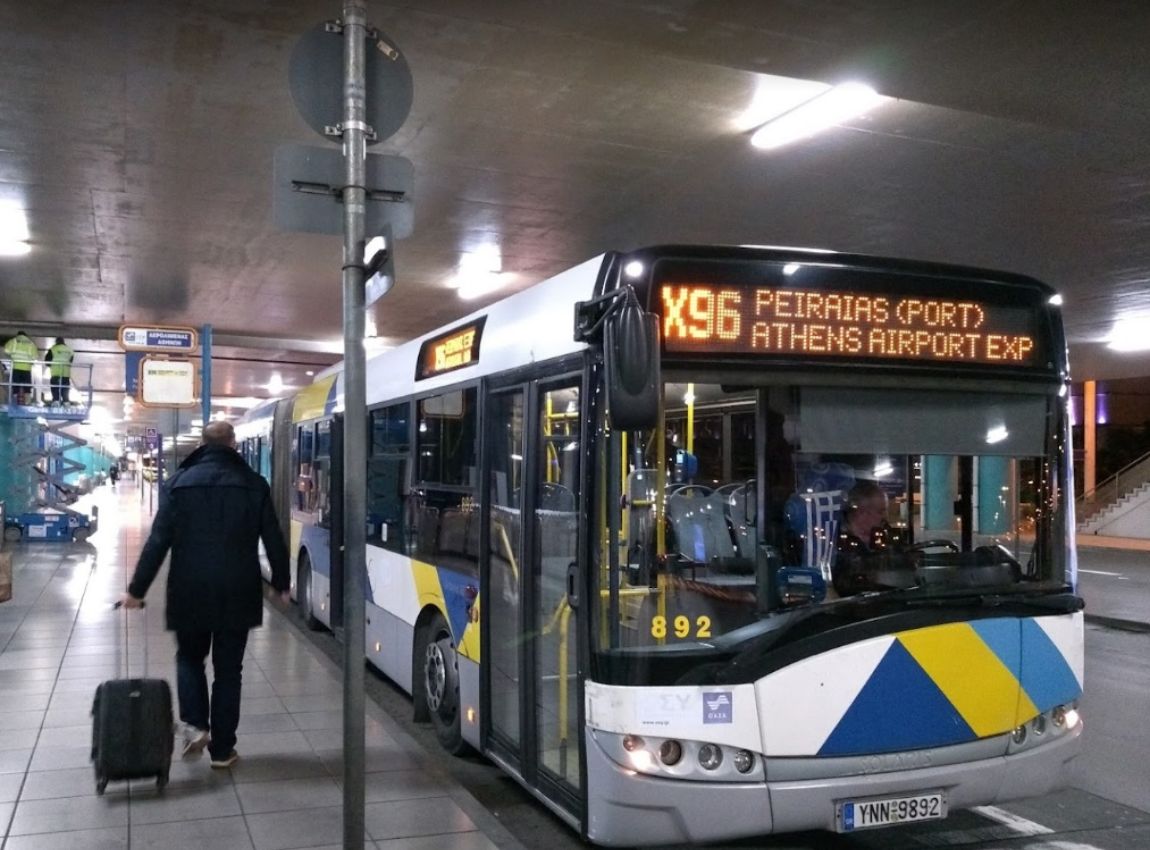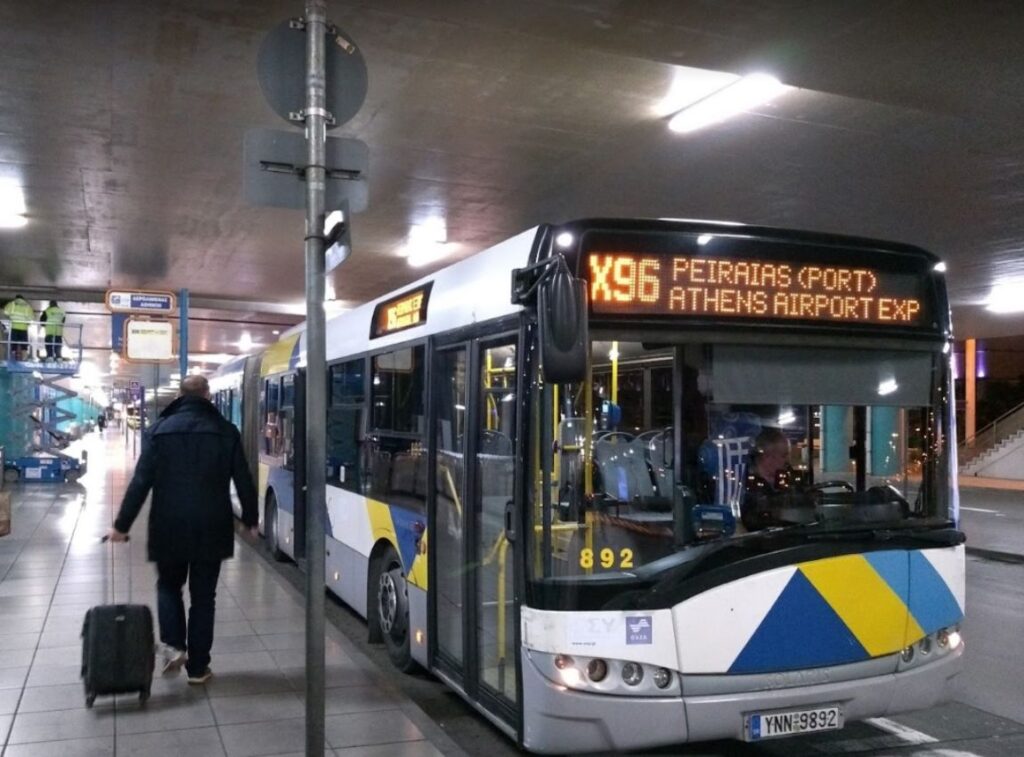 Bus: If you are arriving at Athens International Airport you can travel straight to the port by taking the X96 express bus (€5.5, children <6 yo, free entrance), which departs every 40 minutes and the average trip lasts 1 hour – runs 24/7.
Metro: (€9) is easily found across airport arrivals (blue line – M3) going directly to Piraeus port. The average trip to Piraeus lasts 1 hour.
Taxis are available in front of the airport (around €40 to Athens, €55-60 to Piraeus (depending on the traffic in Kifisos), and take up to 3 or 4 people with small luggage)
Rent a car with Discover Cars to rent reliable new cars at affordable prices
You don't like driving but love hassle-free solutions? Book a Private transfer with an English-speaking driver from Athens International Airport to Piraeus Ferries, or anywhere else in Greece
Check out an entire post on Lavrio Port in Athens
Where is your dream hiking destination? Would you go to a Greek Island?
I'd love to hear about where you're spending your vacation this year, especially if you have any exciting travel plans! There are so many things to do on Greek islands. I hope that you get the chance to visit as many as possible. Till next time, Evgenia❤️
Essential Travel Resources for Greece
'Hello' and 'Thank You' in Greek: "Ya sou" and "Efharisto"
Booking.com: I use Booking.com because I can get the best deals on both hotels and apartments, free cancellations, and great prices!
Find Long-Term Rentals in Greece: You will find the best prices in Flatio
FerryScanner to book ferries to the Greek Islands
Athens Metro Website (timetables and ticket info)
Get Your Guide: For all your day or multi-day tours and city guide needs, I use Get Your Guide
Emergency Numbers Anywhere in Greece: AMBULANCE 166 – FIRE 199 – POLICE 100– EMERGENCY NUMBER 112
All rights reserved © Travel the Greek Way. Republishing this article and/or any of its contents (photographs, text, links) is strictly prohibited.
Please follow and like us: