Kythira Greece is located between Peloponnese and Crete in Greece where the Aegean, the Ionian, and the Cretan seas meet. Kythira belongs to the Ionian island group, far from any known islands either in the Cyclades, the Argosaronic islands, or the Ionian ones.
Kythira Greece is an ideal island for people who seek quality and peaceful vacations. It is a mountainous Greek island with canyons, some of them with plenty of water, green, and even waterfalls in the beautiful Mylopotamos area.
The island has 90 km of splendid beaches to choose from, sandy, rocky, pebbled, busy, family-oriented, remote, and nudist, there is one for every taste!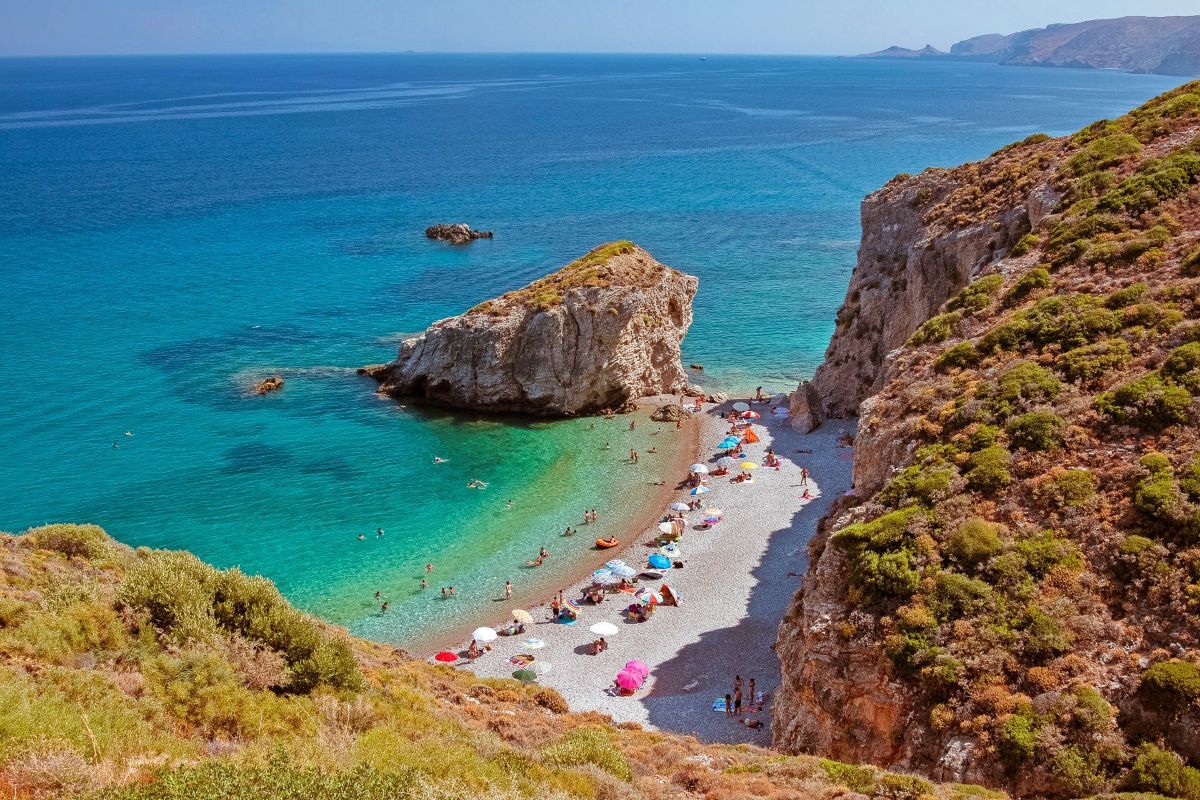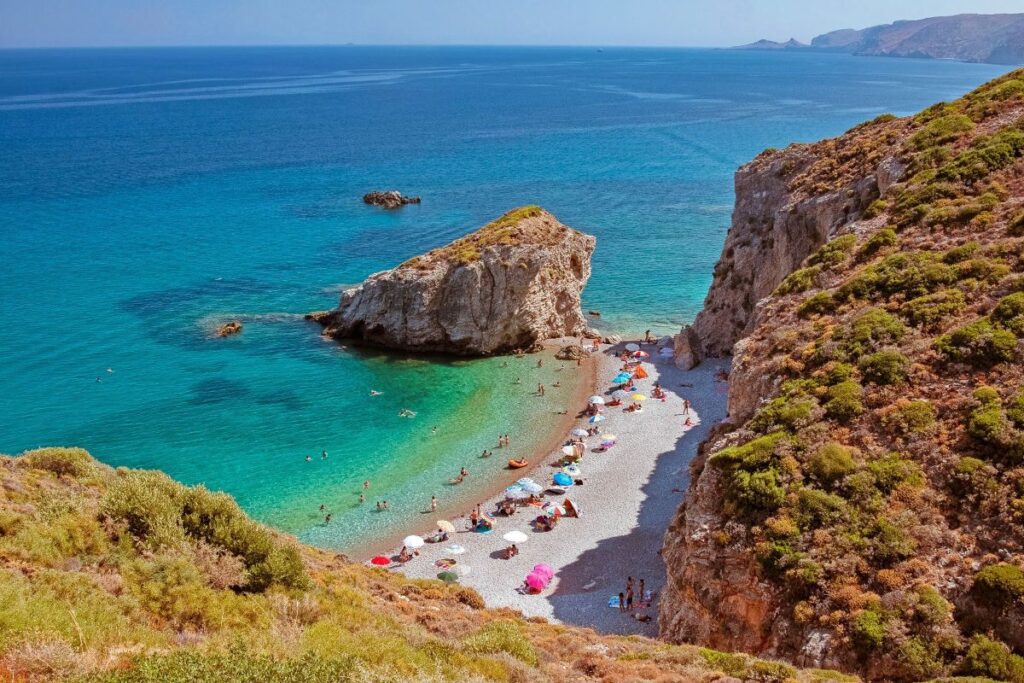 Kythira Greece is fortunate to have tons of history, chapels, castles, ancient sites, and landmarks to explore if you love cultural sightseeing.
This guide to Kythira Greece includes information about:
Tips for visiting Kythira: when to go, how long to stay, what to wear
How to reach Kythira Greece: by air, by boat, or by car
Where to stay in Kythira: I recommend a hotel and an apartment for efficient traveling
An Interactive Google Kythira Map
Best Things to Do on Kythira Island: my favorite villages, the best beaches, hiking trails, and other sites I highly recommend you try for yourself!
*Some of the links below are affiliate links. That means I may make a commission if you click and buy. The commission comes at no additional cost to you.
Athens Quick Reference
Where to stay in Athens with stunning Acropolis view: Niche Hotel or The Foundry Suites
Book your ferry tickets with no-hidden-fees at FerryScanner

or FerryHopper
Rent a car with Discover Cars for reliable new cars at affordable prices
Where to Stay in Kythira Greece
There are few hotels on the island, and mostly you will find beautifully restored old village houses. Athena Kythera (Self-catering) has very friendly owners, the property has a beautiful sea view of the sandy beach of Diakofti, a place to relax and feel at home.
Maryianni Apartments (Self-catering), is located on Avlemonas, probably the most romantic beach on Kythira island, with a private balcony overlooking the Venetian castle and the sea, or the charming garden.
Top Things to Do on Kythira Island
Explore the villages around Kythira
Diakofti Port
Diakofti is a tiny village surrounded by beaches with perfect white sand and crystal blue waters and is also Kythira's main port. Located 31 km from Chora, it is fully organized to welcome travelers to its traditional houses and taverns with fresh fish. Right across lies the remains of the Russian ship wreckage!
Kapsali Bay
Kapsali Bay is a Blue Flag beach on the south part of Kythira, comprised of twin wonderful bays that form the shape of the Greek letter Omega (ω). Kapsali can get busy in the full season as it is a very popular resort.
Don't miss visiting Saint John off the Cliff whitewashed church in Kapsali.
Avlemonas
Avlemonas Bay is probably the most beautiful seaside village in Kythira and a very romantic place to visit. In the most appealing natural environment of Avlemonas, you can have the freshest fish while very close lies the soft sandy beach of Palaiopolis.
Agia Pelagia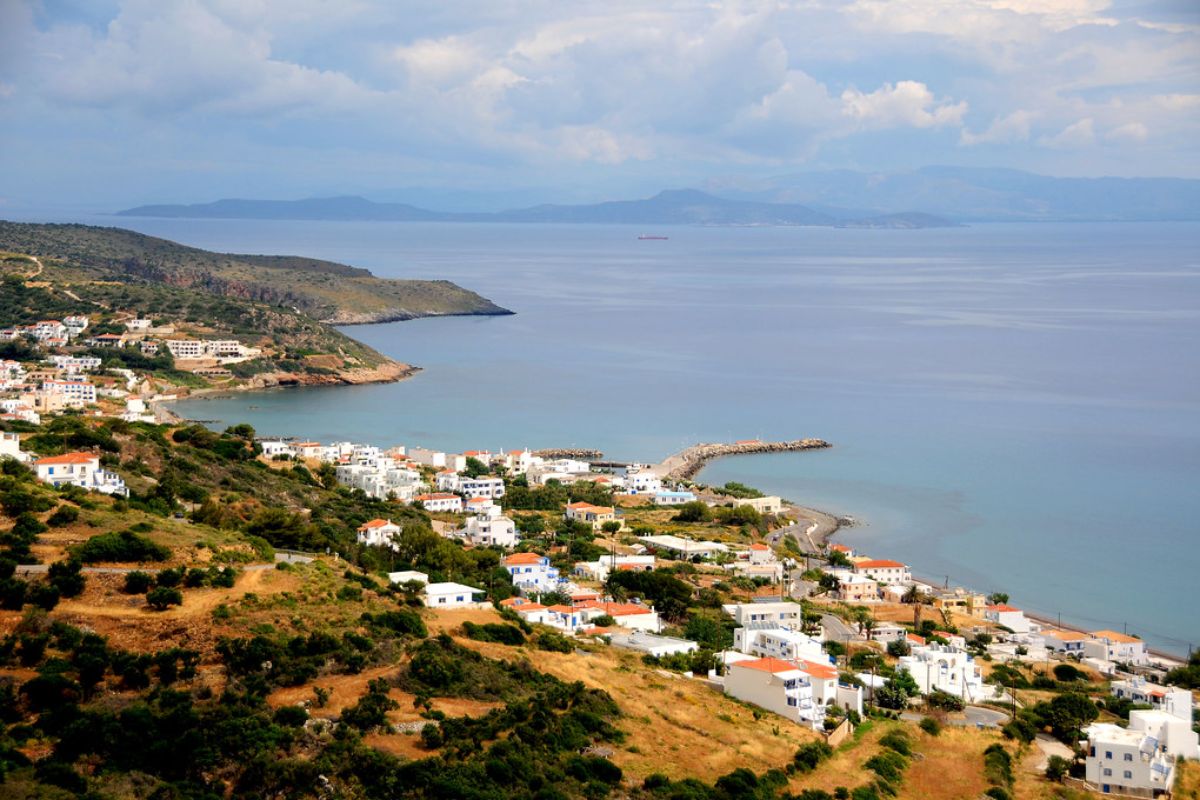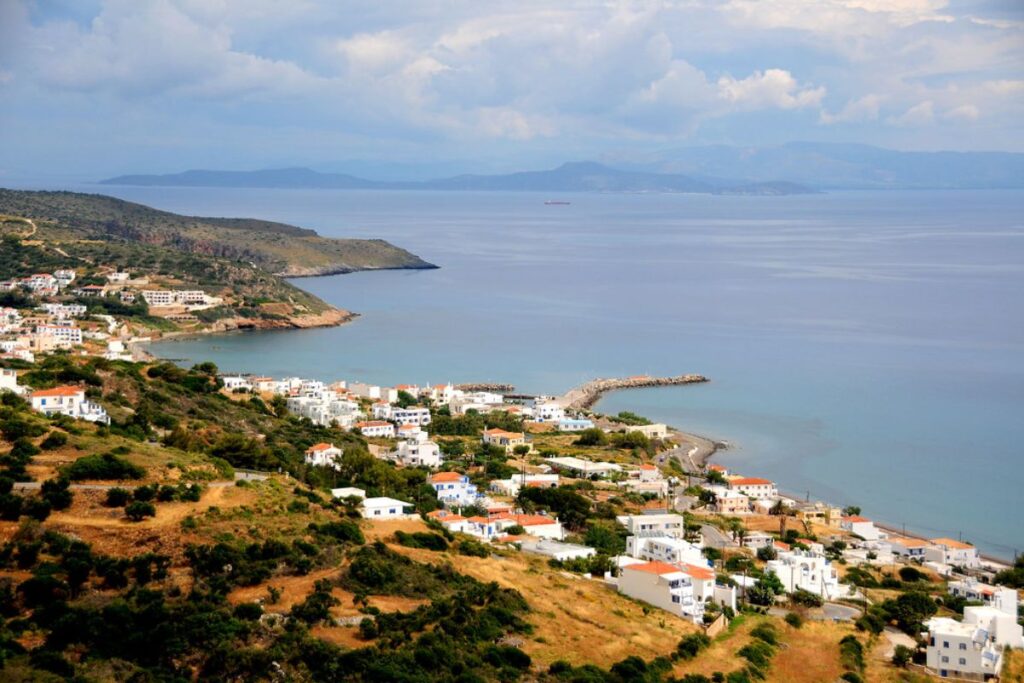 Agia Pelagia village is built amphitheatrically on a low hill overlooking Peloponnese. It has a long sandy beach and is probably the most touristically advanced area in Kythira.
Along its waters, you will find an organized beach with sunbeds and umbrellas, and many cafes, restaurants, and hotels. It is about 26 km far from Kythira Chora.
Fantastic hotel in Agia Pelagia:
Romantica Hotel Apartments. You are going to love the fantastic combination of modern and island characters in all of these exceptionally decorated rooms. I personally love the breakfast room hotel, bright and artistic. Check it out for prices and availability on Booking. com
Swim in Kythira Greece Best Beaches
I have listed below some of the 30 beautiful beaches of Kythira to explore:
Agios Nicholas: Pebbled, secluded, not organized
Chalkos: Pebbled, secluded
Firi Ammos (near Kalamos) – red sand, organized, 1 canteen, difficulty in parking
Kaladi: Probably the most beautiful beach on Kythira. To get to the beach you need to walk down a 124-step steep stone staircase (but it is totally worth it!) Kaladi is omega-shaped with two small bays, turquoise water, pebbles, and sand in some places. Pebbled, nudism friendly, not organized (no Kanteen, no water, nothing). Access is from the village of Fratsia if you are coming from the north, and from Livadi from the south.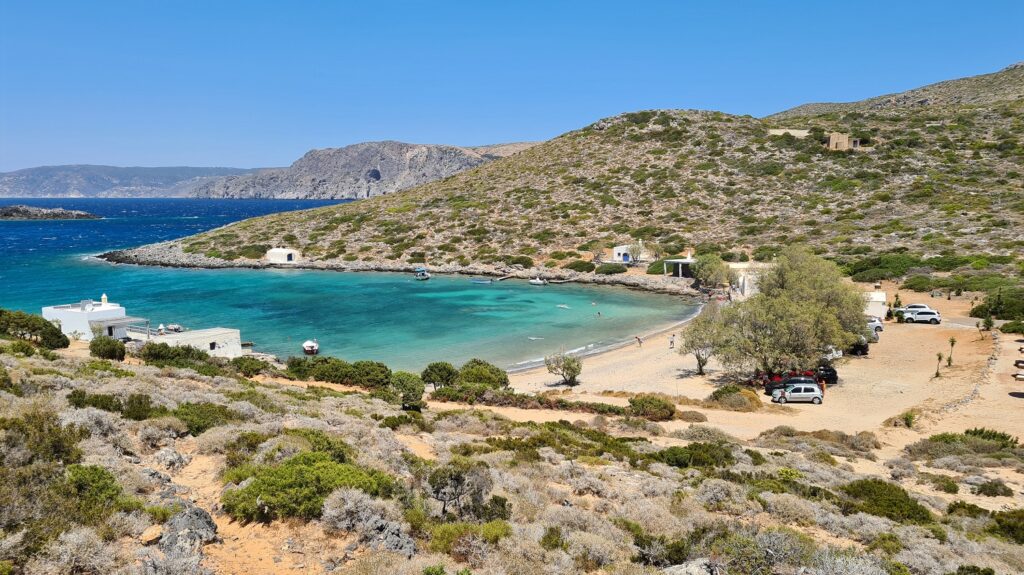 Limnionas: Sandy, secluded, not organized with trees
Lykodimou beach: Pebbled, secluded, not organized
Melidoni: sandy, organized, secluded
Platia Ammos: Pebbled, secluded, nudism friendly, not organized
Explore Kythira Chora
Set on a hill above Kapsali – as a matter of protection from the medieval constant pirate attacks – the picturesque Kythira Greece main town or Chora offers a panoramic view of the whole island. Most of the buildings are quite old, having kept the traditional local architecture with the most picturesque part of it being around the imposing Venetian Castle on top of Chora, built in the 13th c.
Wander through the remnants of the past on the Venetian Castle and see the old prisons, the Venetian fountain, the gunpowder chambers, the Byzantine churches with frescoes, and the many canons all around the castle.
Do not miss to spot the islet of Chytra from the top of the castle.
At Kythira Chora's main square, you will also find an interesting Archaeological Museum with findings from the excavations on the island.
If you love guided tours then I highly recommend this comprehensive private tour on the island of Kythira.
Hike in Kythira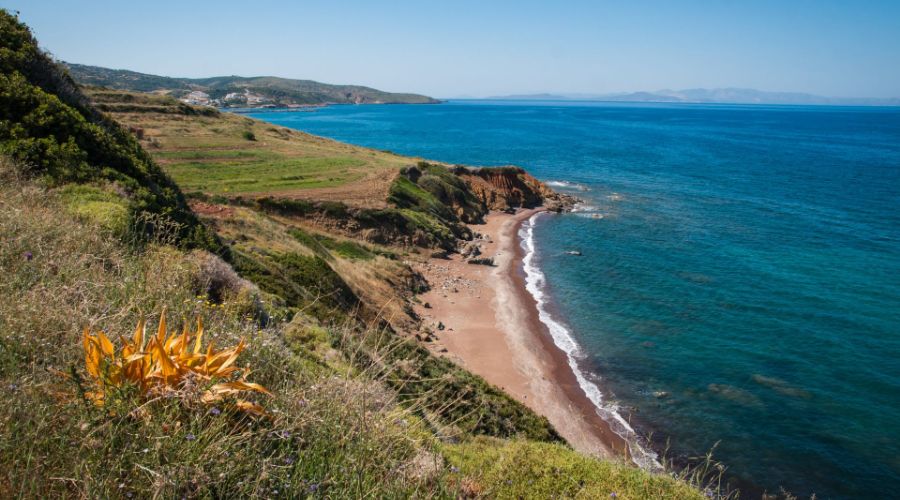 There are two main low mountains crossing the island, with the east peak reaching 474 m of Digenis Mt. and the western peak – and the highest of the island- at 506 m of Mermigkaris Mt.
The lack of mass tourism on the island, combined with a wonderful variety of nature and architecture makes it an excellent destination for hiking holidays. In spite of the rocky terrain, most of the island is covered with rich vegetation and many olive trees. The trails pass by small olive and pine groves, picturesque villages, and remote and peaceful beaches that you can dive in.
Two of the Kythira trails have been certified as Green Flag Trails, becoming the first-ever trails in Europe to receive the certification.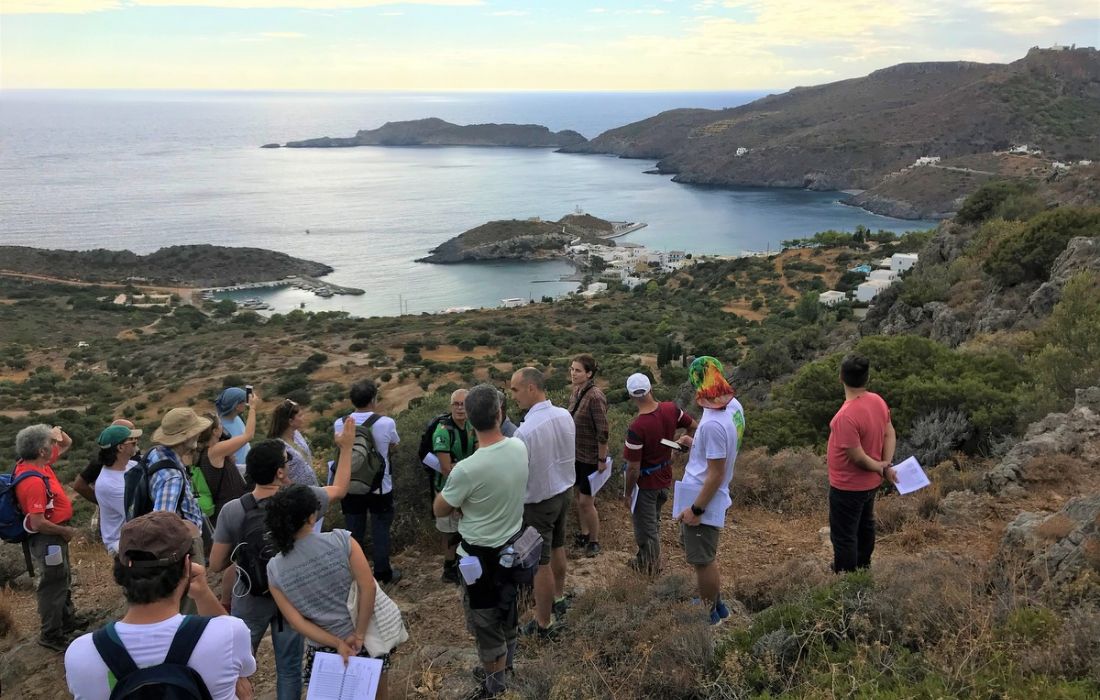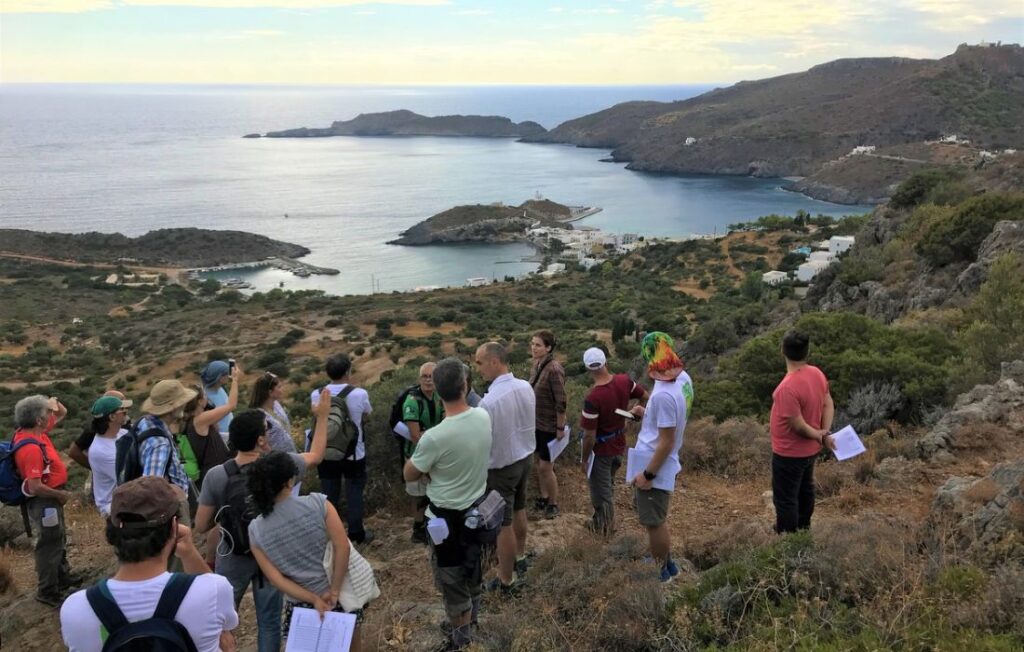 Kythira trails network is about 32 km with new paths cleared out constantly and being added every year. The project is run by the Kytherian Foundation for Culture and Development and Paths of Greece.
There are 8 signposted trails, most of them easy and short hikes with the Livadi-Kapsali trail being the longest at 8.2 km.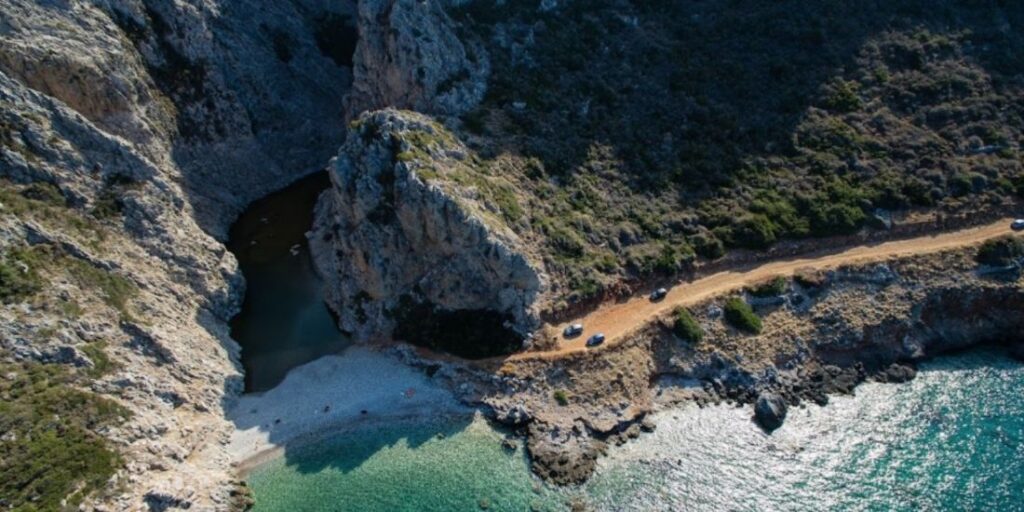 If you like spectacular landscapes drive to the northeast in Kakia Lagkad beach and lake for a unique hike and swim.
Visit Antikythira Island
Kythira island has been overshadowed by the neighboring famous island of Antikythira where the Mechanism was discovered there.
On May 17, 1901, Greek sponge divers bumped into an ancient shipwreck close to Antikythira island, and inside the ship discovered the world's first computer. The Antikythira Mechanism is estimated to have been constructed between 100 and 205 BC and its pieces can be visited at the Athens National Archaeological Museum.
Antikythira is a small island with only 50 permanent inhabitants, a very virgin place totally unspoiled from tourism. It is a great place for hiking too. Kythira is connected to Antikythira by ferry 4 times per week (the trip lasts 1,5 hours). Check here FerryScanner or FerryHopper for timetables and prices.
Be amazed at the 4-million-old Cave of Agia Sofia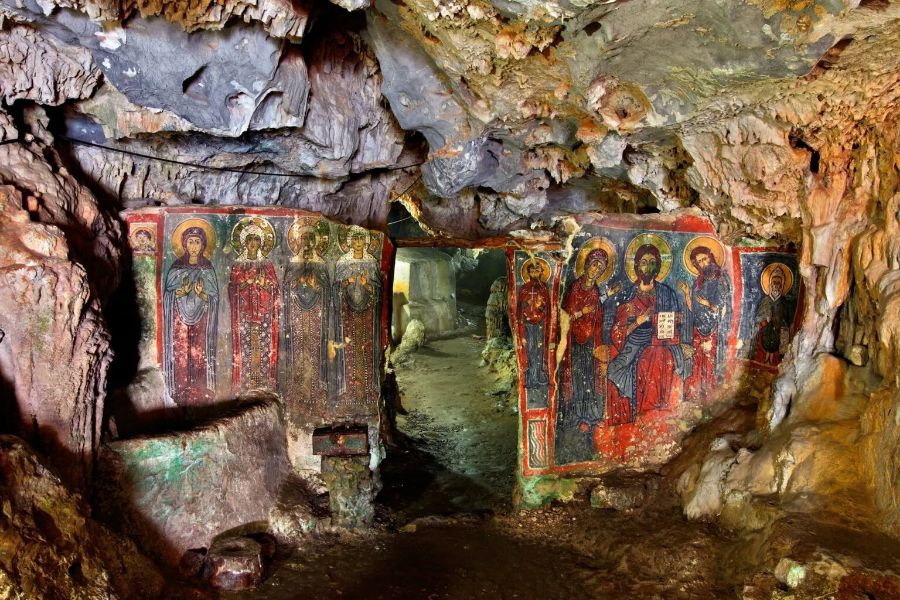 Explore the 4 million-year-old Cave of Agia Sofia, located 3.5 km far from Mylopotamos. It covers 2.000 sqm of ten chambers with impressive stalactites and stalagmites in beautiful red shades.
Right at the entrance you will see a stone temple with Byzantine frescoes dedicated to Agia Sofia. They date back to the 13th century but humidity and lack of light have kept them in excellent condition. The cave is located near the beach Limnionas so you can combine a beach day with a cultural and natural visit!
Discover Unique Sites all over Kythira
Visit the Medieval Castle-town of Paleochora from the 12th century, the Venetian castle at Kato Chora Mylopotamos. All Castles have free entrance to the public, open from 8.00-20.00.
Take the boat to the impressive islet of Hytra with the golden cave. You can swim to the cave or just admire it from the safety of your boat.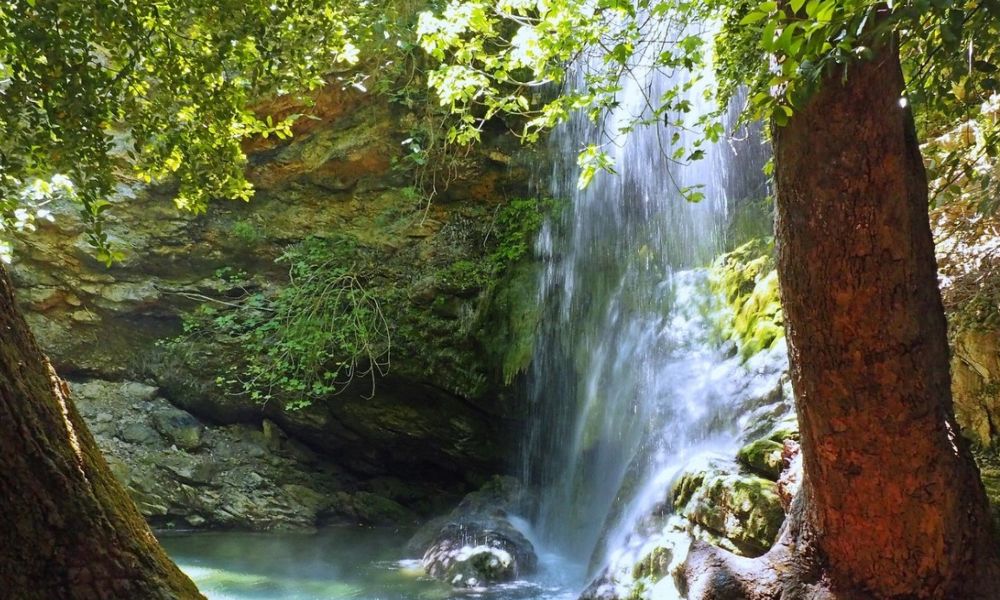 Visit the beautiful waterfalls in Fonissa, an evergreen place with mesmerizing waterfalls falling from 20 m high in the Mylopotamos area.
Go to Platanos tavern in Mylopotamos which serves delicious local dishes under its three plane trees for 130 years. For dessert, stroll down the steps to the duck pond, and to the Kamari cafe for coffee and ice cream.
Don't miss the religious festivals in honor of Panagia Myrtidiotissa Monastery (September 24th).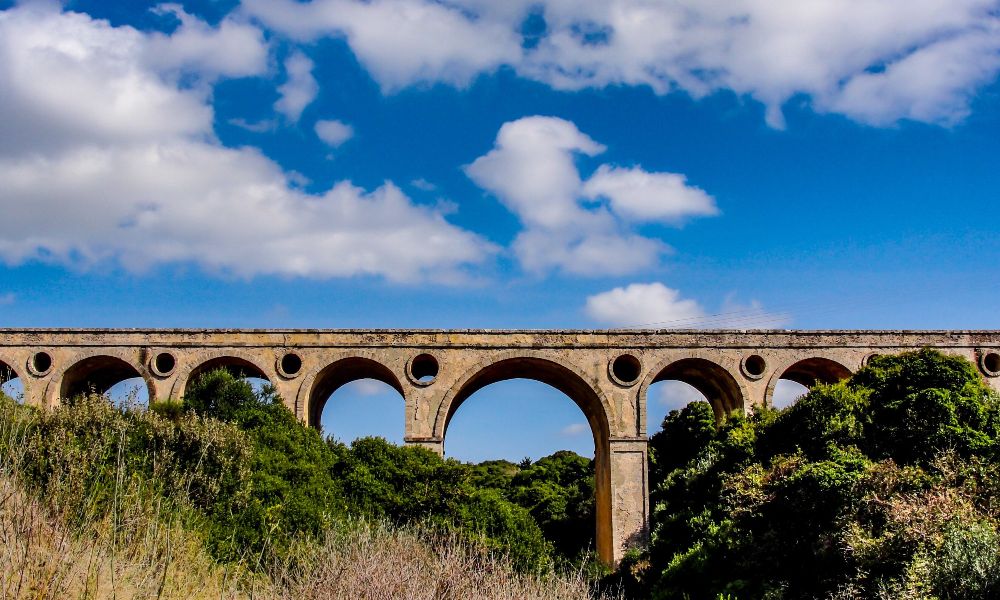 Stroll on the Stone Bridge of Katouni, an impressive bridge, of 13 arches and 12 domes, 110m long and 15m tall.
Drive to Cape Spathi, the northernmost point of Kythira to admire a large lighthouse built in 1857.
Taste the local delicacies at Filio tavern in Kalamos village, with grilled feta cheese and local greens in garlic, or Skandia Restaurant in Paleopolis, the birthplace of Aphrodite (I know Cyprus claims the same, no idea who is right :D), with fresh fish and aubergines with local flour.
Feed the local stray cats in one of the 25 feeding stations all over Kythira island. More info on Adopt a Cat website here.
Tips for Visiting Kythira Greece
How to Get to Kythira Greece
There are three ways to get to Kythira: the fast, the most scenic, or the more adventurous one!
The fastest way to get to Kythira is by flying from Athens International Airport, using a local flight from Sky Express, or Olympic Air.
The most scenic way is by taking the ferries (check out trips on FerryScanner or FerryHopper) from Piraeus, Athens' main port, there are 2-3 ferries going to Kythira every week.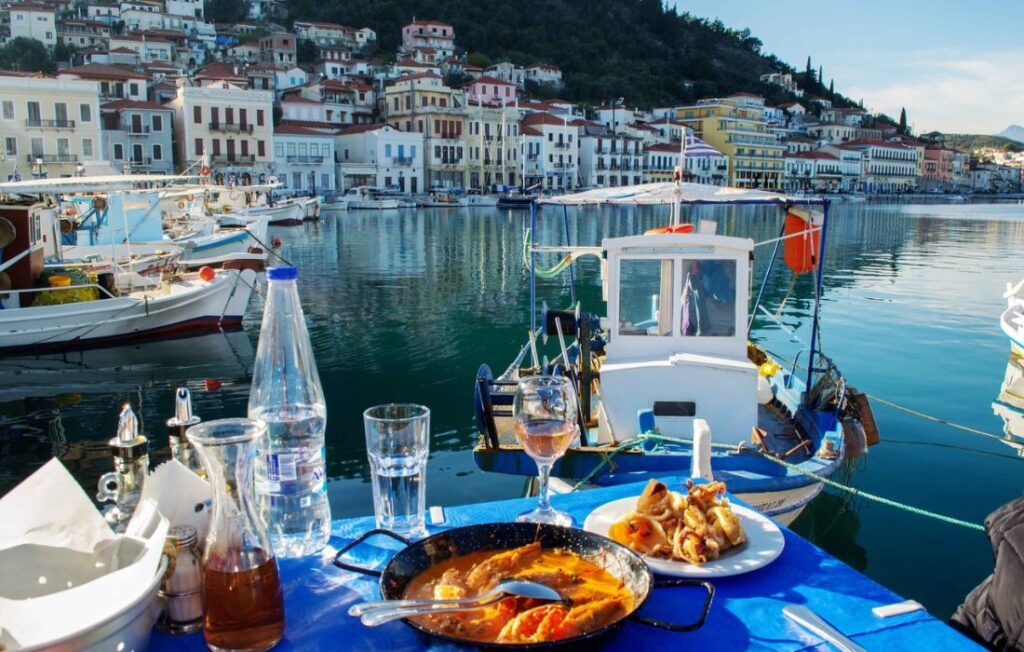 The most adventurous and my favorite one to reach Kythira island is by car: You can rent a car and drive from Athens to the south of the Peloponnese, reach Gytheio or Neapoli towns, and take the ferry from Gytheio or Neapoli to Kythira. That way you get to see all the in-between sites such as Ancient Corinth or the Sanctuary in Epidaurus.
Suggested Itineraries in the Peloponnese:
How to get around Kythira
Local Buses: Between May and September the municipality operates frequent routes with buses that run from the airport and port to the island's main villages.
Taxis: There are a few taxis that you will find useful for your transportation on the island of Kythira.
Rent a Car: probably the best option to go around Kythira and discover all the hidden gems of the island at your own pace.
Interactive Kythira Greece Map
Get your interactive map of Kythira here, to drive to any of the places listed on our things to do in Kythira.
How to get to Athens Port (Piraeus) from Athens Airport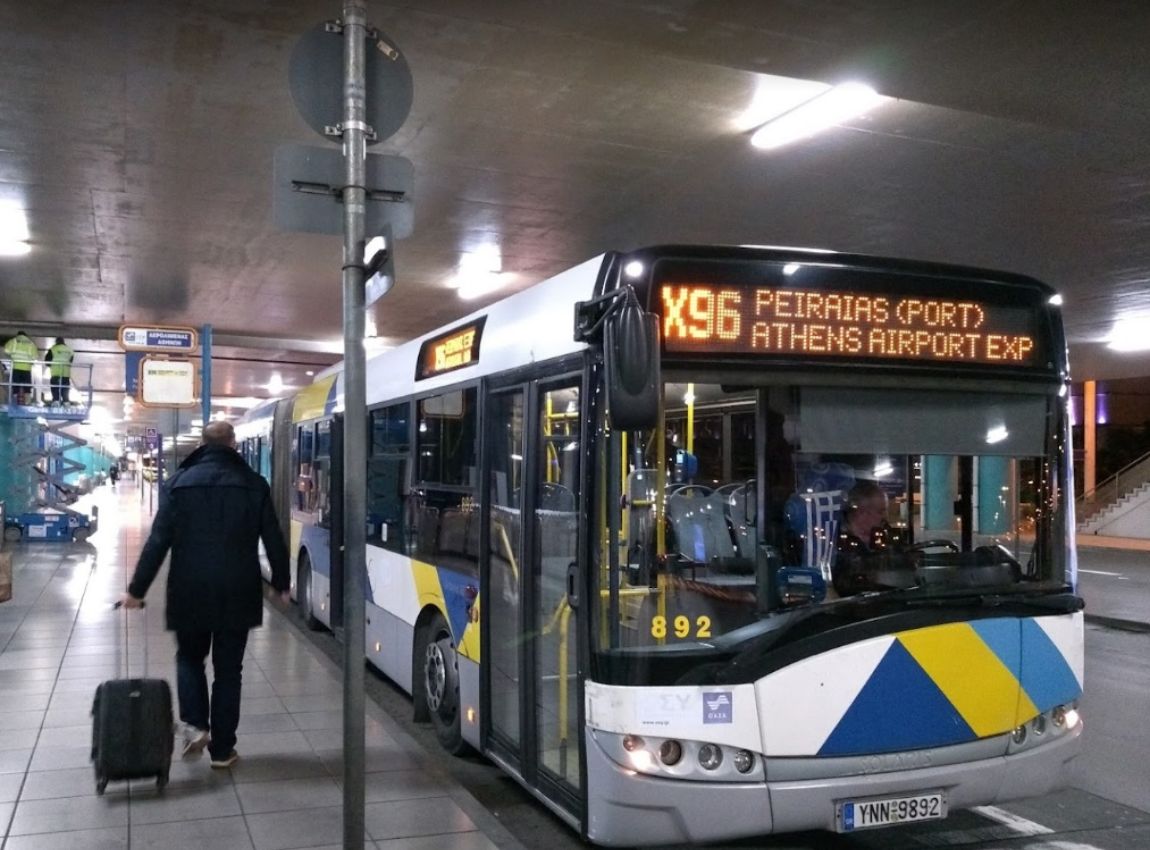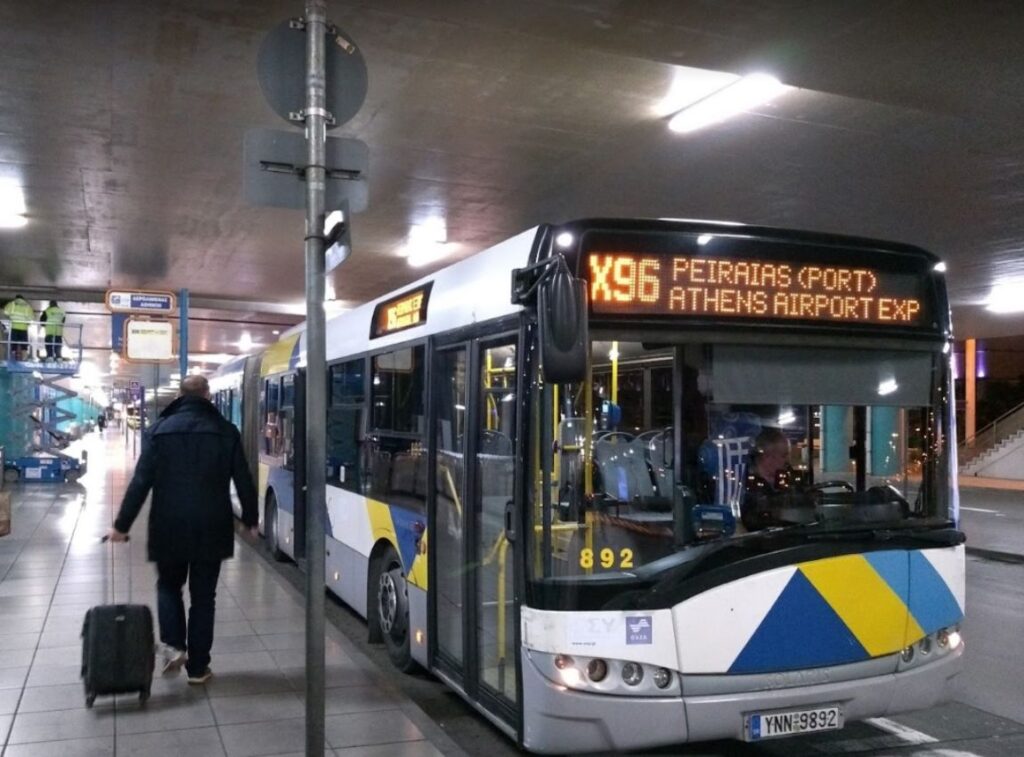 Bus: If you are arriving at Athens International Airport you can travel straight to the port by taking the X96 express bus (€5.5, children <6 yo, free entrance), which departs every 40 minutes and the average trip lasts 1 hour – runs 24/7.
Metro: (€9 ) is easily found across airport arrivals (blue line – M3) going directly to Piraeus port. The average trip to Piraeus lasts 1 hour.
Taxis are available in front of the airport (around €40 to Athens, €55-60 to Piraeus (depending on the traffic in Kifisos), and take up to 3 or 4 people with small luggage)
Rent a car with Discover Cars to rent reliable new cars at affordable prices
You don't like driving but love hassle-free solutions? Book a Private transfer with an English-speaking driver from Athens International Airport to Piraeus Ferries, or anywhere else in Greece
Check out a full post on Lavrio Port in Athens
Did you Go to Kythira Island?
Did you manage to go to Kythira? What were the best things you did in the area? Let me know in the comments below, I'd love to hear whether I managed to get it onto your bucket list! Until next time, Evgenia 🙂
Read here about the other Ionian Islands
Corfu Island: Best Things to Do
10 Best Things to Do in Ithaca Greece
Some of my Favorite Travel Resources for Greece
'Hello' and 'Thank You' in Greek: "Ya sou" and "Efharisto"
Booking.com: I use Booking.com because I can get the best deals on both hotels and apartments, free cancellations, and great prices!
Find Long-Term Rentals in Greece: You will find the best prices in Flatio
FerryScanner to book ferries to the Greek Islands
Athens Metro Website (timetables and ticket info)
Get Your Guide: For all your day or multi-day tours and city guide needs, I use Get Your Guide
Emergency Numbers Anywhere in Greece: AMBULANCE 166 – FIRE 199 – POLICE 100– EMERGENCY NUMBER 112