This post is about 8 days in the Peloponnese, one of my favorite Greek road trips and itinerary. Peloponnese is the southernmost part of Greece's mainland, with beautiful and popular places including Ancient Olympia, Nafplion, Monemvasia, Mycenae, and Epidaurus Theater.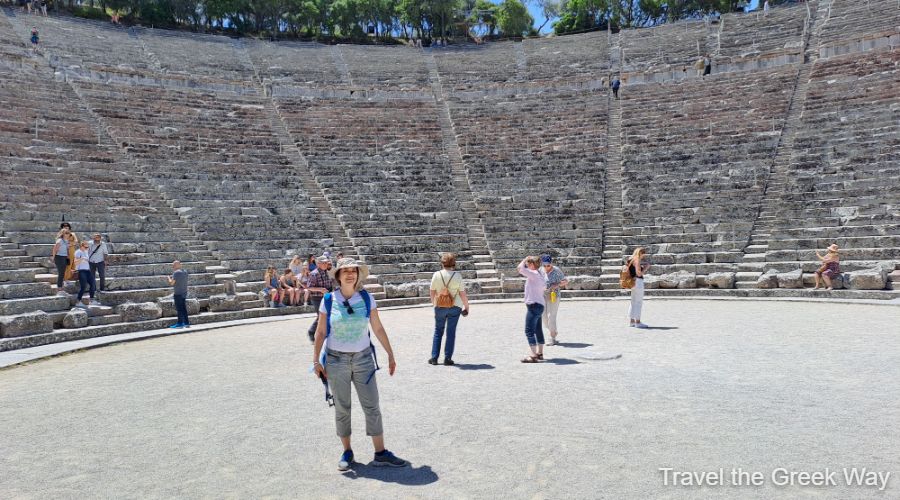 Most people think that the best place to be in Greece is any of the Greek islands. Surprisingly, the endless coastline of the Peloponnese, not only feels like an island but also offers authentic travel opportunities far from crowds and tourist traps.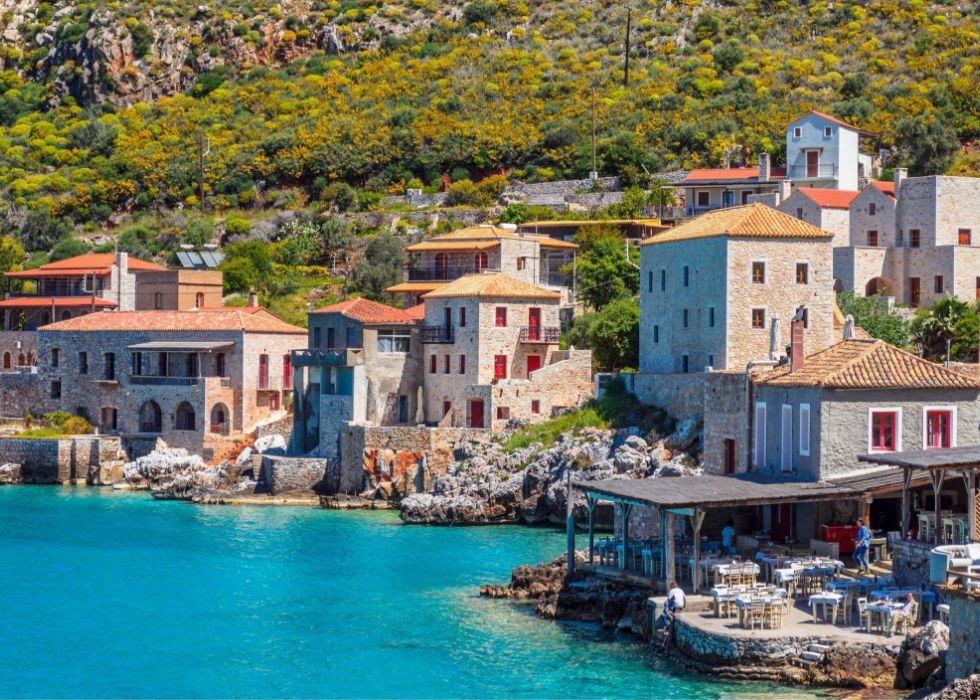 This 8-day Peloponnese itinerary is intended to be (primarily) an exploration along the coastlines of Messinia and Laconia. I mention most of the archaeological sites you find along your route (I am a hopeless history buff!). Other than that, my primary objective is to offer you a holistic presentation of various things to do. Or you can just get to the most beautiful beaches and eat delicious food as you make your way from one stop to the next.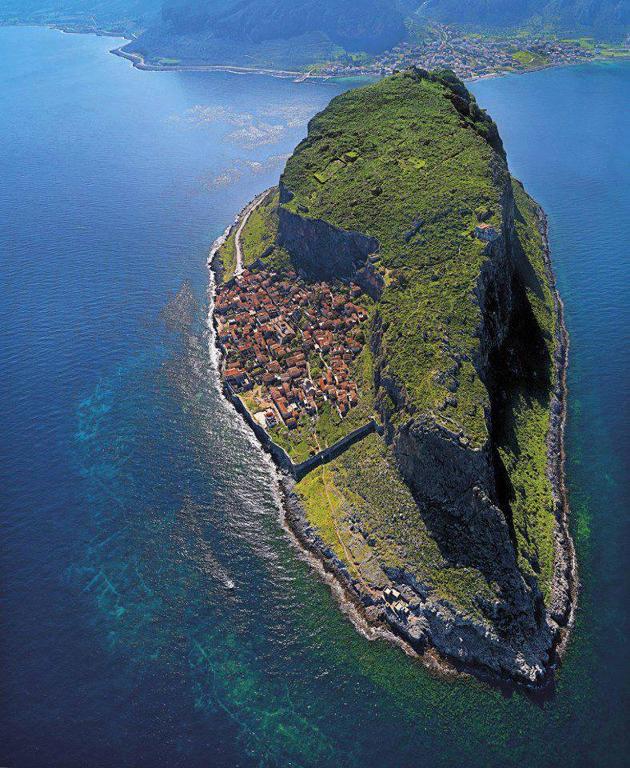 Read on for a full travel guide and 8 days in the Peloponnese itinerary, covering what to see, how to prepare for your trip, how to drive in Greece, and recommendations on where to stay.
*Some of the links below are affiliate links. That means I may make a commission if you click and buy. The commission comes at no additional cost to you.
My Latest Video
Before you Go to the Peloponnese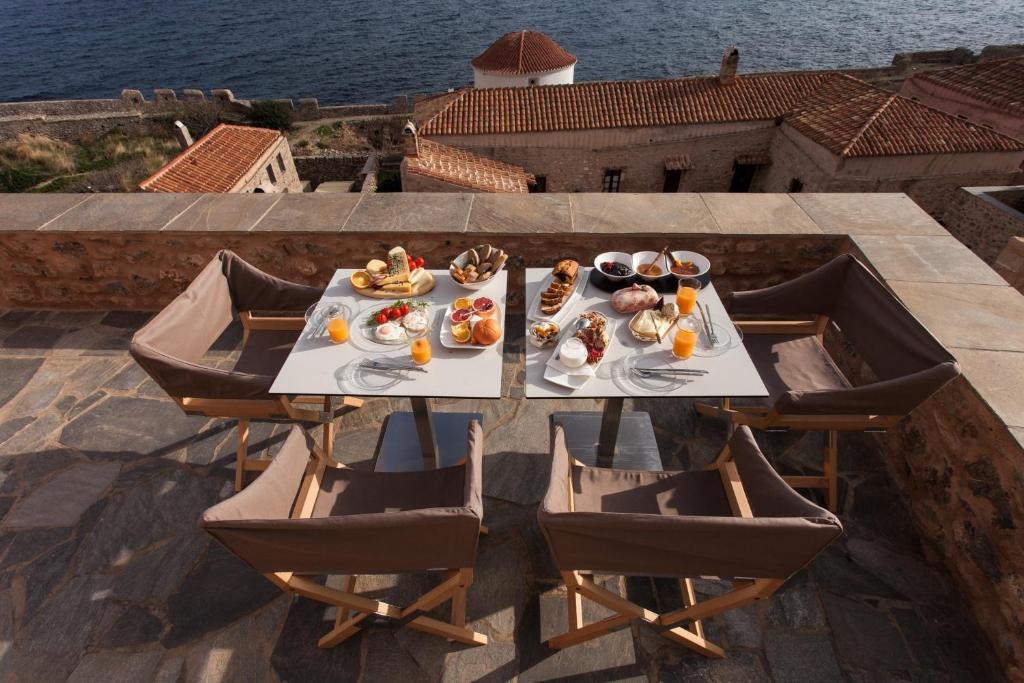 Here are some facts to help you start planning your trip. Enjoy!
Duration 8 days – 7 nights
Weather in Peloponnese: Greece has four distinct seasons. The warmer season is between May and October with the hottest months being July and August. More about when is best to go to Greece in my post here
Recommended accommodation: Here are my favorite places in Peloponnese Greece to help you decide if it's a good fit for your trip:
Hotel
Pros/cons

Availability
Seaside Nafplio
Amymone Suites

1. Booking Review: 9.3
2. Children friendly, Accessibility on the ground floor only
3. Breakfast included, amazing collection
4. Central Nafplio is a 5-minute walk far

Check Availability
Kardamili, Ritsa Beach
Melitsina Village Hotel

1. Booking Review: 9.2
2. Children-friendly, with terrace and balconies, and stunning views. No accessibility facilities
3. Self-catering accommodation
4. Ritsa Beach is a 6-minute walk far
Check Availability
Castle of Monemvasia
House in the Castle


1. Booking Review: 9.6 (Exceptional)
2. Children friendly, with garden, amazing views balcony
3. Self-catering accommodation
4. Terrace is facing the sea at 270 degrees!
Check Availability
I have also included 3 more hotels: The idea behind it is that you may spontaneously decide to stay a night in any of those places so I have found 3 fantastic choices for you:
Stunning Mazaraki Guesthouse (a traditional property with a swimming pool and breakfast), in tiny Pikoulianika (a picturesque village with amazing taverns near Mystras)
If you would love some luxury by the seaside, check out Mareggio Exclusive Residences (I love those breakfasts by the sea), in Gythio town.
Driving in the Peloponnese
You can rent a car at an airport. Don't forget to check the condition of the car you have rented – check for any dented areas or scratches and take a photo of them to present as evidence that it wasn't your fault
Check the gas tank. It is common to get a car with little gas in Greece
There are strays in Greece as well as many sheep, goats, and cows. Not to mention the wildlife which is abundant. Keep an eye out for the poor things in case one of them just jumps in front of you (not common but it can happen)
Greece is 80% mountainous, so expect a lot of uphills and downhills. Also, expect a lot of turns and in villages, the roads might be smaller. Don't get intimidated by them and don't get stressed, you got this! 😀
All gas stations take both cash and credit cards and there will be staff to fill in the gas
Peloponnese Itinerary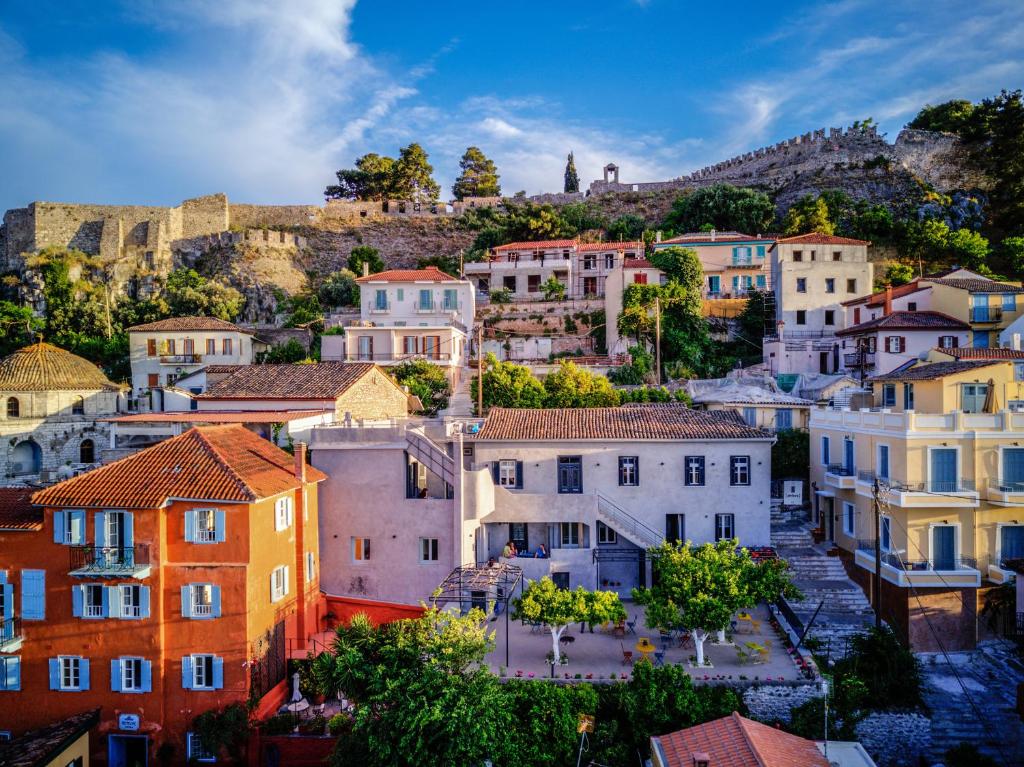 Even though this Peloponnese itinerary was designed for 8 days, you can easily stretch it out for more days. If I were to extend the trip, I would spend more time in Kardamili or Elafonisos, or even visit the beautiful Kythira island by taking the ferry from Monemvasia.
Here's where you can go in the Peloponnese in 8 days:
Corinth Region
Nafplion
Sparti, Mystras
Mani
Monemvasia
Elafonisos
Mountainous Kastanitsa
8 Days in the Peloponnese Itinerary
As soon as you have picked up your rental car from Athens International Airport, take the national road towards Eleusis, Loutraki, and Corinth. The road is in excellent condition with 2 toll stations.
Your first stop, is at Corinth Canal, 106 km far through E8. Corinth Canal is 6 km long and an engineering miracle. No entrance fee. 13 km from the Canal lies Ancient Corinth, its amazing Museum, and the Bema, the special pedestal where Apostle Paul preached to the Corinthians in 51 AD.
Hours 8 am-7 pm Easter – Oct, 8.30 am-3.00 pm Nov-Easter
Price adult €8 April to October – €4 Nov to March
On the large rock behind Ancient Corinth, and 4 km away, lie the remains of one of the largest castles in Greece, Acrocorinth which is worth visiting if only for the 360 birds-eye views. No entrance fee, it closes at 15.30.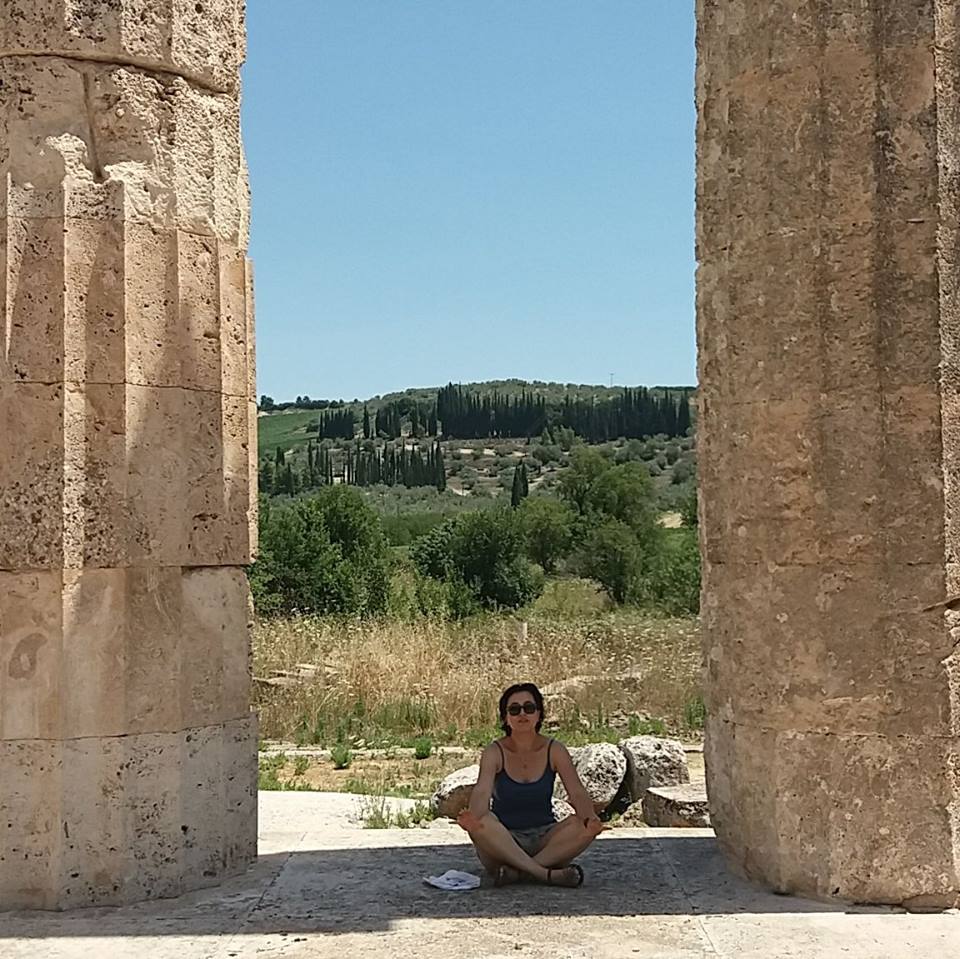 From Acrocorinth if you take the E65 national road 27 km (tolls €2.55) to the south you will find Ancient Nemea with a small site, museum, and ancient stadium. Entrance ticket €6 April to October – €3 Nov to March. Modern Nemea is famous for the largest vineyards in Greece!
Tour Tip: A great way to combine both ancient and modern Nemea is by booking an Ancient Nemea private tour with wine tasting in 3 wineries.
18 km from Nemea through EO (EO=National Road) Korinthos Argos you get to the stunning UNESCO Archaeological site of Mycenae. To put you into historical perspective, the war against Troy happened during the Mycenean civilization (approx.1750 to 1050 BCE). The ticket for Mycenae is €12 from April to October and €6 Nov to March.
From Mycenae go straight to Nafplion and discover one of the most beautiful towns in Greece. Here are some of the most popular things you can do in Nafplion:
Take the hop on hop off bus and see all the highlights and attractions in one day
Take the small boat from Nafplion port to Bourtzi Castle, a tiny islet right across Nafplion with a great history
Hike to the Karathonas beach (4,48 km each way), a picturesque trail by the sea
I would take a 3-hour walking tour of Nafplion center to learn about the town's fascinating history, enjoy the panoramic views of the city and the bay from the Akronafplia Fortress, and sample local food
You can drive from Nafplio to Monemvasia
This is Sparta!
You can spend a night or two in Nafplion (Amymone Suites is a fantastic hotel with beautiful sea views). When you are ready to go, drive south for 120 km to the famous Sparta town and his brave Leonidas King.
My favorite things to do in Sparta are:
Visit the Archaeological site of Sparta (free entrance)
You will be fascinated by the Museum of Olive Oil in Sparta (entrance €4)
Discover UNESCO Mystras, a fortified town very important during the Byzantine Empire
Have lunch in Pikoulianika, a small gorgeous mountain near the village
Tip: if you can't make this itinerary take a private tour from Athens to Sparti, Mystras and the Mani Peninsula.
You are reading the top 8 days in the Peloponnese.
After your lunch at Pikoulianika, you can stay in the beautiful village for a night at Stunning Mazaraki Guesthouse (a traditional property with a swimming pool and breakfast).
Alternatively, you can drive the 90 km distance to Kardamili.
Mani Peninsula: Things to Do
Mani (separated into 2 main areas, Lakoniki and Messiniaki Mani) has famous beaches, lacy shores, and picturesque bays. The arid land with little vegetation and the relentless sun has residents who claim they come straight from the ancient Spartans.
Some of the best places to visit in Mani are:
Kardamili
I love Kardamili so much. It is objectively a really lovely seaside village 35 km southeast of Kalamata. It has mostly old buildings 300 years old, built from local stone, and is a peaceful fishing village. The best things to do in Kardamili are:
Discover the beach "Ritsa" with its cafes, tavernas, and a few sunbeds. A great hotel in Ritsa Beach is Melitsina Village Hotel in a fantastic location
Visit the Byzantine church of St. Spiridon and the tiny museum
Beach Kalamitsi is a perfect Greek beach; a crescent of crystal clear bright blue water backed by cypress trees and olive olive-covered hill
Foneas Beach is south of Kardamili. In beautiful nature, pebbly, the water is crystal clear, and it has interesting caves to snorkel in
Wonderful taverns (my favorite Elies), bars, old and modern cafes
Kardamili is great for outdoor activities such as sea kayaking. Check out this great Kayaking tour where you visit many coves, and the Blue Cave and finally have a picnic with freshly baked bread, organic fruits and vegetables, homemade olive oil, and cheese.
Other Amazing Places to Visit in Mani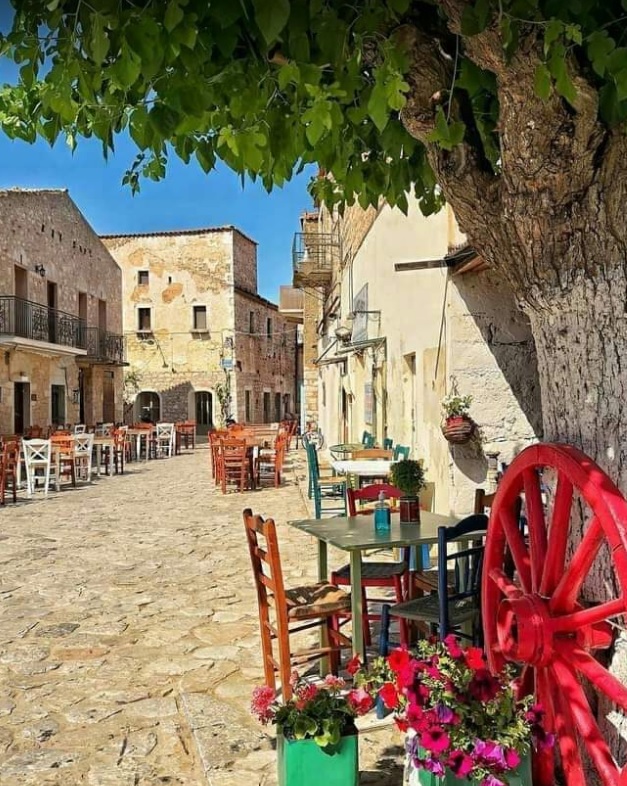 If you drive towards the south, you get to traditional settlements such as Areopolis with its unique cobbled streets and flowering courtyards
Visit the Mani towers in the impressive stone-built Vathia
Try fresh fish in the beautiful village of Gerolimenas or Porto Kagio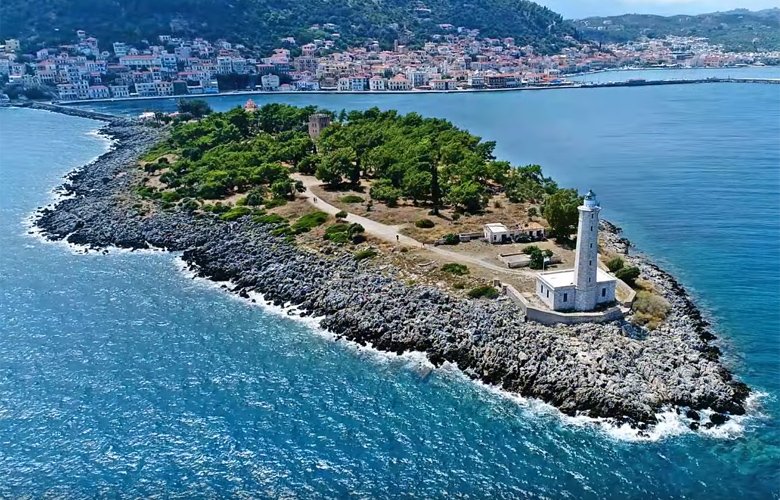 Drive to Gythio, the capital seaside town of eastern Mani. The southern edge of Gythio is joined by a pier to a small island, the ancient Kranai or Marathonisi. According to Pausanias, this is where Paris and Helen of Troy spent their first night before arriving in Troy. Paris forgot his helmet (kranai) and so the little island got its name.
Gythio is a beautiful place to stay overnight and relax from driving from Kardamili. If you would love some luxury by the seaside, I suggest you check out Mareggio Exclusive Residences & Suites.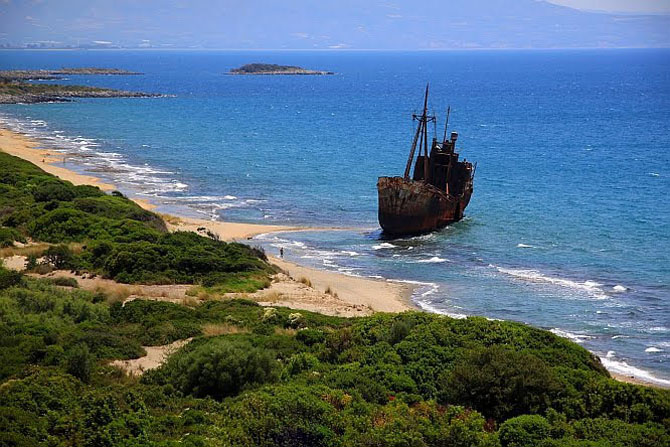 Make a stop at the nearby Dimitrios Shipwreck and at the point where Evrotas River goes into the sea on Trinisa Beach.
The best Evrotas beach resort is The Olive Yard!
Monemvasia
Continuing with your 8 days in the Peloponnese, we get to Monemvasia also known as the Gibraltar of Greece. It is a stunning Byzantine castle town with a backdrop of stone tower houses, narrow cobbled streets, and winding alleys.
Monemvasia is a very romantic place, ideal for a couple. Just follow the cobbled streets and indulge in the magic of the history of a settlement that once "hosted" all the emperors of Byzantium!
Some of the best things to do in Monemvasia are:
Go to Matoula's Garden Tavern. Great food and stunning views of the Kastro and the sea
Take a wine, olive oil, and honey tour (Monemvasia is famous for its honey)
Visit the archaeological collection of Monemvasia Castle, housed in an old Muslim mosque
Hike the "Voltes", the stone winding path that hugs the rock of the town at its highest point, ascending towards the gate of Ano Polis (not an easy hike, especially if you are visiting Monemvasia in the summer)
FAQ for Monemvasia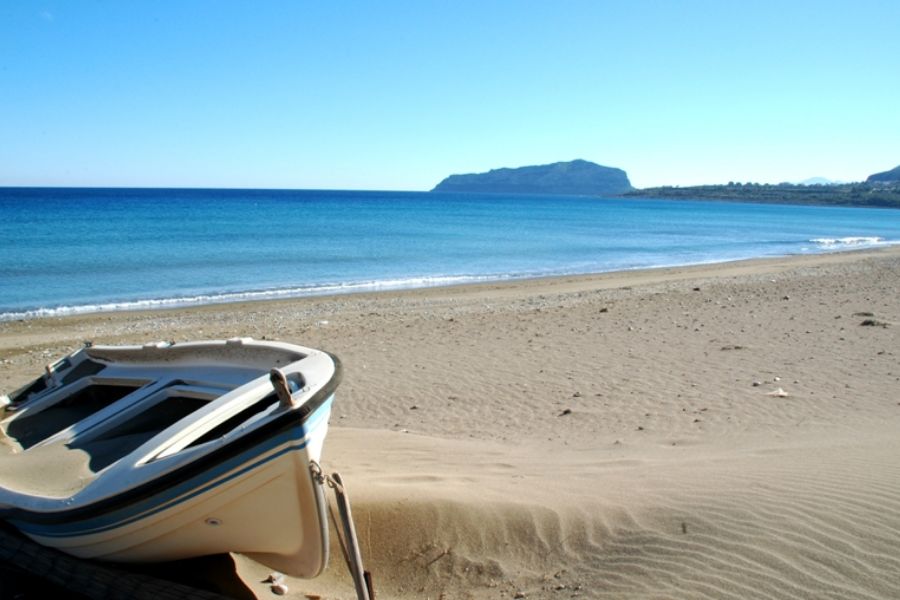 Nafplio to Monemvasia ferry: there is no ferry from Nafplio to Monemvasia, you can get there only by car or bus
Monemvasia Beaches: You can swim on beautiful sandy beaches like Pori and Aspes
Monemvasia Boat Rides: If you love outdoor activities then go sea kayak around the magnificent rock of Monemvasia
If you have limited time take a half-day Tour to Elafonisos. That way you can relax and let the professionals organize your day to Elafonissos!
You are reading about what to do in 8 days in the Peloponnese.
Elafonisos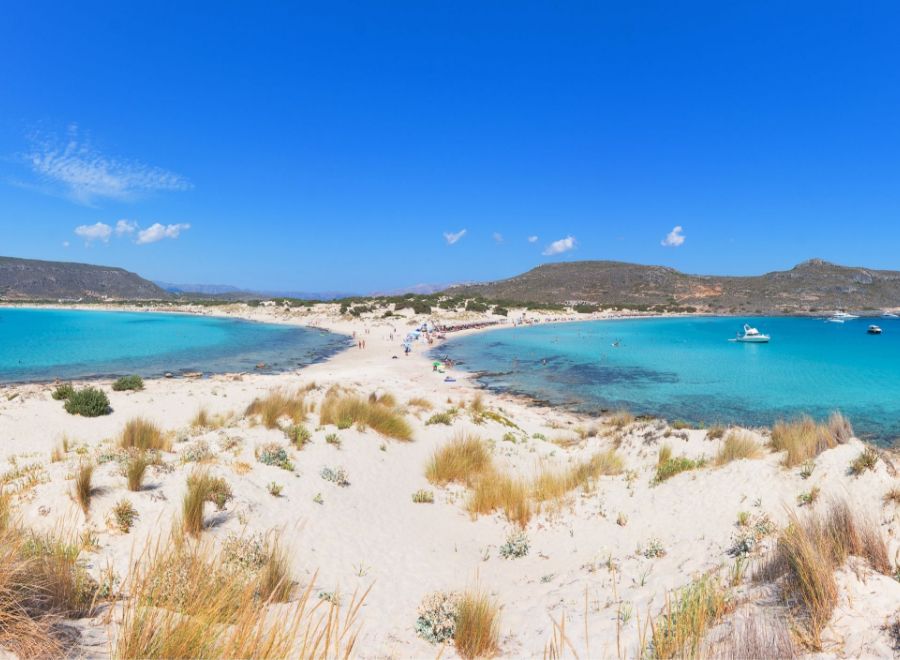 If time is not an issue then you will enjoy visiting Elafonisos, a stunning island. It is located 50 km from Monemvasia and you can drive to the small port of Pounta. From Pounta, you take the ferry across the island. There is a ferry every hour but the first boat is at 7.50 am and the next at 9.00. The trip lasts around 8 minutes and you can issue your ticket at the port.
Info Tip: Do not mix Elafonissos Island in the Peloponnese with Elafonissi beach in Chania Crete island!
Elafonisos island is famous for the twin beaches of Simos (small beach) and Sarakinikos (big beach or Tseratsiniko for the locals). Access is by car and during the summer months, there are boat trips from the old port of Elafonisos (Skala).
What makes those beaches so unique is the fine golden sand, the shallow, turquoise, transparent waters, the dunes that reach even 10 m high, and the cedar forest that stretches over a large area connecting the two beaches. The vast, white sandy beach and the turquoise waters give the landscape an exotic beauty.
Top Things to Do in Elafonissos
Stroll by the small village under the same Elafonisos name. You will find many tavernas, shops, cafes, and souvlaki places
Visit the picturesque chapel of Agios Spyridon built on the small island opposite the Elafonissos post and can be accessed from the bridge
Snorkel Pavlopetri, the lost Atlantis of Greece! It is an ancient city 5,000 years old that is submerged a few meters below the sea surface (3-4 meters). It is located opposite Elafonisos on the beach of Pounda and is the ideal spot for snorkeling
Hike! Elafonisos has 6 hiking trails and 3 cycling routes. The most famous hiking route is the one that starts from the port of Chora, passes through the village of Vigla, and ends at the top of Vardia. Vardia is the highest point of the island (276m) from where you can admire Cape Taenaro, Kythera, Kavos-Malias, and the endless sea
Where to Stay in Elafonissos: Kalomoira's Apartments is a seafront accommodation, close to the restaurants and shops.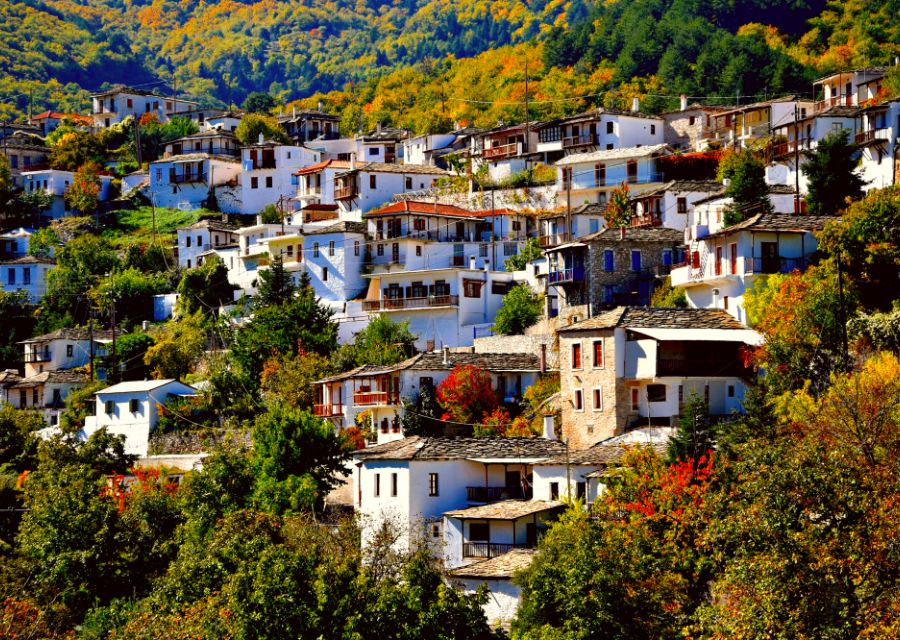 On your way back to Athens, you can stop at Kastanitsa, a beautiful mountain village built on the slopes of Parnonas mountain, at an altitude of 850 meters. It is considered one of the most picturesque traditional settlements of the entire Peloponnese.
You are reading about the top 8 days in the Peloponnese.
Survival Tips in the Peloponnese
No need to prepurchase your tickets for any of the sites mentioned in this post
In smaller towns and islands, museums or sites might be closed on a certain day, usually Mondays or Tuesdays. So before you venture to any remote site, monster,y or museum, check out if that specific day is closed. It would be such a pity to drive all the way and find it all locked up
There might be urchins if the beach is rocky, you better wear your sea shoes to protect your poor feet
Not every village has an ATM. Always carry with you €100-150 cash just in case
Need more info? Read my dedicated posts: Must-have items for Greece and Greece Packing list
Top Places to Visit in the Peloponnese in 8 Days
Corinth Region
Nafplion
Sparti, Mystras
Mani
Monemvasia
Elafonisos
Mountainous Kastanitsa
Plan My Trip to Greece
Do you need a custom travel itinerary for Greece? Are you traveling solo, with your family or your friends and you need a tailor-made multi-day tour or a transfer within Greece?
If yes, please visit my dedicated Plan My Trip Page for a free itinerary!
Would you Go to the Peloponnese?
Share your thoughts in the comments and let me know what sites you think are the most compelling in Peloponnese! I know that there are so many other places to visit, so let me know your recommendations for me 😉.
How to Get to Athens Port (Piraeus) from the Airport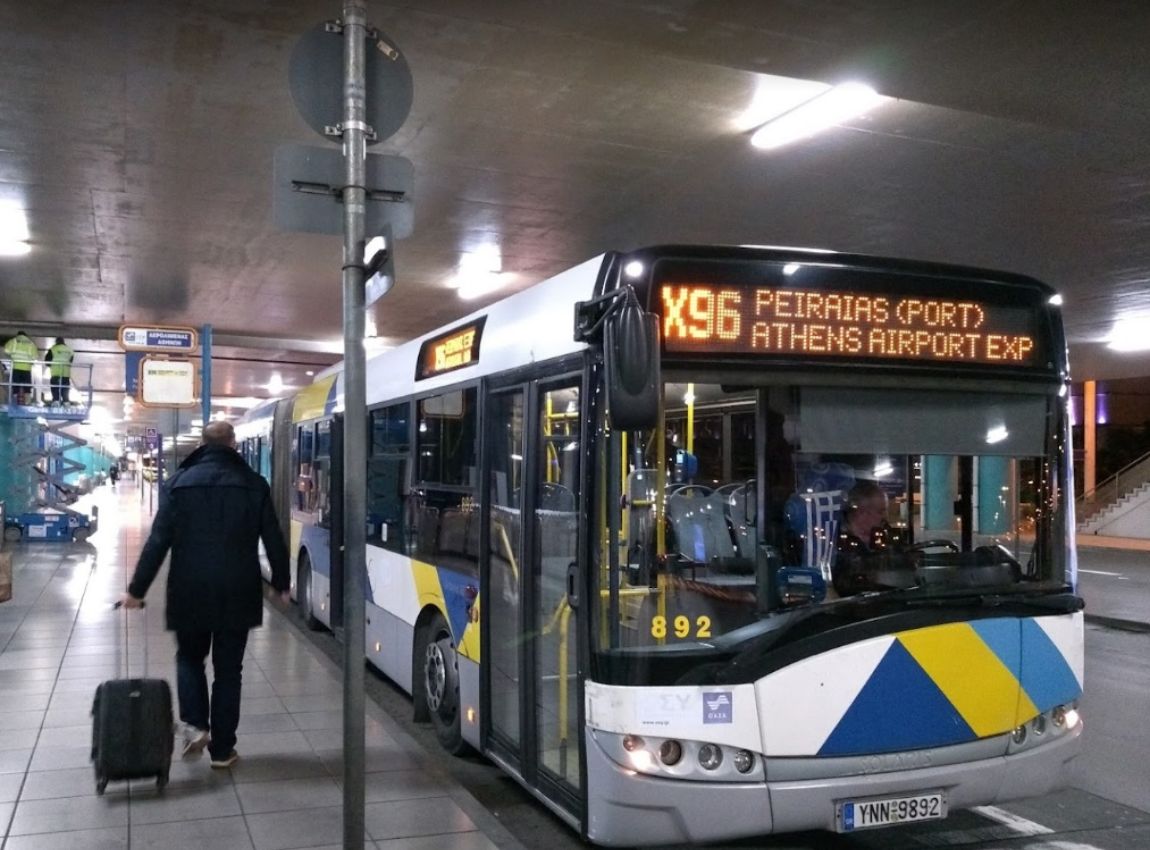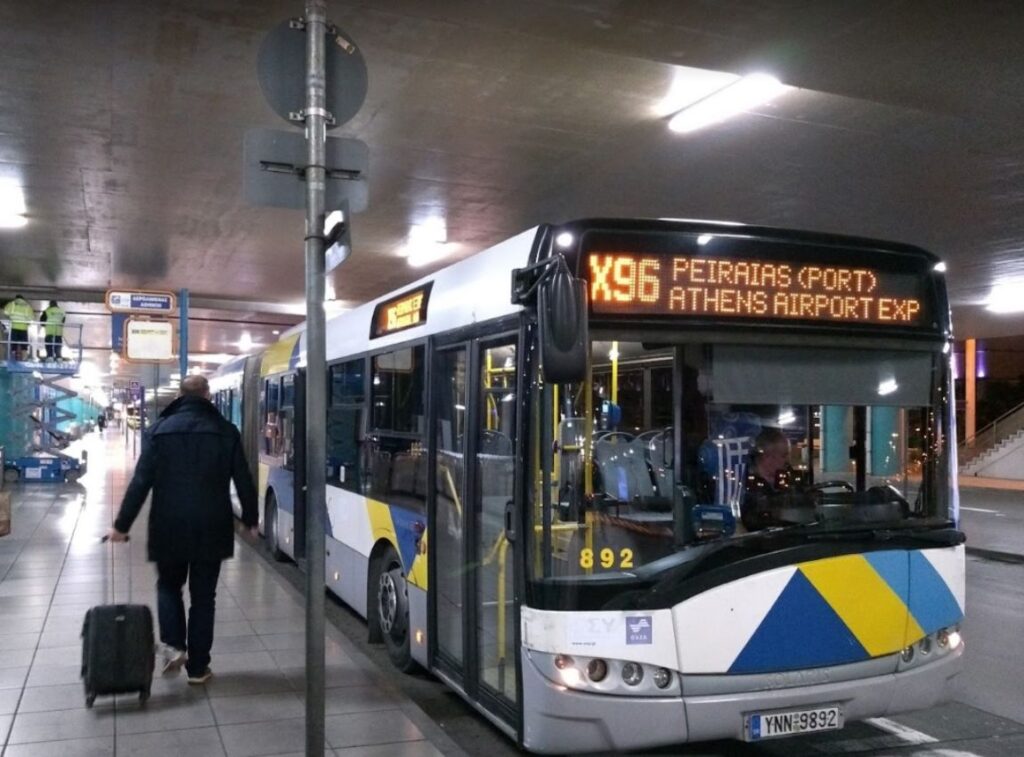 Bus: If you are arriving at Athens International Airport you can travel straight to the port by taking the X96 express bus (€5.5, children <6 yo, free entrance), which departs every 40 minutes and the average trip lasts 1 hour – runs 24/7.
Metro: (€9) is easily found across airport arrivals (blue line – M3) going directly to Piraeus port. The average trip to Piraeus lasts 1 hour.
Taxis are available in front of the airport (around €40 to Athens, €55-60 to Piraeus (depending on the traffic in Kifisos), and take up to 3 or 4 people with small luggage)
Rent a car with Discover Cars to rent reliable new cars at affordable prices
You don't like driving but love hassle-free solutions? Book a Private transfer with an English-speaking driver from Athens International Airport to Piraeus Ferries, or anywhere else in Greece
Check out an entire post on Lavrio Port in Athens
Essential Travel Info for Greece
'Hello' and 'Thank You' in Greek: "Ya sou" and "Efharisto"
Booking.com: I use Booking.com because I can get the best deals on both hotels and apartments, free cancellations, and great prices!
Find Long-Term Rentals in Greece: You will find the best prices in Flatio
FerryScanner to book ferries to the Greek Islands
Athens Metro Website (timetables and ticket info)
Get Your Guide: For all your day or multi-day tours and city guide needs, I use Get Your Guide
Emergency Numbers Anywhere in Greece: AMBULANCE 166 – FIRE 199 – POLICE 100– EMERGENCY NUMBER 112
Please follow and like us: