If you are wondering what it would be like to visit Greece in October Fand how is the weather in Greece then this post will get your answers. Visiting Greece in October is ideal if you are intimidated by the crazy hot Greek summer temperatures.
October in Greece is still quite warm, and the sea is great to swim from the previous hot summer months, at least the first half of October. This cooler weather allows all kinds of outdoor activities as well as visiting more demanding sites that are uphill, like Delphi, Mystras, or Meteora.
Traveling to Greece in October is also a fantastic month for the shoulder season prices in hotels and the much better customer service everywhere as the crowds have gone back home!
*Some of the links below are affiliate links. That means I may make a commission if you click and buy. The commission comes at no additional cost to you.
Athens Quick Reference
Where to stay in Athens with stunning Acropolis view: Niche Hotel or The Foundry Suites
Book your ferry tickets with no-hidden-fees at FerryScanner

or FerryHopper
Rent a car with Discover Cars for reliable new cars at affordable prices
Top Things to Do in Greece in October
Visit classy Spetses island in the Argosaronic
Discover fertile Andros island in the Cyclades
Enjoy popular Santorini with no crowds
Marvel at a 3-Day Trip to Delphi and Meteora
Explore the capital, Athens
Join the October Pelion Mt Festivals and discover 28 traditional villages
What is the Weather Like in Greece in October?
If you can't stand the crazy hot temperatures of Greek summers (30-45 C in July and August) then October is your ideal month to explore Greece. Summer meltemia (Aegean north winds) have stopped blowing everyone's hair and it is now much more enjoyable to sail.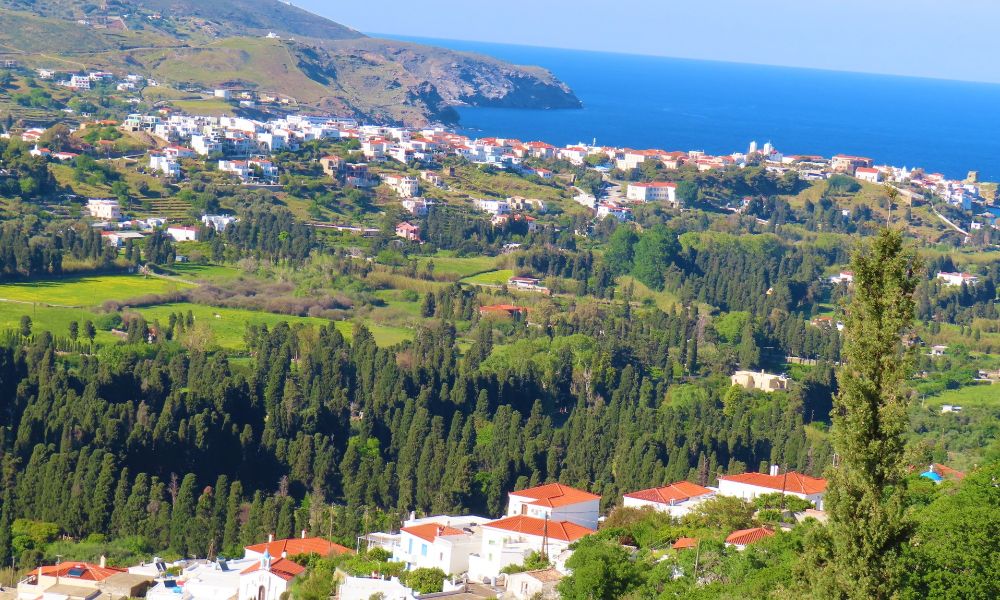 The daily temperature in Athens in October is usually around 25 to 26 C while in the evening drops around to 17 C. Towards the end of October, it might get a bit cooler but nothing too dramatic. There might be some rain for 4-5 days of the month.
Greek nature and forests are beautiful with red and orange colors making the hikes in the hills one of the best things to do in Greece in October.
Best Things to Do in Greece in October!
1. Visit Classy Spetses Island
All the Greek islands are simply amazing to visit but If I had to choose, I would say go to Spetses, the most aristocratic island of the Argosaronic.
From Spetses it is very easy to hop to the other nearby islands of Poros, Hydra, and Aegina.
If you are a marathon runner then there is a bonus for you: participate in the Spetses Mini Marathon held every 4th-6th of October.
Ferry Tip: The ferries in October are not as frequent as they are during the summer. Book your trip with no hidden fees at FerryScanner
2. Discover Andros Island
Andros is another great island you can visit in October in Greece as it is only 2 hours away from Athens' smaller port of Rafina.
It differs from the other barren Cycladic islands as it has a lot of water and consequently a much greener environment. There are 7 mineral water springs on Andros with the most famous of them being Sariza.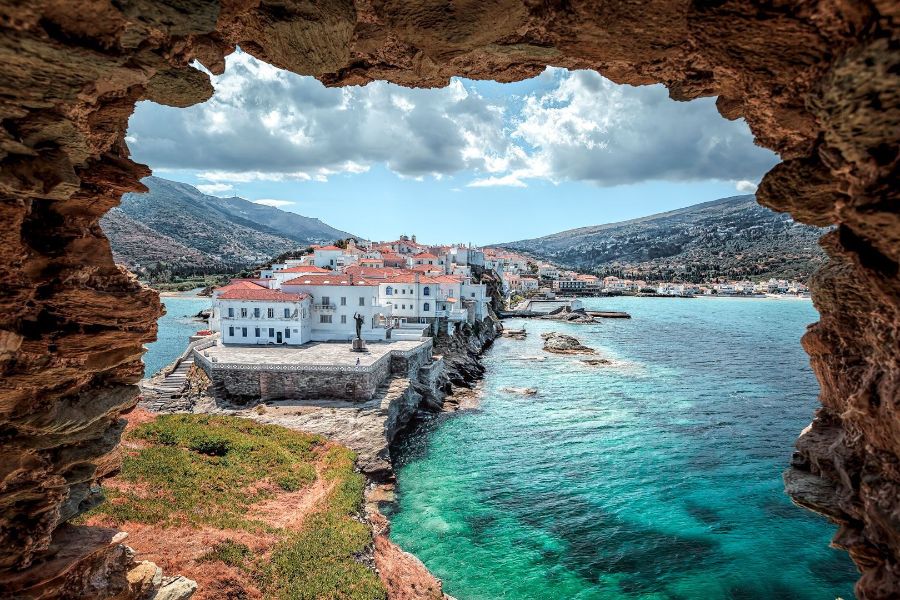 You will be thrilled with the classy and elegant Chora town, with a mixture of neoclassical buildings and Cycladic whitewashed houses.
Andros is great if you love art and museums, there are just tons of them, plus castles, towers, and a very impressive lighthouse.
Not to mention the sandy beaches which are some of the best beaches in the Cyclades! Andros Island is also ideal for hiking, as it has a well-signed hiking network of over 170 km of paths.
100 km of them are signposted trails that connect the north with the south part of Andros and form the impressive Andros Routes.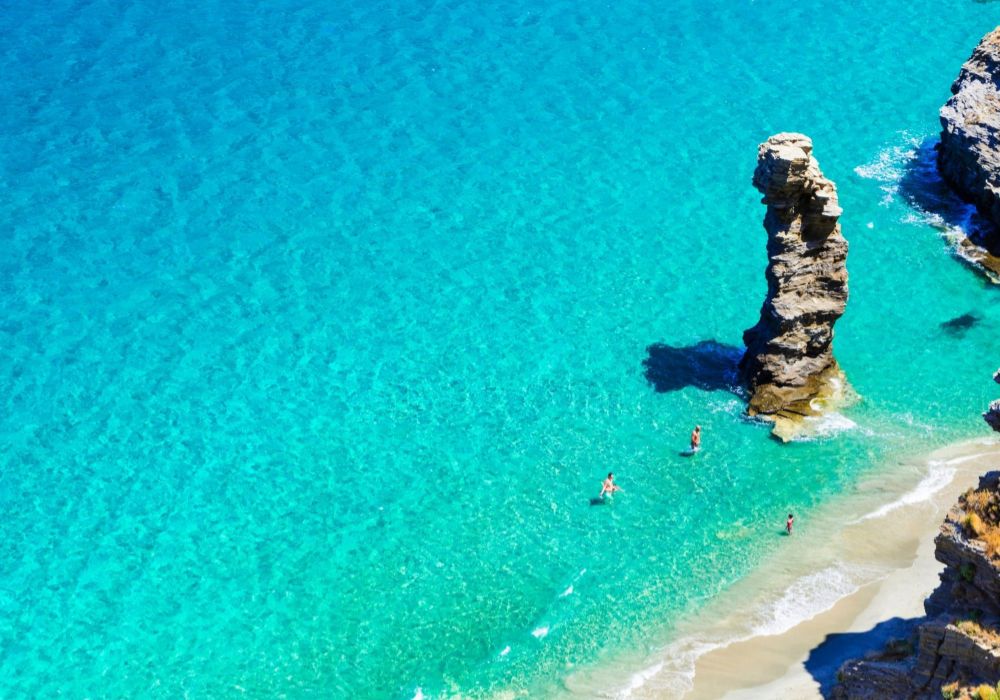 Gorgeous paths lead to the Cave of Foros, rich in Stalagmite formations cave, the ravines of Pithara, rivers, abandoned towers, secluded picturesque villages, and springs at every turn.
Andros has a wealth of things to do and see in an elegant and peaceful environment.
Where to Stay in Andros
Aegean Castle Andros (adults only) is a lovely mansion with amazing views, very friendly and attentive staff, and delicious food, in a secluded green area of Agia Eleousa in Andros for a really unforgettable experience!
Blue Bay Resort Village is located in a stunning location in Batsi Andros, the Blue Bay Resort offers heartwarming hospitality with finely decorated rooms and a classy environment.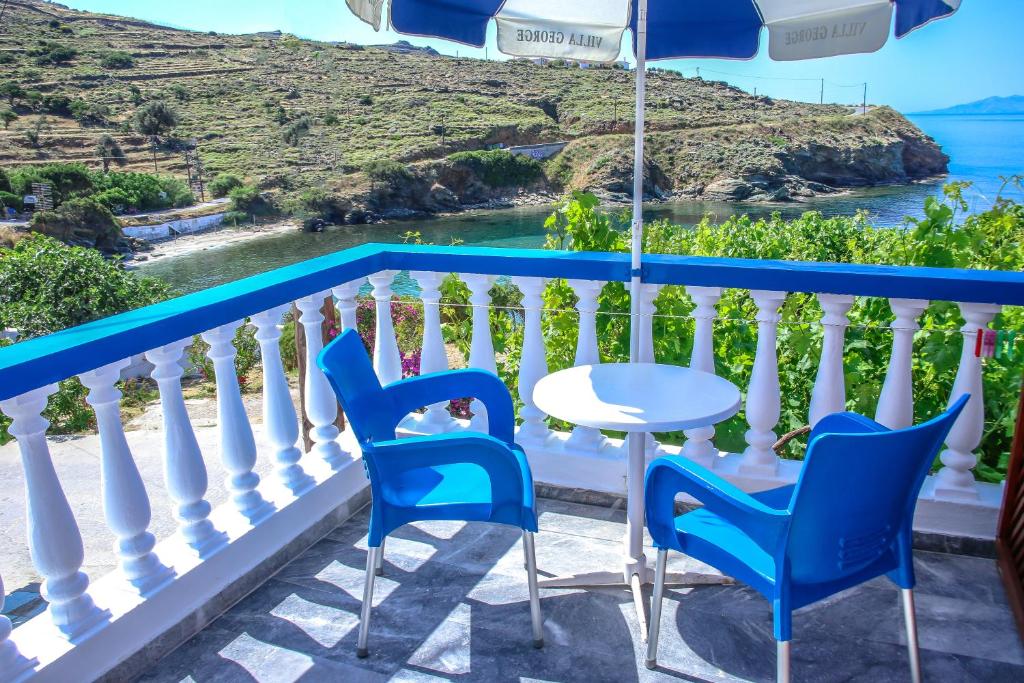 Villa George in Batsi Andros is perfectly located in front of the sea with a fantastic beach to swim in, quiet, super clean with friendly and helpful staff. Batsi village is just 5 minute walk.
3. Explore Santorini's Magic in October
Santorini or any other of the Greek islands doesn't 'close' in winter. The Greek islands have permanent residents who stay on the islands throughout the year. For instance, Santorini has 5 high schools, with a permanent population of 15,520 people!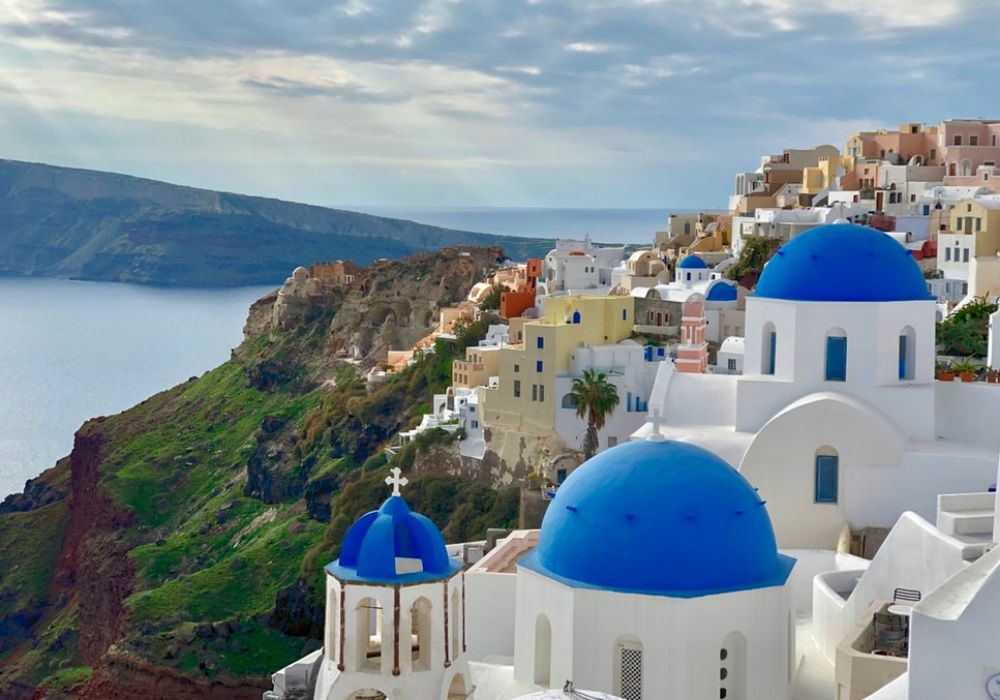 There are indeed businesses that their owners prefer to close down but those are usually the large hotel complexes, clubs, big restaurants, etc.
So, don't worry that you will go to Santorini in October and it will be just you and 3 fat stray cats. You will definitely find everything that you need at Santorini just at much lower prices, with better – fast – service, and in a more relaxed environment (and no crowds!).
Are you looking for the best Santorini budget hotels? Check out this informative post.

4. Enjoy a 3-Day Trip to Delphi and Meteora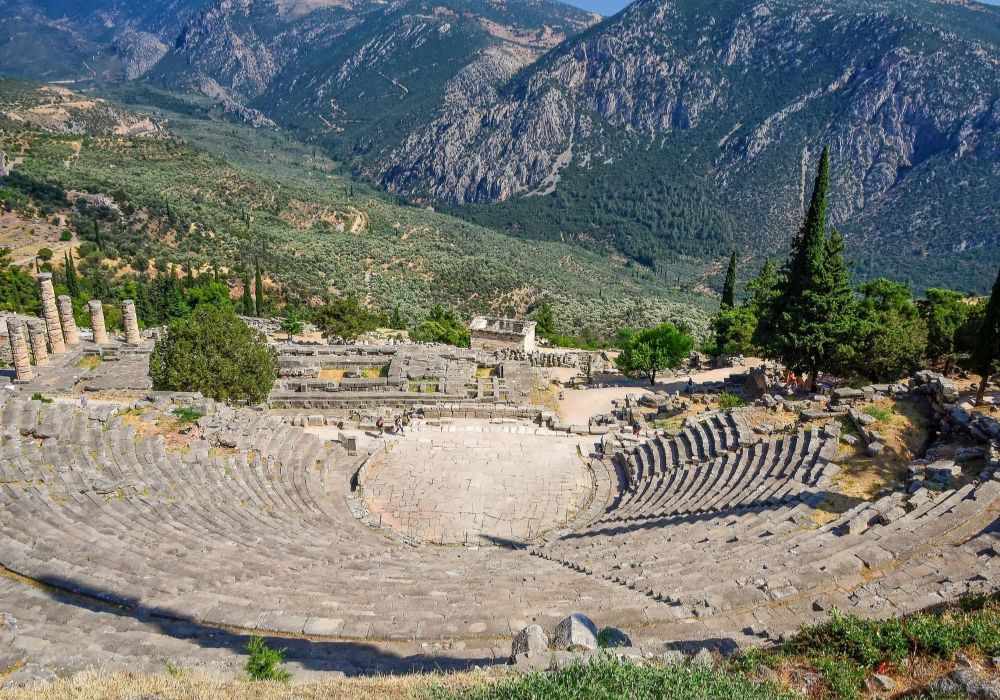 Greece is a mountainous country so some sites are much more difficult to get to them than others especially if you are visiting during the heat of the Greek summer. Two great examples are the steep uphills of the Delphi and the endless steps to get to some of the Meteora Monasteries.
Delphi and Meteora are best visited when the weather is much cooler like October to April and on a 3-day trip, spending a night in Delphi and one night in Meteora. A draft of the itinerary can be:
Day 1: Athens – Ancient Olympia in the Peloponnese – Galaxidi seaside town, 30 km away from Delphi. Spend your evening in the beautiful Galaxidi and stay at the best Boutique Hotel in town with the most delicious handmade marmalades: Ganimede Hotel, Galaxidi.
Day 2: Visit the Delphi Archaeological Site, stroll Arachova town, go to UNESCO Osios Loukas Monastery, drive to Meteora, and stay overnight in Kalambaka town. The best Hotel to stay at in Kalambaka is Archontiko Mesohori Suites & Apartments.
Day 3: Visit UNESCO Meteora Monasteries.
If organizing a trip is too much trouble for you, you can book a 3-day tour to Delphi and Meteora!
5. Explore Athens in October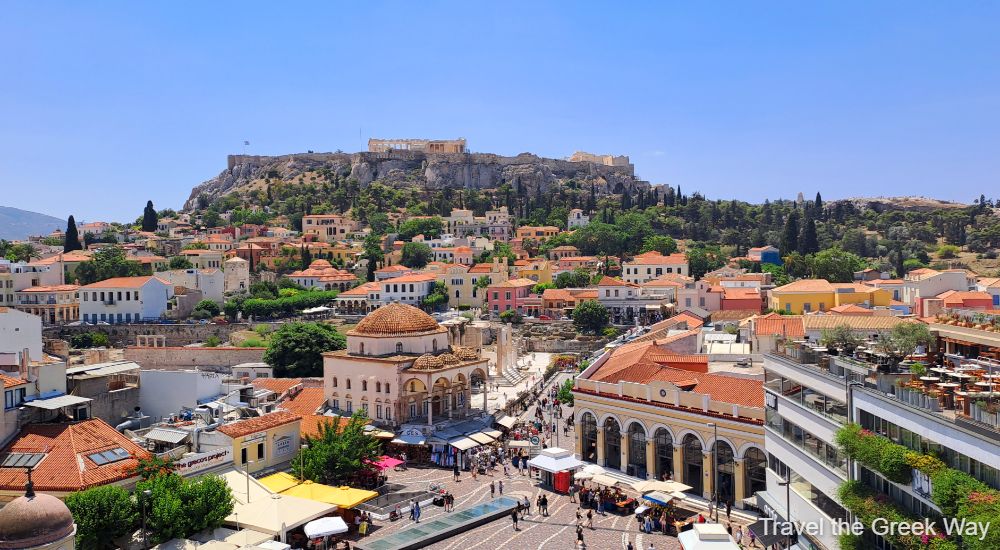 Athens in October is simply amazing. The vast majority of tourists are gone, and you will mostly find the locals hurrying around to their busy schedules.
This is the best time to visit in a relaxing way the most famous Greek landmarks in the world: the Acropolis Hill and the Parthenon.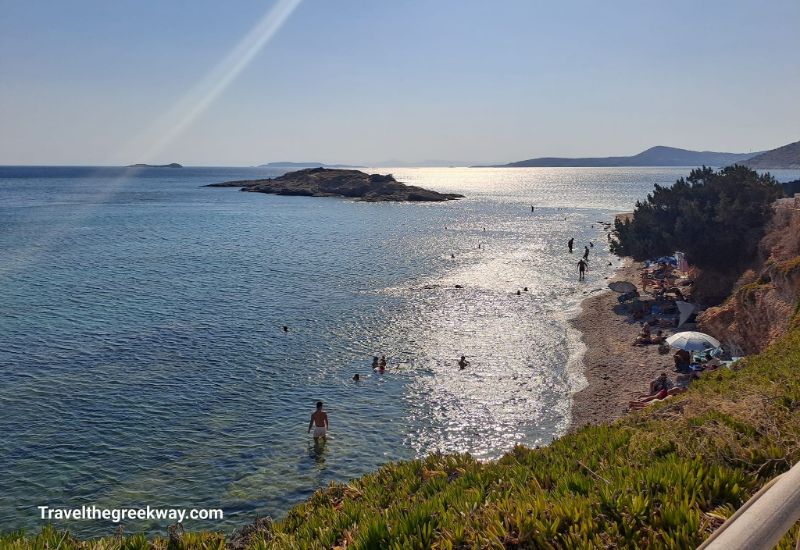 If you head toward Athens Riviera you will that Athenians continue to swim even in October.
\Athens is also perfect as a city break destination. If you are traveling to Europe you can fly for a long weekend to Athens and get the best of what the city has to offer.
My favorite things to do and visit in Athens are:
Travel the Athens Riviera all the way to the Temple of Poseidon in Cape Sounion and watch the stunning sunset there
Choose any of the numerous beaches in the Attika region and swim in the clear waters. One of the best beaches and nearest in Athens center is in Vouliagmeni or Kavouri beach, where you can also find some of the best waterfront restaurants in Athens
Go to the Chocolate Festival organized in Technopolis in the Gkazi area in mid-October
Watch the OCHI DAY, a military parade in central Athens, celebrating the refusal of Greeks to surrender to the Italians back on 28th October 1940. It's celebrated nationwide and all the sites /museums will be closed for that day.
If you would like to get a full tour of Athens, check my full Guide on the Best Athens Monuments so that you do not miss a site!
Where to Stay in Athens
You can find all types of hotels in Athens from super luxury hotels like Grande Bretagne in Athens center and seafront Four Seasons Astir Palace to the best hotels and apartments near old Athens Plaka and Acropolis Parthenon in my complete list below:
6. Hike in Pelion Mountain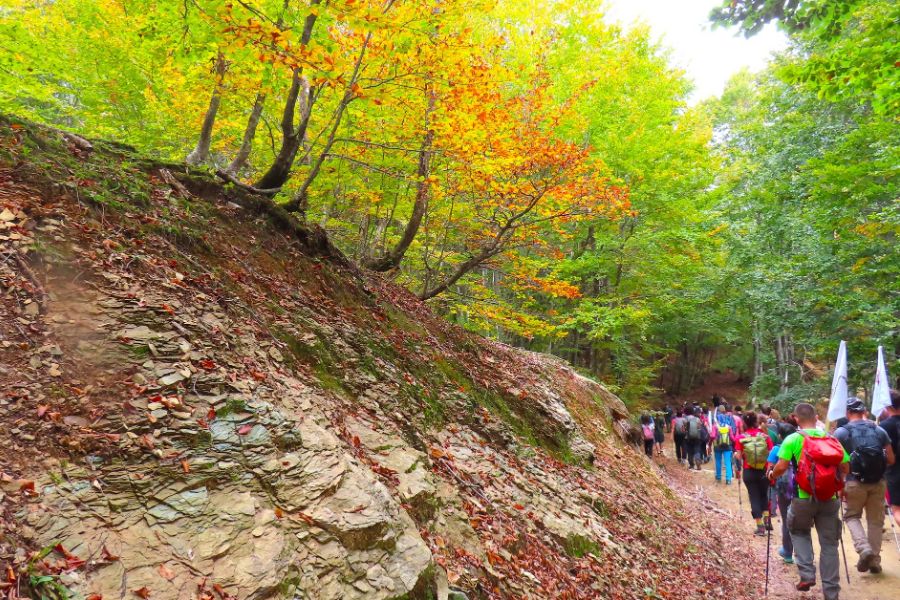 Greece is literally made for walking, so the answer is almost everywhere in the country. There is a mountain or a hill or a nearby forest or a river or a lake to hike, climb, or cross, wherever you go in Greece.
My favorite place to hike in Greece is Pelion mountain located in mid-eastern Greece.
Imagine a deeply forested peninsula with 28 traditional, beautiful villages full of old mansions and monuments, trees laden with pears, apples, chestnuts, planes, streams, and centuries-old bridges.
The most famous Pelion villages are:
As if that was not enough, the peninsula is surrounded by endless golden sandy beaches, some of the best in Greece. In autumn the forest leaves take red and orange hues creating magnificent landscapes that you would just love to hike!
Join the October Pelion Festivals
In the first week of October in Tsagkarada the locals organize the Escape Festival.
The Festival is a fully outdoor activity celebration that includes canyoning, hiking, rock climbing, archery, sea kayaking, horse riding, flying fox, and yoga. All participation and events are free of charge.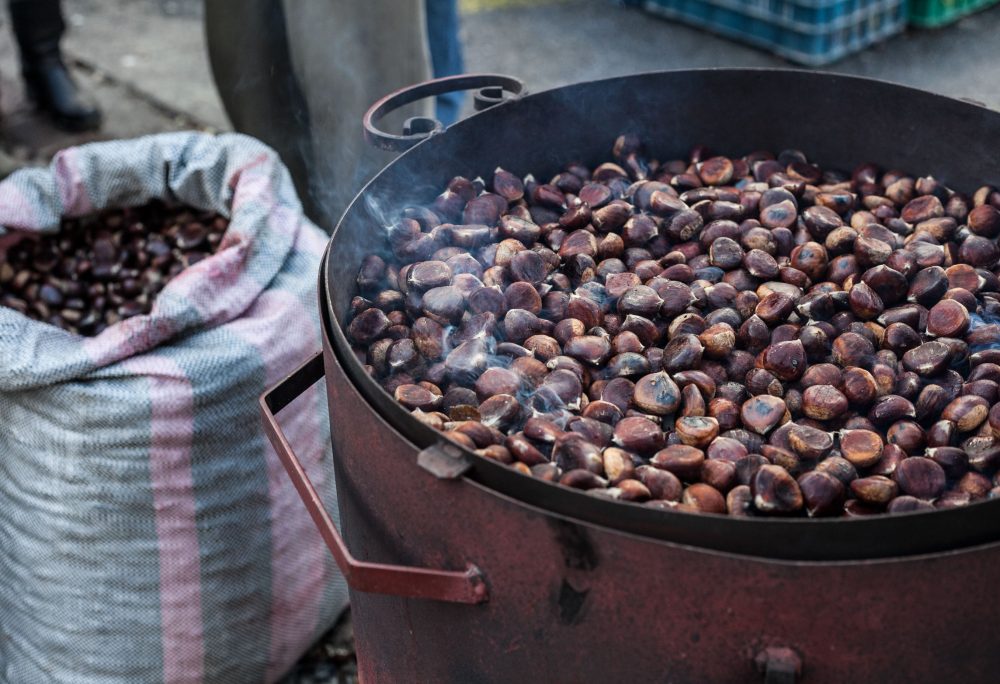 2. On The last days of October, usually between the 26-28 of the month, in a small village close to Tsagkarada, in Xourichti, the "delicious" Chestnut Festival is organized by the local authorities.
There is no entrance fee and the visitors can taste boiled and baked local chestnuts (Pelion is huge in chestnut production), food cooked with chestnuts, dance with the locals, and enjoy an authentic local Greek feast (the poster says that free wine is included as well!).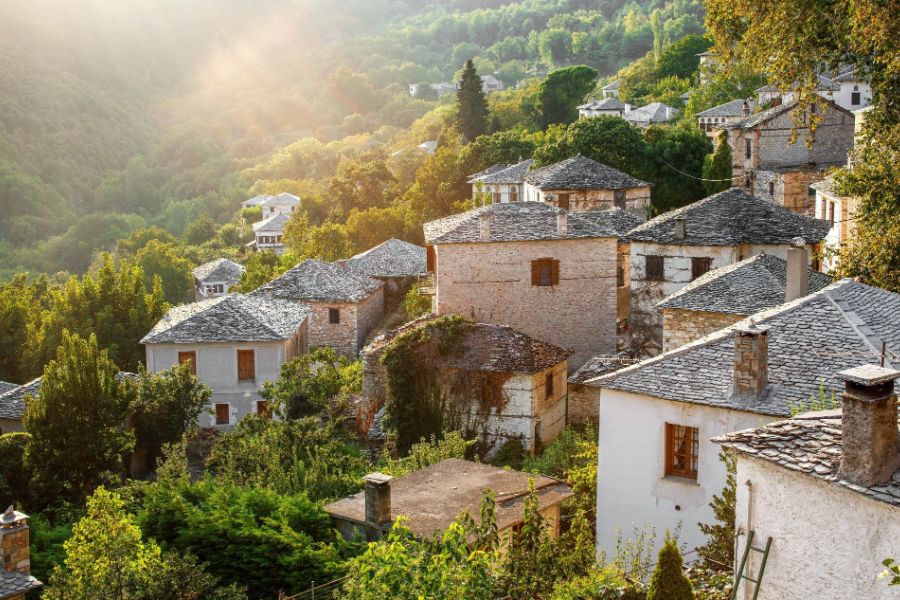 The last and very important reason to visit Greece in October? Prices and rates are low and the local businesses devote a lot of quality time to offering their guests the best experience in their place.
So that when you go back home, Greece will stay in your heart forever.
What to Wear in Greece in October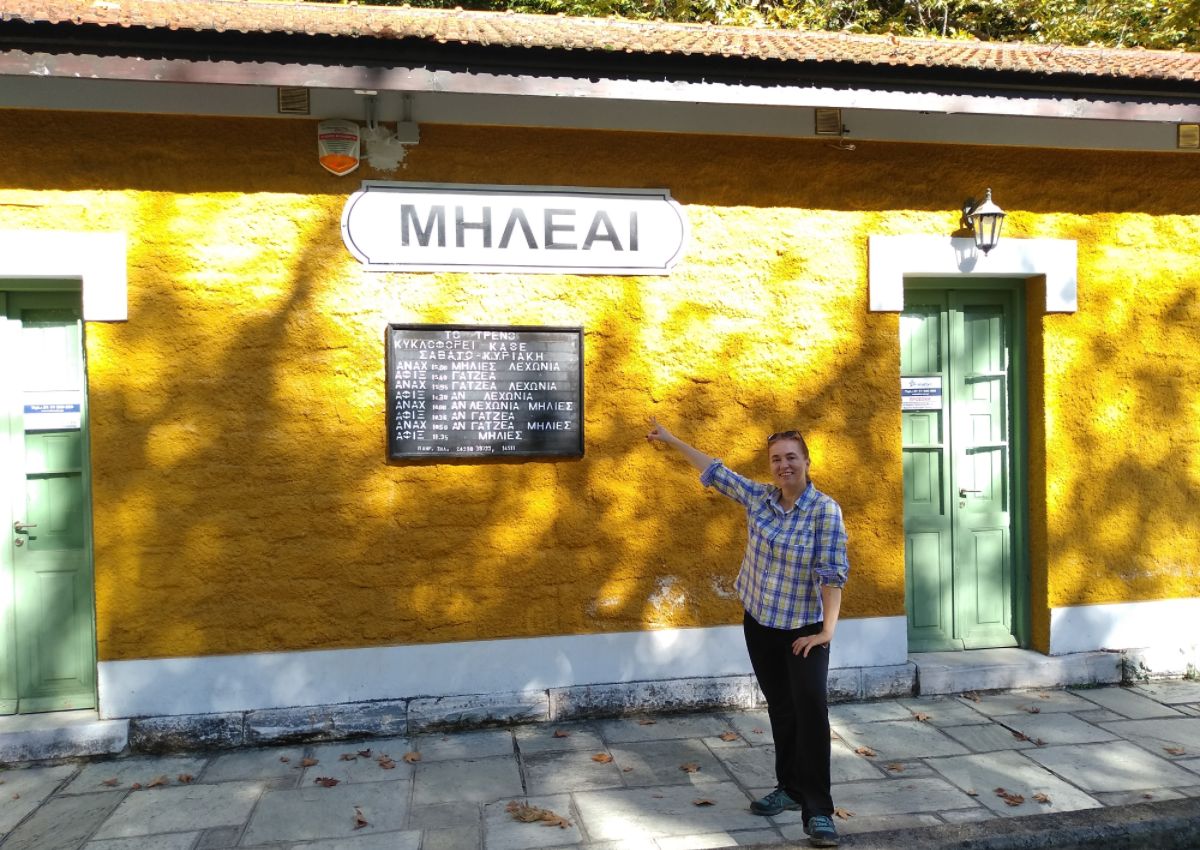 Athens October's highest temperatures varied between 16 and 26 C and the lowest between 10 and 18 C. For this kind of weather, you need to pack a smart combination of light (t-shirts and light long pants) and warmer clothes for cooler nights or for a sudden change of weather.
For a smart outfit for your night outs, a smart jumpsuit is perfect and you can combine it with a different jacket. Another essential item is Spyder Women's Encore Fleece Jacket (amazon), warm, classy, and convenient for any outdoor activity or for the chillier nights in Greece.
Read my Detailed Packing List for Greece here
How to Get to Pireaus Port from Athens Airport
Top Things to Do in Greece in October
Discover Spetses island in the Argosaronic
Go to Andros island in the Cyclades
Enjoy peaceful Santorini island in the Cyclades
Indulge in a 3-Day Trip to Delphi and Meteora
Explore Athens
Discover Pelion Mt traditional villages
Do you need a custom travel itinerary for Greece? Are you traveling solo, with your family or your friends and you need a tailor-made multi-day tour or a transfer within Greece?
If yes, please visit my dedicated Plan My Trip Page for a free itinerary!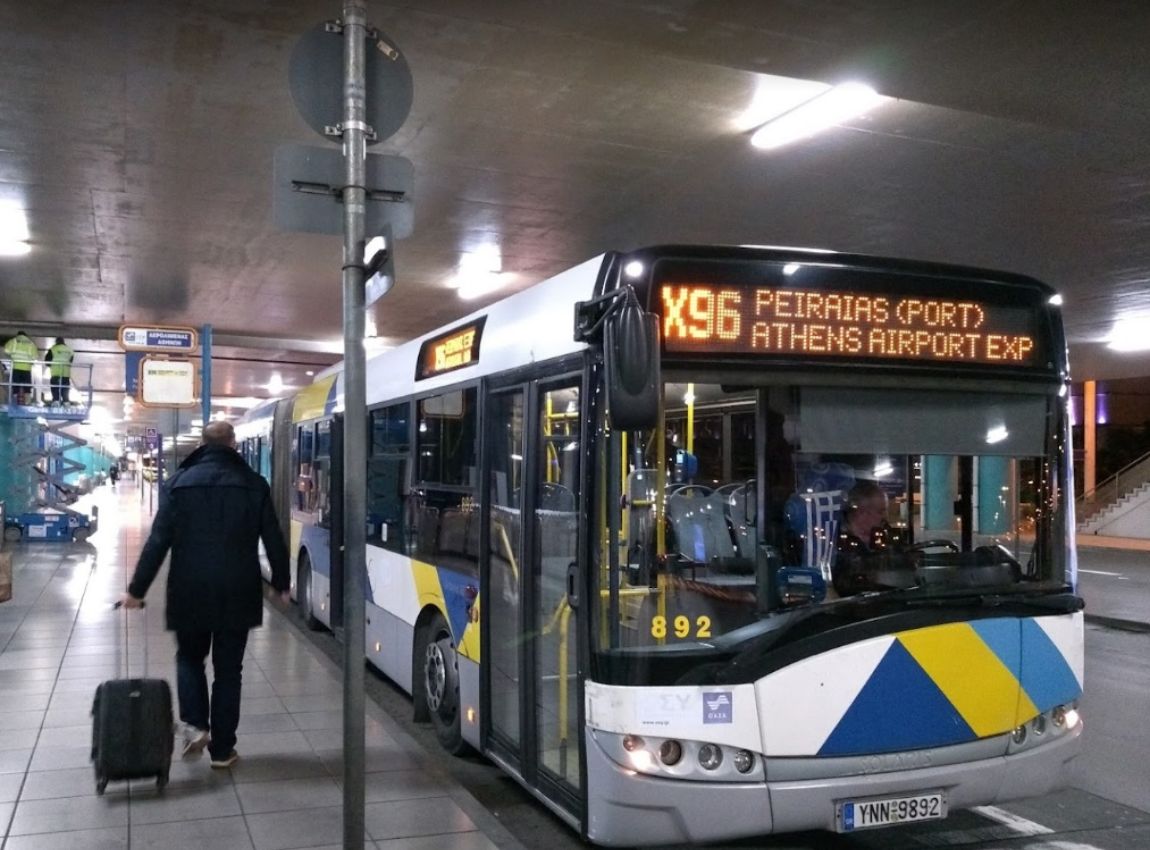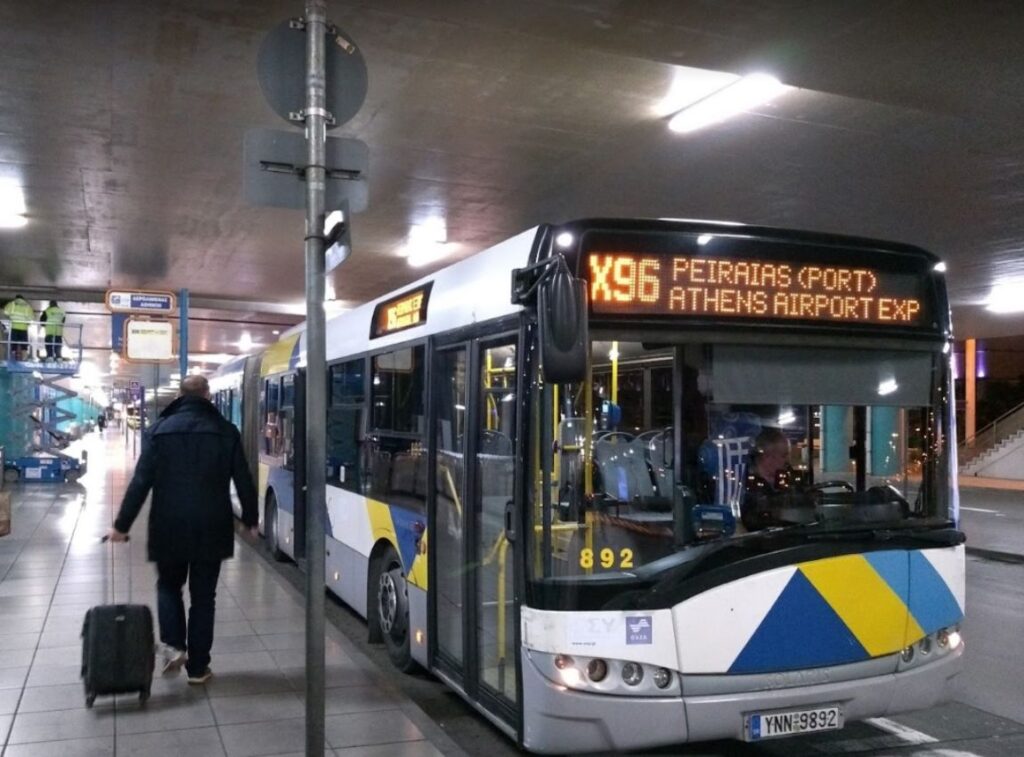 Bus: If you are arriving at Athens International Airport you can travel straight to the port by taking the X96 express bus (€5.5, children <6 yo, free entrance), which departs every 40 minutes and the average trip lasts 1 hour – runs 24/7.
Metro: (€9) is easily found across airport arrivals (blue line – M3) going directly to Piraeus port. The average trip to Piraeus lasts 1 hour.
Taxis are available in front of the airport (around €40 to Athens, €55-60 to Piraeus (depending on the traffic in Kifisos), and take up to 3 or 4 people with small luggage)
Rent a car with Discover Cars to rent reliable new cars at affordable prices
You don't like driving but love hassle-free solutions? Book a Private transfer with an English-speaking driver from Athens International Airport to Piraeus Ferries, or anywhere else in Greece
Check out an entire post on Lavrio Port in Athens
Where is your dream summer destination? Would you go to Greece in October?
I'd love to hear about where you're spending your vacation this year, especially if you have any exciting travel plans! There are so many things to do in Greece in October. I hope that you get the chance to try as many as possible. Till next time, Evgenia❤️
My Most Popular Articles
Essential Greek Travel Info
'Hello' and 'Thank You' in Greek: "Ya sou" and "Efharisto"
Booking.com: I use Booking.com because I can get the best deals on both hotels and apartments, free cancellations, and great prices!
Find Long-Term Rentals in Greece: You will find the best prices in Flatio
FerryScanner to book ferries to the Greek Islands
Athens Metro Website (timetables and ticket info)
Get Your Guide: For all your day or multi-day tours and city guide needs, I use Get Your Guide
Emergency Numbers Anywhere in Greece: AMBULANCE 166 – FIRE 199 – POLICE 100– EMERGENCY NUMBER 112
All rights reserved © Travel the Greek Way. Republishing this article and/or any of its contents (photographs, text, links) is strictly prohibited.
Please follow and like us: