Chania Crete is probably the most beautiful town in Greece and one of the most spectacular regions on Crete island! It has very loyal friends that come back year after year, enjoying Chania's totally unique ambiance.
Chania Crete lies on the westernmost side of Crete Island and is one of the four capital towns of Crete. The whole island of Crete is stunningly beautiful and diverse and fills you with long-lasting memories of happiness and excitement. Chania Crete holidays are very popular among Europeans who visit Crete and in particular Chania, year after year.
This guide is about the best things to do and see in Chania Crete!
This guide to Chania Crete includes information about:
How to Reach Chania: If you are traveling from Athens or an island
Where Best to Stay in Chania Crete Hotels: My favorite accommodation in Chania town or village beaches
A Google Interactive Map of Chania with the locations mentioned in this post
Best Things to Do on Chania Crete: All the best sites like Chania Old Town, local eateries and delicacies, hiking, and of course the spectacular Elafonissi and Balos beaches, which I highly recommend you try for yourself!
Tips for Visiting Chania Crete: When to go, how long to stay, and what to wear
Chania Quick Reference
Top Things to Do in Chania Crete
1. Explore Chania town
After you have settled down in your hotel, and have changed into your vacation clothes you can now start exploring the gorgeous Chania town.
Chania is divided into two distinct areas, the old town and the modern and larger one. The town was actually built on top of the Minoan civilization which flourished from c. 3000 BC to c. 1450 BC. Old Town Chania today is a breathtaking blend of Byzantine, Venetian, and Classical Greek cultural elements.
2. Stroll at Chania Old Venetian Port
Your first exploration should be the picture-perfect old Venetian port. In the summer it is full of visitors, buzzing with life as you walk its promenade lined with fish taverns and cafes.
Best landmarks to visit in Chania Old Port:
The Firka Venetian Fortress was constructed by the Venetians in 1610, to prevent any attack from the pirates or the Ottomans on the port. At the entrance of the Fortress is housed the Maritime Museum of Crete, where you can find out about maritime Cretan history from the Bronze Age to today. It is closed on Sundays, open 8.30 am-3.40 pm, ticket €4
Byzantine and Postbyzantine Collection of Chania. The Byzantine museum is housed in the site of the church of the Franciscan Monastery of San Salvatore, founded in the 15th century. It is open daily 8.30 am – 3.30 pm, closed on Tuesdays, ticket €2.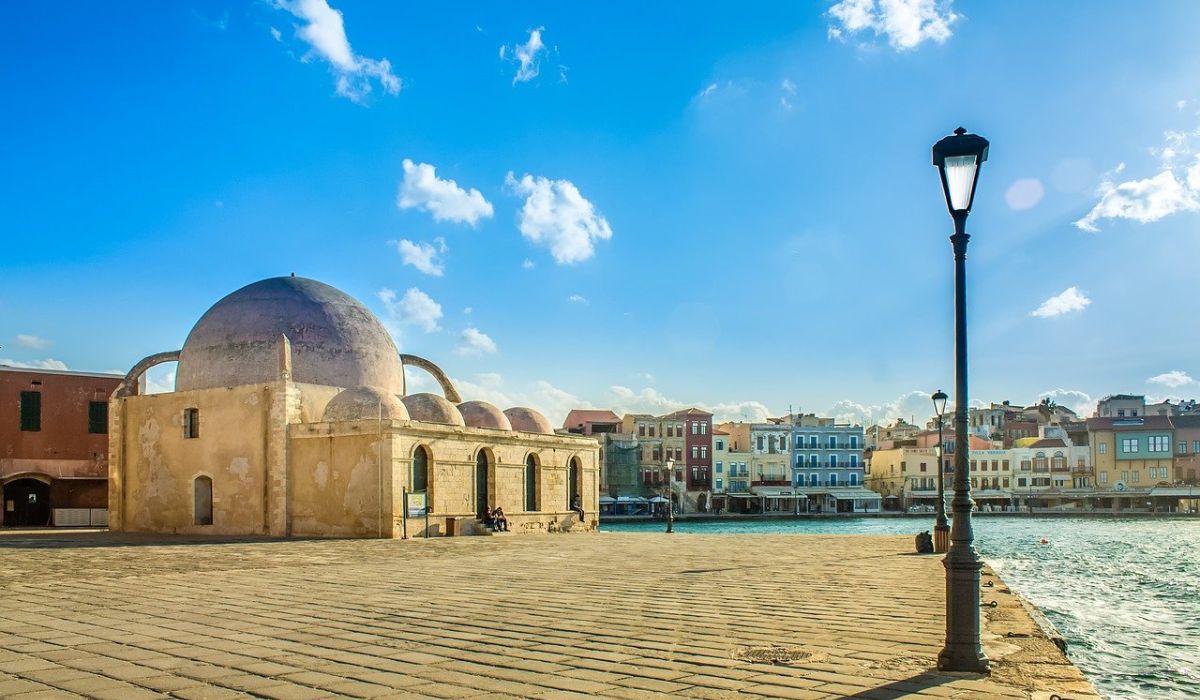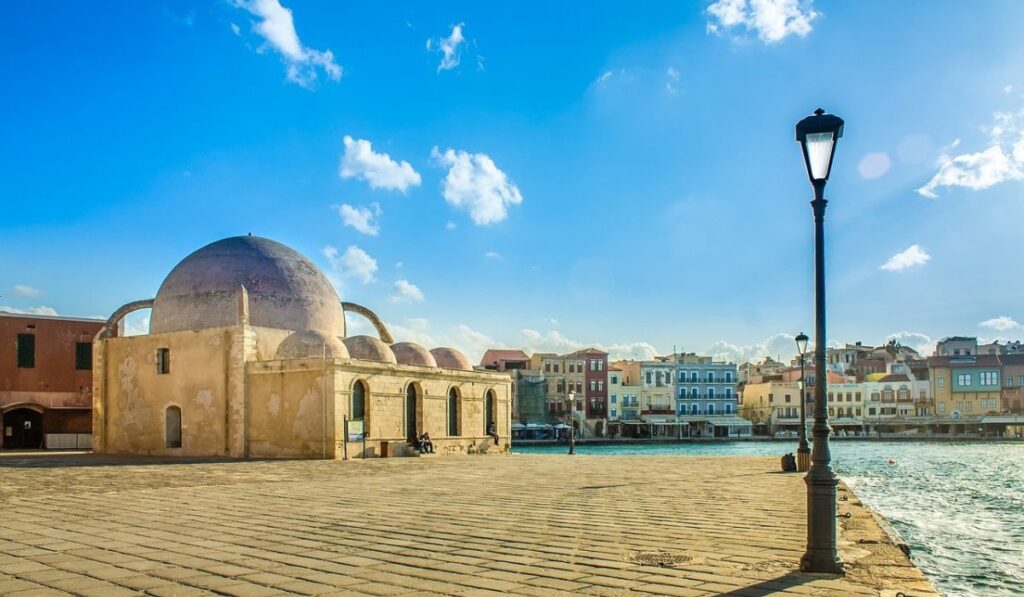 The Mosque Kioutsouk Hassan or Giali Tzamisi was constructed in the 17th century by the Ottomans. It is currently used for events and exhibitions
During the Venetian occupation (1204 – 1669) 17 Neoria were built. Neoria are the Venetian shipyard buildings, where the ships were repaired. Today, only 7 continuous domes survive and the Center of Mediterranean Architecture has its offices there (Grand Arsenal, the last of the 17 Neoria to the west). Today, it hosts important cultural events and artistic exhibitions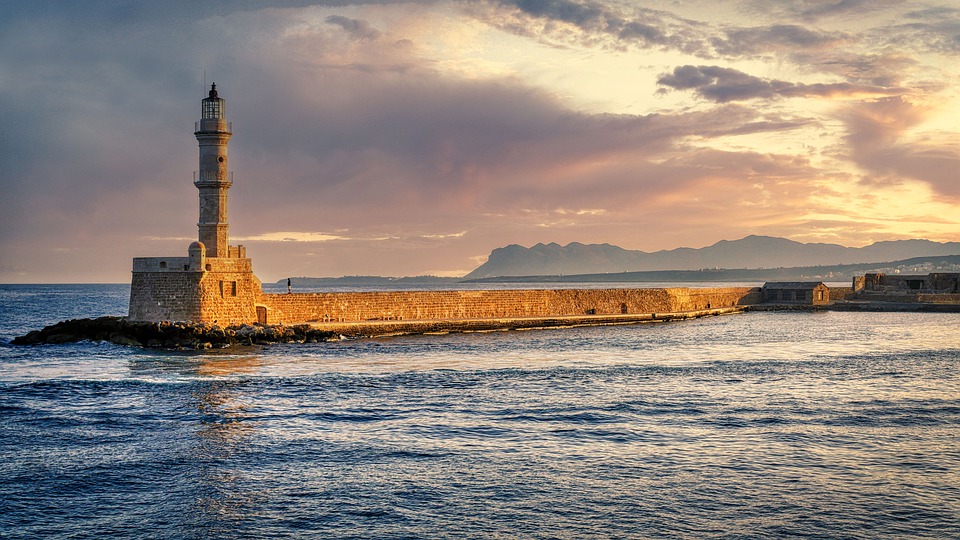 The Egyptian Lighthouse is one of the oldest stone lighthouses in the world. It was first constructed by the Venetians at the end of the 16th century but was reconstructed by the Egyptians during the period 1830-40
The Sabbionara Rampart widely known by its Turkish name "Koum Kapi", is the remains of a gate constructed in the Venetian old-town walls next to the sea.
The Archaeological Museum where is housed in the old Venetian monastery of Saint Frances Assiz. It is open daily from 8.30 am to 20.00 pm, closed on Tuesdays, ticket €6.
Best Free Thing to Do in Chania Crete: Go to the Greek National Football Museum, with more than 2000 items of soccer memorabilia. Hours of operation: 10 am-5 pm, closed Sun Mar-Oct, reduced hours Nov-Mar.
Where to Stay near the Chania Old Port
Casa Delfino Hotel & Spa: Set in a fantastic location, a luxury hotel, with rooms decorated that remind you of Crete's history, fine textiles, and class.
Santrivani Rooms: Centrally located in Chania, close to the sea and all the sites.
3. Walk Around the Old Chania Town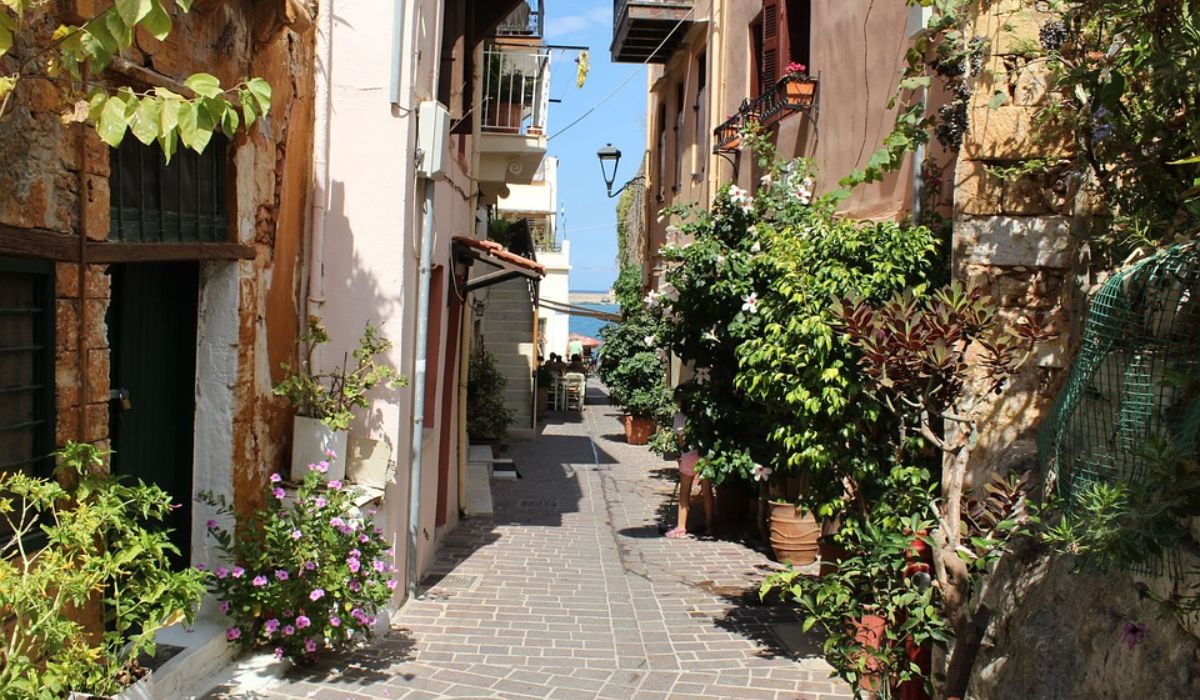 Walking the narrow alleys of the old Chania town is one of the best things to do in Crete. Old Chania town has 4 distinct neighborhoods that are perfect to explore: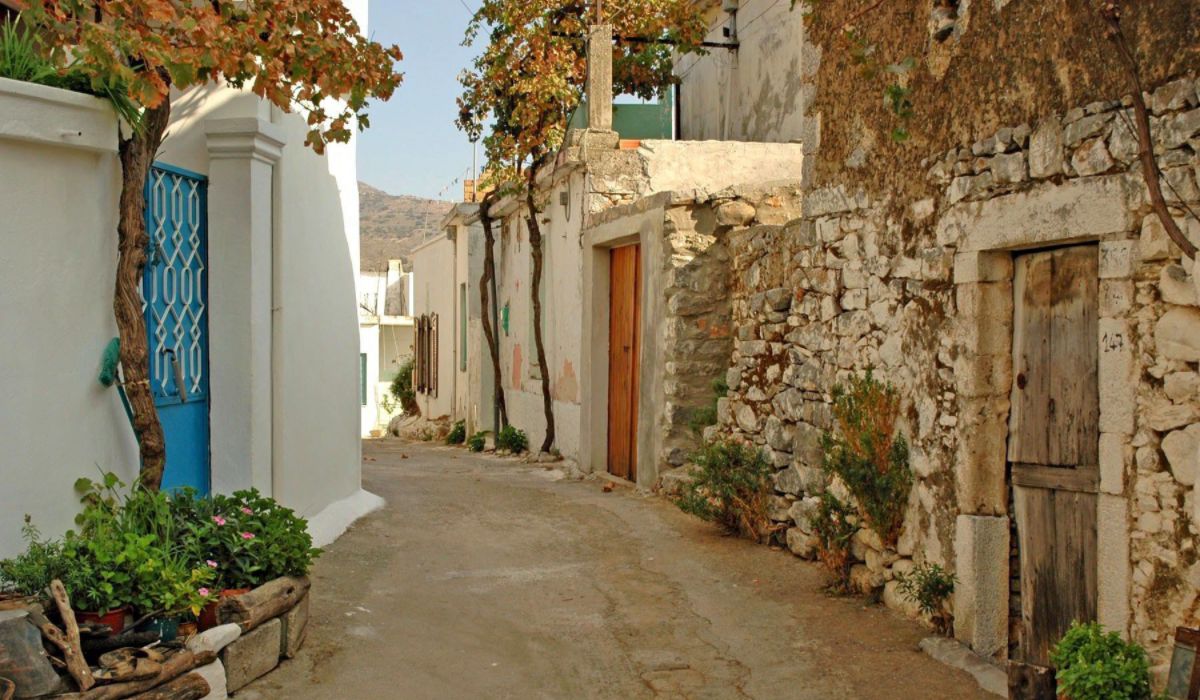 Kastelli area is located on a small hill, with very narrow, twisty alleys.
Once it was the Ancient Kydonia, the Proto-Minoan settlement of Kasteli, with still today some remaining ruins that can be seen on Kanevaro st. Centuries later it became a Byzantine castle and the remains of that period can be seen at Karaoli Dimitriou St. Then, the Venetians built new walls around it and Kastelli became a fortress, traces of which you see all around you.
Evraiki (former Jewish Quarter) area in Chania is another popular and picturesque area with tiny cobblestone alleys. The Evraiki area is included between the streets Chalidon, Zampeliou, Skoufon, and Portou. You will find here the working Etz Hayyim Synagogue which is the only Synagogue in the whole of Crete.
The Cretan Jewish Community was violently captured by the Nazis, 350 people got on board a ship that was bombarded and left no survivors in 1944. Today, just 20 Jews live in Chania.
Topanas district is behind the Firkas Venetian Walls and during the Ottoman years used to be the Christian aristocrats' quarter. Splantzia Square is the old Ottoman district, once totally inaccessible to Christians.
On the Square, you will see the historic centuries-old plane tree (used by the Turks for exemplary executions) and the church of Agios Nikolaos.
Beaches near Chania Old Town
Sandy Nea Chora Beach, less than 1 km west of Chania town with plenty of fish taverns
Sandy Agioi Apostoloi, 5 km west of Chania town, with a chapel (Saint Apostles) on the peninsula. Organized with cafes and taverns and one of the best beaches near Chania Old Town
Where Best to Stay in Chania Town Crete
Epavli Boutique Hotel. Featuring an outdoor swimming pool and a garden, the Epavli Boutique Hotel is only 650 m from Koum Kapi Beach. With a fantastic breakfast!
4. Go to Modern Chania Town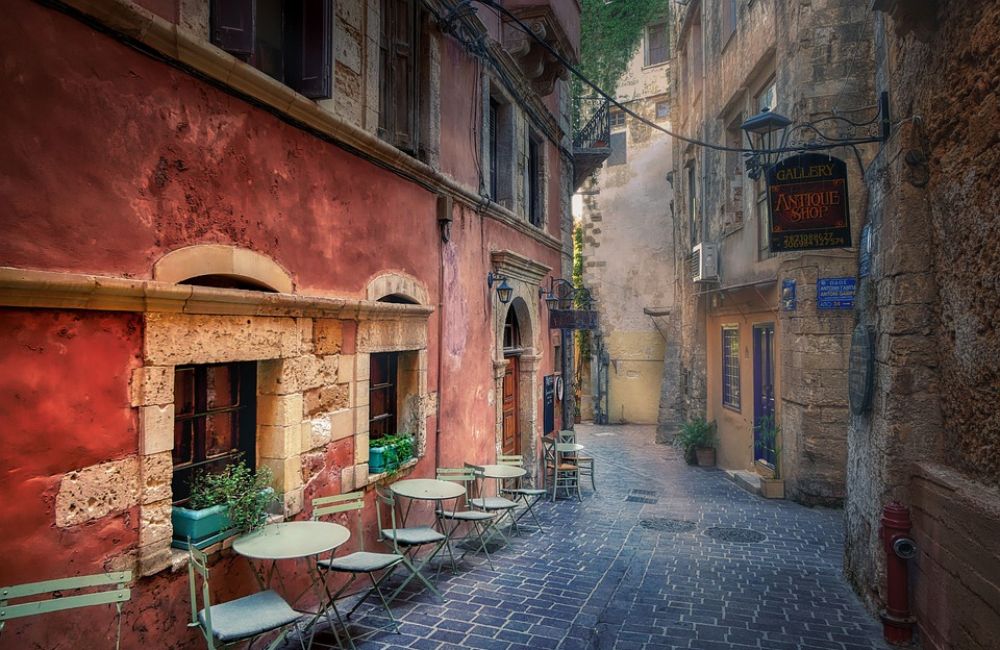 Don't skip the modern part of Chania, thinking that all the fun and sightseeing is in the Old part of the town. Chania, old or modern, is an endless source of things to do and see!
What to visit in the modern part of Chania:
The historical district of Chalepa with the mansions of the 19th and 20th centuries
Municipal Market of Chania, an open fruit, vegetable, and herbs market to stock up!
The house of Eleftherios Venizelos – one of the most important politics of all time in Greece – that today hosts the National Research Foundation "Eleftherios K. Venizelos"
The French School (1860)
The Russian church of Agia Magdalini
Are you traveling with your family and you love ancient Greek history? Go to Minoan's World 3D Museum and experience a unique and fun time with history!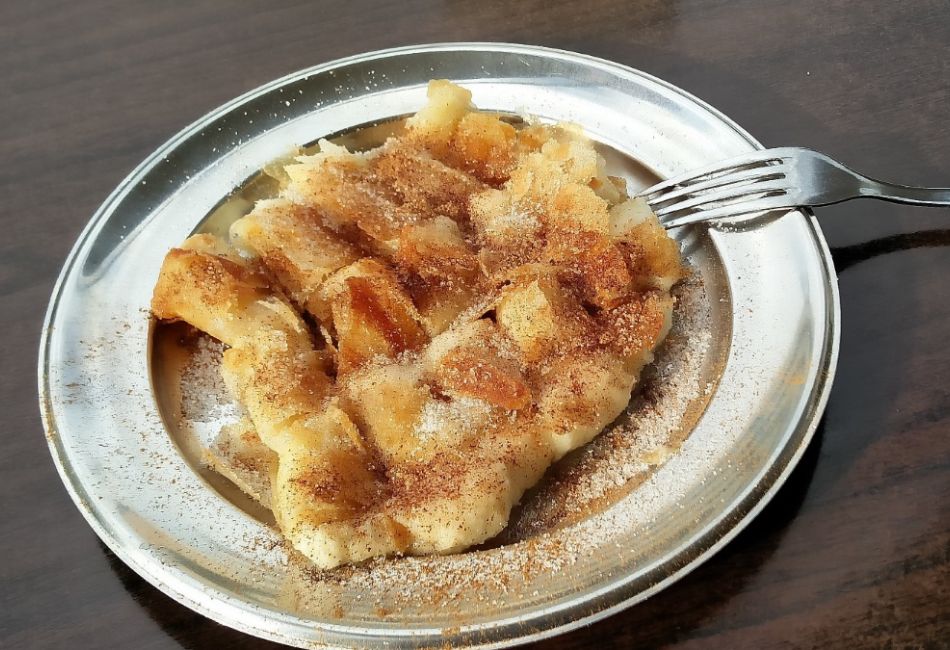 Taste the delicious Greek pastry sweet called Bougatsa filled with cream and cinnamon – in a very traditional environment. Look out for the Bougatsa Chania shop at Apokoronou 37 St. a few minutes walk from Old Port.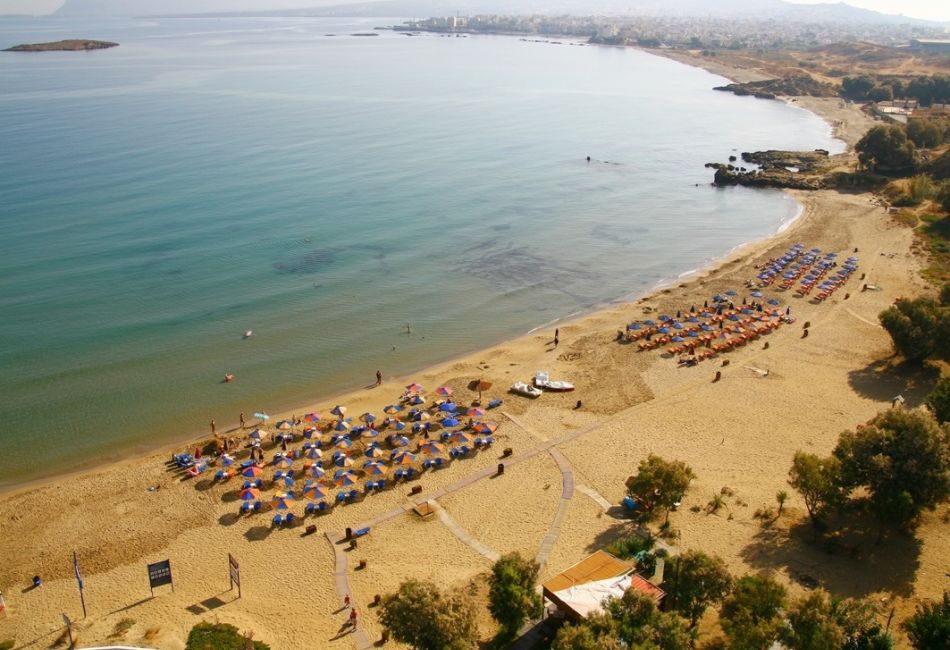 Beaches near Chania town
One of the best beaches near Chania town is the Blue Flag awarded beach of Chrysi Akti (Golden Sand) beach, only 3 km west of Chania. The waters are excellent, with a well-organized beach with sunbeds, umbrellas, changing rooms, showers, and a lifeguard. Take a taxi or take a public bus to get easily there.
You are reading about the best things to do in western Crete, the Chania region!
Are you looking for hotels and apartments in the four regions of Crete Island? Find a ton of information in my dedicated post on where to stay on Crete Island.
5. Indulge in the Spectacular Beach of Balos
The exotic Balos Beach is at the northwesternmost point of Crete and 52km/32 mi from Chania. Balos Beach has soft white sand, shallow turquoise, and emerald-green waters. All the words of this world will not prepare you for the breathtaking view when you get there.
Right across the Balos beach, you will see Gramvousa islet where you can wade through the knee-high sea and visit the 16th-century Venetian fort. The whole area is a Natura 2000 protection network so please respect the beautiful area and leave it as you found it.
Sometimes goats from the surrounding mountains visit the beach. I think the tourists probably spoil them with all kinds of goodies!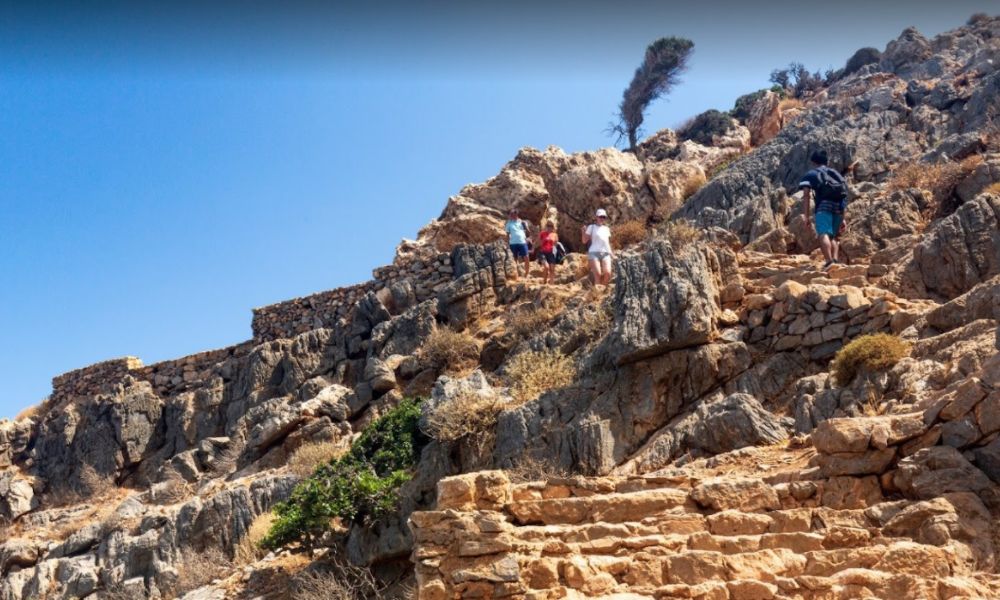 How to get to Balos Beach
By car: Drive up to Kaliviani village and follow the dirt road that starts from the village. About 8 km later you reach the parking lot for the beach. There is a 1 euro toll to access the beach. It involves some easy downhill hiking to get to the beach from the parking lot. At the Balos beach, there is a canteen (which sells coffee, sodas, sandwiches, and snacks), sunbeds, and umbrellas. The thing is that in summer it is super popular so you either come very early to get a nice spot or later in the afternoon
By car to Kissamos and from there, catch a small boat that makes scheduled itineraries to the Balos beach.
Don't want to bother with organizing the visit to Balos? Book a Private Boat Trip to Kissamos Balos with snorkeling and swimming off-the-boat options
Where Best to Stay in Balos
For your lunch, you can return to the beautiful and traditional Kaliviani village in one of its seaside taverns. An exceptional hotel in Kaliviani is the Kaliviani Traditional Hotel. It has beautiful scenic views and I really love its fine room decoration and the very friendly hosts.
Tip: Nearby is the beautiful sandy beach of Falasarna, an exotic and organized beach.
6. Hike Samaria Gorge
Hiking Samaria Gorge is one of the top things you can do in Chania Crete!
The 15,9 km Samaria Gorge is a real gem of hiking. It makes a challenging hike of 5-7 hours, most of it is downhill and I would suggest you go with a local group.
The starting point of the Samaria hiking is at the village of Omalos, 42 km south of Chania, and ends in the scenic seaside village of Agia Roumeli. As this is a one-way hike, you need to consider how you will be transported back to your starting point before doing this hike.
If you are traveling with a group of up to 8 people you can stay at the beautiful stone Villa Samaria (self-catering) in Omalos. Alternatively, you can stay at the seaside Agia Roumeli village at Gigilos, a seafront comfortable hotel with breakfast, a great value-for-money property.
To avoid the hassle of organizing the challenging trek I would suggest booking a guided tour to Samaria Gorge with a pick-up from your hotel included.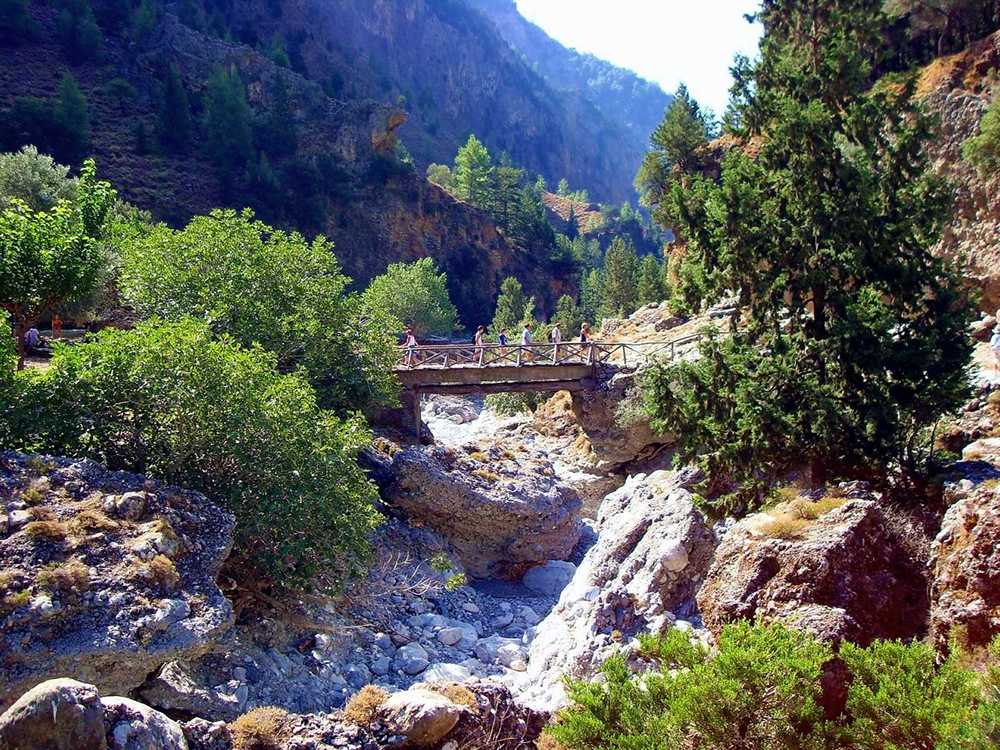 Hiking Information for Samaria
For your return trip, one idea is to get the ferry to stunning Sfakia and stay there for the night. A very nice fish village that reminds me of the Cyclades is Loutro and as it is not touristically advanced it is perfect for a quiet vacation. The beach has big white pebbles and there are two more nice beaches nearby, Glyka Nera & Marmara.
Where Best to Stay in Loutro Sfakia
Maistrali Studio is a seafront property, that features perfectly clean and comfortable rooms, right on the stunning bay of Loutra.
7. Go to Elafonissi Beach
Elafonissi is located 76km/47 mi southwest of Chania and 5km south of Chrysoskalitisa Monastery on the southwesternmost tip of Crete.
Elafonissi is actually a peninsula, that often breaks into two parts giving the impression of being a separate island. The sand takes on pink hues in certain lights as it is made up of tiny pieces of shells.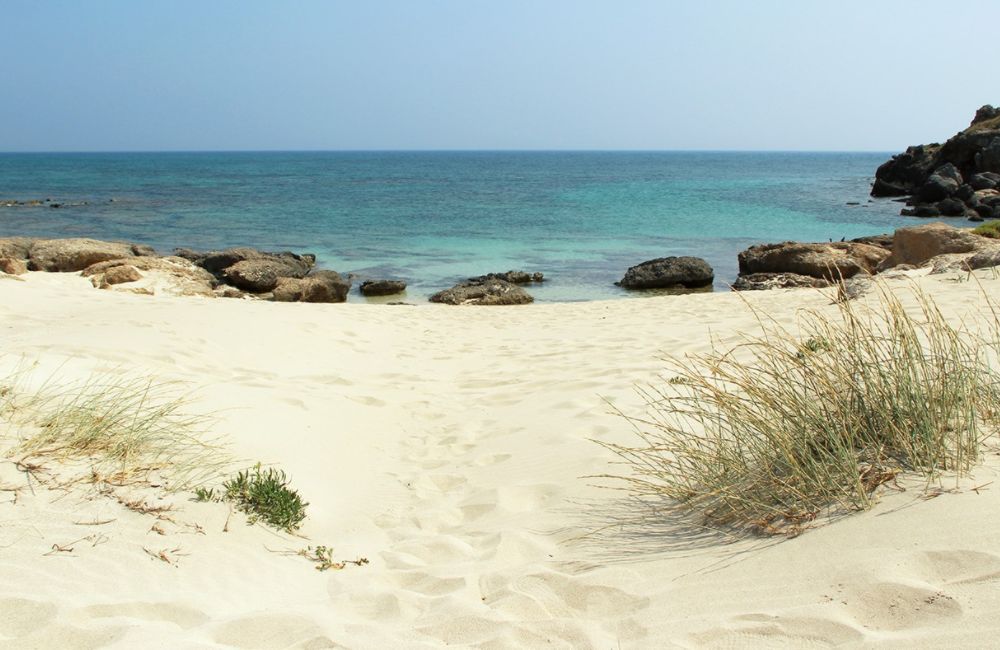 Elafonissi Beach is one of the most beautiful beaches in the world and a Natura 2000 protected area rich in flora and fauna such as sea daffodils and the endangered loggerhead sea turtle.
It is strictly forbidden to remove any plants, animals, shells, and sand from the area. If you do so, you contribute to the natural disaster of this magnificent place.
If you don't want to deal with the hassle of driving and just want to enjoy one of the best beaches, take a guided tour from Chania to Elafonisi beach where you can enjoy several hours in the pink sand and swim in the pristine waters.
Where to Stay in Elafonissi:
Cretan Fleur Apartments (Self-catering). A nicely decorated ultra-clean private property with large balconies and sea views. Hospitable and kind hosts.
8. Visit the Authentic Apokoronas villages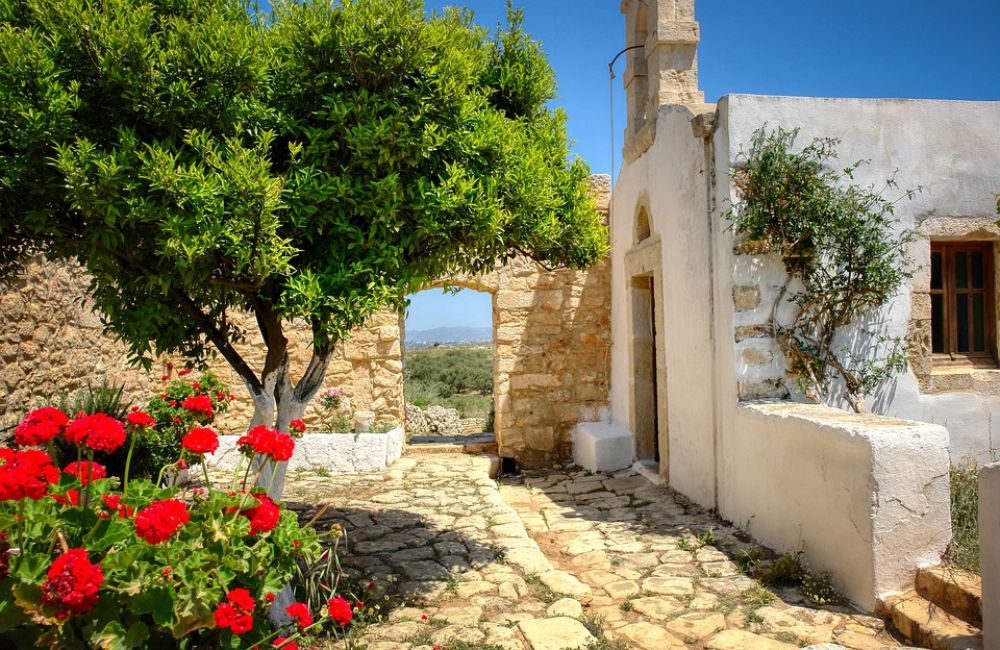 Just 20 minutes from Chania town (25 km) lie 37 beautiful villages, around the Lefka Ori Mt, the Apokoronas villages. There has been a very mild tourist development, so those villages are really old-looking and authentic Cretan life. Some of the villages are: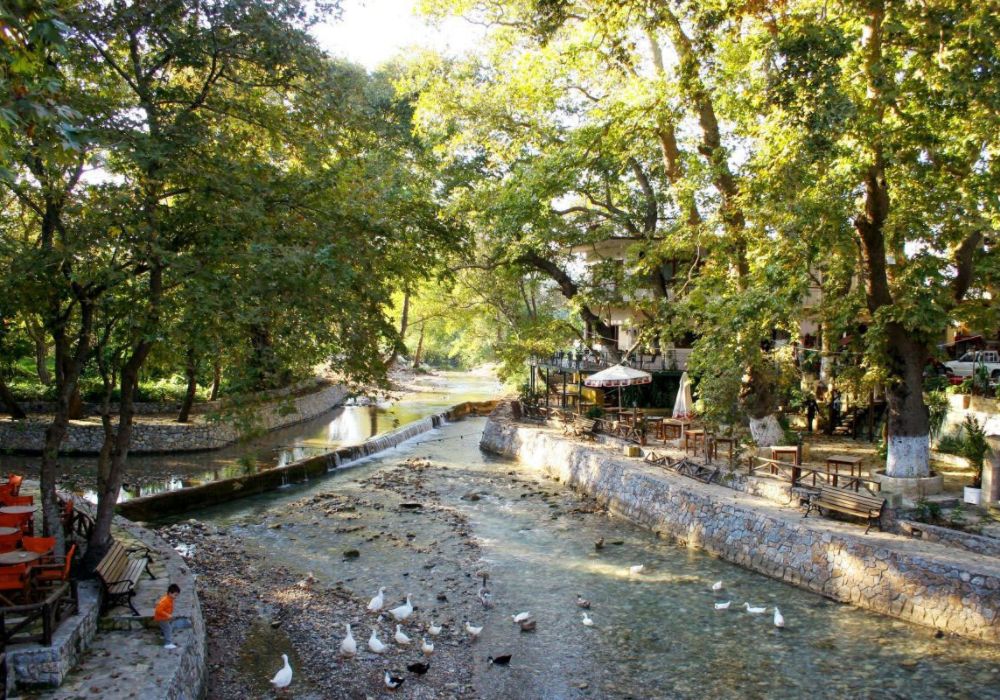 Armeni, Agios Pavlos, Gavalohori, Kefalos, Vamos, Xirosterni where you can have your meals and taste authentic Cretan cuisines such as tsigariasto, boureki, kalitsounia, pilafi, and dakos
Go to the very picturesque Vryses village, built on the feet of Lefka Mt. Two rivers cross the village making beautiful pools, small waterfalls, and streams
The best villa in the area to stay in is Villa Levanta in Armeni Apokoronou (self-catering, up to 6 guests) great for a family, with a garden and a small pool (14 km from Chania town)
I particularly enjoyed this 7 Villages Apokoronas tour as it offered the opportunity to explore Crete's history, culture, and food in one shot.
9. Tour the Monasteries of Akrotiri Peninsula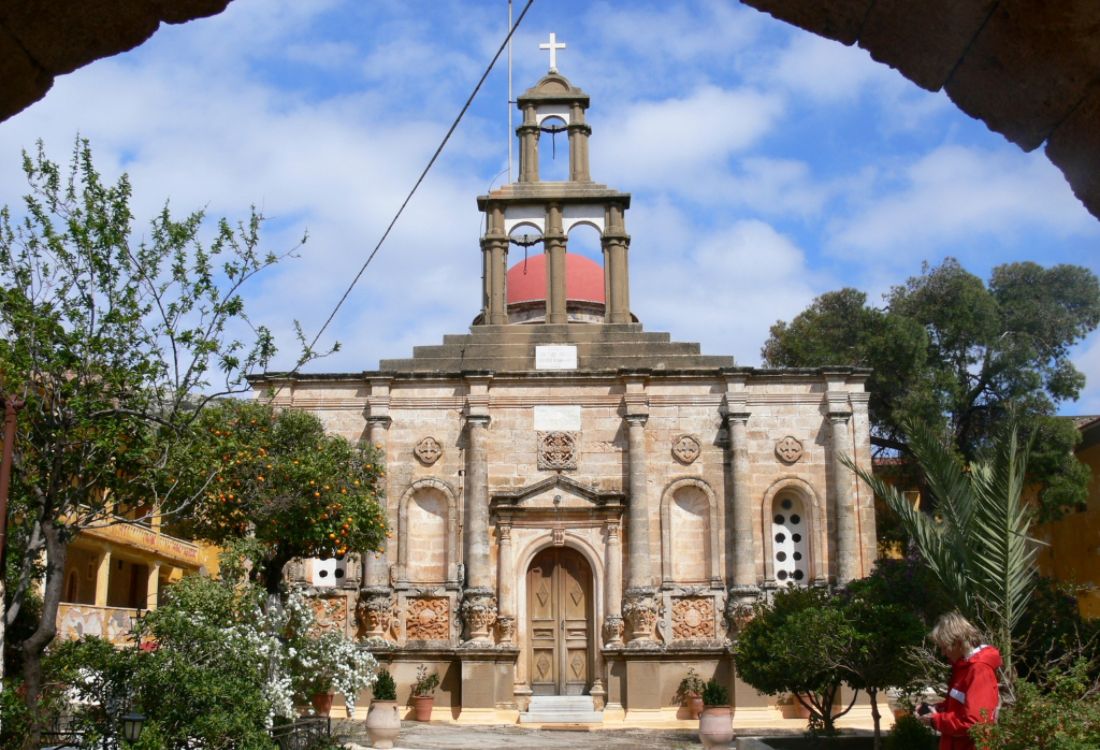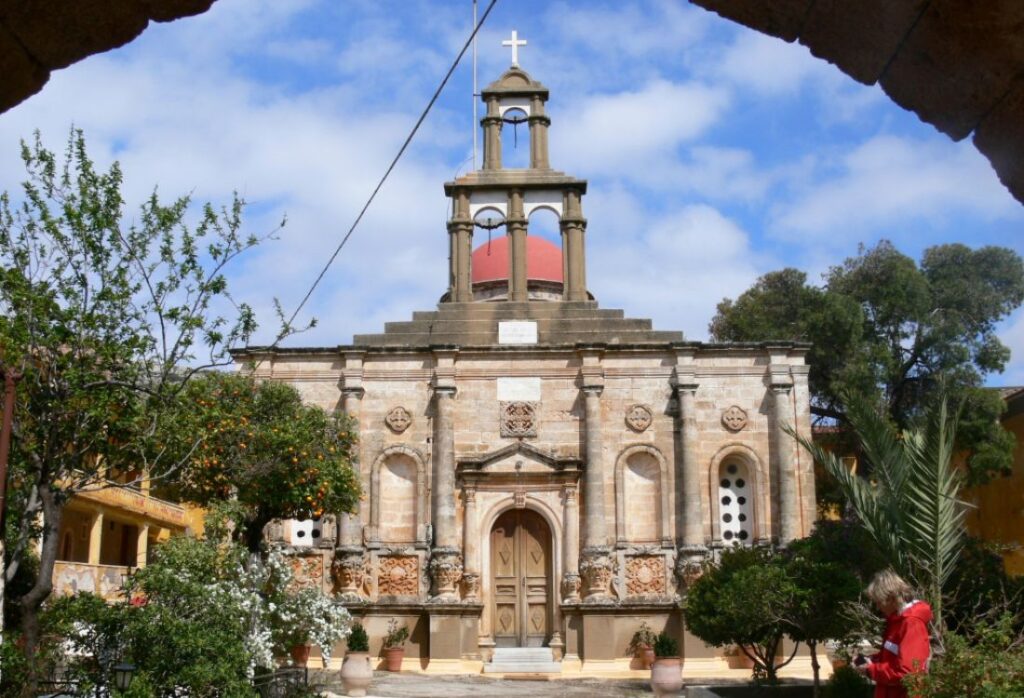 Akrotiri is located east and around 15 km far from Chania. In the area of Akrotiri you can find some of the oldest, richest, and most imposing monasteries in Chania:
The fascinating Monastery of Gouvernetou, founded in 1537, is dedicated to the Lady of Angels, with impressive columns on the facade. Open Monday, Tuesday, and Thursday 9 am – 12 am & 5.00-7.00 pm, weekends 9-11 am & 5-8 pm. You must wear modest clothes, no shorts or uncovered shoulders, they are very strict about attire.
From there, take the trail to Arkoudospilia (Bear Cave), down 140 steps to Panagia Arkoudiotissa, an abandoned 16th monastery, built into a cliff
Agia Triada Tsagarolon, founded in 1612, is one of the most fascinating monasteries in Crete that is being managed directly by the Ecumenical Patriarchate. Find here one of the best organic produced virgin olive oils in the world as well as honey, wine, vineyard, and soap.
After seeing the monasteries, head for Stavros Bay for a swim at the sandy beach where Anthony Quinn danced in the 1964 film Zorba the Greek.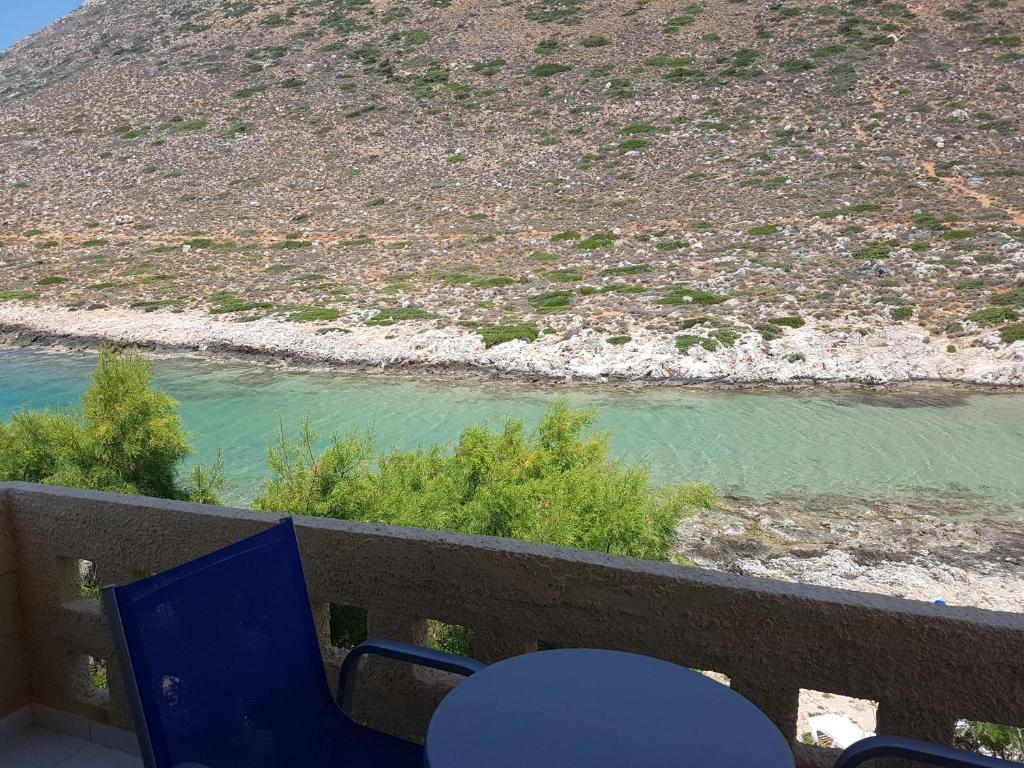 Check out the Little Bay Rooms at Stavros (self-catering) neat large rooms, less than a minute far from a tiny sandy beach, and follow Anthony Quinn's dance steps.
Tip: There is a lovely beach on Rhodes Island that has been named after Antony Quinn.
10. Explore the Ancient Chania: Souda Bay, Fortresses, and Ancient Aptera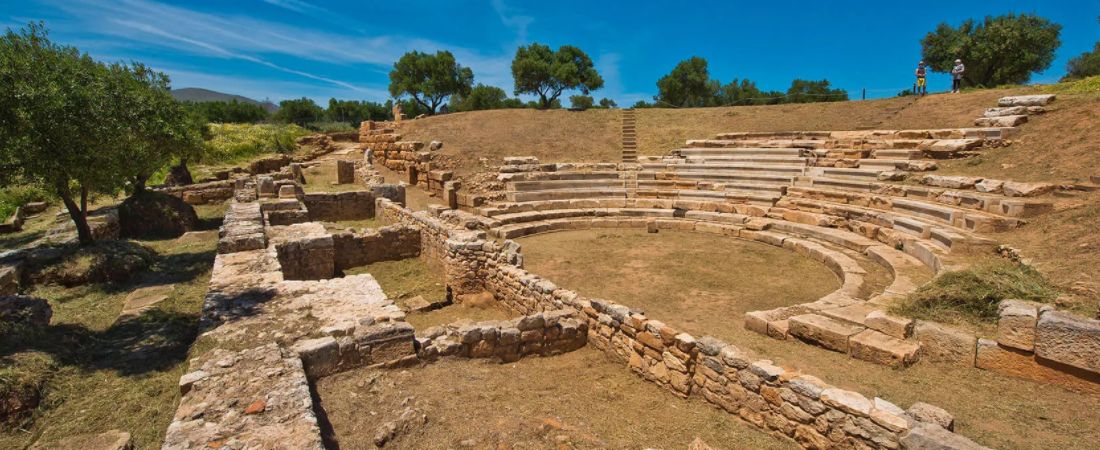 Above the Souda Bay, and around 15 km/9.3 mi from Chania lie the ruins of Ancient Aptera one of the most important city-states of Crete during the Minoan period. Take water with you, and wear good shoes, a hat, and sunscreen as this is a large site.
At the site, you can see public baths, graves, Roman reservoirs, many wells, tanks, and a theater, which is not completely revealed yet. The wall that was protecting Aptera has survived a length of about 4 km/2.5 mi.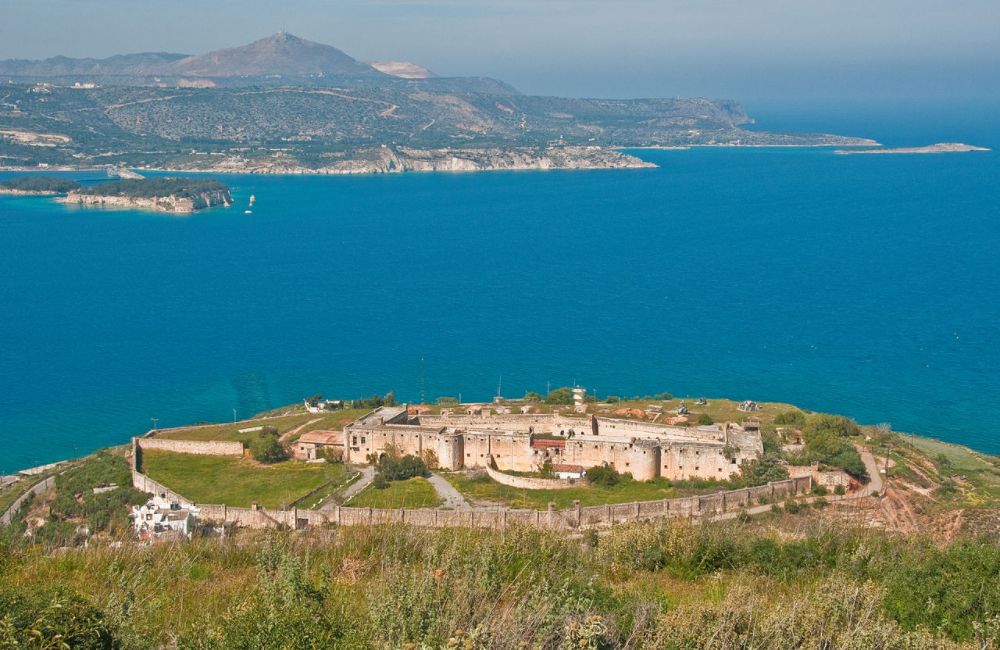 Right across you will see a small island which is all covered by a Venetian castle built in 1573 and nearby the Itzedin castle built in 1872 by the Ottomans. They are both very impressive medieval landmarks that you should not miss if you are in the area.
11. Discover the Botanical Park of Crete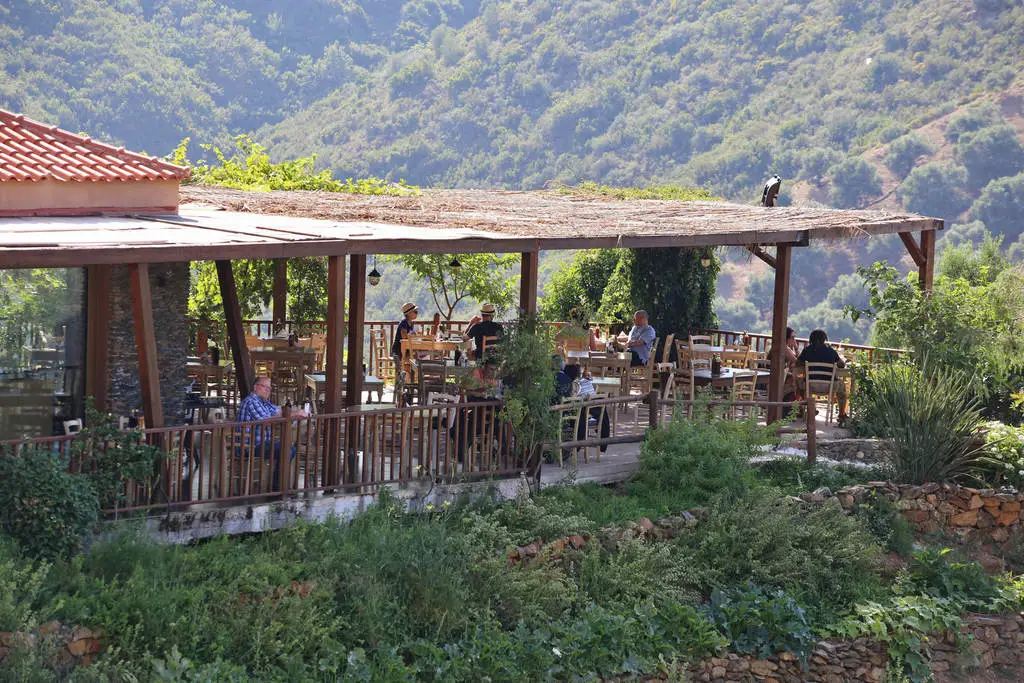 17 km south of Chania, in Fournes, you will find a beautiful green oasis, at the foot of the Lefka Ori (Mountains). Through a well-tended path, you will get to see a large garden planted with exotic flowers and fruit trees from all over the world, with everything clearly labeled.
There are shady spots surrounded by Greek herbs such as mint and thyme where you can rest and enjoy a coffee or a meal. It is well connected by bus from Chania and you can see more information on the Botanical Park of Crete website.
You can combine your visit to the Botanical Park of Crete with Authentic Cooking Class in the White Mountains. In this class you'll make traditional recipes using local ingredients including cheese and wine sampling.
12. Dine at the Best Restaurants in Chania Crete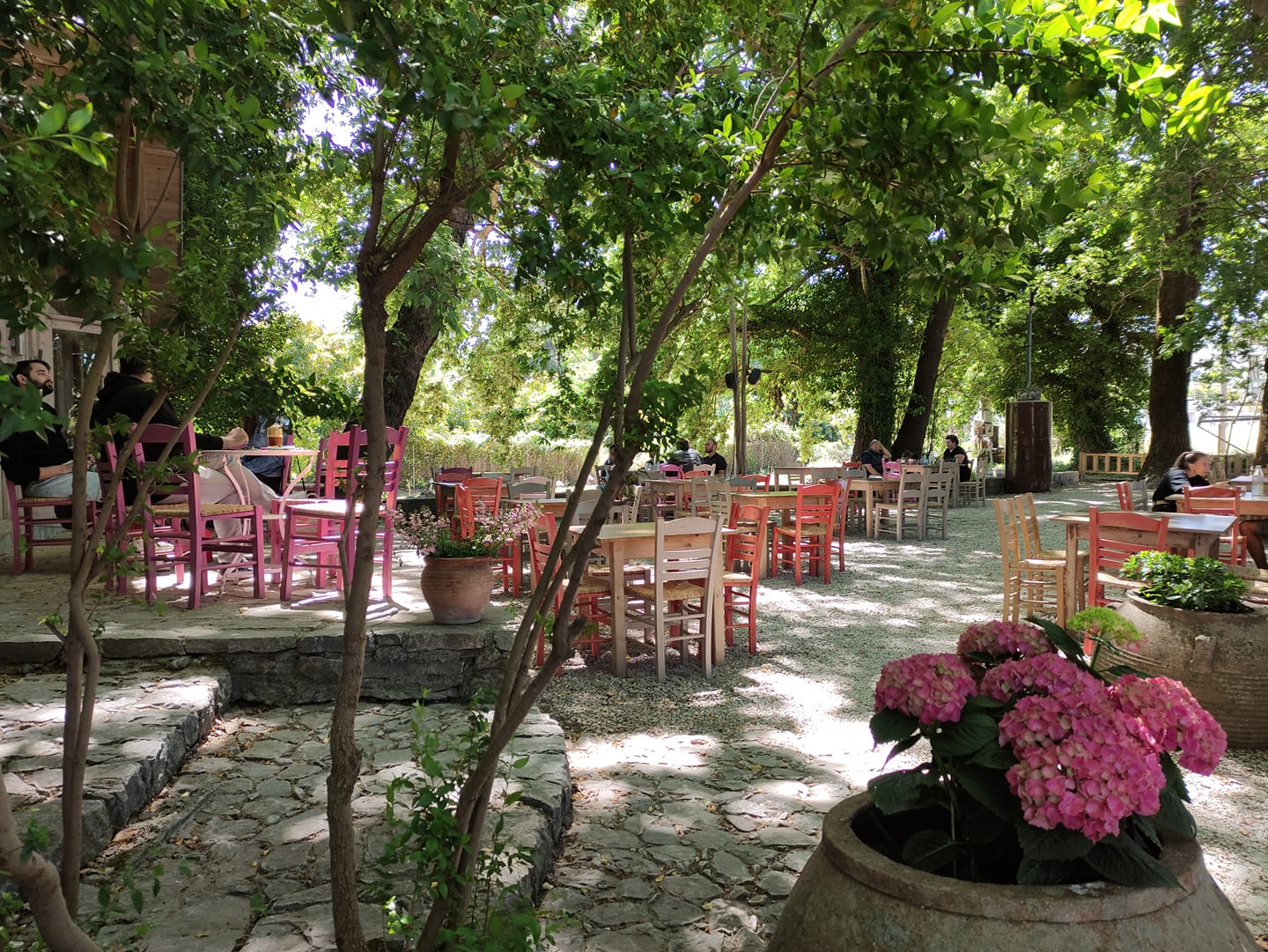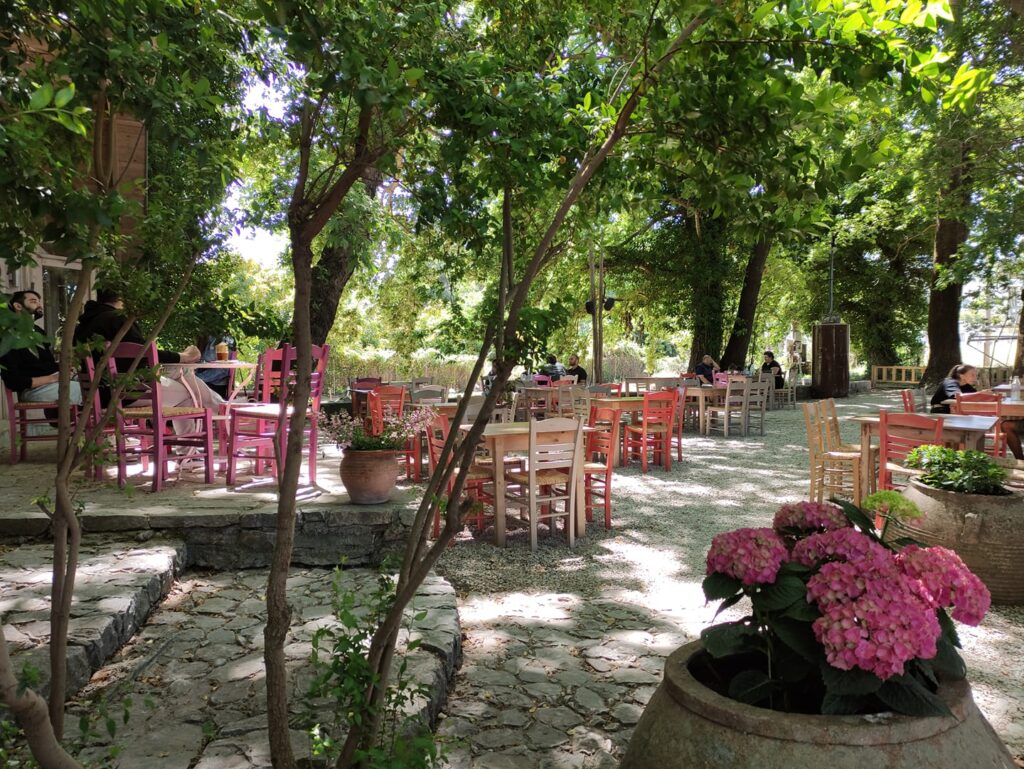 Crete is renowned in Greece for its exceptional cuisine with local recipes always using the best possible ingredients from Cretan earth. It should be easy to find a great diner that will make you happy everywhere in Chania. However, I would like to suggest a few restaurants and taverns that are offering some of the best meals in Chania:
You may be interested in a Winery Small-Group Safari with Lunch where you will experience the life of Cretan shepherds on Lefka Ori Mountain, with wine tasting and lunch.
Tips for Visiting Chania Crete
When is best to go to Chania? Crete island is large and warm during the year and is always great to visit but it is at its liveliest between May and October. July and August are the hottest and busiest time for any Greek island so if you prefer fewer crowds then go to May/June or September/October for the best combination of great weather and moderate prices.
Are you interested in visiting Crete off-season? Check out this dedicated post for Crete in Winter!
Related Article:
How long to stay in Chania? It is such a large and versatile region that you will need at least a week ideally 10 days. Next to Chania is amazing Rethymno with tons of sites to visit, such as Rethymno's old town, 16th century Arkadi Monastery and stunning Preveli beach.
How long should you stay in Crete? You'd need more than five hours to drive along the northern coast from one end to the other of Crete island, as the length of the island is 260km. If you want to explore fully all 4 regions then 3-4 weeks should suffice.
Is there Chania Crete Nightlife? Absolutely! Chania is a large town with many kinds of clubs/bars/restaurants/ taverns and wine bars. If you decide to stay in a seaside beach village, there will be fewer options but still, there will be nice beach bars to enjoy a cocktail while admiring a sunset or the bright stars of Crete!
Is Crete Island expensive? It is not as expensive as Santorini or Mykonos are and it all depends on where you are staying or dining. There are always places to have a reasonably priced vacation.
What to wear in Chania? Crete has the highest temperature in Greece so you must protect yourself if you are visiting during summer: you should wear comfortable walking shoes, apply organic sunscreen often, and a white linen shirt to cover up if you get very easily sun burnt, a fantastic CUPSHE Bikini to swim in the beautiful beaches, carry with you always lots of water, and wear a UPF sun hat.
Packing list to Greece: a dedicated post with tons of information so that you will not forget anything important at home!
Remember to always carry an anti-mosquito with you for your nights out
How to Get around Chania? There are frequent buses that connect well to the areas around the island but for more adventure and independence I would suggest you rent a car, especially if you are visiting the hottest months (July-August). Perhaps, you'll want something with good air conditioning and shade from the sun. Your own car also means that you can go whenever you want to any remote area without the stress of catching a late bus
For Solo Travelers: Greece is a perfectly safe country for everyone regardless of age, gender, race, religion, or sexual orientation. In addition to that, Greek people are gene-programmed to be hospitable and are always eager to offer directions to your destination or any other advice, so ask freely
Chania Beaches For the Mobility Impaired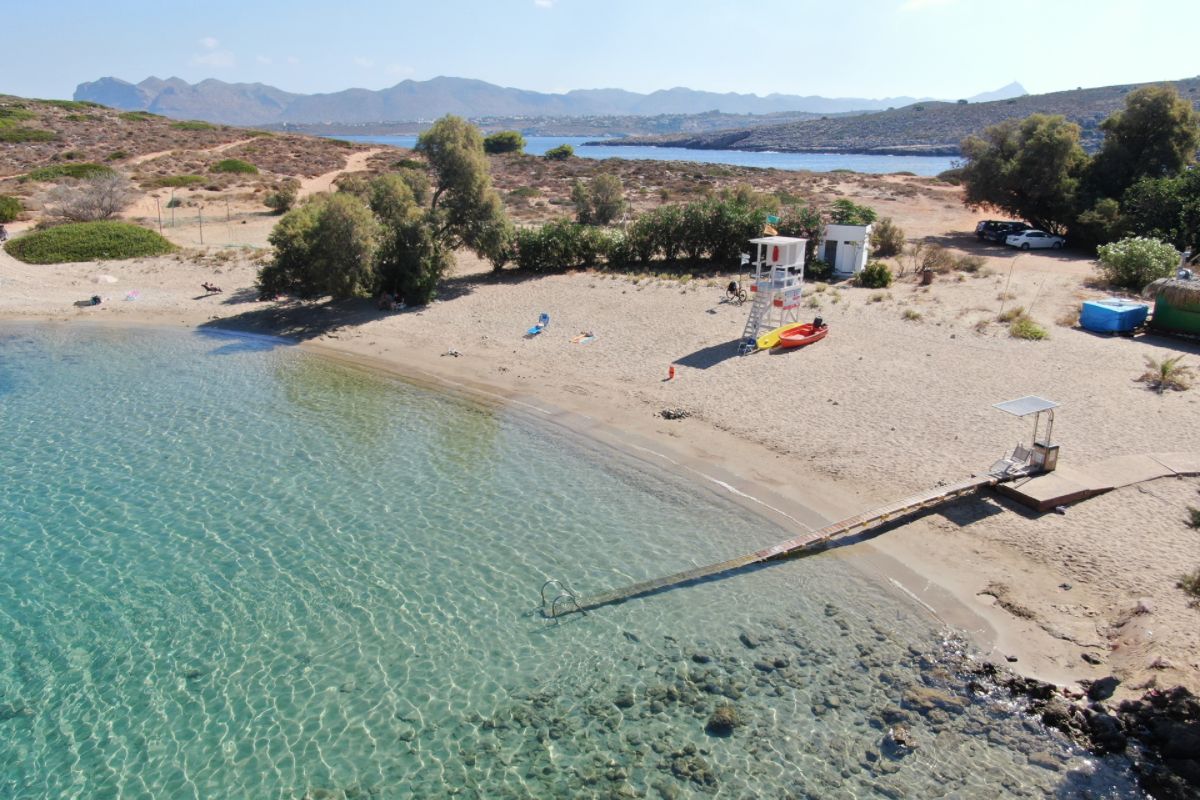 There are over 130 beaches in Greece that have installed the Seatrac system so that people with mobility issues can have independent access to the sea. In Chania, 3-5 km away from the town, there are 3 beaches that you can choose from if you are in a wheelchair:
Chania Agios Onoufrios Beach
Chania Agioi Apostoloi Beach
Chania Nea Chora Beach is next to Jewish Quarters in the town
Where to stay in the area (hotels that have also the infrastructure for disabled people):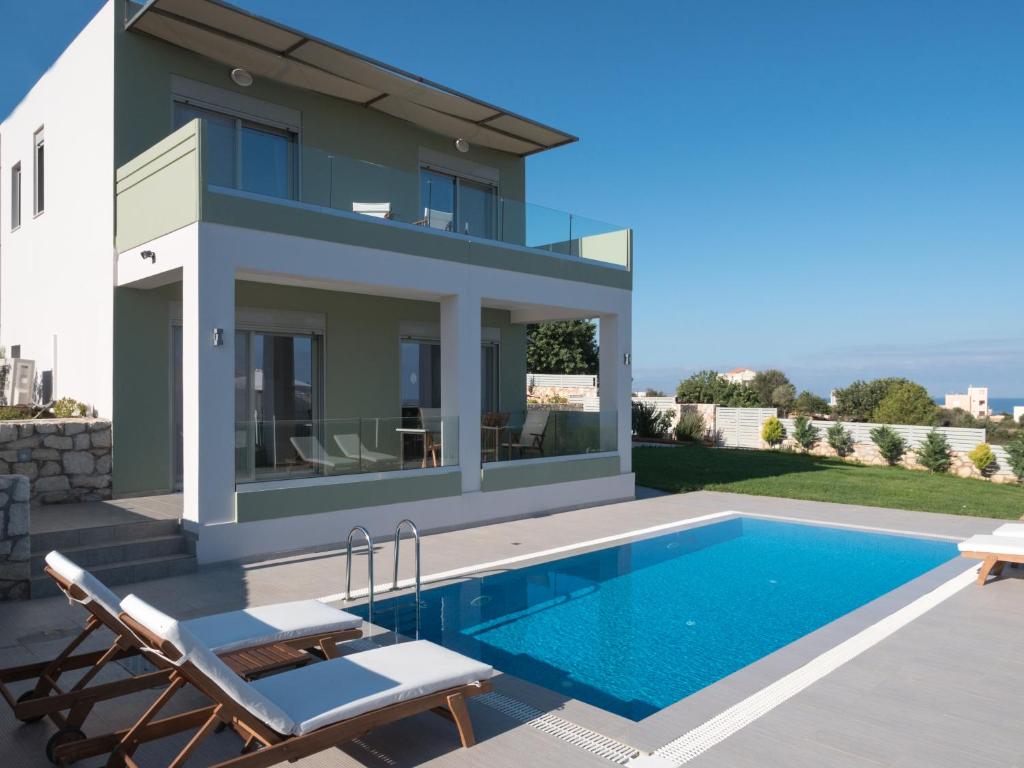 Κatakis Villas (for up to 5 guests) in Agios Onoufrios. Both Villas, Christina & Maria, have the infrastructure (access, bathroom) to accommodate disabled/ wheelchair people. The villas offer also a nice garden with a swimming pool, private and super clean modern rooms with hospitable hosts.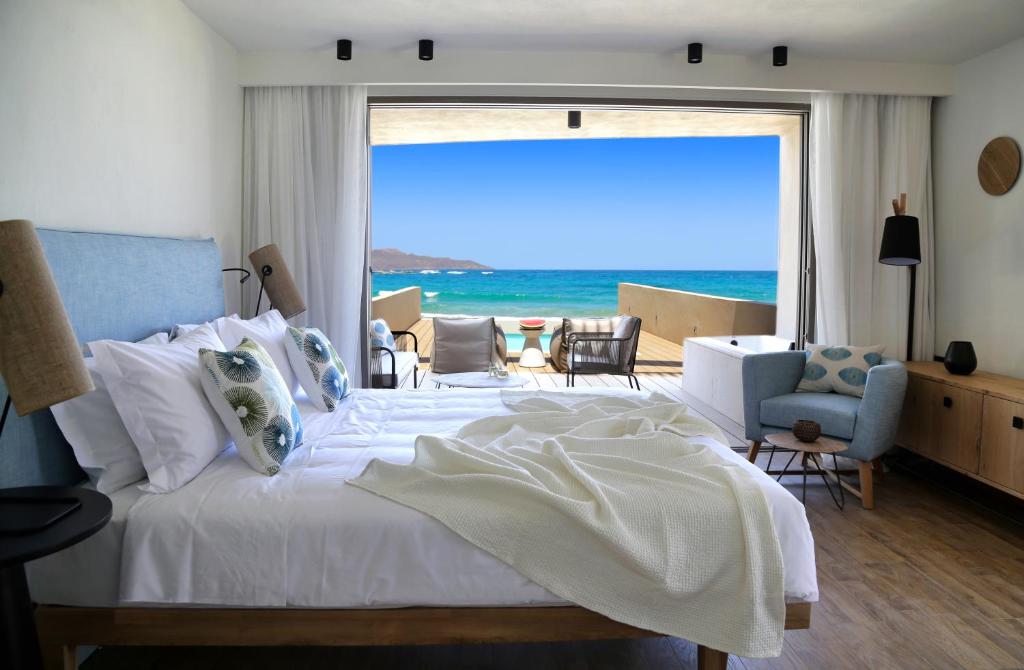 Domes Noruz Chania. An exceptional 5-star hotel for people over 16 years old, right on the Agioi Apostoloi beach. Finely decorated rooms, excellent service, and local cuisine.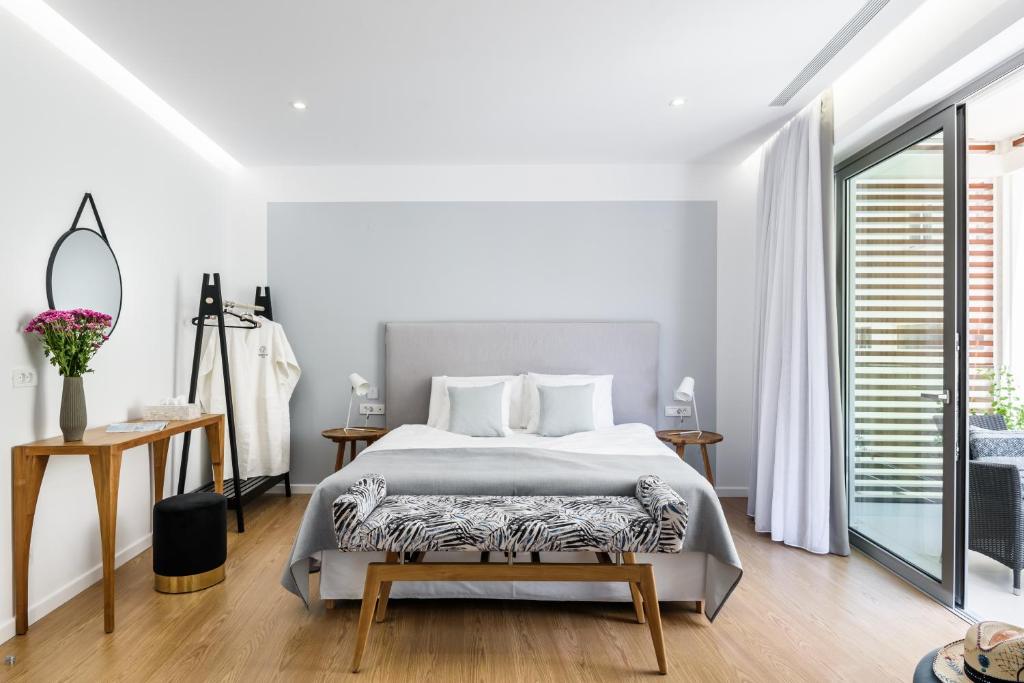 Balance Hotel. The beautiful hotel has 2 rooms that are designed to accommodate people with special needs. Brand new, clean-cut modern hotel, with warm details, a lovely jacuzzi and located within walking distance of the city center. The breakfast will blow your minds!
How to Get to Chania Crete
Flights to Chania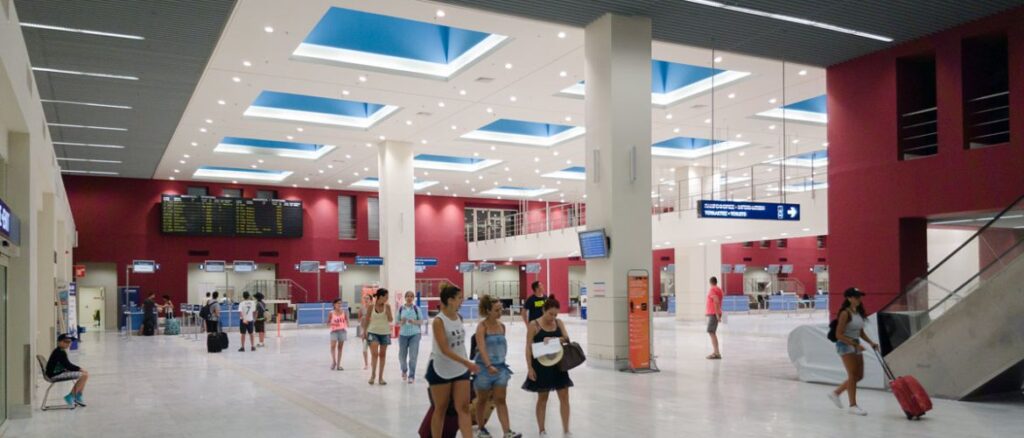 Chania Crete airport is 15 km/9.3 mi from Chania town on the east side. It receives domestic flights from Athens (45-minute flight plus travel time to/from airports) and Thessaloniki (70′) all year round, as well as seasonal flights from many European countries during summer.
From the airport, you can get to Chania by taking taxis, rentals (we always use Discover cars), or the cheapest option (€2,5, 30′ airport-Chania), the public bus, and pre-purchase your ticket. Visit the bus website here.
Ferries to Chania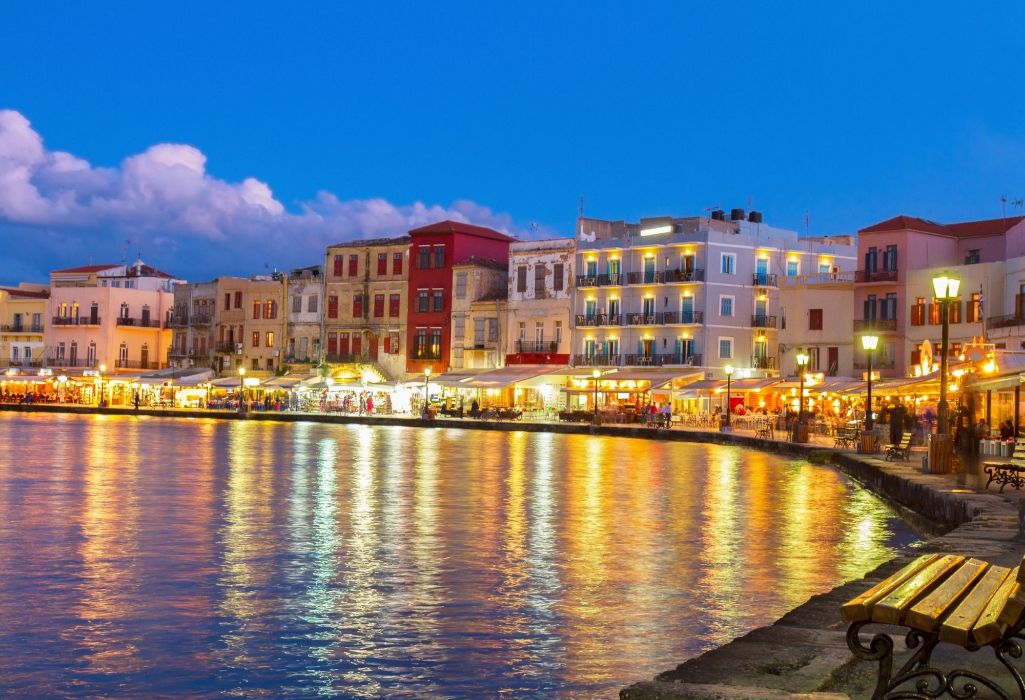 If you prefer to travel to Chania Crete by ferry (my favorite way of traveling too!) there are ferries leaving every day to Chania from Athens' main port, Piraeus. Piraeus is about a 25′ drive from the Athens center and you can take a taxi, private transfer, bus, or metro to get there. During summer there are 2 options of ferries to choose from:
The ferry departs Piraeus at 21:00 and arrives in Souda (Chania's port) at 05:30 the next morning. Sailing overnight means that you will gain all this travel time while sleeping. Do book a cabin though so that you get to Chania Crete fresh and relaxed or
If you would like to sail during the day, take the ferry from Piraeus at 16:00 which arrives in Souda at 22:30.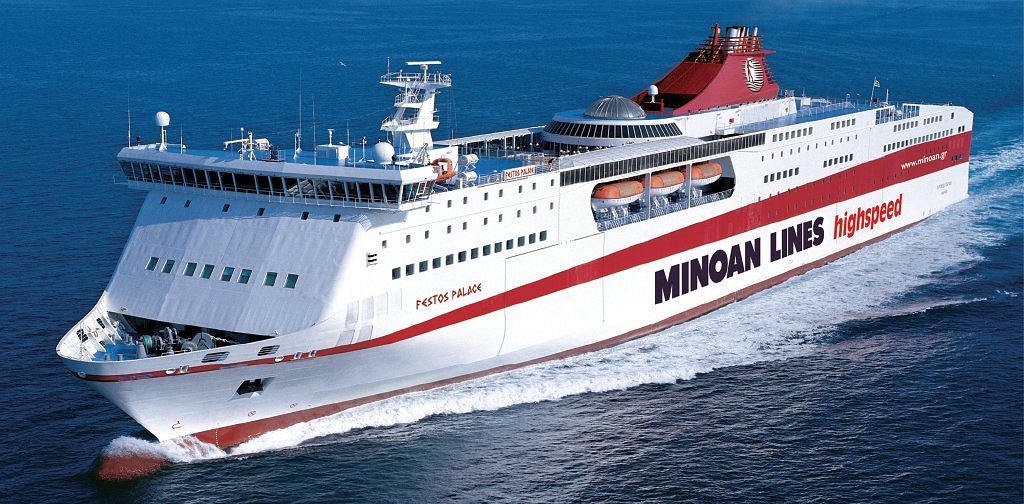 If you arrive by ferry, the Chania port is 6 km far from the town. You can take the bus, taxis are about €15 to get you to Chania center or you could arrange for a rental private car.
Island hopping to Chania
If you are on an island (for example Santorini) and would like to go to Chania Crete you can take a ferry to Heraklion, the capital of Crete, and from there arrange for a car rental, taxi, or private transfer to get to Chania.
Check the timetable and book your ferry seat to Chania with FerryScanner or FerryHopper.
Plan My Trip to Greece
Do you need a custom travel itinerary for Greece? Are you traveling solo, with your family or your friends and you need a tailor-made multi-day tour or a transfer within Greece?
If yes, please visit my dedicated Plan My Trip Page for a free itinerary!
Google Interactive Map of Chania Crete
Find here an interactive Google Map of Chania to drive to all the sites mentioned in our best things to do in Chania.
Where is your dream summer destination? Would you go to Chania Crete?
I'd love to hear about where you're spending your vacation this year, especially if you have any exciting travel plans! There are so many things to do in Chania, Crete island. I hope that you get the chance to try as many as possible. Till next time, Evgenia❤️
Plan Your Next Trip to Greece With These Resources
*Some of the links are affiliate links. That means I may make a commission if you click and buy. The commission comes at no additional cost to you.
Travel to Greece Info
'Hello' and 'Thank You' in Greek: "Ya sou" and "Efharisto"
Booking.com: I use Booking.com because I can get the best deals on both hotels and apartments, free cancellations, and great prices!
Find Long-Term Rentals in Greece: You will find the best prices in Flatio
FerryScanner to book ferries to the Greek Islands
Athens Metro Website (timetables and ticket info)
Get Your Guide: For all your day or multi-day tours and city guide needs, I use Get Your Guide
Emergency Numbers Anywhere in Greece: AMBULANCE 166 – FIRE 199 – POLICE 100– EMERGENCY NUMBER 112
All rights reserved © Travel the Greek Way. Republishing this article and/or any of its contents (photographs, text, links) is strictly prohibited.
Please follow and like us: