Updated May 7th, 2022 by Travel the Greek Way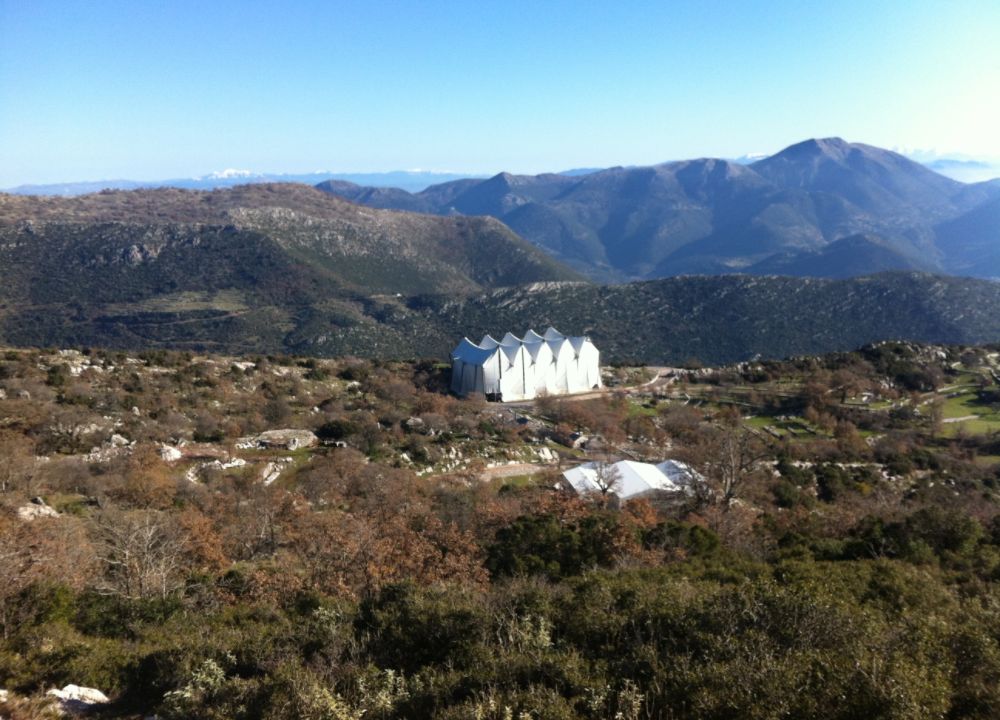 If you like hiking ancient and remote trails that lead to UNESCO monuments like the Temple of Apollo Epicurius at Bassae of Phigaleia, then you are going to love this part of Peloponnese Greece.
The Greek traveler Pausanias hiked in 174 AD to the Temple of Apollo Epicurius at Bassae of Phigaleia and was fascinated by the atmospheric Temple and the wilderness of the surrounding nature.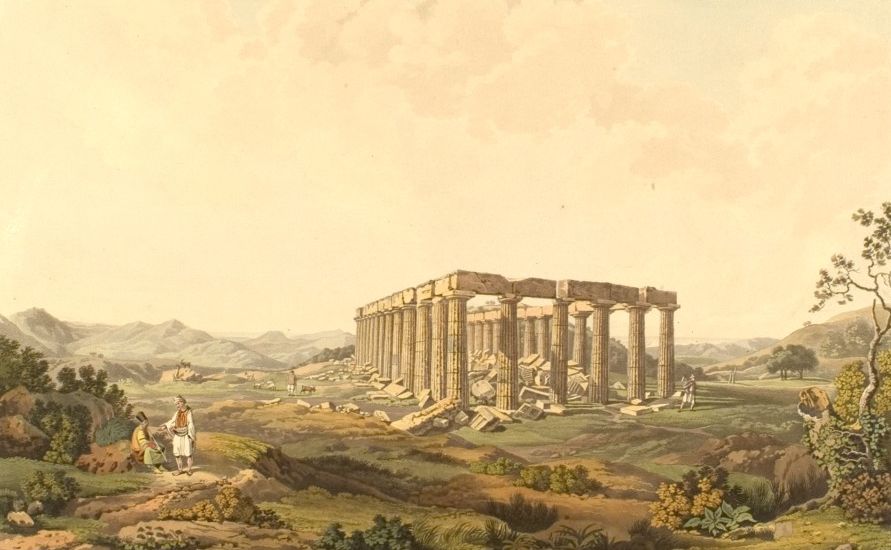 The Temple of Apollo Epicurius is in the western Peloponnese, 65 km far from Ancient Olympia and 80 km from Ancient Messene and Kalamata. It was built on top of bare and rocky Kotilio Mt at 1130 meters.
Some even characterize the Temple of Apollo Epicurius at Bassae as the 'Second Parthenon' because according to Pausanias, Iktinos, one of Parthenon's architects, designed it.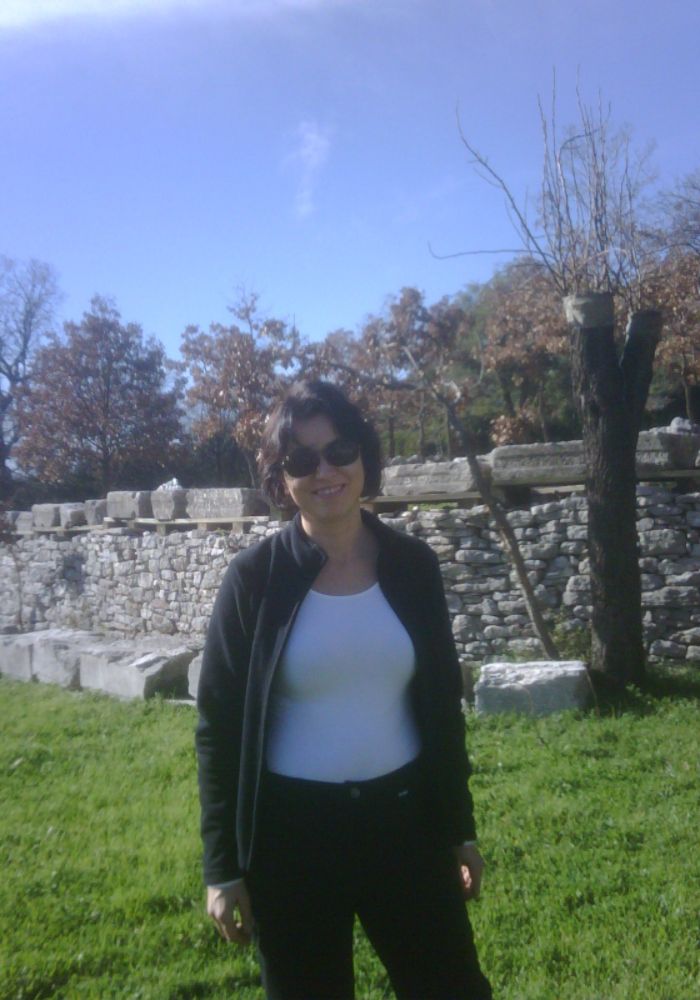 I have visited the Temple and have hiked this magnificent wild area three times (2010, 2016, 2021). It is a challenging and almost mystical experience to hike to one of the most important Temples of Classical Greece. Let's find out together why is that!
*Some of the links below are affiliate links. That means I may make a commission if you click and buy. The commission comes at no additional cost to you. If you purchase something, thanks! Please see my full disclosure policy for more information*
Google Interactive Map
Get the Google Interactive map with all the areas mentioned in this post
Brief Info on Temple of Apollo Epicurius
Vassai, Figaleia (Prefecture of Ilia), 14 km far from Andritsena Village
Phone +30 26260 22275 (Contact the ticket office to confirm the operation of the site)
Greek Ministry Website for more: http://odysseus.culture.gr
Hours 8am-8pm Easter – Oct, 8.30am-3.30 pm Nov-Easter
Price adult/child €6/free
Basic Explanation of Temple's Keywords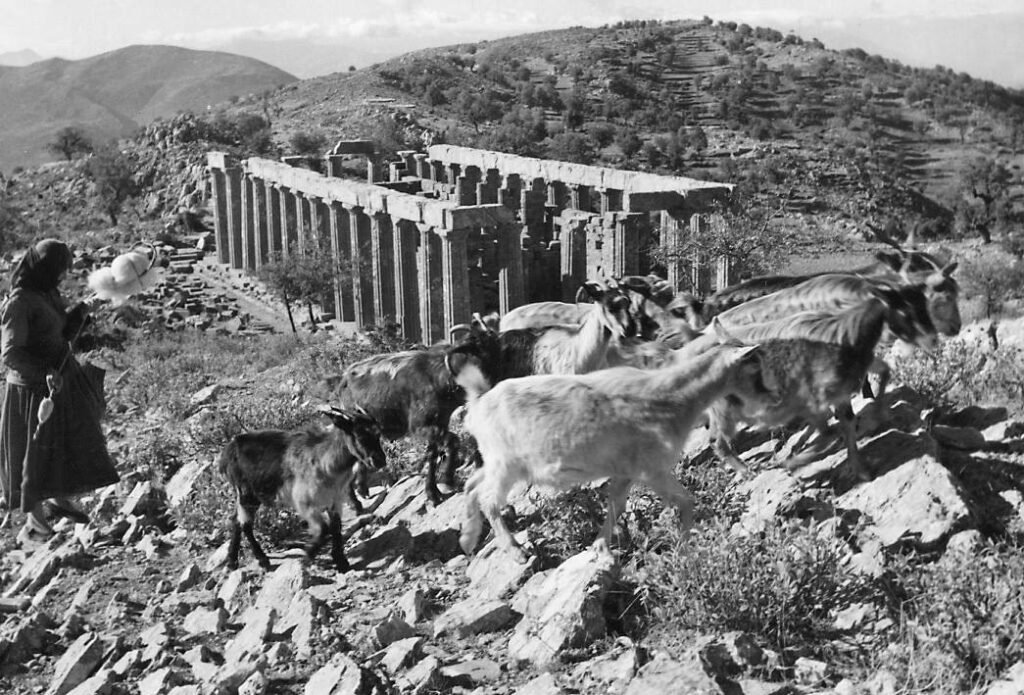 Before we get further into why the Temple of Apollo Epicurius at Bassae is so significant and why you should visit it, let me clarify a few words:
Apollo, son of Zeus and Leto, was the Olympian god of music, truth, prophecy, healing diseases, the sun, and light.
Epicurius means supporting or helping and it has nothing to do with the ancient Greek Epicurean Philosophers.
Phigaleia was a powerful ancient Greek city, 7 km far from the area Bassai where they built the Temple of Apollo Epicurius.
What is significant about the Temple of Apollo Epicurius at Bassae
The temple of Apollo Epicurius is the second best-preserved Temple of classical antiquity right after the temple of Hephaestus in Ancient Agora in Athens.
The Phigaleians, dedicated the Temple to Apollo because he helped them (Apollo was an Epicurius) to survive a plague.
Special Points of interest for Temple of Apollo Epicurius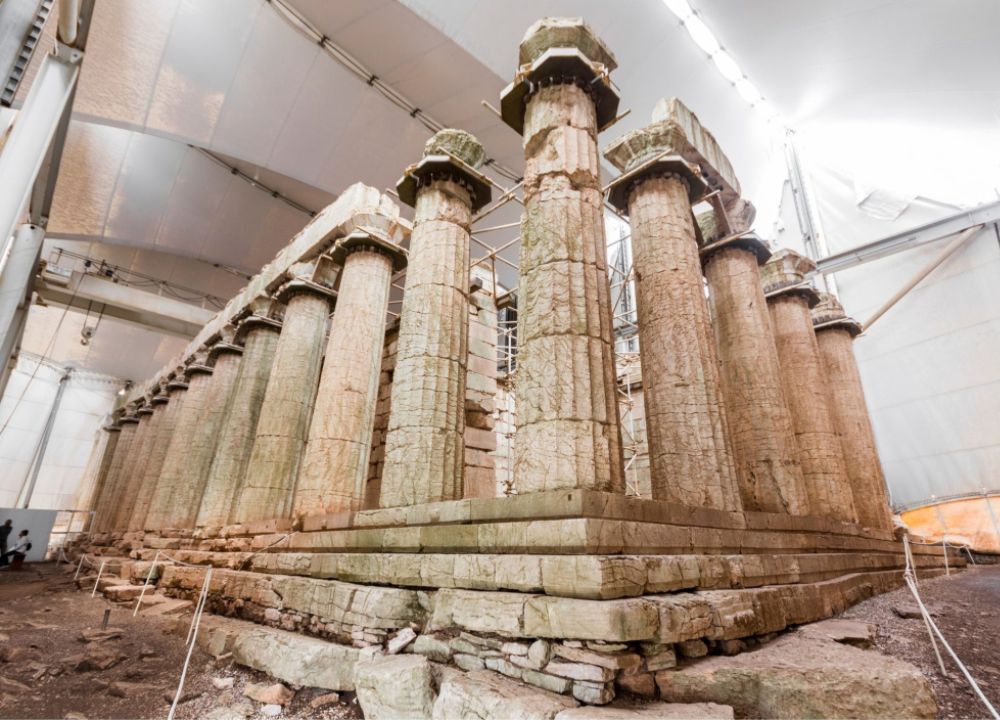 The Temple was built on Kotilio Mt, a bare mountain with fierce winds in the winter, and underground prone to earthquakes. The Temple was built at 1130 meters between 420-410 BC, 7 km far from Phigaleia, not an easy task at all.
Iktinos was the architect of the Temple (he was also the Parthenon's architect along with Kallicrates) who has added groundbreaking new archaic elements to its structure, making it a unique Temple in the whole of ancient Greece
It is the only Temple that combines elements of the three architectural styles of antiquity(Doric, Ionic and Corinthian) and elements that remind of the large Apollo Temple in Delphi
Unlike most Greek ancient Temples made of marble, this one is made of local limestone. Its marble frieze depicting battles between Greeks and Amazons, and between Lapiths and Centaurs were taken away and sold to the British Museum.
Temple's dimensions: 14.48×38.24m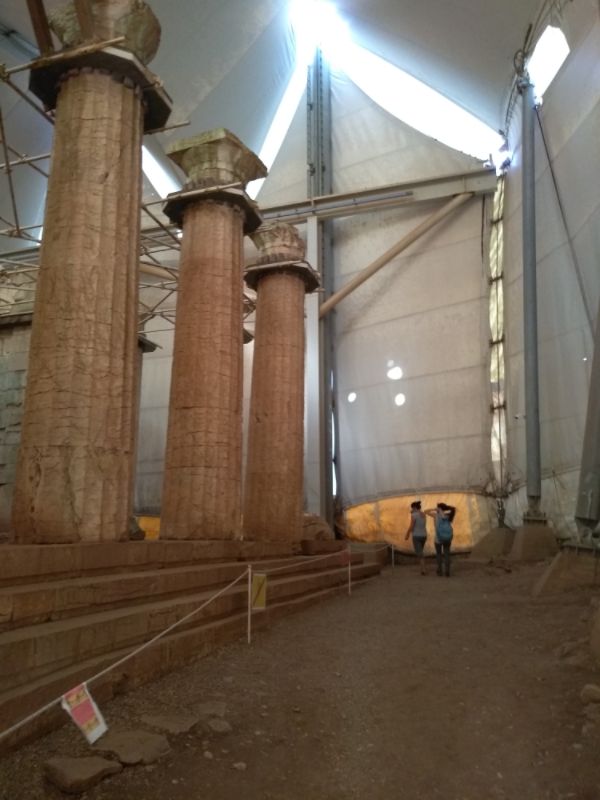 UNESCO, taking into account how remarkable it is for its archaic features (unique artistic achievement), the central column of the Temple of Bassae is the most ancient conserved Corinthian capital, and its rural isolation in a conserved environment included it in its inscripted lists in 1986.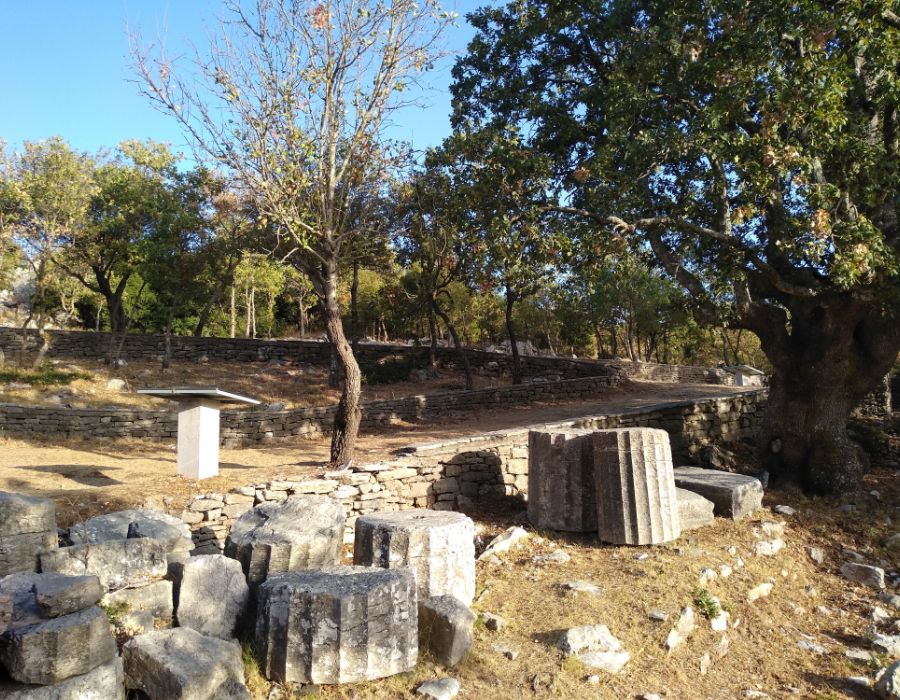 Since 1987 the Temple is protected from extreme weather conditions with a special canopy, which will be removed after the completion of the necessary work.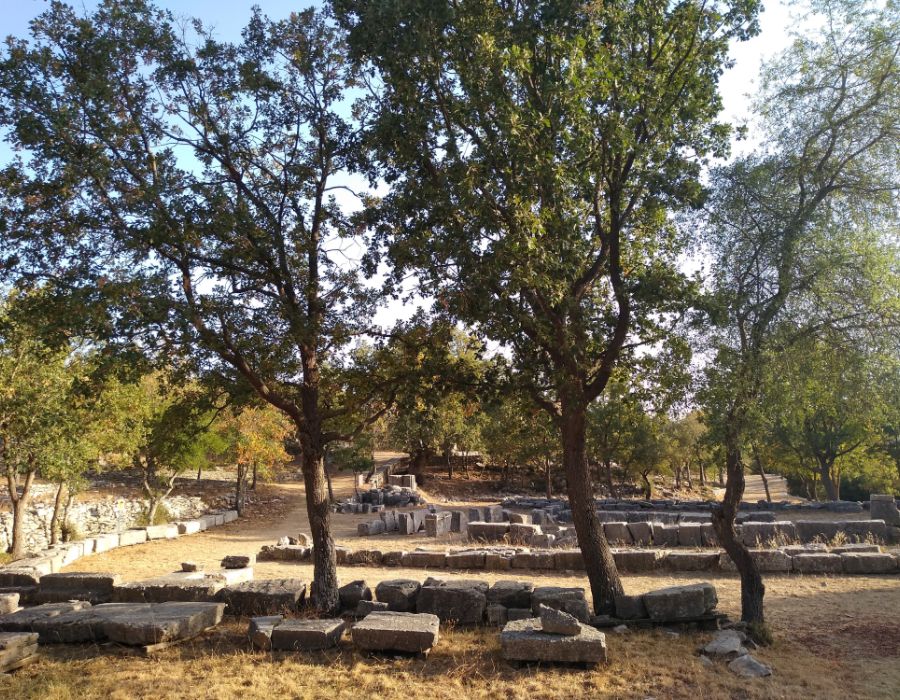 Besides the Temple of Apollo Epicurius, there are pathways that lead to various ruins in the surrounding archaeological site as well as 100 meters up from the Temple to the other 2 Temples of Artemis and Aphrodite.
Hiking to the Temple of Apollo Epicurius at Bassae
If you are visiting the Temple of Apollo Epicurius from Athens, then you should organize it as a 2-day trip minimum as it is a very long journey from Athens. The most convenient village to stay in is the beautiful mountainous Andritsena (or Andritsaina) village where the actual trail to the temple begins.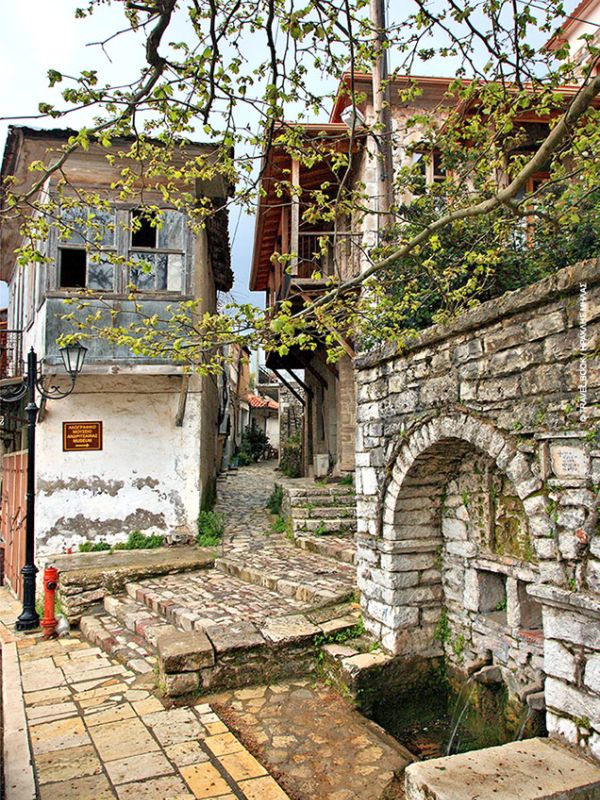 The trail starts at the most famous fountain in Andritsena, the Trani Vrysi, through its main square, the farming area, and small valleys that are around the village.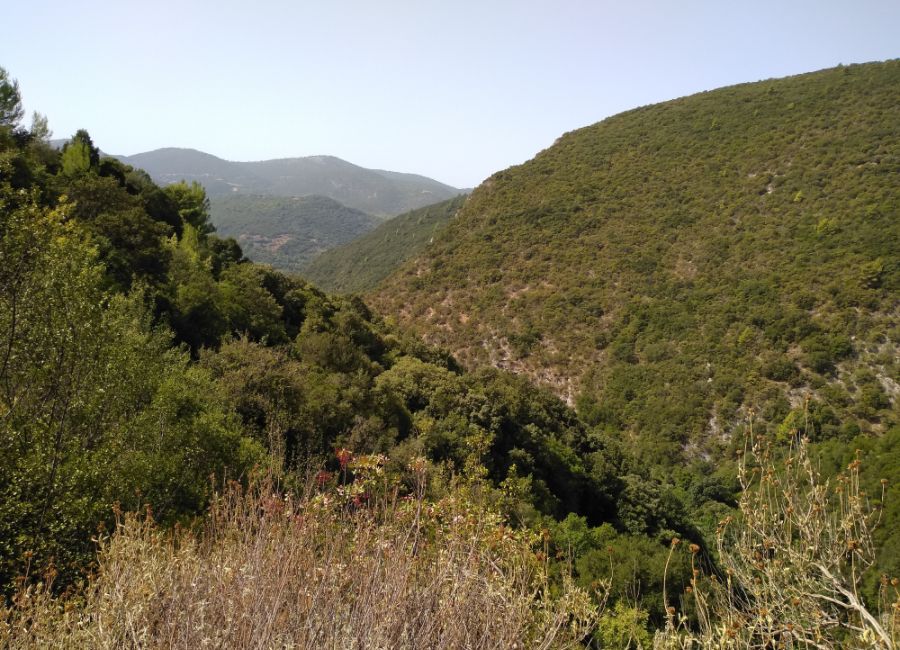 However, for me, the most thrilling part is the last kilometers to the Temple of Epicurean Apollo that you hike on the mountain ridge with a limitless view of the Peloponnese.
Best Sun-Protection Hat Ever!
The total distance is 11.6 km, with moderate difficulty, and about 4,5 hours of hiking. There are signposts indicating the trail towards the Temple and is not recommended during summer, it is too hot and you will get heatstroke.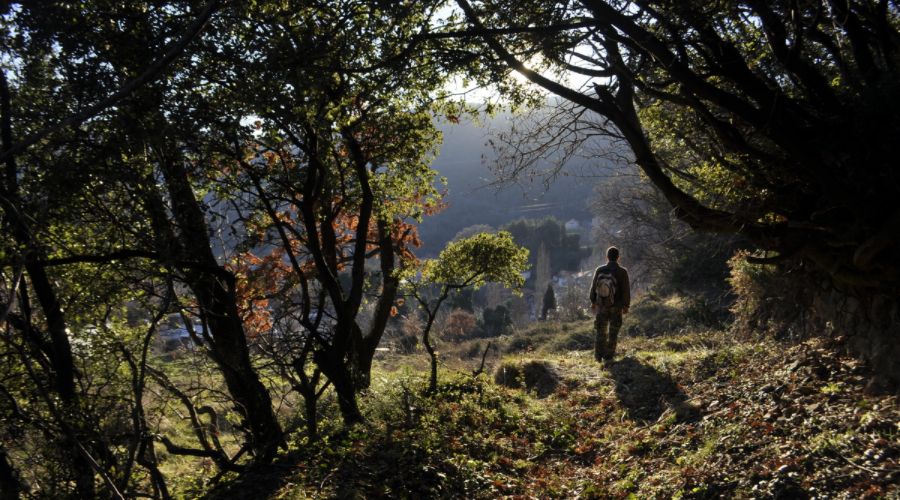 Check out the Apollo Trails if you are interested in their trail map here: https://apollotrails.com/en/trails/trail-2-trail-of-light/
Where to Stay in Andritsena
Abeliona Retreat is in an amazing natural environment, with both luxurious and traditional decorations that will make your trip to this side of Peloponnese really unforgettable. Best touch: complementary tsipouro, walnuts, and preserved cherries in the room.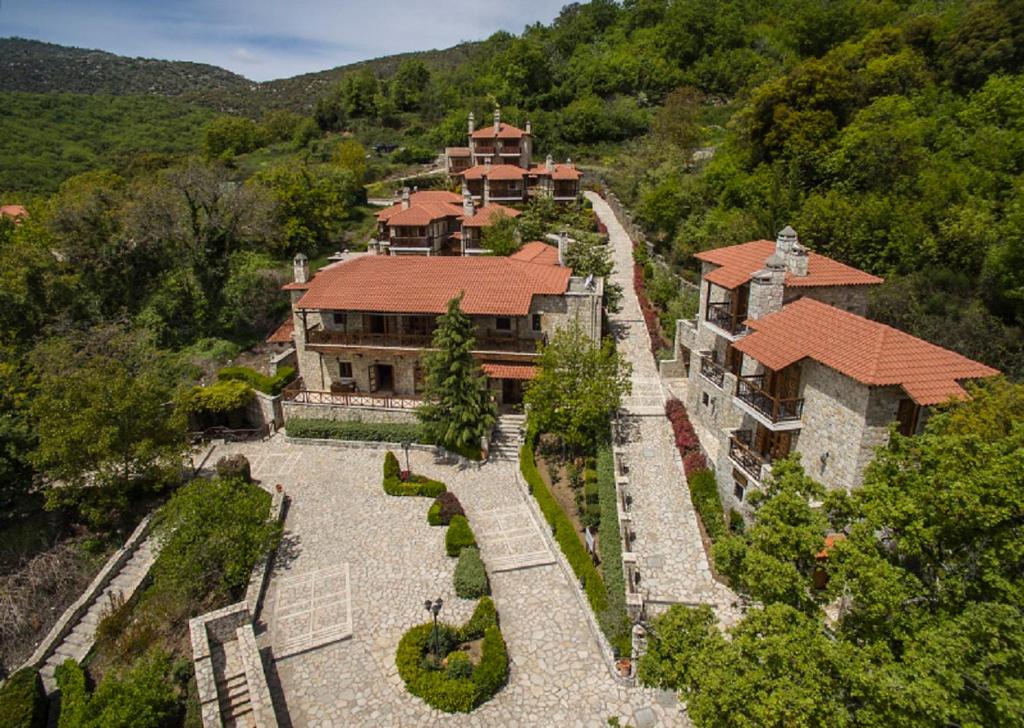 Check availability and prices in the Booking.com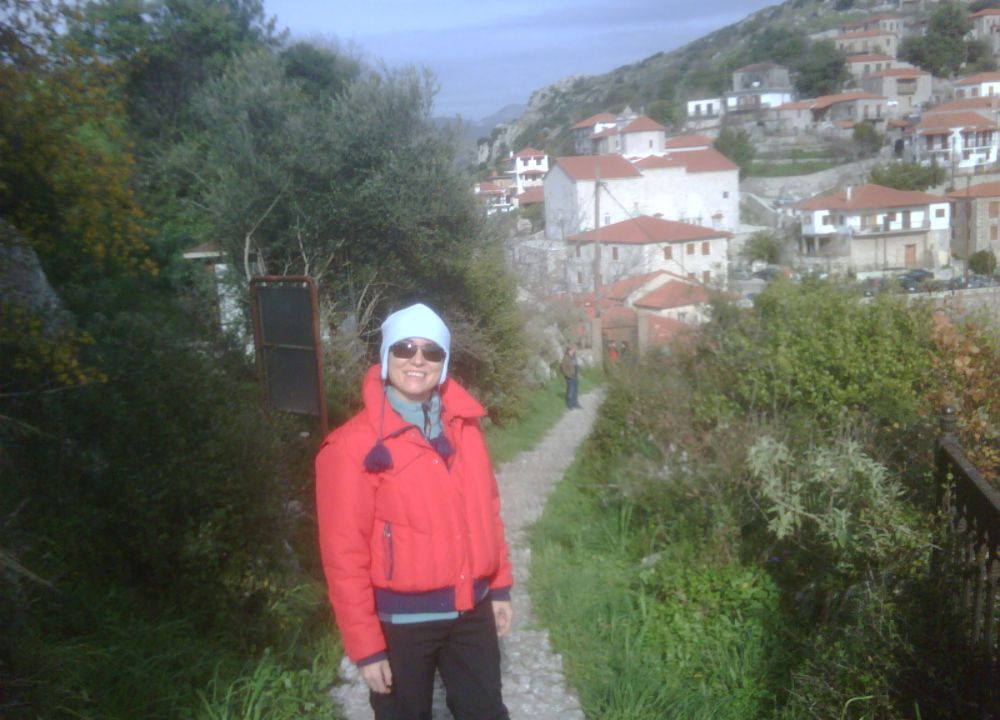 A more budget option is Xenonas Myrto, a small, beautifully decorated studio run by a private hostess in central traditional Andritsena. Check availability and prices on the Booking.com.
Andritsena deserves a visit on its own. It is a very beautiful and traditional village with stone mansions, its cobblestone alleys streets, the stone square with a wonderful view of the mountains of Arcadia, the oldest fountain of the Peloponnese. It also has a very large Library and a few folklore museums that will offer insight into old Greece. Andritsena is an ideal destination all year round.
Exceptional Video by Jean-Daniel Pollet of 1964 Temple
How to Get to Andritsena
The Temple is 240 km from Athens through a very mountainous area with many turns en route, at least the last foot of the journey. You can go to Andritsena by public bus, the KTEL(see info at the end of this post), but you have to find your own transportation to the Temple, as no buses go there. Ideally, you hike there and have made arrangements with a taxi to pick you up or if you are a little crazy hiker like me, you can do all 22 km in one go.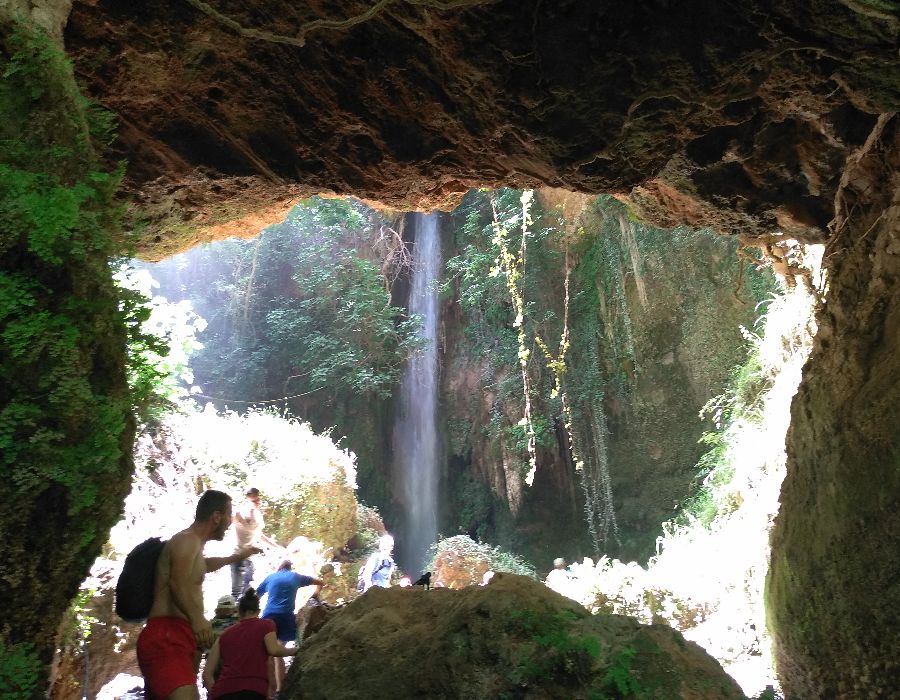 I always travel either in my own car or use RentalCars.com as it offers the freedom to explore an area in depth. Nearby are the stunning waterfalls of Neda and hiking to Nemouta waterfalls, and of course Ancient Olympia. You will need a car to get to all of those places of interest.
Lastly, you have private transfers from Athens that are super convenient and you can enjoy luxury pampering. Check the tours below:
COVID-19 Info for Traveling to Greece
A Message from Evgenia
Some of my Favorite Travel Resources for Greece
Ferries to the Greek Islands: Book your ferry transfer with FerryScanner or FerryHopper, and get the best prices in the market with no hidden fees
Air flights: Cheap/Fast/Best Worldwide Flights from KAYAK or SkyScanner search engine sit
Booking.com: I use Booking.com because I can get the best deals on both hotels and apartments, free cancellations, and great prices!
Best car rental prices – Guaranteed. RentalCars.com
Get Your Guide: For all your day or multi-day tours and city guide needs, I use Get Your Guide
Emergency Numbers Anywhere in Greece: AMBULANCE 166 – FIRE 199 – POLICE 100– EMERGENCY NUMBER 112
More Reading on Greece