Updated May 7th, 2022 by Travel the Greek Way
When is the best time to go to Greece? Well, let me ask you back: what kind of vacation do you want to have in Greece? Do you want to visit during the hottest season and have a summer vacation?
Do you prefer cooler temperatures, fewer crowds but still warm enough to swim? Would you like to hike in the high mountains and visit the many ski resorts all around Greece?
The best time of the year to travel to Greece depends on what you want to do and expect from your vacation.
I will explain in this post what the weather is like in Greece during its four seasons and you can make up your mind when is best for you to go to Greece!
*Some of the links below are affiliate links. That means I may make a commission if you click and buy. The commission comes at no additional cost to you. If you purchase something, thanks! Please see my full disclosure policy for more information*
Athens Quick Reference
Where to stay in Athens: Grande Bretagne (luxury), A77 Suites by Andronis (mid-range), A little Taste of Home Guest House (budget)
Heading to the Greek Islands from Athens? Book your ferry tickets in advance with no-hidden-fees FerryScanner or FerryHopper
What kind of Climate does Greece have?
The climate of Greece is typically Mediterranean: mild and wet winters, relatively hot and dry summers, and, in general, long periods of sunshine during most of the year.
Greece has four seasons but the year can roughly be divided into two main seasons: The cold/rainy/snowy winter period that lasts from mid-October to the end of March and the warm and dry season that lasts from April to October.
Monthly Temperature in Athens for 2021
Athens is a good base to measure average temperatures in Greece as it is roughly at the center of the country. The northern and mountainous areas can be much colder whereas the south (Peloponnese and south islands like Cyclades and Crete) can be warmer.
See below the chart from Meteorological Station in Acharnai Athens for 2021. The months start from January(Ιαν) all the way to December(Δεκ) and it is in Celcius.
As you can see, the hot weather starts in June with days of extreme heat, in July and in August and also for 3 days during 18-20 September.
When is the Best Time to Swim in Greece?
The sea starts getting warmer mid to late May and is really perfect and warm until mid – October.
When is the Best Time to Hike in Greece?
Any time of the year except Jun, July, and August, and especially avoid hiking in the bare islands such as the Cyclades. Hiking on the rugged terrain of islands in the summer is a guarantee for heatstroke.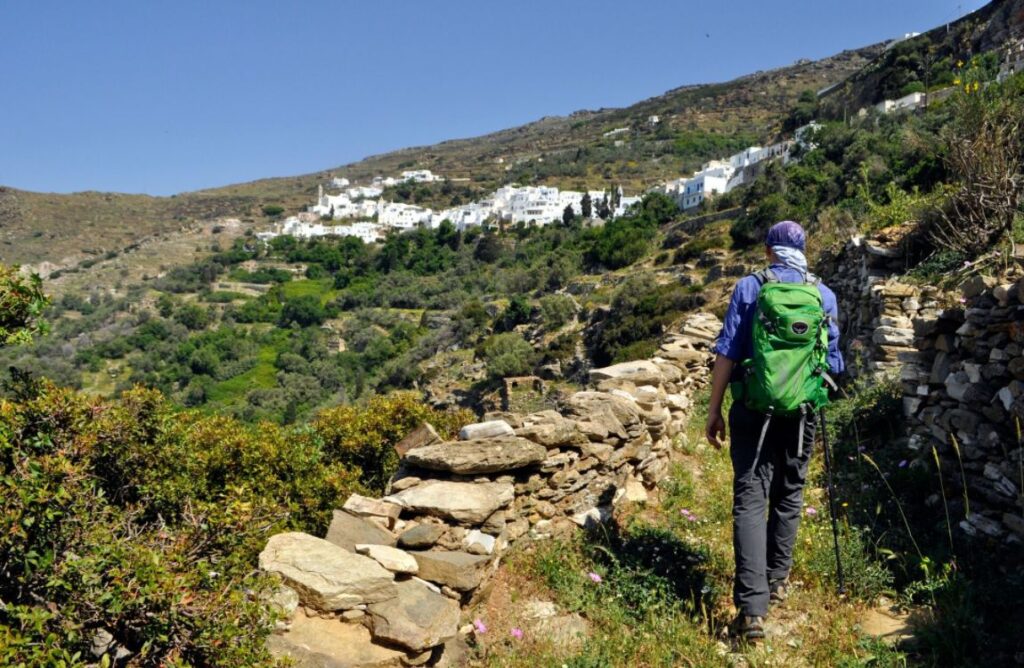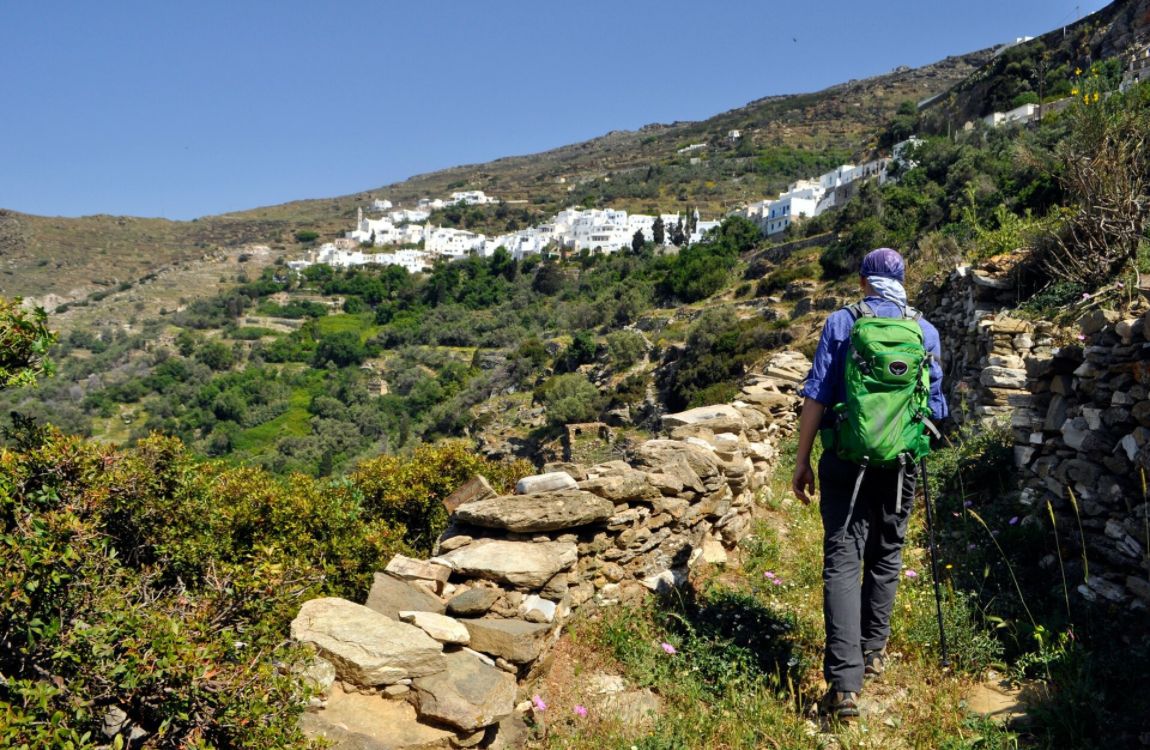 If you would like to hike in the summer in Greece, choose the mainland and a forested mountain, like Mainalon or Pelion.
Read here for detailed information on how best to travel and hike safely in Greece.
When do Local Businesses Close?
Some businesses do close for winter on the islands. That doesn't mean that the islands are closed too! Santorini has some 15.000 permanent residents, Mykonos more than 10.000, and so on.
If for instance, you go to Mykonos in April, not everything will be open but there will be open quite a few hotels/taverns and bars, probably more than you can make use of all of them. There are still restaurants and cafes that the locals go to and many of those are open year-round. Bigger or more popular islands like Santorini are nowadays an all-year-round destination.
When is the High Season in Greece?
July and August and if I were you, I wouldn't go in those months to Santorini or Mykonos when it is excruciatingly hot, Europeans are on vacation, everything is super expensive and there are crowds everywhere. I would certainly avoid islands that have endless cruise ships dropping off thousands of tourists at a time unless the crowds are what you are looking for on your vacation?
The costs will also depend on which island/s you visit. Cheaper options (and more "real Greece") would be the islands of the North Aegean eg Lesvos, Chios, or Ikaria. The most expensive options are the likes of Mykonos and Santorini.
Best Time to Go to Greece Every Season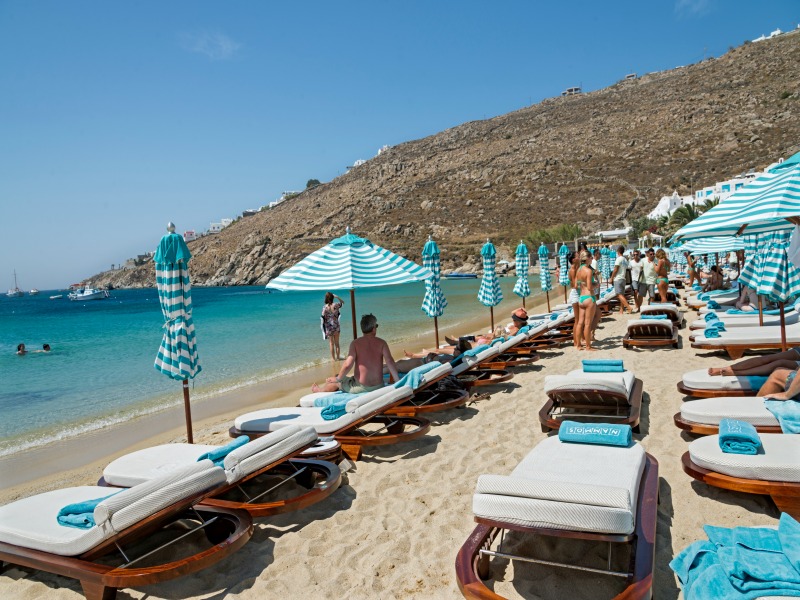 Spring in Greece is gorgeous as everything has blossomed. The Cyclades become green with wildflowers, the mainland is a paradise of herbs and flowers. It is an ideal season for hiking although the high mountains will still have snow until May. Great time for shoulder season prices in hotels as well.
The Islands, like the Argosaronic close to Athens, are quiet from tourists but in early May everything is more or less open.
Easter celebrations are glorious in Greece and a truly unique experience that you should definitely see up close. Easter is on the 24th of April 2022.
Summer is the peak season for Greece as everyone wants to enjoy those warm welcoming Aegean Sea waters. The sky is almost always a beautiful Mediterranean blue, the sea is azure or blue or green colored, golden beaches and rugged landscapes.
You are looking for luxury and nightlife? Then Mykonos, Santorini, Paros, and Ios are hard to beat. Do you want a quieter island in the Cyclades? Visit Sifnos, Folegandros, Anafi.
You are a history buff but also love the diversity of the landscape? Go to the Peloponnese!
Fall in Greece can be warm enough to swim until mid-October so go to any of your favorite islands such as Crete and enjoy low prices and the much more quiet atmosphere.
Fall is a fantastic month for any outdoor activity you can imagine and especially in October, there are many outdoor festivals all around Greece.
Go to Nemea for the grape harvesting, ask to participate if possible and enjoy wine tasting in one of the many wineries there.
I love winter in Greece. There are so many things to do: 19 ski resorts, hundreds of local groups organizing hiking events, Christmas in Athens is just magical.
The north of Greece is covered in snow and there is nothing better than spending a week in traditional Zagorochoria or Makrinitsa in Pelion.
As for the archaeological sites, everywhere in Greece, they are half price from November to March!
COVID-19 Info for Traveling to Greece
How to Get to Greece
Like most visitors to Greece, you will probably have to fly to Athens or Thessaloniki International Airports to get to your final destinations.
For the Cheapest, Fastest, Best Worldwide Flights, I highly recommend the Skyscanner search engine site.
If you prefer to avoid the hassle of public transport and wish for some luxury pampering, you should book a private transfer with an English-speaking driver from Athens International Airport to Piraeus Ferries. Check availability and prices on Viator here
Support Evgenia's Blog
Do you enjoy using my travel blog? Have you found it entertaining as well as useful? If you are appreciative of all the free information you get on my website you can send me a donation through Paypal. Thank you!
Some of my Favorite Travel Resources for Greece
Ferries to the Greek Islands: Book your ferry transfer with FerryScanner or FerryHopper, and get the best prices in the market with no hidden fees
Air flights: Cheap/Fast/Best Worldwide Flights from KAYAK or SkyScanner search engine sit
Booking.com: I use Booking.com because I can get the best deals on both hotels and apartments, free cancellations, and great prices!
Best car rental prices – Guaranteed. RentalCars.com
Get Your Guide: For all your day or multi-day tours and city guide needs, I use Get Your Guide
Emergency Numbers Anywhere in Greece: AMBULANCE 166 – FIRE 199 – POLICE 100– EMERGENCY NUMBER 112
More Reading on Greece