Updated August 26th, 2021 by Travel the Greek Way
Where is the Athens Riviera?
Athens Riviera covers the gorgeous coastal area from Piraeus (where the main Athens port is) all the way to Cape Sounion (where the Temple of Poseidon stands), a total of 62.5 km. The Athens Riviera crosses many Athens southern suburbs and seaside resorts, all with inviting sandy or rocky beaches, and offers a stunning drive with endless Aegean sea views.
If you and your loved one are planning a romantic Athenian Riviera holiday, then you should know that there are many romantic places to see in Athens for couples.
But solo travelers will fall in love with Athens Riviera as well!
I have been to Athens Riviera so many times and realized that I have never really shared my list of the best things to do in Athens Riviera, so I decided that it's about time!
*Some of the links below are affiliate links. That means I may make a commission if you click and buy. The commission comes at no additional cost to you. Please see my full disclosure policy for more information*
In this post, we will explore together the Athenian Riviera seaside suburbs from Paleo Faliro to Cape Sounion so that you can plan your next visit to this popular area. And for very good reason!
Paleo Faliro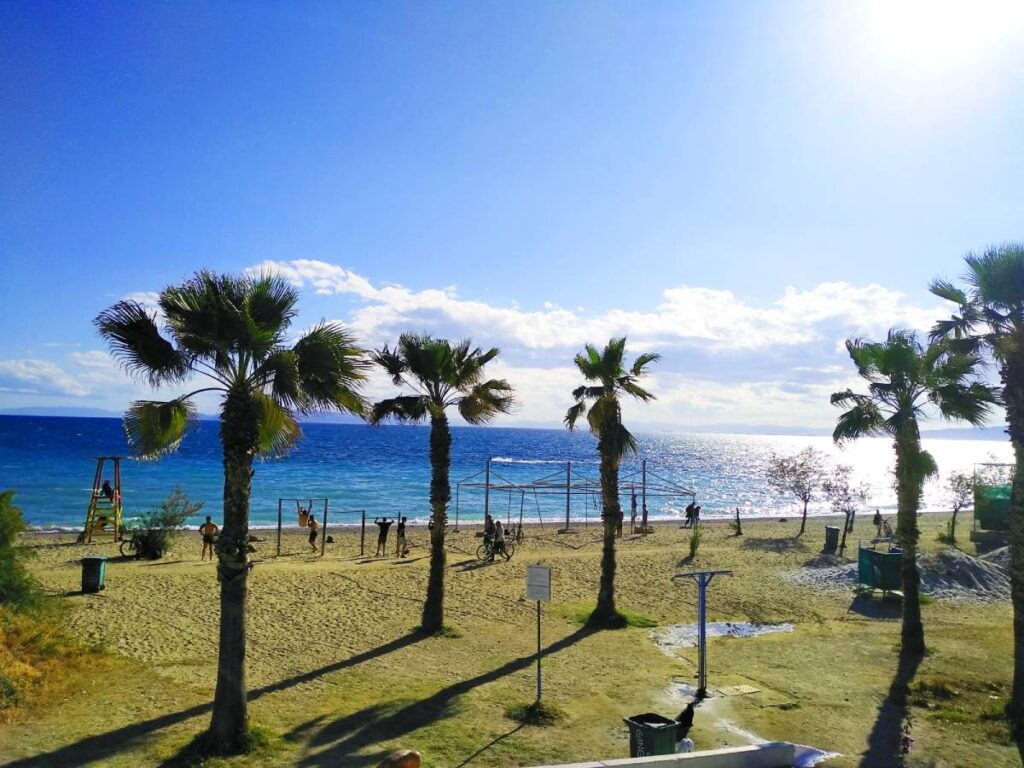 Paleo Faliro, is a well-off south Athenian Riviera suburb, 20 minutes away from Acropolis Hill. Paleo Faliro has modern apartment buildings and shops, well-groomed and taken care of by the local authorities.
History Tip: Apostle Paul arrived by boat to Faliro in 50 AD and went on to Athens to start his preaching on Christianity.
Flisvos Park and Marina
Flisvos in P. Faliro is a very popular place, especially in the summer. The Flisvos Park is surrounding the Marina offering a multi-purpose venue for the residents and visitors of the area.
The park is decorated with pieces of art, it has playgrounds for children and an open-air cinema that works in the summer. This is a park suitable for absolutely everyone!
I often wonder who owns these multimillion-dollar floating homes? There are so many in this marina and I always marvel at their extravagance.
The whole area of Flisvos Marina is a great commercial complex that offers diverse dining, shopping and recreational opportunities – all within a natural environment overlooking the blue Mediterranean sea.
Some 10 minutes later after strolling away from the Marina, you get to the first unorganized sandy beach of Paleo Faliro.
If you choose to stay at a hotel in the area, in the morning you can have a swim, the waters are OK.
Many Faliro residents swim in the sea's comparatively clean waters especially older people who find this beach a convenient escapade.
Leaving behind the happy Faliro swimmers, you can start walking by the beautiful sea pedestrian area towards Alimos Marina, which is located less than 1 km further down the shore.
This wide idyllic-palm pedestrian is a very popular spot where people from all over Athens come to bike, walk, run, play beach volley, party or swim.
I often visit the area myself and buy some baked corn and chestnuts from street fooders and munch it while gazing at the sea.
Athens Riviera Hotels
Paleo Faliro is conveniently located in Athens center and right across the lovely blue sea, so it is a good idea to stay there for a night.
Best Mid-Range Hotels in Paleo Faliro:
Best Budget hotel in Paleo Faliro: Nestorion Hotel. Great location, a minute's walk from Stavros Niarchos Center and the Saronic sea. Helpful staff, one of the top-rated budget places, breakfast included. Check out Availability & Prices on Booking.com
Attractions near Paleo Faliro
Stavros Niarchos Cultural Centre
Museum Ship Averoff
Childhood, toys and games Benaki Museum
Eugenides Foundation with large 3-D space shows
The stunning sandy Edem beach with the large palm trees!
Alimos Marina
Alimos is right next to Paleo Faliro, another fantastic place for walking by the sea and admiring the endless and luxurious yachts at its Marina.
There is always a lot of sailing commotion around, especially in the summer. Beautiful yachts coming in the Marina, yachts sailing to the Greek islands
Alimos Marina is one of the largest marinas in Greece with 1080 berths while there is a dry docking area for approximately 600 boats. The marina can accommodate yachts up to 40 meters long.
If you are looking for some fancy Greek nightlife, there are big clubs, Bouzoukia, with live Greek music, a really unique experience.
Bouzoukia is an "only in Greece" experience, with Greek pop music with light shows, airborne carnations, young beautiful singers, Greek screaming and having huge fun and a dawn finish! Posidonio Music Hall (in the Elliniko area) & Frangelico (Alimos) are two very good examples of those clubs.
Bouzoukia Tip: Until the '70s in Bouzoukia we used to break plates. For the last decades, it has been flowers and mainly carnations. Be prepared for a flowery most fun "war"!
Hellinikon
Hellinikon used to house the old International Athens airport up until 2001 when the place was abandoned as the new International Athens airport in Spata started operating.
Elliniko is now undergoing gigantic changes as there is a great project going on in the ex-airport with the aim to turn Elliniko into a Greek Monaco-like magnet for wealthy entrepreneurs and businesses from abroad.
Agios Kosmas Marina
Agios Kosmas Marina is a Marina with 337 birthing places in total and welcomes yachts of sizes from 15m to 80m.
I have witnessed some very beautiful sunsets in Agios Kosmas, as this is a more quiet area and ideal for peaceful walking by the sea.
Glyfada
Glyfada is one of the most elegant and well-off districts of Athens, mostly preferred by Greek pop stars and affluent foreigners as a residence.
Glyfada stands out for its cosmopolitan clubs, its fine hotels, its sizeable shopping and boutiques, and high-end seafood restaurants.
A must-see and the best shopping area in Glyfada is Kiprou street with Greek and International designer boutiques.

The place not to miss is Glyfada's Asteras Beach with its country club charm, an ideal setting for sundowners on the waterfront terrace.
Order one of their cocktails with a Greek twist such as the Mai Tai with kumquat from Corfu and bergamot from the Peloponnese and watch the sun going down.
The beach is open from 9 a.m. to 7 p.m., with a 7 euro entry fee.
Glyfada Golf tip: if you are a golf enthusiast you will be thrilled with the Glyfada Golf Club, the city's modern 18-hole course!
Great eateries and cafes in Glyfada
Ark: Greek chef Baxevanis menu, with live piano music, and Saronic sea views, Ark Website
Balux Cafe: The House Project, A total relaxing cafe by the sea, to work or just sip your espresso Website
Huracan: New place with Peruvian cuisine, Website
Where to stay in Glyfada
Luxury Hotel in Glyfada: Brasil Suites Boutique Hotel, a luxurious hotel in the beating heart of shopping Glyfada. Check prices and availability on Booking
Best Mid-Range Hotel in Glyfada: Palmyra Beach Hotel, is a fantastic hotel 100 m from the beach. Check prices and availability on Booking
Best Budget hotel in Glyfada: Blue Sky, in the center of Glyfada with excellent staff. Check prices and availability on Booking
Voula
Voula is the next suburb you find on your way to Sounion, just two miles south of Glyfada. It has two awarded with the European blue flag beaches, organized and sandy with beautiful clear waters.
The area is dominated by century-old Asklipiou hospital while all the action is centered around Voula's Vasileos Pavlou avenue.
Voula B' beach thanks to the special infrastructure that has been installed on the beach, disabled people can also enjoy a swim.
Voula beaches can get a bit too crowded for my taste so I don't really swim here. I do visit frequently the great Riviera Coast, an all-day cafe and restaurant for a coffee or a sunset cocktail, Website.
Boutique Hotel in Voula: Blazer Suites Hotel within meters from the beach. Check prices and availability on Booking
Vouliagmeni
Vouliagmeni bay, a pine-clad peninsula, is another gorgeous must-visit place in Athens Riviera.
It is one of Attica's most luxurious and most popular beaches, offering stunning views of the distant Saronic Gulf islands.
The most famous beach is Astir Beach with shallow turquoise water, smooth sand, blue flag certification for cleanliness, and excellent facilities.
Must-sea in Astir Beach is the ruins of the sacred Ancient Temple of Apollo Zoster, built during the 6th century BC.
Akti Vouliagmeni is another organized beach in Vouliagmeni, quite popular and with a modest entrance of 5 euro.
Another beautiful beach in Vouliagmeni, surrounded by a small pine forest is Kavouri Beach, a secluded cove, and with the ambiance of a Cycladic island beach.
Krabo beach restaurant operates there and it is a fantastic place to watch the sunset and sip a perfectly chilled wine. You will need to book your place in advance and it is quite a pricey place. Krabo website
Vouliagmeni also offers:
three private beaches & three swimming pools
five tennis courts & facilities for nearly every water sport under the sun
a 1000-sq.m spa and eight different restaurants catering to all tastes
Great eateries, cafes and clubs in Vouliagmeni
I highly recommend Four Season's tavern, its tables are just inches from the water, with real traditional unpretentious Greek food. Four Seasons Website
Blue fish: A quality restaurant specialised in fresh fish, served right by the sea
Ithaki Restaurant: A legendary restaurant with many guests from the international Jet-set. Ithaki Website
40Forty – Day Night Bar Restaurant: Great for breakfast, brunches and beach cocktails. 40Forty Website
Where to stay in Vouliagmeni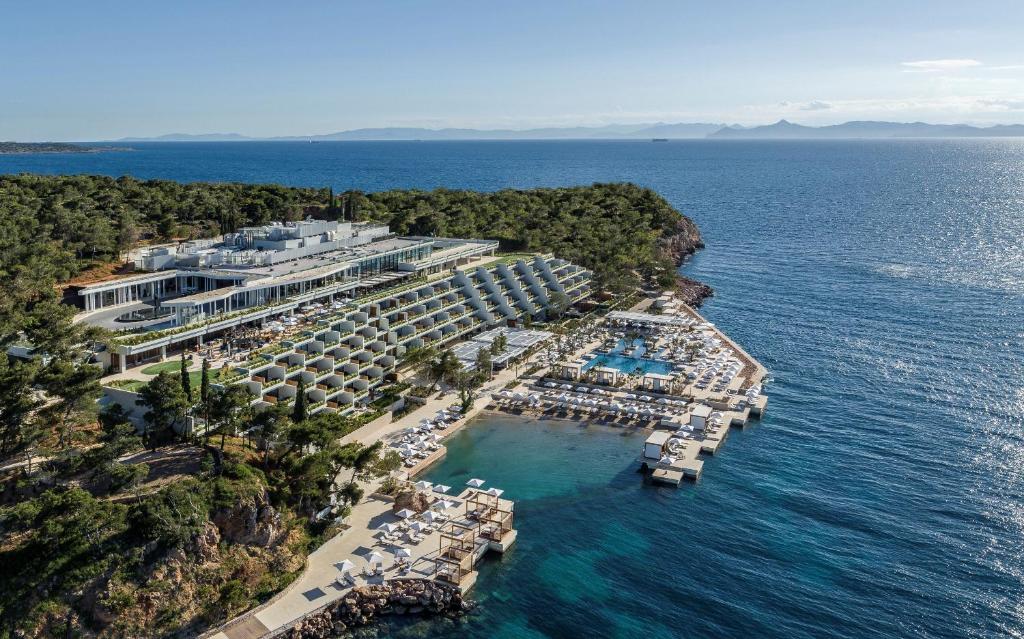 Best Luxury Hotel in Vouliagmeni: Four Seasons Astir Palace Hotel Athens – most famous guests include Jacqueline Kennedy Onassis, Charlton Heston, Frank Sinatra, and Joan Collins.
It is perched on a peninsula directly on the Aegean Sea, equipped for snorkeling, windsurfing, and Jet Skis. A stunning place to enjoy fully Athens Riviera.
Somewhere Vouliagmeni, is a modern luxurious choice. Check prices and availability on Booking
Best Mid-Range Hotels in Vouliagmeni:
The Margi this boutique hospitality option features an exotic, almost mystical atmosphere around its swimming pool. It also offers outstanding seafood at reasonable prices. Check out availability and prices on Booking.com
Divani Apollon Palace & Thalasso, a luxurious choice with a thalassotherapy center, surrounded by the sea. It houses 3 pools, 4 restaurants, and a private beach. Check it out on Booking for prices and availability.
Best Budget Hotels in Vouliagmeni:
Vouliagmeni Lake
At the end of the Vouliagmeni area, right across the sea lies the stunning lake Vouliagmeni, the remains of a huge limestone cave fed by lukewarm springs welling from underground.
Vouliagmeni lake is very popular as a quiet beautiful resort, where you can swim the lake's silky waters while getting a therapeutic spa for rheumatism and arthritis.
The lake Vouliagmeni also has an elegant café and restaurant and is nothing short of magical, come nightfall. The completely natural spa experience costs 12 to 15 euros.
Book Leisure Day in Vouliagmeni Lake private tour with pick-up and drop-off services. The driver will take you to the lake as well as to Vouliagmeni Beach to have a nice dive. Don't forget to visit the ruins of the Temple! Book the tour here
Limanakia Beach Bar Athens
As soon as you leave the Vouliagmeni lake towards Sounion, right on Athens coastline, there is an area called Limanakia, a series of small coves with deep blue water that is reached by foot, following a rocky path down towards the sea.
Liminakia Beach Bar is a secret place frequented mostly by Athenians and those who have stayed long enough in Athens to find out about its small secret places.
The simple wooden deck bar, perched on a rock face, and a meter away from pristine waters gets busy in the evenings with people eager to admire the beautiful sunset, have a drink, and enjoy a moonlit swim.
If you go by private car, there is a large parking area on top of the road.
Continuing at the Athens coastline, you find one amazing summer resort after the other:
Varkiza beach is the first place you find after the Limanakia and it is a quiet resort mostly preferred by Greeks with affordable seaside dining options.
Many beach parties are organized at the Varkiza Beach Resort where the post-sunset scene takes off.
Great eateries, cafes, and clubs in Varkiza Beach:
Island Club & Restaurant, an Athens Riviera landmark of clubbing and eating by the sea. Island's Website
Coyoacan Playa: can be found inside the Varkiza Resort, Greek chef Moutsopoulos menu, with Mediterranean and Mexican sounds and style.
14 km from Varkiza you find the Grand Beach at Lagonissi an organized sandy beach, with sporting facilities, showers, an open-air cinema, and a jetty bar with impressive views and a menu of cocktails and fresh juices to match.
Lagonissi is famous for its authentic fish tavernas and seafood restaurants serving daily fish catches.
Saronida is 5 km from Lagonisi and it is another popular sea resort of Attica, with its fine slopes of surrounding hills. You can see luxury villas and holiday resorts all around the area.
Saronida Hiking: It features magnificent seaside hiking trails, that you have to try even for a short stroll. The trail begins in Saronida main square with a total length of almost 4 km.
There are so many amazing places to visit in Athens Riviera and the beach town of Anavyssos is one of them.
Anavyssos, only 7.5 km from Saronida is perfect for two things: windsurfing and great seafood at the simple fish taverns in the beautiful scenery.
KAPE and Legrena Beaches Athens
12 km from Anavyssos and 7 km before the Archaeological Site of Sounion, there is superb KAPE Beach. It can be tricky to find as you need to turn right a few hundred meters before main Legrena Beach.
There is a small sign showing the way but it is easy to miss.
KAPE is an isolated small pebble beach, with crystal clear turquoise waters. Right across the small beach, you can see the islet of Patroklos.
In July and August, weekends can get very crowded so I try to visit during the week, whenever this is possible. There is a canteen at the top of the cliffs for some simple refreshments.
Leaving KAPE behind you and only 1 km towards Sounion you find the main Legrena beach. It is a fine sandy beach, very beautiful to walk on it.
To get to the beach you have to park on the road, right across a very good fish tavern and walk for 5 minutes to the beach.
It is usually not crowded because it is difficult to get into the water as it has slippery rocks right under the surface.
Cape Sounion and the Temple of Poseidon
From Legrena Beach the coastal road continues to Cape Sounio, driving by the rugged terrain of this southern region of Athens.
Sounion Cape was ancient Athens strategic point, controlling the sea passage to the Aegean Sea and Piraeus, as well as the Lavrion peninsula. Lavrion housed the rich silver mines thanks to which Athens emerged as a leading power in the 5th century BC.
In Sounion stands the imposing Temple of Poseidon, a stunning site of 5th c BC, particularly impressive at sunrise and sunset when the rays of sunlight shine through between the towering columns.
Besides the obvious site of the Temple, you will be happily surprised to see that there are important ruins all around. The fortress, the sanctuaries, and a settlement are located over the port as well as a cemetery.
Info on entrance fees and times can be found on the Greek Ministry of Culture here
Across the Temple, you can find one of the most gorgeous beaches in Greece, Sounion Bay, lined with fresh fish taverns and exquisite hotels.
Where to stay in Athens Riviera Sounion Cape
How to get to Athens Riviera
From Athens:
Tram from Syntagma square to Voula (so slow you can make a thousand photos easily). The coastline from Voula to Sounio is best explored by car. You will definitely want to stop many times to look at the sea view, take a photo, walk by the sea. You can't do those things by bus.
Bus from Pedion Areos in Athens centre to Sounion (choose the Athens Riviera route). It will take you about 2 hours to reach Sounion from Athens
Rent a car from Athens Centre. Take Syggrou Avenue which leads you directly to the seaside road that crosses all of Athens Riviera. It is impossible to get lost as it is one, big and single road by the sea, the Paraliaki Avenue that will take you straight to Sounion.
Book a very affordable private tour to Sounion, to save you a lot of time and stress, you can book it here
Solo Female Travel to Athens Riviera
Women who travel alone are perfectly safe in Athens Riviera or any other Greek island or large city.
Traveling around the country is quite easy as Greek people are very friendly and eager to help and reply to any questions from visitors.
Having said that, common sense should always be exercised and sketchy places should always be avoided.
Did you find my post on Greece useful? Feel free to buy me a coffee and support my blog!
My most favorite travel resources:
All the archaeological sites in Greece can be found on the official Greek Ministry's website here. If you are an EU member, you might be eligible in reduced or free entrance.
Map of Athens Metro here
Booking.com: I use Booking.com because I can get the best deals, have info on hotels and Airbnb's alike, with breakfast or not, free cancellations, and great prices!
Ferries: Book your ferry transfer with FerryHopper, and get the best price in the market with no hidden fees
World Nomads Insurance: I feel insecure traveling to another country without having even the most basic of insurances. Insurance will protect you against illness, injury, theft and cancellations
Best car rental prices – Guaranteed. RentalCars.com
iVisa: For any questions, you may have about your documents, passport if you need a visa, a new photo, or any visa-related matter, iVisa is your man (or woman!)
Get Your Guide: For all your day or multi-day tours and city guide needs, I use Get Your Guide
Emergency Numbers Anywhere in Greece: AMBULANCE 166 – FIRE 199 – POLICE 100
More Inspiring Readings on Athens Sites
Not Sure where to Go to Mainland Greece?
Grab below your free 5-Day classic itinerary in mainland Greece. It includes sites, relative informative posts, and hotel recommendations!