Are you looking for the best seafood restaurants in Athens? Or just simply the best waterfront dining in Athens?
Athens coastline is about 35 km long (from Pireaus port to Vouliagmeni area) and as you can imagine the choice of Athens Restaurants with water views is just endless.
Find in this post a shortlist of some of the best seaside fish and seafood taverns in Athens to help you decide easier and pick up the best for you while you are visiting Athens.
In the Google map, I have marked the Athens areas with the seaside fish restaurants that we are visiting in this post:
Best Waterfront Restaurant in Pireaus
Varoulko
Varoulko is a Michelin Star restaurant, at a fantastic spot in Mikrolimano Marina
Specialties: All kinds of fish and seafood you can think of. Fish spaghetti with minced shrimp and baked tomatoes and fish with cream beetroot, colored beets, broccoli and bearnaise sauce.
Location: Akti Koumoundourou, 54-56 Mikrolimano Marina, Athens, 18545, Greece
Average Cost: 80-100 euro per person
Call them up early for reservations: (+30) 210 5228400
Best Seafood Restaurant in Paleo Faliro
Nautical Club of Paleo Faliro at Flisvos Marina
The Nautical Club of Paleo Faliro is one of the oldest clubs in Athens
Cuisine: Here you can enjoy tasty greek salads, sardine, calamari, octopus, anchovy, codfish, and many more.
With lovely views in the sea and a great spot for a magical sunset! Go early to get a good table.
Location: Flisvos Marina in Paleo Faliro
Average Cost: 20-35 euro per person
Call them at +30 210 9838444 to reserve your table
You can read more about Flisvos Marina in my Athens Riviera Post
Glyfada Best Waterfront Seafood Restaurant
Nikolas tis Schinoussas

Amazing views on the sea, professional service, and great cuisine focused on fish. Try taramosalata, the Schinousa salad, Kritharoto, steamed mussels, and any fresh fish.
Average Cost: 30-50 euro
Location: Diadoxou Pavlou 48 Glyfada, Athens GR

For Reservations: +30 210 8949550 & info@nikolas-schinoussas.gr
Schinoussa is a small island in the Cyclades group along with Santorini and Mykonos. Find out more about Cyclades islands on my dedicated page
Best Seafood Restaurants in Vouliagmeni
Blue Fish
Set on a small Vouliagmeni bay, and with direct access to the sea, it is an amazing spot to have your meal. Try their sea bream, fried prawns, and shrimp tempura.
Average cost: 50-60 euro
Location: Poseidonos Ave. 4, Vouliagmeni 16671 Greece
For Reservations: +30 21 0967 1778
Garbi Restaurant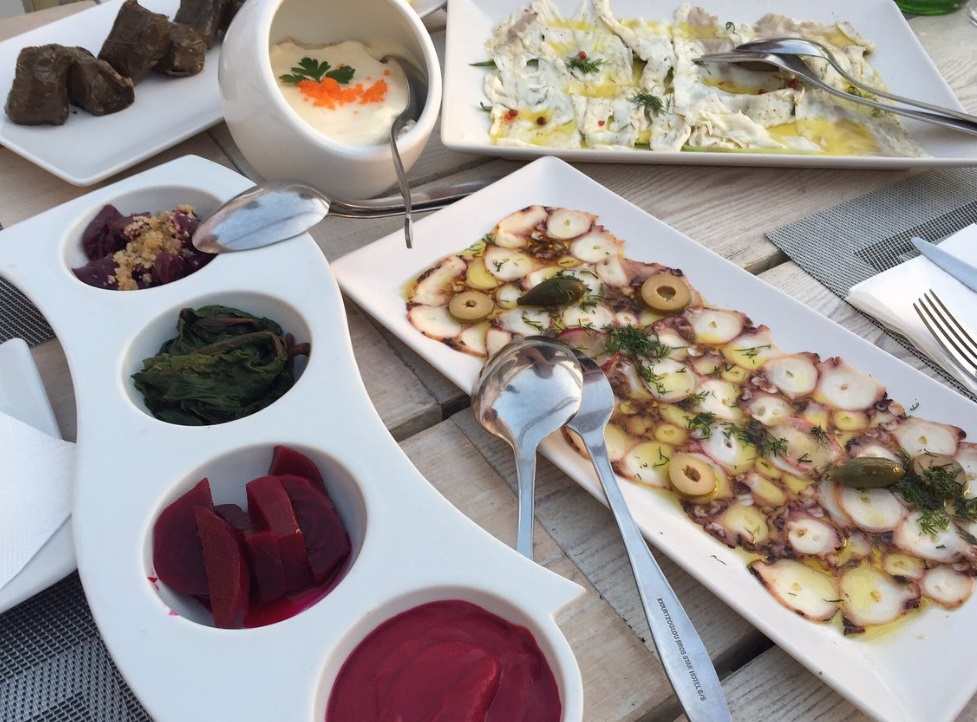 Garbi restaurant offers wonderful sea views and top-class service.
Try their crab salad, fish ceviche or seafood pasta, or risotto. Their Greek traditional dishes with some twist like their Mediterranean fish soup and shrimp mousaka.
Average cost: 30-50 euro
Location: 21 Iliou Kavouri, Vouliagmeni 166 71 Greece
For Reservations: +30 210.8963480 / +30 210.8963460
Ithaki Restaurant
Ithaki is one of the most famous, old and classy fish restaurants in Athens Riviera.
Overlooking the Aegean sea, you will get high-class service and food. Check out their seafood risotto, grilled prawns, and octopus.
Average Cost: 50-100 €
Location: Apollonos, Athinas 28, Vouliagmeni
Reserve your table at +30 21 0896 3747
Lambros
A historical restaurant, operating since 1889 and a famous fish restaurant in Athens. Set right across the Vouliagmeni Lake, is fortunate to have all Vouliagmeni bay in front of its tables.
The legendary dishes of Lambros are the mussel pilaf, with raisins, pine nuts and dill, while the marinated anchovies, the crayfish, but also the saganaki with shrimp are excellent choices.
At the end of your meal, try kataifi ekmek, a traditional sweet.
Average Cost: 40-60 euro
Location: Poseidonos Avenue 20, Vouliagmeni 166 71 Greece
Reserve your table at +30 21 0896 0144 & +30 210 8961829
Where to Stay in Athens
More Inspiring Reading on Athens
Not Sure where to Go to Mainland Greece?
Grab below your free 5-Day classic itinerary in mainland Greece. It includes sites, relative informative posts, and hotel recommendations!