Updated November 20th, 2022 by Travel the Greek Way
Are you looking for the best seafood restaurants in Athens? Or just simply the best waterfront dining in Athens?
Athens' coastline is about 35 km long (from Pireaus port to the Vouliagmeni area) and as you can imagine the choice of Athens Restaurants with water views is just endless.
Find in this post a shortlist of some of the best seaside fish and seafood taverns in Athens to help you decide easier and pick up the best for you while you are visiting Athens.
Interactive Google Map for Athens Seafood Restaurants
In the Interactive Google map below, you can find all the Athens fish restaurants that we are visiting in this post:
Best Waterfront Restaurant in Pireaus
Varoulko
Varoulko is a Michelin Star restaurant, at a fantastic spot in Mikrolimano Marina.
Specialties: All kinds of fish and seafood you can think of. Fish spaghetti with minced shrimp and baked tomatoes and fish with cream beetroot, colored beets, broccoli, and bearnaise sauce. I love their shrimp risotto with raisins, pine nuts & tomatoes.
Location: Akti Koumoundourou, 54-56 Mikrolimano Marina, Athens, 18545, Greece
Average Cost: 80-100 euros per person
Book online: bit.ly/2YvMgVM
Mikrolimano at night
Best Seafood Restaurant in Paleo Faliro
Nautical Club of Paleo Faliro at Flisvos Marina
The Nautical Club of Paleo Faliro is one of the oldest clubs in Athens. Paleo Faliro is one of the areas belonging to the Athens Riviera.
Cuisine: Here you can enjoy tasty greek salads, sardine, calamari, octopus, anchovy, codfish, and many more.
With lovely views of the sea and a great spot for a magical sunset! Go early to get a good table.
Location: Flisvos Marina in Paleo Faliro
Average Cost: 20-35 euro per person
Call them at +30 211 4110723 or email at nopf@multitaste.gr to reserve your table.
Glyfada Best Waterfront Seafood Restaurant
Nikolas tis Schinoussas
Amazing views of the sea, professional service, and great cuisine focused on fish. Try taramosalata, the Schinousa salad, kritharoto (small pasta), steamed mussels, and any fresh fish.
Average Cost: 30-50 euros
Location: Diadoxou Pavlou 48 Glyfada, Athens GR
For Reservations: +30 210 8949550 & info@nikolas-schinoussas.gr
Schinoussa is a small island in the Cyclades group along with Santorini and Mykonos. Find out more about Cyclades islands on my dedicated page
Best Seafood Restaurants in Vouliagmeni
Blue Fish
Set on a small beautiful Vouliagmeni bay, and with direct access to the sea, it is an amazing spot to have your meal. Try their sea bream, fried prawns, and shrimp tempura.
Average cost: 50-60 euro
Location: Poseidonos Ave. 4, Vouliagmeni 16671 Greece
For Reservations: +30 21 0967 1778
If you would like a customized itinerary for a private tour in Greece please send your inquiry here for a free itinerary. Thanks!
Garbi Restaurant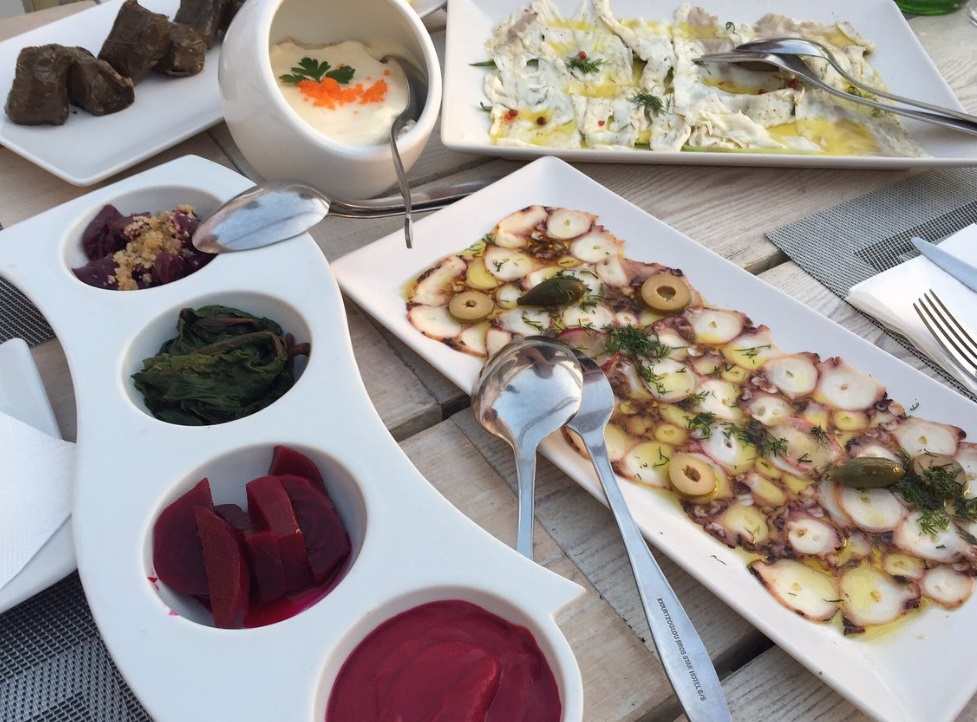 Garbi restaurant offers wonderful sea views and top-class service.
Try their crab salad, fish ceviche or seafood pasta, or risotto. Their Greek traditional dishes with some twists like their Mediterranean fish soup and shrimp mousaka.
Average cost: 30-50 euros
Location: 21 Iliou Kavouri, Vouliagmeni 166 71 Greece
For Reservations: +30 210.8963480 / +30 210.8963460
Ithaki Restaurant
Ithaki is one of the most famous, old, and classy fish restaurants in Athens Riviera.
Overlooking the Aegean sea, you will get high-class service and food. Check out their seafood risotto, grilled prawns, and octopus.
Average Cost: 50-100 euros
Location: Apollonos, Athinas 28, Vouliagmeni
Reserve your table at +30 21 0896 3747
Lambros Restaurant in Vouliagmeni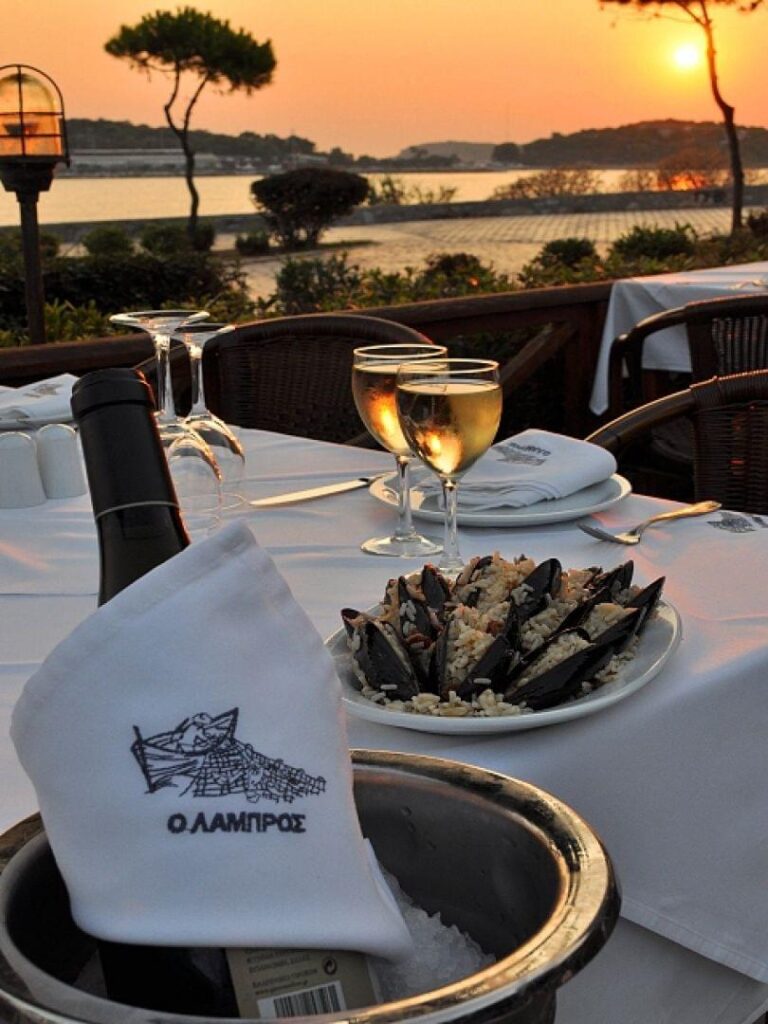 Lambros is a historical restaurant, operating since 1889, and a famous fish restaurant in Athens. Set right across the Vouliagmeni Lake, is fortunate to have all of Vouliagmeni bay in front of its tables.
The legendary dishes of Lambros are the mussel pilaf, with raisins, pine nuts, and dill, while the marinated anchovies, the crayfish, and also the saganaki with shrimp are excellent choices.
At the end of your meal, try kataifi ekmek, a traditional sweet.
Average Cost: 40-60 euros per person
Location: Poseidonos Avenue 20, Vouliagmeni 166 71 Greece
Reserve your table at +30 21 0896 0144 & +30 210 8961829
Best Seafood Restaurant in Athens Center
Aiolou 68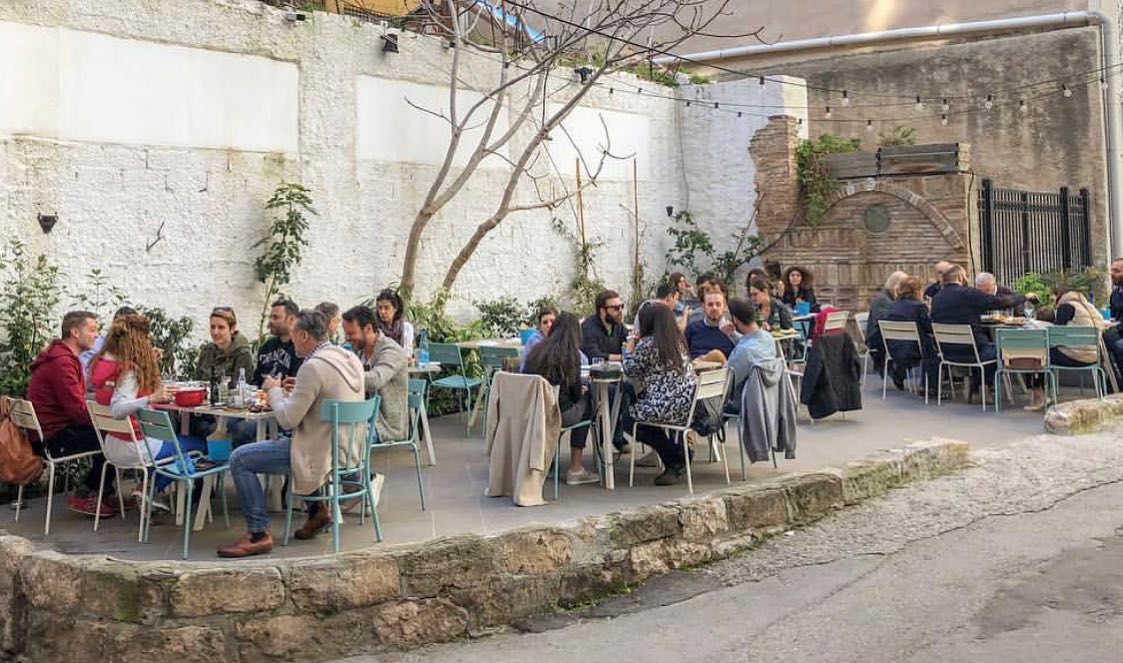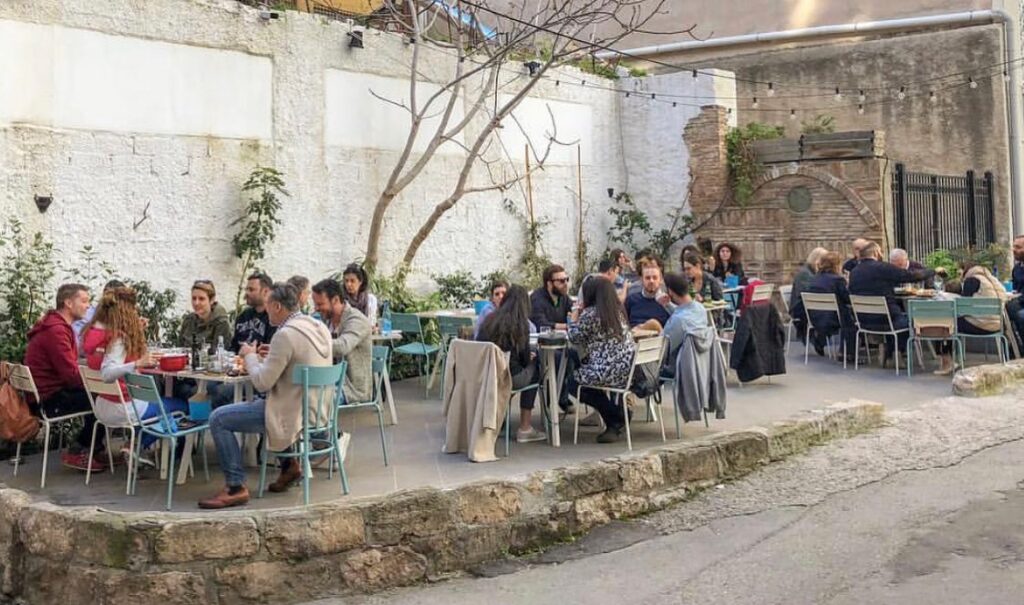 Aiolou 68 is a very central fish restaurant in Athens, close to Monastiraki Square founded in 2015 by three young men who love the sea and its food.
They bring their fish from Aigio and Preveza seaside Greek towns, and cook them in a Greek traditional way accompanied by a wide selection of ouzo.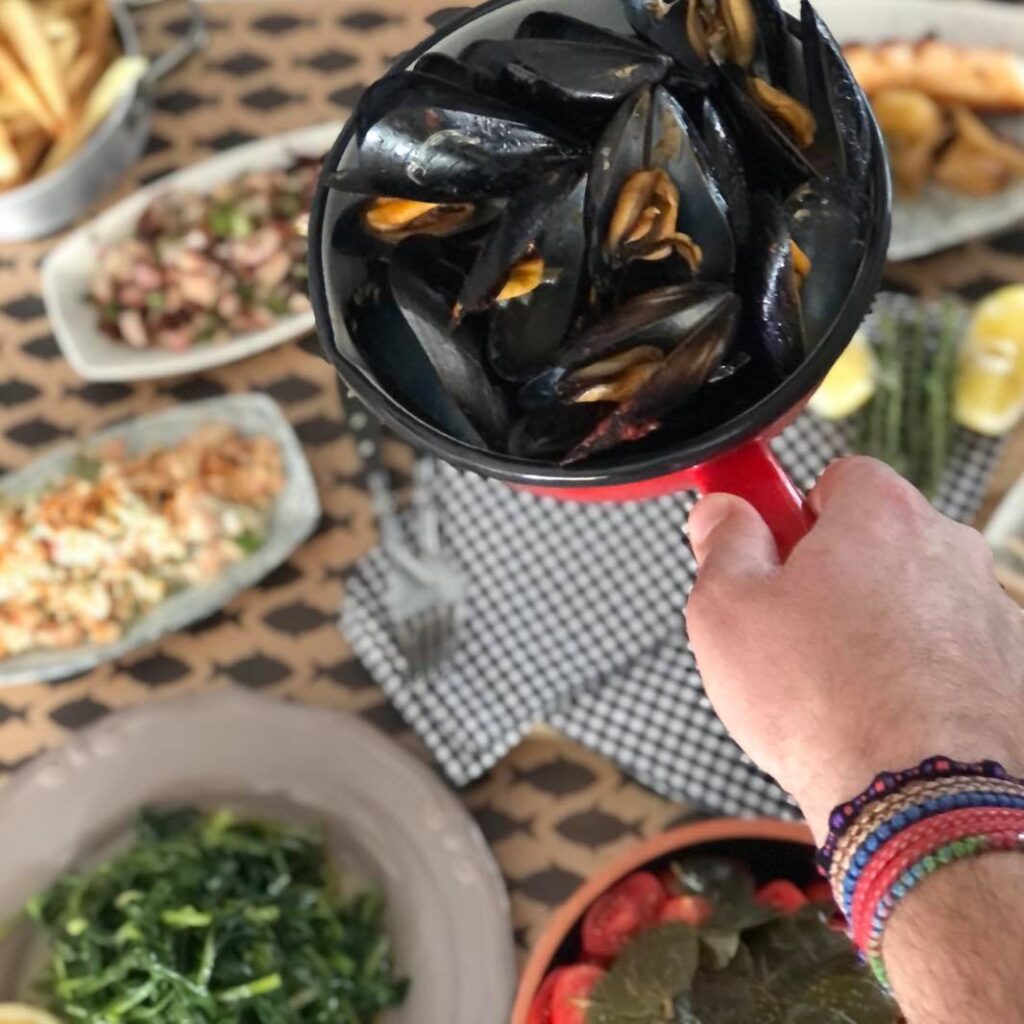 Specialties: Their dishes include exceptional sea bass, crab salad, steamed mussels, and bloody mary shrimps. Try their own fava spread and don't hesitate to choose local salty greens and their fabulous Greek salad.
Average Cost: 25-35 euros per person
Location: Aiolou 68, Athens, book at +30 21 0324 7925
Best nearby hotel: La Maison Athenes
Tips for first-time visitors to Athens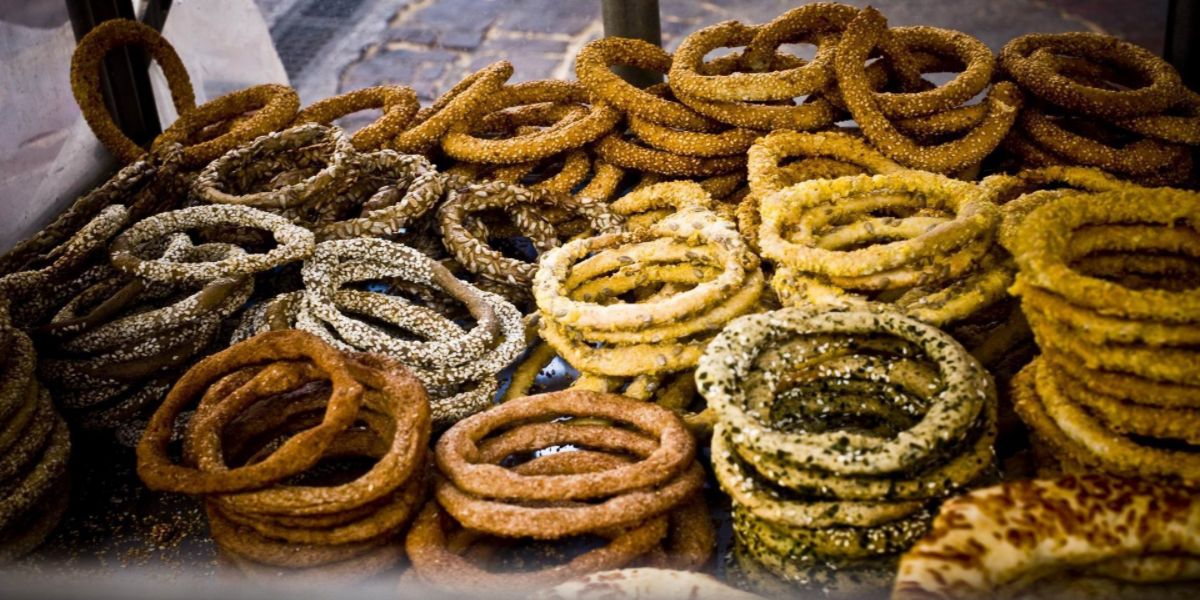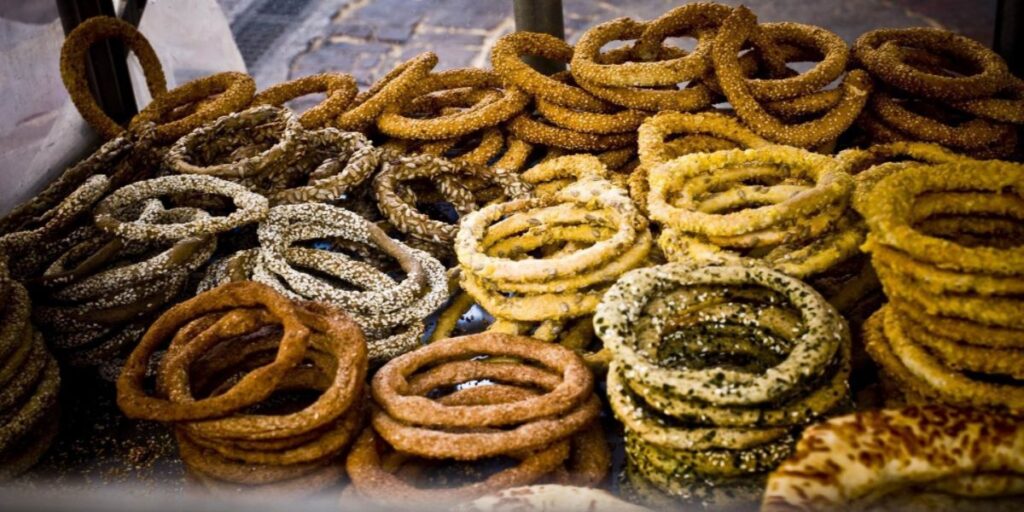 Try the koulouri, a small round piece of bread usually with sesame and a Greek coffee and you become instantly a Greek local!
If you are staying for more than a day in Athens buy the 30 euro combination ticket, valid for all the archaeological sites for 5 days
If you are not squeamish about blood or fish smell visit the famous Varvakios Market, on Athinas Street, a 10-minute walk from Monastiraki Square an indoor and outdoor food market. The vendors sell fresh meat, fish, fruit, spices, and products from around the country
If you have the time, besides the stunning Acropolis Museum, I highly recommend the National Archaeological Museum, the biggest Museum in Greece with ancient artifacts from all over the country
Other significant Museums are the National Museum of Contemporary Art Athens (1 metro station far from Acropolis, at Fix Station) and Goulandris Museum, 5 minutes far from Panathenaic Stadium
Where to Stay in Athens
Looking for the Best Hotels near old Athens Plaka and Acropolis Parthenon?
Or would you like to stay at a beachfront hotel (Athens Riviera)?
Perhaps you are more in budget hotels interested?
Whichever your preferences I have collected the best options for your staying in Athens below:
Plan Your Next Trip to Greece With These Resources
If you would like a customized itinerary for a private tour in Greece please send your inquiry here for a free itinerary. Thanks!
*Some of the links in this post are affiliate links. That means I may make a commission if you click and buy. The commission comes at no additional cost to you.
All rights reserved © Travel the Greek Way. Republishing this article and/or any of its contents (photographs, text, links) is strictly prohibited.
Essential Travel Info for Greece
'Hello' and 'Thank You' in Greek: "Ya sou" and "Efharisto"
FerryScanner or FerryHopper to book ferries to the Greek Islands
Booking.com: I use Booking.com because I can get the best deals on both hotels and apartments, free cancellations, and great prices!
Get Your Guide: For all your day or multi-day tours and city guide needs, I use Get Your Guide
COVID Info for Greece: Ministry of Tourism Official Website
Emergency Numbers Anywhere in Greece: AMBULANCE 166 – FIRE 199 – POLICE 100– EMERGENCY NUMBER 112
More Travel Ideas in Greece