This is a 4-day Peloponnese Itinerary starting from Athens Greece and visiting Peloponnese's 5 out of 7 subregions.
This 4-Day Peloponnese tour includes all the important archaeological UNESCO sites: Mycenae, Epidaurus, Temple of Apollo Epikurius, and Ancient Olympia, medieval sites like the impressive castles in Methoni and Pylos, beautiful seaside towns like Nafplion and Gialova, and breathtaking beaches like Voidokoilia and old-glamor lake Kaiafa.
I have also included my mother's village Krestena, near ancient Olympia to get a feeling of the real authentic mainland life in Greece. On your fourth day, you stay in a traditional mountainous village, Dimitsana, visit the rock-perched Monastery of Saint John and you hike by the Lousios River Gorge.
Let's start your 4-Day Peloponnese itinerary!
*Some of the links below are affiliate links. That means I may make a commission if you click and buy. The commission comes at no additional cost to you.
Athens Quick Reference
Where to stay in Athens with stunning Acropolis view: Niche Hotel or The Foundry Suites
Book your ferry tickets with no-hidden-fees at FerryScanner

or FerryHopper
Rent a car with Discover Cars for reliable new cars at affordable prices
4-Day Peloponnese Itinerary – Day 1
Corinth and Argolis
If you rent a car from Athens International Airport, your first stop is at Corinth Canal, 106 km far through E8. Corinth Canal is 6 km long and an engineering miracle. There is no entrance fee and you can take photos of the impressive chaos under your feet.
Bungee Jumping at the Corinth Canal
If you love bungee jumping, then the jump into the void of the Corinth Canal will be a life-altering experience. Book your private tour here with a transfer and organized visit to Canal for your jumping!
Isthmia
3 km from the Corinth Canal and via EO Isthmou Archaias Epidavrou you get to the smaller Isthmia Archaeological site, where Ancient Isthmian Games were held.
Hours 8 am-7 pm Easter – Oct, 8.30 am-3.00 pm Nov-Easter
Price adult €2 April to October – €1 Nov to March
After the site, drive for less than a km to Isthmia cafe located right at the water surface at the beginning of the canal. Have a quick coffee and watch the bridge submerge into the waters to let the ships pass and emerge to let the cars and people get across the canal.
Ancient Corinth and Acrocorinth
13 km from the Canal lies Ancient Corinth, its amazing Museum, and the Bema, the special pedestal where Apostle Paul preached to the Corinthians in 51 AD.
Hours 8 am-7 pm Easter – Oct, 8.30 am-3.00 pm Nov-Easter
Price adult €8 April to October – €4 Nov to March
On the large rock behind Ancient Corinth, and 4 km far, lie the remains of one of the largest castles in Greece, Acrocorinth which is worth visiting if only for the 360 birds-eye views. No entrance fee.
Nemea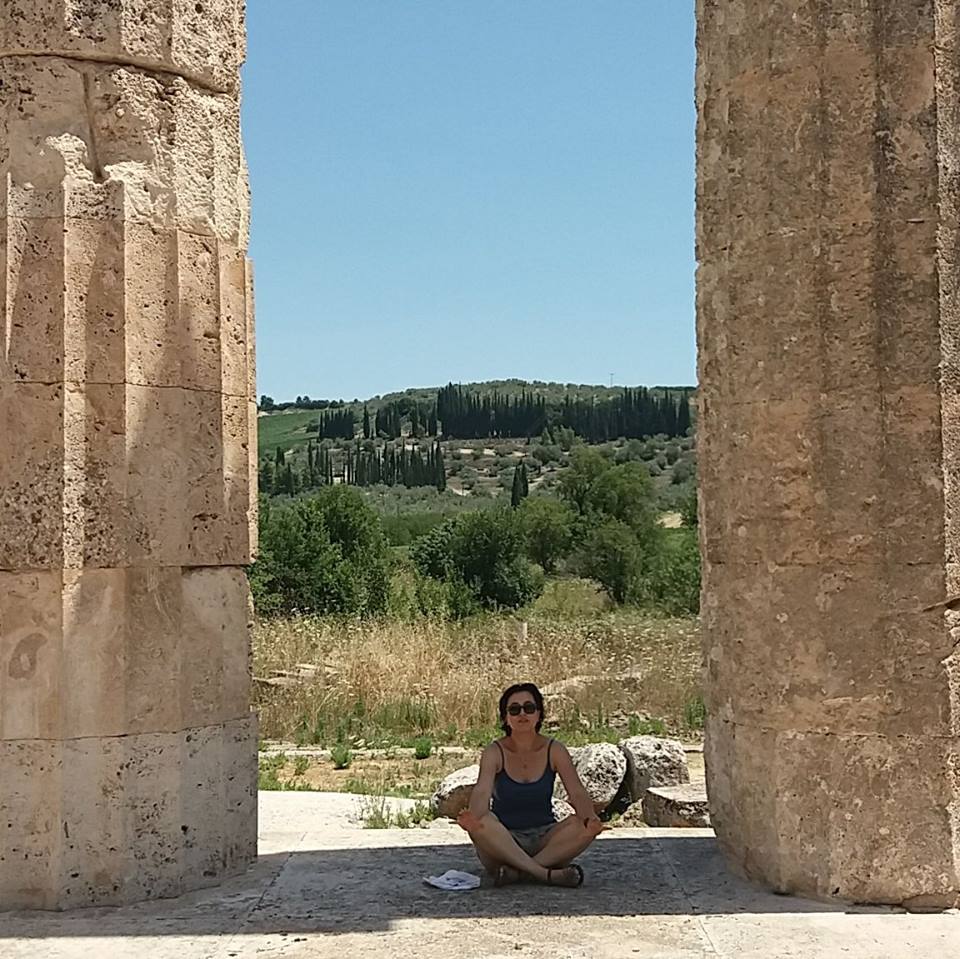 From Acrocorinth if you take the E65 national road 27 km to the south you will find Ancient Nemea with two separate – but very close- sites: the Sanctuary of Zeus and the museum, and the Ancient stadium where the Nemean Games were held. Ticket €6 April to October – €3 Nov to March.
Nearby is also the modern Nemea village for wine tasting. Nemea has the largest vineyards in Greece. A great way to combine both ancient and modern Nemea is by booking an Ancient Nemea private tour with wine tasting in 3 wineries
Mycenae
18 km from Nemea through EO (EO=National Road) Korinthou Argous you get to the stunning UNESCO Archaeological site of Mycenae. There are two points of interest, the Treasury of Atreus and the main site and museum.
The ticket for Mycenae is €12 from April to October – €6 Nov to March and includes both sites. There is also a combo ticket of €20 which includes entrance to Mycenae, the Ancient site of Tiryns (Nafplio), the Palamidi Castle (Nafplio), and the Archaeological Museum of Nafplio, and the Byzantine Museum of Argos and is valid for 3 days from its issuance.
Epidaurus
If driving for 47 km to a more remote part of Argolis appeals to you, then right after Mycenae take the Epar. Od. Nafpliou-Korinthou and EO70 and go to The Asklepion Sanctuary of Epidaurus (UNESCO). Ticket €12 April to October – €6 Nov to March.
Nafplion
Or if you had enough of driving after Mycenae go straight to beautiful and romantic Nafplion and you can visit Epidaurus on your Day 2.
Stay overnight at the beautiful Ippoliti Hotel, or Xenon Inn Hotel
4-Day Peloponnese Itinerary – Day 2
Argolis and Messinia
On your second day you can explore Nafplion: Use the 20 euro ticket you issued in Mycenae and go to the three Castles of Akronafplia, Palamidi, and Bourtzi (take the small boat for this). Visit its museums, stroll Syntagma square, and go to the Cyclopean walls site of Tiryns last as it is right out of Nafplion on your way to your next site.
Ancient Messene
From Nafplion take Road A7 towards Tripoli and on to E65 to the impressive archaeological site of Messene some 128 km far from Nafplion. On your way to Messene, you can make stops at the traditional villages for a good stretch, grab a snack or have a meal, see the numerous churches, chapels, and monasteries, or just enjoy the beautiful Greek countryside.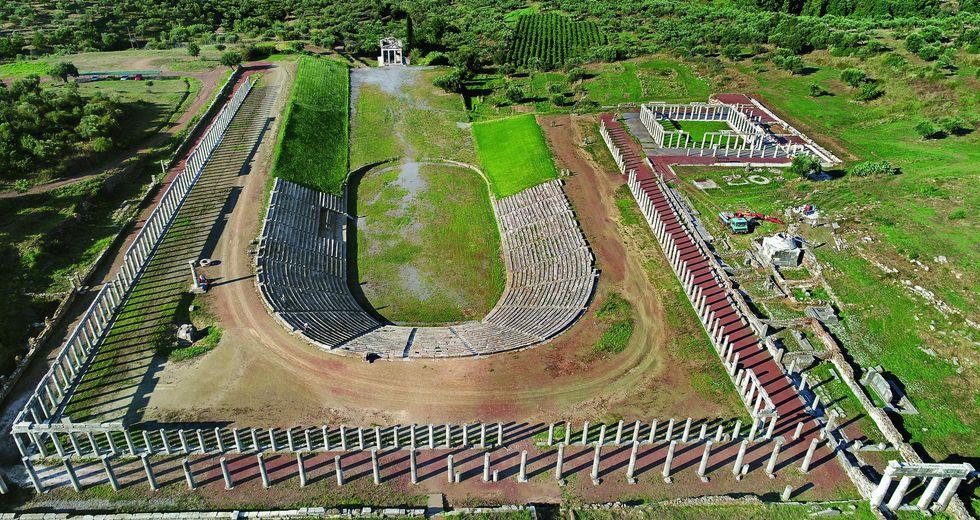 Sometimes they sell fruit and vegetable on the road. If it is oranges, I would grab a bag, they are notoriously sweet and flavorful.
Ancient Messene: Ticket €10 April to October – €5 Nov to March.
Pylos, Methoni
From Messene, take the N. Road 82 to Kalamata and seaside Pylos town some 62 km far. Pylos is just stunning and I love the few miles before I reach Pylos, as I see it slowly unfolding its beauty from the mountain over it.
Continue south for another 11 km and you get to my beloved Methoni where I have spent many summer days and still have many friends there. If you need a dentist – touch wood – ask for Zoe, she is the best dentist in the world, I have known her for more than 20 years and she is a great cat person.
You will love the beautiful seaside village of Methoni with the large castle area. It is a very laid-back village with some of the best sandy beaches in the Peloponnese, great history, and amazing people. If you can, stay for a few days there, then Ulysses Hotel is a great value for money budget hotel.
Gialova, Voidokilia
23 km to the north and via EO9 is lively seaside Gialova town with a lot of nightlife choices, camping, and above all the striking Voidokoilia beach, one of the most unspoiled and breathtaking landscapes in the Mediterranean.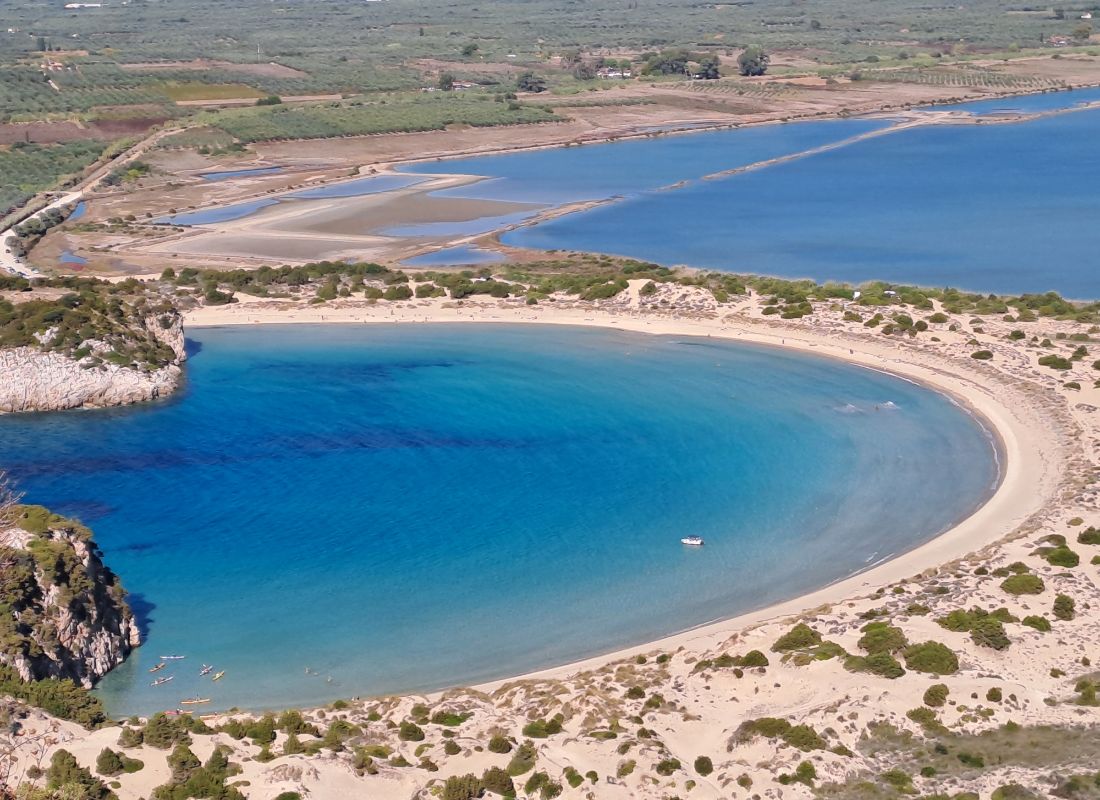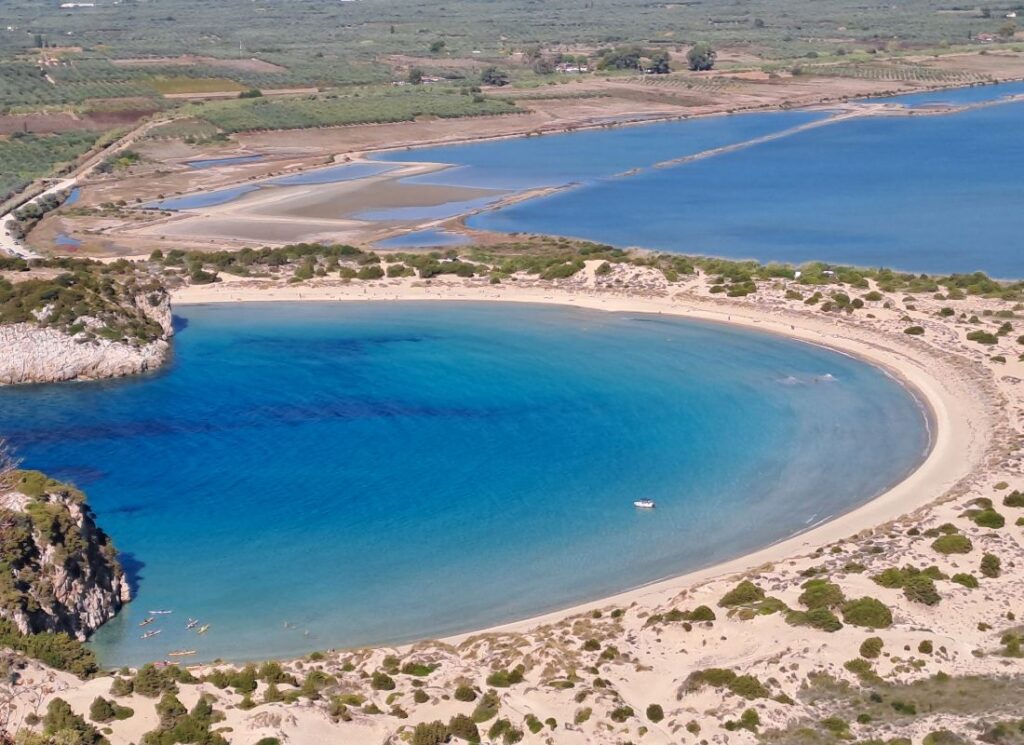 From Gialova, some 10 km to the northeast is the Mycenean archaeological site known as the Palace of Nestor. Nestor is described in Homer's Odyssey and Iliad as a wise old man who led Pylos to the Trojan War with 90 ships.
The Palace was built in the 13th Century BC and has four main buildings with the rectangular "throne room" being the most important.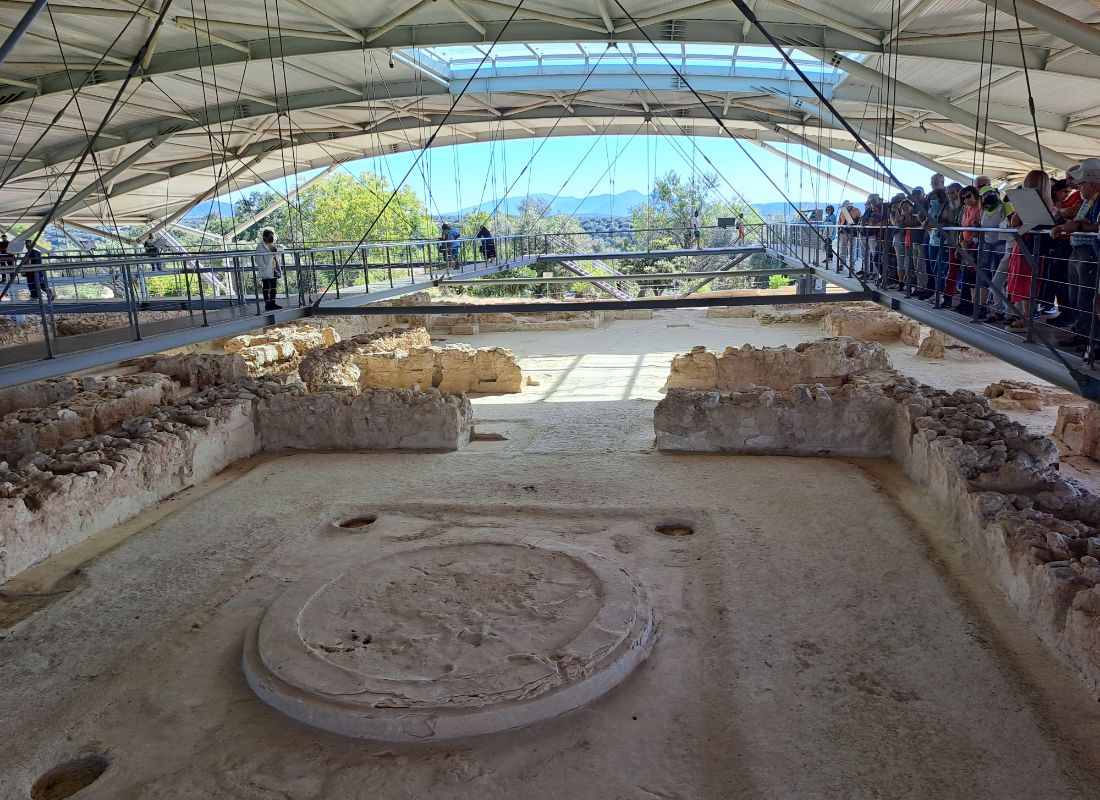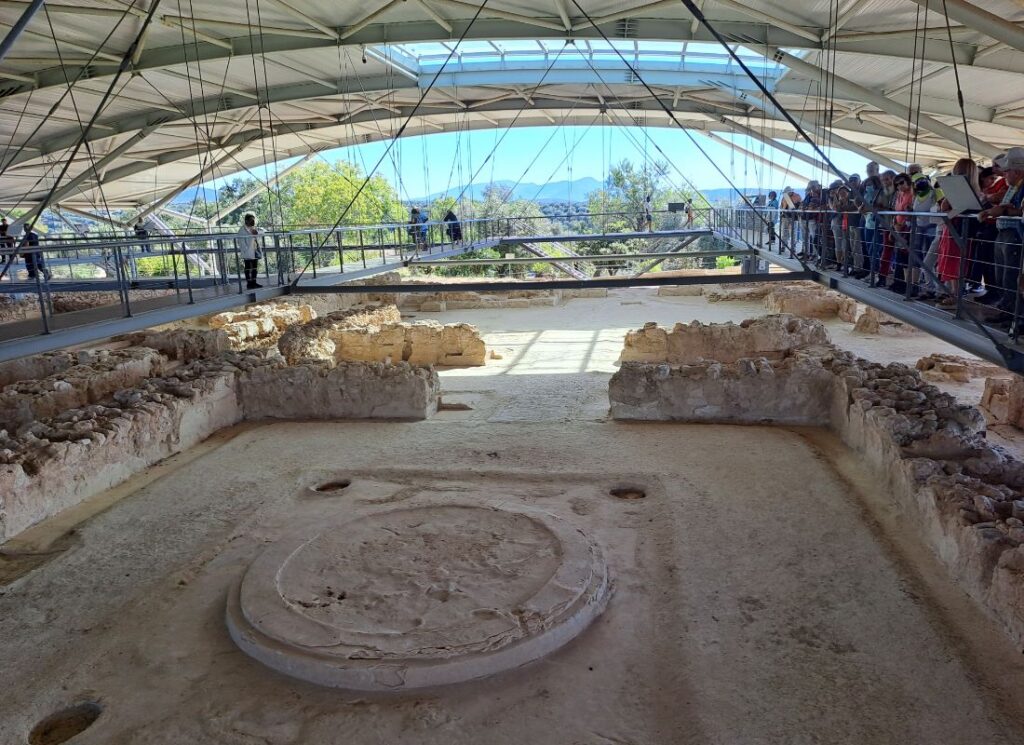 Ticket €6 April to October – €3 Nov to March.
The famous Westin Resort Costa Navarino luxury hotel is set near Voidokoilia and the stunning Navarino Bay.
4-Day Peloponnese Itinerary – Day 3
Ilia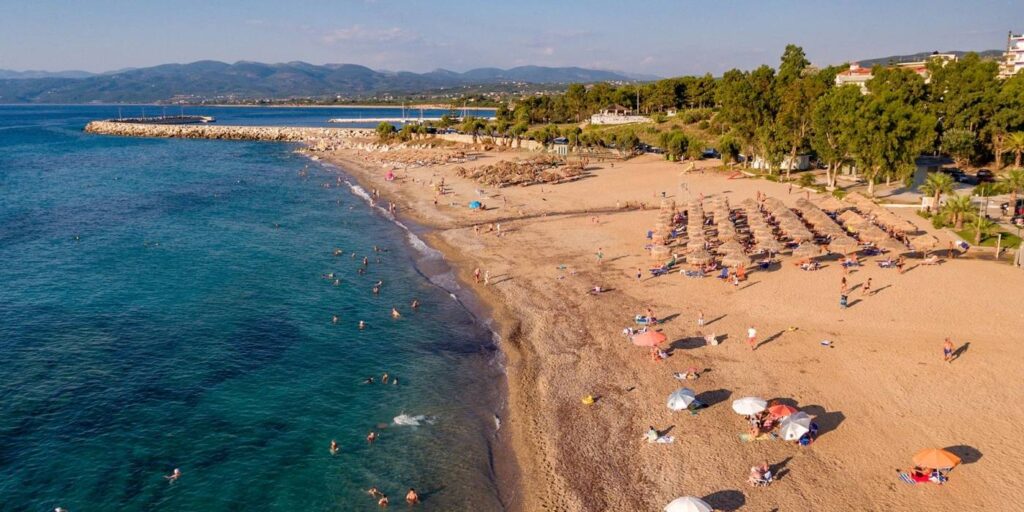 After Gialova and Costa Navarino, take EO9 to the north, a road trip next to the longest sandy beach with dunes in Greece. Drive along to one beautiful village after the other: Marathopoli, Gargalianoi, Filiatra (with an Eiffel Tower replica), Kyparissia all the way to the UNESCO Archaeological Site at Bassae of Phigaleia. The Epikourios Apollo Temple is a site of tremendous importance for the classical world.
Nearby amazing hiking trails are the Neda Waterfalls and Nemouta Waterfalls with the Erymanthos River.
Go to Krestena, my mother's birthplace village, and have a coffee/lunch at its picturesque square.
The next stop is at Kaiafas Lake. Cross the road across the lake and stroll on Kaiafas Beach, one of Greece's most beautiful sandy beaches.
The next important site is the UNESCO Ancient Olympia Archaeological Site where you will be visiting the birthplace of the Olympic Games. Ticket €12 April to October – €6 Nov to March.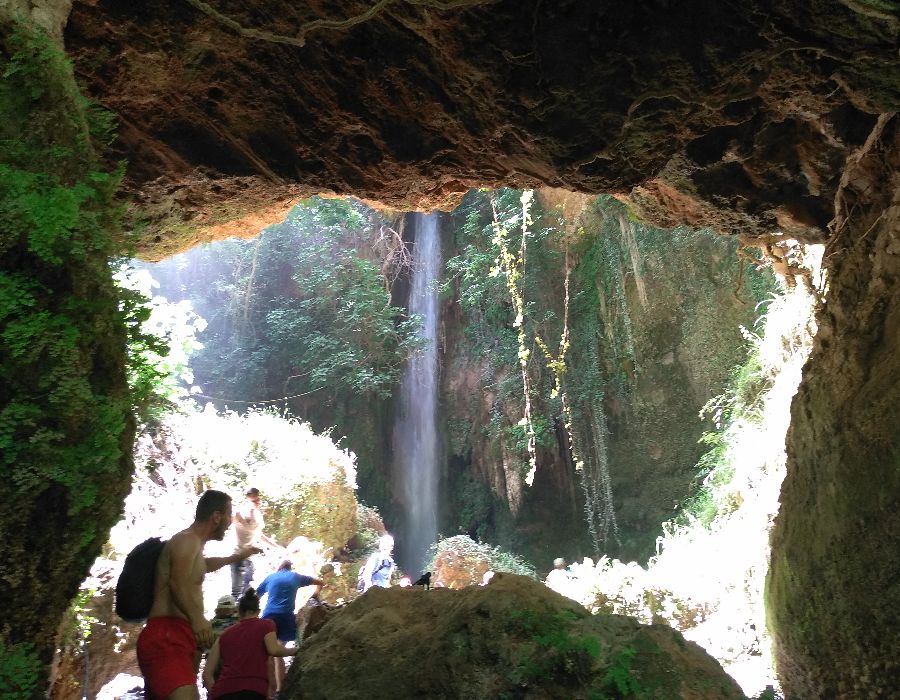 You can stay at Europa Hotel in Olympia and explore the area further. One idea is to hike the many waterfalls and rivers of the area like the impressive Nemouta Waterfalls.
If you prefer to keep on with your scheduled 4-Day Peloponnese itinerary, then from Ancient Olympia through EO74 drive for 77 km to the traditional mountainous village of Dimitsana.
Overnight at top choice in Dimitsana village in Enastron Guesthouse, stone-built accommodation with a fireplace and a balcony with a scenic village view
4-Day Peloponnese Itinerary – Day 4
Arkadia
On your 4th day, you can explore the stunning sites around Dimitsana village:
If you love the outdoors then this is an ideal place for you: you can go hiking or rafting (if the waters allow it) in the Lousios river gorge.
Visit the imposing monasteries: Moni Emialon and the rock-built Monastery of Agiou Ioannou Prodromou (try to wear modest clothes to the monasteries).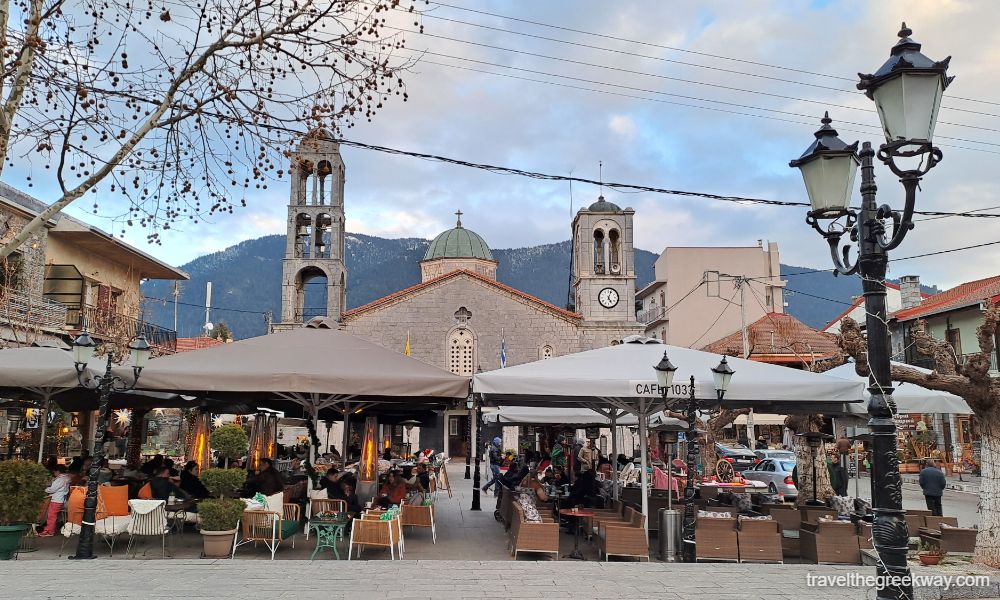 On your return way to Athens stop at Vytina village, one of many beautiful mountainous villages in the area. Visit its interesting Folklore Museum, stroll the tree-lined 'street of love' and taste the local products.
You can return to Athens or go towards the north of the Peloponnese to another fantastic area, Kalavrita, with the gorge train (odontotos).
You may also enjoy: The complete guide to Kalavryta
FAQ on Peloponnese Region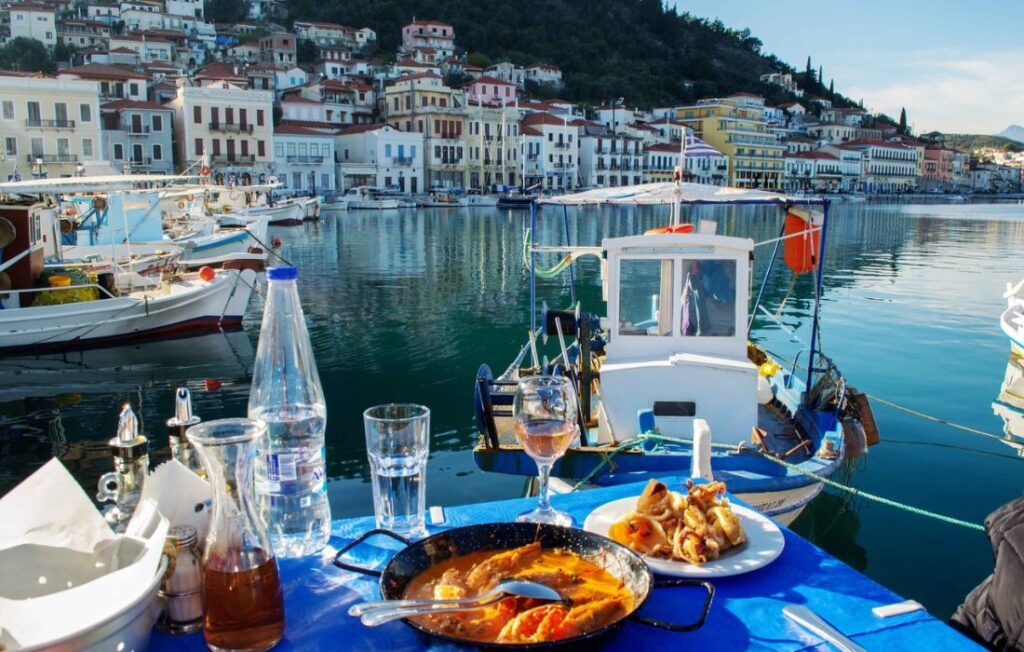 In what condition are the roads in the Peloponnese?
All the main roads are modern 3-lane motorways in perfect condition with tunnels and resting points as you travel. However, the local smaller roads can be quite tricky with (some or a lot of) unlit mountain roads with frequent hairpin turns, at least part of the way.
What is the terrain like in the Peloponnese?
It is probably the most fertile area in Greece with many rugged mountains and deeply indented coasts. Mount Taygetus in the south is the highest mountain in the Peloponnese, at 2,407 meters (7,897 ft)
It also has many broad valleys, rivers, lakes, endless fields of grain and vegetables intertwined with citrus plantations, and miles and miles of olive groves. The olives of Kalamata are considered among the best in the world. 
Should I pre-purchase the tickets for the sites?
For Athens Acropolis, if you are visiting May-September, yes! Check info for Acropolis tickets here.
For any of the other sites mentioned in Peloponnese, no, you don't need to. What happens with some museums in smaller towns and islands is that they are always closed on a certain day, usually Mondays or Tuesdays. So before you venture to any remote site, monastery, or museum, check out if that day is closed. It would be such a pity to drive all the way and find it all locked up.
What sites can I visit in the Peloponnese?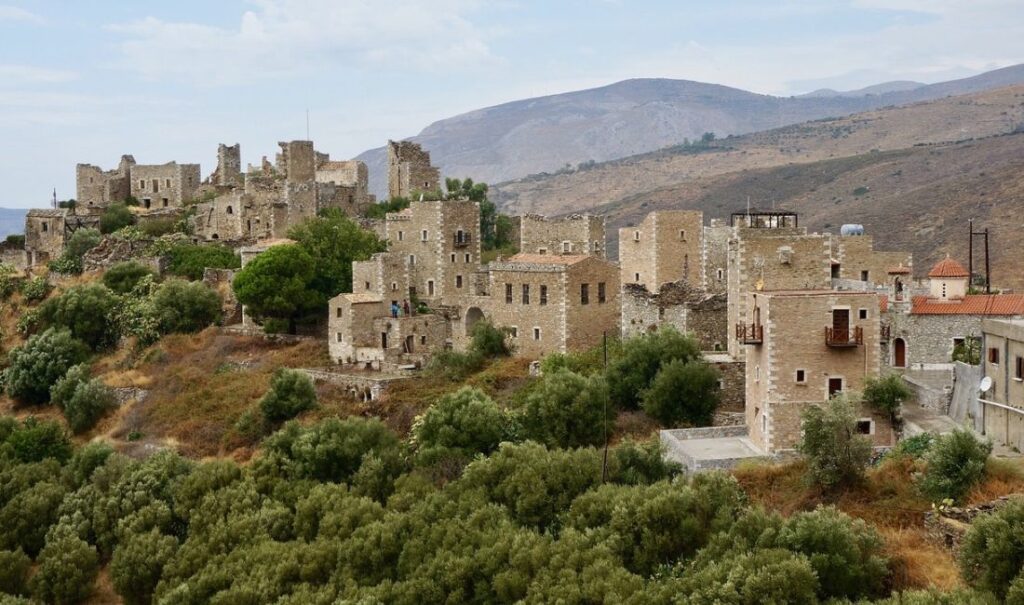 Peloponnese has a great history: the kingdom Mycenae started the war against Troy for the eyes of beautiful Helen is located in Argolida and is included in the tour.
As you travel the fantastic region of the Peloponnese, one civilization follows the other or they are all entwined in wonderful UNESCO monuments: ancient Greek, Medieval, Byzantine, and Ottoman villages.
Related Article: 8 Days in the Peloponnese
Interactive Map of the 4-Day Peloponnese Itinerary
Check out below the interactive Google Map with all the places mentioned in this 4-Day itinerary in the Peloponnese:
This Peloponnese road trip is best done in a rental car. If you prefer public transport, then you will need more days to explore all the areas mentioned in this post. See info on resources at the end of the post for the KTEL buses.
Explore the Capital, Athens!
If you are coming to Greece, a visit to Athens is a total must-do! I have a full post dedicated to the most important sites to see in Athens:
How Best to See Athens Monuments in 2 Days, so that you do not miss a site!
Where to Stay in Athens
Looking for the Best Hotels near old Athens Plaka and Acropolis Parthenon?
Or would you like to stay at a beachfront hotel (Athens Riviera)?
Perhaps you are more in-budget hotels interested?
Whichever your preferences I have collected the best options for your staying in Athens below:
How to Get to Pireaus Port from Athens Airport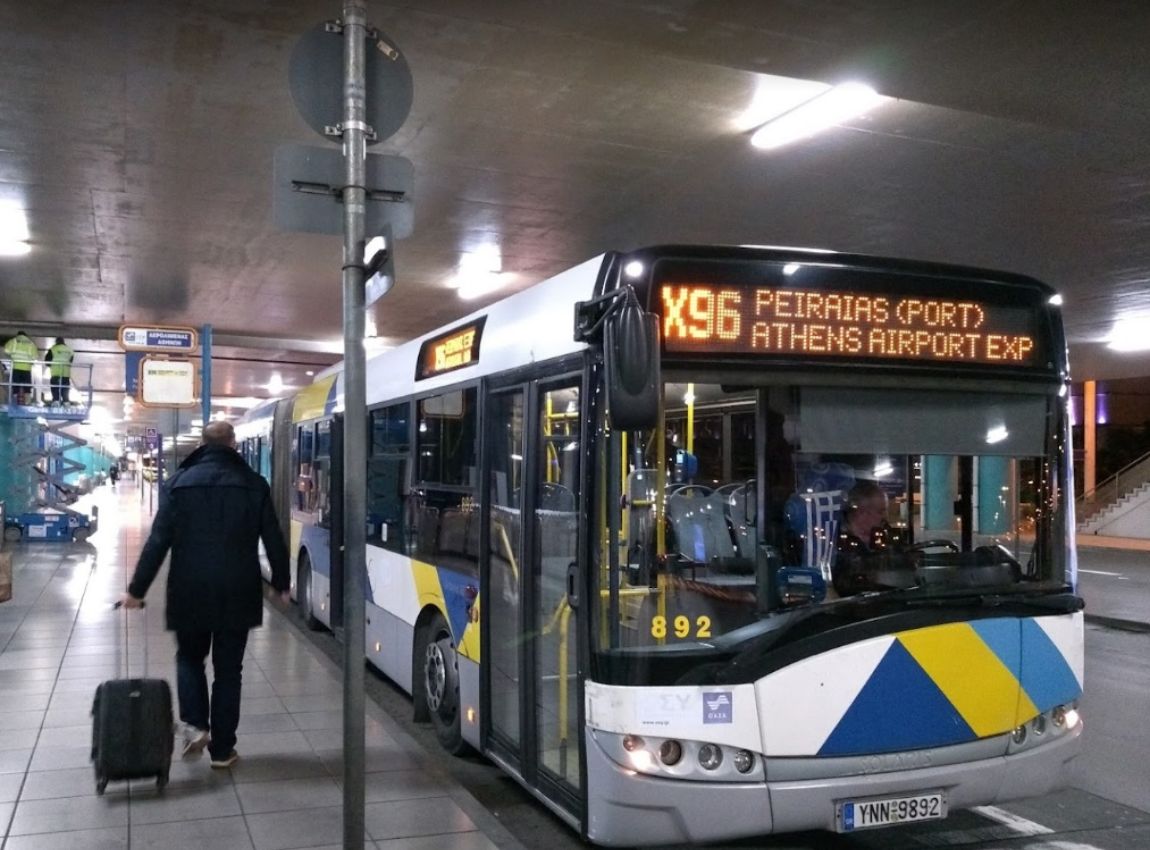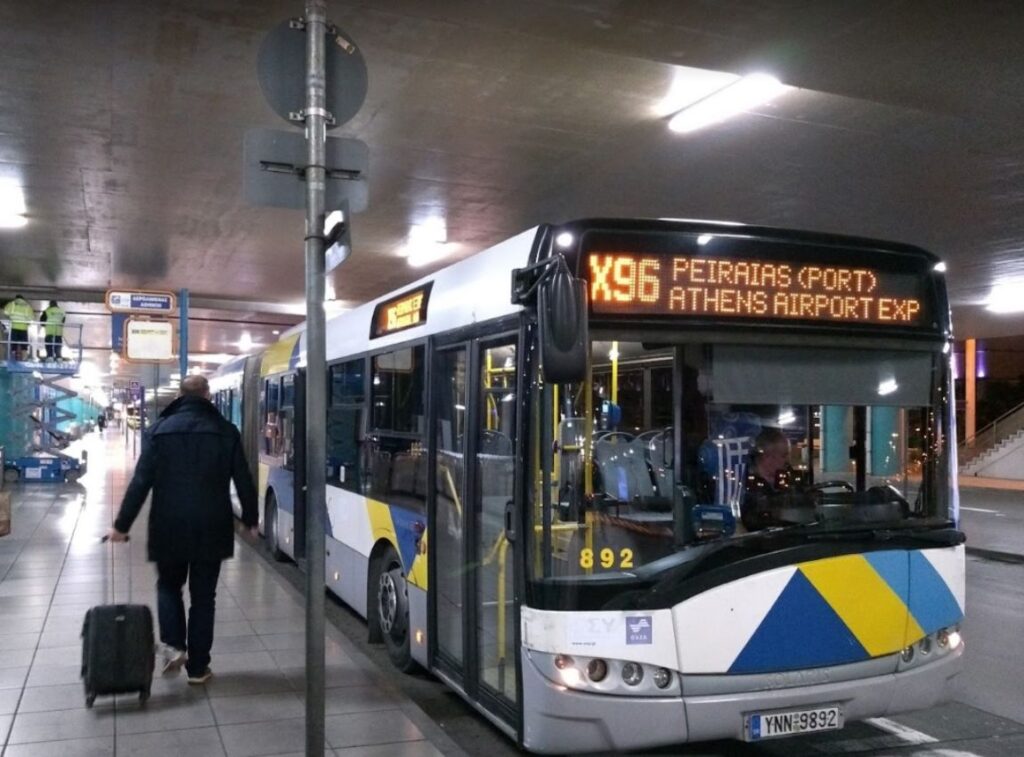 Bus: If you are arriving at Athens International Airport you can travel straight to the port by taking the X96 express bus (€5.5, children <6 yo, free entrance), which departs every 40 minutes and the average trip lasts 1 hour – runs 24/7.
Metro: (€9 ) is easily found across airport arrivals (blue line – M3) going directly to Piraeus port. The average trip to Piraeus lasts 1 hour.
Taxis are available in front of the airport (around €40 to Athens, €55-60 to Piraeus (depending on the traffic in Kifisos), and take up to 3 or 4 people with small luggage)
Rent a car with Discover Cars to rent reliable new cars at affordable prices
You don't like driving but love hassle-free solutions? Book a Private transfer with an English-speaking driver from Athens International Airport to Piraeus Ferries, or anywhere else in Greece
Check out a full post on Lavrio Port in Athens
These are some of my Favorite Travel Resources for Greece
'Hello' and 'Thank You' in Greek: "Ya sou" and "Efharisto"
Booking.com: I use Booking.com because I can get the best deals on both hotels and apartments, free cancellations, and great prices!
Find Long-Term Rentals in Greece: You will find the best prices in Flatio
FerryScanner to book ferries to the Greek Islands
Athens Metro Website (timetables and ticket info)
Get Your Guide: For all your day or multi-day tours and city guide needs, I use Get Your Guide
Emergency Numbers Anywhere in Greece: AMBULANCE 166 – FIRE 199 – POLICE 100– EMERGENCY NUMBER 112