If you have ever wondered what it would be like to visit Greece in November, then this post will get your answers.
Greece is a very beautiful country offering numerous outdoor, historical, artistic, culinary, or just relaxing and fun vacation choices, that can be enjoyed throughout the year, not just during the summer.
Visiting Greece in November may not be great for swimming but it is ideal for exploring the country with shoulder-season rates (don't know about you but I love cheaper hotel prices!) in a peaceful environment.
In this post, I suggest the best Greek islands to visit in November, a full 4-day Itinerary for the amazing Peloponnese, ideas for exploring Pelion Mt and villages, and of course for Athens, and all the exciting sites to visit.
FAQ about visiting Greece in November
What is the weather like in Greece in November?
According to last year's weather forecast, during November in Greece, the average temperature was between 10-20 C with 3 days of rain.
However, the temp will be 3-5 C higher or lower depending on whether you are in the north or the south of Greece, in a city, or on a mountain.
What time do the Greek Archaeological sites close?
Acropolis' gates in winter close at 5 pm (17.00) but the rest of the sites all over Greece close at 3 pm (15.00). Avoid going very close to the closing time, they will not let you in. Be there at least an hour before closure, so that you have ample time to explore.
The good news is that between the 1st of November – 31st of March all archaeological sites in Greece are half price!
And even better, there is free entrance for everyone every first Sunday of the month. For November that would mean that on the 7th all sites will be free to visit (the sites not the stand-alone museums).
Are there any days that the sites are closed in November?
Nope. No national public holiday during November, everything will be open for business.
*Some of the links below are affiliate links. That means I may make a commission if you click and buy. The commission comes at no additional cost to you. Please see my full disclosure policy for more information*
What is Best to Wear in Greece in November?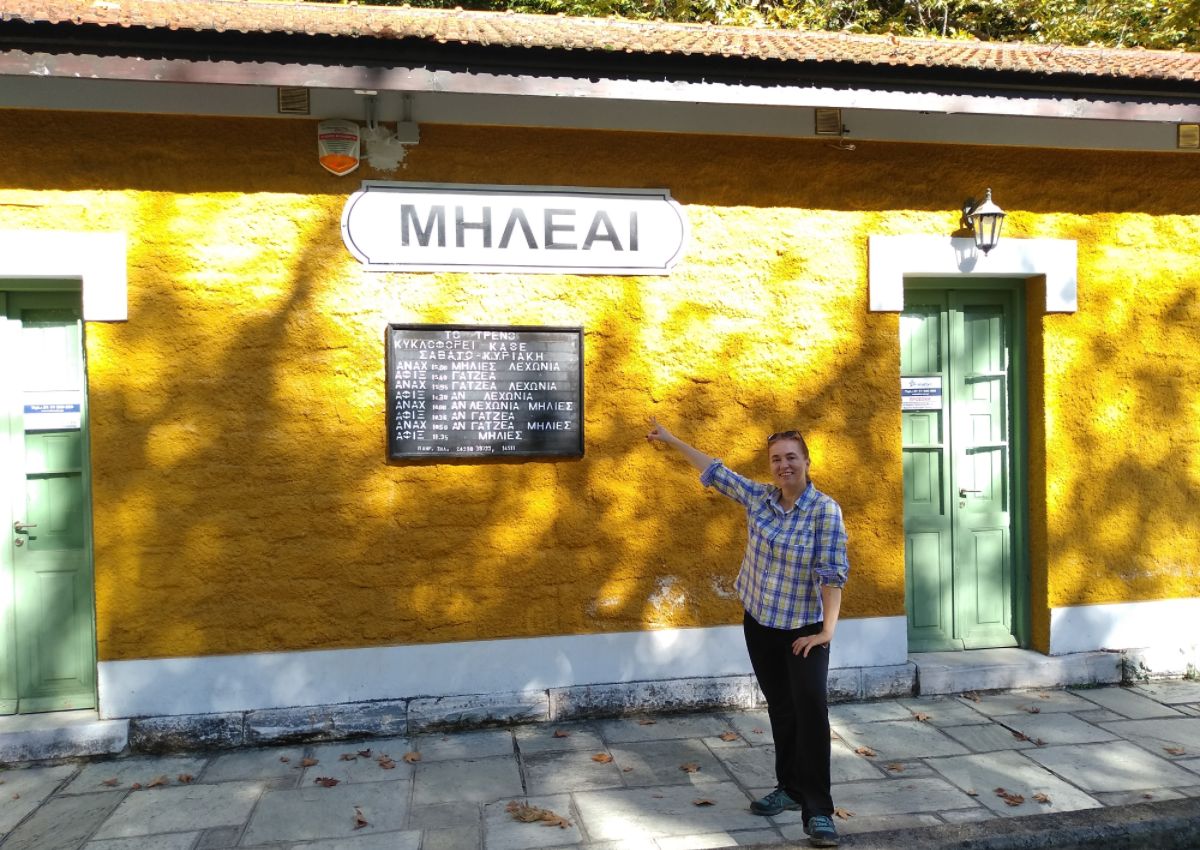 Weather in November can be from spring warm to chilly, a bit of rain and perhaps windy – so you may have to be prepared for all kinds of weather and use the layering technique:
Press the button below to read a dedicated post on what to wear in Greece in November:
In a hurry? Check out this Greece Quick reference:
Does Santorini/Mykonos/Rhodes etc close down in November?
No, they don't!
The Greek islands have permanent residents that stay on the islands throughout the year. For instance, Santorini has 5 high schools, with a permanent population of 15.520 people!
Some businesses do close down but those are usually the large hotel complexes, clubs, big restaurants, etc.
So, don't worry about going to Santorini or Mykonos in November and it will be just you and 3 stray fat cats.
You will definitely find everything that you need in the islands just at much lower prices, better – fast – service, and in a much more relaxed environment.

Air flights Tickets: Discover the Cheapest/Fastest/Best Worldwide Flights from SkyScanner search engine site:
What are the best Greek islands to visit in November?
There are a few factors that you need to take into consideration when it comes to choosing a Greek island in November:
The ferries are not that frequent as they are in the summer so check carefully the timetables
A lot of the connecting ferries (eg Santorini – Mykonos) are only working once a week or they stop altogether
The smaller Cycladic islands, such as Anafi, Folegandros or Sikinos are going to be really (really) quiet. If this is what you are looking for, then go ahead, I am sure you are going to have a wonderful time, I love solitude in nature too (keep in mind though factors 1 & 2)
If you insist on going to a Cycladic island but a too-quiet-island is not an option, then Syros, Naxos and Andros are the best choices as they are big enough, with a large population, scattered villages and many activities to do. Especially beautiful Syros is for me the best choice to explore as being the capital of Cyclades – with all kinds of industrial and commercial business all year round – everything will be quite lively
Ferry Tip: Find out all about the schedules and prices from the best booking engine FerryScanner or FerryHopper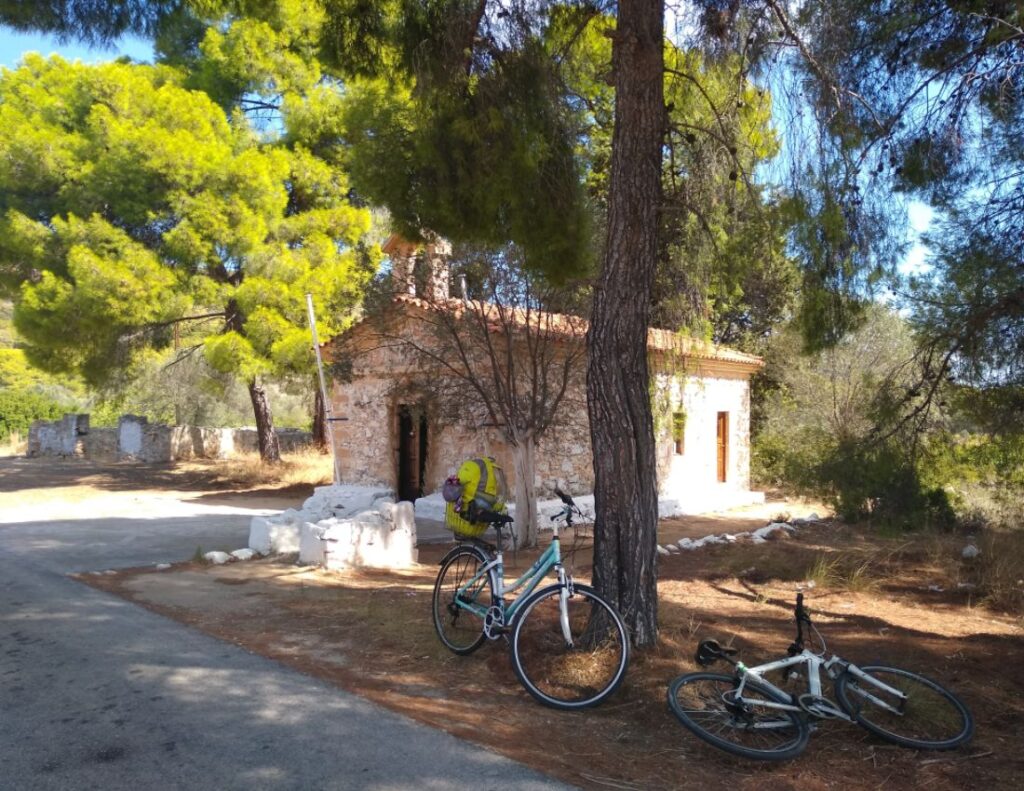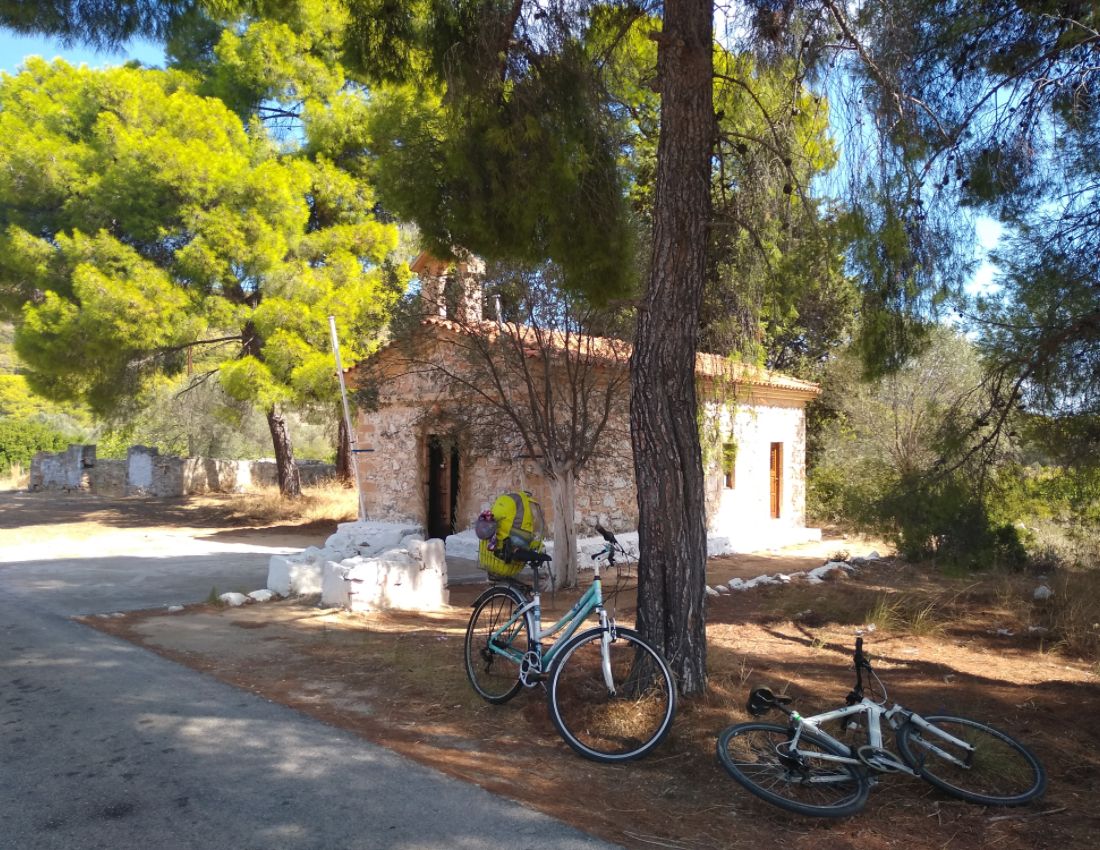 Mainland Treasures1: Go on a Multi-Day Tour to Peloponnese
Do you prefer to explore the Greek mainland instead of an island? Then one of the best choices is the Peloponnese region.
Peloponnese houses so many archaeological sites, castles, caves, villages, surrounded by a spectacular coastline that you need many days to see in detail this magnificent area.
I have gathered some of my favorite areas in a 4-day itinerary, taking into account the distances between the areas. At the end of each day, I have also added extra areas that you can visit as you can customize them to your needs.
The best way to visit all the sites is by driving your own car. Check, compare and save with the RentalCars:
4-Day Itinerary in the Peloponnese:
Day 1 – Corinth and Argolis, 2 regions full of wonderful sites to visit:
The sites you can visit are:
Corinth Canal, Ancient Corinth and Acrocorinth, Isthmia Archaeological site, Mycenae (UNESCO), Nemea (great for wine tasting and for visiting the archaeological site), The Asklepion Sanctuary of Epidaurus (UNESCO)
Overnight at Nafplio, the beautiful medieval town at Ippoliti hotel.
First time to Nafplio? Book an enjoyable 3-hour walking tour of Akronafplia Castle and Nafplio town with pick-up services from your hotel, and local wine and tsipouro tasting. Book your tour here with the professionalism of GetYourGuide local partners.
Other beautiful places to visit in the area: Volcanic Methana, Porto Heli & Ermioni, Argos
Day 2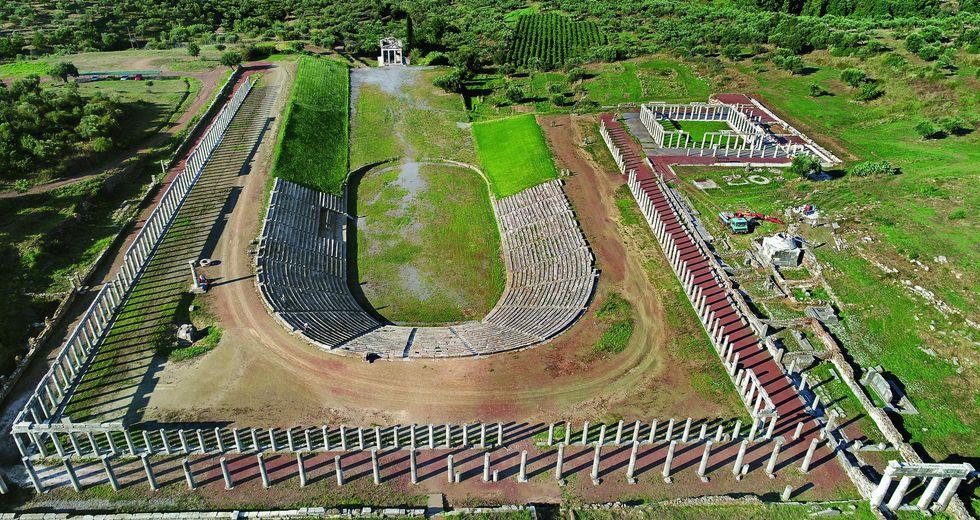 Leaving behind Nafplion you travel to Messene, Pylos, and the beautiful seaside village of Methoni with a large castle area.
Nearby is Gialova town with the striking Voidokoilia beach.
Overnight at Methoni at fabulous Ulysses Hotel
Or you can stay at Costa Navarino: a luxury hotel set in one of the most unspoiled and breathtaking landscapes in the Mediterranean, near Voidokoilia, a perfect semi-circle of a beach.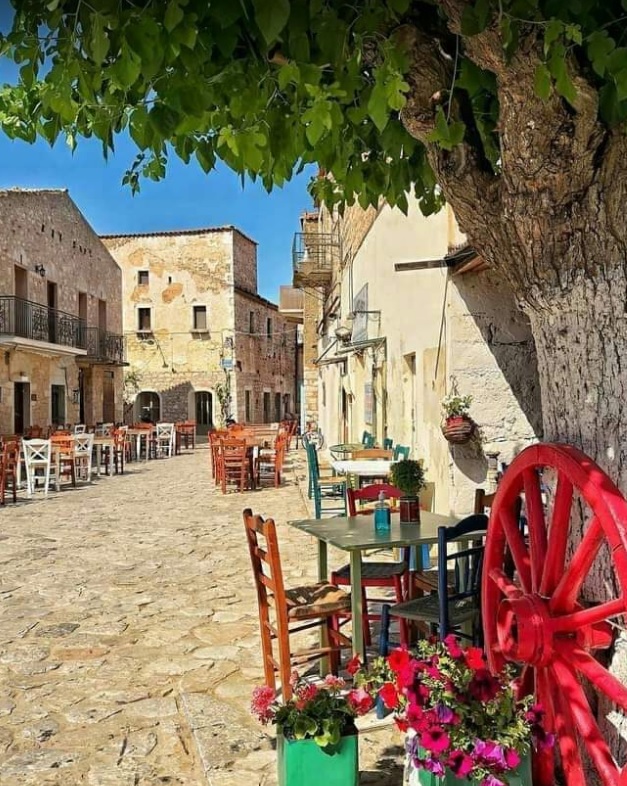 Other beautiful places to visit after leaving Nafplion: Medieval Castle-City of Monemvasia, UNESCO Mystras, Sparta, Areopoli, Kardamyli, Kalamata (like the olives!)
Day 3
On your 3rd day drive along the western coast of the Peloponnese, stop at the UNESCO Archaeological Site at Bassae of Phigaleia with the impeccable Epikourios Apollo Temple, a site of tremendous importance and beauty.
The site is set in the wild mountains of the inner Peloponnese and is very much worth the visit.
Go to Krestena, my mother's birthplace village, and have a snack at its picturesque square.
The next stop is at Kaiafas Lake. Cross the road across the lake and stroll on Kaiafas beach, one of the most beautiful sandy beaches in Greece.
The next important site is the UNESCO Ancient Olympia Archaeological Site where you will be visiting the birthplace of the Olympic Games.
From Ancient Olympia drive to the traditional mountainous village of Dimitsana.
Overnight at Dimitsana village in Enastron Guesthouse
Day 4
Next day you can explore the stunning sites around Dimitsana Village:
Hiking or rafting (if the waters allow it) in the Lousios gorge
Visit stunning monasteries: Moni Emialon and Rock built Monastery of Agiou Ioannou Prodromou.
On your return way to Athens stop at Vytina village, one of many beautiful mountainous villages in the area. Visit its interesting Folkore Museum, stroll at the tree-lined street of love and taste the local products.
You can return to Athens or go towards the north of the Peloponnese to another fantastic area, Kalavryta, with the gorge train (odontotos).
Find here a complete guide to Kalavryta, what to see, where best to stay, and what to order in the local taverns
Mainland Treasures2: Visit Pelion Peninsula
My very favorite place to hike in Greece is in Pelion mountain located in mid-eastern Greece, some 360 km from Athens.
Imagine a deeply forested peninsula with 28 traditional, beautiful villages full of old mansions and monuments, trees laden with pears, apples and chestnuts, planes, streams, and centuries-old bridges.
The most famous of the villages are Tsagkarada, Milies, Portaria, Makrinitsa, and Zagora with museums, libraries and monasteries to visit and a lot of outdoor activities.
My favorite thing to do in Pelion is after I have hiked on a cold day, I get into one of the many taverns with a fireplace and have a great meal. Pelion is famous for its local cuisine, a very traditional one, using their own farmed products.
.As if that was not enough, the peninsula is surrounded by endless golden sandy beaches, some of the best in Greece where you can have romantic walks and dream of next summer!
Explore the capital, Athens!
If you are coming to Greece, a visit to Athens is a total must-do! I have a full post dedicated on the most important sites to see in Athens:
Guide on the Best Athens Monuments, so that you do not miss a site!
Where to Stay in Athens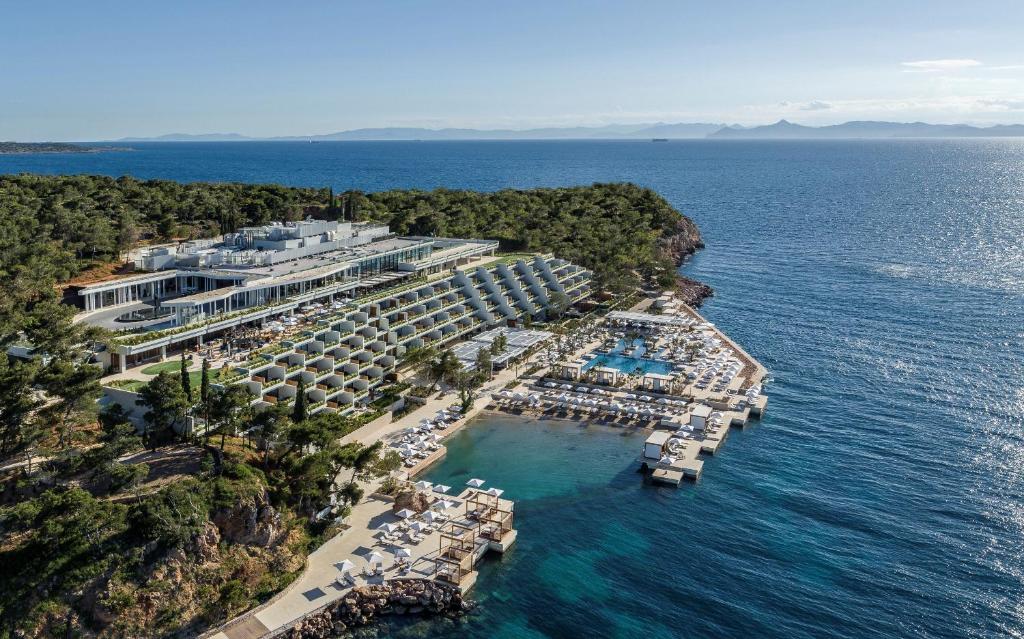 You can find all types of hotels in Athens from super luxury hotels like Grande Bretagne and Four Seasons Astir Palace to Plaka Boutique Hotels like AthensWasDesign and budget choices like Athens City Hotel.
I hope I have inspired you to visit Greece in November and have a wonderful time here. Meanwhile, stay safe, travel the world, and enjoy life!
These are some of my Favorite Travel Resources for Greece
Airflights: Cheap/Fast/Best Worldwide Flights from SkyScanner search engine site
Booking.com: I use Booking.com because I can get the best deals, have info on hotels and Airbnb's alike, with breakfast or not, free cancellations, and great prices!
Ferries to the Greek Islands: Book your ferry transfer with FerryScanner or FerryHopper, and get the best prices in the market with no hidden fees
World Nomads Insurance: I feel insecure traveling to another country without having even the most basic of insurances. Insurance will protect you against illness, injury, theft and cancellations
Best car rental prices – Guaranteed. RentalCars.com
Get Your Guide: For all your day or multi-day tours and city guide needs, I use Get Your Guide
iVisa: For any questions, you may have about your documents, passport if you need a visa, a new photo, or any visa-related matter, iVisa is your man (or woman!)
Emergency Numbers Anywhere in Greece: AMBULANCE 166 – FIRE 199 – POLICE 100– EMERGENCY NUMBER 112
More Inspiring Reading on Athens