Updated August 14th, 2021 by Travel the Greek Way
Where is Kalavryta in Greece?
Kalavryta Greece or Kalavrita (Greek Καλάβρυτα) is a small mountainous town on the northern side of the Peloponnese peninsula, located on the right bank of the river Vouraikos, 189 km from Athens Greece.
Kalavryta is surrounded by the large mountains of Eyrymanthos, Aroania and Chelmos. The area is one of the 5 UNESCO Global Geoparks in Greece under the name of Chelmos-Vouraikos UNESCO Global Geopark.
I had the pleasure to hike from the Kalavryta Greece Ski resort on Chelmos Mt to the Mega Spileon Monastery. A challenging hike, as most of it, was a steep and slippery downslope.
How to get to Kalavryta Greece
You can take public transport, KTEL buses that leave from Kifisos station every day
You can rent a car and use google maps to get there quite easily
You can hire a professional experienced driver to escort you around the place and offer live commentary during the trip.
Whatever the means of transport you choose, you will be compensated by the views as you drive upwards to the mountains around Kalavryta Greece. The views are breath-taking with small villages dotting the area with its local colours and architecture.
Kalavryta best time to visit: All year round! Every season has something beautiful to offer.
What is Kalavryta famous for?
Kalavryta Greece offers a richness of outdoor activities combined with spectacular nature, modern history, and Greek Orthodox monuments all together!
Kalavryta Greece was built near the ancient city of Cynaetha and today has a permanent population of 1829 persons.
The Kalavryta Hiking – Mt. Chelmos Trail
Hike Overview
Distance: 11 km
Start Altitude: 1600 m
Finish Altitude: 890 m
Time: 4-5 hours
Difficulty: (2/5), requires a good physical condition.
Permit Required: No
Trail Condition: Variable with a very steep downhill, challenging route. Not very good signposts.
Mobile Phone Reception: Very good
Water, Food: Bring 1-2 litres of water (depending on the season), energy food and fruit
Gear: Wear anti-slippery, water-resistance, ankle protective hiking boots that will reduce your chance of sliding during the steep descent. If there is snow, crampon compatible boots. Walking sticks. Rain – snow protection garments.
Hiking in Greece can be versatile and full of surprises at every turn of the path.
This particular route starts from Kalavryta Greece Ski Resort, at the leveled planes right across the chalet. The hike at first follows the dirt road until the red signposted path leads you to the dense and lush fir forest of the area.
You may find interesting a post about Hiking Dangers that you may encounter in Greece. Some of the problems mentioned in the post, come from my personal hiking experience in Greece.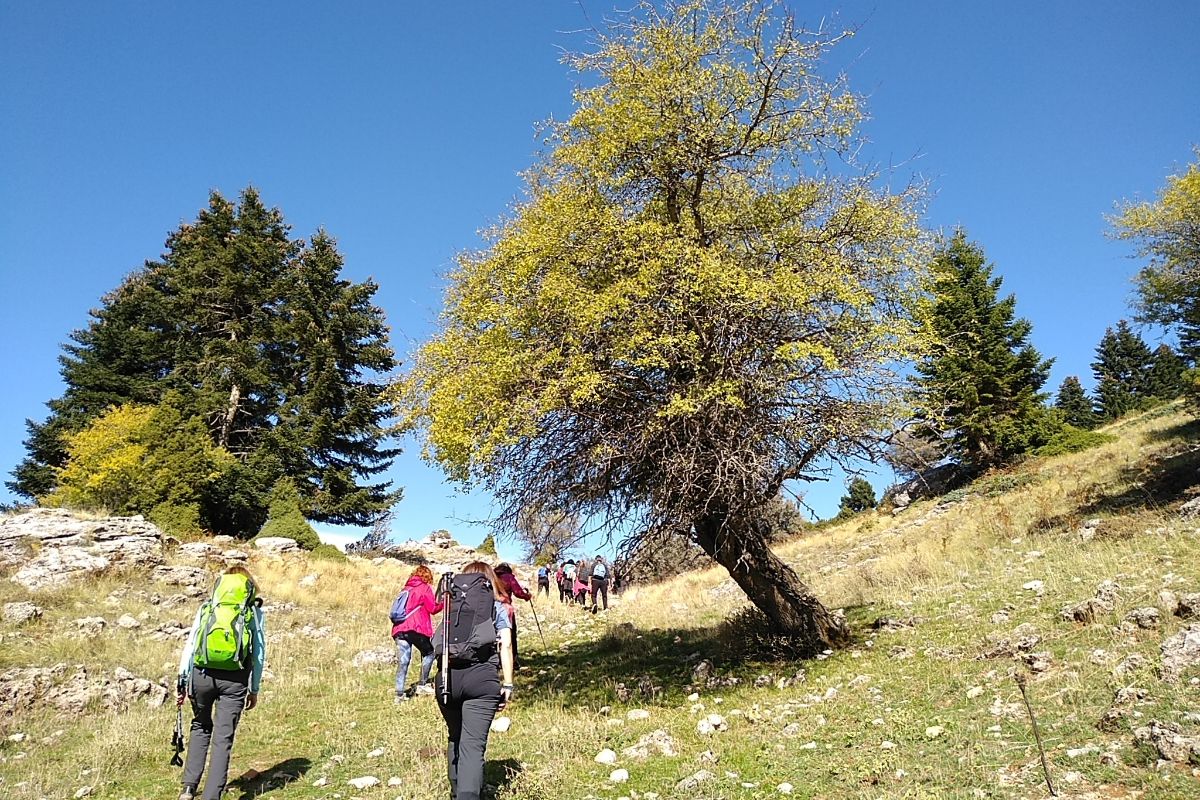 The path through the forest is not often used so at times may not be so easy to discern. The sign-posting often is a random painted stone or a piece of plastic garland, hanging from a tree.
On the trail, you will come upon various types of mushrooms. I can't distinguish between edible and non-edible ones so I never pick them up. I would recommend, if you are not 100% sure of the type of mushroom, to just leave it where it is.
Soon the downhill starts, although the worst and most slippery part is much further down and closer to the monastery.
Keep always warm on the mountains with high quality garments like this one on Amazon: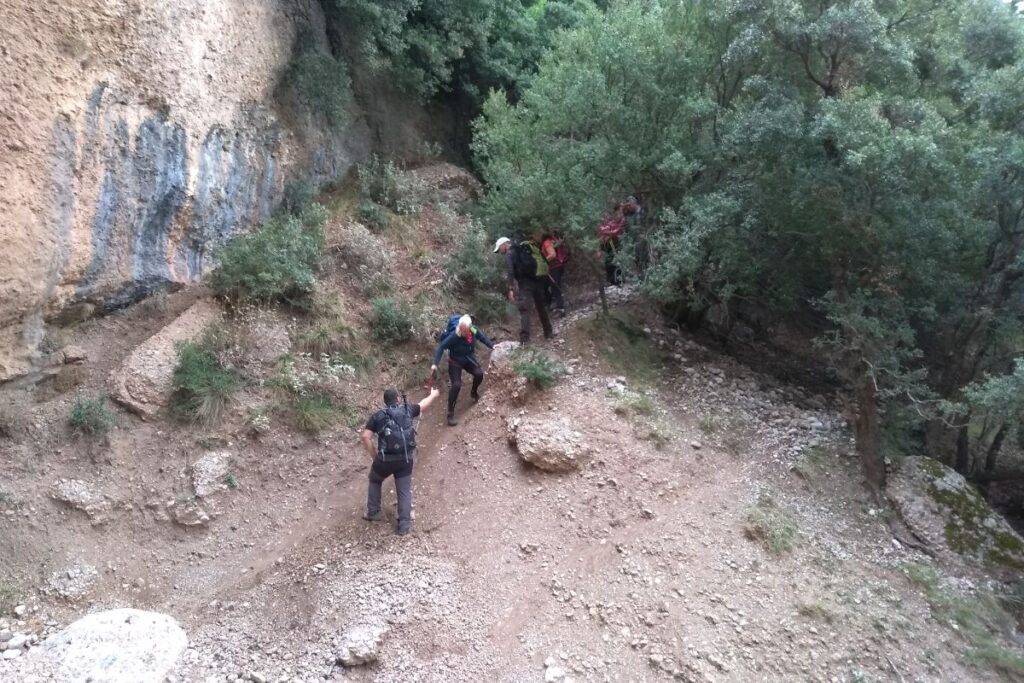 The hike ends when you reach the Mega Spileon Monastery.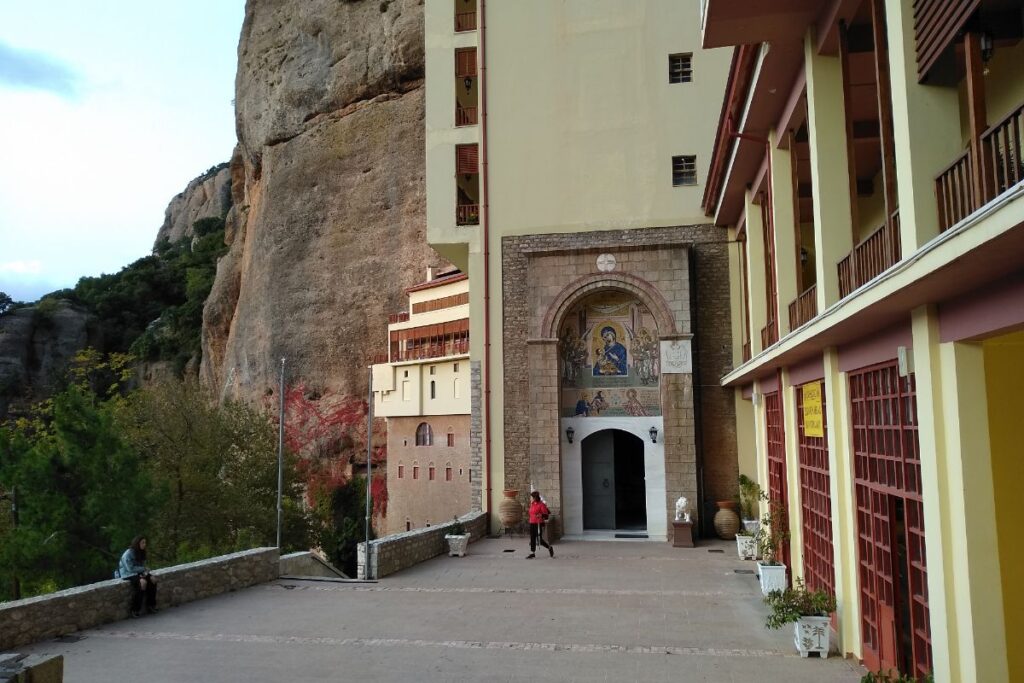 Kalavryta Mega Spileon Monastery
Mega Spileon Monastery is a male monk Monastery
It is the oldest one in Greece, founded in 362 by the Thessalonian brothers Symeon and Theodor
It is literally carved against the slopes of Chelmos mountain in a large cave in a sheer cliff
The monks took part in the Greek War of Independence in 1821
On 8 December 1943, the Germans destroyed the monastery and executed 22 monks and visitors as part of reprisals. The monastery was rebuilt from the ground after the war
Dress Code: Like in all religious places, respectful behavior is expected. Women don't have to cover their heads but they may be asked to wear a skirt. Avoid wearing a hat inside a church, shorts, being loud and please do ask if you are allowed to take photos.
If possible, buy a small token from their shop to support their work for the local community
Free entrance
When to visit: All year round
How to get to Mega Spileon: by car or even better hiking from Kalavryta Greece or Kalavryta Ski resort! It is only 11 kilometers northwest of the town of Kalavryta.
Kalavryta Greece Ski resort
Second biggest ski resort in Greece
The Kalavryta resort has 13 tracks with a total length of 23 km and 7 ski lifts, suitable for both beginners and advanced skiers
A choice between freestyle, snowboards, ski bikes, special programs for children, and lifts to the trucks
Warm and hospitable Hippocrates Farm Chalet offers lunches and drinks
When to go? Probably when there is enough snow!
How to get to the resort? If you are staying at Kalavryta Greece, the resort is very close to the town, easily reachable by car.
It gets really cold in winter in Greece, you will need a good and warm jacket if you love skiing:
Kalavryta Rack Railway
Kalavrita Greece is famous for Odontotos (toothy), the rack railway on cogs train, first ran in 1896
Start this really exciting train trip from Diakopto seaside village, and enjoy the 22km route in Vouraikos river, through tunnels and breath-taking over the water bridges. Stunning mountainous views all around you, the river's water running speedily, offers one of the most scenic natural areas in the world.
Makes a stop at Mega Spileon Monastery and at the green and picturesque small village of Kato Zachlorou. There are taverns to have your lunch there.
Best time to Visit: All year round
Suitable for everyone, unless you are afraid of heights!
Official website about the Rack Railway, Diakopto-Kalavryta (Tip: buy your tickets in advance, the train is very popular)
Hiking Vouraikos Gorge
Grab the opportunity to hike through the Vouraikos Gorge. The trail is part of E4 European Trails Network.
An easy hike in general. However, when you cross the tunnels, you should be aware of the passing trains.
Sometimes, you have to cross metal wobbly bridges over the fierce Vouraikos river, a very exciting (and slightly scary) thing to do. Be cautious.
Best time to hike: All year round!
The Vouraikos bridges are extremely dangerous for children as they can fall through the large gaps to the void below (life-threatening) and the Vouraikos hike is NOT suggested for children of any age.

The Cave of the Lakes
The Cave of Lakes is 17 km far from Kalavryta town at the Kastria village. A safe corridor is set enabling the visitor to see all the important chambers of the cave. You can see the stalactite and stalagmite formations and explore the cave's 13 beautiful lakes strange rock formations in three levels.
What to wear: a warm fleece is a must, no matter when you visit
When to visit: all year round!
Tickets: Adults 9,00 €, children 4,50 €
Kalavrita Greece Agia Lavra Monastery
The monastery is mostly famous for its historical contribution to the Greek War of Independence against the Turks. The War started here in March 1821 initiated by Bishop Germanos of Patras
The Agia Lavra monastery was built in 961 AD
Its collection of crosses with precious stones as well as artefacts of icons and religious symbols is notorious
There is an in-house museum devoted to historical treasures of the revolution, like the diamond-decorated Gospel, a gift from Catherine the Great of Russia
A perfect occasion to visit the monastery would be on 25th March, when commemorative celebrations are held
How to get there: It is only 4,5 km away from kalavryta Greece
When to visit? All year round!
Free Entrance
Other Monasteries in the area are the Monastery of St. Nicholas Vlasias built in the 7th century AD. Situated in a Meteora like rock, the Monastery of Makelaria built by Byzantine Emperor Justinian in 532, is 30 km away from Kalavrita.
Kalavryta Greece Massacre
Kalavryta Greece Massacre («Unternehmen Kalavryta») happened on 13 December 1943, when the German occupying troops executed 693 men and children. Actually, they separated the entire male population, everyone above the age of 14 and machine-gunned them.
Then, they burnt down the entire town, in retaliation to a defeat they suffered in a battle with Greek Resistance troops.
To commemorate the horrible event, a Monument and a Municipal Museum have been erected at the location of the execution. Entrance Fees to Museum: 2 €
What else is there around Kalavryta?
Near Kalavryta you can visit Upper and Lower Lussi gorgeous villages with fine old mansions
25 km from Kalavryta Greece is the stunning Planitero village, surrounded by a dense plane-tree forest of exceptional beauty. A Natura area is well known for its breathtaking treks, natural springs, waterfalls by the river Aroanios, trout and salmon farming, and exceptional traditional taverns.
*Some of the links below are affiliate links. That means I may make a commission if you click and buy. The commission comes at no additional cost to you. Please see my full disclosure policy for more information*
Where to stay in Kalavryta Greece?
When it comes to accommodation propotitions all over Greece, I always suggest Hotels that I have either stayed myself or I would love to in the future, as soon as I have the opportunity to travel again.
I take into consideration customers reviews, reasonable prices, modern-minimal or very traditional decoration preferably with great views and large breakfasts!
Check below amazing hotels with breakfast in Kalavryta and surrounding villages, you can stay for your nearby expeditions:
Taverns and Restaurants in Kalavryta Greece
Wherever you choose to have your meals, if you wish to eat traditionally, try to order some local delicacies.
Ask your waiter for the daily menu and the fresh local dishes they have for the day. Ask them to bring you their own tirokafteri (Greek spicy cheese dip) or dolmadakia or melitzanosalata (eggplant dip). Ask them if they make their own pies, and tell them that you want your choriatiki (Greek Salad) with the whole piece of feta, not white cheese.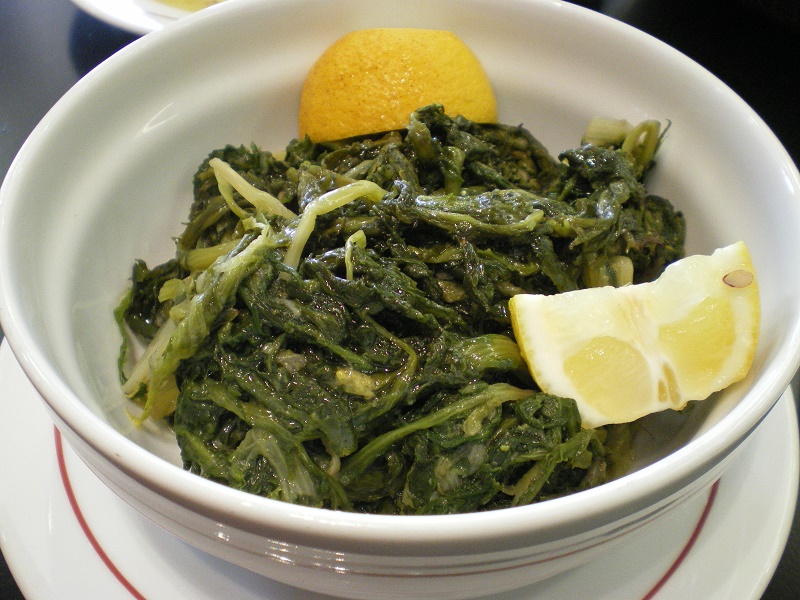 I had dinner with friends at "Katafygio Tavern" on 15th km Pounta – Kalavryta. The owner was very friendly and polite, the food was homemade and delicious and the tavern had the nice aroma of a wood-burning fireplace. We had fasolada (bean soup), briam, tirokafteri, cheese-pie and chorta (greens) collected from the mountain around the tavern. All were accompanied with their own white wine. Last dish…warm loukoumades melting in honey! Yummy!
Would you like to taste affordable quality Greek food in the area you live? Check out my Small In-House Quality Shop with deals from the Amazon Store.
Important Sites Around Kalavryta
Kalavryta is in the Greek region of Peloponnese which hosts some of the most spectacular archaeological sites in Greece:
Ancient Corinth & Museum (Apostle Paul Bema)
Mycenae – UNESCO listed site
Sanctuary of Asklepios at Epidaurus – UNESCO listed site
Ancient Messene
Ancient Olympia – UNESCO listed site
Mystras – UNESCO listed site
Temple of Apollo Epicurious… are just some of them.
More Inspiring Greek Travels
Not Sure where to Go to Mainland Greece?
Grab below your free 5-Day classic itinerary in mainland Greece. It includes sites, relative informative posts, and hotel recommendations!