Updated September 4th, 2022 by Travel the Greek Way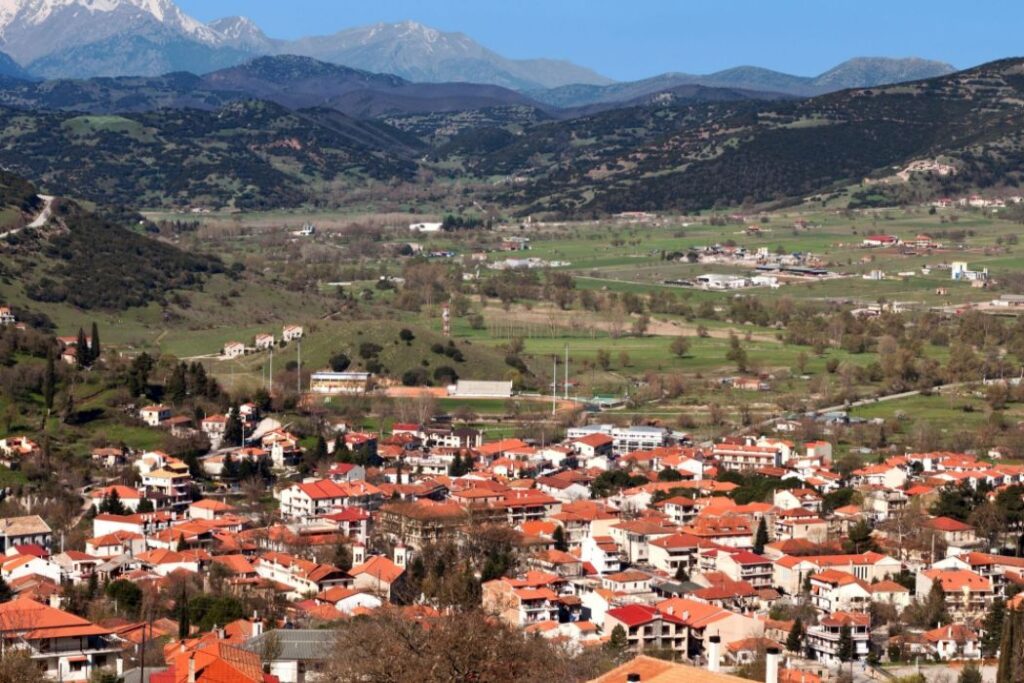 Kalavryta Greece or Kalavrita is a small mountainous town on the northern side of the Peloponnese, 110 km from Ancient Corinth, 209 km from Porto Heli, and 189 km west of Athens Greece.
Kalavrita is traditionally built, with great historical interest from the Second World War. In 1943 the nazis executed 693 people, almost the entire population of the village and there is a monument and a museum you can visit if you are interested in more details.
Kalavrita is surrounded by the large mountains of Erymanthos, Aroania, and Chelmos making the area ideal for hiking and exploring the caves, gorges, and rivers that are plenty in the area.
Kalavrita is a very popular winter destination amongst Greeks – they combine skiing and hiking with visiting some of the best traditional taverns in Greece!
Some of the best things to do in Kalavrita are: Hike the Vouraikos gorge, visit the Mega Spileon Monastery, take the Odontotos train crossing rivers and gorges, and go to the second-largest ski resort in Greece!
*Some of the links below are affiliate links. That means I may make a commission if you click and buy. The commission comes at no additional cost to you. If you buy something, thank you! Please see my full disclosure policy for more information*
Kalavryta Greece Map
Get your interactive Google map of Kalavryta here, to drive to any of the places listed on our things to do in Kalavryta:
Best Things to Do in Kalavryta
Hike Chelmos Trail
Discover Mega Spileon Monastery
Explore the second largest ski resort in Greece
Have a thrilling ride with Odontotos, the old Gorge Train
Hike Vouraikos Gorge (not for children)
Go to the impressive Cave of Lakes
Visit Agia Lavra Monastery
Find out about the Kalavryta Massacre, Monument & Museum
Explore beautiful villages around Kalavryta: Lousoi, Planitero
Indulge in local cuisine
How to Get to Kalavryta Greece
You can take public transport, (KTEL buses) from Kifisos station in Athens that runs every day.
For me, however, the best means of transport, if you want to explore a region in-depth, is by driving your own car. Renting a car offers the invaluable freedom of traveling everywhere at your own pace and timetable and at a low cost: Check Best car rental prices for great deals in Greece.
COVID INFO FOR GREECE: Ministry of Tourism Official Website
Where Best to Stay in Kalavryta Greece
Chalet Azanias (Doubles from €94 Β&Β): Azanias is a fantastic Chalet made of wood and stone, set on the slopes of Helmos Mt, overlooking the Kalavrita village. Chalet in the Forest (From €225 self-catering) is another stunning property, with a capacity for up to 8 people in a scenic natural environment.
10 Best Things to Do in Kalavryta Greece
1. Kalavryta Hiking – Mt. Chelmos Trail
Hike Overview
Distance: 11 km
Start Altitude: 1600 m
Finish Altitude: 890 m
Time: 4-5 hours
Difficulty: (2/5), requires a good physical condition.
Permit Required: No
Trail Condition: Variable with a very steep downhill, challenging route. Not very good signposts
Mobile Phone Reception: Very good
Water, Food: Bring 1-2 liters of water (depending on the season), energy food, and fruit
Gear: Wear anti-slippery, water-resistance, ankle protective hiking boots that will reduce your chance of sliding during the steep descent. If there is snow, crampon compatible boots. Walking sticks. Rain – snow protection garments.
This particular route starts from Kalavrita Greece Ski Resort, at the leveled planes right across the chalet. The hike at first follows the dirt road until the red signposted path leads you to the dense and lush fir forest of the area.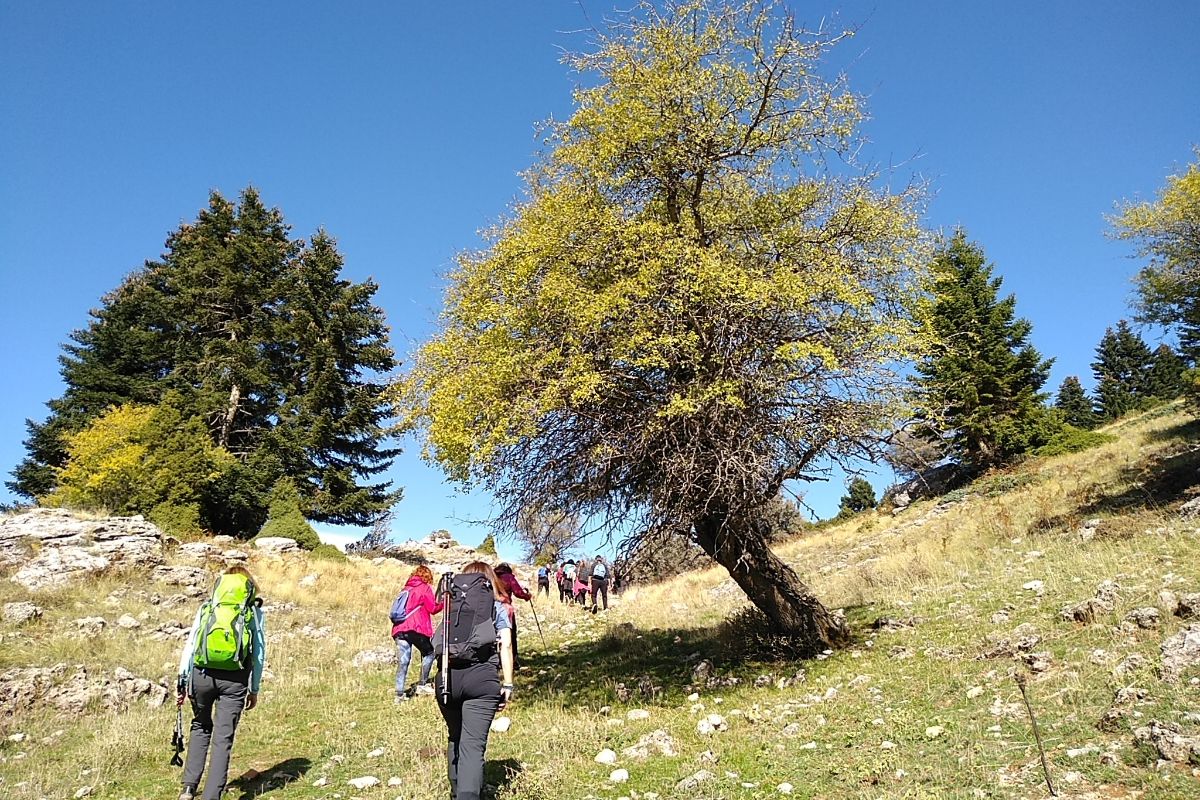 The trail through the forest is not signposted so at times may not be so easy to discern. You need to watch out for painted stones, arrows, numbers, or a piece of plastic garland, hanging from a tree.
Soon the downhill starts, although the most slippery part is much further down and closer to the Mega Spileon monastery.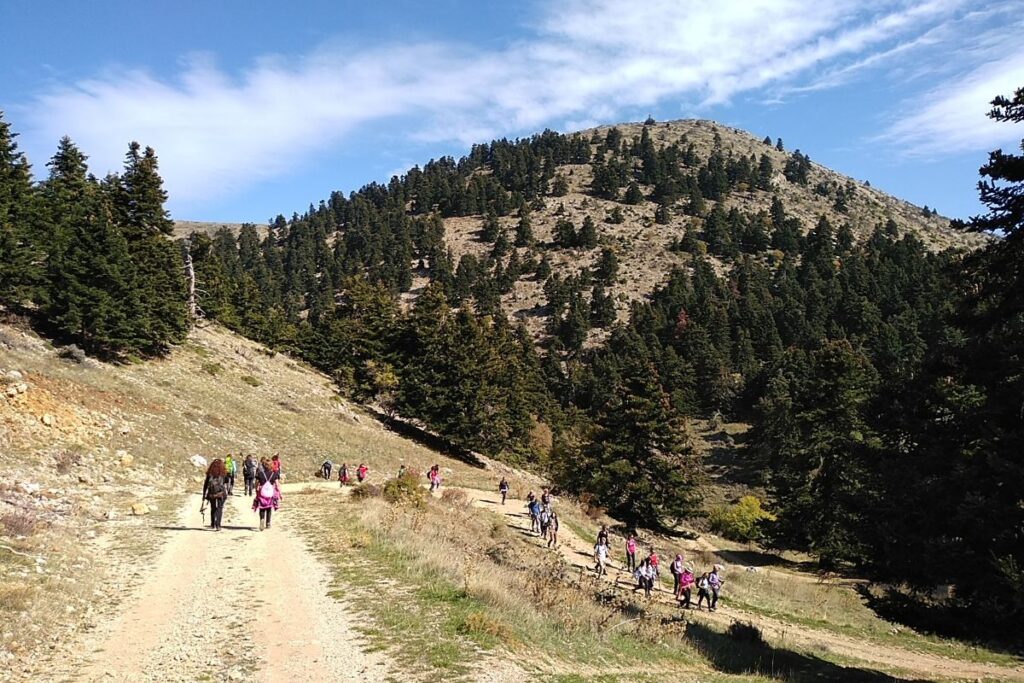 You are reading about the best things to do in Kalavryta Greece.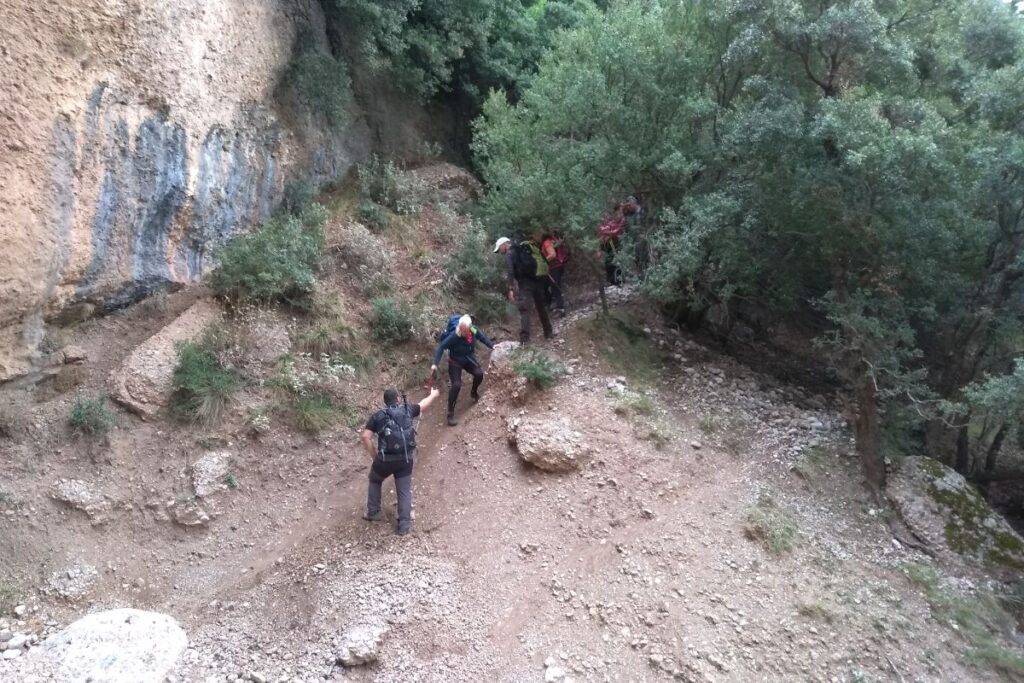 The hike ends when you reach the Mega Spileon Monastery.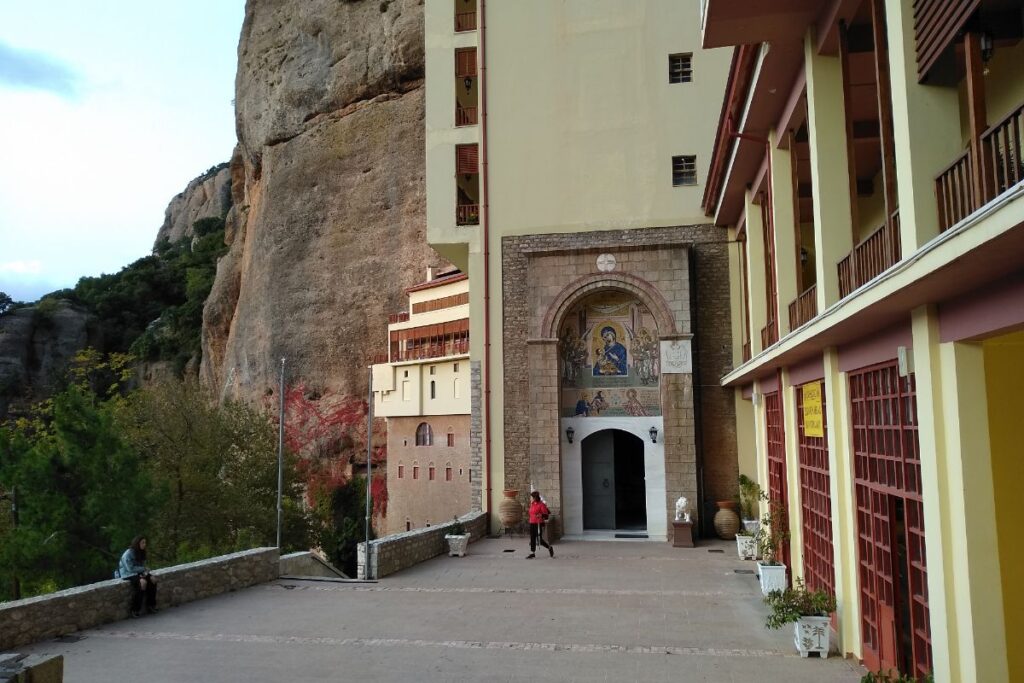 If you would like to book a private tour to Kalavryta please send your inquiry here for a quote. Thanks!
2. Mega Spileon Monastery
Mega Spileon Monastery is a male monk Monastery
It is the oldest Monastery in Greece, founded in 362 AD by the Thessalonian brothers Symeon and Theodor
It is literally carved against the slopes of Chelmos mountain in a large cave on a sheer cliff
The monks took part in the Greek War of Independence in 1821
On 8 December 1943, the Germans destroyed the monastery and executed 22 monks and visitors as part of reprisals. The monastery was rebuilt from the ground after the war
If possible, buy a small token from their shop to support their work for the local community
Free entrance
When to visit: All year round
How to get to Mega Spileon: by car or even better hiking from Kalavrita village (11km far) or Kalavrita Ski resort!
3. Kalavryta Greece Ski resort
Second biggest ski resort in Greece at an altitude ranging from 1,700 to 2,340 meters
The Kalavrita resort has 13 tracks with a total length of 20 km and 8 ski lifts, suitable for both beginners and advanced skiers
A choice between freestyle, snowboards, ski bikes, special programs for children, and lifts to the trucks
Warm and hospitable Hippocrates Farm Chalet offers lunches and drinks
When to go? Probably when there is enough snow!
How to get to the resort? If you are staying in Kalavrita Greece, the resort is very close to the town, easily reachable by car.
Would you like to buy some snow gear in Kalavryta? Then you should go to Snowshop or ski-time.
4. Ride the Thrilling Rack Railway Odontotos
Kalavrita Greece is famous for Odontotos, the rack railway on cogs train first ran in 1896. Start this really exciting train trip from Diakopto seaside village, and enjoy the 22km route in Vouraikos river, through tunnels and breath-taking over the water bridges.
Stunning mountainous views all around you, the river's water running speedily, offers one of the most scenic natural areas in the world.
The train stops at Mega Spileon Monastery and at the green and picturesque small village of Kato Zachlorou. There are taverns to have your lunch there. Best time to Visit: All year round
Official website about the Rack Railway, Diakopto-Kalavrita (Tip: buy your tickets in advance, the train is very popular).
You are reading about the fun things to do in Kalavryta Greece.
5. Hike Vouraikos Gorge
Grab the opportunity to hike through the Vouraikos Gorge. The trail is part of the E4 European Trails Network.
An easy hike in general. However, when you cross the tunnels, you should be aware of the passing trains.
Sometimes, you have to cross metal wobbly bridges over the fierce Vouraikos river, a very exciting (and slightly scary) thing to do. Be cautious.
Best time to hike: All year round!
The Vouraikos bridges are extremely dangerous for children as they can fall through the large gaps to the void below (life-threatening) and the Vouraikos hike is NOT suggested for children of any age.
6. Visit the Cave of the Lakes
The Cave of Lakes is 17 km far from Kalavrita town at the Kastria village. A safe corridor is set enabling the visitor to see all the important chambers of the cave. You can see the stalactite and stalagmite formations and explore the cave's 13 beautiful lakes' strange rock formations on three levels.
What to wear: a warm fleece is a must, no matter the season you are visiting
When to visit: all year round!
7. Go to Agia Lavra Monastery in Kalavryta Greece
The monastery is mostly famous for its historical contribution to the Greek War of Independence against the Turks. The War started here in March 1821 initiated by Bishop Germanos of Patras
The Agia Lavra monastery was built in 961 AD
Its collection of crosses with precious stones as well as artifacts of icons and religious symbols is notorious
There is an in-house museum devoted to historical treasures of the revolution, like the diamond-decorated Gospel, a gift from Catherine the Great of Russia
A perfect occasion to visit the monastery would be on 25th March, when commemorative celebrations are held
How to get there: It is only 4,5 km away from Kalavryta Greece
When to visit? All year round!
Free Entrance
Other Monasteries in the area are the Monastery of St. Nicholas Vlasias built in the 7th century AD. Situated in a Meteora-like rock, the Monastery of Makelaria built by Byzantine Emperor Justinian in 532, is 30 km away from Kalavrita.
8. Kalavryta Greece Massacre
Kalavryta Greece Massacre («Unternehmen Kalavryta») happened on 13 December 1943, when the German occupying troops executed 693 men and children. They separated the entire male population, everyone above the age of 14, and machine-gunned them.
Then, they burnt down the entire town, in retaliation for a defeat they suffered in a battle with Greek Resistance troops. To commemorate the horrible event, a Monument and a Municipal Museum were erected at the location of the execution.
9. Explore Villages and Nature
Near Kalavryta you can visit Ano and Kato Lousoi gorgeous villages with fine old mansions. 25 km from Kalavrita Greece is the stunning Planitero village, surrounded by a dense plane-tree forest of exceptional beauty. Planitero is a Natura-protected area, mostly known for its breathtaking treks, natural springs, waterfalls by the river Aroanios, trout and salmon farming, and exceptional traditional taverns.
You are reading about the top things to do in Kalavryta Greece.
10. Enjoy Local Traditional Cuisine
Wherever you choose to have your meals in Kalavryta Greece, you will not be disappointed. Ask your waiter for the daily menu, their homemade tirokafteri (Greek spicy cheese dip) or dolmadakia or melitzanosalata (eggplant dip).
I had dinner with friends at "Katafygio Tavern" on 15th km Pounta – Kalavrita. The owner was very friendly and polite, the food was homemade and delicious and the tavern had the nice aroma of a wood-burning fireplace.
We had fasolada (bean soup), briam, tirokafteri, cheese pie, and chorta (greens) collected from the mountain around the tavern. All were accompanied by local white wine.
Indulge in the Peloponnese Archaeological Sites
If you are a history buff like me, then from Kalavryta you can travel to a large number of spectacular archaeological sites:
If you would like to book a private tour to the Peloponnese please send your inquiry here for a quote. Thanks!
Top Things to Do in Kalavryta Greece
Hike Chelmos Trail
Discover Mega Spileon Monastery
Explore the second largest ski resort in Greece
Have a thrilling ride with Odontotos, the old Gorge Train
Hike Vouraikos Gorge (not for children)
Go to the impressive Cave of Lakes
Visit Agia Lavra Monastery
Find out about the Kalavryta Massacre, Monument & Museum
Explore beautiful villages around Kalavryta: Lousoi, Planitero
Indulge in local cuisine
Where to Stay in Athens
Looking for the Best Hotels near old Athens Plaka and Acropolis Parthenon?
Or you would like to stay at a beachfront hotel?
Perhaps you are more in-budget hotels interested?
Whichever your preferences I have collected the best options for your staying in Athens below:
Plan Your Next Trip to Greece With These Resources
Greece Packing List – What to pack for a 10-day trip to Greece
Mamma Mia Greece Locations – All the mainland and island shooting areas in Greece
Salamina Island – So close to Athens, so unknown to the mass tourism
Kefalonia Island – Belonging to the Ionian group like Corfu island
First Time to Greece? All the info you need to know!
Some of my Favorite Travel Resources for Greece
Ferries to the Greek Islands: Book your ferry transfer with FerryScanner or FerryHopper, and get the best prices in the market with no hidden fees
Booking.com: I use Booking.com because I can get the best deals on both hotels and apartments, free cancellations, and great prices!
Get Your Guide: For all your day or multi-day tours and city guide needs, I use Get Your Guide
COVID INFO FOR GREECE: Ministry of Tourism Official Website
Emergency Numbers Anywhere in Greece: AMBULANCE 166 – FIRE 199 – POLICE 100– EMERGENCY NUMBER 112
More Reading on Greece