Wine tasting in Greece is a relatively recent but fast-flourishing concept all over the country. Until a couple of decades ago, if you were a visitor to Greece, the only Greek wine you would have heard of, was retsina, or if you were lucky you could get some red wine from a tavern's barrel.
It wasn't that retsina was the only variety produced in the endless fertile Greek vineyards much less with a wine tradition going back to antiquity. There have always been other varieties produced as well but on a small scale, consumed mostly internally by tourists and locals alike. From the total production, only a fraction was exported to EU and international markets. As for wine tasting in Greece, it was not as widespread as it is today.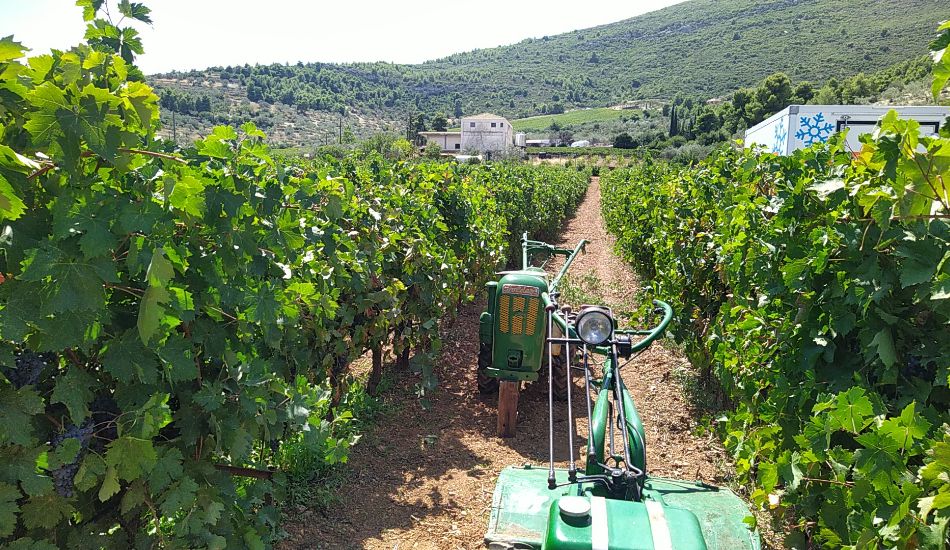 Wine tasting and production in Greece, nowadays, have completely changed and Greek wine is becoming a power in the world's upscale wine markets. Greece is a small wine country, with a total of about 64,000 ha of vineyards intended for wine production. However, Greece has many competitive advantages:
Greek wine is produced mainly from indigenous grape varieties
The country's varied terrains (volcanic, mountainous, islands, and valleys) are considered among the finest in the world
With the long days of sunshine and the traditional ways of wine-making, Greece is producing some of the utmost quality organic wines
The people running their wineries are combining ancient methods with edging-cut technologies producing unique wines
The Greek wine-makers are passionate about their land and producing excellent quality wines!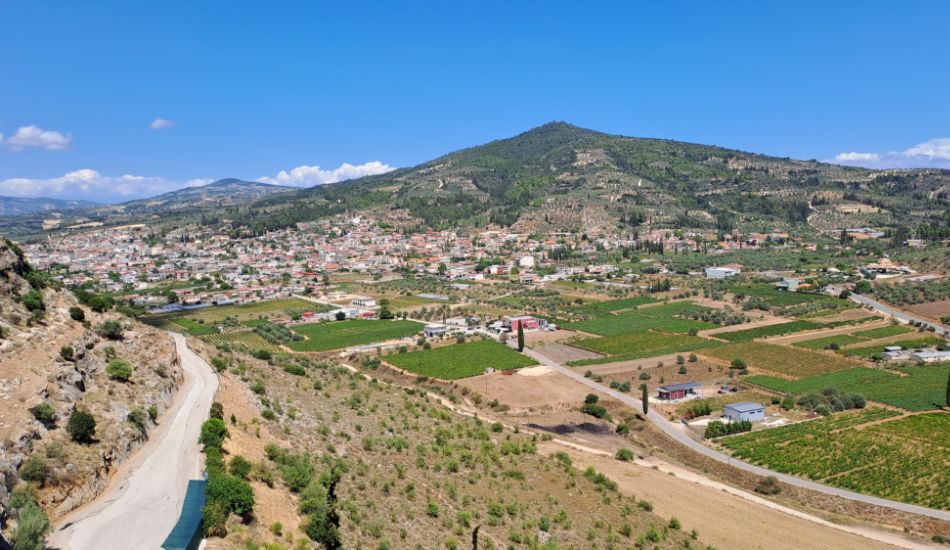 Today there are 34 Protected Designation of Origin (PDO) locations around Greece and more than 100 Protected Geographical Indication wines. Nemea is the largest PDO zone for Greek red wines and here viticulture has continued without interruption for 3,500 years.
*Some of the links in this post are affiliate links. That means I may make a commission if you click and buy. The commission comes at no additional cost to you.
Athens Quick Reference
Where to stay in Athens with stunning Acropolis view: Niche Hotel or The Foundry Suites
Book your ferry tickets with no-hidden-fees at FerryScanner

or FerryHopper
Rent a car with Discover Cars for reliable new cars at affordable prices
Wine Tasting in Greece – The Grape Varieties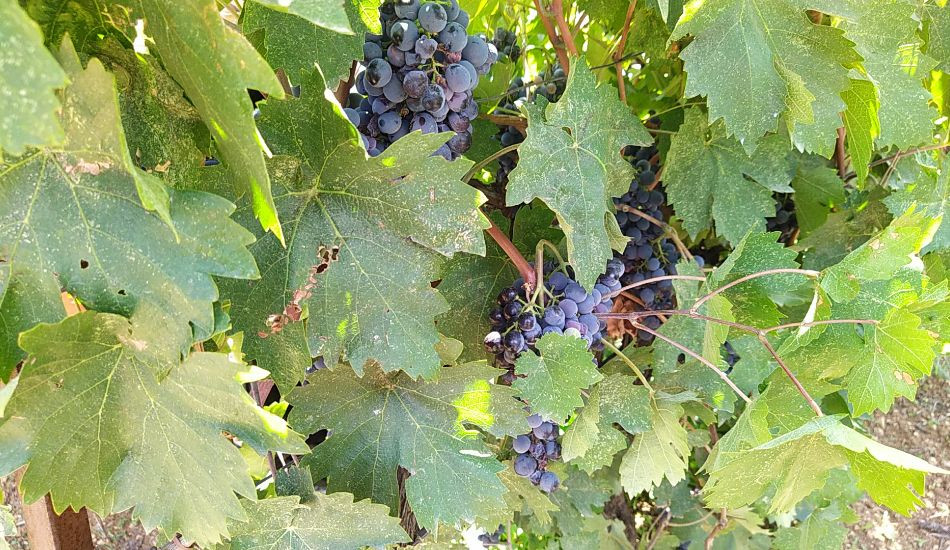 Greece uses mostly indigenous varieties producing mainly white wine and some of my favorite red like Agiorgitiko and Xinomavro. A short selection of Greece's wine varieties are:
Assyrtiko, is an indigenous Santorini island variety with a mineral taste because of the rich volcanic soil on the island. It is now growing to other islands as well mainly in the Cyclades
Athiri, a white grape variety found on several Greek Islands but mainly on Rhodes
Vidiano, a nearly extinct Cretan white aromatic wine
Savatiano, an Attika wine used to make retsina and today one of the best white wines to taste
Roditis a pink-skinned variety and the most planted white grape variety in Greece
Malagousia, an ancient variety, fruity, crisp, and aromatic white grape
Moschofilero, extra aromatic with red or greyish-red skin. It is used for the production of dry white wines and a small number of sparkling ones. Mantineia in the Peloponnese is its birthplace
Xinomavro is a difficult, and brutal fruity red grape, mostly produced in the north of Greece
Agiorgitiko, is a red fruity variety produced in Nemea. It took its name after the village in Nemea, Agios Giorgos, meaning Saint George
Cabernet Sauvignon, Merlot, Pinot Noir, Chardonnay, and Sauvignon Blanc are the most popular international grape varieties in the Greek vineyards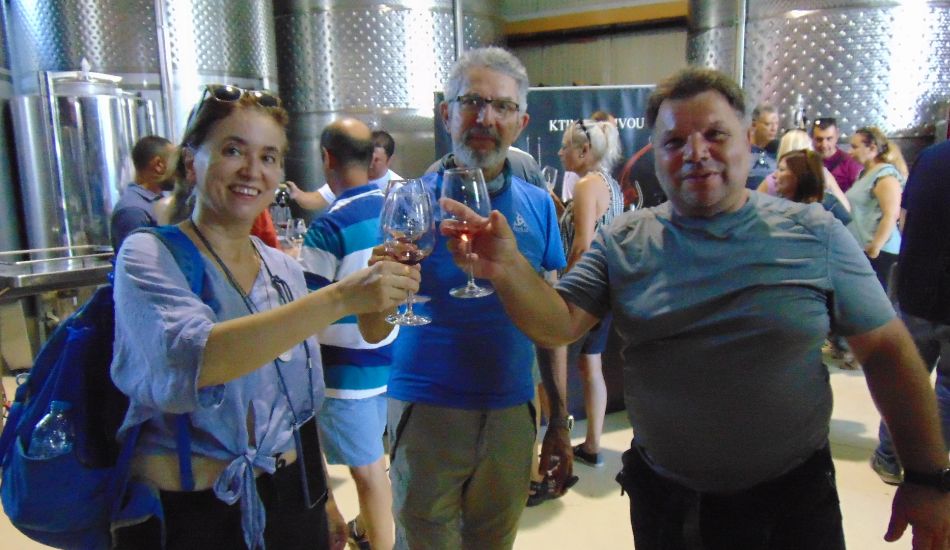 Today, there are over 1200 wineries, using modern technology and offering wine tasting in Greece. In this post, we will visit three wineries in the Nemea area: Lafazanis, Palyvos, and Gofas wineries. We were very welcomed by all of them, were offered a tour, sampled excellent wines, and met amazing people.
Tip 1: the order of the wineries was defined by their location in Nemea if you were traveling from Athens, please see Nemea Map below.
Tip 2: all the wineries have a dedicated wine shop with a 10-20% discount on market prices. Don't miss the opportunity to take one home 😉
Lafazanis Winery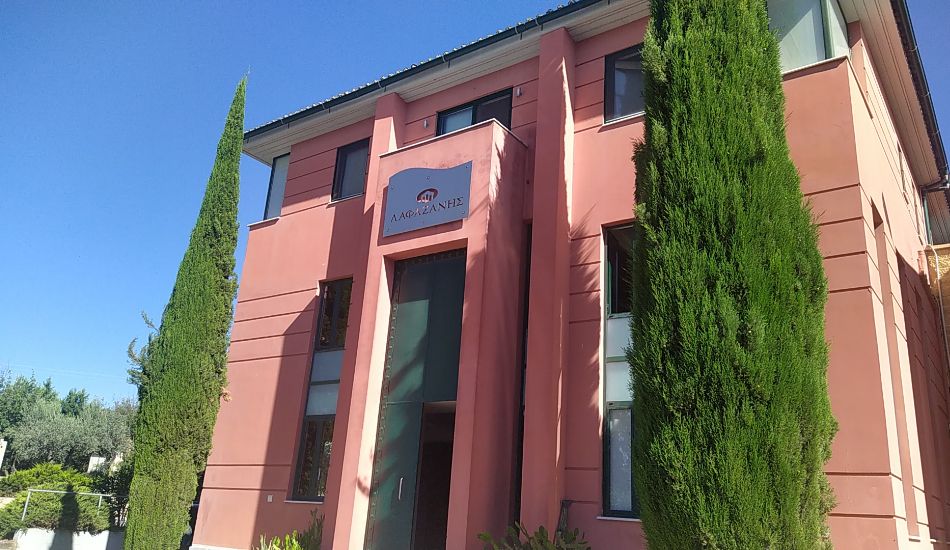 Lafazanis Winery is located in Archaies Kleones (ancient Cleonae) in Nemea, a historical area with the ruins of the Temple of Heracles and the Acropolis of Ancient Cleonae nearby the property.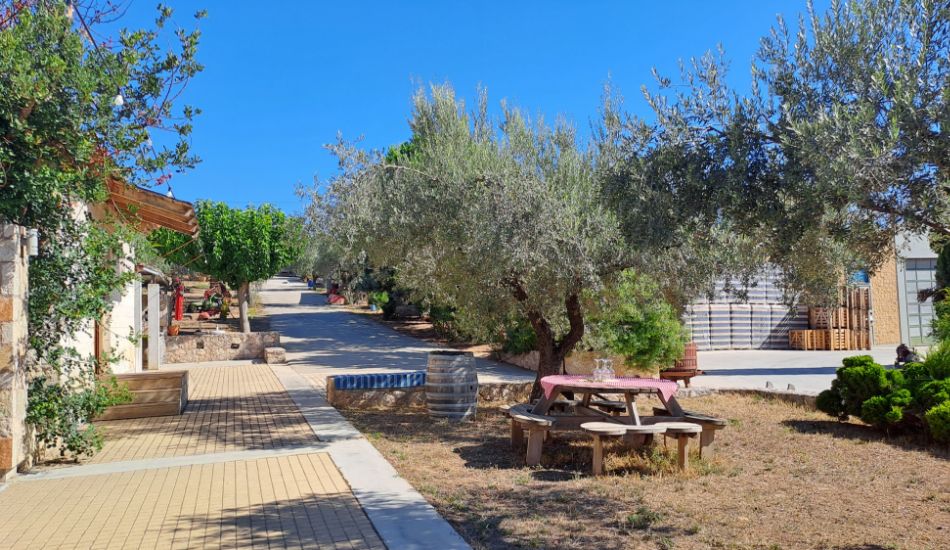 The Lafazanis Winery has 100 acres of privately owned vineyard that spread out on the slopes of the beautiful hill Fokas, at an altitude of 240-500 meters. The vineyards have as main production aromatic Agiorgitiko as well as Cabernet Sauvignon, Assyrtiko, Tannat, Gewürztraminer, and Syrah varieties.
They also produce exceptional tsipouro (pomace brandy), and its brand "Tsipouro ton Filon" was awarded a gold medal at the 18th International Wine and Spirits Contest in Thessaloniki.
We visited the oldest winery of the Spyros Lafazanis Emperia Group, the Lafazanis Winery in Nemea. It was a warm sunny day in the early days of September and we knew it was going to be a very busy weekend. In early September, the wineries organize the Grape Harvest festivities, a wine-tasting and music feast, in Nemea.
Although we came without any invitation we enjoyed a warm welcome from everyone on the Estate and especially Georgia, our knowledgeable guide for the day.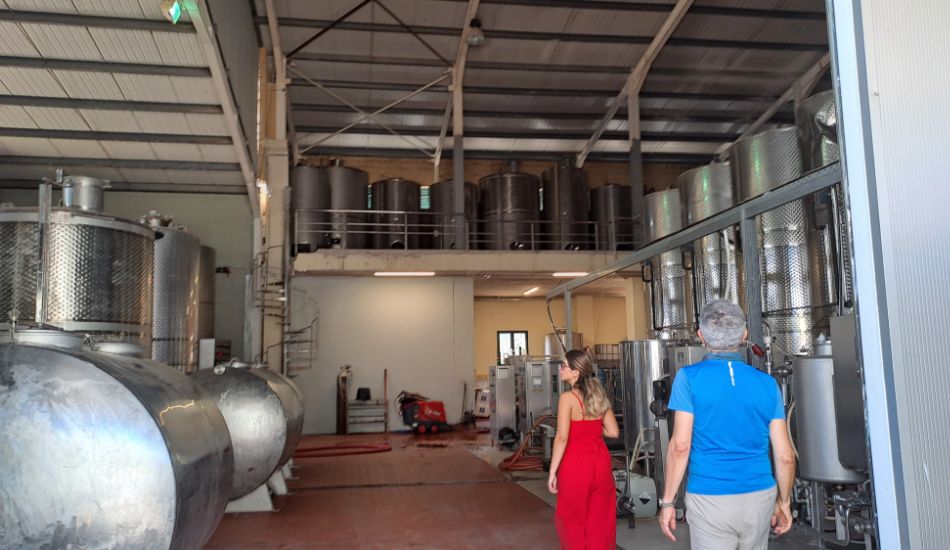 Georgia toured us around the impressive facilities of the estate: the lovely main building with the little wine shop and the antiques and the huge stainless steel tanks that use for fermentation. She took us to the cellar where the magic happens with Lafazanis wines, to the bottling and packaging area and finally, we had the wine tasting. Needless to say, this is always the most exciting part!
Best Sellers Wines of Lafazanis Winery
Geometria Malagouzia (dry white)
Geometria Agiorgitiko (dry red)
PDO Nemea Agiorgitiko (dry red)
The philosophy of the Geometria series is for its audience to taste it and to perceive the pure aromatic essences with the terroir of Nemea as a background. Malagouzia and Agiorgitiko are the most awarded wines of Lafazanis winery, thanks to their authentic flavor and aromatic complexity.
Lafazanis is open to visitors and they offer guided tours of the vineyards and their cellar and tasting of their wines.
Contact Details of Lafazanis Winery:
Palivos Winery (Ktima Palivou)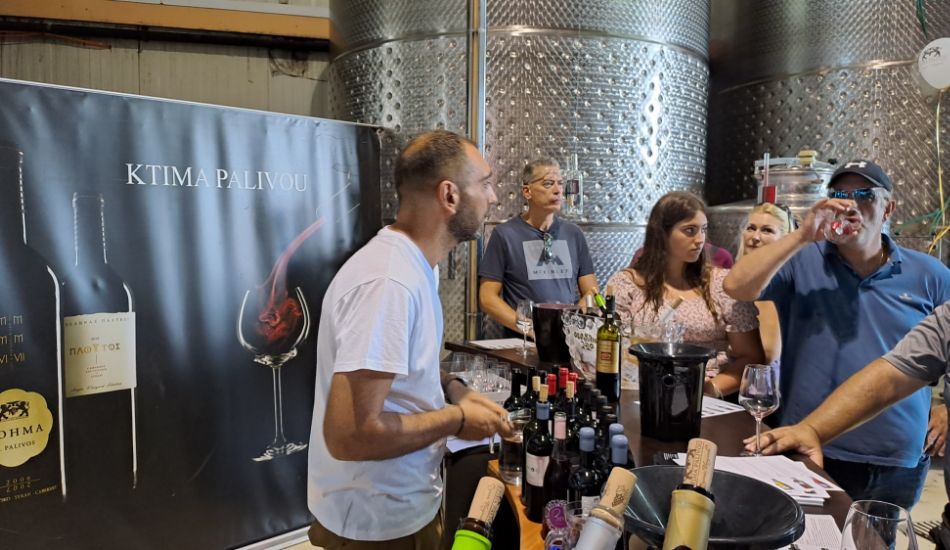 Palivos is a family-run, boutique winery in the area of ancient Nemea founded in 1995. It owns one of the two largest vineyards in Nemea, planted mostly with Agiorgitiko, but also with Roditis, Moschofilero, Malagouzia, Chardonnay, Viognier, Merlot, Cabernet Sauvignon, and Syrah.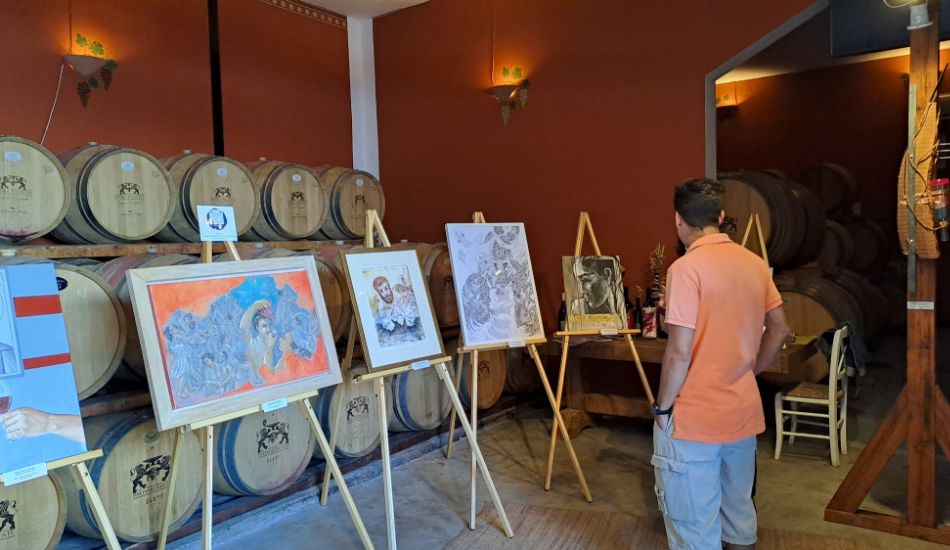 Georgios Palivos the founder and his two young daughters, Evaggelia and Vasiliki, are creating today a new wine era with their youth and creative vitality.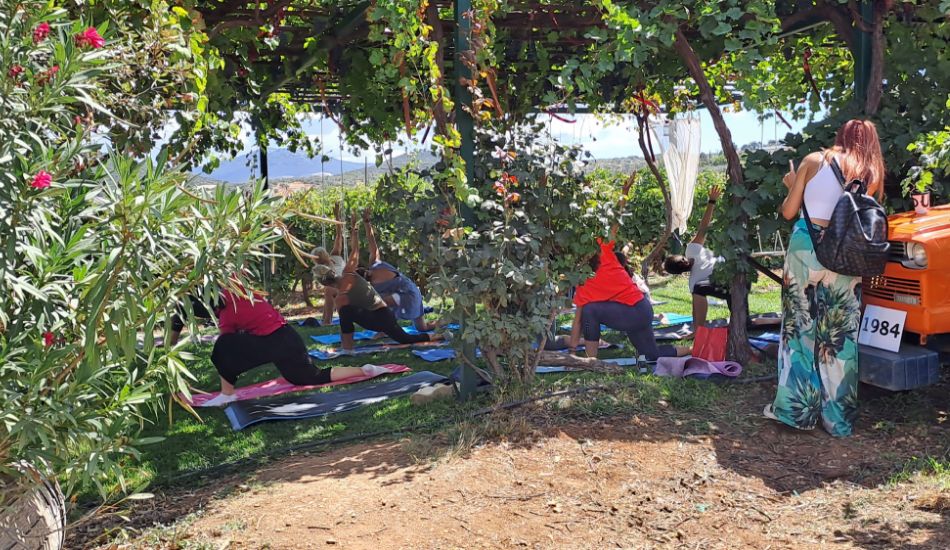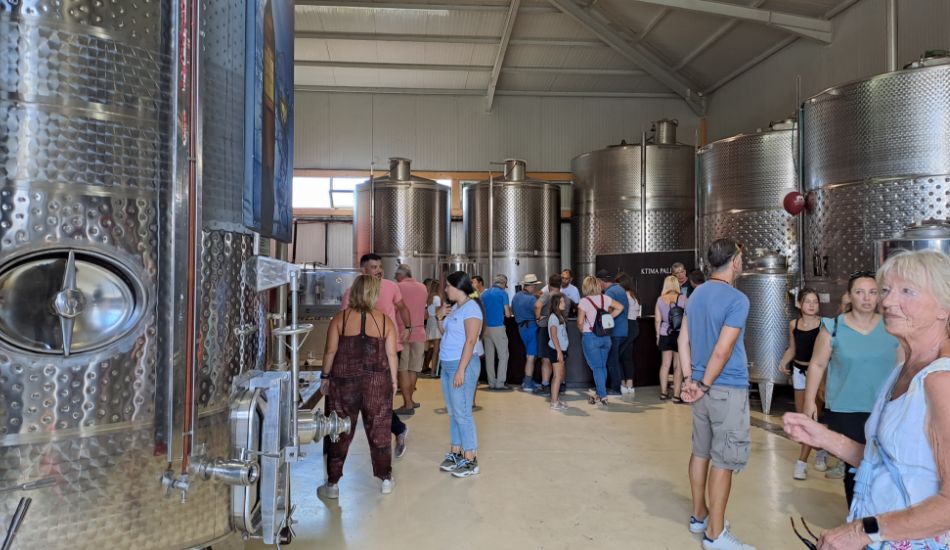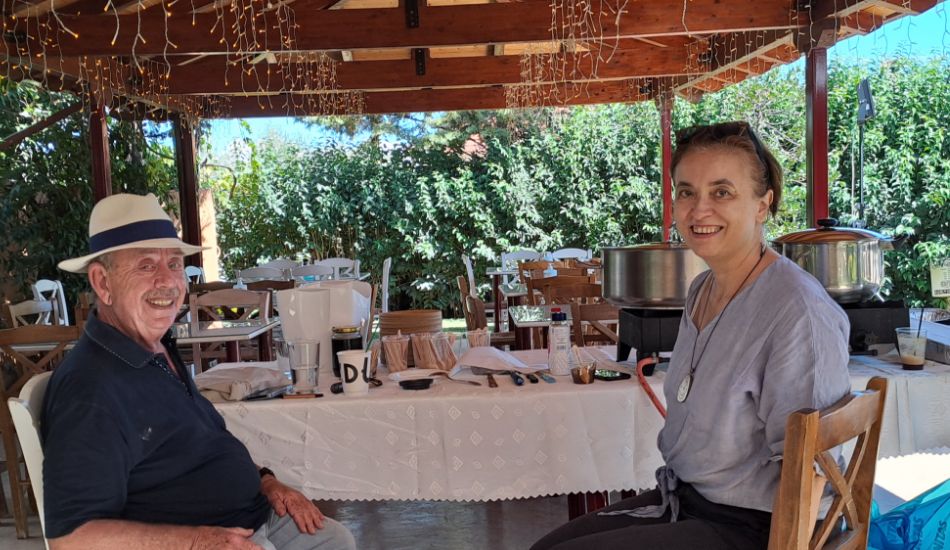 When we arrived at Palivos Winery we were happily surprised, as there was a large event going on celebrating the Harvest. The festive atmosphere included wine tasting, live cooking by the famous Greek chef Ilias Mamalakis, live music, a small train taking you to the vines, and yoga by the vineyard….it was just an amazing event!
Best Sellers Wines of Palivos Winery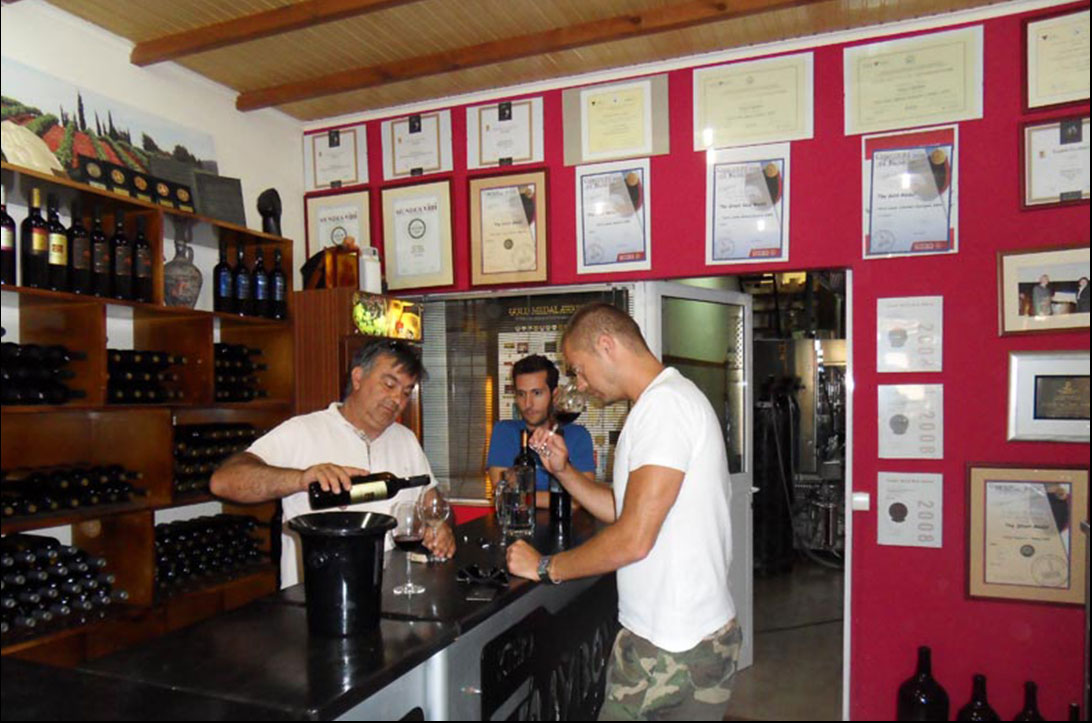 Viognier
Variety: Viognier, Dry white wine. Aromas of white flowers, sweet spices, and fruits such as apricot, peach, mango, and pear compote. The palate is creamy with refreshing acidity while the long finish offers sweetness.
La Vie en Rose
Varieties: Moschofilero, Dry rosé wine. Protected Geographical Indication Peloponnese. Rose petals, jasmine, and lime along with fresh melon and rose Turkish delight. The palate is light, silky, and fresh while remaining rose-like.
Terra Leone Sand
Variety: Agiorgitiko. Dry red wine. Protected Designation of Origin Nemea. Aging: 70% 14 months in new French oak barrels and 30% in clay (amphorae 400L & 600L) & 8 months in bottle. Blackberries are balanced with roasted nuts, chocolate, and vanilla. The palate is rich with dense, noisy tannins and a personality that grips through to the finish.
Ktima Palivou is open to visitors daily and they offer wine experiences that reflect their passion for wine and Agiorgitiko. They offer guided tours of the vineyards and their cellar and tasting of their wines.
Contact Details of Palivos Winery:
Constantin Gofas Winery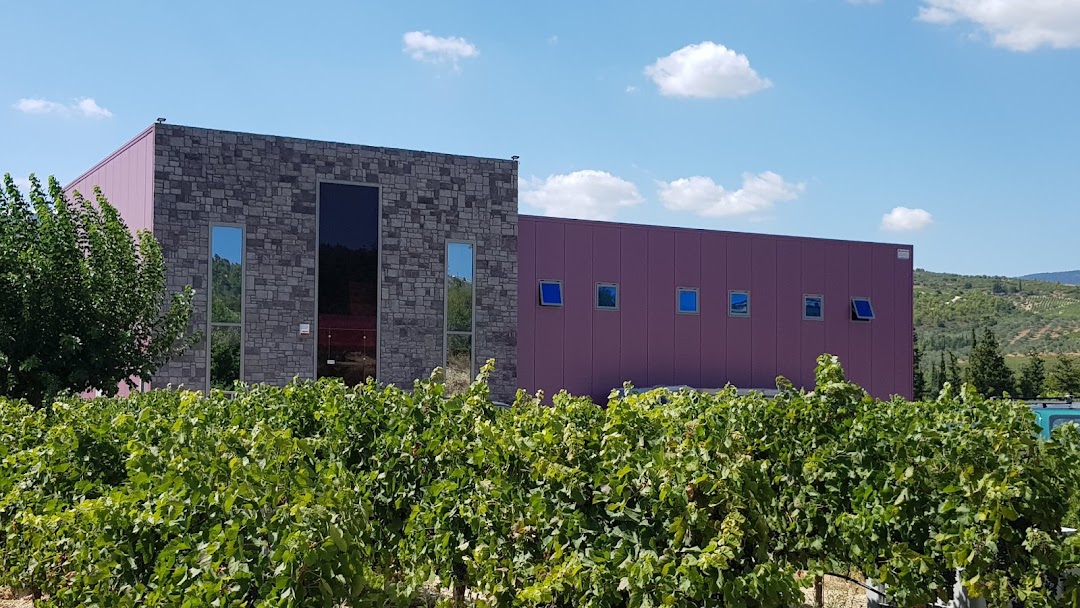 Gofas Estate was our last stop of wineries in the Nemea region. Built next to the mythical Asopos River, in a stunning natural environment, the estate will impress you immediately as it is decorated with magnificent works of art.
The estate has been producing excellent wines in a traditional way, since 1959. All the vineyards are privately owned. About 10 hectares are planted with native and international varieties, under integrated management cultivation.

The combination of the magical scenery and the wine tasting makes the Gofas experience unforgettable. We tasted the grape variety Agiorgitiko as well as Romeo & Juliet, a blend of Chardonnay and Malagousia varieties, accompanied by a very tasty platter of cheeses, local cold cuts, various bread sticks, and other delicacies.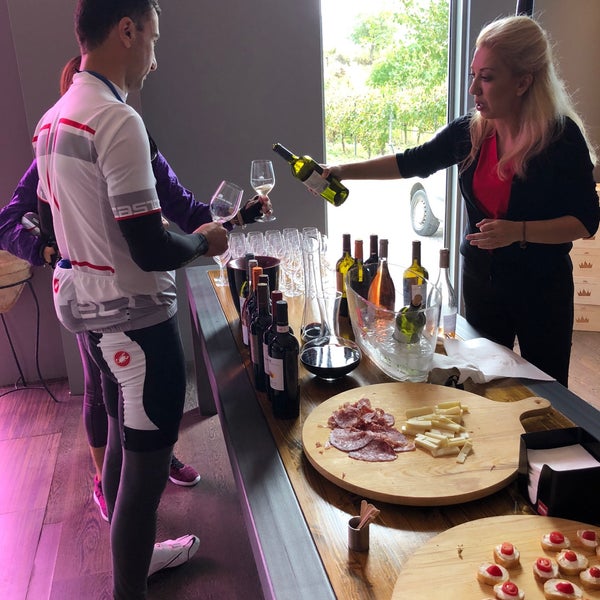 In the yard of the property under the shade of the huge pine trees touching the vineyards or at the large stone table adjacent to the Asopos River can be organized lunches, cooking classes, and other various events, to deliver a complete wine and food experience.
Best Sellers Wines of Gofas Estate
Romeo & Juliet
White Dry Wine. P.G.I. • Chardonnay 60% •Malagouzia 40%. Yellow-gold color with aromas of mature white fruits, vanilla notes, butter, and a robust creamy body with a long aftertaste. Enjoy it at 12-14 C, paired with shellfish, seafood, fruits, and soft cheeses.
Ktima Gofas
Red Dry Wine. P.D.O. • Agiorgitiko 100%. Deep ruby color with aromas of small forest fruits and spices. Strong noble tannins with a long aftertaste. Served at 18 C, paired with hard cheeses & grilled meats.
Mythic River
Rose Dry Wine. P.G.I. • Agiorgitiko 85% • Syrah 15%. Pale pink color with aromas of cherry, strawberry, bubblegum, and passion fruit. Balanced fruity taste with crisp acidity and velvety aftertaste. Enjoy it at 1 4 – 1 6 C, best with Mediterranean cuisine.
Contact Details of Gofas Estate:
What to Visit in Nemea Peloponnese
Besides high-level quality wine tasting, and meeting some of the most innovative and inspiring business people in Greece, Nemea has much more to offer!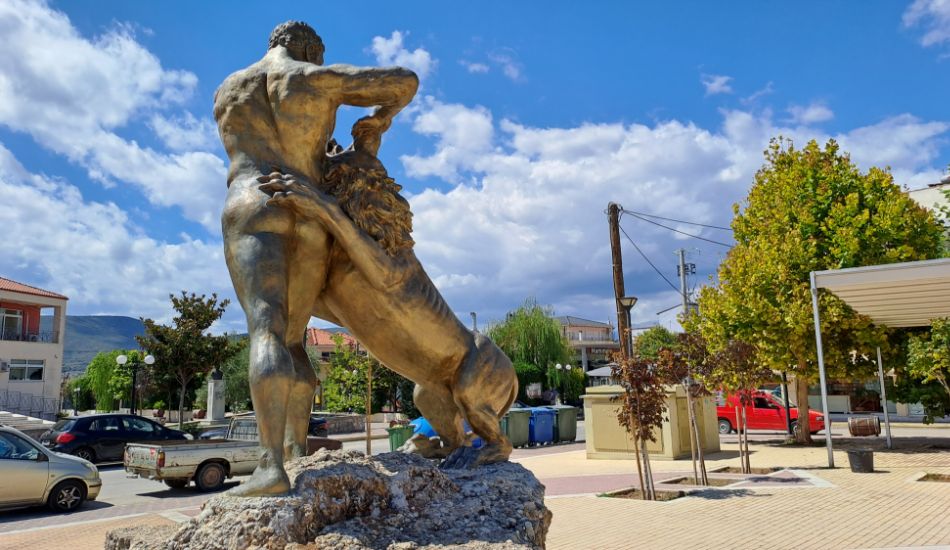 Nemea town, ancient and modern, is fortunate to be located in a beautiful natural environment dotted with significant archaeological sites and monuments.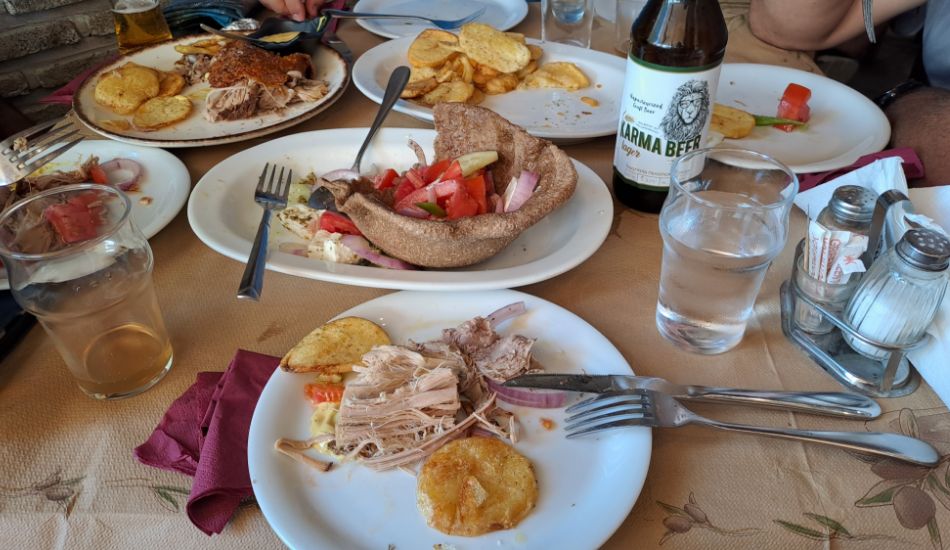 Hiking opportunities are everywhere and not to forget a couple of traditional taverns with mouth-watering food. We had lunch at Danaos & Anastasis and it was one of the best meals, highly recommend it.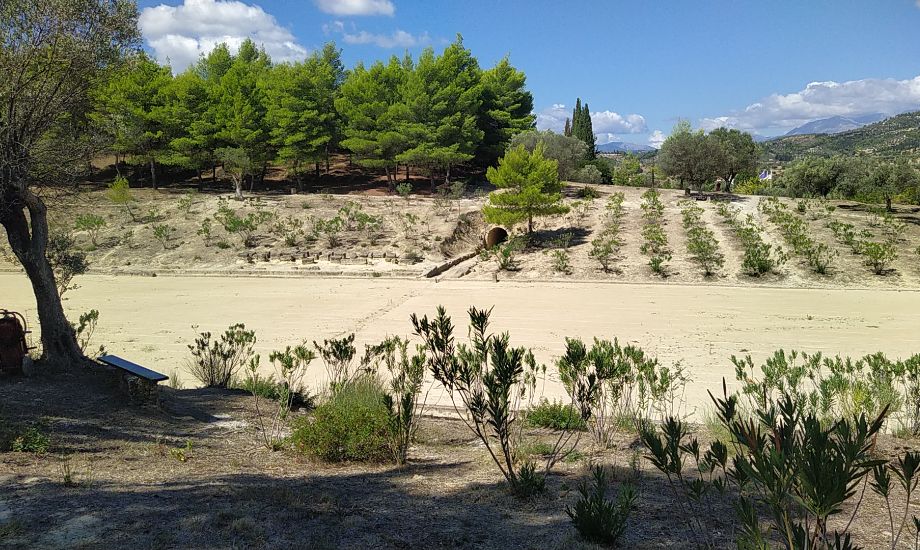 Close to the wineries, and between soft hills covered in olive groves and cypress trees, lies the Ancient Stadium which housed the Nemean Games. The Games were founded in 573 BCE and were organized by the city-state of Kleones. Along with Olympic, Isthmian, and Pythian Games, they were the most important athletic games in Ancient Greece.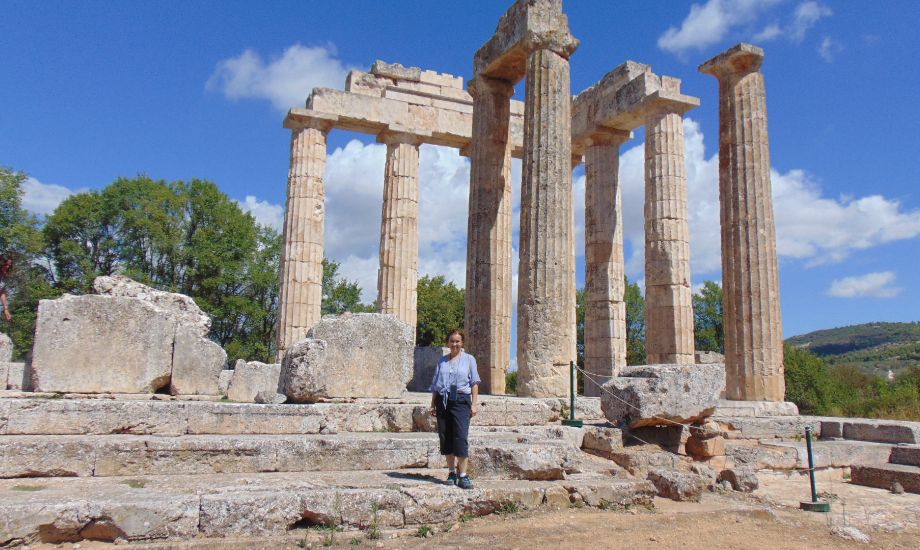 300 meters further down the road lies the very important Sanctuary of Zeus, with the Temple dedicated to the leader of Greek gods, Zeus, the Baths, and the Museum with artifacts from all the excavated area.
Nemea owes to great Phillhelene Stephen G. Miller not only the discovery and excavation of the Stadium and the revival of the Nemean Games but also the reconstruction of the Temple of Zeus. Late Stephen G. Miller (1942-2021) was a professor of Classical Archaeology at Berkeley, took Greek citizenship, built his house in Nemea, and died in Greece, which he loved immensely.
On your way to Gofas Winery, you should definitely visit Our Lady of the Rock Monastery. The Monastery is located almost in the middle of a steep and rocky mountain. There is also a cave where there are ruins of a small church, which today is an important holy pilgrimage site.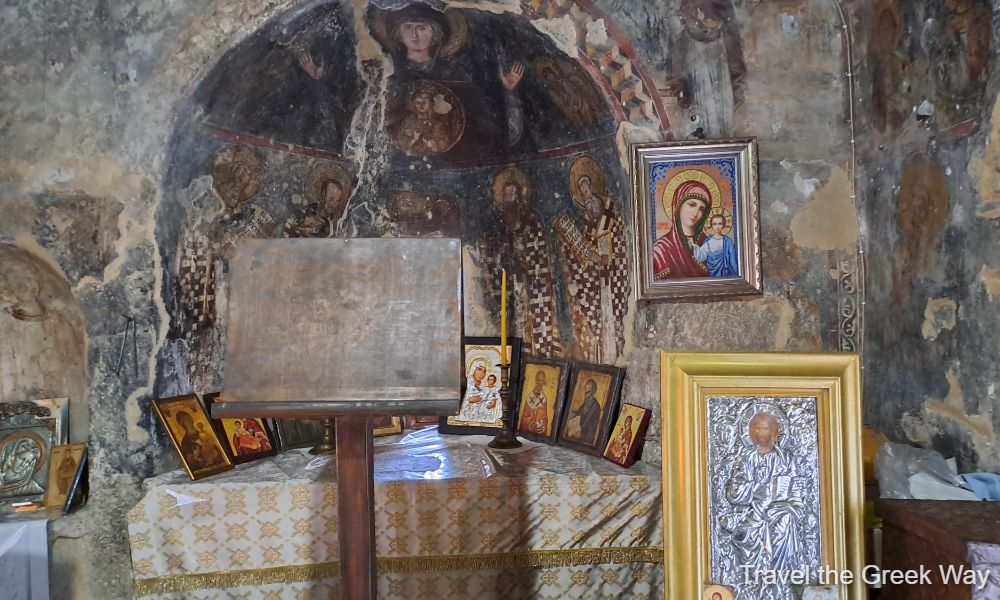 On the rocky wall of the ruined church, amazing frescoes believed to be from the 11th or 12th century, survive to this day. The entrance to the Monastery is free and you can park right outside in a designated area.
Other important archaeological sites that you can visit from Athens are Ancient Corinth and Acrocorith and UNESCO Mycenae.
Where to Stay in Nemea
Nemeapolis 2 apt is a modern apartment with everything that you will need for your stay in Nemea. The owner has taken extra care and provides a lot of free stuff for your breakfast.
FAQ for Wine Tasting in Greece
Who was the god of wine?
Dionysus was the Greek god of vineyards, wine, and fertility in general. He was a beloved god by the ancient Greeks – no wonder why 😀 – always on earth being followed by the Satyrs who worshipped him in a frenzied enthusiasm. At some point, Dionysus shared with Oeneus the secret of viniculture and urged him to go forth and multiply the vines of the world, which he did!
Ancient Athenians held four festivals in honor of Dionysus every year: The Little Dionysia, the Anthesteria, the Lenaea, and the Great Dionysia (for 5 days) which were introduced by Pisistratos ruler (mid-6th century BCE).
What are the best wine tours in Greece?
Some of the best wine tours in Greece are:
How to Get to Nemea
Nemea is 123 km southwest of Athens, very easy to get there through the National Road E94. You can take the KTEL buses from Athens but if you would like to visit the numerous sites along the way, I suggest you rent a car using Discover Cars, a reliable and affordable way to rent a car in Greece.
Nemea Google Map
Find in the Nemea map here the wineries and other sites mentioned in this post.
Plan Your Next Trip to Greece With These Guides
Travel to Greece Information
'Hello' and 'Thank You' in Greek: "Ya sou" and "Efharisto"
Booking.com: I use Booking.com because I can get the best deals on both hotels and apartments, free cancellations, and great prices!
Find Long-Term Rentals in Greece: You will find the best prices in Flatio
FerryScanner to book ferries to the Greek Islands
Athens Metro Website (timetables and ticket info)
Get Your Guide: For all your day or multi-day tours and city guide needs, I use Get Your Guide
Emergency Numbers Anywhere in Greece: AMBULANCE 166 – FIRE 199 – POLICE 100– EMERGENCY NUMBER 112