Updated December 2nd, 2021 by Travel the Greek Way
Did you know that hiking Parnitha mountain in Athens is very popular and that it has numerous beautiful trails to hike?
Parnitha mountain is a short drive from Athens and one of the four mountains that surround Athens: Aigaleo to the west, Parnitha to the north, Penteli to the northeast, and Hymettus to the east.
Parnitha hiking, especially during the weekend, is super popular to all ages, both families and devoted hikers as Parnitha's terrain is very versatile and one can always find what is seeking on a mountain.
*Some of the links below are affiliate links. That means I may make a commission if you click and buy. The commission comes at no additional cost to you. Please see my full disclosure policy for more information*
National Park of Mount Parnitha
Parnitha is the largest mountain of Athens, overlooking the city with its peak at Karavola in 1,413 meters. It stretches in over 300 square kilometers and is part of the EU Natura 2000 network.
In 2007, Parnitha suffered a colossal catastrophic wildfire. It lasted for several days and burnt approximately 56 km² of pine forest.
After the destruction, the state authorities, environmental NGO's and volunteers organized wide restoration campaigns and actions. They cleared the devastated areas and replanted a large part of the mountain.
They also created antifire zones, and during the summer, there are always volunteers on the top of the mountain watching over, in case of a new fire.
However, the burnt area still looks strikingly bare compared to the green lush forest it used to exist.
Parnitha's Flora and Fauna
As hunting is strictly forbidden in the area, the herds of red deer, foxes, and other mammals have increased in the last 2 decades.
Two packs of Greek wolves have also been monitored in the area for the first time after 50 years. Relentless hunting had extinguished them completely in the past.
On Parnitha's slopes, you will find pine, fir, hollies, oaks, strawberry trees, and cedars forests, 30 species of mammals, 120 bird species, and over 800 different herbs and plants.
Hiking Parnitha Mt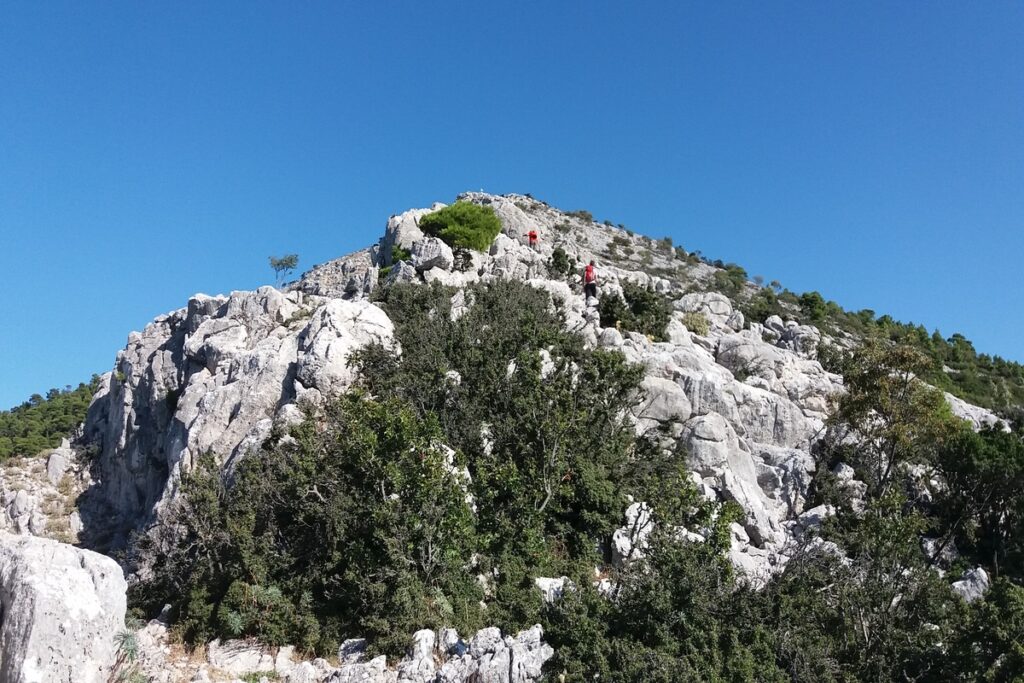 Parnitha offers a very diverse landscape. It is generally ruled by steep ridges, gorges, streams, valleys, and small plateaus.
The whole mountain, almost wherever you begin your hike, has steep slopes, some require climbing or using all 4 limbs. It is a hiker's heaven and a magnet for nature lovers as it offers a vast trail network for all levels of difficulty.
When is the Best Time for Hiking Parnitha?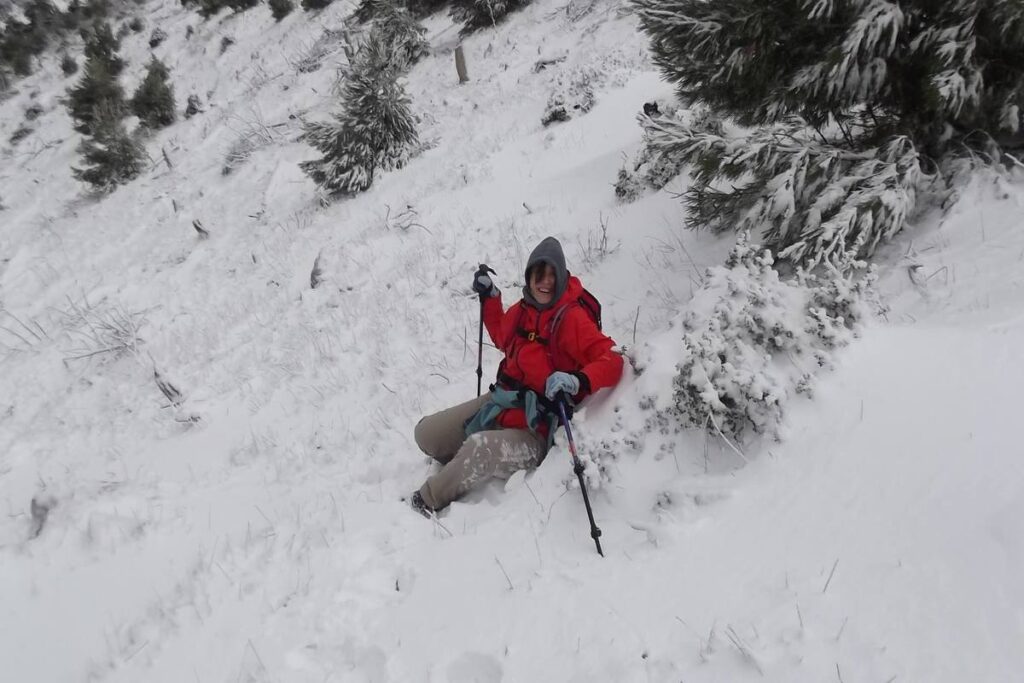 All year round is great for hiking in Parnitha.
Two notes of precaution:
As summers in Athens can be from really hot to suffocating heatwave, we sometimes escape to the forestry part of Parnitha. Parnitha also has many springs with drinking water so you can be relatively safe from the heat. However, I would strongly advise against hiking in the bare parts of Parnitha, one can get easily a heatstroke.
Winter in Greece means snow on mountains and Parnitha can be snowclad for months. Sometimes there are blizzards and hiking on the mountain without a local trained guide, can be too risky.
Interchange Columbia Jacket
If you are planning to hike in a snowclad area in Greece, you better wear warm gear like this 3-jackets-in-one Columbia Jacket. Columbia Jacket includes a warm repellent line, a waterproof-breathable and critically seam-sealed shell all great to protect you from the elements of winter nature.
Buy the Columbia jacket here
How to get to Parnitha?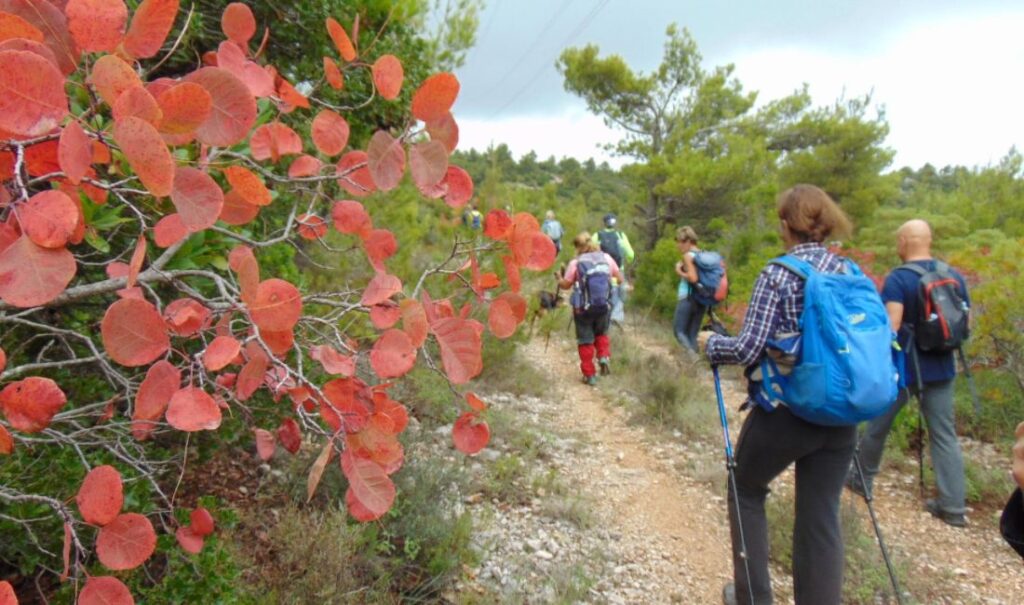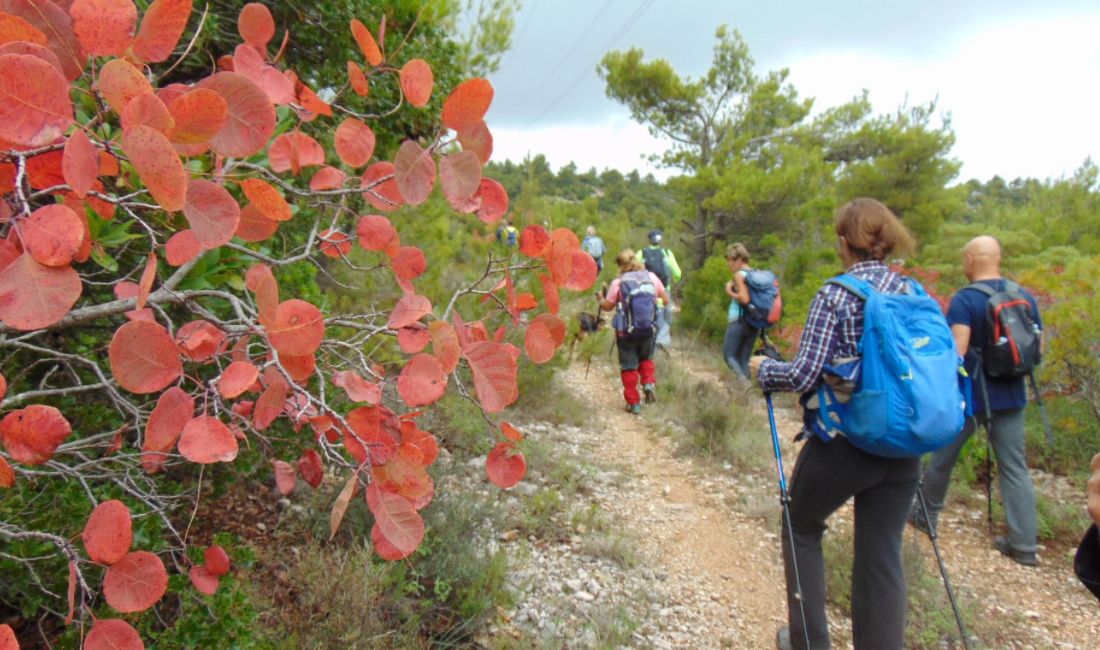 There is some public transport (buses) that makes stops relatively close to the mountain. Still, you would need a lot of walking to get to the Casino lower Parnitha.
You can take a taxi from the center of Athens. The cost should be around 30-40 euros one way.
In my opinion, the easiest way to get to Parnitha is by using your own car.
Check out the RentalCars, with the best deals from a variety of renting cars providers at the best prices.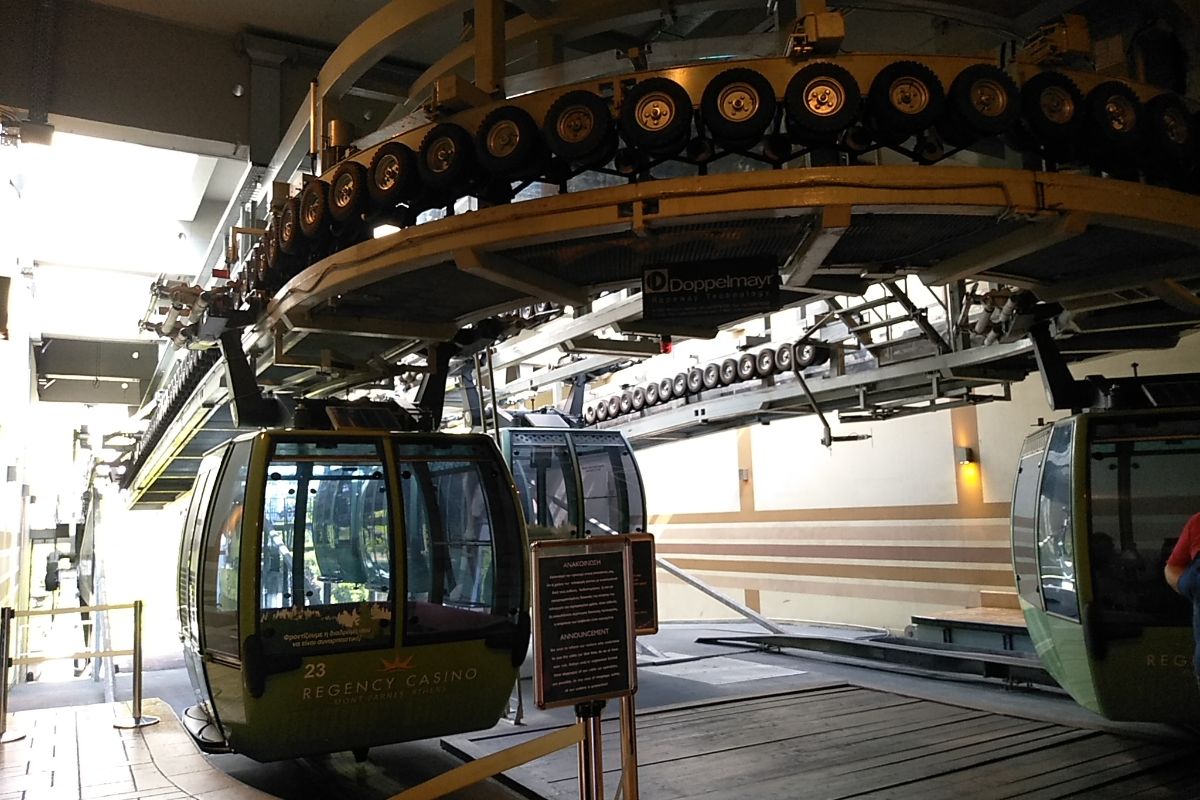 When you get to the Casino parking, you can start hiking from there (Chouni Gorge begins right at the spot) or you can take the Cable Car.
The short trip in the cable car all the way up to the mountain is very exciting and as you ascend towards the entrance of the Parnitha casino the view is stunning.
There is a dense forest on our feet and if we are lucky we can see people hiking Parnitha, towards the top.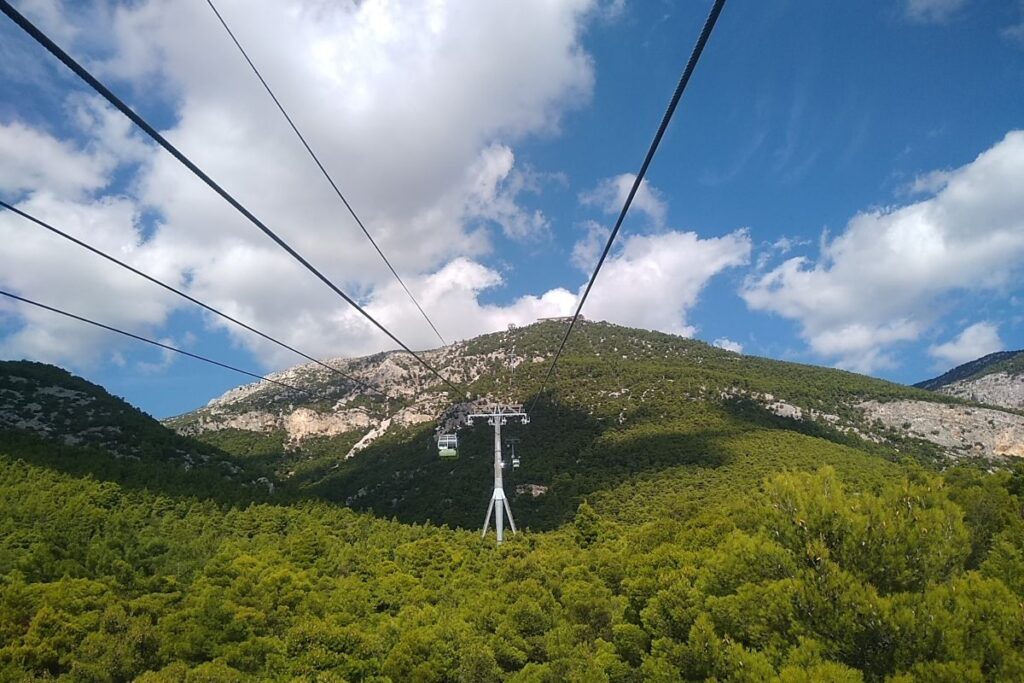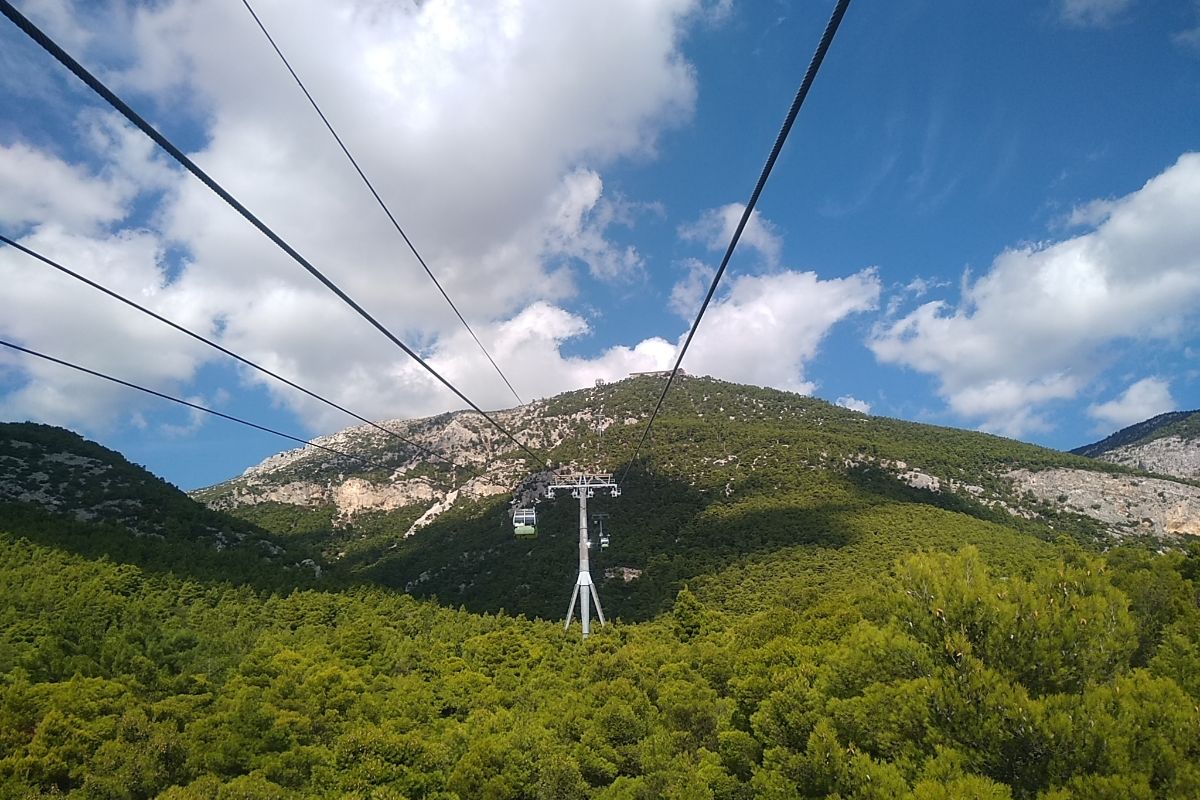 As soon as I am on solid ground again, I have to cross the vast Parnitha casino, meet the eager-faced players and hear the cling clang of the coin-eating machines.
When I get out in the open, I see people sitting around on the low benches, taking photos and enjoying the crisp clear air. Most of them will just go back in the cable car, no hiking in Parnitha involved. I, on the other hand, started walking briskly towards the easy trail to the Mpafi or Bafi shelter.
From the Casino, you start walking towards the north, and you take the dirt road that veers off to the right and has a full view of the mountainside of Parnitha.
What gear do I need?
I always take my walking sticks with me, even though the path is one of the easiest hiking Parnitha.
An American friend was telling me that buttons – as walking sticks are called between Greek hikers – are more of a European thing rather than American. Not sure if this is true for everyone but if you have some solid knowledge about that, please do share it with me.
In any case, if you don't have good walking sticks, have a look at the ones below, because if you walk the Greek mountains, you will probably need a pair.
Generally speaking, I am very satisfied with my Lowe Alpine backpack and the way it keeps my back always dry.
My only grievance is that I bought it a smaller size and that its light blue color is getting dirtier and dirtier.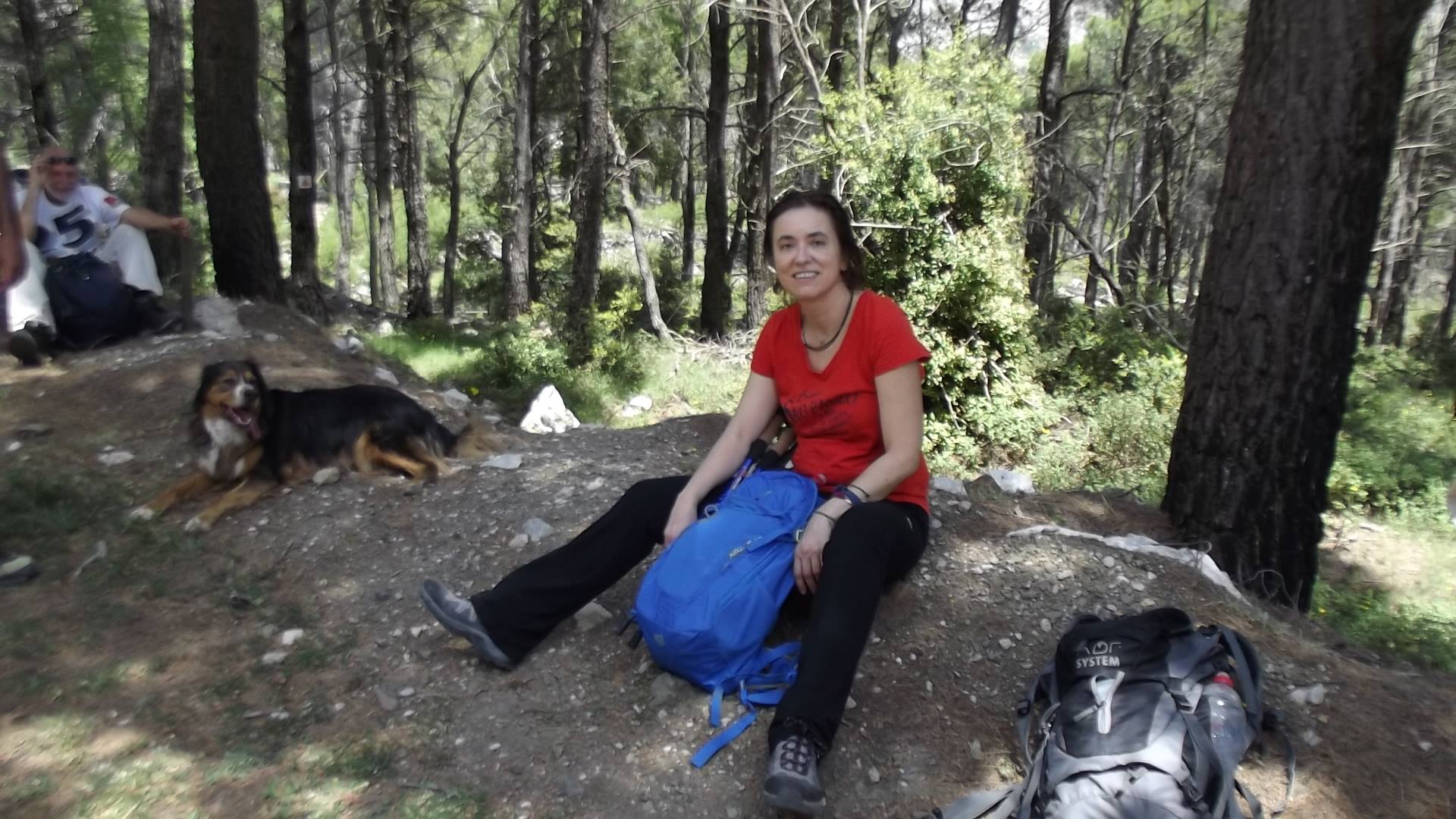 Next time I would buy a darker color like this one:
From October in Greece to April, I always carry an extra good quality and warm fleece with me, as sometimes it gets suddenly very cold or windy or starts to snow. I also love vests and Columbia is one of my favorite brands when it comes to hiking attire:
Raincoat: always in the backpack. Parnitha can be volatile especially in winter.
The Trail to Mpafi Shelter
I am going towards a curving path joining two mountain slopes and evidence of the 2007 dreadful blaze, is all around me. I walk past low shrubs and small pine trees, which barely hide the bareness of the mountain.
I have never gotten used to seeing the burnt part of Parnitha without feeling deeply saddened by the catastrophe. It might sound like a cliche phrase but nature is our beautiful generous home, we must always protect it!
On a more positive way of thinking, this bareness offers a beautiful display of the slopes and the in-between gorges; this is a characteristic that I love so much about mountains.
Soon enough, I reach the point where there is a clearly defined junction.
One footpath to the left is going to Mpafi and the other one to Flabouri, the second shelter. I take the left fork towards Mpafi.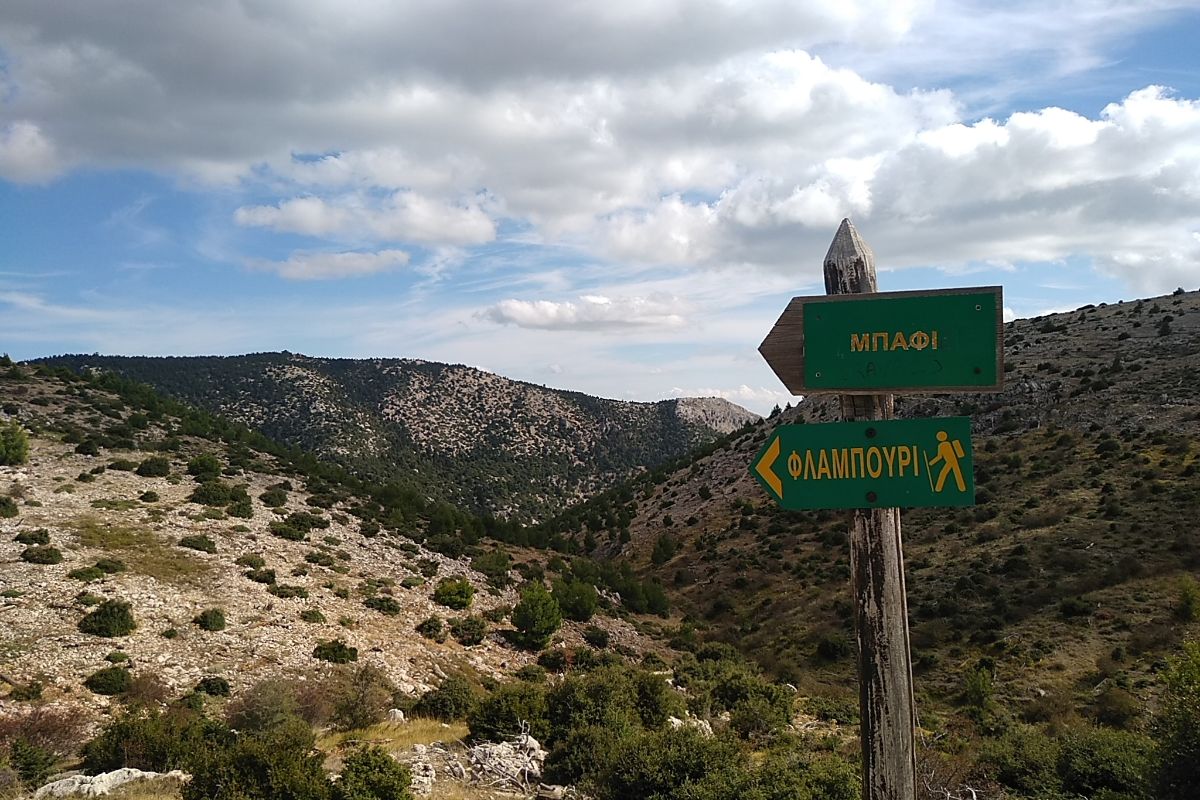 Mpafi Shelter
The Casino to Mpafi Shelter is trail number 8.
Length: 3 kilometers
Difficulty: Easy
Altitude difference: 80 meters (1080 – 1160 meters)
Best for: everyone
Dogs: Not allowed (but you will see many hikers with their dogs)
As a general rule, the trails are indicated by simple red signs. Sometimes, you come across yellow rhombus or just plastic pieces of material hanging on branches. Do use your imagination and keep an open eye for the signs!
As I hike, the scenery changes into a denser forest and I can now see the Mpafi shelter sitting on its peak. On my right, and at the bottom, I can see the dry river bed.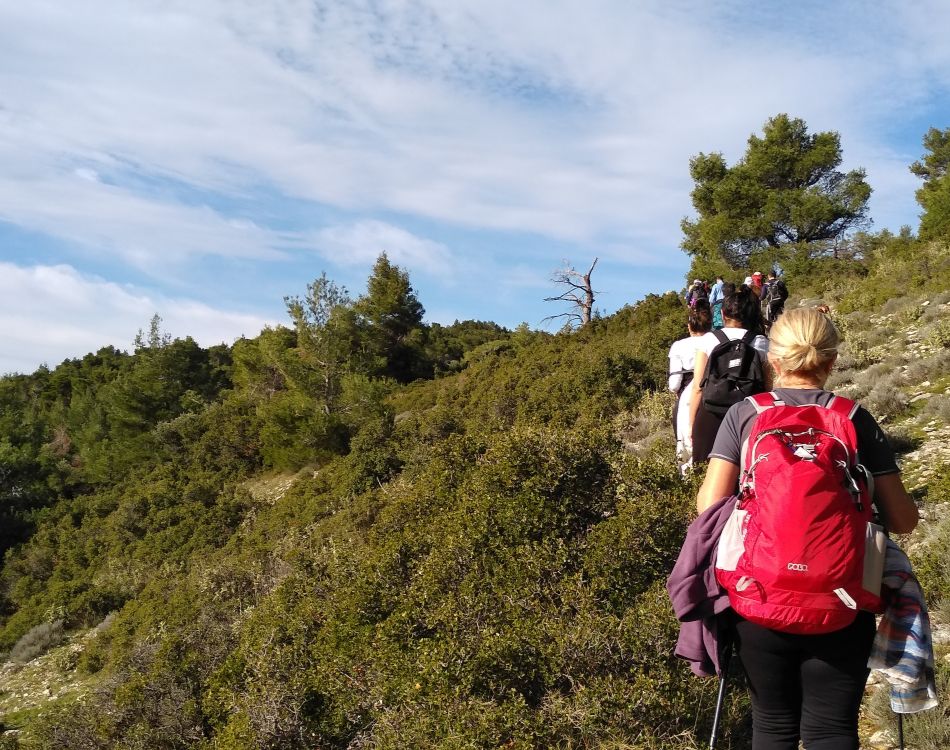 At some point, I cross the dry river bed and I have either to climb a steep uphill slope to the shelter or take the easier path further down and in a circular way. I chose the easy path and started walking embracing the peacefulness around me.
After a few minutes of possibly the most "challenging" part of the whole trek, the smells of the delicious food emanating from the shelter welcomed me to its premises.
Hiking in Parnitha most of the time involves a lot of food!
Shelter Facilities
Mpafi shelter belongs to the Greek Mountaineering Club of Athens, (EOS Athinon), one of the oldest hiking clubs in Greece.
In its diner, you can choose from a wide variety of Greek traditional dishes like fasolada (beans soup), Greek hikers meal or pasta with cheese, children's favorite.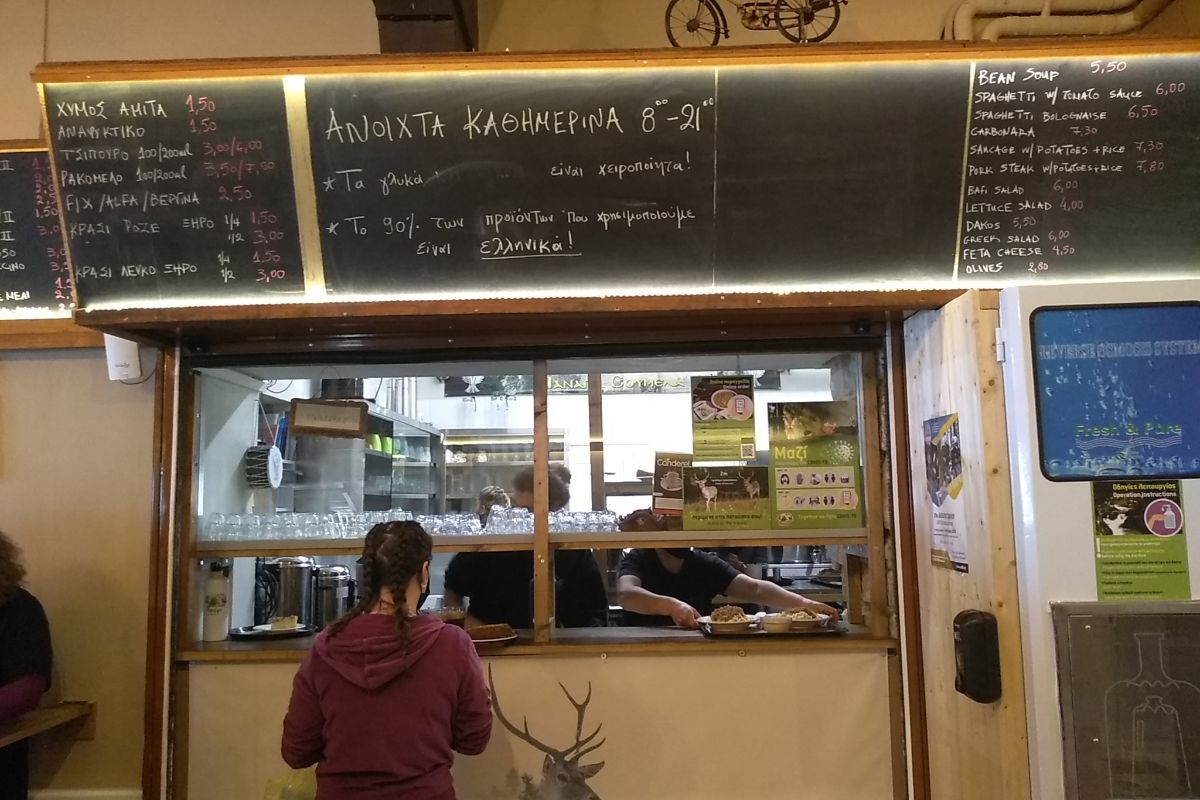 Mpafi also offers simple accommodation in dorms and all kinds of outdoor activities around its premises.
What I most like about Mpafi is that it is an easy approach either on foot or by car (there is a large parking area beside the shelter) and you can have a coffee in nature with stunning mountain views.
Or you can continue to some more serious hiking in Parnitha, to a number of signed paths starting from Mpafi.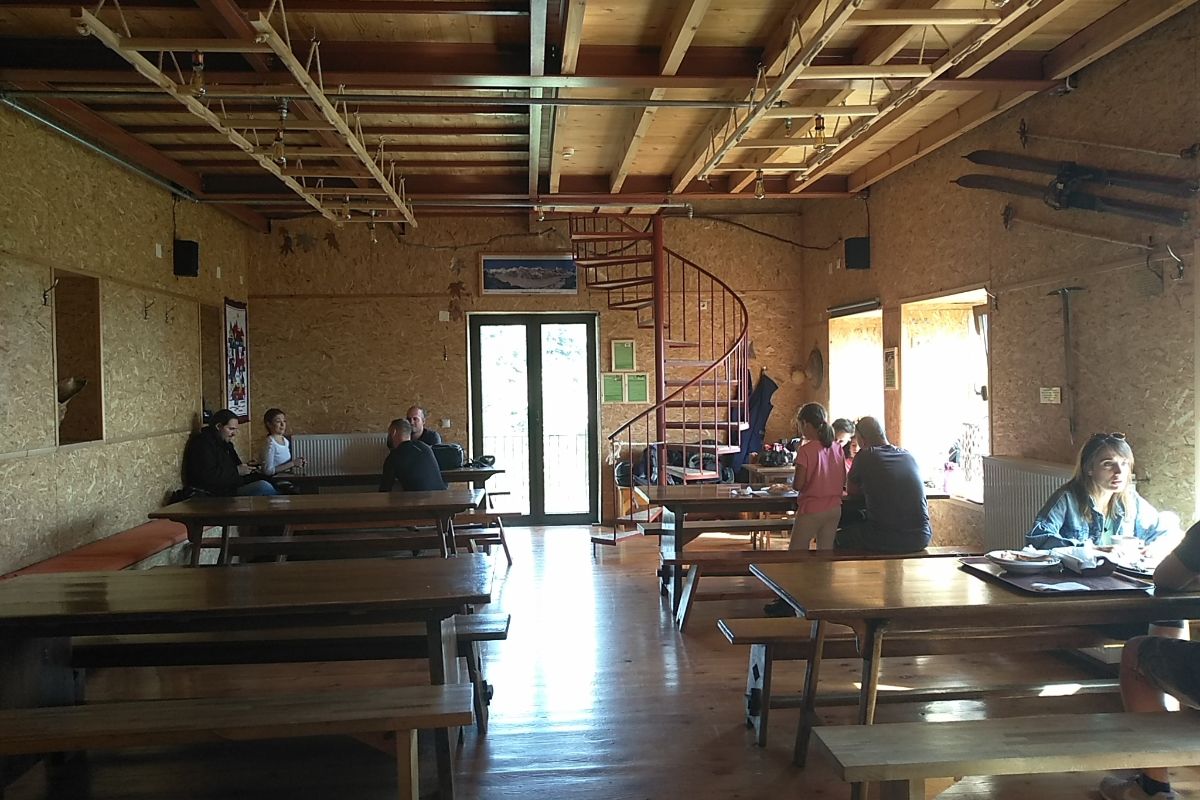 What I don't like about Mpafi is that …it is very popular! This happens usually on Sundays on sunny days and it can be really challenging to find a spot to have a coffee.
And when you do find it, you will have to queue for quite some time – it is a self-service place.
After doing my rounds in the shelter, I was soon heading back taking the same path.
As I approach the Casino and the cable car, I can see the whole of Athens, the Argo – Saronic islands and the sea, the mountains of Penteli, Hymettus, and Tourkovounia, a view that makes me happy to live in this city.
Where to Stay in Athens
Looking for the Best Hotels near old Athens Plaka and Acropolis Parthenon?
I have collected a fantastic list of some of the best Athens hotels close to the must-visit sites and the Metro in Athens.
On the left list, you will find the best mid-range to luxury hotels in Plaka, the old part of Athens, and on the right list, the best budget Athens hotels for an excellent and low-cost stay.
Viator Private Hiking Tour to Parnitha Mt with Lunch
Book a 6-hour private hiking tour from Athens to Parnitha National Park with Lunch at Bafi Refuge. Check it out for availability and prices on Viator Website
How to Get to Greece
Like a lot of other visitors to Greece, you probably need to fly to Athens or Thessaloniki International Airports to get to your final destinations.
I highly recommend you check out the Skyscanner search engine site for the Cheapest/Fastest/Best Worldwide Flights
Some of my Most Favorite Travel Resources for Greece
Airflights: Cheap/Fast/Best Worldwide Flights from SkyScanner search engine site
Booking.com: I use Booking.com because I can get the best deals, have info on hotels and Airbnb's alike, with breakfast or not, free cancellations, and great prices!
Ferries to the Greek Islands: Book your ferry transfer with FerryScanner or FerryHopper, and get the best prices in the market with no hidden fees
World Nomads Insurance: I feel insecure traveling to another country without having even the most basic of insurances. Insurance will protect you against illness, injury, theft and cancellations
Best car rental prices – Guaranteed. RentalCars.com
Get Your Guide: For all your day or multi-day tours and city guide needs, I use Get Your Guide
iVisa: For any questions, you may have about your documents, passport if you need a visa, a new photo, or any visa-related matter, iVisa is your man (or woman!)
Emergency Numbers Anywhere in Greece: AMBULANCE 166 – FIRE 199 – POLICE 100– EMERGENCY NUMBER 112
More Hiking Destinations in Greece