Monodendri Greece is a beautiful stone-built village located in Zagori, a stunning and mountainous rural area that encompasses 45 other traditional villages. Monodendri Greece is situated at an altitude of 1060 meters, near the edge of Vikos Gorge, which is the world's deepest gorge and a favorite trail for international hikers.
If you appreciate rich cultural heritage, natural beauty, stone-arched bridges over the Voidomatis River, tradition, and authenticity, then Monodendri is a destination you should explore.
*Some of the links in this post are affiliate links. That means I may make a commission if you click and buy. The commission comes at no additional cost to you.
Best Things to Do in Monodendri Greece
Whether you're a nature enthusiast, a history buff, or simply seeking a tranquil escape, this charming village has something for everyone. In this article, we will guide you through the highlights of Monodendri, sharing tips and sample itineraries to help you make the most of your visit.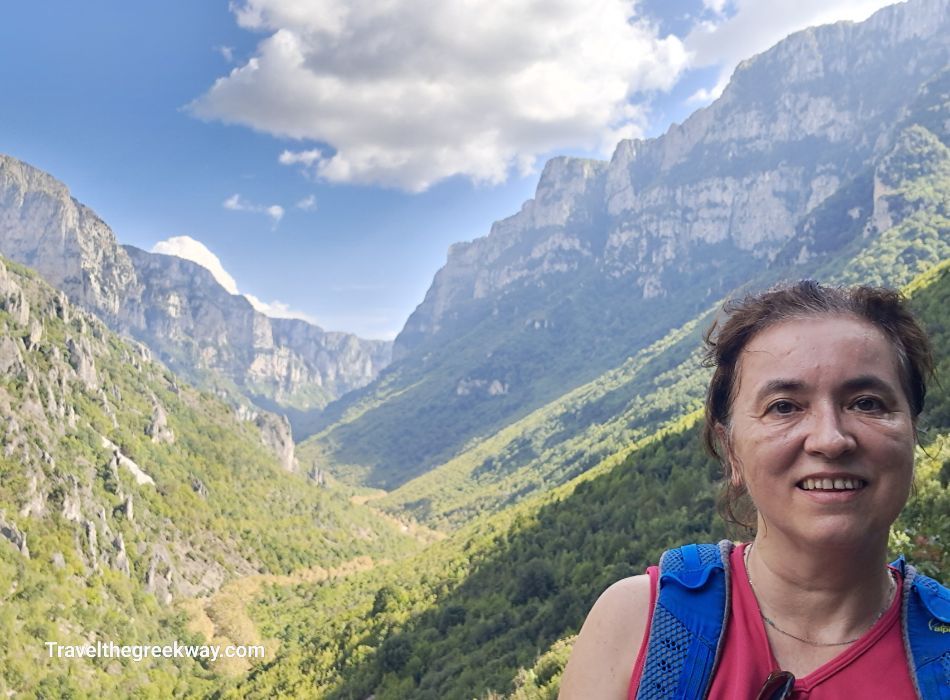 Zagori, also known as Zagorochoria, is so rich in culture and picturesque that it was added to the UNESCO World Heritage List in September 2023.
To enjoy Monodendri and Zagori, we suggest spending a week seeing a good chunk of its incredible villages, history, and spectacular scenery. I stayed for 4 days in Monodendri and I hope I can inspire you to enjoy this area as much as I did!
1. Explore Monodendri Village
Monodendri Greece experienced a significant economic and commercial boom in the 18th and 19th centuries. The affluent villagers of that era constructed stunning stone houses and grand mansions, some of which have now been transformed into impressive hotels and guesthouses.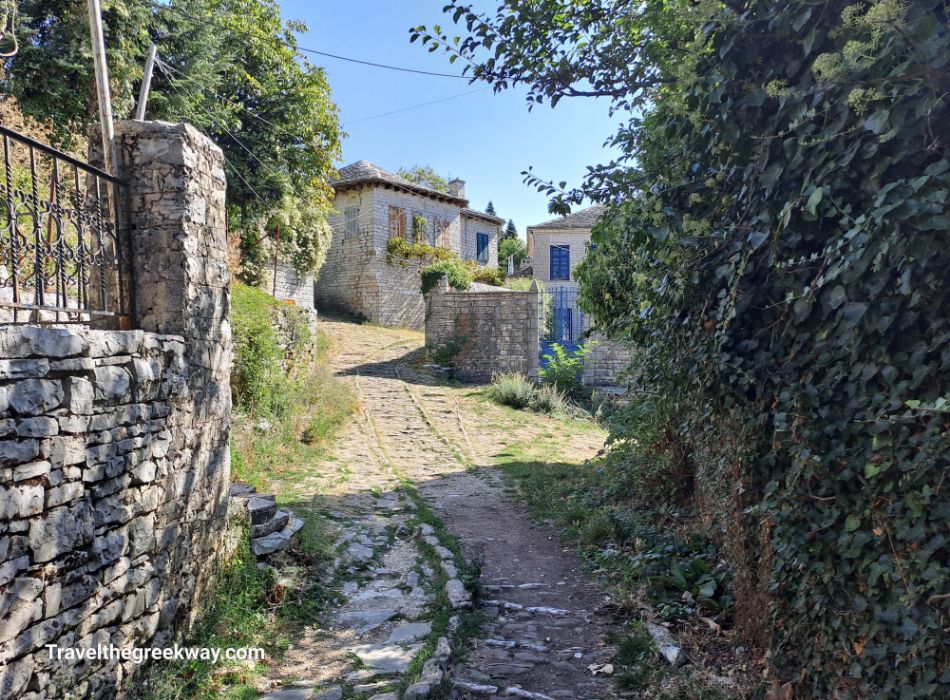 One of the best things to do in Monodendri Greece is to take a stroll through the village. Admire the well-preserved stone houses with colorful doors and windows, yards adorned with flowers, and narrow cobblestone alleys.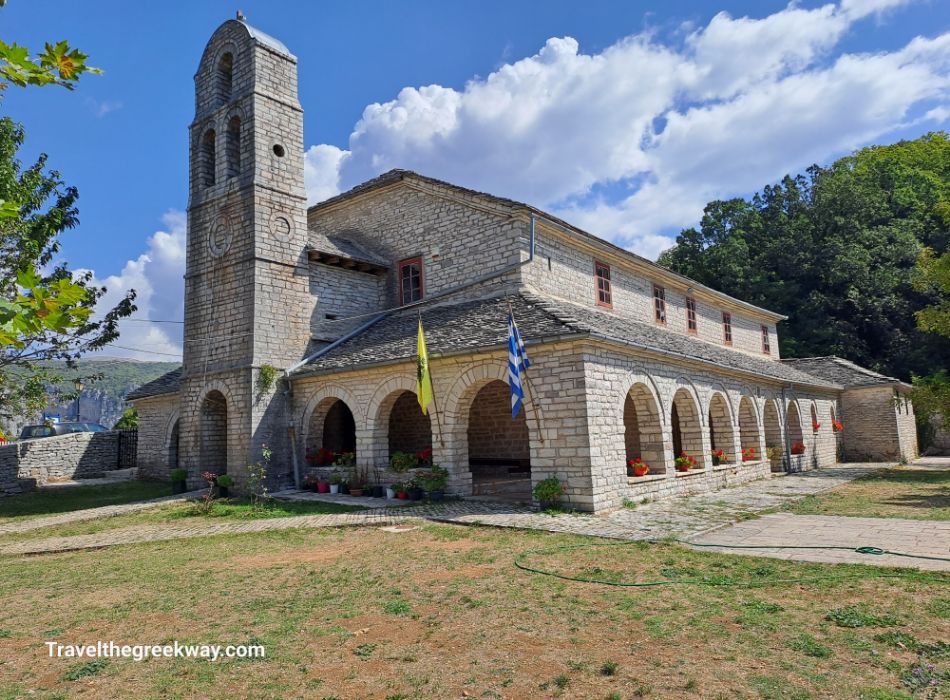 You will love its main square with towering plane trees surrounded by centuries-old churches such as the imposing church of Agios Athanasios.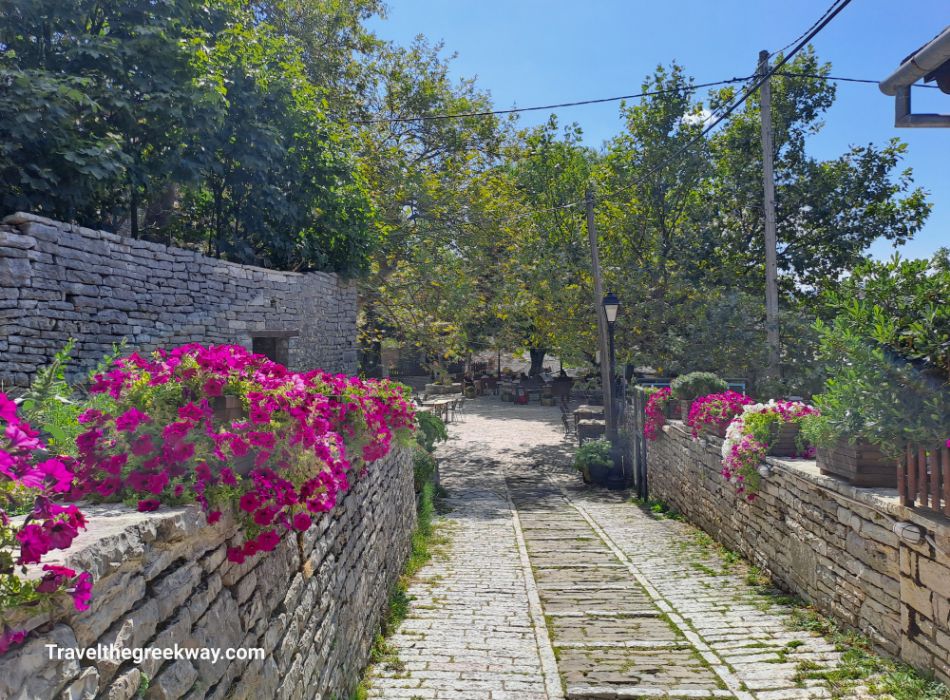 Every corner of Monodendri is worth exploring with a beautiful spectacle awaiting you at every turn of the tiny alleys.
2. Crossing Vikos Gorge (Top Activity in Monodendri)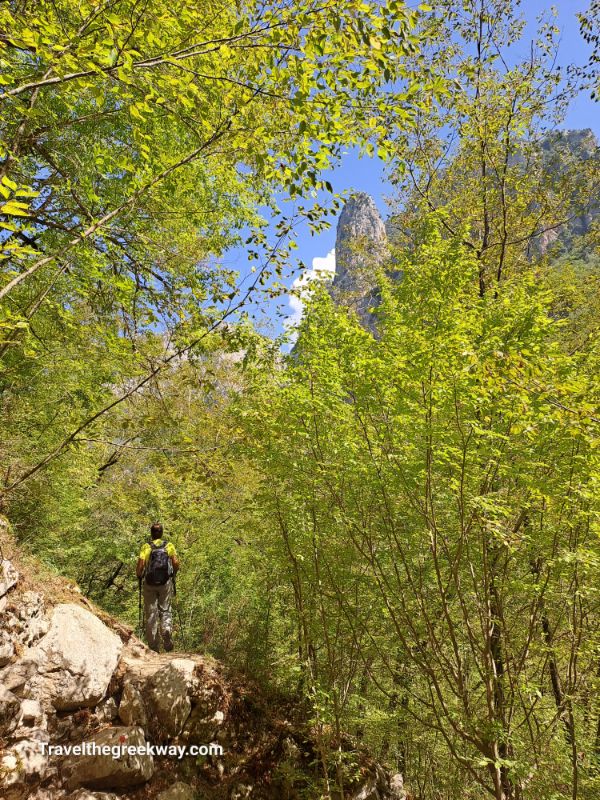 Vikos is listed as the world's "deepest relative to its width" gorge by the Guinness Book of Records. The Vikos Gorge spans a total length of 32 km (20 mi), with walls ranging from 120 to 1,350 meters in height and a width that varies from 2,500 meters to just a few meters.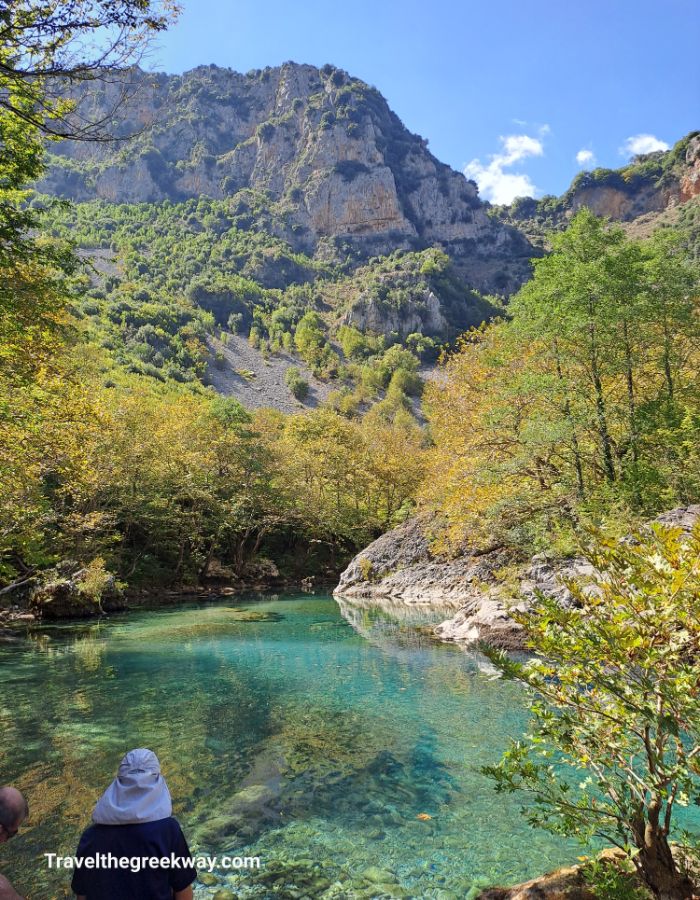 We hiked the gorge from Monodendri to Vikos village (or you can hike in the opposite direction). We covered approximately 12.5 km of terrain with a moderate to challenging level of difficulty. It took us about 7 hours to cross it including a few brief stops and an extended break at the breathtaking Voidomatis lakes.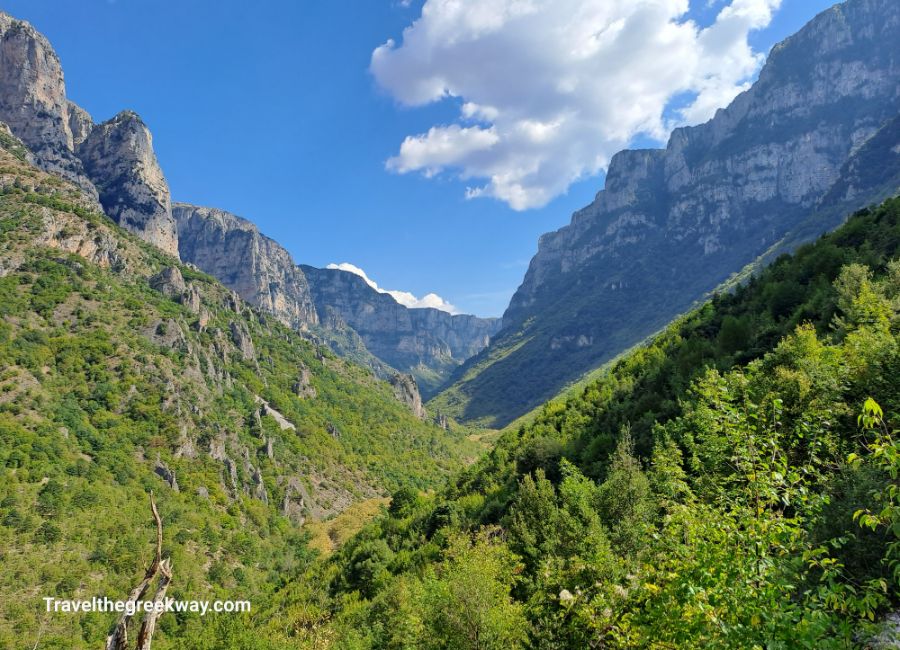 From there, we had to ascend a very steep uphill trail to reach Vikos village, which proved to be quite challenging, especially considering our fatigue. For the return trip to Monodendri, we had pre-arranged a taxi (for €10 per person). This was one of the most rewarding hikes of my life, I simply loved it!
3. Monastery of Agia Paraskevi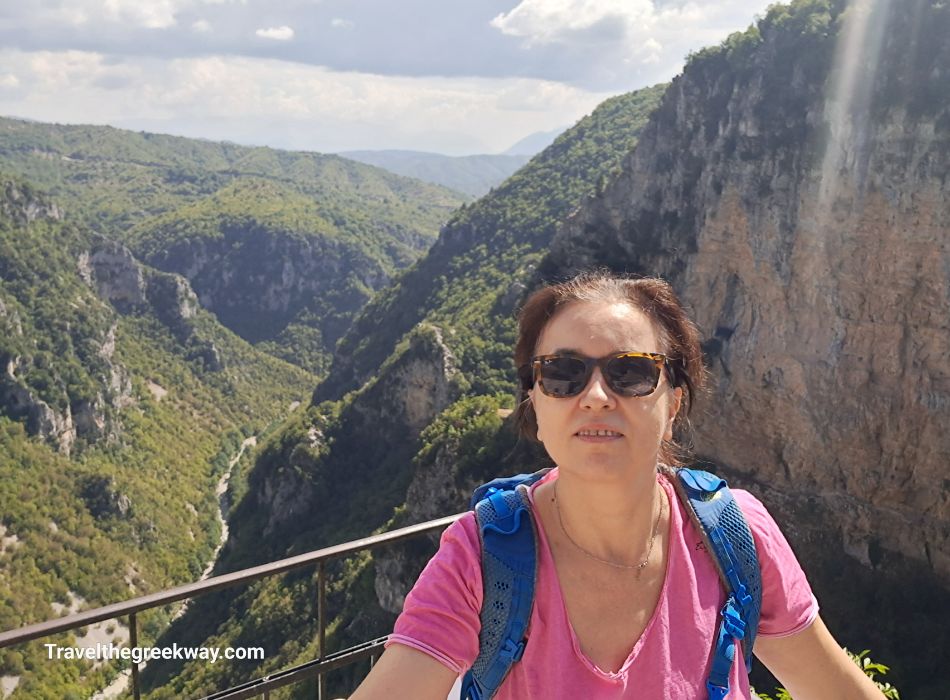 The 600-year-old Monastery of Agia (Saint) Paraskevi in Monodendri Greece offers a spectacular view of the Vikos Gorge.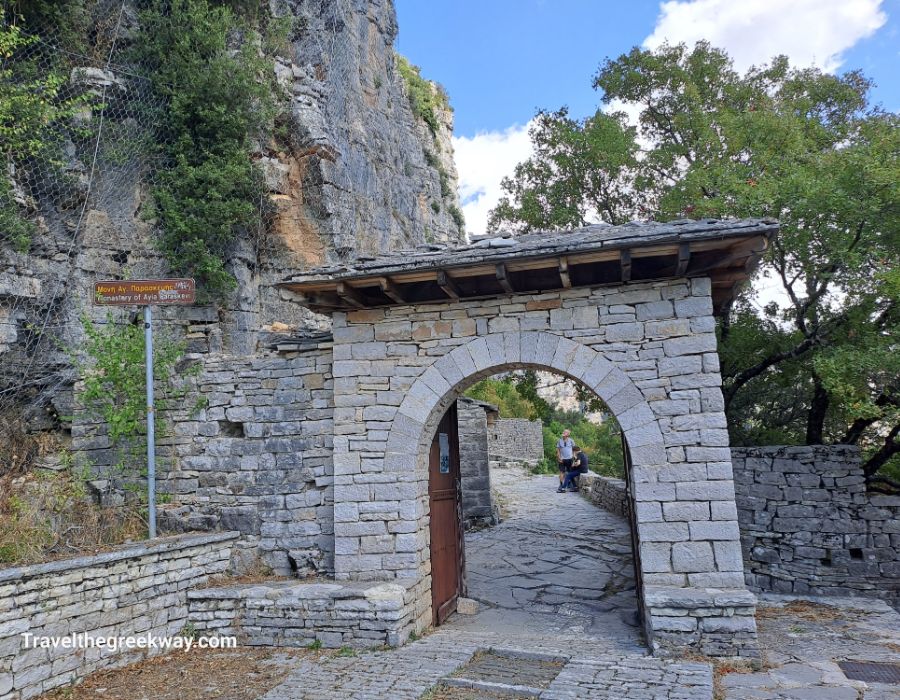 If you start from Monodendri's main square, you can reach the monastery in just 15 minutes by following the wide, pedestrian-only cobblestone road.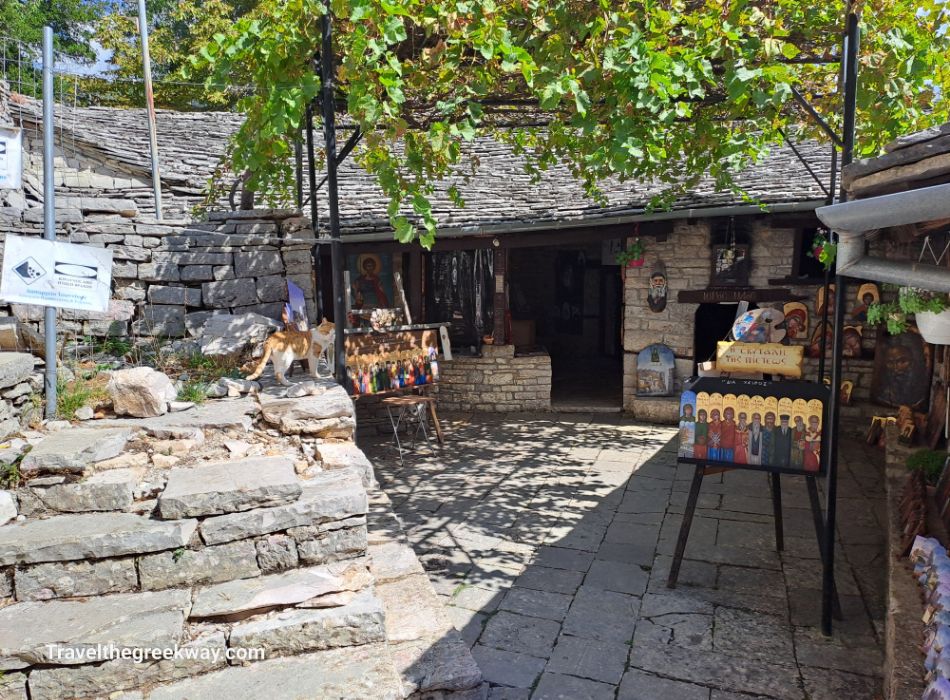 The Monastery of Agia Paraskevi was built between 1413 and 1414 by the local leader and Bishop of Epirus, Charles I Tocco. According to historical sources, the wealthy local lord Michael Therianos built the monastery as an expression of gratitude to Agia Paraskevi for healing his daughter.
Inside the monastery, you'll discover exquisitely preserved frescoes, the abandoned monks' cells, and a small shop where handmade icons of Greek Orthodox saints are available for purchase. I bought a small icon and a jar of exceptional thyme honey!
4. Vikos Gorge Viewpoints
If you do not feel like crossing the Vikos Gorge but still want to enjoy spectacular views (and take photos) of the gorge, you can visit these impressive viewpoints:
a. Oxia (or Oxya) Viewpoint is the closest to Monodendri village. It is just a 7.5 km drive along an asphalt road that leads to a parking area. From there, a 200-meter paved path takes you to a point offering a fantastic view of the gorge.
b. Vikos Village Viewpoint is 24 km north of Monodendri and the ending (or starting) point of the gorge. While there, you can explore the charming village and capture some stunning photos of the gorge.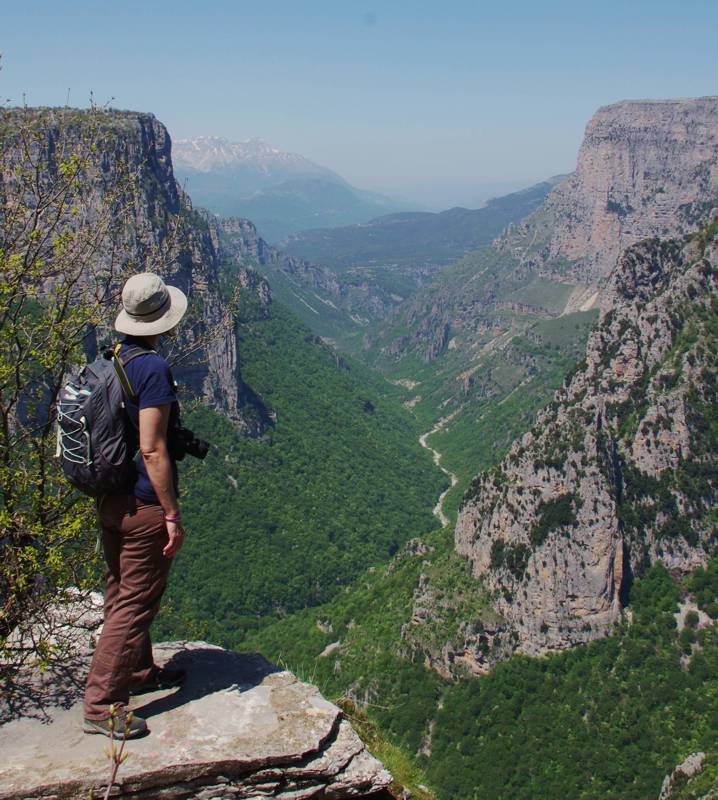 c. Beloi Viewpoint is probably the best spot to admire the breathtaking beauty of Vikos Gorge! However, you'll need to drive approximately 32 km from Monodendri to Vradeto village. From there, it's a relatively easy 2.3 km hike to the Beloi viewpoint.
5. Monodendri Greece Food Tasting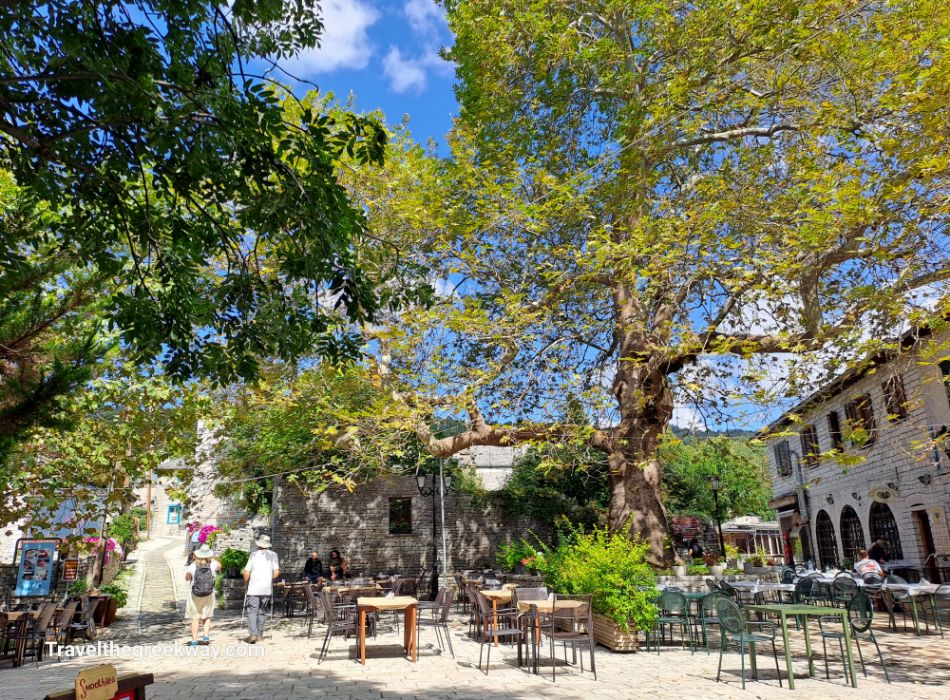 Monodendri and the Zagori region, in general, are renowned for their phyllo pies, particularly their flour pies made with flour, eggs, butter, and feta cheese. On the main square of Monodendri, you can find two fantastic restaurants, Kikitsas' Pies and Froso's Pies. I enjoyed their delicious salty pumpkin pie and spinach pie.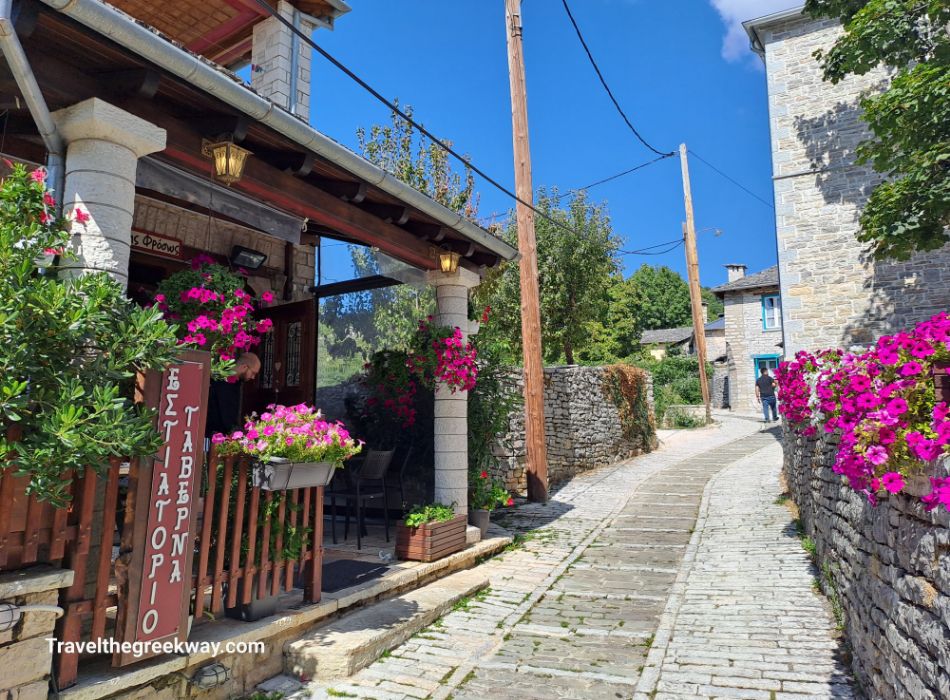 I also tried their local meat dishes, which included pork with mustard and veal in a red sauce. These meats are sourced from free-range animals. The dishes came with generous portions of rice and authentic fried potatoes, totally mouth-watering.
Across from the two taverns, there is a lovely cafe under the plane trees where I had a break and enjoyed a cold wild berries smoothie.
A few meters down the road is also a small gift shop where you can pick up some local products like honey, herbs, and handcrafted jewelry as mementos of your trip.
There are also a few great taverns on the upper side of Monodendri where most of the hotels are located and are worth visiting.
6. Rizareios Exhibition Center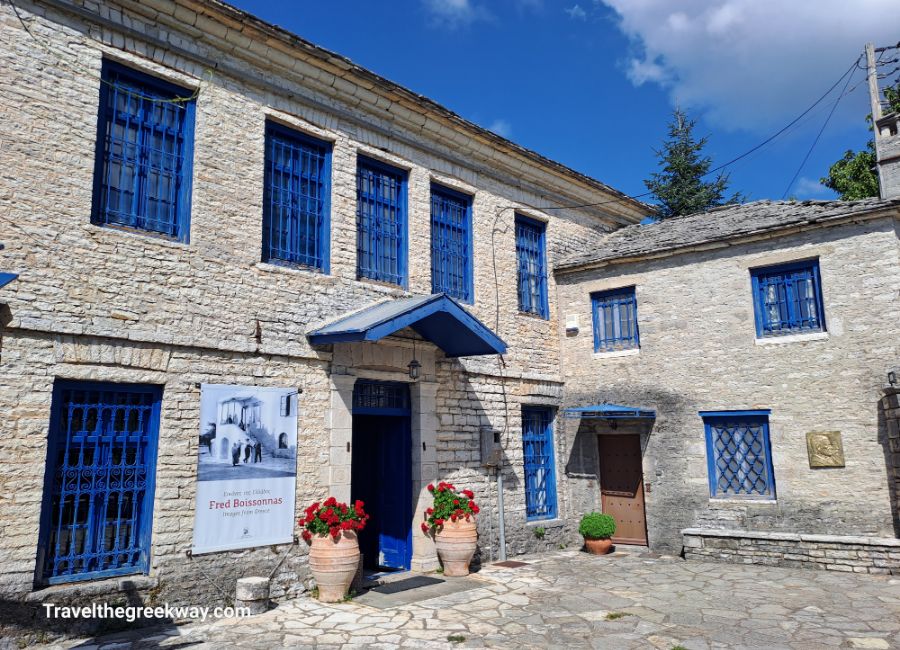 Monodendri was the birthplace of Greece's national benefactors, Manthos, and Georgios Rizaris. They donated all their fortune to support the newly liberated and independent Greek state.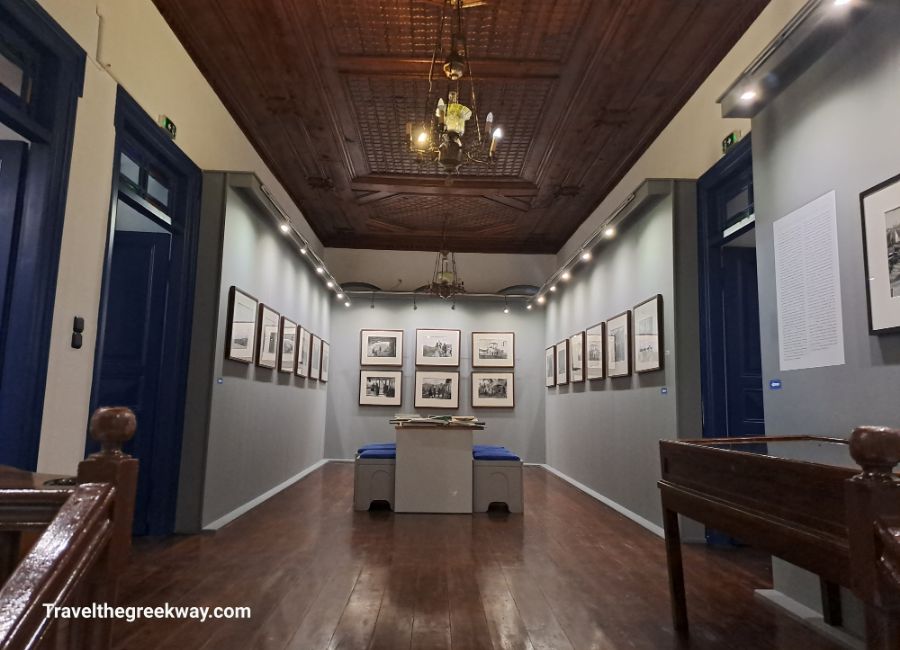 In Mondendri I visited the Rizareios Exhibition Center, housed in a beautifully preserved stone mansion. I was fortunate to view a photographic exhibition of Fred Boissonnas, a Swiss photographer and a devoted Philhellene.
I saw some very famous photos of Greece (1908) including the famous image of Fred Boissonas hanging from a basket as he is carried inside the Meteora Monasteries. The center is open every day between 9.00 and 16.00 with a €2.5 entrance ticket.
This photo exhibition was one of the most enjoyable things to do in Monodendri.
7. Rizareios School of Arts and Crafts
In 1979, the renowned Rizareios School of Arts and Crafts was established in Monodendri. Its goal is to promote educational, cultural, and social development in the Zagori region.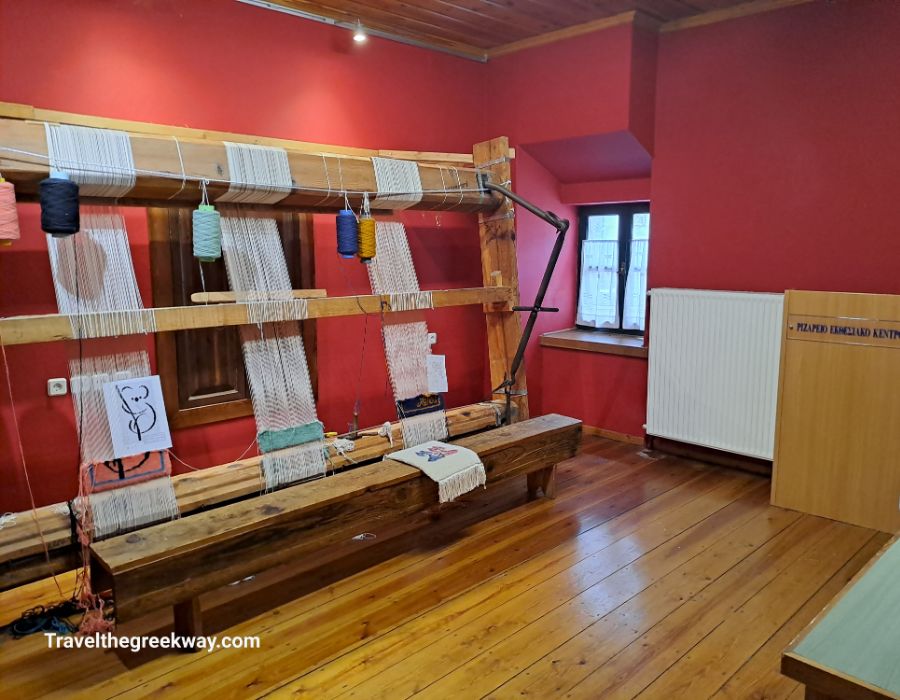 In particular, the School aims to preserve traditional crafts, which are currently at risk of disappearing such as weaving with loom. It seeks to provide professional training for girls from the wider region, reflecting the grand vision of the Rizaris family.
I was so amazed at the craftsmanship of the tapestries and fabrics in their exhibition center. There is also a shop where you can buy unique handmade materials.
8. Rafting in Voidomatis
Begin your day with a thrilling adventure by joining a guided rafting trip down the Voidomatis River. The crystal-clear and freezing-cold waters and lush scenery make it an unforgettable experience for nature lovers and adrenaline junkies alike.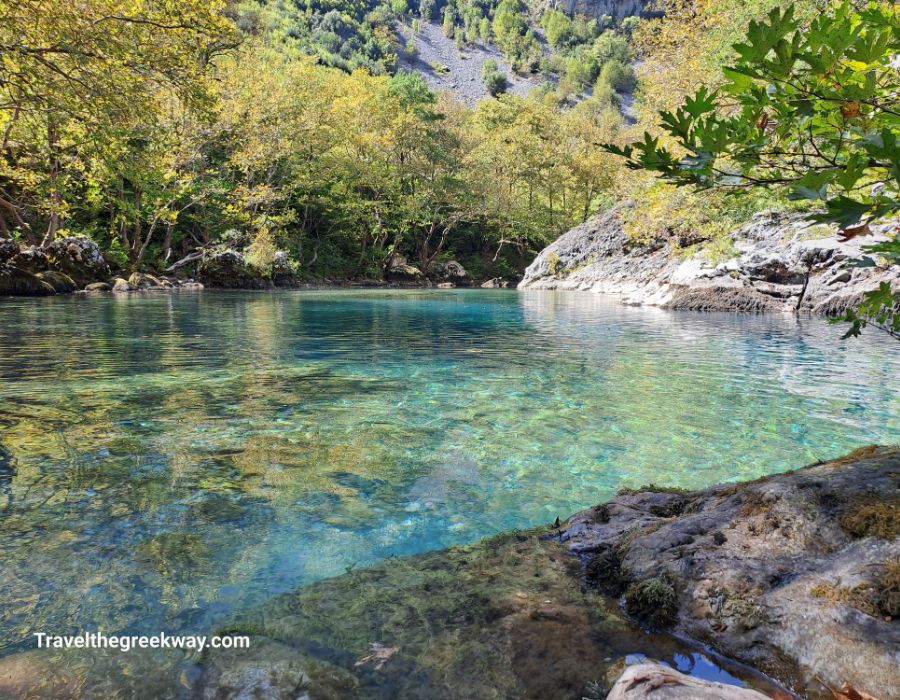 Voidomatis River has a total length of 15 kilometers and is the ideal river to immerse yourself in the world of rafting. The route is amazing as it passes through the lush heart of the Vikos-Aoos National Park. The best time for most outdoor activities in Voidomatis is between May and early October.
9. The Kokkoris Bridge
16 km southeast of Monodendri Greece stands one of the most famous and well-preserved stone bridges of Zagori, the Kokkoris bridge. The bridge, built in 1750, is a single-arched bridge with an arch span of 23.6 meters and an arch height of 13.3 meters.
Near the bridge, you can find the so-called "Davelis Cave" because George Davelis (a famous Greek robber) sought refuge there in 1881 when he was being pursued by the Ottomans. You can also visit the nearby outdoor chapel dedicated to Agia Paraskevi and the Kokkoros Mill.
Where to Stay in Monodendri
I stayed at Ladias Hotel which is a great budget hotel but I wasn't very happy about the small bathroom. To be fair, I loved the balcony view, the owners were very friendly and hospitable and kept my luggage while I was wandering around Monodendri.
As I was waiting for my friends to pick me up (they had gone to Smolikas Mount), they allowed me to sit on their terrace for a good 2 hours.
Mid-Range
Arktouros Hotel combines the warmth of a stone-and-wood traditional property along with spectacular views. It has a lovely garden and its breakfast is one of the best in Monodendri.
Luxury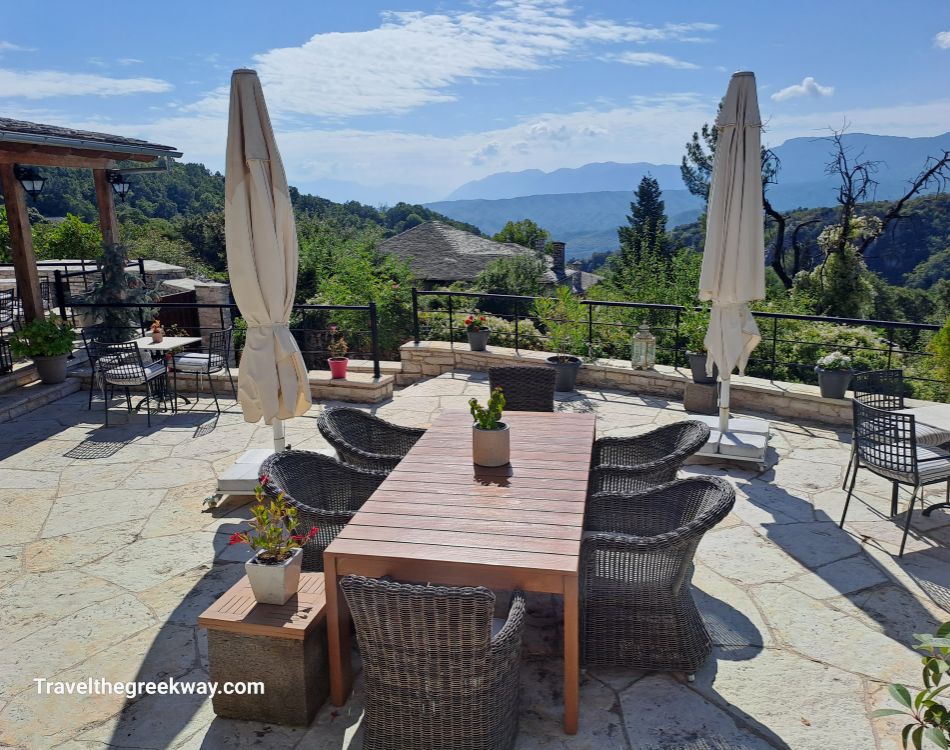 I discovered MountGrace Suites & SPA as I was strolling Monodendri and I was impressed by their terrace and the mountain views. A classy hotel where you can enjoy a stylish stay in beautiful and spacious rooms.
How to Get to Monodendri Greece
Monodendri is located in the northwest of Greece, 41 kilometers (25 mi) north of the city of Ioannina. We drove from Athens through the Peloponnese, Rio Antirio Bridge, all the way to Ioannina and Monondedri, 446 km in total. If you are coming from Thessaloniki, the distance is 360 km and you can take the brand-new Egnatia Odos.
Public buses are going to Zagorochoria but this will limit significantly the sites that you can visit. Zagori is best explored with a reliable rental car.
When is Best to Go to Monodendri Greece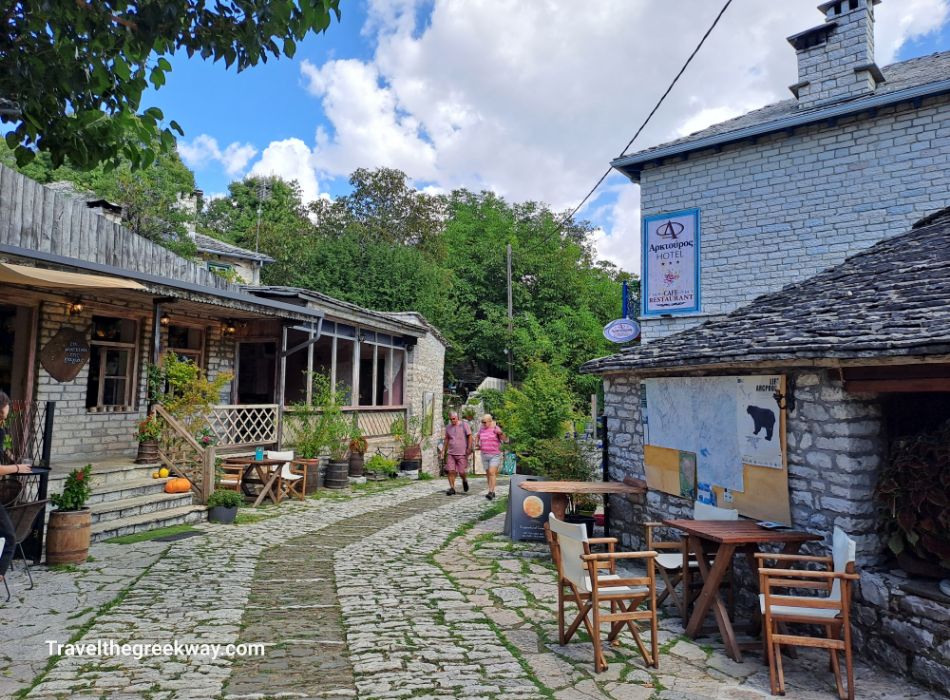 Monodendri is a favorite destination for Europeans who love the tradition, the architecture, and the unique ambiance of Zagori in general. The village and the whole area of Zagori are an all-year-round destination.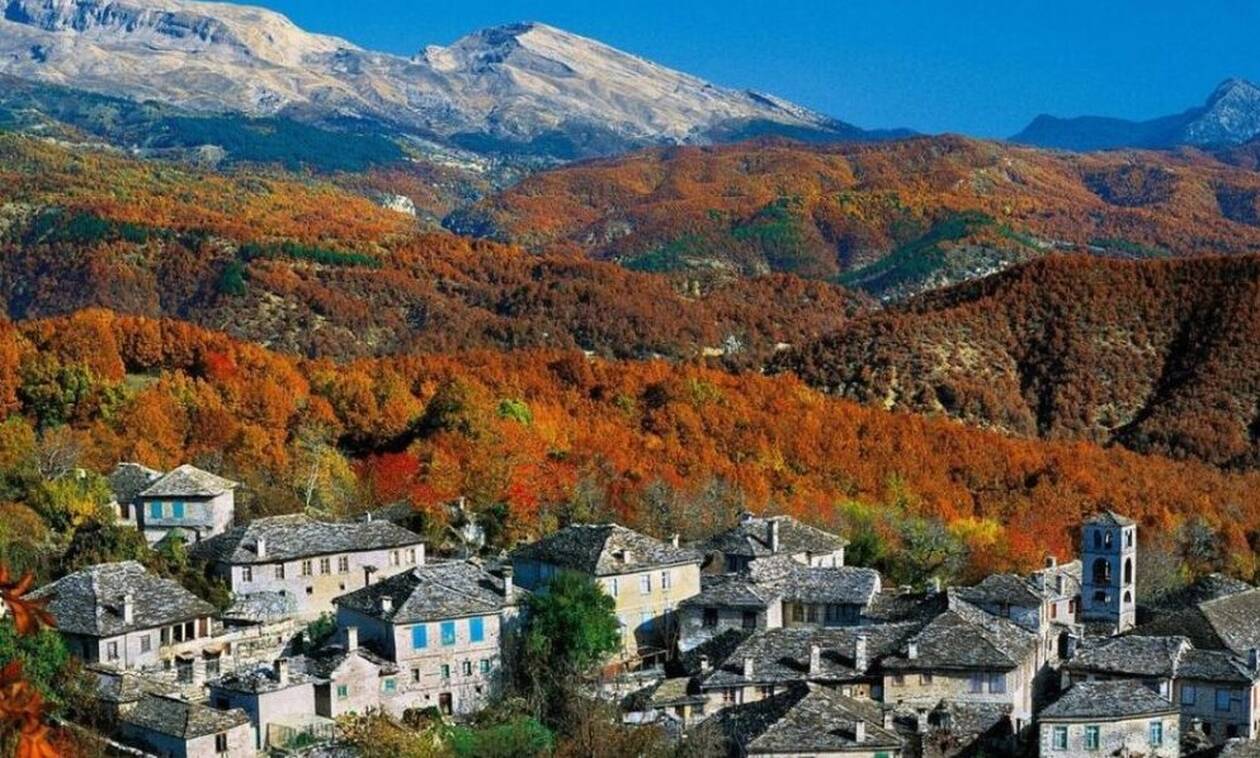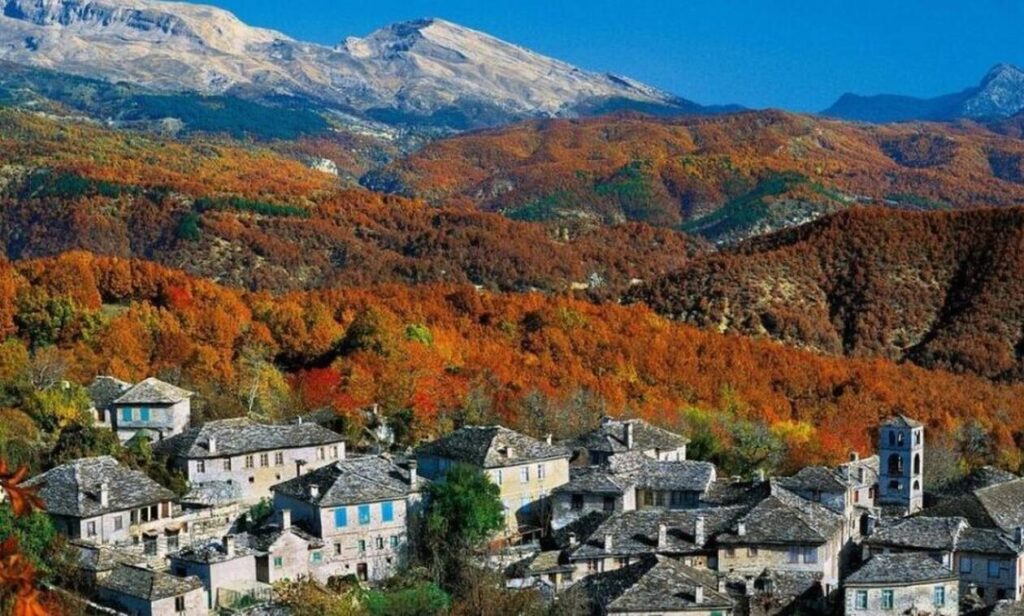 Monodendri is quite popular during the summer and fall as there are a lot of people hiking Vikos Gorge or trying to avoid the summer heat of the Greek cities. It is also very popular during winter, as the scenery becomes magical with the snow-clad mountains. You can check historical weather data for Monodendri here.
Planning Your Trip To Zagori Right Now?
Below are some of the top tours for Day Trips in Zagori and Monodendri. Don't forget to plan when visiting the popular Zagori area!
Top Day Trips and Tours:
What to Wear in Monodendri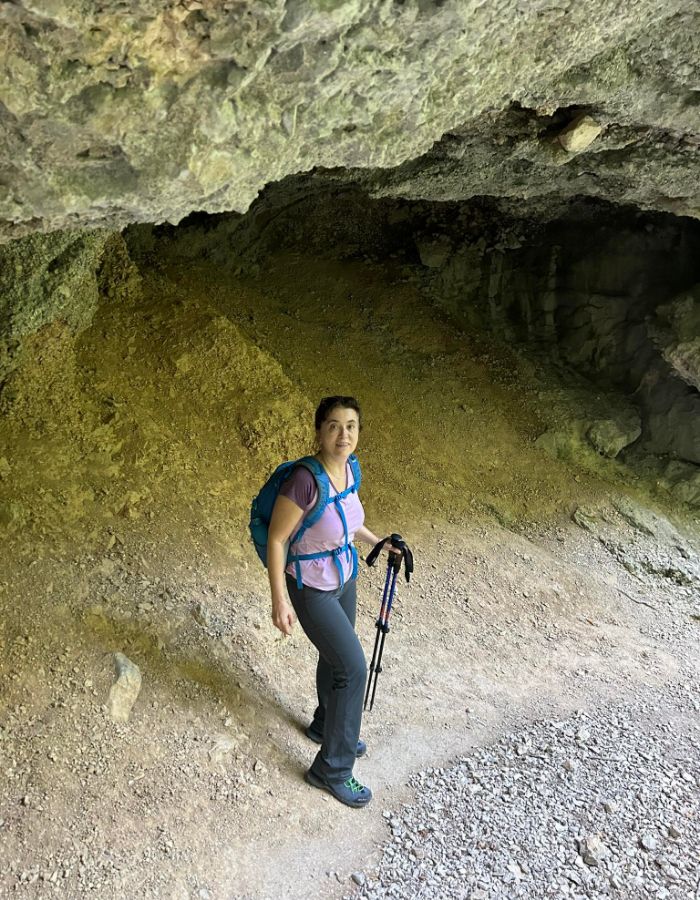 Even if you are visiting Monodendri during summer, you will probably need a light jacket for the evening as this is a mountainous village. You can also forget your high heels in Zagori as the cobblestone alleys can be tricky to walk on. You better pack up your nice hiking shoes or any other comfortable walking shoes you are used to.
Plan My Trip to Greece
Do you need a custom travel itinerary for Greece? Are you traveling solo, with your family or your friends and you need a tailor-made multi-day tour or a transfer within Greece?
If yes, please visit my dedicated Plan My Trip Page for a free itinerary!
Conclusion
Monodendri in Epirus, Greece, offers an enchanting blend of nature, culture, and warm hospitality that will leave a lasting impression on you! Whether you're seeking outdoor adventures or a peaceful escape, this hidden gem has it all. So, pack your bags, embrace the charm of Monodendri, and let the magic of Epirus unfold before your eyes.
My Most Popular Posts
Essential Travel Info for Greece
'Hello' and 'Thank You' in Greek: "Ya sou" and "Efharisto"
Booking.com: I use Booking.com because I can get the best deals on both hotels and apartments, free cancellations, and great prices!
Find Long-Term Rentals in Greece: You will find the best prices in Flatio
FerryScanner to book ferries to the Greek Islands
Athens Metro Website (timetables and ticket info)
Get Your Guide: For all your day or multi-day tours and city guide needs, I use Get Your Guide
Emergency Numbers Anywhere in Greece: AMBULANCE 166 – FIRE 199 – POLICE 100– EMERGENCY NUMBER 112
All rights reserved © Travel the Greek Way. Republishing this article and/or its contents (photographs, text, links) is strictly prohibited.
Please follow and like us: