Kefalonia or Cephalonia is the largest and most diverse island off the west coast of the Greek mainland and one of the most stunningly beautiful Greek islands. Kefalonia is located in the south of the Greek island group widely known as the Ionian.
On the south of Kefalonia, you find Zakynthos, and very close to Kefalonia's northeast is dreamy Ithaca Greece – Odysseas' home island in Homer's Epic Poem. On the north of Kefalonia is Lefkada, which is connected to the Greek mainland by a bridge, tiny Paxi, Antipaxos, and world-famous Corfu, with its UNESCO old Corfu town.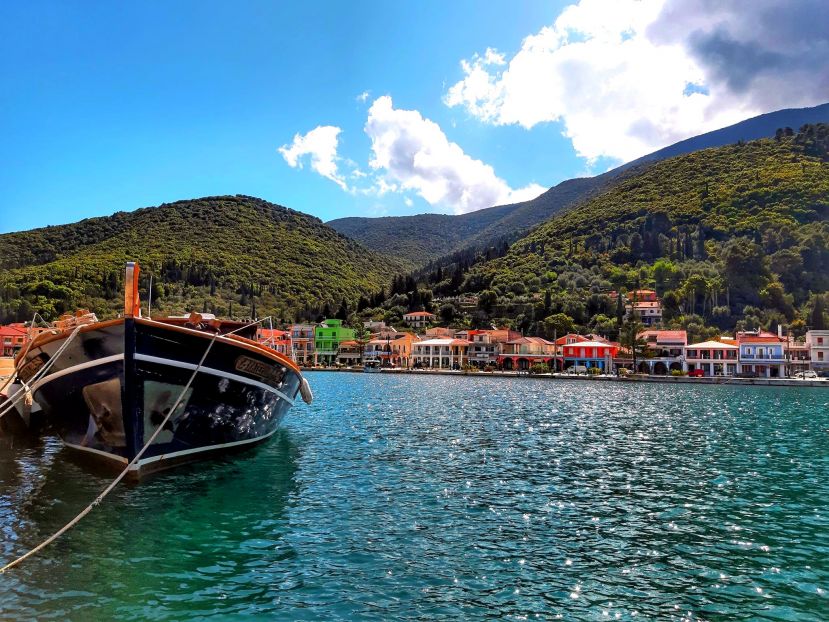 Kefalonia, just like the other Ionian islands, is famous for its lush green landscapes, Venetian heritage and architecture, stunning villages around small bays, and dramatic west coast cliff beaches. The island became even more popular after Captain Corelli's Mandolin movie was shot in Sami and everyone saw how picturesque Kefalonia is.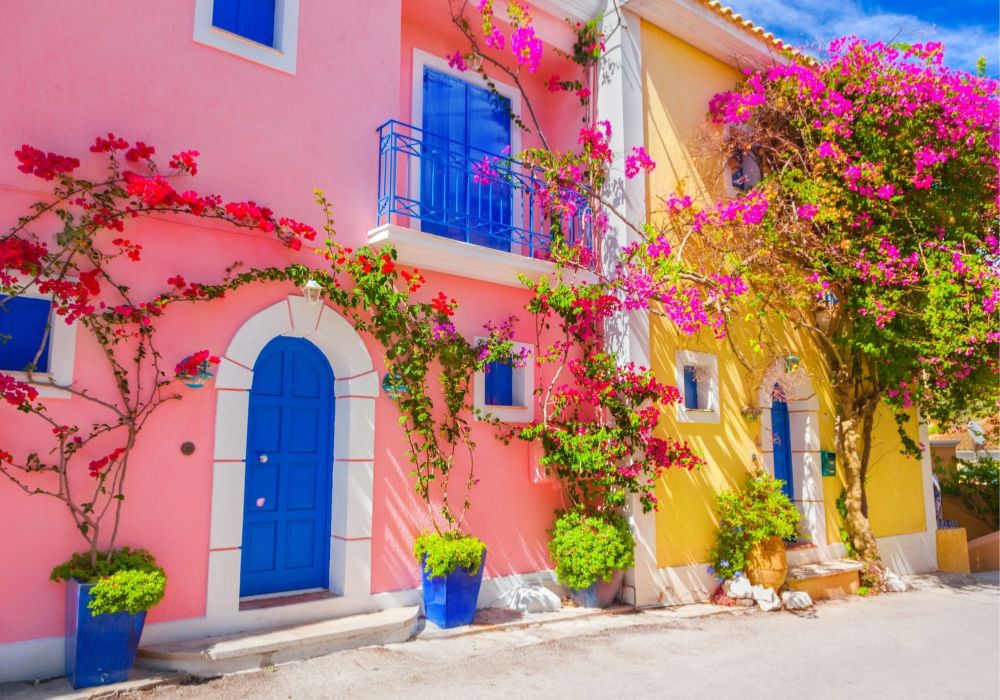 Sometimes, you send me messages asking me where is best to stay in Kefalonia. Believe me, can't go wrong with anywhere on the island, everywhere it's so beautiful.
Some of the best things to do on Kefalonia island are:
Visit the main villages of Argostoli and Lixouri
Discover the beautiful beach resorts of Assos, Lassi, Fiskardo
Go to the Sacred Monastery of Agios Gerasimos
Explore the impressive caves of Melissani & Drogarati
Swim in the spectacular Myrtos beach
Explore Sami port and Agia Efimia seaside village
Hike/ bird watch on Mount Aenos
Look out for Caretta Caretta turtle nesting beaches
Wine tasting of Robola, the famous white wine of Kefalonia
*Some of the links below are affiliate links. That means I may make a commission if you click and buy. The commission comes at no additional cost to you. If you purchase something, thanks! Please see my full disclosure policy for more information*
Up next I am going to tell you about the best things to do on Kefalonia island!
Get your interactive map of Kefalonia here, to drive to any of the places listed on our things to do in Kefalonia.
Athens Quick Reference
How to Get to Kefalonia
You can fly to Kefalonia island from Athens Airport. There are several flights per day and the flight lasts about 65 min. Check Skyscanner for cheap and available flights.
Ferry connection: Kefalonia has 2 main ports, Sami and Poros. If you plan to drive from Athens, you can catch the ferries from Patras (211 km from Athens) and arrive at the port of Sami (trip 3.5 hours). The service is normally daily during the summer. Patras port is convenient if you are coming from Athens or from your trip to Delphi or Meteora.
Alternatively, you can go to Kyllini (280 km from Athens) ports. Kyllini is a convenient port if you have been visiting Ancient Olympia or south Peloponnese. Ferries from Kyllini usually travel to both ports of Sami and Poros in Kefalonia. The duration of the ferry trip is between 1.5 hours and 3 hours depending on the port of arrival.
Best Things to Do on Kefalonia Island
Visit Argostoli, Lassi and Lixouri Villages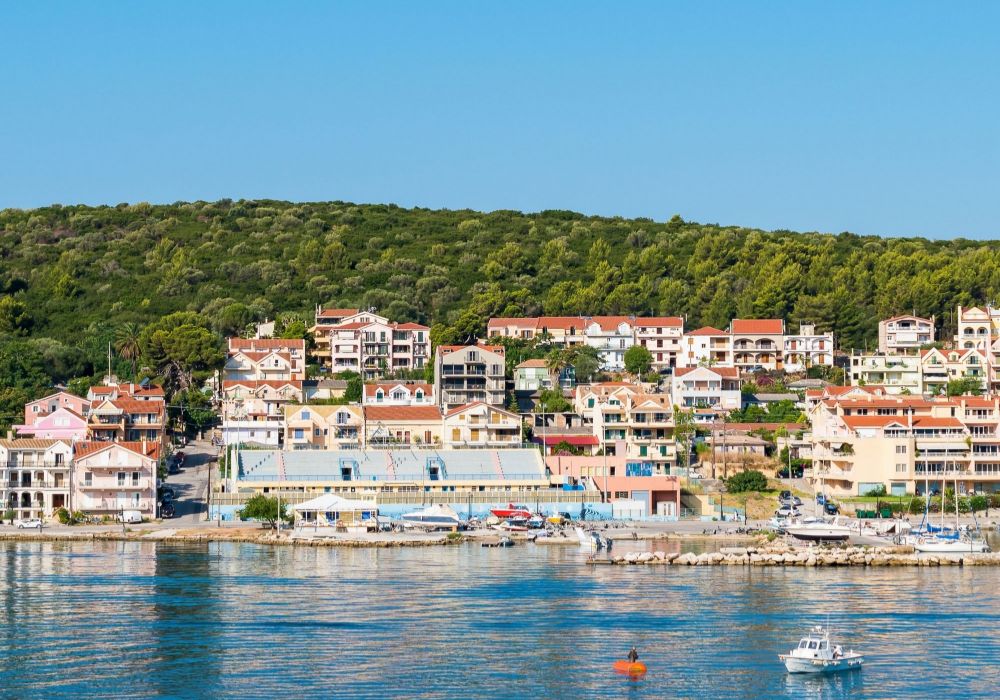 Argostoli is a picturesque town built on the hills around the lagoon of Koutavos and its natural large port. It was almost rebuilt after the devastating earthquake of 1953. Some of the highlights in Argostoli include:
the Korgialeneio Historical and Folklore Museum, 12 Ilia Zervou st, 8.30-15.30 ticket €3
the impressive Saint Theodore Circular Lighthouse
Where to Stay in Argostoli (My Pick!): Panorama Fanari Studios and Apartments (Doubles from €85), a fully equipped apartment 9 minutes walk from the beach with beautiful views of Argostoli Bay and Lixouri Town.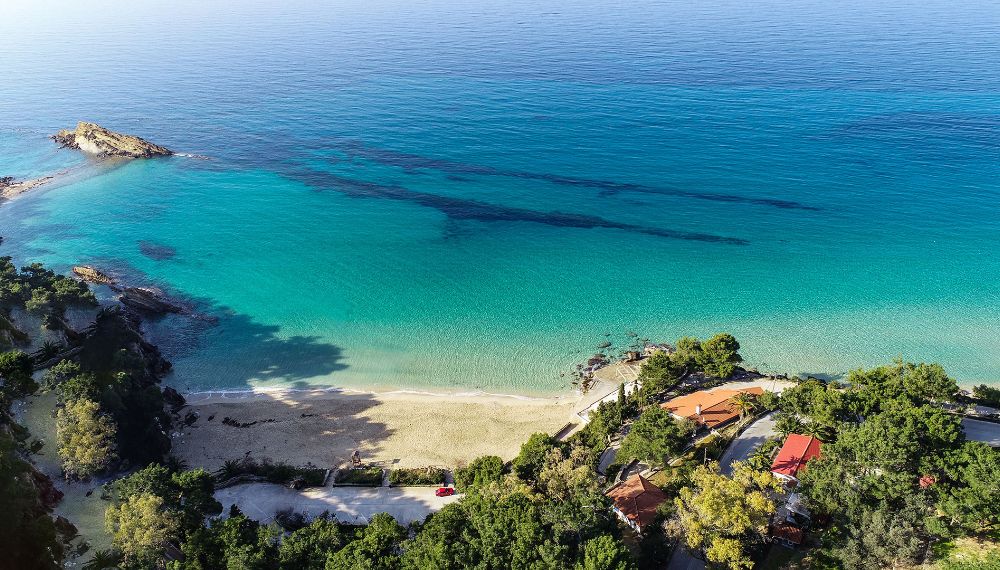 Lassi, the beach suburb of Argostoli
Just about a mile far from Argostoli is Lassi, a beautiful sandy beach village with a lively atmosphere and organized tourism. Lassi is a great base to explore Kefalonia. The resort is spread out, with many bars, taverns, and small coves for your swim.
Do you love Scuba Diving? If yes, take the 10-minute boat ride from Lassi to Blue Canyon, an underwater network of small caves of bright coral and anemones. This area is best for advanced divers.
Where to Stay in Lassi (My pick!): Niko Studios (Doubles from €71), nicely decorated rooms with terraces that overlook the sea and are within walking distance of restaurants and bars.
Lixouri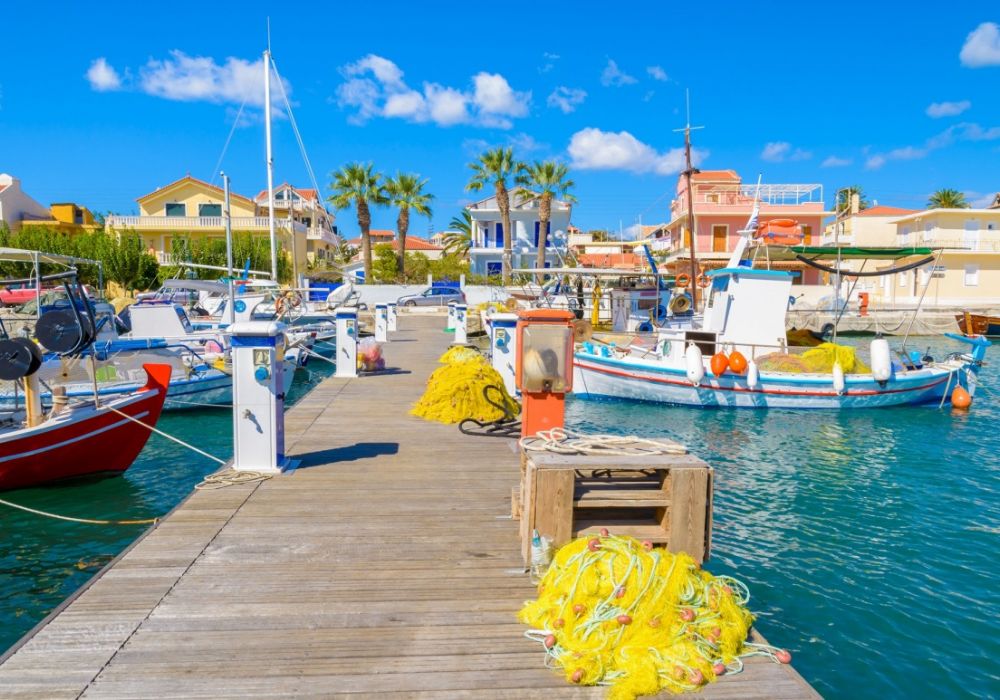 Take the small boat from Argostoli to the traditional Lixouri, the second largest village in Kefalonia. Visit the Library, housed in the mansion of the Typhaldes with books and gospels from the 10th century. If you are looking for taverns with traditional flavors and fresh seafood taverns go to Yialos and Drosos.
Among the most famous beaches in the area of Lixouri is Xi with orange clay sand and Vatsas, a lovely sandy beach, with a river joining its waters.
Where to stay in Lixouri (My Pick!): Dionisos Suites (Doubles from €99), a new property, with a beautiful view and a pool for every room.
You are reading "Best Things to Do in Kefalonia, Greece".
Agios Gerasimos Monastery
Agios Gerasimos Monastery (nunnery), built in 1560, is an impressive monument with russet domes and rose gardens in a beautiful countryside spot, just 11 km from Argostoli. You can visit the impressive frescoes and see inside its silver casket the remains of Saint Gerasimos. The 3 plane trees of the yard were planted in 1560 by Saint Gerasimos and all around there are dozens of maintained wells.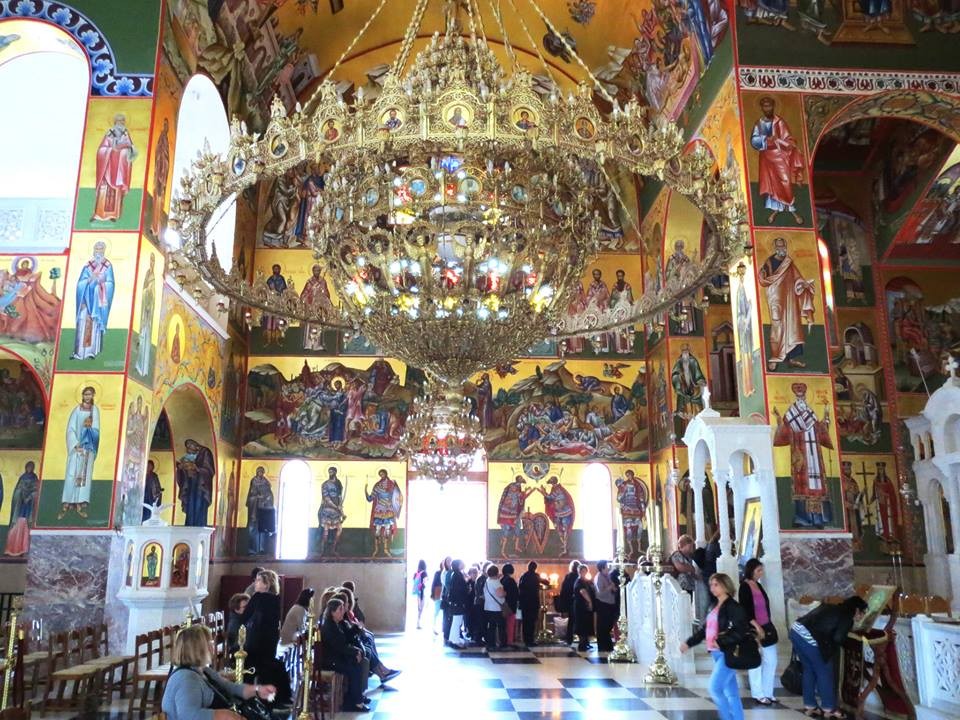 The monastery has rooms that you can book and stay overnight. You can call them at landlines +30 26710 86385 & +30 26710 86205 for a reservation. You can visit between 4 am – 13.00pm & 15.30pm – 21.00pm.
Close by is Robola Winery, should you want to mix a little wine tasting with your religious education. Wine tasting is between Monday – Friday 07.00 am – 15.00 pm.
You are reading "Fun Things to Do in Kefalonia, Greece".
Enjoy the main Beach Resorts in Kefalonia
Assos Village & Myrtos Beach
In the northern part of Kefalonia, built amphitheatrically on the pine trees and cypresses peninsula, is the wonderful Assos. Sparsely built with traditional color, in an impressive landscape, Assos enchants with its serenity and simplicity.
Where to Stay in Assos (My pick!): Assos View (Doubles from €135). Exceptional property with an amazing view and with an outdoor pool.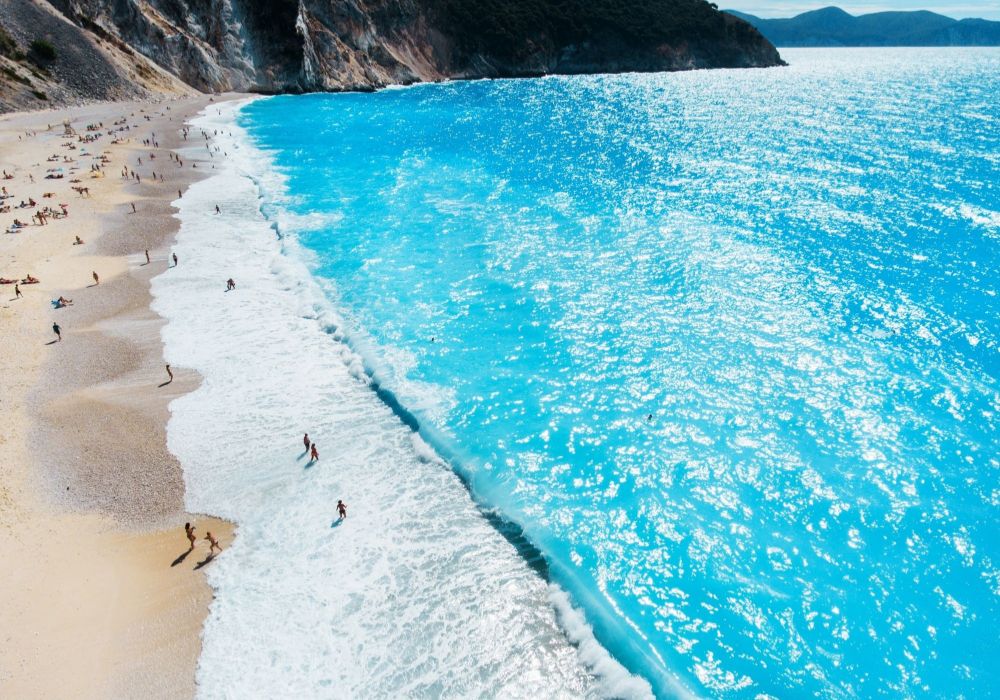 Apart from the beautiful waters of Assos itself, nearby is the blue flag white-pebble beach of mouth-dropping Myrtos, considered by many to be the best beach in the Mediterranean. That is why people from all over the world visit it. It is 30 kilometers from Argostoli and as Myrtos is west-facing it offers spectacular sunsets. There are no beach clubs or facilities here, so bring water, food, and an umbrella for the shade.
Fiskardo
Fiskardo is a picturesque and traditional village with little pebbly beaches in the northern part of Kefalonia 50 km from Argostoli. Fiskardo survived the devastating earthquake of 1953 and the majority of its buildings retain their traditional color that takes you back years. Imposing mansions, with elegant balconies, and old two-story houses.
A stroll through the bougainvillea-filled neighborhoods of Fiskardo is one of the best things to do on Kefalonia island. The village can be quite busy, especially around noon when all the groups arrive for lunch.
Where to Stay in Fiskardo (My Pick!): Anna Maria's, cozy studio in the heart of Fiscardo (Doubles from €90), is a finely decorated studio in the heart of Fiscardo, just 200 m from the beach.
You are reading "What to Do in Kefalonia, Greece".
Agia Efimia and Sami Seaside Villages
Agia Efimia is an elegant coastal village of Kefalonia (34 km from the Argostoli). Stroll in the picturesque port with sailing boats, yachts, and taverns with great traditional Greek food.
Where to Stay in Agia Efimia (My Pick!): Amarianos Villas (Villa from €306) is one of the best villas in Kefalonia, with every villa having a capacity of 6 persons.
At a distance of 9 km from Agia Efimia, you will also find the port village of Sami, Kefalonia's main port. Sami is served by regular ferries to and from Patras on the Greek mainland and is very close to the lively beach of Antisamos, a lush green bay with pine trees gliding from the mountain to the emerald and deep waters of the seashore. Antisamos is Captain Corelli's film beach but is not a quiet and peaceful beach like it is depicted in the movie. Expect a fully organized beach with bars and water sports.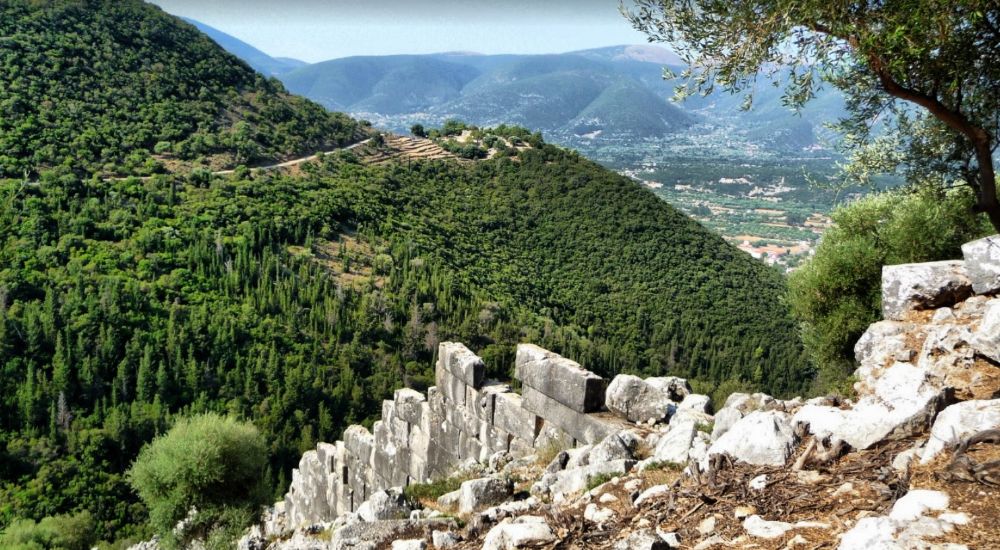 You can visit the ruins of the nearby Acropolis of Ancient Sami which offers beautiful sea views from its top.
Where to Stay in Sami (My Pick!): Maria's Apartments (Doubles from €40), are brightly furnished apartments overlooking the area around the sea, offering beautiful views.
Where can you Swim Naked in Kefalonia?
There are quite a few places to swim naked in Kefalonia. Kanali beach after Lourdas. The general rule is if you see naked people, then you can go naked too! People only get offended if you strip off in a populated textile area.
The best places for swimming naked are: the far end of Avithos (right), Trapezaki (left), Mounda (left), Sisia Beach but you have to go from the ruin on foot (15 min).
However, you should also be aware that the law in effect in Greece (1399/1983) states that nudism is only allowed within specified "nudist tourist resorts" founded and certified with NTO permits for that purpose. Public nudity is an offense punishable by up to 2 years of jail time and more. There are several "well-known" spots around the island that are considered nudist beaches. However, none is designated as such officially by law. Authorities have been looking the other way for decades in such places. So go naked at your own risk 🙂
Explore the Impressive Caves: Melissani & Drogarati
Melissani Lake Cavern is located in Karavomylos, 2 km from Sami. It was discovered in 1951 when its roof collapsed and people saw its idyllic pond with turquoise waters.
They have discovered ancient findings depicting the god Pan and many nymphs inside the cave. According to legend, at this point, Melissanthi, one of the nymphs, drowned after being rejected by the mythical god (ancient Greek drama!).
The cave is open from May to October and you get into a small boat for a ride around it. I suggest you go when the cave is at its most beautiful which is during the midday hours when the sun is still high in the sky.
The descent to the cave takes about 10 minutes. The boat ride takes about 15 minutes. Ticket prices: €7. Opening hours: 9.00-18.00 (for more information call +30 26740 22997).
Drogarati, or else the golden stalagmites and stalactites cave, is the only cave in Greece where concerts are organized. Its main hall is very large with dimensions of 65×45 meters and a height of about 20 meters and the acoustics of the space is unique!
The Drogarati cave was discovered about 300 years ago when a strong earthquake knocked down part of its roof and this is how you get into the cave. The entrance is located in Chaliotata, in the area of Sami, and can be visited daily from 09:00-17:00. Tickets: €4
You are reading "Top Things to Do in Kefalonia, Greece".
Hike Aenos Mt.
The slopes of Kefalonia are covered by pines, cypresses, and olive trees and on the top of Mount Aenos, you can find the Kefalonian fir. As you hike Aenos, you will also see the vines from which Robola, the white wine of Kefalonia, is produced.
With its peak at 1,628 meters, Aenos Mt. is ideal for hiking on trails of varying degrees of difficulty. Expect views of electric-blue bays and forested coastline from its highest points, and of neighboring Ithaca, Zakynthos, and Lefkada on a clear day.
The national park is ideal for hiking and mountain biking, and bird watchers might spot woodpeckers, eagles, vultures, and hawks.
Find the Aenos Trails here.
Look out for Caretta Caretta Nesting Beaches
The loggerhead sea turtle Caretta Caretta is found in the Mediterranean and one of its nesting places is in Kefalonia. You will often see protected areas on sandy beaches with warning signs not to disturb the area as there are turtle eggs under the sand. Inside the sand, the tiny baby turtles are growing old enough to crack their egg and walk to the sea, where they will live the rest of their lives. The main nesting beaches are Katelios, Mounda, Megali Ammos, and Makris Gialos.
If you would like to see adult Caretta Caretta turtles go to Argostoli, at the Koutavos Lagoon near the Devosetou Bridge and the pier, where they often follow the fishing boats searching for food.
How Much Time Do I Need for Kefalonia?
A week is too little to explore the island in-depth, as it is quite a large island, but you can see the highlights in one week. To best get around the island, you will need a car. There are public buses but they don't go everywhere so you only get to visit just one place at a time.
When is Best to Go to Kefalonia
The warmest time to go to Kefalonia island is between May and October and even in November, as the islands have calm winters. July and August are the busiest and hottest months for the Ionian Islands.
A great time to go to Kefalonia is during Easter, with magnificent Greek Orthodox celebrations, a lot of food, wine, and nightlife as well (usually falling in April). The sea will be cold to swim in but hiking will be at its best as the whole island will be covered in wildflowers. If you would like to know more about Greek Easter read my related post about Greek Orthodox Easter on Tinos Island.
Easter in the Ionian is very popular between Greeks so you better check for availability early on Booking.com.
Ionian Islands Hopping
Traveling between the Ionian Islands is more complicated than some of the other Greek island groups. Another tricky factor is that the Ionian islands are more connected by ferries to the mainland rather than between them.
Kefalonia is connected by ferry to Zakynthos, Ithaca, and Lefkada and you can book the tickets locally. See here the ferry routes timetable.
Argostoli: The port serves daily sailings to Lixouri
Pessada: The port to travel to Zakynthos
Sami: The port to go to Patra, Ithaca, Astakos, Corfu, and Italy.
Poros: Ferries from Kyllini arrive at Poros.
Fiskardo: It serves ferries to Lefkada during the summer.
Top Things to Do in Kefalonia (Greece)
Visit the main villages of Argostoli and Lixouri
Discover the beautiful beach resorts of Assos, Lassi, Fiskardo
Go to the Sacred Monastery of Agios Gerasimos
Explore the impressive caves of Melissani & Drogorati
Swim in the spectacular Myrtos beach
Explore Sami port and Agia Efimia seaside village
Hike/ bird watching on Mount Aenos
Look out for Caretta Caretta Nesting Beaches
Wine Tasting of Robola, the famous white wine of Kefalonia
Related Articles on the Ionian Islands:
Corfu Island: Best Things to Do
10 Best Things to do in Ithaca Greece
Kythera Island: Top Things to Do
My Favorite Travel Resources for Greece
More Reading about Greece