The well-hidden Nemouta Waterfalls in Ancient Olympia are stunningly beautiful and impressive and when you get there you will think you are in a real paradise!
Nemouta waterfalls are surrounded by a dense forest with plane and fruit trees, all its paths covered with ferns and flowers. As you hike the trails, you come across small streams all deriving from the Erymanthos River flowing nearby. There are 30 waterfalls in total in the two nearby canyons, all spectacular to visit.
Note: Nemouta Waterfalls trails are not an easy stroll. Be prepared to cross streams and get potentially wet, and is best if you have experience in hiking and good physical condition.
I hope this post will inspire you to visit the remarkable Nemouta Waterfalls on your next Ancient Olympia trip to Greece.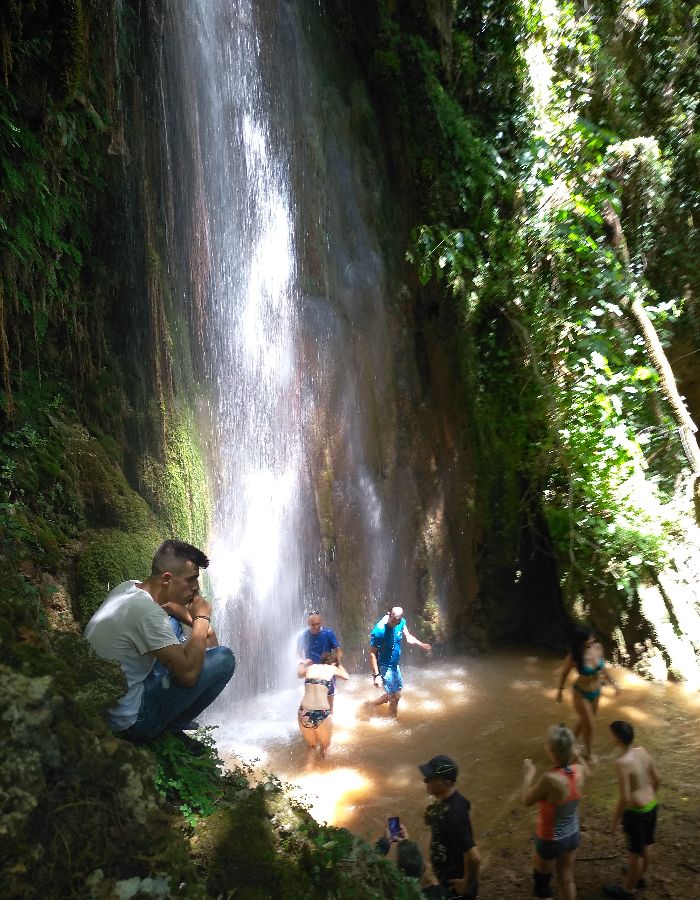 Ancient Olympia or the Archaeological Site of Olympia is a UNESCO-listed World Heritage, famous as the site of the birth of the Olympic Games. Olympia is located in the Ilia prefecture of western Peloponnese 289 km (180 mi) from Athens. 65 km to the southeast is located the UNESCO masterpiece of the Temple of Apollo Epicurius in Bassae.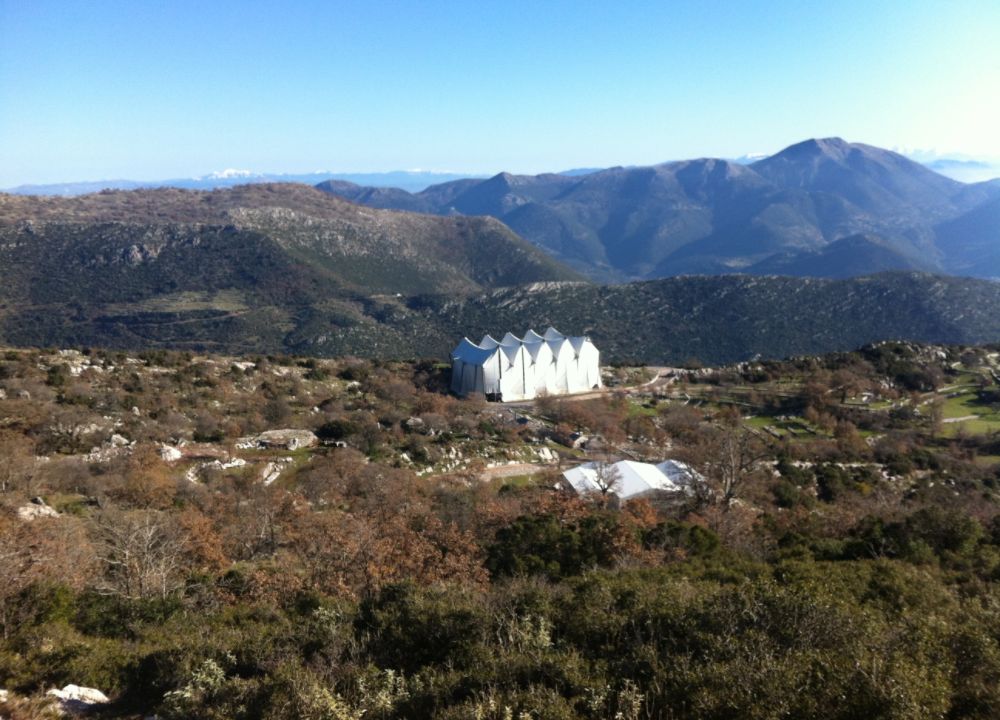 Around the area of Ancient Olympia lies one of the most beautiful and fertile areas in Greece. There are many traditional villages (Krestena, Zacharo, Skylountia), the unique Foloi oak forest, the 70 km-long sandy beaches of Kaiafas, lakes, and rivers.
Just 27 km from Ancient Olympia is Nemouta village and waterfalls, an extraordinary area, stunningly beautiful and wild.
*Some of the links below are affiliate links. That means I may make a commission if you click and buy. The commission comes at no additional cost to you.
How to Get to the Nemouta Waterfalls from Athens
There are public buses (KTEL) leaving from Kifisos Bus Station in Athens and going to the Nemouta area but it will take you forever as you will have to change buses and wait at every change.
I would suggest you better rent a car to get there, the national roads are great and you will find the area easily. A rental offers you the option to visit so many sites on your way to Ancient Olympia such as Ancient Corinth & Acrocorinth, Mycenae, Epidaurus, Nemea and the wineries, Dimitsana and Stemnitsa.
Nemouta Waterfalls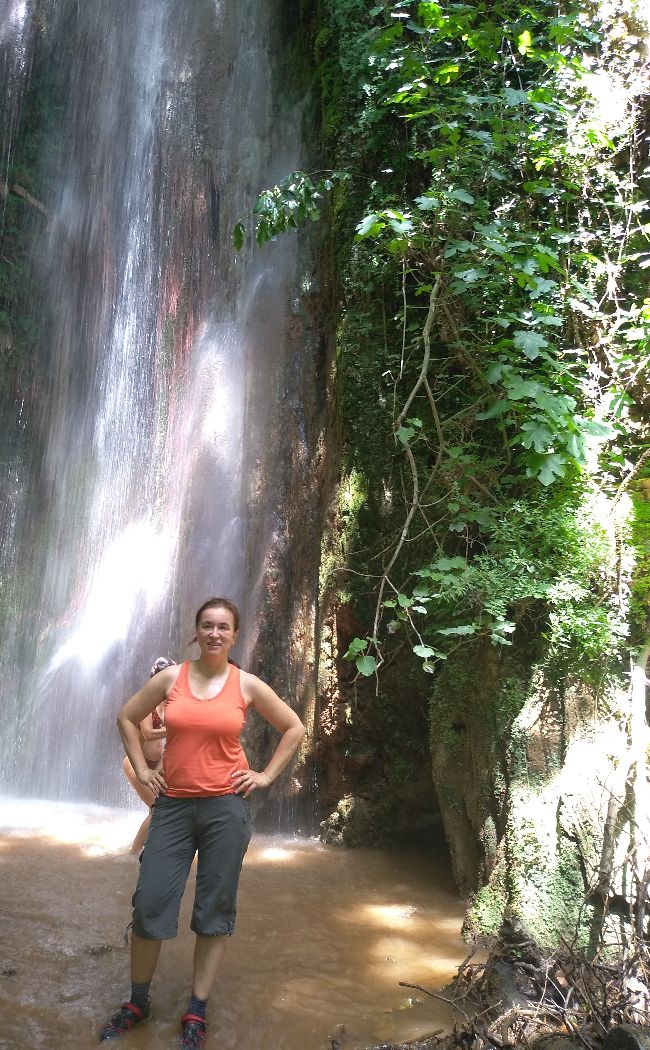 The Nemouta waterfalls are located on Mount Erymanthos inside the gorge of Haratsariou. The whole scenery is wild, and gorgeous and will remind you of a tropical forest.
Nemouta waterfalls are not signposted trails, so I recommend you make early arrangements with a local guide as you will not be able to find them by yourself easily.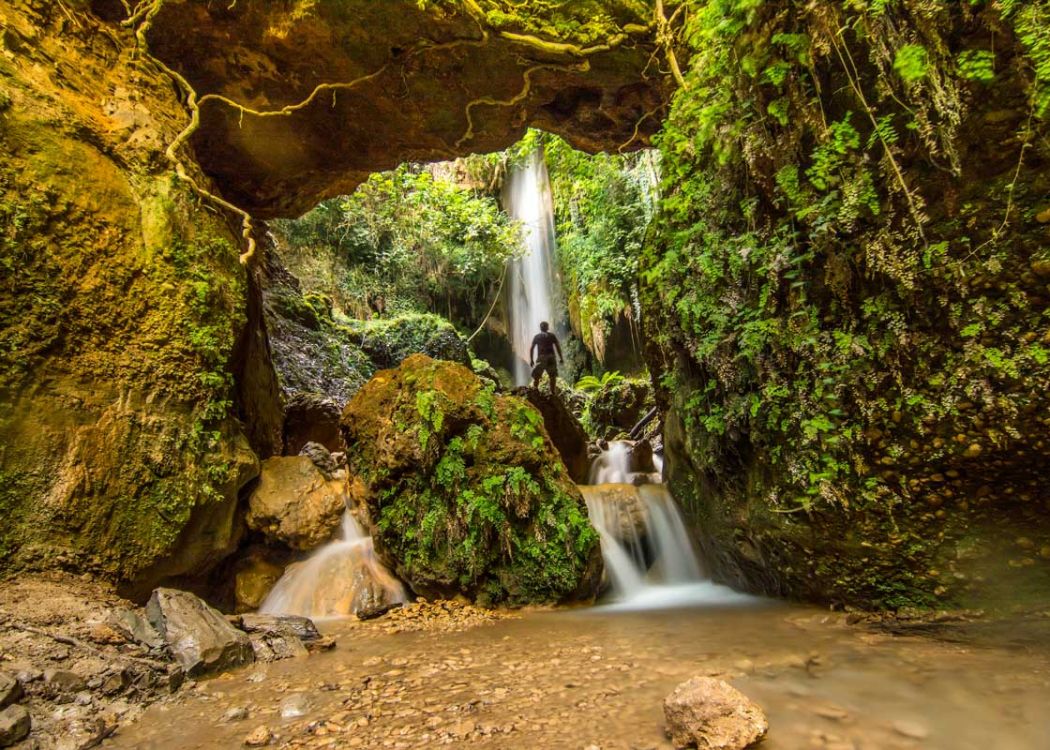 If you are a very adventurous person and decide that you will try to find the waterfalls by yourself (at least don't go alone!) then you need a great Garmin Rugged Outdoor Watch with GPS, Glonass, and Galileo, Heart Rate Monitoring, and a 3-Axis Compass. You can check the Garmin Watch here.
Start of the trail: Nemouta Iron Bridge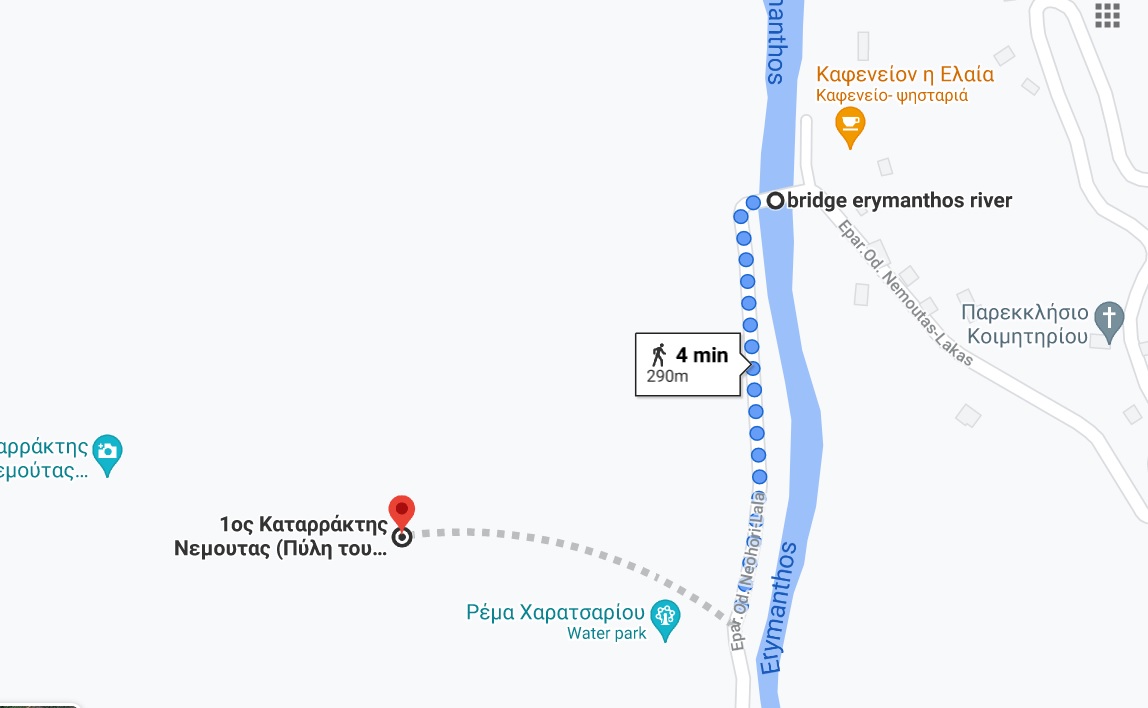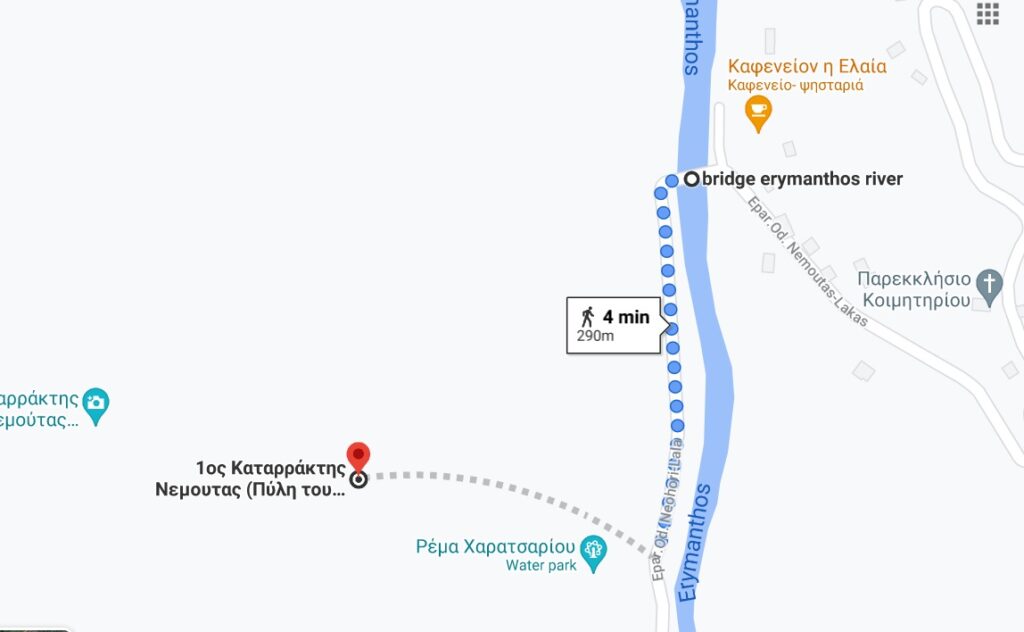 The start of the trail is at an old but beautiful iron bridge over the Erymanthos River (GPS 37.700663, 21.808754). On one part of the bridge, there is an info/canteen kiosk and some free parking space and on the other, there are 3-4 country houses with one very basic tavern. It is worth strolling the place, a really charming and Greek authentic place.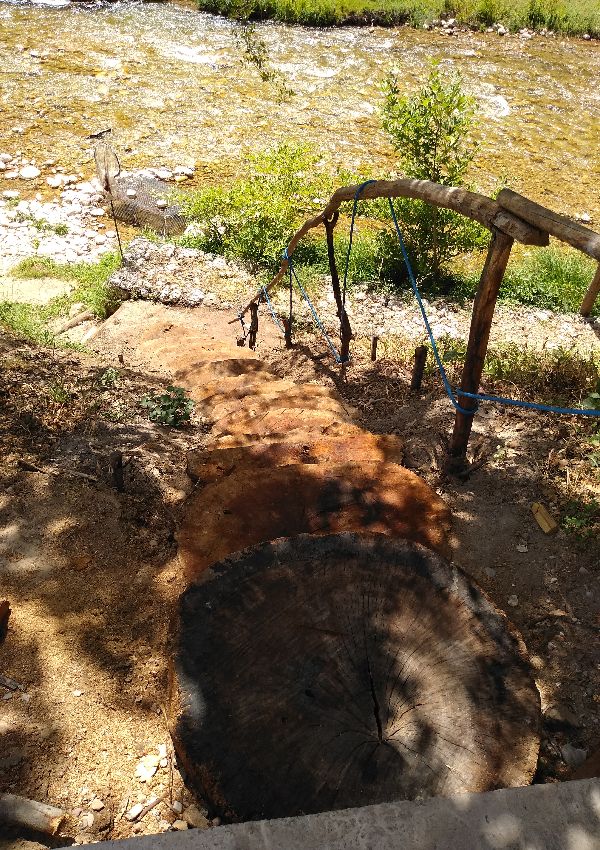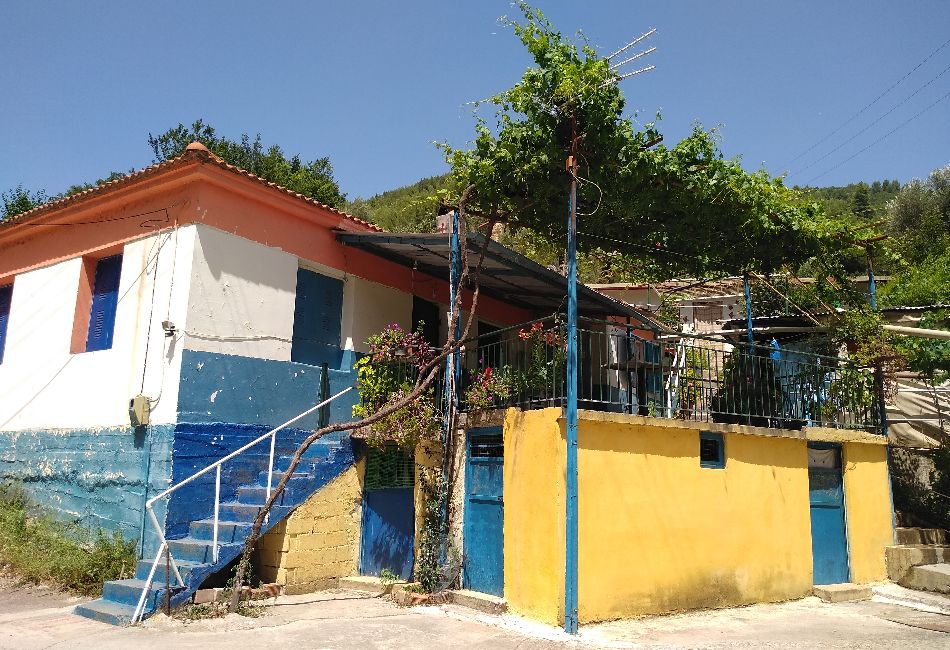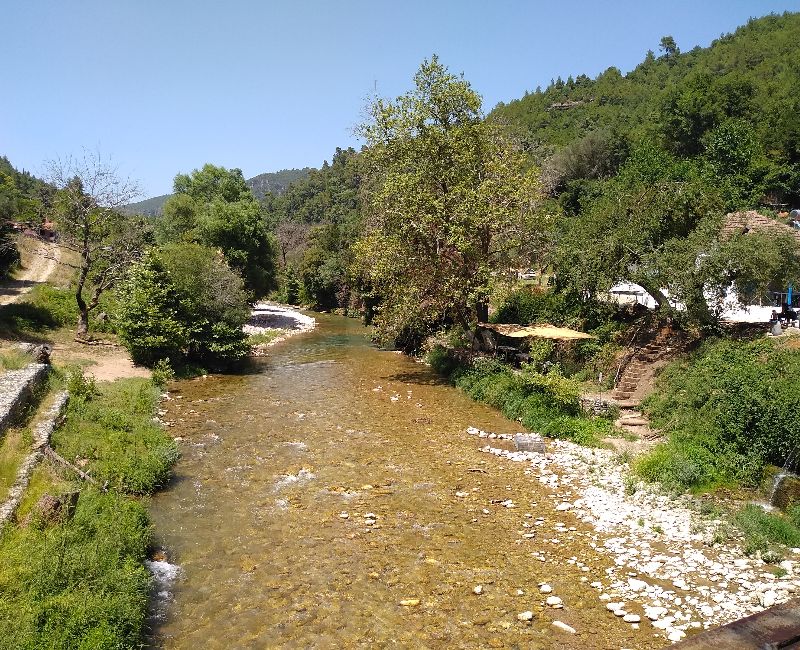 From the bridge, the first impressive Nemouta waterfalls are only 290 m. We started walking the dirt road south towards the "tropical" forest. When we reached the uphill we turned right towards the stream.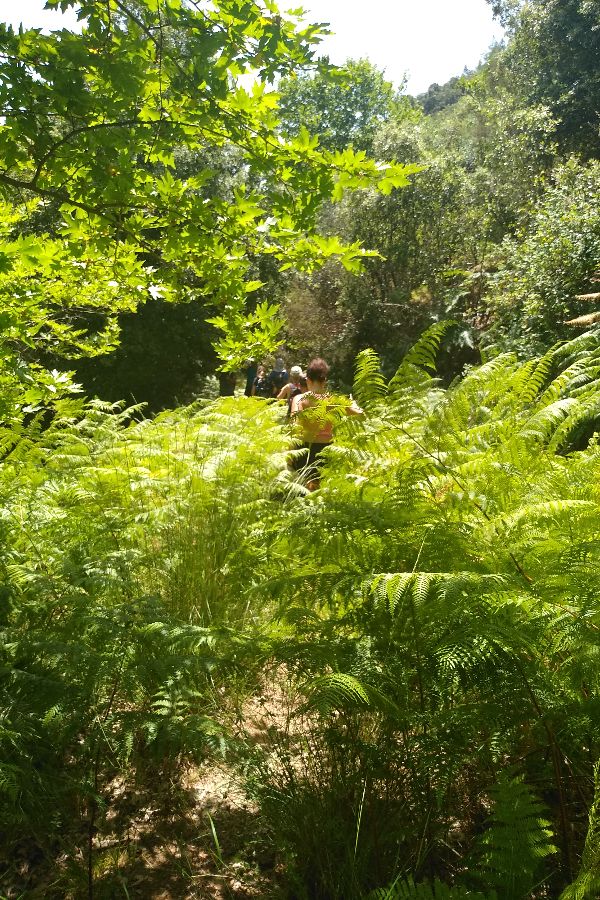 We kept having the stream on our right side and as we were going deeper into the forest, we could hear the characteristic sound of a waterfall.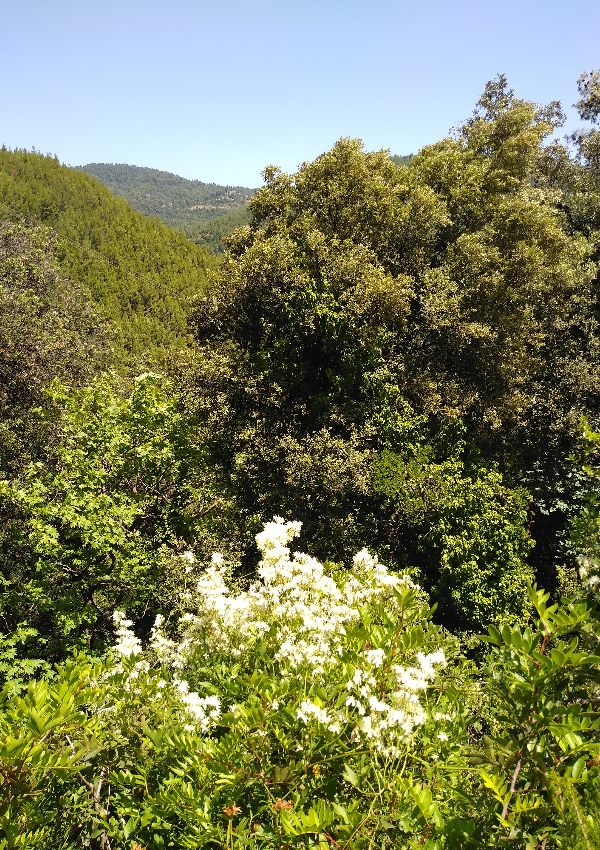 And as I was walking the trail I found myself in front of very impressive scenery. This waterfall is called the "Gate of Heaven"!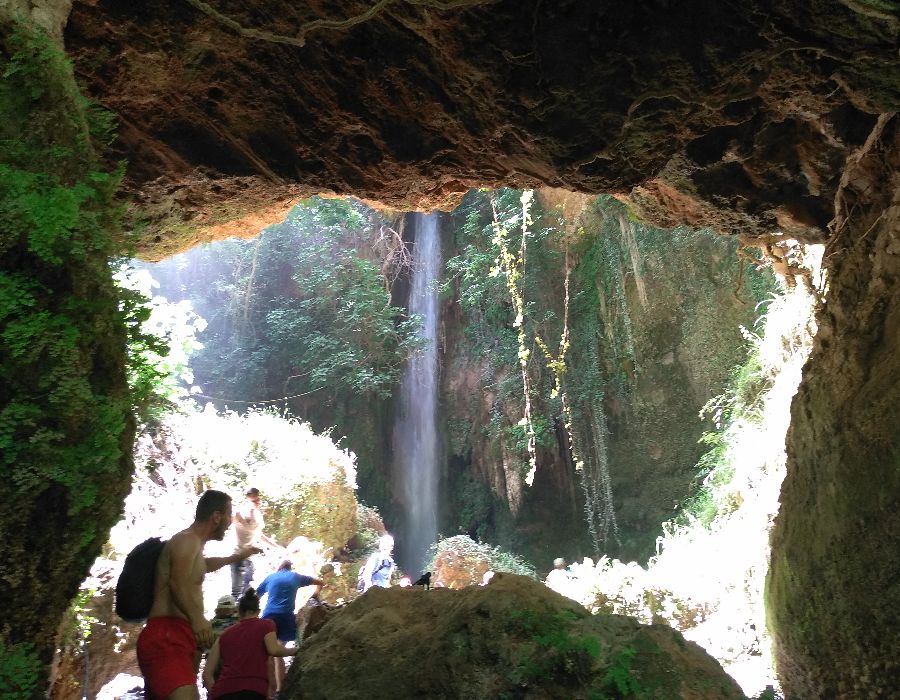 We visited the waterfall in late June and the water was still kind of cold. But as the water was falling upon you from a height, the sensation was both amazing and exhilarating. You could feel the weight of the water on your bones!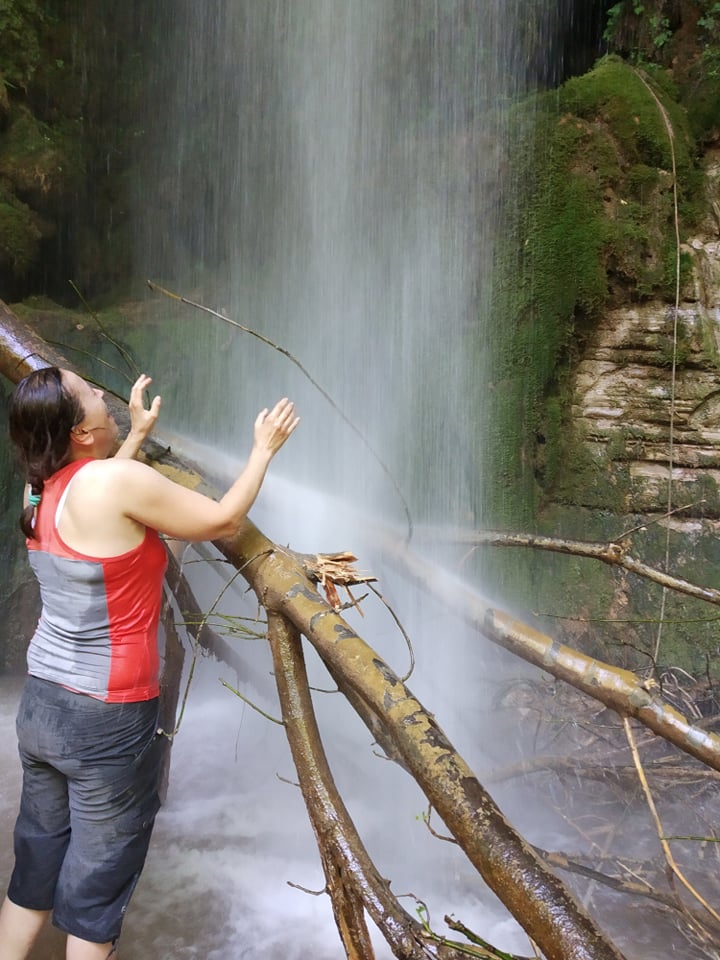 Your guide can take you to the other two waterfalls which are located about 5-6 km away. The trail is really fantastic, not so demanding but certainly, it is not for people with no hiking experience.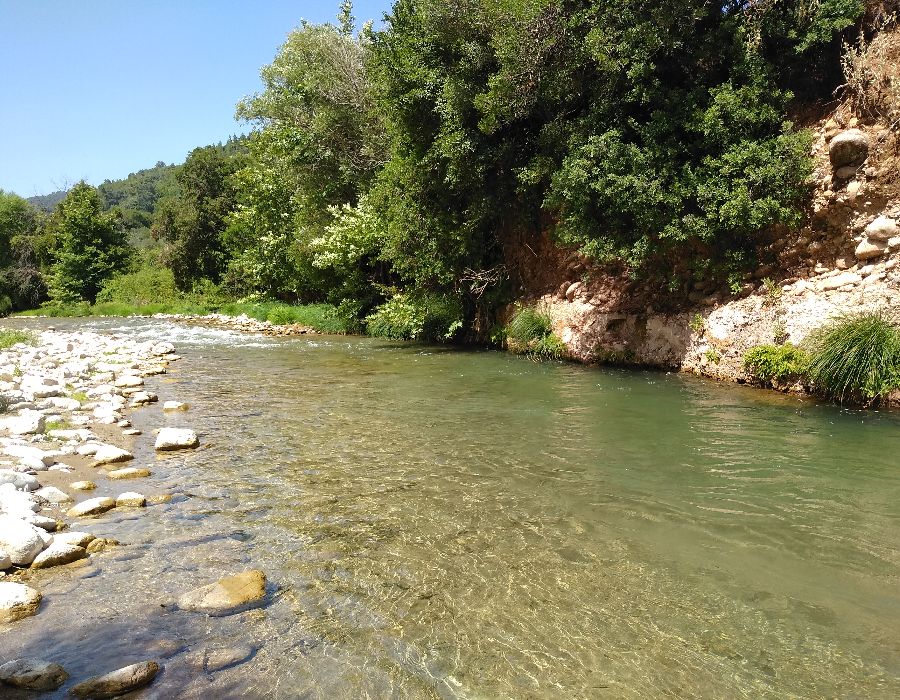 Afterward, we headed back to Erymanthus River for a well-deserved dive into its incredibly clear and shallow waters. It was not exactly swimming as there was a current but it was refreshing after the heat of the day.
Nemouta Village and Greek Lunch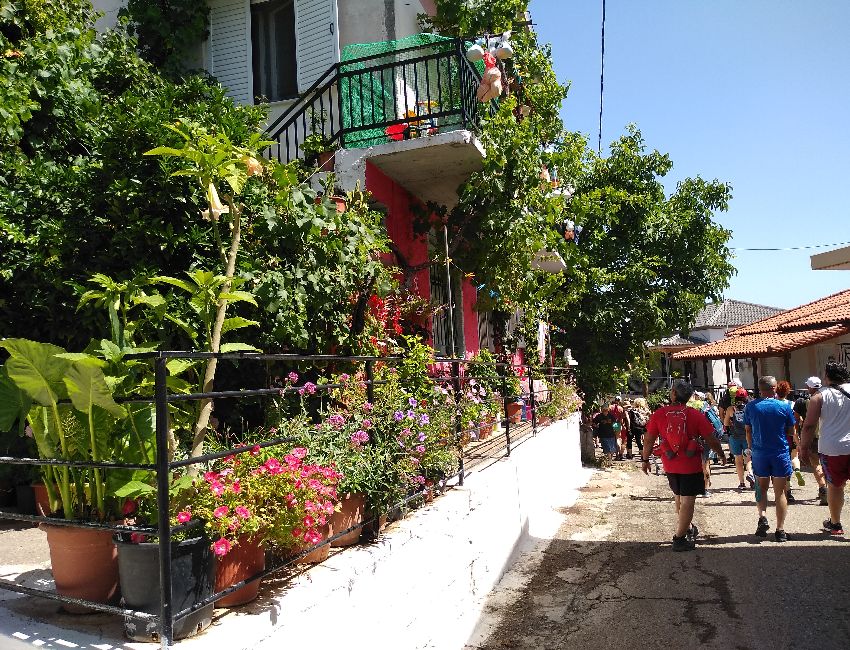 We were transported with jeeps from Erymanthos to the picturesque Nemouta village for our very late lunch. And thank goodness for that as everyone was starving.
We chose a tavern on the tiny main Nemouta square where we had traditional Greek food served in the usual Greek way: many small dishes with appetizers and main courses and streams of beer and wine!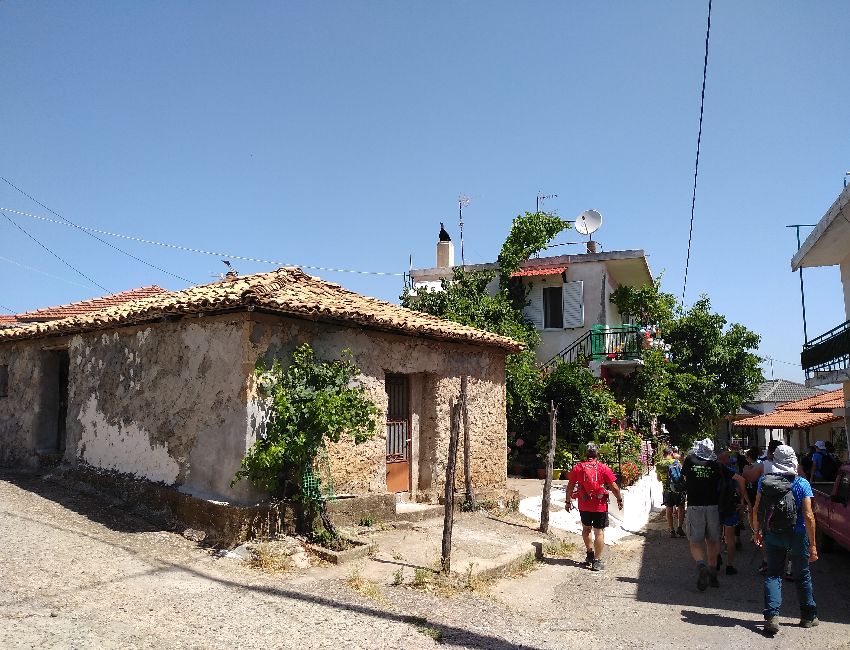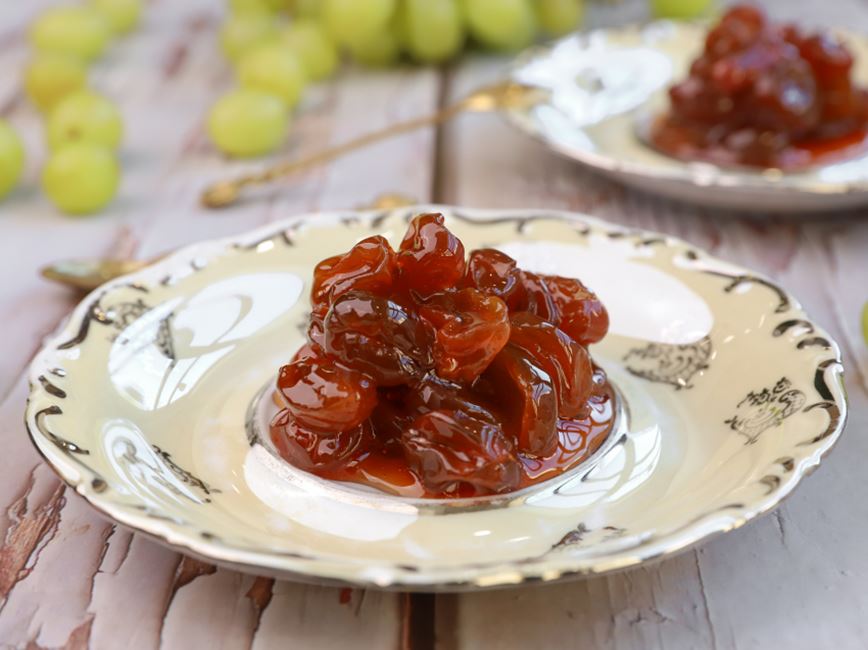 After our meal, we were treated to a local delicacy, a syrupy sweet made of local grapes. Very yummy, wish I could have bought a full jar of it!
Where is Best To Stay in Nemouta?
A good base for your adventures is modern Olympia Village which is fine for a couple of nights. The best hotel to stay in Olympia is Hotel Europa Olympia, a 4-star hotel with exceptional service, a swimming pool, and a great garden.
If you are looking for a more budget option Stadium Rooms will tick all the hospitality boxes!
You can also choose a seaside village for your stay to combine the sea and forests. The sea in the area is called Kaiafas and is just an endless line of fine sand and strange white flowers.
A must-visit is the Kaiafas Lake and spa, just for a stroll around the spa center in the area. The natural thermal springs and spas come from the cave of the "Nymphs of Anigrides". The cave, according to mythology, is where Dardanos, the ancestors of the Trojans were born.
The water temperature is 32 C
Ingredients: C1 – Na – K – HS – Mineral – Hypotonic
Appropriate for: Chronic Rheumatism, Myositis, Chronic Degenerative results of injuries, Neuralgia, Atypic Gynecological Inflammation
Operates between June to October from 07:15 a.m. until 15:00 p.m. In the months of August and September, it is open in the afternoon, until 19:30 p.m
Contact number: ( + 30 ) 26250 31719
Plan My Trip to Greece
Do you need a custom travel itinerary for Greece? Are you traveling solo, with your family or your friends and you need a tailor-made multi-day tour or a transfer within Greece?
If yes, please visit my dedicated Plan My Trip Page for a free itinerary!
Where is your dream summer destination? Would you go to Nemouta Waterfalls?
I'd love to hear about where you're spending your vacation this year, especially if you have any exciting travel plans! There are so many things to do in Ancient Olympia. I hope that you get the chance to try as many as possible. Till next time, Evgenia❤️
My Most Popular Posts
Essential Greek Travel Info
'Hello' and 'Thank You' in Greek: "Ya sou" and "Efharisto"
Booking.com: I use Booking.com because I can get the best deals on both hotels and apartments, free cancellations, and great prices!
Find Long-Term Rentals in Greece: You will find the best prices in Flatio
FerryScanner to book ferries to the Greek Islands
Athens Metro Website (timetables and ticket info)
Get Your Guide: For all your day or multi-day tours and city guide needs, I use Get Your Guide
Emergency Numbers Anywhere in Greece: AMBULANCE 166 – FIRE 199 – POLICE 100– EMERGENCY NUMBER 112
All rights reserved © Travel the Greek Way. Republishing this article and/or any of its contents (photographs, text, links) is strictly prohibited.
Please follow and like us: