Agios Ioannis in Pelion is a popular seaside village on the eastern side of the lush-green Pelion mountain. It is a modestly organized village with a few excellent hotels and apartments.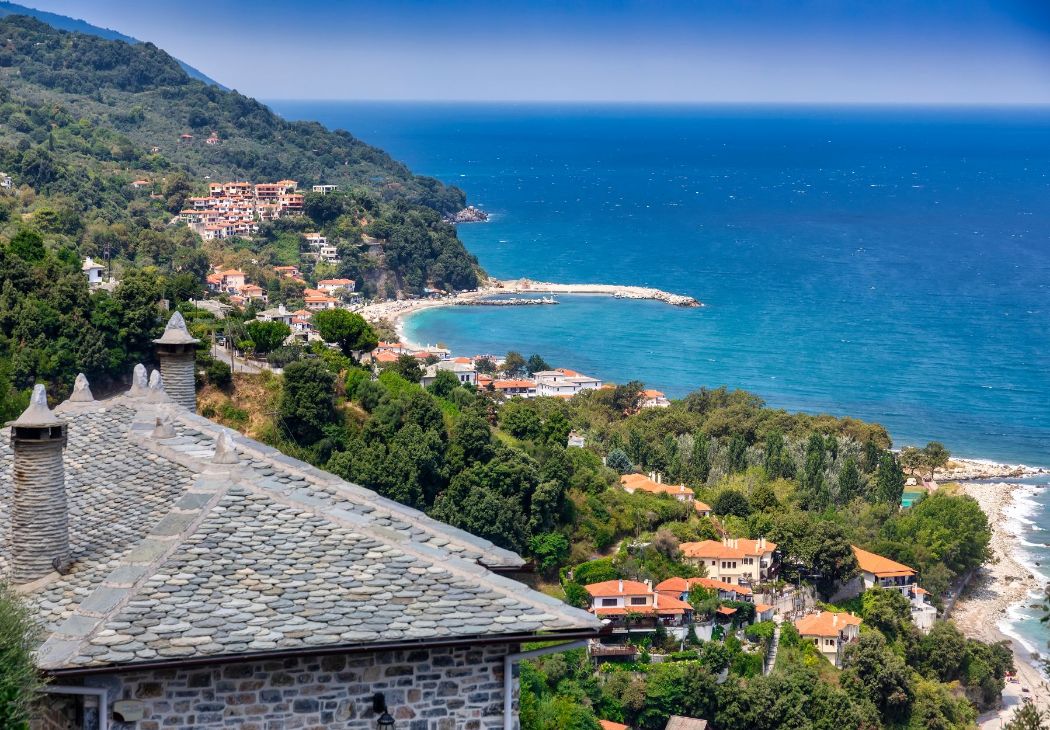 On its beautiful coast, a series of traditional fish taverns, cafes, and small tourist shops offer their goods for lucky travelers and visitors.
Agios Ioannis is spread around a small bay and has traditional houses with brick or stone roofs inside a lush green natural environment. You may wonder where exactly Agios Ioannis in Pelion Mt is and why should you go there. I will tell you all about Pelion, which is, by the way, my favorite place in the whole of Greece!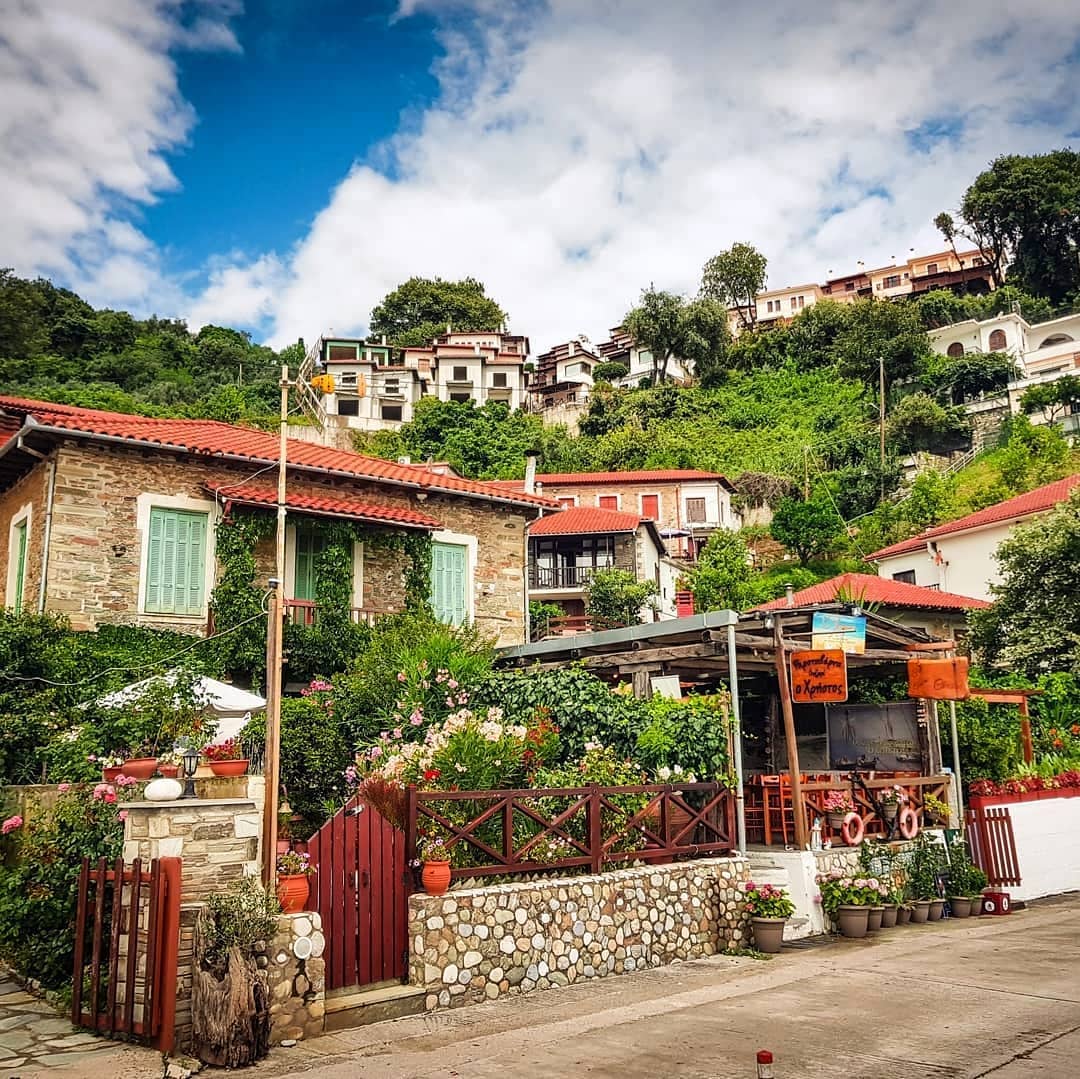 This travel guide includes:
Basic information on Pelion Mt
Where Best to Stay in Agios Ioannis
How to get to Agios Ioannis
Quick tips about visiting Pelion and the village
Things to do in Agios Ioannis in Pelion
*Some of the links below are affiliate links. That means I may make a commission if you click and buy. The commission comes at no additional cost to you.
Things to Do in Agios Ioannis in Pelion
Swim in Agios Ioannis 3 Stunning Beaches
Agios Ioannis, an organized and awarded with a blue flag beach, is one of the most popular beaches in the area, with golden sand, white pebbles, and crystal clear waters. I always stroll to the end of the beach where you will find its small port and a beautiful spot to enjoy the sunrise.
A great tour you can book in Agios Ioannis is to travel by boat to the underwater caves of the area.
If you pass by the Agios Ioannis port you get to the second and my favorite beach, Plaka. Here you will enjoy the sea with a deep forest background and if you get thirsty there is a small stream with fresh, drinkable water. You don't need to bring an umbrella as the forest behind you offers a lot of shade. Plaka is one of the best beaches in Greece with crystal clear turquoise waters.
You will find the beautiful Papa Nero beach within walking distance from Agios Ioannis and on the other side from Plaka Beach. It is a unique set of golden sand, crystal clear Aegean waters, and a lush green landscape, as is most of Pelion. The beach is organized with umbrellas and sunbeds, and small tavernas along the coast offer good seafood snacks.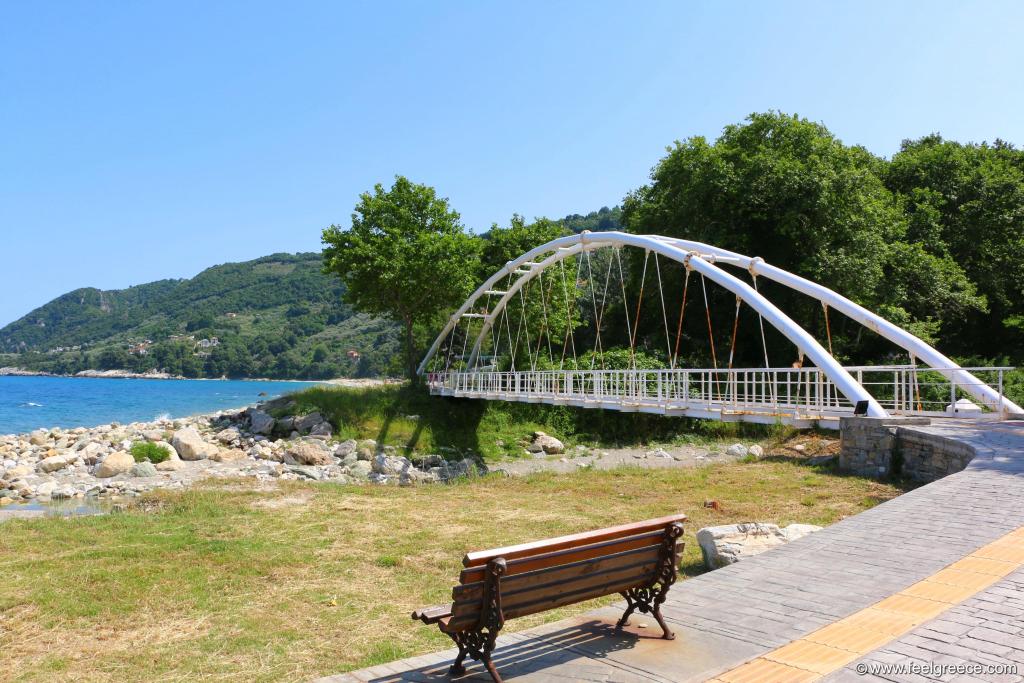 On your way to Papa Nero from Agios Ioannis in Pelion – a 15-minute walk max – you will cross an iron bridge with a small river underneath it. A bit towards the Papa Nero beach you will also find the large organized camping of Papa Nero.
Visit the Churches and Monasteries of Agios Ioannis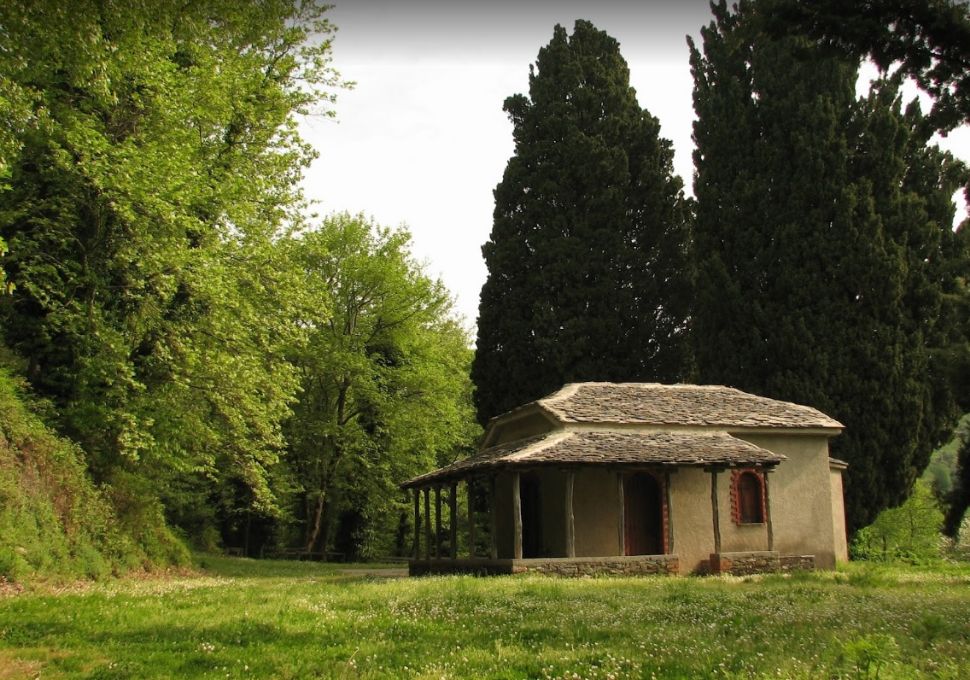 Right next to the camping in Papa Nero and under the trees, you will find the small church of Agios Ioannis the Baptist. If you would like to discover the uphill area around Agios Ioannis village, there are a few quite old chapels and churches that you can explore and visit if they are open.
Some of the most significant churches are:
Chapel St. John the Theologian
Church of Agios Georgios
Church of Profitis Ilias
Explore the Nearby Pelion Villages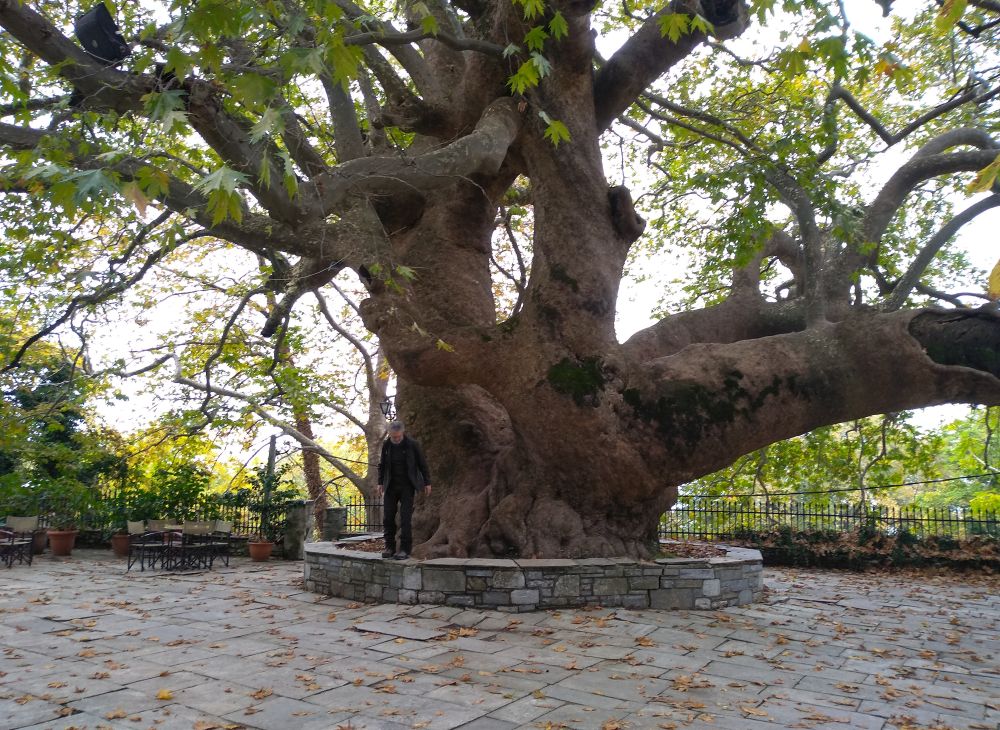 From Agios Ioannis village you can visit the nearby villages and discover their historical sites and natural beauties. The Folklore Museum in Agios Dimitrios has an amazing collection of folk items if you love tradition (I absolutely love it!).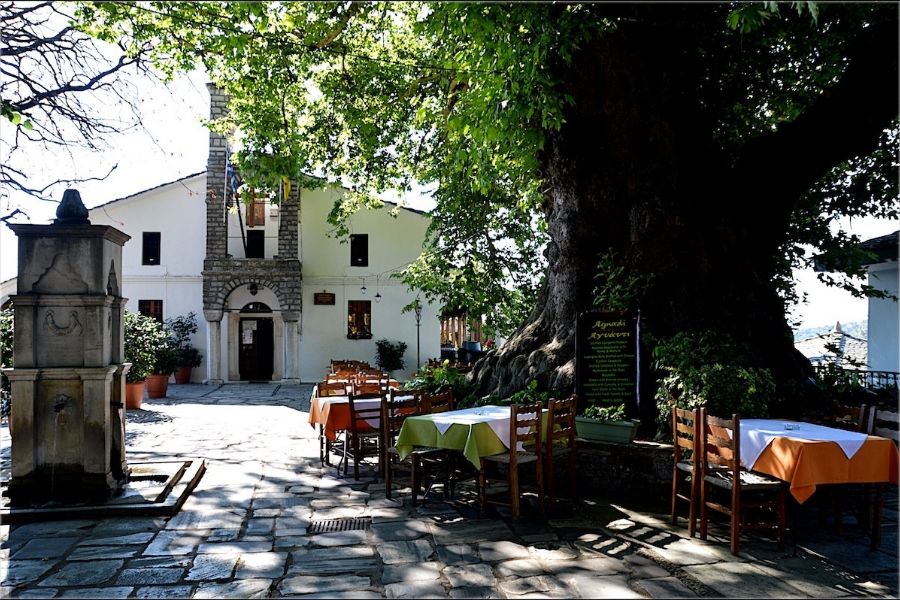 Tsagarada, which is 8,5 km away from Agios Ioannis, has a plethora of things to do and see. Go to the 1000-year-old plane, the gorgeous Mylopotamos beach, or have a memorable meal at Agnanti tavern. Go to Mouresi and hike to the waterfalls, stroll gorgeous historical Zagora with beautiful Chorefto beach.
Hike Agios Ioannis
If you love hiking, you should try the circular trails of Damouchari, Mouresi, and Kissos-Agios Ioannis. Find details of the trail and many other trails on Pelion Mt here.
Pelion Mt in Greece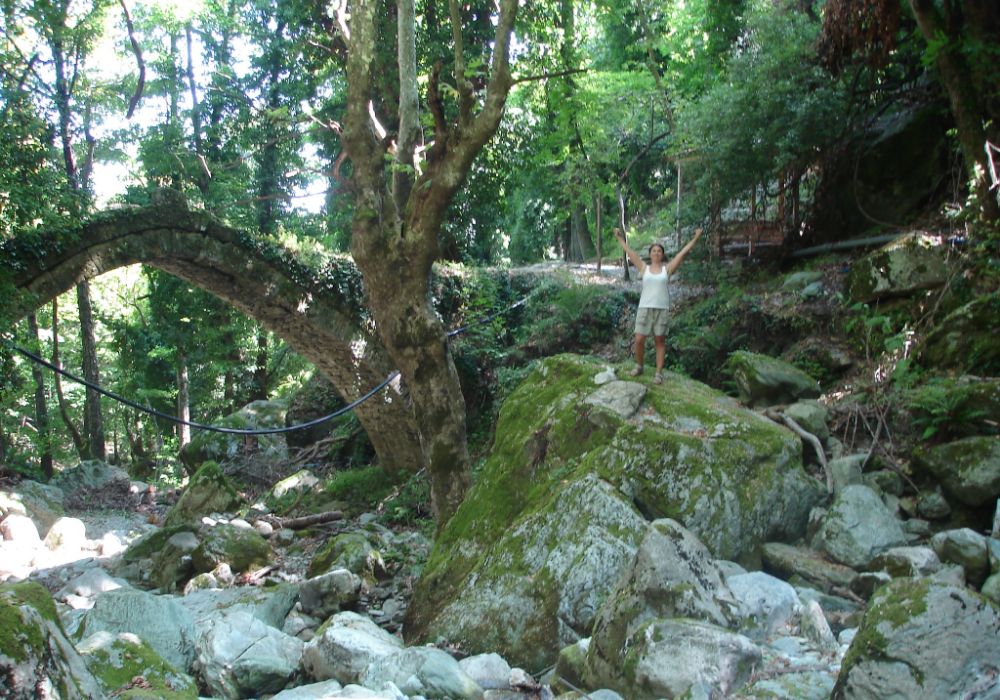 Pelion is a deeply forested peninsula and mountain with 28 traditional, beautiful villages full of old stone mansions, trees laden with pears, apples, chestnuts, planes, streams, and centuries-old bridges.
The impressive mountain is also surrounded by endless golden sandy beaches, from its two sides, the Pagasetic Gulf on its west and the Aegean Sea on its east.
Pelion Mountain is also known for its traditions, legends, seductive myths, and historical battles that took place in the Pelion region. Legendary creatures like the Centaurus, warriors, and mythical heroes walked or lived in it.
Pelion is a four-season destination in Greece: You can enjoy amazing summer vacations on its western, eastern, and southern sides of the mountain. In winter, you can have thrilling skiing moments at its unique ski resort in Agriolefkes.
All year round you can explore its numerous hiking opportunities and outdoors like cycling, horse riding, kayaking, and rock climbing.
If you love history, there are hundreds of monasteries, centuries-old churches, libraries, folklore, and religious museums.
Agios Ioannis offers no less to the lucky ones who visit the beautiful village.
Where Best to Stay in Agios Ioannis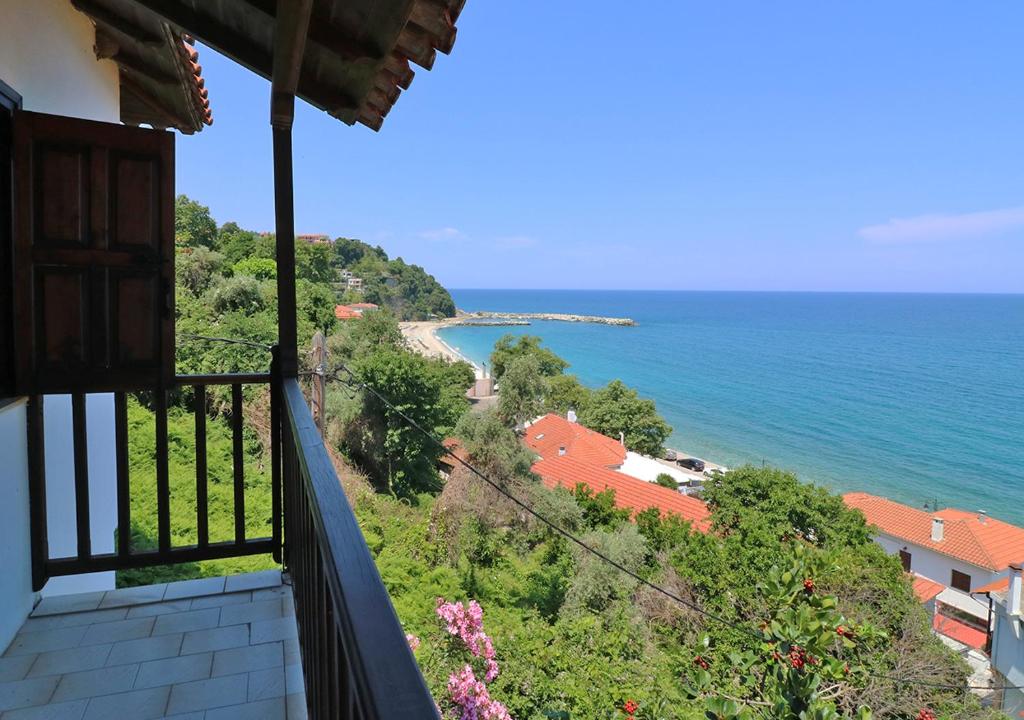 Kenta Beach Hotel is a beautiful, seafront property overlooking the main beach of Agios Ioannis. Another great hotel is Boutique Hotel Kentrikon & Bungalows, set on the hill of Agios Ioannis which offers amazing sea views.
You may also enjoy: What to do in Skopelos Greece
How to get to Agios Ioannis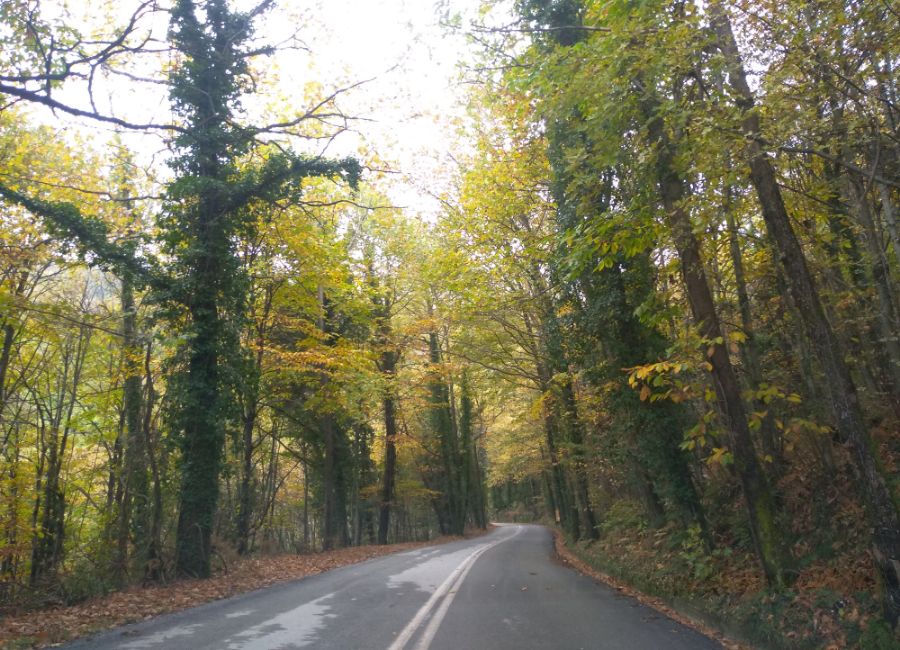 Pelion Mt is roughly in the middle of mainland Greece, so you can reach it from everywhere by car. It doesn't work as a day trip, and 2 days is too little if you are traveling from Athens.
Reaching Volos, the large town before you start your trip to Pelion, either from Athens or Thessaloniki is easy as it is connected through new highways (326 km north of Athens 3-4 hours of driving, and 206 km south of Thessaloniki 2-2,5 hours of driving).
However, Agios Ioannis is 55 km away from Volos town through a relatively narrow road with many turns. With the exception of summer, it can get foggy in some areas, so be prepared.
Here are the different ways to reach Agios Ioannis:
By car – The easiest way to reach Agios Ioannis in Pelion is definitely by car. This is because if you are traveling by bus, you will have to get to Volos and then take the bus that goes to Agios Ioannis which runs infrequently. We always book with Discover Cars and recommend them.
By KTEL buses (public) – Each region in Greece has its own website. As Pelion belongs to the Magnesia region you can find info for buses from Athens or Thessaloniki and also local buses connecting the villages here
By Tour – I have found this private tour of a great Greek company with new Mercedes cars leaving from Athens (they have free airport pick up and return!). Check out the 3-Day tour to Pelion here. This is the easiest and most convenient way to travel from the comfort of a new car.
Plan My Trip to Greece
Plan My Trip to Greece
Do you need a custom travel itinerary for Greece? Are you traveling solo, with your family or your friends and you need a tailor-made multi-day tour or a transfer within Greece?
If yes, please visit my dedicated Plan My Trip Page for a free itinerary!
Agios Ioannis Google Map
Get your interactive map of Agios Ioannis here, to drive to any of the places listed on our things to do in Agios Ioannis.
Quick Tips about Visiting Pelion and Agios Ioannis
You should spend at least 3-7 days in Pelion which will give you ample time to explore many of the villages both the mountainous and the seaside ones
Pelion village Damouchari was one of the 3 Greek locations where the Mamma Mia film was shot. Don't miss visiting the picturesque village and dancing at its tiny port the 'Dancing Queen'!
Every 24th of June the ancient folk custom of Klidonas Cledonas is celebrated in Agios Ioannis in a festive event
Mobile phone reception might be a bit difficult in the most mountainous areas
No need to book any restaurants or taverns unless you are with a large group of people (more than 20), better to give them notice in advance
The beaches might be slightly cooler than Cyclades or Crete and a bit wavier on certain days
Some useful items to have with you in Pelion Mt are good hiking boots if you are going to do hiking, a light jacket for the evening (it is a mountain after all), organic sunscreen, a white linen shirt, a fantastic CUPSHE Bikini, and a UPF sun hat.
Did you Go to Agios Ioannis in Pelion Mt?
Did you manage to go to Pelion? What were the best things you did in the area? Let me know in the comments below, I'd love to hear whether I managed to get it onto your bucket list! 🙂
Travel Guides to the other Pelion Villages
If you're looking for deeper information, check out my in-depth Pelion Villages travel guides for a ton of details on accessing all these places.
Athens Quick Reference
Where to stay in Athens with stunning Acropolis view: Niche Hotel or The Foundry Suites
Book your ferry tickets with no-hidden-fees at FerryScanner

or FerryHopper
Rent a car with Discover Cars for reliable new cars at affordable prices
My favorite Travel Resources for Greece
'Hello' and 'Thank You' in Greek: "Ya sou" and "Efharisto"
Booking.com: I use Booking.com because I can get the best deals on both hotels and apartments, free cancellations, and great prices!
Find Long-Term Rentals in Greece: You will find the best prices in Flatio
FerryScanner to book ferries to the Greek Islands
Athens Metro Website (timetables and ticket info)
Get Your Guide: For all your day or multi-day tours and city guide needs, I use Get Your Guide
Emergency Numbers Anywhere in Greece: AMBULANCE 166 – FIRE 199 – POLICE 100– EMERGENCY NUMBER 112