Makrinitsa Pelion, or else the "Balcony of Pelion", is one of the most beautiful and traditional villages on the mountain.
It has the original Pelion architecture and in combination with the naturally rich landscape and the view of the Pagasitic Gulf, it has repeating visitors every season of the year.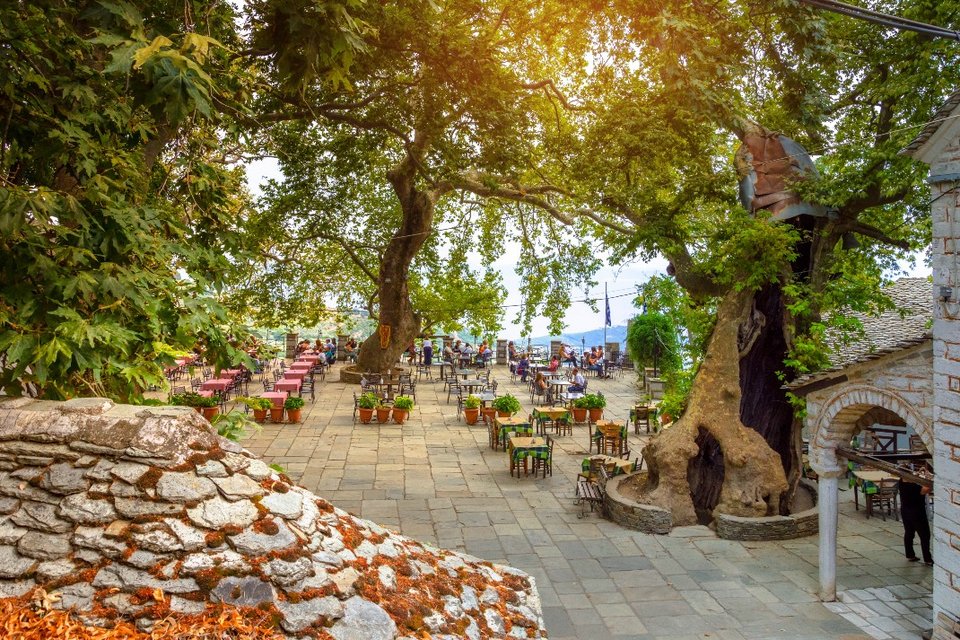 You may have never heard of Pelion Mountain before but Pelion is one of the most beautiful, and magical places in Greece. Imagine a deeply forested peninsula with 70 traditional, beautiful villages full of old mansions and monuments, trees laden with pears, apples, chestnuts, planes, streams, and centuries-old bridges.
As if that was not enough, the peninsula is surrounded by endless golden sandy beaches, some of the best in Greece.
Makrinitsa is a fantastic base for exploring Pelion and visiting the other famous villages: Portaria, Tsagarada, seafront Agios Ioannis, Zagora, Milies, Kissos, and Argalasti.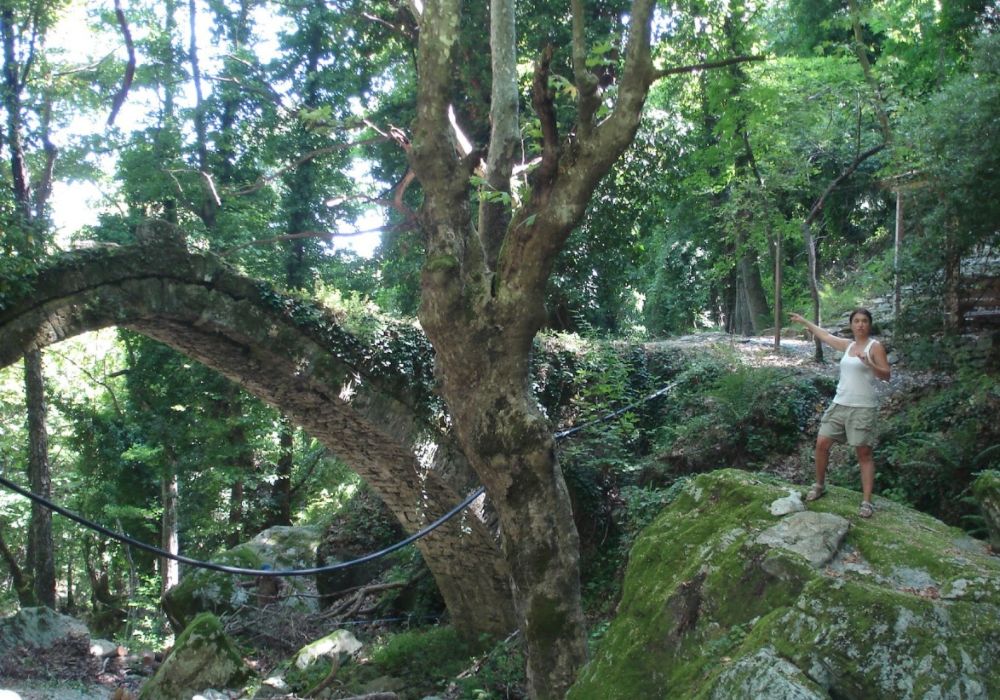 Whichever season you decide to visit Makrinitsa Pelion, you will be rewarded by the abundance of its natural beauty, the many culinary local choices, the original and traditional architecture of the village, the various outdoor activities, and the many interesting sites you can visit and see in the village.
Makrinitsa is located in mid-eastern Greece on the beautiful, green slopes of Mount Pelion (altitude 300-800 m), 16 km from Volos town and 3 km from Portaria village.
According to the plaque at the entrance of the village, Makrinitsa was founded in 1204.
Makrinitsa Pelion is a strikingly beautiful village at 630 m, with traditionally built and richly decorated stone mansions, a village offering tranquility, natural beauty, and peace to visitors.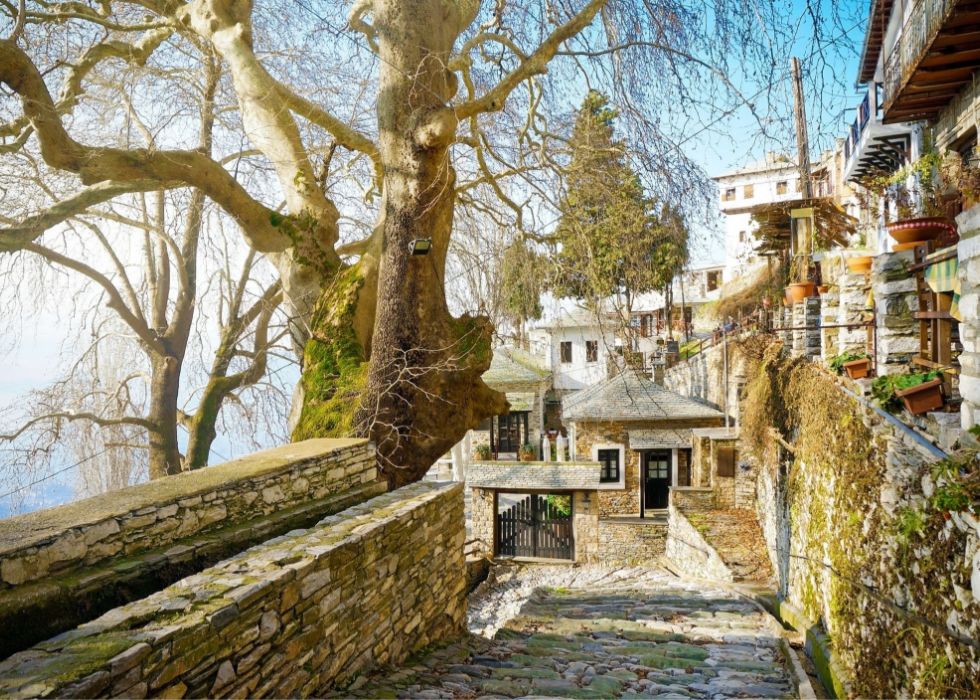 Makrinitsa's nickname is 'Balcony of Pelion' because of its amazing view of Volos town, especially in the evening. Makrinitsa is an excellent starting point for exploring the Pelion peninsula.
*Some of the links below are affiliate links. That means I may make a commission if you click and buy. The commission comes at no additional cost to you.
Where to Stay in Makrinitsa
Archontiko Melanthi. A stunningly restored mansion of the 18th century, great for families or couples, with beautiful and traditional rooms, amazing views (check out the breakfast room!), and the warmest and most hospitable hosts.
Best Things to Do in Makrinitsa Pelion in Winter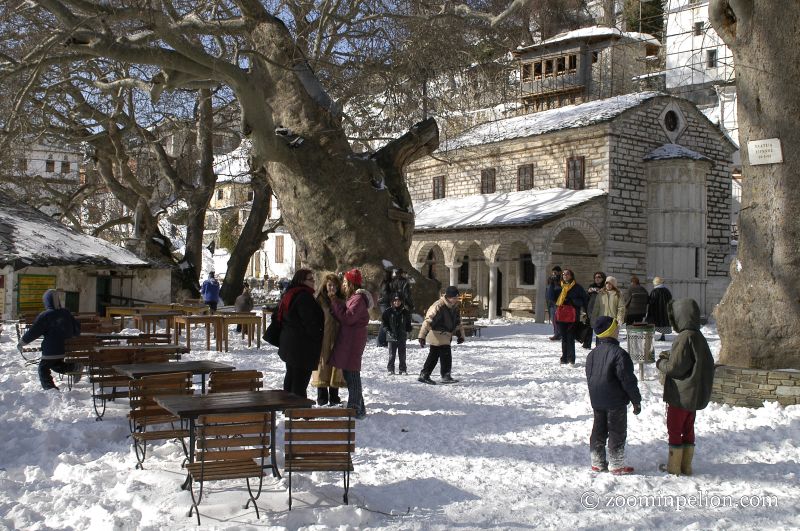 If you are thinking of visiting Makrinitsa during the Greek winter then you have to be prepared that you may have to deal with fog, and chilled weather. You often see also some snow, especially in January – February. On other days, the weather in Pelion can be crispy and sunny which will make all the wintry colors of the forest come alive.
In any case, I suggest you rent your own vehicle and not depend on public transport.
One of the best things to do in Makrinitsa Pelion in winter is to stroll its picturesque kalderimi (cobble-stone alleys) with the small iconic shops selling syrupy local sweets, herbs from the mountain, and jams. Pelion Mountain is very fertile and produces a lot of fruit, herbs, and chestnuts.
You should walk by the lovely main square with the centuries-old plane trees and with a panoramic view of Volos and the Pagasetic Gulf.
Central Church of Agios Ioannis Prodromos
Makrinitsa is divided into small neighborhoods, each one centered around a church or a monastery with always an elaborate fountain nearby offering freshwater from the Mount Pelion springs. There are about 50 fountains scattered around the village.
Agios Ioannis Prodromos (Saint John the Baptist) is a very beautiful small historical church on the main square of Makrinitsa, which is the center of the village's social, commercial, religious, and touristic activities.
Did you know that Pelion hosts one of Mamma Mia's Greece Locations?
Visit the Exquisite Churches in Makrinitsa
As you walk by Makrinitsa you come across various churches, which have a richness of icons to show, historical items, and a lot of architectural interest. Some of the churches are:
Agios Gerasimos Monastery
Saint Maria Magdalini Holy Orthodox Church
Church of Holy Trinity
Church of Metamorphosis of the Savior
Find more information on the Makrinitsa churches here.
Go to Extraordinary Cafe Theofilos
Find the community cafe 'Theofilos', right on the main square in Makrinitsa, and admire the famous wall painting (1910) by the naïve folkloristic artist Theofilos. The painting depicts a Greek hero revolutionist against the Ottomans back when Greece was under the Ottomans.
In the cafe, you can have a small selection of local traditional dishes like spetzofai (local sausage in tomato sauce and vegetables).
Other cafes: Ask for directions for the Art Cafe or the Aeriko Cafe, they both have large yards with stunning views of the sea and Volos. You will find them very easily, Makrinitsa is a small village.
Visit the Folklore Museum of Makrinitsa
If you like folklore art and you are curious to see how Greek used to live in their everyday life then you should definitely visit the Folklore Museum.
The museum is housed in the three-floor Topalis mansion, close to the main Makrinitsa square. The mansion was built in 1844 and contains a wonderful selection of traditional costumes, old photographs, kitchen vessels, and items of daily use.
Between the 1st of November and the 31st of March, the museum is open from 8.30 am to 3.00 pm. For the rest of the months, it is open in the afternoons as well.
Admire the Icons in Makrinitsa Byzantine Museum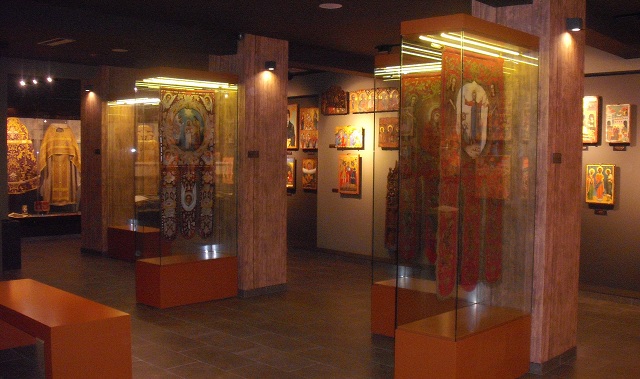 For a small place like Makrinitsa, the Museum of Byzantine Art and Culture is of high importance, exceptionally renovated with a rich display and collection of post-Byzantine works dating from the 17th through 20th centuries.
Find the museum in the Makrinitsa main square. For more info, you can visit the museum's website here.
Go to Paschalis Art House and Cafe
If you like art and paintings then you must visit Paschalis Art House (Gallery) to see some Greek painters' art and sculpting and have a coffee in an artistic environment.
Paschalis Art is housed in a traditional building dating from 1830 and for many years used to be the workshop of the painter Paschalis ( Paschalis Aggelidis ).
You can enjoy their coffee and homemade cakes while looking at the pieces of art around you or the magnificent views from the balcony.
Find Paschalis Art 60 meters away from Makrinitsa main square.
Discover Pelion Ski Resort Agriolefkes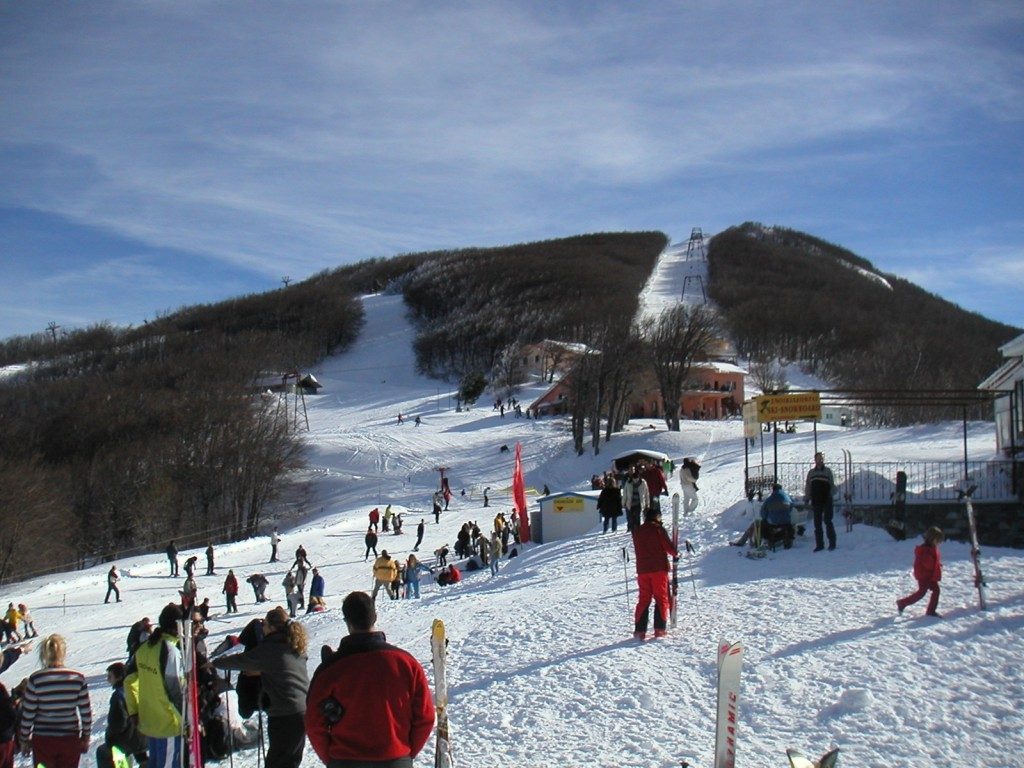 17 km far from Makrinitsa, there is the Pelion ski resort at an altitude of 1.471 m right on top of Chania village. The Pelion ski resort is one of the 19 organized resorts in Greece.
The Ski center is 2 km from Chania, and has 6 routes to choose from, for beginners and advanced, with medium and high difficulty. It also has 3 aerial lifts, 1 sliding, and 1 for children. If you do not want to carry your own equipment you can rent it at the base of the ski center.
What to do in Makrinitsa in Spring & Summer
Hit the nearby beaches!
Drive towards Volos town and the western side of Pelion facing the Pagasitikos Gulf and cross lovely seaside villages and the perfect beaches of Agria, Karnagio, Platanidia, and Kato Gatzea.
After your dive, find a nice seaside tavern and enjoy the fresh fish and the local vegetables, which are delicious!
Hike Centaurs' Famous Trail
Although hiking in Pelion is absolutely fantastic all year round, the Centaurus trail is also suggested as a summer hike because it is a short and easy uphill trail. It is just 1900 meters long and follows one of the many streams that surround Makrinitsa.
The beginning of the trail is between Makrinitsa and Portaria villages and there are signs indicating the starting point.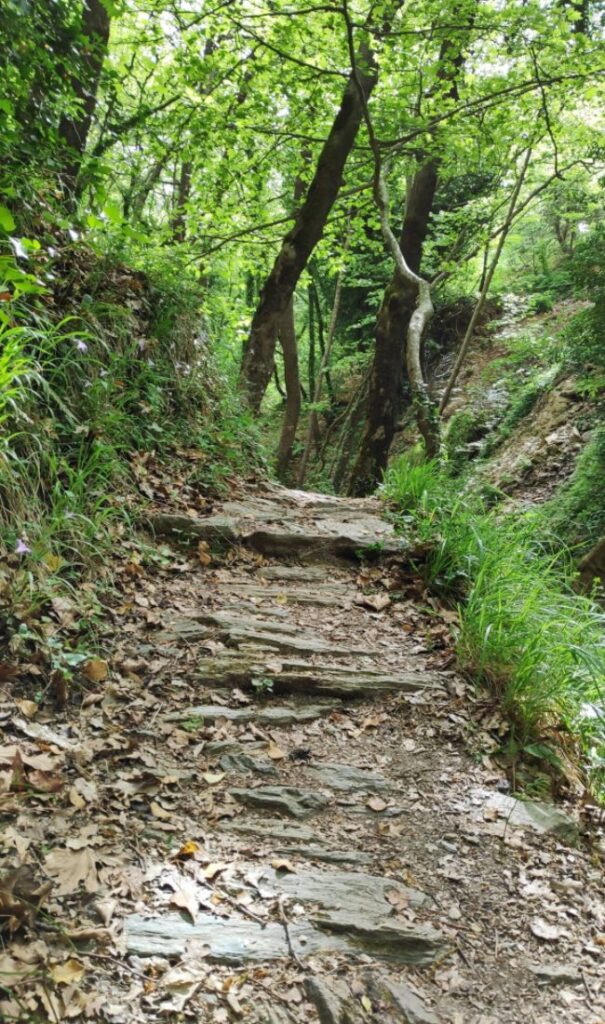 You follow the signposted trail, cross little wooden bridges with small pools of water, and about 30-40 minutes later you have finished the trail. You can come back using the same path or you can go towards the paved road that crosses Portaria's nearby village.
The trail is ideal for new hikers and all ages as it is very easy.
Where to Eat in Makrinitsa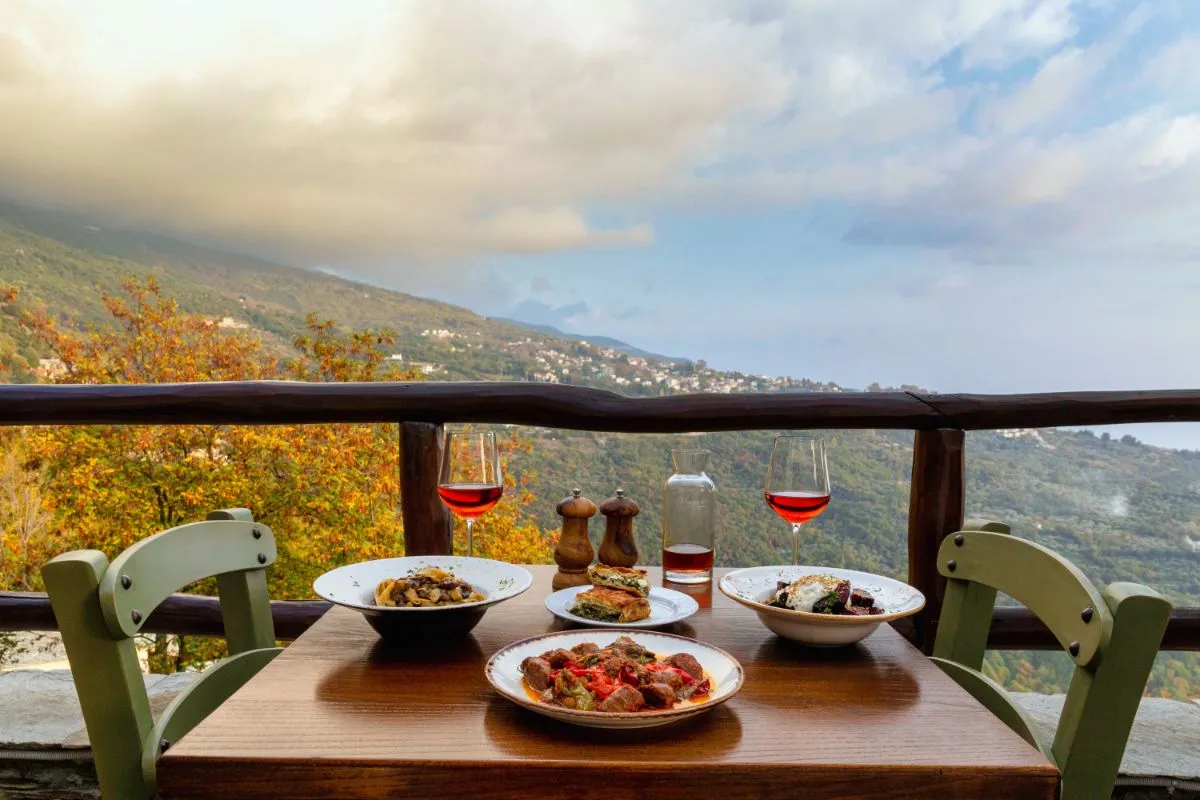 Go to Kardamo restaurant and find a table on the terrace, their view is simply amazing. The cuisine is mostly Greek traditional, with many meat and vegetarian choices, all mouth-watering.
Pleiades Eatery & Drink: This is another food option, for more sophisticated Greek food, very easy to find in Makrinitsa. Just ask around and they will point it out to you (travel the Greek way!!)
How to Get Around Makrinitsa
Cars are not allowed inside the village. There is a parking lot at the entrance of Makrinitsa where you can leave your car. For the rest of your exploration, you will have to walk.
The cobblestones are at times very slippery, so you better wear anti-slippery shoes.
How to Get to Makrinitsa
How to reach Pelion by Bus
If driving is not your thing, you can take the public bus from the Athens bus station (KTEL) in Liosion (there is a large KTEL in Kifisos but it doesn't go to Pelion). Find the routes to Volos and how to issue your ticket here.
When you get to Volos you will have to change buses that go to Pelion Greece. Choose your destination village from this list here.
Private Tour to Pelion Greece
A private tour to Pelion Greece, with a tailored itinerary and a professional, English-speaking driver (with live commentary on the road), is the most carefree choice. And you can stop wherever you want like for instance at the Thermopylae monument with the King Leonidas statue. Would you like us to help you organize one? Send us a message from this short form and will get back to you with free-of-charge travel ideas for Greece.
*** ATM: There is no ATM in Makrinitsa but you can find one in Portaria which is only 3 km far from Makrinitsa.
*** In Portaria there is a Rural Clinic and can be reached at +30 24280 99106
Dedicated Posts on Pelion Mt Villages
Plan My Trip to Greece
Do you need a custom travel itinerary for Greece? Are you traveling solo, with your family or your friends and you need a tailor-made multi-day tour or a transfer within Greece?
If yes, please visit my dedicated Plan My Trip Page for a free itinerary!
Essential Travel Info for Greece
'Hello' and 'Thank You' in Greek: "Ya sou" and "Efharisto"
Booking.com: I use Booking.com because I can get the best deals on both hotels and apartments, free cancellations, and great prices!
Find Long-Term Rentals in Greece: You will find the best prices in Flatio
FerryScanner to book ferries to the Greek Islands
Athens Metro Website (timetables and ticket info)
Get Your Guide: For all your day or multi-day tours and city guide needs, I use Get Your Guide
Emergency Numbers Anywhere in Greece: AMBULANCE 166 – FIRE 199 – POLICE 100– EMERGENCY NUMBER 112
All rights reserved © Travel the Greek Way. Republishing this article and/or its contents (photographs, text, links) is strictly prohibited.
Please follow and like us: